Hello, beauties! Welcome back to your trusted sanctuary of all things hair and skincare. If you're not here by accident and your hair's been screaming SOS, you've landed at the right place. Today, we'll embark on a beauty adventure to the "Land of Morning Calm" – South Korea, renowned for its innovative hair care formulas that have taken the world by storm.
So, buckle up because we're about to explore the 7 Best Korean Shampoo Brands for Hair Loss and Shine. Yes, you read it right, 'shine' and 'hair loss prevention' in the same sentence! We'll delve into the heart of these brands, their special magic potions, and the science behind how they've become game-changers in the world of hair care.
This is no ordinary listicle, folks. It's an in-depth exploration of the future of hair health. Get ready to join me as we unveil the secret ingredients, dive deep into users' reviews, explore the product ranges, and decode the benefits of each brand. By the end of this post, you will be well-equipped to make a well-informed decision for your hair needs and one step closer to achieving those luscious, glossy locks you've been dreaming of.
Strap in, ladies and gentlemen, because it's time to give your hair a love letter straight from the heart of K-Beauty! Here's to discovering healthier, shinier, and stronger hair, one wash at a time! Let's get this beautiful journey started, shall we?
Embrace Your Inner Queen: Your Hair, Your Crown
Let's get real for a moment, beauties! Isn't it true that every one of us is a reigning queen in our unique way? And what does every queen need? A great, shining crown! For us, it's not about a piece of ornate jewelry; our natural, beautiful hair deserves royal treatment.
Trust me, when your hair feels healthy, it's like you've got a personal spotlight following you around, putting that bounce in your step and boosting your confidence to reach for the stars. 💫
Bad Hair Days: Been There, Done That!
Take a trip down memory lane and recall your most recent lousy hair day. We've all been there. One morning, your hair decides to take on a life of its own – maybe it's frizzy, flat, greasy, or not cooperating. No amount of serums or hairspray can fix it. Ah, the agony!
I remember once having a crucial presentation, and my hair looked like a bird's nest. I was stressed and late, and all my focus was on my unruly locks rather than the presentation itself. Not a great day, let me tell you!
And how about those awkward social situations? Meeting friends or going on a date with haywire hair? Yikes! It's a bummer how a bad hair day can throw you off balance and take a toll on your work productivity and personal interactions.
Embracing All Hair Types: Your Style, Your Signature
Whether your hair is as straight as a runway, as curly as a roller coaster, naturally radiant, or perfectly styled, it's your style, your signature! It's not about taming those curls or styling those straight locks but about understanding and embracing your unique hair type.
In this article, my goal is to guide you on a journey of discovery. To find that one 'mane' game-changer – the best Korean shampoo that matches your hair type and your hair's needs and dreams. So let's unravel these hair secrets and start loving our locks even more!
Our Top Pick: Daeng Gi Meo Ri Ki – The Gold Standard in Shampoo
Let's begin our journey with the Daeng Gi Meo Ri Ki Gold Premium Shampoo – a veritable superstar among Korean shampoos renowned for its luxurious approach to hair care. This gem uses the power of herbal medicine to rejuvenate damaged hair.
Take it from someone who's been through the wringer with an oily scalp and dandruff. If you're constantly sporting black and can't seem to get rid of the pesky flakes, this shampoo is your knight in shining armor.
Enriched with ginseng and a magical mix of ten other herbal plants, this shampoo is like a nutrition-packed smoothie for your hair. Imagine breathing life back into your dull and limp locks with every wash!
Trust me, with Daeng Gi Meo Ri Ki, you'll flaunt clean, bouncy hair that radiates health and shine. If your hair has been through styling hell and back, this might be your new best friend.
Pros:
Harnesses the power of ten medicinal plants
Wards off itchiness and dandruff
Keeps oily scalp sebum production in check
Prevents hair fall
Cons:
Not the best choice for dry hair
Ryoe Korean Herbal Anti Hair Loss and Damaged Hair Shampoo – Combat Hair Loss Like a Pro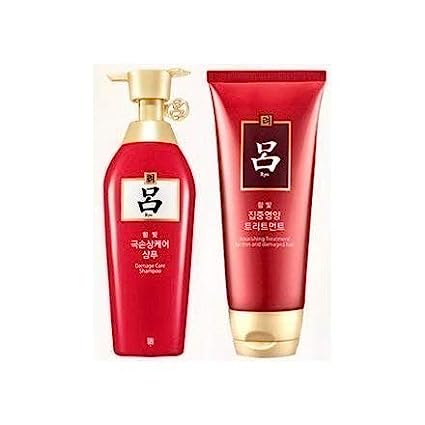 Do you dread the sight of your hairbrush and shower drain filled with too many strands? If so, you're not alone. With Ryoe Korean Herbal Anti Hair Loss and Damaged Hair Shampoo, it's time to put that concern to rest.
Ryoe is a bestseller for a solid reason. It's hands down the BEST Korean shampoo to tackle hair loss. Infused with herbal plants like licorice, ginseng, honey, and ginger extract, it's like an herbal tea for your scalp. Adding salicylic acid is a boon for anyone with an itchy scalp – trust me, it's a game-changer!
And let's remember the star player in this shampoo – Vitamin B5. It's the secret behind preventing hair loss, thickening strands, and stopping brittle, dry strands from falling out.
Pros:
Prevents hair loss and repairs damaged hair
Adds volume to your locks
Soothes an irritated scalp
Cons:
A bit pricey
It could be too heavy for those with fine hair
Buy Here
LG Reen Yungo Hair Cleansing Treatment Shampoo – No More 'Winter' Shoulders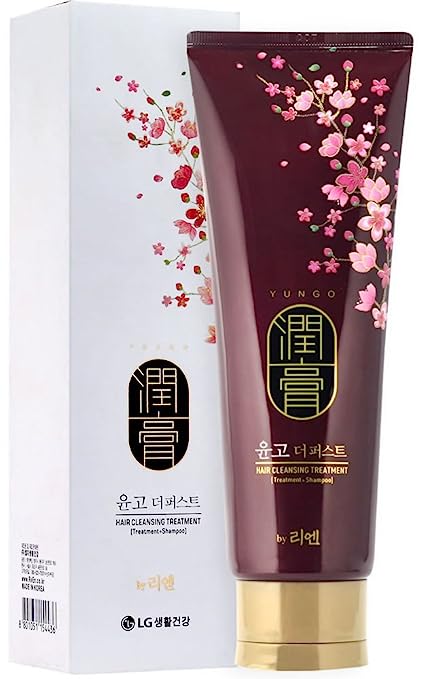 Ah, the dreaded dandruff! Been there, dealt with that, and let me tell you, Korean shampoos like LG Reen Yungo Hair Cleansing Treatment Shampoo are the real deal!
This shampoo is a standout as it merges hair essence into the formulation, amplifying its effectiveness in delivering the proper nutrients to the roots. It's enriched with red ginseng and saponin, creating a rich lather to sweep away dandruff thoroughly. Plus, it has Western wild ginger that hydrates the roots for shinier, smoother hair.
If you tire of experiencing 'winter' on your shoulders every day, this cleansing hair shampoo might be your saving grace!
Pros:
Deeply cleanses the oily scalp to eradicate dandruff
Nourishes hair with herbal ingredients
Cons:
The fragrance may be too intense for some.
Eron Healing Tonic Itchy Scalp Care and Anti Hair Loss Shampoo – The Strength Builder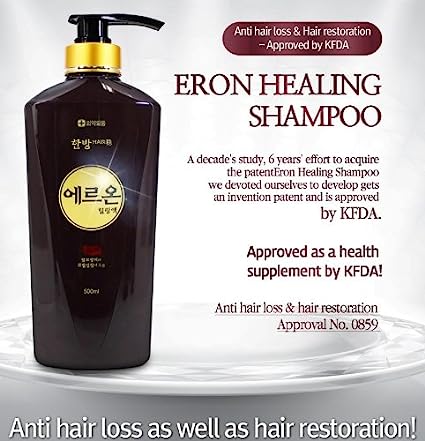 Next on our list is the Eron Healing Tonic Itchy Scalp Care and Anti Hair Loss Shampoo – an absolute godsend for those wrestling with weak strands.
Imagine this – you're brushing your hair and notice a chunk of strands falling out. Been there, seen that, and it's heartbreaking! Whether it's due to aging, genes, or constant exposure to heat styling, brittle hair is a common complaint I hear.
That's where the Eron Healing Tonic swoops in. It works like a charm, thickening your hair and encouraging healthy growth. If you're dreaming of flaunting long, lush locks, this might be the Korean hair loss shampoo you need!
Pros:
Fortifies and thickens strands
Promotes hair growth
Perfect for those with fine and weak hair
Cons:
Some ingredients may cause scalp irritation for some people
Kerasys Lovely & Romantic Perfumed Shampoo – For the Fragrance Lovers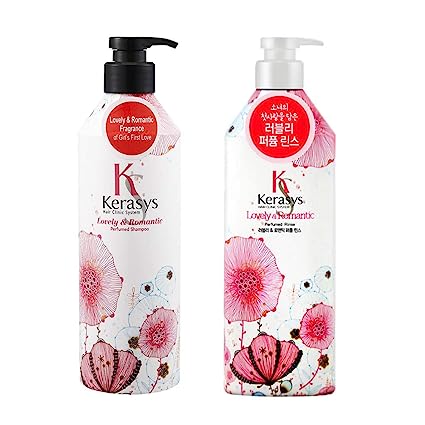 For those who love turning heads with heavenly-scented hair, I present the Kerasys Lovely & Romantic Perfumed Shampoo to you. This shampoo is like your personal hair perfume that lasts all day!
It's suitable for almost all hair types and gentle enough for daily use. But take note – if you have dry hair, there might be better matches than this, as it can dry. If you're hooked on the scent, though, there's a hack: follow up with a moisturizing conditioner or a hair mask!
Kerasys offers two other scents: Pure&Charming and Elegance&Sensual. But as an eternal romantic at heart, the Lovely&Romantic is my top pick with its enchanting, youthful vibe.
Pros:
It envelops your hair in a delightful scent that lingers all-day
Cleanses hair thoroughly
Preserves hair volume
Cons:
Ryoe Jayang Yoon Mo Anti Hair Loss Shampoo – Say Goodbye to Hair Loss
Next up is another hero from Ryoe: the Jayang Yoon Mo Anti Hair Loss Shampoo. This shampoo is your best ally if stress or a nutritional imbalance wreaks havoc on your hair.
With regular use, you can reduce hair loss by a whopping 65%! Having seen the transformation in many hair loss sufferers, I can vouch for how much this shampoo can improve overall hair health.
Pros:
Significantly thickens hair strands
Adds shine and smoothness to hair
Cons:
Not ideal for oil control
PURA D'OR Hair Thinning Therapy Shampoo – Your Secret Weapon Against Thinning Hair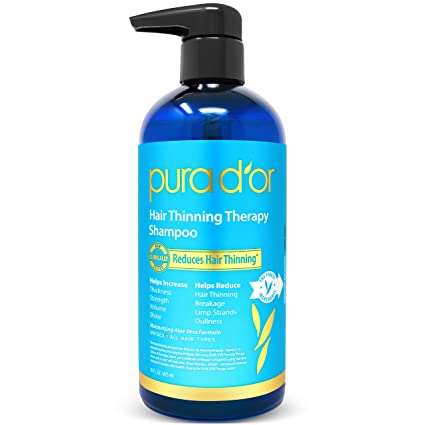 The incredibly popular PURA D'OR Hair Thinning Therapy Shampoo is rounding off our list. This Korean shampoo contains nourishing ingredients that strengthen and prevent brittle strands.
The star ingredients here are Argan oil, known for its hair-loving natural oils and polyphenols, and Aloe Vera, a scalp-cleansing champ that promotes hair growth. With 17 oil- and plant-based ingredients, this shampoo nurtures your roots to encourage healthier hair growth.
Whether your hair is thinning due to genetics, hormones, or environmental factors, this shampoo is your ticket back to luscious, healthy locks. And the best part? It's hypoallergenic! So even if you have a sensitive scalp like mine, you won't have to worry about irritation.
Pros:
Packed with hair-nourishing ingredients
Hypoallergenic, perfect for sensitive scalps
Soothing and calming on the scalp
Cons:
It may make the hair slightly hard to detangle after use
What's in a Shampoo and Why It Matters
Let's chat about something we all use but often overlook – shampoo! A good shampoo is an unsung hero in your journey toward healthy, gorgeous hair. The magic potion removes dirt, oil, and uninvited guests (yes, pollutants) from your hair and scalp.
Think of when you stepped out of a salon, hair bouncing and glistening. Isn't that the dream? This is where our Korean friends have aced the game. Their shampoos often harness the power of traditional herbal medicine to tackle hair woes like dandruff, hair fall, and damage. No wonder they flaunt such enviable, silky manes!
Remember, the perfect shampoo for you depends on your hair's needs. If you, like me, live in a tropical country and wash your hair daily, ensure your shampoo is gentle enough for everyday use.
Going shampoo-free can leave your hair feeling heavy and dirty. As someone who has had bangs in the past (and the pesky forehead acne that comes with it), I can't stress this enough – cleanliness and hair health go hand in hand!
Neglect your shampoo, and your hair will feel the weight of your day's products, sweat, and pollution. Also, remember the discomfort (read: ITCHINESS) that could affect your social interactions. Who can be their cheerful self with an itchy scalp, right?
Understanding the science behind hair care is key to making informed decisions. Here's a breakdown of the key ingredients In Korean Shampoo and their effects:
Ginseng: Ginseng is a popular ingredient in many Korean shampoos. It is known for its ability to stimulate hair growth, strengthen hair follicles, and improve overall hair health. Ginseng is particularly beneficial for those experiencing hair loss or thinning.
Herbal Extracts: Many Korean shampoos feature a blend of herbal extracts, such as licorice, ginger, and ten other medicinal plants. These extracts nourish the scalp, promote blood circulation, and provide essential vitamins and minerals to support healthy hair growth.
Salicylic Acid: Shampoos like Ryoe Korean Herbal Anti Hair Loss and Damaged Hair Shampoo often contain salicylic acid. This ingredient helps exfoliate the scalp, removing dead skin cells and excess oil. It can help alleviate scalp issues like dandruff and itchiness.
Argan Oil: Argan oil is a prized ingredient known for its moisturizing and nourishing properties. Shampoos like PURA D'OR Hair Thinning Therapy Shampoo utilize argan oil to provide hydration, reduce brittleness, and restore shine to dry and damaged hair.
Aloe Vera: Aloe vera is a soothing ingredient that can deeply cleanse the scalp while promoting hair growth. It is often used in shampoos like PURA D'OR Hair Thinning Therapy Shampoo to provide a calming effect on the scalp and enhance overall hair health.
Red Ginseng: Red ginseng, found in LG Reen Yungo Hair Cleansing Treatment Shampoo, is known for its ability to hydrate and nourish the scalp, leading to shinier and smoother hair. It can also help improve hair strength and resilience.
Haircare 101: More Than Just Shampoo and Conditioner
Haircare isn't just about shampooing and slapping on some conditioner. The Korean beauty industry certainly knows this and designs its products accordingly.
Fun fact: Asian hair, like mine, generally grows faster than Caucasians or Africans, but it also has a lower density. So, your hair care regime should consider factors like your hair's density, the amount of damage or styling it undergoes, exposure to pollution, your sweat levels, and even the climate.
Living in a humid country, I know how tempting it is to wash your hair daily to eliminate accumulated sweat and grime. And that's perfectly fine unless you start noticing abnormal amounts of hair breakage.
If you have oily hair, use a gentle shampoo daily and other nourishing hair care products. But if your strands lean towards the dry and brittle side (like mine), skip the daily wash to avoid zapping it off all its moisture.
Your hair's needs should guide your shampooing frequency and hair care routine.
Master the Art of Shampooing
Ever wondered how much shampoo is too much? Well, there's no hard and fast rule. A little extra shampoo won't harm you if you rinse it properly. But going overboard isn't going to give you extra benefits either.
Here's how I do it:
Lather the shampoo and gently massage your scalp.
Ensure your hair is soaking wet for this step.
Leave the shampoo on for a short time.
Even the gentlest of shampoos can cause damage if left on for too long. Keep it on for less than a minute.
A hot tip (or should I say a cool one?): avoid boiling water, as it can leave your hair limp. For a lustrous, hair-fall-resistant mane, use cold water to rinse off the shampoo. This removes the beneficial ingredients and adds an extra sheen to your hair.
There are some fantastic 2-in-1 shampoos out there that include a conditioner so that you can skip that step altogether. However, if your shampoo doesn't come with conditioning agents, follow it up with a conditioner for that added softness.
Remember, a good shampoo should thoroughly clean your hair and scalp, leaving a healthy amount of natural oils intact. There are clarifying shampoos for a deep cleanse but use them sparingly as they can be pretty drying. As a rule of thumb, I'd suggest using a clarifying shampoo once every week or every other week, depending on the formulation.
What are the other 5 Korean shampoo brands on the list?
In addition to the fabulous Daeng Gi Meo Ri Ki Gold Premium Shampoo, Ryoe Korean Herbal Anti Hair Loss and Damaged Hair Shampoo, and LG Reen Yungo Hair Cleansing Treatment Shampoo, here are the remaining five all-stars on our top Korean shampoo list:
Eron Healing Tonic Itchy Scalp Care and Anti-Hair Loss Shampoo
Kerasys Lovely & Romantic Perfumed Shampoo
Ryoe Jayang Yoon Mo Anti Hair Loss Shampoo
PURA D'OR Hair Thinning Therapy Shampoo
Somang Red Ginseng & Herbal Scalp Cleanser
Are there any cons to using Ryoe Korean Herbal Anti Hair Loss and Damaged Hair Shampoo?
Each shampoo is unique in its own right, providing an assortment of hair benefits, whether dealing with hair loss, dandruff, damaged hair, or just searching for something for regular maintenance and shine.
As for the Ryoe Korean Herbal Anti Hair Loss and Damaged Hair Shampoo, it's indeed a crowd favorite! Its excellent benefits are many, but it has a few caveats. Firstly, it's a bit on the pricier side. And secondly, it may not be suitable for those with finer hair as it can weigh it down, taking away some of that bouncy volume.
Just like any other beauty products, Korean shampoos can have potential side effects or drawbacks based on their ingredients and your individual hair and scalp condition. Let's run through a few common considerations:
Potential irritation: Some people might experience scalp irritation or allergies due to certain ingredients in the shampoo. For example, Eron Healing Tonic Itchy Scalp Care and Anti Hair Loss Shampoo might cause irritation for some people. Always do a patch test if you're trying a new product.
Not suitable for all hair types: Some shampoos might not work as well for certain hair types. For instance, the Kerasys Lovely & Romantic Perfumed Shampoo and Daeng Gi Meo Ri Ki Gold Premium Shampoo are not recommended for dry hair. Ryoe Korean Herbal Anti Hair Loss and Damaged Hair Shampoo might be too heavy for fine hair.
Fragrance issues: The scent of the shampoo can be a matter of personal preference. Some people might find the fragrance of LG Reen Yungo Hair Cleansing Treatment Shampoo too strong, for instance.
Detangling issues: Some shampoos, such as PURA D'OR Hair Thinning Therapy Shampoo, might make it hard to detangle hair after use.
Cost: Some of these shampoos, like Ryoe Korean Herbal Anti Hair Loss and Damaged Hair Shampoo, can be more expensive than others.
Possible ineffectiveness in oil control: Ryoe Jayang Yoon Mo Anti Hair Loss Shampoo, for example, does not control oil.
What other benefits does Daeng Gi Meo Ri Ki Gold Premium Shampoo offer besides preventing dandruff and hair fall?
Let's chat about the Daeng Gi Meo Ri Ki Gold Premium Shampoo. Besides being a champion at dandruff prevention and hair fall control, it offers a whole host of other hair benefits. This shampoo taps into the power of nature with its herbal ingredients, which nourish your hair and scalp from root to tip. The result is bouncier, shinier, and healthier hair. However, remember that there might be better options for those with dry hair.
Conclusion
And there you have it, beauties! The secret to achieving that luscious, healthy mane is understanding and using your shampoo's role properly. Each step is crucial in your hair care journey, from choosing the right shampoo based on your hair needs to mastering the art of application and rinsing. Remember, our hair is as unique as we are, and what works for one may not work for another, so it's all about finding what suits YOU best. But don't let that deter you! Experiment with different products, routines, and techniques until you find your perfect hair care match. However, remember to be kind to our tresses – over-shampooing or boiling water can lead to unwanted damage. Instead, opt for a gentler approach, and your hair will thank you! Hair care might sometimes feel overwhelming, but with some knowledge and patience, you're well on your way to unlocking your hair's full potential. Let's embark on this beautiful journey towards healthy, gorgeous locks together. Because you, my dear readers, deserve nothing but the best! Here's to good hair days, every day!
Feature image by cottonbro studio via Pexels