Today, we're diving straight into the oceanic glam of mermaid nails, the ultimate summer nail trend that's as splashy as it is chic. We'll explore some jaw-dropping designs that'll make you the star of any beach party or summer soirée. And hey, we're going beyond the basics—I'll share my personal go-to tips for not just creating but also maintaining these aquatic masterpieces. By the end of this blog, you'll know exactly how to keep your nails looking freshly painted for days on end. So, if you're ready to set sail on this fashion adventure, let's dive right in!
The Magic of Opal-Inspired Mermaid Nails
Opal mermaid nails bring the mystic colors of the ocean right to your fingertips. This design showcases iridescent hues that shift and shimmer, mimicking the reflective qualities of opal stones and ocean waves.
Elevate Your Look with 3D Mermaid Nail Art
Get ready to immerse yourself in the underwater world with 3D mermaid nails. By adding three-dimensional elements like scales or seashells, you create tactile intrigue that's as mesmerizing as a coral reef.
French-Tipped Mermaid Nails
French mermaid nails marry the timeless elegance of a French manicure with sea-inspired elements. The result? A classy but whimsical look that's perfect for both a day at the office or a beachside soirée.
Aqua Blue Mermaid Nails
With these mermaid nails, you'll catch light and attention equally. These nails use high gloss tones to mimic the multifaceted colors in ocean depths.
Sculpted Mermaid Nail Designs
Sculpted mermaid nails elevate your mani into a work of art. These nails use advanced techniques like acrylic extensions and intricate carvings to bring the sea's rich textures to life.
Mesmerizing Marble-Effect Mermaid Nails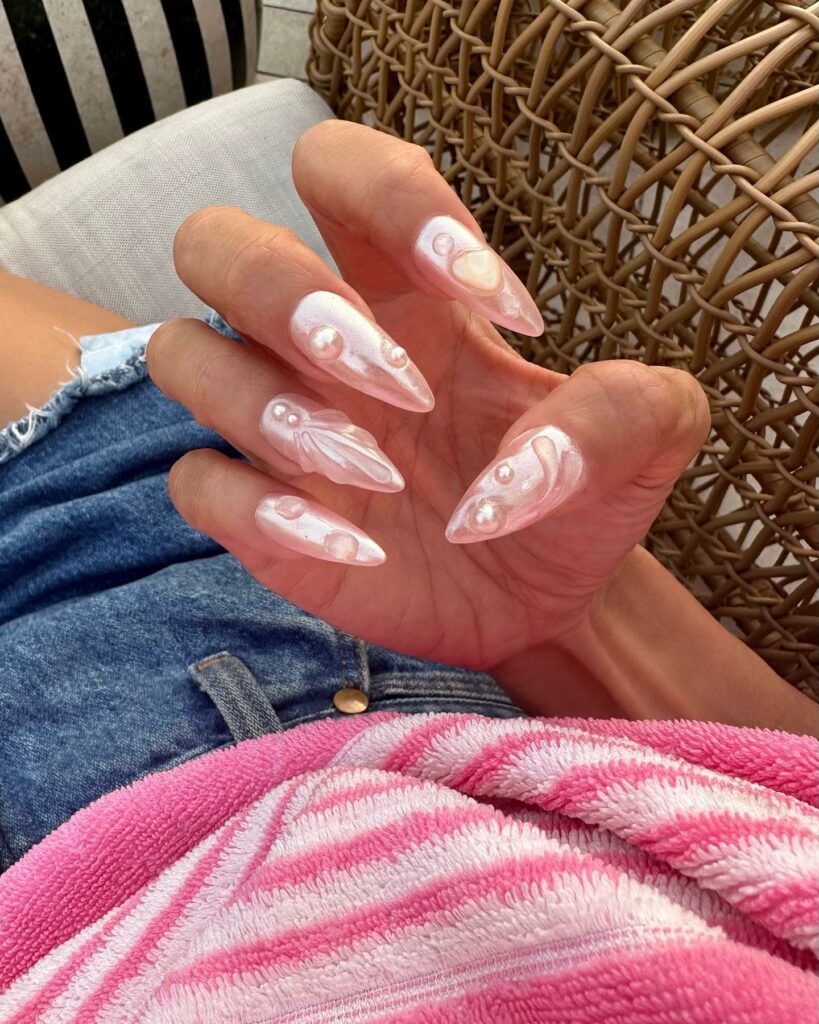 Marble mermaid nails encapsulate the swirling colors of sea currents in a hypnotic design. By blending different hues, these nails look as dynamic and fluid as the ocean.
Chrome Marble Mermaid Nails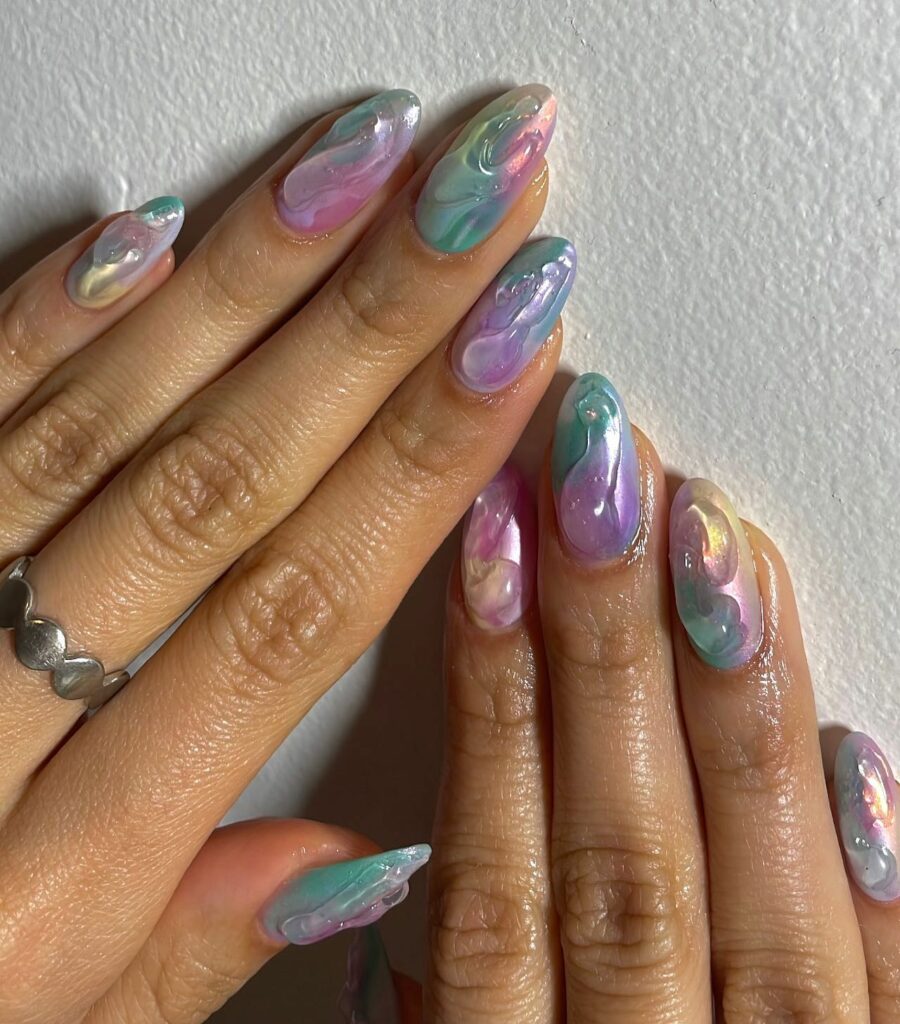 Chrome marble mermaid nails combine the reflective allure of chrome with the dynamic patterns of marble. The result is a visually captivating style reflecting light and the ever-changing sea.
Ombre Seashell Mermaid Nails
Ombre seashell nails take inspiration from the natural gradations found on the ocean floor and in seashells. Soft, blended colors transition smoothly, adding a touch of underwater grace to your nail design.
Gemstone-Encrusted Seashell Nails
Gemstone seashell nails are where luxury meets ocean fantasy. Adorned with tiny faux gems or crystals, these nails embody the idea of sunken treasure beckoning to be discovered.
Luxurious Sculpted Pearl Mermaid Nails
Sculpted pearl nails add an element of luxury and depth to the mermaid theme. With pearl-like accents meticulously placed or sculpted, these nails epitome oceanic opulence.
Rainbow Mermaid Nails
Rainbow mermaid nails bring the full spectrum of oceanic colors to your look. Dazzling with various hues, these nails celebrate the sea's diversity and beauty.
Chrome and Pearl Mermaid Nails
Chrome pearl mermaid nails integrate the lustrous quality of pearls with the mirror-like finish of chrome. This hybrid style is as sophisticated as it is attention-grabbing, a true showstopper in mermaid nails.
Pearlescent Purple Mermaid Nails
Dive into the depths of luxury with pearlescent purple mermaid nails. This design elevates your nail game with royal shades of purple that exude a pearlescent sheen, evoking the mysterious allure of deep oceans.
Sparkly Lavender Mermaid Nails
Sparkly lavender mermaid nails are where ethereal beauty meets oceanic dazzle. With shimmering lavender hues and delicate sparkle accents, these nails embody the light, whimsical tones of sea foam and coral reefs.
Blue Mermaid Nails
Blue mermaid nails capture the essence of the deep blue sea in a design that's as captivating as it is serene. Using varying shades of blue, these nails transport you straight to the heart of the ocean, creating a tidal wave of style.
Holographic Mermaid Nails
Submerge yourself in a world of iridescent magic with holographic mermaid nails. These designs use holographic polishes or foils that shift and shimmer with light, replicating the multifaceted colors of the underwater world in an enchanting way.
Glitter Acrylic Mermaid Nails
For those who love a little drama, glitter acrylic mermaid nails are your go-to. Combining the sturdy nature of acrylics with the sparkling allure of glitter, these nails serve as a shining beacon of oceanic wonder and depth.
My Guide To Creating These Amazing Mermaid Nails
Basic Essentials
Nail Polish Remover: Clean off old polish and prep your nails.
Cotton Balls/Pads: For applying nail polish remover.
Nail File: To shape your nails.
Buffing Block: To smooth out the nail surface.
Cuticle Pusher: To gently push back cuticles.
Base Coat: To protect your natural nails.
Polishes and Coatings
Colored Nail Polishes: You'll need various shades depending on your chosen design—think blues, purples, greens, and metallics.
Top Coat: To seal your design and give it a glossy or matte finish.
Pearlescent or Holographic Polishes: For that otherworldly sheen.
Glitter Polish: Add that sparkle if your design calls for it.
Artistic Accents
Nail Art Brushes: For fine details.
Dotting Tools: To place small embellishments or create designs.
Stamps and Stencils: For uniform shapes and patterns, like scales.
Rhinestones and Studs: To add some 3D glamour.
Nail Glue: To secure 3D elements like studs or pearls.
Acrylic Powder and Liquid: If you're going for sculpted mermaid nails.
Specialty Items
UV/LED Lamp: If you're using gel polish or need to cure any elements.
Foil or Decals: For specialized effects.
Sponges: Useful for gradient or ombre effects.
Each mermaid nail style will have its specific requirements, but this list should cover most of what you need. Before you start, ensure you've got everything in place—it'll make the whole process smoother and more enjoyable. Happy crafting!
6 Tips To Help You Maintain Your Mermaid Nails
Regular Touch-Ups – Top Coat Reapplication: A fresh layer of top coat every few days can help protect the design and maintain its luster.
Moisturize, Moisturize, Moisturize! – Cuticle Oil: Regularly applying cuticle oil can keep your nails and surrounding skin healthy and hydrated. Hand Cream: A good quality hand cream will keep your skin soft and help extend the life of your nail art.
General Care – Wear Gloves: Whether cleaning, gardening, or doing dishes, gloves can protect your nails from potential damage and wear. Be Gentle: Mermaid nails can be delicate, especially those with 3D elements. Avoid using your nails as tools to prevent chips and breakage.
Longevity Tactics – UV Top Coat: If you want something more durable, a UV-cured top coat provides extra protection. Just be sure you have the appropriate UV or LED lamp for curing. Seal the Edges: When applying your top coat, seal the free edge (the tip of the nail) to prevent premature chipping.
Mind the Details – Avoid Harsh Chemicals: Chemicals in cleaning agents can erode the polish. Always use gloves if you can't avoid contact. Temperature Swings: Extreme temperature changes can sometimes cause the polish to lift. Be mindful in saunas, hot baths, and even when reaching the freezer.
In Case of Damage – Minor Fixes: Keep your nail colors and a small brush handy for minor touch-ups if needed.
By following these tips, you're setting yourself up for longer-lasting beauty and reducing the risks of chipping, lifting, or other wear and tear on your fabulous mermaid nails. It's not just about creating the look; it's about preserving it so you can enjoy your artistic expression to the fullest!
Conclusion
In closing, diving into the world of mermaid nails is akin to discovering an underwater treasure trove—full of color, texture, and endless possibilities. The design options are as vast as the ocean, from pearlescent purples to holographic wonders. But remember, while the outcome is stunning, the journey can be intricate. If you're opting for advanced styles like 3D or sculpted nails, it might be wise to consult a professional to ensure the look is beautiful and durable. As for risks, always ensure you're not allergic to any materials used, and maintain good nail health to prevent any potential issues. Nail art is a form of expression, and mermaid nails allow you to express your love for all things nautical in a truly captivating way. So why settle for a simple coat of polish when you can have a full ocean scene at your fingertips? Let your inner sea siren sing, and make a stylish splash this summer!
Feature image @katiesnails via Instagram
Last reviewed and updated on November 17, 2023