Welcome to Plaid Nails, where classic style meets modern flair! This post is your ultimate guide to nailing (pun intended!) this chic pattern on your fingertips. Plaid nails are not just a trend; they're a fashion statement that's both versatile and timeless. You'll learn everything from selecting the right colors to achieving crisp lines that would make any tartan envious. Whether you're a minimalist or embrace a more-is-more approach, there's a plaid design for you. As someone who's tried every nail trend in the book, I'm excited to share my top tips for perfecting the plaid pattern. I'll walk you through the essentials of prepping your nails for the longest-lasting wear and the simple steps to create your plaid masterpiece. Plus, I'll spill the beans on my personal favorite color combos and products that will ensure your manicure stands out. Get ready to transform your nails into a fashion-forward accessory that will catch your eyes and start conversations!
Long Teddy Plaid Nails
Long teddy plaid nails are the ultimate comfort, combining the plush feel of teddy textures with the elegance of length. They're a bold statement that marries comfort with chic.
Purple Long Plaid Nails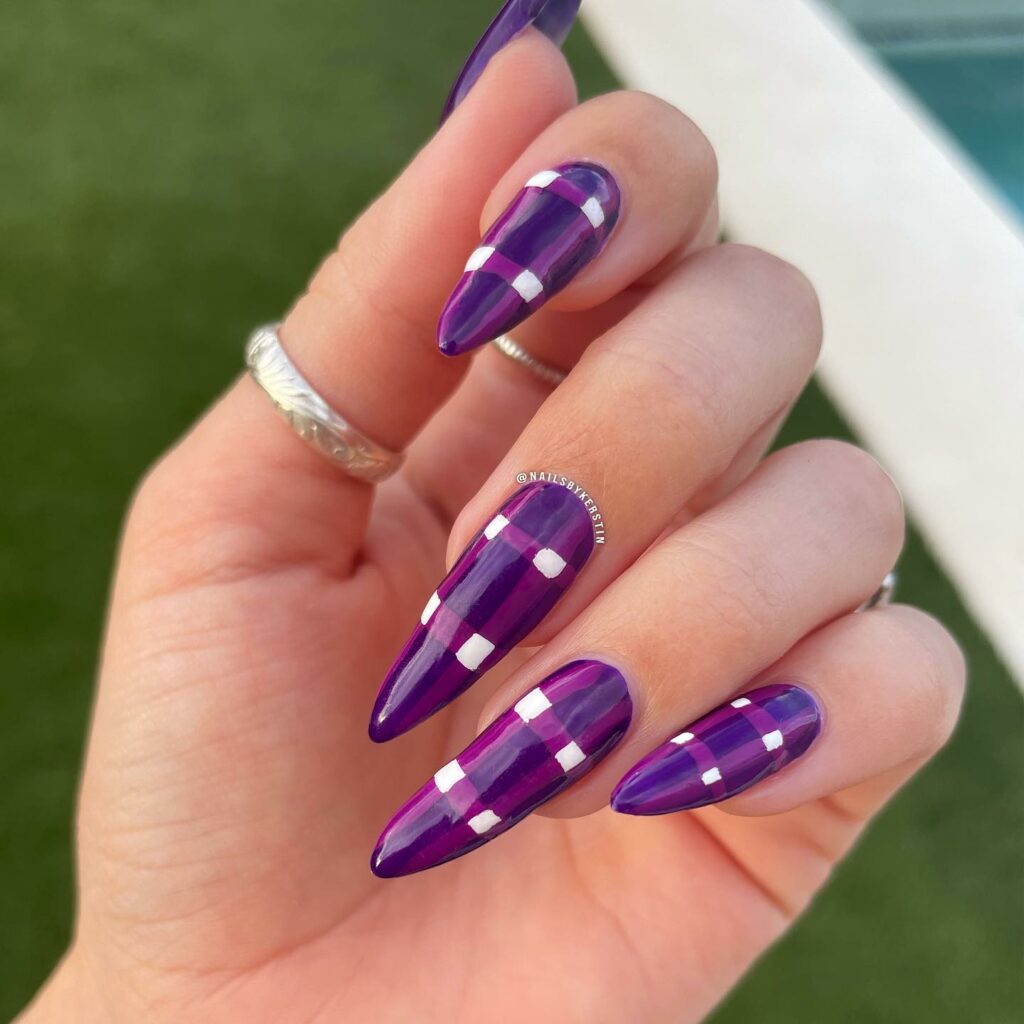 Purple Long Plaid Nails offer a regal twist to the classic plaid pattern, elongating the fingers with their luxurious length. This color and style are perfect for combining traditional design with a bold, contemporary aesthetic.
Fall-Inspired Plaid Nails
Embrace the season of cozy with fall-inspired plaid nails, where warm hues meet classic patterns. This design brings the essence of autumn right to your fingertips.
Plaid Nails With White French Tips
Take the timeless French manicure up a notch by adding a plaid pattern, creating a sophisticated and playful look. White tips provide a crisp contrast that's always in vogue.
Mackenzie Plaid Nails
The Mackenzie plaid is a classic pattern that brings a touch of Scottish charm to your nail art. It's a heritage design that's as stylish as it is timeless.
Minimalist Plaid Nails With Pumpkin Design
Perfect for the understated enthusiast, minimalist plaid nails with a pumpkin design add a festive touch without overwhelming the senses. It's a subtle nod to the season's favorite gourd.
Purple Preppy Plaid Nails
Channel your inner prepster with purple plaid nails, a twist on the traditional that stands out best. The preppy vibe meets a modern color for a bright and stylish look.
Red Plaid Nails For Holidays
Red plaid nails are the go-to for holiday cheer, offering a vibrant pop of color that's festive and fun. They're the perfect accessory for any holiday gathering.
Orange Plaid Nails With Glitters
Spice up your nail game with orange plaid nails dusted with glitter, a combination as bold as beautiful. The sparkle adds a playful twist to the classic plaid.
Brown And White Plaid Nails
Brown and white plaid nails offer a neutral palette with a patterned punch for a more subdued yet equally chic option. They're an elegant choice for any occasion.
Purple And Pink Plaid Nails
Combine the cool tones of purple with the sweetness of pink for a plaid as girly as grown-up. It's a fresh take on the classic pattern that will turn heads.
Gold And Pink Plaid Nails
Gold and pink plaid nails are where luxury meets fun, blending metallic sheen with a pop of color. This duo provides an opulent twist to your nail art repertoire.
Dark Red Plaid Nails
Dark red plaid nails evoke a sense of mystery and sophistication, perfect for anyone looking to make a bold yet elegant statement. The rich color palette is ideal for cooler months and evening events.
Red And Green Christmas Plaid Nails
Celebrate the festive season with red and green Christmas plaid nails, a traditional pattern that exudes the holiday spirit. They're a jolly good way to show off your yuletide joy.
Purple Plaid Nails
Purple plaid nails bring a royal flair to the plaid family, offering a regal twist to your nail art. They're unexpected and utterly enchanting, perfect for making a statement.
Thin Line Plaid Nails
With delicate precision, thin-line plaid nails offer a more intricate take on the classic pattern. They're perfect for those who love the detail and a subtle hint of complexity.
Plaid Coffin Nails With Glitter
Combine the edgy coffin nail shape with the timeless plaid pattern sprinkled with glitter for an extra touch of glam. It's a look that's both daring and dazzling.
Plaid Nails With Ghost Design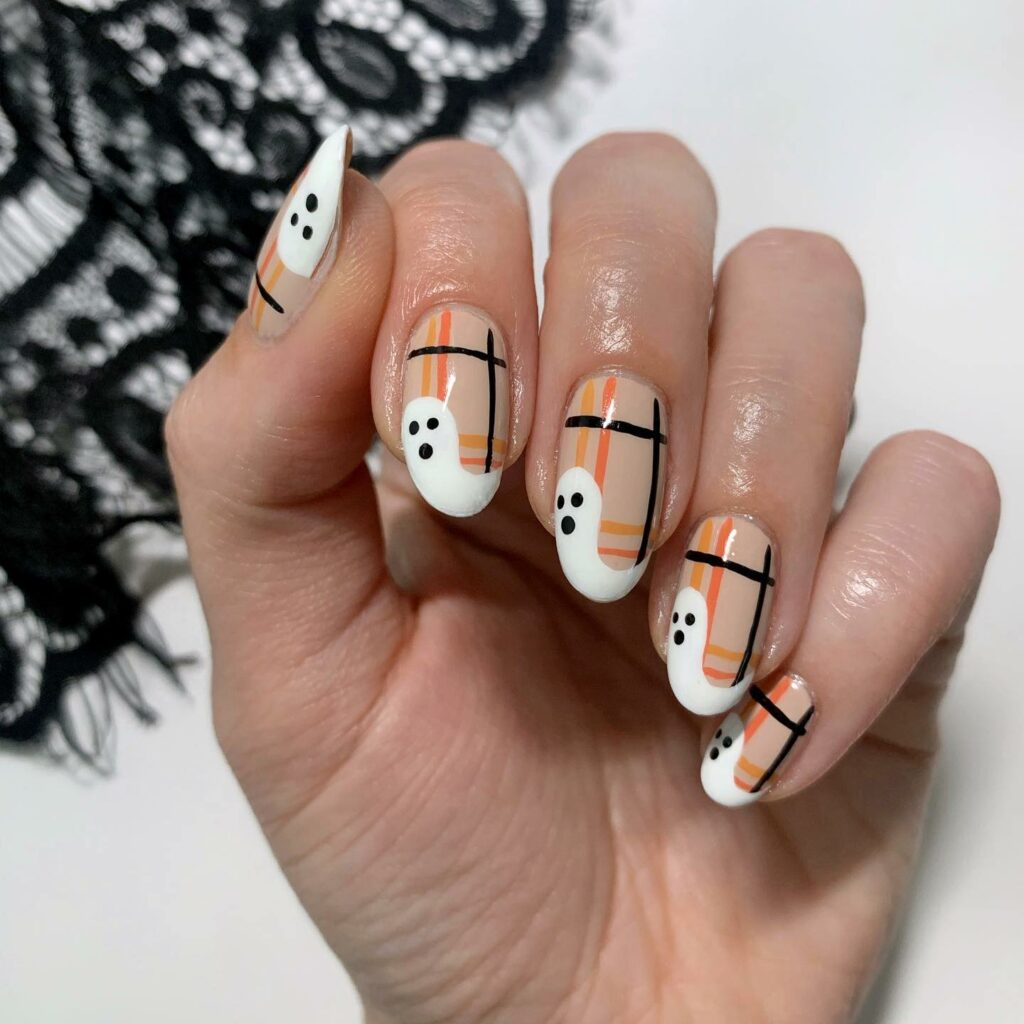 Plaid nails with a ghost design bring a playful yet spooky twist to your manicure, ideal for Halloween or for those who enjoy a ghostly charm year-round.
Tan And Gold Plaid Nails
Tan and gold plaid nails balance understated elegance and a hint of shimmer, creating a luxe and refined look. They are a chic addition to any outfit.
Almond Christmas Plaid Nails
Almond-shaped nails are a soft, feminine canvas for a festive Christmas plaid, wrapping your nails in holiday cheer. They're like a Christmas gift to yourself that you can wear.
Easter Color Plaid Nails
Bright, pastel hues bring the essence of Easter to life in a plaid design, making your nails a part of the springtime celebration. These colors are as refreshing as the season itself.
Green French Plaid Nails
Green French plaid nails add a twist to the classic French tip, infusing it with a preppy and innovative pattern. It's a fresh take on two beloved nail styles.
Blue Plaid Nails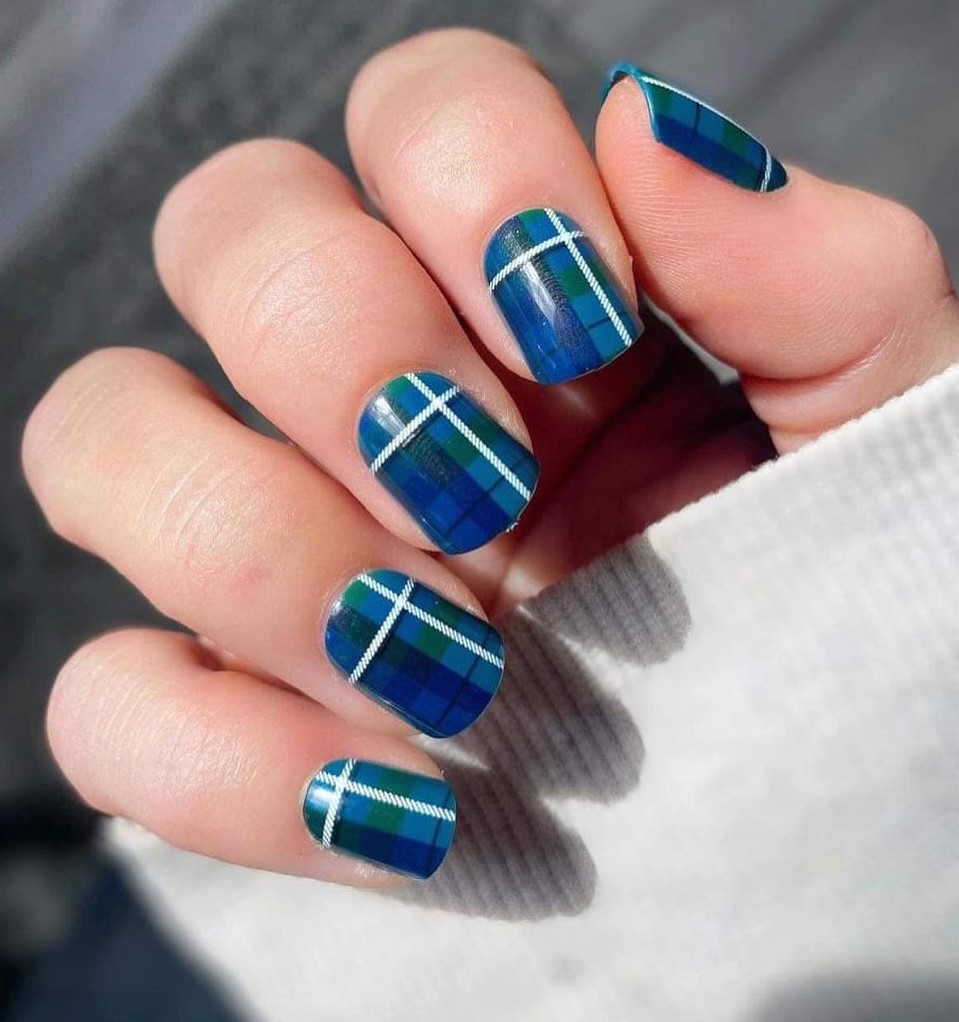 Blue plaid nails are an excellent and calming choice, offering a range of shades from sky to navy for a serene yet stylish look. They're like a denim staple but for your nails.
Rainbow-Inspired Plaid Nails
Embrace every hue with rainbow-inspired plaid nails, a vibrant and joyful expression of color that will brighten any day. They're a celebration of diversity at your fingertips.
Red Plaid Nails With Silver Line
Red plaid nails accented with a silver line bring a classic pattern and a metallic flair together for a traditional and trendy look. It's a festive and refined style perfect for any occasion.
Brown, Green And Purple Plaid Nails
This earthy brown, green, and purple trio on plaid nails brings an autumnal vibe to your manicure, perfect for those who prefer a more natural color palette.
Matte Plaid Nails
Matte plaid nails offer a modern, sophisticated twist on the glossy classic, providing a velvety, chic finish. They're a testament to the beauty of simplicity.
Green Plaid Nails With Sweater Design
Green plaid nails paired with a cozy sweater design epitomize winter warmth, merging comfort with style in a uniquely tactile experience.
Black And Silver Plaid Nails
Black and silver plaid nails epitomize sleek sophistication, offering a monochromatic look with a metallic edge. They're perfect for those who love a modern, minimalist aesthetic.
Plaid Nails With Pumpkin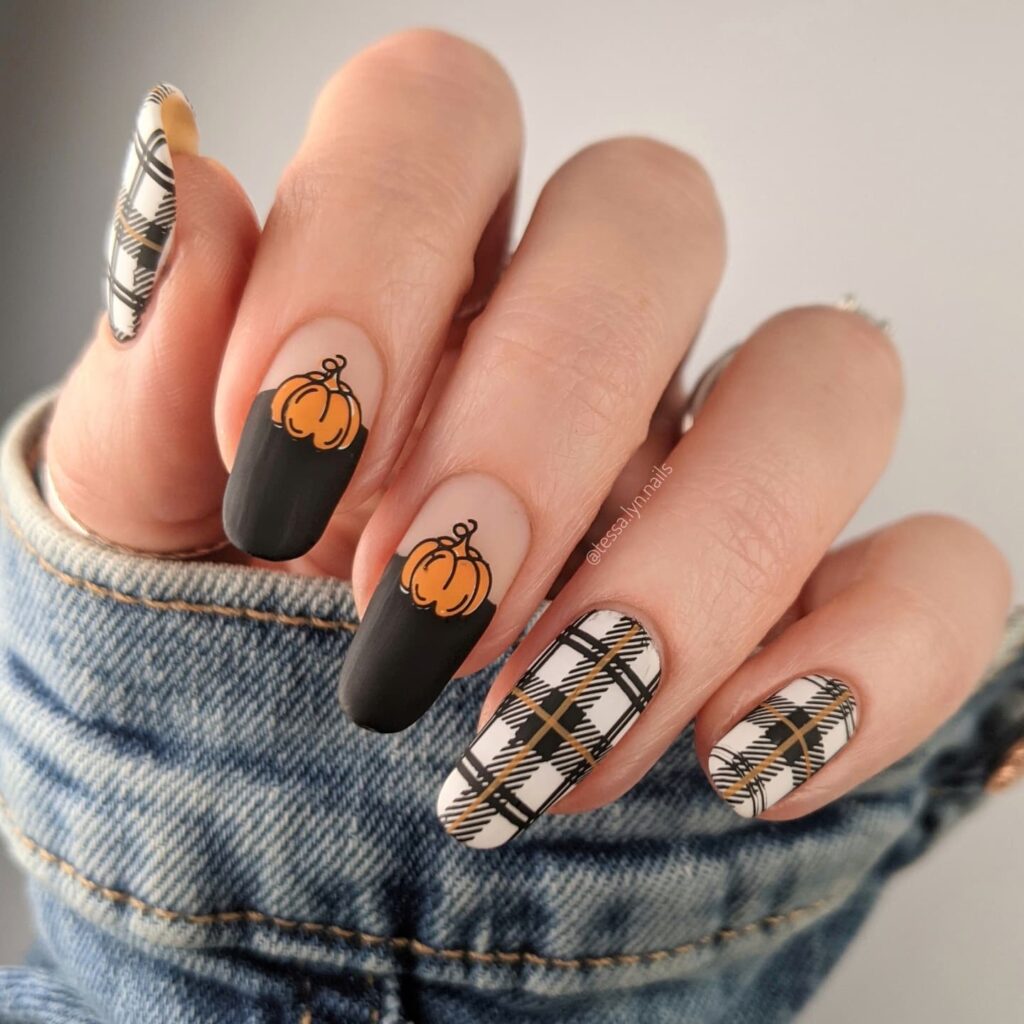 Plaid nails with a pumpkin accent bring a whimsical element to your autumnal aesthetic. Its design celebrates the heart of fall with a festive flourish.
.
9 Simple Steps To Create Plaid Pattern Nails At Home
Prep Your Nails: Start with clean, shaped nails. Apply a base coat to protect your natural nails and provide a smooth canvas for your polish.
Apply a Base Color: Choose a solid base color that will serve as the primary shade in your plaid. This will be the color that appears between the plaid lines. Let it dry completely.
Pick Your Plaid Colors: Decide on two or more colors to create the lines. Traditionally, you'd use darker and lighter colors to contrast with the base.
Paint the Vertical Lines: Using a thin brush or a striping tool, paint thin vertical lines down the length of each nail. Space them out evenly and allow them to dry.
Add Horizontal Lines: Now, paint thin horizontal lines across your nails to intersect with the vertical ones. The intersection of these lines will start to form the plaid pattern.
Create Thicker Lines for Depth: To add depth to your design, choose one of the line colors and paint a second set of slightly thicker lines alongside the thinner ones. This should be done vertically and horizontally to avoid overcrowding the pattern, but only on some lines.
Detail with Additional Colors: If desired, you can add colors by painting thinner lines next to the existing ones or by creating small squares where the lines intersect to mimic the complexity of the actual fabric plaid.
Apply a Top Coat: Once your design is dry, seal it with a clear top coat to protect your artwork and add a glossy finish. You could opt for a matte top coat for a more modern look.
Remember, plaid patterns can be as straightforward or complex as you wish. You can play with color combinations, line thickness, and the spacing of the lines. The beauty of plaid nails is that even the slightest variation can create an entirely different look. Experiment and have fun with it!
.
10 Color Combinations For Plaid Nails That I Love
Classic Tartan: Red base with black, white, and yellow lines. This traditional color scheme is trendy during the fall and winter seasons.
Monochrome Magic: Black and white, with shades of grey for depth. This combination is timeless and works well for a sophisticated, modern look.
Autumnal Tones: A burnt orange or deep maroon base with dark brown, cream, and forest green lines. This palette is perfect for capturing the essence of fall.
Winter Wonderland: Navy blue or deep green with lines of silver, white, and a lighter blue or green. This combo gives off a relaxed, crisp winter vibe.
Preppy Pastels: Soft pink or baby blue base with lines of lavender, mint, and a soft yellow. It's great for spring and gives a gentle, preppy look.
Holiday Cheer: Green base with red, white, and gold lines. This is particularly festive for the Christmas season.
Summer Brights: A bright yellow base with hot pink, teal, and white lines. This combination is fun, vibrant, and perfect for summer.
Earthy Elegance: A tan or nude base with lines of dark brown, olive green, and metallic gold for a bit of sparkle. It's understated yet chic.
Gothic Glam: A black base with deep purple, burgundy, and metallic silver. This is ideal for a more dramatic and edgy look.
Beachy Keen: A turquoise base with lines of white, coral, and a sandy beige. This gives off a beach-inspired, casual vibe.
When choosing your colors, consider the width and spacing of your lines. Contrasting colors make the pattern stand out, while analogous colors (those next to each other on the color wheel) can give a more harmonious and subtle effect. Always remember to balance light, medium, and dark tones to give your plaid nails depth and dimension.
.
Conclusion
And there you have it, a plaid parade for your nails that's as diverse as it is delightful! Whether you're drawn to the subtle charm of thin lines or the bold statement of coffin nails with a sparkle, there's a plaid with your name. Remember, the key to plaid perfection is in the precision of your lines and the harmony of your chosen hues. Don't be afraid to mix it up with seasonal designs or a touch of glitter—after all, your nails are your canvas for expression. My top tip? Invest in a good quality thin brush for those intricate patterns, and practice, practice! Go forth and plaid-if your world, and most importantly, have fun with it. After all, beauty is about feeling fabulous, and what's more fabulous than a fresh, eye-catching set of nails?
Feature Image Photo By samrosenails on Instagram
Last reviewed and updated on November 20, 2023