Greetings, style mavericks, and trend pioneers! An exhilarating transformation is unfurling in the illustrious realm where fashion meets fingertips. In this vibrant post, I'm thrilled to illuminate the canvas of the moment – square nail manicures – that beckons to harmonize with the iconic and timeless elements of beauty and glamour.
As someone entrenched in the rapidly evolving fashion world, I've closely watched every nuance that graces the spotlight. This time, it's about asserting individuality and flair through 36 breathtaking square nail manicures, setting the stage ablaze. In this haven of creativity, you'll unearth the secrets behind crafting that perfect square nail look that encapsulates contemporary elegance and echoes glimpses of personal flair and panache.
Together, we will voyage through a curated selection of styles that promise to be more than just a trend; they stand as a testament to artistry and innovation in the nail fashion sphere. With each paragraph, we'll delve deeper, sculpting your pathway to becoming a true connoisseur of this riveting trend.
So fasten your seatbelts, fellow style aficionados, as we embark on this dazzling journey of impeccable craftsmanship and unapologetic self-expression, one square nail at a time!
The Sweet Whimsy of Heart Cutouts
Do you remember the delight of receiving a handcrafted card adorned with cute little heart cutouts? Well, this nail trend brings back that innocent joy to your nails. Imagine gracing your tips with the sweetest pastel pink French touches and a heart that whispers youthful fun and romance secrets. It's akin to wearing your heart on your sleeve, but it's at your fingertips this time!
The Timeless Allure of Clean French Manicures
Stepping into my grandmother's elegant living room, the first thing that would catch my eye was the timeless charm that seemed to grace every corner. This trend is like that timeless piece of furniture; a clean French manicure with square nails echoes a classic yet ever-stylish vibe. Trust me, it's the little black dress of nail art, a style statement that never fades.
A Whisper of Color with Pastel Fade
Now, let's take a moment to embrace the soothing touch of a gentle sunrise, painting the sky in the softest hues. That's what this pastel fade trend brings to the table – a subtle contrast and a tranquil vibe, offering a tender retreat from the sharp, bustling world around us.
The Subtle Flair of Minimalist Flames
As a person who enjoys the quiet amidst the hustle and bustle, I find solace in trends that speak volumes yet remain understated. This minimalist flame trend is like a gentle whisper in a crowd, offering a subdued yet fiery motif that adds a hint of zest without overpowering the senses.
Futuristic Chic with Geometric Tips
Transport yourself into a world where tradition meets futurism, where pops of lilac and lavender hues come together to craft a tapestry of fresh and invigorating designs. Trust me, once you dip your nails into this trend, there's no turning back!
Blossoming Spirits with Flower Power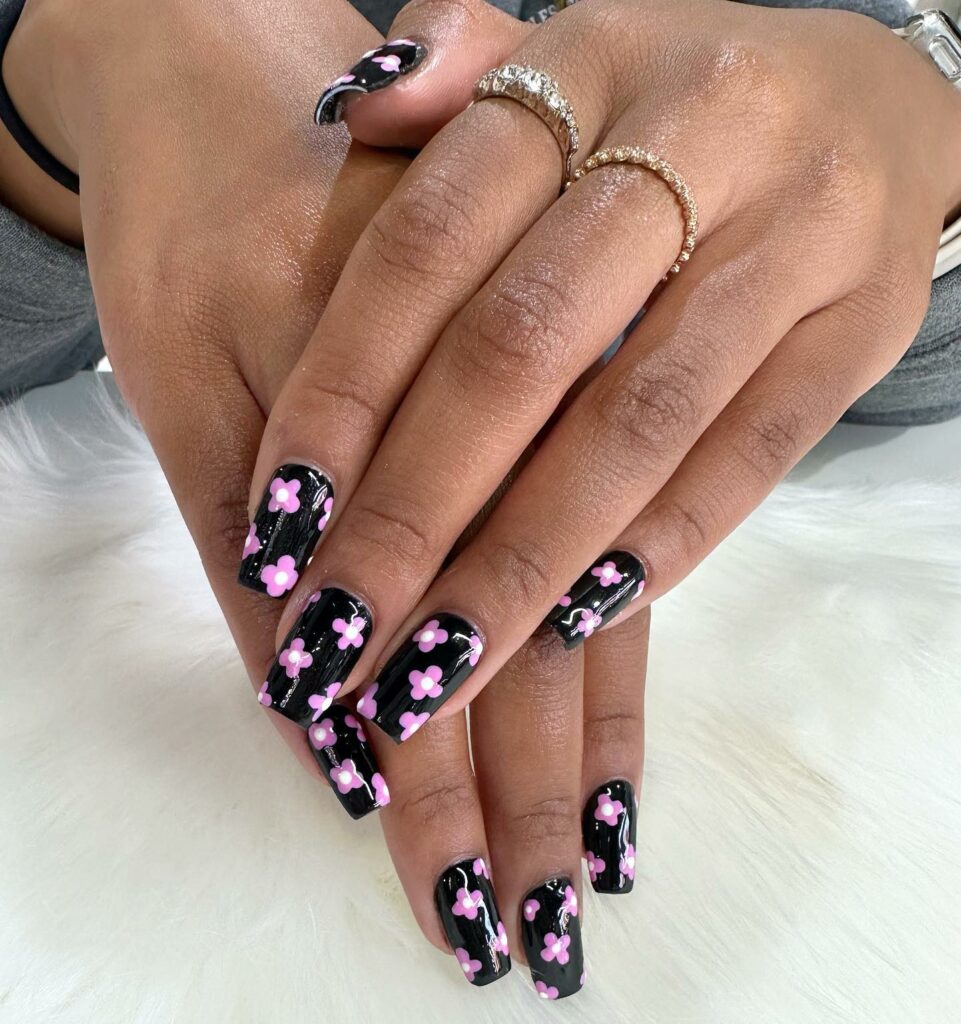 As someone who finds joy in a bunch of fresh flowers brightening up the living space, this trend feels like a natural extension of my floral fascination. Picture your nails adorned with fluffy yellow-and-white daisies, a vibrant harbinger of spring ready to infuse joy into your day.
The Sleek Saga of Graphic Edges
For all the minimalists, this one is a nod to your love for simplicity fused with a dash of intrigue. Imagine a canvas that embraces the nude trend yet playfully teases with graphic black ticks, adding an edge that is impossible to ignore.
The Tranquil Realm of Sage Yin-Yang
I gravitate towards elements that bring tranquility in a world that sometimes feels too noisy. This sage yin-yang art echoes a zen garden on your nails, a gentle reminder to breathe and embrace the calm.
A Night Sky Saga with Sweet Dreams
As a child, I often gazed at the starry night sky, weaving dreams and stories. This trend brings that celestial wonder to your fingertips, a canvas that narrates tales of lilac stars and mysterious nights.
Daring Adventures with Neon Diagonals
For those days when choosing just one seems too mundane, venture into the vibrant realm of neon diagonals. It's a fun, lively experiment with colors that demand attention and celebrate your daring spirit.
The Luxe Narrative of Black Marble
As we venture toward the culmination of our nail art odyssey, let's delve into the luxury that black marble brings. It's a statement of luxury, a trend that promises to turn heads and add a dash of sophistication to your look.
Whispers of Rose Quartz
I remember the first time encountered a rose quartz stone; its gentle pink hue and calming energy had me transfixed. Drawing inspiration from the lovely FKA Twigs, you can now wear this tranquil vibe at your fingertips. The rose quartz manicure brings a delicate yet bold statement, perfectly contrasting with the sporty square nail silhouette, making every gesture a glimpse of artistry.
A Nostalgic Journey with '70s-Inspired Designs
Transport yourself to an era where fashion had no bounds, an era that celebrated bold choices and individuality. The '70s-inspired square mani is your canvas to experiment and rediscover that vibrant era. My advice? Choose a grounded color palette to keep your nail story cohesive yet lively, ensuring that each nail narrates a unique tale.
Zesty Moments with Lime Half Moons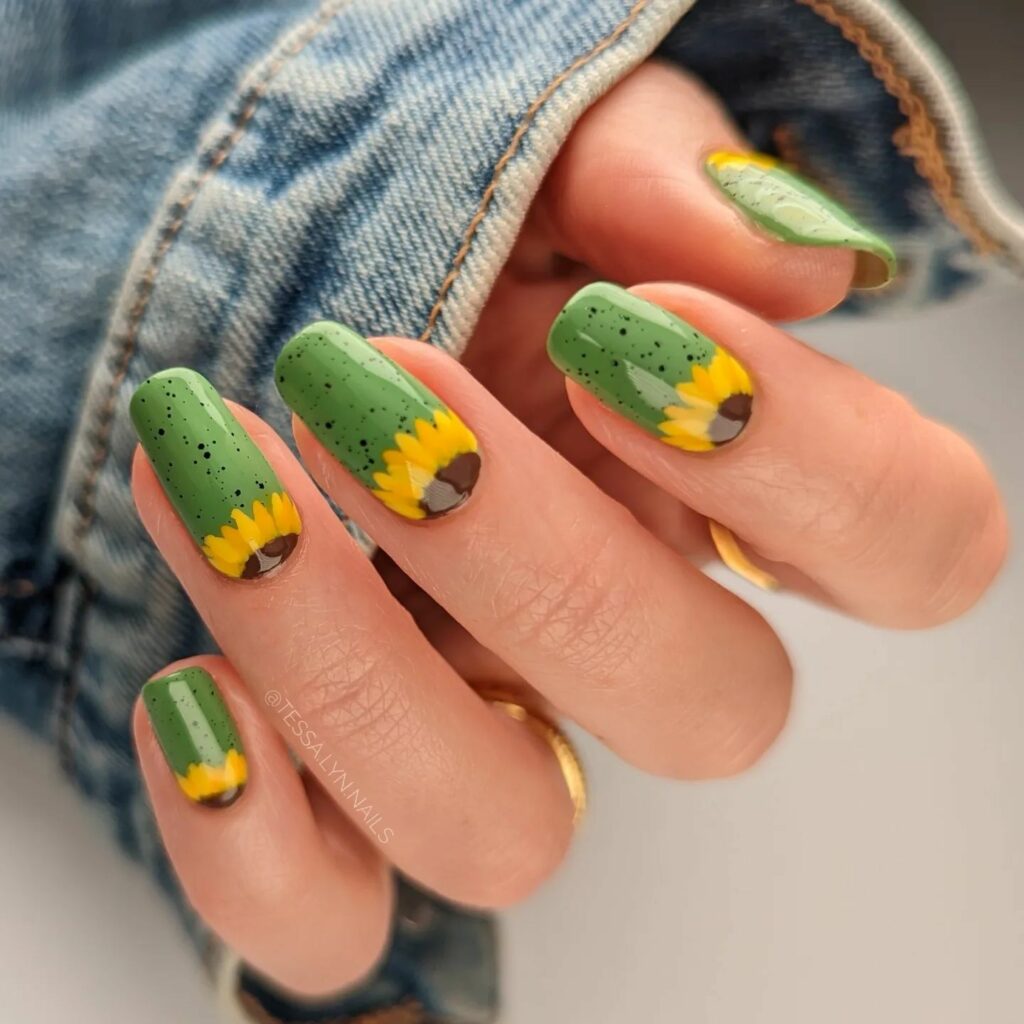 Picture this: A warm summer day, you're sipping on a refreshing lime drink, and your nails? They are telling a zesty story with playful lime half-moons gracing the tips. It's a peek-a-boo color moment that adds a splash of playfulness to your day, promising smiles and sparks of joy each time you glance at them.
The Golden Elegance of Gold Dip
In my journey through the ever-changing landscape of fashion, I've met artisans who craft magic with their hands. Betina Goldstein is a maestro, bringing luxury to your fingertips with the gold dip trend. It's a style that echoes luxury and timeless elegance, turning each gesture into a statement of grace.
The Ever-Charming Timeless Nude
Just like that favorite pair of nude heels that gracefully walk you through every occasion, a timeless naked manicure is a testament to elegance and versatility. It's a look that embraces the modern shape with an understated yet captivating allure, and guess what? It's the most straightforward DIY project for a cozy weekend.
Dabble in Artistry with Artsy Tips
For those moments when you're in the mood to unleash the artist within, these artsy tips are your canvas waiting to embrace both warm and cold narratives. Trust me, the effort translates into a captivating play of light and colors, transforming your nails into a living artwork.
A Splash of Cloudy Watercolor
Who doesn't love a burst of colors that sing songs of joy and freedom? The cloudy watercolor manicure brings a symphony of colors to your fingertips, offering moments of delight and unexpected pops of colors, igniting creativity and happiness every time you look at them.
The Mystical Charm of Private Eyes
I've always been fascinated by the mystical allure of floral motifs and the protective gaze of evil eyes. Imagine bringing that mystical narrative to life on your nails, where bright illustrations pop against a soft blush base, turning each nail into a canvas of stories and enchantments.
Celebrate with Rainbow Confetti
For the days when you wish to carry a celebration at your fingertips, the rainbow confetti trend is your go-to. It's like having a little party whenever you type a message or pen down thoughts, sprinkling joy and color wherever you go.
Graceful Narratives with Minimal Arcs
For the aficionados of minimalism, here's a trend that speaks volumes with subtlety. The minimal arcs trend combines a nude base with gentle arcs, creating a symphony of understated elegance and modern charm, a perfect choice for a sophisticated yet fun look.
Embrace the Bold with Caution Tape
Sometimes, a little boldness can create a stir and make heads turn. Embrace the 'Caution Tape' trend where your nails scream innovation and style. It's a fearless choice that encourages you to throw caution to the wind and let your nails do the talking!
Surf's Up with Make Waves
Remember those days spent admiring the majestic waves crashing onto the shore? Relive those moments with 'Make Waves' nail art. It's an adventurous design that promises to elevate your nail art game to unparalleled heights, making each nail a canvas of undulating beauty.
Smiles Galore with Smiley Faces
There's something contagiously happy about spotting a smiley face, it brings back memories of childhood doodles. 'Smiley Faces' are making a comeback, offering a vibrant and joyful way to adorn your nails with pops of color and smiles, and trust me, they are here to spread joy and bright vibes wherever you go!
A Picture Speaks a Thousand Words with Abstract Faces
Are you ready to channel your inner artist? 'Abstract Faces' offers you a canvas to express your artistic flair. With a steady hand, create captivating miniature masterpieces on your nails that you want to frame on your social media grid.
Soft Hues and Pastel Half-Moons
Imagine a tranquil morning sky adorned with soft-hued rainbows; this inspiration comes alive with the 'Pastel Half-Moons' trend. Opt for soft pastels to create a minimalist yet colorful narrative on your nails, ushering in tranquility and style in equal measure.
Grounded Beauty with Go Gradient
Gradient designs have always fascinated me, reminding me of beautiful sunsets witnessed during tranquil evenings. 'Go Gradient' offers a palette of neutral shades, creating a seamless transition and an enchanting look that is a testament to grounded elegance.
Earthy Elegance with Earth-Tone Tips
A wavy rendition of the classic French manicure comes alive with 'Earth-Tone Tips'. Infuse earthy tones to breathe new life into your nails, creating a harmonious blend of style and natural vibes that's simply irresistible.
A Splash of Happiness with Bright French
Ah, the classic French manicure a timeless choice! But what happens when you infuse a burst of vibrant hues and playful cherries into the mix? You get the 'Bright French', a refreshing twist to the classic, bringing in cheerful vibes and an undeniable charm to your nail art story.
Bridal Splendor with 3D Pearls
For those who revel in opulence and luxury, the '3D Pearls' manicure is your gateway to a bridal fairy tale. Adorn your nails with a collection of delicate pearls, creating a symphony of elegance and Splendor that promises to be the centerpiece of any bridal ensemble.
Summer Narratives with Strawberry Fields
Nothing screams summer like a bowl of fresh, juicy strawberries. Embrace the spirit of summer with 'Strawberry Fields', where your nails narrate stories of summertime goodness with juicy strawberries and pink gingham prints, making every day a summer celebration!
Nostalgic Vibes with Bold Checkerboard
If you, like me, have a soft spot for the '90s, the 'Bold Checkerboard' is your ticket to a nostalgic journey. With bold and bright patterns, this mismatched checkerboard manicure is a vibrant nod to the '90s, promising a delightful blend of nostalgia and modern chic.
Glitter Galaxy
Prepare yourself to venture into the cosmos right at your fingertips. The 'Glitter Galaxy' manicure brings the universe to your nails, with sparkling glitter particles against a deep, celestial backdrop. Imagine twinkling stars and nebulae right on your nails – it's your cosmos to explore, right at your fingertips.
Marbleized Magic
If you're a fan of understated elegance with a touch of mystique, the 'Marbleized Magic' manicure could be your new favorite. Incorporating swirling patterns of marble in myriad color combinations, this style brings a luxurious and sophisticated touch to your nails. It's like having miniature art pieces at your fingertips, each telling its own intricate story.
Botanical Bliss
Are you a nature lover? Bring a piece of the garden to your nails with the 'Botanical Bliss' manicure. This manicure transforms your nails into a flourishing garden, featuring delicate floral patterns, leafy fronds, and even tiny ferns. It's a fresh breath of spring anytime, offering a tranquil retreat to nature in the midst of daily hustle and bustle.
Geode Glory
Step into the wondrous world of minerals and gems with the 'Geode Glory' manicure. This style showcases the natural beauty and intricate patterns found in geodes, with rich hues and shimmering crystals. Each nail is like a precious geode slice, offering a glimpse into the magical world beneath the earth's surface.
How Do You Properly Clip and File Square Nails?
Mastering the art of shaping square nails can elevate your manicure game. Here's a step-by-step guide that walks you through achieving that perfect square shape:
Step 1: Gather Your Tools
Before you begin, ensure you have all the necessary tools: a good quality nail clipper, a nail file (preferably with a grit level between 180 and 240 for natural nails), and a buffer to smooth everything out at the end.
Step 2: Clean Your Nails
Start with clean, polish-free nails. This gives you a clear canvas, allowing you to see and adjust the shape as necessary.
Step 3: Clipping the Nails
First, use a nail clipper to cut your nails to the desired length. Remember, starting longer is always better as you can gradually shorten them if needed. Try to cut straight across to create a square shape.
Step 4: Begin Filing
Grab your file and start shaping from the sides to create the perfect square shape. File in one direction instead of a see-saw motion to prevent nail breakage and to achieve a smoother finish. The goal is to make the top edge flat and even.
Step 5: Perfecting the Corners
For square nails, the corners are a crucial part. You'd want to keep them sharp and defined, but if you prefer softer corners, you can slightly round them off to create a 'squoval' (square+oval) shape. This looks polished and prevents the nails from snagging on fabrics.
Step 6: Smoothing the Edges
Once satisfied with the shape, use a buffer to smooth out the edges. This will remove any tiny splinters and give your nails a professional, finished look.
Step 7: Final Touches
Finish by applying a nourishing cuticle oil to hydrate your nails and cuticles. Then go ahead and paint them in your favorite color or try out one of the trendy designs mentioned earlier!
Step 8: Maintenance
To maintain your square nails, file them regularly to keep the shape intact. Regular filing helps prevent any splits or chips.
Remember, achieving the perfect nail shape might take some practice. Keep going even if it doesn't turn out perfect the first time. You'll get there with a bit of patience and practice!
8 Simple Tips For Painting Perfect Square Nails
Painting square nails can be a delight, especially because the flat top provides a great canvas for a neat application. Here's a guide to help you paint your square nails like a pro:
Step 1: Preparation is Key
Start by pushing back your cuticles gently to create a clean and even base for your nail polish. Apply a base coat to protect your nails and create a smooth surface for the polish.
Step 2: The Right Tools
Ensure you have a good quality nail polish brush. It can be a part of the polish bottle or a separate tool. A brush with a rounded tip can be beneficial in achieving a smooth and even application.
Step 3: The Perfect Stroke
Begin with a stroke of polish down the center of the nail, keeping a little space away from the cuticle. The flat surface of square nails makes it easier to get a smooth line. Then, paint one stroke on each side to cover the entire nail.
Step 4: Mind the Edges
While painting, take special care at the edges. Since square nails have defined edges, use the brush to neatly cover the corners without overflowing onto the skin. The aim is to transition from the nail bed to the edges seamlessly.
Step 5: Embellishing Your Canvas
Square nails are a perfect canvas for various nail arts. You can experiment with designs that complement the nail shape from French tips to geometric patterns. Play around with different themes and have fun adorning your nails.
Step 6: The Finishing Touch
Once you've applied your chosen color, seal your manicure with a top coat. This step will give your nails a glossy finish and protect the polish, making your manicure last longer.
Step 7: Clean Up
In case you have any mishaps, use a clean-up brush dipped in nail polish remover to clean up the edges and give your manicure a professional finish.
Step 8: Maintenance
To maintain your manicure, apply a fresh layer of top coat every 2-3 days. This not only refreshes your manicure but also prevents chipping.
Remember, the key to a perfect manicure is patience and practice. Take your time and enjoy the process of beautifying your nails.
Conclusion
Write a concluding paragraph about the topic in a friendly, human way as if you were a fashion expert. Please summarise any tips, the risks involved, and any other advice. Do not use words like darling or gorgeous. Instead of gender-specific terms like "my gorgeous friends," use neutral terms like "hello, fashion enthusiasts." The summary should have a positive tone and an impartial view, leaving the reader feeling informed and motivated to take action.
Feature image @checkyesmichelle via Instagram