Hey there, cosmic trendsetters! I'm here to take you on a sparkling adventure where the beauty of the night sky merges seamlessly with chic nail artistry. In this post, we're diving deep into a universe of nail designs that are nothing short of stellar. Whether you're a nail art pro or just starting to explore, I've got a collection of 19 celestial nail ideas lined up to sprinkle some starry magic onto your manicure routine.
Join me as we navigate through a dazzling array of designs, ranging from whispers of stardust to bold galactic displays, each promising to infuse a dose of celestial charm into your look. By the end of our little space voyage, you'll be brimming with inspiration and ready to bring these starlit wonders right to your fingertips. So, come along; a canvas of cosmic elegance awaits to adorn your nails in the most captivating way!
Nighttime Reverie Star Nails
There's something truly magical about the night sky; a deep green hue can be the perfect canvas to depict its beauty on your nails. Imagine wearing the night sky on your fingertips, adorned with chrome stars that twinkle in gold. Add tiny golden dots to mimic distant stars, creating a mini planetarium at your fingertips. Complement this celestial artwork with gold jewelry to enhance the stellar vibes. Just last week, I paired this design with a chic gold bracelet, and the compliments just kept coming!
Moonlit Blossom
Embrace the gentle embrace of a lunar eclipse on your nails with a sheer pink base that allows the golden moon and stars to stand out truly. Choose a polish with a shimmer to add a whimsical glow to your nails. I remember donning this ethereal look during a whole moon night; it truly felt like I had encapsulated its mystical beauty on my nails!
Lavender Dreams
Immerse yourself in a calming lavender skyline with fluffy white clouds drifting across your nails. Add a sprinkle of rhinestones to represent twinkling stars, creating a harmonious blend of serenity and sparkle. I once wore this look to a garden party, which perfectly matched the lavender blooms around me.
Butterfly Haven
Get ready to grab all the attention with this vibrant and dynamic design. Picture chrome stars and moons coexisting harmoniously with fluttering butterflies against a backdrop of velvety gold. This maximalist design promises no dull moments, offering a delightful visual treat with every hand gesture.
Midnight Serenade
Dive into the tranquility of the midnight hour with this sophisticated design. Create an illusion of dipping your fingertips into the night sky, adorned with golden chrome stars twinkling at the tips. I love this design for a classy evening event – it's a conversation starter, trust me!
Celestial Diamonds
If you're anything like me, and you've been humming Rihanna's hits non-stop since her dazzling Super Bowl performance, why not channel that energy into your nail art? Design a starry backdrop with shimmery pastels and celestial charms; you have a masterpiece at your fingertips.
Midnight Elegance
Experience the enchanting allure of the night with this edgy and glossy design. Starting with a pitch-black ombré base adorned with golden chrome stars, it creates a striking contrast bound to leave an impression.
Pink Stardust
Celebrate the vibrant hues of pink with this delightful and sweet design. Paint each tip with a varying shade of pink and adorn them with chrome stars and matching gems for an explosion of color that adds a playful touch to your look.
Glazed Cosmos
Create a mesmerizing base using a popular nail shade like OPI's Bubble Bath, the same hue I spotted nail artist Phoebe Summer showcasing in her recent creations. Add golden stars and top it with chrome powder to achieve a stunning, iridescent finish reminiscent of a glazed donut.
Enchanting Nightfall
Witness the soft dance of light and shadow with this exquisite nail art. Featuring an iridescent base contrasted by a black French manicure, this design is crowned with chrome stars and a black moon, promising a breathtaking, defined finish.
Stellar Nail Diaries: Celestial Designs to Adore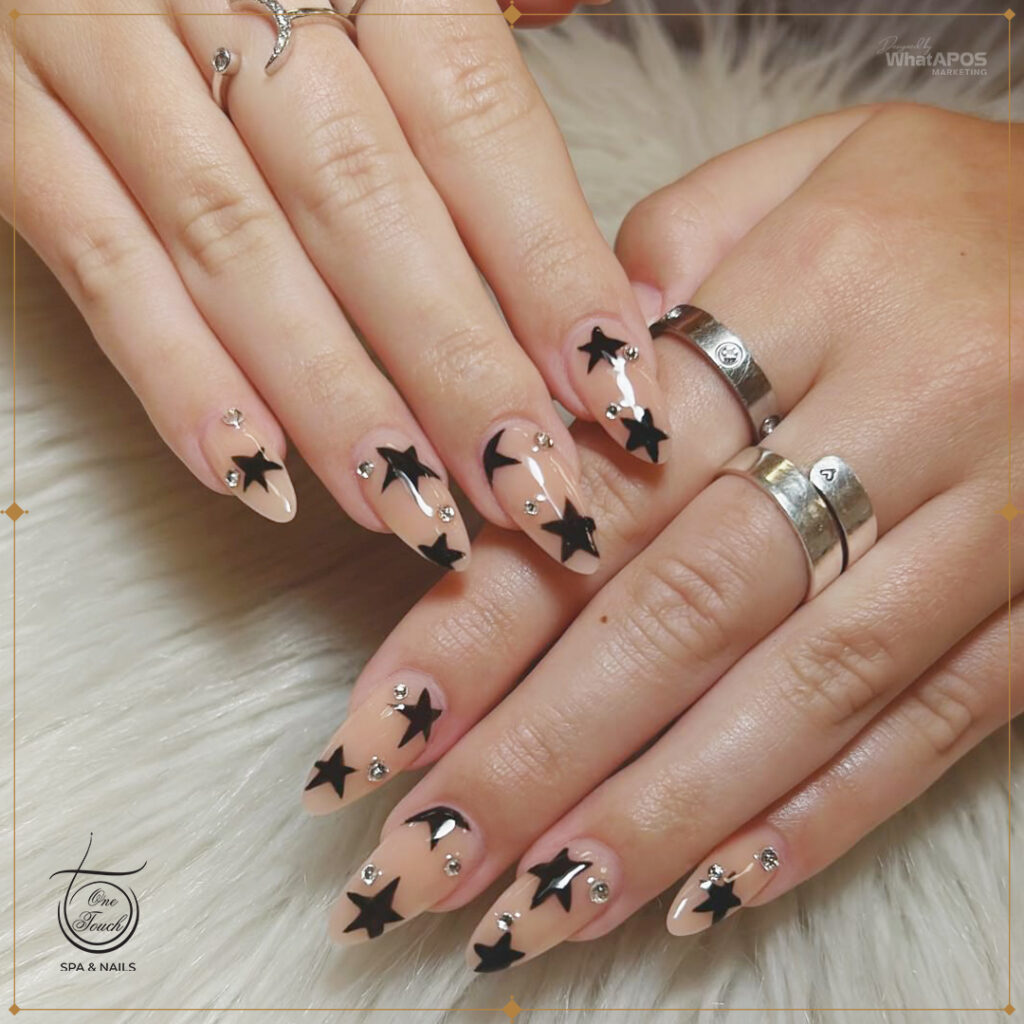 Dive with me into a galaxy where nail art meets starry nights and where your fingertips tell a tale of cosmic wonder. From my nail escapades to the tips I've gathered from fashion weeks, I bring you some of the most celestial nail designs that promise to elevate your style quotient.
Guided by the North Star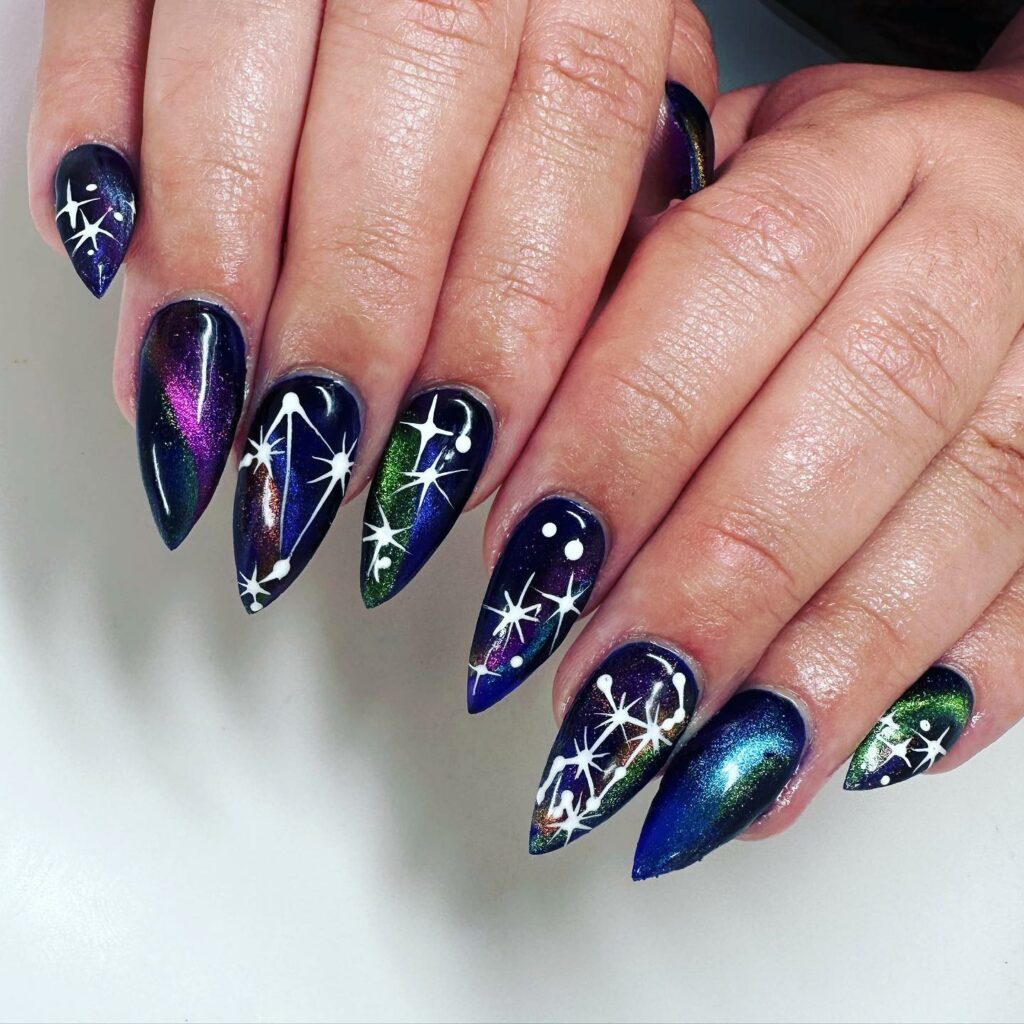 We all have that go-to design, the equivalent of a North Star in our nail universe, guiding us toward chic nails every time. My recent favorite? A design adorned with stars, some of which center a splash of gold bling. It gives a sophisticated look, but the 3D effect also adds a layer of oomph that's hard to miss. Pro tip: A star with that gold center on the ring finger? Absolute perfection!
Pastel Horizons: Ombré Dreams
There's something inherently calming about pastels. Blend a serene pink into a tranquil blue, and you have an ombré effect straight out of a pastel dream. But don't stop there. Top it off with golden chrome stars, moons, and dots to truly capture the essence of a starlit sky. I once tried this for a beachside evening, and the colors beautifully mirrored the sunset!
Star-Sign Shine: Awesome Astrology
We've all been at parties where someone's intrigued by our jewelry or tattoos that depict our zodiac signs. So, why not wear your star sign with pride on your nails? Integrate your astrological symbol amidst the chrome stars for a personalized touch. I remember flaunting my Leo sign on my nails at a gathering and the conversations it sparked!
Timeless Elegance: Half Moons
There's beauty in designs that age gracefully. Negative space half-moons are just that. As they grow out, their subtlety shines through, making them timeless. The first time I rocked this design, I was amazed by its longevity and how it retained its chic charm weeks after.
Electrifying Tips: Acid Wash
Who says French manicures need to stick to the traditional? Add a futuristic twist with an acid yellow-green on the tips, juxtaposed with chrome stars in contrasting shades. And if you're anything like me, always looking for that extra pizzazz, toss in a few rhinestones to elevate the texture. It's edgy, it's modern, and trust me, it's a head-turner.
Cosmic Constellations
Delve into the night sky and bring the wonders of constellations to your fingertips. Use a deep navy or black base to mimic the night sky and draw constellations using fine silver or gold nail art pens. You could either represent existing constellations or create your personalized sky map. Pair it with some sparkle for a starry night effect that's both elegant and mysterious.
Shooting Stars
Unleash the magic of shooting stars on your nails with this design. On a gradient or ombré background representing the twilight sky, paint a series of shooting stars using a thin brush or nail art pen. For an added effect, make a few trails with glitter polish to depict the sparkling tail of the shooting stars. This design looks mystical and adds a dynamic touch to your nail art repertoire.
Galactic Swirls
If you're one to appreciate abstract art, this one's for you. Start with a dark base and create swirls with shades of blue, purple, and even a touch of white to mimic galaxies. Once that's done, add little star patterns, giving the illusion of galaxies amidst star clusters. This nail art idea perfectly blends artistry and astronomy, making your nails a canvas for celestial wonders.
Nebula Nails
Nebulas are known for their vibrant and ethereal beauty. Create a nebula-inspired nail art by blending vibrant hues like purples, blues, and pinks on your nails and then dotting tiny stars around to give the appearance of a nebulous cloud in space. You can add a layer of glitter top coat for that extragalactic sparkle. It's a visually stunning and vibrant design promises to make a bold statement.
8 Amazing Stellar Nail Designs To Try In 2024
We haven't just stopped at stars and moons in our specially curated selection of stellar nail designs. Prepare to venture further into the cosmos and explore other celestial wonders at your fingertips. Here's a sneak peek into what awaits you:
Solar Flares: Channel the sun's power with designs inspired by solar flares. Think fiery reds, oranges, and yellows merging in a fierce and dynamic pattern.
Comet Tails: Create a mesmerizing effect with comet tails streaming across a dark, galactic background. Incorporate glittering trails to mimic the glowing tails of comets zooming across the sky.
Planetarium Picks: Become a proud display of our solar system by featuring different planets on each nail. Use various colors and shapes to bring the unique characteristics of each world to life.
Cosmic Dust: Take a softer approach with a design inspired by the gentle swirls of cosmic dust. Use pastels and iridescent hues to create a dreamy, ethereal backdrop sprinkled with tiny stars and glitter.
Aurora Borealis: Capture the magical aura of the northern lights on your nails. Play with green, purple, and blue gradients, creating a hypnotic display reminiscent of the real phenomenon.
Meteor Showers: Embrace the wonder of meteor showers with designs featuring streaks of light against a night sky backdrop. Add a hint of glitter to represent the gleaming meteors passing through the sky.
Supernova Sparkle: Create a dramatic, explosive design inspired by a supernova. Use vibrant hues blending outwards to represent the burst of energy and the magnificent array of colors seen in this celestial event.
Galactic Marbles: Experiment with the marble nail art technique but with a galactic twist. Combine deep cosmic colors with swirls of glitter and stars for a truly out-of-this-world look.
Remember, these designs are here to inspire and fuel your creativity. Feel free to tweak them, mix them up, and add your flair to make them your own truly. The universe is vast, and the possibilities are endless!
How Difficult Are the Designs To Recreate?
The difficulty of recreating these celestial nail designs can vary based on many factors, including your experience with nail art, the complexity of the specific design, and the tools at your disposal. Here's a general guideline to help you gauge the level of difficulty you might encounter:
Cosmic Constellations and Shooting Stars – These designs are relatively straightforward, especially if using nail stickers or stamps. A steady hand and a bit of patience are all you need to achieve these stellar looks.
Galactic Swirls and Nebula Nails – These might pose a medium difficulty, as they involve blending multiple colors seamlessly to create a swirling, nebula-like effect. A bit of practice with gradient techniques would be beneficial here.
Solar Flares and Aurora Borealis – These designs have a medium to high level of difficulty due to the use of vibrant hues and the requirement of creating a dynamic yet smooth transition between colors to mimic natural phenomena.
Planetarium Picks and Supernova Sparkle – These designs are on the higher difficulty spectrum because of the detailed work involved in creating miniature planets and explosive supernova patterns. A bit of artistic flair and possibly some nail art experience would help here.
Comet Tails and Meteor Showers – These are medium-difficulty designs where the main challenge lies in creating fine, glittering trails that represent comets and meteors. Having fine brushes and some experience with drawing thin lines would be beneficial.
Galactic Marbles – While producing stunning results, this technique can be tricky to master at first. It involves a water-marbling technique which might require some practice to perfect.
Remember, the joy often lies in the journey, not just the destination. So, even if you're a beginner, don't hesitate to try these designs. With time, patience, and practice, you'll become more adept at recreating these celestial wonders on your nails. Moreover, there are numerous online tutorials and nail art communities where you can learn, share, and grow your skills. So go ahead, let your creativity soar to galactic heights!
Conclusion
And there we have it, celestial aficionados! Embarking on a star-studded nail art journey can be an exhilarating yet soothing endeavor, one where the canvas of your nails meets the mysteries of the cosmos. While diving into this trend, remember to give your nails proper care before and after the application to maintain their health. Experimentation is the name of the game here – don't shy away from blending different styles or adding your unique touch. And, as you step into this starry expedition, remember that like stars, each of you is unique and shines in its beautiful way. Armed with these stellar nail art ideas, the sky (or the galaxy!) is not the limit. Go ahead, paint your story on your nails, and let them twinkle with the vibrant stories and dreams you hold. Until next time, keep shining and happy painting!
Feature image @jadeandpolished via Instagram