Welcome to my latest blog post, where we're diving into the elegant world of Thin French Tip Nails. If you're like me, always hunting for a classic and chic nail look, you're in for a treat. This post is all about mastering the art of Thin French Tips, a style that has stood the test of time and continues to reign supreme in nail fashion. We'll start by exploring what Thin French Tips are and why they're a must-try for anyone who loves a sophisticated and polished look. I'll guide you through creating these beauties at home, sharing tips and tricks I've picked up over the years. Plus, I'll spill the beans on the best products for that flawless finish. But that's not all. We'll also explore some creative variations to elevate the traditional French manicure. Whether you're a minimalist or love a bit of flair, there's a style here.
By the end of this post, you'll be equipped with all the know-how to rock Thin French Tip Nails and be inspired to experiment and make this timeless style your own. So, let's get started and nail this look together!
Double Black Thin French Nails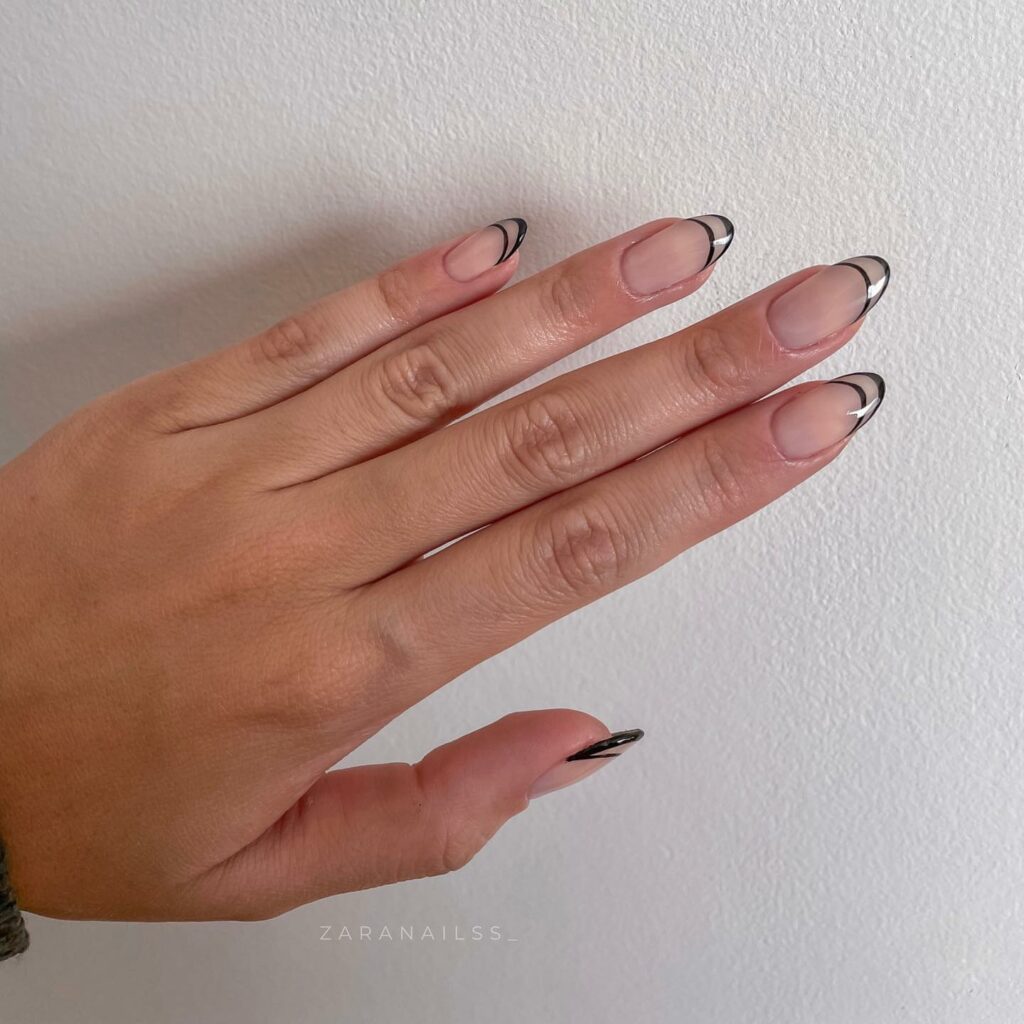 Elevate the classic French manicure with a double dose of chic, using two thin black lines for an edgy yet sophisticated look. It's perfect for nail enthusiasts seeking a modern twist on a timeless style.
Black Thin French Square Nails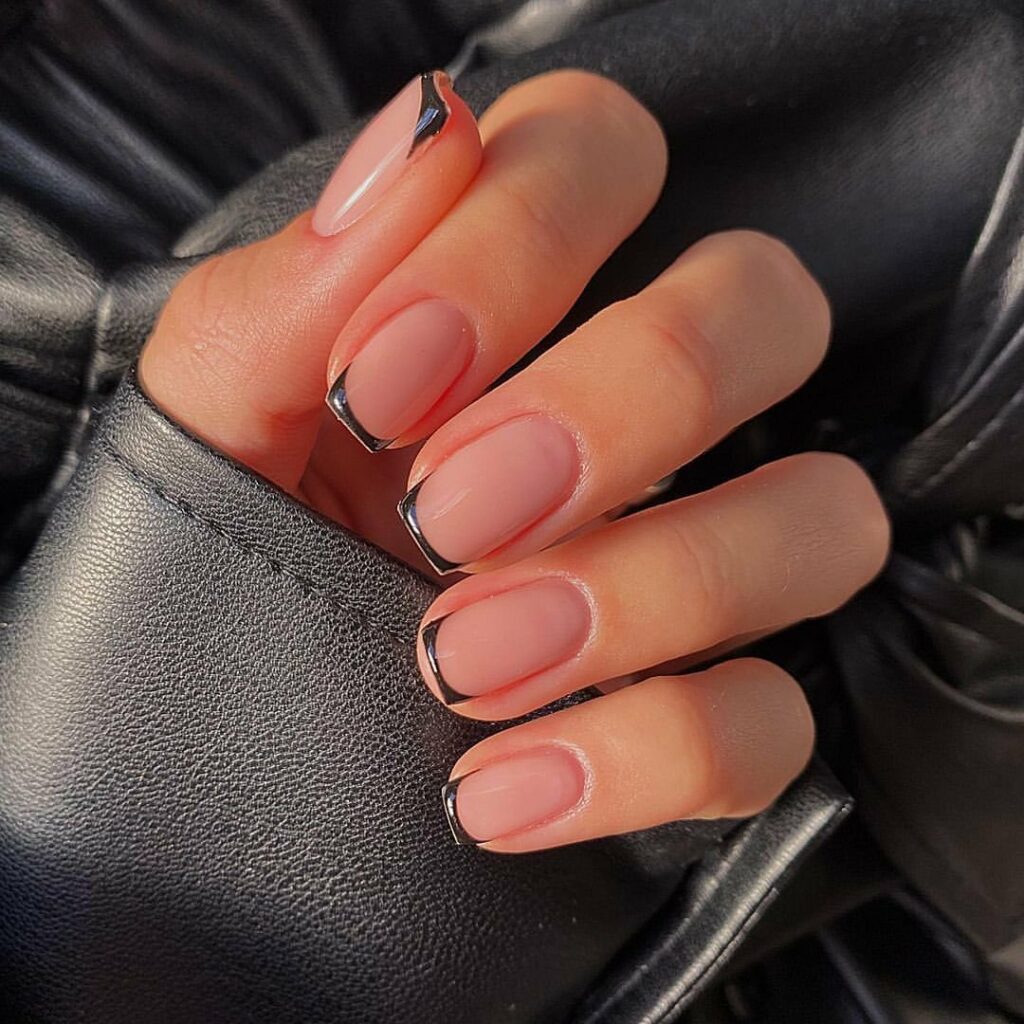 The combination of a slender black French tip on square nails creates an elegant and contemporary look. Ideal for those who appreciate a clean, geometric aesthetic.
Thin Orange French Coffin Nails
For a bold and vibrant statement, thin orange French tips on coffin-shaped nails are a standout choice. This style will turn heads with its striking color and trendy shape.
Thin Purple Glitter French Tip Nails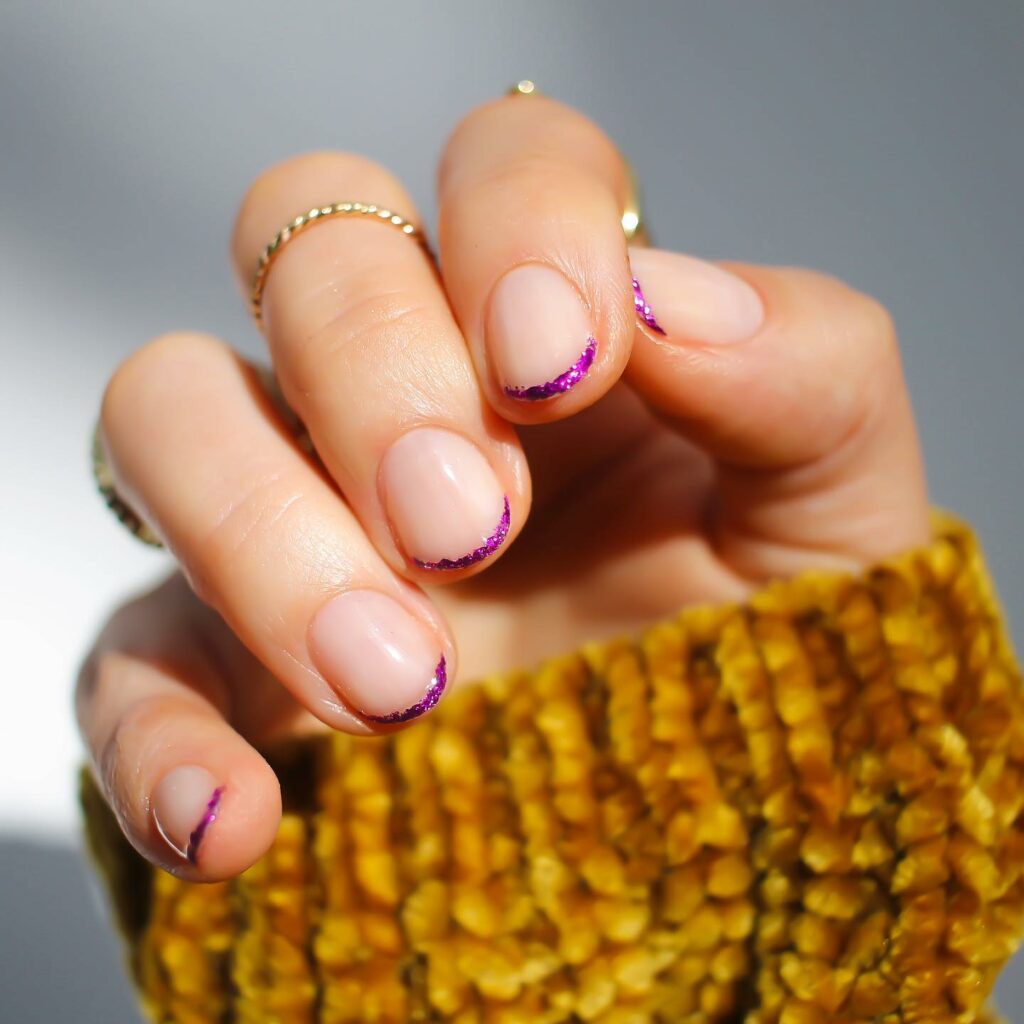 Add sparkle to your look with thin purple glitter French tips, combining glamour with a classic design. This style is perfect for occasions that call for a bit of glitz.
Thin Side French Tip Nails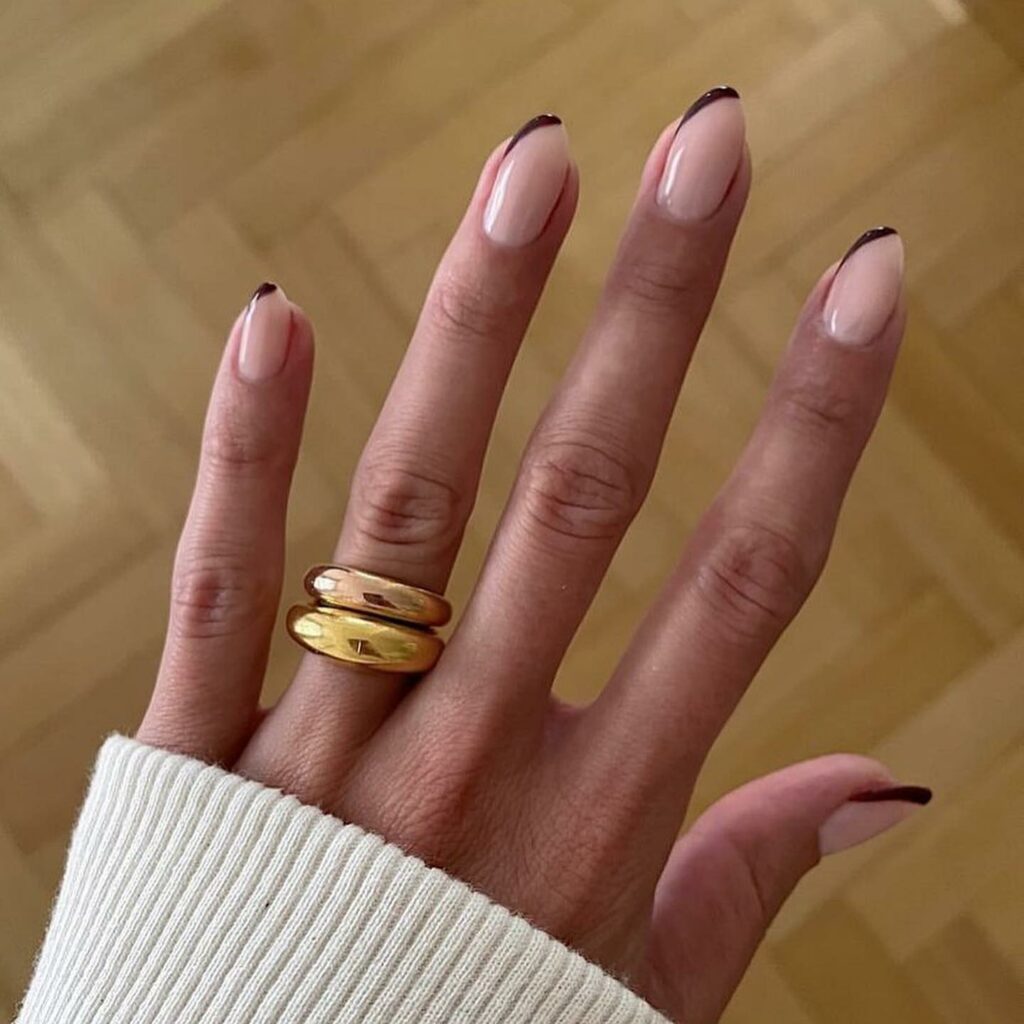 A subtle yet chic variation, thin side French tips offer a unique and minimalist approach to the traditional French manicure. This style is ideal for those seeking a sleek and understated look.
Pink Aura Nails With Thin Green French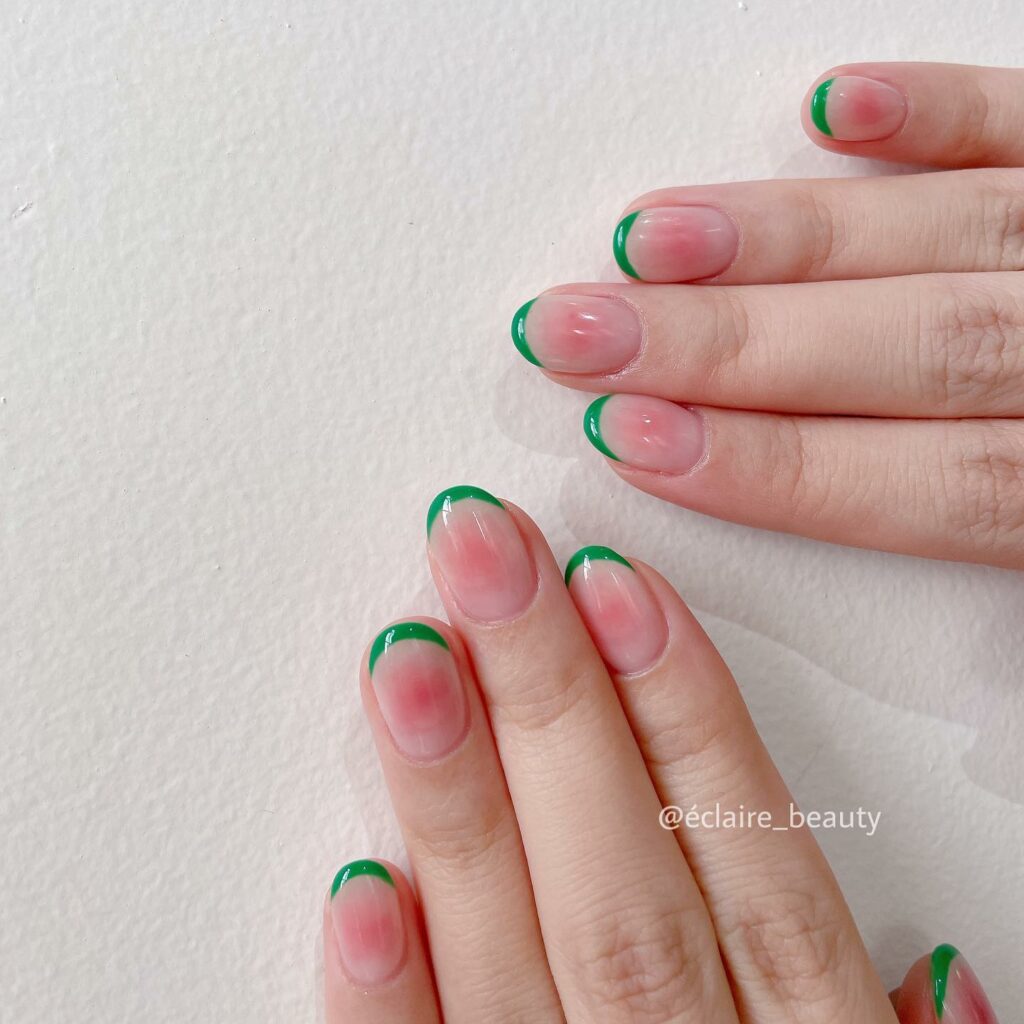 Create a mystical vibe with a soft pink base and contrasting thin green French tips. This enchanting combination is perfect for those who love to add a magical touch to their nails.
Thin French Tip Nails With Daises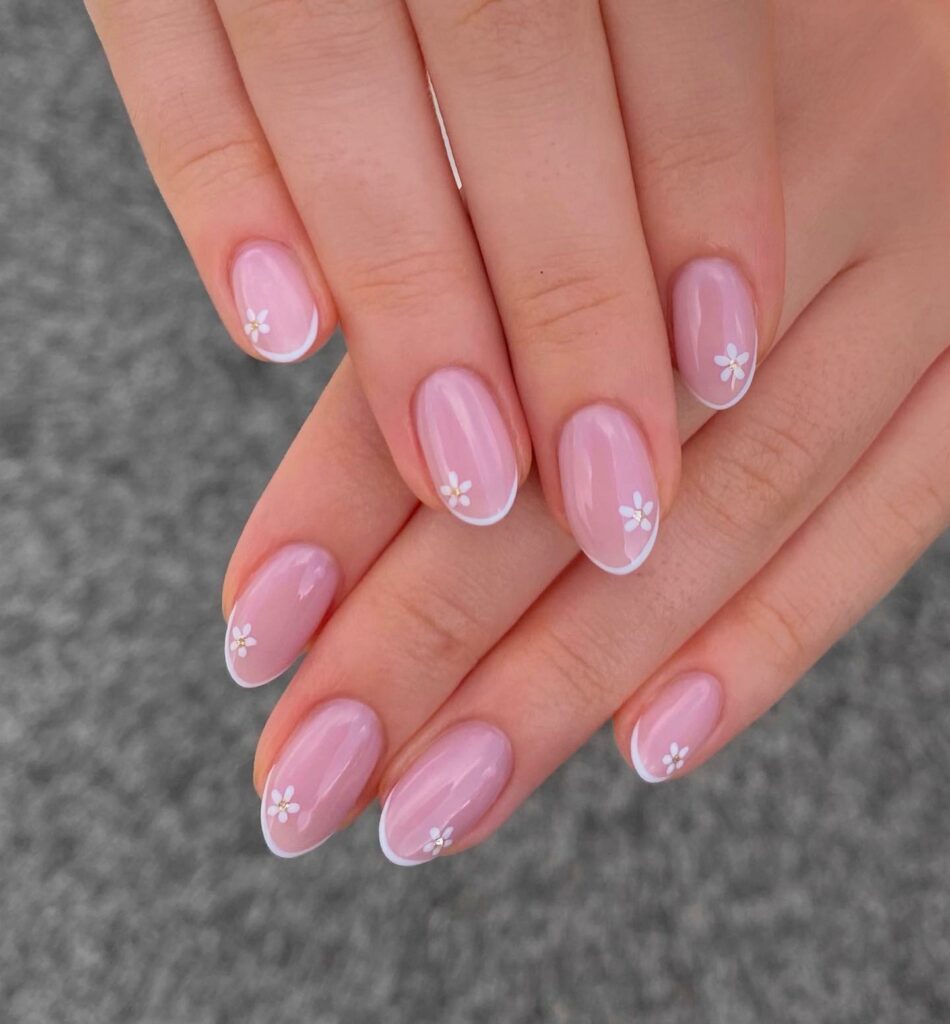 Combining thin French tips with charming daisy designs, this style is fresh, playful, and perfect for spring or a cheerful everyday look.
Colorful Thin French Nails
Embrace a spectrum of colors with these vibrant, thin French tips, ideal for adding a fun and playful touch to your nail game. This style is perfect for those who love to experiment with color.
Thin Matte Black French Nails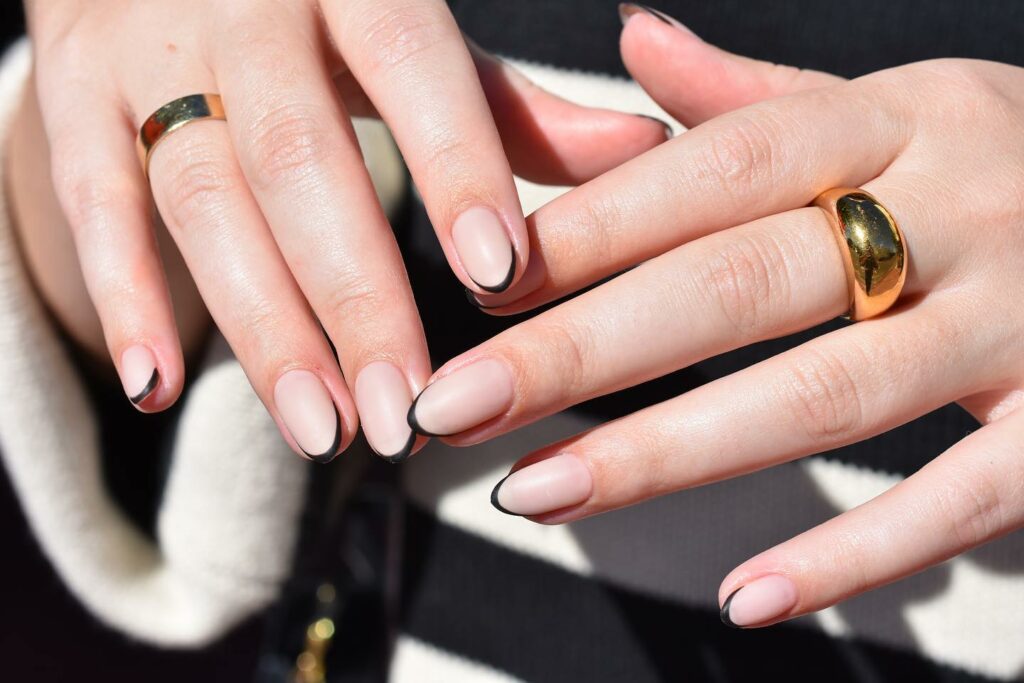 Thin matte black French tips are an excellent choice for a sophisticated and modern look. This style is ideal for those who prefer a sleek, minimalist aesthetic.
Two Color Thin French Tip Nails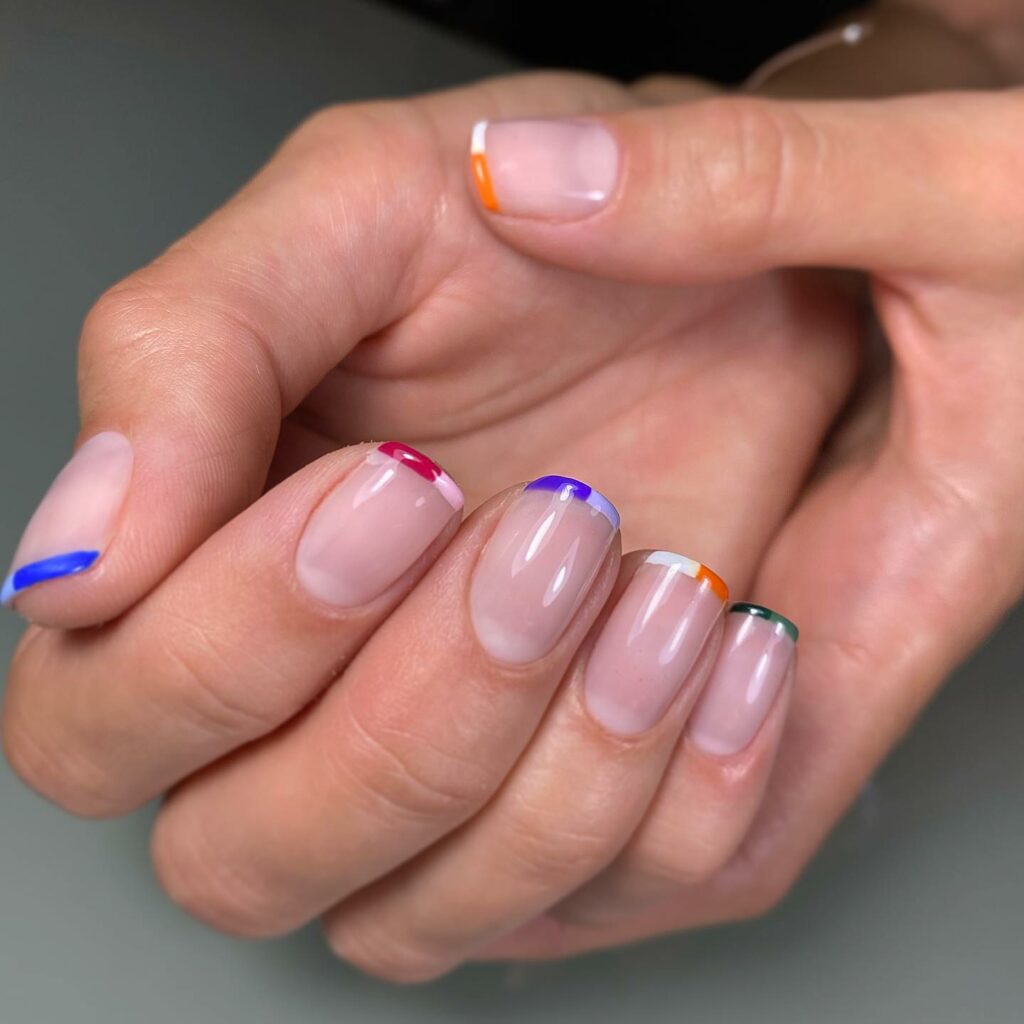 Mix and match with two colors in a thin French tip design for a customizable and dynamic manicure. This style offers endless possibilities for those who love personalizing their nail art.
Glossy Thin Black French Nails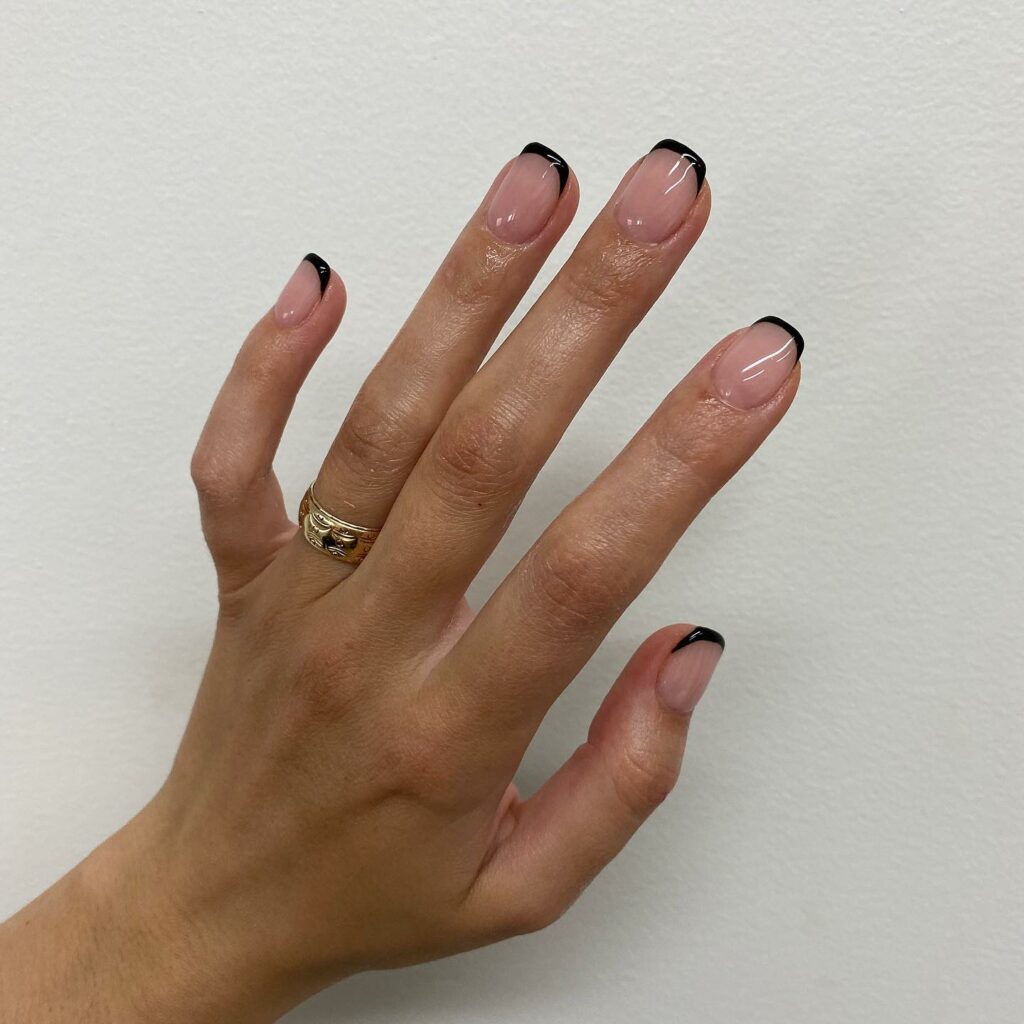 The classic French manicure upgrades with glossy, thin black tips, offering a polished and refined look. Perfect for both everyday wear and special occasions.
Thin Orange French Tip Almond Nails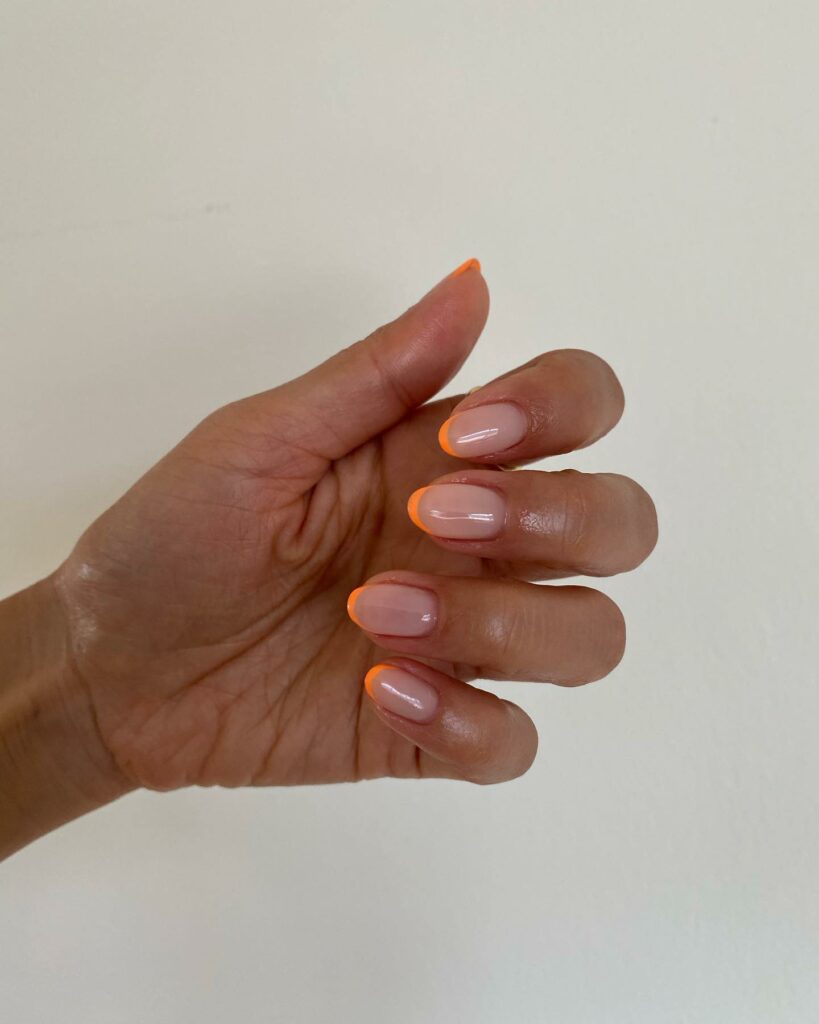 Brighten your look with a pop of color using thin orange French tips on almond-shaped nails. This style is a fun twist on the classic French manicure, perfect for those who love a playful yet elegant look.
White Thin French On Pink Nails
A delicate white French tip on a soft pink base offers a feminine and subtle elegance. This combination is ideal for a chic, understated style that works well for any occasion.
Pastel Color Thin French Tip Nails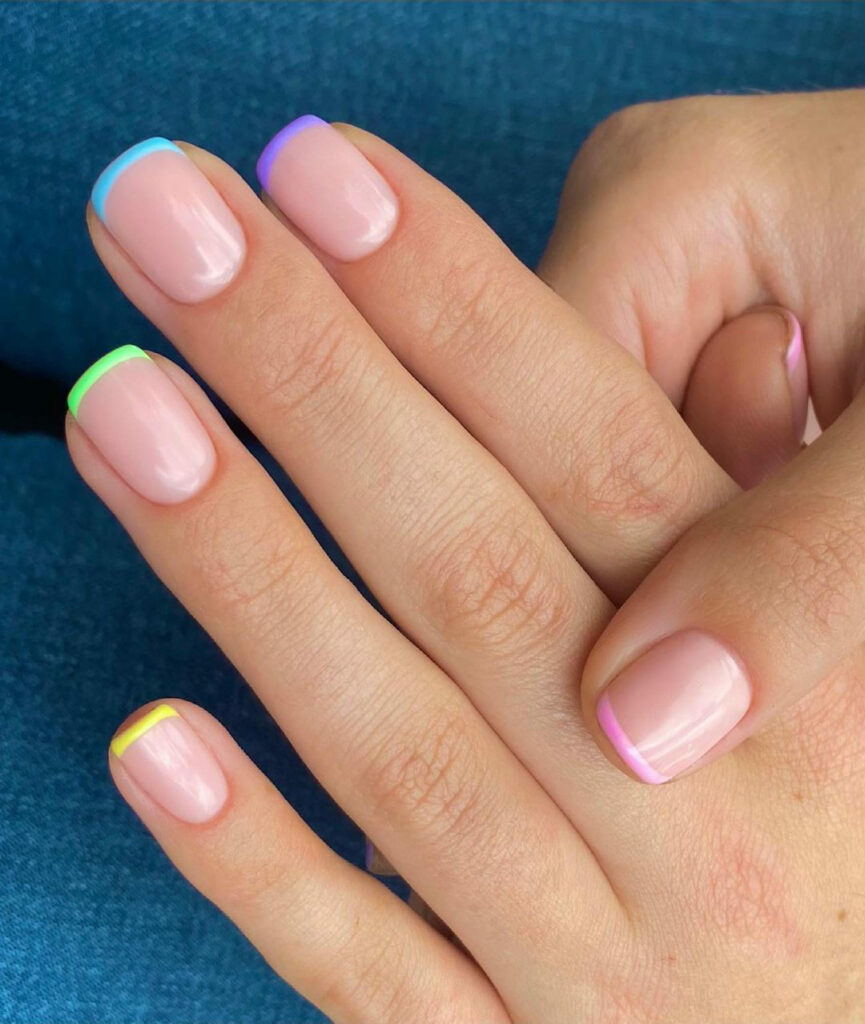 Embrace the soft hues of spring with pastel-colored thin French tips. This style is perfect for those who prefer a gentle splash of color, suitable for everyday wear and special events.
White Thin French Almond Nails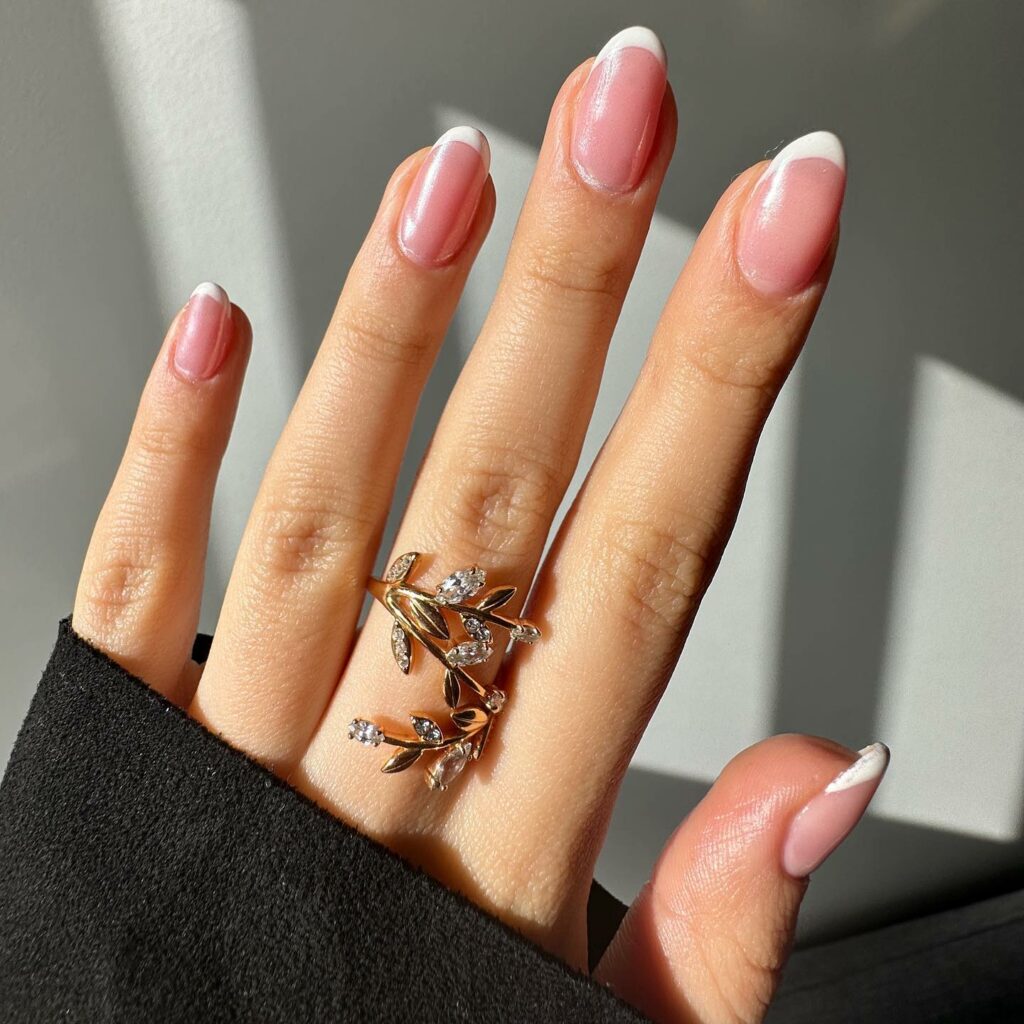 The classic white French tip gets a sophisticated update on almond-shaped nails. This timeless design is perfect for those who appreciate a refined and polished look.
Thin Black French Accent Nails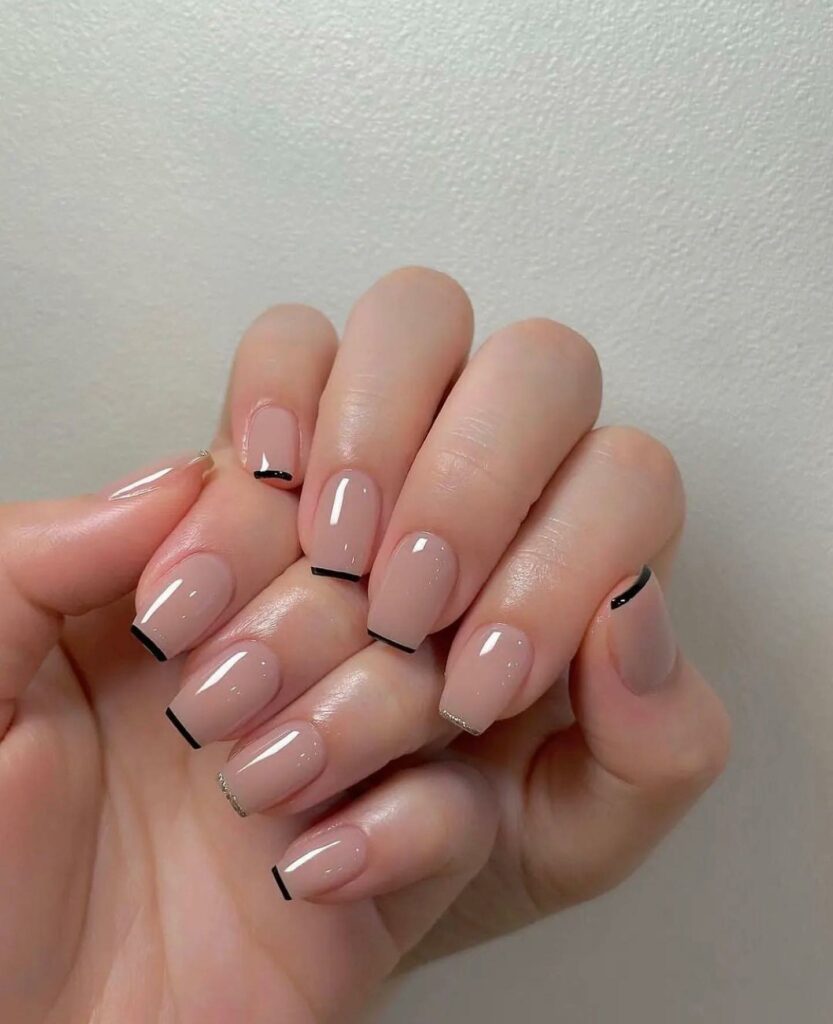 Add thin black French tips as accent nails for a modern and stylish twist. This design adds an edgy contrast to your manicure, ideal for those who like to make a statement.
Thin Khaki French Tip Nails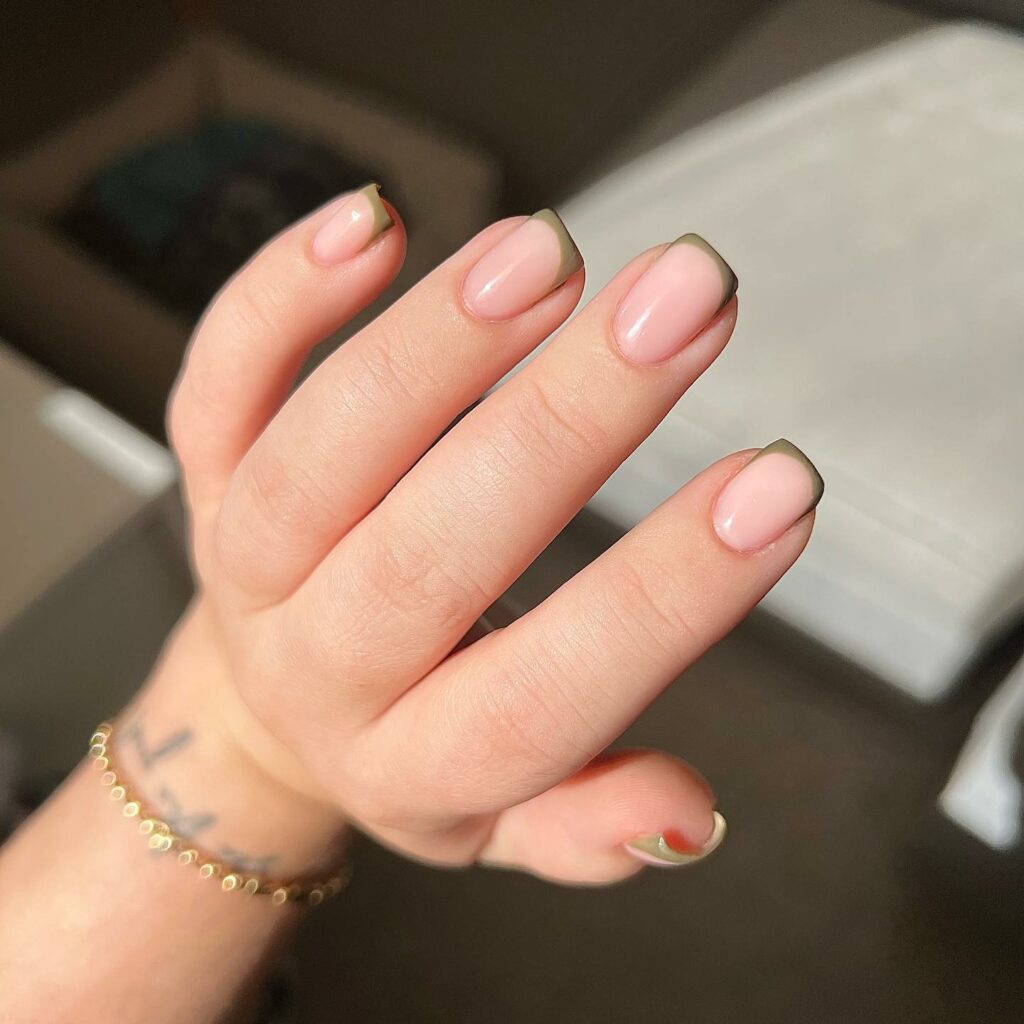 Thin khaki French tips offer a unique and earthy elegance, setting your nails apart from the usual styles. This understated yet chic look is perfect for those who enjoy subtle, natural colors.
Glitter Thin French Tip Nails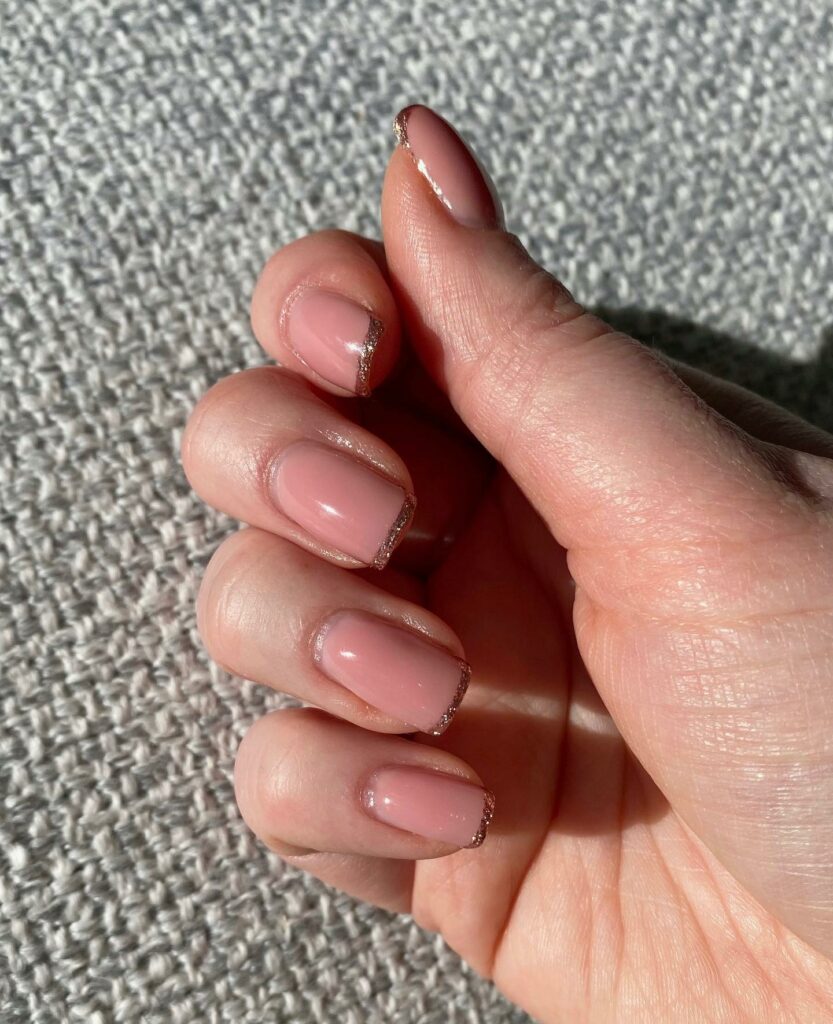 Add some sparkle to your French manicure with thin glitter tips. This style is perfect for adding a festive touch to your nails, suitable for day and night occasions.
Thin Blue French Short Nails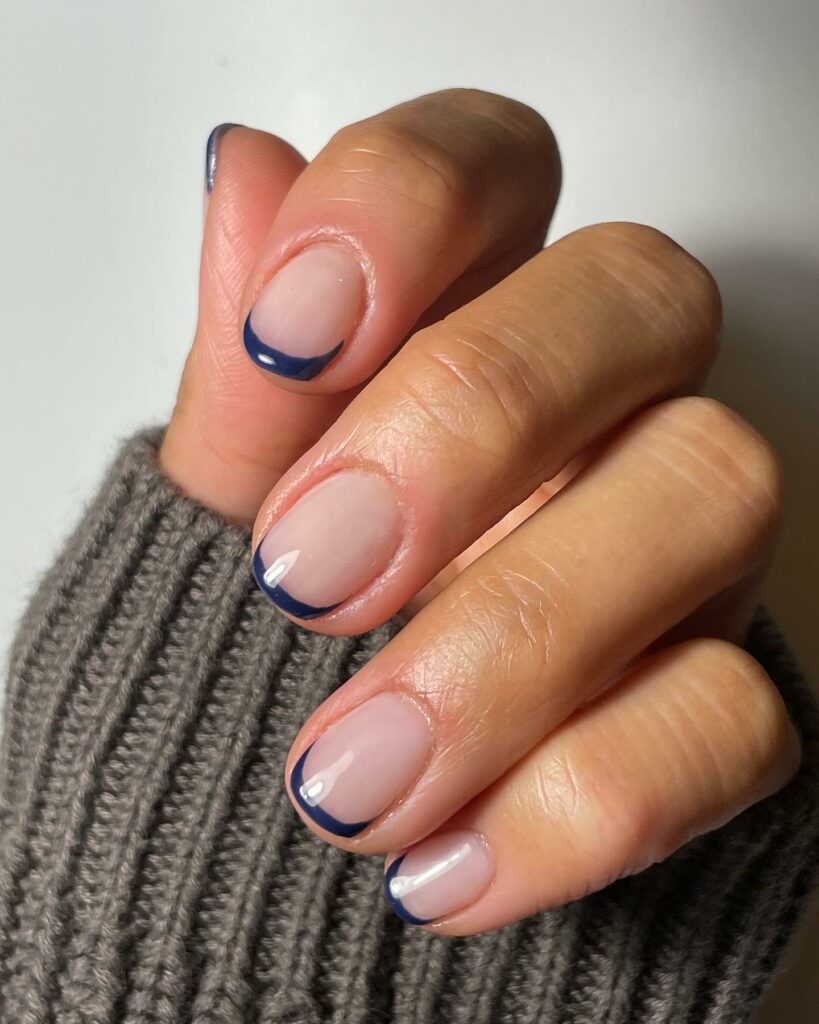 Keep it simple and sweet with thin blue French tips on short nails. This look is a fresh and playful take on the French manicure, ideal for those who prefer a subtle pop of color on a manageable nail length.
Almond Thin French Tip Nails With Swirl
Almond-shaped nails paired with a thin French tip and delicate swirls blend elegance and whimsy. This design is perfect for those who love a touch of artistic flair.
8 Simple Steps To Create Thin French Tip Nails?
Preparation: Start by cleaning your nails. Remove any old nail polish and wash your hands. Trim, file, and shape your nails to your desired length and shape. For French tips, a rounded or square shape often works best.
Base Coat: Apply a clear base coat to protect your natural nails from staining and to help your manicure last longer. Allow it to dry completely.
Apply Nude or Pink Polish (Optional): If you prefer a classic French manicure look, apply a sheer nude or pale pink polish as your base color. This step is optional; some prefer the natural color of their nails. Let this layer dry completely.
Creating the Thin Tip: Use white nail polish (or any color you prefer for your tips) and a thin brush or a French tip guide. Carefully paint a thin line across the tip of your nail, following its natural curve. Keep your hand steady – getting a perfect, even line might take some practice.
Clean Up: If you make any mistakes, use a small brush dipped in nail polish remover to tidy up the edges and perfect the curve of your French tip.
Top Coat: Seal your manicure with a clear top coat once your French tips are dry. This will add shine and prolong the life of your manicure.
Hydrate: Finish off by moisturizing your cuticles and hands with a nourishing hand cream or cuticle oil.
Remember, practice makes perfect. Don't worry if your first few attempts aren't flawless – even as an expert, I had to practice to get my French tips right. The key is having fun with it and letting your style shine through!
10 Products That I Recommended For Thin French Tip Nails
Nail Polish Remover and Cotton Pads: Start with a clean slate by removing old polish. Choose a gentle, acetone-free remover to avoid drying out your nails and cuticles.
Nail File and Buffer: Shape your nails with a sound quality nail file, and use a buffer to smooth the surface of your nails for even polish application.
Cuticle Oil and Pusher: Keeping your cuticles healthy is essential. Apply cuticle oil and gently push back your cuticles with a cuticle pusher.
Base Coat: A good base coat protects your natural nails from staining and helps the polish adhere better. Look for a strengthening or nourishing formula if you have brittle nails.
Nude or Pink Polish (Optional): Select a sheer nude or pale pink polish for the classic French tip look. Opt for a formula that offers a smooth application and even coverage.
White Nail Polish for Tips: Choose a high-quality white nail polish for the tips. A polish with a thin, precise brush or a pen-style applicator can make drawing the thin line easier.
French Tip Guides: These stickers help you paint a perfect tip by providing a guide. They are handy for beginners or for achieving uniformity on all nails.
Fine Tip Brush: A fine-tip nail art brush can be beneficial for more control and precision, especially if you are freehanding the tips.
Top Coat: A good top coat is crucial for sealing your design and adding a glossy finish. Look for a long-wearing and quick-drying top coat to protect your French tips.
Hand Cream and Cuticle Oil: Finish your manicure by applying nourishing hand cream and cuticle oil to hydrate your hands and nails. Remember, while high-quality products yield better results, practice, and technique are critical factors in achieving perfect thin French tip nails. So, take your time, practice, and, most importantly, enjoy creating your beautiful nails!
What Are Some Other Creative Variations To Elevate The Traditional French Manicure?
Conclusion
And there you have it, my fabulous friends! Exploring these diverse nail styles, from the playful thin orange French tips on almond nails to the understated elegance of white thin French on pink. Remember, the beauty of nail art is all about expressing your style. My top tip? Don't be afraid to experiment with colors and shapes – whether it's the earthy tones of thin khaki French tips or the festive sparkle of glitter thin French tips. Most importantly, have fun with it! Your nails are a canvas for creativity, so let them reflect your personality and mood. Keep your nails healthy, and don't shy away from trying something new. Whether you're a fan of classic styles or love to make a bold statement, there's a thin French tip design out there just waiting for you to try. So, grab your favorite polish, and let's get painting!
Feature Image Photo By @vivianmariewong via Instagram
Last reviewed and updated on November 20, 2023