Welcome to the luxurious world of velvet nails, where the fusion of texture and color creates a fashion statement that transcends seasons. Today, we're delving into the opulent and surprisingly versatile trend of velvet nail designs—a style that promises elegance at your fingertips, regardless of the calendar's page. Whether you're a seasoned nail art aficionado or a curious beginner ready to dive into the trend, this compilation is your guide. You'll learn the basic facts about velvet nails, including their origin and achievement, and discover creative ways to personalize them to reflect your style. Prepare to be inspired by designs that range from the understated sophistication of monochromatic themes to daring patterns that demand attention. By the end of this post, you'll be equipped with the know-how to rock velvet nails with confidence and charm—365 days a year. Let's embark on this journey of beauty and innovation, one polished stroke at a time.
Blushing Pink Velvet Nails
Blushing charm combines the gentleness of velvet and the sweetness of pink in a romantic and contemporary design, ideal for making a chic and subtle statement.
Fresh Mint Velvet Nails
Fresh serenity provides a relaxed and calming mint velvet nail design, refreshing your style with a serene color and soft, plush texture reminiscent of a tranquil mint breeze.
Glossy Nude Velvet Nails
Barely-there beauty epitomizes understated elegance with nude velvet nails, offering a subtle and clean aesthetic that combines nude shades' natural grace with a luxurious velvet texture.
Elegant Purple French Velvet Nails Chic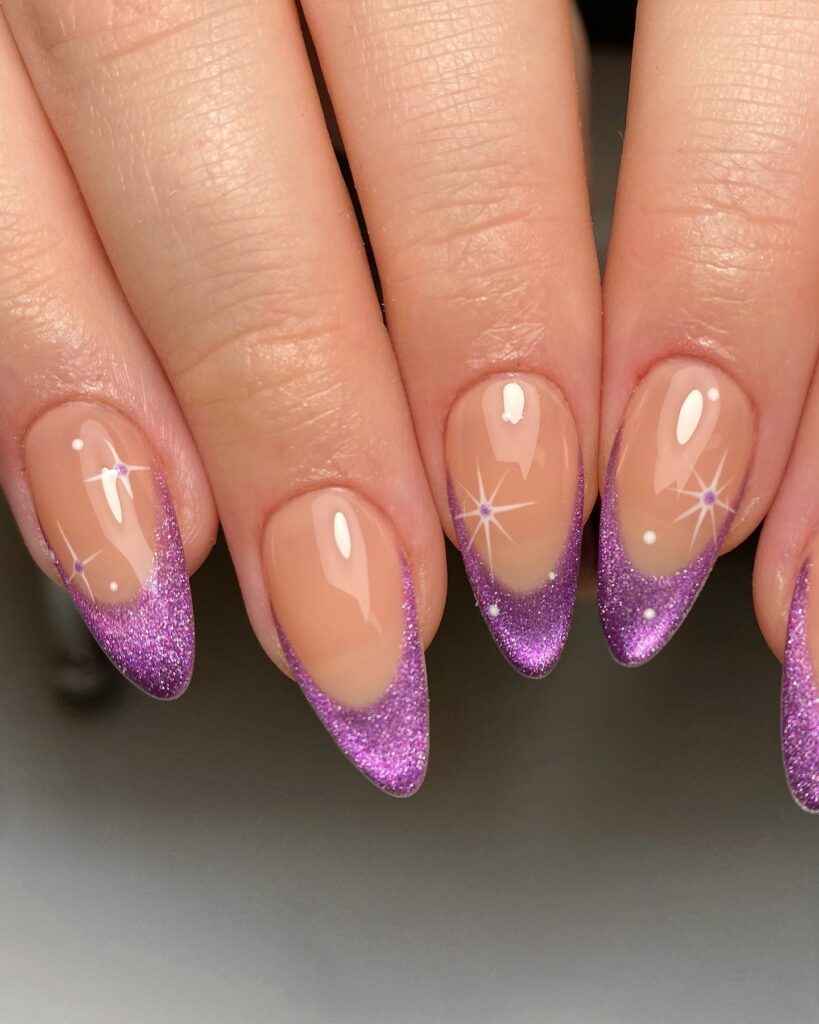 Elegant borders offer a new take on the French tip with purple French velvet nails. This design provides a regal edge with the timeless elegance of a French manicure, enhanced by the luxuriousness of velvet.
Vintage Rosy Pink Velvet Nails
Vintage bloom captures the timeless grace of an English rose garden, offering a rosy pink velvet nail design that speaks to an antique charm with a luxurious, velvety touch.
Sleek Neutral Velvet Nails
Sleek sophistication is achieved with neutral velvet nails, providing a sophisticated and minimalist edge that marries the beauty of understated tones with a rich velvet texture.
Whimsical Rose Velvet Nails
Whimsical petals are all about the softness and elegance of a rose petal, translated into a rose velvet nail design that's whimsically feminine with a luxurious velvet feel.
Lavish Lavender Velvet Nails
Lavish lilac brings the soothing essence of lavender into nail art, featuring a gentle purple tone with the rich, sumptuous texture of velvet for a nail design that's soothingly luxurious.
Glossy Pink Velvet Nails
Lustrous Blush elevates the classic velvet nail with a glossy pink twist, offering a radiant finish that glistens with sophistication. Perfect for those who want their manicure to embody the plush texture of velvet and the high shine of gloss, these nails are a statement of modern femininity.
Petite Short Pink Velvet Nails
Petite pink celebrates elegance in compact form with short pink velvet nails, offering a charming and delicate option for those who favor a stylish yet low-maintenance nail design.
Pink and Gold Velvet Nails Fusion
Regal contrast is seen in pink and gold velvet nails, a luxurious combination that pairs the soft femininity of pink with the opulent warmth of gold for a manicure that's fit for royalty.
Short Silver Velvet Nails
Metallic sheen brings a futuristic touch with silver velvet nails, a design that blends the cool tones of silver with a velvety sheen, ideal for a modern and sophisticated look.
Vibrant Orange Velvet Nails Charm
Sunset glow captures the vibrant beauty of twilight with orange velvet nails. This design is perfect for those looking to add a pop of color and vivacity to their nail art repertoire.
Gradient Ombré Velvet Nails
Gradient Dream showcases ombré velvet nails, an artful blend of colors that creates a seamless transition, offering a sophisticated and contemporary twist on classic velvet nails.
Ocean Blue Velvet Nails
Ocean depths explore the enigmatic allure of the sea with blue velvet nails, a bold design that marries the tranquility of blue with the luxuriousness of velvet.
Velvet Gold Christmas Nails
Gilded blossoms bring a luxurious twist to the classic French manicure, with gold French velvet nails adorned with florals for those who love a detailed and opulent nail design.
Emerald Green Velvet Nails
Emerald elegance embodies the luxurious depth of the forest, with green velvet nails that are perfect for those who covet an earthy and rich look with a plush, velvety finish.
Two-Tone Velvet Nails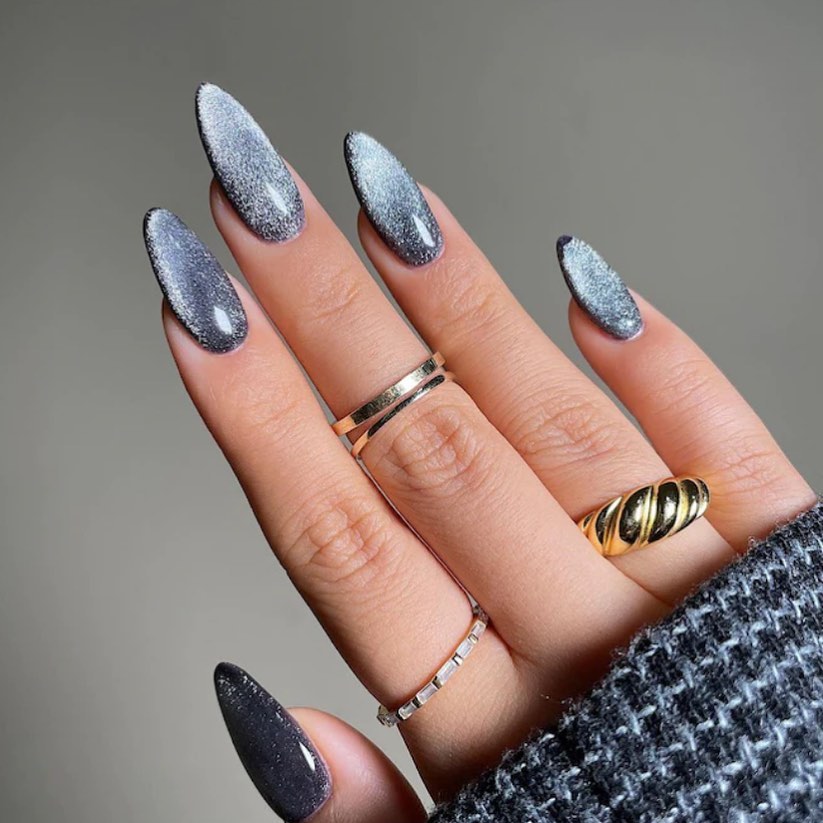 Dual Delight offers a playful yet sophisticated look, blending two contrasting hues in a creative two-tone velvet nail design for a modern twist on traditional velvet nails.
Dreamy Almond Blue Velvet Nails
Dreamy sky draws inspiration from the ethereal hues above, with almond blue velvet nails that showcase the plush texture and heavenly shade of blue in an elegant almond shape.
Crimson Red Velvet Nails
Crimson luxury is embodied in these red velvet nails, offering a bold statement that combines the passion of red with the lush texture of velvet. They're a perfect choice for anyone looking to add a touch of drama and sophistication to their look.
Velvet Nails Adorned with Star Accents
Celestial sparkle takes you on a cosmic journey with velvet nails sprinkled with star accents. This design is for those who aim to bring a piece of the night sky to their fashion ensemble, shining with every gesture.
Velvet Nails with Floral Embellishments
The blossoming touch brings the beauty of a blooming garden to your fingertips with velvet nails featuring floral accents. This design is perfect for those who appreciate the delicate intricacies of floral art.
Dark Green Velvet Nail Allure
Forest enchantment brings an ancient forest's deep, mysterious shades to life with dark green velvet nails. They are the quintessential choice for anyone who desires an enigmatic and elegant look.
Velvet Nails with Web Accents
Gothic weave weaves a tale of intrigue with velvet nails accented with delicate web designs. This style is a must-have for those looking to combine the gothic charm of web patterns with the smooth allure of velvet nails.
Pale Pink Velvet Nail Elegance
Whisper presents pale pink velvet nails that speak volumes in subtlety and grace. This style is ideal for those who prefer quiet statement pieces yet undeniably chic.
Edgy Stiletto Velvet Nails
Edgy silhouette carves a daring fashion statement with stiletto velvet nails. This nail design epitomizes bold elegance, perfect for fashion-forward individuals who aren't afraid to stand out.
7 Simple Steps To Achieve Velvet Nails At Home
Preparation: Start with clean, shaped nails. Push back your cuticles and buff your nails to create a smooth surface. Apply a base coat to protect your natural nails and provide a surface that will help the polish adhere better.
Base Color: Apply a base color matching your velvet powder. This ensures that any gaps in the powder application won't be noticeable. Allow the base color to dry completely.
Velvet Powder Application: Once the base coat is dry, apply a second coat of nail polish. While the polish is still wet, sprinkle the velvet powder over the nail. Doing this while the polish is wet is essential so the powder sticks appropriately.
Pressing the Powder: After applying the velvet powder, gently press it onto the nail with a fingertip or a brush to ensure it adheres well and remove any excess.
Cleaning Up: Use a soft brush to dust off any excess powder around the nail and cuticle area.
Sealing the Design (optional): Some apply a top coat to seal the design, but be aware that this can diminish the velvety texture. If you prefer to keep the soft matte look, skip the top coat.
Maintenance: Velvet nails can last a similar amount of time to regular polish, but they may require more care to maintain the texture. Avoid activities that can crush the velvet effect, and keep your hands dry to preserve the look for as long as possible. Remember, the key to beautiful velvet nails is patience and practice. Keep going even if your first attempt isn't perfect; even seasoned nail enthusiasts may need a few tries to get it right. Enjoy the process and have fun with this plush, luxurious nail trend!
6 Brands That I Use To Get The Perfect Velvet Nail Look
| Brand | Product Type | Notable Features |
| --- | --- | --- |
| Ciaté London | Velvet Manicure Set | Comes with a luxurious velvet powder and a matching polish. |
| Born Pretty | Velvet Nail Powder | Offers a range of colors and a fine powder for a plush finish. |
| Daily Charme | Velvet Nail Powder | Known for highly pigmented powders and long-lasting wear. |
| Mia Secret | Flocking Powder | Has a variety of flocking powders for a velvet-like texture. |
| Modelones | Velvet Nail Powder | Provides a velvet effect with a mirror shine under different lights. |
| LeChat | Perfect Match Velvet Set | A duo set that includes matching gel polish and velvet powder. |
Still Looking for Inspiration, Then Check Out This Video
Conclusion
The world of velvet nails is as diverse as it is enchanting, with options that can reflect your mood, match your outfit, or express your love for all things fashion. A few tips to remember: always seek a skilled nail artist to achieve that seamless velvet look, and consider the longevity of your design. While velvet nails are generally durable, certain embellishments may require a gentler touch. Remember, fashion is about personal expression and enjoyment, so while embracing the velvet trend, ensure you're also taking care of your natural nails. Armed with these insights and your creativity, you're ready to explore the plush, decadent world of velvet nails. Let your hands do the talking, and let every gesture reveal more of your unique style narrative.
Feature image @glosshouse via Instagram
Last reviewed and updated on November 12, 2023