If you're on the journey to the altar, you know that every detail counts—from the venue down to the font on your invites. But let's not forget an element that might be small in size but is monumental in impact: your nails. Yes, those ten little canvases can make or break your bridal aesthetic. Today, we're diving deep into the world of wedding nails with a comprehensive guide that covers 50 stunning ideas suited for every kind of bride-to-be.
Whether you're a minimalist craving simplicity, a traditionalist sticking to the classics, or a modern maven looking for avant-garde designs, this post is your ultimate handbook. Prepare to unlock a treasure trove of ideas, from delicate French manicures to intricate lacework, from bejeweled masterpieces to subtle ombre designs. We'll explore textures, colors, and even a dash of cultural significance for those looking to infuse a touch of heritage into their look.
Stay with me, and by the end of this post, you will have enough inspiration to fill a Pinterest board and gain insights into what your choice of nails says about you. Nail your wedding day look with the perfect manicure that tells your unique story. Let's get started, shall we?
The Alchemy of Almond French Manicure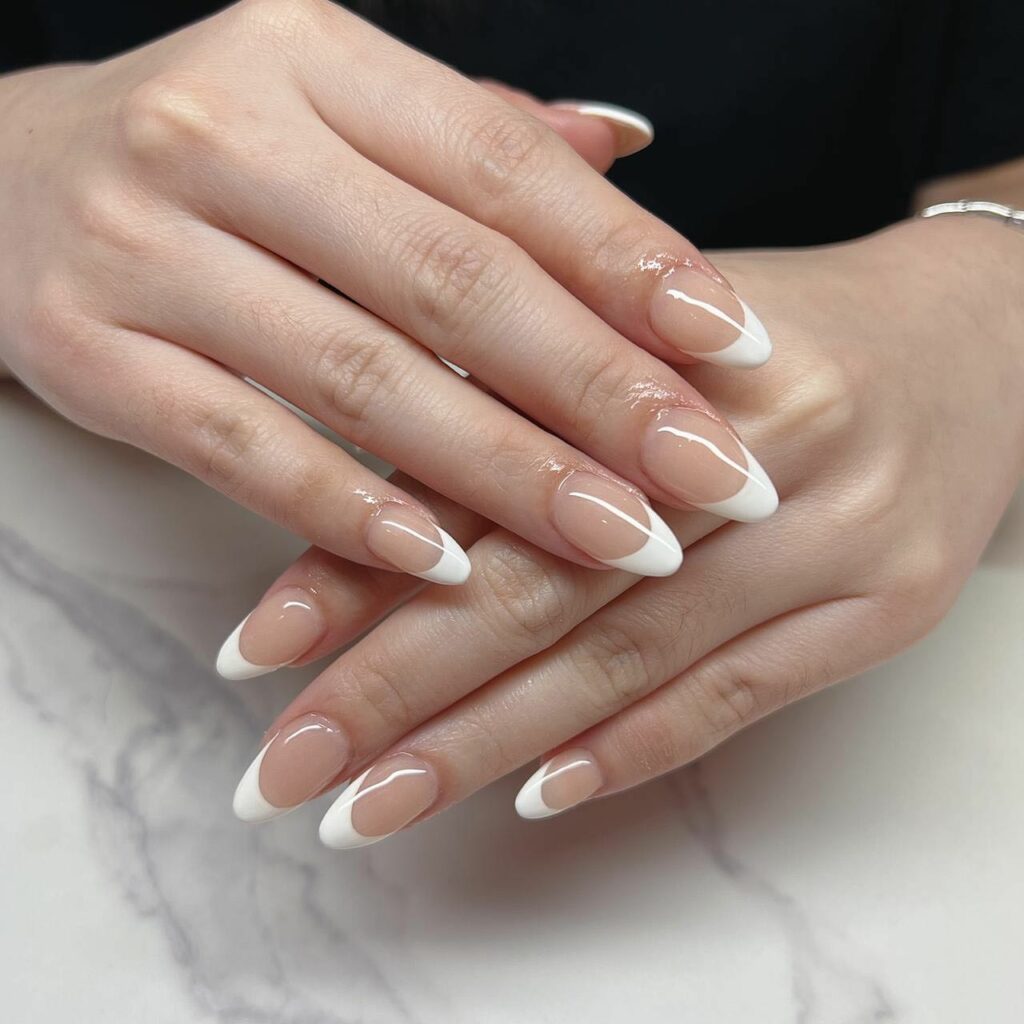 Ah, the French Manicure is a timeless go-to for brides. Karina Maribel, a noted manicurist, swears by OPI gel polishes for their sheer elegance. I've tried layering OPI's polishes, and the results are nothing short of spellbinding. For those opposed to gels, OPI's Tenacious Spirit offers a shiny beige base that's a game-changer.
Pink Magic: Micro Crystals for That Dazzle
Stephanie Staunton, another talented manicurist, is a wizard with natural diamonds—yes, diamonds—sourced from Hatton Garden in London. If you're going to sparkle, why not go all out? If you're working within a budget, crystal nail stickers from The Face Shop are a worthy alternative. Pro tip: never underestimate the power of cuticle oil, incredibly Naturally London's Hydrating Cuticle Oil, for that pre-wedding nail glow.
The Artistry of Natural Almond Shape With White Swirls
For those who want to flirt with creativity without going overboard, consider white swirls on a neutral almond base. Each nail is like a mini-canvas, making the whole look abstract yet cohesive. It harmonizes especially well with intricate lace wedding dresses, adding uniqueness without overwhelming the senses.
Ballet Elegance: Medium Ballerina Shape in All White
Nail artist Lily from Princess and the Polish advocates elegance, fun, and harmony between your nails and your wedding attire. Lily loves playing with shimmers, glitters, and pastels. Her perk? Warming moisturizing gloves from Earth Therapeutic after applying oils, lotion, and Aquaphor before bed. I tried this once, and let me tell you, the results are transformative.
Timeless Elegance with a Twist: Stiletto French Manicure
Nail artist Bou emphasizes the everlasting allure of the French Manicure but with a stiletto twist. Looking back at wedding photos, you'll never regret this classic with a contemporary spin. A blush nude base with a crisp white tip is an unbeatable combo that stands the test of time.
Pearls of Wisdom: French Almond Peak with Pearls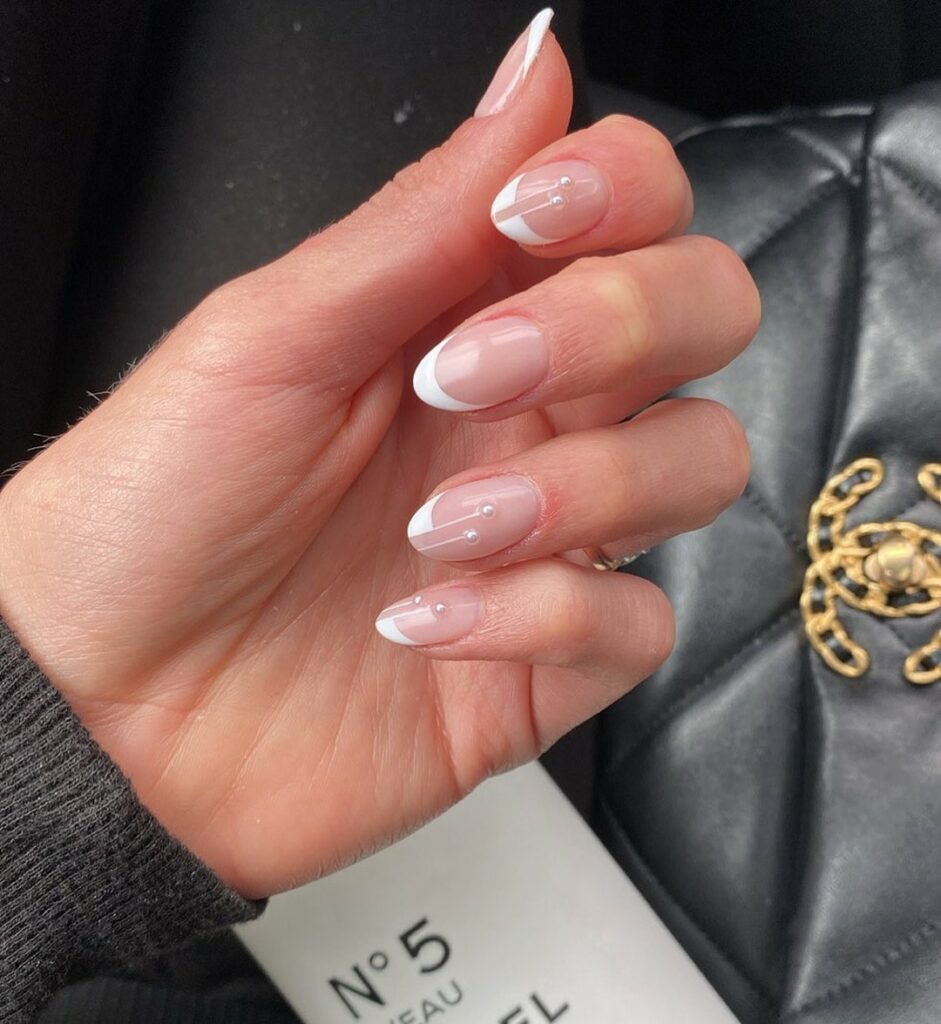 Bou also nods to the French design but suggests elevating it with pearls for an added touch of glam. The medium almond shape complements this design exceptionally well, giving it a polished and refined appearance.
Handmade Glamour: Ombre French With Floral Appliqués
Sonia Sanchez goes the extra mile with handmade 3D flowers created from acrylic powder. This artisanal touch pairs wonderfully with an ombre design. Sanchez's secret? Customized colors through dilution and an airbrush machine. If you're opting for extensions, consider Aprés Gel-X kits—they're so natural no one will ever know.
Less is More: Naturally Rounded With White Lines
Krisztina van der Boom, founder of DryBy salon in London, sees a return to minimalism in wedding nail fashion. Her design involves asymmetric lines that disrupt the traditional French pattern. This is especially suited for brides looking for a unique yet understated look. The base can vary, making it versatile for all skin tones.
Be the 'Something Blue': Sparkly Blue and Natural
Why not make your nails your 'something blue'? Lily recommends an eye-catching cobalt, specifically Defy and Inspire's Party On nail polish. I was skeptical at first, but two coats of this and I was sold. It's an unexpectedly gorgeous way to keep with tradition.
Classically Modern: Squared French Manicure
Amanda Lee suggests a squared French Manicure in pink and white for those who appreciate the classics but want a modern twist. Start with long tips, then file them to your liking. This look is chic and versatile, perfect for the bride wanting the best of both worlds.
The Golden Touch in Marble
I can't help but remember my college roommate who was an art major. She loved to play with textures and layers. This is the same kind of vibe I get from the marble with gold accents look, crafted by the talented Danielle Thomas. It's intricate but doesn't scream for attention. Thomas suggested that her client go beyond just a simple polish, which turned out fabulously. After all, your nails should be an extension of your own personality, especially on a day as unique as your wedding.
DIY Elegance: Snow White Press-Ons
Press-on nails can often be the unsung heroes of the DIY beauty world. Digital creator Ari Bines nails it (pun intended) by advising to measure your nails for a perfect fit meticulously. Remember, this is like shoe shopping; eyeballing won't do. A little time spent measuring can save you from any press-on mishaps during those crucial "I do" moments.
A Classic Reborn: Pale Pink French Manicure
When I visited Paris for the first time, I was struck by how the French have this knack for making everything look timeless and elegant. Hollie Petrie captures this essence by slightly twisting the classic French manicure. It's a look that speaks to the phrase "less is more" but doesn't skimp on chicness. Pro tip: If you're doing this yourself, a swipe of acetone around the smile line can make your DIY work look professionally done.
A Sprinkle of Stardust: Pink, Squoval, and Sparkly
If you're going to go simple, add a dash of pizzazz. Nail technician Sophie Shuttleworth did exactly that by adding a touch of glitter to a soft pink base. It's a bit like adding a statement necklace to your little black dress, the touch of sparkle elevates the whole look. Trust me, you can't go wrong with this one.
The Art of Simplicity: Mountain Peak in Milky White
This brings back memories of my hiking trips, where the mountain peaks were awe-inspiring in their simple grandeur. Similarly, this milky white manicure adds a touch of elegance without overshadowing you. It shows that you don't need an explosion of colors to make a statement.
Dive into the Blues: Periwinkle and Curved Shaped
Blue nails can often be a surprising yet soothing addition to the wedding ensemble. Danielle's periwinkle-dipped nails are a breath of fresh air and are incredibly durable, too—perfect if you're jet-setting right off to your honeymoon.
Elegance in Sheerness: Simply Sheer and Almond Shaped
Nail artist Els suggests that if your nails are naturally beautiful, why overshadow them? A sheer pink and almond shape offers just the right touch of refinement. It's like adding a light veil to an already beautiful painting—just a little something to enhance its beauty.
Customize Your Day: Nude Almond with Lacy Tips
Nicole Dowling gives some sage advice here: consultation is key. This way, you can work out whether you're going for classic vibes or trying out something a little quirkier. Her take on the French manicure with lacy tips can be a sweet compromise between the two worlds.
A Floral Coffin: Florals in Coffin Shape
Toni Daniellee's stamping technique saves time and delivers on aesthetics. It's like applying that floral print onto a sleek silhouette—striking the perfect balance between modern and traditional.
Timelessly Chic: Gold-Lined French Manicure
Amber JH shows us that a French manicure can go beyond the traditional. The gold lining adds a pinch of luxury without diving into ostentation. It's the little black dress with gold buttons—classic but with a hint of sparkle.
The Elegance of Matte and Dots
Bari Elizabeth, a brilliant nail artist, went for a chic matte finish for her wedding day, accented with subtle dots. Remember, it's all about complementing your attire. When I got married, I, too, chose a simple yet refined design to match my gown. Bari suggests that less is more, and I couldn't agree more. She also has a pro tip: remember the cuticle oil. A dab on your wedding morning can make those ring-exchanging photos pop!
Shine On with Pearls and Chrome
Last year, Hailey Bieber nailed it with her chrome-detailed manicure, and the trend is still going strong. Pairing chrome with a nude base gives a pearly look that's nothing short of fabulous. You could even take it up a notch with real pearl accents. That's the kind of drama we like to see at weddings!
Sassy and Short: Sparkly Marble
Don't think you have to grow out your nails to join the bridal nail art club. Karen Leung, a Brooklyn-based nail artist, uses The Gel Bottle Blooming Gel to create an incredible marble effect on shorter nails. It's like having tiny pieces of art at your fingertips. And trust me, nobody will find it boring.
Textured Yet Tasteful: Glossy and Neat
Mateja Novakovic brings us a sleek style with a subtle hint of texture. It's one of those designs where you'll catch the details during a close-up — simply divine. A similar design caught my eye at a friend's wedding and was a conversation starter.
Florals Meet French Tips
Tooran Hejazi does a fresh take on the timeless French manicure by adding hand-painted white flowers at the tips. The gold polish in the flower's center brings that extra wow factor. It's like adding your secret garden to a classic look.
Mikado Inspired: Round and Pearly
Channel the elegance of a Mikado silk wedding gown with this nail design. Rakia Easter-Yahya pairs chrome powder over LeChat Nail Lacquer in Awakening. Those fine-line white swirls are the cherry on top. I remember seeing similar detail at a vintage-themed wedding, which was ethereal!
Wildly Sophisticated: Au Natural and Metallic
For those looking to push boundaries, Maddy Allanson's abstract design is a chic nod to animal prints. Using gold and torte-patterned foils, this look is dazzling and oh-so unique. It reminds me of when I dared to wear zebra stripes on my nails for a themed party.
Classic Meets Contemporary: French Chrome
Jenniline Hansing combines the forever favorite French tips with the trendy chrome finish. The result? A high-shine, classic look that's perfect for any wedding vibe. If you're torn between modern or classic, why not blend the two?
Grounded Beauty: Earthy and Neutral
Sarah Hunns has just the design for those planning a fall wedding or an eco-friendly affair. With leaf designs created through stamping, this earthy look is as efficient as it is beautiful. I've tried stamping myself, and let me tell you, it's a game-changer.
Lace-Like Elegance
How about mimicking the lace pattern of your gown on your nails? It adds a wonderfully feminine touch without overwhelming your look. I remember seeing a bride with lace-patterned nails and let me tell you, the photos were mesmerizing.
Starry Skies
Glittering stars scattered across a midnight blue base can make your nails look celestial. It's romantic and would pair well with any evening ceremony. Plus, it would perfectly echo any starry-eyed looks exchanged during your vows.
The Glamour of Ombré
Ombré nails give you the best of both worlds: lighter tips that gradually darken towards the base. The gradient effect can mirror the colors of your wedding, whether you go with whites, pinks, or blues.
Rosy Simplicity
A subtle blush color adorned with miniature rose decals can work wonders. This design gives a floral touch to your ensemble and works perfectly if you're going for a garden-inspired wedding.
The Geometry of Love
Consider having geometric designs or stripes in metallic hues on a nude base. It's modern yet timeless, and the symmetry can symbolize the harmony between you and your partner.
The Vintage Vibe
Think about adding a flapper-era touch with Art Deco designs. Gold lines and angular shapes on a base of nude or pastel hues could transport you to a Gatsby-esque world.
Tropical Tranquility
Teal or aqua tones with tiny seashell or palm tree accents can set the mood for a beach wedding. It gives a casual yet polished feel, like you've captured the ocean at your fingertips.
Ethereal Pastels
Soft pastel shades adorned with subtle iridescent glitters create a fairy-tale finish. Think of it as Cinderella's glass slipper but for your nails.
Double French With a Twist
Try an avant-garde take on the French manicure by having double tips, maybe in contrasting colors. It's a striking design that literally turns the conventional on its head.
Gemstone Glam
Add tiny gemstones or crystals to your nails for that extra glitz and glamour. Imagine catching the light just right as you're holding your partner's hand—talk about a moment made for Instagram!
Minimalistic Chic
Simplicity is often the ultimate sophistication. Opt for a clean, crisp white or nude base, and maybe add a single, tiny gemstone at the base of each nail. It's minimalist yet adds a glint of intrigue.
Royal Velvet
Try a deep, velvety purple or maroon adorned with tiny gold accents for a luxurious feel. It's both regal and romantic and oh-so perfect for an evening wedding.
Boho Browns
Consider earthy brown tones with hand-painted white mandala designs if you're going for a more rustic or boho wedding theme. These nails can be a beautiful echo of a nature-inspired celebration.
Cherry Blossom Dream
Soft pink bases with delicate cherry blossoms painted on can create a dreamy look. It's particularly lovely for spring weddings when love is in full bloom.
Black Tie Affair
Who says you can't wear black on your wedding day? A glossy black base with intricate white or silver linework could be stunning, especially for a black-tie event.
Gilded Tips
Think French manicure, but make it luxe by swapping the white tips for shiny gold. This adds a modern twist to a timeless look, perfect for the bride wanting a luxury dash.
Fiery Reds
For passionate souls, a fiery red base with golden swirls or designs can set the stage for a lively, love-filled ceremony. Picture this: you, your love, and your nails, all radiating warmth and passion.
Neon Splash
Feeling daring? How about some neon accents on a nude base? It's a burst of unexpected color that could pair wonderfully with a lively, unconventional ceremony.
Iridescent Wonders
Iridescent polishes that shift colors in different lights can add a mesmerizing effect. These nails are almost like mood rings—they change with the angle, just as you'll experience a range of beautiful emotions on your big day.
Caviar Beads
Tiny caviar beads can be applied to your nails for texture and shimmer. It's a three-dimensional masterpiece at your fingertips, giving your hands a distinctive yet elegant appearance.
Classic Red Reimagined
Add a modern twist to a classic red nail by applying a matte topcoat. The matte finish gives a whole new depth to this iconic bridal look. And if you want, you can add some subtle stamping or decals for that extra flair.
My Top Tips for Maintaining the Manicure Leading Up to the Wedding Day
Timing is Everything – The closer you get the manicure to your wedding day, the fresher it will look. However, I wouldn't recommend doing it the day of, as that could add unnecessary stress. Aim for 1-2 days before the ceremony; it's a sweet spot that gives you freshly done nails and a cushion for any last-minute touch-ups.
Choose Long-lasting Methods – Gel and dip powder manicures are your best friends here. They last longer than regular polish and are less prone to chipping. I swear by gel manicures when I know I have an important event coming up; they're practically bulletproof.
Say No to Handiwork – Avoid any heavy-duty handwork in the days leading up to the wedding. No gardening, no heavy lifting, and no DIY projects that could potentially ruin your nails. Delegate tasks that require heavy hand use to someone else; it's your time to be pampered, after all.
Hydration is Key – Your cuticles are like the frame for your nails. Dry, scraggly cuticles can take away from the most elegant nail design. So keep them hydrated with a high-quality cuticle oil. I stash one in my bag at all times, and it's saved me from dry nail emergencies more than once.
Topcoat to the Rescue – A good quality topcoat can be a lifesaver if you opted for regular nail polish. Apply a new coat every other day to maintain shine and protect against chips. Just a few extra seconds can add days to your manicure's lifespan.
Have an Emergency Kit – Pack a mini nail emergency kit for the wedding day. Include your color polish, a topcoat, and a small file for mishaps. You never know when you'll need a quick fix, and it's better to be prepared.
Spot Test Nail ProductsvWhile experimenting is fun, the week before your wedding is not the time to try new nail care products, stick with trusted products you know won't cause any allergic reactions or irritations.
Final Thoughts – Keeping your manicure pristine leading up to your wedding is all about the little things—timely touch-ups, avoiding risks, and proper nail care. These tips will not only ensure that your manicure looks fabulous but also that it lasts through your big day and maybe even into the honeymoon! Trust me, a little nail care goes a long way in those close-up ring shots.
Trends vs. Timeless Designs: The Ultimate Nail Debate for Your Big Day
Ah, the age-old question that plagues us when we're standing in front of a sprawling collection of polish shades and nail art inspirations: do we go trendy or timeless? Trust me, I've been there. One moment you're ready to rock a cutting-edge design you saw on Instagram, and the next, you're leaning towards the classic looks that have adorned brides for decades. Let's dive into the pros and cons of both routes to help you nail (pun intended!) your decision.
Pros of Trendy Designs:
Wow Factor: Trendy designs often have that "oomph" that can make people do a double-take. Remember the marble nail art trend? I had it for a summer wedding a couple of years ago, and let's just say, it was a conversation starter.
Personalization: Current trends offer unique ways to infuse more of your personality into your look. If you're a bride who loves to stand out, this is your playground.
Instagram-Worthy: Let's be real; trendy nails are Instagram gold. Your wedding hashtag just got a lot more glamorous.
Cons of Trendy Designs:
Short-lived Appeal: What's hot today may not stand the test of time. Imagine looking back at your wedding photos years later and wondering, "What was I thinking?"
Complexity: Trendy can often mean intricate, which might require more time and a skilled nail artist. You could be looking at higher costs and longer hours in the chair.
Pros of Classic Designs:
Eternal Elegance: Just like a little black dress, some styles never go out of fashion. Think French manicures or soft pastel shades. My mom had a classic French manicure at her wedding, and those photos still look as elegant as ever.
Versatility: A classic look complements almost any dress, theme, or decor. You won't have to worry about your nails clashing with other elements of your wedding.
Lower Maintenance: Generally, timeless designs are less complicated to execute and thus easier to maintain or repair should the need arise.
Cons of Classic Designs:
Safe Choices: Sticking with the classics could be viewed as "playing it safe." If you're looking for a dash of adventure, you might find these options a bit limiting.
Lost in the Crowd: Given their popularity, classic styles might not stand out as much. You run the risk of having a manicure that's lovely but not particularly memorable.
Final Thoughts – Deciding between a trendy and a timeless nail design really comes down to your personal style and how you envision your big day. If you're drawn to edgy, current styles, then embrace the trends. If, however, you value a look that will remain chic and elegant for years to come, you might lean toward the classics. There's no right or wrong here—just what feels right for you. After all, it's your special day; you should feel comfortable and fabulous with your choice.
Conclusion
So, there we have it! From the ethereal simplicity of matte finishes to the bold statements of abstract designs, the sky is truly the limit when it comes to adorning your nails for your big day. Remember, while it's tempting to jump on the latest trends, the most important factor is that your nail art complements your overall wedding vibe and makes you feel fabulous. Do test out your preferred designs a few weeks in advance to avoid any last-minute hiccups. If you're unsure, consult a professional nail artist—they're the wizards of this realm! Opt for quality products to minimize risks like chipping or allergic reactions. And why not throw some cuticle oil and hand lotion into your wedding day prep? Your nails will not only look stunning in photos but also feel nourished. With a bit of planning and creativity, your wedding nails can be another unforgettable detail in your love story. So unleash your inner nail designer and add that perfect finishing touch to your nuptial celebrations!
Feature image @vivianmariewong via Instagram
Last reviewed and updated on November 17, 2023