Looking for tattoos of your favourite food item? Here are some of the most delicious pizza tattoos for you to check out.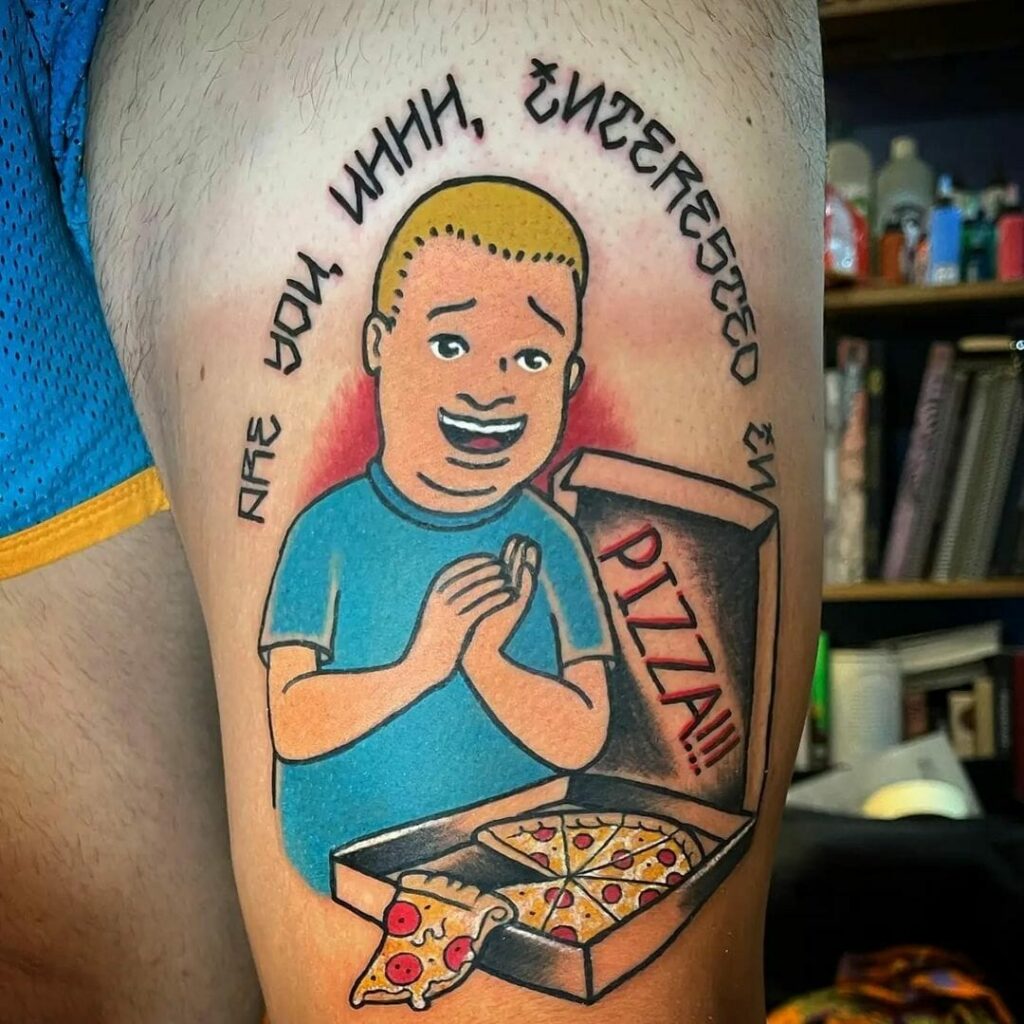 Thinking about that cheesy, mouthwatering slice probably makes us all go crazy about pizzas.
Who doesn't love pizza? It is probably the only food item that you can find almost everywhere across the world, there's no arguing that pizza is the most popular food item on this globe.
Pizza tattoos symbolise the affection for pizza. It shows us that though we've grown up to be adults, our hearts remain to be of a child's. A pizza tattoo should have a crisp crust, a good portion of cheesy dripping madness, maybe a bit of basil, a few slices of pepperoni. If you choose to pin your love for pizza as a pizza tattoo drawing on your hand, or choose it as a symbol for your youth and pin it onto your shoulder, we have a few drippy tattoos that you might want to have a look at.
SpongeBob Pizza Tattoo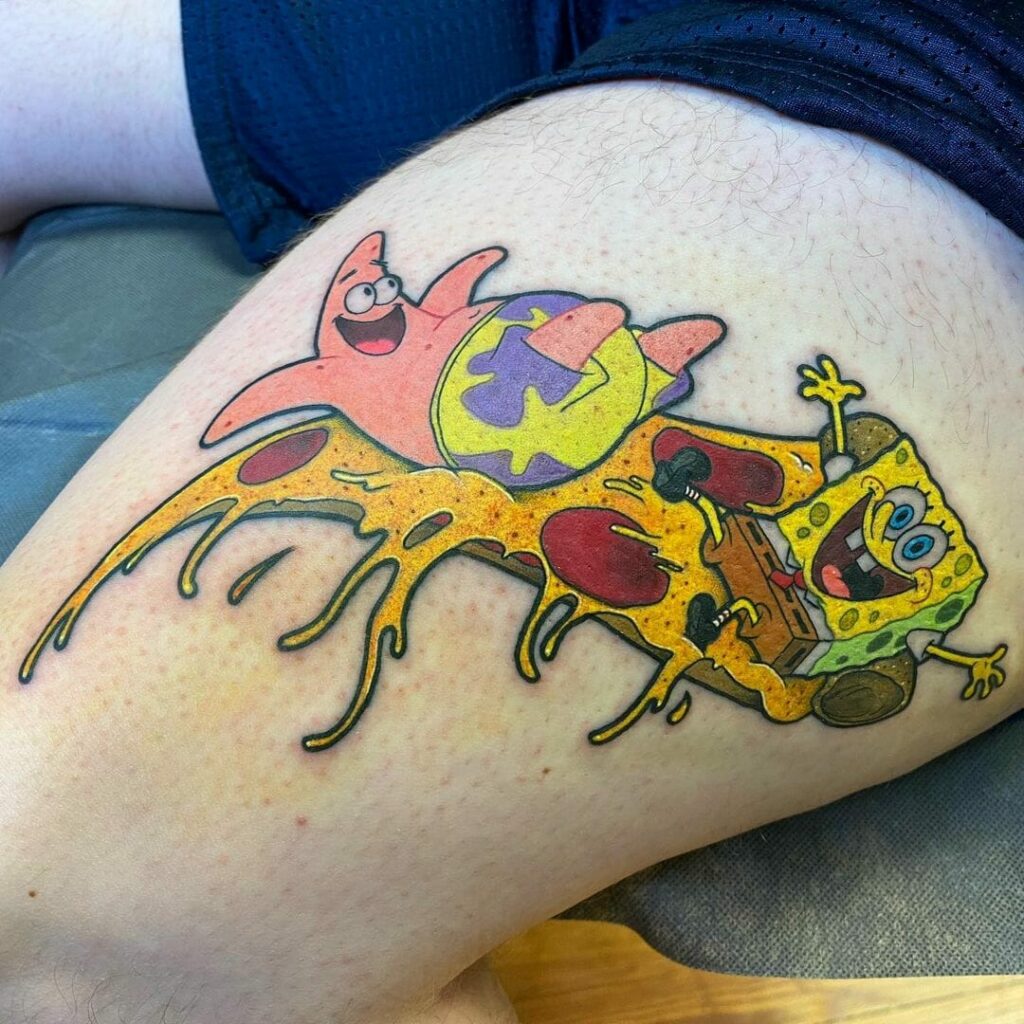 Come on! Most of us have binged on SpongeBob Square Pants as children. This cute tattoo of SpongeBob and Patrick rolling on a cheesy slice, having a party, may be one worth getting if you are a die-hard SpongeBob fan. This pizza tattoo has a great texture to it, the colour of the pepperoni slices goes from a light shade at the left to a really crimson like colour towards the right. It is completely outlined in black and look at how detailed the colours of both Patrick and SpongeBob are! Have the essence of your childhood inked on your arm!
Teenage Mutant Ninja Turtles Pizza Tattoo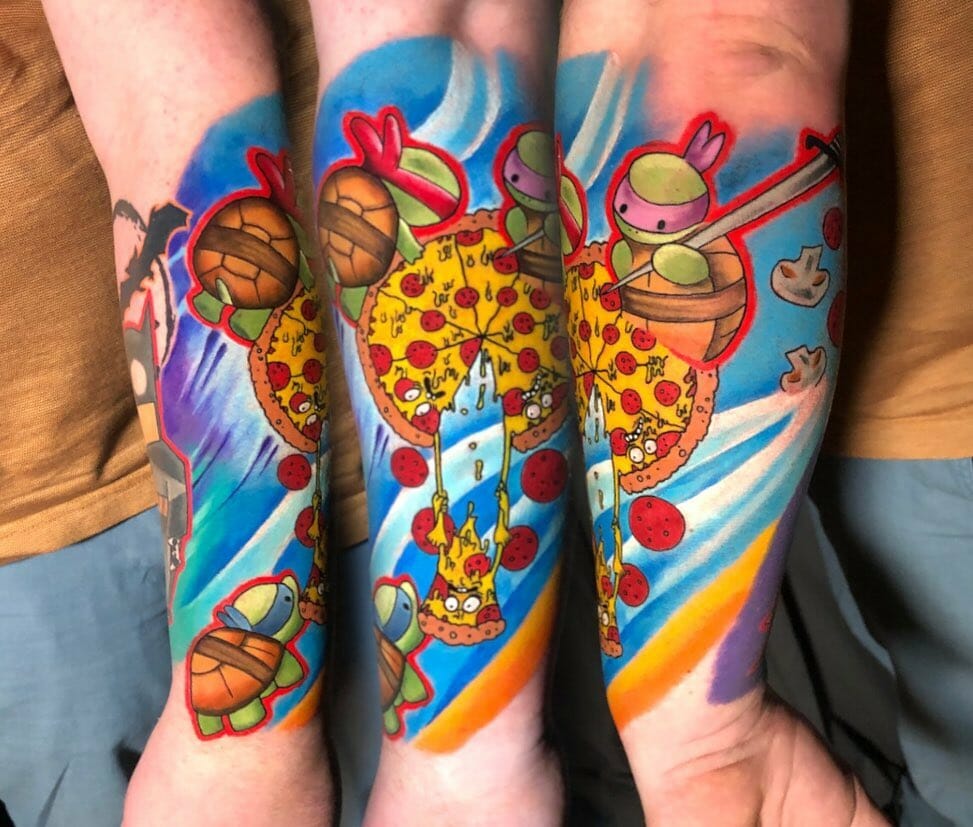 If you've watched Teenage Mutant Ninja Turtles, you probably know that pizza is their favourite food. You can always see the four turtles (Leo, Ralph, Mike and Don) snack on a slice of pizza in every episode ever made. This beautiful piece of art shows us a slice of pizza tattoo falling away from the rest, the cheese dripping off, because it is being snacked on by Leo, Ralph, and Don. In the frame, we see the hands of three people who seem really close to each other considering the fact that they got the same tattoo. If you have people in your life, say really close friends with whom you'd want to get a matching pizza tattoo, Teenage Mutant Ninja Turtles Pizza Tattoo signifies brotherhood and who doesn't love pizza?
Garfield Pizza Tattoo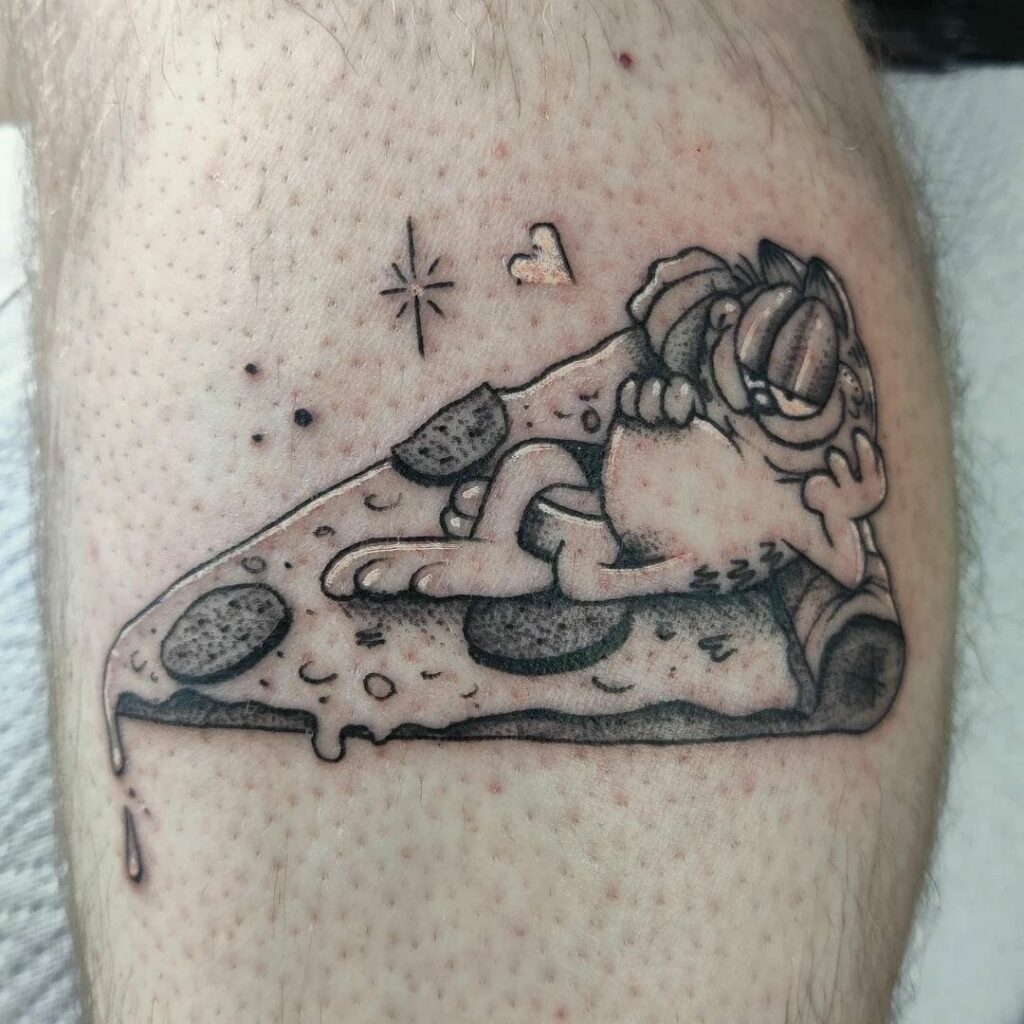 Garfield and Pizza in the same tattoo will be the most perfect combination to get. Pizza is for people like us, who are lazy and who could be more lazy than the cartoon cat Garfield himself, that cat personifies laziness. This is a tattoo using only black and white and the artist definitely had to be really patient to pull this off. Notice how the pepperoni and cheese are shaded with black dots to give it an appealing look and then we have the master procrastinator Garfield, whose toes are lined with an inkling of white to give the tattoo a glistening appearance. You should definitely choose this black and white tattoo over a coloured tattoo if you are low on your tattoo budget.
Caesar Pizza Tattoo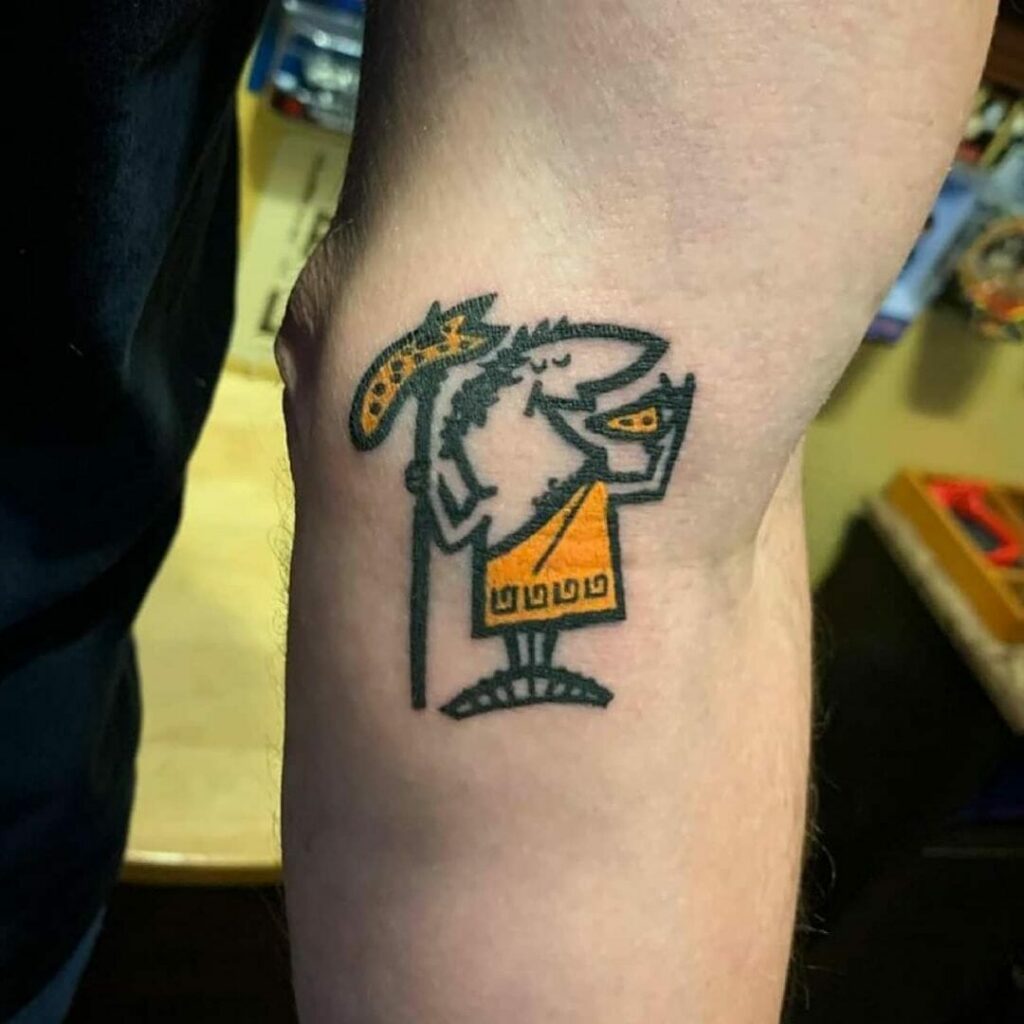 This pizza tattoo couldn't be more accurate. We see the dictator Julius Caesar of the Roman Empire trying to take a bite out of a slice of pizza. Whatever you say, Caesar has come up with a new way to carry pizza around, he does not need a pizza box but carries it on his spear. Though it is a small pizza tattoo, the message it sends is hilarious. Pretty sure that the Pizza was created in the AD. and not during BC. when Caesar existed.
Traditional Pizza Tattoo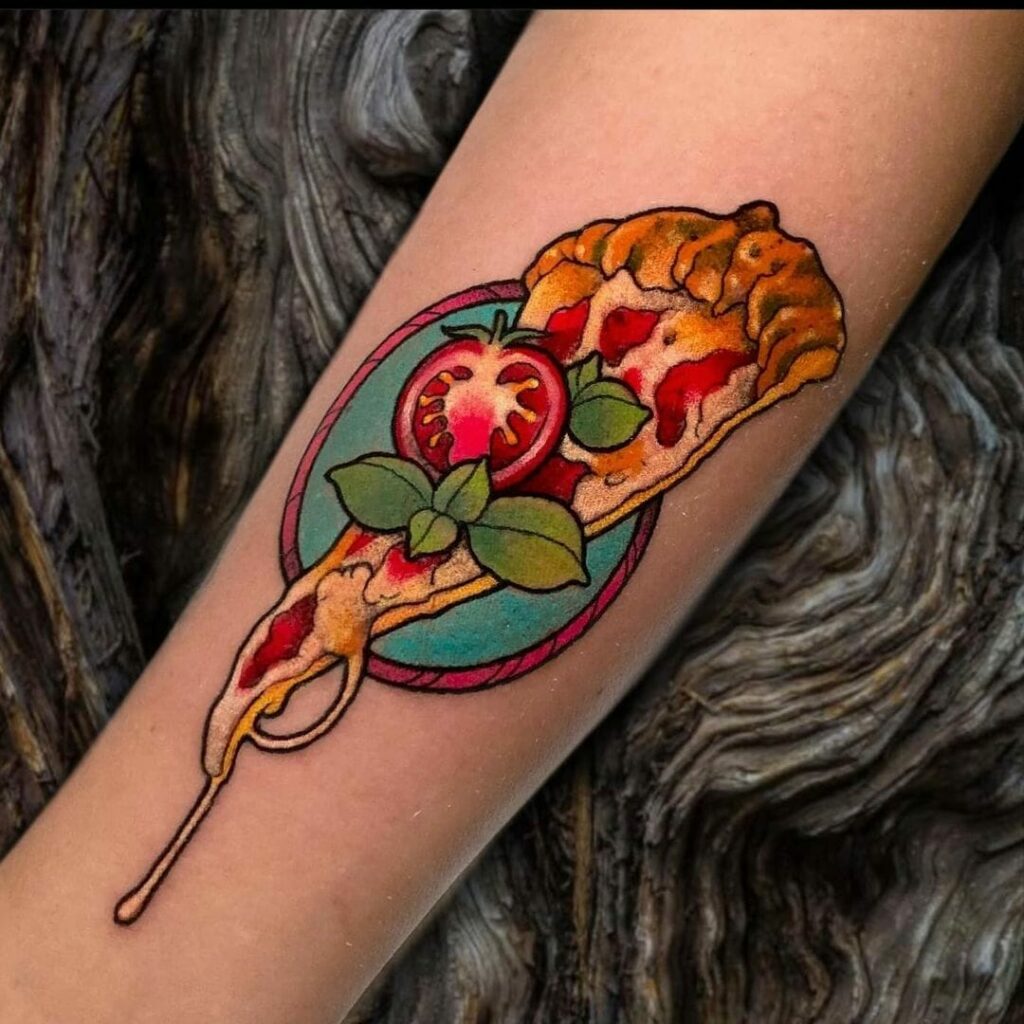 Ever heard of the Traditional Pizza from Italy? It only has a thin crust, fresh mozzarella cheese, tomato and basil leaves. The style of this artist is really different. Most pizza tattoos on instagram have the tattoos drawn in a portrait way while this pizza tattoo is drawn in a landscape way. The detail in texture of this tattoo is impeccable. The artist has used the smallest pins available and has taken a lot of patience in colouring the cheese as there are little white dots of ink, drawn individually, scattered across the entire pizza base. This took the artist at least a day to finish. If you're a pizza enthusiast and a firm believer in traditional tattoos, then do not hesitate, go for this!
Grim Reaper Skating With A Pizza Tattoo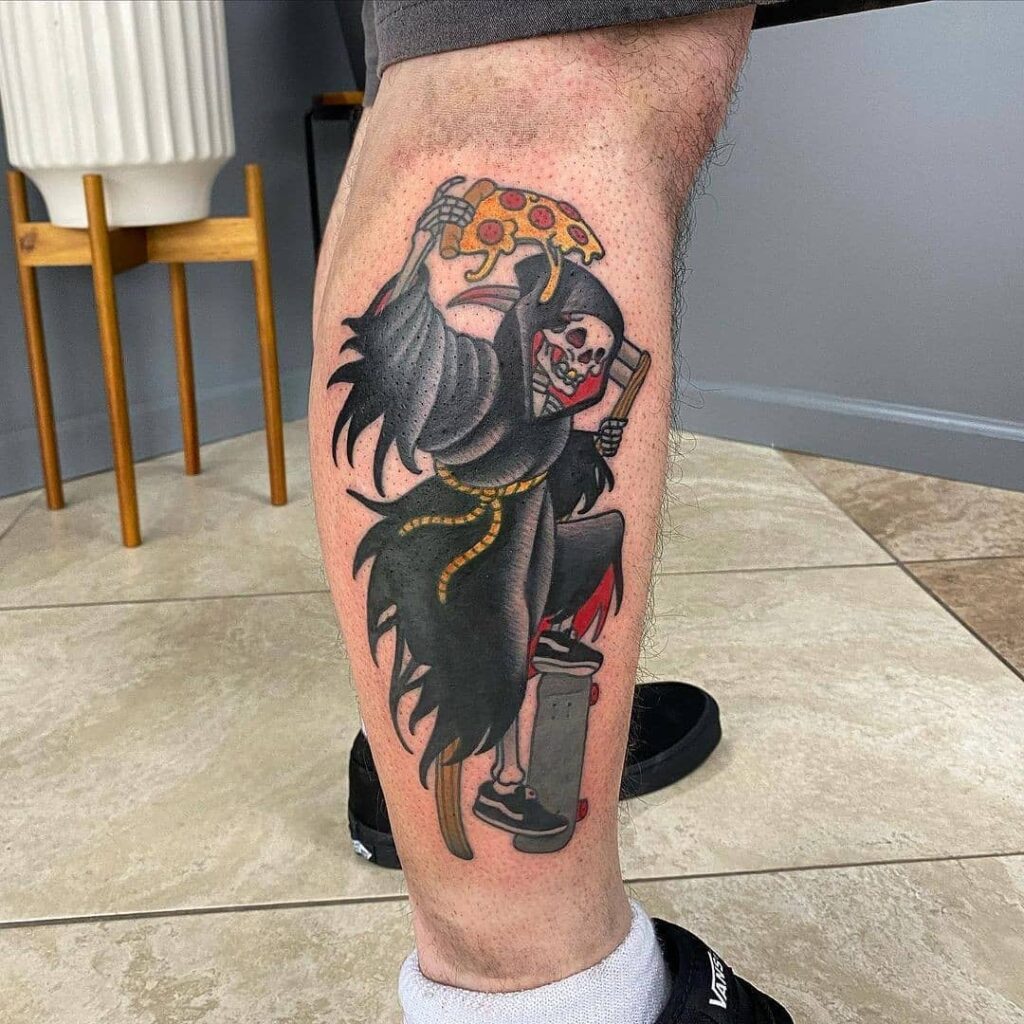 Skate or Die! The Grim Reaper has come to collect your soul if you don't skate but he has a pizza in his hand because the Grim Reaper loves pizza too. This is a tattoo pretty big in size so if you want to get one done on your leg, this one's for you. The Grim Reaper is wearing his black shroud, he has a pizza in his right hand and his scythe on the other. The Grim Reaper chooses to wear sneakers as footwear and carries a skateboard around with him. If you've watched The Grim Adventures of Billy and Mandy and your undying love for pizza brings the Grim Reaper out into plain sight, then you should go with this one.
Pizza Slice Tattoo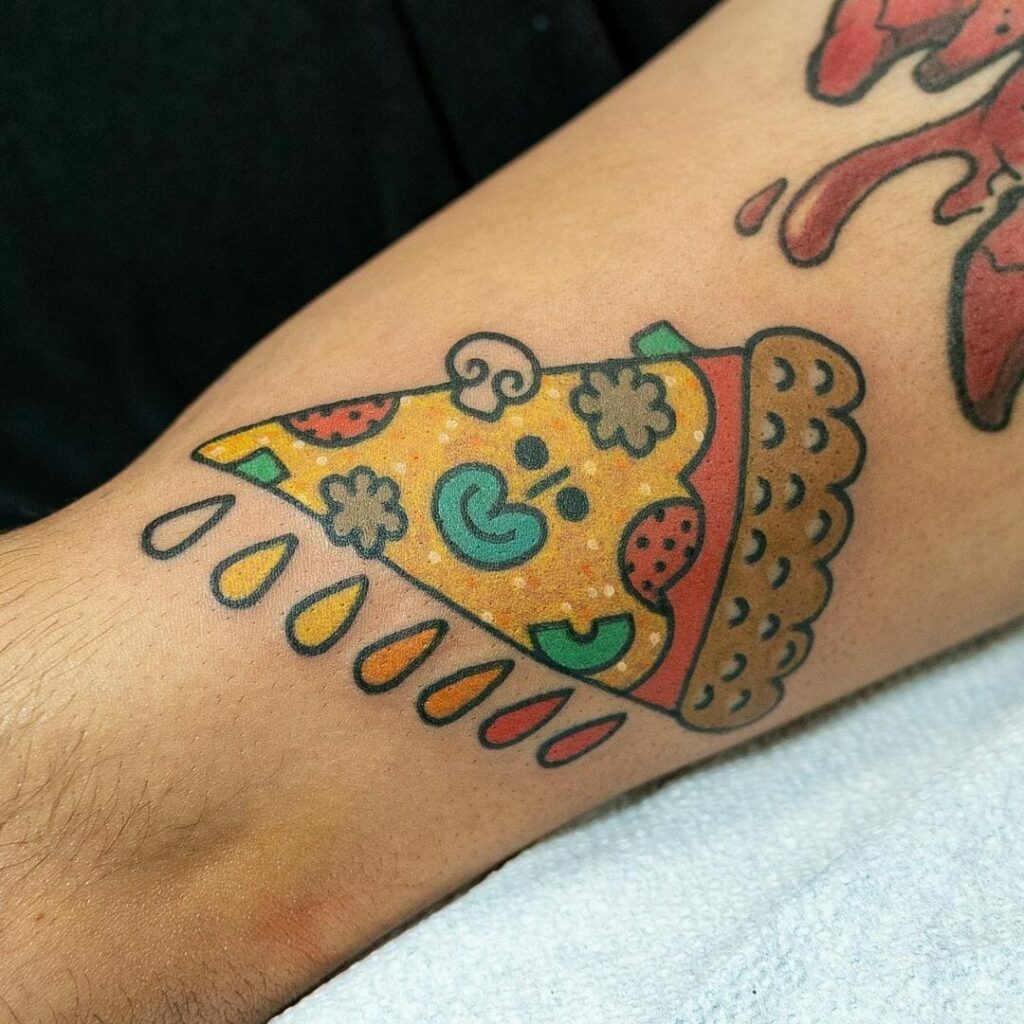 This is the cutest pizza tattoo on this list. You can see the pizza having a face and smiling at you. Mushroom, pepperoni and bell peppers make the tastiest toppings on a pizza. What's unique about this pizza tattoo is the way the cheese is dripping off the pizza slice. Each cheese droplet is of a different colour shading from colourless in the left, to yellow in the middle and red at the end. This colour contrast makes the tattoo look even more unique. If you're looking to get a really cute pizza tattoo that will melt a heart, then this is the one for you.
Praying Hands Pizza Tattoo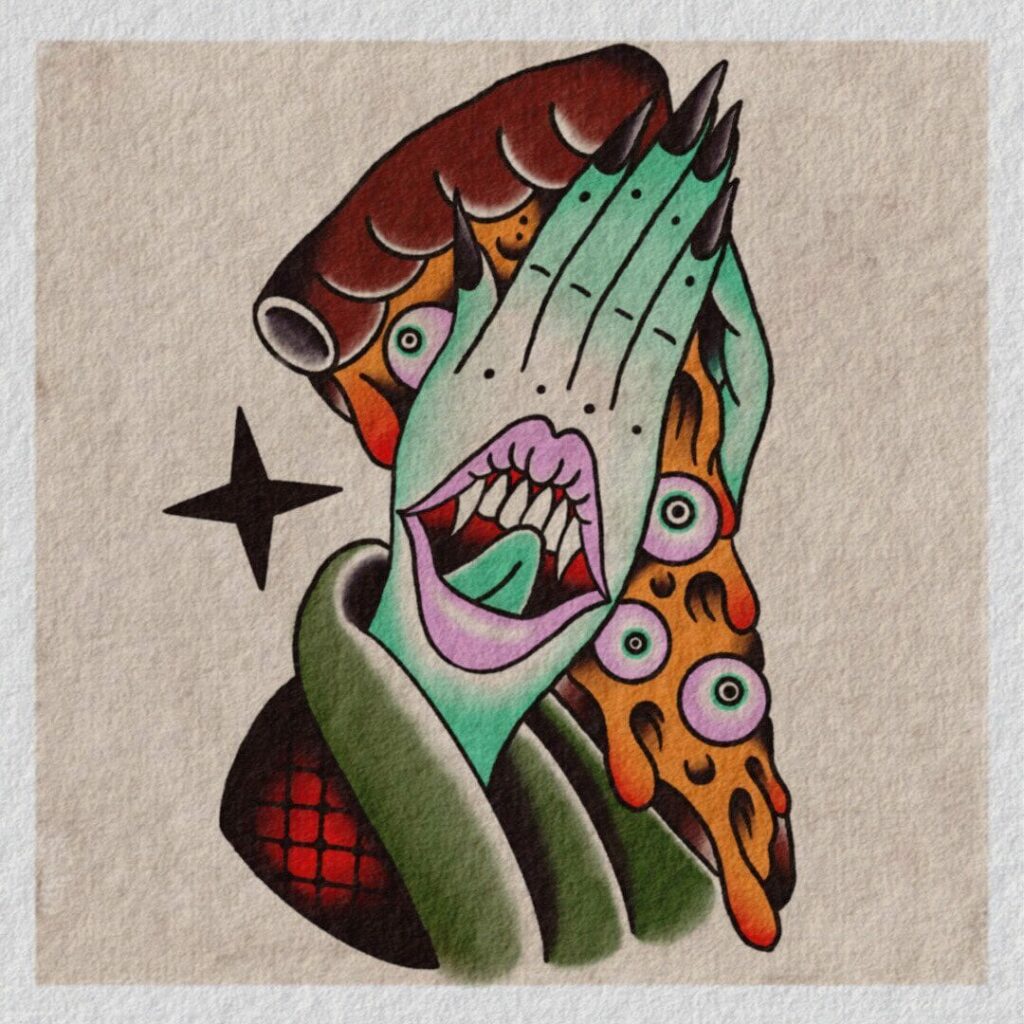 This tattoo is a redesign of the classic praying hands tattoo with a surreal touch of Italy and monsters. We can see that the toppings have been replaced with eyes. The green hands with long fingernails depict the hands of a monster holding the pizza slice. This shows that pizza is for everyone, even monsters love pizza though they choose to have different toppings than us humans. If you're into edgy art, this tattoo is the one you should get as it combines the fascination for the unreal and the love for pizza into one.
Marvel Pizza Tattoo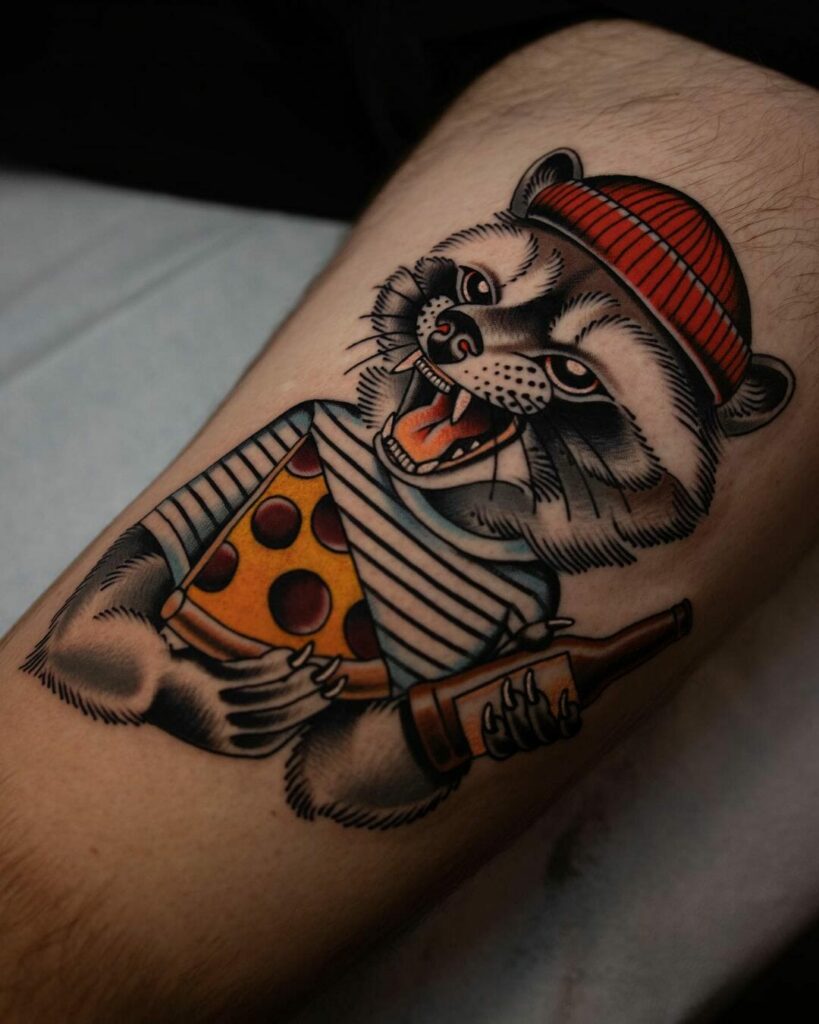 Beer and Pizza is a must at a party. And not only do we think so, what looks like Rocket from the Guardians of the Galaxy by Marvel, also likes to think the same way. This tattoo is so detailed, especially the fur on Rocket's skin is so beautifully shaded, dark on the periphery shifting to white to create a shadow back to dark again to create a three dimensional effect on the tattoo. If you think that beer and pizza is one of the best dynamic duos to ever exist and if you enjoy the humour Marvel characters bring to the screen then this is the one you should get.
Trust No One Pizza Tattoo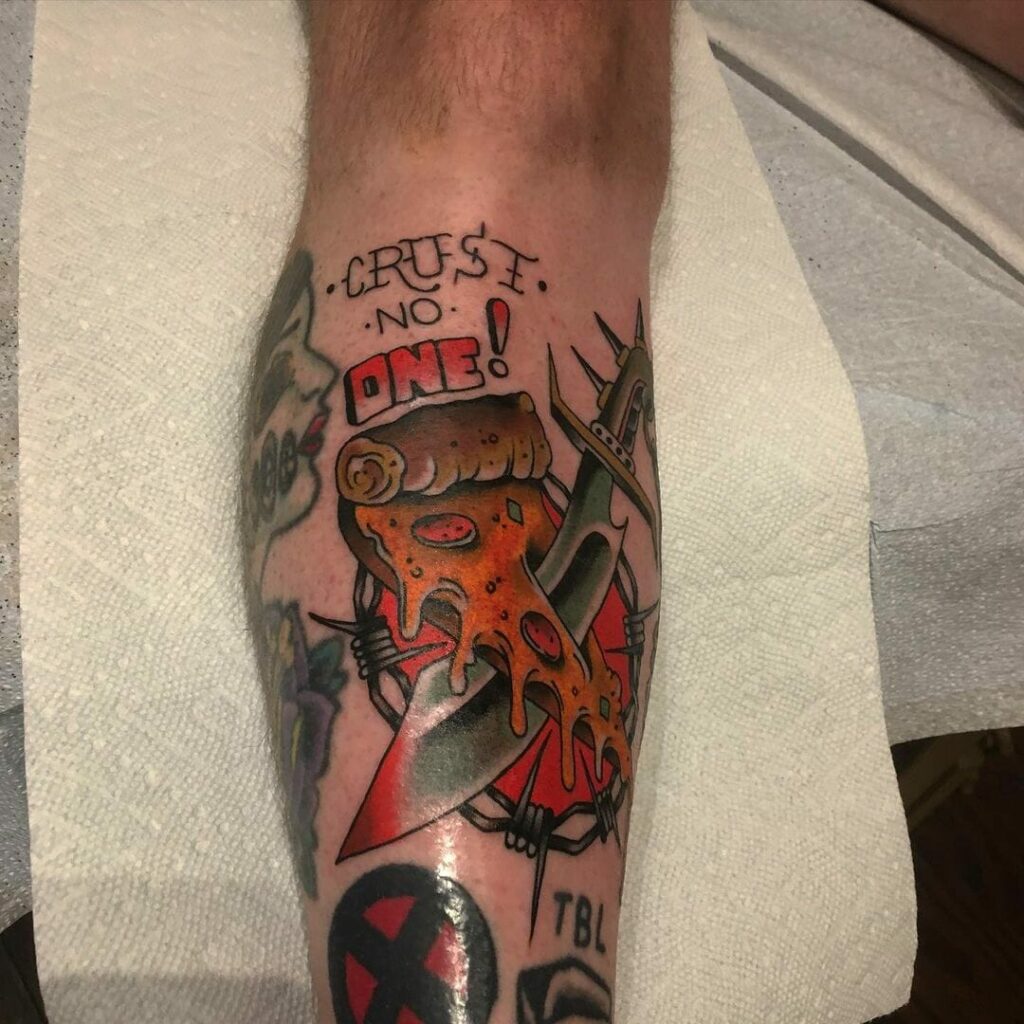 The famous saying, 'Trust no one' does make sense at different points throughout our lives. But if you enjoy puns like our pizza lover here, you will probably 'Crust No One!', otherwise your pizza is bound to get stabbed with a knife and don't we all want our pizzas to be perfect? This pizza tattoo has barbed wires inked around the pizza slice to confine it. If you're a lover of puns, pizza, and you enjoy finding the deeper meaning in life then you should surely go ahead and get this one.
Feature Image from Pinterest – Want your tattoo to look brighter? Try "Tattoo Balm"