Are you captivated by the allure of Eastern tattoo themes? If you're ready to venture beyond dragons, consider adorning your body with the intricate and powerful symbolism of a traditional foo dog tattoo!
Foo dogs, revered mythical creatures in Asian cultures, have long held a place of prominence. In ancient China, they were adopted by the royal family as a display of imperial power, positive energy, and spiritual strength. Similarly, in Japan, foo dogs are known as guardian lions that ward off negativity.
During China's Han dynasty, lions became a sought-after symbol of loyalty, ferocity, and spiritual energy, often exchanged as treasured gifts among royals and societal elites. Introduced by Silk Road travelers, these majestic creatures were soon immortalized in marble and granite statues, guarding the entrances of significant buildings, temples, and the homes of prestigious individuals.
When these Chinese guardian lions arrived in Japan during the Edo period, they took on additional spiritual significance, embodying Buddhist concepts of reincarnation and divine protection. As the lions of Buddha, they were thought to bring good fortune, and their stone likenesses were mounted atop government buildings, Buddhist temples, and other important structures.
Today, foo dogs, or guardian lions, continue to captivate tattoo enthusiasts with their undeniable positivity and striking symbolism. With a wealth of techniques and designs to choose from, there's no shortage of ways to incorporate these mystical canines into your body art. Ready to explore some popular traditional foo dog tattoo designs? Keep reading and prepare to be inspired!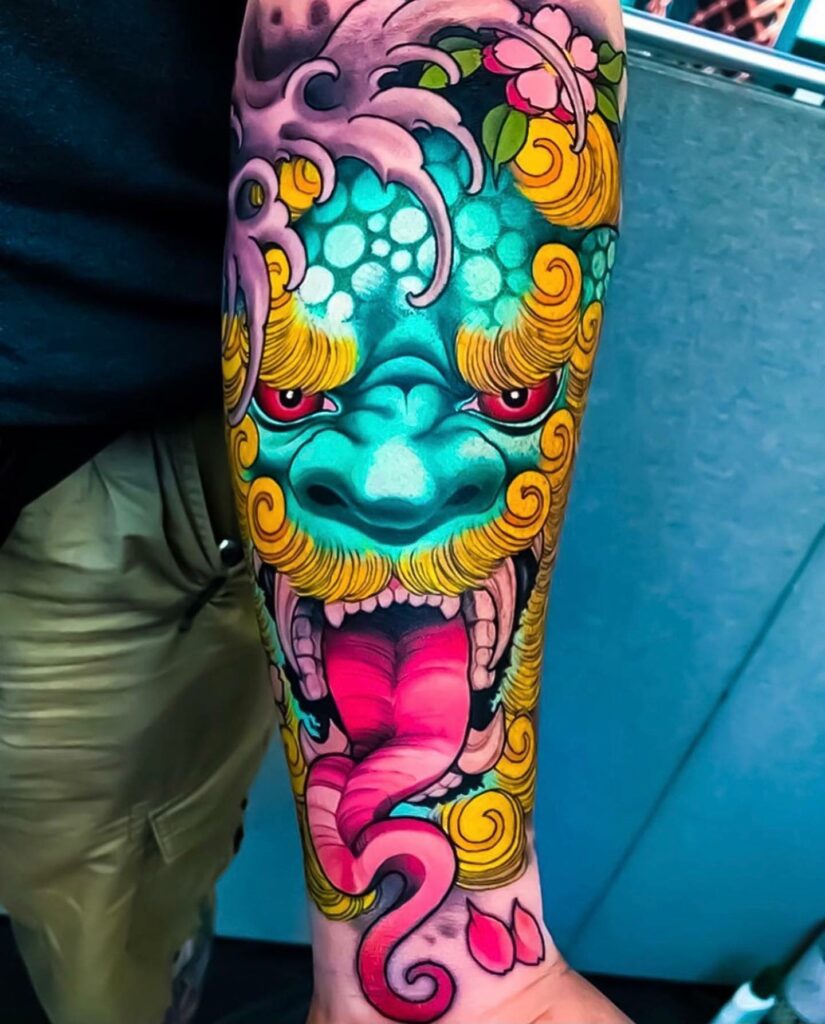 Traditional Japanese Foo Dog Tattoo On Sleeve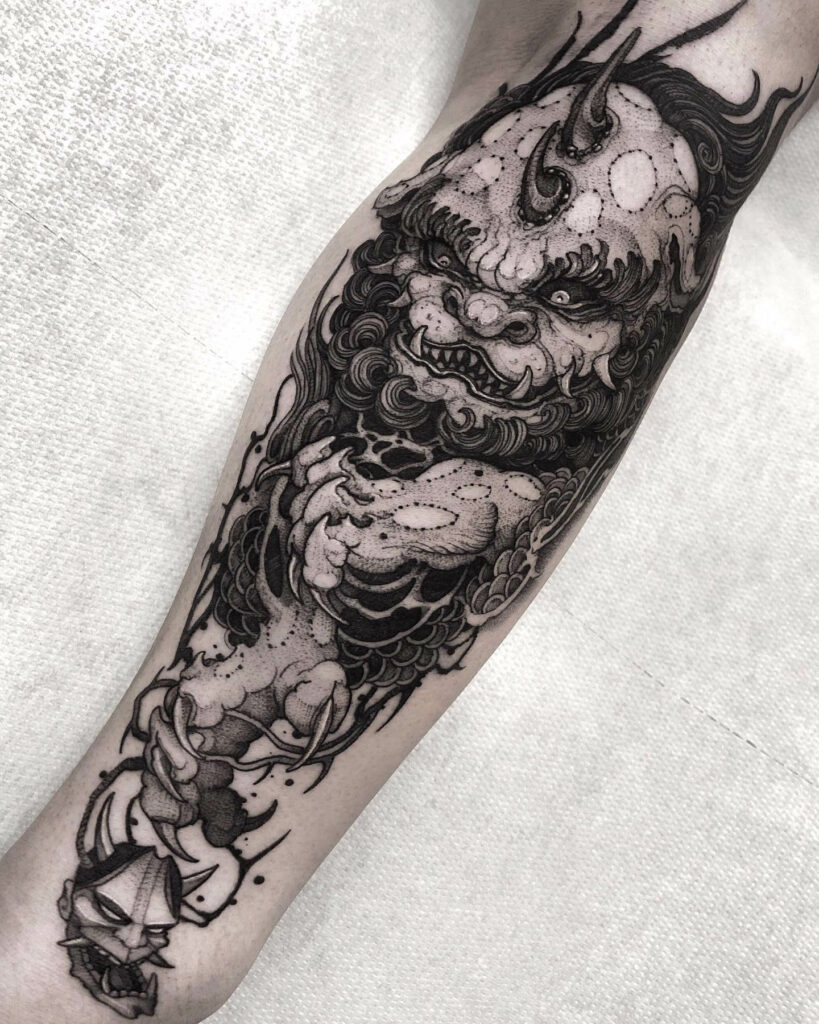 Foo dog tattoos truly shine when displayed as full sleeves, taking advantage of the space and prominence that such a canvas provides. In this particular design, the tattoo artist skillfully renders a traditional Japanese-style foo dog in striking black and grey. Signature elements of Japanese tattoo artistry, such as bold black outlines and a contrast between the subject and background, are beautifully showcased in this intricate piece.
Despite its monochromatic palette, the foo dog tattoo captures the viewer's attention with its meticulous details and masterful composition. A Hannya mask situated at the bottom of the sleeve serves to amplify the intensity of the overall design. This addition imbues the tattoo with a deeper meaning, signifying the wearer's ability to ward off negative energies and protect both themselves and their loved ones.
For those seeking a rich, cultural, and visually captivating tattoo, a Japanese-style foo dog sleeve is an exceptional choice. Not only does it exhibit the incredible talent of the tattoo artist, but it also provides the wearer with a powerful symbol of protection and resilience, artfully etched into their skin for a lifetime.

Japanese tattoos are often celebrated for their vibrant use of color, which stands out beautifully against a black and grey backdrop. In this particular depiction, the foo dog comes to life with its brilliant shades of blue and gold, capturing the essence of the classic Japanese Irezumi style. These striking hues not only breathe life into the design but also serve to emphasize the intricate details adorning the foo dog's body.
This colorful representation of a traditional Japanese tattoo showcases the expertise of the artist, who masterfully blends the rich hues to create a striking visual impact. The result is a breathtaking work of art that simultaneously educates and captivates its audience, leaving them with a deeper appreciation for the rich history and skilled craftsmanship behind this ancient art form.
Traditional Japanese Foo Dog Tattoo Designs On Hand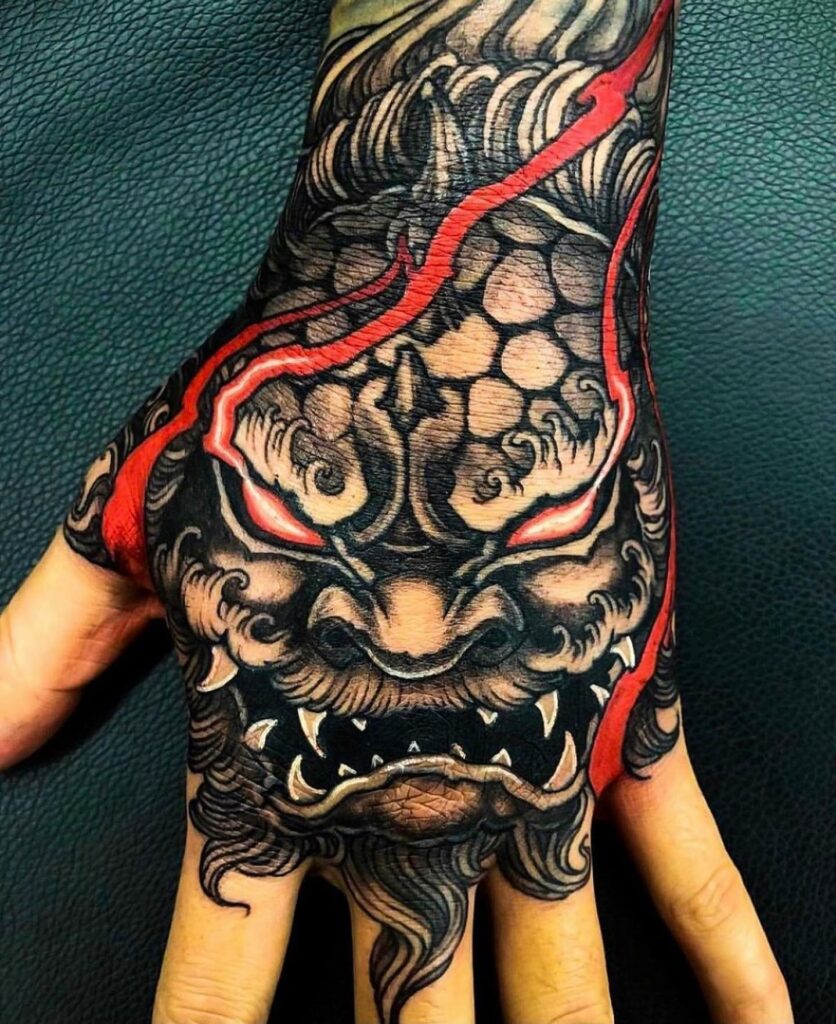 When skillfully placed on the hand, foo dog tattoos can take on an undeniably powerful and fierce appearance. The black and grey foo dog featured here is given an extra touch of intensity with subtle red highlights in its eyes, capturing the true essence of the guardian lions they represent. Hailing from Chinese culture, foo dogs, with their open mouths, serve as potent symbols of protection against evil spirits and misfortune.
Interestingly, the open-mouthed posture is typically associated with male foo dogs, embodying a more malevolent and forceful expression of strength. On the other hand, the closed-mouth posture of female foo dogs conveys a sense of benevolence and is believed to safeguard good fortune. This fascinating duality speaks to the depth and richness of the cultural history behind foo dog tattoos, shedding light on their significance as both artistic and symbolic expressions.
By understanding the nuances and symbolism of foo dog tattoos, readers can appreciate the skilled artistry and cultural relevance of these awe-inspiring designs. Whether drawn from a place of strength or protection, these tattoos serve as lasting reminders of the diverse and powerful stories that ink can tell.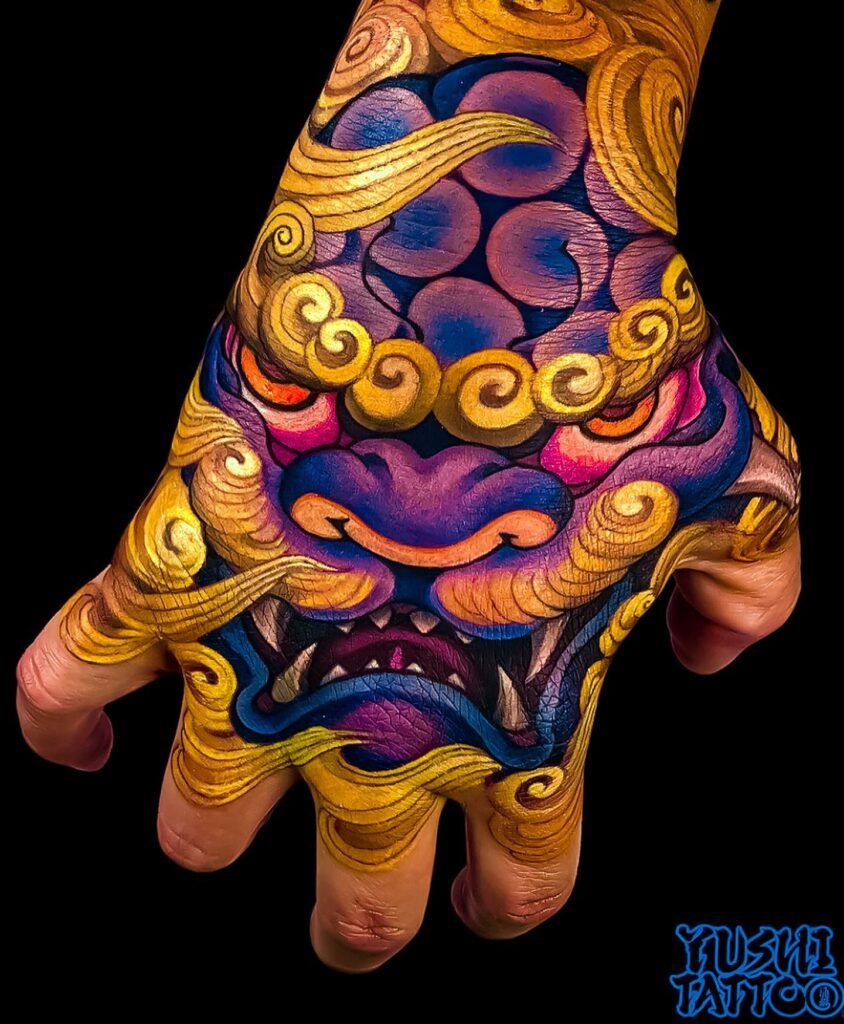 This captivating foo dog tattoo, with its exquisite color gradient, is sure to turn heads and make a lasting impression. The masterful interplay of gold and purple hues on the guardian lion creates a stunning visual effect, further enhanced by expert shading techniques. The resulting artwork is not only a feast for the eyes but also a testament to the talent of the tattoo artist.
However, as mesmerizing as hand tattoos may be, it's essential to consider one's pain tolerance before committing to this placement. The hand is known to be a notoriously challenging area to ink due to its sensitivity, and the experience can be quite intense for some. By carefully weighing the beauty of the design against the potential discomfort, you can make an informed decision on whether a hand tattoo is the right choice for your next piece of body art.
In the end, a well-executed foo dog tattoo can serve as a striking and meaningful expression of one's personal style, cultural appreciation, or spiritual beliefs. And with the right artist and placement, it can become a truly unforgettable work of art.
Traditional Foo Dog Chest Tattoo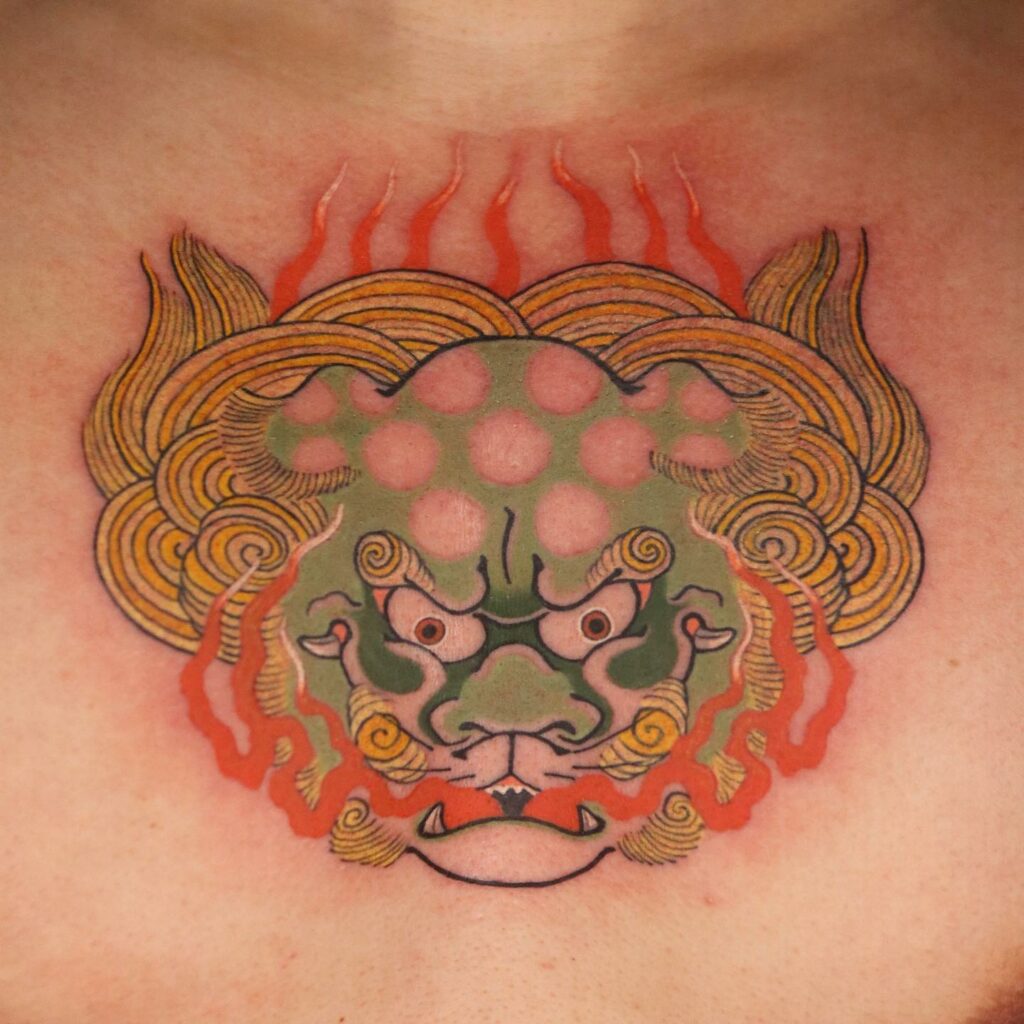 Imperial guardian lions, also known as foo dogs, make for striking and impactful tattoos when placed on the chest. These majestic creatures are traditionally depicted in pairs, symbolizing a harmonious balance of power and protection. Given their size and intricate detailing, it's no wonder that larger areas like the chest and back are popular choices for showcasing these awe-inspiring designs in all their glory.
In one particularly stunning example, the tattoo artist skillfully positions a lion dog just below the sternum, creating an eye-catching focal point on the wearer's body. The dynamic contrast between the fiery orange tones and the delicate light green hues on the foo dog's face further enhances the tattoo's visual appeal, resulting in a truly breathtaking work of art.
Not only do foo dog tattoos serve as powerful symbols of strength and guardianship, but they also offer an opportunity to celebrate the rich history and artistic heritage of the cultures from which they originate. Whether placed on the chest, back, or elsewhere on the body, these magnificent creatures are sure to leave a lasting impression on both the wearer and those fortunate enough to catch a glimpse.

For those who may not be drawn to sternum tattoos, a side chest foo dog tattoo extending to the upper arm could be the perfect alternative. In this imaginative design, the tattoo artist expertly adheres to traditional Japanese tattoo techniques and employs a contrasting color palette, but it's the innovative placement of the lion dog that truly sets this piece apart.
To achieve a balanced and visually striking composition, consider placing a male and female foo dog on each side of the chest, creating a harmonious representation of these powerful guardian creatures. This thoughtful arrangement not only showcases the artistic skill involved but also pays homage to the cultural significance of the foo dog pairing.
In the end, a well-executed side chest foo dog tattoo can provide a unique and meaningful addition to one's body art collection, combining ancient symbolism with modern flair. Whether inked as a standalone piece or as part of a larger tattoo narrative, these majestic creatures are sure to make a memorable impression.
Foo Dog Head Tattoo Designs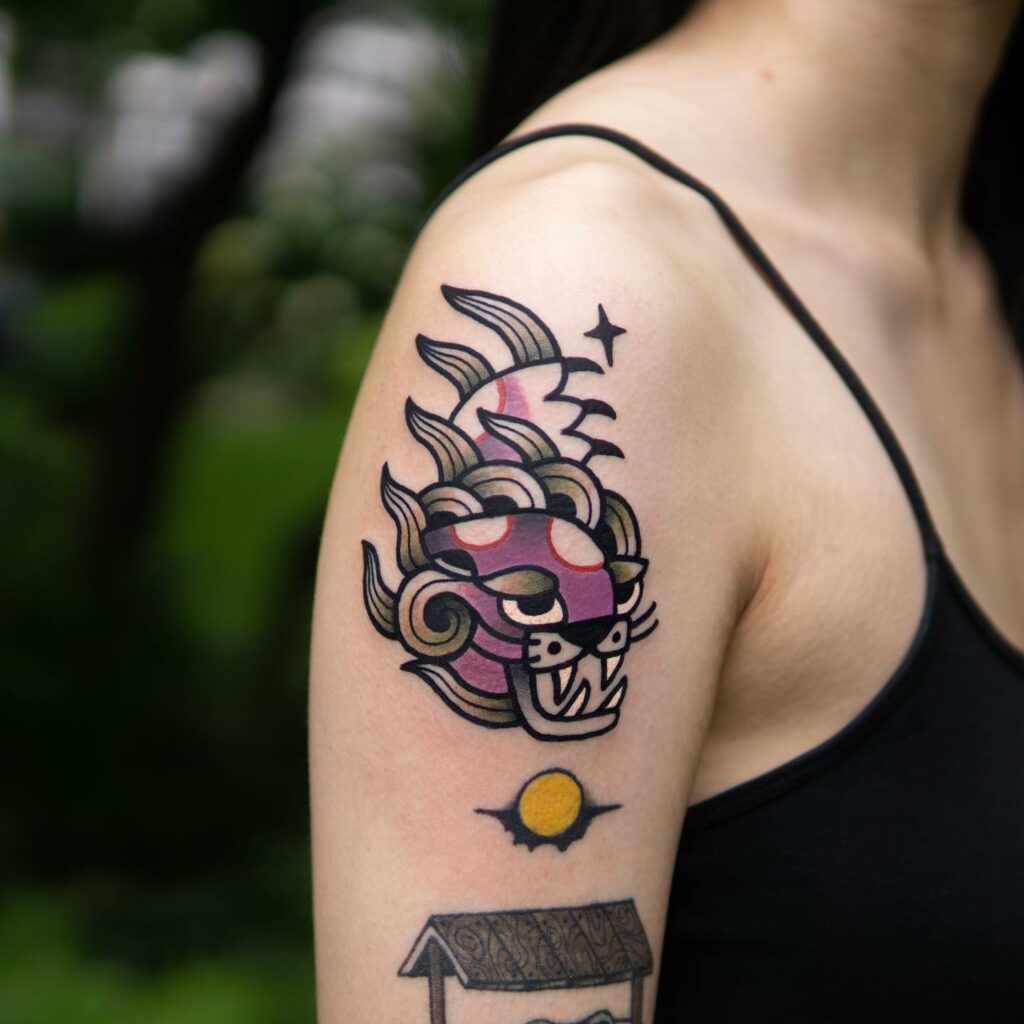 Venturing beyond the quintessential Asian tattoo styles, this particular foo dog tattoo offers a fresh and abstract Western interpretation of the Chinese guardian lions. With its roots in American traditional tattoo art, the design features bold black lines and striking contrasting shades, highlighting the growing popularity of these mythical creatures in the West.
For those seeking a more contemporary approach, consider experimenting with modern perspectives while still incorporating traditional tattoo techniques. This playful fusion not only adds a unique flair to your foo dog tattoo but also allows for creative expression that respects the cultural significance of these ancient symbols.
Embracing this innovative method provides a wonderful opportunity to celebrate the fusion of Eastern and Western tattoo traditions, resulting in a one-of-a-kind piece of body art that both honors its origins and showcases the wearer's individual style. It's a fun and exciting way to explore the rich world of Asian symbols without compromising their cultural essence.
Mini Foo Dog Tattoos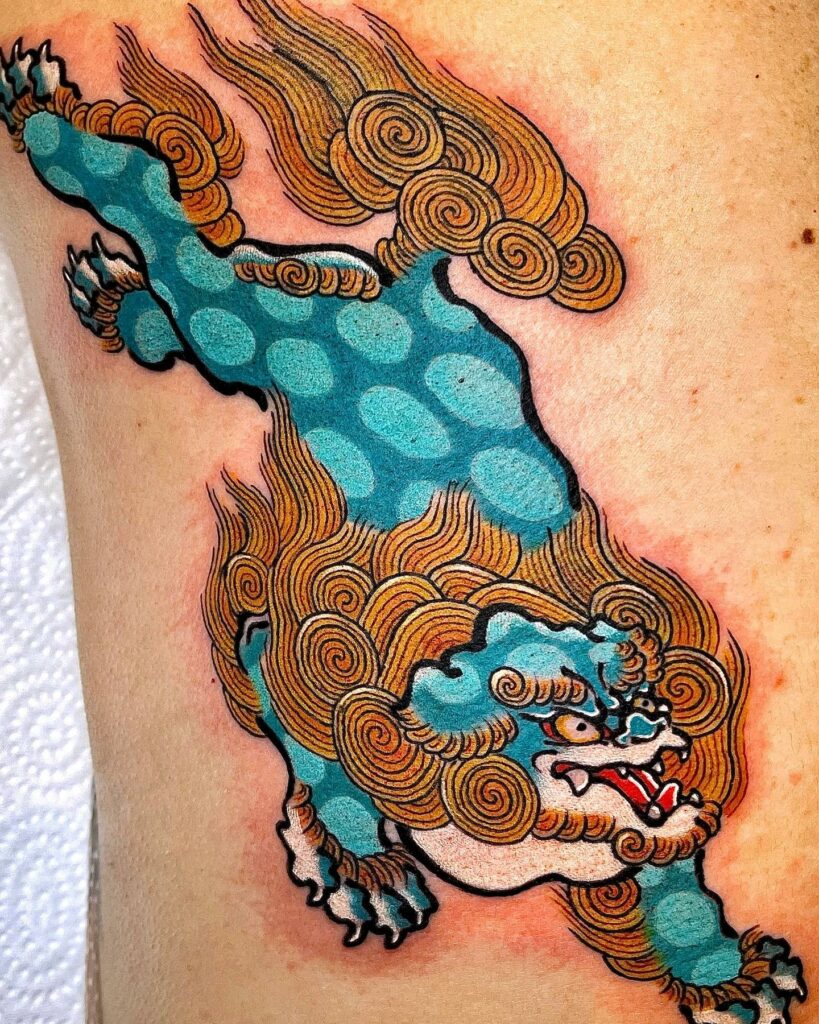 Japanese foo dog tattoos, along with other Oriental motifs, are frequently rendered in a grand and elaborate manner. However, you don't necessarily need to commit to a large-scale piece to capture the essence of these imperial lion tattoos. A more modest yet equally stunning alternative is to opt for a forearm foo dog tattoo, which can convey the same powerful symbolism without occupying an extensive area of the body.
In one such example, the tattoo artist skillfully creates a striking male foo dog with its mouth agape, as if ready to ward off any negative energies. The vibrant blue hues and intricate spiral lines within the design are hallmarks of the Japanese Irezumi style, resulting in a visually captivating and culturally authentic piece of body art.
Choosing a forearm foo dog tattoo offers an accessible and versatile way to celebrate the rich heritage and symbolism of these guardian creatures while also showcasing your unique taste and appreciation for the art form. With the right design and placement, your foo dog tattoo can serve as a beautiful and meaningful addition to your personal collection of ink.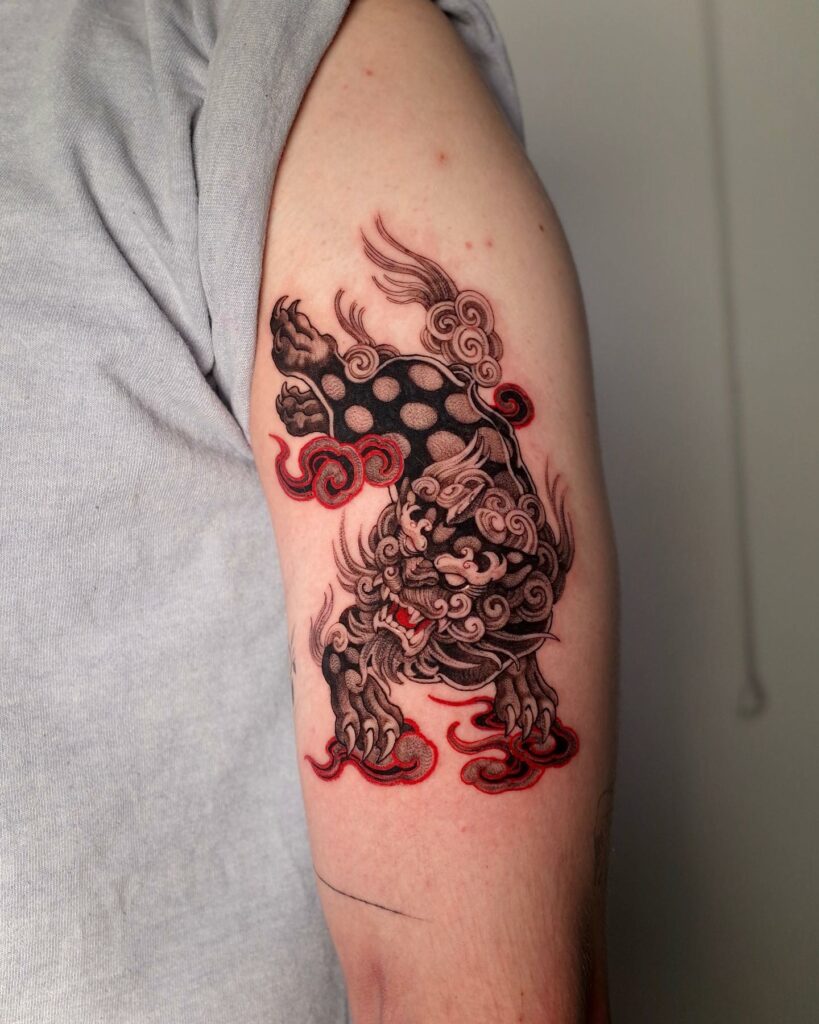 Another captivating option for a foo dog tattoo is to showcase a striking black and red design on your arm, as demonstrated in this impressive example. Here, the artist expertly employs a predominantly black palette to craft a traditional Japanese foo dog, using meticulous shading techniques to accentuate the intricate patterns adorning the creature's body.
When it comes to your foo dog tattoo, you have the freedom to choose between inking the male and female foo dogs separately or featuring them together as a pair, as is customary in feng shui practices and Chinese statues. This choice allows you to create a design that not only honors the rich cultural traditions associated with these guardian lions but also reflects your personal style and preferences.
In the end, a well-crafted foo dog tattoo serves as both a visually stunning work of art and a powerful symbol of protection and strength. By carefully selecting the design, color palette, and placement, you can create a truly unique and meaningful addition to your body art collection that will undoubtedly leave a lasting impression.
Elaborate Foo Dog Tattoos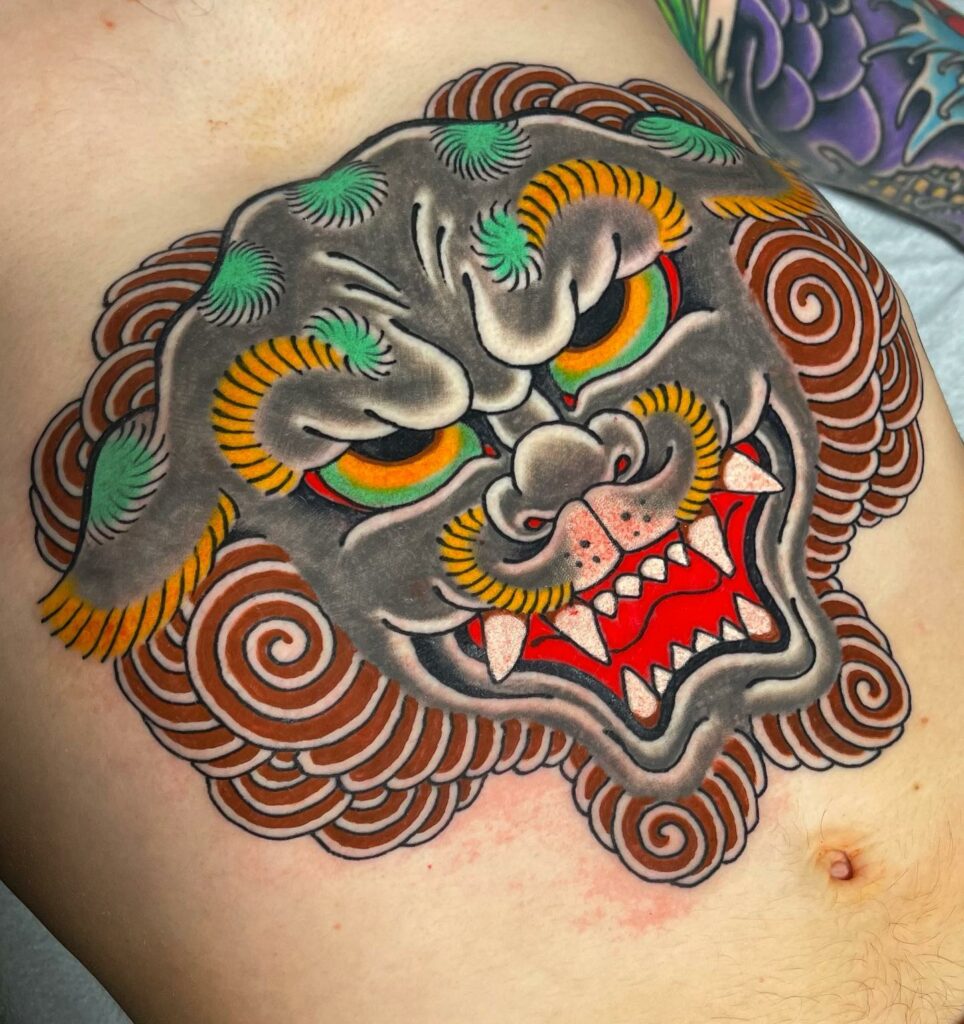 Why not treat yourself to an old-school Chinese foo dog tattoo that captures these imperial lions in all their majestic splendor? Often depicted as grand and imposing figures in Chinese statues, referring to these creatures as mere "dogs" hardly does justice to their powerful presence. In this particular design, the artist skillfully embraces the true essence of Chinese beliefs and creates a larger-than-life portrait of the guardian lion.
Featuring a striking color palette of grey and red, the beauty of this tattoo comes alive through the use of bold contrasts. This captivating design can be inked on various parts of the body, such as the chest, back, or even the belly, as demonstrated in this stunning example.
Incorporating a Chinese foo dog tattoo into your collection not only adds a visually impressive piece of body art but also pays homage to the rich cultural history and symbolism of these regal guardians. With careful consideration of design, color, and placement, your foo dog tattoo can become a cherished and meaningful addition to your personal canvas.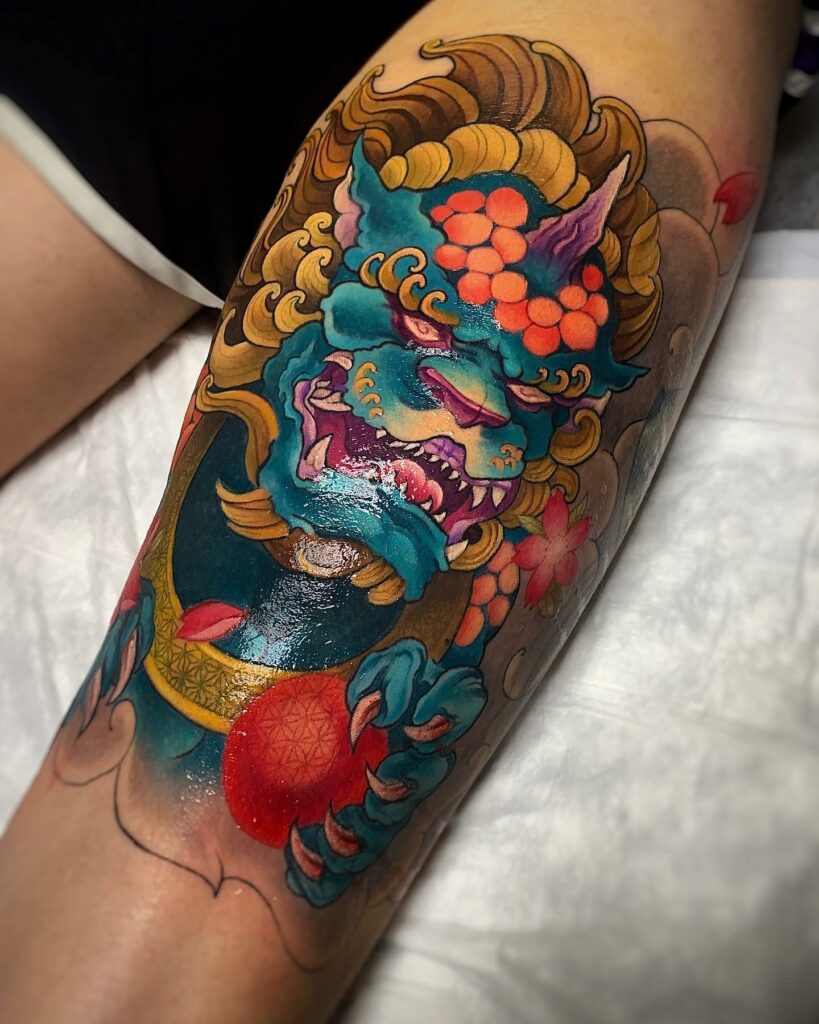 Elevating the artistry to the next level, this particular foo dog tattoo masterfully integrates the vibrant colors and iconic symbols characteristic of Japanese tattoo designs. In Chinese statues, the ball held by the foo dog in its paw represents the earth, symbolizing the male foo dog's mission to ward off evil and maintain a harmonious balance in the world with its mouth open.
In contrast, the female foo dog cradles a cub in her paw, embodying maternal instincts and the protection of good fortune. This striking design element highlights the complementary nature of the male and female foo dogs, emphasizing their shared role as powerful guardians of balance and well-being.
By incorporating these rich cultural symbols and eye-catching colors into your foo dog tattoo, you can create a visually stunning and deeply meaningful piece of body art that celebrates the history and significance of these revered creatures. The end result is a captivating tattoo that will undoubtedly be a cherished addition to your personal collection.
Foo Dog Tattoos With Asian Floral Symbols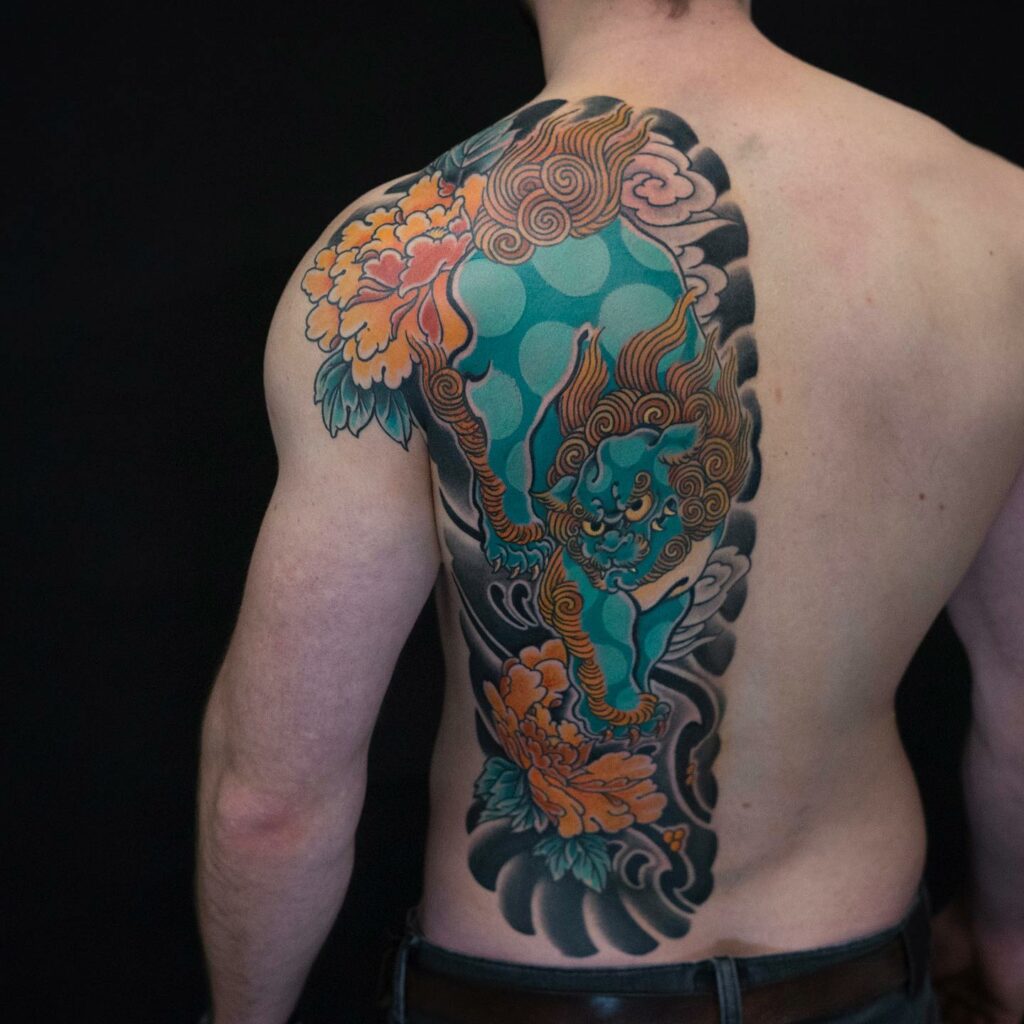 This stunning foo dog tattoo, placed on the back, masterfully combines all the key elements of traditional Japanese tattoo art in a harmonious composition.
Set against a swirling black backdrop, the vividly colored foo dog takes center stage, commanding attention and admiration. Interestingly, peonies are often incorporated alongside foo dogs, as they lend a delicate touch of softness to the otherwise fierce depiction of the guardian lion.
This exquisite example of Japanese Irezumi showcases not only the incredible skill of the tattoo artist but also the rich cultural symbolism and beauty of this time-honored art form. A foo dog tattoo like this one is a true celebration of artistic craftsmanship and a meaningful tribute to the guardian lion's protective role in traditional Japanese and Chinese lore.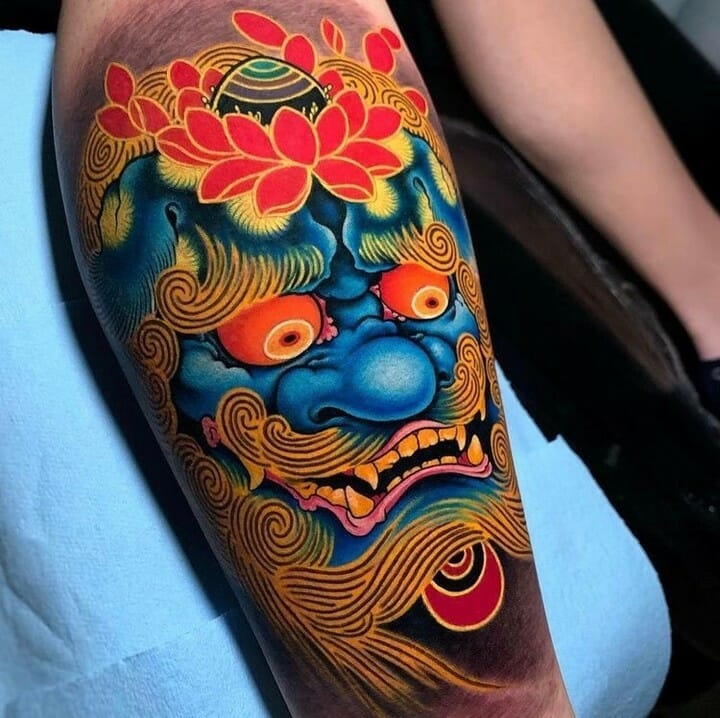 Much like peonies, the lotus flower holds deep spiritual significance in various cultures. Representing purity, faith, and spiritual awakening, the lotus is often associated with Buddha and the concept of reincarnation. In this particular tattoo design, the lotus is thoughtfully placed atop a vibrant blue foo dog, emphasizing the Chinese beliefs surrounding these powerful guardian lions.
Brimming with layers of symbolism, a foo dog tattoo featuring a lotus flower is sure to be an attention-grabber, regardless of its placement on your body. By incorporating such meaningful elements into your tattoo, you create a visually striking and spiritually rich piece of body art that reflects both your appreciation for the cultural significance of these symbols and your own unique expression of self.
In the hands of a skilled tattoo artist, a foo dog and lotus combination can be transformed into a breathtaking and deeply personal work of art that you'll be proud to wear and share with the world.
Traditional Foo Dogs For Feet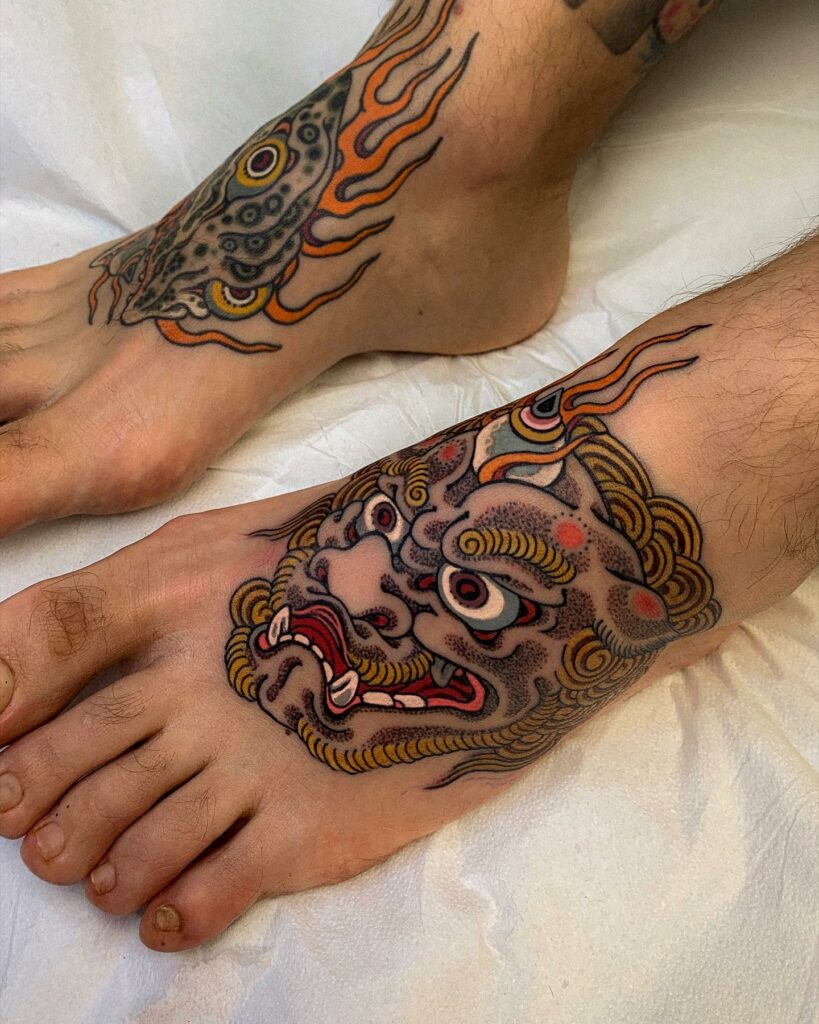 For those of you with a fondness for foot tattoos, these foo dogs might just be the perfect choice to guide your path! In this instance, the artist has skillfully selected a foo dog head, bringing it to life with detailed dotwork. It's important to note that the use of red and yellow has been purposefully restrained, creating a more subdued representation of traditional Japanese tattooing.
This tattoo, with its subtle color palette and powerful imagery, communicates a sense of seriousness and responsibility, suggesting that the wearer possesses a strong and steadfast temperament. A foo dog tattoo like this one not only makes for an eye-catching adornment on your feet, but it also serves as a meaningful expression of your personal values and the traits you hold dear.
Embrace your love for foot tattoos with a beautiful and symbolically rich foo dog design, expertly crafted to convey the depth of your character and the strength of your spirit.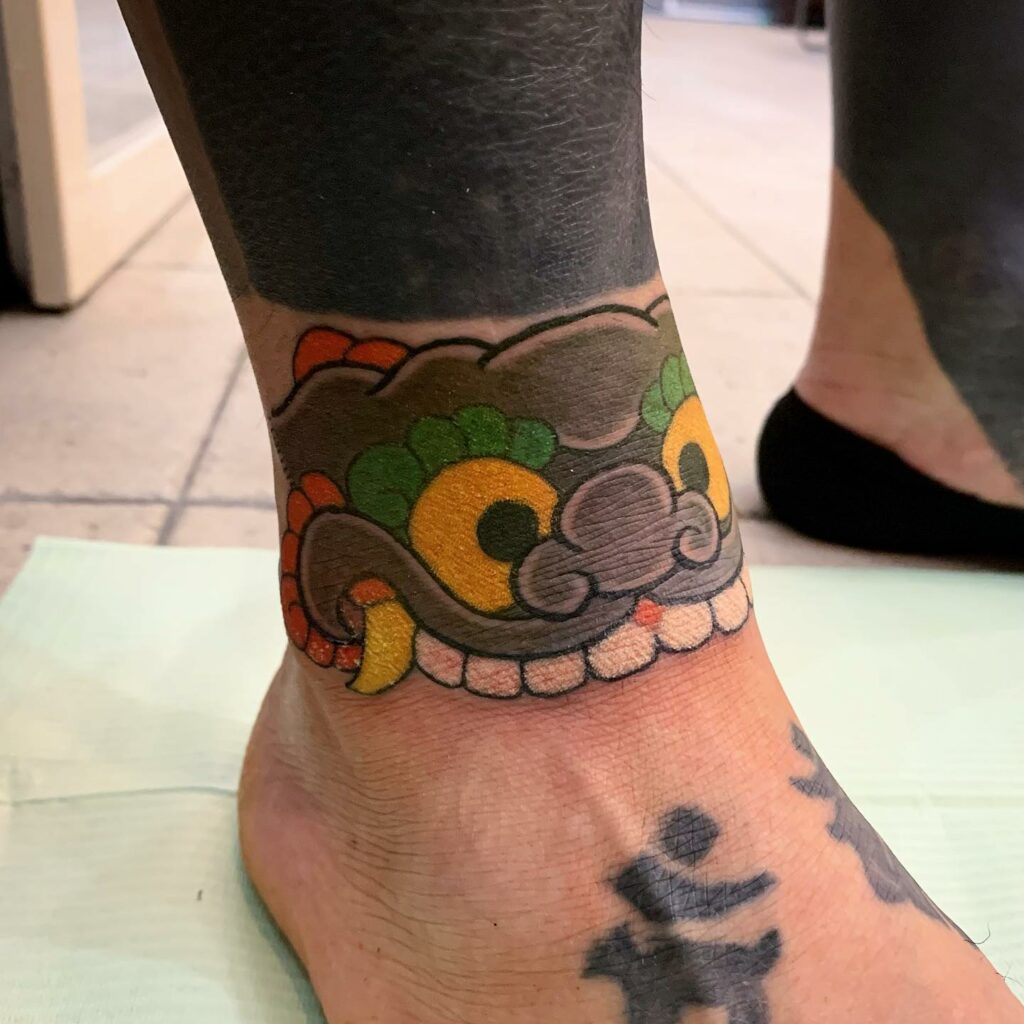 For those who appreciate a more tribal take on the guardian lion, consider this foo dog tattoo that gracefully encircles the ankle like an anklet. Due to the limited space available, the design focuses on the lion's face from the jaw upwards. Employing a black and grey palette with bold outlines, the tattoo artist expertly defines and highlights the features of this foo dog design. The restrained use of color adds a tasteful touch without overwhelming the overall composition.
Foo dog tattoos on the feet offer a discreet way to carry the protective spirit with you, without drawing too much attention. While you can certainly experiment with colors to suit your personal taste, remember to maintain a sense of subtlety to stay true to the refined nature of the design.
With its unique tribal flair and meaningful symbolism, this ankle-wrapping foo dog tattoo is a captivating and stylish choice for those who appreciate the power and protection of these guardian lions in a less conspicuous form.
Traditional Foo Dog Tattoo On Back

The Yin Yang symbol is frequently found alongside foo dogs, reflecting the complementary and contrasting nature of these guardian lions in Chinese culture. Traditionally, the male foo dog is positioned on the right, symbolizing an active force of strength and ferocity. In contrast, the female foo dog sits on the left, representing a sense of calm and purity to maintain balance in the environment.
This particular tattoo design features two foo dogs artfully arranged around a central Yin Yang symbol. The creatures are elegantly depicted using black outlines and subtle dotwork, providing a minimalist yet impactful aesthetic. To further personalize the tattoo, you can experiment with the addition of color or intensify the use of black and grey to make the design truly stand out.
Incorporating both foo dogs and the Yin Yang symbol in a single tattoo not only creates a visually striking piece of body art, but also embodies the harmonious balance of opposing energies, making it a meaningful choice for those who appreciate the rich symbolism behind these ancient icons.
Neo-Traditional Foo Dog Tattoo Designs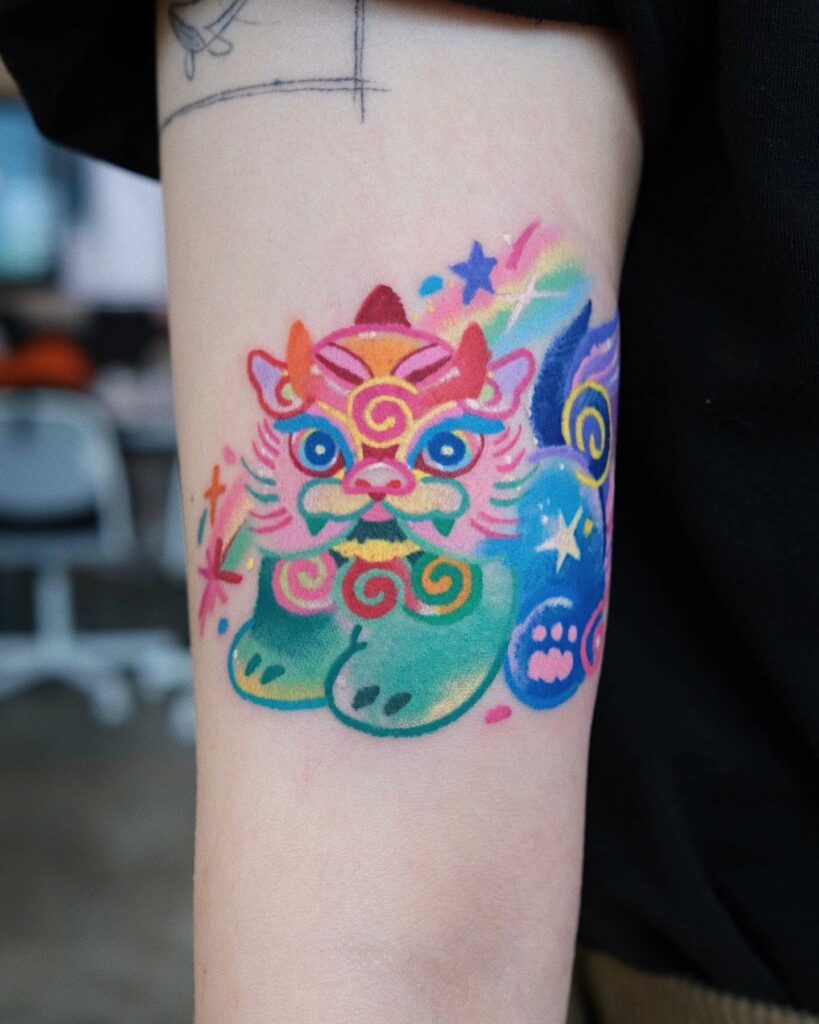 While many foo dog tattoos aim to capture the fierce spirit of their marble statue counterparts, the neo-traditional school of tattooing offers a refreshing opportunity to let your creativity run wild! One imaginative example is this delightful "unicorn lion" foo dog design, which incorporates a vibrant rainbow of colors to create a playful and whimsical aesthetic.
This charming and compact style is not only a unique departure from the typical intimidating foo dog representation but is also a versatile choice that can be worn by anyone, including women. By embracing the fun and creative possibilities of neo-traditional tattooing, you can make a bold statement with a foo dog tattoo that showcases your own personal flair and artistic sensibilities.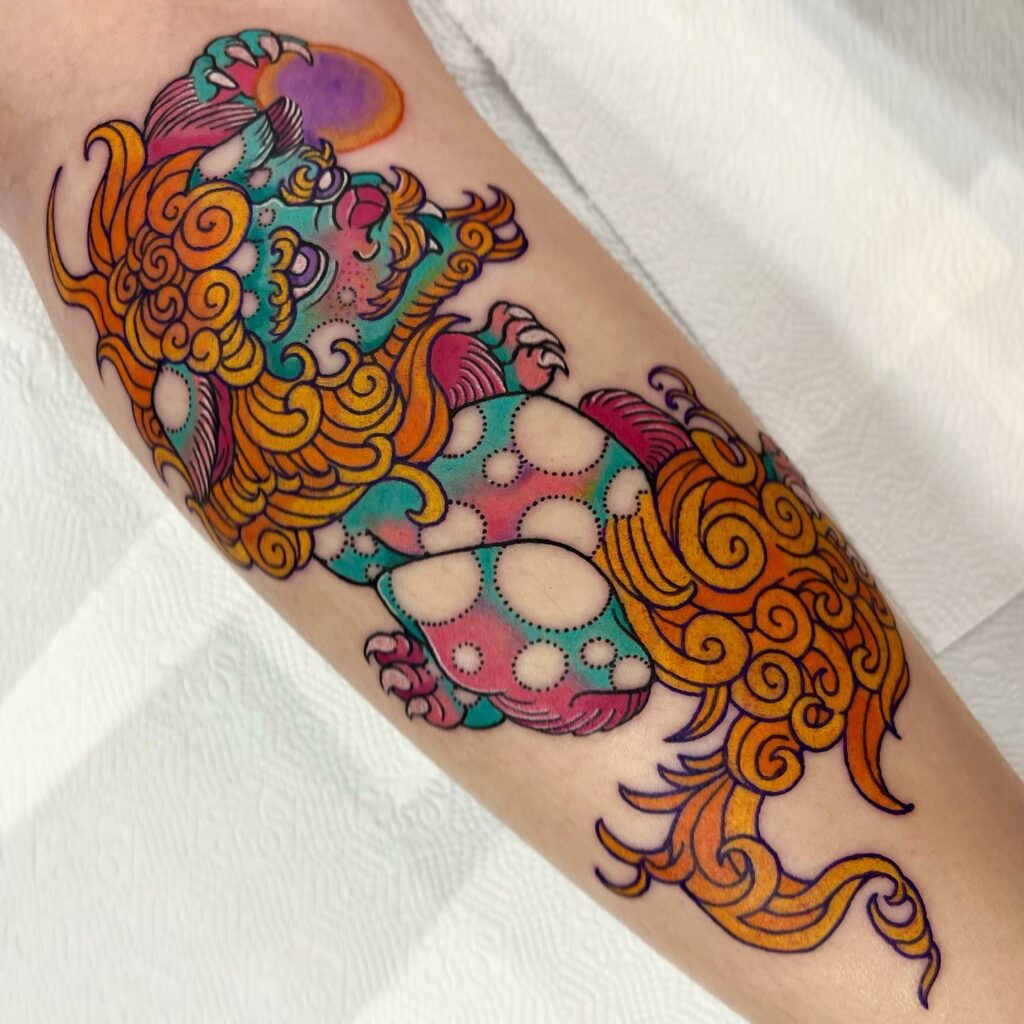 Neo-traditional tattoos are known for their vibrant use of color, and this particular foo dog design is no exception. The male foo dog is brought to life with an array of bold hues, offering a fresh and imaginative take on the traditional representation. You can choose to showcase a single foo dog or complete the picture with a matching pair.
Despite their intimidating appearance, foo dog tattoos carry a rich history of positivity and protection. Ancient emperors relied on these guardian lions to safeguard their palaces and ensure the prosperity of their kingdoms. Although they originated in China, foo dog designs have gained immense popularity in Japan's tattoo community. No matter the style you choose, the underlying symbolism remains one of strength and resilience. Those who proudly wear foo dog tattoos are often seen as strong individuals, capable of looking after themselves and their loved ones. Embrace this powerful imagery and make a statement with your very own foo dog tattoo.
Feature Image from Pinterest – Want your tattoo to look brighter? Try "Tattoo Balm"
Last reviewed and updated on May 2, 2023