Hey lovelies! Today, we're diving deep into one of my all-time favorite nail color combos—Black and Pink. Trust me, this pairing is a classic that never gets old. From elegant soirées to everyday glam, these two hues bring versatility, sophistication, and fun to your fingertips. By the end of this post, you'll know how to nail the look (pun intended), whether you're going for subtle or bold, matte or glossy. I love pairing deep black with soft pastel pink for a chic, modern twist. Stick around, and I'll walk you through how to get this high-impact duo right. Ready? Let's get started!
Unleash Your Spirit: Inner Animal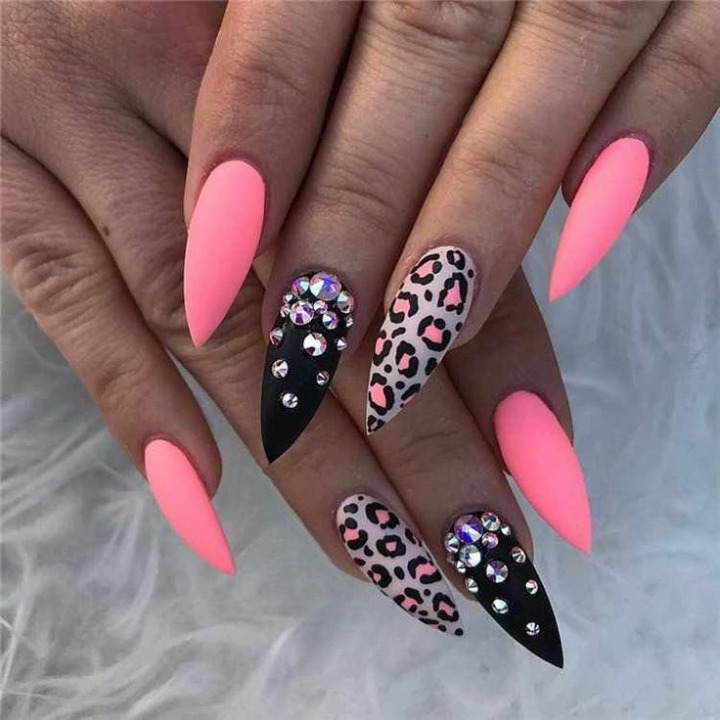 Got a wild side? Let it show with neon pink and black animal print nails. That single golden line adds just the right amount of glam to a fabulous design.
A Modern Classic: Pink and Black French Tips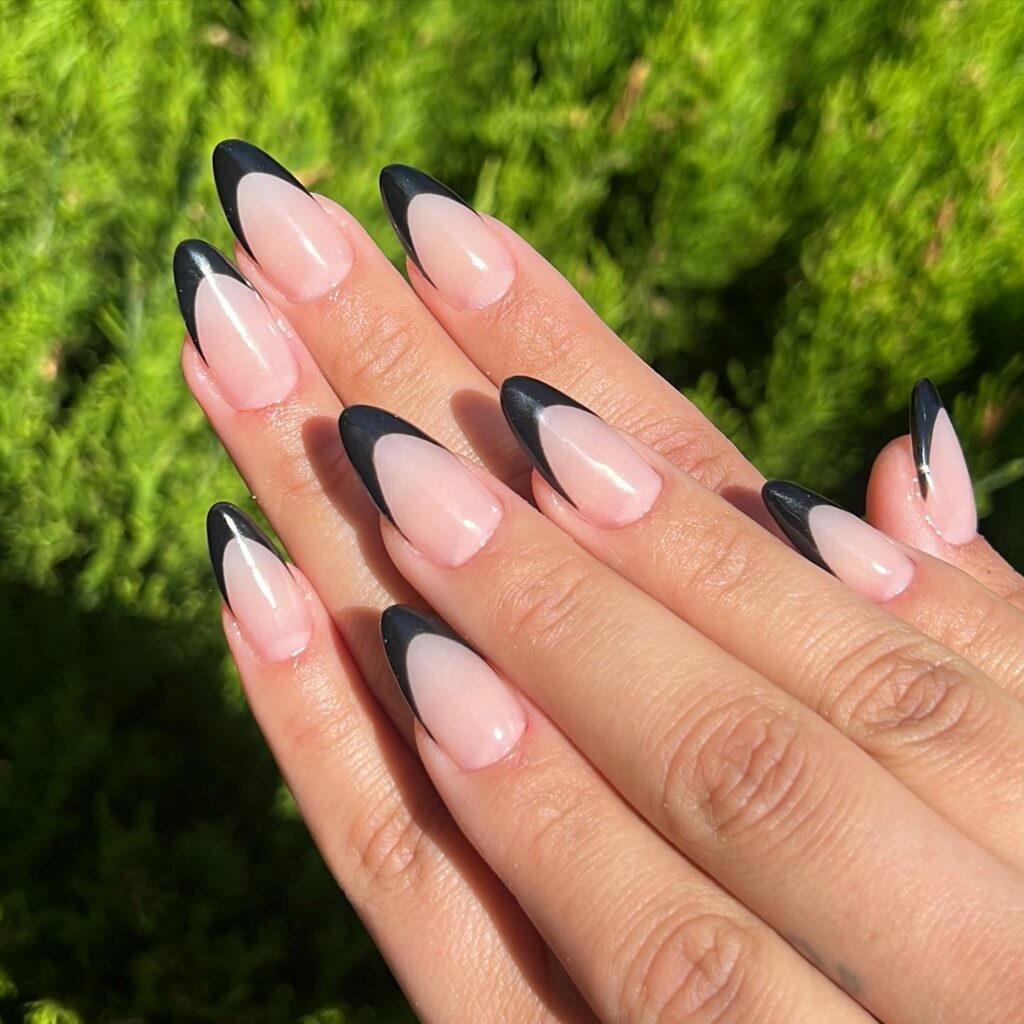 Seeking a low-maintenance yet high-impact look? Try this: paint your nails sparkly pink and add black French tips. It's effortlessly chic, ideal for any occasion, from a business meeting to a night out.
Simply Sweet: Pink And Black Nails With Hearts
Mostly glossy black, but with that one standout white-pink nail featuring black polka-dotted hearts. It's the small details that count.
Live a Little: Fierce Festival
Black and glittery coral pink bases alternate, topped with multicolored glitter flakes. Wear these to your next festival; you'll be as eye-catching as the main act.
Dazzling Details: Strength in Simplicity
This look keeps it bold with hot pink nails but shakes things up with one black nail. Add rhinestones on the side of the black nail, and you've got a harmonious yet eye-catching design. I love wearing this during girls' nights—it's the best of both worlds!
Less is More: Unapologetically Chic
Who says simplicity can't be show-stopping? Paint your nails matte pink and black, then add a minimalist geometric pattern on one pink nail. I rocked this look at a casual dinner, and let's say it was a hit. That white triangle lined with silver glitter? Yep, it steals the show!
Flashy In A Snap: Punk Barbie
This one is as straightforward as it is impactful. Hot pink base with a diagonal black stripe, and you're done! I love how quickly this comes together; it is perfect for when you're short on time but big on style.
Hearts & Gold: Fiercely Feminine
You'll adore this if you're a fan of soft shades and a pop of sparkle. Most nails are baby pink, but one is black, and another is sparkly gold. Add two pink hearts on the black nail for a whimsical touch. I rocked this design at a wedding, and it blended perfectly with my flowery dress.
Adorably Unique: Cow Nails
Who knew cow print could be so cute? Start with a baby pink base, then go wild with a black-and-white cow pattern on the tips. Add a touch of sparkle with silver dots, and you've got a barnyard chic look. Seriously, I can't help but smile every time I look down at these.
Heartfelt Design: Patterned Hearts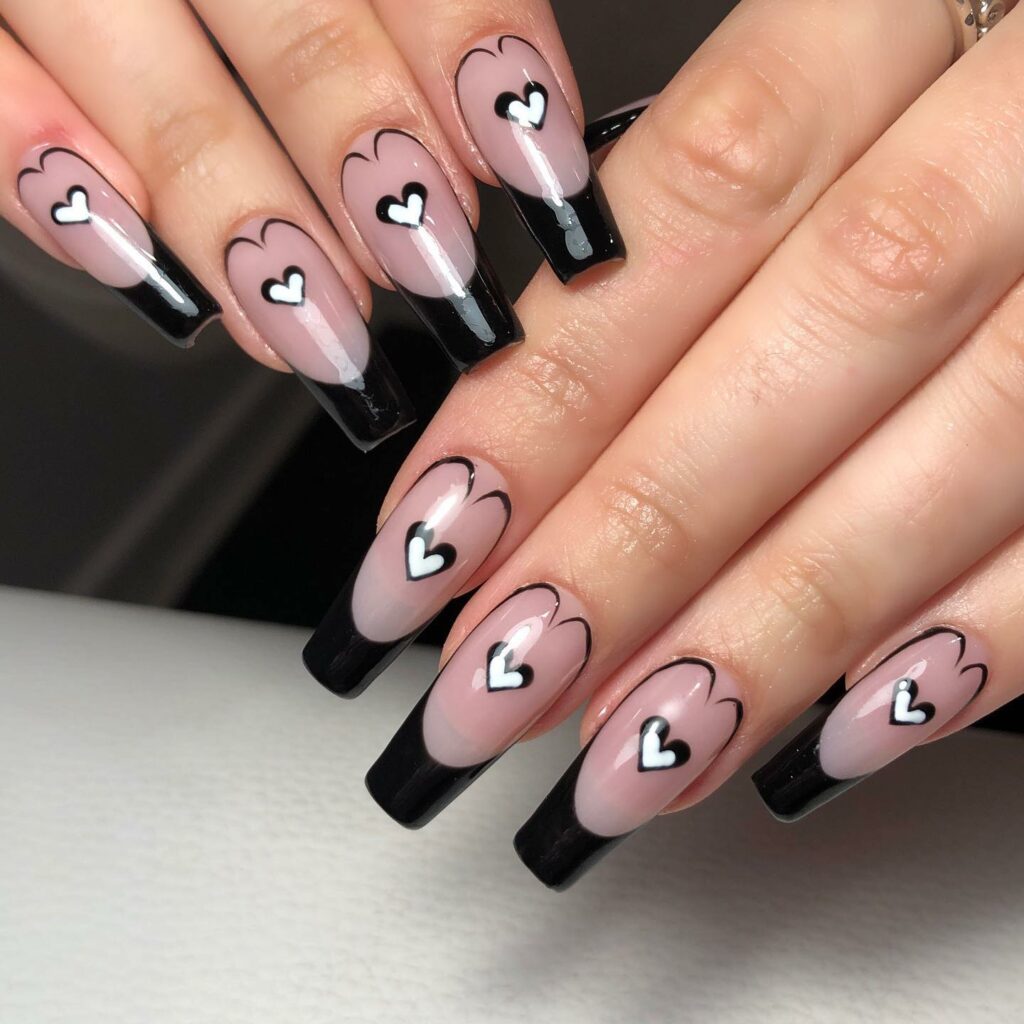 Combine hot pink and black nails, add a string of hearts, and keep it simple. This design gives you a sweet touch without going overboard. It's cute, it's flirty, and it's a ton of fun to wear.
Electric Vibes: Neon Lights
Hot pink and black, but make it neon! The added green, orange, and purple streaks give an energetic pop that'll get everyone talking. These are my go-to for club nights or any fun outing.
The Perfect Balance: Strong and Lovely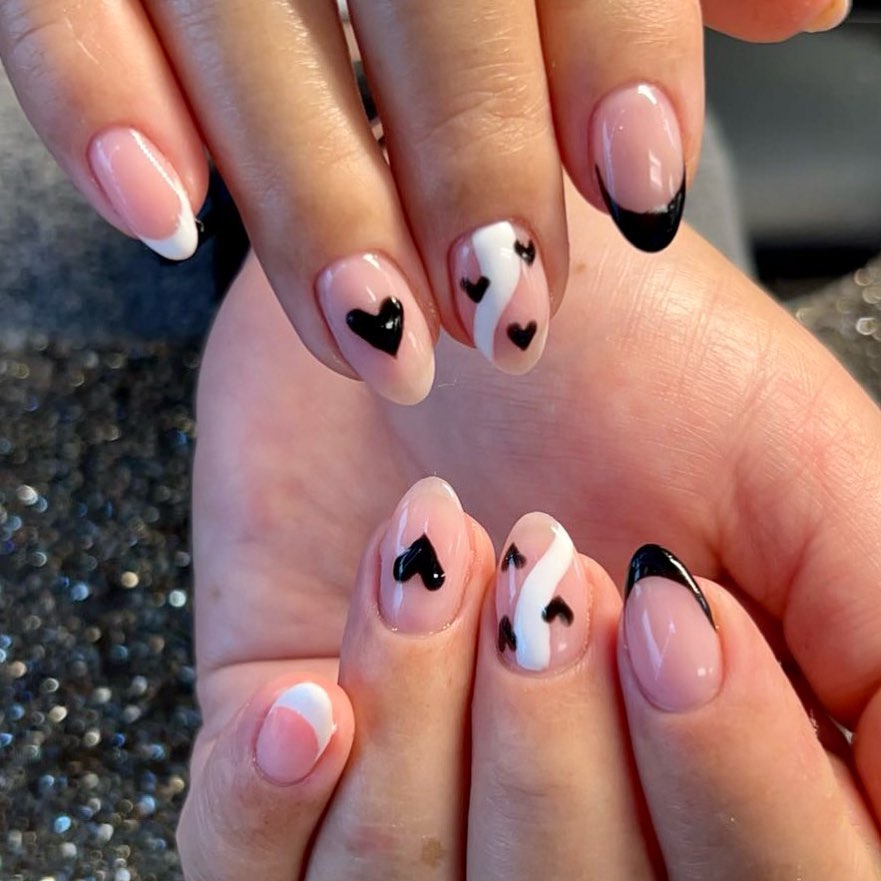 Want a look that screams strength but whispers love? Try a French tip combo of black and pink, and add a heart to each tip. I once wore this design to a job interview to remind myself I'm strong and compassionate—and guess what? I got the job!
The Elegance Of Heartbreak: Lost Love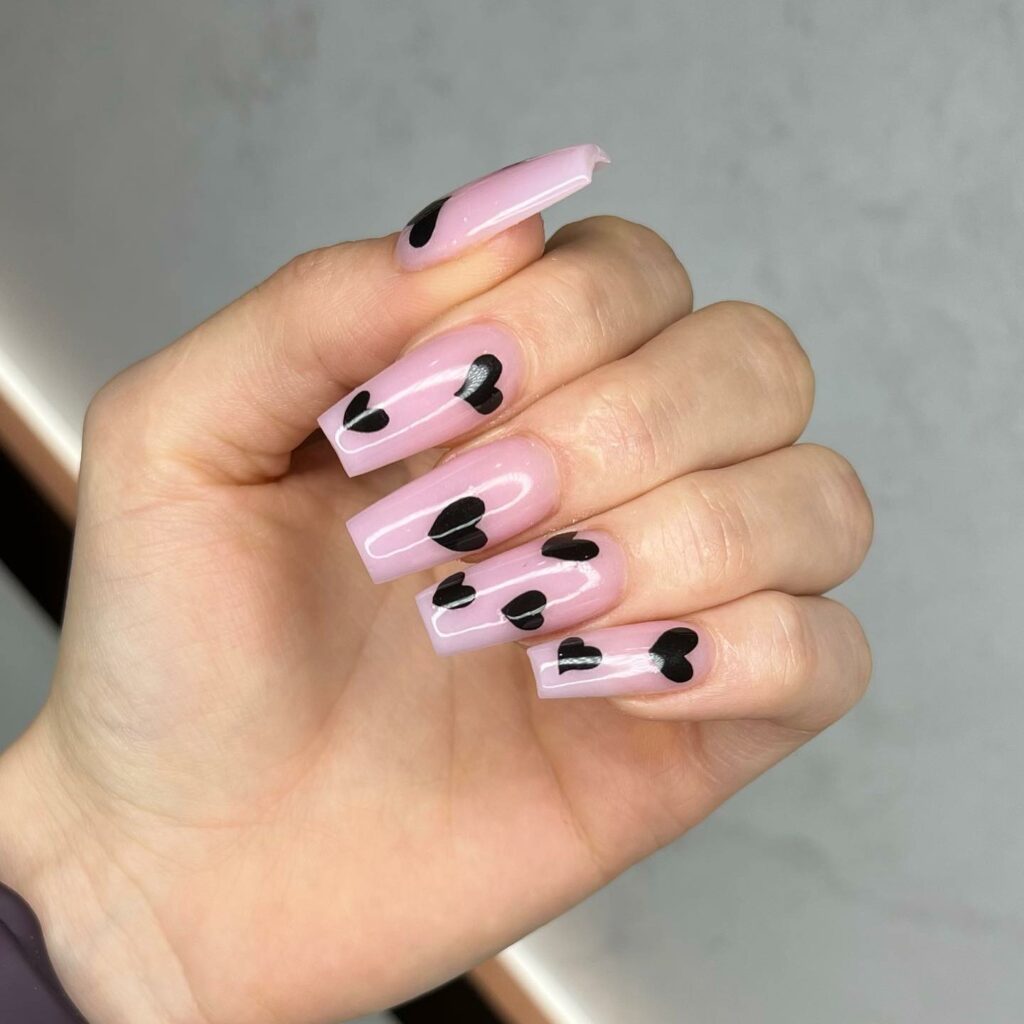 Ready for some drama? These coffin-shaped nails are not only chic but emotionally charged. Rocking a mix of black and pink bases, these nails feature dripping hearts that evoke the beauty of bittersweet memories. Perfect for channeling your inner romantic—or making an ex super jealous.
The Subtlety in Details: Pink Finishes
Ever heard of the saying, "It's the little things that matter?" These nails are precisely that. Switch between matte and shiny finishes in various shades of pink, and add a glittery silver line for depth. I love this look for brunch or a casual hangout; it's low-key but super Instagrammable.
Gradients of Love: Pink Saturation
Start with clear bases and add pink French tips that get progressively darker from nail to nail. Throw in black hearts and gold linings for that romantic touch. Perfect for date nights, if you ask me!
Island Dream: Tropical Silhouette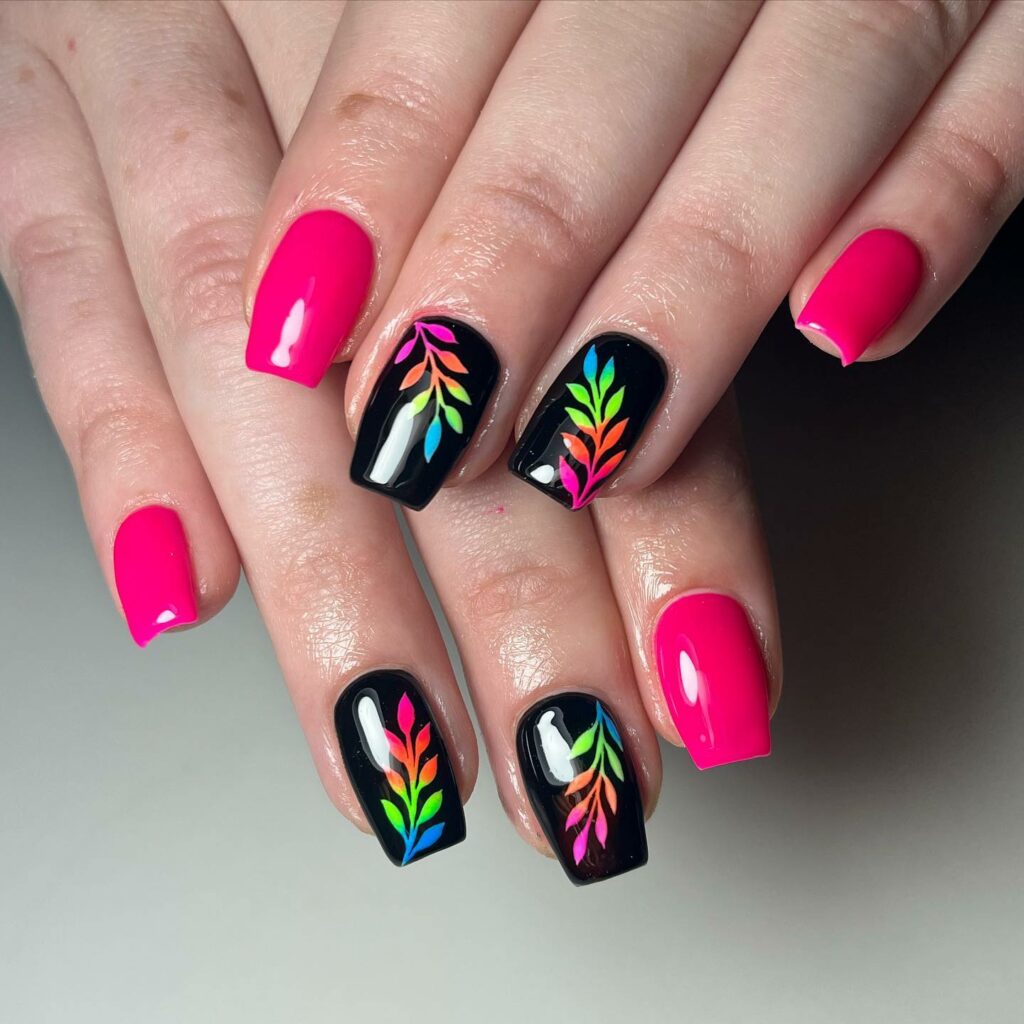 Transport yourself to paradise with matte pink nails and black designs featuring diffused gray circles and tropical leaves. It's like a vacation but at your fingertips.
Spooky & Sparkly: Glamorous Halloween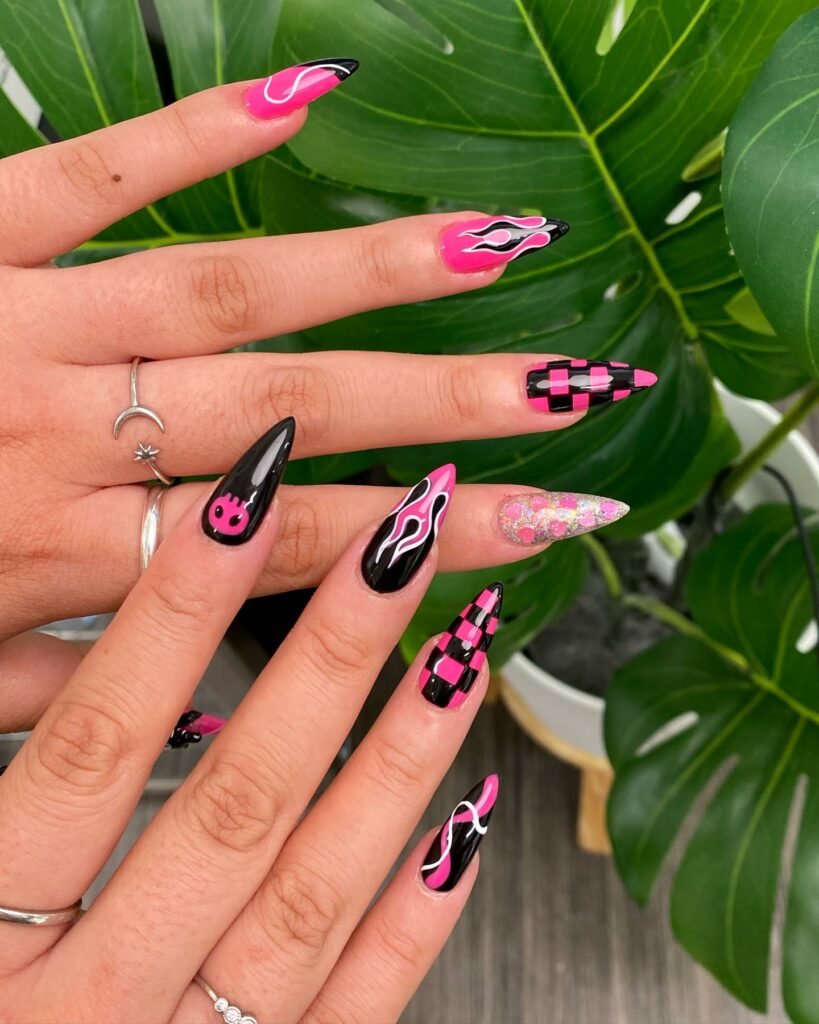 October babies, listen up! Pink, white, and black come together to create a Halloween-inspired wonderland right on your nails. Think sparkly pink bases with black and pink ghost and pumpkin accents. It's as if Tim Burton and Barbie had a nail baby, and it's magical.
Turn Up the Heat: Dark with a Spark
Spice up your life with alternating red-pink and matte black nails, and add a coat of sparkly clear polish on the pink ones. It's a perfect blend of sass and class that I often wear to weekend parties. Let me tell you, they're always a conversation starter!
For the Luxe Souls: Opulent Nails
Who says you can't mix high drama with everyday wear? Sport a single black nail adorned with rhinestones, and let the rest be shades of pink with designs like marble or silver flakes. Every time I wear this design, I feel like I carry little art pieces at my fingertips.
Less is More: Pink Metallic
Here's proof that simple doesn't mean boring. This design features violet pink, sparkly pink, and shiny black nails that need no added designs to look utterly stunning. Sometimes, it's all about the color and finish, folks.
Wild Elegance: Sharp as a Leopard, Soft as a Flower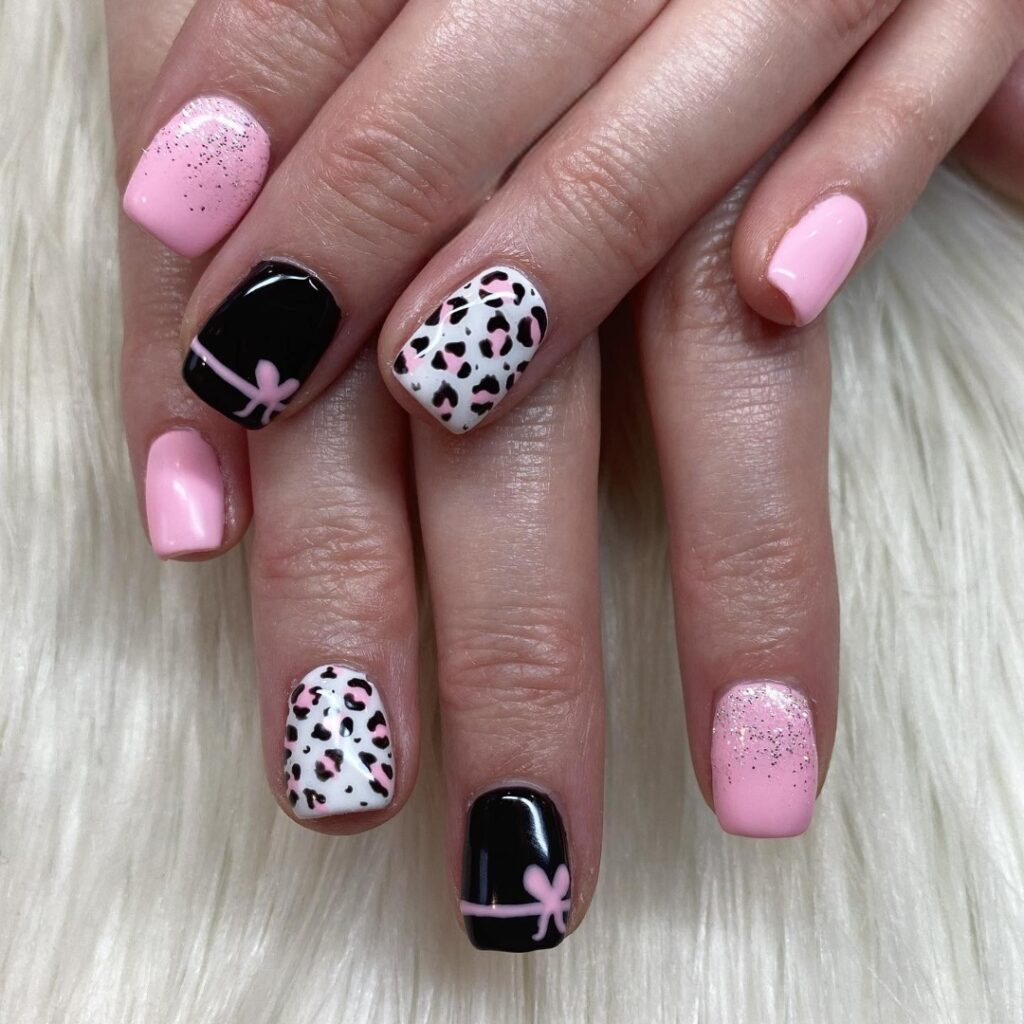 Looking for something that balances edgy with dainty? Paint some nails glossy black and others soft pink, then unleash your artistry with leopard prints and flowers embellished with pearls and rhinestones. I wear this for festive occasions when I want to make a bold statement without saying a word.
Glam Gone Wild: Like an Animal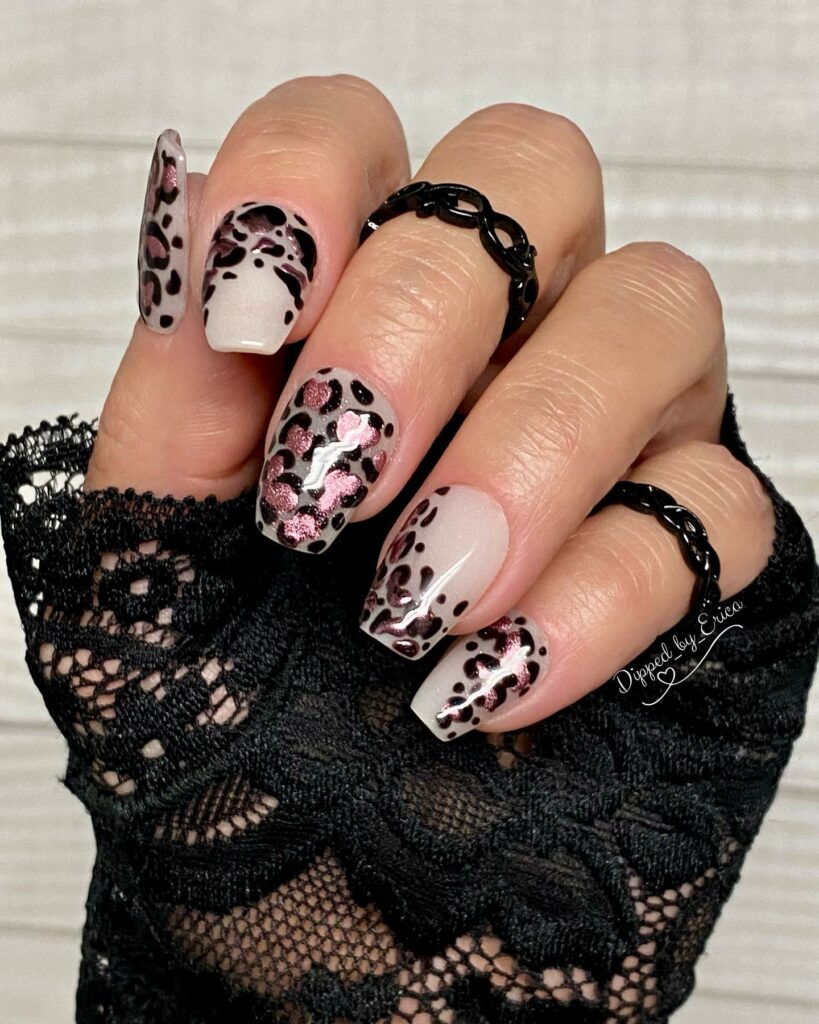 Feeling extravagant? Go all out with animal prints on hot or baby-pink nails. Add a dash of black or French tips, and crown a few nails with diamonds or rhinestones. Honestly, this look is so fabulous it should come with its own theme song.
Two Moods, One Mani: Pink Flavor
Looking for variety? This design is where it's at. Go for three black nails and two pinkies, but here's the twist: make one pink nail sparkly pale and the other shiny hot pink. A black line, a cute heart, and a single rhinestone are just the cherries on top. Trust me, it's an eye-catcher!
Understated Elegance: Pale but Pretty
Are you in a rush but still want nails that stand out? Please keep it simple: pale pink nails on one hand, black on the other, and swap one nail color on each hand. Add little hearts or circles, and you're ready to go. This was my go-to look during finals week in college—simple but stylish.
Make a Statement: Graphic
Get ready to turn heads! This edgy style mainly uses black, but one nail in pink and another in sparkly silver will do all the talking. The black graphic line and square on the pink nail? Total showstopper.
Hypnotizing Beauty: Black Spiral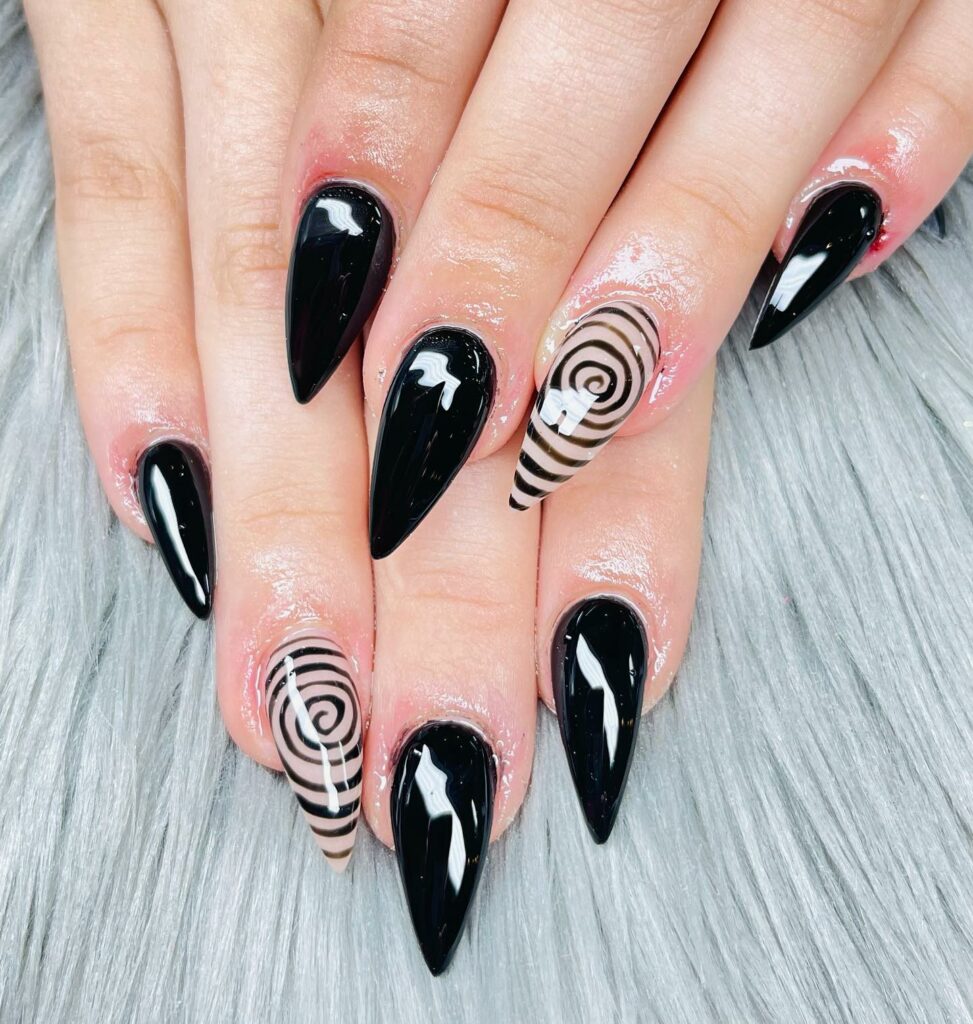 Here's a look for those of you who love intricate details. The baby pink base gets elevated with one hot pink and one black nail, both designed with mesmerizing spirals. Honestly, it's a work of art.
Geometric Cool: Triangle Nails
Here's another one for the geometry lovers. Paint your nails pink, then add black and white triangles to the tips. It's a funky twist on a classic look that'll get people talking for all the right reasons.
The New Classic: Pretty Gothic Nails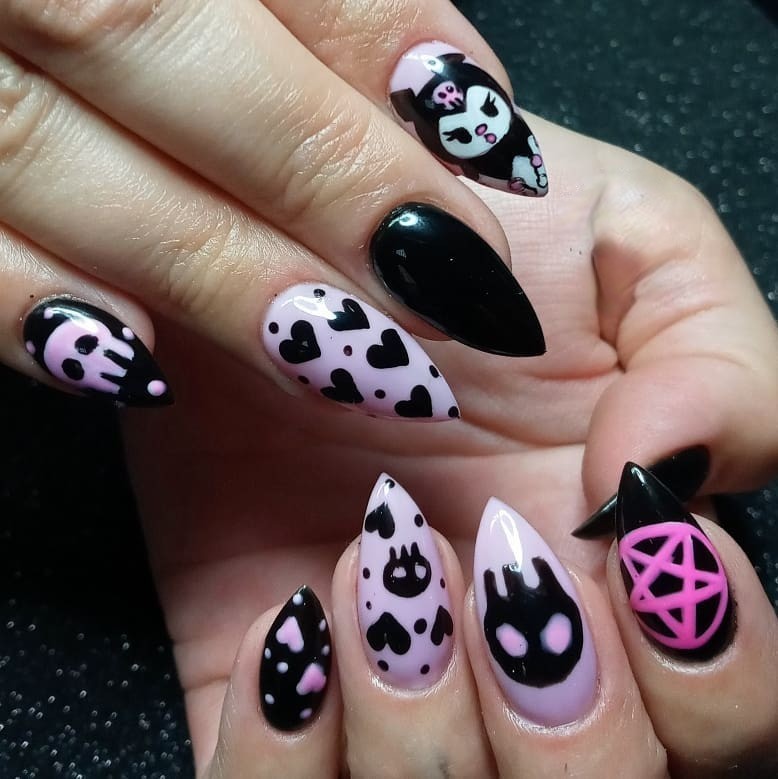 Hey, you edgy souls out there! If you're craving a hot and haunting look, Pretty Gothic Nails are your go-to. Mix hot pink with glittery black, and throw a skull or two on a black base to make it extra mysterious. Every time I rock this look, I feel like I can take on the world—or at least a haunted house.
Keep it Classy: Swirling Through Sparkles
Not every pink and black design has to scream, "Look at me!" Try a light pink base with delicate black swirls for those who adore understated elegance. It's like the little black dress of nail art—always in style and goes with everything. I often opt for this when I have back-to-back meetings but still want to express myself.
Simply Sweet: Sweetheart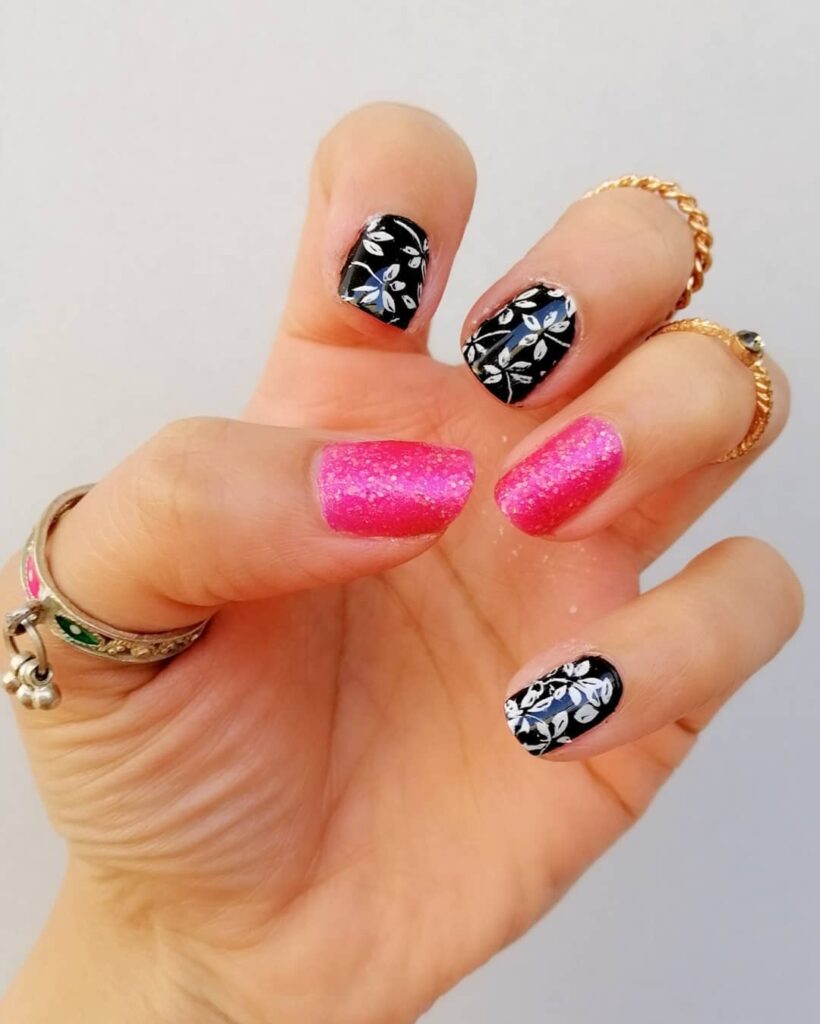 Go all out with black, but leave one nail for a pop of sparkly pink. It's edgy yet adorable; let me tell you, it's a hit on date night.
Pink Fire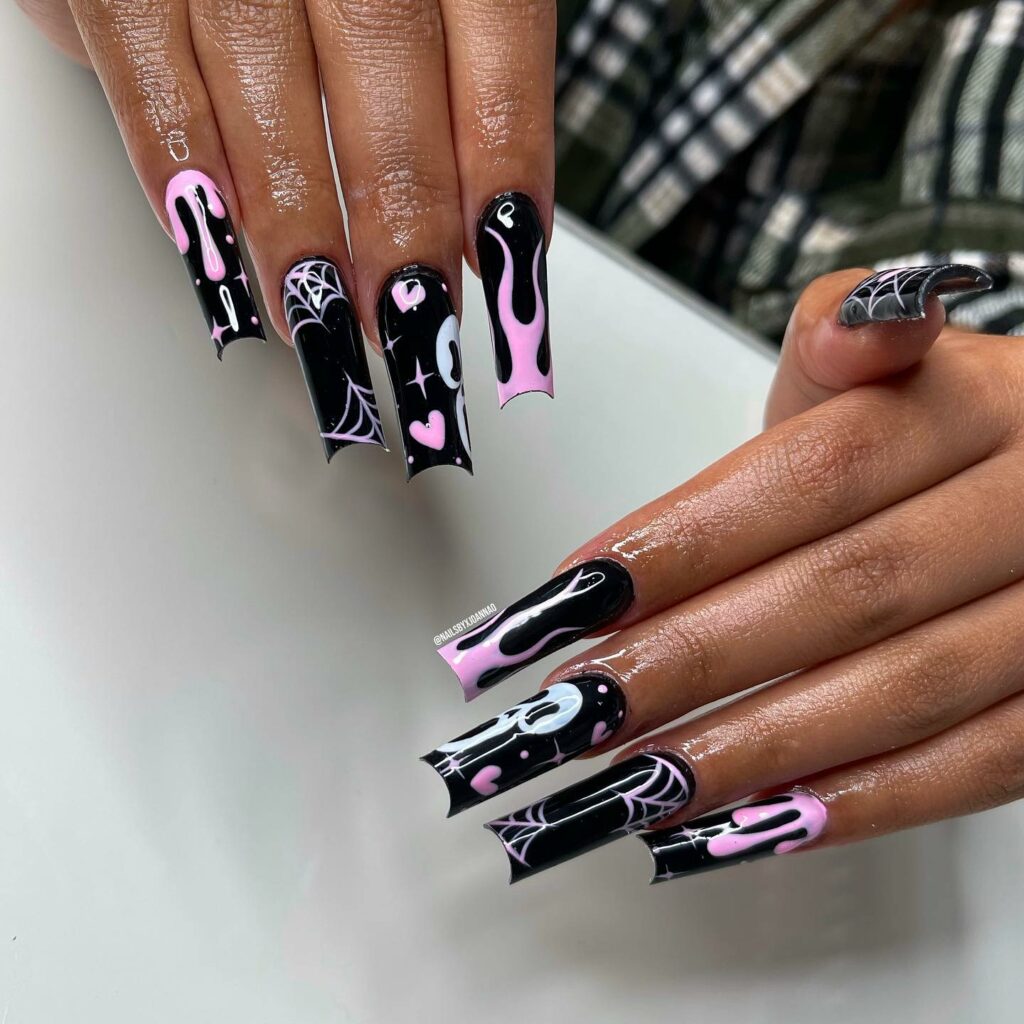 Alright, all you punk princesses, Pink Fire is a showstopper! Start with a glossy black base and add bright pink flames outlined in silver. Wear this to a concert or a night out, and trust me, you'll be the one on fire!
Elegance Unleashed: Rose Pink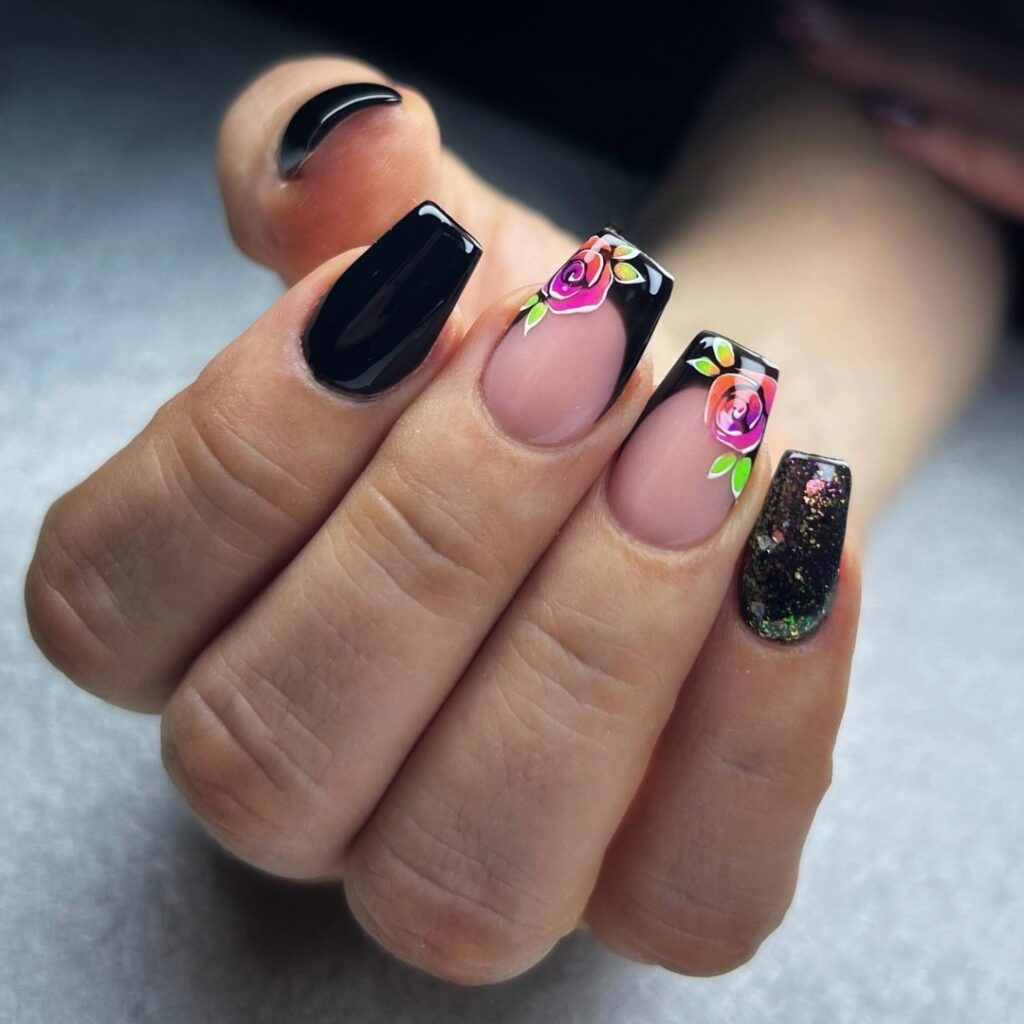 If you've got the time and the steady hand, Rose Pink nails are where intricate meets edgy. Matte black, nude bases, rhinestones, pink flowers, and leopard prints—it's a lot, but in the best way possible. This design is an absolute favorite for romantic dinners or high-stakes social events.
Effortless Chic: Gold Foil
Topped with gold foil accents, light pink and marbly black make a luxe yet simple statement. This is my go-to for office parties or family events when I want to look put-together without screaming for attention.
Matte Black Tips With Jewels
Matte black tips with jewels are the epitome of edgy meets glam. The matte finish provides a chic, subdued backdrop, while the carefully placed jewels add just the right amount of sparkle, elevating your nail game to a whole new level.
Embrace the Duality: Two Sides of Me
Can't decide between two moods? Express both with this versatile look. Use matte black on some nails and baby pink on others, then accent with sparkly pink blocks or rhinestones. This look is like the yin and yang of the nail world—perfect for those who embrace our complexities.
My 10 Top Tips For Maintaining Pink & Black Nails
Seal the Deal – Always finish with a high-quality top coat. It'll seal in your design, provide a glossy finish, and protect against chips and scrapes.
Glove Love – Whether washing dishes or gardening, slip on gloves to protect those beautiful nails from the elements and harsh chemicals.
Daily Dose of Hydration – Keep cuticle oil or hand cream in your bag for on-the-go hydration. A well-moisturized cuticle can make your mani look fresher and longer.
Avoid Nail-Biting Zones – I get it; sometimes nerves kick in, but nail-biting is a quick route to ruining that fabulous design. Keep a stress ball or some gum handy if you're prone to nibbling.
Minimal Contact – Avoid using your nails as tools—like opening cans or peeling stickers. Use the pads of your fingers or an accurate tool instead.
Quick Fixes – If a small chip does occur, don't stress. Use the same color polish to fill it in and finish with a top coat. For more intricate designs, a nail art pen can be a lifesaver.
Regular Check-ins – Reapply your top coat every 2-3 days to maintain that just-done gloss and provide an extra shield against daily wear and tear.
Soft Hands, Strong Nails – Consider applying a strengthening base coat under your polish for added resilience if you're doing heavy lifting or strenuous activity.
Easy on the Acetone – If you're changing designs frequently, opt for a non-acetone remover. It's less harsh on your nails, keeping them strong and healthy.
Say No to Scorching Heat – Hot water can cause the polish to lift. Opt for more excellent showers and avoid super hot water when washing hands.
My Top Tips For Shorter Nails
Simplify the Design – Intricate details might get lost on smaller nails, so go for simpler versions. For example, instead of full-on animal prints, maybe add a few leopard spots on the corner of each nail.
Focus on the Tips – For shorter nails, focusing the design near the tips can elongate the look of your nails. This is where French tips in pink and black would shine!
Go, Minimalist – Less can often be more, especially with limited space. A single stripe, heart, or rhinestone can make a big statement.
Adapt the Color Scheme – If a design uses multiple colors, consider reducing the number for a cleaner look. Sometimes, just two contrasting shades can make a bold statement.
Strategic Sparkle – A little glitter or a single rhinestone can go a long way on short nails. Place them where they can catch the light but not overwhelm the nail.
Negative Space – Utilize the natural color of your nails as part of the design to save on space. This looks modern and can make the design pop even more.
Vertical Lines – Use vertical lines or patterns to visually lengthen your nails. It's an age-old trick that seriously works!
Smaller Tools – Invest in smaller dotting tools or brushes for more precise application of details.
Short nails can absolutely be a cute and stylish canvas for your self-expression. Remember, it's not the size but the artistry that truly counts. So go ahead, flaunt those short but oh-so-chic nails!
Still Looking for Inspiration, Then Check Out This Video
Conclusion
And there you have it, beauties—your ultimate guide to rocking black and pink nails like a pro! From the minimalist chic to the boldly extravagant, there's a look here for every vibe and occasion. My personal fave? The "Unapologetically Chic" for its subtle yet attention-grabbing glam. Remember, you don't need to stick strictly to these designs; let your creative juices flow and mix it up a bit. Use quality polishes; don't skimp on a good top coat for that long-lasting shine. Whether you're DIY-ing these looks or taking them to your nail tech, have fun! After all, your nails are the ultimate canvas for self-expression. Can't wait to see what you all come up with. Happy painting!
Feature Image Photo By @merlin_nails via Instagram
Last reviewed and updated on October 19, 2023