Today, we're diving into the world of dark purple nails with that irresistible glittery twist. It's a trend that's been catching eyes left and right, and for good reason—it's the perfect blend of mysterious allure and a touch of sparkle that can jazz up any look. In this post, I'll walk you through the ins and outs of rocking this bold style. We'll talk color shades—because, let's face it, not all purples are created equal—placement of glitter that can either shout or whisper, and textures that can change the game. And because I live and breathe nails, you'll get all my personal tips on making your manicure last longer and sparkle even brighter. Whether you're prepping for a night out or want to add some pizzazz to your daily routine, these dark purple nails with glitter will serve up some serious style. Let's get your nails talking the talk and walking the walk. Ready? Let's shine on!
Purple Glitter Ombre
Imagine a purple sunset on your fingertips—that's what this ombre design is all about. A dark purple tip fading into a soft pink base is drama and romance. I wore this design to a concert once, and even in the dim lighting, my nails danced!
Reach For The Stars
A playful take on the French manicure, this star-studded design is like a little party on your nails. The subtle pink base with a purple glitter tip, crowned with a cute lilac star, adds a dash of whimsy to any outfit.
Purple Chrome Zone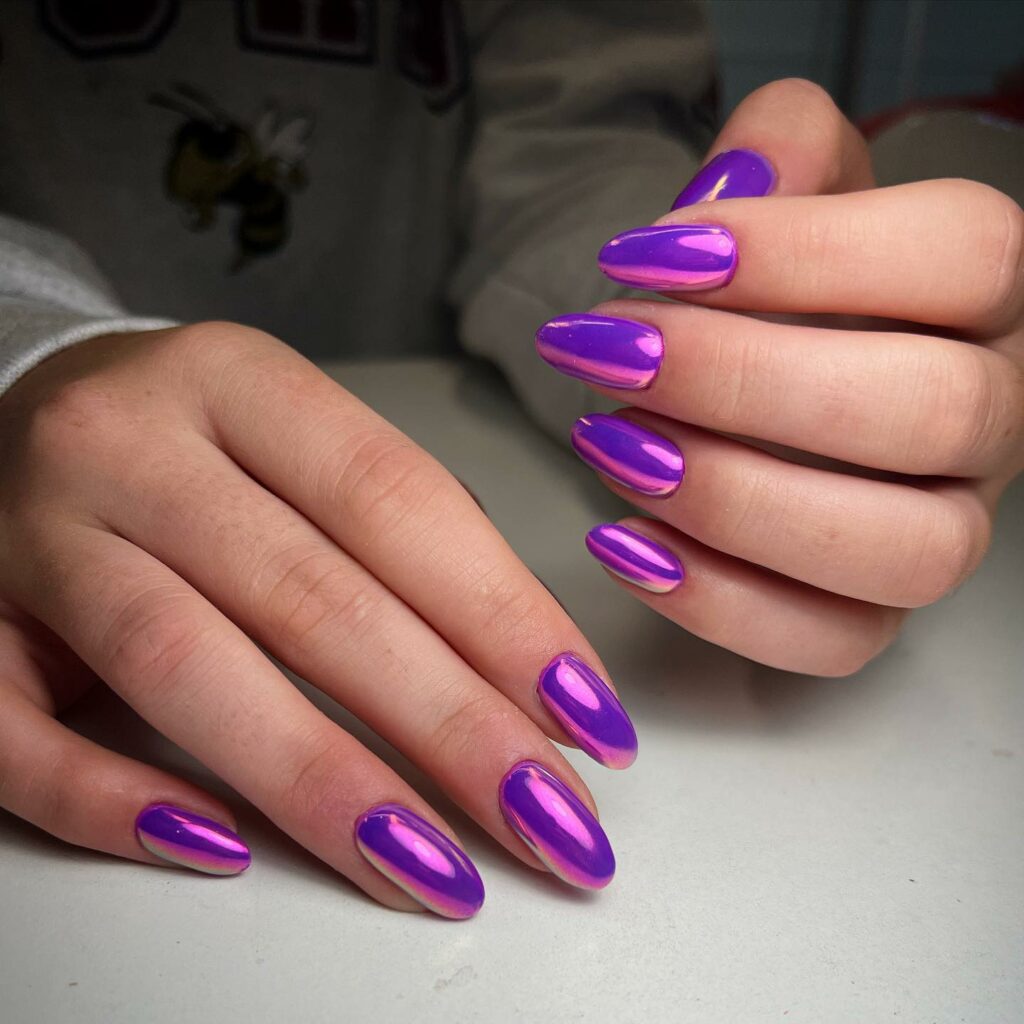 Purple chrome nails are like futuristic accessories at your fingertips. I remember the first time I tried a chrome finish; I couldn't stop looking at my hands. It's a showstopper for sure, reflecting hues of purple and blue as you move.
The Reverse Aura Effect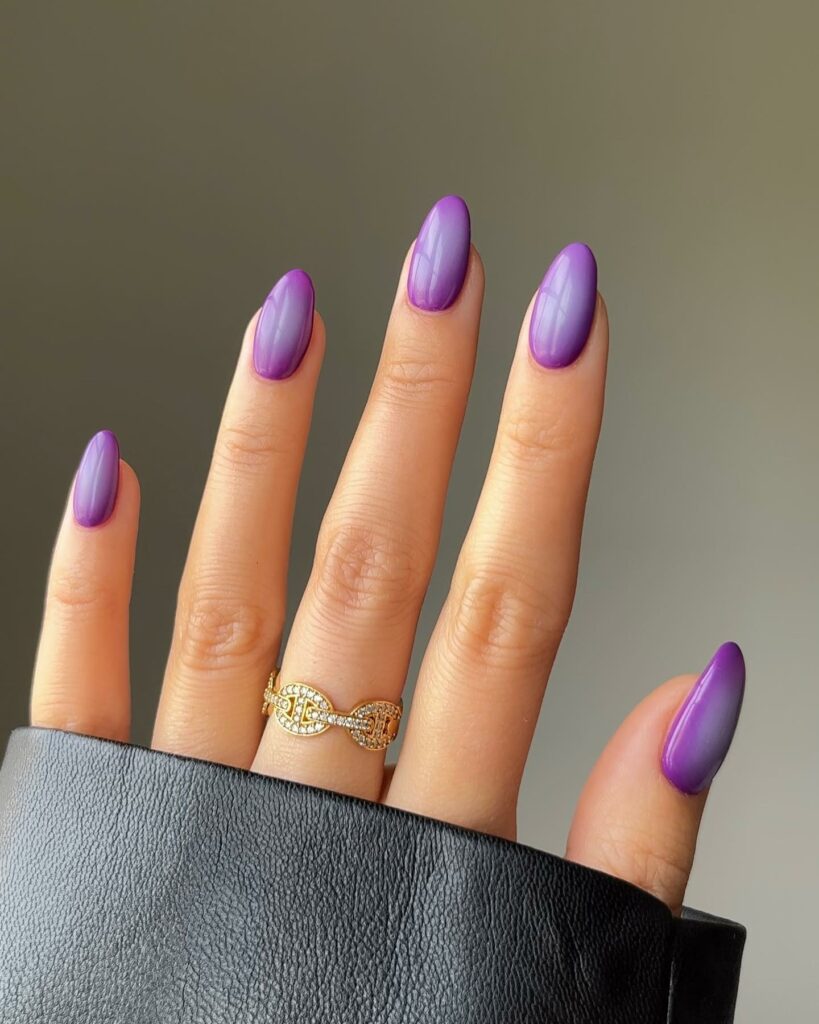 Aura nails are all the rage, but have you tried the reverse aura? Starting with a pale lilac and intensifying to dark purple creates an almost halo effect. It's a fresh take on a trend that's as mysterious as it is stylish.
Glitter Purple Ombre Nails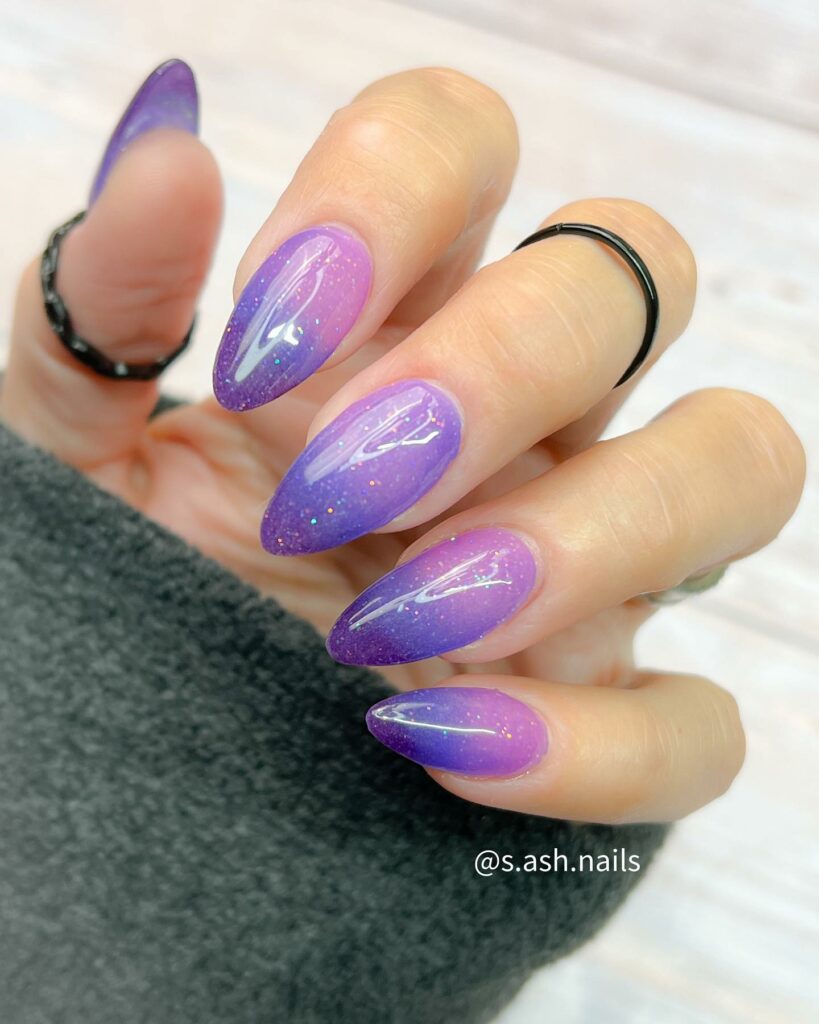 Special occasion, or need a mood boost? Bring on the glitter. These nails are so eye-catching they practically deserve their own zip code.
Purple Chrome Dreams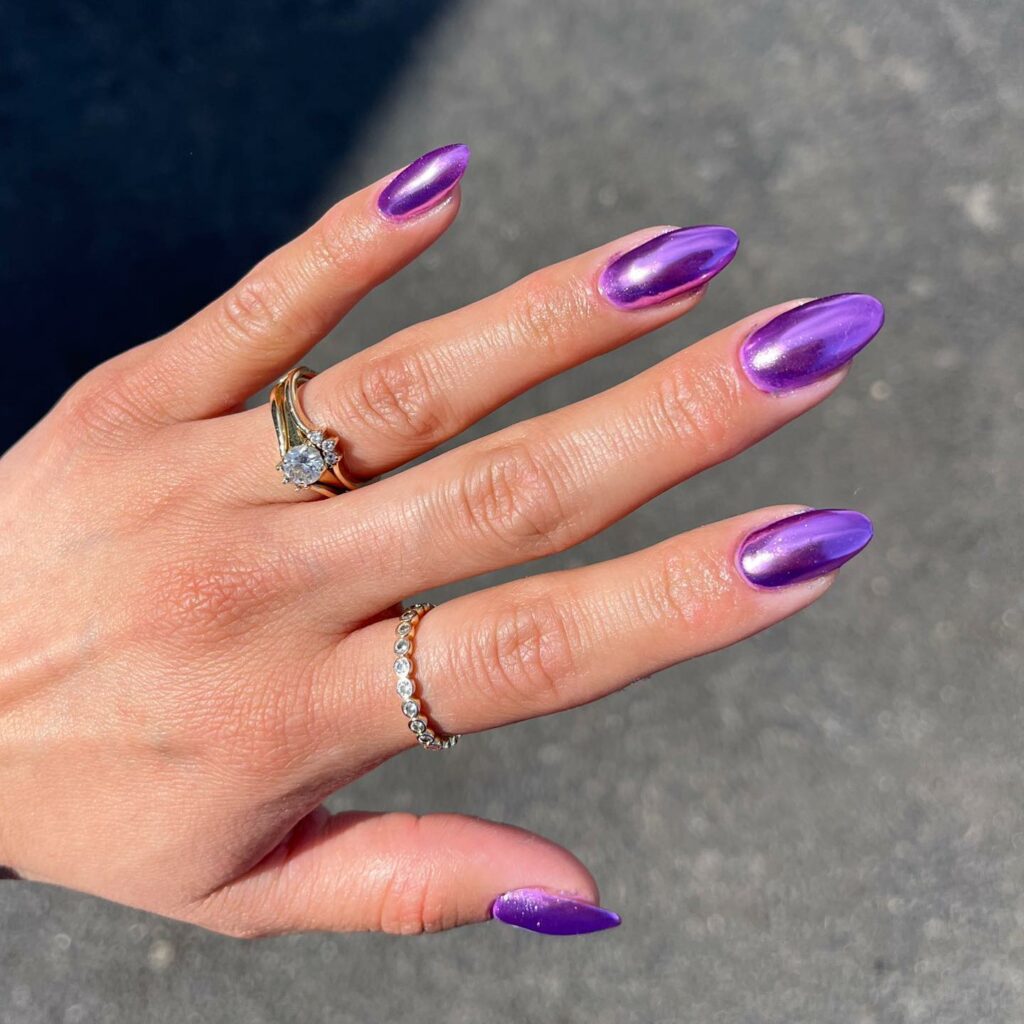 Looking for that extra 'oomph'? I've been there, and let me tell you, chrome is your ally.
Elegance in Gradient: Milky Glitter Ombré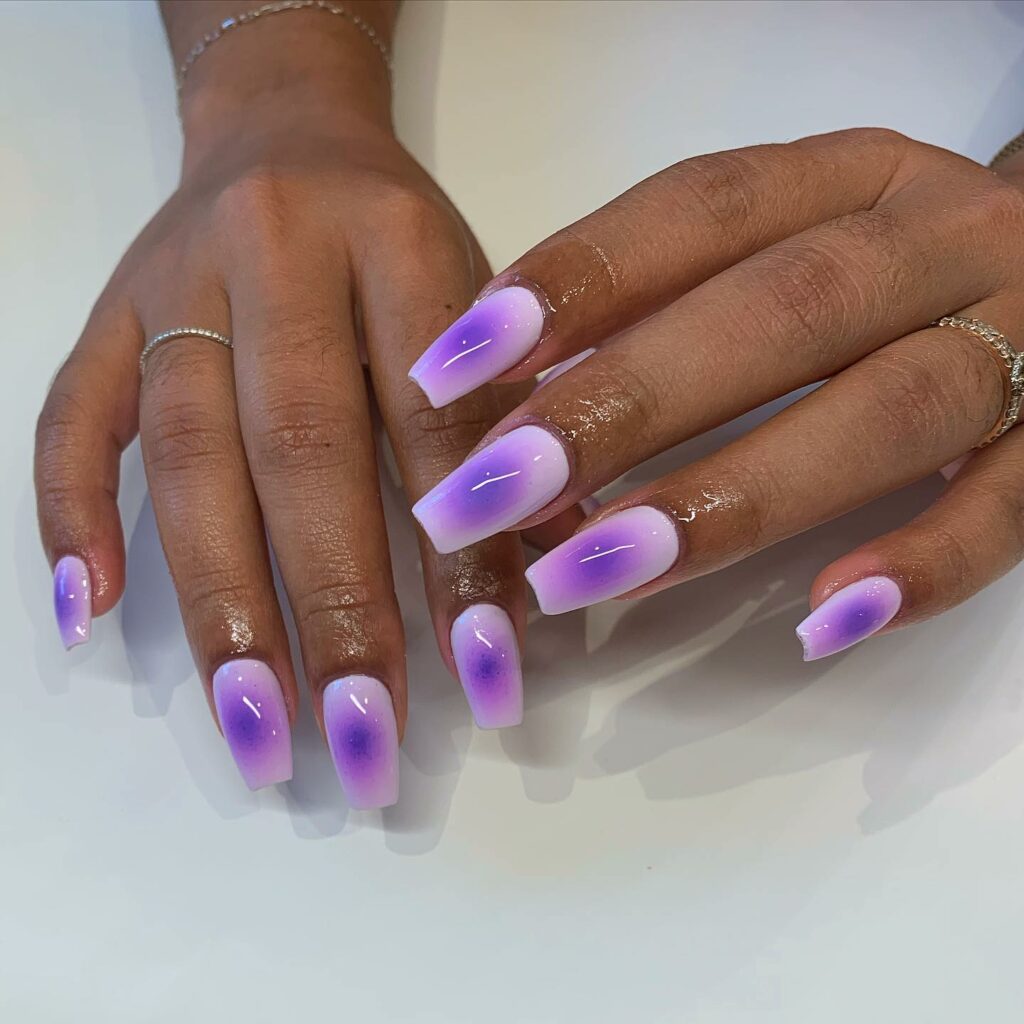 We have the Milky Nyx Ombré. Picture a dreamy milk-white base fading into a sumptuous deep purple at the cuticles. This look is so soft and ethereal that it's perfect for those special events where you want to shine.
Purple Elegance With French Glitter Tips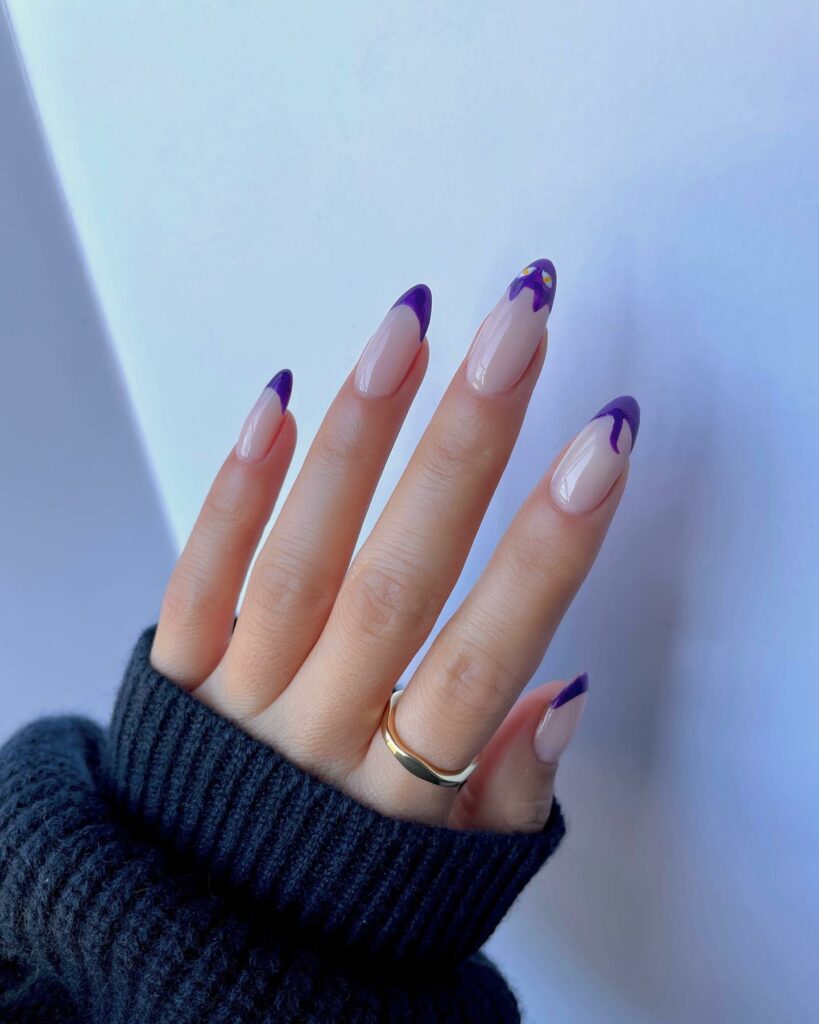 You can always go right with French tips, especially those in purple. It's a chic and subtle nod to color that can quickly become your go-to for daily sophistication.
Sparkle With Amethyst
Amethyst glitter nails are for those days when you feel extra or have a grand soirée to attend. They're pure glam, catching the light with every wrist flick.
Purple Glitter Stars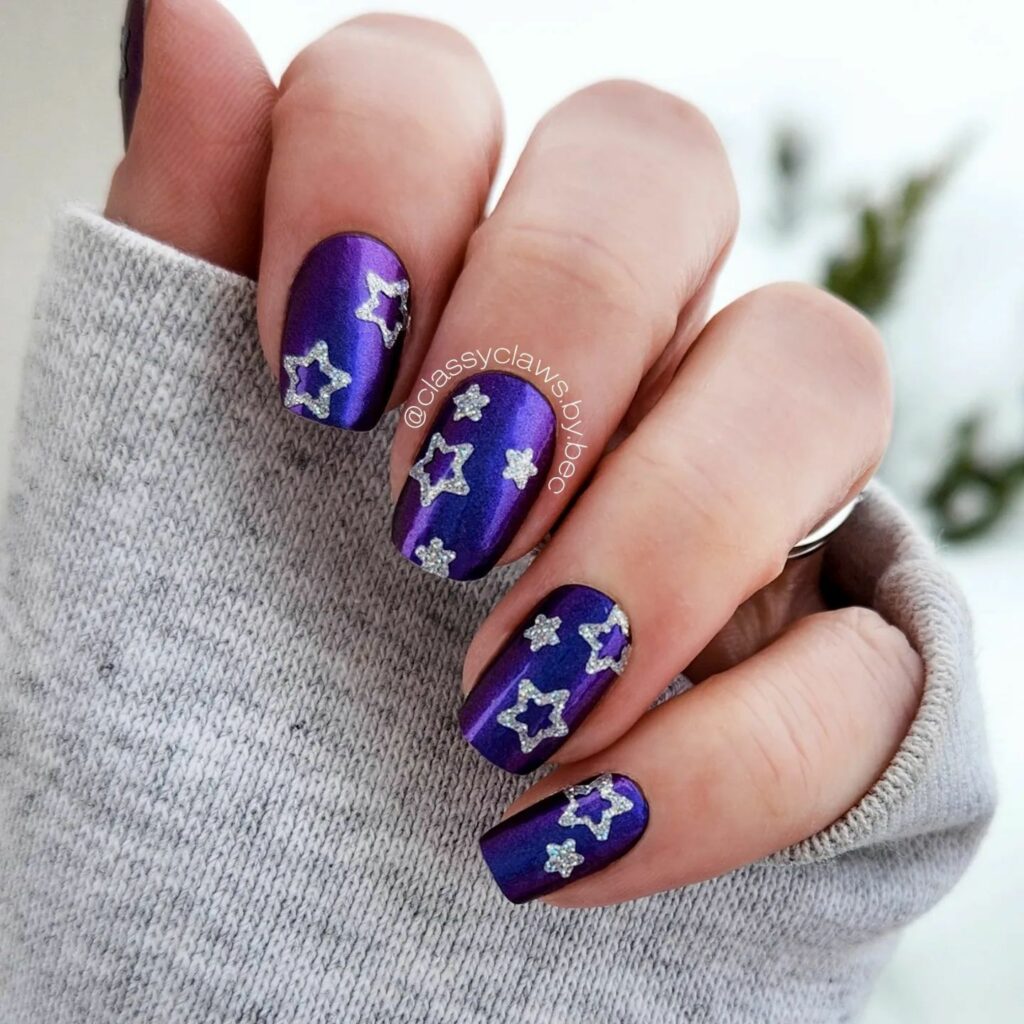 For those nights when you want to shine brighter than the stars, try the glitter star design. It's like jewelry for your nails, perfect for when you want to make a statement without saying a word.
For the Love of Sparkle: Glitter Fade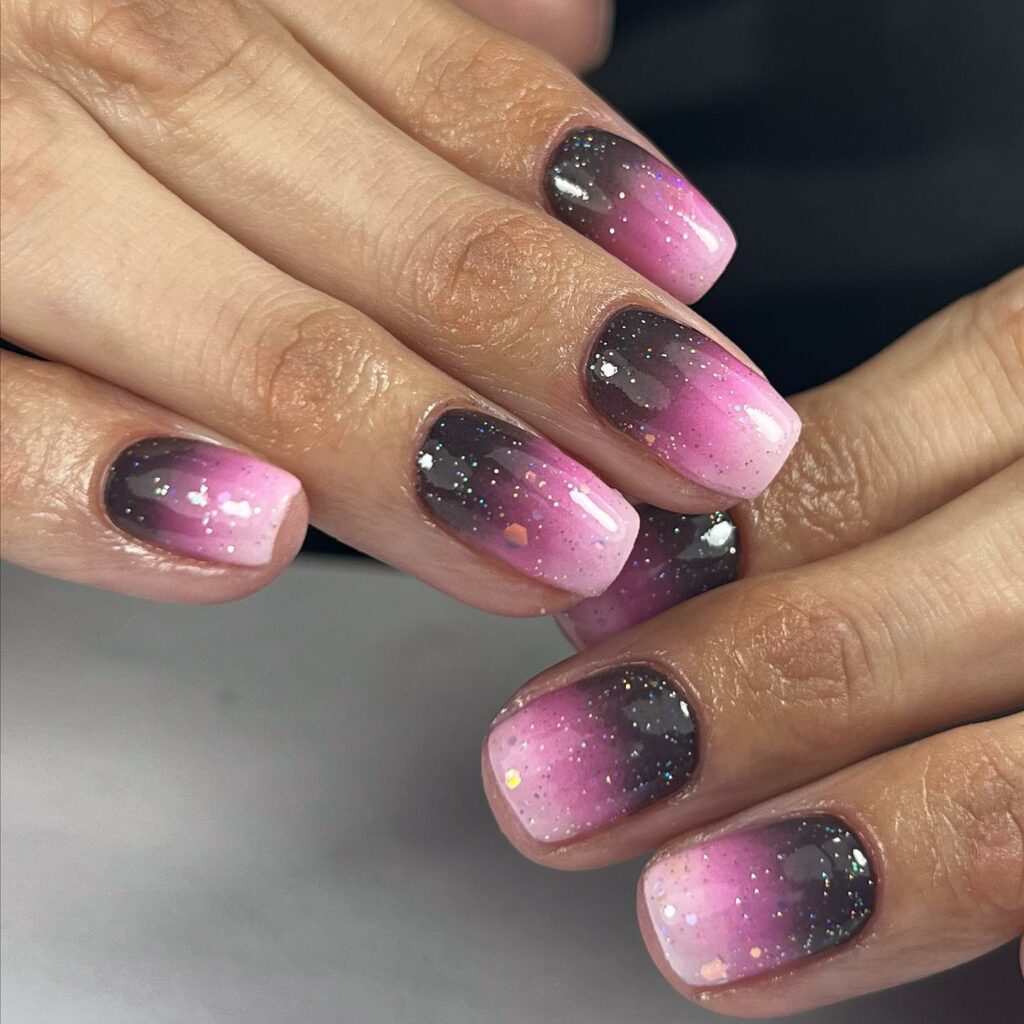 Who doesn't love a little sparkle? Start with your purple base and sprinkle some fairy dust—I mean, glitter—at the tips or base. I've tried it with silver and black, and I'm telling you, you can't go wrong!
Purple Palette: Mixed Tones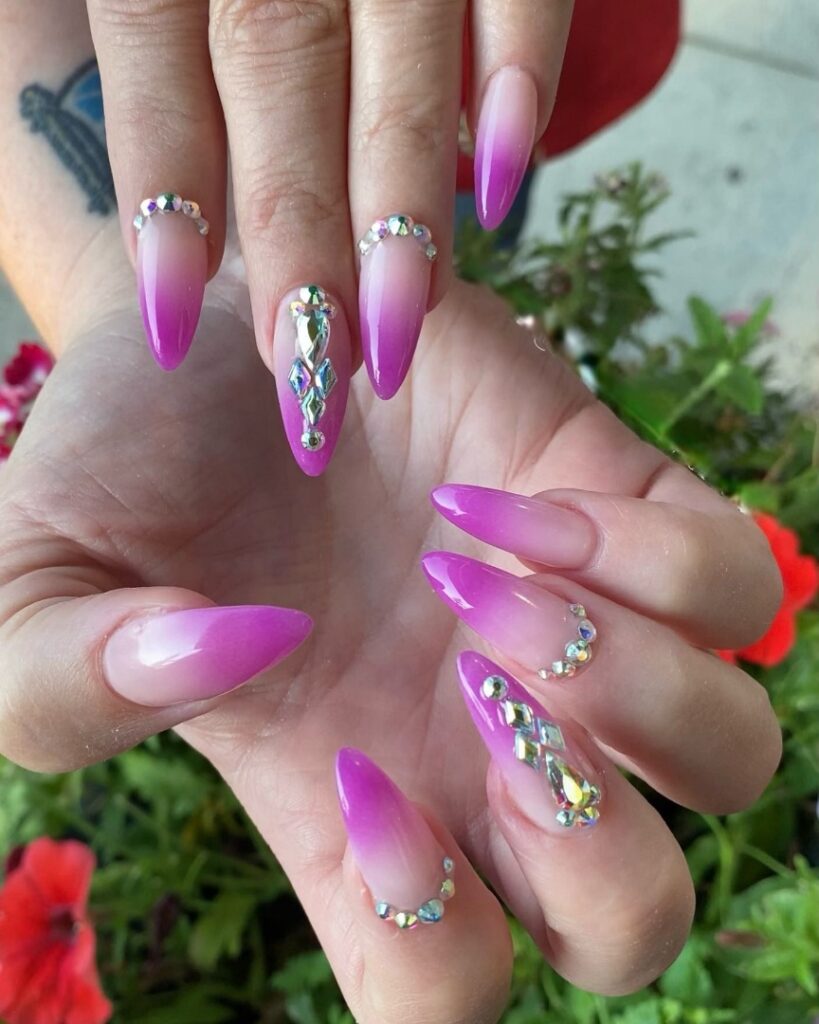 Need help deciding on one shade? Who says you have to? Paint each nail a different shade of purple, throw in some rhinestones, and add a splash of blue shimmer. This look is a celebration of the color purple in all its glory.
Gradient Glam: Long Pink and Purple Ombré Nails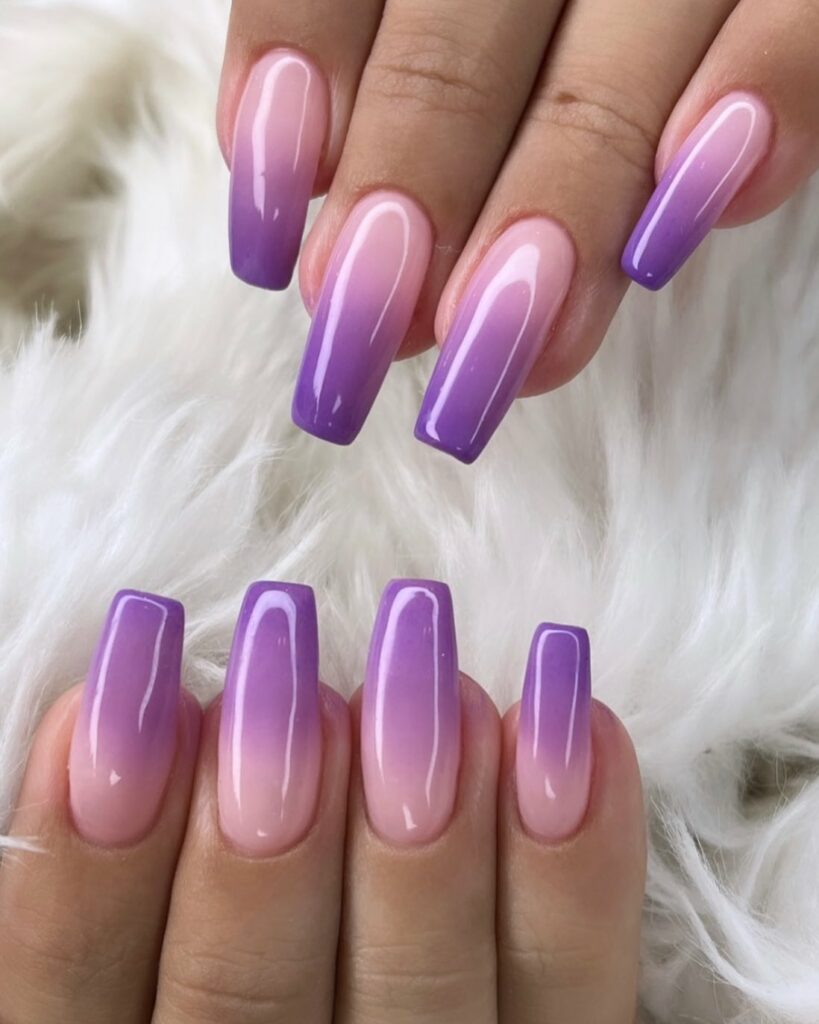 If long nails are your jam, feast your eyes on this: alternating gradients of pink and purple. Amp it up with rhinestones and a holographic accent nail. I sported this at a friend's wedding, and I can't even count the number of compliments I got!
Elegance With A Spark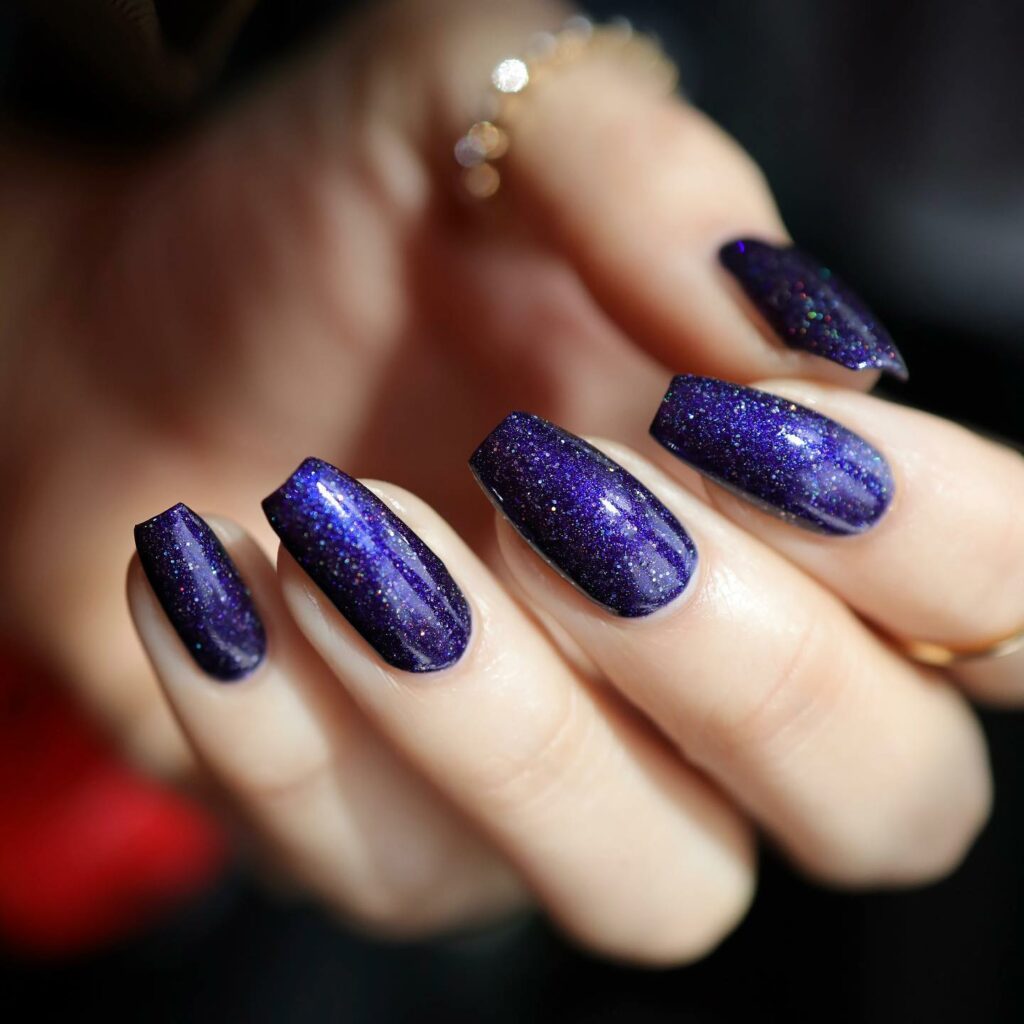 Here's a little secret: sparkling dark purple nails are your go-to accessory for, well, anything! I've worn them from boardrooms to dance floors, and they've never felt out of place. They add the right amount of shine to your hands without going overboard.
Future Forward With Purple And Silver
If you're after a look that's edgy yet elegant, silver and dark purple should be your go-to palette. Imagine silver glitter cascading down a dark purple backdrop—like your nails are dressed in stars. It's a versatile look for a casual hangout or a night out in the city.
Royal Pair: Purple And Nude With Glitter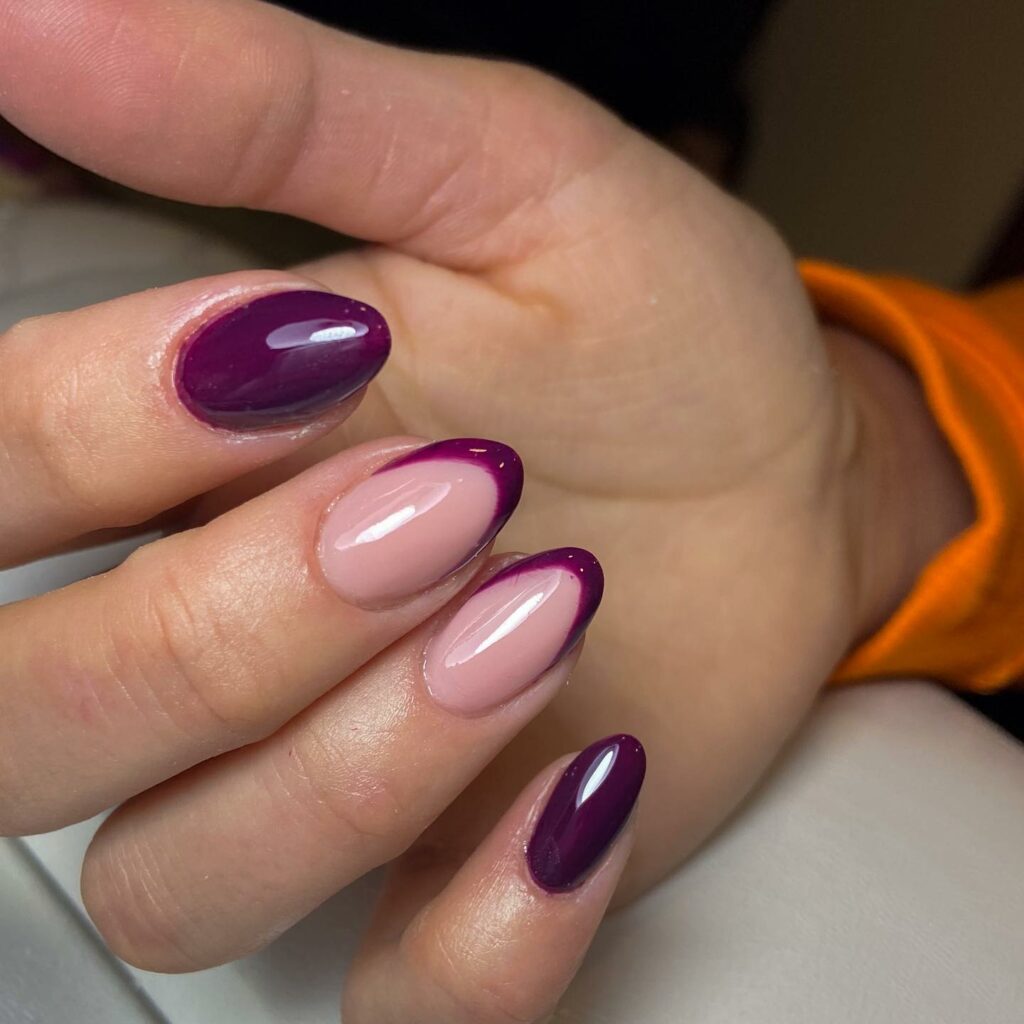 Have you ever tried dark purple with a hint of nude and a shower of glitter? It's regal, it's modern, it's absolutely divine. This combo is perfect when you want to stand out most subtly. It's sophistication with a side of fun.
Instant Wow: Purple Sparkles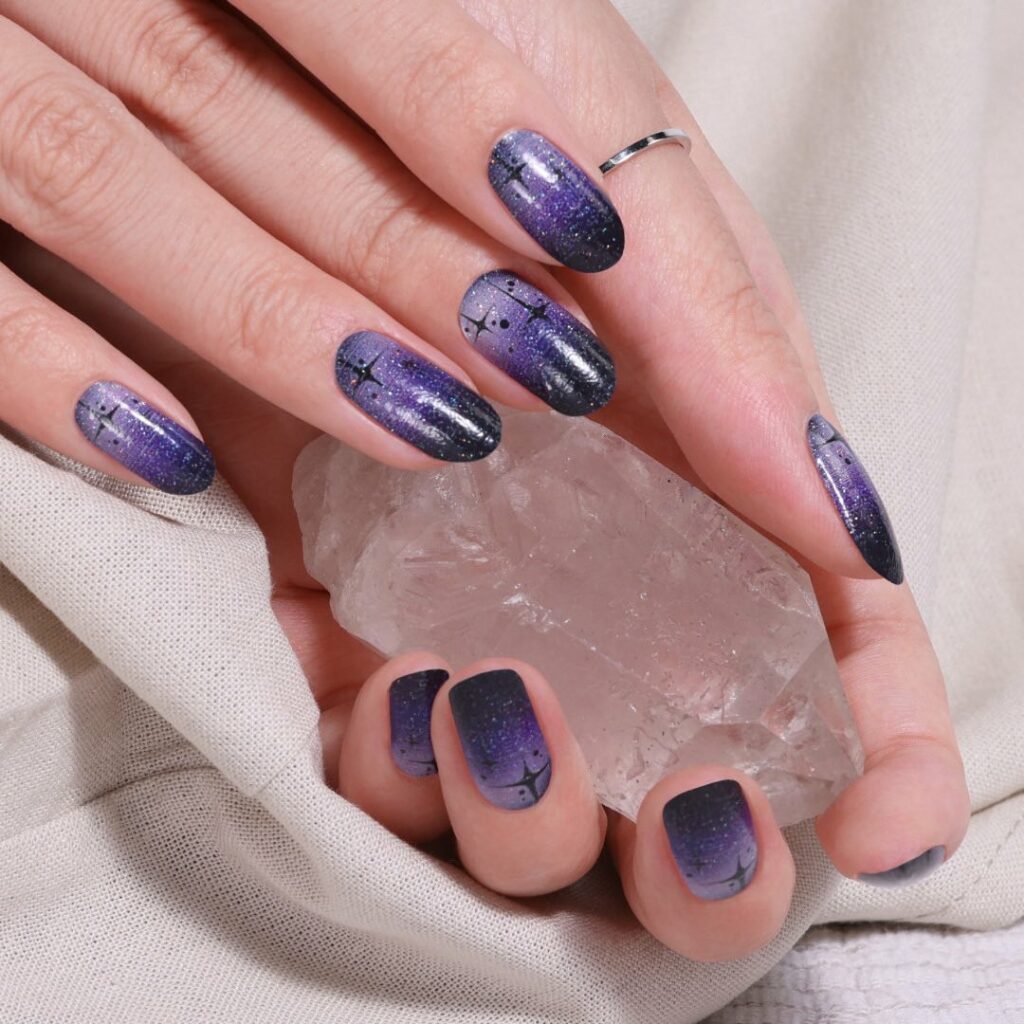 You wanna go from pretty to "Stop—let me see those nails!" level? Add glitter to rich shades of purple. It elevates your ombré game to the glam stratosphere, trust me.
Feminine Flair With Almond And Florals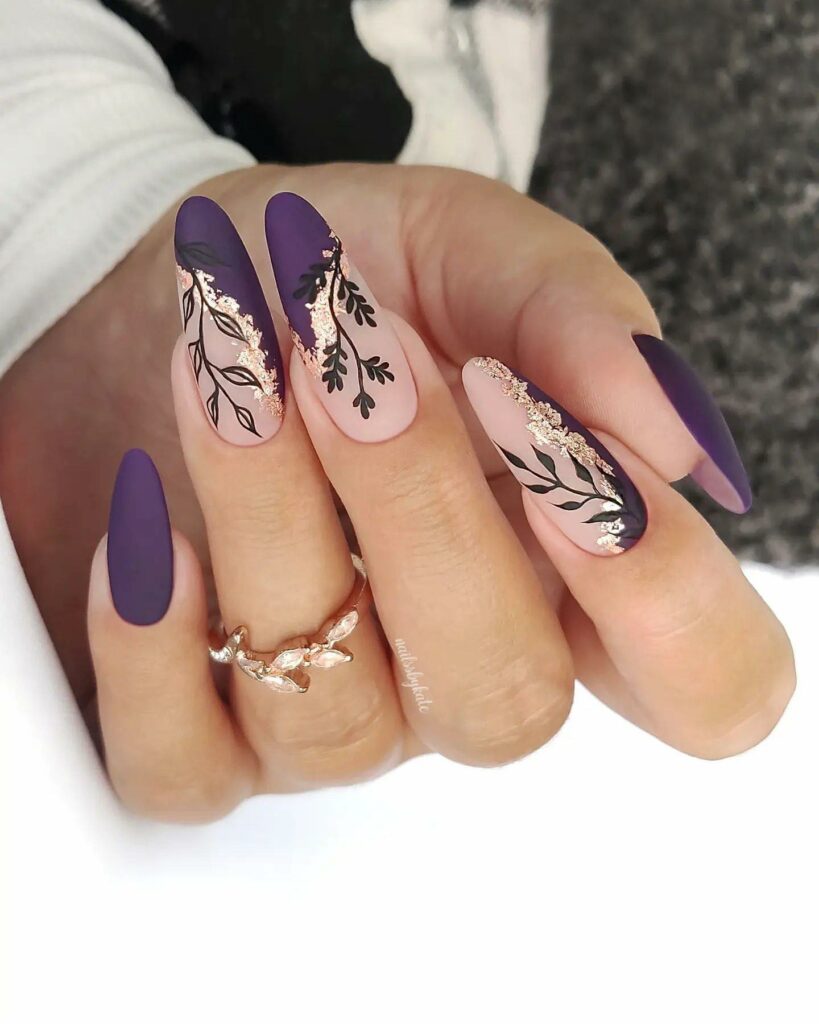 Almond nails are not for the faint of heart—they're bold, daring, and scream confidence. Adorn these pointy beauties with dark purple hues, delicate flowers, and a splash of glitter to catch the light (and everyone's attention). I rocked a similar look to a wedding once, and let's say my nails were the second most talked-about thing after the bride's dress!
Pearlescent Purple Perfection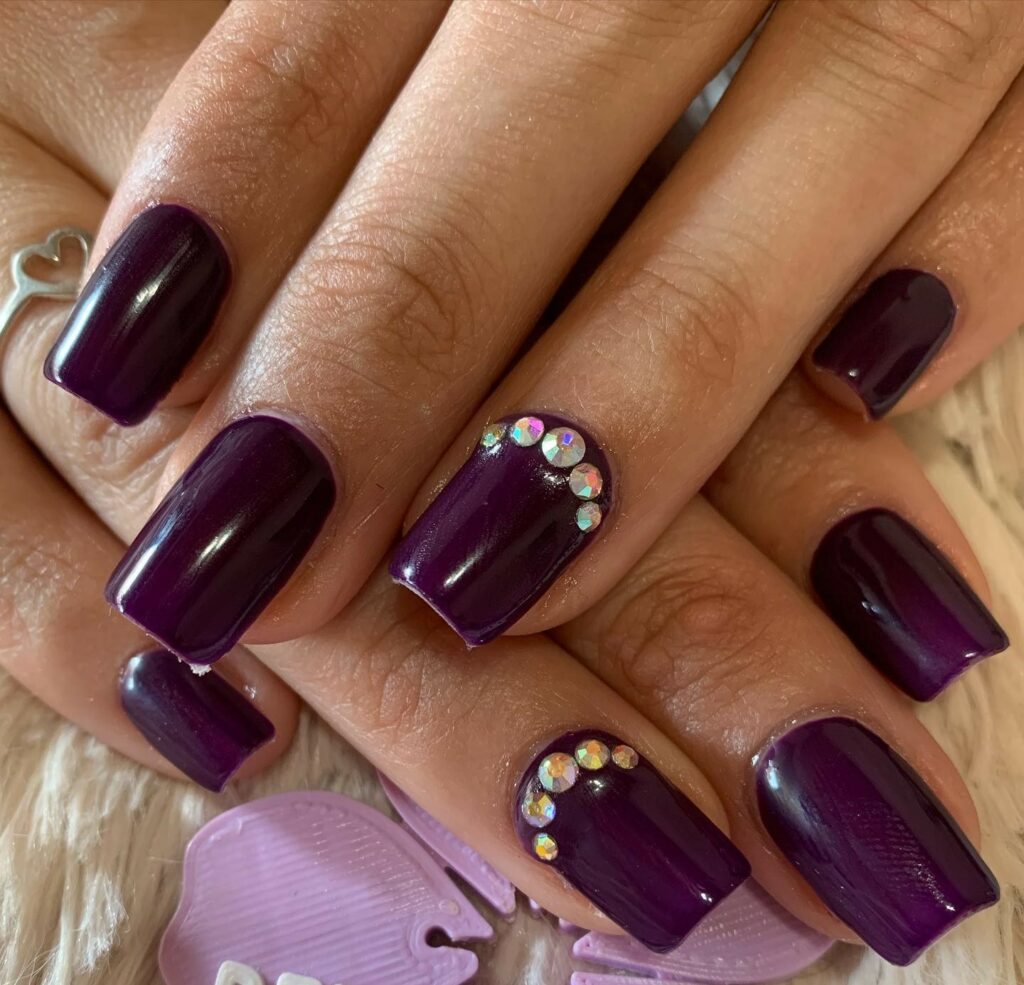 Add a touch of luxe to your nails with an iridescent twist on the classic dark purple. It's like the regal cousin of your go-to color but with a sophisticated shimmer. It's the perfect choice when your nails need to match your standout personality—unapologetically fabulous.
Spring In Your Step With Matte Purple
Who says dark shades are only for winter? Bust out your matte purples this spring and mix in some white floral designs with a hint of gold foils. It's a perfect balance of edgy and delicate. The matte finish gives an ultra-modern feel that makes the color pop even more.
Denim Days With Almond Stripes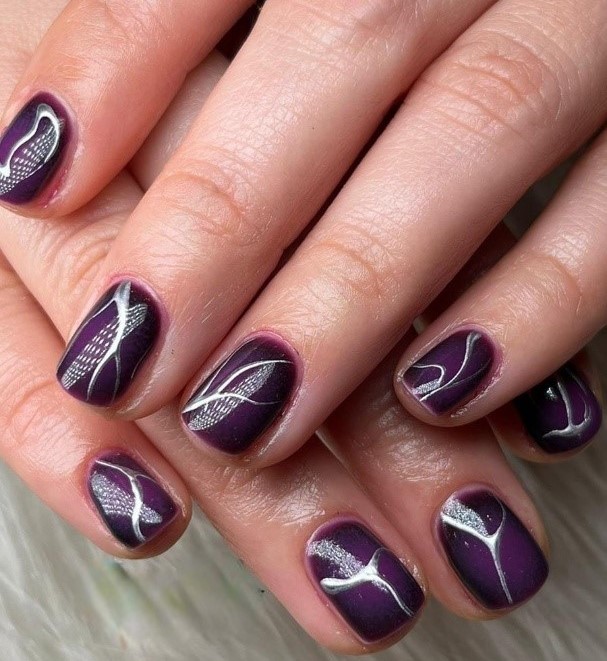 Almond-shaped nails are the epitome of chic, and when you pair them with glossy dark purple and some minimalist stripes, you've got a combo that's as timeless as your favorite pair of jeans. It's an understated elegance that works from brunch to the boardroom.
Glitter Meets French Sophistication
French tips with a twist—half purple glitter, half classic black line—is the contrast that turns heads. It's all about that edge, and it's the perfect blend of sass and class.
Floral Fantasy: Purple Ombré With Nail Art
Looking for something more personalized? Go for a lavender ombré base, then have fun with white flower nail art. I once tried adding tiny white dots as a floral pattern, and the end result? Delightful!
Lilac And Plum Duo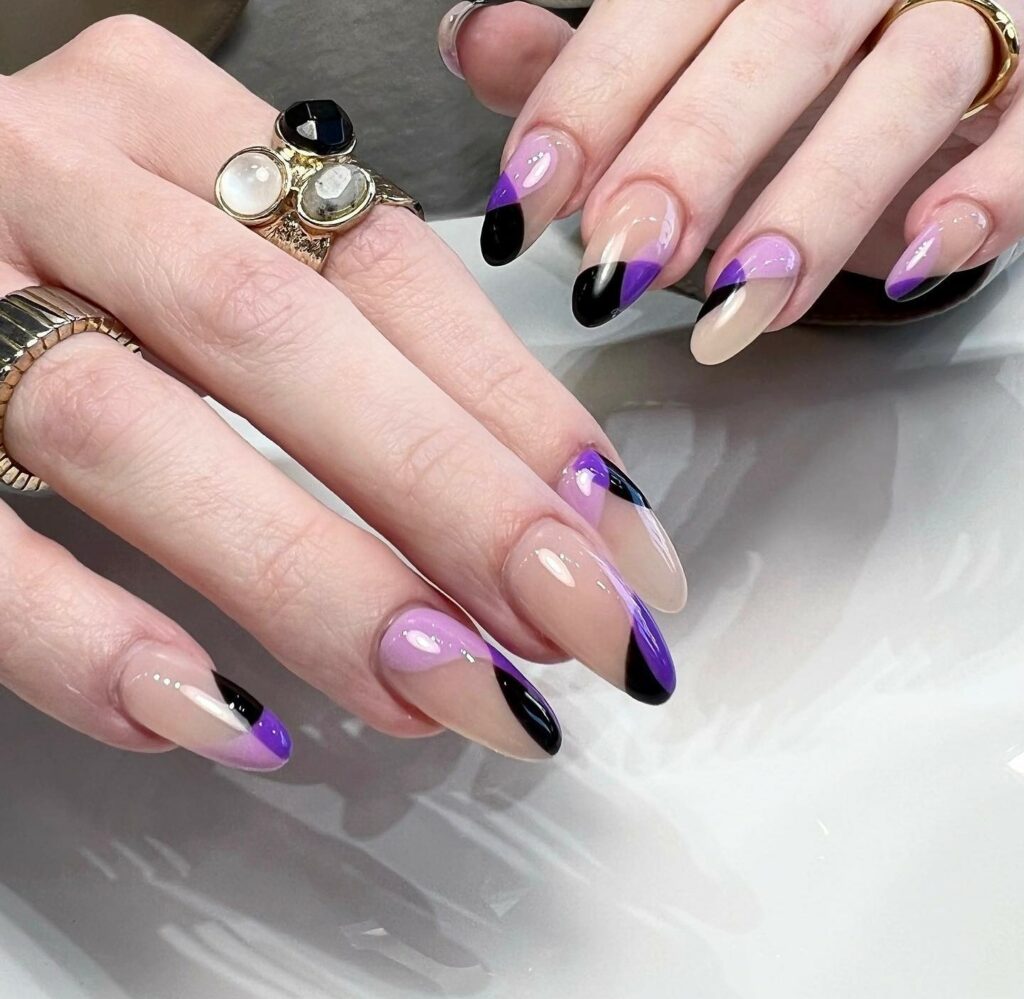 Mixing shades within the same color family, like dark plum and lilac, creates a harmonious but captivating look. It's the nail equivalent of a well-mixed cocktail—just light and dark for a perfect blend.
Dark & Daring: Black and Purple Ombre Nails
These are not for the faint of heart; these scream confidence! Picture this: in a sequin dress, you flaunt these at the next big bash. Tempted yet?
Pure Elegance: Purple and White Ombre Nails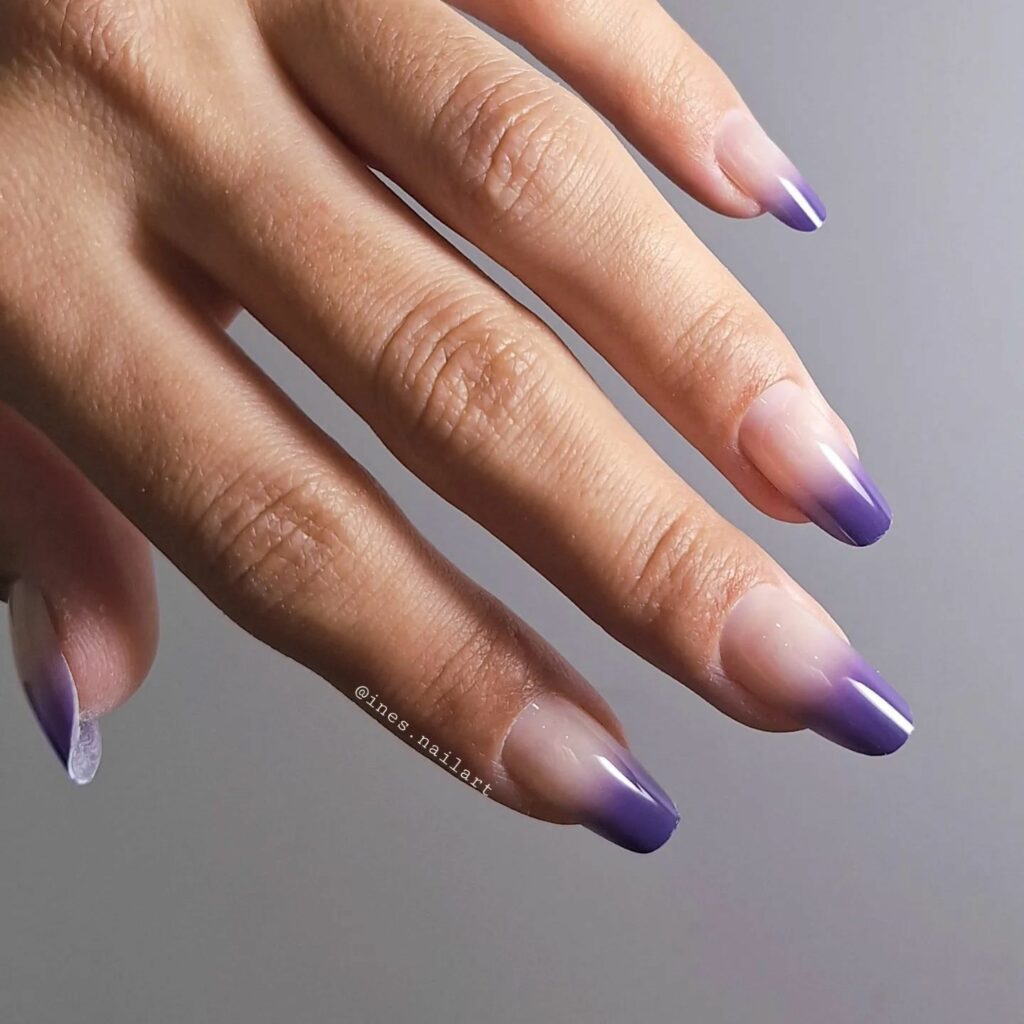 Okay, prepare to be obsessed. These nails are a surprise, contrasting vivid purple with pure white. It's ideal for those summery dresses or to feel like a million bucks any day.
The Blossoming Metallic Purple Chrome: A Floral Spin on Shiny Nails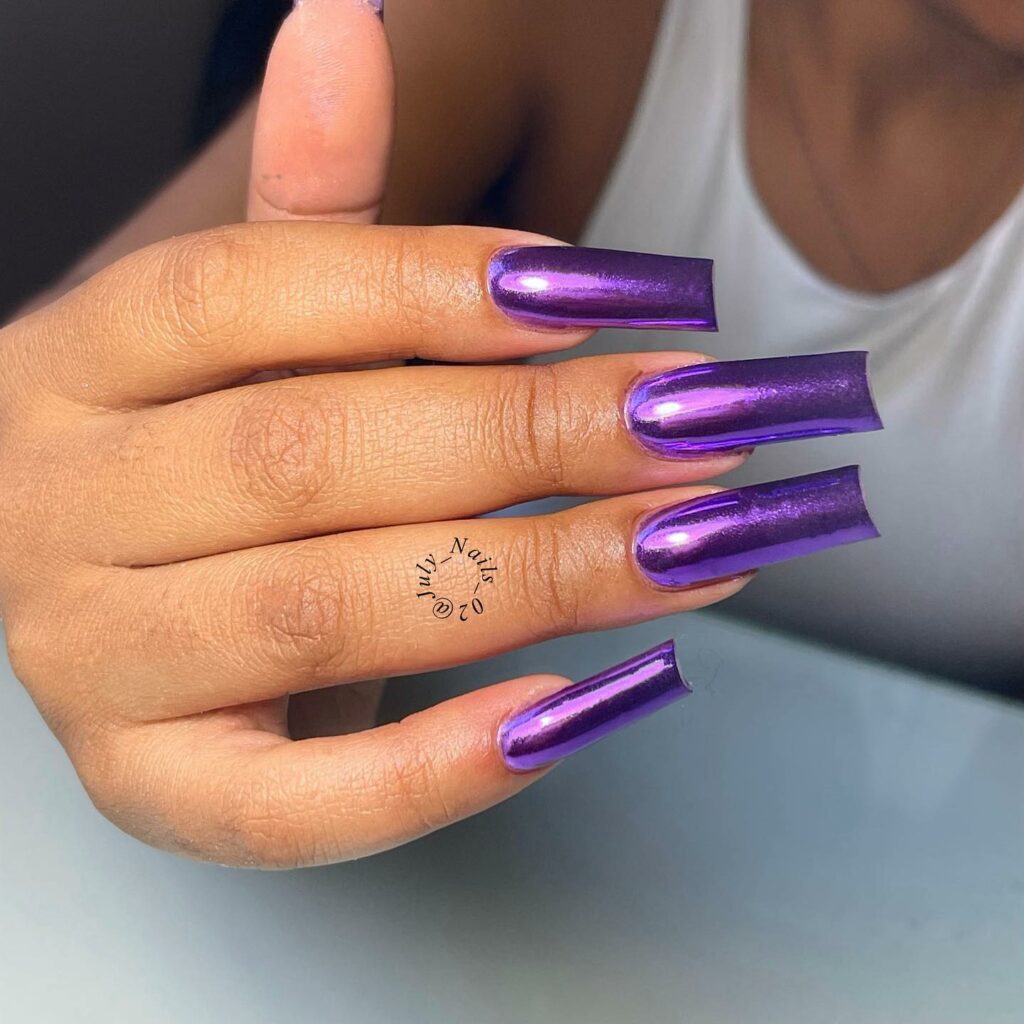 Metallic and florals combine to give you a standout look in this section. Here you'll find inspiration for incorporating subtle flower and gem details onto a vibrant purple chrome base.
Purple Heart in Long Nails: A Romantic Take on the Classic French Manicure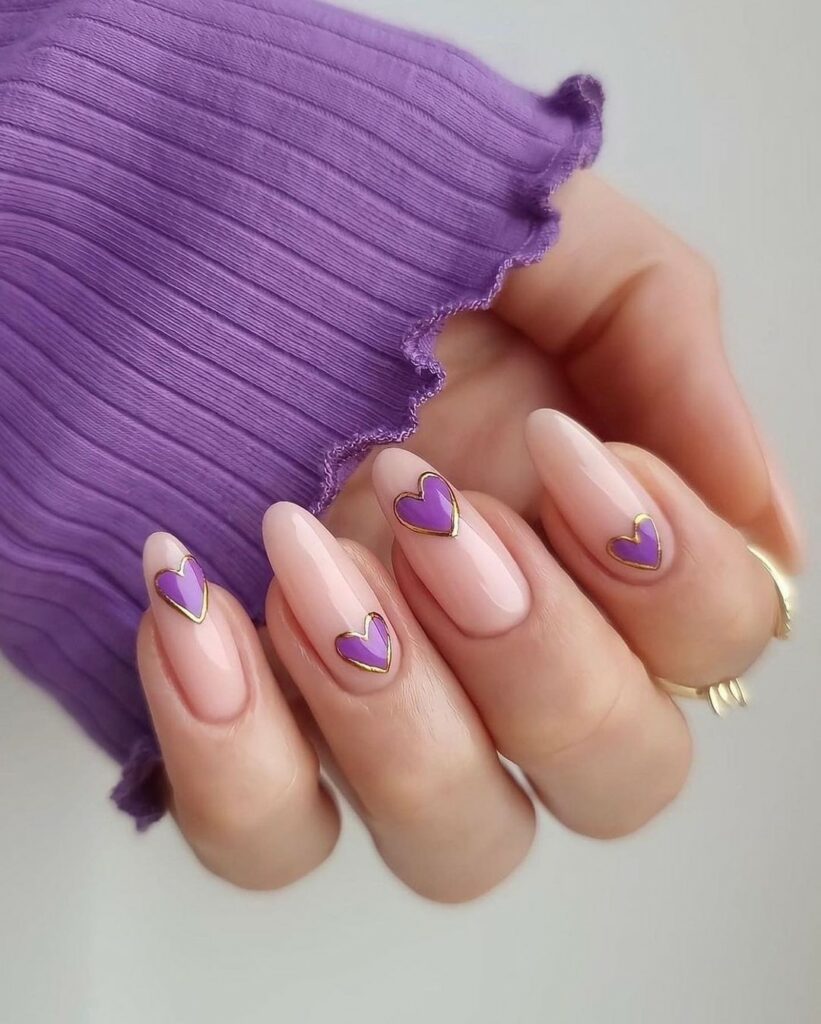 Love the classic French tip but want to kick it up a notch? We will explore how to take the well-loved design and give it a playful spin with heart-shaped tips in lilac purple.
The Allure of Dip Purple Nails: Long-Lasting Beauty in Various Purple Tones
Dip nails are known for their longevity and vivid color payoff. Learn how to get the most out of this technique by exploring various shades of purple for a lush and long-lasting look.
Take It Up a Notch: Purple Metallic
Chrome nails are fun, but throw in some iridescent purple, and you have a full-blown party at your fingertips. The bold saturation from tip to cuticle turns heads wherever you go. I wore these bad boys to a disco-themed night, and let's say my nails were dancing even if my feet weren't!
The Matte Purple Statement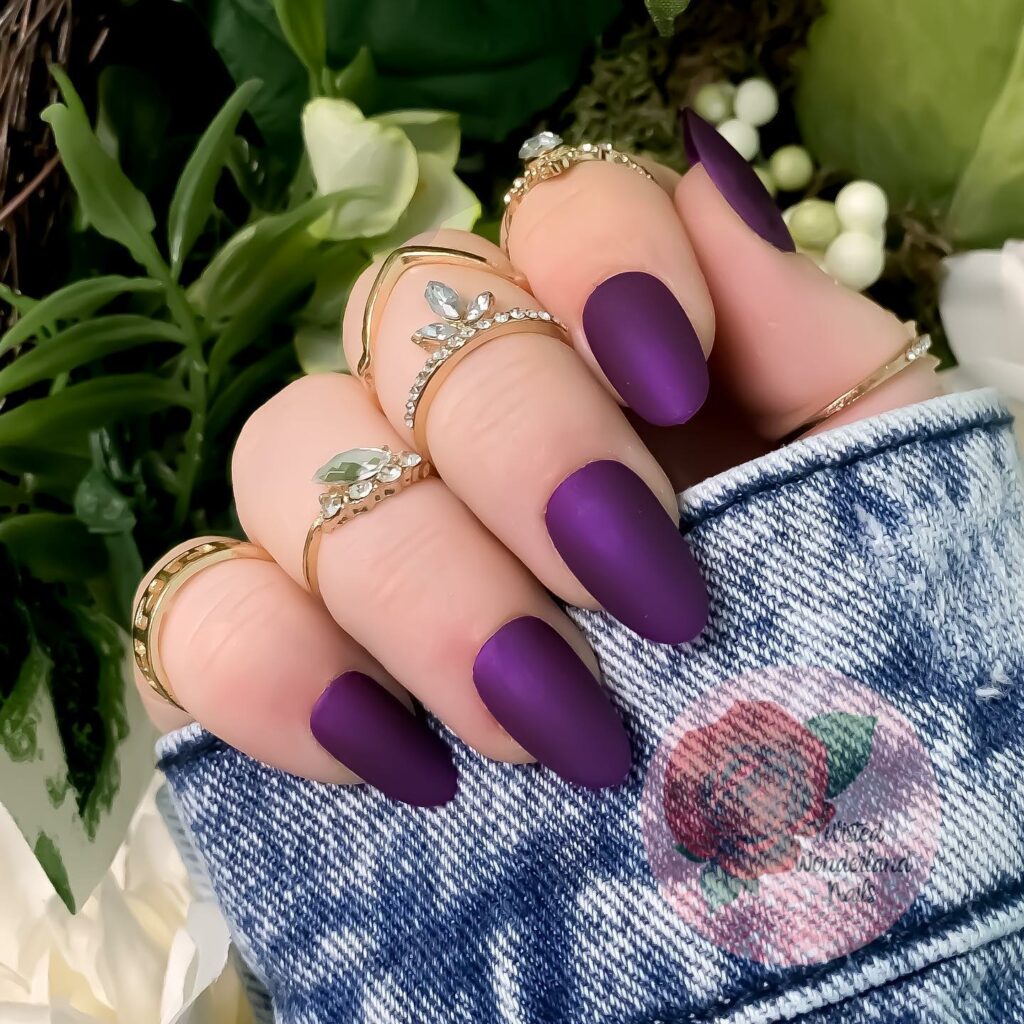 There's something about matte that speaks volumes in whispers. It's understated yet so luxe. I'm a massive fan of matte dark purple for any event where I want to feel like a million bucks without the sparkle. If you've got coffin nails, even better—it's a look that says 'I've arrived' in the most sophisticated way.
Fantastical Unicorn Tears
Are we all enchanted by the idea of unicorns? Channel that with nails donning iridescent 'unicorn tears.' It's like having a fragment of a fantasy tale at your fingertips. Whether for a themed party or to bring a smile to your every day, these nails are a winner.
all For Eggplant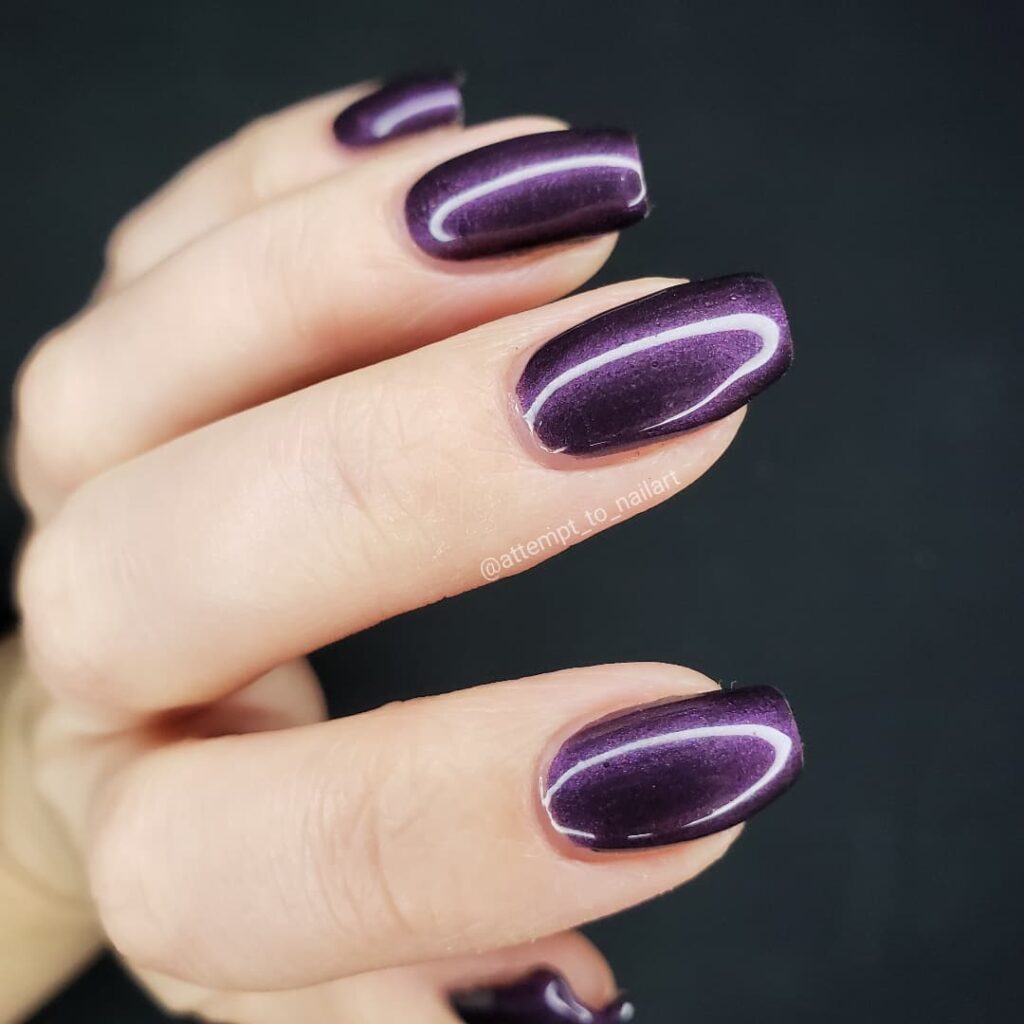 When the leaves start to fall, it's time for the eggplant polish to shine—literally. A glossy base with a hint of shimmer captures the essence of autumn perfectly. Think of it as your favorite fall sweater but for your nails.
Stargazer's Delight
Let your nails embark on a cosmic journey with a celestial design. Think of it as wearing a piece of the night sky—shooting stars, orbiting planets, and all. I love adding a cool blue or silver into the mix for that otherworldly allure. It's like a little nod to the universe that we're all part of something bigger.
Tickled Pink On Pink
If you're a pink lover, prepare to be obsessed. An ombré pink base accentuated by chrome-pink tips? It's like the rose gold iPhone of nails. Plus, these are pointy and sharp, making them perfect for those who like a little edge with their sweetness.
Glitter Bomb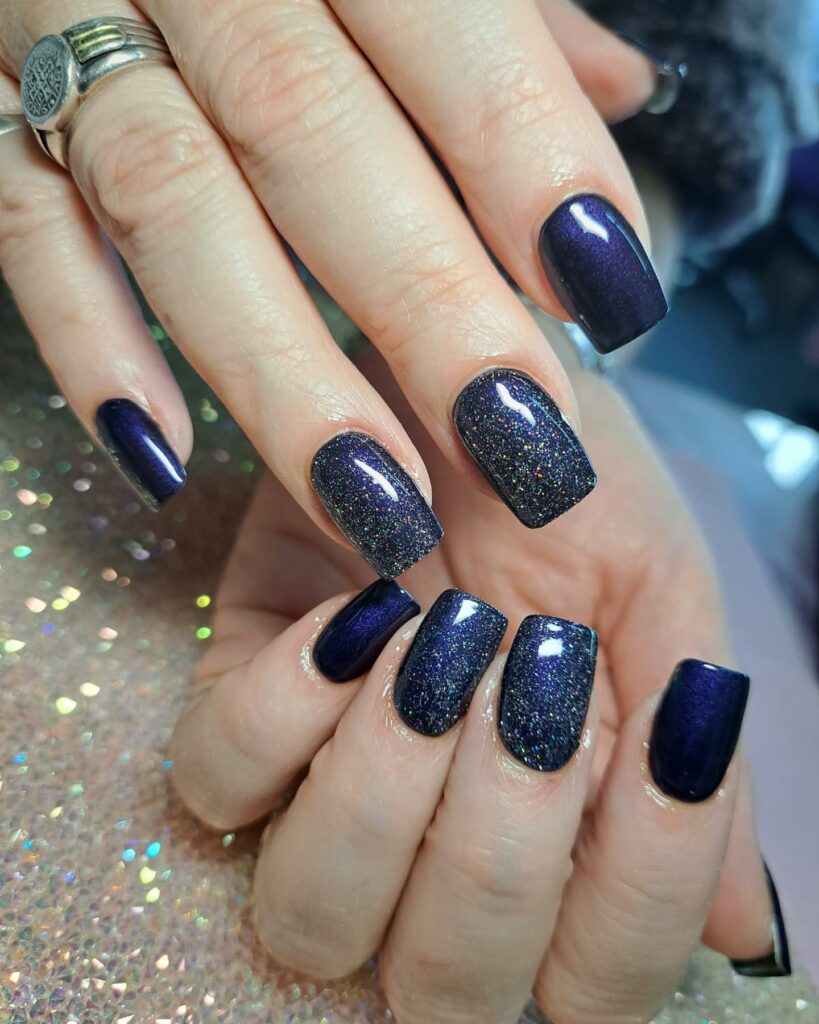 Add some sparkle to your dark purple nails, and what do you get? An instant pick-me-up! I always sprinkle a little glitter when I need a boost—like confidence in a bottle. Wear it, and you're not just walking into the room; you're making an entrance.
8 Tips To Make Your Glittery Manicure Last Longer?
Start with a Solid Foundation: Before you go near the glitter, ensure your nails are clean, dry, and buffed. Oil-free nails will hold polish much better. Use a base coat to protect your nails and give the glitter something to adhere to.
Layer Up: When it comes to glitter, think like you're dressing for a chilly day — layer, layer, layer! Apply your base color first and let it dry completely. Then, add your glitter polish in thin, even layers. Patience is critical here; let each layer dry before adding the next to avoid goopy or bubbled polish.
Cap the Tips: This is a game-changer. When you apply each coat of polish, remember to brush the very tip of the nail. This "capping" will seal the edge and drastically reduce chipping.
Top Coat is Your BFF: A good quality top coat can make all the difference. After your glitter is on and you've let it set, seal it with a clear top coat. Some folks swear by two layers of top coat for extra protection. Look for one formulated explicitly for glitter polishes, designed to smooth out that gritty texture.
Steer Clear of Harsh Chemicals: If you want to keep your nails looking salon-fresh, rubber gloves will be your new kitchen companions. When doing the dishes or using cleaning products, protect your manicure from harsh chemicals that can break down the polish.
Touch-ups are Key: Keep your glitter polish and top coat handy. The moment you see a chip, patch it up. A little touch-up can extend your manicure's lifespan by days.
Hydration Station: Keep your cuticles and the skin around your nails moisturized. Dry skin can cause lifting and chipping, so a nourishing cuticle oil can not only keep your fingers looking fab but can also help your manicure last.
Gentle Use of Your Hands: Remember, nails are jewels, not tools. Avoid using your nails to open cans or anything that might cause the polish to lift.
My Essential Guide To Perfecting Purple Glitter Nails At Home
Quality Base Coat: This is your foundation – it's crucial for protecting your natural nails from staining, especially with dark colors like purple.
Opaque Dark Purple Polish: A high-pigmented purple polish ensures you get that rich, luxurious color with fewer coats.
Fine-Tip Brushes: For intricate designs or adding leafy details, fine-tip brushes are your best friends.
Glitter Polish or Lose Glitter: Depending on the intensity of the sparkle you want, you could use a glitter polish or go for loose glitter, which can be patted onto the nail.
Sponge: A small piece of sponge is perfect for an ombre effect, helping to blend the purple into other colors or to apply loose glitter with more control.
Dotting Tools: These are great for creating dots, of course, but also for placing and arranging glitter pieces.
Striping Tape: This helps to create clean lines and can also be used as a guide for painting straight stripes or patterns.
Top Coat: A glossy top coat can bring out the sparkle in glitter, while a matte top coat over purple can give a sophisticated, velvet-like finish.
Sealing the Free Edge: When applying both your base coat and top coat, seal the free edge of your nails. This is a pro tip that can prevent chipping and extend the life of your manicure.
Nail Repair Glue or Gel: For glitter-heavy designs, a nail glue or gel can help to keep everything in place.
Tweezers or a Pickup Tool: These are essential for manipulating and placing glitter or other nail art decorations.
Nail Polish Remover and Clean-Up Brush: To tidy up any excess polish around your nails for a professional-looking finish.
UV or LED Lamp (if using gel polishes or glues): If you're working with gel polishes or need to cure nail art gels, a good quality lamp is necessary.
Still Looking for Inspiration, Then Check Out This Video
Conclusion
Whether you're daring enough to rock those stiletto florals or all about the subtle sophistication of matte spring purples, there's a shade and style out there that's just perfect for you. My top tip? Don't avoid mixing textures and finishes—matte here, a little sparkle there—it's all about expressing yourself. And if you ever find yourself in a nail rut, throw on some glitter or a cute rhinestone and watch your mood lift with every sparkle. Remember, the best accessory to any look is a dash of confidence and a bold nail choice. So go ahead, pick a purple, and purple, and paint the town… well, you know. Keep slaying those nail trends, and remember, in the grand salon of life, you're the artist, and your nails are your canvas. Go make some nail art magic!
Feature Image Photo By @merlin_nails on Instagram
Last reviewed and updated on November 7, 2023