Ready for an Easter-inspired nail transformation? Dive into today's blog, where we'll unveil 41 dazzling Easter nail designs, brimming from gentle pastels to shimmering glitters. These aren't just designs; they're expressions of the season's joy and celebration. By the end, you'll be armed with a spectrum of ideas, ready to channel your inner nail artisan. So, gear up, dear reader, for a plunge into a world where your nails resonate with Easter's festive symphony. Let's begin this artistic voyage, shall we?
Floral French Tips to Adore
There's something incredibly refreshing about welcoming spring with floral accents. I vividly remember experimenting with French flower tips for the first time; it felt like having a garden at my fingertips! You can also experience this delight with side-tips that come in a medley of Easter colors, bringing the vibrant hues of spring to your nails.
A Splash of Yellow for the Season
Oh, the joy of flaunting an all-yellow manicure that echoes the brightness of the season! Trust me, this cheerful shade not only resonates with the spirit of Easter but will gracefully accompany you through the delightful spring season, adding a sunny vibe to your overall look.
A Canvas of Abstract Shapes
Venture into the artistic realm with matte nails adorned with abstract shapes. Picture a playful canvas hosting an array of colors like orange, pink, green, yellow, and blue, blending beautifully to create a masterpiece on your nails. It's like holding a vibrant Easter parade at your fingertips!
The Revamped French Manicure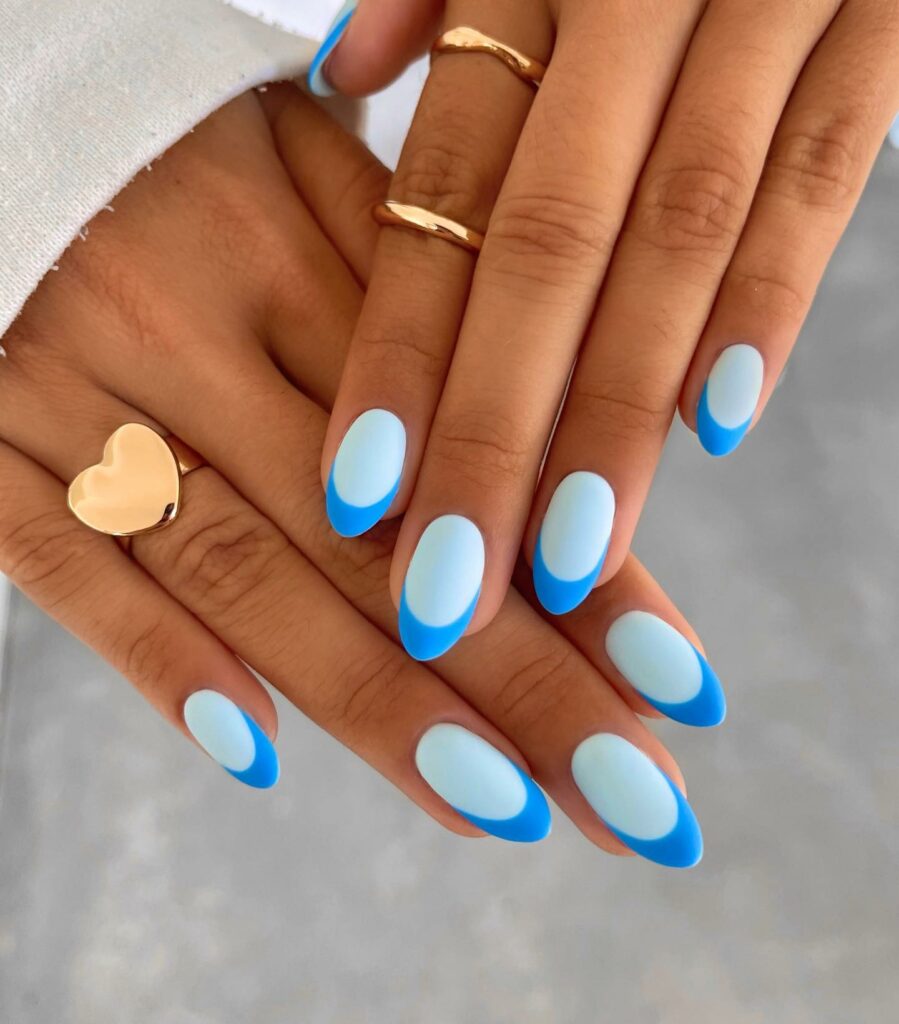 Why stick to the traditional when you can add a vibrant twist to your beloved French manicure? I recommend spicing it up with a burst of color crowned with a matte top coat, giving it a modern yet elegant touch that's bound to grab attention.
Checkered Print Extravaganza
Nothing spells fun like checkered print nails exhibiting a merry concoction of Easter colors over a negative space base. This design is a favorite, adding a whimsy and creativity to my festive ensemble.
Speckled Egg Splendor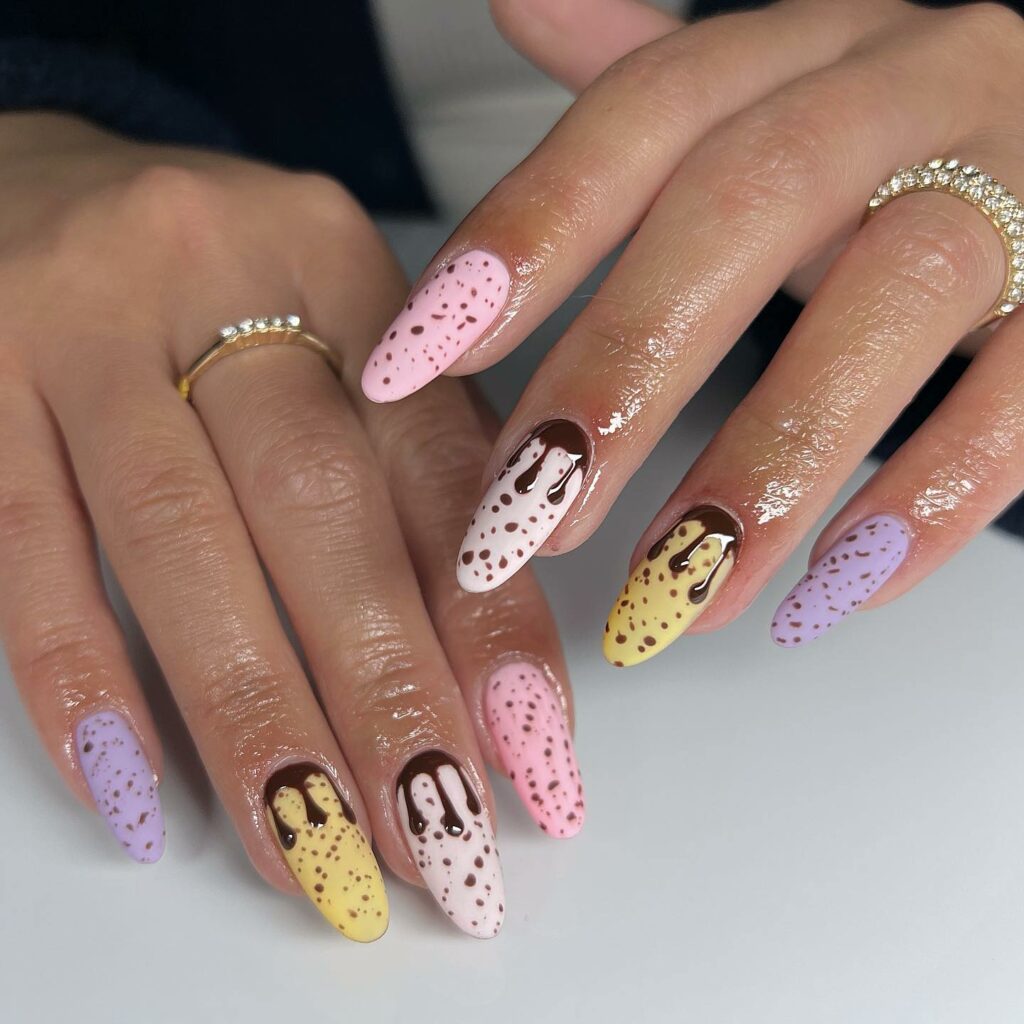 What screams Easter more than a design that mirrors the decorated speckled eggs we all adore? Embrace this nail art to add a fun and festive flair to your Easter celebrations, making your nails a topic of joyous conversations!
Bunny Tales with Matte Pastels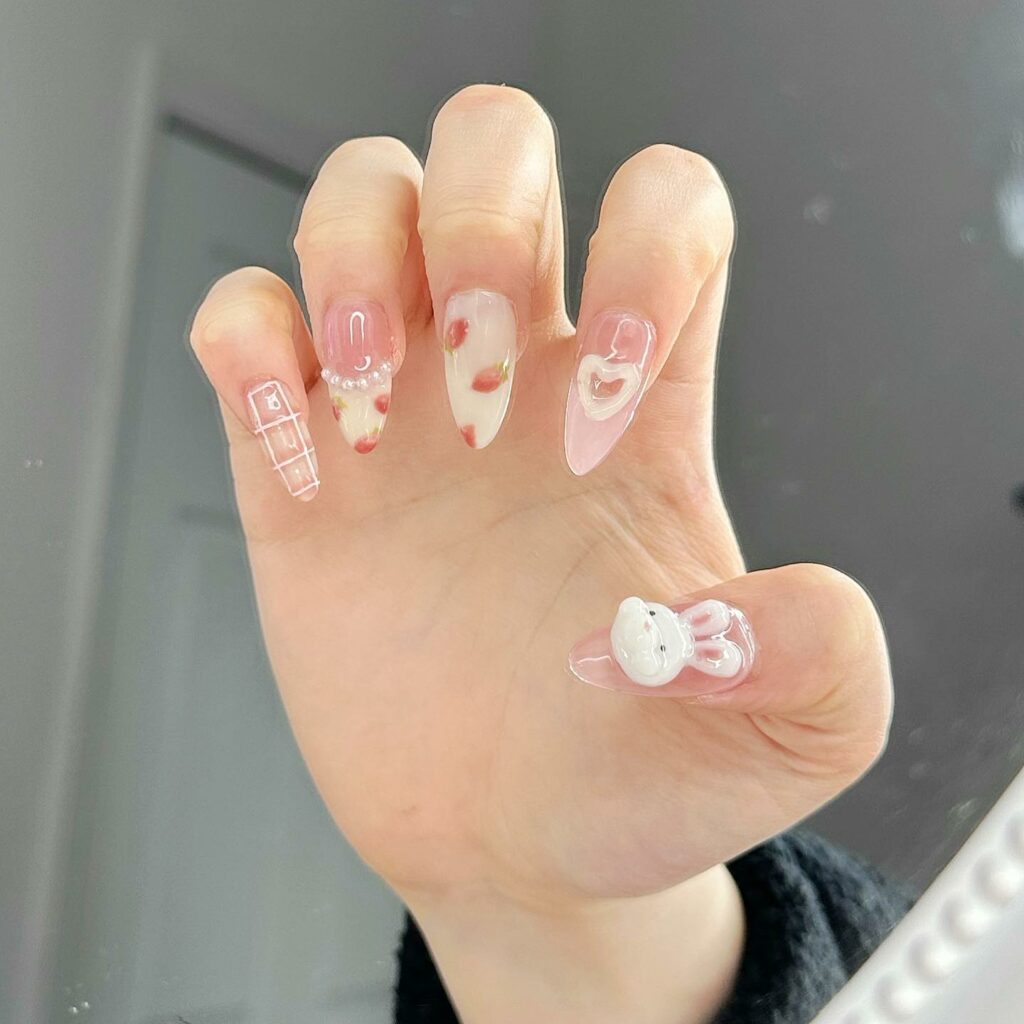 Dive into the adorable world of bunnies with a matte manicure that features delightful bunny tips gracing your ring fingers. It's a heartwarming nod to the festive spirit, adding a sweet and playful touch to your Easter look.
Blue Bunny French Tips
Now, this design is where the classic meets the quirky! Envision your French tips, getting a merry makeover with blue bunny ears popping up, adding fun to the traditional style. It's a joyous celebration of Easter on your nails!
Spring Designs to Cherish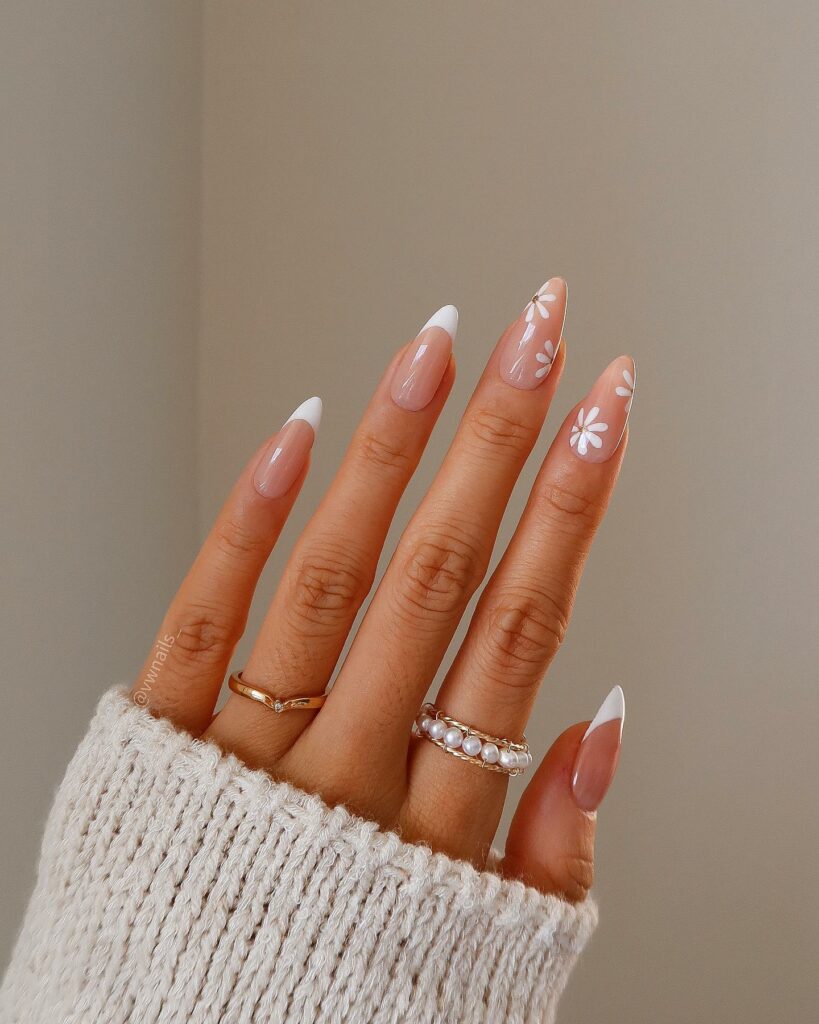 Embrace the essence of spring with a nail design that features a concoction of cooked eggs, daisies, and painted eggs, creating a picturesque scene that embodies the spirit of Easter, bringing a smile to your face every time you glance at them.
Baby-Blue Bunny Magic
Welcome spring with the soothing shade of baby blue, harmoniously paired with a hint of sparkle from a bedazzled bunny tail. It's a beautiful way to ring in the new season, with glamour and an overflow of cuteness.
A Symphony of Easter Colors
Sometimes, the most straightforward designs resonate with the most profound beauty. This nail art celebrates the vibrant spirit of spring with alternating Easter colors, painting a melodious symphony that dances with every flutter of your hands. It brings back memories of the fiery blossoms that adorned my grandma's garden, a sight to behold!
Subtle Hues with a Colorful Twist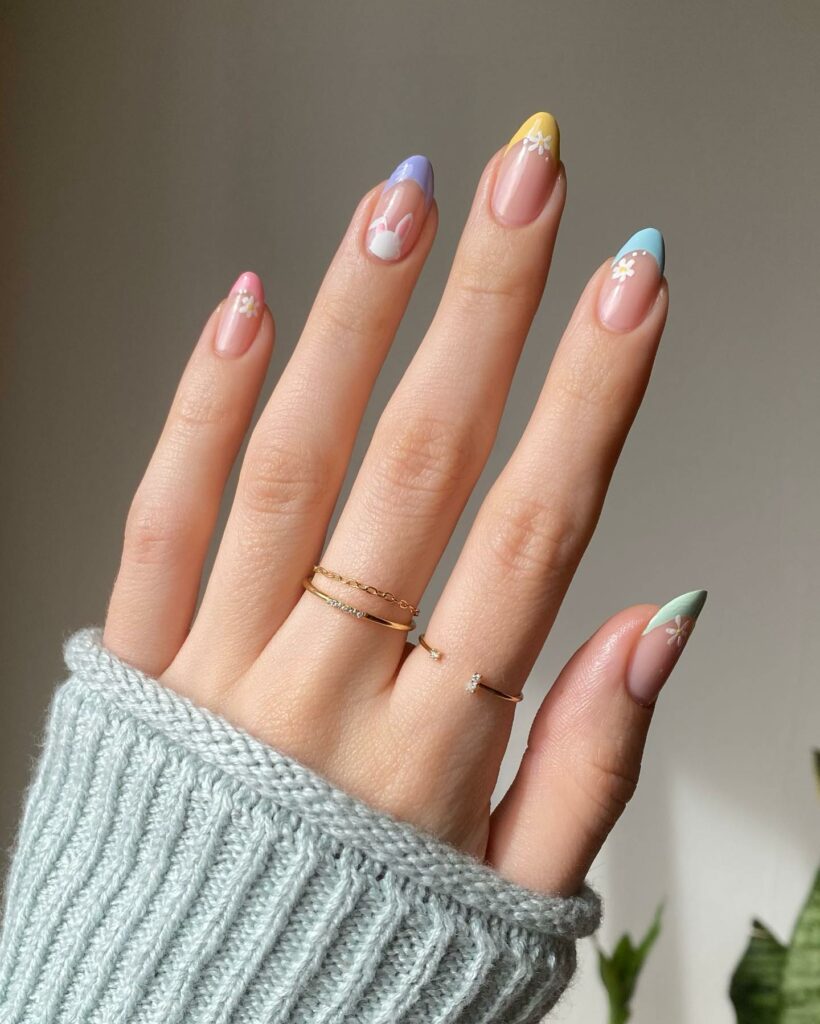 This design is your calling for those who appreciate a touch of subtlety. It marries muted Easter colors with occasional pops of vibrant hues, creating a beautiful contrast that screams elegance and festivity. It reminds me of the early morning spring sky, where soft colors blend seamlessly with vibrant hues, creating a picturesque canvas.
Marble Magic in Teal and Violet
Step into a world of swirling elegance with this nail design that showcases a mesmerizing blend of marble teal and violet hues. It's like carrying a piece of art wherever you go, making a bold, cool, and sophisticated statement.
Neon Joy: A Bright Delight
Inject a dose of vivacity into your Easter celebrations with this nail art that features a lively dance of neon colors in an alternating pattern. It's the perfect choice for a bright and energetic manicure that echoes the joyful clamor of Easter festivities.
Blossoming in Orange
Here's a delightful treat for flower lovers! This manicure portrays light orange hues coupled with exquisite flower designs, evoking the blissful scent and sight of blooming flowers in the heart of spring.
A Neon Reverie with Reverse French Tips
Time to add a splash of innovation to the classic French tip design! This nail art places bright neon colors at the base of the nails, bringing a fresh and vibrant take to the traditional style, a real conversation starter at any Easter gathering.
Graceful Lilac Blooms
Embrace the grace and elegance of spring with these lilac nails adorned with beautiful flower designs. It's a delicate and classy choice, a gentle nod to the blossoming wonders of the season.
Springtime Whispers with Baby-Pink Bunnies
Oh, the sweet allure of baby pink that whispers the tender tales of spring! Crowned with dainty bunnies on the ring fingers, this nail design pulls the whole look together, making your nails a canvas of cuteness and elegance.
Acrylic Wonderland: Eggs, Chicks, and Bunnies Galore!
Long acrylic nails are like blank canvases waiting to be adorned with vibrant artwork. Imagine having alternating egg designs and the cheerful imagery of happy chicks and bunnies gracing your nails. It's like carrying a piece of the Easter parade wherever you go!
Glittery Affair: Gray and Pink Elegance
Prepare yourself to be enchanted by a beautiful amalgamation of gray and pink sprinkled with a touch of glitter to add that magical sparkle. And oh, the glittery bunny tails are not just an addition; they celebrate the festive spirit, bringing joy with every flick of your finger.
Minimalist's Eden: Simple Floral Elegance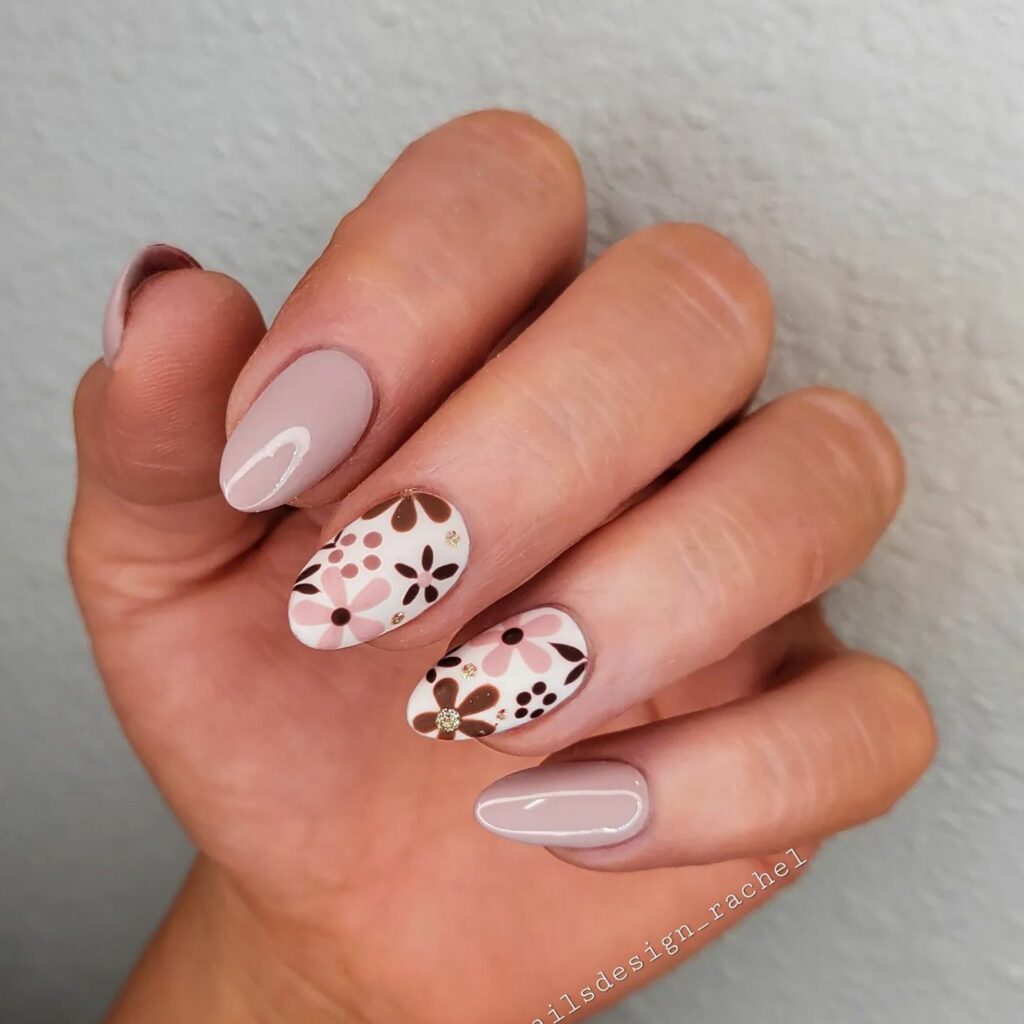 If you lean towards the understated charm, this one's for you. Picture subtle green, pink, and red hues graced with simple floral patterns. It's a minimalist's dream, offering a soft, blooming touch to your seasonal style reminiscent of a peaceful stroll through a spring garden.
Polka-Dot Bliss: Pastel Perfection
There's something undeniably charming about the combination of pastel nails accentuated with polka-dot detailing. Especially when these delightful dots make a special appearance on the ring finger, adding a playful touch to your festive ensemble.
Bunny Chronicles: A Gray Affair
Indulge in bunny magic with this unique design that showcases gray nails mimicking the soft texture of bunny fur, crowned with adorable bunny faces that tell a tale of Easter joy and merriment.
Blossoming Blue: Floral Elegance
Step into a world of floral elegance with these simplistic light-blue nails that become a canvas for tiny, detailed floral artworks. It's like having a piece of the serene spring sky adorned with blossoms at your fingertips!
Shimmering Palette: Subtle Glittery Delight
Get ready to shine with a manicure that embraces a spectrum of colors, brought to life with a subtle layer of glitter. It's the perfect way to add a shimmering touch to your Easter weekend, echoing the sparkle of morning dew on fresh spring blooms.
Polka-Dot Fiesta: A Colorful Rendezvous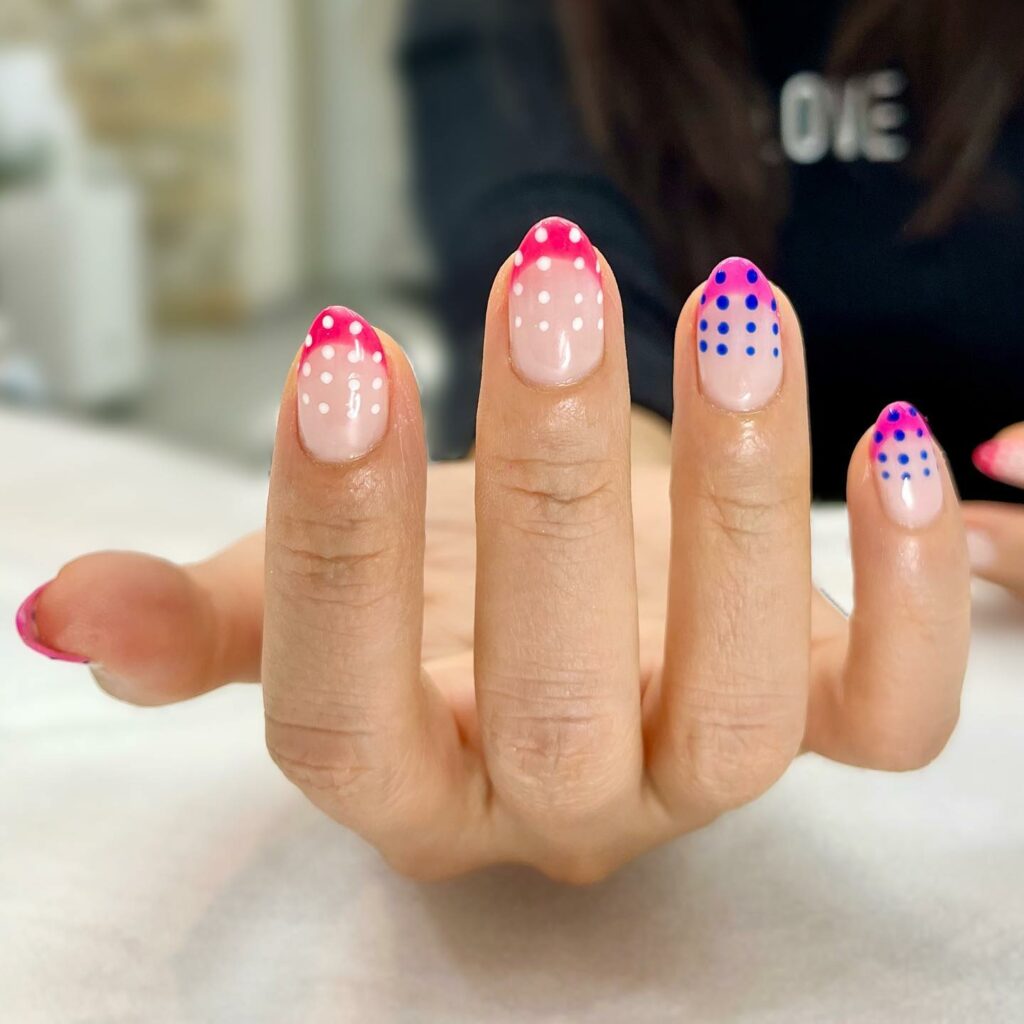 Celebrate the season with a vibrant fiesta on your nails, featuring lively spring colors dancing in harmony with alternating polka dots. It's a joyous depiction of the season, bringing color and fun to your Easter celebrations.
A Splash of Sparkle: Dazzling Pinks
Remember the delightful shimmer of morning dew under the sun's soft rays? Capture this mesmerizing sight on your nails with a design that embraces the gentle charm of pale pink intermingled with dark, sparkly shades. It's like having a tiny celebration on your fingertips with every flicker of sparkle!
Blooming Canvas: Enchanting Floral Accents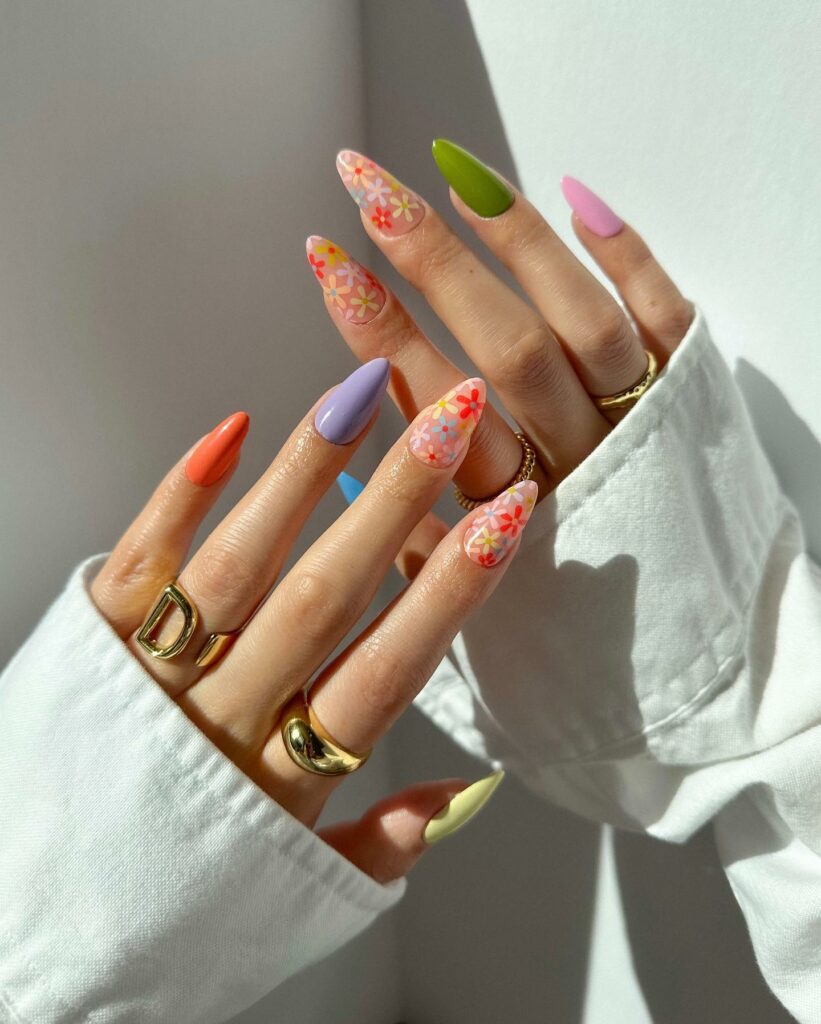 There's something utterly captivating about a floral accent that takes center stage in a manicure. Imagine the sheer base coat of your nails blossoming into a garden of intricate floral designs, harmoniously complementing the vibrant hues of your colorful manicure. It's like carrying a piece of spring's magical garden wherever you go.
Pastel Symphony: Embracing Easter Colors
Oh, how I adore the soft embrace of pastel shades during spring! They bring to mind the tender blossoms that grace our gardens this season. Opt for a manicure that mirrors the gentle hues of spring with light pastel colors, creating a serene and straightforward canvas that sings the song of new beginnings.
Citrus Blossoms: Dazzling Orange Flowers
I cannot help but smile when I think of the lively energy that orange brings. Picture your nails adorned with bright, eye-catching orange floral designs juxtaposed with opaque artistry that promises to be a conversation starter at any Easter gathering. I bet you'll be showered with compliments!
Sakura Whispers: Pink Cherry-Blossoms
As a true lover of the spring season, I must confess that the sight of cherry blossoms blooming is a scene that steals my heart every year. Why not bring this ethereal beauty to your nail art? Embark on a poetic journey with nails that feature delicate cherry blossom accents gracefully gracing the ring finger, offering a whisper of romance and the gentle caress of spring.
Whimsical Garden: Butterfly Accents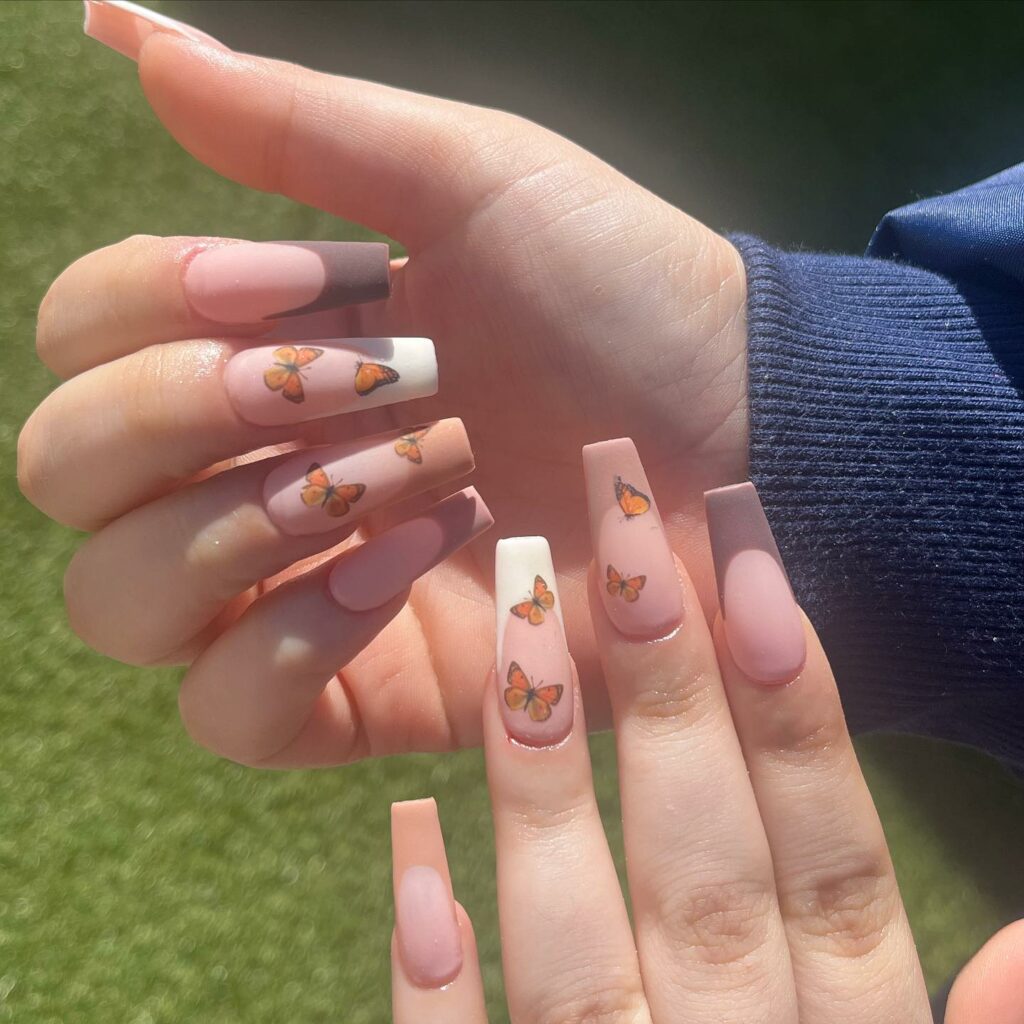 Imagine transforming your nails into a fluttering garden where vibrant butterflies perch delicately on a pastel base. This design, often enhanced with tiny floral accents, brings a whimsical and fairy-tale essence to your fingertips, reminding us of the beautiful transformations spring heralds.
Cosmic Easter Eggs: Galaxy Inspirations
Why not experiment with a galactic theme for those who like to take their nail art to a new dimension? Incorporating swirling patterns of deep blues, purples, and sparkling stars, this design takes the traditional Easter egg concept and shoots it into outer space, offering a modern, cosmological twist to your festive look.
Golden Hues: Metallic Flair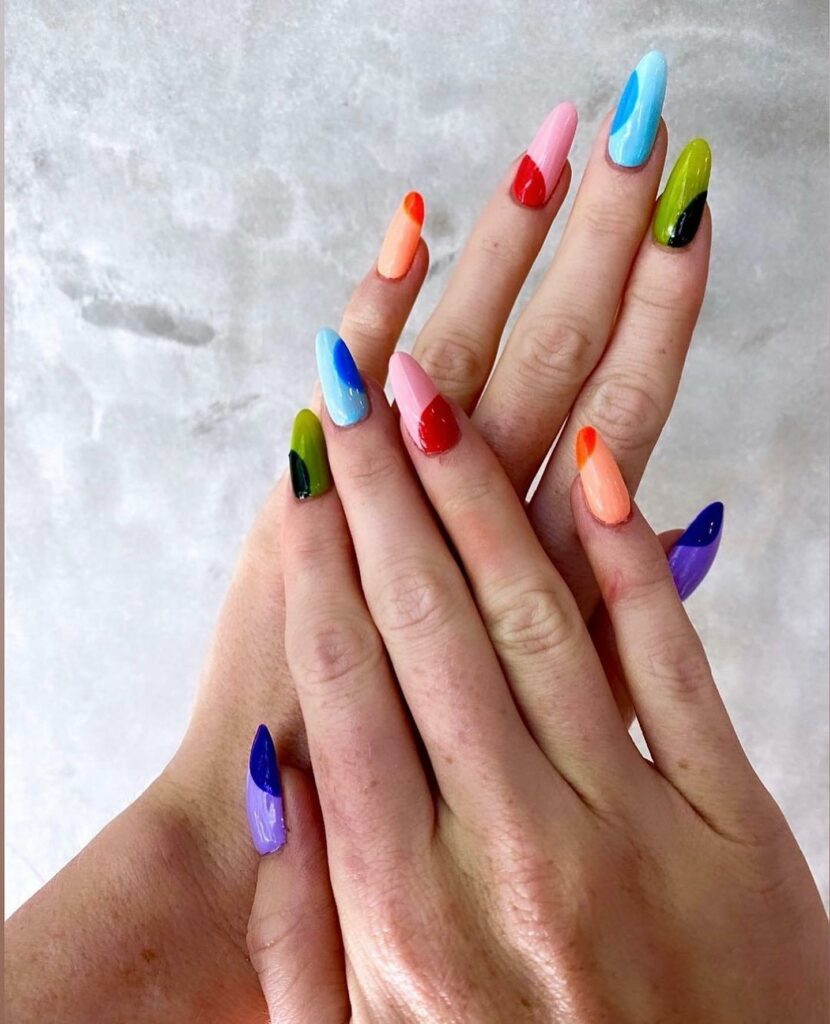 As someone who can't resist the allure of a bit of sparkle, I find that incorporating metallic elements into your Easter nail art can bring an elegant and luxurious touch to the festive season. Imagine the glow of golden hues delicately gracing your nails, paired perhaps with pastel backgrounds to truly make the metallic elements pop, creating a chic yet festive statement.
The Charm of Painted Eggs
Imagine the joyous tradition of painting Easter eggs, but this time, on your nails! This charming nail art brings to life tiny painted eggs sprinkled with a generous dose of cuteness with little bunnies gracing the thumbs. It's like a delightful Easter story narrated through your nails, and honestly, it never fails to make me smile.
Artistic Splash: Watercolor Wonders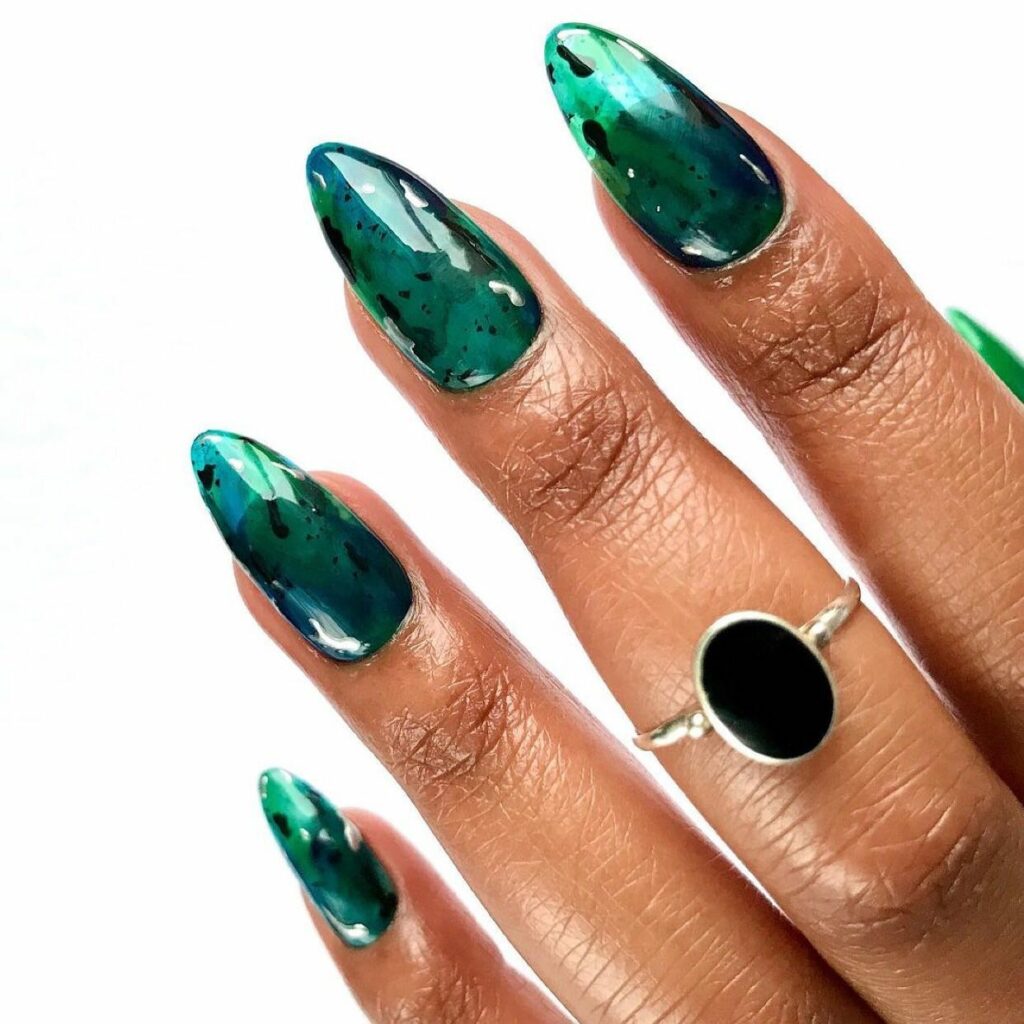 Let's venture into the artistic realm with a watercolor-inspired nail design. This artistry involves blending soft, flowing colors on your nails, mimicking the graceful strokes of a watercolor painting. It's a subtle yet stunning way to incorporate a burst of colors, evoking the vibrant blooms and gentle breezes of springtime.
8 Simple Tips To Create These Nail Designs At Home
Prep Your Nails Properly: Before you begin, make sure your nails are clean, dry, and filed to your desired shape. Apply a base coat to protect your nails and create a smooth canvas for your artistry.
Fine-Tuned Tools: For intricate designs like floral accents or cherry blossoms, it is beneficial to invest in nail art tools like fine brushes or dotting tools which can assist you in achieving detailed designs with precision.
Sponge Techniques for Gradients: A makeup sponge can be your best friend to achieve a beautiful gradient or watercolor effect. Apply different nail polishes on a sponge and dab it on your nails to create a seamless blend of colors.
Use of Scotch Tape: To create clean lines or geometric shapes, use scotch tape as a guide. Make sure the base color is completely dry before placing the tape on your nails.
Patience is a Virtue: Allow sufficient time for each layer to dry before moving to the next step. This will prevent smudges and ensure a clean, polished look.
Protect with a Top Coat: Once your design is completed, seal it with a top coat to protect your artwork and add a glossy finish.
Experiment with Textures: Don't hesitate to play with different textures. Mix and match glossy with matte, or add a touch of glitter to bring a festive vibe to your nails.
Practice Makes Perfect: Finally, nail art is a skill honed over time. Don't be discouraged if your first few attempts don't turn out as expected. Keep practicing and experimenting with different techniques to find what works best for you.
7 Brands We Love Right Now
Selecting the right nail polish can elevate your nail art game to a whole new level. Here are a couple of well-respected brands known for their quality and vibrant range of colors, which would be perfect for these Easter nail designs:
OPI: Known for its long-lasting and chip-resistant formula, OPI offers a remarkable range of shades and finishes, from pastels to vibrant hues, making it a favorite among nail art enthusiasts.
Essie: Essie is another popular brand, cherished for its extensive color palette and high-quality formula. Their seasonal collections often include the perfect shades for your festive Easter creations.
China Glaze: If you want to incorporate some sparkle or unique textures into your designs, China Glaze offers an excellent selection of glitter and metallic polishes that could bring that extra sparkle to your Easter nails.
Sally Hansen: Their Miracle Gel line, is well-loved for its durability and vibrant color options. It's an excellent choice if you're looking for a gel finish without needing a UV lamp.
Zoya: If you're searching for a more eco-friendly option, Zoya offers a wide range of vegan shades that are free of harmful chemicals.
Butter London: This brand stands out for its high-quality ingredients and the rich pigmentation of their polishes. They also often release themed collections that can offer unique colors and textures for your designs.
CND Vinylux: Renowned for its week-long wear and brilliant shine, this brand is a fantastic choice if you're looking for long-lasting results.
Nail Care Tips for the Spring Season
As we transition from the chilly winter season into the vibrant spring, our nails too deserve a fresh start, shedding the dryness and brittleness that often comes with the colder months. As we usher in the season of rejuvenation, it's vital to prepare our nails to become the perfect canvases for festive Easter nail designs. Here are some nurturing tips to pamper your nails:
Hydration is Key: Just like how blossoms need water to bloom, your nails crave hydration. Incorporate a nourishing cuticle oil into your daily routine to maintain moisture levels.
Gentle Exfoliation: Spring is a time for renewal. A gentle exfoliation of your hands and nails can remove dead skin cells and promote healthy nail growth.
Nail Strengthening: After a season of cold, it's a good idea to invest in a nail-strengthening treatment to counteract the brittleness brought about by winter.
Vitamin Boost: Consider incorporating biotin-rich foods into your diet or taking supplements to strengthen nails from within.
Perfect Base: Before you dive into the artistic nail designs, ensure to apply a strengthening base coat to protect your nails and make your nail art last longer.
Kids' Friendly Nail Designs
Spring brings out the child in all of us, and what better way to celebrate than with some fun, kid-friendly nail designs that even the little ones can enjoy! Parents and young readers will delight in these simple yet enchanting nail art ideas that are perfect for Easter festivities. Here are some simple and whimsical designs that can be created in a jiffy:
Thumb Bunny Loves You: Using a pastel base coat, paint cute bunny faces on the thumbs, complete with tiny ears and whiskers.
Easy Egg Splatters: A sponge can be a great tool for creating egg-splatter designs. Let kids dab different colors onto their nails for a fun and festive look.
Polka Dot Parade: Hand over the dotting tool (or the end of a bobby pin) and let them create a parade of colorful dots on a white or pastel base.
Sticker Magic: If your little one isn't quite ready to paint their nails, nail stickers with Easter themes can be a quick and easy way to add some festive flair.
Finger Puppet Nails: Paint tiny characters or scenes on each nail that can be used as finger puppets to narrate Easter stories – a fun activity and nail art rolled into one!
Conclusion
As we wrap up our vivid journey through this wonderland of Easter nail inspirations, I'd love to share a few pearls of wisdom with you. Stepping into the world of nail art is like opening the door to boundless creativity, where each design narrates its own vibrant story. A little tip from a fellow nail art aficionado – Always ensure to use quality nail products to protect the health and beauty of your nails. Also, seek professional assistance if some of these designs seem a bit too intricate to start with. Remember, the joy lies in crafting and experimenting with various designs.
While exploring these festive nail ideas, you might stumble upon newfound passions or even discover a hidden artistic side of yourself. Keep an open mind and a willing spirit to embrace the beautiful possibilities that await. Your nails are your canvas, ready to be adorned with the hues of joy and the sparkle of spring.
I invite you to dive in, experiment, and perhaps even create your mesmerizing nail art designs this Easter season. Let's embrace the festivities with vibrant hues and a sprinkle of creativity, transforming our nails into miniature canvases that echo the jubilant spirit of Easter. Here's to a season of blossoming joy and vibrant colors. Happy decorating!
Feature image @nailsxmina via Instagram