As we welcome a new season, it's the perfect time to step into the vibrant world of pedicure trends, where self-expression blossoms into artistry right at our feet. In today's exciting exploration, we're about to dive headfirst into a garden of dazzling pedicure ideas, brimming with vitality and innovation. Whether you're a seasoned aficionado or just embarking on this journey, I'm here to guide you through a refreshing panorama of foot aesthetics, unveiling not just the latest color tones but also groundbreaking techniques that defy norms. Together, we'll transform your toes into a canvas that mirrors your personal style and spirit, promising a thrilling adventure filled with discovery, creativity, and a splash of elegance. Stay tuned, as we embark on this fabulous expedition, unveiling the secrets to mastering the art of the modern pedicure, one stunning step at a time!s
Gems on Baby Pink
Ever remember those childhood days when a single sticker or gem on our little craft projects would make everything feel so precious? Inspired by that, a muted pink base with a single accent nail adorned with sparkling gems makes for a subtle yet alluring design. And hey, feel free to explore with shades like serene white, lavender, or even a zesty orange!
The Shattered Glass Magic
When you thought you'd seen all nail trends, the shattered mirror effect steps in. Reminds me of that time I accidentally broke a glass ornament, only this time, it's intentional and infinitely more stylish! Dive into online stores to find the perfect glass foils. And if you need help, many tutorials await online.
French Pedicure with a Twist
We've all loved the timeless French pedicure. But have you ever thought of adding a sprinkle of gems to it? Perfect for those summer weddings or even your best friend's bridal shower!
A Pink Affair with Glitter
Summer vibes and pink go hand-in-hand. While any shade of pink is lovely, the softer tones or shimmering pinks have a certain chicness. Personal tip? Coordinate with your fingers for a harmonious look.
Matching Mani-Pedi Goals
One of my favorite things to do is match my manicure and pedicure. A unified theme of light shades interspersed with gems is a look I vouch for – especially for special occasions.
Bloom with Floral Designs
Nothing screams spring and summer like floral patterns. Remember the flower doodles on the margins of our school notebooks? It's time to bring them to life on your nails. Dark blue combined with floral and sparkle is an absolute winner!
Vibrant Tones of Coral & Silver
Coral always reminds me of sunny beaches. Paired with silver sparkle, it becomes a must-try. Imagine this shade with your favorite summer sandals – absolute perfection!
Pristine White and Gems
White is like that favorite white shirt – it never goes out of style. Whether you're lounging by the pool or heading for brunch, white toes with a gem accent nail never fail to impress.
Bold Greens with a Glitter Twist
Looking for a bold statement? Vibrant green nails with a glitter accent nail can be your go-to this season.
Floral Fancy on Pink
A vivid pink base with a white floral accent nail is reminiscent of spring blossoms. And for those who're a bit DIY-shy, fantastic nail art stamps and stencils are out there.
Glistening Rose Gold
Rose gold isn't just a jewelry trend. It brings elegance to your toes. Paired with your favorite dress, it's an absolute showstopper.
Playful Pink with Glittery Vibes
Combining bright and light pinks with a sprinkle of glitter is fun and sophisticated. Perfect for a beach day or a night out.
French Elegance with Top Gems
A unique spin on the French design – gems at the tip! A creative, one-of-a-kind look that adds a sparkle to your step.
Golden Moments with White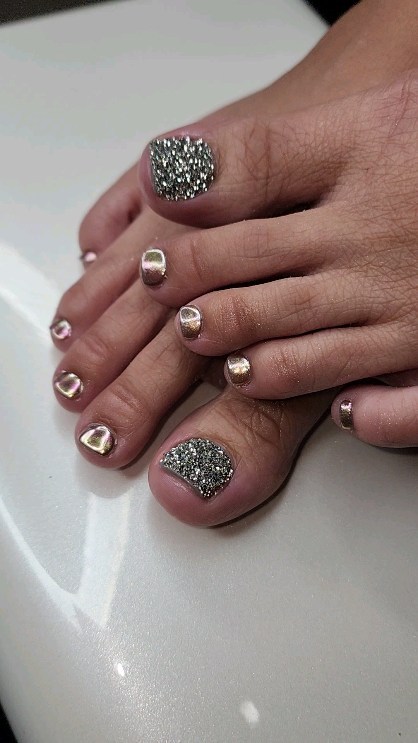 There's something eternally classy about gold and white. Whether it's chevrons or simple alternates, the combination is a head-turner.
Delicate Watercolor Florals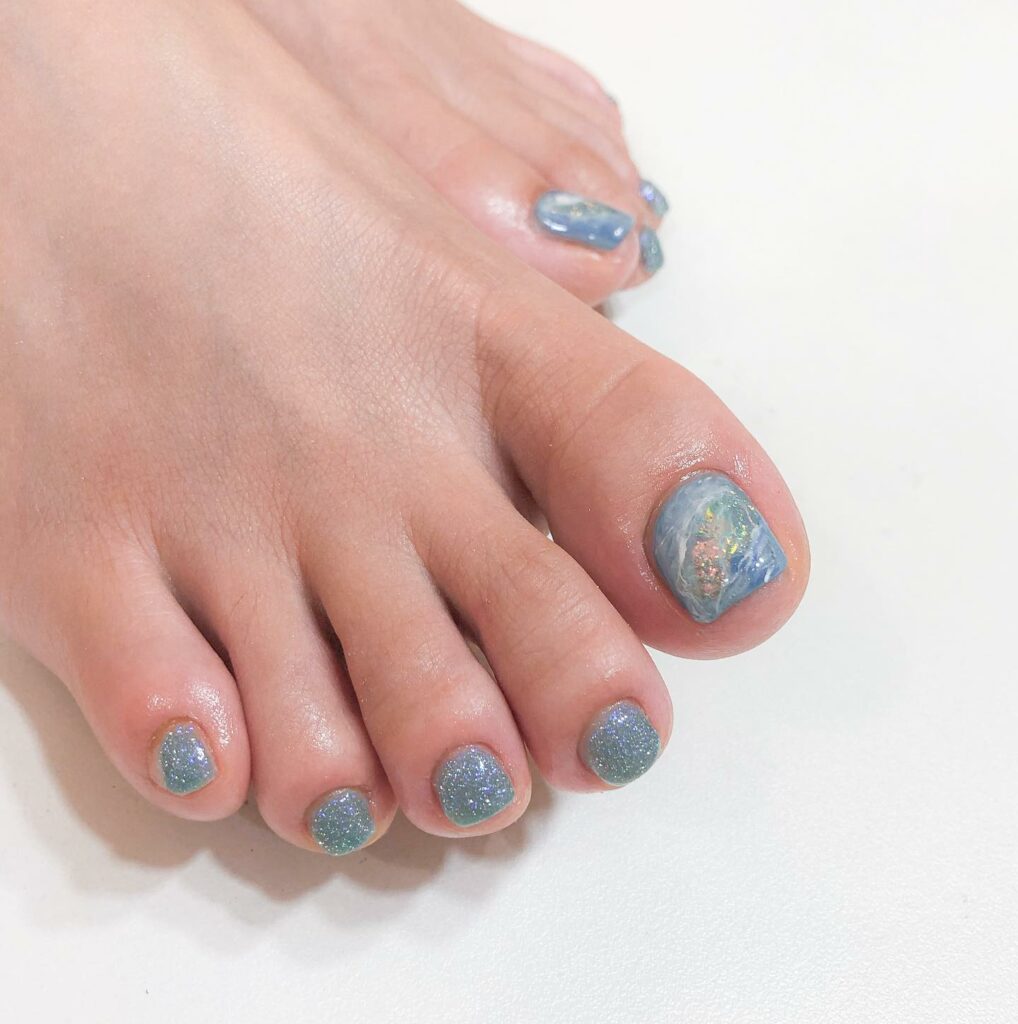 Watercolor flowers have a dreamy, ethereal charm. If you've never tried it, now's the time, with ample tutorials. My suggestion? Pair it with a hint of glitter.
Shimmering Pink Base
Changing things up a bit, how about glitter at the base of your nails? It's a delightful twist on the usual, and you can play around with countless color combinations.
Ultimate Glam Pedicure
Gold nails with one accent nail laden with gems and intricate designs scream luxury. Perfect for that fancy dinner you've been looking forward to.
All About Glitter
For those who can't resist glitter, why not go all out? Pink nails with glitter tips and a dash of gems are both playful and posh.
Sleek Silver on White
Silver glitter accent on a pristine white base is simplicity at its finest. An ensemble that's ready for any event!
Floral Delight on Pink
Lean into the elegance of floral designs on a rich pink base. With stencils and stickers at your disposal, the possibilities are endless.
Laced with Elegance
Last, but by no means least, the lace pedicure. The sheer sophistication of lace combined with sparkle is a match made in beauty heaven.
Soft Aqua Brilliance
An aqua manicure with a sprinkle of diamantes hits the sweet spot for those seeking understated elegance.
Heart Nails
Whether you're stepping out for a heartwarming Valentine's Day rendezvous or simply smitten by this lovely aesthetic, this refined variation of the classic French manicure is sure to capture your admiration. Let the conventional white tip give way to a vibrant cherry red hue, gracefully extending to the nailbed's midpoint. This vivid transformation harmonizes impeccably with an almond nail silhouette, mimicking the enchanting appearance of a heart cradled on your fingertips. Experience the joy of infusing an added sprinkle of affection into your every touch with this captivating nail art that echoes love and sophistication in every gesture.
11 Pro Tips For Creating Elegant And Sophisticated Toenail Designs
Preparation is Key: Before you begin, ensure your nails are clean and well-groomed. A neat canvas will make the final design look all the more stunning.
Quality Materials: Use high-quality nail polishes and tools. Suitable nail polish can offer a smoother application and a richer color payoff.
Subtle Color Palette: Opt for a subtle color palette when aiming for sophistication. Shades like nude, soft pinks, white, or even a deep red can add a touch of class to your nails.
Minimalistic Designs: Sometimes, less is more. Go for minimalistic designs with clean lines and patterns.
Accent Nails: Consider having an accent nail with a slightly more elaborate design or a complementary color to add a hint of glamour without going overboard.
French Pedicure: A French pedicure is a timeless choice that offers a clean, polished look. You might add a little sparkle or a tiny gem to modernize the classic style.
Fine Glitter: Use fine glitter polishes for a touch of sophisticated sparkle rather than overpowering.
Floral Accents: Incorporate delicate floral accents in soft colors for a graceful, feminine touch.
Matte Finish: Consider using a matte top coat for a contemporary and chic finish that takes the shine off your polish but adds a layer of sophistication.
Professional Help: If you need clarification on your nail art skills, feel free to seek the services of a professional nail artist specializing in elegant designs.
Maintenance: Maintain your elegant nail design by applying a top coat every few days to prevent chipping and moisturize your feet.
Remember, the most important tip is to let your personality shine through your designs, creating a style that resonates with you while embodying elegance and sophistication.
15 Latest Design Ideas We Love
Ombre Elegance: Create a beautiful ombre effect with shades that transition smoothly from one to another, perhaps moving from a soft pink to a rich burgundy.
Marble Effect: Use a marbling technique to craft designs that mimic the look of marble. This technique often involves swirling together two or more polished colors.
Geometric Grace: Experiment with geometric patterns, maybe a sophisticated triangle at the base of the nail or some delicate lines, creating a minimalistic design.
Pearl and Lace: Create a delicate lace pattern on a couple of nails and adorn it with tiny pearls for vintage glamour.
Cherry Blossom Bliss: Paint a cherry blossom branch across a series of nails, with tiny blossoms in soft pinks and whites against a sky-blue background.
Negative Space Chic: Utilize the negative Space on your nails to create intriguing patterns and designs, perhaps a half-moon at the base or tip of the nail left unpainted.
Gold Leaf Accent: Add a touch of luxury with gold leaf accents. This can be incorporated into patterns or create a glittering tip on some nails.
Jeweled Elegance: Adorn your nails with tiny jewels or crystals in a well-planned pattern, adding a classy and striking sparkle.
Monochrome Magic: Try a monochromatic theme with various designs in the same color palette, adding depth and intrigue while maintaining a cohesive look.
Nature-Inspired Designs: Incorporate elements from nature such as delicate leaf patterns, floral designs, or even animal prints, but keep them subtle and softer tones.
Tribal Intricacy: Delve into some tribal patterns, using intricate lines and dots to create an eye-catching yet elegant design.
Abstract Artistry: Play around with abstract designs, using strokes and spots of color in a way that's reminiscent of modern art.
Starry Night: Craft a night sky on your nails with a deep blue base, tiny stars, and a crescent moon in metallic or white shades.
Rose Gold Radiance: Use rose gold polish as a base or for delicate patterns, adding a warm and luxurious touch to your nails.
Sea Glass Mosaic: Create a mosaic pattern using pieces of sea glass, arranging them in a stunning design that catches the light beautifully.
10 Resources Available For Those New To Toenail Artistry
YouTube Tutorials: This platform is a gold mine for various tutorials. Numerous beauty bloggers and nail artists share step-by-step videos on different nail art techniques. Channels such as Cutepolish and Simply Nailogical are popular choices.
Instagram: Instagram hosts a community of nail artists who frequently share short video tutorials and nail art inspirations. Check out hashtags like #NailArtTutorial and #ToeNailArt to discover new artists and techniques.
Pinterest: A treasure trove of visual inspiration, Pinterest offers images of beautiful nail designs and links to blogs and tutorials where you can learn how to recreate the looks.
Online Courses: Websites like Udemy and Coursera sometimes offer courses on nail artistry, where you can learn from professionals in a structured manner.
Nail Art Blogs: There are many blogs dedicated to nail art, offering tutorials, tips, and tricks for those who are new to the field. Nailsmag is popular, offering a wide range of tutorials and articles.
E-books: Platforms like Amazon offer a variety of e-books that cover the basics of nail art, offering tutorials and guidance on how to get started.
Community Workshops and Classes: Depending upon your locality, you might find community centers or beauty schools offering workshops and classes on nail artistry. These can be great hands-on learning experiences.
Nail Art Apps: Some apps are available that provide tutorials and platforms where users can share their nail art creations. Apps like Nail Art Designs are an excellent place to start.
Facebook Groups: Joining nail art communities on Facebook can be a great way to learn from others, share your creations, and even participate in nail art challenges to hone your skills.
DIY Nail Art Kits: Many brands offer DIY nail art kits with guides or tutorials to help you create specific designs. These kits can be a great starting point for beginners.
Conclusion
Hello, dear readers! As we wrap up our vibrant journey through the season's hottest toenail designs, I can't help but feel exhilarated at the boundless opportunities we have to express ourselves through our pedicures. From the shimmering charm of gem-studded styles to the understated elegance of French pedicures with a sparkle, a universe of options is waiting for you to explore and make your own. Remember, while these designs are absolutely captivating, always prioritize the health of your nails. Opt for quality products to prevent any damage, and don't hesitate to give your nails a breather between makeovers. As you step into this exciting realm, armed with these fabulous ideas and preventive tips, I am confident that you'll craft toenail designs that are both a testament to your style and a celebration of your individuality. Happy painting!
Photo By Toa Heftiba on Unsplash