Are you intrigued by the radiant skin of your favorite K-drama stars and want to know their secret? Spoiler alert: It's a blend of dedication, diet, and the magic potion known as Vitamin C serum, and today we're delving into the world of the best Korean Vitamin C Serums for All Skin Types.
Every drop of these Vitamin C serums is brimming with nature's best antioxidants, formulated in high-tech Korean labs, and designed to fight free radicals, boost collagen production, lighten dark spots, and ultimately, give you that luminous, lit-from-within complexion.
Whether you're a skincare novice just beginning to navigate the vast seas of beauty or a seasoned skincare enthusiast looking to upgrade your routine, we'll cover all bases. So, let's embark on this journey to radiant skin together as we unravel the secret behind the legendary Korean skin glow, one Vitamin C serum at a time. Stick around, and by the end of this post, you'll have a list of the top-performing Korean Vitamin C serums and know exactly which one is right for your unique skin type.
Why the Love for Vitamin C?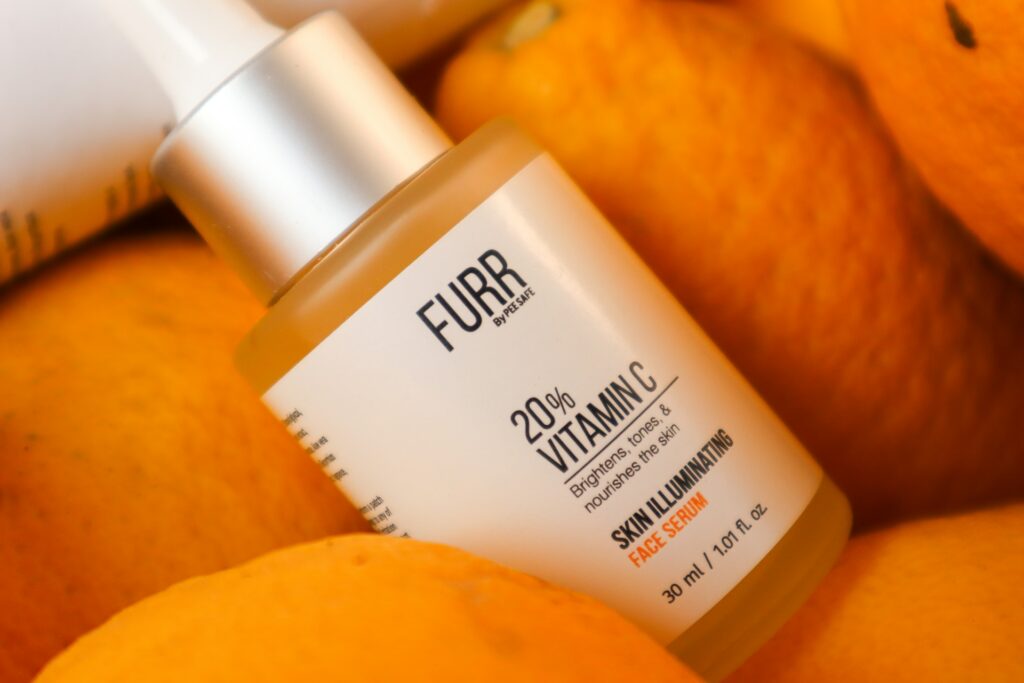 The fascination with Vitamin C isn't just because it's the 'cool kid' in the skincare neighborhood. Its powers extend way beyond its popularity. From sunburns and photoaging to hyperpigmentation, wrinkles, sagging, and dryness – Vitamin C is that brave knight in shining armor your skin has been waiting for.
A funny story here, once, during a beach vacation, my skin had a bit of a sunburn meltdown despite all the SPF. My trusty Vitamin C serum came to the rescue, and boy, was I grateful! If your skin is waging war against these skin woes, it might be time to recruit a Vitamin C serum to your regimen.
My 2023 Top Picks: Korean Vitamin C Serums
Let's jump into the main event – my selection of the top seven Korean Vitamin C serums for all skin types. You can shop these gems by clicking the images below, and who knows, one of them might just become your skin's new BFF!
A worthy skincare routine is only quite complete with a Korean Vitamin C serum, and these top picks for 2023 are all set to give your skin that coveted K-beauty glow. So, ready to ride the Vitamin C wave with me? Let's dive in!
Purito Pure Vitamin C Serum: The Dark Spot Diminisher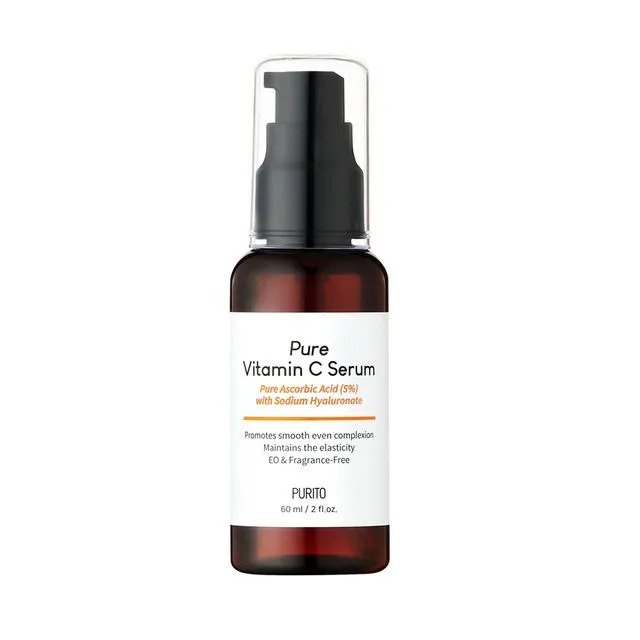 Purito Pure Vitamin C Serum is my go-to recommendation when someone asks me for an effective and affordable Korean Vitamin C serum. This wonder serum, laden with antioxidants, is like a magic eraser for dark spots and hyperpigmentation. Plus, it's packed with ferulic acid and hyaluronic acid for that age-defying touch and a collagen production boost that your skin will love.
Did I mention it also doubles up as a skin soother? It has been my secret weapon against inflammation and occasional bouts of acne, making it a perfect addition to your skincare arsenal if you're battling similar concerns.
Klairs Freshly Juiced Vitamin Drop: The Sensitive Skin Savior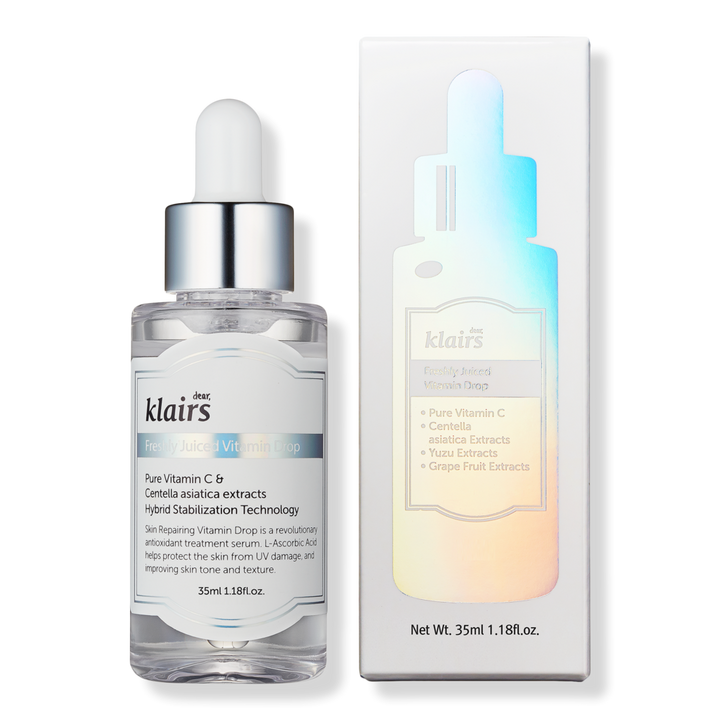 Next up is the Klairs Freshly Juiced Vitamin C Drop, a sensitive skin superstar that has worked wonders for my acne-prone skin. The secret ingredient? Ascorbic acid, a 5% vitamin C formula that moonlights as a shield against aging signs while brightening your complexion. This serum contains a lower concentration of Vitamin C making it a perfect option for those with sensitive skin. Its gentle formula helps protect the skin from signs of aging and brightens the complexion without causing any irritation or discomfort.
I love how it fades brown spots, improves skin tone, and smoothens fine lines and wrinkles. And trust me, post-cleanse and toner, this Vitamin C Drop, followed by a moisturizer, is the kind of skincare sandwich your skin will devour!
Wishtrend Pure Vitamin C 21.5% Advanced Serum: The Super Strength Star
Wishtrend's Pure Vitamin C 21.5% Advanced Serum is no ordinary potion. Its super-strong anti-aging formula is a treat for combination and oily skin types. It is a potent cocktail of pure Vitamin C and Vitamin Tree Water that delivers near-instant results.
Trust me; it's almost like watching the magic unfold on your skin as it reduces acne scars, sweeps away dead skin cells, and leaves your skin looking as smooth as glass. And let me tell you, a little goes a long way with this one!
Cos de BAHA VM Vitamin C MSM Serum: The Gentle Glow-Getter
With a 15% Vitamin C concentration, Cos de BAHA's VM Vitamin C MSM Serum is a gentle giant that my dry skin adores. Its blend of organic and natural ingredients truly makes your skin feel like it's on a spa vacation.
Two weeks into using this, I saw my fine lines softening and my complexion evening out. And it's worth mentioning that the moisturizing effect is beyond impressive. And all this without breaking the bank!
It's Skin Power 10 Formula VC Effector: The Melanin Manager
The It's Skin Power 10 Formula VC Effector is the melanin manager we all need in our skincare kit. Its power to minimize pores, banish blemishes, and brighten dull skin is impressive.
Moreover, it's a blend of ten ingredients, each targeting a different skin healing aspect. And the best part? It's devoid of artificial colors, making it a gentle delight for all skin types.
Some by Mi Galactomyces Pure Vitamin C Glow Serum: The Skin Soother
The Some By Mi Galactomyces Pure Vitamin C Glow Serum is the hydration hero that your skin will thank you for. It's packed with power ingredients like sodium ascorbyl phosphate and 75% galactomyces ferment filtrate that soothe the skin and reduce aging signs. I adore the non-sticky texture, allowing it to slide effortlessly under your moisturizer and makeup. Plus, it smells like a dream!
Goodal Green Tangerine Vitamin C Dark Spot Serum: The Cooling Conqueror
Goodal Green Tangerine Vitamin C Dark Spot Serum. An excellent, refreshing gel formula brimming with 70% Vitamin C from green tangerine extract, this serum is a revitalizing treat for uneven skin tones. And guess what? It's gentle enough for even the most sensitive skin types. Always remember to conduct a patch test when trying any new skincare product, especially if you have sensitive skin.
Neogen Dermalogy Real Vita C Serum
This serum is a delight for sensitive skin. Packed with 22% Vitamin C, it targets dullness, uneven skin tone, and signs of aging while being gentle enough not to cause irritation. It's formulated with niacinamide and collagen, which helps with brightening and firming the skin. Plus, it's free of potential irritants like parabens, artificial fragrance, and color, making it a great pick for sensitive skin types.
Remember, whenever you introduce a new product into your skincare routine, it's always a good idea to do a patch test first to make sure it doesn't cause any adverse reaction.
What Are The Benefits Of Vitamin C Serum On The Skin?
Vitamin C serum offers a multitude of benefits to the skin due to its potent antioxidant properties. Here's a rundown of some of the key benefits:
1. Boosts Collagen Production: Vitamin C is essential for collagen synthesis. Collagen is a protein that gives our skin its structure, strength, and elasticity. As we age, collagen production naturally decreases, leading to wrinkles and sagging skin. Applying Vitamin C can promote collagen production, leading to healthier, firmer skin.
2. Reduces Hyperpigmentation: Hyperpigmentation refers to dark patches on the skin. Vitamin C serum can help lighten these patches by inhibiting the enzyme responsible for melanin production.
3. Protects Against Sun Damage: Vitamin C is a powerful antioxidant that can neutralize harmful free radicals caused by exposure to UV rays. It is not a replacement for sunscreen, but it can complement the sun-protective effects of sunscreen when used together.
4. Brightens the Skin: Vitamin C can brighten dull skin and even out skin tone by reducing the appearance of sun spots and discoloration, giving the skin a healthier, radiant glow.
5. Reduces Inflammation and Redness: Vitamin C has anti-inflammatory properties that can help reduce redness and inflammation, making it a good choice for conditions like acne and rosacea.
6. Helps Fade Acne Scars: Thanks to its skin-healing properties, vitamin C can accelerate the healing process of acne and help reduce the appearance of acne scars.
7. Improves Hydration and Moisture: If you suffer from dry skin, a Vitamin C serum can help improve hydration and moisture content of the skin.
Remember, the benefits of Vitamin C serums can be enhanced when combined with other skin-healthy ingredients like Vitamin E, ferulic acid, and hyaluronic acid
Conclusion
Well, there you have it, my lovelies – my top seven Korean Vitamin C serums to add that zest to your skincare routine. Remember, introducing new products into your regimen is an adventure. While these serums are generally well-tolerated, it's always a good idea to do a patch test first, as every skin is unique and may react differently. Don't forget to use your Vitamin C serum in conjunction with a broad-spectrum SPF, as Vitamin C can make your skin a bit more sun-sensitive.
I encourage you to explore these incredible K-beauty gems. You might just stumble upon your skin's new best friend! Remember, your skincare journey is all about celebrating and caring for your unique skin. Don't chase the 'perfect' skin, strive for happy, healthy skin. After all, when your skin feels good, you feel good, and who doesn't want that? Here's to radiant, glowing skin and the joy of the skincare journey. Keep shining bright!
Feature image by Apostolos Vamvouras on Unsplash