Graduation marks a significant milestone, a turning point that deserves an all-around spectacle of elegance and personal style. But your nails often get sidelined amidst the chaos of picking the perfect outfit and coordinating with your cap and gown. No more, I say! This blog post is your comprehensive guide to 30 jaw-dropping graduation nail ideas that ensure you cross that stage not just with a diploma but with a panache.
We've got everything from minimalist designs that echo understated sophistication to intricate patterns for those who want their nails to be a conversation starter. We'll even delve into texture plays, color theory, and how to match your nails with your overall graduation look—because when you shake the dean's hand, your nails should be as memorable as the moment. Read on to elevate your graduation style from memorable to unforgettable. Because, let's face it, you've earned that diploma, and your nails should be just as accomplished.
Milky Magic: The Swirls You've Been Looking For
So, you're looking for something that strikes the perfect balance between understated and trendy? I've got you covered. A milky neutral base with white swirls is my go-to when I want to feel elegant but don't want to commit to an intense color. And don't fret about the nail length; this design looks just as chic on shorter nails as on longer ones. Trust me, I've tried both!
The French Twist: Gemstone Edition
A classic French manicure is like that timeless pair of black heels—always in style. But why not give it a modern twist for your special day? Add a single gemstone to each nail. It's a small addition but creates a significant impact. When I tried this for my sister's graduation, she got compliments all day, and let's say her handshake selfies were on point!
The Edgy Elegance: Chic Black Ribbons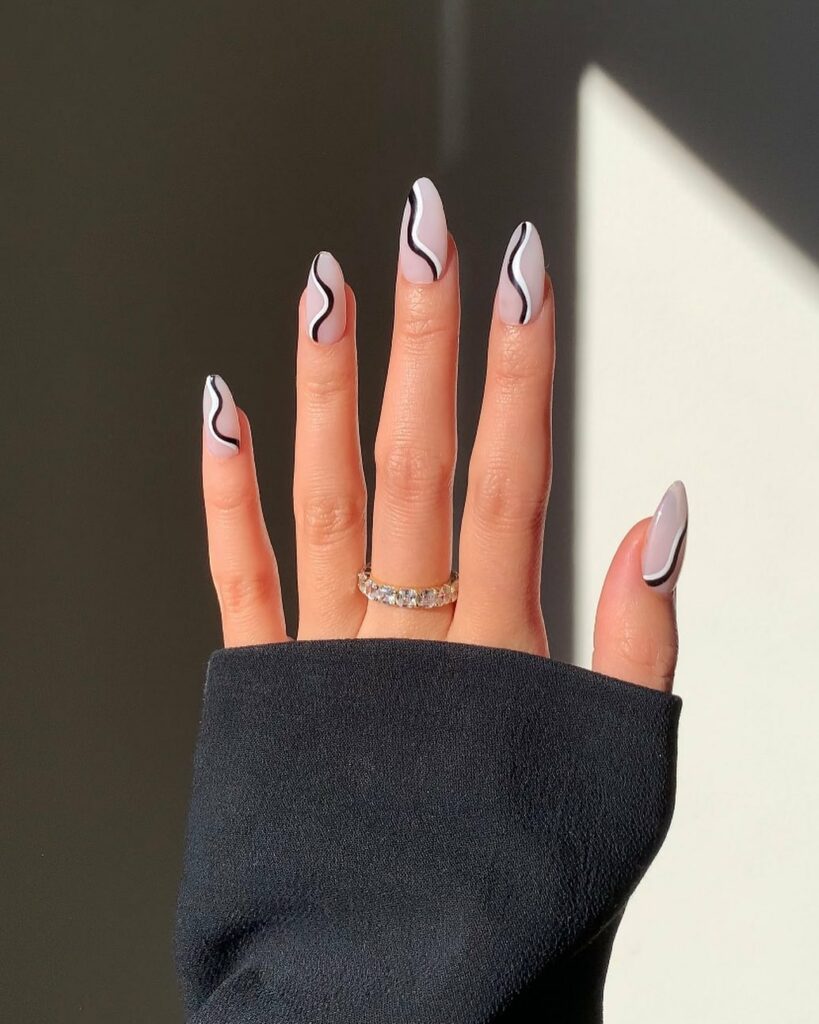 Going for a darker wardrobe palette? Opt for abstract black ribbons on a pearlescent pink base. It's edgy yet elegant. The best part? This design doesn't have to be perfect to look amazing. I remember doing a similar style when I was in a rush before a big event, and guess what? No one noticed the tiny imperfections; they were too captivated by the overall effect.
Summer Meets Formal: White Croc
Ever tried taking a popular summer trend and fitting it into a formal setting? Here's your chance. Use white polish to turn a vibrant crocodile print into something graduation-ready. I did this once for a beach wedding, and it was a total hit.
Glitz & Glam: Bejeweled Nude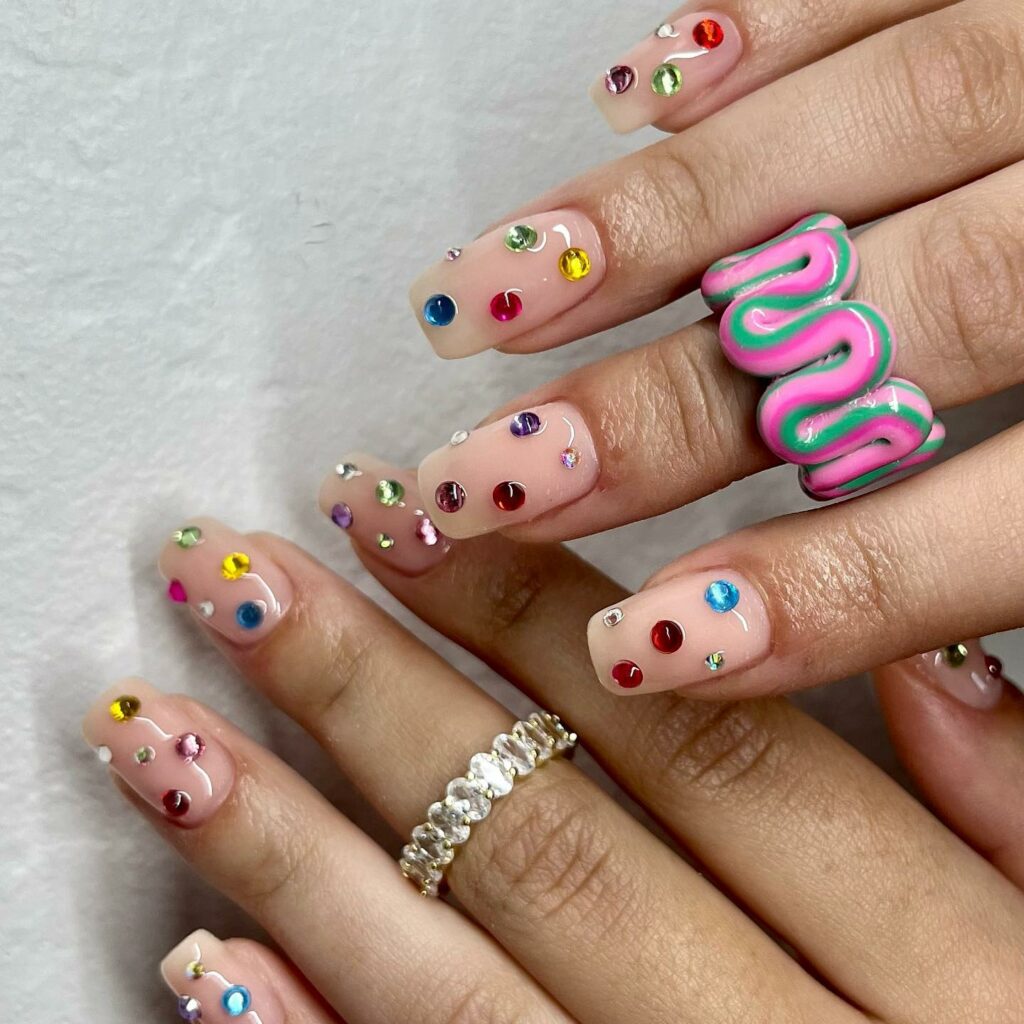 Want to add a bit of sparkle to your day? A nude base with scattered gemstones works like magic. My go-to polish for this look is Cirque Colors Nail Polish in Georgette. It provides just the right amount of nude for those gemstones to shine.
Cloud Nine: Dreamy Mani
If graduation feels like the realization of a long-held dream, why not channel that sentiment into your nails? A sheer cloud manicure is both fun and relevant. You can wear classic white or go for pastels to match your outfit. It's like wearing your emotions but on your nails!
Sweet Treats: The Glazed Donut Mani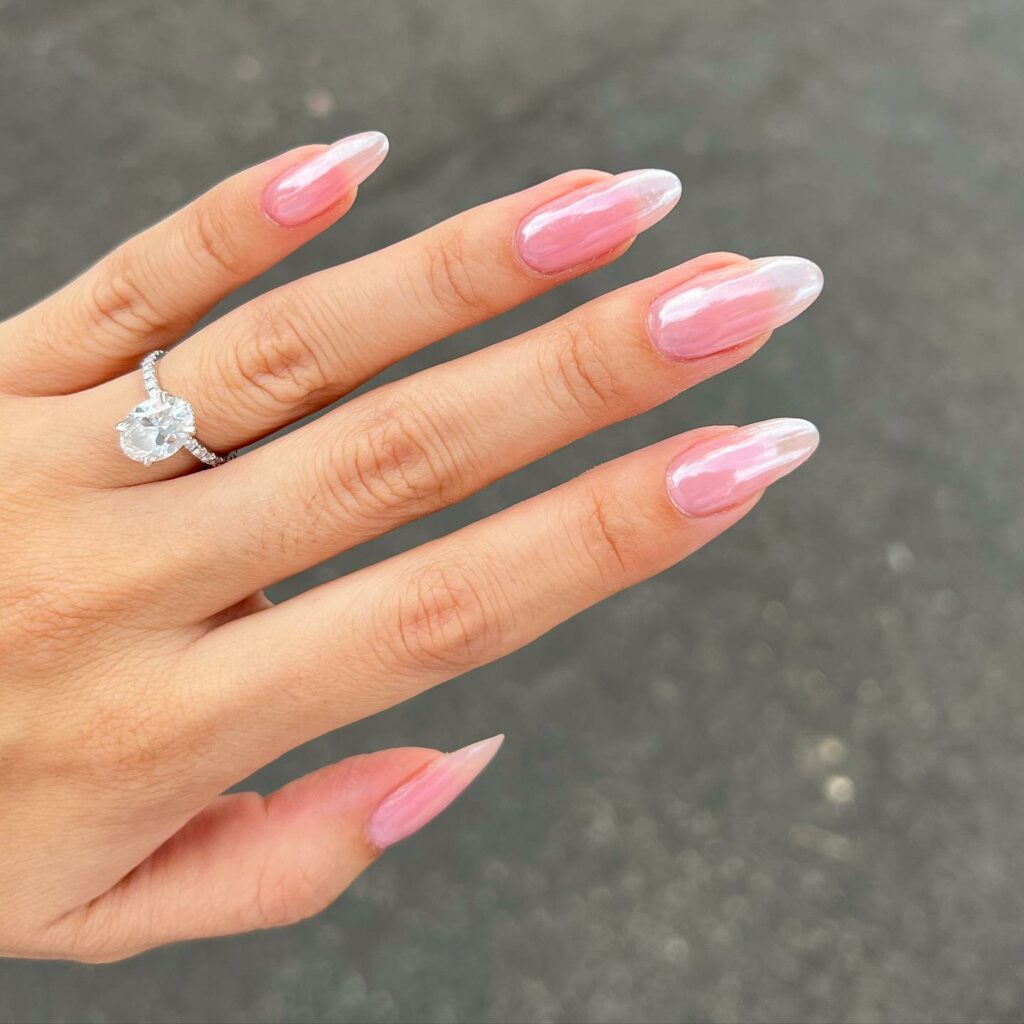 Who doesn't love donuts, especially when they're on trend? Glazed donut manicures are all the rage right now. To get this sugary look, use OPI's Nail Lacquer in Pale to the Chief and top it off with chrome powder. Your nails will look good enough to eat!
Keep it Classy: Micro French
For a clean, classic look that never fails, a micro French manicure is where it's at. It's a subtle yet chic style that doesn't shout for attention but turns heads. I recommend Orly Half Moon Guides to get those tips just right for this look. You'll look stunning whether you opt for a glossy or matte top coat.
The New Age Classic: Neutral Ombré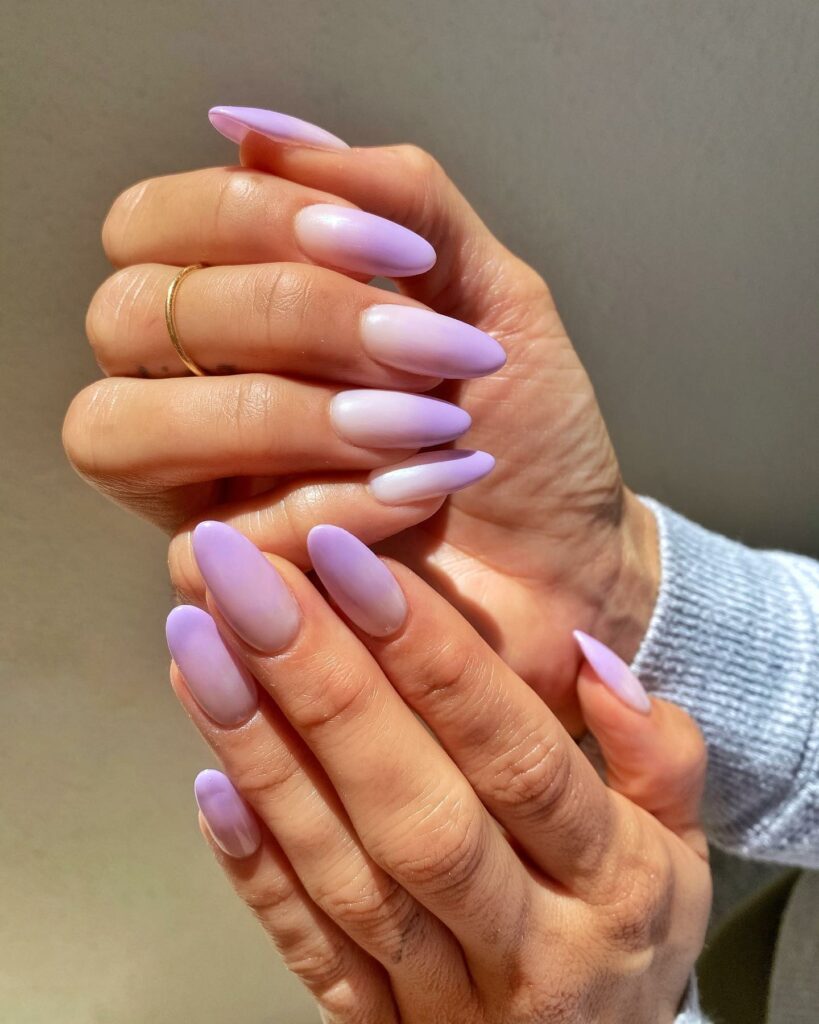 This is French's laid-back cousin. Neutral ombré nails are modern, sleek, and effortlessly cool. I remember being skeptical until I tried them for an interview, and let me tell you, they're a confidence booster.
Energy Vibes: Rose Quartz
Want to channel some positive energy into your big day? A rose quartz-inspired look can do just that. Plus, wearing a traditional white outfit is neutral enough, making you feel aligned in style and spirit.
Golden Moments: Gold Glitter Ombré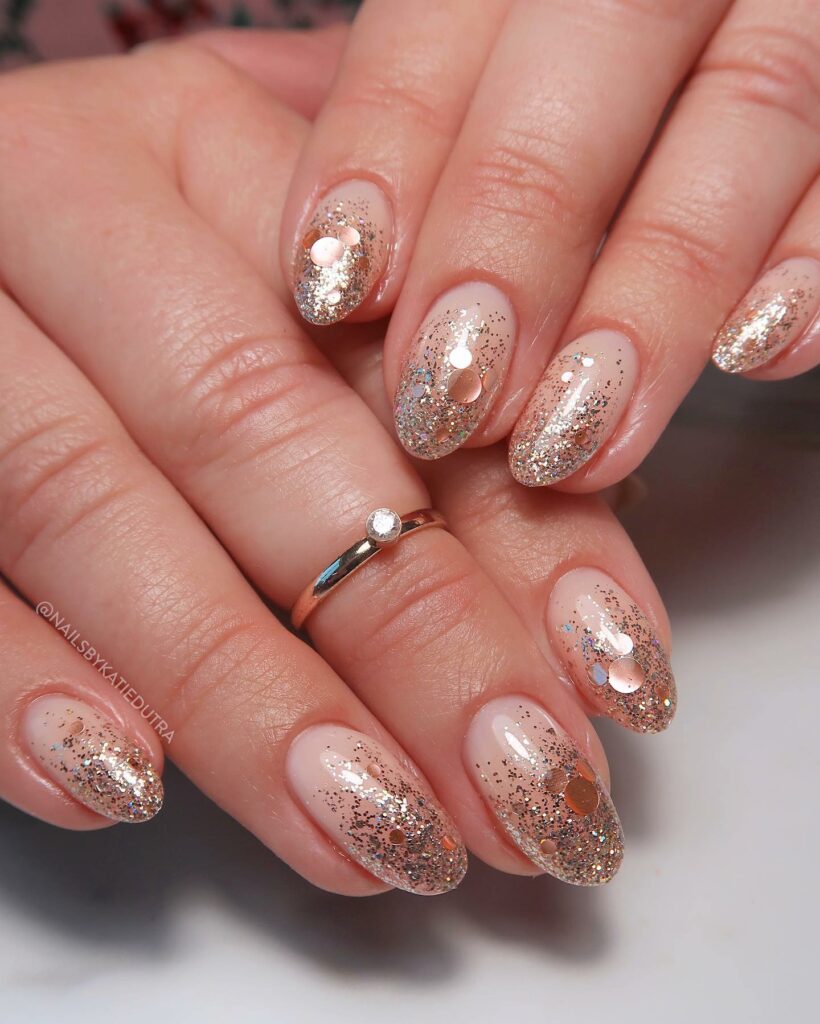 Gold glitter ombré adds a festive touch to a neutral base, making you look ready for the celebration. When I tried this look last New Year's Eve, I felt like the life of the party!
The Flair Factor: Art Deco Details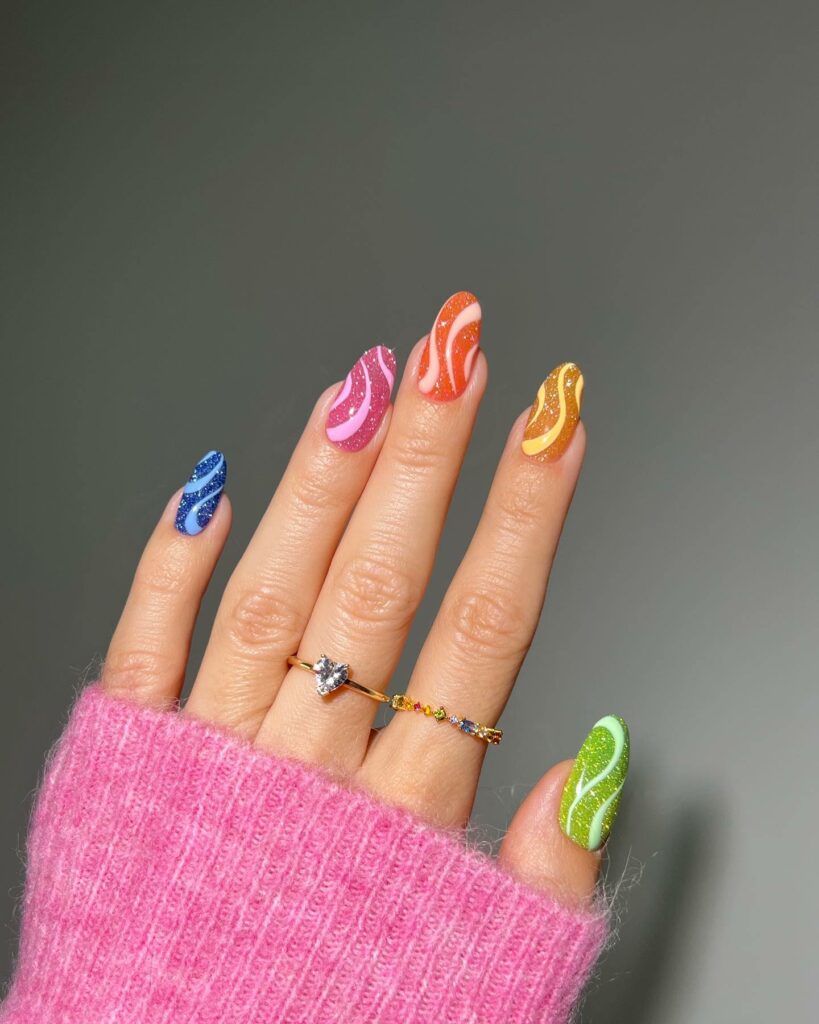 Unleash your artistic side with an art deco-inspired design. This is your canvas to play around with color combinations and rhinestone placements. It's versatile and undeniably captivating.
Pearl Perfection: Mother of Pearl
For a truly standout look, wear a polish with a pearlescent finish paired with pearl accents. It's like wearing pieces of the ocean on your fingertips, and who can resist that?
Summer Calling: Graduation Linen Nails
Looking to make a smooth transition from graduation to summer festivities? Linen nails, with their off-white, matte finish, are your ticket to effortless style.
Timeless Elegance: Sheer Vanilla Chrome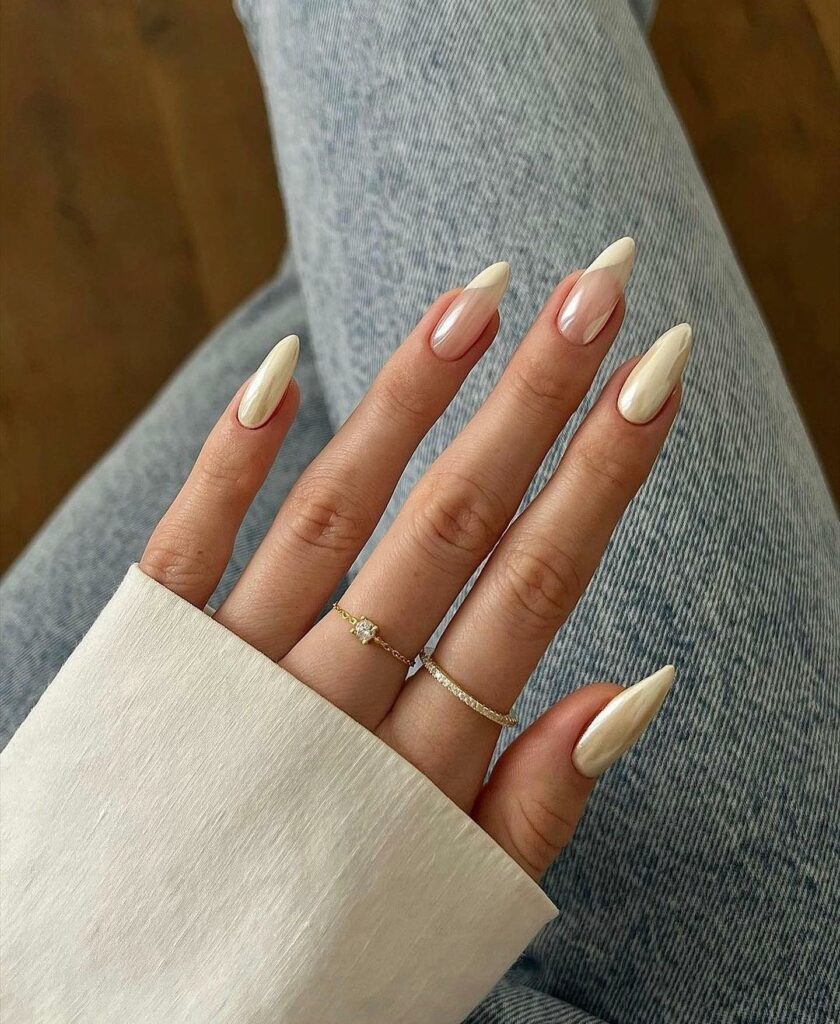 Finally, for those who love a subtle shimmer, go for a sheer vanilla chrome look. It pairs well with any outfit and gives you that timeless elegance we aspire to achieve.
Iridescent Hues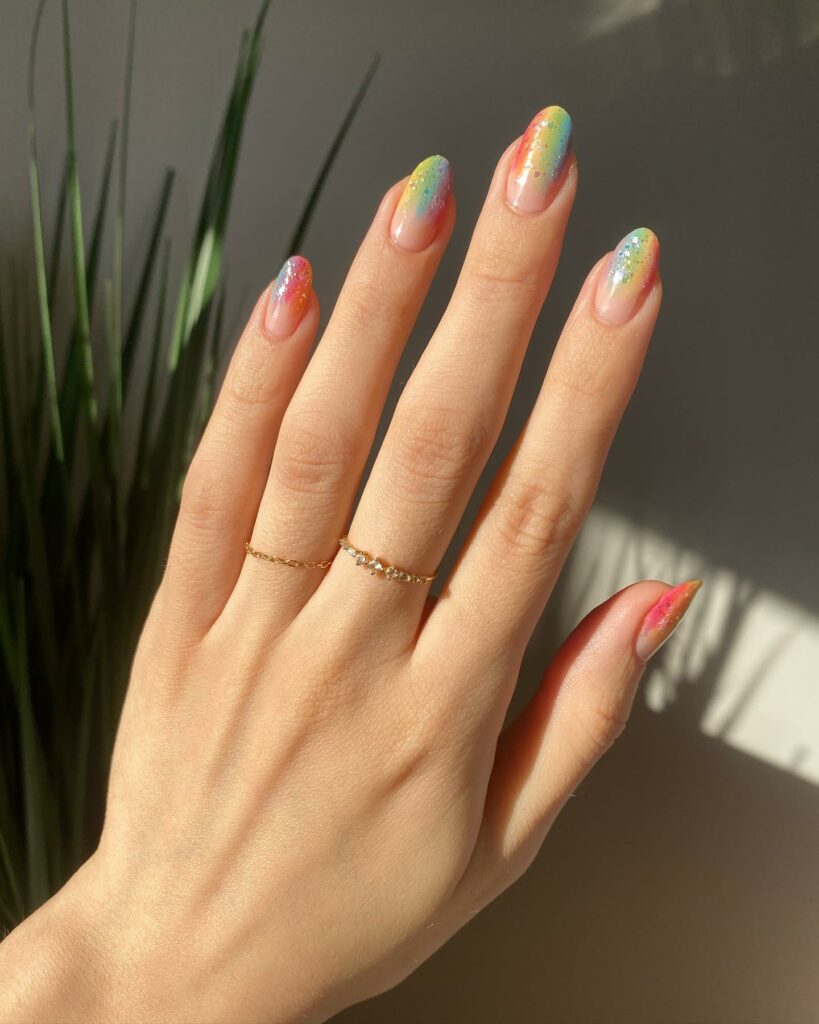 A hint of iridescent polish can add a magical touch to your nails. This whimsical design reflects different colors depending on the light, making your nails look enchanting yet sophisticated.
Checkerboard Chic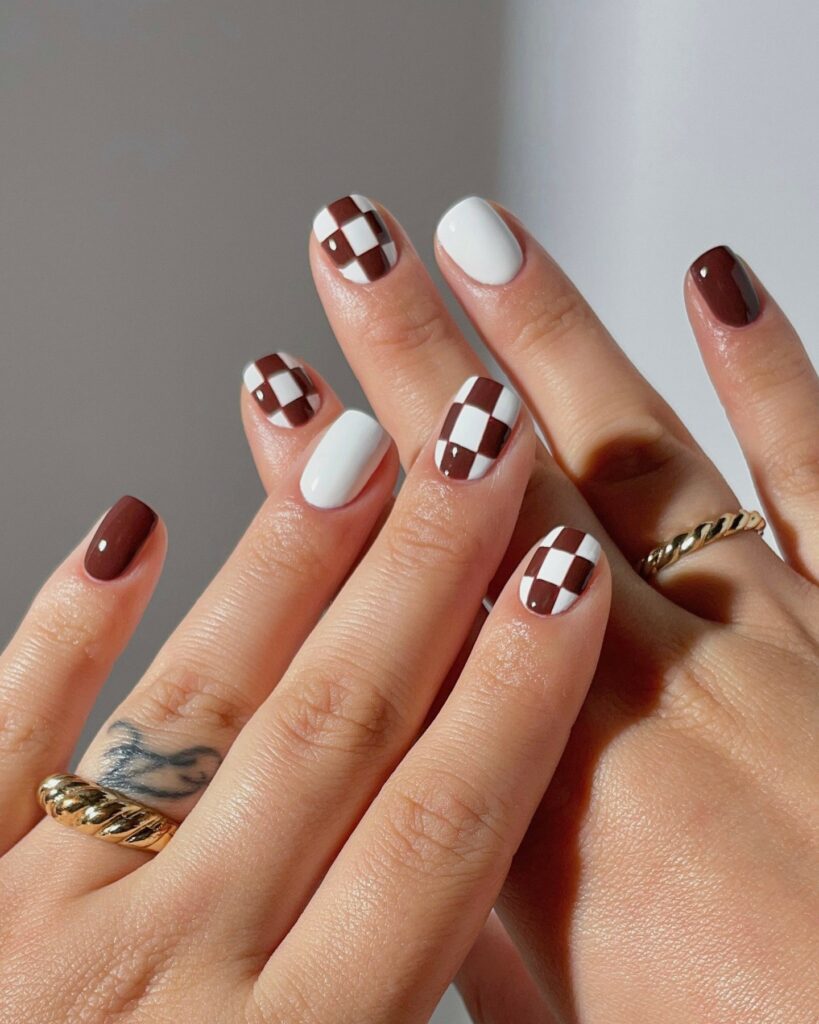 The checkerboard pattern is retro yet modern, perfect for the graduate who loves a bit of nostalgia. Opt for classic black and white, or switch it to colors matching your gown.
Moody Marbles
Marble designs exude a natural elegance and are incredibly eye-catching. Incorporate shades that match your graduation attire for a unified, polished look.
Metallic Stripes
Vertical or horizontal metallic stripes can add drama without overwhelming your look. They work great on short and long nails and bring that extra oomph to your handshake.
Cosmic Skies
For astronomy lovers or anyone who loves an excellent celestial theme, a cosmic sky nail design is dreamy and apt for the occasion. Think dark backgrounds with specks of 'stars' and maybe even a planet or two.
Floral Accents
Adorn your nails with delicate floral patterns for a romantic touch. Flowers always bring a youthful and cheerful vibe, whether tiny daisies or intricate roses.
Leopard Spots
Take a walk on the wild side with some leopard spots. They add an unexpected flair and look stylish in metallic or neutral tones.
Holographic Minimalism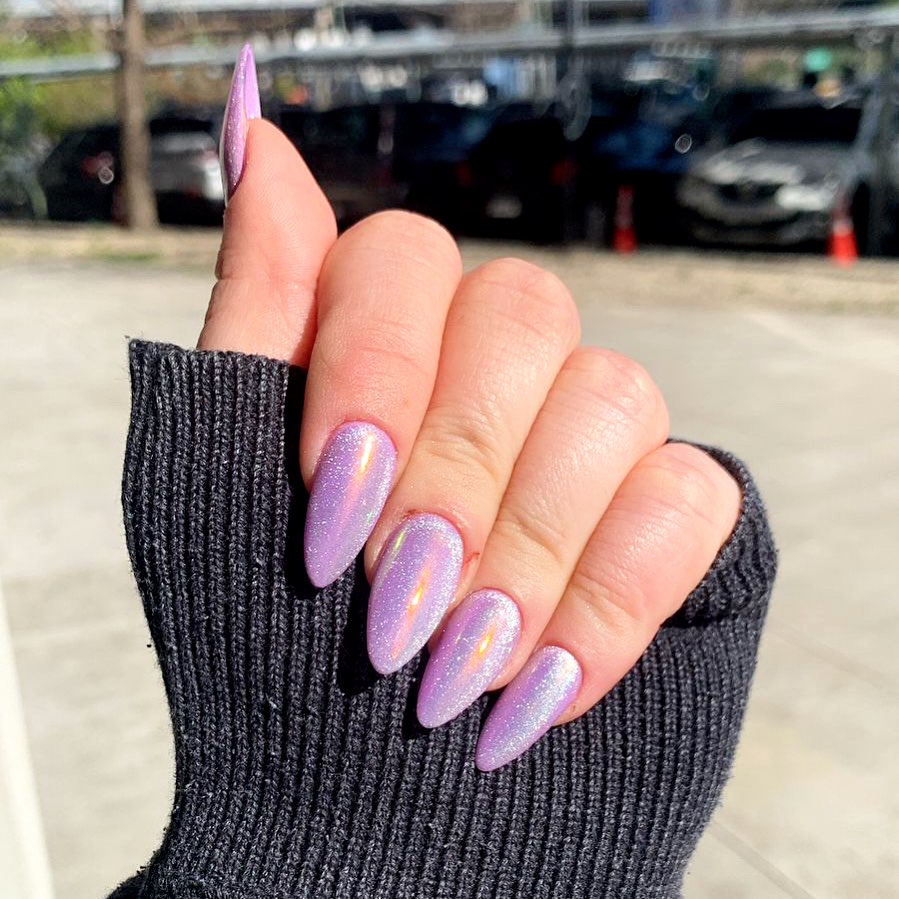 Holographic nails catch the light beautifully and don't have to be over the top. Holographic detailing on a neutral base can go a long way.
Vintage Lace
A lace pattern gives your nails a delicate, vintage touch. It's like your grandmother's precious lace tablecloth but modernized and right on your nails.
Tropical Vibes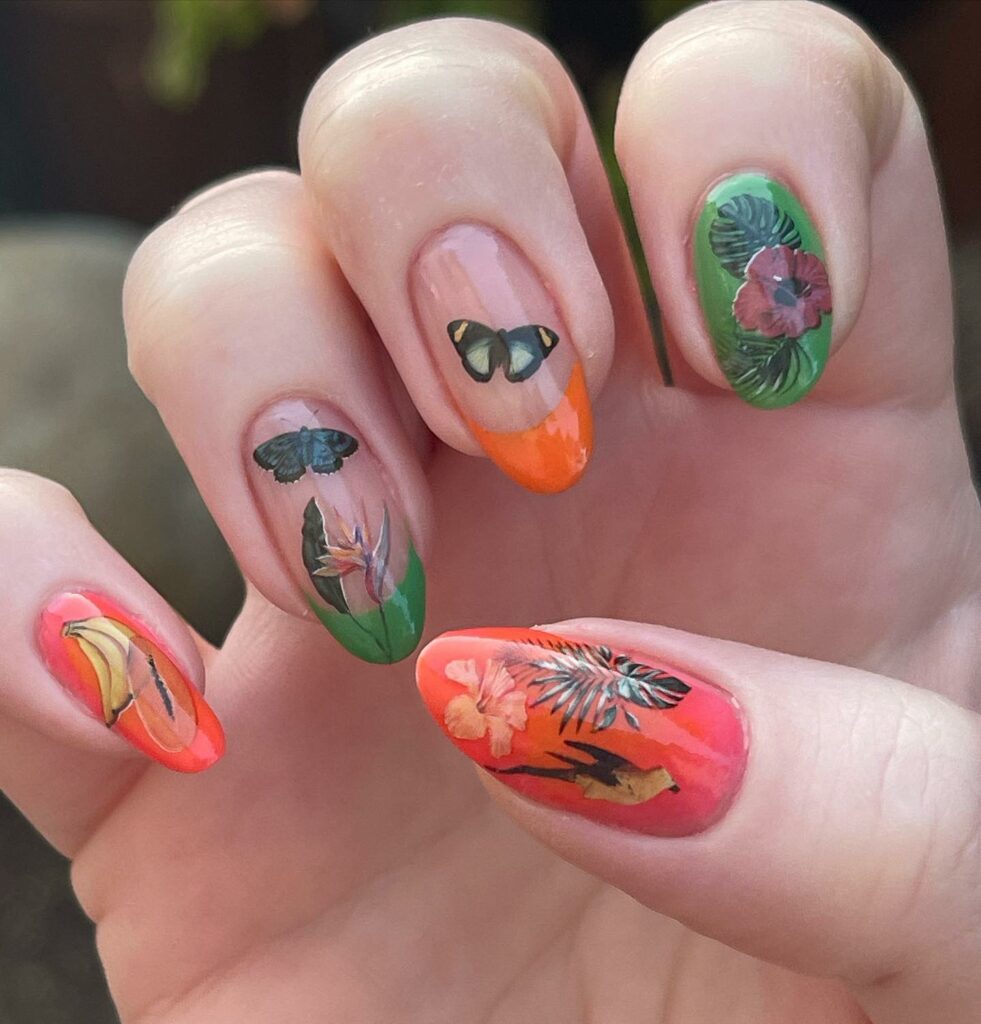 If you're already in the summer mindset, why not go for a tropical theme? Think palm leaves, sunsets, or even tiny flamingos for a fun, post-graduation vacation vibe.
Geometric Boldness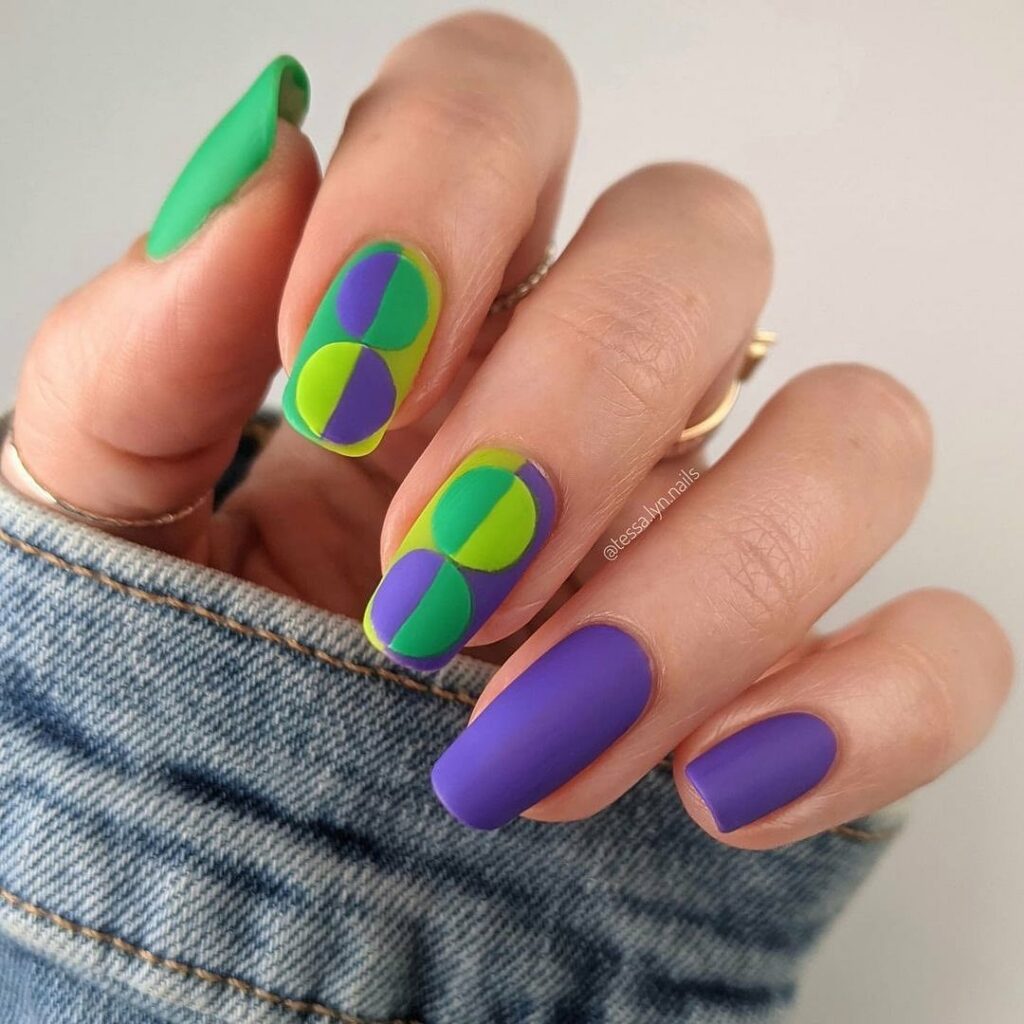 Geometric patterns can be as simple or complex as you like, and they always make a statement. Choose contrasting colors for maximum impact.
Understated Matte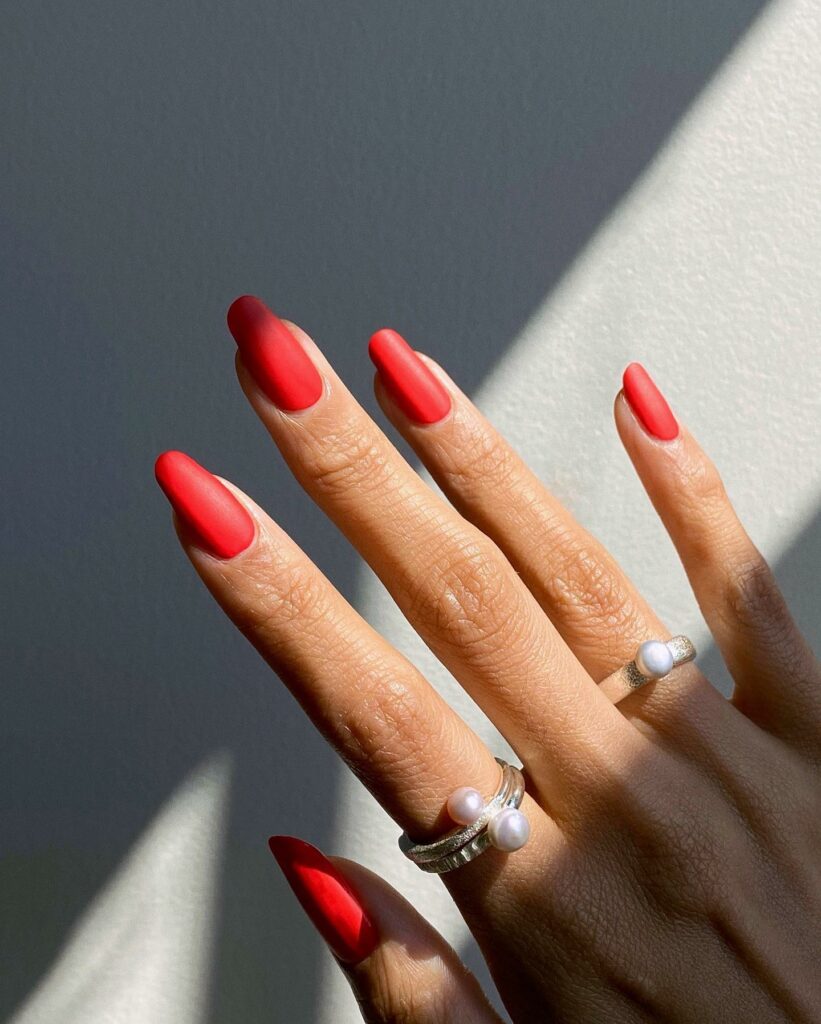 A matte finish in a bold color like navy, forest green, or deep red can be incredibly chic. It's a way to wear an intense color without the added shine, making it more subdued yet stylish.
Two-Tone Split
Why settle for one color when you can have two? The two-tone split design is edgy and modern, offering a unique twist to the monochromatic look.
Tribal Inspirations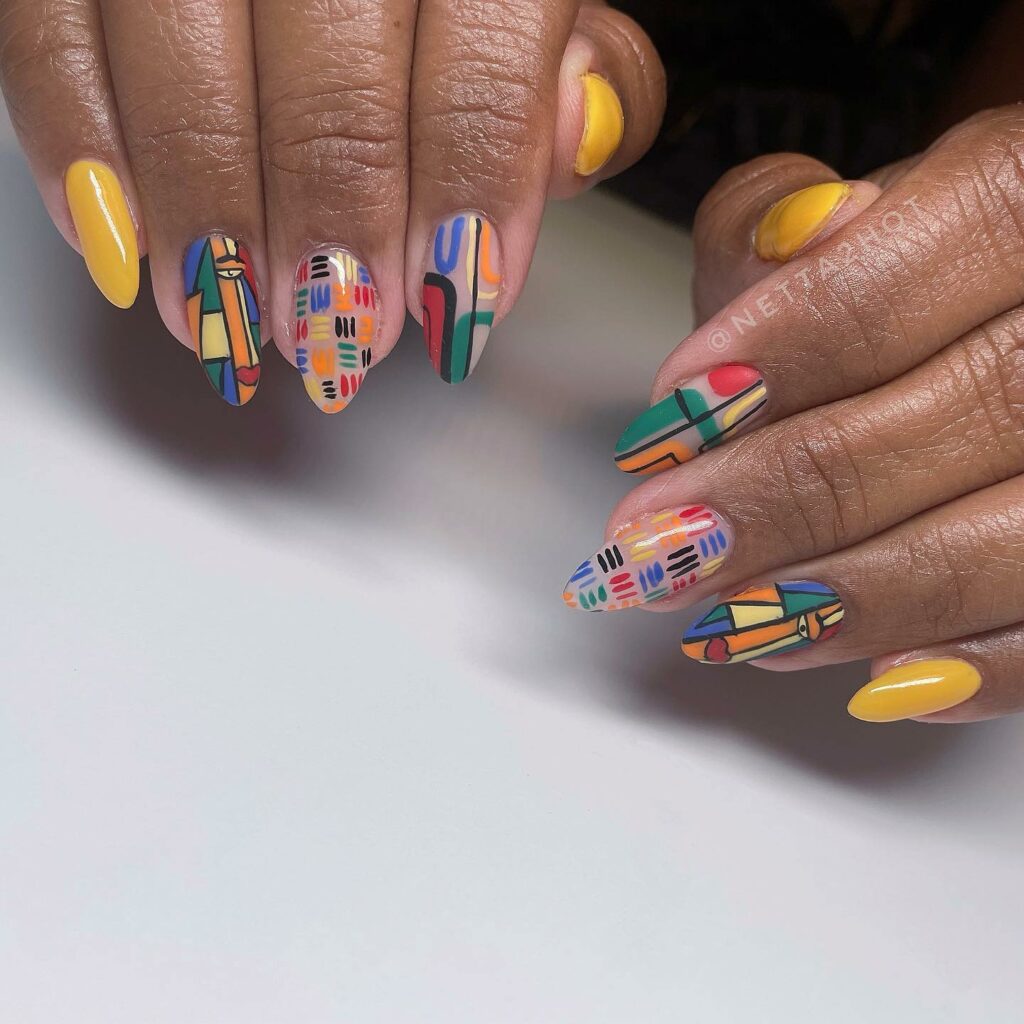 For a nail design with a bit more complexity, consider tribal patterns. These often incorporate multiple colors and intricate designs, making your nails an actual work of art.
All About Textures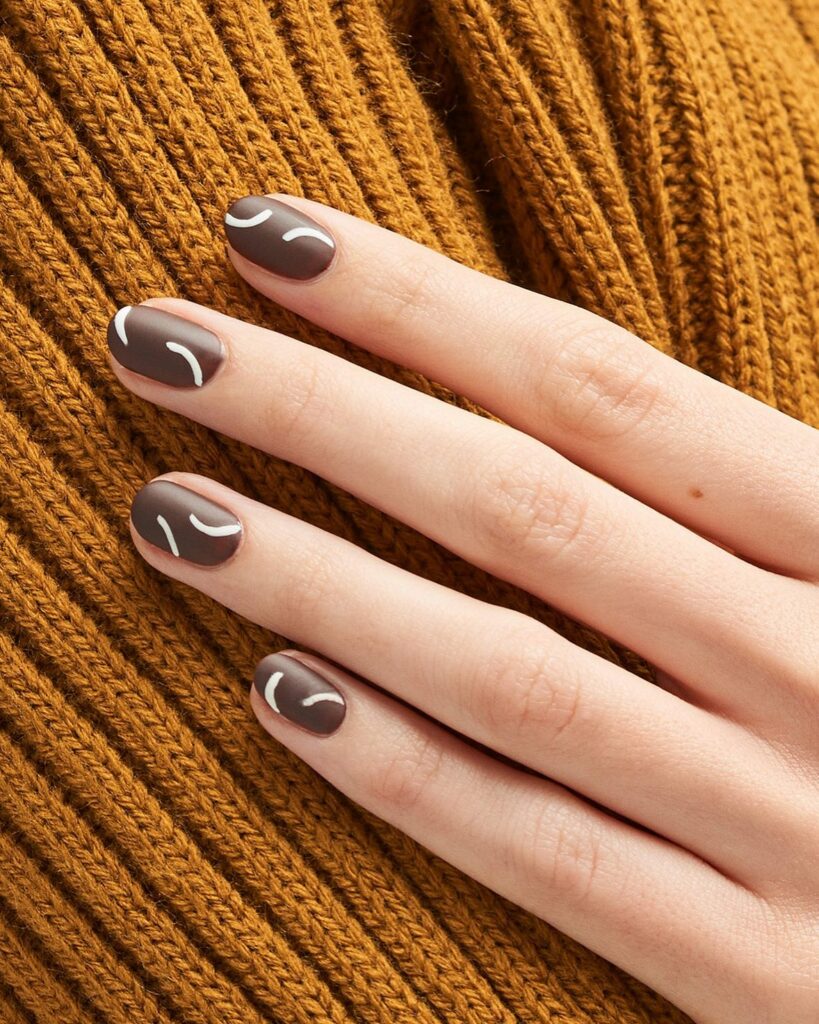 Play with textures like sand, velvet, or caviar beads for a tactile and visually appealing look. It's a conversation starter that adds a unique dimension to your style.
How Difficult Are These Nail Art Designs To Recreate at Home?
When it comes to recreating these nail art designs at home, the difficulty can vary significantly based on the complexity of the design and your level of expertise with nail art. Let's break it down:
Beginner-Friendly
Milky Swirls, Micro French, Neutral Ombré, and Two-Tone Split: These designs are straightforward and don't require intricate detailing. You'll mostly be using broad strokes and can often work with the brush included in your polish bottle. A simple piece of tape can help create a crisp line for the Micro French.
Moderate Difficulty
Gemstone French, Floral Accents, Vintage Lace, and Understated Matte: These designs require more finesse but are still manageable for those with a steady hand. You might need specialized nail art brushes or dotting tools for gemstone placement and floral details.
Requires Some Skill
Chic Black Ribbons, White Croc, Checkerboard Chic, and Geometric Boldness: These designs involve more complex patterns that might require practice or additional tools like striping tape or stencils. More time and patience will be necessary here.
Advanced Expertise Needed
Bejeweled Nude, Dream Come True, Holographic Minimalism, and Art Deco Details: These are for those with a fair amount of experience or are very ambitious. Specialized materials like gemstones, holographic topcoats, or rhinestones are often necessary. You'll need a steady hand and patience to get the detailing just right.
Expert Level
Cosmic Skies, Tropical Vibes, Leopard Spots, Tribal Inspirations, and All About Textures: These designs are intricate and may require multiple steps and specialized tools like tiny brushes or sponges. Techniques like gradient sponging, detailed hand-painting, or layering different textures might be involved, making these best suited for seasoned nail art enthusiasts.
Remember, even if a design seems complex, you can often try a beginner-friendly version. Many people find practicing on a piece of paper or a nail wheel helpful before attempting a design on their own nails. And if you're in doubt, there's no harm in seeking professional help for that flawless finish.
Still Looking for Inspiration, Then Check Out This Video
Conclusion
And there you have it, folks—45 jaw-dropping nail designs perfect for ringing your academic milestone! From the understated elegance of milky swirls and French tips to the adventurous allure of cosmic skies and tribal inspirations, there's something to satisfy every aesthetic craving. If you're DIY-ing, remember that practice makes perfect, so give yourself time to experiment. Don't shy away from booking a professional, either; this is a momentous occasion! Remember that intricate or textured designs might require more upkeep, so plan accordingly. With so many options at your fingertips (literally!), the only risk involved is the agony of choice. So, whether you're stepping up to receive a diploma or throwing your cap in the air, make sure your nails are as ready to celebrate as you are. Time to make that appointment or gather your nail art supplies; your graduation day glam awaits!
Feature image @vivianmariewong via Instagram
Last reviewed and updated on October 6, 2023