Hey there, beauties! So, you've probably been seeing Micro Braids all over your Instagram feed and wondered, "Should I take the plunge?" Well, you've clicked on the right post. Today we're diving deep into the world of Micro Braids — what they are, how to maintain them, and why they might just be the versatile hairdo you've been searching for.
Micro Braids are tiny, delicate braids that can be styled in myriad ways; think free-flowing or in a sophisticated updo. They work on various hair types but are especially popular in the natural hair community. A correctly done set can last up to 3 months, but trust me, you'll want to know the ins and outs of maintenance to keep your hair healthy.
If you're looking for a low-maintenance style as dynamic as yours, you can go right with Micro Braids. But fair warning, the braiding process can be time-consuming. My pro tip? Use that time to binge-watch your favorite show and ensure you go to a stylist who knows their stuff. Ready to dig in? Let's go!
The Magic Of Invisible Micro Braids
Ah, the allure of Invisible Micro Braids! I adore this style because it's so effortless to maintain. Here's the thing: only the roots are braided, which means less time in the stylist's chair. It's like getting the best of both worlds—you've got the sleekness of the braids at the root and your natural hair flowing free. My little hack? Choose synthetic hair close to your natural color. It blends so well that people think you've just got a killer perm.
The Effortless Chic: Micro Cornrows with Ponytail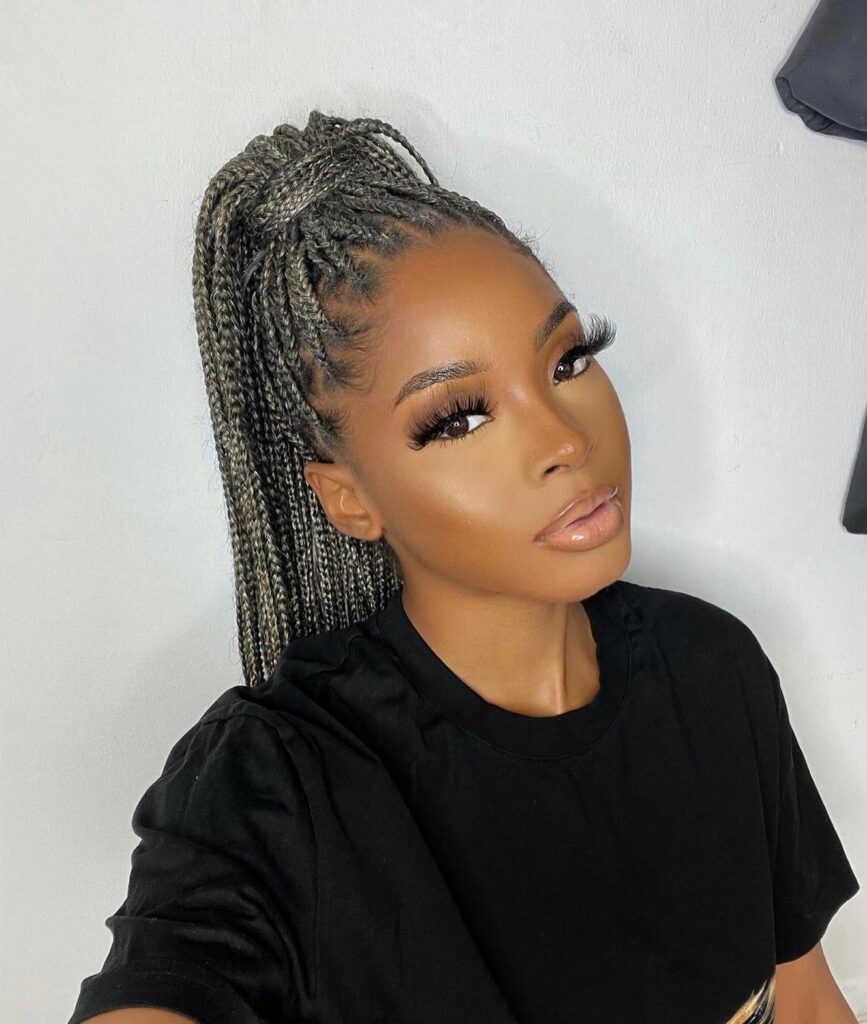 Calling all my go-getters! If you're always hustling and bustling, this one's got your name all over it. Micro Cornrows with a Ponytail is a surprise that requires little to no daily upkeep. This look will keep you stylish yet comfortable through those endless Zoom meetings.
Pop of Personality: Micro Braids with Color
Why settle for the ordinary when you can make it extraordinary, right? Adding a splash of your favorite color can take your braids from everyday to runway. A little color can go a long way in setting you apart from the crowd. My go-to is a bold purple or electric blue—what's yours?
Turn Heads with Blonde Micro Braids
Let's talk about how absolutely breathtaking Blonde Micro Braids are. The blend of blonde extensions with your natural hair color frames your face like a dream. This style is a must-try for those who want to keep all eyes on them.
The Royal Treatment: Micro Braids Half Updo
This look screams elegance and sophistication. From the cute top knot to the intricate design on the scalp, it's a style fit for a queen—literally. I rocked this look at a friend's wedding last summer, and let me tell you, compliments were flying left and right.
Glam It Up with Long Micro Braids
If you're all about that diva life, Long Micro Braids are where it's at. The length, layers, and curls combine to create a show-stopping look. My recommendation? Use a good leave-in conditioner to keep those long braids looking luscious.
The Minimalist's Dream: Micro Knotless Braids
For those who love the 'less is more' aesthetic, Knotless Micro Braids are your hair's best friend. The simplicity yet elegance of this style is just unbeatable. It's like the no-makeup makeup look but for your hair.
Be A Trendsetter: Micro Box Braids
Micro Box Braids should be on your radar if you're looking for something ultra-chic. Pair these with tight spiral curls at the ends, and you've got a feminine and fierce look.
Spotlight Stealer: Blonde Knotless Micro Braids
Switch things up by adding some blonde strands to your knotless braids. The contrast is incredibly eye-catching and adds a multidimensional flair to your look.
Versatile Vibes: Micro Braids Half Up-Half Down Style
After you've sat for what feels like a lifetime getting your Micro Braids installed, you deserve options, honey. A half-up-half-down style is an effortless yet captivating choice that lets you flaunt your new braids.
Curls for Days: Micro Braids Curly Hair
The fusion of curly tresses with Micro Braids is a killer combo. It's like adding a designer handbag to a chic outfit—it takes it to the next level.
Less Is More: Short Micro Braids
Who says you need length to make a statement? Short Micro Braids are both elegant and practical. Best part? You can achieve this look without adding any synthetic pieces.
Sizzle In Ombre: Micro Braids With Ombre And Curly Ends
If you want to turn heads, consider adding an ombre touch to your Micro Braids. And if those ends are curly? You'll look absolutely breathtaking.
The Showstopper: Micro Braids In A Messy Bun
Planning to attend a wedding or formal event? Sculpt those Micro Braids into a messy bun. It's a showstopper look that blends romance and elegance.
Get Cultural: Tribal Micro Braids
Also known as Fulani braids, this style exudes youthful, African-inspired vibes. Adorn your braids with beads, coins, or cowries to capture that Cleopatra flair.
Spicing Up Short Hair With Vivid Micro Braids
Who says short hair can't make a statement? Trust me, a bold shade of red combined with an angled bob cut is an absolute showstopper. I once rocked this look to a summer party, and the compliments were endless. If you're daring enough, this is your green light to turn heads and wow the crowd!
The Classic Elegance of Micro Cornrow Braids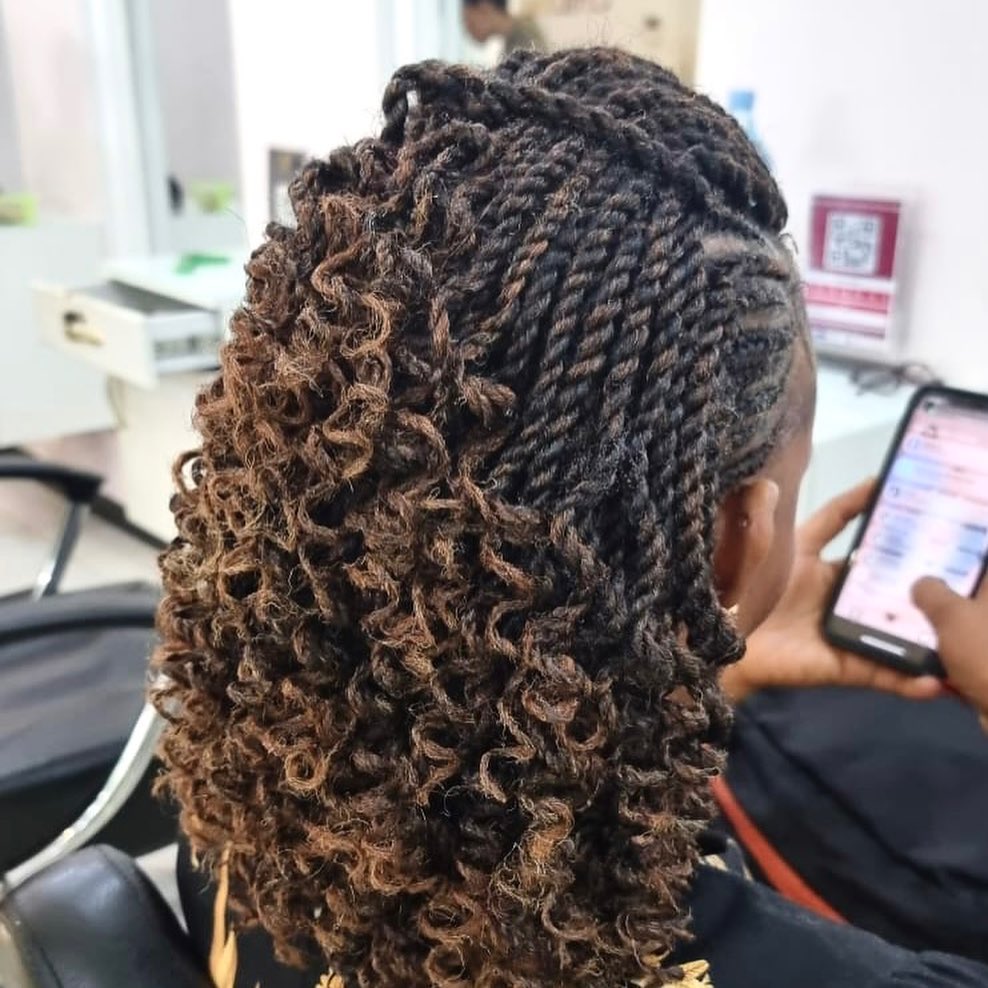 There's something timelessly beautiful about Micro Cornrow Braids. The elegance is in the simplicity; get those ultra-slim rows of braids right, and you're all set. It's your go-to when you want to be effortlessly stylish. This is a look I often wear to Sunday brunches or casual coffee dates, and it never fails to impress.
Mix it Up: Micro Braids and Waves
Prepare for a wave of compliments when you combine Micro Braids and Waves. Seriously, the versatility of micro braids means your styling options are endless. Whether going to a wedding or just lounging at home, this look covers you. It's all about that natural yet stunning vibe!
Please Put It In A Bun: Micro Braids Bun Hairstyle
Looking for an updo that will last all day and night? Wrap those micro braids into a bun. You might not need hairpins or clasps; tuck the ends securely. I wore this hairstyle to a friend's wedding, and not a single braid unraveled—even after hours on the dance floor!
he Perennial Favorite: Straight Micro Box Braids
These are your clean, precise, and utterly chic Micro Box Braids. The symmetry alone can captivate anyone's attention. Who doesn't love a sleek, organized look? It's a style that's been in vogue for years, and for a good reason: it's absolutely fabulous.
Turn up the Glam: Micro Braids and High Ponytail
Nothing screams class like combining scalp braids with a high, curly ponytail. Add some blonde synthetic hair for that extra pop, and you'll be the talk of the town. It's my top pick for any glamorous event—from galas to fancy dinner parties.
For the Indecisive: Freestyle Micro Braids
Can't choose just one style? Why not mix and match? Combine cornrows, single braids, and curls for a genuinely boho-chic look. Trust me, this is your ultimate style inspo if you're looking to break the mold and stand out in the best way possible.
Dial Up the Drama: Micro Braids with Large Curls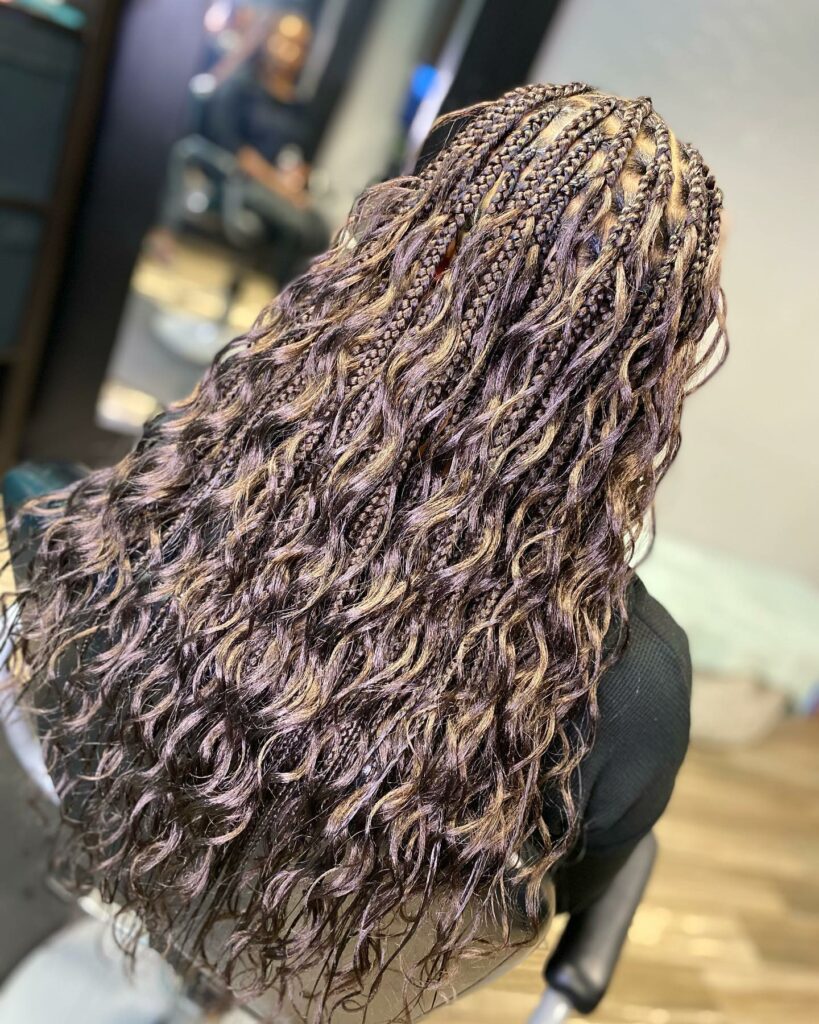 Why play it safe when you can take it to the next level? Add large, dramatic curls to your micro braids for a look bound to make a statement. The quirky layering adds a unique touch I can't get enough of!
Romantic Boho Vibes: Boho Micro Box Braids
These braids give you a romantic yet sultry look that is perfect for date night or a weekend getaway. If you're short on time, don't worry—crochet hair versions of this style look just as fabulous. So, you get the look without the hours-long commitment.
Timeless Beauty: Straight Knotless Braids
For a look that's both modern and classic, you can't go wrong with Straight Knotless Braids. These sleek and beautiful braids don't need bells and whistles of color or curls to stand out. Whenever I want a style that radiates sophistication, this is my go-to.
Rock Those Curly-Ended Micro Braids
If you're craving a dose of edgy glam, how about some long micro braids with curly ends? It's a combo that packs a punch and adds that extra pizzazz to your look. I sported this style on my birthday last year; let me tell you, it was a total hit. This style is your ticket to a 'cool town.'
The Sweet Spot: Medium-Length Box Braids
Not too short, not too long—medium-length box braids are the Goldilocks of braid lengths. They're super versatile and ideal if you like to switch up your styles. Oh, and pro tip: invest in some quality synthetic hair. You'll thank me when your braids look fresh and fab for weeks!
From Workday To Weekend: The Loose High Bun
Picture this: It's Friday, and you've got after-work drinks that could become a weekend get-together. What to do with your hair? Easy peasy. Style those micro braids into a loose, high bun. It's a glam yet laid-back look that'll have everyone doing double-takes. Trust me, I've done it, and it's a crowd-pleaser!
Play with Colors: Knotless Braids Edition
If you're scrolling through social media lusting after the latest braid styles, it's time to join the party! One of my favorite ways to shake things up is by mixing in different colors—think warm browns, honey blondes, or even a splash of pink if you're feeling adventurous.
Go Regal With Black And Blonde Curly Micro Braids
Why settle for one color when you can have two? Mixing black and blonde gives a captivating, almost regal vibe. Just imagine your braids framing your face like a work of art. I tried this last fall, and the photos were Insta-worthy, to say the least.
Express Yourself: Box Micro Braids
Looking for a new protective style that screams 'YOU'? Give Box Micro Braids a whirl. These tiny plaits can be customized to your heart's content. And if you want to take it up a notch, add some baby hair for a dreamy, soft finish.
Time-Saver Alert: Crochet Micro Braids
Let's be honest: sitting in a salon chair for hours can be a drag. If you're itching for a new look but short on time, crochet micro braids are your new BFF. Using a latch hook, you'll get those stunning micro braids in a fraction of the time. I swear by this method when I'm swamped but need a hair refresh.
Throw it Back with Threaded Micro Braids
Feeling nostalgic? Threaded micro braids are your gateway to '90s fabulousness. They're tiny and intricate, and yes, they do take some time to install—but they are worth it. Style them any way you like, and you'll rock that effortlessly calm, on-trend look right now.
The More, The Merrier: Long Micro Braids
Just something about long hair lets you flex your styling muscles. High ponytail today, cute bun with loose side pieces tomorrow—the sky's the limit. If you love variety, this length is for you. You won't be able to resist flipping your hair back and forth!
The Short and Chic of Micro Braids
Think you can't pull off micro braids with short hair? Think again! The beauty of short braids lies in their ease and comfort—they don't weigh you down or stress your scalp. I usually opt for this style when I want something light and manageable but still ultra-chic. Style them into a bob or something similar, and you'll look effortlessly stylish.
7 Steps To Micro Braids
Consultation – First off, you'll want to schedule a consultation with your hairstylist to discuss the look you're going for. This is the perfect time to discuss the length, color, and type of hair to be used.
Prepping Your Natural Hair – Before your appointment, you'll want to ensure your natural hair is tip-top. Wash, condition, and deep-condition your hair. Trust me, starting off with a clean, hydrated base is critical.
Choosing Your Hair – This is where your personal style really shines. You can go for synthetic or human hair extensions, and the choices in texture and color are virtually endless. I'm partial to high-quality synthetic or human hair because quality makes all the difference.
Sectioning and Parting – Now, the real work begins. Your stylist will start by sectioning your natural hair. Those sections will get even smaller, down to the individual micro braids. The smaller the section, the finer the braid.
Braiding – Your stylist will take a small section of your natural hair and add the extension hair. Then, they'll braid the two together right down to the ends. This process is repeated—over and over—until your whole Head is a gorgeous sea of micro braids. Heads up, this could take several hours, so bring some snacks, a good playlist, or a book to keep you entertained!
Sealing the Ends – The last step is to seal the ends of the braids. Your stylist may use hot water to set synthetic hair or even a unique adhesive for human hair extensions.
Aftercare – After your braids are installed, the upkeep is pretty straightforward. Keep your scalp moisturized, and be gentle when styling to minimize tension on your natural hair. Regular touch-ups are a must to keep your micro braids looking fresh.
And there you have it! It's a time-consuming process for sure, but the results? Absolutely worth it.So treat yourself to a transformation and let those micro braids make a mega impact!
My Top Tips For Maintaining Micro Braids & Keeping Your Hair Healthy
Keep Your Scalp Clean and Moisturized – First off, you need to keep your scalp clean and hydrated. Choose a gentle shampoo and conditioner that won't leave residue behind. Some people swear by diluted shampoo or even co-washing (that's conditioner-only washing, for those who might be new to the term). Follow up with a light, non-greasy scalp oil. I'm a big fan of jojoba or argan oil—both are super nourishing but won't weigh your hair down.
Avoid Excessive Tension – Too much pulling and tugging can lead to breakage or even hair loss. We all want our braids to be snatched, but not at the expense of our hairline, right? So, be gentle when styling your braids, and avoid super tight ponytails or updos.
Mind the Edges – Ah, the ever-so-delicate edges. They need extra TLC, so consider using a soft bristle brush and a little edge control gel to keep them in place without straining them.
Deep Condition Regularly – Even with braids, you should deep condition your hair every two to three weeks. Just slather your favorite deep conditioner, pop on a shower cap, and let it sit. Rinse carefully so you don't disturb your braids too much.
Refresh the Braids – After a few weeks, your braids might start to look a little… let's call it "lived-in." No worries, though! A touch-up is all you need. This usually involves re-braiding the edges and any other loose strands. Trust me, this small step can change how your style holds up over time.
Nighttime Care is Key – Remember to underestimate the power of a good nighttime routine. Wrap your braids in a silk or satin scarf or a silk pillowcase. This reduces friction, which can lead to frizz and breakage.
When in Doubt, Consult Your Stylist – If you run into any issues, don't hesitate to consult your stylist. They can provide advice tailored to your hair's specific needs and offer in-salon treatments that can help extend the life of your braids.
10 Other Styles That Can Be Created With Micro Braids
Side-Swept Glam – Who says braids can't be glam? Try sweeping your micro braids to one side and secure them with a chic hair accessory. It's like a red carpet look, but you're the star!
Half-Up, Half-Down – This is a classic that never gets old. Gather the top half of your braids and secure them in a ponytail or a bun. It's a super easy, five-minute hairstyle that you can rock anywhere.
Micro-Braid Crown – Embrace your inner royalty by twisting your micro braids into a crown shape at the top of your Head. It's ideal for formal events or, you know, just doing laundry with flair.
Fishtail Braid – Merge a bunch of your micro braids into a single fishtail braid for a laid-back yet elegant look. This is one of my go-to's for brunch with the girls.
Space Buns – You read that right: space buns are not just for festivals. Make two high buns on either side of your Head for a playful, youthful look. Extra points if you add some hair rings or other accessories!
Low Chignon – For those days when you mean business (or want to feel like a boss), pull your micro braids back into a low chignon at the nape of your neck. It's as sophisticated as it sounds!
Beachy Waves – Guess what? You can actually curl your micro braids for a beachy, wavy look. Just make sure you use low heat to preserve the integrity of the braids.
Micro Braids + Head Scarf – Add a pop of color and style by incorporating a head scarf. This can cover the whole Head or be used as a headband to keep your braids out of your face.
Ponytail with a Twist – A high ponytail is a classic, but give it a twist—literally. Twist sections of your ponytail and secure the end for a simple and stylish look.
Layered Bob – If you've got shorter micro braids, a layered bob can be super cute and frame your face wonderfully. It's edgy and chic without being over the top.
Still Looking for Inspiration, Then Check Out This Video
Conclusion
Alright, beauties, that's a wrap on the magical world of micro braids! From flirty curls to the '90s throwback threaded look, a micro braid style is perfect for everyone. My top tip? Don't skimp on quality hair—especially if you're going for synthetic. It really does make a world of difference. If you're short on time, the crochet method is a game-changer; if you've got hours to spare, go all out with those intricate designs. And don't forget, color is your friend—mix it up for a look that's uniquely you! Now, what are you waiting for? Make that salon appointment and get ready to turn heads wherever you go. Until next time, keep slaying!
Feature Image Photo By braidsbythandekile on Instagram
Last reviewed and updated on October 6, 2023