Hi and welcome back to the blog! Today, we're diving into one of my absolute favorite hair trends of the year—the Long Wolf Cut. This versatile, low-maintenance style is the perfect middle ground between a shag and a classic layered cut, giving you that effortlessly chic look we're all after. Trust me, it's more than just a passing fad; it's a game-changer for anyone looking to shake up their look without going too extreme.
In this post, you'll learn exactly what sets the Long Wolf Cut apart, whether it fits your face shape and hair type, and some killer styling tips to make it your own. As someone who's been in the beauty and hair game for years, my advice? Be bold and bring pictures to your stylist to get that perfect, customized look. Let's get into it!
The Elvis-Approved Long Shaggy Wolf Cut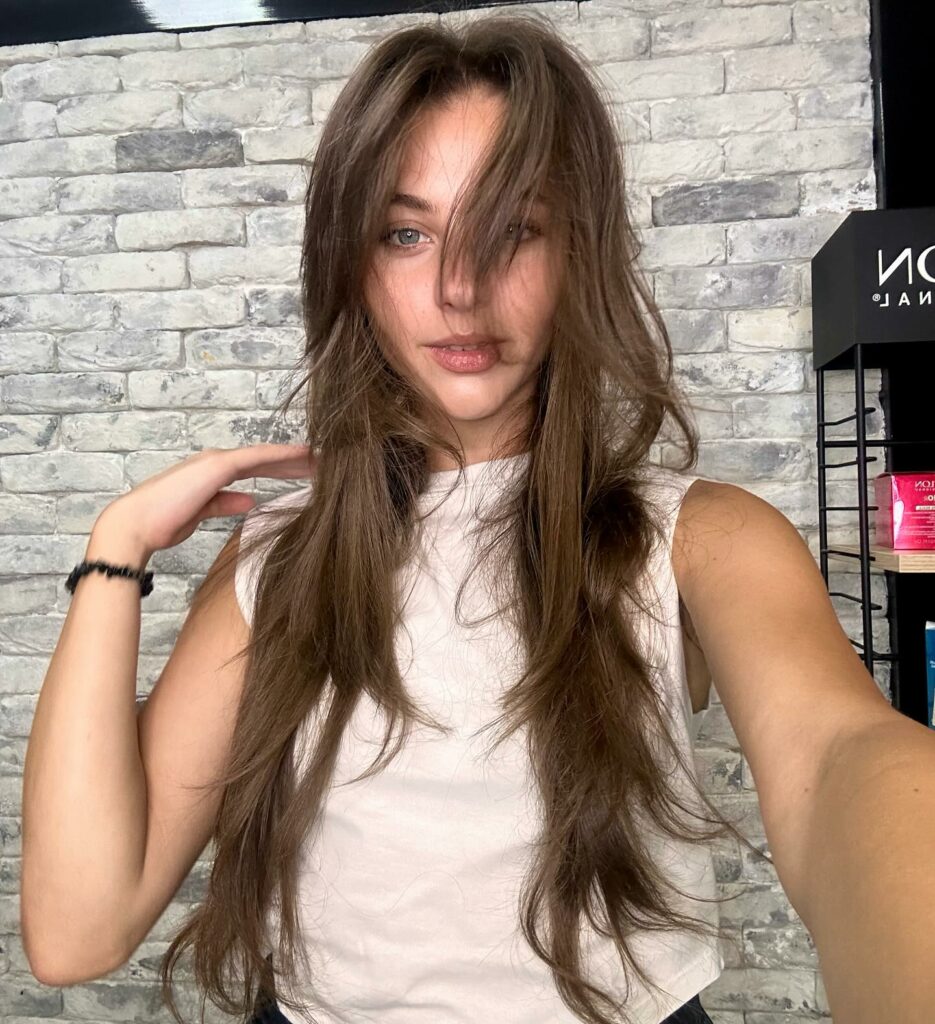 If the King of Rock and Roll were to pick a wolf cut, it would be this one! Shaggy bangs, textured layers, and a vibe that screams "wild and free" — that's the Long Shaggy Wolf Cut for you. Whether your hair is thick, thin, curly, or wavy, this look is a universal crowd-pleaser. The first time I tried it, I felt like I'd stepped straight out of a woodland fairytale, but in a rock star way.
Long Wolf Cut With Curtain Bangs: A Love Story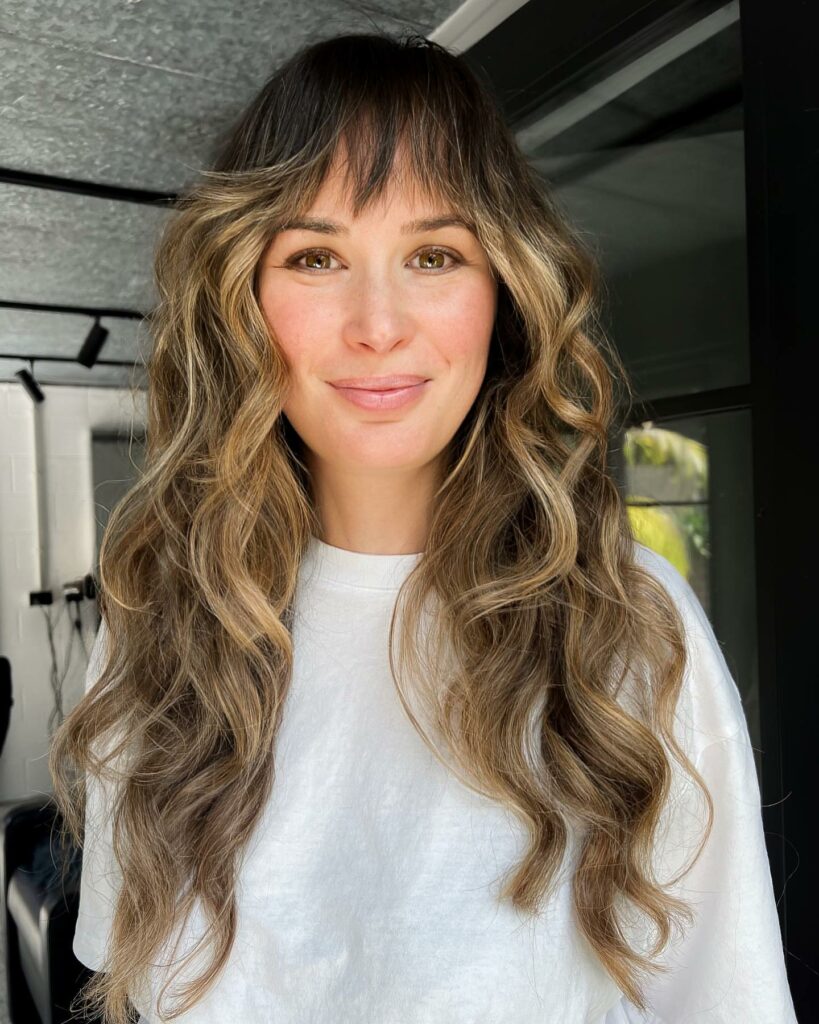 The curtain bangs and the wolf cut are like PB&J—meant to be together. Soft layers frame your face, and those bangs make your eyes pop like champagne on New Year's Eve. It's subtly sexy and exquisite. One of my go-to tips? Use a light argan oil or serum to give those layers extra shine.
Va-Va-Voom: The Voluminous Wolf Haircut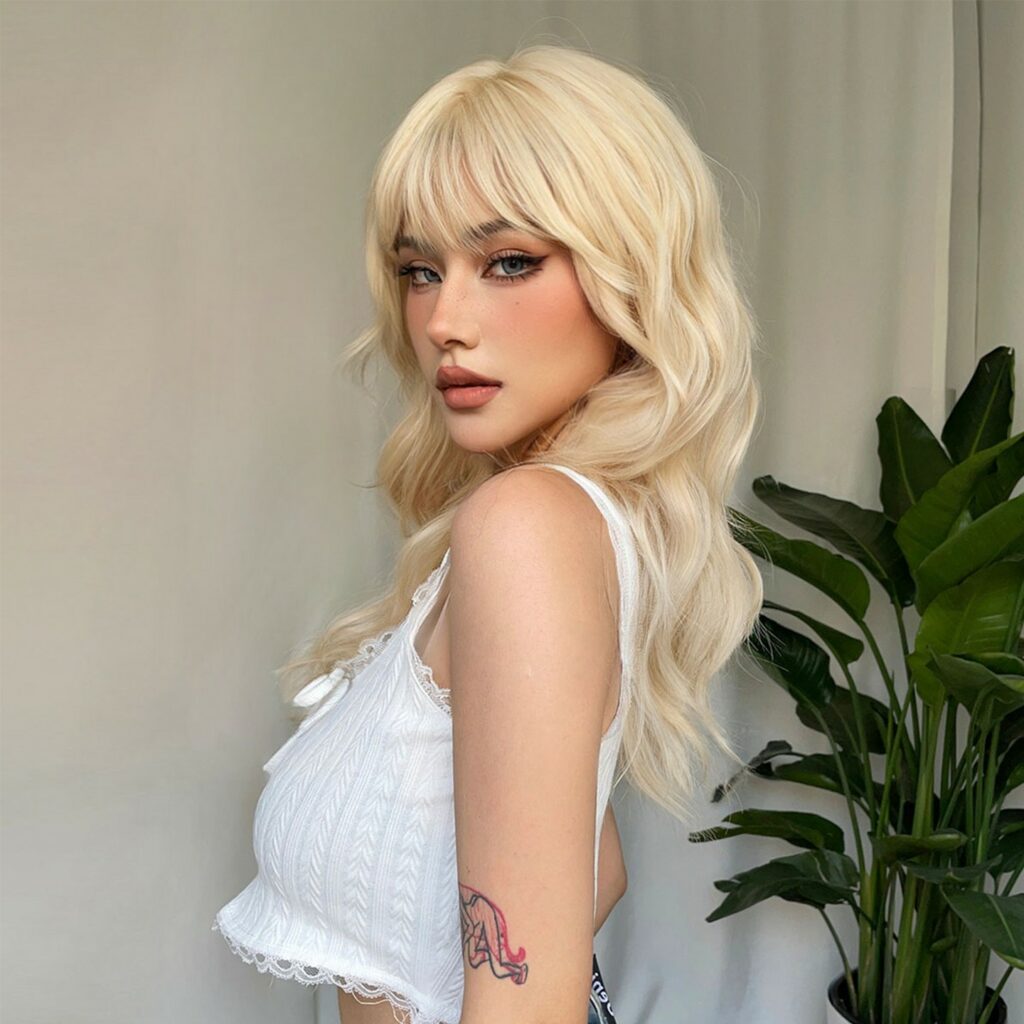 Ever dreamt of Brigitte Bardot-worthy hair? Well, you're in luck! This voluminous, layered beauty is your ticket to A-list glam. And let me tell you, the right tools make all the difference. Invest in an excellent volumizing spray and a round brush; they're your new best friends.
Unleash the Beast: Long Heavily Layered Wolf Cut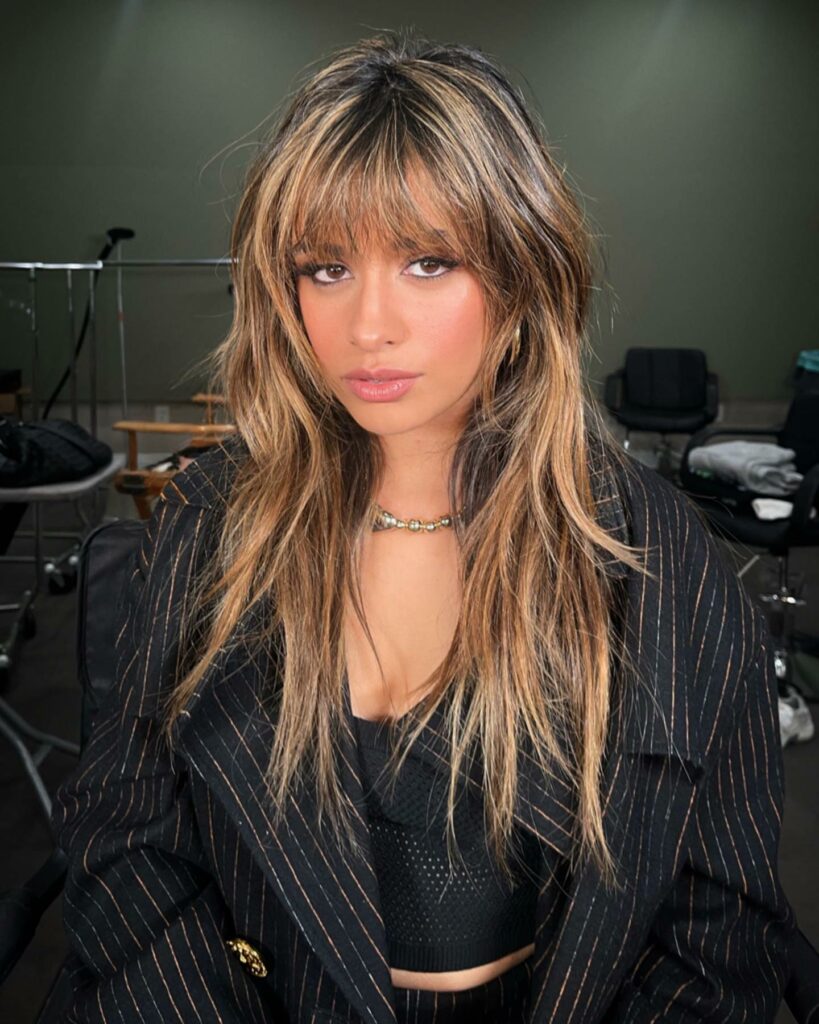 Want to play up your features? Then go for choppy bangs. They're a style statement and a highlight reel for your cheekbones and jawline. This cut is edgy and voluminous, incredibly, if you're blessed with long, thick locks.
Embrace Your Curls: Curly Wolf Cut With Blunt Bangs
Curly girls, listen up! This wolf cut pairs superbly with your natural texture. Inspired by the modern mullet, this style makes those curls stand out in all their glory. And yes, it's as comfortable as it is chic.
Warrior Princess Alert: Shoulder Length Cut with Shaggy Layers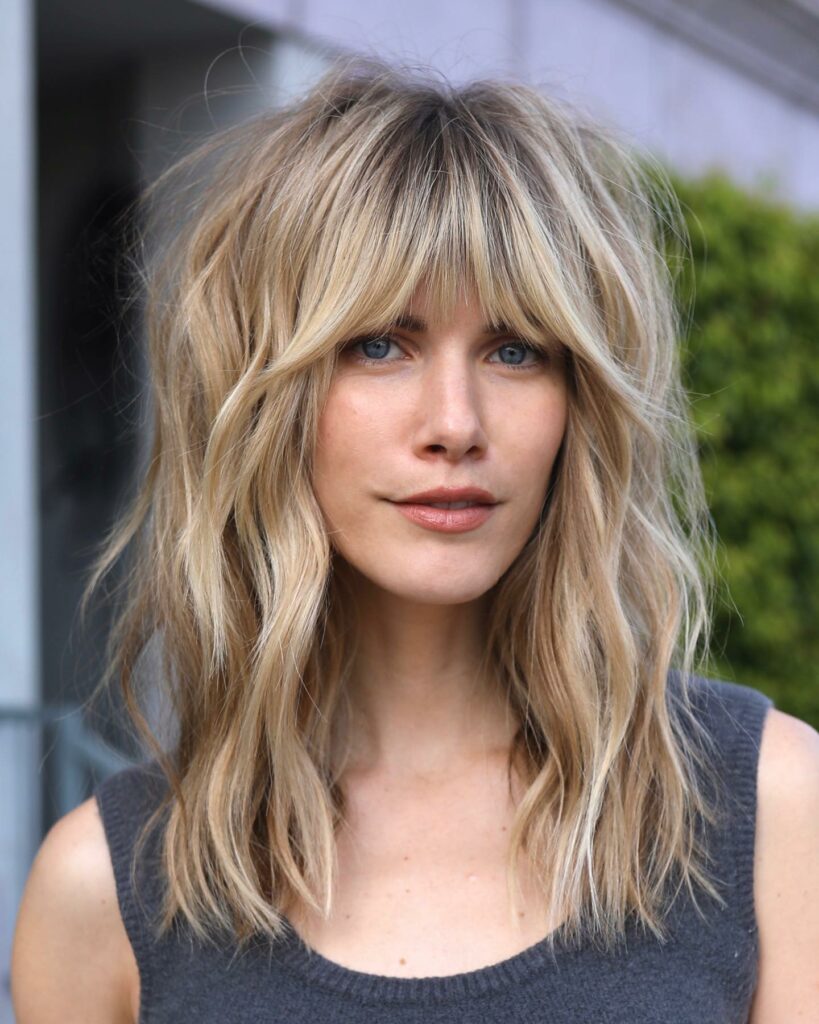 Remember Xena, the Warrior Princess? Imagine her with a modern shag. Whether your hair is straight or curly, this cut has "award-winning" written all over it. For added allure, try using a texturizing or sea salt spray for those beachy vibes.
The Farrah Fawcett-Inspired Curly Wolf Cut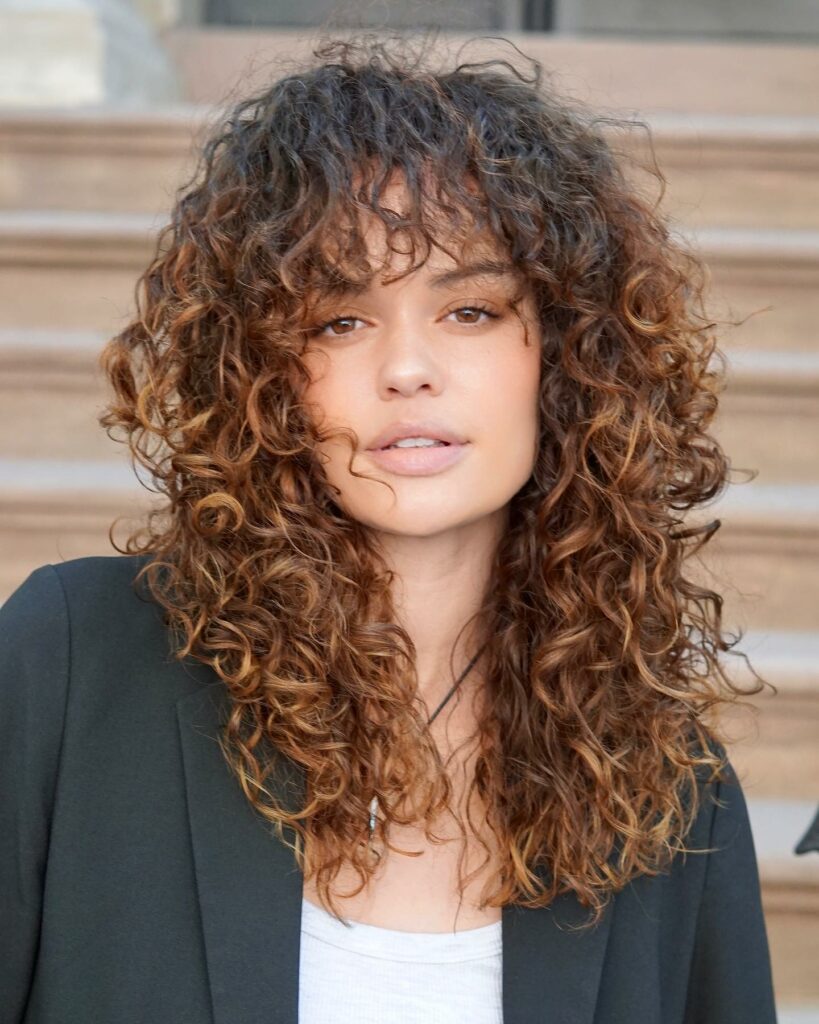 Think "Charlie's Angels," but make it modern. This long, curly wolf cut is divine, and it pairs beautifully with balayage or highlights. For a personal touch, use a wide-tooth comb to separate those curls and give them a more natural look.
Low-Maintenance Chic: Long Wolf Cut with Wispy Layers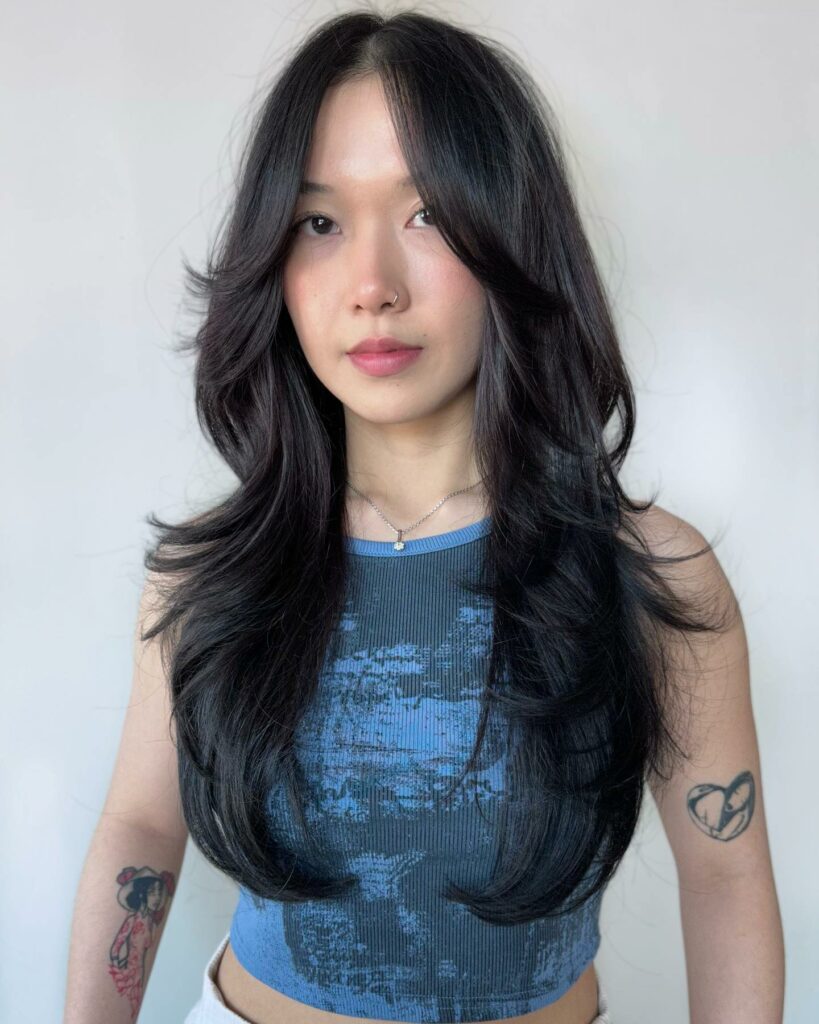 If you're all about that "woke-up-like-this" vibe, this cut is your dream come true. Wispy layers offer a breezy, effortless style, giving you more time to hit that snooze button.
The Face-Framing Marvel: Tapered Wolf Cut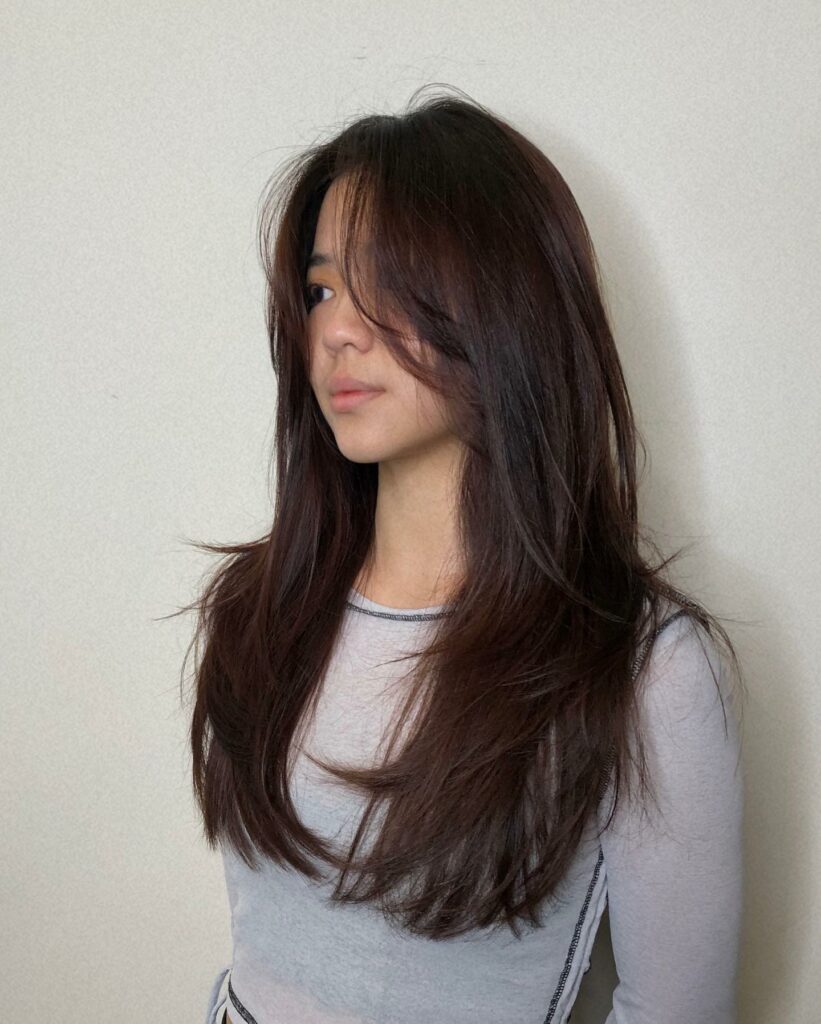 A tapered wolf cut is your go-to if you want to frame your face. This cut covers you whether you're into heavily layered looks or short, choppy layers. It's like contouring but without all the makeup.
Texture Galore: Shaggy Wolf Cut with Swooping Bangs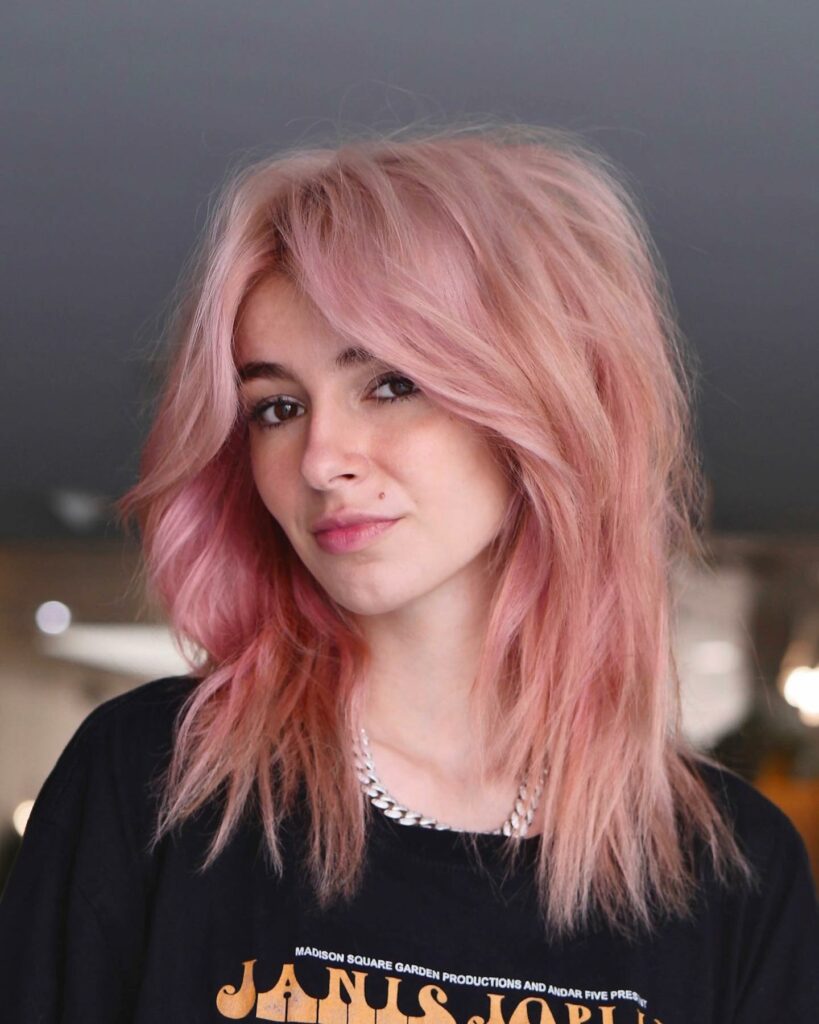 One word: texture. It's the spice of life, or at least the spice of a great hairstyle. A heat protectant and an excellent texturizing spray will elevate this look to the next level.
Timeless Elegance: Volumized Wolf Cut with Side Bangs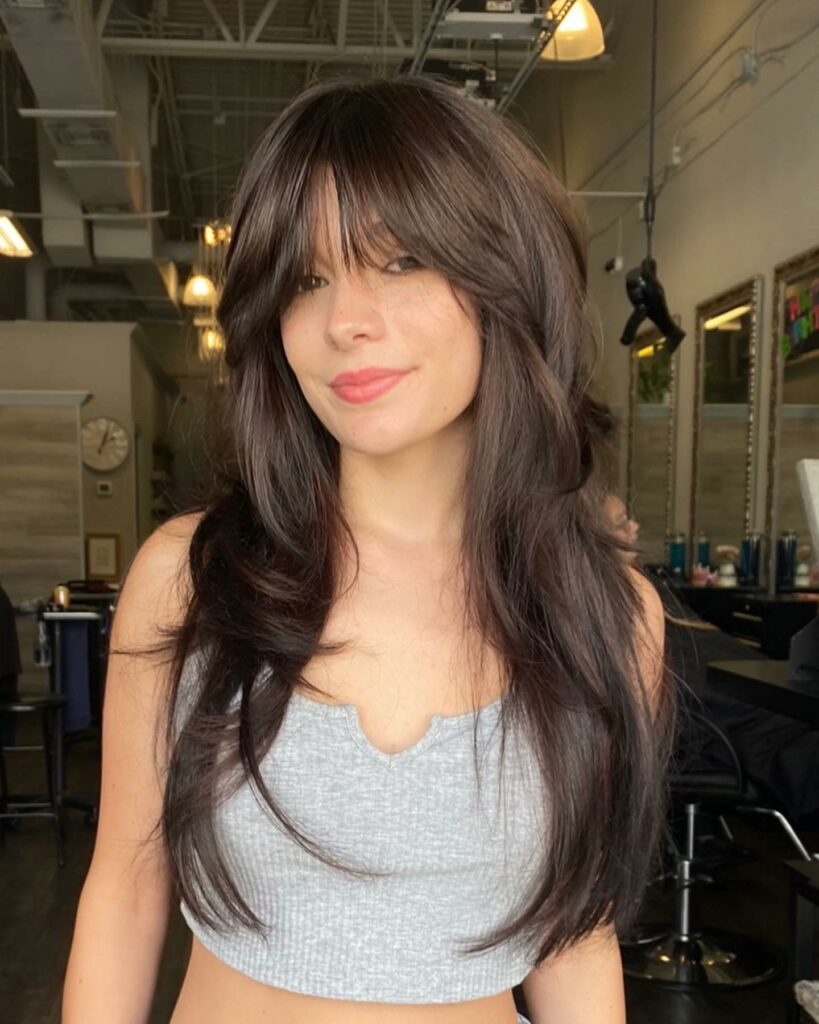 You know that feeling when you've found the perfect little black dress? This is the hair equivalent. Long, soft layers with sweeping side bangs make this a classic you'll keep coming back to.
Statement Maker: Mid-Length Wolf Cut with Shadow Roots
Looking to shake things up? Shadow roots paired with choppy layers make a striking impression. Pair it with a bold balayage, and you've got pure magic on your hands.
Sweetheart Vibes: Long Wolf Cut with Choppy Baby Bangs
Let's talk about those adorable baby bangs. They frame your face like a picture frame and give your eyes the spotlight they deserve.
The Wolf Cut Rundown: From Vintage Vibes to Modern Chic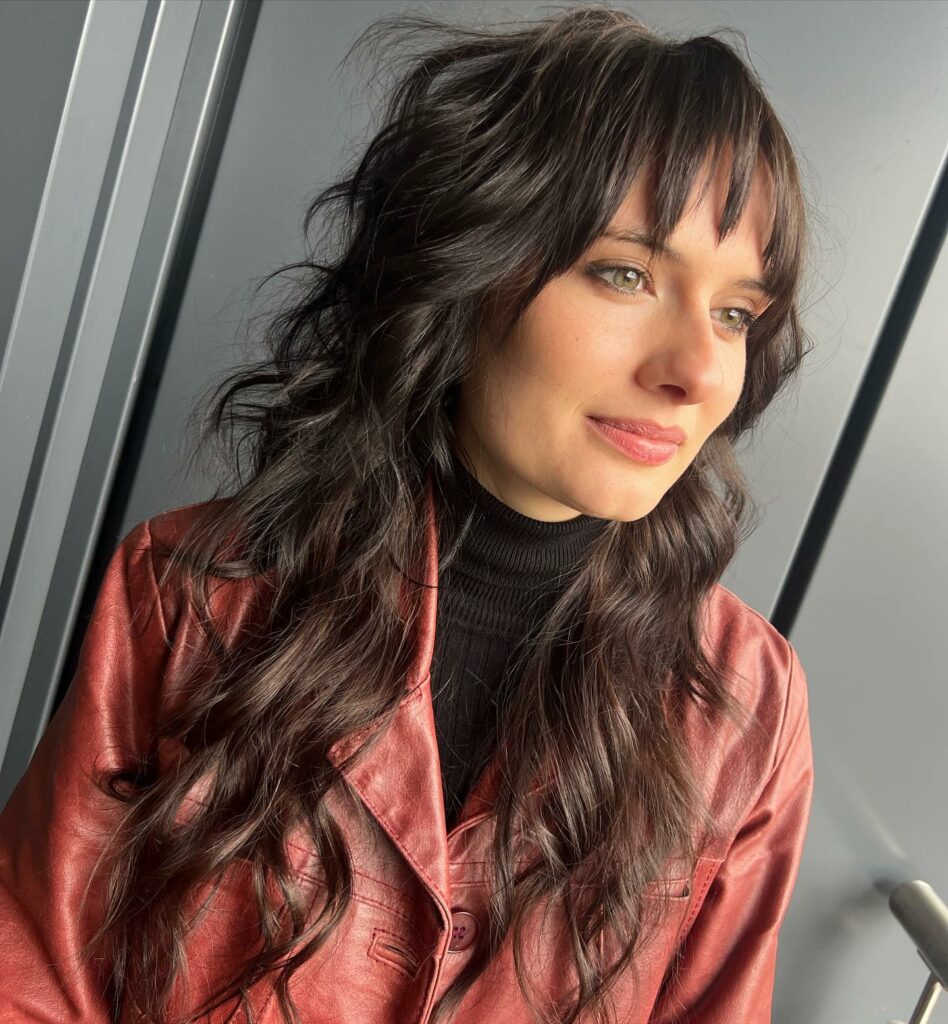 Hey, lovely people! Today, we're exploring the wondrous world of wolf cuts, the hairstyle that effortlessly marries the edgy with the elegant. Trust me, I've been around the beauty block a few times, and these styles are not just a phase. Let's jump in and talk about how you can make each of these looks your own!
The Ultimate Hybrid: Shullet Wolf Cut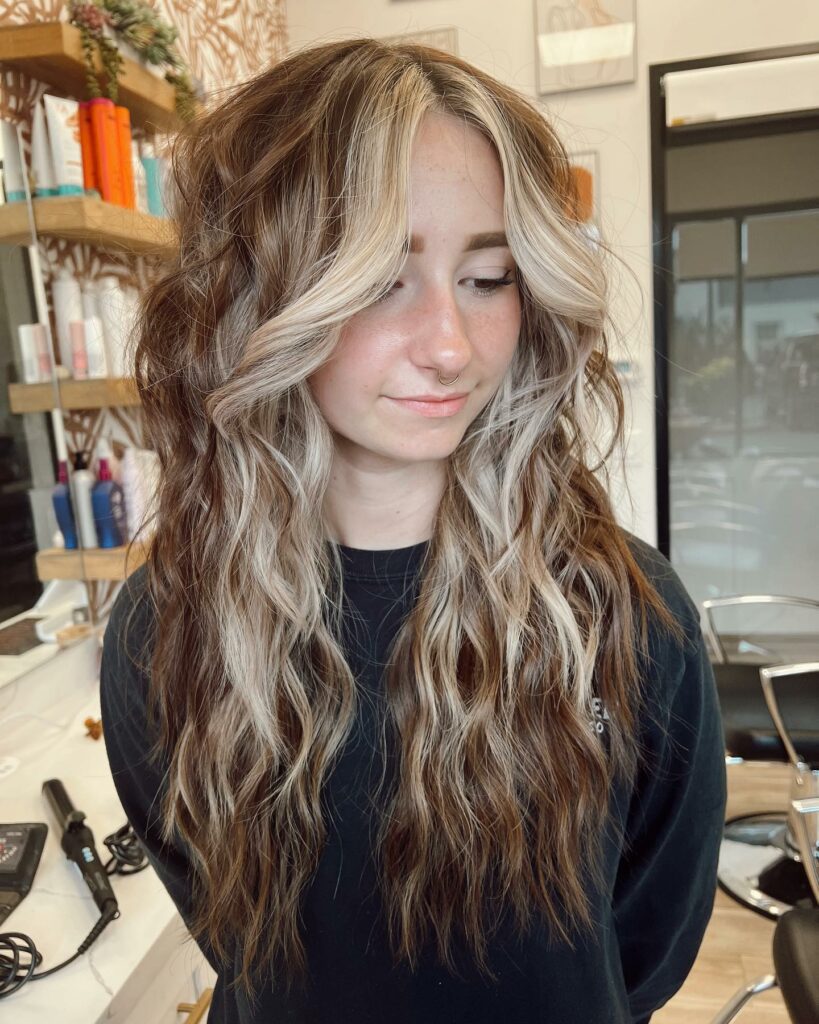 The Shullet is where the '80s mullet and '90s shag have a beautiful, rebellious baby. Look no further if you're itching for a change and want to channel your inner cool girl. I tried this cut last summer, and let me tell you, it felt like I was wearing confidence right on my head. Bold? Yes. Worth it? Absolutely.
Living the Layered Life: Layers for Days Wolf Cut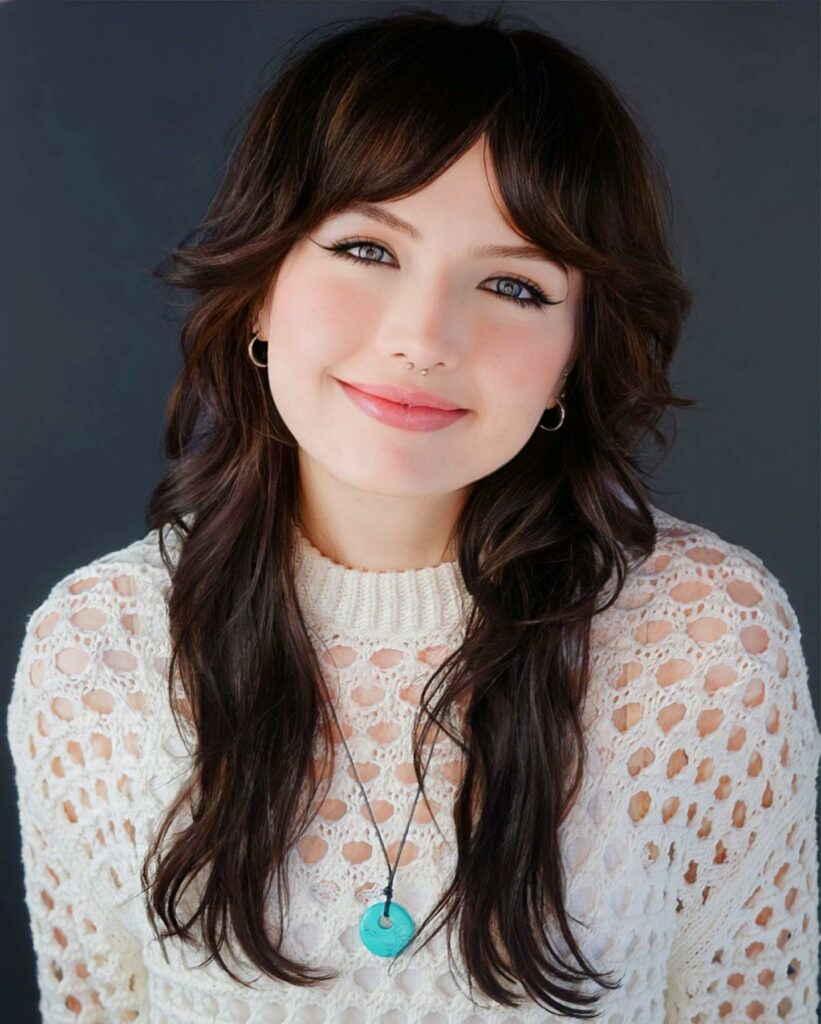 For those who subscribe to the "long hair, don't care" mantra, this one's for you. Layers upon layers give this style incredible volume and texture. If you want to keep those locks luscious, my go-to is a weekly hair mask and a spritz of sea salt spray for that just-came-from-the-beach look.
The Timeless Choice: Classic Wolf Cut with Curly Bangs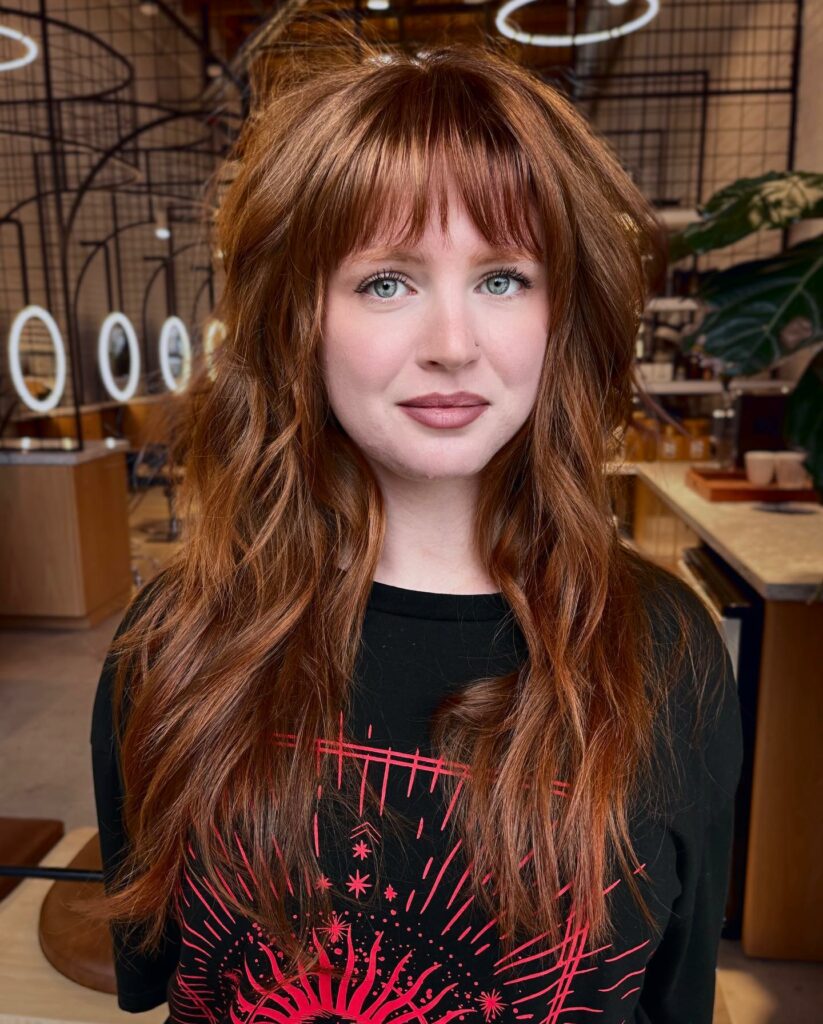 The classic wolf cut isn't going anywhere, folks. It's like the little black dress of hairstyles. Curls are the star of the show here, especially those curly curtain bangs. My personal tip for killer curls? Don't skip the heat protectant crème before styling, especially when using a blow-dryer or a round brush.
Beachy Meets Blonde: Long Shaggy Wolf Cut with Blonde Streaks
Got natural waves or curls? This extended, shaggy wolf cut is your new best friend. What's more, blonde peek-a-boo streaks add a playful touch. My curls have never felt more alive and bouncy, and those blonde streaks? A complete game-changer.
The Sweet Spot: Strawberry Blonde Wolfy Cut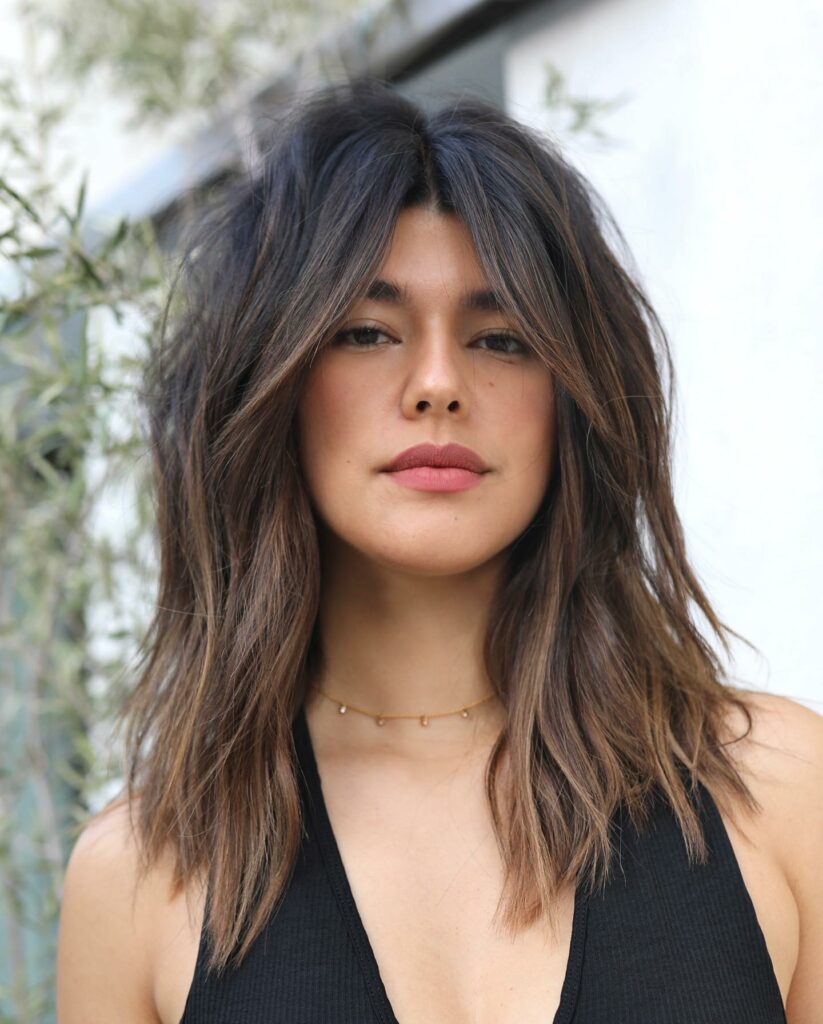 Nothing makes a cut stand out like a pop of color. Strawberry blonde or caramel brunette shades can elevate this charming haircut with wispy curtain bangs. It's definitely a crowd-pleaser and a personal favorite.
Rockstar Glam: Modern Long Shag Haircut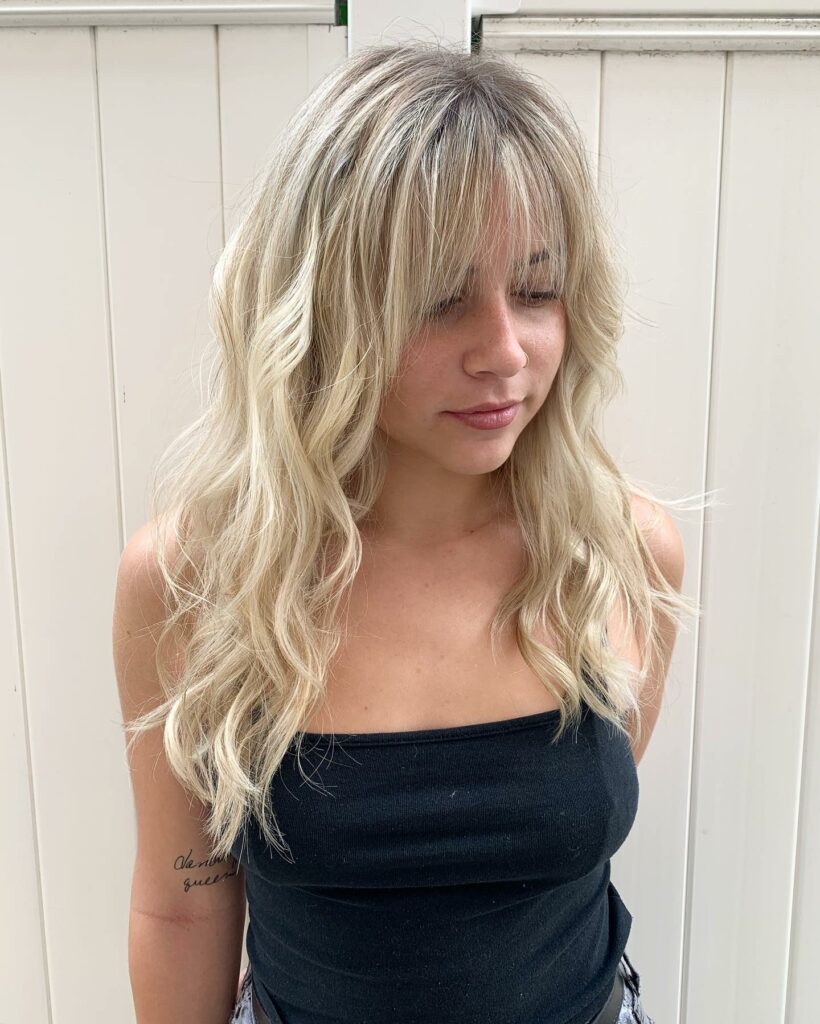 Channel your inner rockstar with this vintage-inspired, modern long shag. For that extra oomph, go for balayage or highlights. When I tried it, I felt like I should be on the cover of a Rolling Stone magazine. An actual it-girl moment!
Effortless Chic: Long Warm Blonde Wolf Cut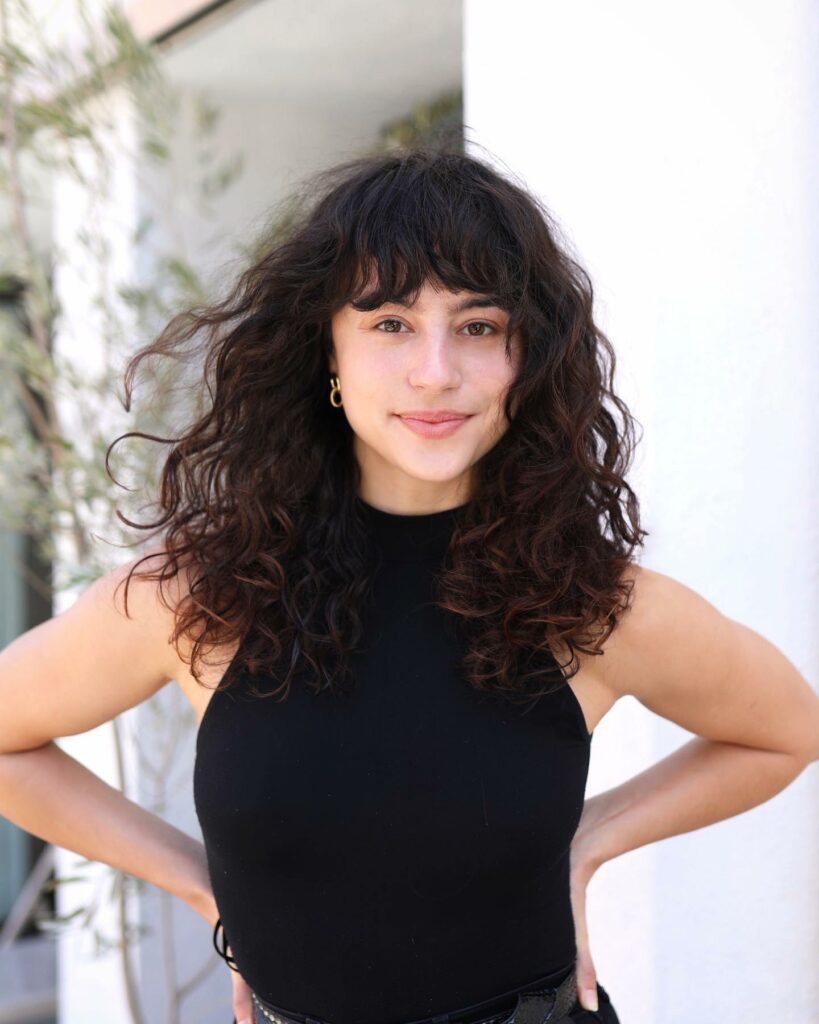 Looking for a low-maintenance yet fabulous haircut? This long, warm blonde wolf cut with choppy layers is your answer. The face-framing layers give an illusion of fuller hair and movement. It's a wash-and-go style, and who doesn't love that?
Retro Chic: Curly Wolf Hair with Bangs
The shag haircut has made a comeback, baby! This modern curly wolf version is giving me serious retro vibes, and I am here for it. It's like a time machine for your locks, returning to the best of the '80s.
The Ultimate Cool Girl: Cool Mullet Wolf Haircut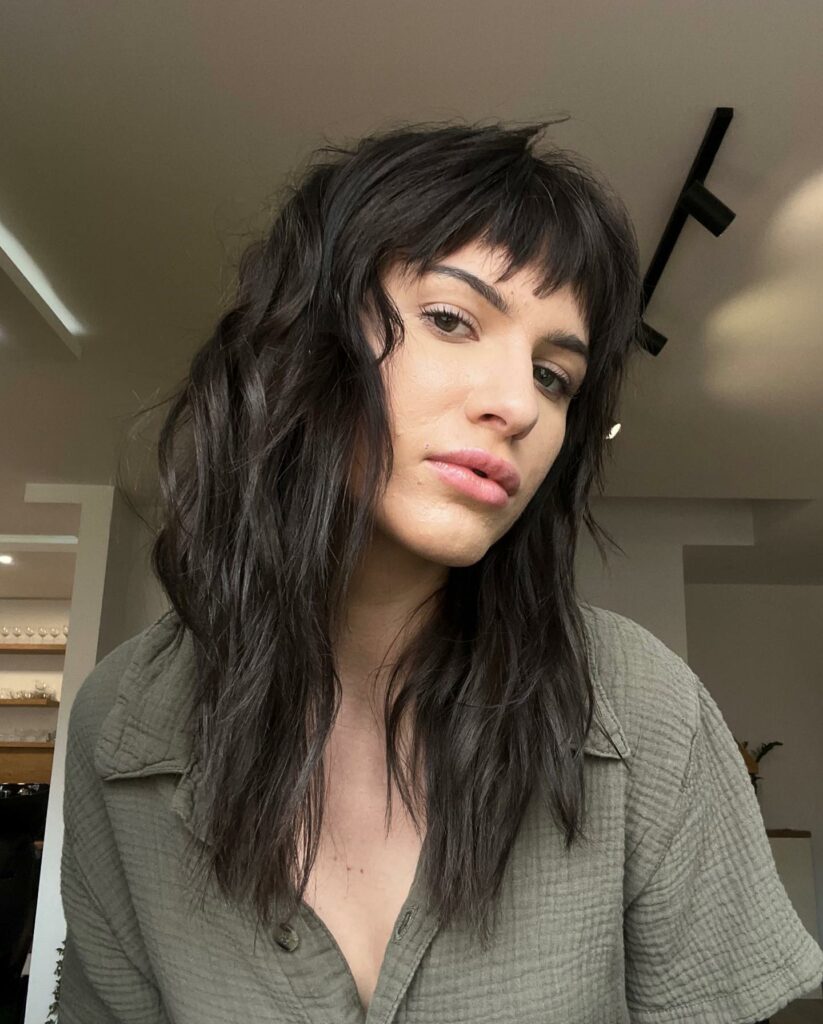 This one's all about volume, especially at the crown. I always massage my roots and then apply a root-boosting mousse for an extra lift. It's an instant ticket to Coolville, population: you!
Soft Yet Powerful: Modern Romantic Wolf Hairstyle
Can't decide between edgy and soft? Why not have both? This modern romantic wolf cut offers the best of both worlds. The layers give it a vintage flair, while the curls add volume and bounce. I feel like a warrior and a princess whenever I wear this style.
Dreamy Vibes: Whimsical Wolf Hairstyle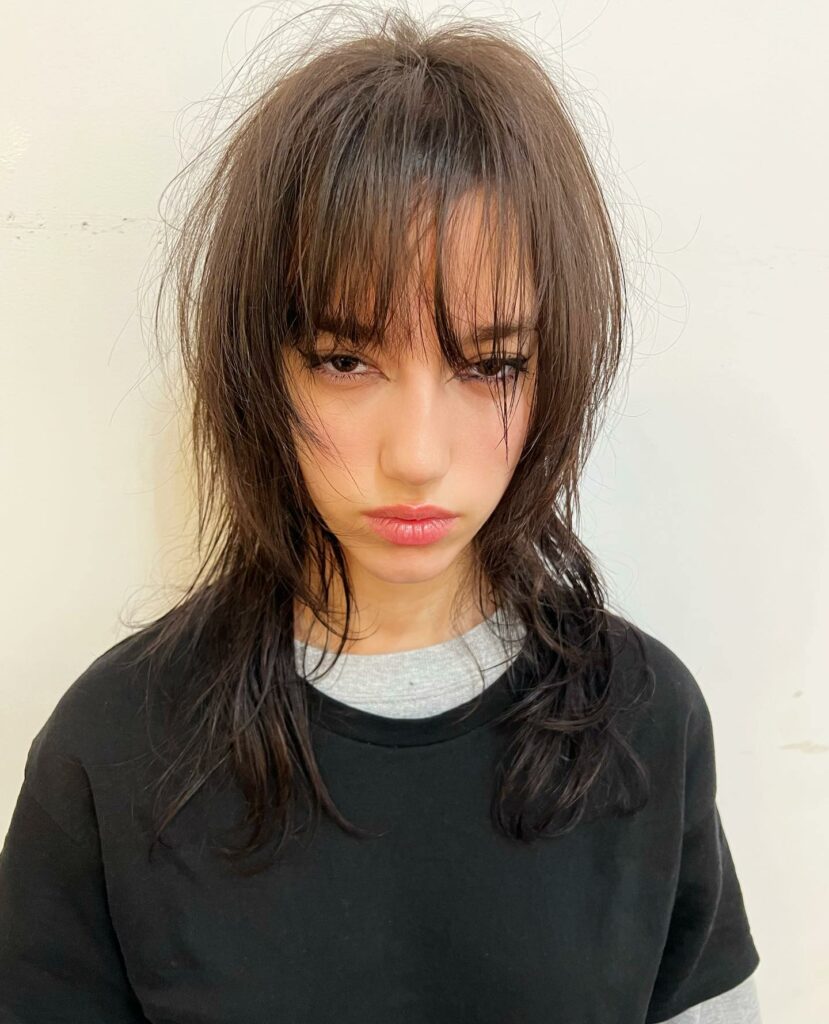 If you want to add playful charm to your look, consider the whimsical wolf cut. With shaggy layers, this style exudes carefree vibes and a youthful spirit. The best part? You can customize the length and number of layers to suit your flair. When I tried this style, I felt like a fairytale character come to life!
For the In-Betweeners: Wolf Cut for Medium-Length Hair
If you're hovering in that medium-hair territory and need a little oomph, you've got to try this. The wispy layers and subtle waves are great even for straight, fine hair. Add a hairspray for that extra shine, and you're good to go! Seriously, it gave my usually limp hair so much life!
Elegance All The Way: Wolf Cut with Soft Curls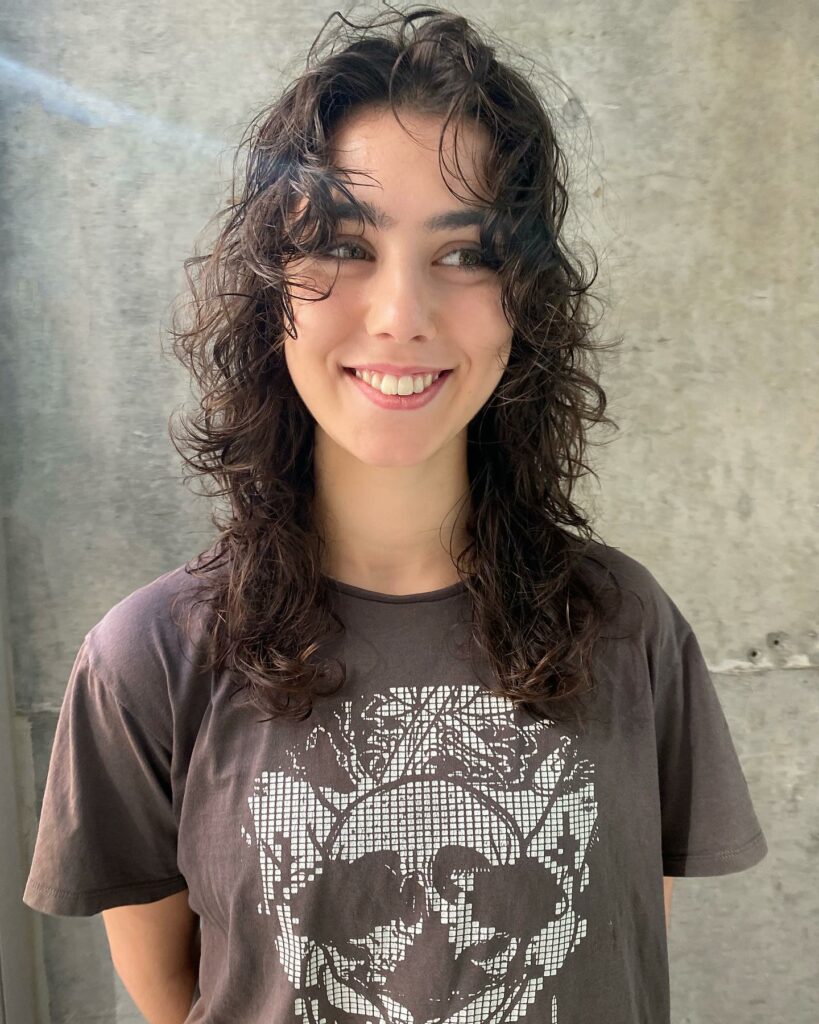 Ah, the sophisticated wolf cut. Soft curls can make this already elegant style even more luxurious. It's the perfect transitional hairstyle, taking you from office chic to evening glam. My go-to is a little blow-drying action using a round brush to achieve those dreamy curls.
Just a Dash of Sass: Stylish Messy Long Wolf Hair
The beauty of wolf cuts is their adaptability. Keep your length and add layers for a messier, sassy look. More layers equal more fun, and it's an excellent option for those who want to maintain length for style.
Timeless Glamour: Stunning Brunette Wolf Hair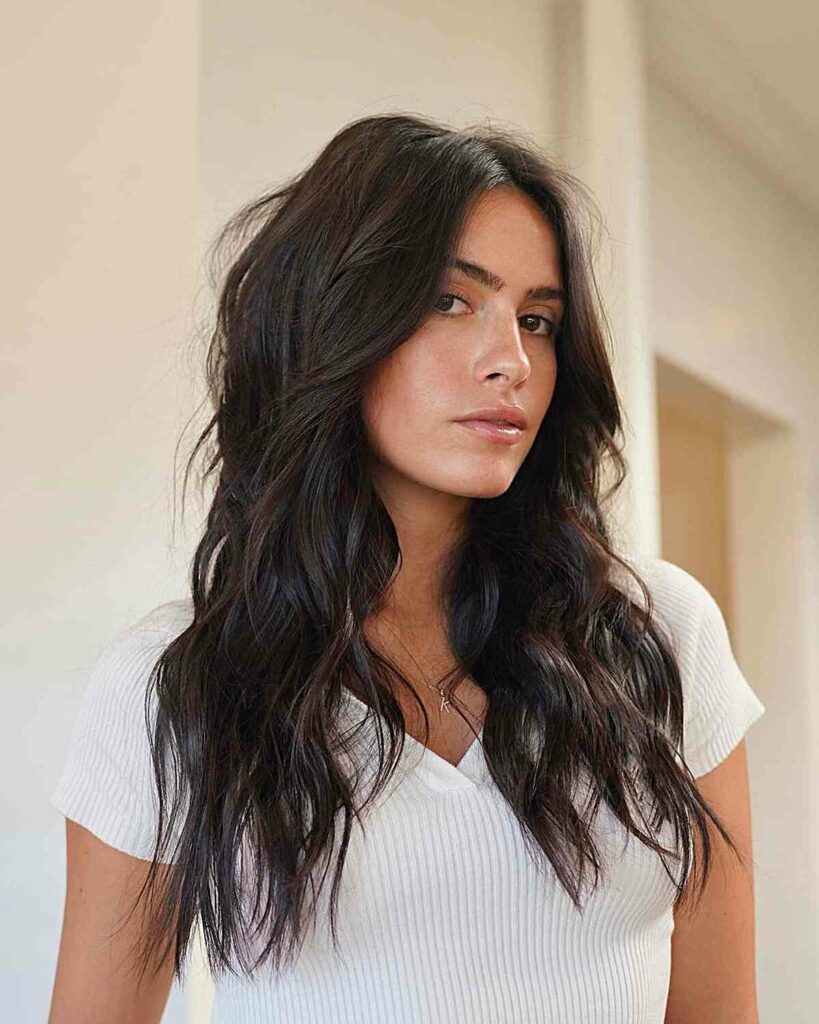 Soft, loose curls and layers make this brunette wolf cut a knockout. This style can bring out your cheekbones and put your eyes center stage. If you're looking for a forever stylish look, this is it.
Curly Wurly Magic: Curly Wolf Cut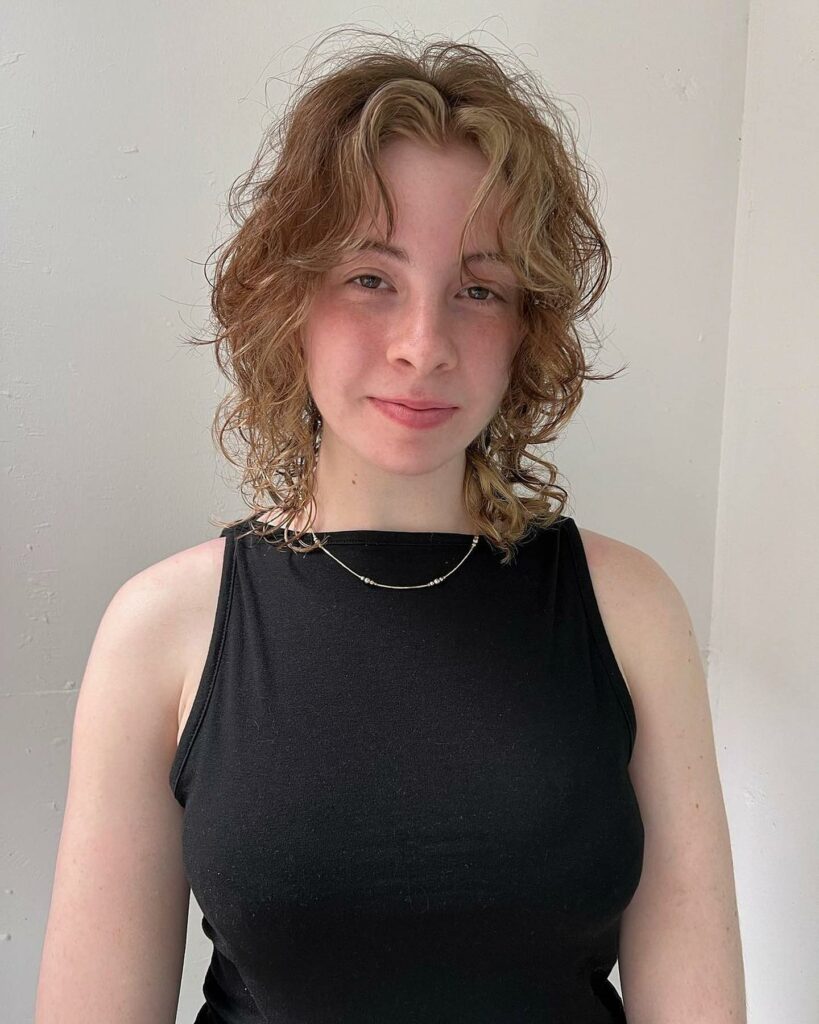 For my curly-haired queens, the wolf cut can be your successive crown. Your curls' natural volume and movement will blend beautifully with the layers, giving you a sultry and soft appearance. Consider adding some bangs to frame your face—it makes a difference!
K-Pop Vibes: Korean Wolf Cut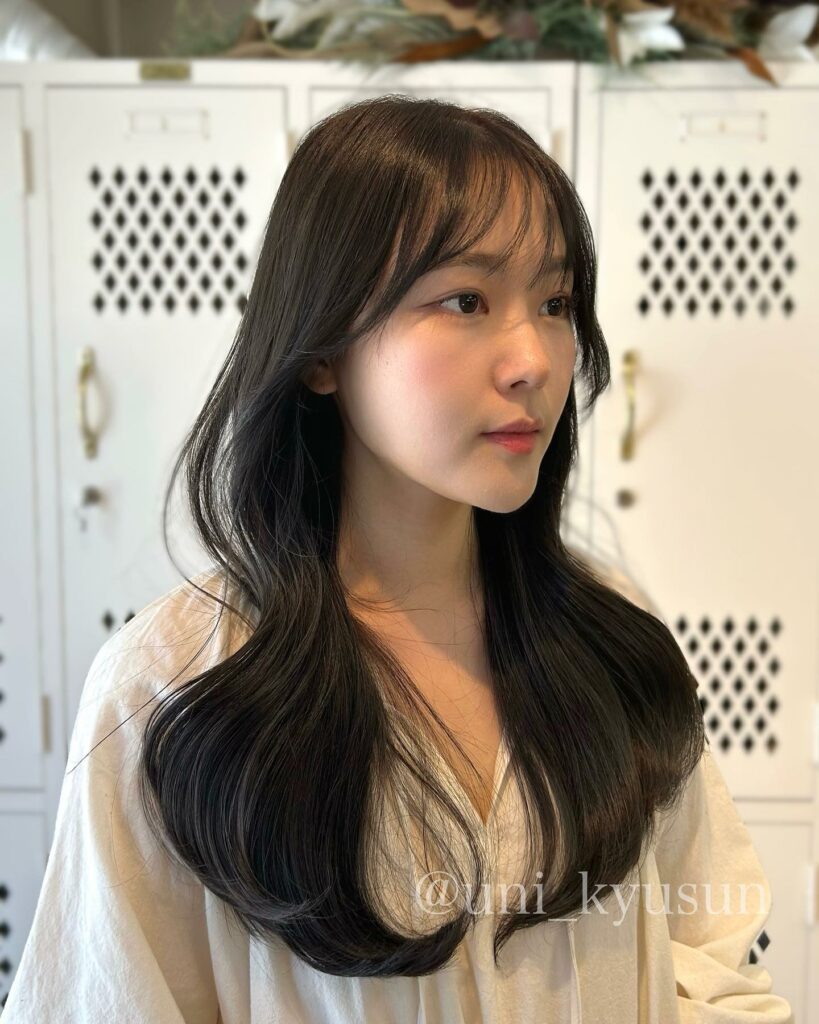 We can only talk about the Wolf Cut's rise to fame by mentioning its popularity in South Korea. This style features soft layers that gently frame the face, making it incredibly flattering. Whether you're a K-pop fan or love a trendy look, you'll rock this cut!
Easy-Peasy Chic: Shag Wolf Cut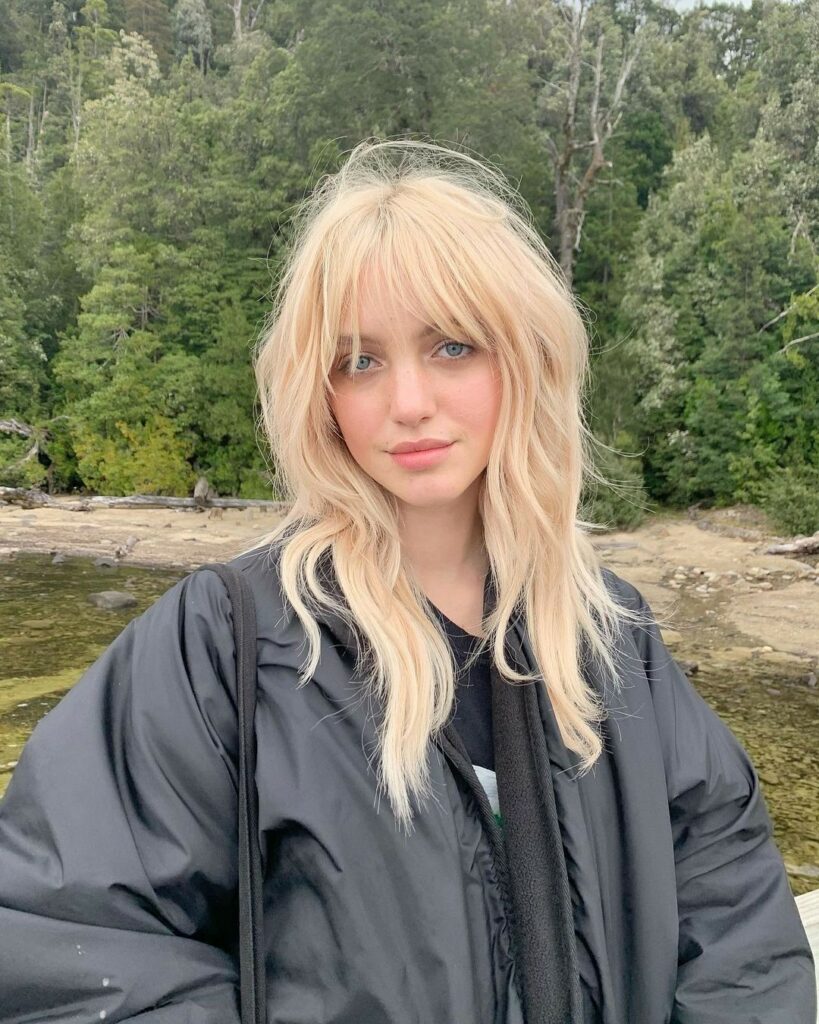 This one's for the ladies who want a little relaxation with their sophistication. Resembling a shag and a mullet, this cut adds volume and movement without the high maintenance. It's laid-back but fashion-forward—what's not to love?
The Edgy Icon: Wolf Cut Mullet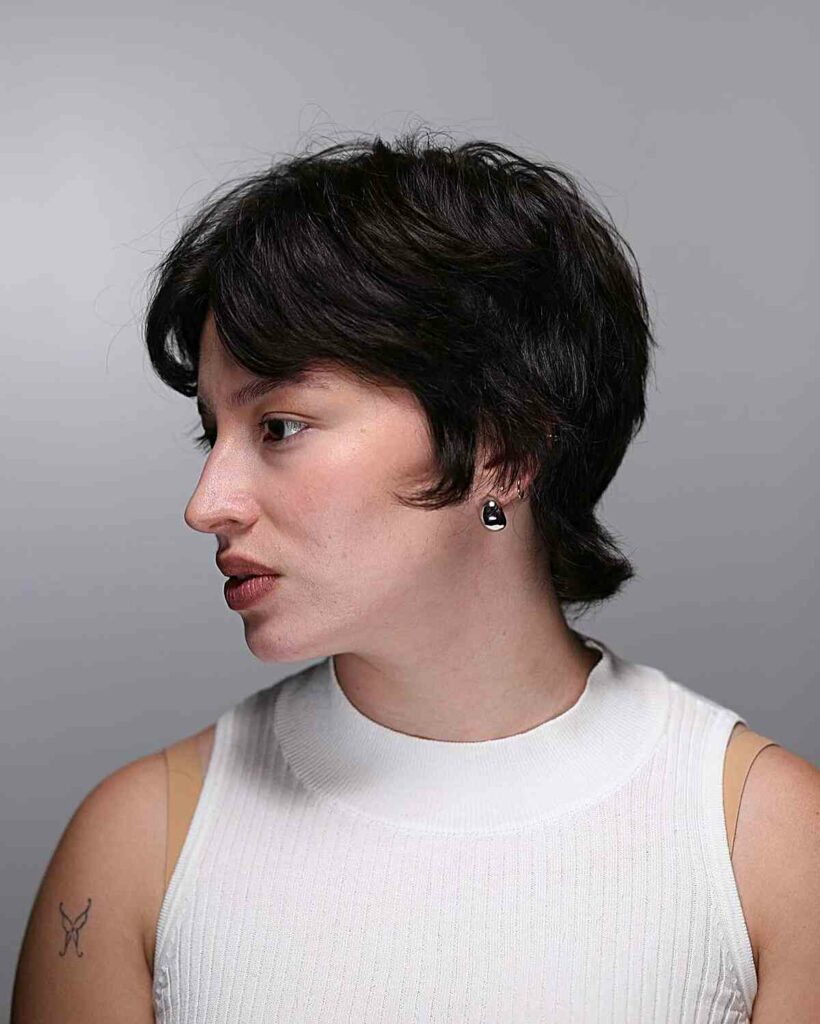 This wolf-cut variation puts the mullet in the spotlight. Think Miley Cyrus vibes with a crown of voluminous, layered hair. This style screams confidence and pairs beautifully with vibrant colors if you feel extra adventurous.
For the Long-Haired Lovelies: Wolf Cut Long Hair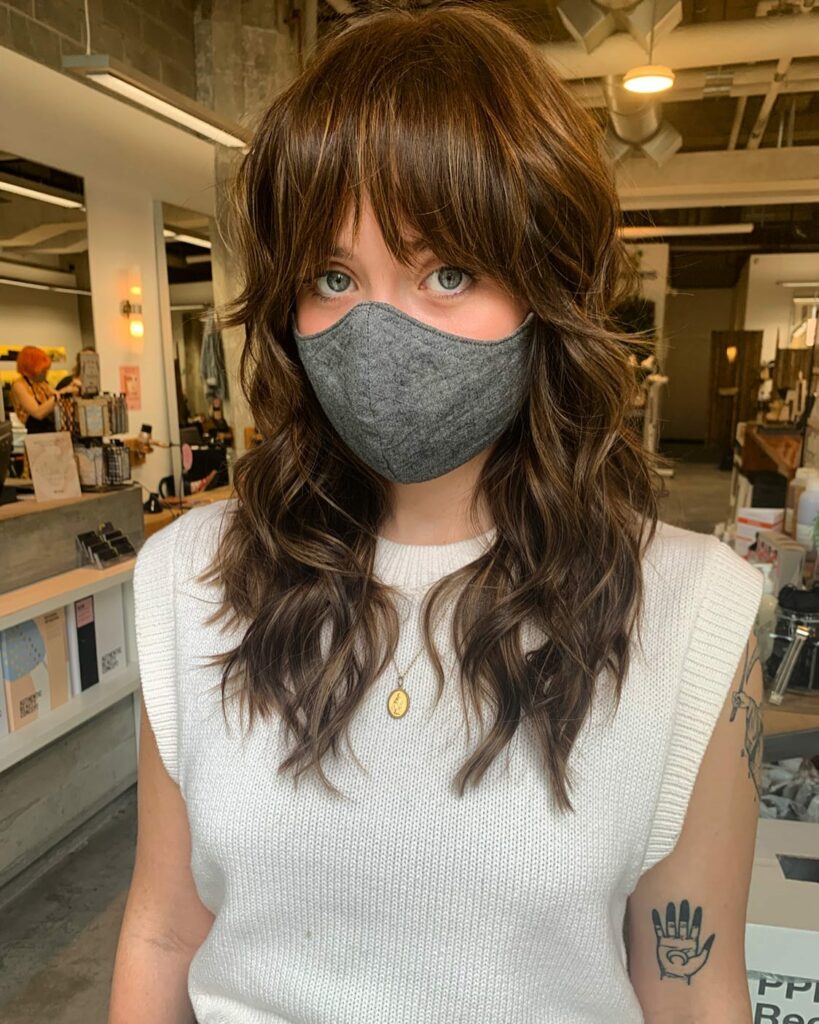 Last, long hair can rock the wolf cut, too! By adding layers throughout, you can remove some of that heavy bulk while still flaunting your length. Curtain bangs are the cherry on top of this look, framing your face and drawing all eyes on you.
Sophisticated And Shaggy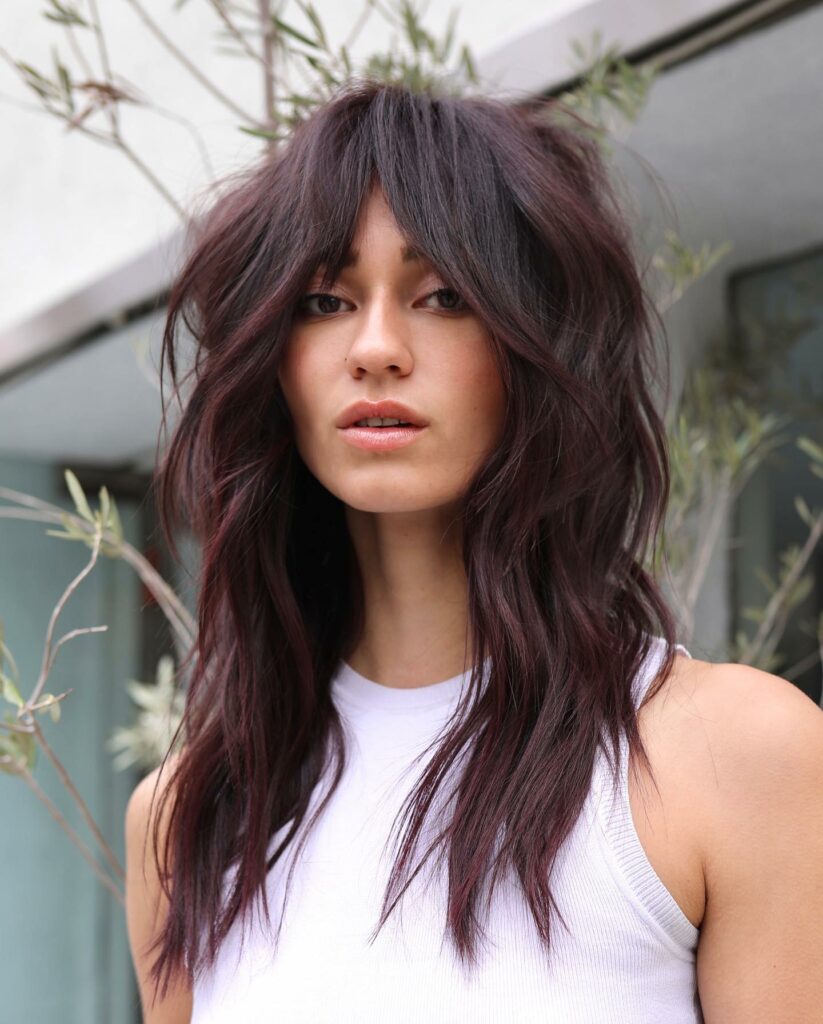 When I first tried this cut, I got compliments every day. The soft curtain bangs and wavy layers give you a sophisticated yet relaxed look. Finish it off with a silkening spray for that red carpet luster.
The Showstopper: Long Copper Wolf Cut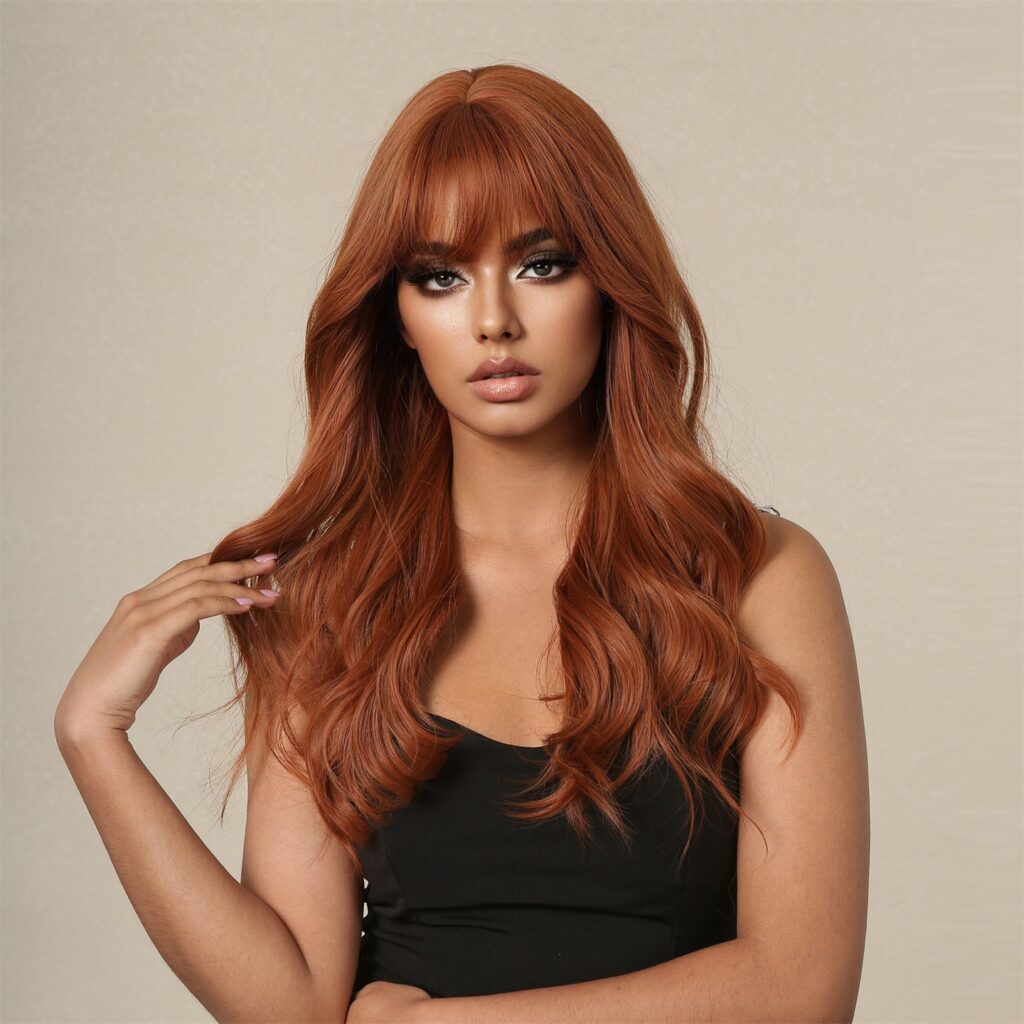 Bottleneck bangs and vibrant copper hues? Yes, please! For this look, grab a 1-inch curling iron and a blow-dryer brush. And for heaven's sake, don't forget a strong-hold hairspray to lock those curls in place.
8 Tips I Recommend For Styling A Long Wolf Cut
Heat Protectant is Your BFF – Before you even think about applying heat, spray on some heat protectant. Your hair will thank you later, trust me.
Volume is King – For a cut like this, volume is everything. A root-boosting mousse or volumizing spray at the roots will give your hair that va-va-voom we're after.
Work Those Layers – Please take advantage of those gorgeous layers and define them. You can use a flat iron for a sleeker look or a curling wand for some loose waves. I love using a 1-inch barrel curling iron, turning it away from my face for that windswept look.
Texture Sprays for the Win – Finish off your look with a texture spray. This adds some grit and hold to your hair, making it easier to style and giving it that lived-in, edgy vibe.
Embrace Natural Texture – Got wavy or curly hair? Let those natural textures shine through! Just add some curl-enhancing cream or gel and scrunch it up.
Don't Forget the Bangs – If you've got those signature wolf-cut bangs, give them the attention they deserve. Use a small round brush and a blow dryer to give them some bounce and curve.
The Final Hold – After all that hard work, make sure your masterpiece stays put with some lightweight hairspray. Go for a medium hold to keep it all in place without making your hair feel like a helmet.
Experiment and Have Fun – Try half-up, half-down styles, or maybe even some braids on the side for a boho-chic look. The extended wolf cut is all about personal expression!
Matching Face Shape And Hair Type To Get The Perfect Cut
Consider Your Face Shape
Oval Faces: You're the lucky duck because almost any hairstyle will look fab on you. A Long Wolf Cut will add some edge and frame your face beautifully.
Round Faces: Go for longer layers that elongate your face. The wolf cut's typical curtain bangs will look especially cute on you.
Square Faces: You'll want to opt for longer, softer layers that will balance out your jawline. A softer version of the Long Wolf Cut could be super flattering.
Heart-Shaped Faces: Longer, face-framing layers could be your best bet, helping to balance out a narrower chin.
Know Your Hair Type
Fine Hair: Thanks to its layers, this cut can add the illusion of volume. Just be cautious to go smoothly; otherwise, your locks might look stringy.
Thick Hair: You can definitely rock this! The layers will help remove some weight, making your hair easier to manage.
Curly or Wavy Hair: Embrace those curls and waves! The Long Wolf Cut can enhance your natural texture, giving you a playful yet sophisticated look.
6 Reasons Why I Love The Long Wolf
A Blend of Eras – First, the Long Wolf Cut is like the love child of several iconic styles. Imagine the '70s shag, '80s mullet, and the modern layered cuts all got together for a little rendezvous. The result? A versatile, timeless look with a dash of retro and a sprinkle of modern chic.
Layers on Layers – While many hairstyles focus on uniformity or symmetry, the Long Wolf Cut thrives on layers. These aren't your average layers either; they're strategically cut to give volume and movement, making your hair look perpetually in a soft, glamorous wind tunnel.
The Effortless Chic Vibe – You know that effortless "I woke up like this" look everyone's after? Well, this cut delivers it in spades. It's perfect for those mornings when you're running late but still want to look like a rockstar. A quick spritz of texturizing spray, a tousle here and there, and voila! You're ready to take on the day.
Versatility is Key – What I adore about the Long Wolf Cut is its adaptability. Whether you have pin-straight hair or bountiful curls, this cut can be tailored to suit your unique texture and personality. You can go from a beachy daytime look to a sultry evening style with just a few flicks of a flat iron or curling wand.
The Curtain Bangs – Oh, don't even get me started on the curtain bangs! These babies can frame your face in such a flattering way and can be a game-changer for many face shapes. Plus, if you're new to the world of bangs, these are low-commitment and easy to grow out.
More Than Just a Cut – The Long Wolf Cut isn't just about how your hair looks; it's about how it makes you feel. This cut oozes confidence and screams, "Here I am world!" 🌎 It's for those not afraid to express themselves and want their outer look to reflect their inner fabulosity.
Conclusion
Alright, we've navigated the wild and wonderful world of wolf cuts together! If there's one takeaway, this style is about letting your personality shine—whether you're feeling whimsical, sophisticated, or anywhere in between. My top tips? Don't skimp on hydration; a good hair mask is your BFF for keeping those layers looking lush. And if you're going for curls, heat protectant is a must—no one likes fried curls! I love a sea salt spray for that effortless, beachy texture, especially layered looks. So book that salon appointment, and step out of your comfort zone. Remember, the best hairstyle is the one that makes you feel like the rockstar you are! Happy styling, you gorgeous thing, you!
Feature Image Photo By @hirohair via Instagram
Last reviewed and updated on October 5, 2023