Let's talk about the hairstyle magic trick that's as transformative as contouring for your face—face-framing layers. You know, those layers that start around your face and taper down? Yeah, those. They're not just strands of hair; they're the curtain that sets the stage for your facial features.
In today's post, we'll dig into what face-framing layers are, who they're best suited for, and how to get them right. Whether you have long locks or a cute bob, these layers can add that "oomph" factor. Trust me, I've been rocking this look for years, and it's my go-to for adding depth and dimension without going overboard. Stick around to unlock the secrets of nailing this look—it's like the cherry on top for any haircut. And hey, don't just take my word for it; by the end of this post, you'll be dialing your stylist, ready to frame that beautiful face of yours. Let's get into it!
The Lob Revolution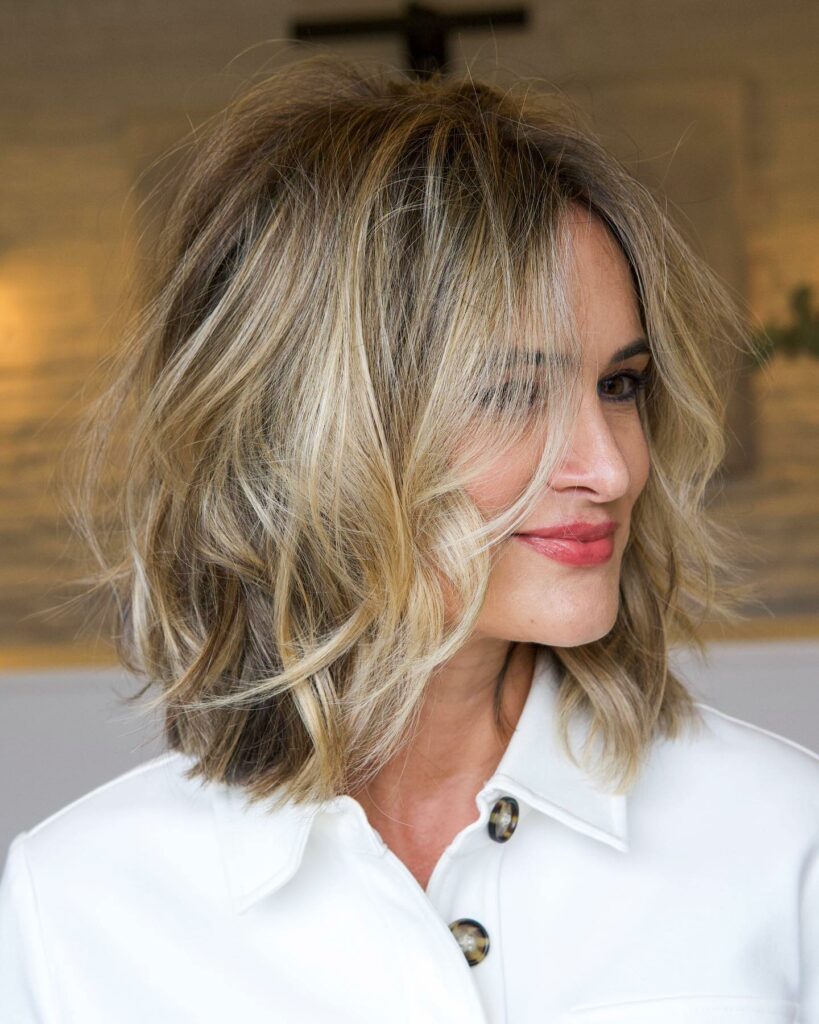 Ever felt like your lob (long bob) makes your face look a tad too chunky, incredibly, if you're blessed with thick hair? Honey, you need to give face-framing layers a shot. It adds that effortless flair while enhancing your facial structure. Personal tip? If you've got a round face, this will be your new best friend!
The Modern Bob Twist
Plain bobs are so yesterday! Level up your style with some wispy layers right around your face. I started doing this a couple of years ago, and it was a game-changer for my elongated face shape. It adds an ultra-modern edge and softens your entire look.
The Classic Chin-Length Charm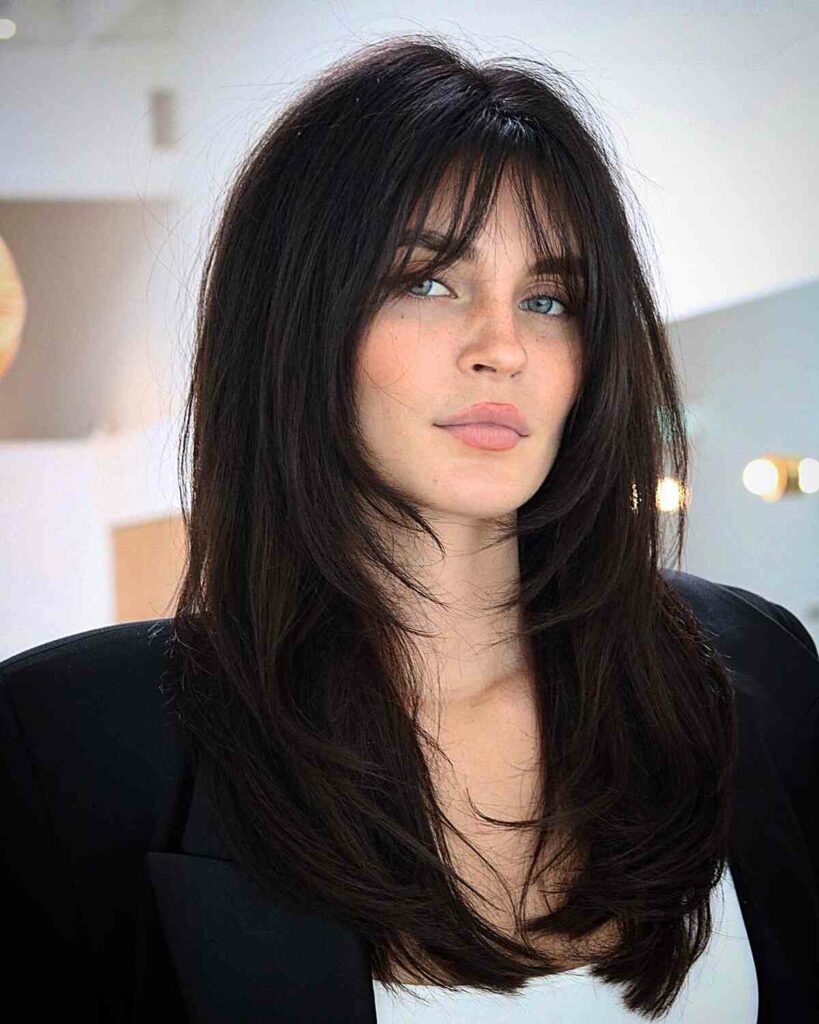 Long, choppy layers that start just above the chin are basically the Swiss Army knife of hairstyles—they work for almost every face shape. Plus, they can seriously lighten up thick and heavy hair. As someone with curly hair, this cut lets me have the best of both worlds: volume and shape.
Going Long? Go Framed!
I swear by this: adding face-framing layers to your long locks isn't just a style choice; it's a lifestyle! You can part it down the middle and sweep it to the side—options are endless. If you've got a heart-shaped face like me, this will add the perfect level of sass.
The Blonde Ambition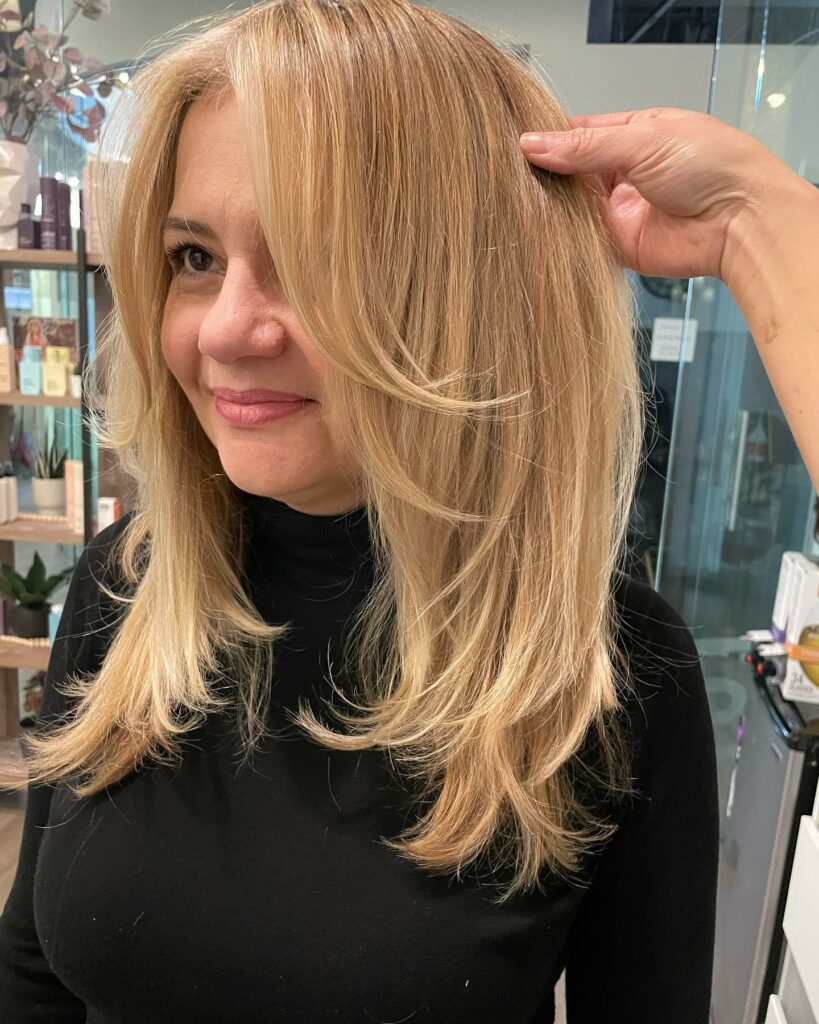 Think face-framing is just for dark hair? Think again! Try some long, buttery-blonde layers and experience the magic. What I love about these longer layers is the flexibility—they look just as fab tucked behind your ears as they do in a top-knot.
Layers and Bangs: A Thick Hair Dream
Ladies, listen up! If your thick mane weighs you, pair layers with soft, wispy bangs. Not only will it balance your facial proportions, but it will also add a dash of romantic flair.
Embrace the Shaggy Layers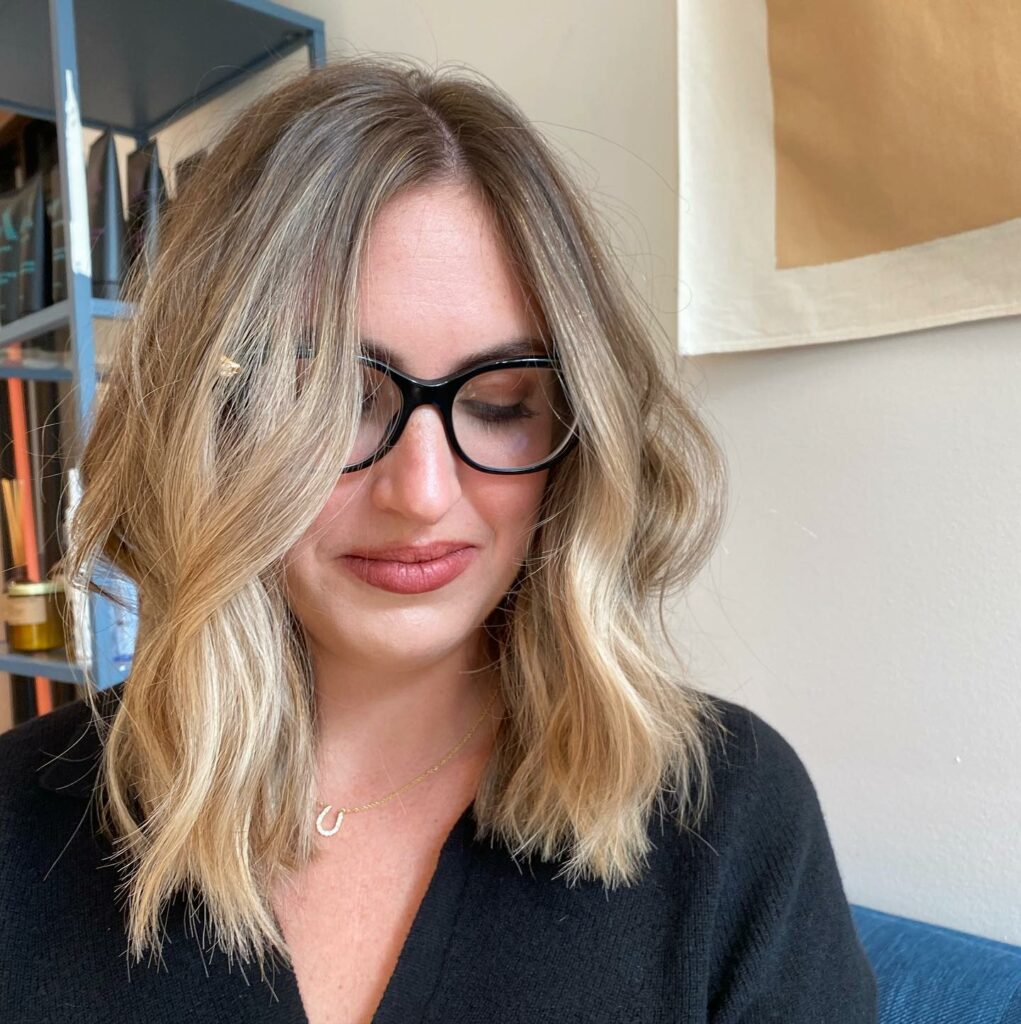 Feeling a bit flirty? Shaggy layers combined with face-framing strands bring a youthful, fun vibe. This style is my go-to when I'm in the mood for something girly yet effortless.
The Brunette E-Girl Aesthetic
Feathered layers will make maintenance a breeze if you're rocking jet-black hair. Want to spice it up? Add some e-girl streaks at the front for a trendy twist. I tried this last summer and got endless compliments!
The '80s Flair for Thick Hair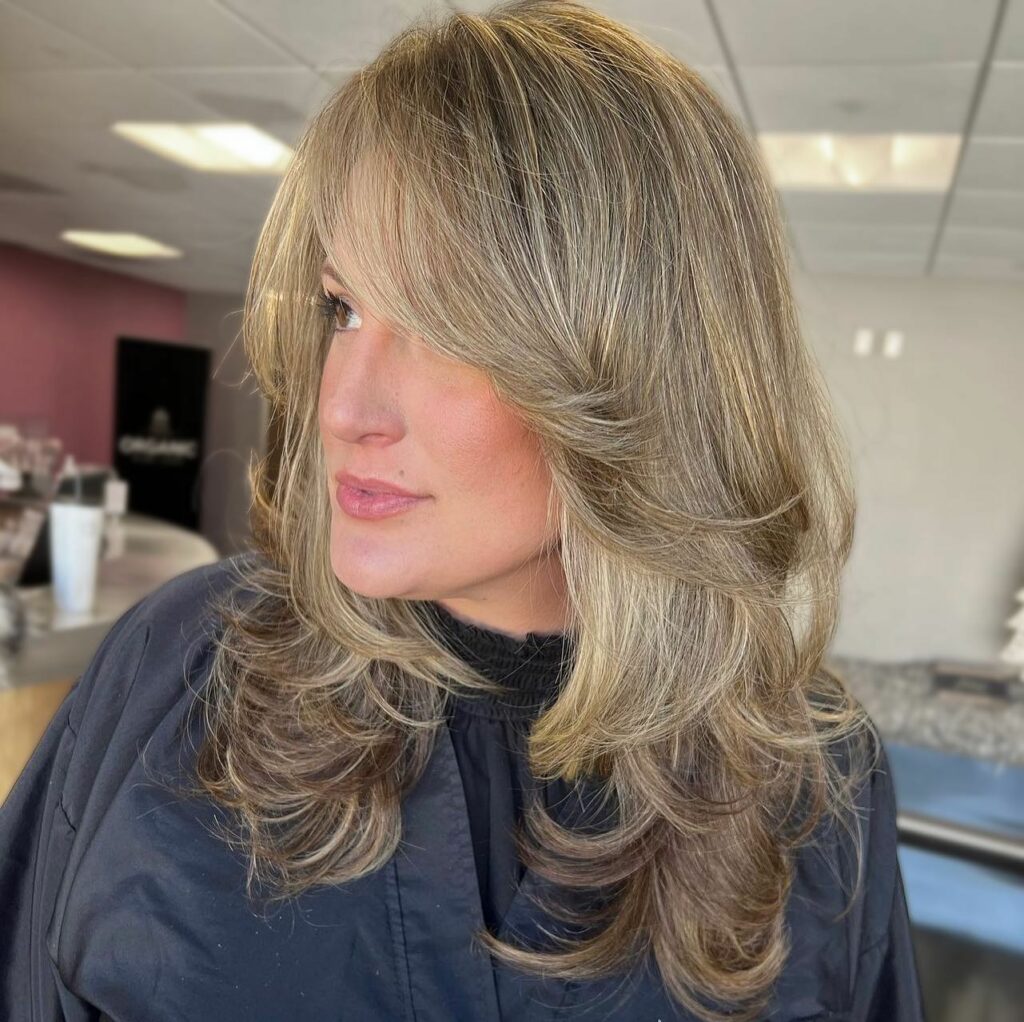 Face-framing layers can bring back that glorious '80s volume without making you look dated. If you're someone like me who loves texture, this style is a winner for highlighting your cheekbones and eyes.
The Side-Swept Elegance
Got a feature you'd rather downplay? A sweeping fringe and some front layers can do wonders to soften your facial features. It's like real-life Photoshop but for your hair!
Fine Hair, Big Volume
Thin hair, don't despair! Adding tousled layers and lighter highlights can make your mane look more voluminous. Bonus: the face-framing layers add that extra oomph and movement your hair craves.
The Oblong Face Savior
For my oblong-faced beauties, layers can add width and balance out your face. Just focus on adding layers around your cheekbones for that perfect harmony.
Blonde Layers for the Win
One-length cuts can be a snooze fest. Opt for A-shaped layers and blow out those framing pieces for a killer look. Trust me, you'll be turning heads!
Bangs Plus Short Layers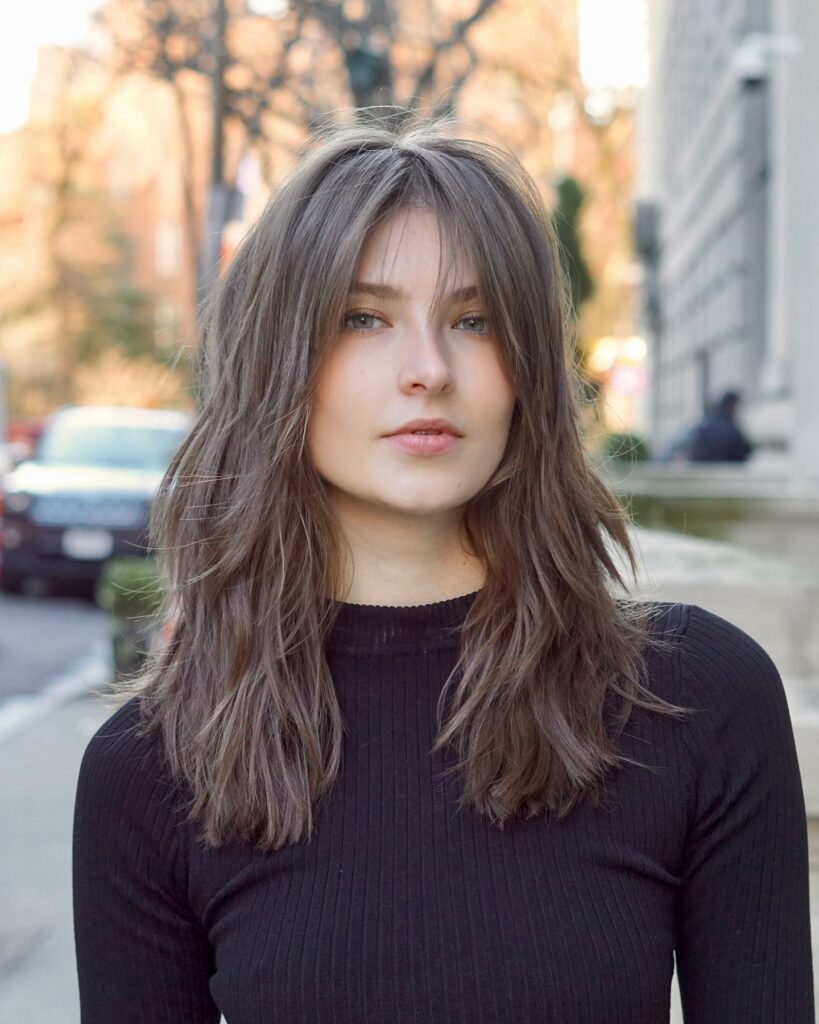 From micro-bangs to a full fringe, medium-straight hair can accommodate it all. Learn to style those bangs right; you won't need to spend a fortune at the salon.
Bouncy Blowout for Medium Hair
Are you concerned a blowout might widen your broad face? Fret not! With the proper layering, you'll end up softening your jawline instead. I'd recommend trying blonde layers for this—it really adds dimension.
Spice Up Long Locks with Layers
Long hair is beautiful, but let's be honest, it can sometimes feel like a snooze fest. My tip? Add face-framing layers to increase the volume and highlight your beautiful features. It's a small change with a significant impact. Trust me, your selfies will thank you!
The Lazy-Girl's Dream: Face-Framing Shag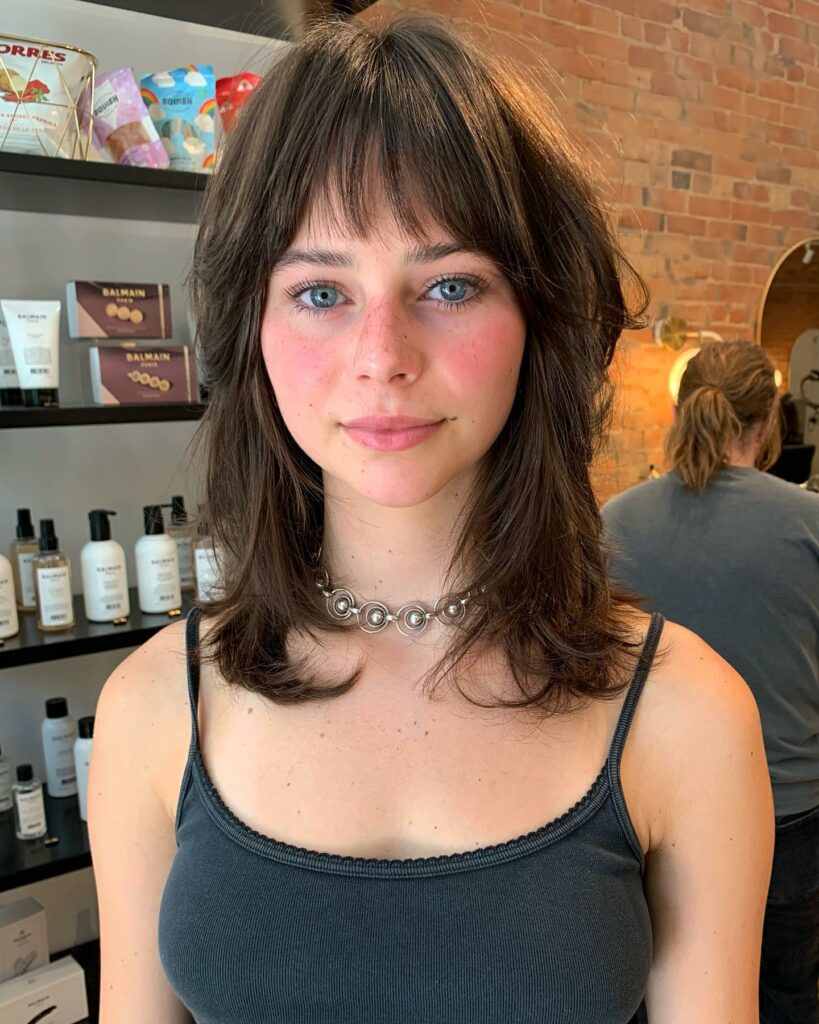 "I woke up like this" isn't just a Beyoncé lyric; it's a hair lifestyle, y'all! I adore a shaggy bob for its ease and sass. The longer bangs in the middle bring all the attention to your eyes and cheekbones. Total win-win.
Amp Up Straight Hair with Long Layers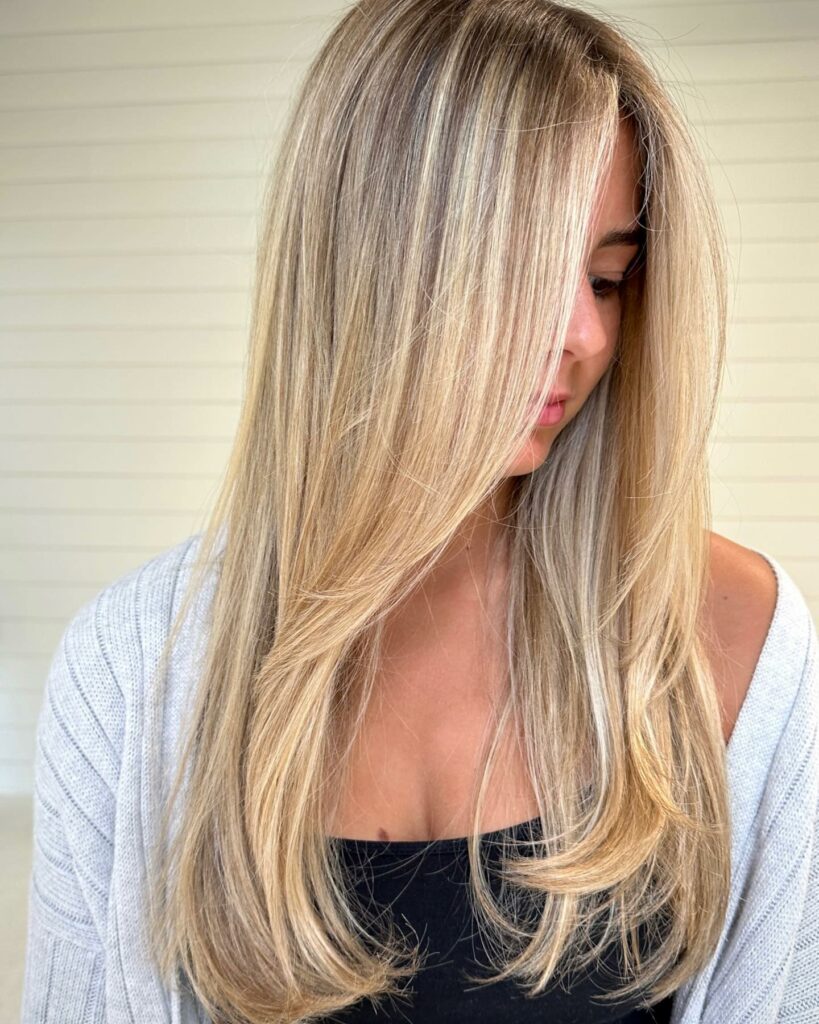 Got fine, straight hair? A few face-framing layers that start below your chin can give your hair the voluminous look it craves. It's like contouring, but for your hair—what's not to love?
Make Thick Hair a Breeze
If you're like me and have long, thick hair that's a handful to style, face-framing layers are your new BFF. They keep your locks looking full but feel way lighter. They're super versatile; you can rock a middle part or sweep them to the side.
Feminine Flair with Loose Waves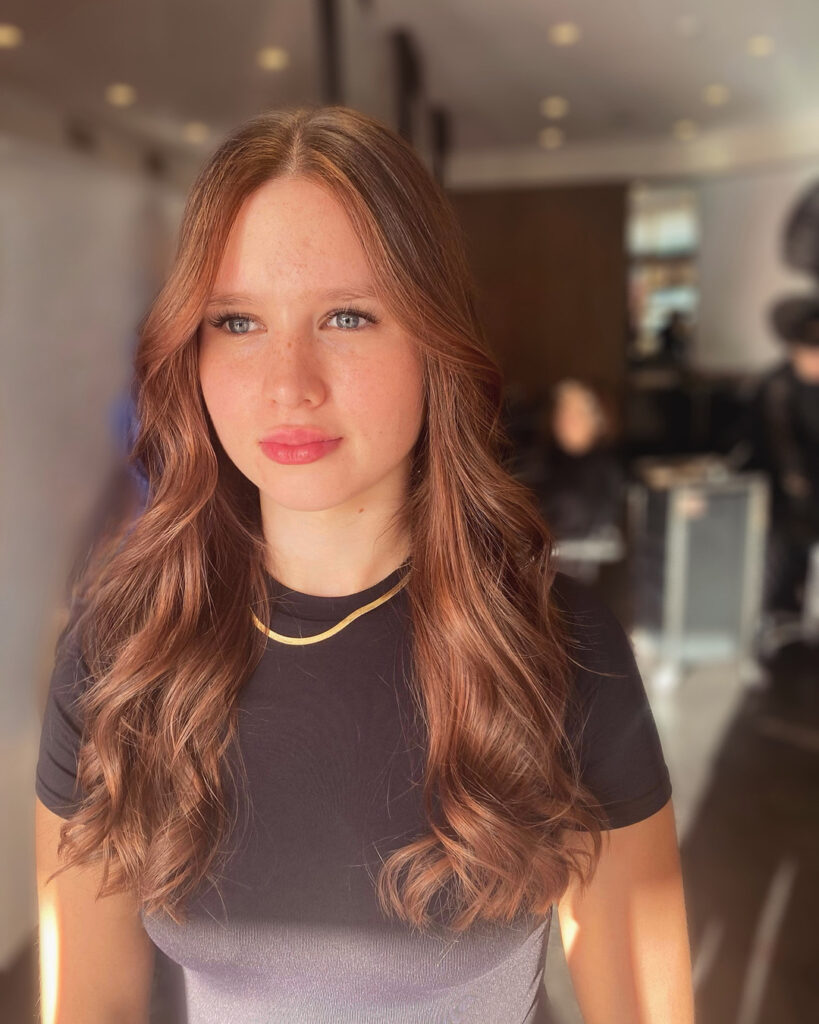 Long, loose waves with face-framing pieces are your ticket to looking and feeling ultra-feminine. Those longer bangs carve out your cheekbones while bright 'money pieces' light up your face. This look is a killer option for those of you with long hair.
The Platinum Lob with a Twist
Who says blunt cuts have to be boring? Pair a platinum lob with some wispy bangs for texture heaven. Pro-tip: keep your hair shiny and manageable with a dash of leave-in conditioner.
Turn Heads with Red-Layered Hair
Here's a look that screams confidence: a layered cut with vibrant red hair. The curtain bangs and long layers frame your face while adding playful color. Plus, it's a breeze to maintain.
Minimize that Forehead with a Waterfall Shag
If you want to draw attention away from a more prominent forehead, layers and curtain bangs are your go-to. A quick blow dry with a medium-sized round brush, and you're runway-ready!
Copper Vibes for Long Hair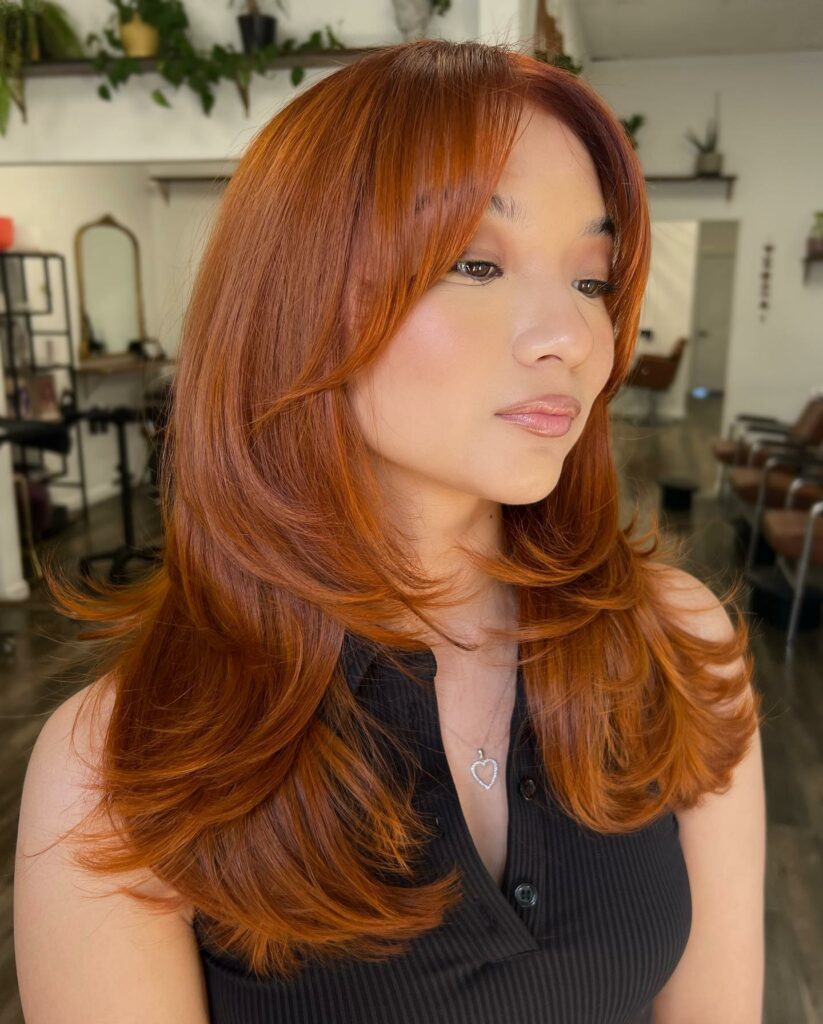 Layers on longer-length hair? Yes, please! They bring movement and body to your mane. Go for a trendy shade like copper to really make a statement. You'll have heads turning, guaranteed!
The Airy, Feathered Look
This is my fave for diamond-shaped faces—long bangs and feathered texture. Just a quick spritz of volumizing spray at the roots, a blast dry, and you're ready. Low maintenance, high impact.
Full Fringe and Layers: The Dynamic Duo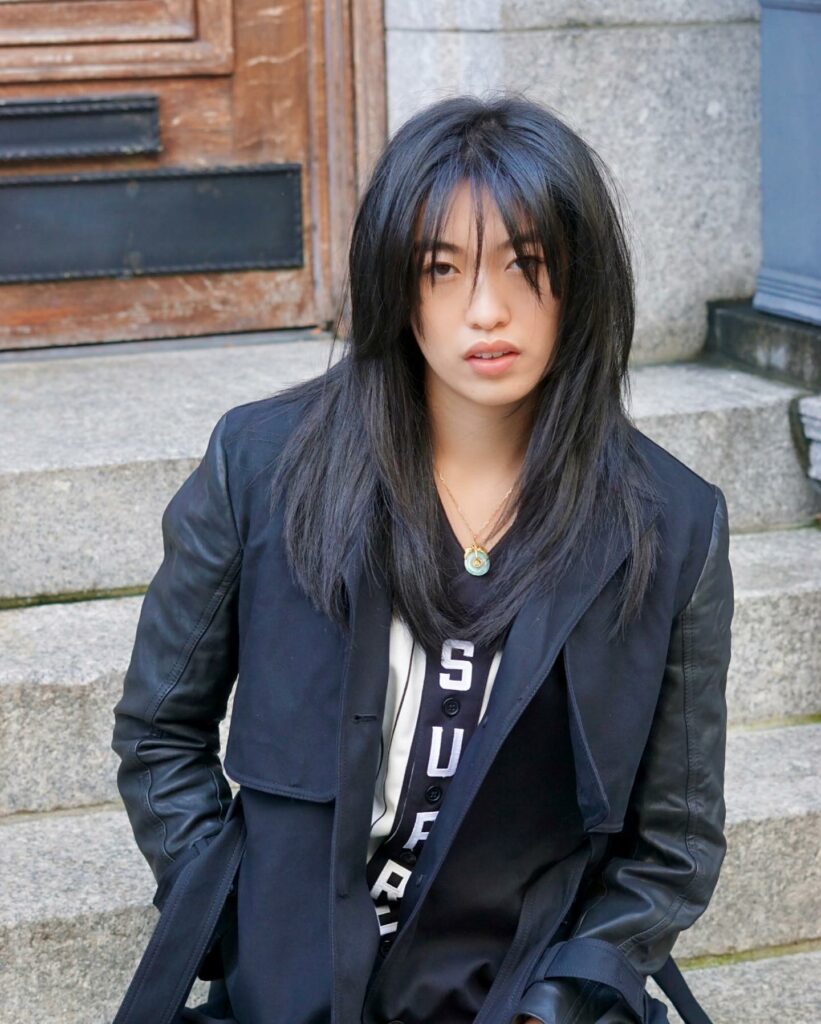 Got an oval or elongated face? Honey, you need to try full fringe combined with layers. It highlights your jawline and cheekbones so beautifully. I've tried it and loved the versatility of putting my hair up or letting it down. It's a whole look either way!
Level-Up Your Lob with a Fringe
Let's say you're rocking a lob (long bob), but it feels a bit meh. Add some face-framing layers and watch your hair come to life. Even if you must tie your hair up for work or the gym, those little wispy bits around your face keep things spicy.
Volumize with Subtle Layers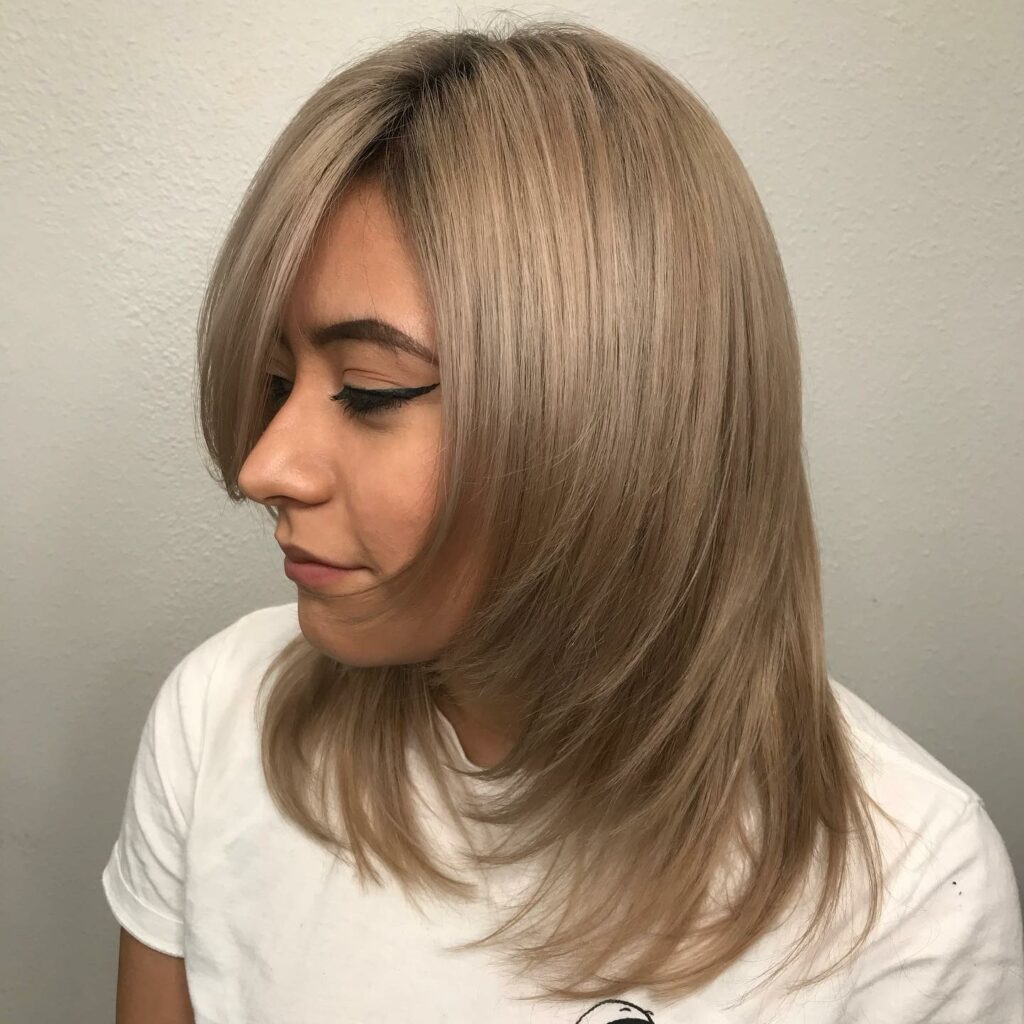 If big hair is your dream, subtle face-framing layers are your magic wand. A quick tip: blow-dry your hair forward with a large round brush to give that fringe a swoosh of glam. And a deep side part for a night out? Your hair will be dancing even if you're not.
Sun-Kissed Choppy Layers
Choppy layers are the thing right now. Angling around the face plus a touch of balayage? You've got the recipe for Instagram-worthy hair. I swear by texturizing spray for that flawless, defined finish.
Bouncy Vibes with Long Layers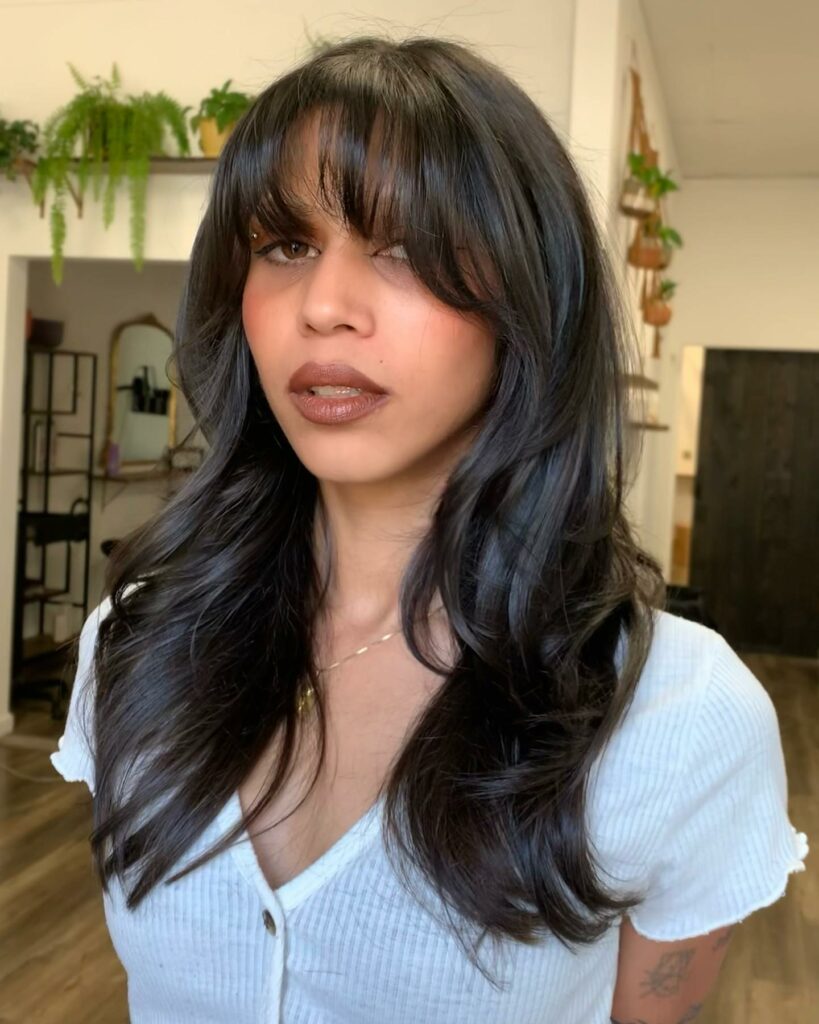 Big and bouncy hair is always in. Face-framing layers that start at the cheekbones are universally flattering. I love blow-drying with a round brush or curling the ends for that voluminous, textured finish. Seriously, it's a game-changer!
Celebrate Long Hair with Layers
Long hair gives you a canvas to experiment like no other. Add some face-framing layers to it, and you'll draw attention to your stunning features. The styles you can try are endless.
The Short Hair Revolution
Short hair is effortless to manage and usually healthier to boot. To elevate it, add face-framing layers. It's an instant way to get more movement and texture while putting the spotlight on your beautiful face.
Straight Hair, Don't Care
Straight hair is a blessing in tangle-free mornings but can lack oomph. Layers, especially face-framing ones, can infuse life into those straight locks. You get shape, volume, and a dash of 'je ne sais quoi.'
Mid-Length Magic
Medium-length hair is like the Goldilocks of hair lengths—not too short or long, but just suitable for styling. Amp it up with layers that frame your face. Layers can make it a hundred times better whether you're into bobs or lobs.
Sassy and Choppy Shoulder-Length Styles
Choppy shoulder-length layers are a cheat code for creating movement and volume. Perfect for thin hair but also fabulous for removing bulk from thick locks. Plus, it needs more maintenance.
What Are Face-Framing Layers, And How Do They Work?
Face-framing layers are layers cut into your hair that start at varying lengths, usually beginning from the jawline or cheekbones and moving downward. The idea is to add dimension and depth to your hair, highlighting critical features like your eyes, lips, or cheekbones. Think of these layers as the "highlights" of your hair—the portions that catch the light, move when you talk, and subtly shift attention toward your face.
How do they work? It's a bit like contouring but for your hair. Just as you use makeup to highlight and shade different areas of your face, face-framing layers use your hair's natural movement and texture to accentuate your features. So, if you have a longer face, for instance, layers can add width; if your face is round, longer layers can help elongate it. The layers work harmoniously with your natural face shape, enhancing it rather than changing it.
If you have thicker hair that tends to feel like a mane, face-framing layers can lighten things around your face without sacrificing overall length. On the flip side, these layers can add the illusion of volume and movement if you've got fine hair.
So, give face-framing layers a whirl next time you're due for a snip. Whether keeping things casual with a shaggy bob or going all-out glam with long, cascading locks, a few well-placed layers can elevate your look like nobody's business. Trust me, it's the little change that makes a big difference!
Who Are They Best Suited For?
The beauty of face-framing layers is that they're super versatile and can work for just about anyone, regardless of face shape, hair texture, or length. But, of course, some general guidelines can help you get the most out of this style:
Face Shape: If you have a round or square face, longer layers can help elongate your look. For those with longer or more oval-shaped faces, shorter layers starting at the cheekbones can add some width.
Hair Texture: Face-framing layers can work wonders on all hair textures. If you have curly or wavy hair, these layers can help lighten the weight and define your curls more. On straight hair, they can add movement and a touch of playfulness.
Hair Length: The great thing is that you can rock face-framing layers with a pixie cut or Rapunzel-like locks. Shorter hair can benefit from subtle layers that add texture, while longer hair can handle more drastic, defined layers.
Personal Style: Let's remember the impact of your personal style. You might opt for softer, more subtle layers if you're more into a chic, polished look. If you're all about that boho life, chunkier, more noticeable layers can add that laid-back vibe you seek.
Lifestyle: If you're super active or always on the go, consider how much time you can dedicate to styling. While layers can be low-maintenance, some styles require more TLC with a round brush or curling iron to look their best.
So whether you're a busy mom, a corporate ladder climber, or a free-spirited artist, a face-framing layer style can work for you. Just chat with your stylist about what you hope to achieve, and let those scissors work magic!
How Can Someone Achieve The Look?
Great question! Achieving face-framing layers is a multi-step process that starts from the salon chair and extends to your home styling routine. So, let's break it down!
At the Salon
Consult Your Stylist: This is crucial! Talk openly about your preferences, lifestyle, and any hair challenges you're facing. Feel free to bring some pictures as visual aids.
The Cut: Your stylist will start by cutting the layers. The length and style will depend on your face shape, hair type, and the look you're going for.
Initial Styling: Post-cut, your stylist will likely blow-dry and style your hair to show off the new layers. Pay attention! You'll want to replicate this at home.
At Home
Washing & Conditioning: Always start with clean, conditioned hair. Use products that match your hair type. For wavy or curly hair, a hydrating shampoo and conditioner are essential. For straight hair, you might opt for volumizing products.
Prep Your Hair: Apply a heat protectant or leave-in conditioner. This not only protects your hair but also makes it easier to style.
Blow-Drying: If you've got a round brush, now's the time to use it. Please focus on the face-framing layers, rolling the brush outward to give them a slight curl and more volume. Use a diffuser attachment to enhance your natural texture for wavy or curly hair.
Styling: Once your hair is dry, you can further define those layers. For soft waves, use a curling wand. A flat iron can sleek things out if you want a more polished look. Add a spritz of texturizing spray for that extra oomph!
Final Touch: Finish off with a lightweight hair spray to keep everything in place.
Quick Tips:
Frizz Control: If you're prone to frizz, a small amount of hair serum can go a long way.
Day-After Styling: To refresh your layers the next day, a little dry shampoo at the roots and some light finger-combing can do wonders.
There you have it! You're all set to flaunt those gorgeous face-framing layers. And don't worry if it takes a little time to master your at-home styling routine; practice makes perfect, trust me!?
Conclusion
Alright, lovelies, let's wrap this up! Face-framing layers are your go-to move for breathing life into any hair length or type—seriously, it's like the universal hair upgrade. Whether you're a long-haired goddess, a short-hair don't-care queen, or somewhere fabulously in between, there's a layering style that'll highlight your best features and give your hair that extra zing. My personal favorite? A choppy, sun-kissed look—it's like a year-round vacation for your locks. Remember, a great stylist can make all the difference, so ensure you're in good hands before making the cut. Until next time, keep those tresses fabulous and your confidence high!
Feature Image Photo By hirohair on Instagram
Last reviewed and updated on October 3, 2023