Hey everyone, welcome back to the blog! Today, we're diving into the world of pink hair—a trend that's not just for bubblegum pop stars anymore. From rose gold to electric magenta, pink hair has become a versatile and eye-catching look. Trust me, there's a shade for everyone, whether you want to make a bold statement or go for something subtler. In this post, we'll explore the different shades of pink, the best products to achieve and maintain your dream hue, and some styling tips to make that color pop. My personal advice? Please don't skimp on the color-safe shampoo; it'll make your new shade last much longer. So, if you've ever thought about going pink, stick around. It's easier than you think to pull off this fabulously fun look.
Bright Pink: Not For The Faint Of Heart
Bright pink is your go-to if you're like me and have days where you want to stand out. It's a showstopper that adds an audacious edge to any style. But let's be honest; it requires confidence and a love for the spotlight. So, if you're up for the challenge, this shade is a game-changer!
Pastel Pink: Soft And Dreamy
Ah, pastel pink. This is the kind of shade that makes everyone look twice. It's soft yet striking, and it complements nearly every skin tone. If you're a blonde, just a few pastel highlights can add a magical touch without overwhelming your natural hue.
Go Bold With Pink Ombre
Do you love pink but are worried about maintenance? Ombre's got you covered! I adore how it allows for a natural root color, saving you those frequent trips to the salon. Plus, you can play around with shades—from a deeper pink up top to a lighter hue at the tips. It's like a sunset on your head!
Dare To Go Dark Pink
If you're about to make a statement, dark pink could be your new BFF. It's the grown-up version of your childhood pink obsession. This one's fantastic as highlights or lowlights. Honestly, dark pink gives off a fun yet mysterious vibe.
Brown Hair, Pink Flair
Brown-haired beauties feel included! A pop of pink can make your brunette locks even more dazzling. I experimented with this once, adding some bubblegum-pink streaks, and the result was a chef's kiss—a playful twist without stealing the brunette spotlight.
Turn Heads With Hot Pink
For those who really want to stand out, hot pink is your ticket to turning heads. It's a full-on showstopper, but it demands a level of commitment. Make sure it complements your skin tone, and you're ready.
Mixing It Up Pink And Purple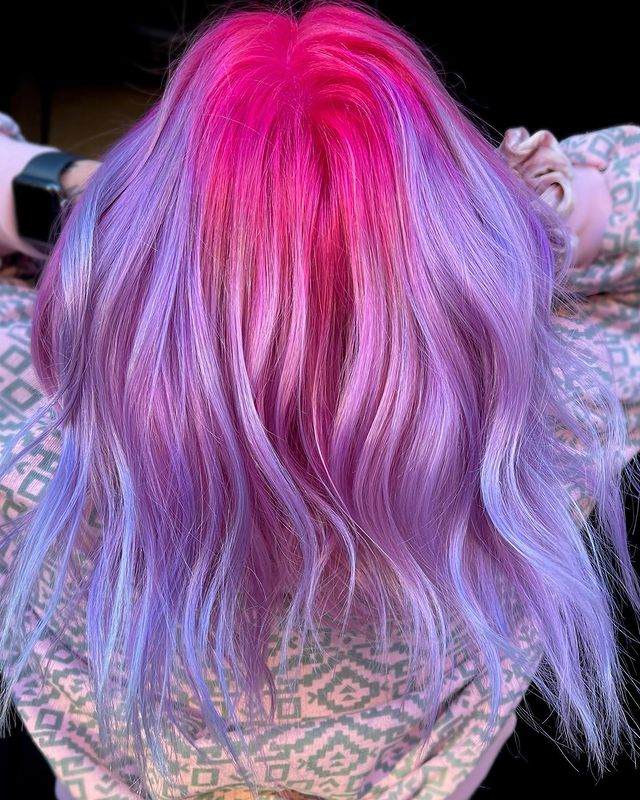 If you're feeling adventurous, a mix of pink and purple is a total dream. It's like a unicorn and a mermaid had a baby, and it decided to live on your head. Choose anything from subtle highlights to a full-on ombre—either way, you're winning.
A Fresh Combo: Pink And Blue
If you're torn between two shades, why not go for both? Pink and blue create a captivating, Instagram-worthy contrast. My secret tip? Go for lighter pastels if you want a more muted look; ramp it up with vibrant shades for the ultimate statement.
Edgy Elegance: Black And Pink
This is for anyone who loves a high-contrast, edgy look. Imagine jet black on one side and vibrant pink on the other—it's like yin and yang for your hair! If you're not up for the split dye, pink highlights on black hair offer an equally stylish but less intense alternative.
Blonde Pink Match Made In Heaven
Calling all blondes! A few pink highlights can add a romantic flair to your golden locks. I once tried this with pastel pink framing my face; honestly, it was a game-changer.
Dark Brown Takes On Pink
Dark brown and pink together create an unexpected but stunning combo. You can keep it subtle with tips or go full-on with highlights throughout. Either way, this mix provides a fun and fresh way to shake up your look.
Out-of-the-Box: Pink And Green
Think pink and green should never be seen? Think again! This combo is quirky, artistic, and perfect for anyone looking to push the boundaries. Go for pastels for a more subdued look, or go all out with neon for a true pop of color.
Bubblegum Pink: Forever Young
Bubblegum pink is playful, fun, and downright adorable. This shade has a retro vibe that makes you feel like a kid again but in the best way possible. Want my advice? Go all in and dye your whole head; it's the only way to do bubblegum justice.
The Classic: Red And Pink
Let's talk about red and pink. This combo screams romantic, passionate, and fiery! And the best part? You can go as bold or subdued as you like—keep those hues balanced for a harmonious look.
Rocking Short Pink Hair: A Love Affair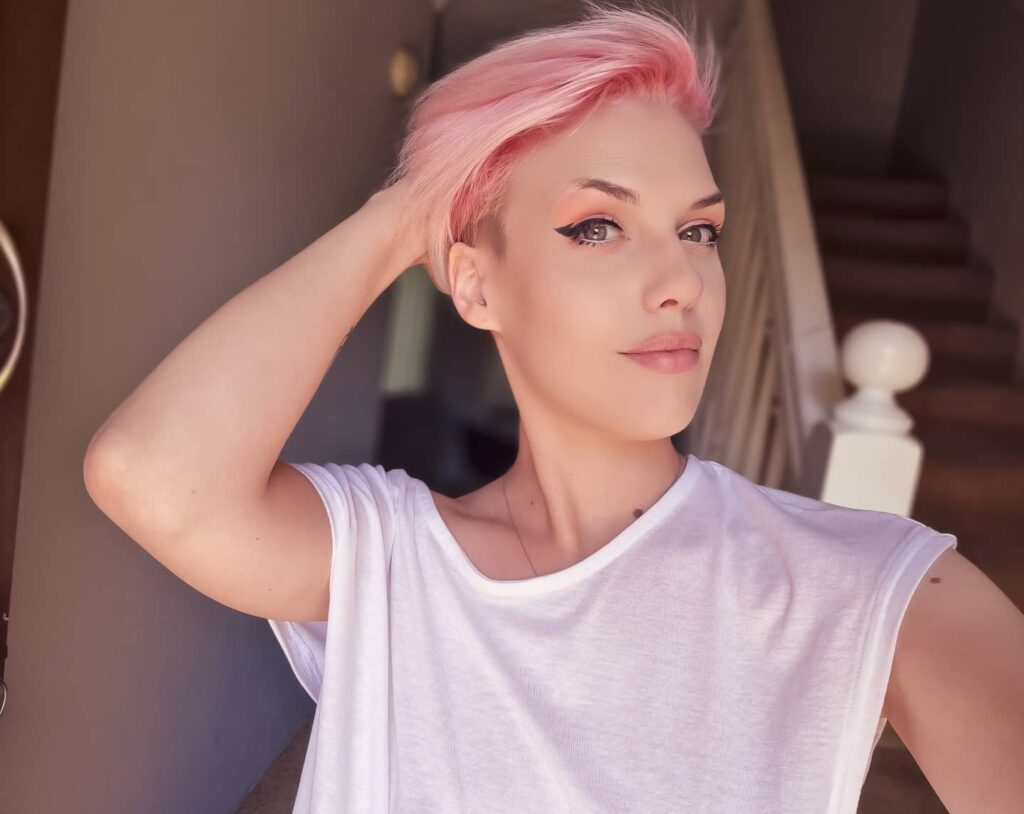 So, you're into short hair, huh? It's a blessing—so easy to manage and always in vogue. Whether you're all about that pixie cut or you've got an edgy undercut, adding a pop of pink can transform your whole look! Remember when I tried it last summer? I felt like a rockstar every day. Plus, a soft pink adds an extra playful, irresistible vibe.
Pink and Orange: The Unexpected Dynamic Duo
Have you ever thought of pairing pink with orange? It's like the guacamole to your taco—a surprising combination that works! Trust me, it's a fantastic way to infuse fun into your locks. Go darker for more contrast, or stick with softer shades for a dreamy blend. I did this combo last spring and got compliments wherever I went!
Make A Statement With Pink Skunk Stripe Hair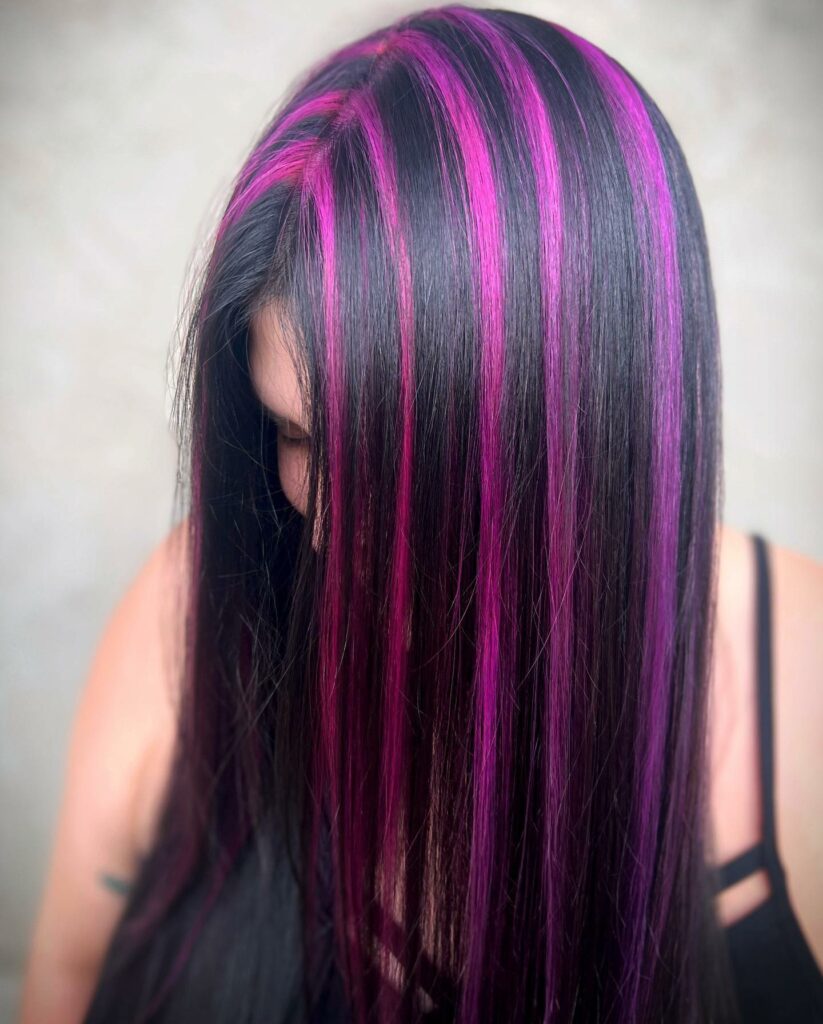 The skunk stripe trend—so named for that bold color stripe is back, baby! Traditionally done in platinum on dark hair, it makes you look effortlessly edgy. But how about switching it up and using pink instead? It adds a fun twist that's both quirky and eye-catching, perfect for selfie moments.
Pretty In Light Pink
Light pink isn't just for your nursery walls, people! This color is soft romantic, and gives off a whimsical vibe. I tried light pink last spring; trust me, the compliments flowed in like crazy! My go-to tip? Pair this hue with soft waves for an ultra-feminine look.
Half Pink, Half Black: Why Choose?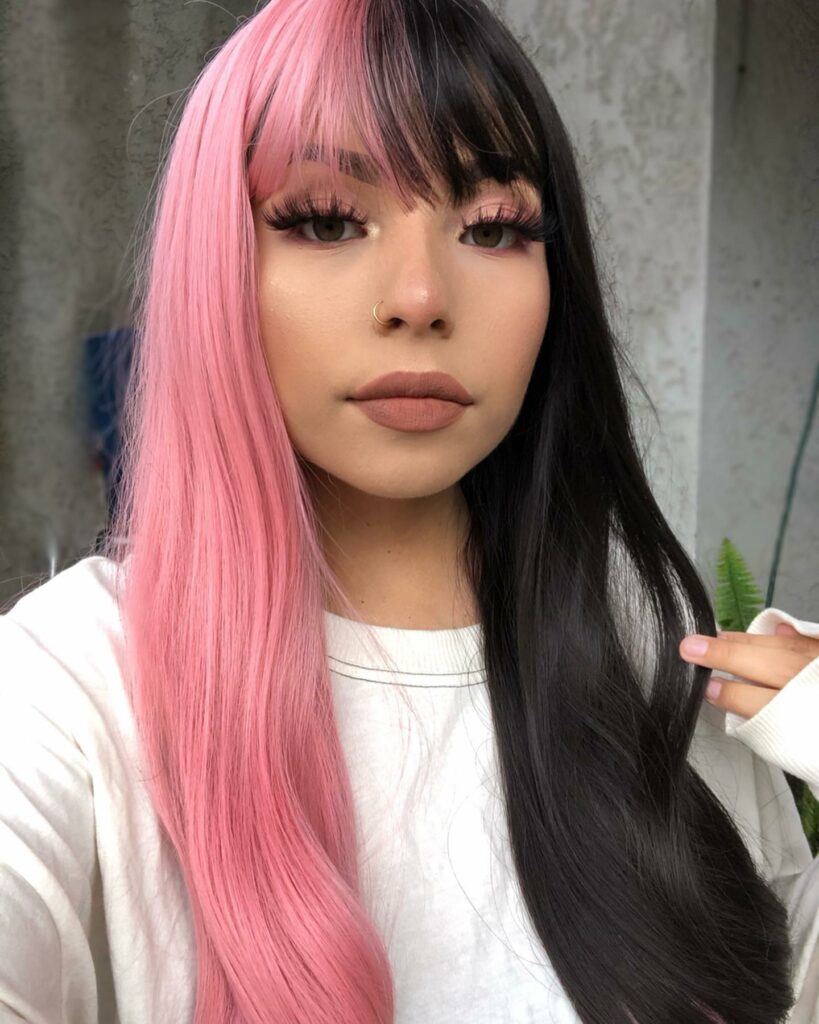 Ever struggle between two colors you love? Why not both! I tried the split dye trend once with pink and black, and let me tell you, it's a total look. Best of all, it's less damaging than dyeing your entire head. Plus, it highlights your hair texture, making it a win-win in my book!
Neon Pink: Light Up the Room
Neon colors are like the life of the party—undeniable and eye-catching. With neon pink, you will surely be the talk of any gathering. However, remember, these shades need a bit of upkeep to maintain their vibrant look. But hey, sometimes beauty needs a little effort.
Pink Streaks: Your Ultimate Flex
Chunky pink streaks are the way to go if you love pink but need more clarification on a total commitment. I've done this, and it was like a fun pop of color without a major overhaul. Think of it as pink, but make it subtle-ish.
Curls Wanna Have Pink Fun
Pink can be your new best friend if you've curly hair. I've seen this look on friends, and it beautifully accentuates the curl pattern. From pastels to neon, the sky's the limit when choosing your shade of pink!
Sleek and Pink: A Straight Hair Tale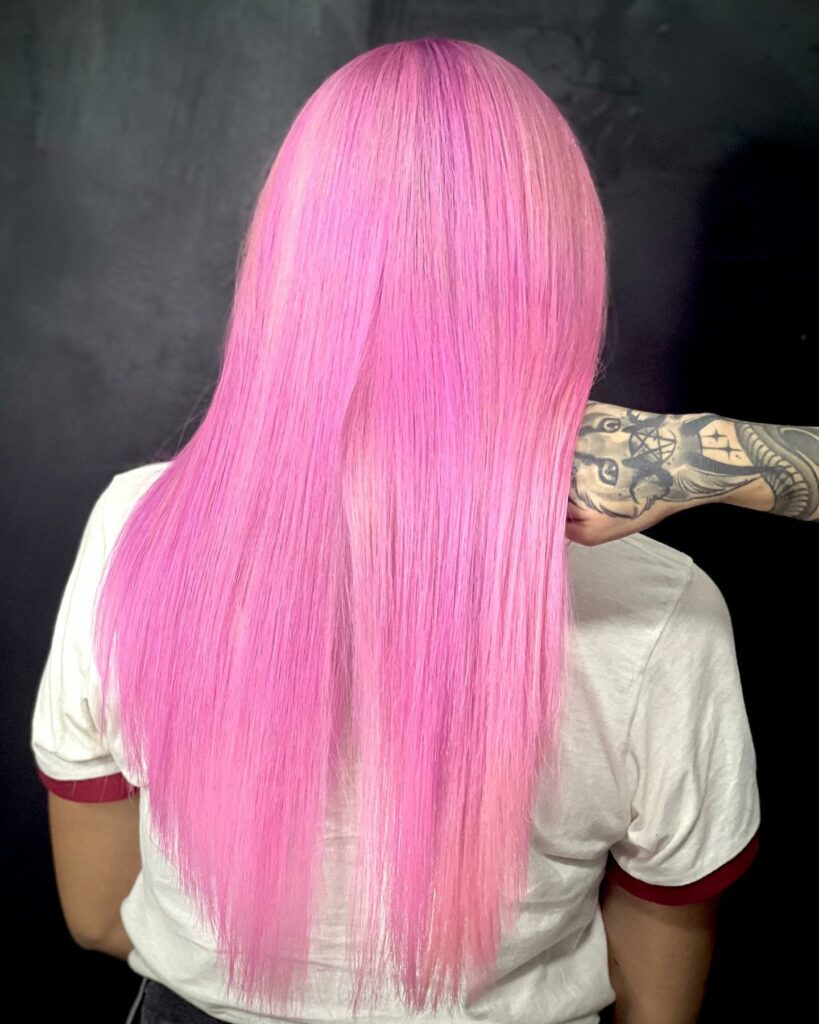 Straight hair already has that chic vibe, but adding some pink can elevate your style to a whole new level. The color can add some much-needed dimension to an otherwise flat appearance. So, why not spice things up?
Ride The Pink Wave
Wavy hair and pink are like a match made in hair heaven. The color adds a playful flair that complements the waves' natural bounce. I love how pastel shades look with wavy textures—it's almost like a mermaid dream come true!
Pink Bangs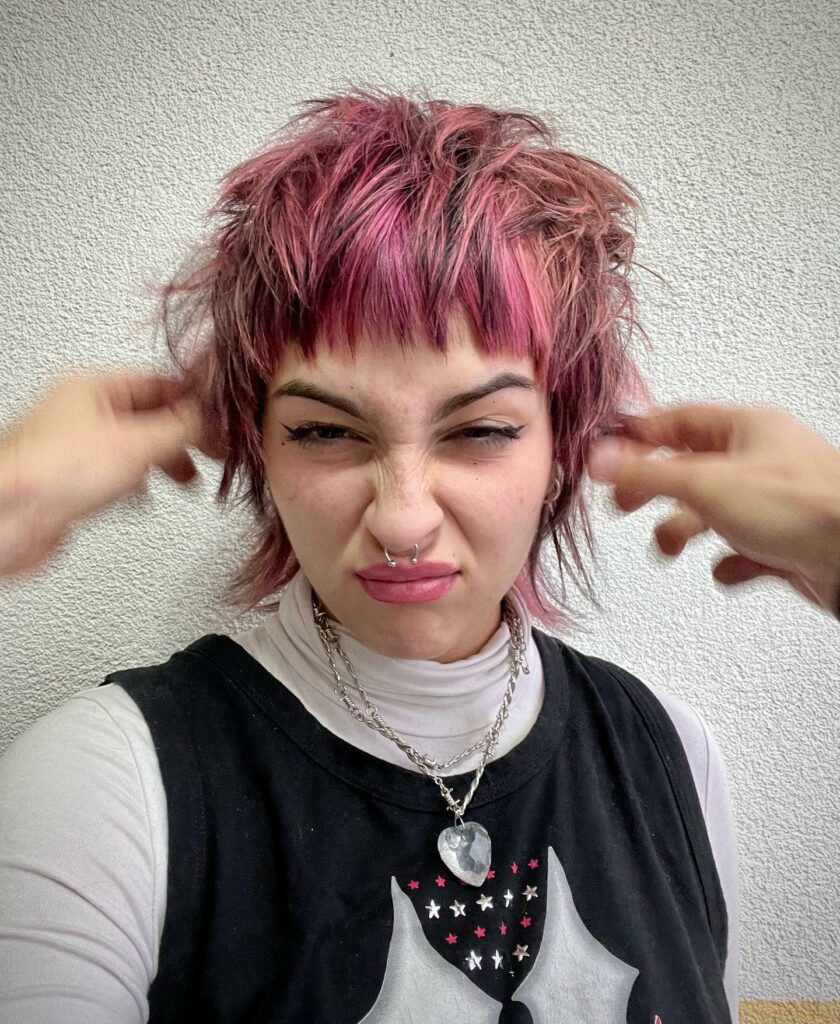 Bangs already draw attention to your face, but imagine them in pink! Whether you're into blunt or curtain bangs, dyeing them pink is a unique twist I absolutely adore. It's like wearing your personality on your forehead.
Pink In The Afro: A Beautiful Combo
Afro-textured hair in pink is show-stoppingly beautiful. This unique combination celebrates both your texture and the richness of color, making you feel like a walking piece of art.
Money Piece Hair: Pink Edition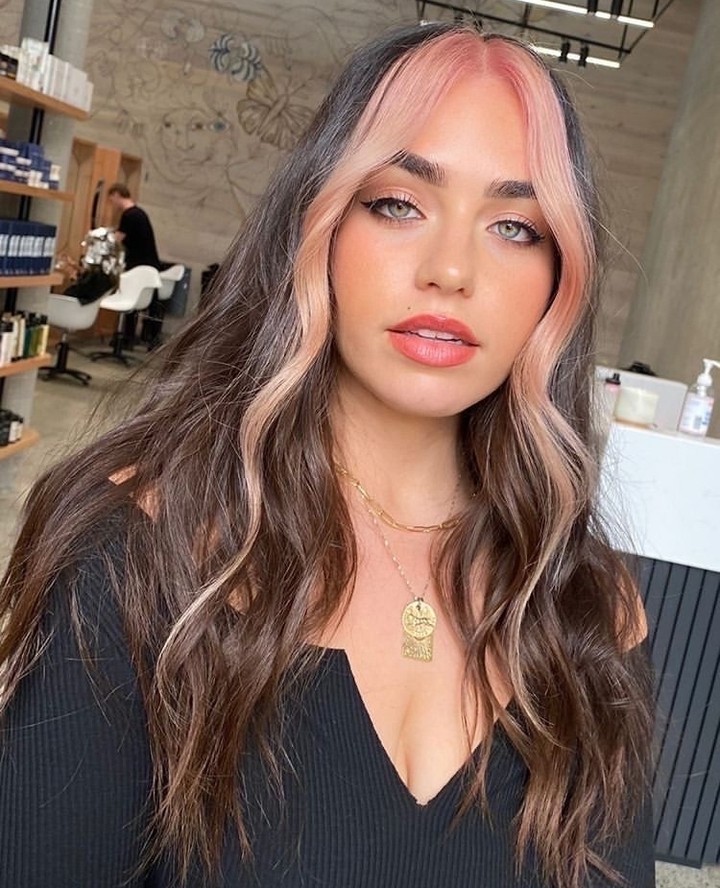 Remember that trendy money piece highlight framing the face? Imagine that in pink! It's subtle yet daring—a perfect compromise if you're dipping your toes into the world of hair color.
Pink Peekaboo Hair: A Hidden Surprise
Looking for something subtle? How about the peekaboo technique? When you move, the pink will give a little "hello" from beneath your top layer of hair. It's like your own little style secret.
Blonde Meets Pink: A Classic Romance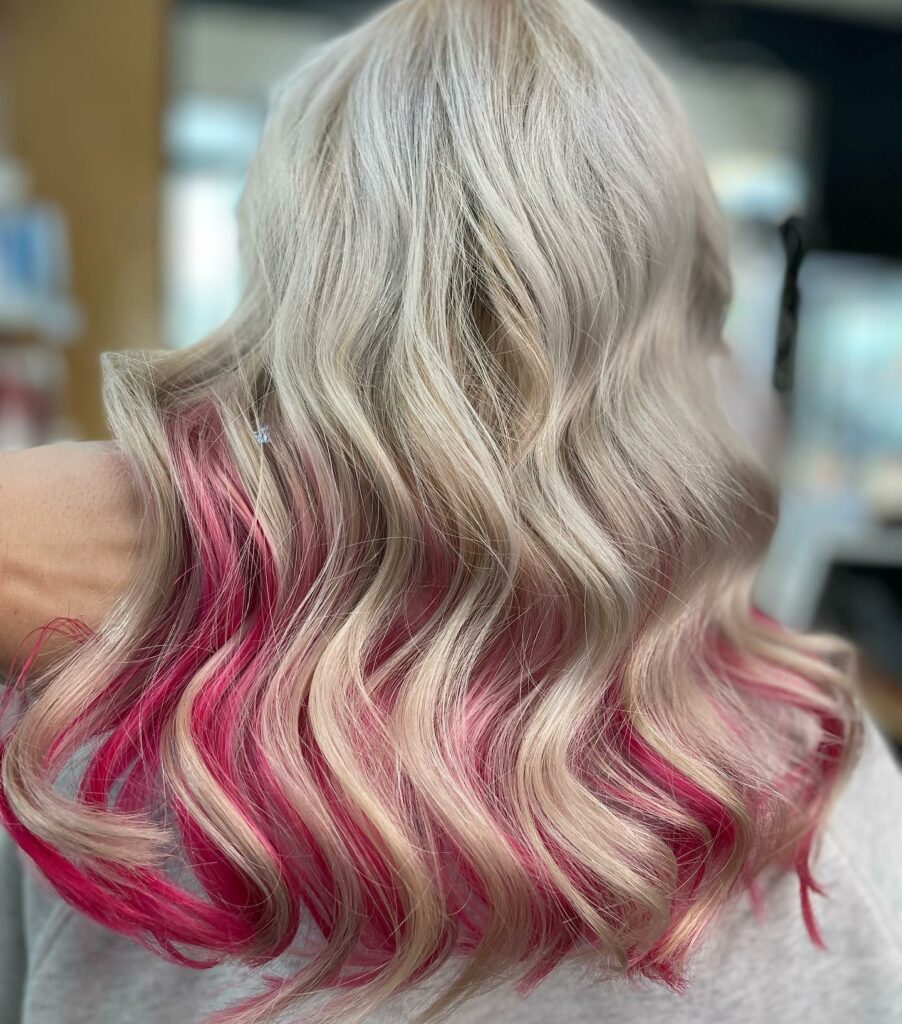 If you've got blonde hair, adding pink to the lower layers creates an intriguing contrast that I can't get enough of. Every time you tie your hair up, or it blows in the wind, you'll get that dreamy peek of pink.
Soft Pink Balayage On Natural Brown Locks
Imagine a warm sunset captured in your hair. My bestie Sarah recently opted for soft pink highlights that sit at the tips, adding a delicate contrast to her natural brown. The end result? An irresistibly dynamic look that complements her skin tone so well. This could be a nice intro if you're nervous about going full-on pink.
Rose Gold Waves: The Showstopper
We all know rose gold is a thing, but have you ever seen it shine in loose waves? Imagine your tresses shimmering like a golden river at sunset. The deeper roots give it a sort of 'I woke up like this' contrast that I absolutely adore. This is an excellent option for long-haired lovelies tired of the same old look.
Pink Highlights On A Long Shag Cut
You know how they say don't mix business with pleasure? Well, forget that when it comes to your hair. My recent hair affair involved a cream-blonde base with berry pink accents around the face. Curtain bangs, anyone? Trust me; this look is as delicious as a berry smoothie and perfect for any season.
Dramatic Pinks and Blacks: Rule the Scene
Ever felt like going all out? I did, and let me tell you, this pastel pink melting into deep pink and then transitioning to black tips had people turning their heads. If you've wavy hair, you're lucky because those color transitions get amplified, making you an instant showstopper.
Sip Some Rosé: The Cropped Version
Are you a 'take charge' kind of gal? Well, a short, rose-hued crop is for you. It's daring and gentle at the same time. The ultimate yin and yang, if you ask me!
Champagne Dreams: Pink and Sparkling
When it comes to pink hair, there are no boundaries. Imagine long, shiny locks cascading down your back, touched by the blush of pink champagne. Whether you're a straight-hair goddess or a wavy queen, this ethereal color scheme will turn any ordinary day into a fairy tale.
Romantic Blush Lowlights
If you're already rocking a sandy blonde but want a dash of romance, blush-pink lowlights are your best friend. I tried this last Valentine's Day, and the vibes were as dreamy as the hairstyle.
Berry Delicious: Strawberry Flair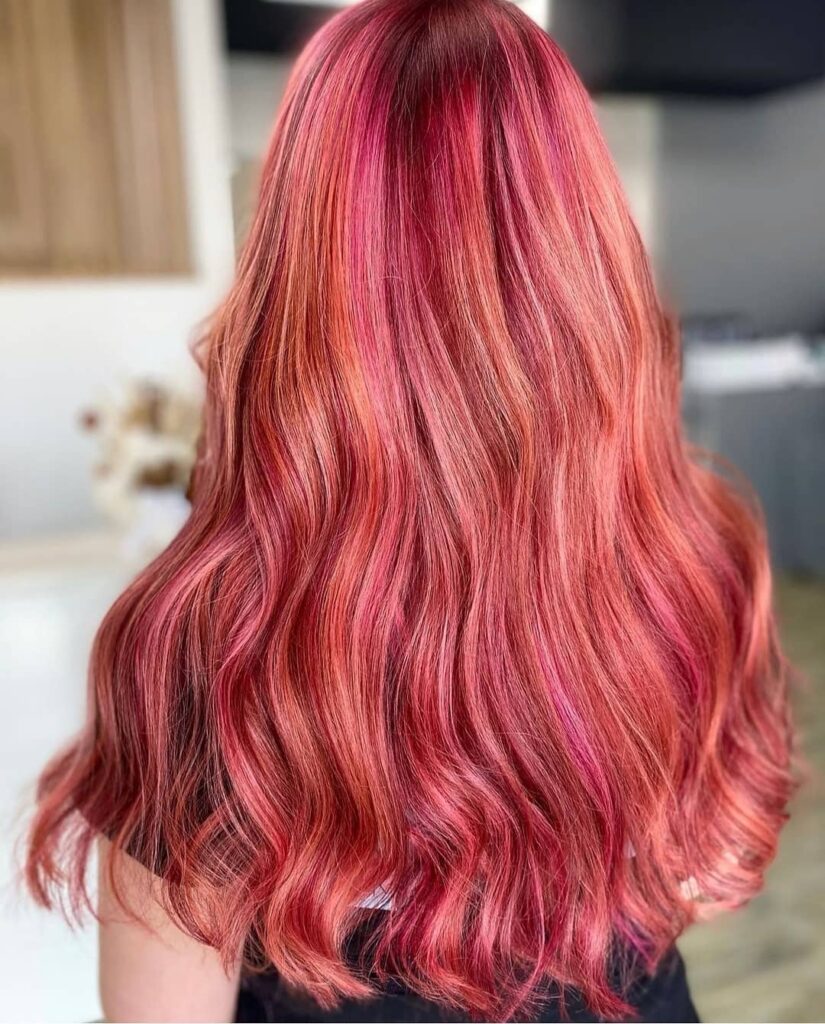 Need help to decide between different pink hues? Why not mix them? Dark roots and lighter tips give you that mouth-watering strawberry sundae effect. Adding a side part boosts your hair's volume and enhances that ultra-feminine look.
Classic Lob Meets Icy Pink
My sister was skeptical about turning her lob pink until she tried an icy shade just a hop away from the platinum blonde. Now, she can't get enough compliments. Pro tip: throw in some messy waves for an added glam factor.
Hot Pink For the Hot Season
Planning a summer getaway? Nothing says beach-ready like vibrant pink highlights on a dark brown base. I've rocked this look and can confirm that it beautifully frames the face, especially against sun-kissed skin.
Indulge In Berry Pink
If you drool over berry ice cream, here's a tasty hair inspiration. It's a blend so good you'll want to eat it up—or at least flaunt it everywhere you go!
Strawberry-Blondie Bob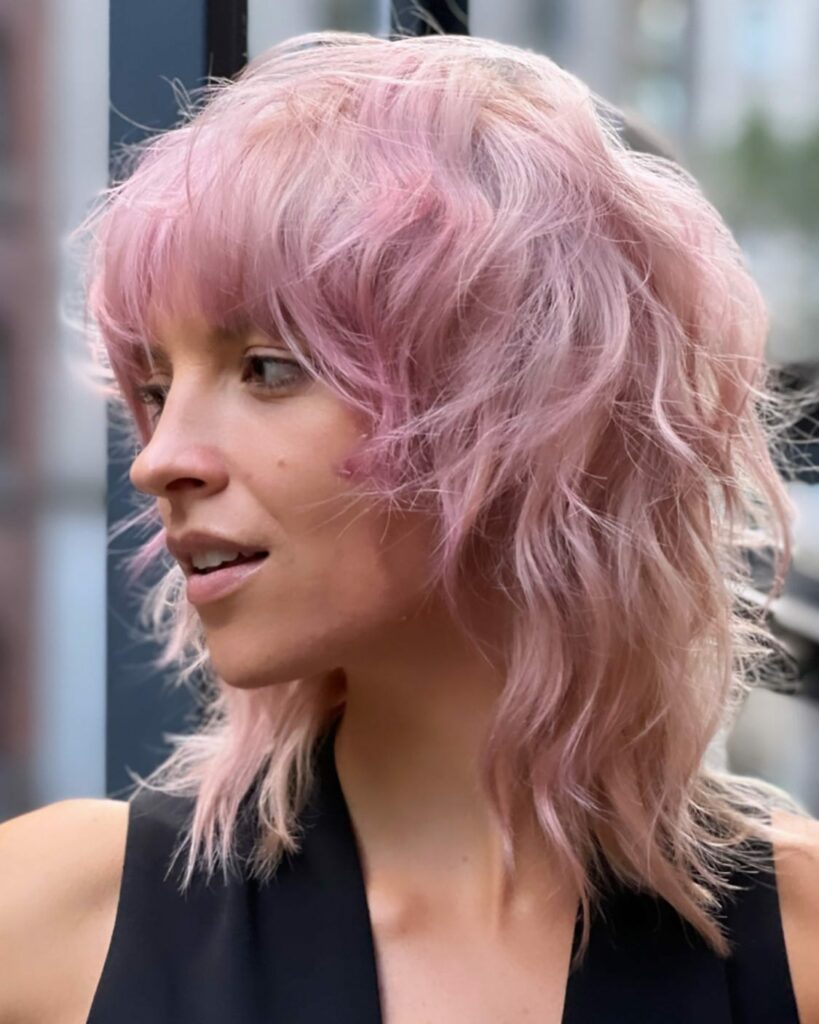 Bob is always classy, but add some strawberry shades, and you're crossing into iconic territory. It's the same effortless blonde, only now with a fruity twist.
Pink-Tastic Ringlets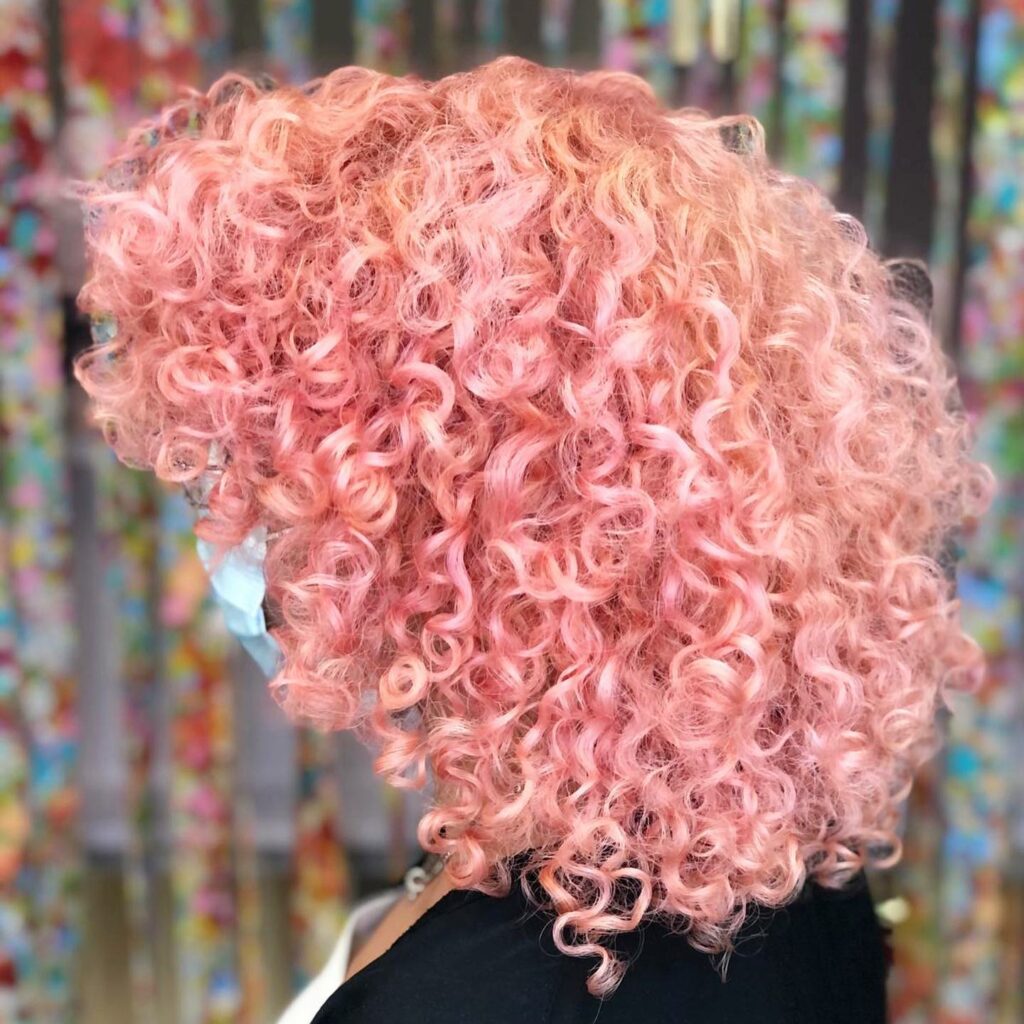 Hey, curly queens! Pink is your color, especially in pastels. It not only accentuates your curls but gives you a regal air. Own it, flaunt it, be the queen you were born to be!
Purple & Pink: A Balayage Fantasy
Do you have darker hair? A mix of flamingo pink and splashes of purple is a perfect way to go vibrant while keeping your roots intact. I've seen this look paired with blue eyes, and it's an absolute knockout!
My Top Products To Achieve And Maintain Pink Hair?
Achieving that Insta-worthy pink mane and keeping it vibrant is all about the products you use, from pre-coloring prep to post-dye maintenance. So grab your notepad; here are my tried-and-true recommendations!
Pre-Coloring Prep:
Olaplex No.3 Hair Perfector: This baby helps prepare your hair for dyeing by repairing broken bonds. Trust me, your hair will thank you later.
Dye Time:
Arctic Fox Semi-Permanent Hair Color in Virgin Pink: This vegan-friendly option is one of my go-to. It's vibrant, cruelty-free, and smells like grapes—what's not to love?
Manic Panic Cotton Candy Pink: Another excellent option for a DIY dye job. Manic Panic has been a staple for years, and their pink shades don't disappoint.
Schwarzkopf Professional Igora Royal Pearlescence Hair Color: If you're hitting the salon, this one offers a long-lasting, luxurious finish. Plus, I usually ask for it when I'm in the mood for a more subtle, iridescent pink.
Maintenance Must-Haves:
Celeb Luxury Viral Colorwash in Pastel Light Pink: This color-depositing shampoo will help keep your pink vibrant between dye jobs.
Overtone Pink Coloring Conditioner: An absolute lifesaver for maintaining your pink's pop.
Redken Color Extend Blondage Shampoo: Even if you're not blonde, this purple shampoo can help tone down any brassiness.
Kérastase Reflection Chromatique Hair Mask: This mask will keep your hair soft and your color vibrant. Use it once a week for optimal results.
Styling Products:
Bumble and Bumble Hairdresser's Invisible Oil: This lightweight oil will keep your hair feeling soft without fading color.
L'Oreal Paris Elnett Satin Extra Strong Hold Hairspray: This hairspray provides a stronghold without messing with your color.
Pro Tip:
Heat Styling: Use a heat protectant spray for heat styling. Anything that offers UV and heat protection will be your new best friend.
5 Tips To Make Pink Hair Really Pop
The Right Cut Matters
Texture it Up: Whether rocking a bob, pixie, or long layers, adding some texture will make those pink hues stand out. My stylist usually uses texturizing shears to give me that lived-in look.
Layer Love: If your hair is longer, consider getting some layers. Layers can add depth and movement, making your color look multi-dimensional.
Go Curly, Wavy, or Straight, But Do It Right
Beach Waves: I love using a 1-inch curling wand to create loose waves; they reflect light and make the pink tones in your hair look more dynamic. Spray a little texturizing spray, like Ouai's Wave Spray, to get that beachy finish.
Sleek and Straight: If you're going for a sleek look, ensure your hair is ultra-shiny to make that color pop. A little serum goes a long way—try the Oribe Gold Lust Nourishing Hair Oil.
Curls for Days: Got natural curls or love curling your hair? Pink really makes those curls pop. Use a diffuser and an excellent curl-enhancing cream for definition.
Don't Forget the Details
Accessorize: A few strategically placed hairpins or cute headbands can enhance your style and make your pink hair the star of the show.
Volume, Volume, Volume: A root-lifting spray or some good old backcombing at the crown can give you that added oomph to make your pink locks look fuller and more prosperous.
Braids and Twists
Crown Braids: These are my go-to for festivals or any outdoor event. Not only do they keep hair off your face, but they also showcase the various shades in your pink mane.
Loose Twists: A half-up, half-down style with some loose twists can give your hair a casual yet put-together look that highlights your color beautifully.
Seal the Deal
Finishing Spray: Finish off any style with a light spritz of shine spray to dazzle that pink. I swear by the Moroccanoil Glimmer Shine Spray.
Real Talk: Your Hair, Your Rules
Remember, your hair is your canvas. Don't be afraid to experiment and find what makes your pink hair shine literally and figuratively. You can always switch it up; that's the beauty of hair—it grows, and you can always re-color it! So go ahead, give these tips a spin, and flaunt that fabulous pink hair of yours.
6 Big Things To Consider When Dyeing Hair Pink
Hey, glam squad! Ready to dive into the world of pink hair? Well, hang tight, because we're getting into real talk first. If you're ready to leap to that show-stopping pink, you should keep a few things in mind. Trust me, these tips come from someone who's been through the coloring circus more times than I'd like to admit! 😄
Do the Strand Test – Okay, first things first. You have to do a strand test. This isn't just for the rule-followers; it's for everyone who wants to avoid turning their hair a weird shade (or worse, damaging it). Use a small section of hair that's not visible, follow your dye instructions, and see if you like the result.
Condition, Condition, Condition! – Hair dye can be harsh, especially the type that lifts your original color. I can't stress enough how important it is to condition your hair before and after dyeing. Think of it like priming a wall before you paint—it helps the color go smoothly and last longer. My fave is Olaplex No.5 Bond Maintenance Conditioner; it's a little pricey but worth it.
Say No to Chlorine – If you're a pool lover, remember that chlorine and pink hair aren't BFFs. Chlorine can bleach out the color, leaving your hair like a washed-out flamingo. Opt for a swimming cap, or stay out of the pool to keep your color on point.
Hot Tools & Pink Hair: Handle with Care – Straighteners, curlers, and even high-heat blow-drying can fade your color faster. If you must use them, keep the temperature low, and don't forget to use a heat protectant spray.
Allergy Alert – Even if you've dyed your hair before, always do a patch test 48 hours before applying the dye. Allergic reactions can happen, and they're not fun, friends. Seriously, an itchy scalp or a rash on your neck is not the accessory you want with your new pink hair.
It's All Temporary – Most pink dyes are semi-permanent, so you'll see the color fade with each wash. Make peace with the fade, or ensure you have a top-up plan. I usually keep a color-depositing conditioner on hand for a little refresh between dye jobs.
Seek Professional Help – While DIY hair dyeing can be super fun, sometimes it's best to leave it to the pros, especially if you're doing something complicated like mixing shades or going from a very dark color to a light, bright pink.
Still Looking for Inspiration, Then Check Out This Video
Conclusion
Cool, there you have it—a full scoop of pink paradise for your tresses. Whether dipping your toes into the pink pond with some soft balayage or diving deep into vibrant hues, remember that the key is to pick a shade that feels oh-so-you. My top tip? Don't shy away from a bit of contrast; dark roots or even pops of other colors like purple can take your pink game to a new level. And let's not forget maintenance: invest in an excellent color-protecting shampoo to keep that pink looking fresh. So what are you waiting for? Your dreamy pink locks are just a salon appointment—or a DIY dye session—away. Go ahead, sprinkle pink magic on your life; after all, you're the artist, and your hair is the canvas! Until next time, stay fabulous, and keep turning heads!
Feature Image Photo By bel_pipsqueekinsaigon on Instagram

Last reviewed and updated on October 8, 2023