Let's talk about something that's not just a haircut but a full-on vibe, Short Side Shave. If you're pondering a bold, transformative look that screams confidence, you've got to consider this edgy style. Trust me, it's not just for punk rockers or celebrities anymore; everyday people are rocking it for a good reason.
In today's post, we're diving deep into everything you need to know about the short-side shave for women. Consider this your ultimate guide, from the ins and outs of the cut itself to maintenance tips and even how to style it. And let me tell you, as someone who's been in the beauty and hair game for a while now, a short side shave can seriously up your hair game if done right.
Buzzing About The Nape: Pixie With A Twist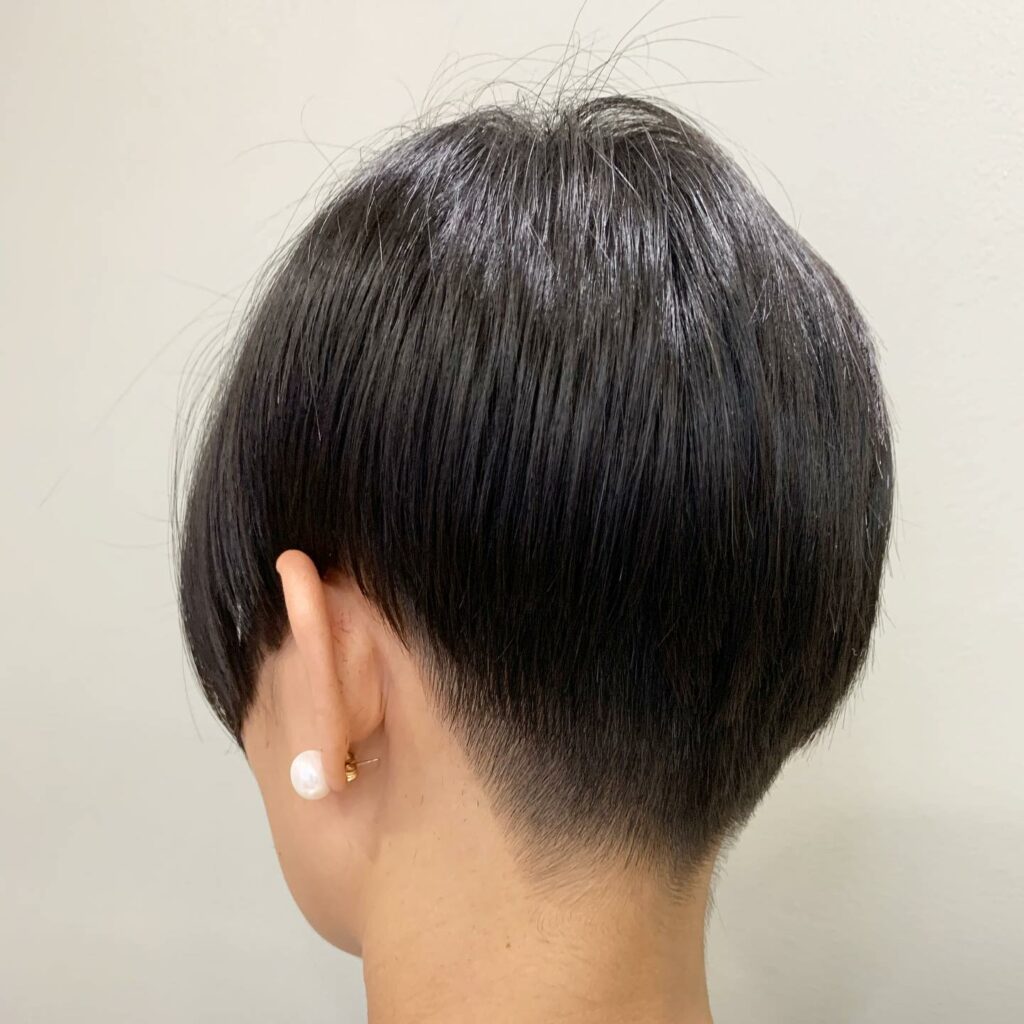 Have you ever considered adding an unexpected twist to your classic pixie cut? Meet the buzzed nape. This detail adds a surprising flair to your look by focusing the shave just above the neck. It's like having a little secret revealed when you put your hair up or let the wind catch it just right. Trust me, a hairdryer, a brush, and a smidge of product will keep this look on point.
Long Pixie, Short Sides: A Balanced Act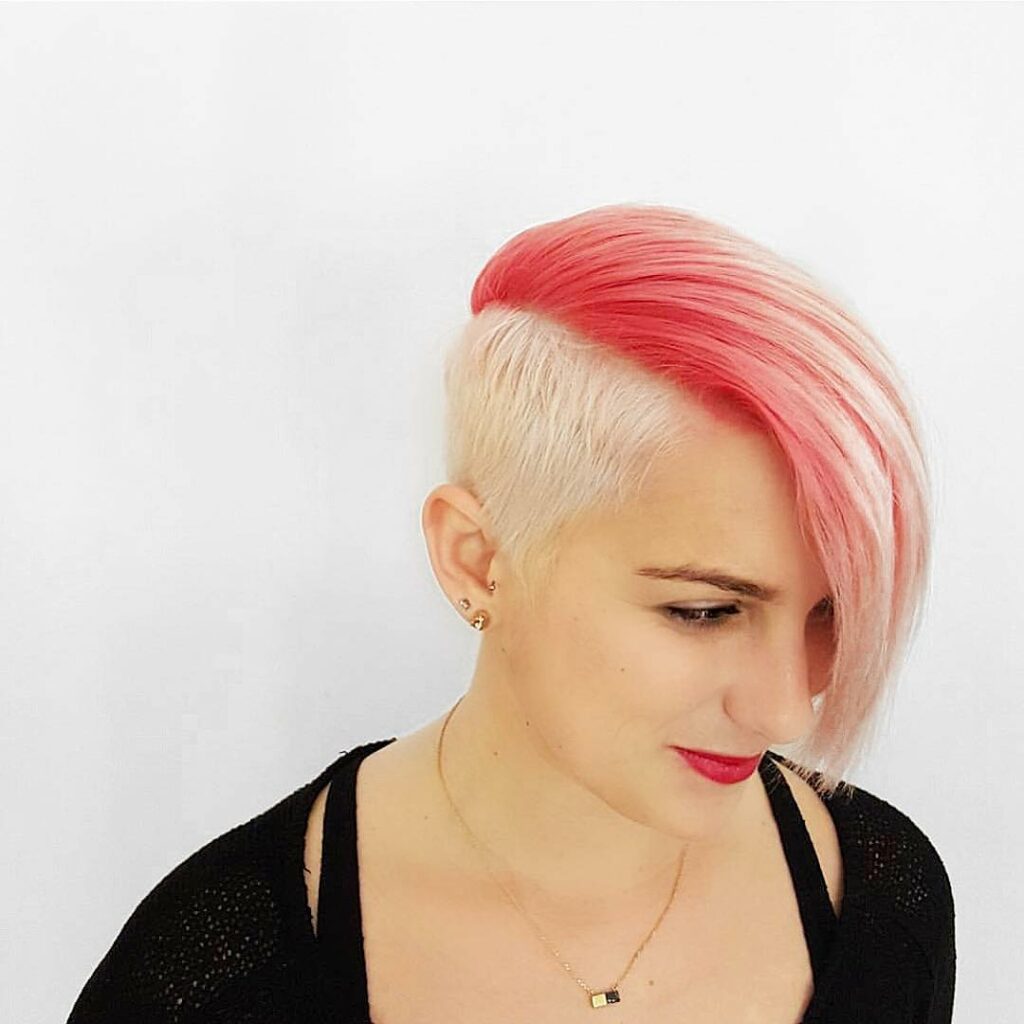 Are you leaning toward a look that's more androgynous and equally fabulous? Go for a long pixie with shaved sides. The length on top brings volume, and the side shave adds that modern edge. It's like the mullet's chic, city-dwelling cousin. When I tried it, I rocked a side-swept fringe, and let me tell you, the compliments rolled in!
Red Hot Pixie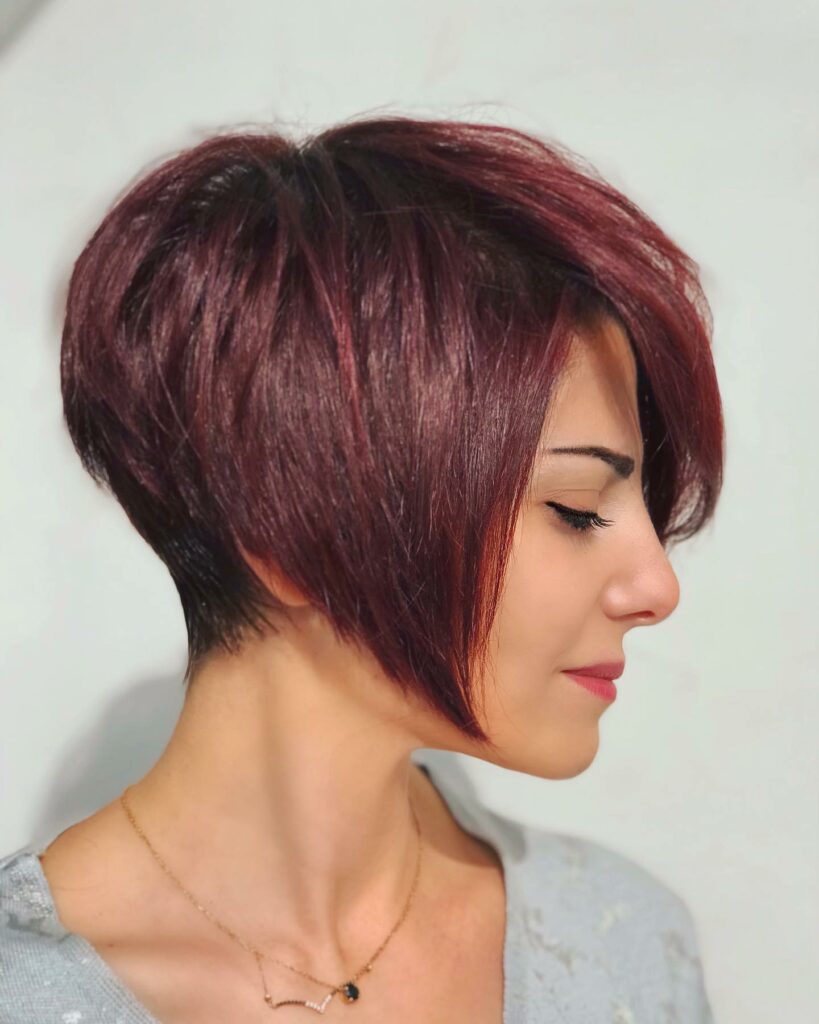 Calling all curly and wavy-haired beauties! Imagine your curls springing freely over a sharply shaved side—oh, and it's all in beautiful red. Whether you're a cherry bomb or more of a burgundy babe, there's a red hue that'll have you turning heads.
Cool Tones, Bold Choices: Faded Silver-Blue
I know, I know. Achieving that perfect silver-blue hue can be a journey, but it's worth it. Especially when paired with a frontal side shave that amplifies your whole look. Want to go bolder? Try hues like ice green or scarlet. You might also dig the trendy wolf cut if you're daring but could be more daring.
Shaggy Chic: Short Razor Cut Shag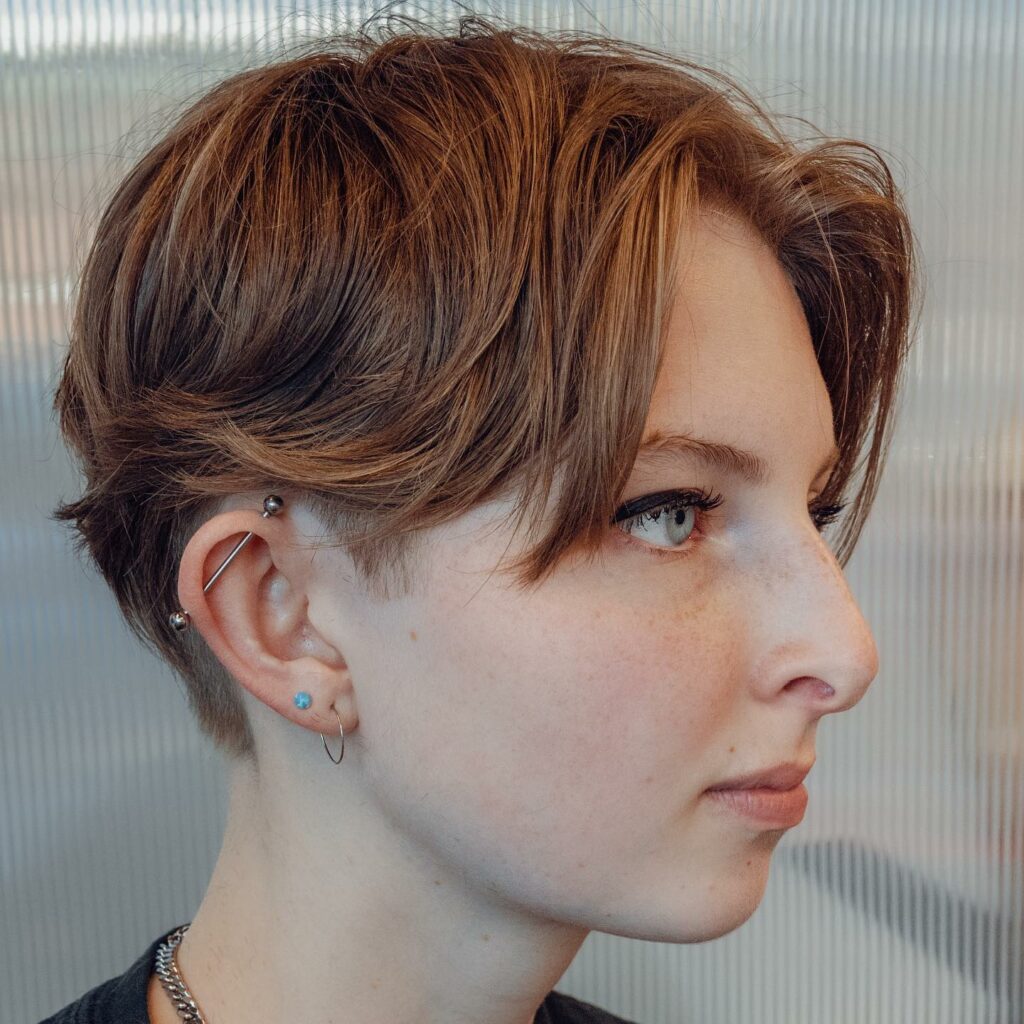 This one's for those who can't be boxed into one style. With a razor cut, your shag will bring texture and a laissez-faire attitude that's balanced yet bold. It works wonders on chubbier faces, too—I've been there!
Razor's Edge: Uneven Wispy Razored Pixie
Now, an uneven, wispy, razored pixie could be your go-to if you're all about volume and texture. With razored layers and a silver-blonde tone, you get a unique look that plays well with your facial features. Take the leap and give yourself that rock and roll flair.
The Edgy Undercut Pixie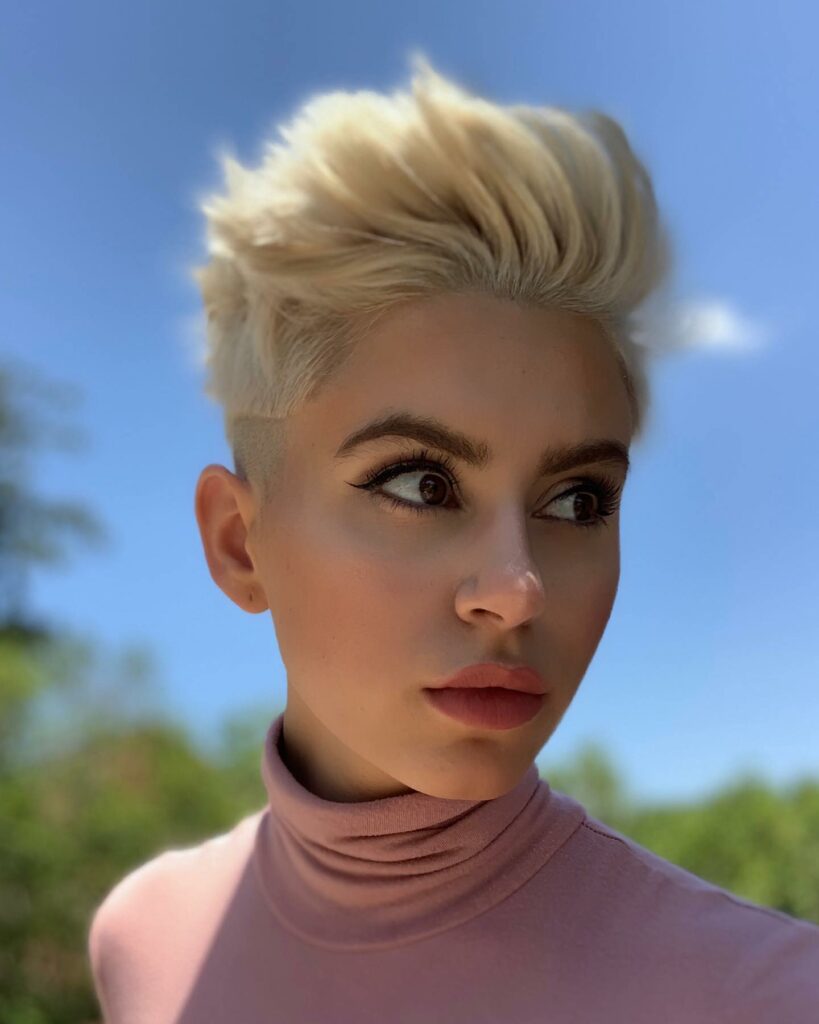 Do you want edgy? Let's talk layers, bold colors, waves, you name it. An edgy pixie has everything, from unique coloring to a tousled look. If you're anything like me, you'll adore the playful sharpness it brings to your daily ensemble.
Think Pink: Pastel Pink Undercut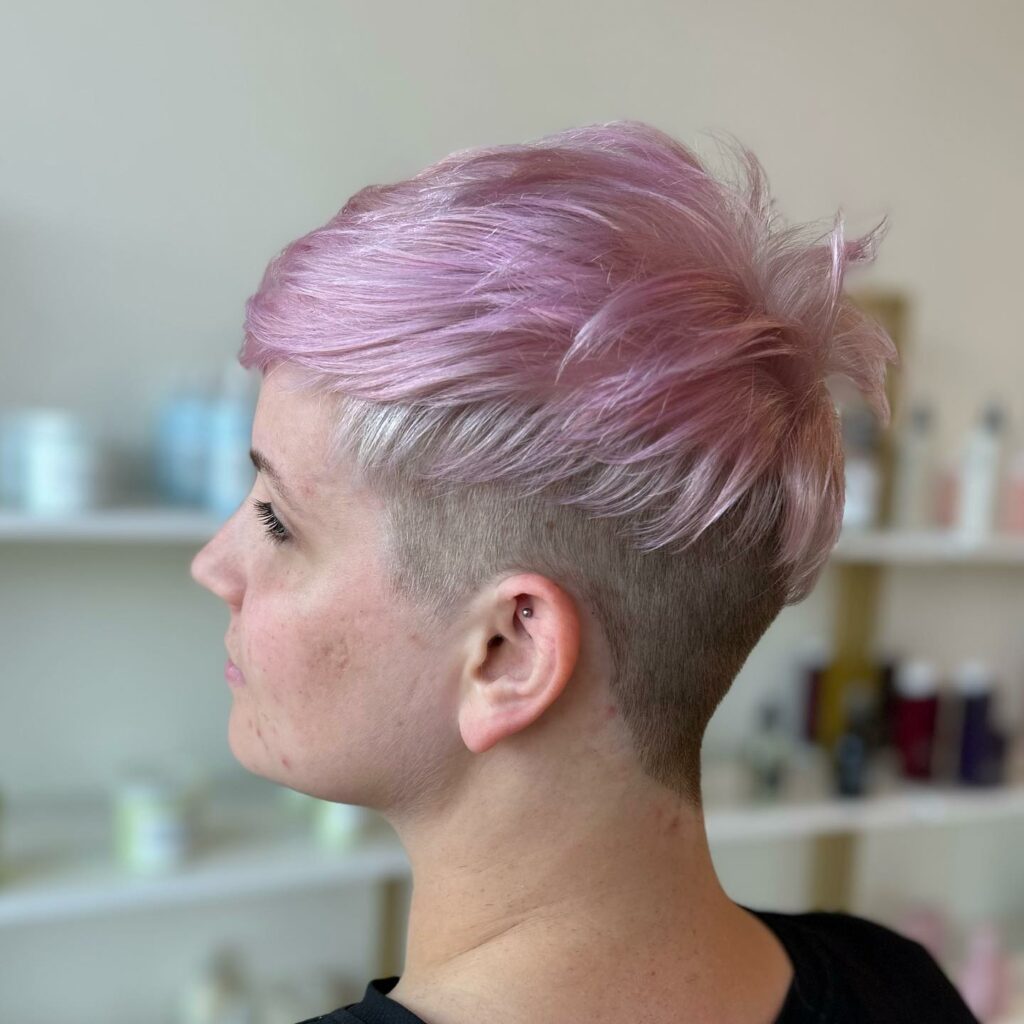 Pastels are having a moment, and what better canvas than a shaved undercut? This pink hue can make you stand out, but be prepared—the color fades fast. So, if you're committed, it's a weekly affair to keep those colors popping.
Razor-Sharp Styles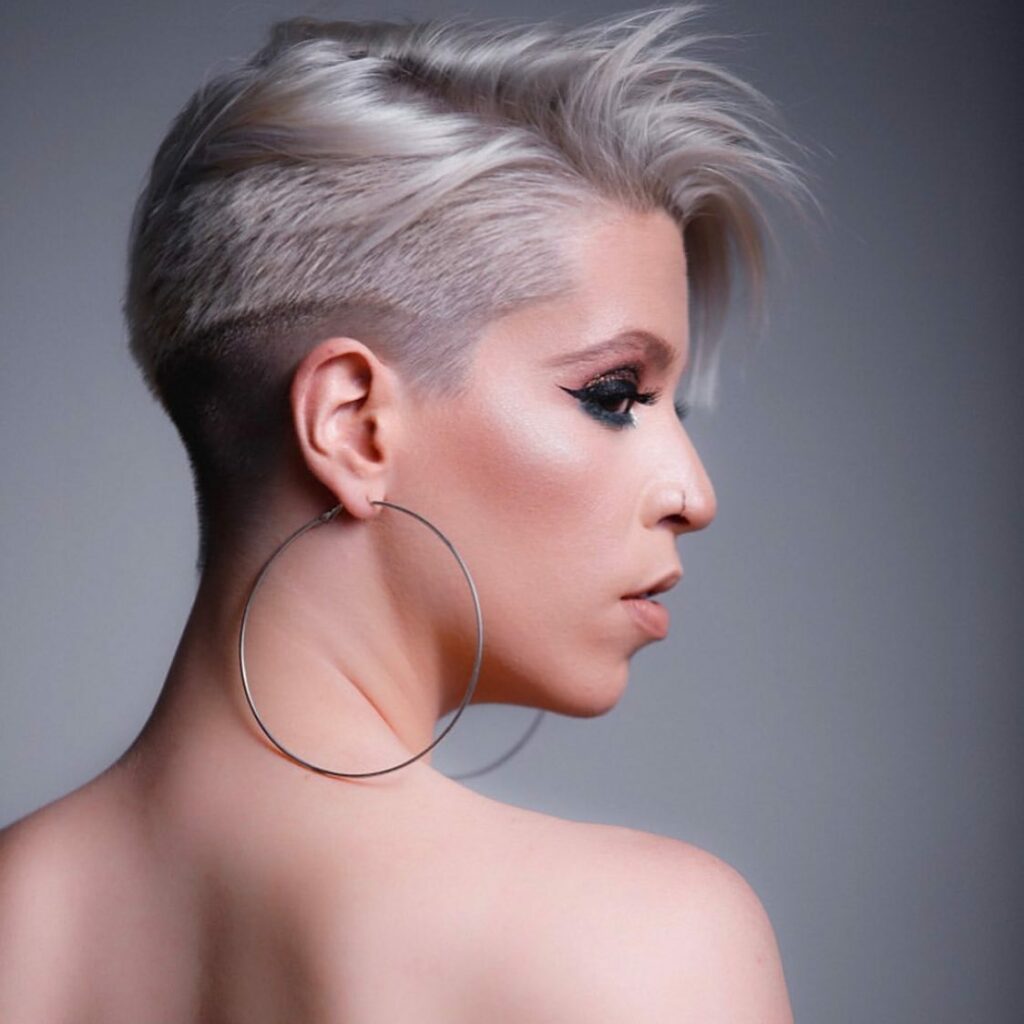 If you want a distinct, head-turning look, wear a razor-sharp undercut. It's for those who aren't just making a statement; they're yelling it. The longer hair on top lets you play around while the razor-sharp sides frame your face perfectly.
Platinum Dreams: Faux Hawk Edition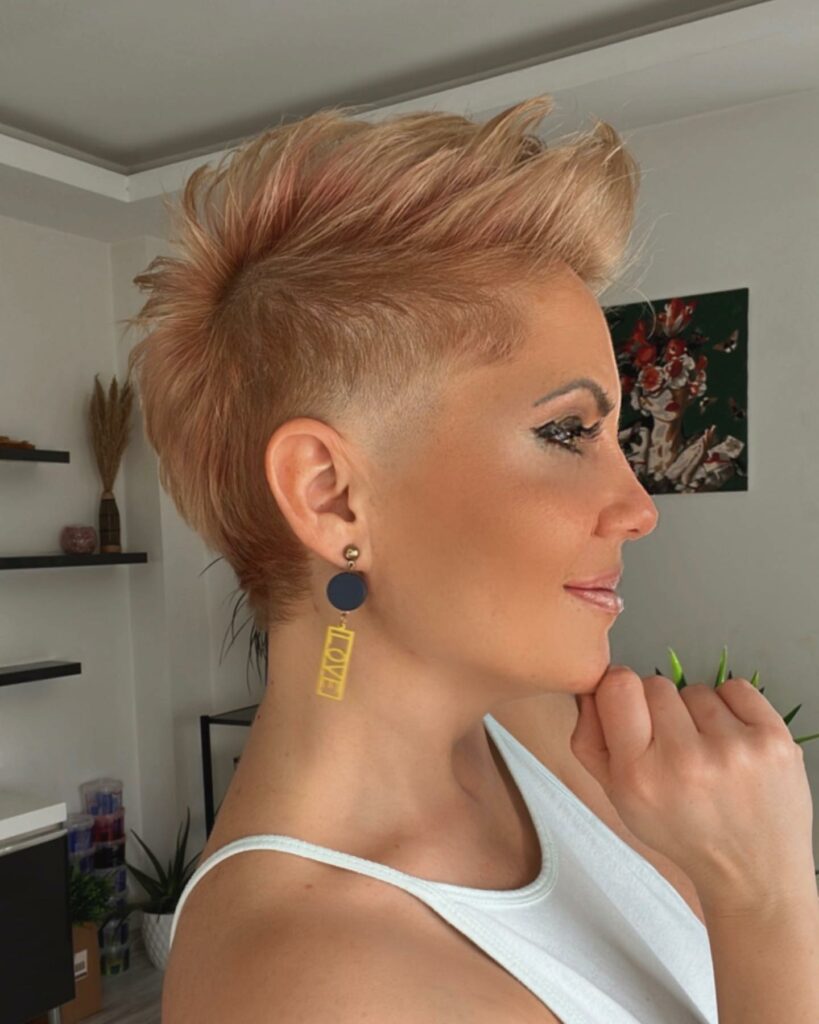 For those days when you want all eyes on you, go platinum blonde. I've dabbled in it, and let me tell you, faux hawks have never looked better. Play with the product a bit, and you can go from punk rock princess to sleek and chic in minutes.
Up and Away: Shaved Spiky Edgy Style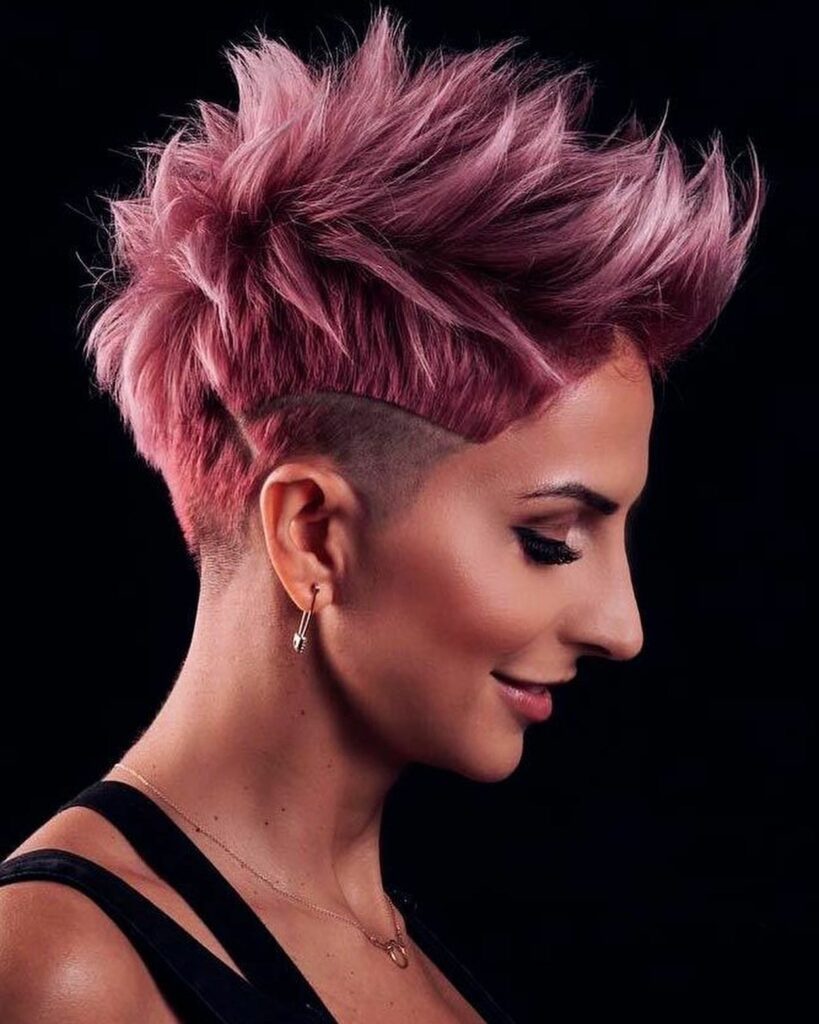 Get your gel ready because we're going full spiky. With this Mohawk-inspired look, your hair is literally reaching new heights. A few streaks of color can add more spice to this fiery style.
On Point: Stiff Spiky Hair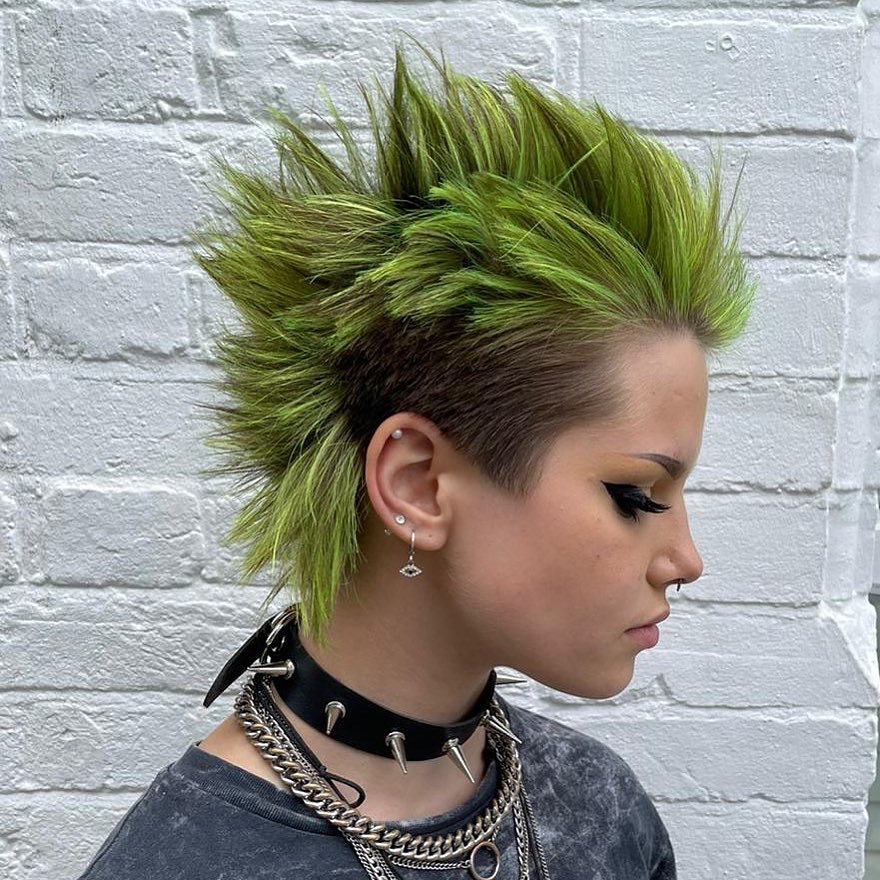 Imagine being the coolest one in the room. That's you, with this stiff, spiky 'do. Just a dash of holding gel or spray sets you up for the whole day. Who says you can't channel your inner '80s punk?
The Soft Edge: Short Yet Feminine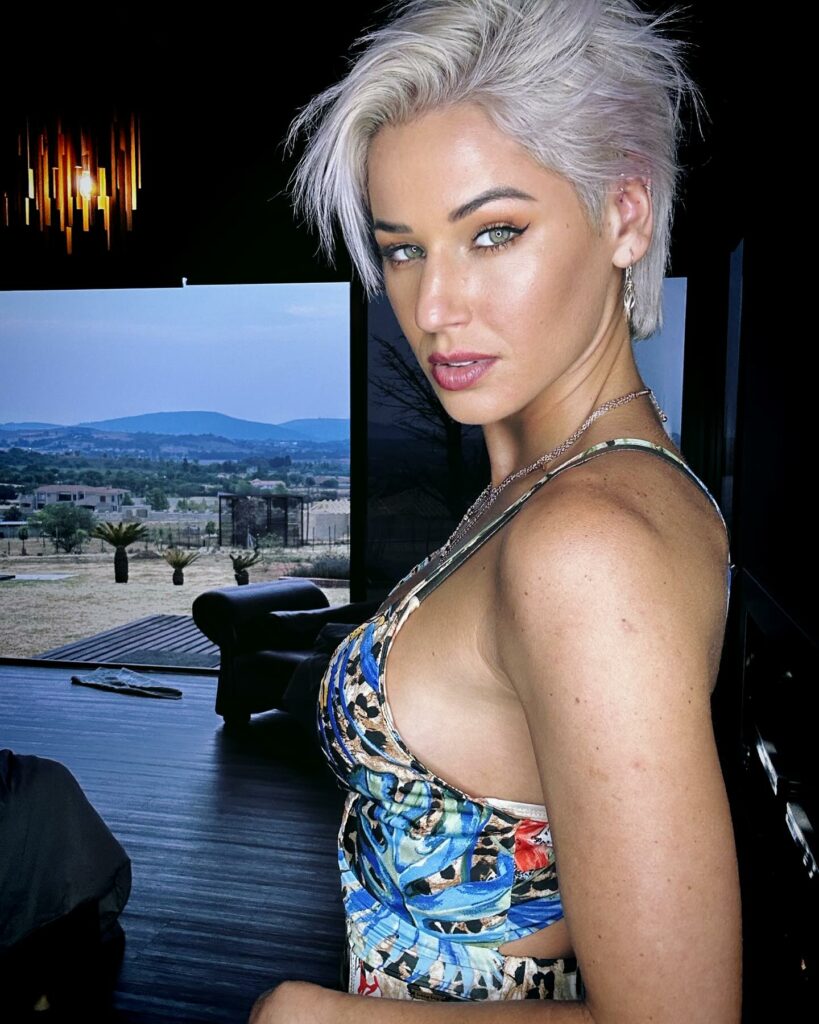 I've been there if you're worried that short hair will make you look too harsh. The trick is to find a stylist who gets you and keeps the cut soft and feminine. It's all about retaining that special je ne sais quoi.
Razor-Crafted Pixie Bob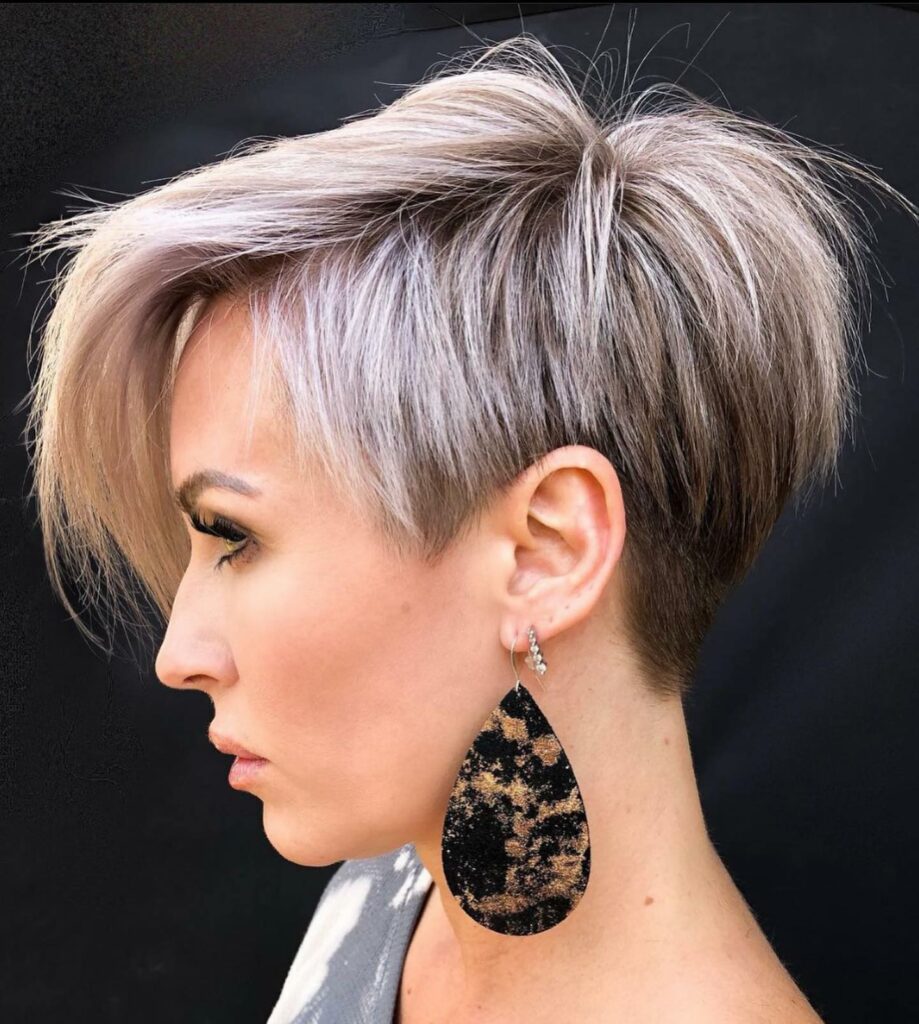 Razored edges and a long bang make this a look to remember. Whether your face is oval or square, this cut is universally flattering. Plus, it's so low maintenance it's practically a vacation for your head.
Punk Princess: Mohawk Edition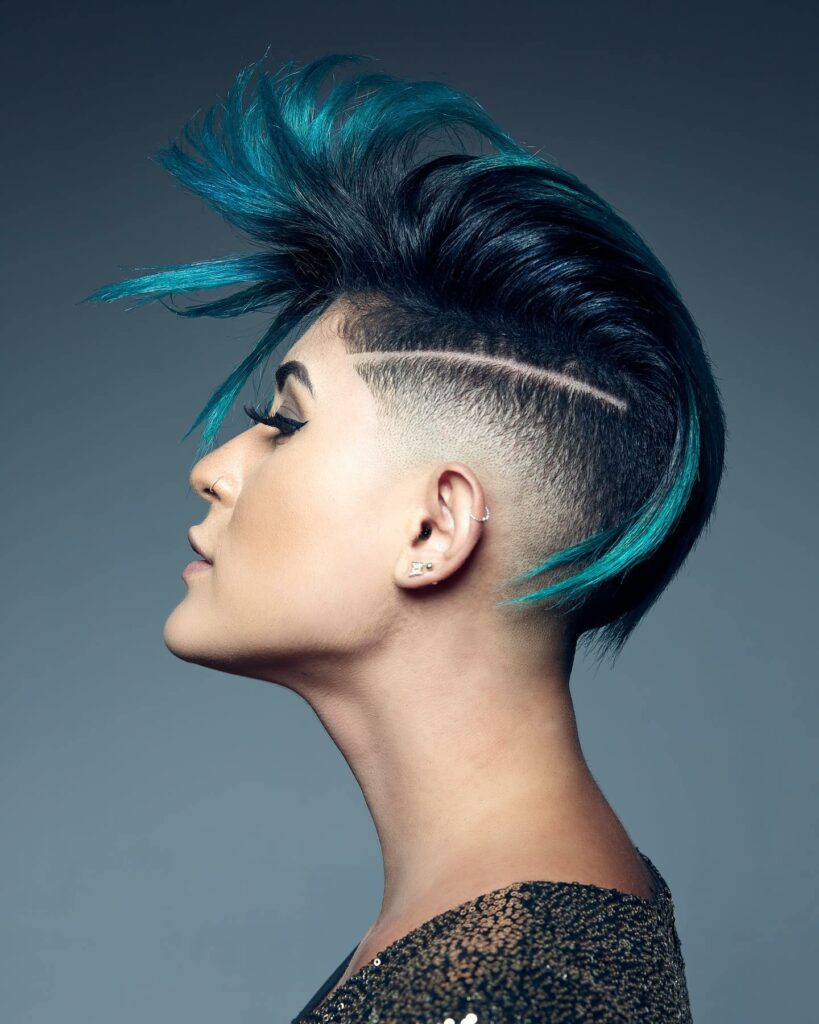 Are you the daring type? Then, a voluminous spiky mohawk is right up your alley. Get your hands on some moldable hair wax for added texture and longevity. It's punk, it's chic, and it's totally you.
Rock That Short Hair With Tomboy Vibes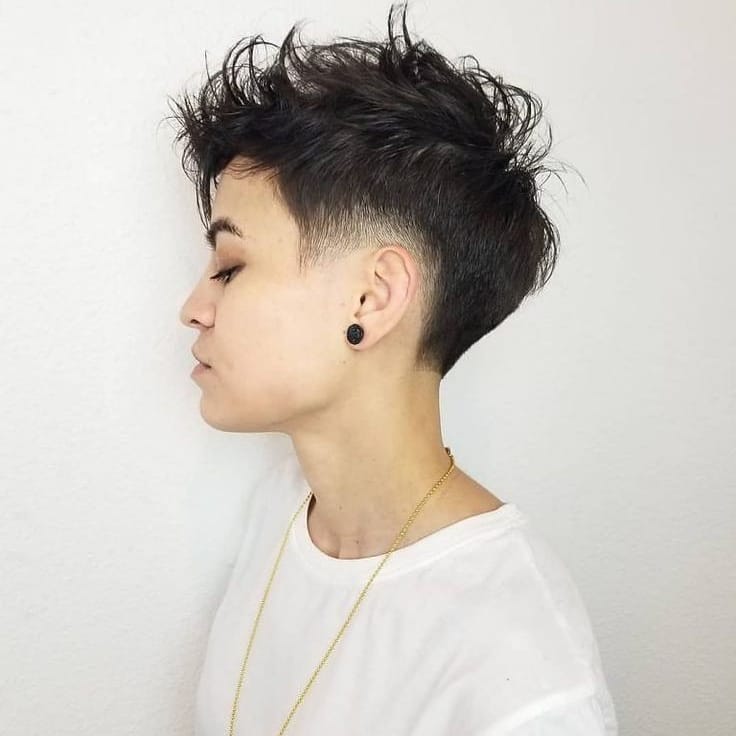 Hey there, gorgeous people! Have you ever felt the urge to switch up your style, break away from the feminine frills, and go a little tomboy chic? I get it—been there, cut that. Short hairstyles with a tomboy twist are super cool and incredibly low-maintenance. These cuts are about confidence and individuality, whether you go for a spiky look or something else. A personal fave? The short, spiky hairstyle. Seriously, you wake up, throw in a bit of texturizing gel, and you're ready to own the day.
Get Cheeky With A Side Shave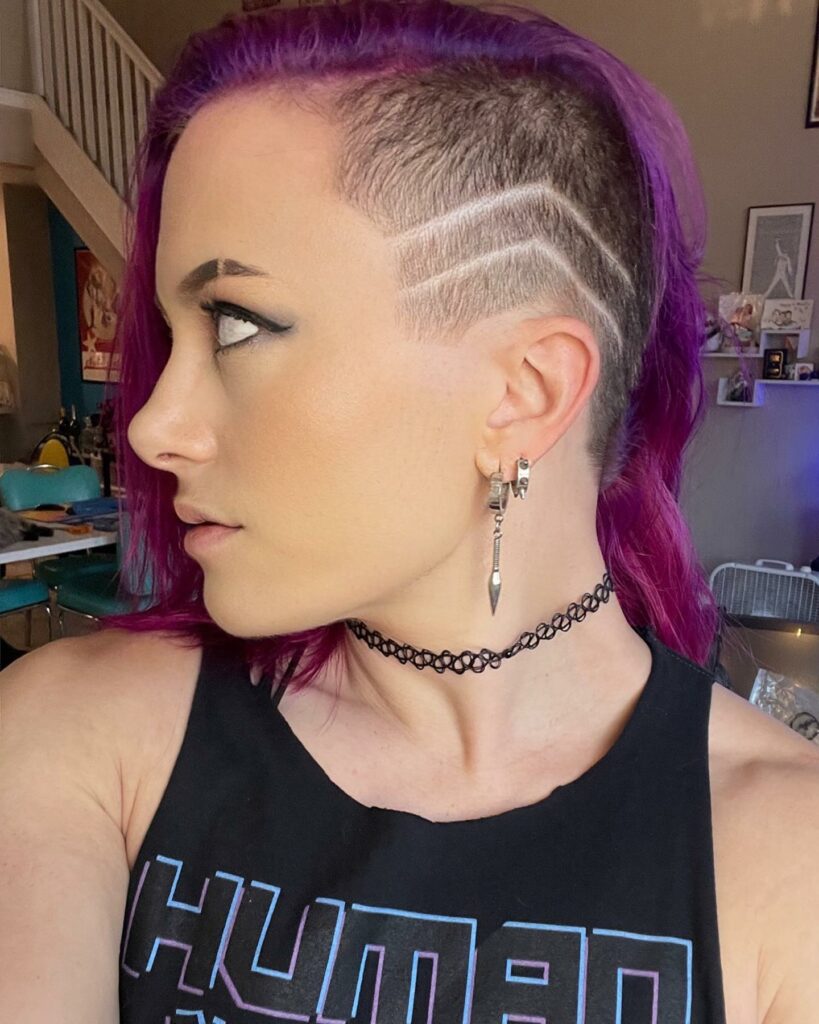 Remember the time when shaving a patch of your head seemed too rebellious? Ah, good times! But guess what? Side-shaved hair is now a trendy, risk-free way to dip your toes into the edgy hair world. It's perfect if you have thick hair; flip it over one side to show off the buzz, or flip it the other way to keep it a secret. Your hair, your rules! I went for this look last summer, and the versatility had me smitten. If you're new to shaved styles, this is your starter pack!
The Pixie Cut for Thick Hair: A Love Story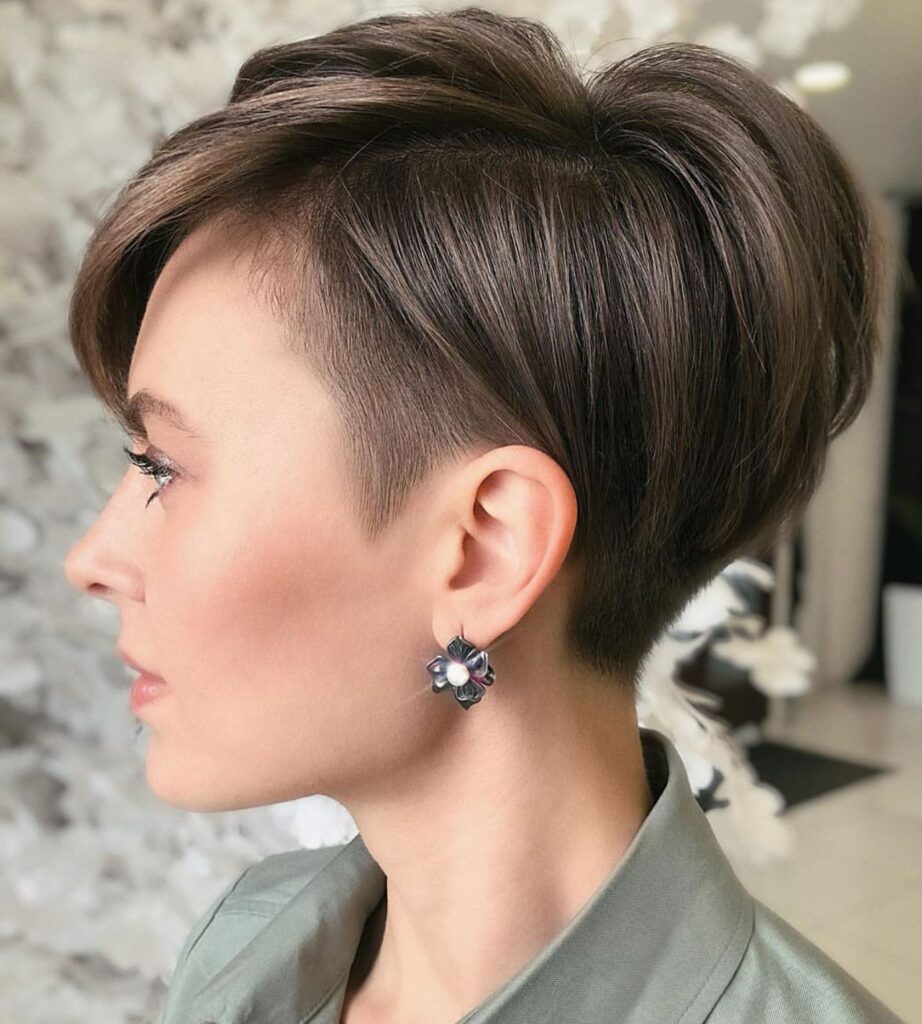 Thick hair, don't care? You might after you try a layered pixie cut. It's an elegant, playful way to deal with bulk, bringing sophistication to your look. Plus, a little bit of color or gloss could make it truly shine (literally). I had a fairy once, and let me tell you—the compliments just kept coming. So, if you're feeling fancy yet playful, this is THE cut for you.
Ageless Beauty With Funky Short Cuts
Who says you can't experiment with your hair as you age? Throw that notion out the window and go for an edgy, funky look. Think super-short sides and back with a long, stylish bang in the front. Remember the bold eye makeup and highlighted cheekbones to complete the look. I did this last year for my birthday bash, and everyone asked, "Who's that girl?"
Turn Heads With A Stacked Pixie
Feeling the itch for something daring? Why not go full-on rose gold with a stacked pixie with a shaved nape? I went for a stacked pixie last spring; the blend of pretty and edgy felt like a style revolution. This might be your next dream haircut if you want to redefine your image!
Mini Pixie, Maximum Impact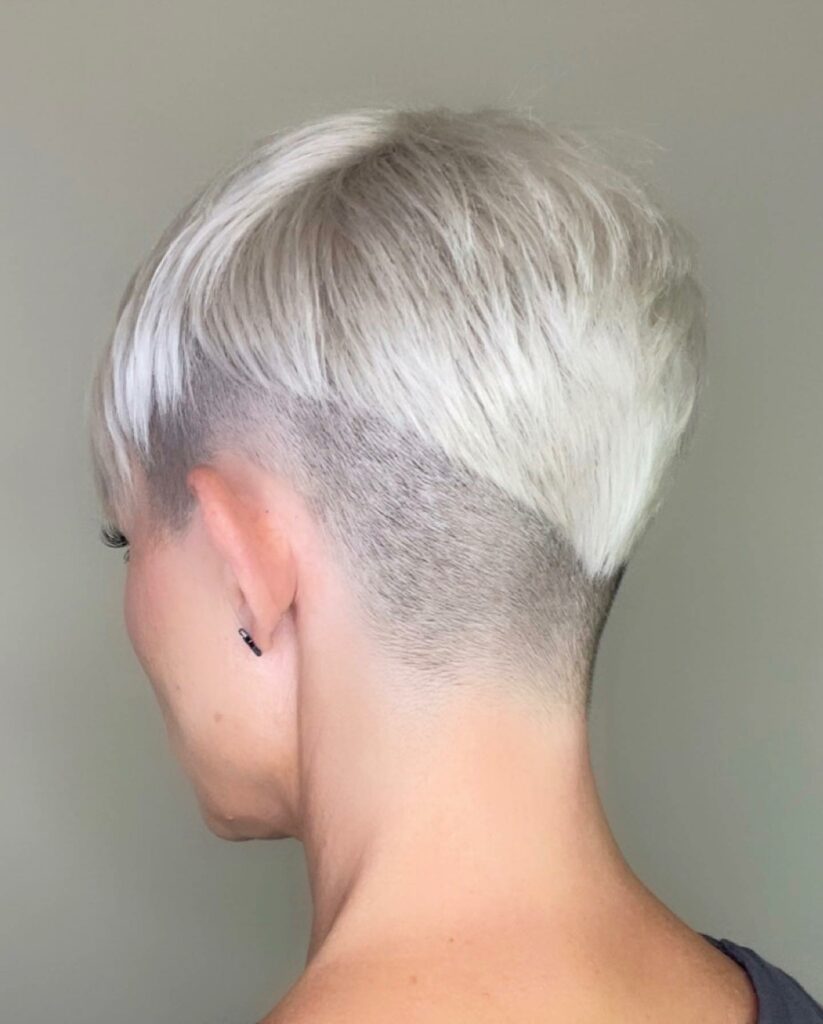 For a look that screams "cool without trying," go for a super-short pixie with even shorter bangs. This look is not just chic; it's a breeze to style. Plus, it works wonders on fine hair. Just a spritz of hair spray, and you're good to go!
Rule The Room With Straight And Spiky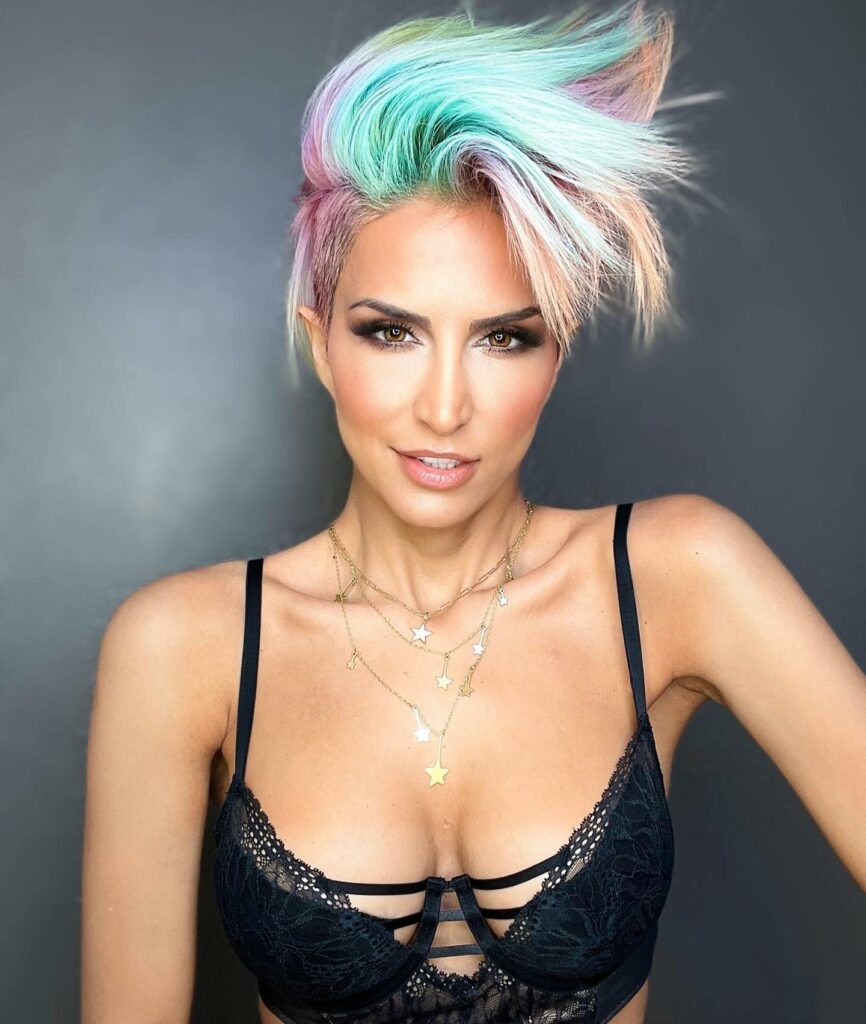 There's something about a straight, choppy pixie that exudes authority. It's the ultimate wash-and-wear style, super easy to maintain, and flatters petite faces and long necks like a charm. I've seen this style dominate boardrooms and dance floors alike!
Undercut: The Ultimate Edgy Chic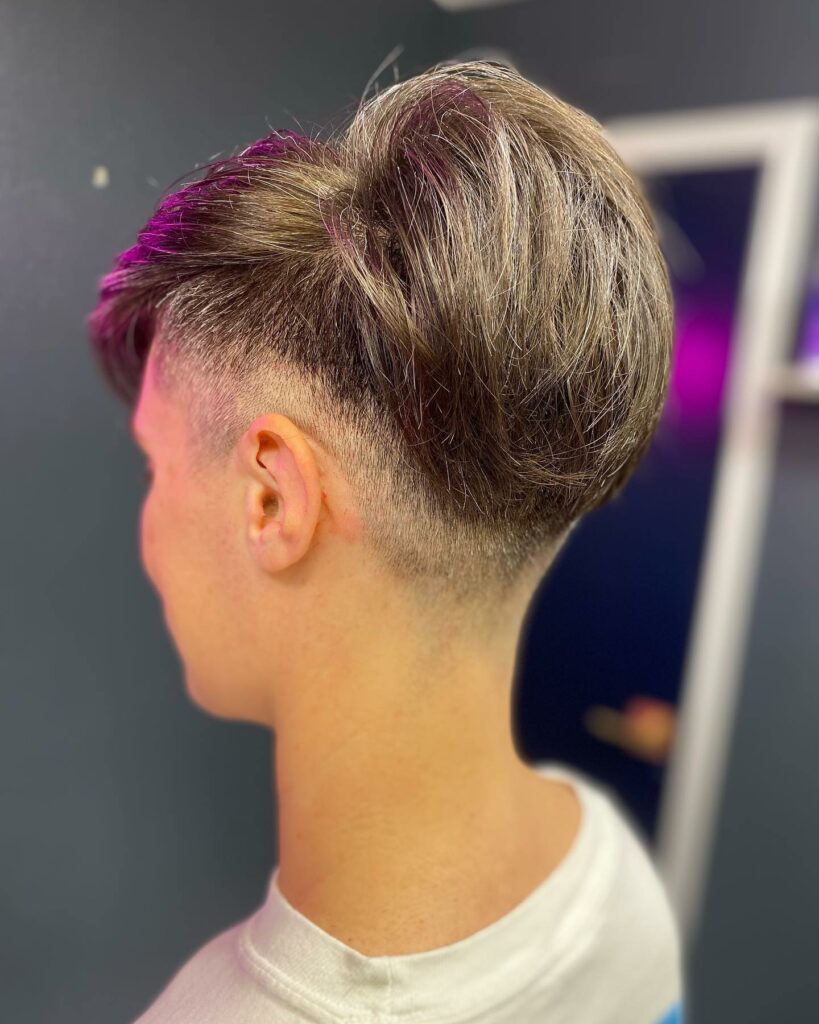 Want to go edgy but not too punk? Try an undercut with longer locks on top and buzzed sides and back. This style is super adaptable, like a canvas begging for personal touches. And yes, sharp features? Prepare to look absolutely killer!
Grey, Shaved, and Fabulous!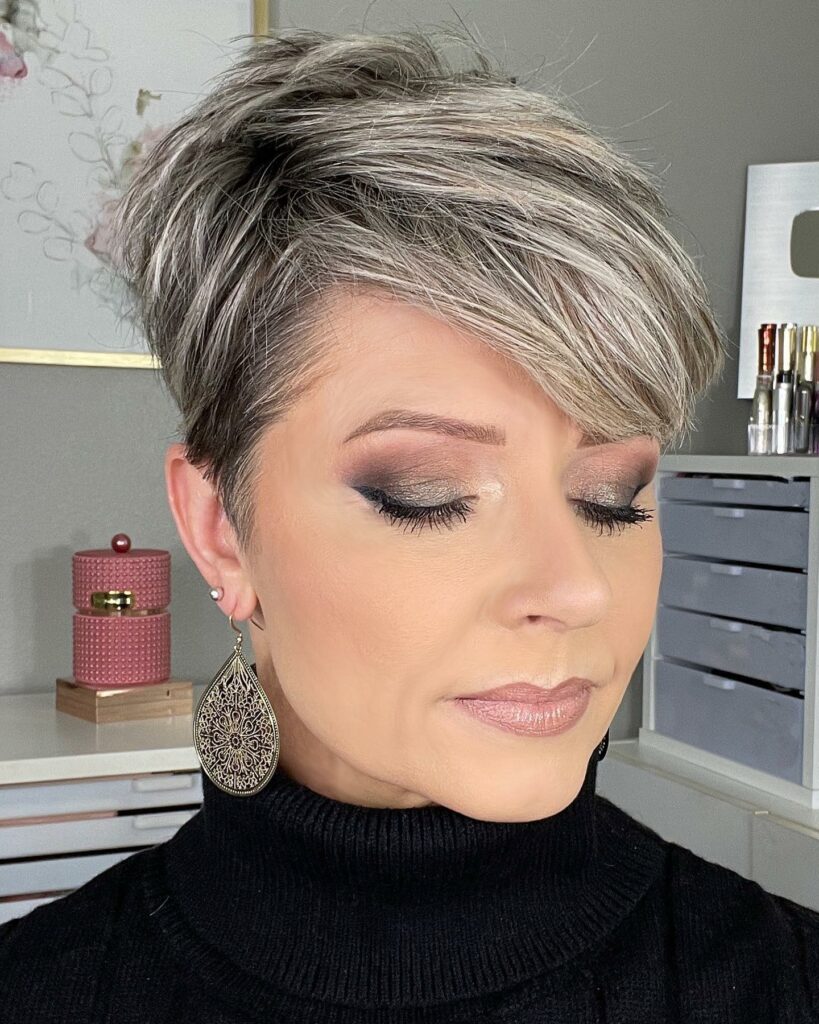 Grey is not just a color; it's a statement. A messy, long pixie with a hint of grey can be surprisingly versatile and endlessly chic. Take it from me; I rocked this look last winter, and the style possibilities were endless. Just make sure the shade of grey complements your skin tone and overall vibe.
Buzz Cut: The Freedom Cut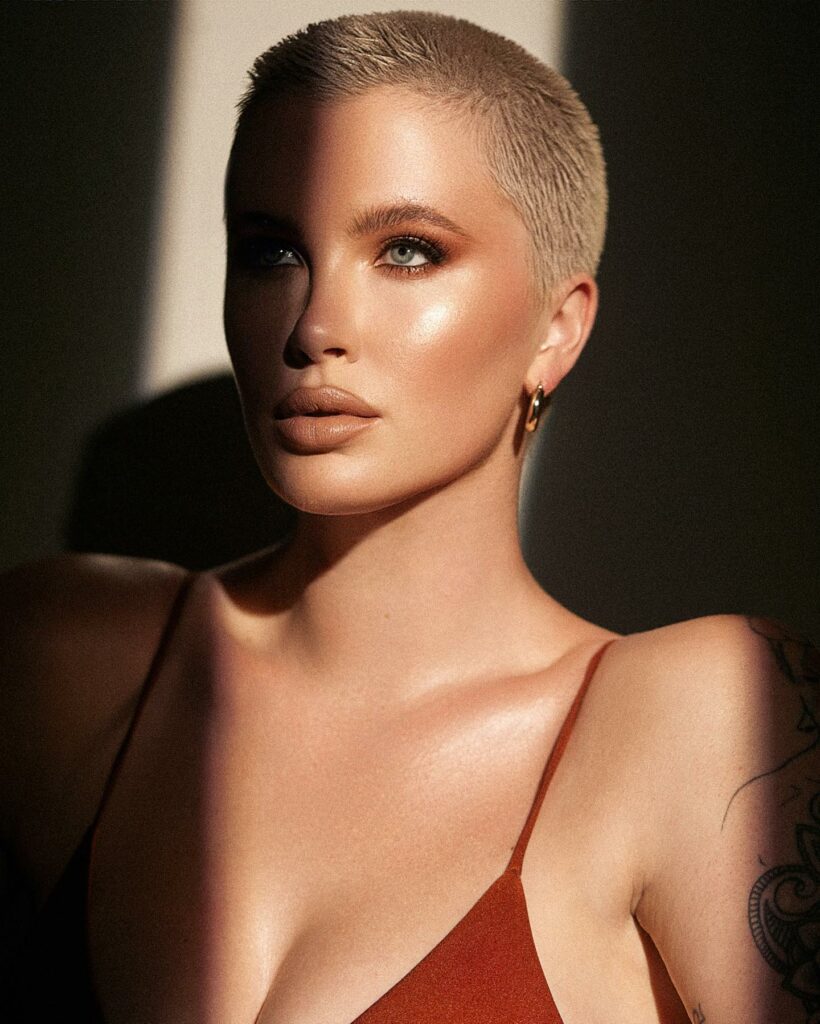 Let's talk buzz cuts. Forget the tennis-ball look; modern buzz cuts offer many variations highlighting your features. Plus, they're so low maintenance you'll have more time for fun stuff, like choosing that bold lip color to make your look pop!
Embrace the Grey: The Side-Swept Pixie
Let's kick things off with the ever-so-chic side-swept pixie in all its grey glory. Trust me, this isn't your grandma's hairstyle—although she'd probably rock it, too! Use a dab of light-to-medium hold mousse to style it; voila, you're a silver siren. I love adding a bit of texturing spray for that extra oomph. This style is super versatile and adds that touch of sass to any outfit.
The Curly Cue: Mohawk Magic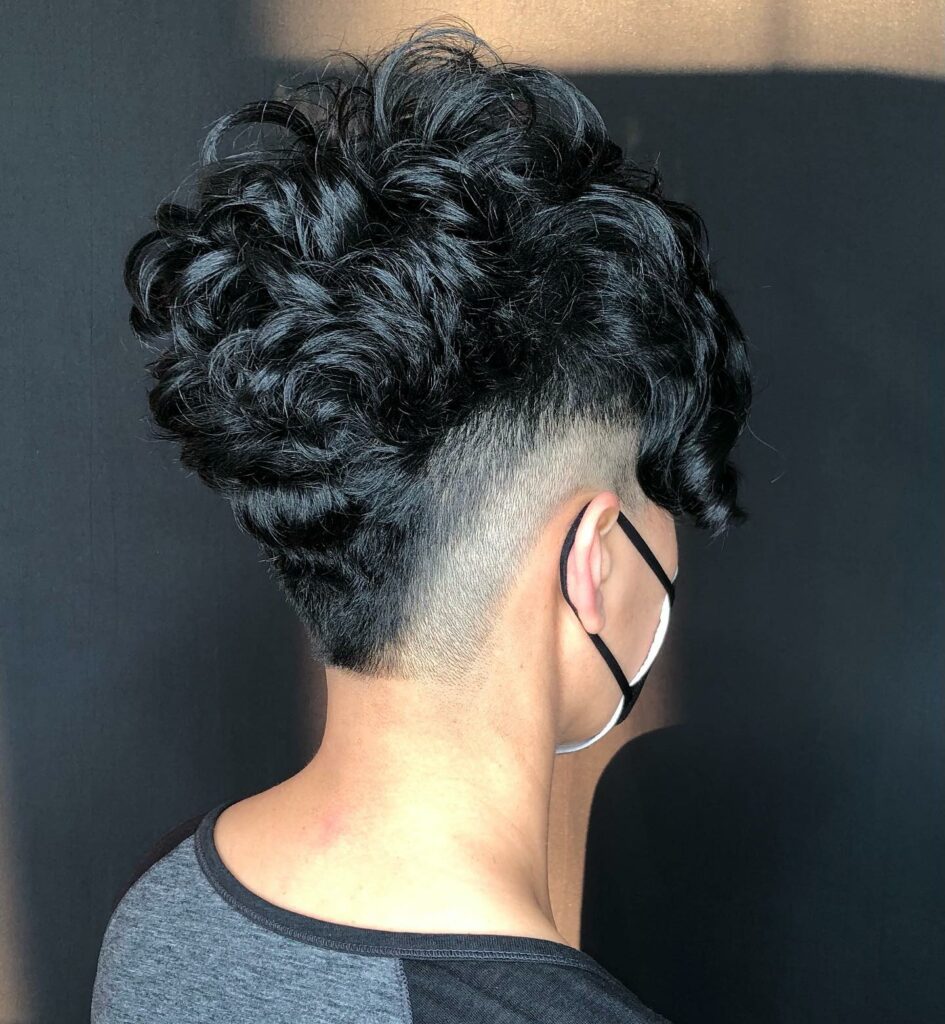 If your hair has a natural curl, why not elevate it into a stunning short, curly Mohawk? I tried this style last summer, and it was a game-changer. Not only does it make you look like a rockstar, but it also cools you down during those hot summer months. Shave the sides or sleek them up; the choice is yours. It's like a little crown of curls, and I am here for it!
Wavy Wonder: The Pixie with a Twist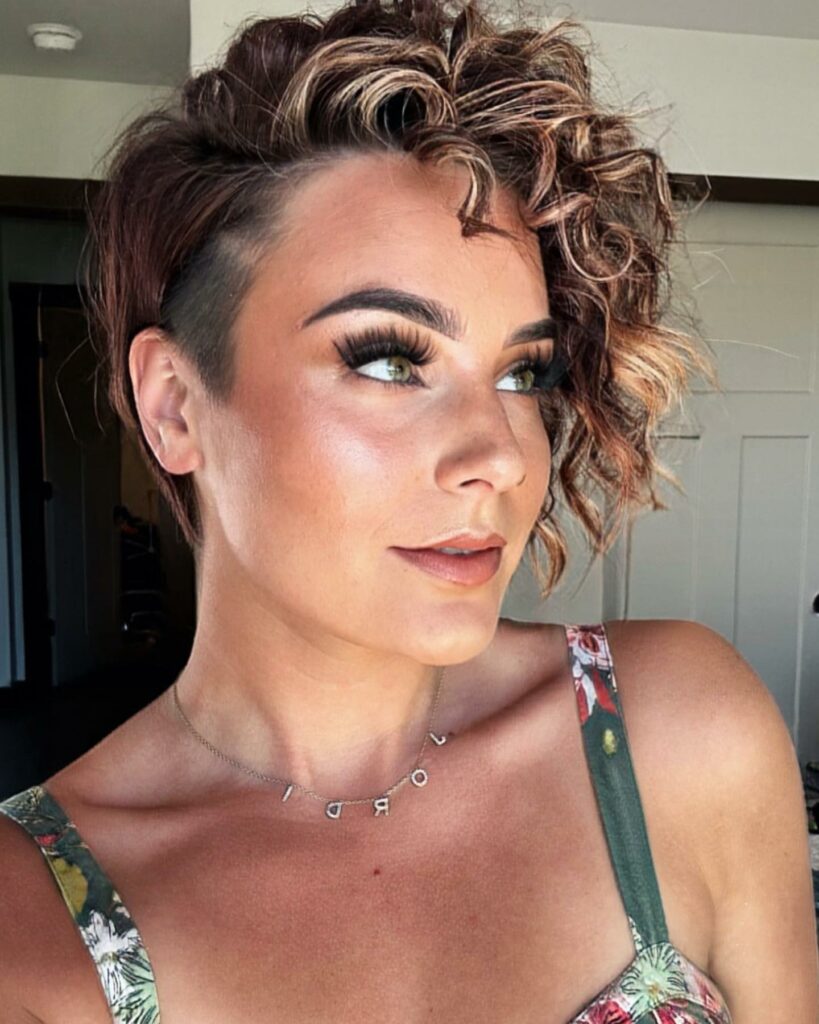 Are you the bold and beautiful type? Then, a wavy pixie cut with shaved sides might be your next move. I love how the deep side part makes the soft waves fall so romantically to the side. Avoid perfecting the cut to a T; make it your own! That's how I ended up with my signature "beachy pixie," and the compliments haven't stopped rolling in.
Color Me Fab: Green Pixie with Gradual Shave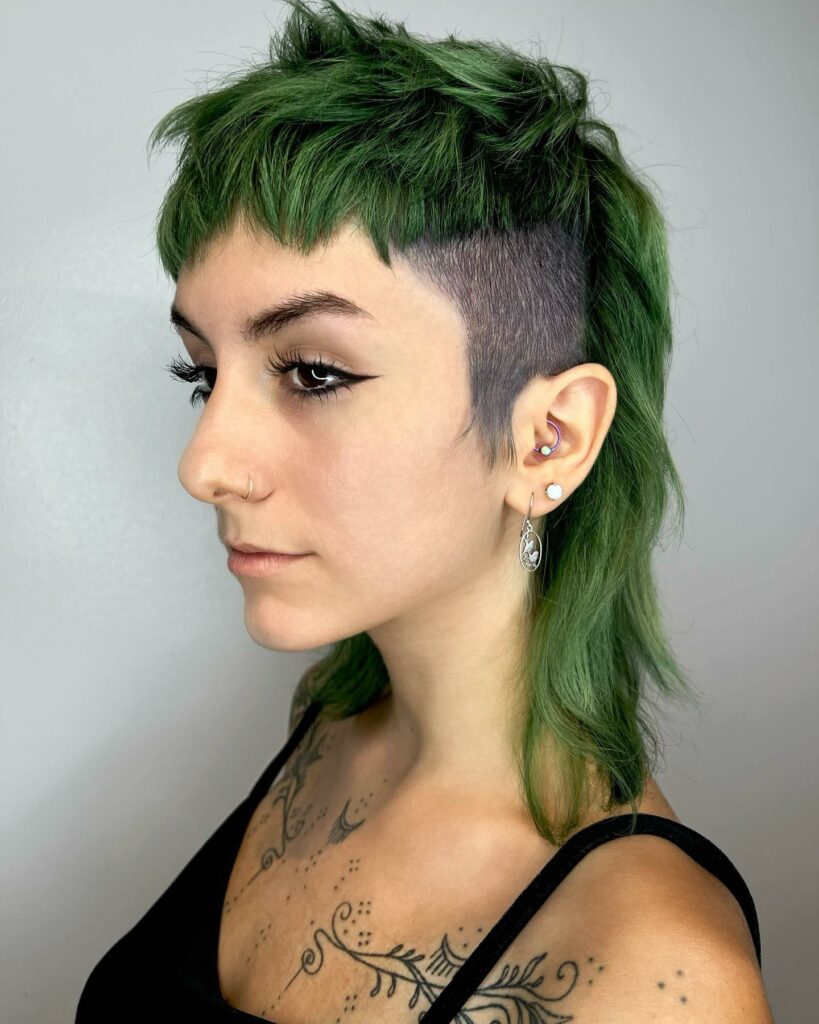 Alright, my adventurous pals, this one's for you. Imagine a pixie cut with gradual shaving and pops of color—like green, blue, or even purple! This hairstyle is like a walking art project, and it's guaranteed to turn heads. I tried a turquoise blend last spring, and let me tell you, my Insta DMs were flooded!
Electric Avenue: Mohawk with Vibrant Hues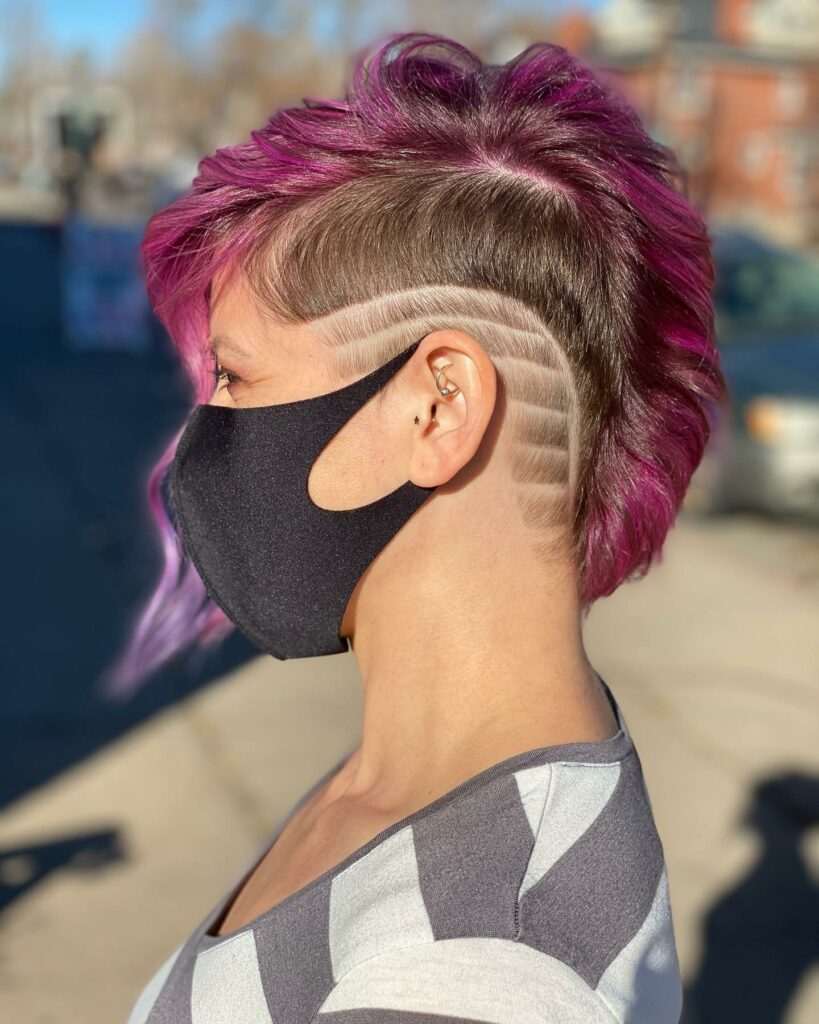 Ready to light up the room? Opt for a Mohawk bursting with color! A colorful Mohawk is a fashion statement, whether electric blue, hot pink, or fire-engine red. I love experimenting with wash-out colors before going permanent; it's like a "try before you buy" for your hair.
Detailed Diva: Shaved Line Design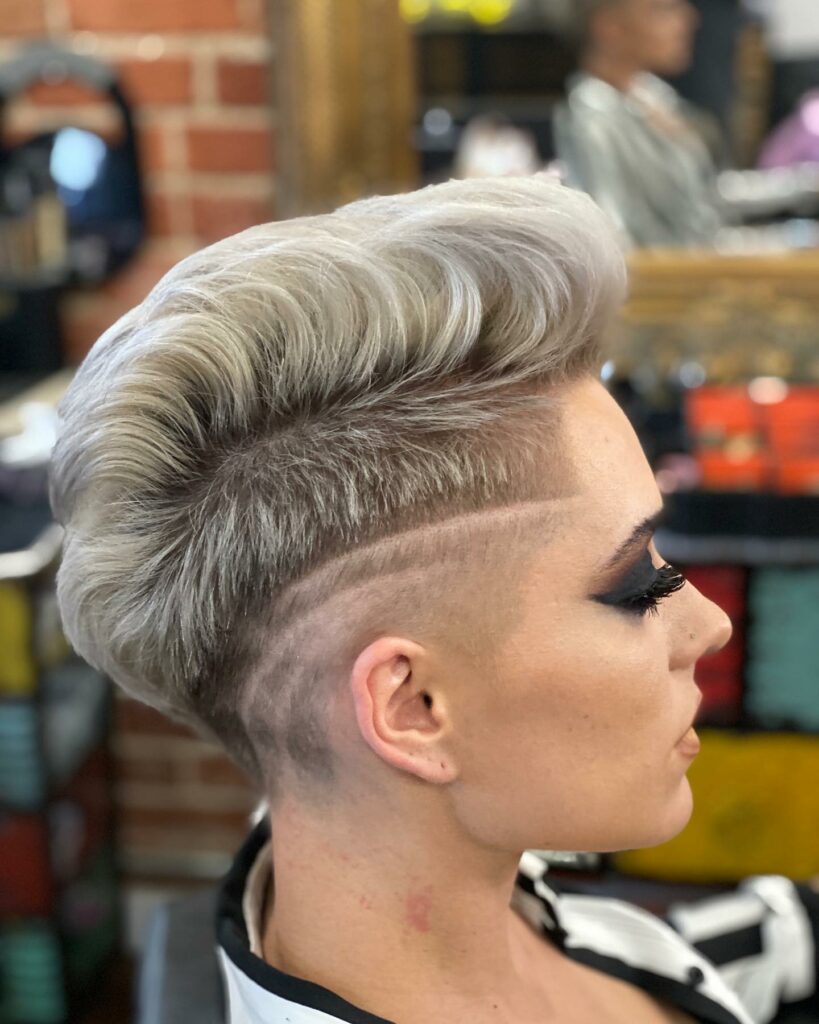 If you're detail-oriented like me, you'll fall head over heels for these shaved line designs. Imagine an undercut with precise, curved lines that add an artistic flair. I've tried this style several times, and it's a guaranteed conversation starter.
Elegantly Asymmetric: The Pixie Cut Reimagined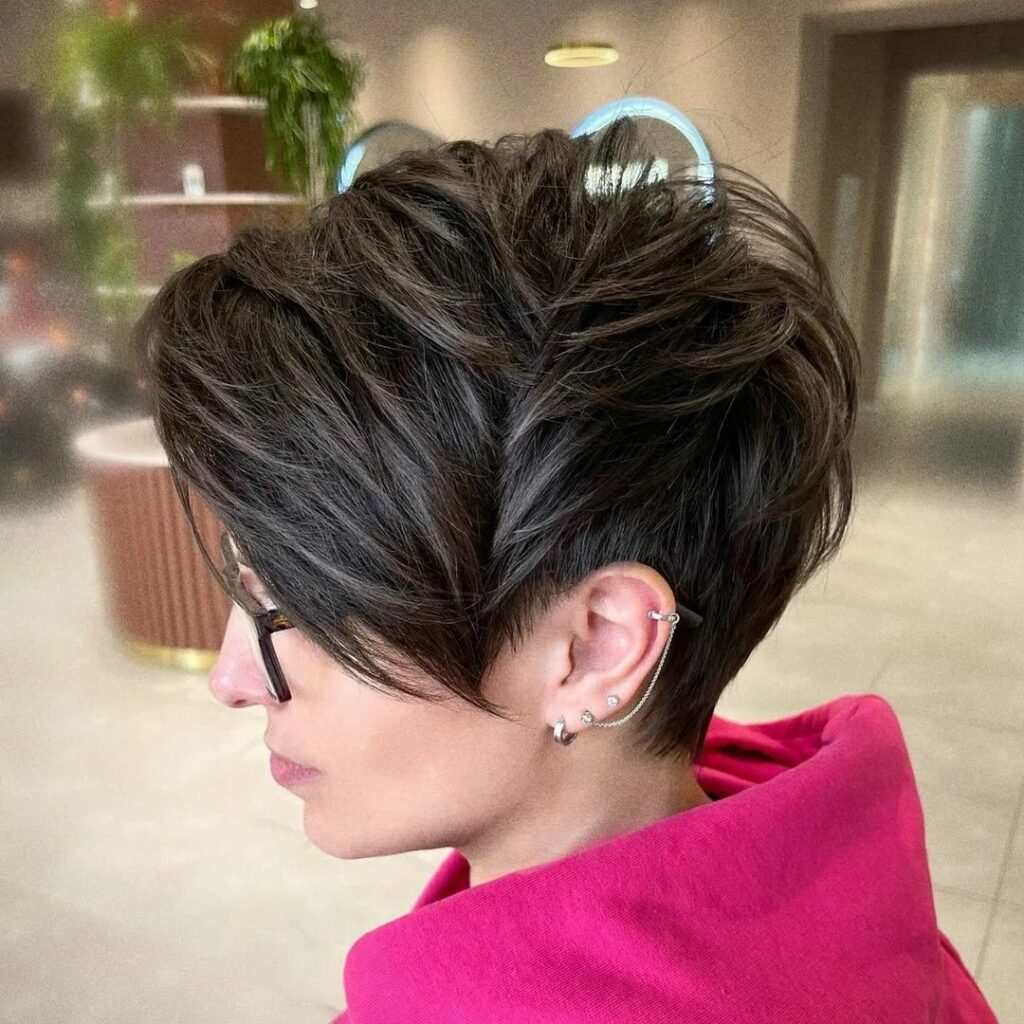 The asymmetrical pixie is a classic cut with a little extra edge. The more extended middle section falls gracefully to one side, framing your face and highlighting those killer cheekbones. I love wearing my sleek for formal events and tousled for everyday glam.
The Golden Girl: Blonde Ambition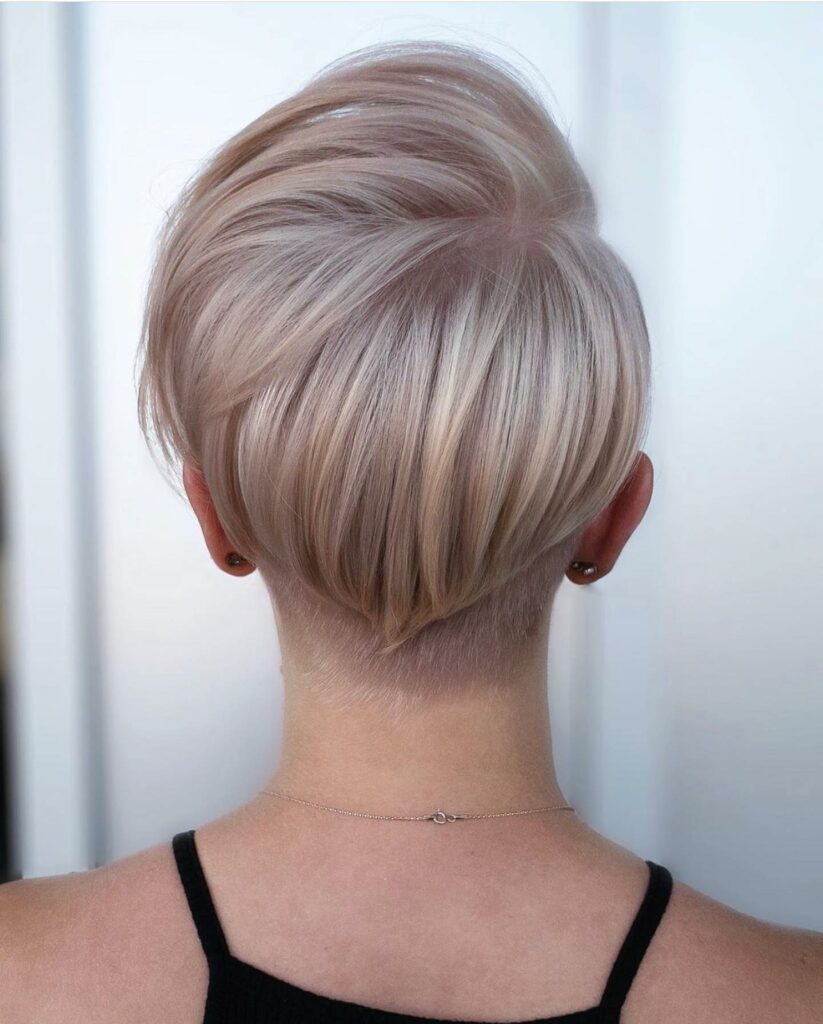 Why not enhance your cut with some stunning blonde highlights? Believe it or not, this bold choice will soften your features and make you feel like the rockstar you are. I went blonde last winter and haven't looked back. It's like a ray of sunshine, no matter the season!
Volume on Top: Thick and Spiked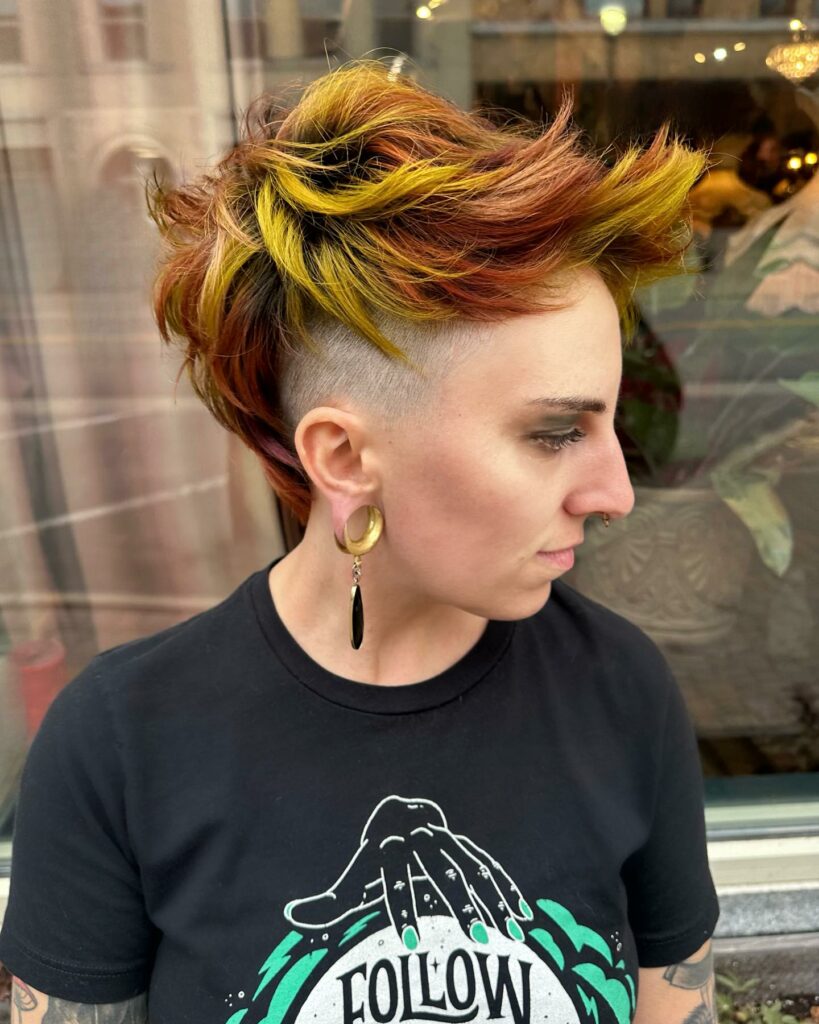 You know the styling struggle is real if you've got thick hair like me. But don't fret! A thick, spiky, side-shaved pixie can solve all your hairy problems. I went for a fiery red blend, and it felt like my hair had its own personality!
Going Halfsies: The Half-Shaved Head
Last but not least, let's talk about the daring half-shaved head. Celebs are doing it, and so can you! This punk-inspired style is not for the faint-hearted but promises a dramatic and unique look. When I tried it, I felt like a new person—bold, fierce, and unstoppable.
My Top Tips For Maintaining A Short-Side Hairstyle
Maintaining a side-shaved look is slightly different from your typical haircut routine, but with the right tools and tips, you can keep that edgy style looking fresh and fierce. So, let's get into it!
Regular Trims are a Must – First and foremost, frequent trips to the salon—or even DIY trims—are essential. Your shaved side will grow faster than you think, and regular upkeep will help maintain that crisp, fresh-from-the-salon look. Depending on how fast your hair grows, you might need a trim every 2 to 4 weeks.
Mind the Length – If you're rocking a style with some length on the top of the other side, be sure you're keeping that area healthy, too. A little leave-in conditioner or hair oil can keep more extended portions of your hair shiny and manageable.
Keep it Clean, but Not Too Clean – Daily shampooing can strip your hair of natural oils, making it dry and brittle. Aim for shampooing every other day or even less frequently if you can get away with it. Consider using a dry shampoo on your "off" days to keep your style looking fresh.
Styling Products are Your Friends – Invest in some good quality styling products. A dab of pomade or wax can add texture and style to your look. If you're going for more of a wet look, a light hair gel can work wonders. I swear by a medium-hold mousse for my side shave—it gives my hair body and texture without making it stiff or sticky.
Mind Your Tools – Consider getting a small set of clippers for touch-ups between salon visits. Clippers are also great for maintaining clean lines around the edges of the shaved area. If you're new to this, tons of tutorials online can guide you through the process—trust me, it's easier than you think!
Embrace the Awkward Phase – Let's be honest: you might want to grow out your side shave at some point, and it's only sometimes a graceful process. During this phase, hairpins will become your best friends. Feel free to get creative with styles and accessories to camouflage the growing-out phase until you can transition into a new style.
8 Short-Side Shaved Hairstyles I love
Slick it Back – One of the easiest and chicest ways to style your side shave is to slick back the more extended portion of your hair. You'll need some gel or a strong-hold pomade for this. Just apply the product to damp hair and comb it back. This gives a relaxed, androgynous vibe that pairs well with everything from casual to formal attire.
The Asymmetrical Sweep – If you have some length on the top of the other side, why not let it shine? Use a round brush and a hairdryer to add volume and sweep the hair to the opposite side of the shave. Add a little hairspray or texture spray for hold, and you're golden!
Textured Waves – For a beachy, laid-back look, work some texturizing spray or sea salt spray into the more extended portion of your hair and scrunch it up. This works exceptionally well if you already have a bit of natural wave. It adds a boho touch to your edgy haircut and is super cute for casual outings.
Accessorize, Accessorize! – You'd be amazed how a few hairpins or a cute headband can change your look. If you're in the "awkward growing-out phase," accessories are a lifesaver. Even if you're not, a strategically placed hairpin or a sparkling hair clip can add a dash of glamour or fun.
The Pompadour – Okay, a pompadour is a killer look for those willing to spend more time styling. Apply some volumizing mousse to the more extended section of your hair, and blow-dry it upwards using a round brush. Then, tease it at the roots and smooth the top layer back, securing it with hairspray. You're channeling some serious rockabilly vibes now!
Fauxhawk It – Who says you need a full Mohawk to rock the look? Apply strong-hold gel to your longer hair and push it towards the center, creating a Fauxhawk. It's rebellious, it's fun, and best of all, it's temporary!
The Color Pop – If you're feeling extra adventurous, why not play with some color? Whether it's a few streaks of hot pink, electric blue, or even platinum blonde, adding a burst of color to your side shave can make a huge impact.
Twist or Braid – If your top section has some length, you can easily twist or braid it towards the back for a softer, more romantic style. This is an excellent option for special occasions or when you feel like adding a touch of elegance to your badass look.
Still Looking for Inspiration, Then Check Out This Video
Conclusion
Alright, beauties, that's a wrap on our whirlwind tour of the edgy, fabulous world of short hair with shaved sides! From elegant greys to jaw-dropping colors, there's a style for every mood and every occasion. My biggest tip? Make it your own! Feel free to experiment and put your personal spin on these cuts. And if you're hesitant, start with a temporary color or a less drastic shave—you can always go bolder later! Always consult with a stylist you trust; these looks may seem daring, but a pro can help you nail it perfectly. So, what are you waiting for? Dive in, have fun, and tag me in your fabulous new hair selfies! Keep shining, you gorgeous humans!
Feature Image Photo By alineh_a on Instagram
Last reviewed and updated on October 5, 2023