Hey there you sexy vampires, Halloween is around the corner, and you know what that means—costume parties, trick-or-treating, and spooky! But let's be real: a killer outfit is only as good as the hair that tops it off. So today, we're diving into the best Halloween hairstyles that'll make you the talk of the haunted house.
Whether you're going as a wicked witch or a glamorous ghost, the right 'can totally elevate your look. We'll go through easy-to-create yet jaw-dropping styles, perfect for those last-minute party invites, and more elaborate options if you want to go all out.
From my own experience, I always appreciate the power of a good hairdo. It can make or break your costume. So grab your hair spray bobby pins, and let's get our hair Halloween-ready!
The Perfect Pumpkin Updo
Ah, pumpkin spice—our autumnal mascot. Blend your love for fall and Halloween with this elegant combo of a braided crown and messy updo. I've tried it with both Dutch and French braids, and honestly, both look stunning. Add a sprinkle of fall hair color, and you're set. Pro tip: Throwing in a leaf or pumpkin pin makes it even more festive!
Enchanting Witchy Waves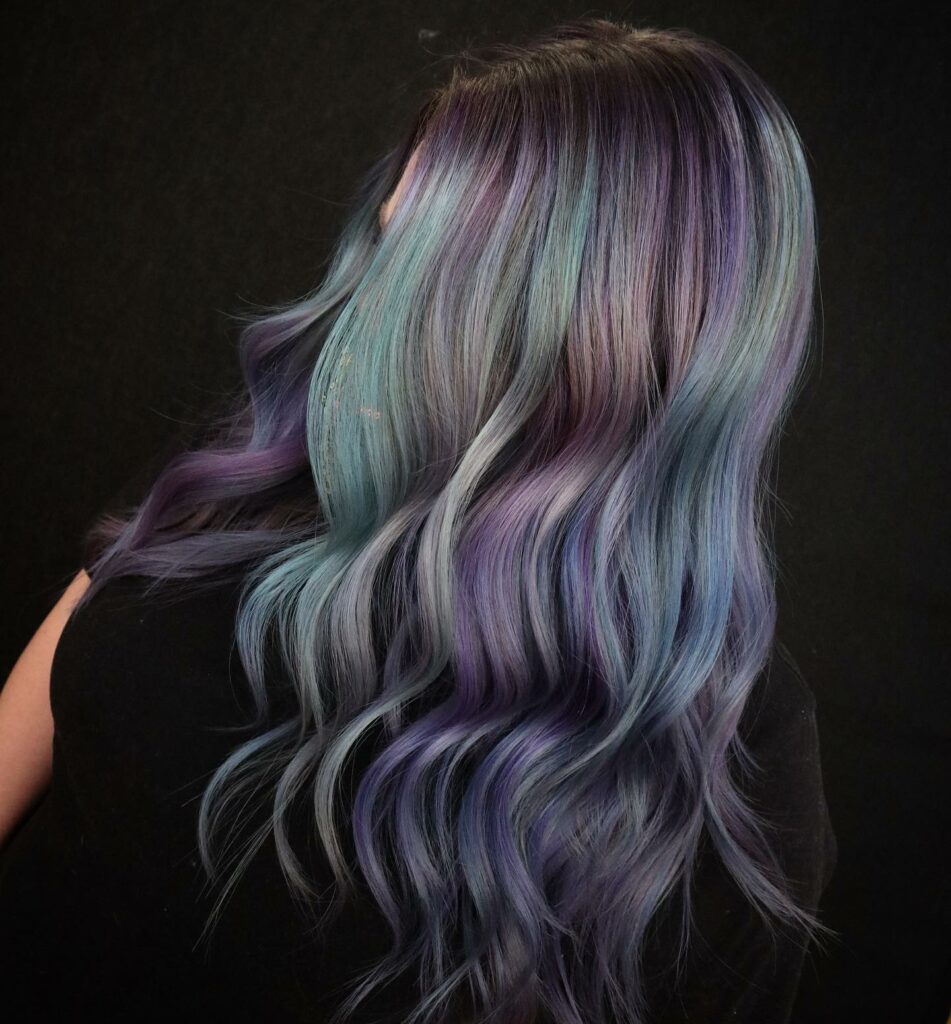 Looking to cast some spells? Get those beachy waves going with a touch of mystical flair. I swear by Oribe's texturizing spray to achieve that magical volume and texture. Fun fact: I've rocked this look at a few Halloween parties, and trust me, it's a crowd-pleaser.
Angelina-Approved Maleficent Horns
If you want to channel your inner Disney villain, wrap your hair around DIY horns. A strong-hold hairspray is non-negotiable here. I tried this last year, and let me tell you, I felt like I belonged on a movie set!
Spooktastic Cascading Curls
Say it with me: Hocus Pocus! Gorgeous curls are timeless. Mix in some colored extensions, and you've got a spooky and chic look. My go-to for ultimate shine? A spritz of silkening spray.
Hauntingly Beautiful Braided Buns and Ombre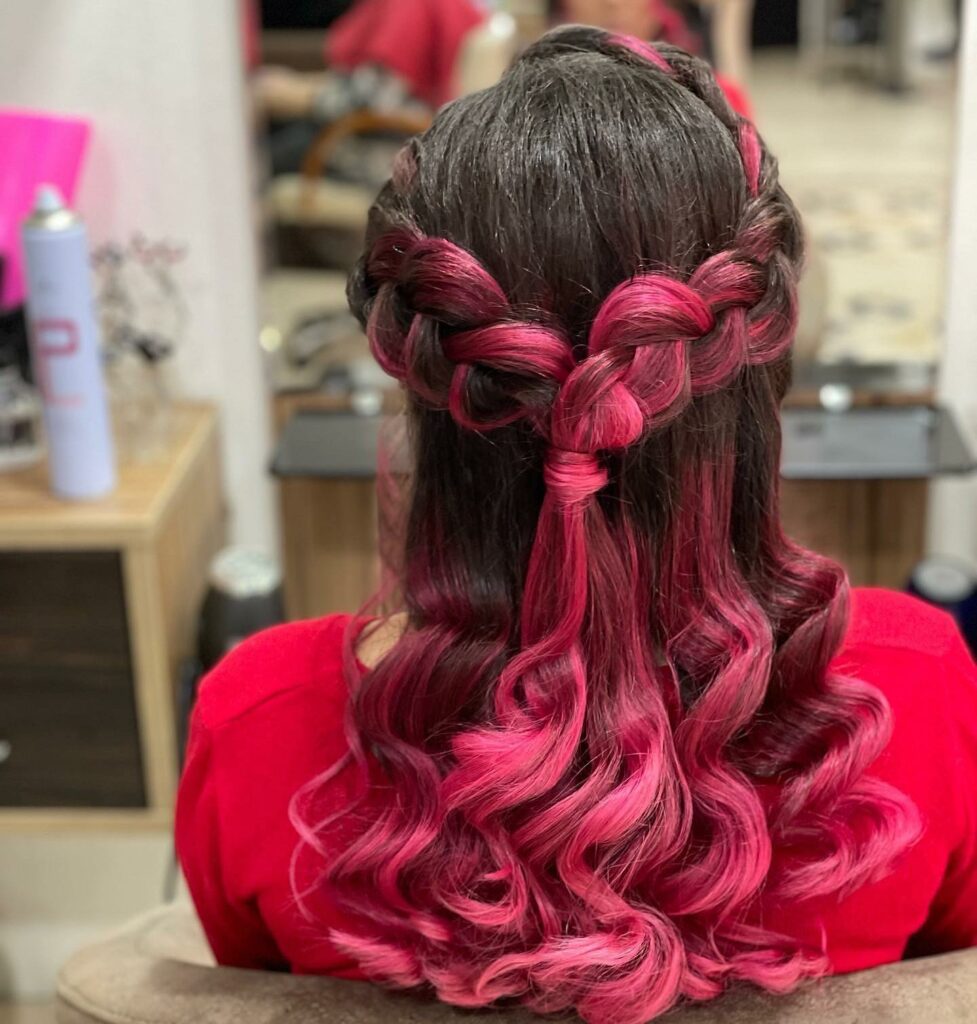 Mix black and orange to hit the Halloween jackpot. Add braids leading into a top bun for an edgy twist. A temporary spray or a wig can do wonders if you're unwilling to go full-on Halloween with your hair color. I've used temporary sprays before, and they wash out super quickly.
Skeletons in Your Hair, Not Your Closet
This style takes braids and bubble ponytails to a whole new realm. Decorate with mini skeletons, and you have a hauntingly cute look. A light-hold hairspray helps keep those little guys in place.
Cosmic Space Buns
Space buns are cute and versatile, perfect for a myriad of costumes. Go big or small, with half-up, half-down variations. You can even get creative with makeup to complement this playful 'do.
Arachno-Chic Bubble Ponytails
Nothing screams Halloween like spider web chic! Add some creepy crawlies to your bubble ponytails for a festive and fun look. Color-coordinated hair bands make the look pop even more.
Versatile & Vibrant Braids
A good braid can save any bad hair day or unwashed hair scenario. Throw in some colorful extensions or decorative bobby pins for that festive touch. I've been there, running late, and a quick braid was my savior.
Ethereal Braided Crown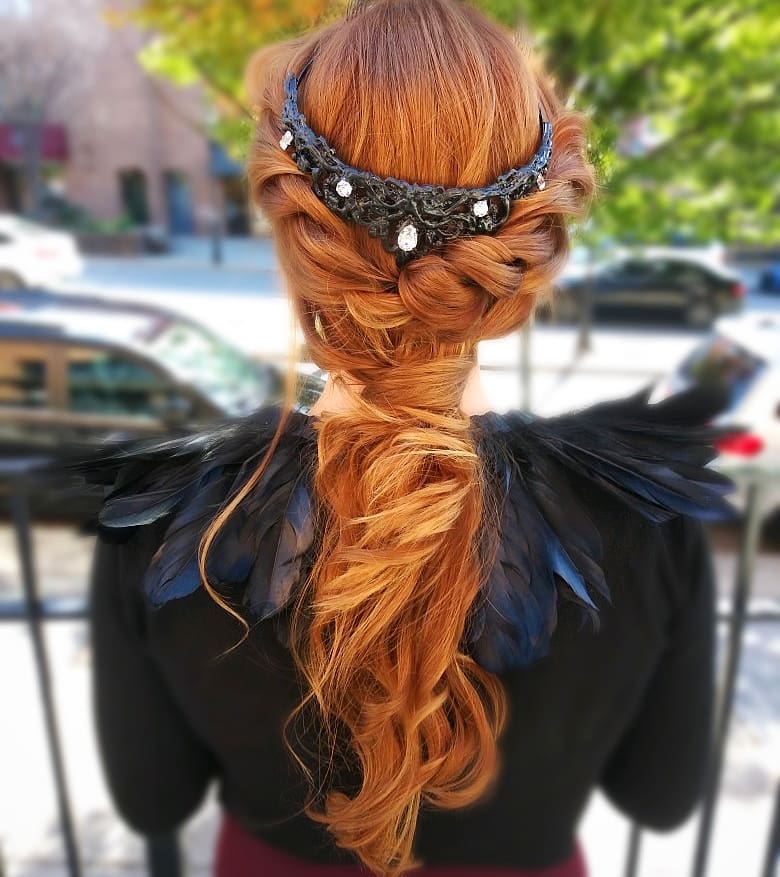 Channel your inner Black Swan with a majestic, messy braided crown. Add a lifelike crown if you want to go full-on royal. This style pairs perfectly with a low, messy ponytail for a whimsical feel.
The Classic Pumpkin Bun
It is an ode to the ballerina bun but with a Halloween twist! Use an orange temporary hair spray and shape your bun like a pumpkin. Secure it tightly with bobby pins and hairspray to keep everything in place. It's a simple yet iconic style.
Riot of Colors And Curls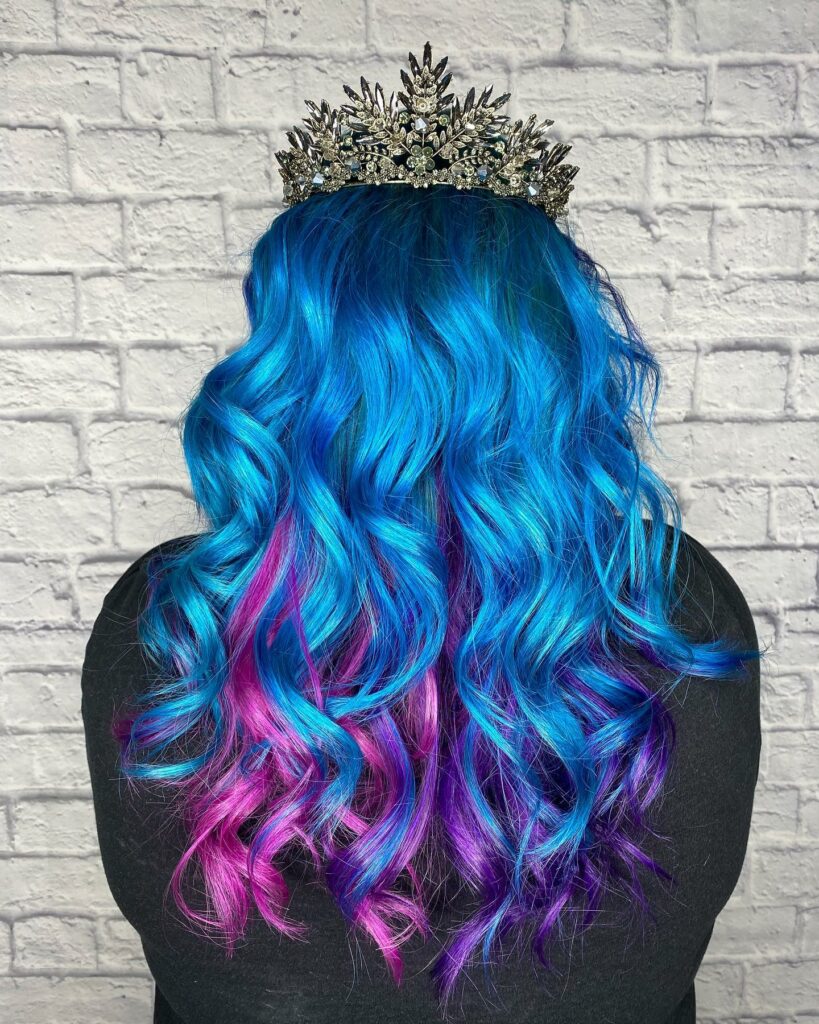 Up the ante with bold colors and cascading curls. Secure the top with a spooky clip and let those curls flow. You're basically a Halloween masterpiece at this point.
Mohawk Maven Huntress
Consider a messy mohawk if you want to exude fierce and fearless vibes. This edgy style is easy to achieve with long hair or extensions. Trust me, you'll be the talk of every Halloween gathering.
Harley Quinn Vibes
Comic book fans, this one's for you. The Harley Quinn pigtails are a Halloween staple. Use blue and pink hair spray to get the signature look. I did this two years ago, and it was a hit!
Always in Style: Spooktacular Curls
Never underestimate the power of soft, silky curls. Add contrasting colors and some Halloween-themed accessories to finish off the look. My all-time favorite? Witchy barrettes or clips.
The Effortless Top Knot With a Twist
Picture this: a sleek and voluminous top knot could double as a crown! Ah, a girl can dream. All you need is a hair donut or even a sock rolled up as your secret weapon. Add some glitter spray or a spooky spider accessory to amp up the Halloween vibes. Trust me, I rocked this look last year, and it was an instant hit.
Bambi Buns: The Cuter Half-Space Buns
Remember when J.Lo rocked those half-space buns? Or Ariana Grande? Now it's your turn! This style is super adaptable—make your buns bigger or smaller to fit your mood. Best part? It's chill, yet stylish and keeps those pesky strands away from your face. You can focus on the Halloween fun without a hair-care in the world!
Edgy Meets Elegant: The Undercut Updo
Alright, for those looking to turn heads, carve a design into an undercut and pair it with a messy top knot. A spritz of texturizing spray will give it that perfectly "undone" look. I tried this one for a Halloween party two years ago, and let me tell you, people couldn't stop staring—in a good way!
The Bubble Braid Magic
Oh, these bubble braids are the stuff of fairytales. Just secure a ponytail and add elastics at intervals. The key is to puff out each section between the elastics to create that "bubble" effect. My pro-tip? Tease the ponytail for some extra va-va-voom!
Vamp It Up: The Sleek' n Chic Do
If you're a fan of dark, rich reds, this sleek hairstyle is for you. It is classy; throw in some creepy skeleton hand accessories, and you're Halloween-ready! Last year, my friends couldn't stop complimenting how shiny and healthy my hair looked in this style.
Mermaid Waves: Halloween and Beyond
Need a last-minute hairstyle? You can't go wrong with mermaid waves. Apply mousse to damp hair and then blow-dry for a tousled look. For those sexy, beachy waves, I highly recommend the Beachwaver Midnight Rose 3B Waver. It's a bit pricey, but oh-so-worth it.
Be Your Own Genie: The Double Ponytail
To nail this genie-inspired hairstyle Start by parting your hair horizontally. Secure the bottom half in a ponytail, unclip the top section, and tie it above the first ponytail. Conceal the elastics by wrapping a strand around both. The last time I tried it, I felt I could grant my wishes!
Princess Jasmine's Bubble Braids
Channel your inner Disney princess with bubble braids à la Jasmine. Add some mousse for extra volume and grip. Then, create that high ponytail with multiple elastics down the length. Tug at each section to create the bubbles; boom, you're royalty!
Fluttery Butterfly Look
You'll be the center of attention with a half-up, half-down style embellished with butterfly clips. Add some loose curls for volume. Last Halloween, I used a shine spray, and my hair literally sparkled under the party lights.
Faux Bob, Real Glam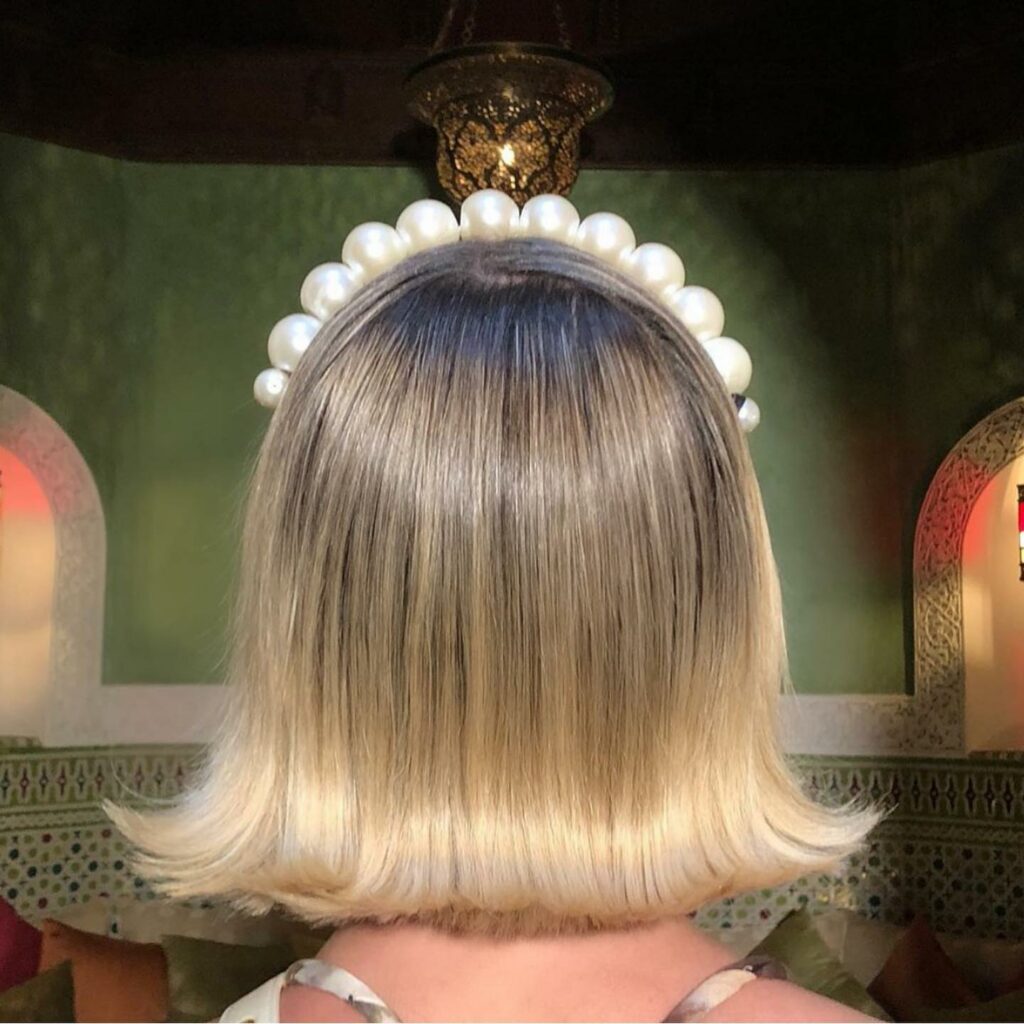 Channel the Roaring '20s without the commitment of a haircut! Apply volumizing mousse, create two small sections at the back, tie them, tuck them under, and secure them with bobby pins. You'll have everyone fooled and looking fabulous!
Go Classic: Low Chignon
Whether you're going as a Greek goddess or a ballerina, a low chignon is timeless and classy. Just slick your hair back into a low ponytail and wrap it into a bun. Add a braided strand around the base for an extra twist. Simple yet stunning!
Mermaid Braid with a Splash
I've been obsessed since Kim K showed up on the red carpet with a braided ponytail. To get the mermaid-esque length, don't shy away from using extensions. Add some sea-themed accessories, and you're good to go.
Cleopatra: The Modern Twist
Micro braids meet Cleopatra in this iconic look. Create waves with a wand or flat iron, section off two small pieces in the front, and braid them, adding some gold twine for that extra luxe feel.
Iconic Betty Boop Curls
Love classic beauty? Tight curls à la Betty Boop are surprisingly easy to achieve with curling irons or foam rollers. Add a cherry-red lip, and you're transformed!
Spice Up Your Pigtails
Get playful with Baby Spice's signature pigtails. A spritz of Unite Texturiza Spray will add the right fluff and volume. Throw in some pom-poms, and you're officially a Spice Girl for the night!
So there you have it, lovelies! These Halloween hairdos have got you covered from easy and quick to daring and bold. Now go on, shake that mane, and bewitch some hearts!
My 9 Pro Tips For Creating These Hairstyles At Home
With Halloween around the corner, who says the fun is just in the costumes? Your hair deserves to be part of the party, too! Below, I'm dishing out some pro tips to ensure your locks are as festive as your outfit.
Invest in Some Basics – Before diving into specific looks, ensure your hair toolkit is ready. You'll need some hair elastics, bobby pins, and a comb or brush. A curling wand and straightener are also good to have on hand for various styles.
Prepping is Key – Before styling, prep your mane with heat protectant spray or a leave-in conditioner. I swear by Ouai's Leave-In Conditioner. It protects your hair and gives it a silky texture that makes styling a breeze.
Master the Top Knot – The trick for the killer top knot is using a hair donut or a rolled-up sock. Slide your ponytail through the donut and spread your hair around it, securing it with another elastic band. Voila, you've got volume for days!
Bun Size Matters – The size makes a difference when doing your Bambi Antlers (aka half-space buns). Smaller buns give a more playful vibe, while more giant buns scream drama. Choose your vibe and go with it!
Go Beyond Basic with Undercuts – The carved-out undercut is a showstopper, but it also requires a bit of courage. If you're not ready to take the plunge with an actual razor, there are hair stencils and colored sprays that can mimic the look temporarily.
Tease for Volume – Remember to underestimate the power of teasing your hair for bubble braids and other styles where volume is critical. Use a fine-tooth comb and your favorite texturizing spray to oomph your locks.
Color Without Commitment – If you're eyeing that 'I-put-a-spell-on-you' sleek 'do with the bloody, dark red color but don't want to commit, there are fantastic temporary hair color sprays out there. I've tried a bunch, and L'Oréal Paris Colorista Spray is a standout.
Mousse It Up – A good mousse can be your best friend for styles like Mermaid waves or Genie ponytails. It gives your hair the texture and hold it needs without making it crunchy. A win-win!
Accessorize, Accessorize, Accessorize – Hairpins, clips, ribbons, or even small Halloween-themed ornaments can take your hairstyle from cute to Instagram-worthy in seconds.
With these tips, you'll have a Halloween hairstyle that rocks, and learn some styling hacks you can use all year round. So get styling, and remember to tag me in your gorgeous Halloween hair selfies. Can't wait to see how fabulous you all look!
My Guide To Match Your Hair To A Halloween Style!
Short Hair, Don't Care – If you're rocking a shorter mane, styles like the top knot and the half-space buns (Bambi Antlers, anyone?) can still work for you! For the top knot, you might not need a hair donut; a little teasing could give you all the volume you need. Or go for a mini-knot!
Curl Power – Curly-haired beauties, you can absolutely rock these styles! In fact, styles like the Mermaid waves and bubble braids look stunning with natural texture. If you're going for a sleek look, like the 'I-put-a-spell-on-you' do, use products that cater to curly hair to ensure smoothness and avoid frizz.
Fine Hair Hacks – If you have fine hair and are worried about the styles falling flat, volumizing products will be your best friend. Tease the roots a bit for an added lift. For bubble braids and similar styles, a texturizing spray can make all the difference in giving your hair some extra grit and hold.
Thick Hair Tips – If you've got a lush, thick mane, you're in luck because you've got built-in volume! However, managing all that hair can be a challenge. My pro tip? Section, section, section. Divide your hair into manageable parts before tackling styles like braids or the carved-out undercut.
Coily and Kinky Textures – For my friends with coily and kinky hair, moisture is critical. Always start with well-moisturized hair; it makes it easier to work with and adds a beautiful sheen. You can rock styles like the mermaid braid or a modified top knot. Just keep some edge control or gel handy for a sleek finish.
Extensions and Wigs – If you're looking for a temporary change, there's no shame in using extensions or wigs to achieve these looks. Whether you want to add length for those mermaid waves or try out a bob without the commitment for the Great Gatsby look, the options are endless!
7 Halloween Hair Accessories To Quickly Change Your Look!
Spooky Scrunchies: Scrunchies are back in a big way, and yes, there are Halloween-themed ones! Imagine a pumpkin or ghost-themed scrunchie taking your Genie high ponytail to the next level. Perfect for a laid-back party or for taking kiddos trick-or-treating.
LED Hair Clips: These little glow-up wonders can add a mystical touch to any hairstyle. Imagine adding some LED star clips to your mermaid waves. You'll literally light up the room!
Lace Cat Ears: If you're going for a feline or glamorous look, lace cat ears are where it's at. They're subtle yet sultry and go well with curly or straight hair. Plus, they're not limited to Halloween—you can rock them at other costume events, too!
Crystal Hairpins: For a chic, sophisticated look, consider using crystal hairpins. They can add a touch of elegance to hairstyles like low chignons or even bubble braids. And come on, who doesn't like a little bling?
Feathers: Feathers can be a fun, boho addition. Whether channeling Pocahontas or wanting a whimsical flair, tuck a few colored feathers into your braids or behind your ear.
Cobweb Headbands: These are super fun and can be DIY at home with craft supplies. Imagine a cobweb-shaped headband over your sleek 'I-put-a-spell-on-you' style. Talk about a hauntingly beautiful look!
Mini Witch Hats: Last, if you're going full-on witchy, why not add a mini witch hat hair clip? It's a cheeky nod to a classic costume and adds fun to your look.
Still Looking for Inspiration, Then Check Out This Video!
Conclusion
So there you have it, lovelies—our whirlwind tour of absolutely fabulous Halloween hairstyles that will turn heads and win you that costume contest (or at least a ton of compliments!). From the flirty Bambi Antlers that even J. Lo would approve of the dramatic Carved Out Undercut that'll make you the life of the party; there's a look here for every vibe. Remember, the secret sauce to nailing these styles is prep work, the right tools, and a dash of creativity. Trust me, invest in some quality texturizing sprays a versatile curling wand, and don't shy away from hair accessories—they're the cherry on top! So go ahead, unleash your inner hairstylist this Halloween, and make a statement that's uniquely you. Can't wait to see what you all come up with! Happy styling, and have a spooktacular Halloween!
Feature Image Photo By @ariba_pervaiz on Instagram
Last reviewed and updated on October 2, 2023