The beauty of layered hair isn't just about the cut—it's in how you style it. You've probably seen countless influencers and celebrities flaunting their flawless layered tresses, making you wonder, "How do they make it look so effortless?" Well, the secret isn't always in the cut but often in the craft of styling. Dive in with me today as we unravel the art and elegance behind achieving that perfect layered hair look. From the dynamics of volume to the subtlety of texture, this post will explore a range of techniques that cater to various hair types and occasions. Ready to transform your layered locks into a canvas of self-expression? Let's embark on this hair-raising journey together!
Styling Short Hair with Bangs and Layers
Styling short hair with layers might seem like a puzzle at first, but trust me, it can be a game-changer. When I first went for a layered cut, the compliments never stopped coming! Want a super cute hairstyle with a bit of a '70s vibe? Here's how:
Follow a Hair Tutorial: Find a tutorial that suits your hair type and texture, and go for it! I did that once for a retro party, and it was a hit.
Experiment with Bangs: If you've got bangs, you can play around with them to create a look that's uniquely you.
Pixie Haircut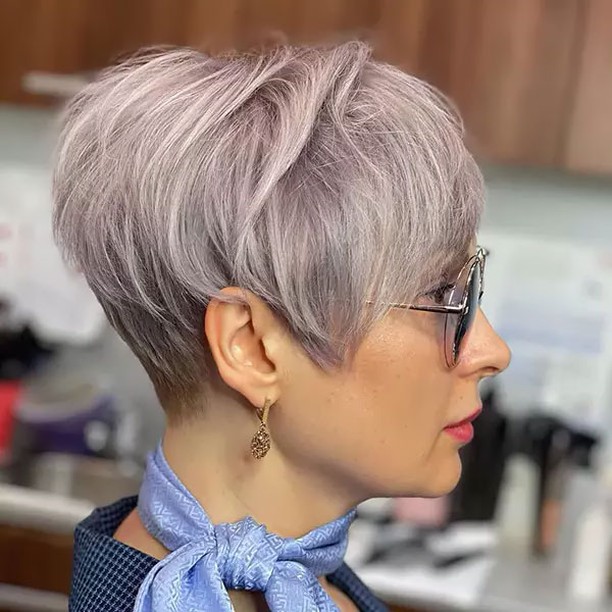 The pixie cut is a darling of short layered hairstyles. When my best friend opted for this look, I couldn't believe how it accentuated her features. She looked stunning! This might be the cut for you if you're thinking of a significant change.
Feathered Layers
Feathered layers are a charming way to frame your face. Remember Farrah Fawcett's iconic look? You can have it too! This style adds a delightful dimension to short hair without going too drastic.
Styling a Shag Hairdo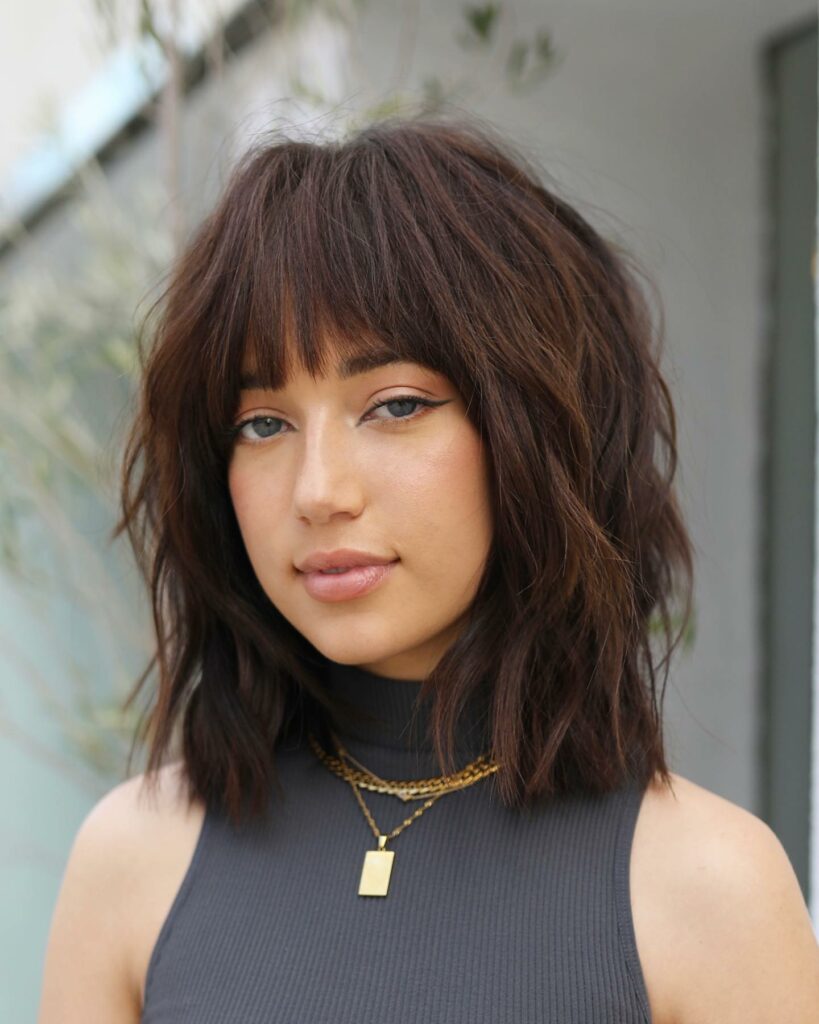 Trendy and current, the shag hairdo has made a massive comeback. I once tried this look for a magazine shoot, and it gave off an edgy yet sophisticated vibe. If you're wondering how to style it, don't worry! Embrace those choppy layers; they're your new best friends.
Bixie Haircut
A bixie cut is like a dance between a bob and a pixie cut. It's sassy, classy, and offers movement that's so mesmerizing. This is my go-to recommendation for those who want a fresh look that's just a short one.
Layered Bob with Bangs and Short Layered Bob
Whether it's a bob with bangs or a short layered bob, these styles can add thickness and fun to finer hair. After I added some wispy bangs to my bob, my hair looked like it had twice the volume. If you're thinking of a bob, consider layers to spice things up!
Medium-Length Layered Hair – Styling Layers with a Straightener
Did you know you can style layered hair with a straightener? It works wonders on medium-length hair, and the look is divine. Pro tip: always use a heat-protectant spray to keep your locks healthy.
Short Layers
Short layers in medium-length hair are all the rage. If you've seen that beautiful blowout look on social media, you know what I'm talking about. It adds movement and frames the face in a chic way.
'90s Blowout for Layered Hair
Last but not least, who doesn't love a '90s blowout? It's nostalgic, voluminous, and gorgeous. I rocked this look at a themed event once, and it felt like stepping back into the golden era of fashion.
Medium Magic: Embracing Medium Layers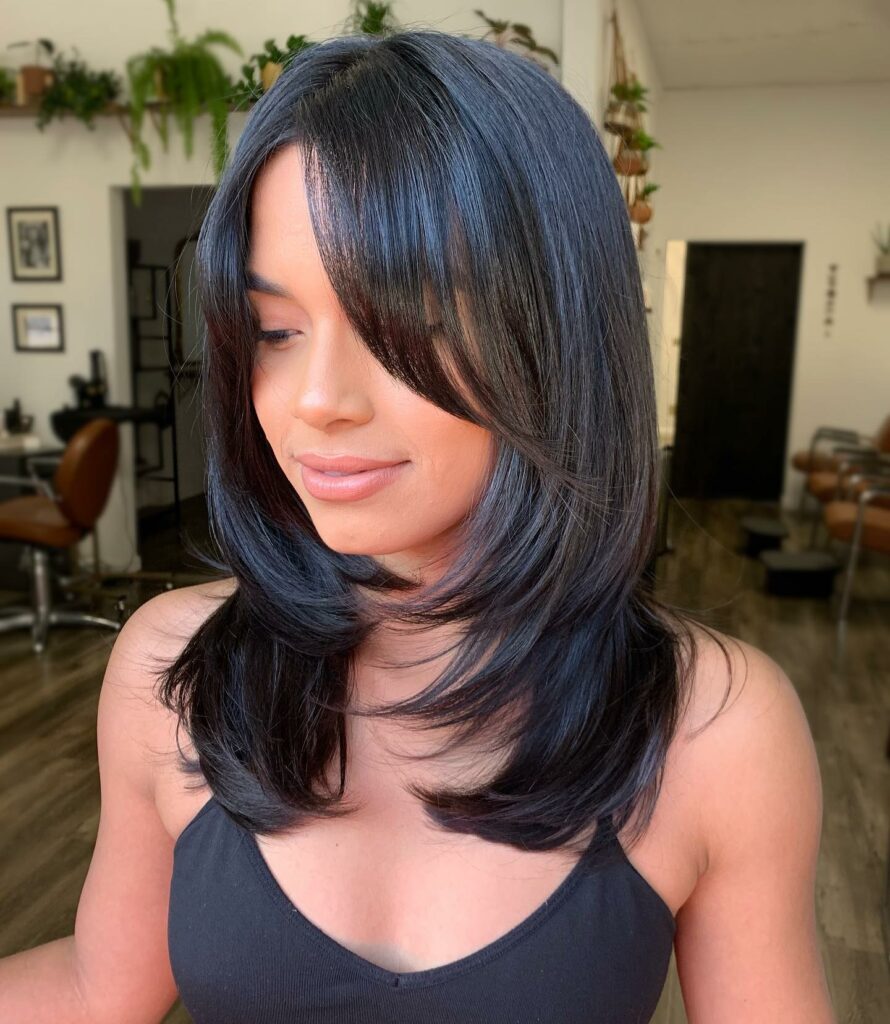 There's an undeniable charm to medium layers. Not too short, not too long – just right! I remember the first time I opted for medium layers. My hair felt rejuvenated, each strand dancing with newfound energy. This style is perfect for those seeking movement without a drastic difference. Plus, these layers might be your secret weapon for added volume if you have thinner locks.
Squared Off: The Beauty of Square Layers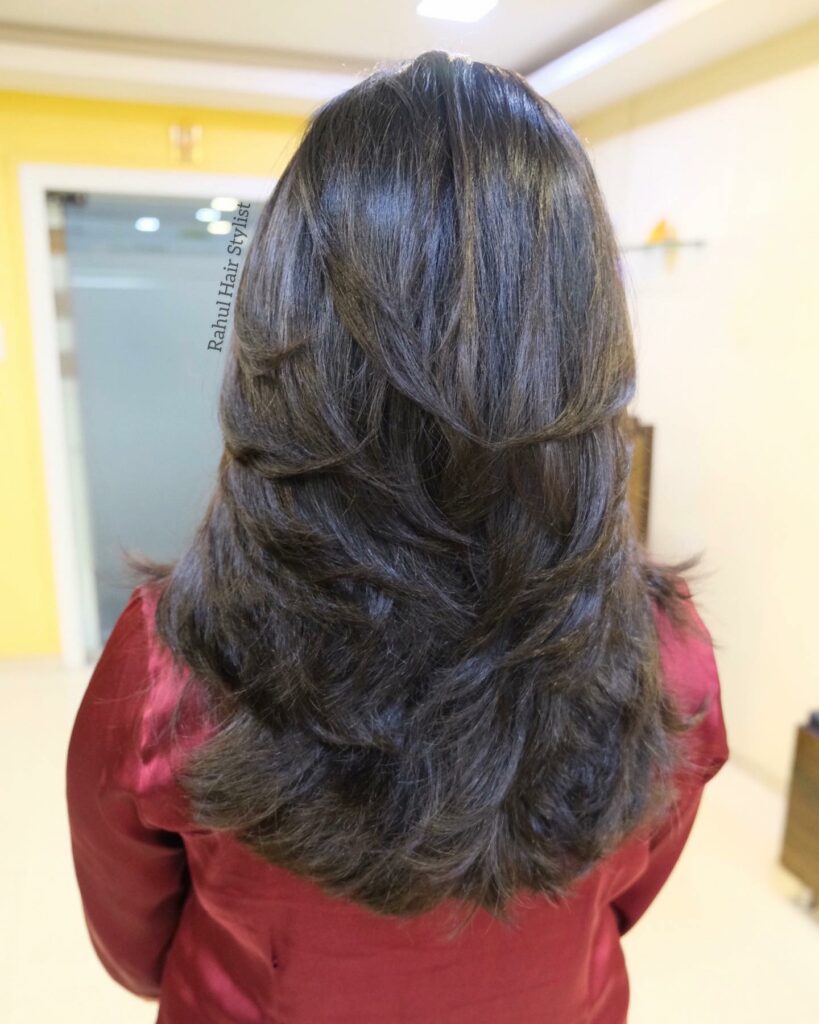 Switching lanes a bit, let's talk square layers. Not your typical layered haircut, these layers add volume with a distinctive look. Ever walked out of the salon, the wind tousling your hair, making it look like you've stepped out of a magazine? That's the square layer magic for you!
The Charm of Curtain Bangs & Layers
Curtain bangs have probably caught your eye if you've been keeping tabs on hair trends. Are you pairing these with layers? Genius! It accentuates the bangs while ensuring your overall hairstyle has a harmonious flow.
Front Bangs + Medium Layers = Love!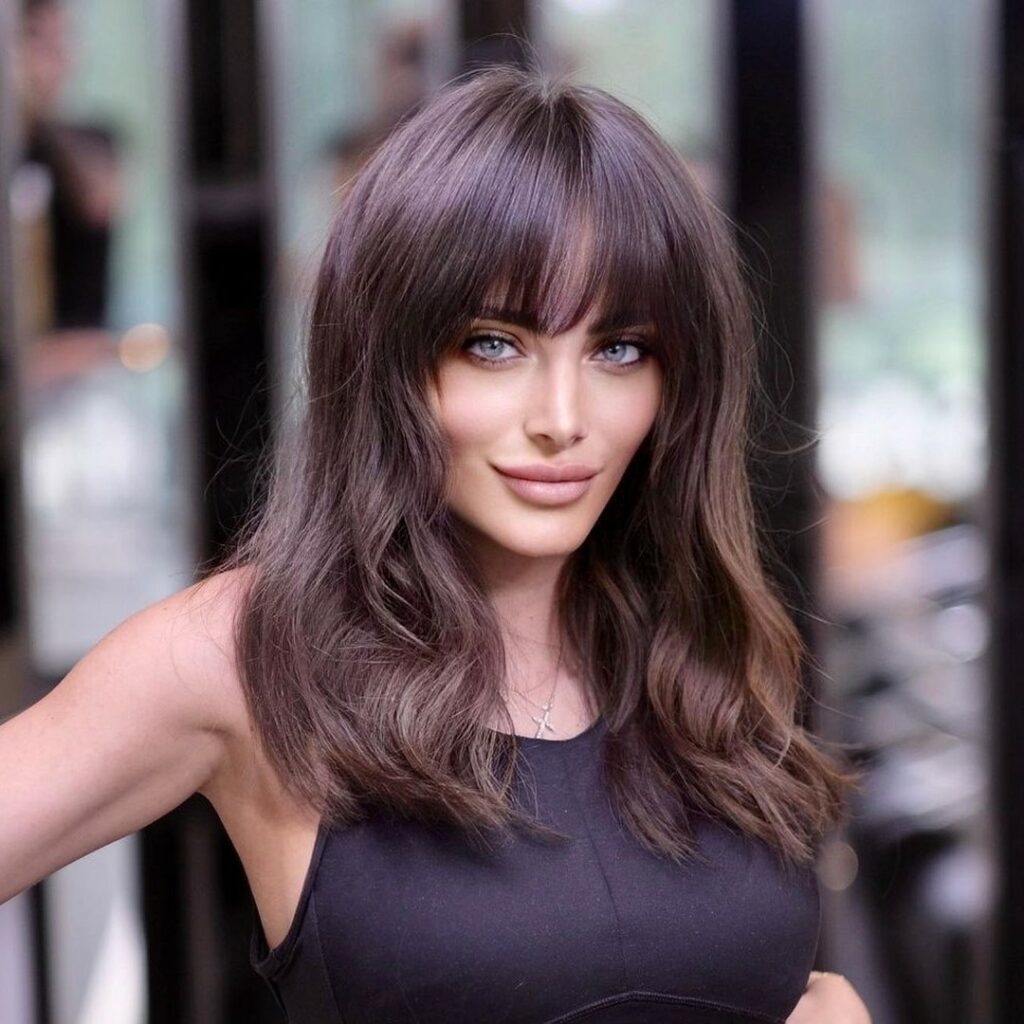 Front bangs have made a comeback, and I am living for it! When I got mine, I added some layers to accompany them. The result? An effortlessly chic look that turns heads!
Elegance of Long-Layered Hair
When you have long tresses, layers become your best friend. It was my go-to style during college; it felt freeing and added life to the length.
Mastering the Curtain Bangs with Long Layers – Long Layers: The Timeless Classic
Never underestimate the allure of long layers. They seamlessly blend into your hair, making it look dynamic without being too obvious. Perfect for those who cherish their length but seek a fresh twist.
Going Round with Round Layers
Wavy-haired pals, this one's for you! Round layers embrace those waves, making them stand out even more. It's like the gentle beach waves, but without even stepping on the sand every day.
Lived-in Layers: The Subtle Statement
For a look that screams 'effortlessly chic,' lived-in layers come to the rescue. It's a natural cut that feels right at home with your hair's texture. It's as if your hair decided to style itself!
What Specific Hair Tutorials Are Recommended for Styling Short Hair With Layers?
Let's dive right back into the chic world of short, layered hair.
Beachy Waves for Short Layers Steps
Spritz on some heat protectant.
Use a small barrel curling wand to create carefree waves.
Gently tousle with fingers and set with a flexible-hold hairspray.
Straight and Sleek Style
Coat your locks with heat protectant and a touch of smoothing serum.
Section and straighten with a flat iron.
For a polished finish, comb the hair neatly or tuck strands behind the ears.
Edgy Pompadour
Take a section from the front.
Tease it slightly for lift and push it back to form a pompadour.
Pin in place with bobby pins or use a statement hair clip for added flair.
Undone Bedhead Chic
Mist your hair with a texturizing spray.
Scrunch and blow-dry using a diffuser, or let it air dry for a natural vibe.
Ruffle with fingers for that perfect bedhead appearance.
Layer-Defined Pixie
Work a dab of styling wax or pomade into your hands.
Manipulate your hair, accentuating layers and twists for a rocker pixie style.
Elegant Side-Swept Bangs
Use a round brush to blow-dry your bangs, directing them to your chosen side.
Secure with a bit of hairspray for long-lasting style.
Tips:
Versatility Matters: The beauty of short layered hair is its adaptability. A small tweak can entirely transform your look.
Product Selection: Equip yourself with diverse products — from matte creams to glossy gels, each lends a different vibe.
Stay Trim: Layers, especially on shorter hair, can lose their shape as they grow. Keep your style fresh with regular trims.
Dare to Explore: Flex your creativity! Sometimes, the coolest styles come from spontaneous play and experimentation.
Hey there, fashion enthusiasts! With short layered hair, you're armed with one of the most versatile canvases. Experiment, enjoy, and let every day be a fresh hair adventure!
Conclusion
In wrapping our deep dive into the layered hair universe, hello, fashion enthusiasts! Layering offers an incredible way to reinvent your look, add volume, and showcase your style. Whether you're aiming for the chic shag or the dynamic bixie, always consider your hair type and face shape. As with any hairstyle change, there's a risk of not getting it right on the first try, so consulting a trusted hairstylist is essential. Maintaining your layered cuts with regular trims and proper care is also crucial. Your hair is a canvas waiting for your artistic touch. Embrace the journey of discovery, play around with different styles, and, most importantly, have fun while doing it. The world of layered hair is vast and varied, and a perfect manner is waiting for you. Happy experimenting!
Feature image by Tim Mossholder on Unsplash
Last reviewed and updated on October 2, 2023