Welcome back to my corner of the beauty world. Today, we're diving into the captivating universe of E Girl hair—yes, that vibrant, edgy, and oh-so-instagrammable style you've been seeing all over your feed. From neon streaks to half-and-half hair colors, we're breaking down the must-try looks and how to get them, plus my tips for keeping those colors popping!
Whether you're a bold risk-taker ready to embrace electric blues or just dipping your toes into the trend with cute pastel highlights, I've got you covered. I've been there and tried that—and I can't wait to spill the tea on how to nail this trend like a pro! So grab your hair dye, and let's start this hair party!
Platinum Blonde Highlights On A Black Bob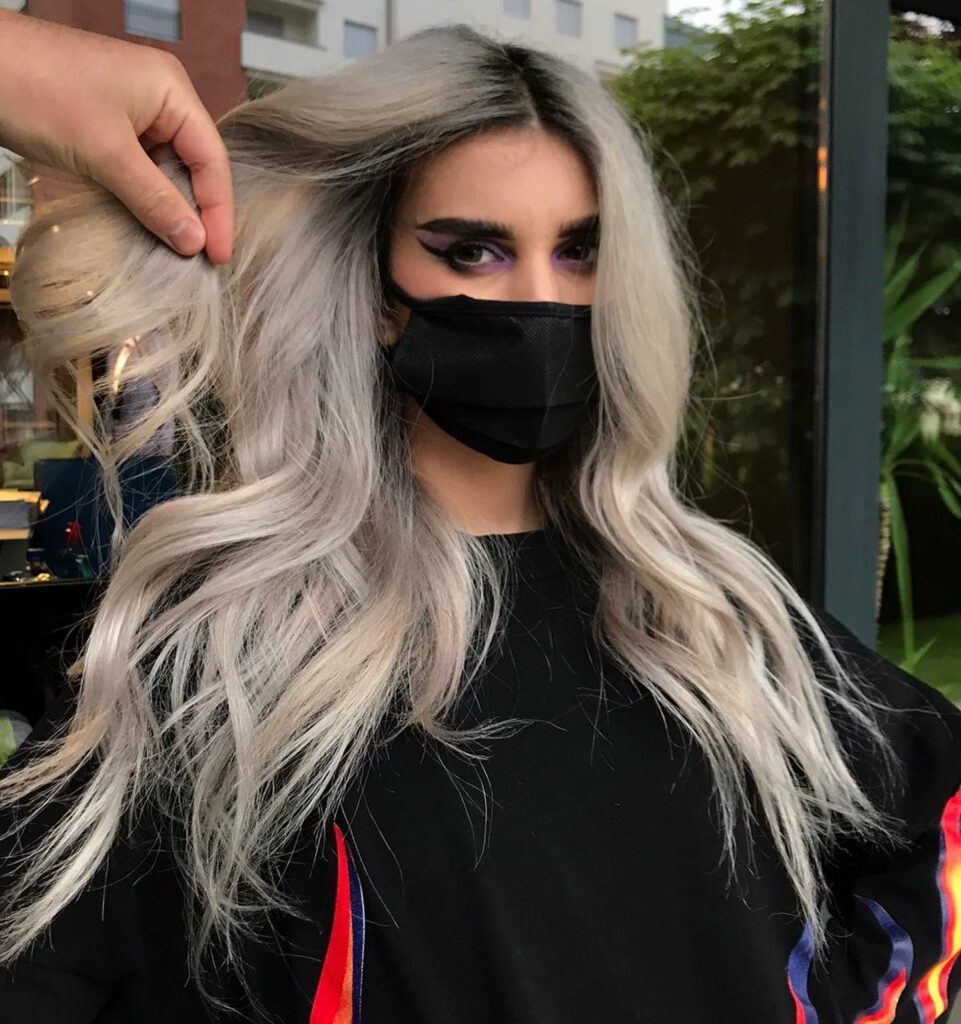 Alright, let's start with the classics. If you're sporting a jet-black bob, adding platinum blonde streaks framing your face is like the cherry on top. I love the edgy feel it adds, and it works whether you part your hair in the middle or go for a side swoosh. I call it the "cool girl" look, and it's an absolute must-try at least once in your life!
Neon Blue: The Eye-Catcher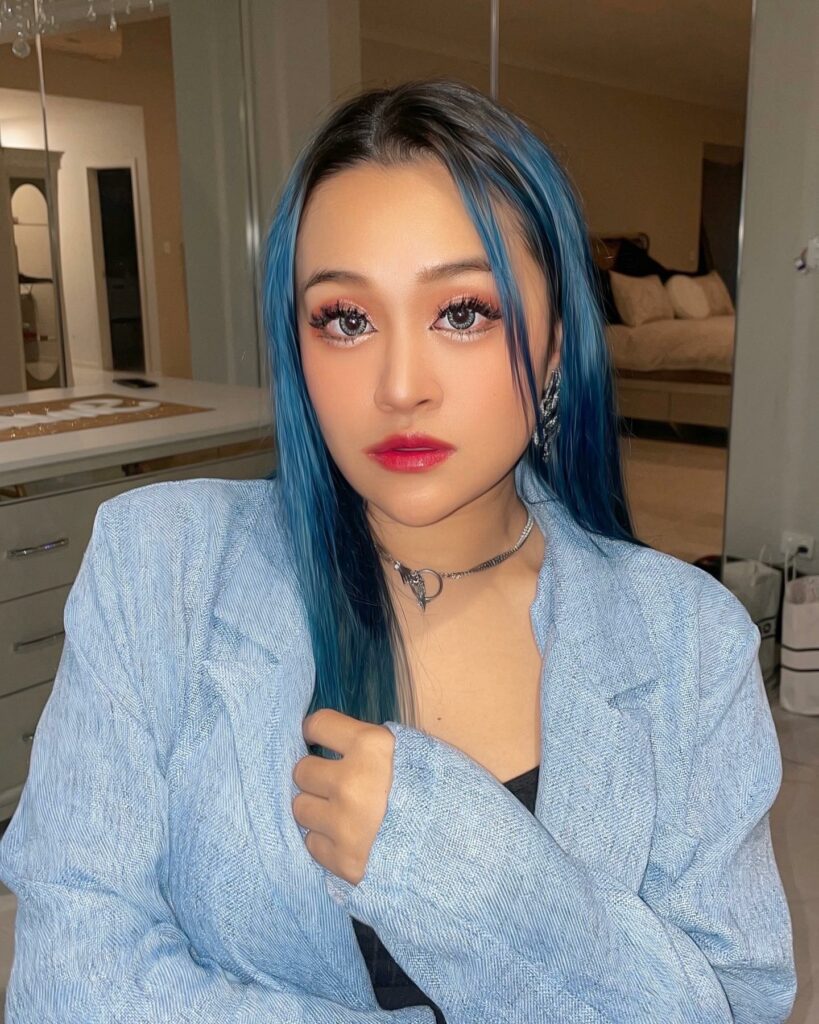 Blue hues, especially neon, do more than make a statement—they make your eyes pop. It's like having built-in Instagram filters for your face! If you're not ready to go full-on neon blue, try incorporating peek-a-boo highlights first. It's a subtle way to test the look before taking the big plunge.
The Power of High Contrast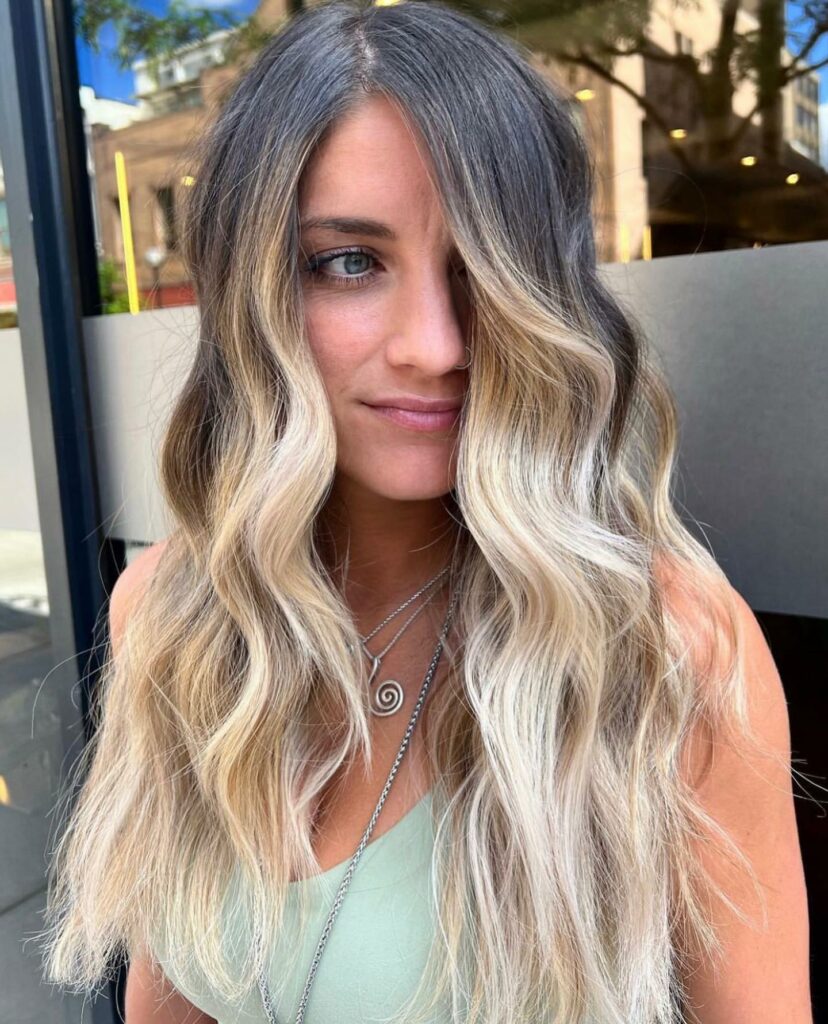 Don't think you must always wear super-bright colors to rock the E-Girl look. A trendy, shaggy cut paired with high-contrast lowlights can be just as captivating. It's the ultimate way to say, "I'm here and fabulous!"
Rosy Pink Complexion Boosters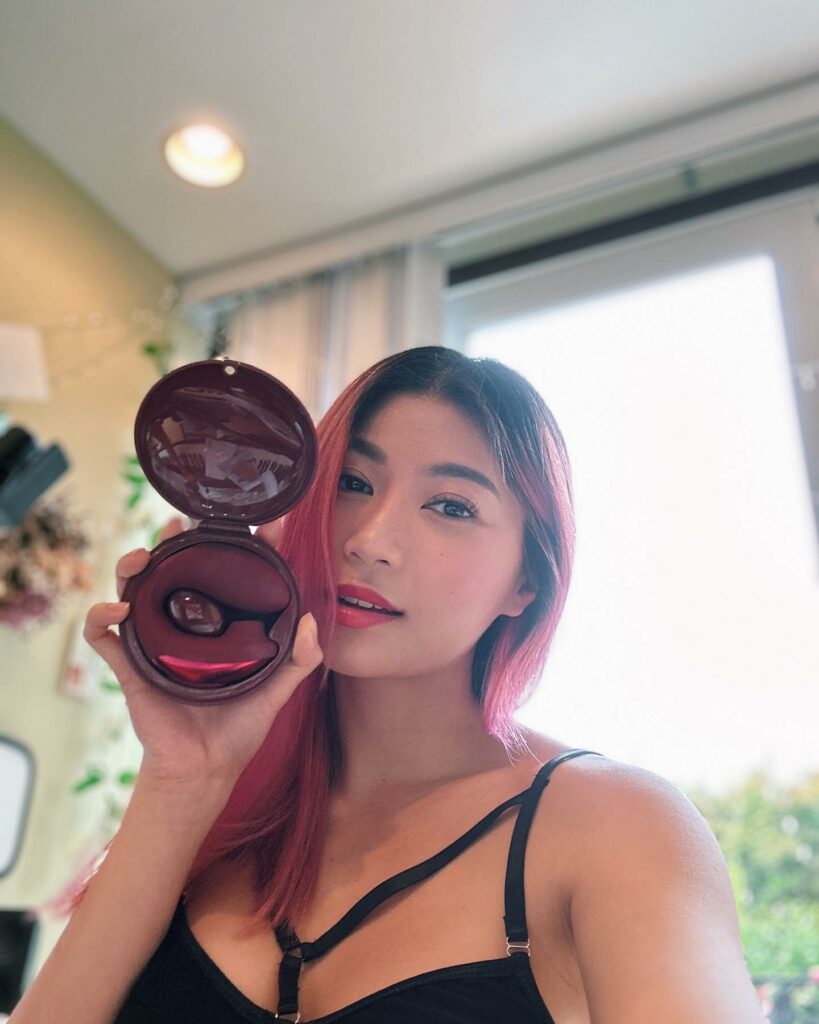 Adding a touch of pink can do wonders for your complexion, not to mention that it gives off some major Barbie vibes! Every girl could use a bit of rosy flair to keep things fresh.
Emerald and Purple: The Edgy Duo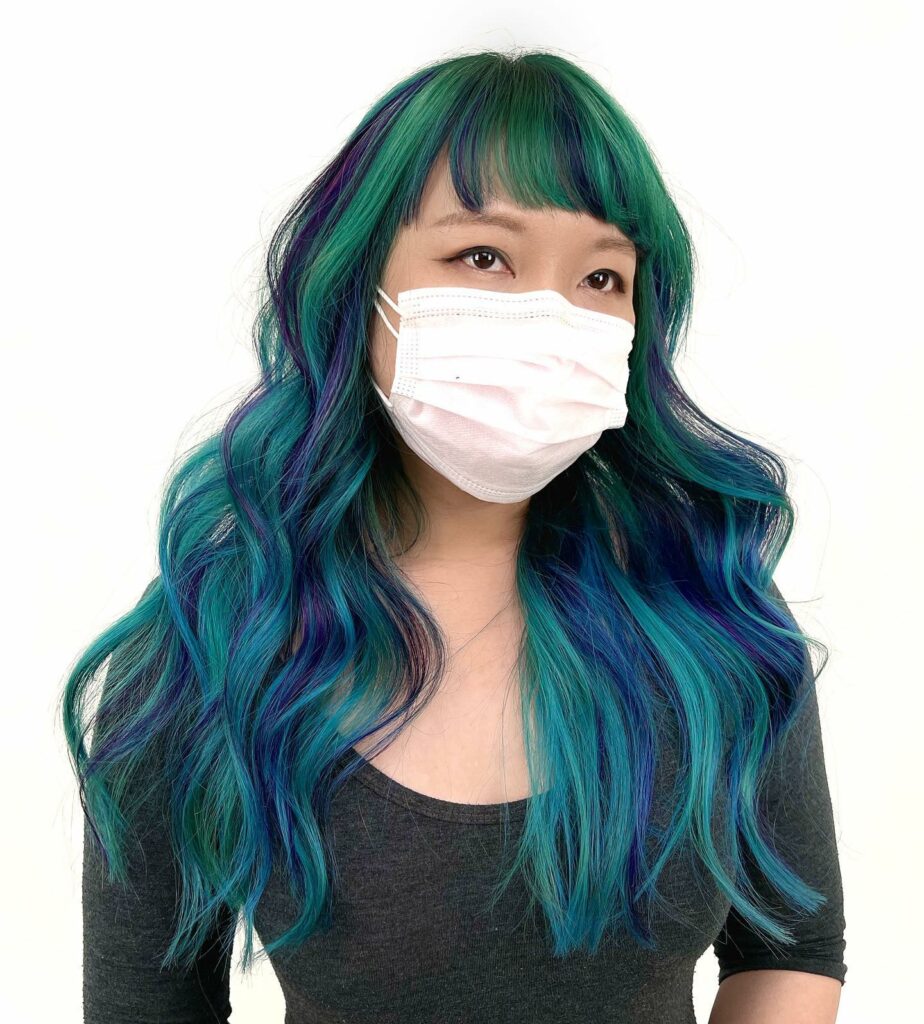 For those with jet-black hair, emerald green and purple streaks are a match made in hair heaven. I remember the first time I tried this combo; it gave me a youthful and rebellious vibe. It's an excellent way to shake things up and make heads turn.
Fantasy of Ash Blonde and Fiery Red
Here's the thing—there's no such thing as "too bold" regarding E-Girl hairstyles. I recently spotted a gal rocking ash blonde and fiery red split hair, and let me tell you, it was an absolute showstopper.
Pastel Pink and Shadow Roots: A Match Made in Heaven
Pastel pink is everywhere, and for good reason. This gorgeous shade is flattering on just about everyone. Opt for shadow roots to make maintenance a breeze. You'll thank me later!
Neon Purple Curtain Bangs
Still contemplating how broad your colorful streaks should be? Why not try curtain bangs dyed in your preferred shade? It's a fashion-forward move that also keeps things breezy and low-key.
Curls with Chunky Purple Highlights
Got curls? Embrace them! Style your natural curls before dyeing, so the new color settles in its beautiful curl clump. A little pro-tip: if you've got darker hair, pre-lighten the strands you plan to dye to get that full, vibrant color.
The Best of Both Worlds: Rainbow Streaks
Guess what if you're caught in a tug-of-war between rainbow hair and the E-Girl aesthetic? You can have both! Just keep some of your hair dark as a canvas for your beautiful rainbow-colored streaks.
Black Meets Blonde: The Dynamic Duo
Ah, the iconic black and blonde mix—always a winner in my book. It's like having the best of both worlds! I remember the first time I dyed a chunky piece at the front; it totally elevated my look. Want extra drama? Try draping a dark fringe over your blonde highlights. It's a subtle yet stunning way to amp up the contrast.
Mermaid Vibes: Green and Blue Blocks of Color
Say goodbye to drab office locks! Channel your inner sea goddess with some green and blue highlights. Place a broad streak of color at the front and another peeking from the opposite side for that playful asymmetry. Trust me, it's a mood-lifter!
Be Your Own Anime Heroine: Mint Tea Magic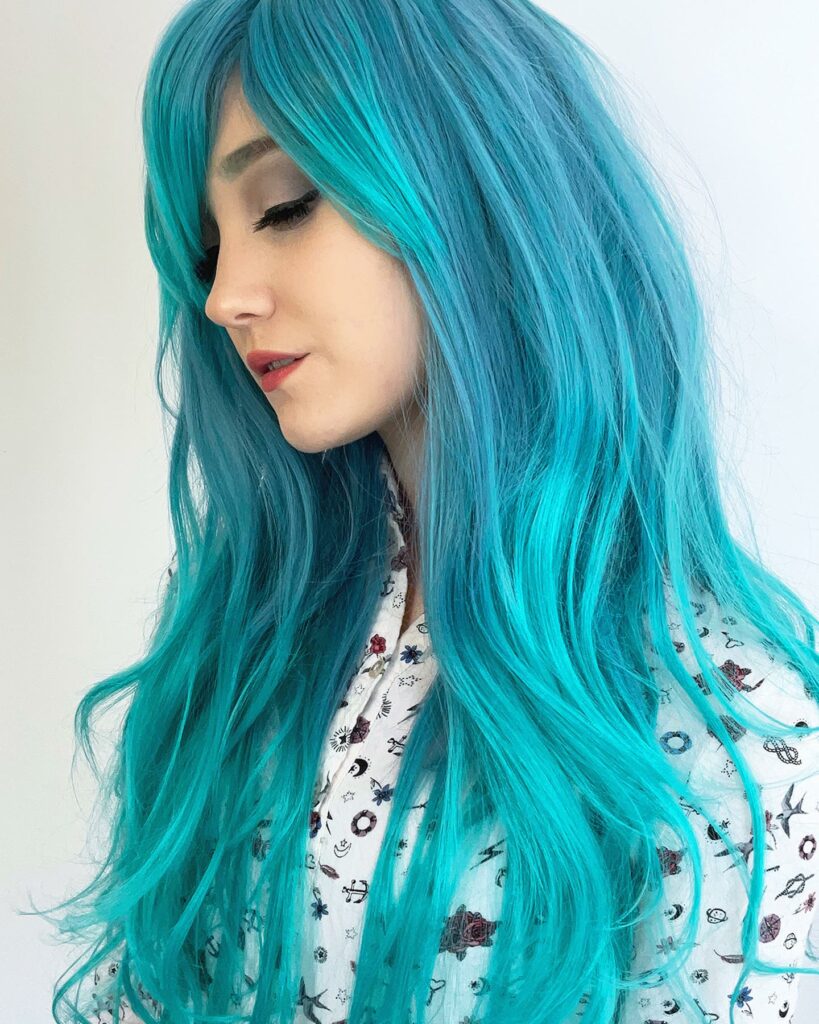 Have you ever had a moment where you wish you could step into an anime? Here's your chance to transform into that cute character with mint tea-colored hair. Heads up: you'll probably need to bleach your hair for this one, and the color may fade. But don't sweat it! Grab a wig for your Insta snaps, and you're ready!
TikTok Chic: Middle Part with Blonde Streaks
TikTok isn't just for dance challenges; it's a treasure trove of hair inspo! The middle part and 'money pieces' (those highlighted front sections) have been all over my feed. It's the ideal way to give a straight bob that E-Girl kick.
Think Pink: Face-Framing Highlights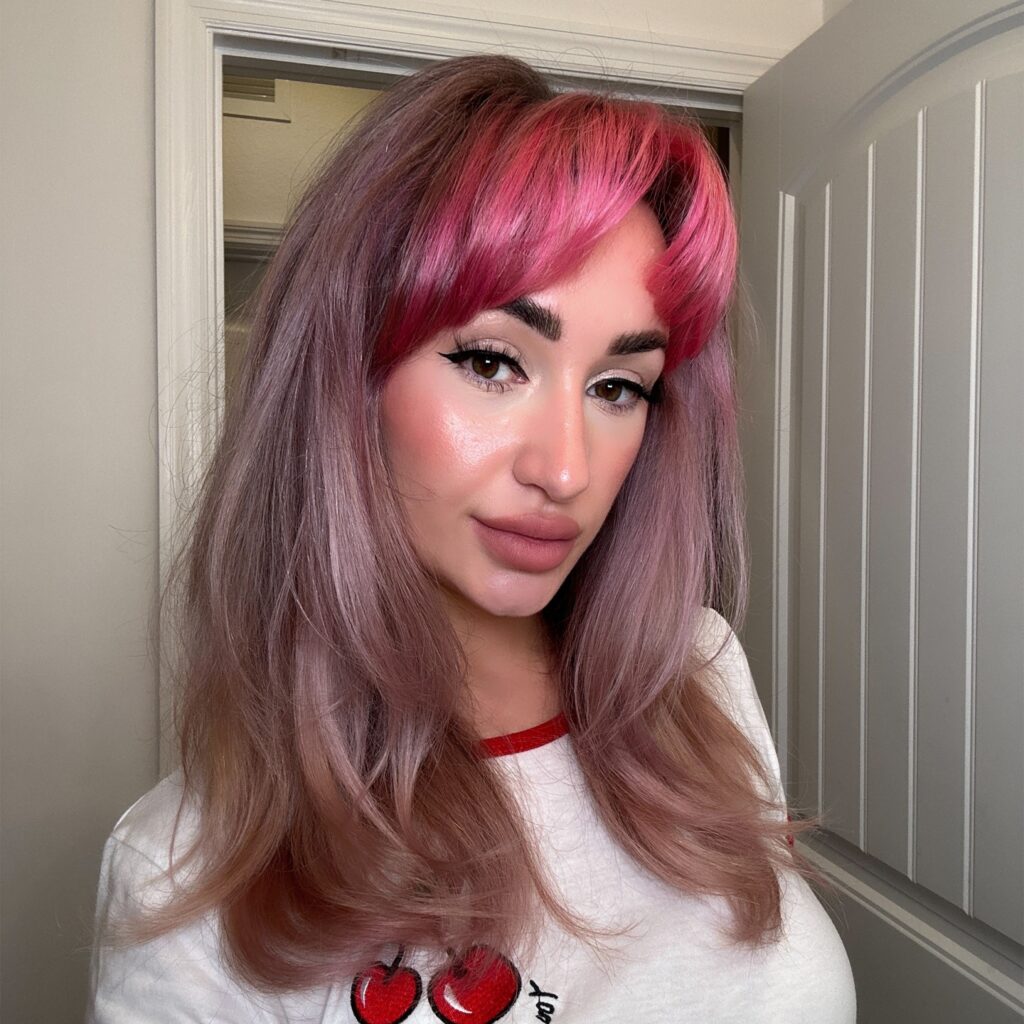 Shag hairstyles are having a profound moment right now, and they're the perfect backdrop for some E-Girl color action. My personal fave? Pink highlights that frame the face. Pair it with some half-up, half-down pigtails, and voilà—you're a modern-day style icon.
Lady in Red: Vibrant Red Streaks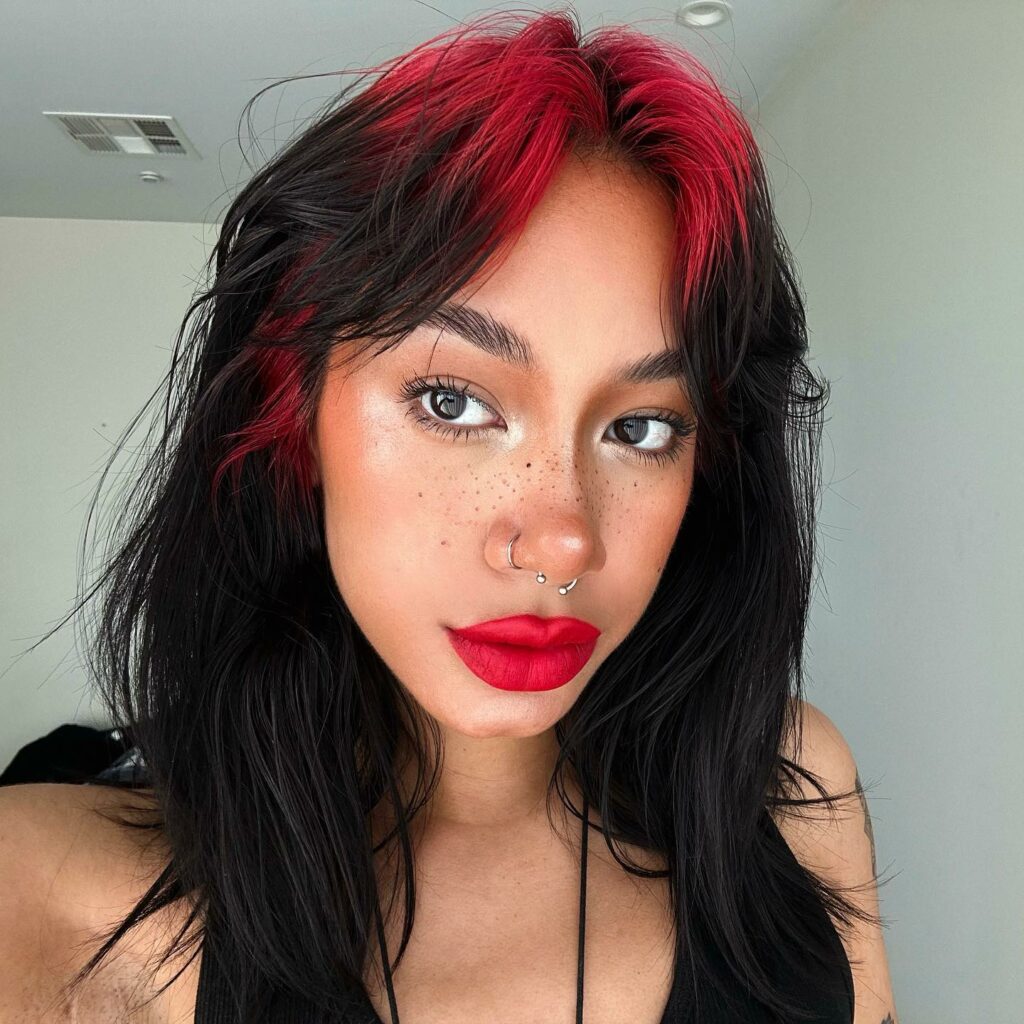 Want to unleash your inner rebel? The red and black combo is your best friend. I've tried this combo, and let me tell you, it's like an instant confidence booster! Be daring; add some bold red highlights to your dark locks.
Pastel Meets the 90s: Half Up, Half Down E-Girl Magic.
Rooted pastel pink doesn't scream E-Girl at first glance. But add in some butterfly clips and rock that 90s half-up, half-down look, and you've just entered E-Girl territory.
Pigtail Perfection: Bubble Braids and Butterflies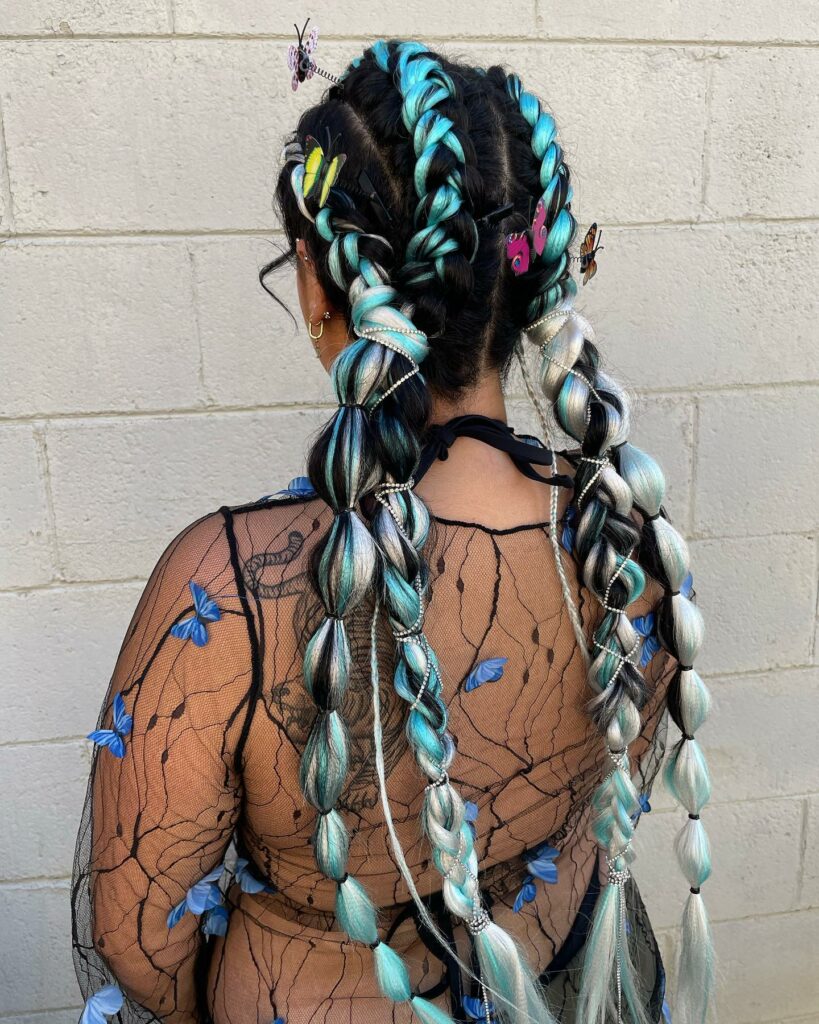 For the 'Gram-worthy look, nothing beats pigtail bubble braids. Want to stand out even more? Add some contrasting, cute accessories like butterfly clips or tiny bows. Your feed will thank you.
Throwback Chic: 90s Pink Fringe
If you're into the '90s aesthetic, a pink fringe combined with a money piece is your ticket to Style Central. It's subdued enough for everyday wear but can easily be glammed with fierce makeup.
Purple Reign: Pigtails with Highlights
Purple hair doesn't just make a statement; it shouts from the rooftops. Instead of just dyeing your fringe, why not go out with purple all over? Keep the front pieces light and style them into high pigtails for that edgy, high-impact look.
The Perfect Accessories: Metal Barrettes and the Middle Part
Hey lovelies! So, you've seen it—the iconic e-girl hairstyle that's taking over TikTok, complete with the metal barrettes. It's almost like the signature uniform of e-girl coolness, right? I recently tried this look for a fun night out; let me tell you, it was an instant mood booster! 🌟 All you've gotta do is straighten your hair, part it down the middle, and snap on two metal barrettes parallel to each other on each side of your noggin. Voilà! Instant TikTok fame—well, almost.
Unleash Your Inner Cruella: Skunk Hair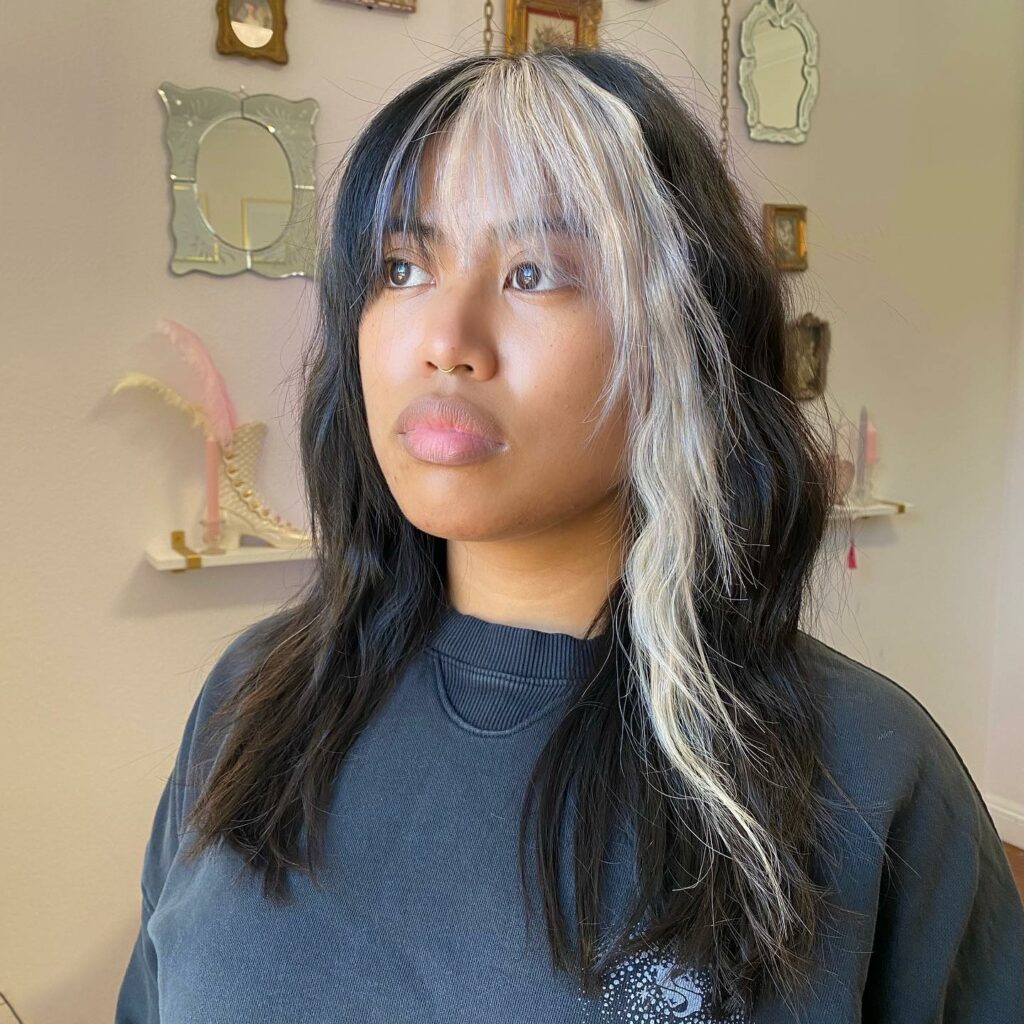 Have you ever fancied looking like a Disney villain but in the chicest way possible? Enter skunk hair. This two-tone trend is all about that Cruella-inspired contrast. I experimented with this during quarantine (yep, I took the plunge!) and went for a black-and-white look that had me feeling like a rockstar. You can go half-and-half or frame your face with bold white streaks while keeping the rest of your locks dark. Either way, it's a showstopper.
Chic Cuts: The Long Shag
OK, let's chat about cuts because the proper cut can be a game-changer. If you're a fan of layers but still want to keep the length, say hello to the long shag. It's the mullet's cooler, trendier sister. Ask your stylist for choppy layers while maintaining your length, and for that lived-in look, spritz some Matrix StyleLink Texture Builder Messy Finishing Spray. I swear by it—this stuff is like magic in a bottle for adding texture and volume.
Contrasting Colors: When Warm Meets Cool
Last, let's talk color, specifically that to-die-for combo of warm and cool tones. I recently tried this with purple and yellow (sounds crazy, but stick with me), and oh my gosh, the contrast was FIRE! 💥 It adds such a pop to your whole look, and if you're into makeup, coordinate your eyeshadow to match your new hair hues. Trust me, the selfies will be off the charts.
9 Tips I Recommend To Maintain And Care For Your New E-Girl Dyed Hair
The Ultimate Guide to Keeping Your Dyed Hair Fabulous: Hey, my lovely readers! So you took the plunge and dyed your hair that dreamy shade you've been eyeing forever. Yay, you! 🎉 But now you're probably wondering how to make that gorgeous color last while keeping your hair healthy, right? Well, honey, you've come to the right place. Let's get into the nitty-gritty of dyed hair care.
Switch to Color-Safe Shampoo and Conditioner: The first order of business? Change up your shower routine. Opt for a sulfate-free, color-safe shampoo and conditioner to ensure you aren't washing that beautiful color down the drain. I swear by the ones specifically designed for dyed hair—my color stays vibrant longer!
Cool It Down with the Water Temp: As much as we all love a hot shower, your dyed hair does not. Hot water can open hair cuticles, letting that fresh color seep. So when you're rinsing, go for lukewarm or cool water. Yeah, it took me some getting used to, but the results? Totally worth it!
Hydrate, Hydrate, Hydrate: Dying your hair can leave it a bit thirsty. Pamper it with regular deep-conditioning treatments or hair masks. My personal fave is coconut oil mixed with a dash of lavender essential oil. Please leave it in for at least 30 minutes, and your hair will thank you!
Use a Heat Protectant:If you can't live without your straightener or curling iron, ensure you protect your locks from heat damage. Always use a heat-protectant spray before styling. It creates a barrier between the tool and your hair, preserving its health and color.
UV Protection is a Must: Yes, even your hair needs sunblock. Too much exposure to UV rays can fade your color and dry out your hair. Look for products like sprays or leave-in conditioners with UV protection. Trust me, your hair color will keep its poppin' vibrance much longer.
Limit Chlorine Exposure: Chlorine is colored hair's worst enemy. If you're a regular at the pool, consider wearing a swim cap or rinsing your hair with clear water before diving in. The latter trick works because your hair absorbs the clear water, leaving less room for chlorine.
Trim Regularly: This may sound counterintuitive, but a regular trim can help maintain your color's look. It removes split ends and breakage, improving your overall hair health, and healthier hair holds color longer.
Quick Color Refresh: If you notice your color fading but don't have time for a salon visit, there are temporary solutions like color-depositing conditioners and hair chalks. A little touch-up between dye jobs can go a long way!
And that's your crash course in dyed hair maintenance! With these tips, you're all set to rock that dazzling color for as long as possible. Do you have any hair care tips of your own? Drop them in the comments! Until then, keep those tresses looking fabulous!
The Do's and Don'ts: Hair Colors and Skin Tones
Fair Skin
Yes: If you have fair skin with cool undertones, consider going for icy blondes, cool browns, or even deep blacks. For those with warm undertones, golden blondes, and warm reds can make you glow.
Uh-oh: Be cautious with shades that are too warm or have a solid yellow base. They may make your skin look washed out or too pale. I learned this hard with a too-yellow blonde—I looked like a vampire!
Medium Skin
Yes: You can rock those ashy browns, subtle blondes, or even jewel tones like emerald green for medium skin with cool undertones. Coppers, warm browns, and auburns are your friends for warm undertones.
Uh-oh: Avoid colors too close to your skin tone, as they can make you look monochrome and not cool or artsy.
Olive Skin
Yes: Olive-skinned beauties can go bold with dark browns, deep reds, and even mahogany. If you're feeling adventurous, teal or turquoise can also be a vibe.
Uh-oh: Steer clear of anything too light or ashy. These shades might give your skin a greenish tint. I had a friend who went ashy blonde, and trusts me, it clashed with her olive skin so bad.
Dark Skin
Yes: If you have dark skin with cool undertones, rich blacks, espresso browns, and deep purples, it will complement you beautifully. Coppers, warm reds, and even vibrant shades like fuchsia can be flattering for warm undertones.
Uh-oh: Avoid anything too light or washed out, like pale yellows or neon colors. They might make your skin look ashy or overly stark.
A Golden Rule: Remember, folks, these are guidelines, not rules set in stone! Personal style and preference should always come first. My motto? If a color makes you feel fabulous, then rock it!
Conclusion
Alright, that's a wrap on our whirlwind tour of E-Girl hairstyles that will make you the star of any room—or at least your next TikTok video! Remember, letting your personality shine through is key to rocking these looks. Whether it's a dash of mermaid blue or a burst of anime-inspired mint, don't be afraid to get creative and make the style your own. If you're new to the color game, start small with some face-framing highlights. Why not mix and match for a look uniquely you for the color pros? And hey, don't forget to share your fabulous new 'do on social, and tag me—I'd love to see your take on these trends! Until next time, keep those locks luscious and that style fierce.
Feature Image Photo By carson.hair.nyc on Instagram
Last reviewed and updated on October 2, 2023