Hey everyone! Welcome back to my corner of all things beauty and hair. Today, we're diving deep into the world of ponytails. Now, before you think, "Ah, the classic lazy day 'do," let me stop you right there. Ponytails have evolved past their gym-class origins and can be as casual or glam as you make them. From the sleek high-pony to the messy low-pony, this humble hairstyle has made its way onto red carpets and runways alike.
In this post, we're breaking down different types of ponytails, what face shapes they complement, and how to secure them so they last all day (or night!). Plus, I'll share my go-to products to ensure your pony has that extra oomph.
Trust me, whether you're running errands or heading to a gala, the right ponytail can instantly elevate your look. So grab your favorite scrunchie or hair tie, and let's get styling!
The Effortless Low Ponytail
Hey, let's start simple. The low ponytail is basically your trusty best friend in the hair world. You gather your locks at your nape, secure with a hair tie, and boom—you're good to go. Ideal for those 'I overslept' mornings, right? I'm a fan of adding a cute hairpin or two for a touch of personality. Switch out that basic elastic for a silk scrunchie. It's gentler on your hair and adds a little luxe to your look!
Beat The Heat With A High Ponytail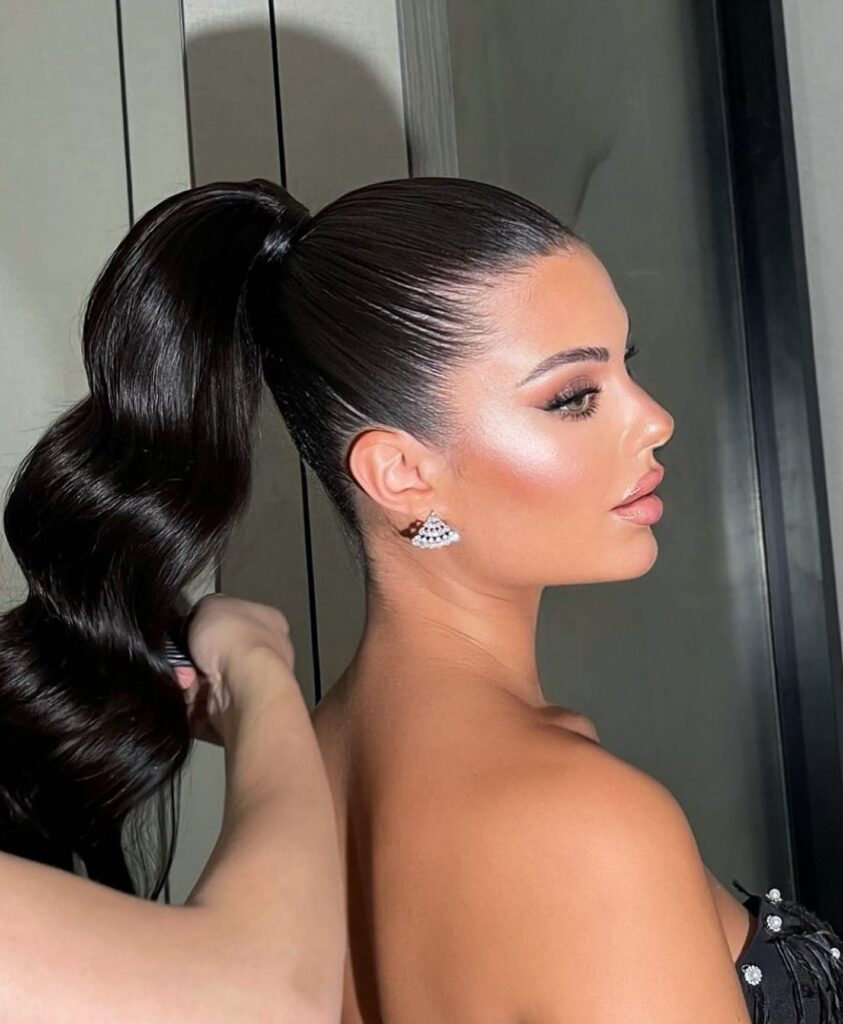 The hot and sweaty day ahead? A high ponytail is your best bet. For a sleek and frizz-free finish, don't forget to give it a quick spritz of hairspray after you're done styling. My go-to hairspray for this? Anything that says 'humidity-resistant' on the label. Your ponytail will thank you later!
Glam Up With A Curly Ponytail
Take your high ponytail game up a notch by adding some curls. If you're already blessed with wavy or curly locks, you're halfway there! If you have straight hair, don't worry—a quick curling wand session is all you need. Just make sure to use a heat protectant!
The Pop-of-Color High Ponytail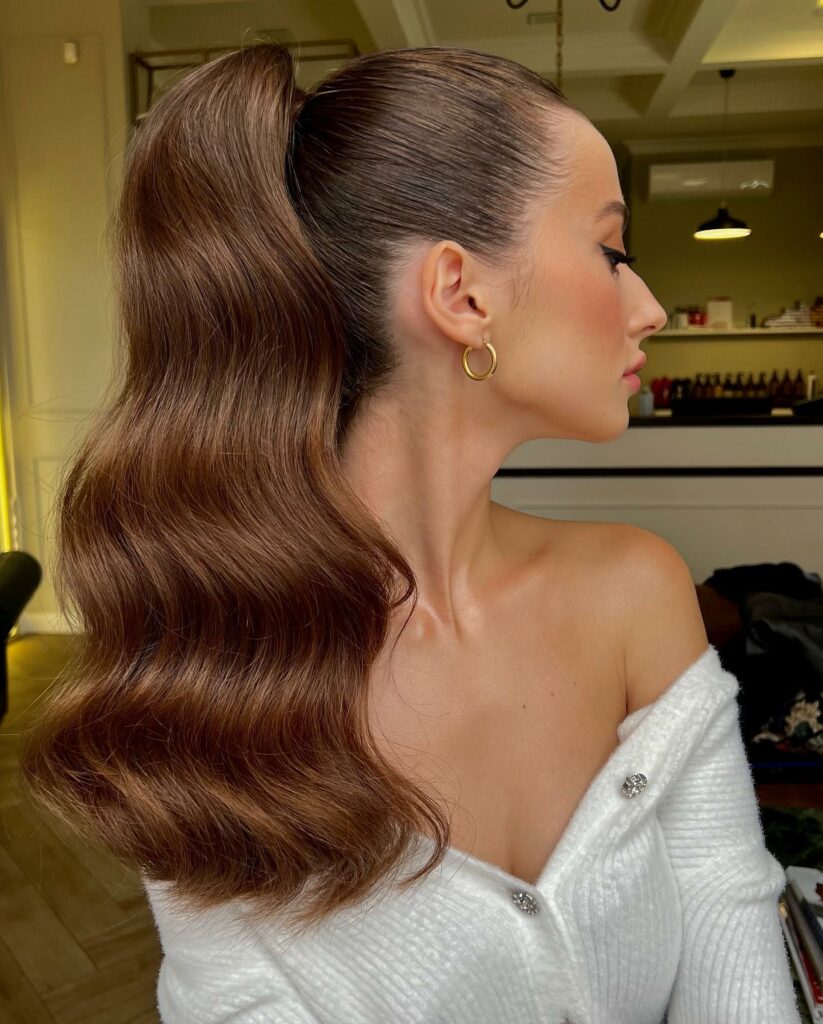 Do you want to make a statement? Switch out that basic hair tie for something bright and colorful, especially if you have darker hair. Trust me, a little color never hurt anyone. Bright hair ties are my jam during workout sessions. Not only do they keep my hair in place, but they also add a playful flair.
Curl It Up—Side Ponytail Edition
If you love the curly high ponytail, you'll adore its side ponytail cousin. Great for virtual dates or any occasion where you want to feel fabulous. Use a light hold mousse to keep those curls in place without weighing them down.
The Tousled Low Ponytail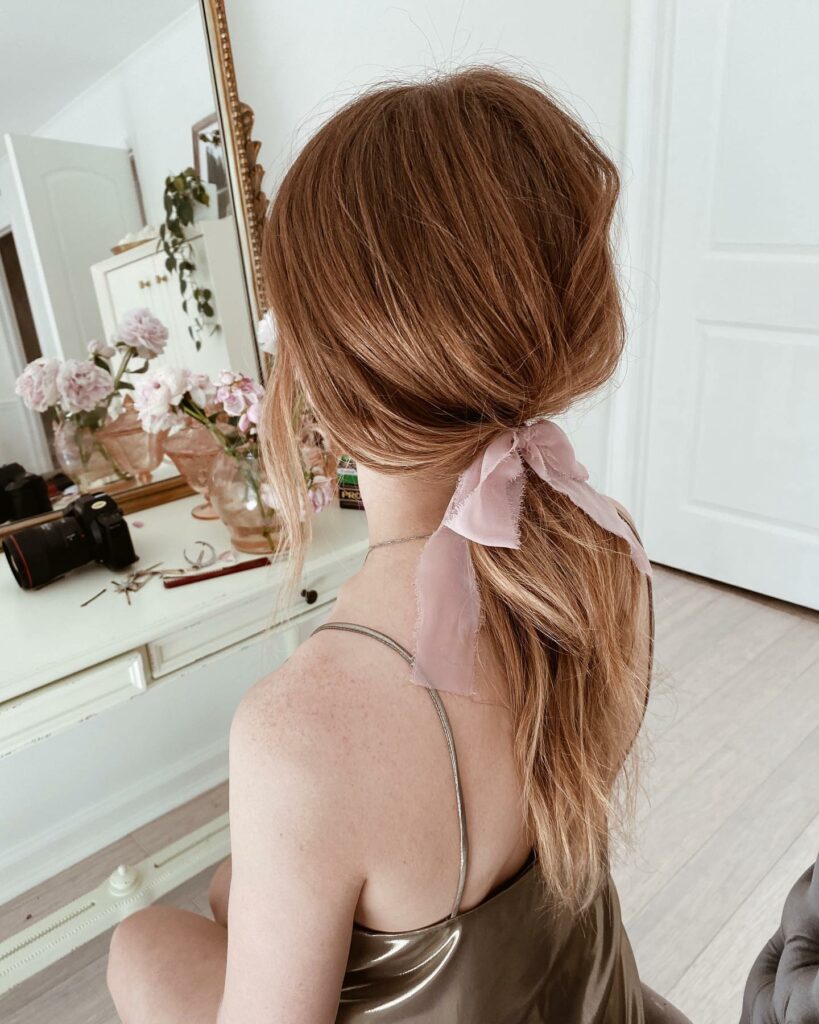 For a low ponytail with more pizzazz, tease it for volume. A few spritzes of hairspray, and you're golden. Use a teasing comb for best results—it's a game-changer!
The Messy Ponytail: The 'I Woke Up Like This' Look
When in doubt, mess it up! The messy ponytail is perfect when you're going for that laid-back, effortless vibe. If you're struggling with frizz, use a hair oil to keep it looking intentional rather than unruly.
The Romantic Messy Side Ponytail
Move that messy pony to the side for a softer, more romantic vibe. A few loose strands framing your face? Even better. This look pairs wonderfully with soft, neutral makeup. Think pinks and peaches for a perfectly romantic vibe.
Ponytail Plus Bangs
If you rock bangs, tying the rest of your hair back is a great way to let it shine. A quick roll and blow-dry will give your bangs the perfect shape. A round brush is your best friend here.
The Low Bubble Ponytail: Your Workout Buddy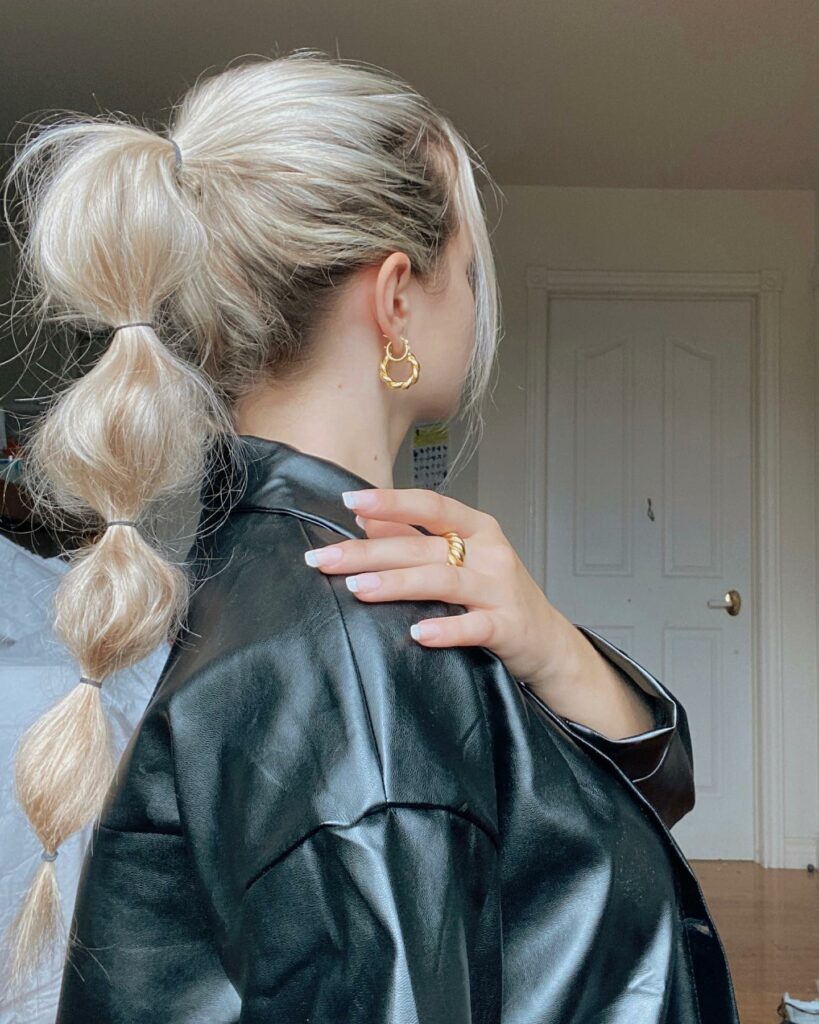 Heading for a run or a gym session? Secure those locks with a low bubble ponytail. This style keeps every strand in its place. Use clear or neutral elastics for a more polished appearance, and consider wrapping a strand of hair around each to conceal the tie.
Elevate Your Look with a Tucked-In Ponytail
Got a little extra time? Go for a tucked-in ponytail. It adds an extra layer of sophistication, perfect for your work-from-home days or virtual meetings. Pair it with a crisp white shirt, and you're ready to conquer the day.
High Braid Ponytail: The Best of Both Worlds
Can't decide between a braid and a ponytail? Combine them! Tie your hair high and braid the tail. Wrap a small section of hair around the base of your ponytail for a seamless finish.
The Chic Rope Braid Ponytail
Opt for a rope braid ponytail for a twist on the classic braid. It's as simple as dividing your hair into two sections and twisting them around each other. Secure with a cute hair tie or elastic, and you're golden!
The Elegant Low Braid Ponytail
This one's a versatile charmer—you can rock this look from work to cocktail parties. Use a hair serum for a sleek finish and to add a touch of shine. Your low-braid ponytail will look professionally done, even if it's a DIY!
The Classy French Braid into Sleek Ponytail
If you're searching for a way to look polished with minimal fuss, lovelies, this one's for you. Start with a French braid from your hairline to your crown. Continue the braid until it meets your nape, then tie it into a sleek ponytail. A touch of hair gel on the braid helps it stay neat all day. I swear by this technique for those long office meetings!
The Upgraded Ponytail: With a Headband Braid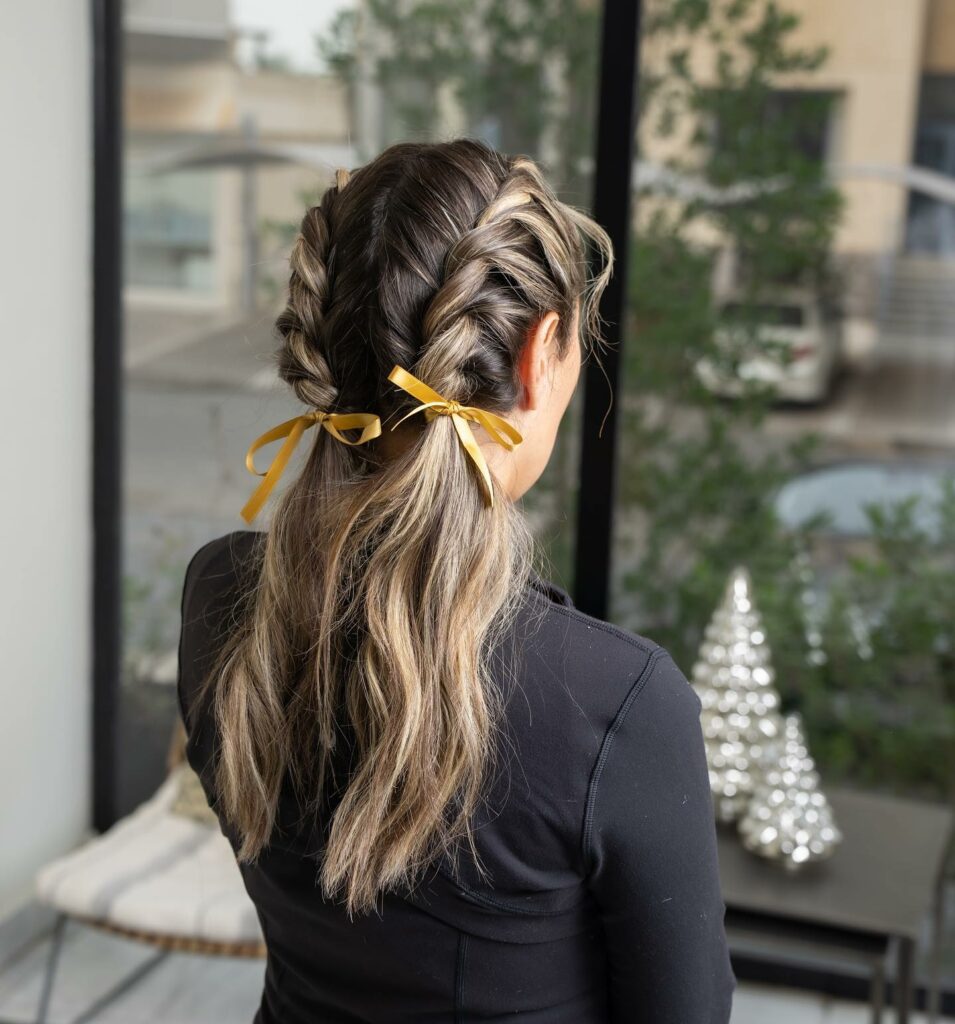 Curly-haired beauties, this one's for you! A low ponytail looks fabulous with some natural curl, but make it flashy with a headband braid. Start your braid from a deep side part, working it down to your ear. This is my go-to to amp up my look for virtual happy hours. Just add some hoop earrings, and you're golden!
Blast to the Past: Vintage Retro Ponytail
Who doesn't love a good #throwback? To get this vintage glam look, tease the crown section of your hair before tying a low ponytail just above the nape. I love adding a silk scarf around the base of the ponytail for that authentic retro vibe.
The Sleek and Fierce High Ponytail
Sometimes, you've got to bring the drama, and nothing says drama like a sleek, sky-high ponytail. Use two hair ties for that extra lift, then wrap a strand around them. Want to make it look like you just stepped out of a salon? A quick pass of a straightening iron will give you that sleek, fierce finish.
The Artful Ponytail with Bobby Pins
Bobby pins aren't just for function; they're fashion, darling! Add them to one side of your ponytail and get creative with the shapes. Gold or metallic pins on dark hair make for a striking contrast. I did this for a wedding last year, and the compliments wouldn't stop!
The Ideal Low Ponytail for Layered Hair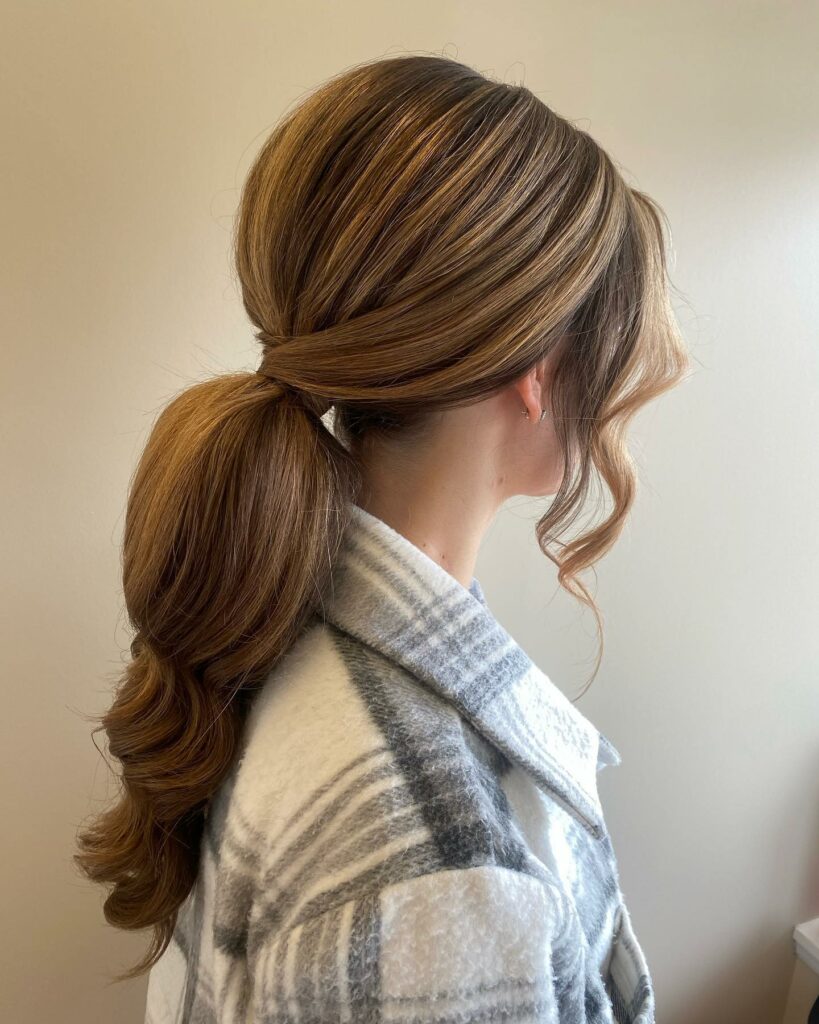 Got layers? Don't sweat the short strands. Just tie your hair into a low ponytail and let those layers fall naturally for a relaxed, chic look. For a beachy vibe, mist some sea salt spray on those loose strands. It's casual coolness at its finest!
The Unique Half-Wrapped Ponytail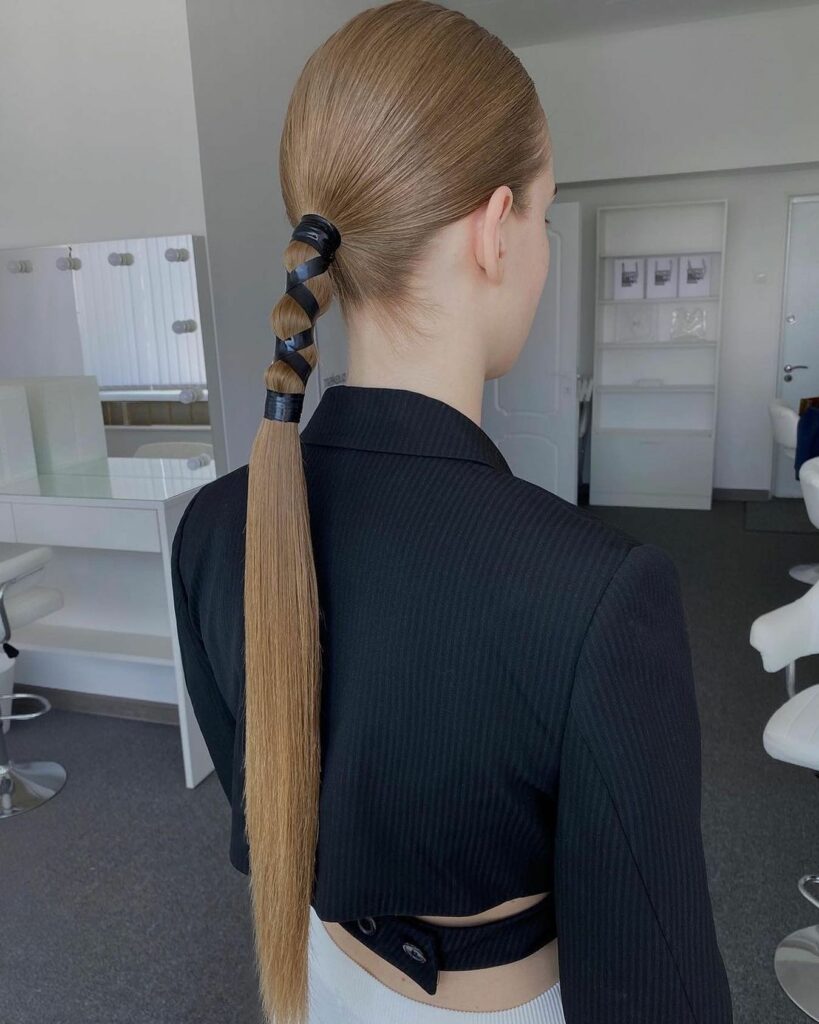 The usual hair-wrap-around-the-ponytail trick is cute, but let's switch it up. Start wrapping a strand further down the ponytail and secure it with a pin for a unique flair. Use a clear or hair-matching bobby pin to make the wrap the star of the show!
The Romantic Wrapped Ponytail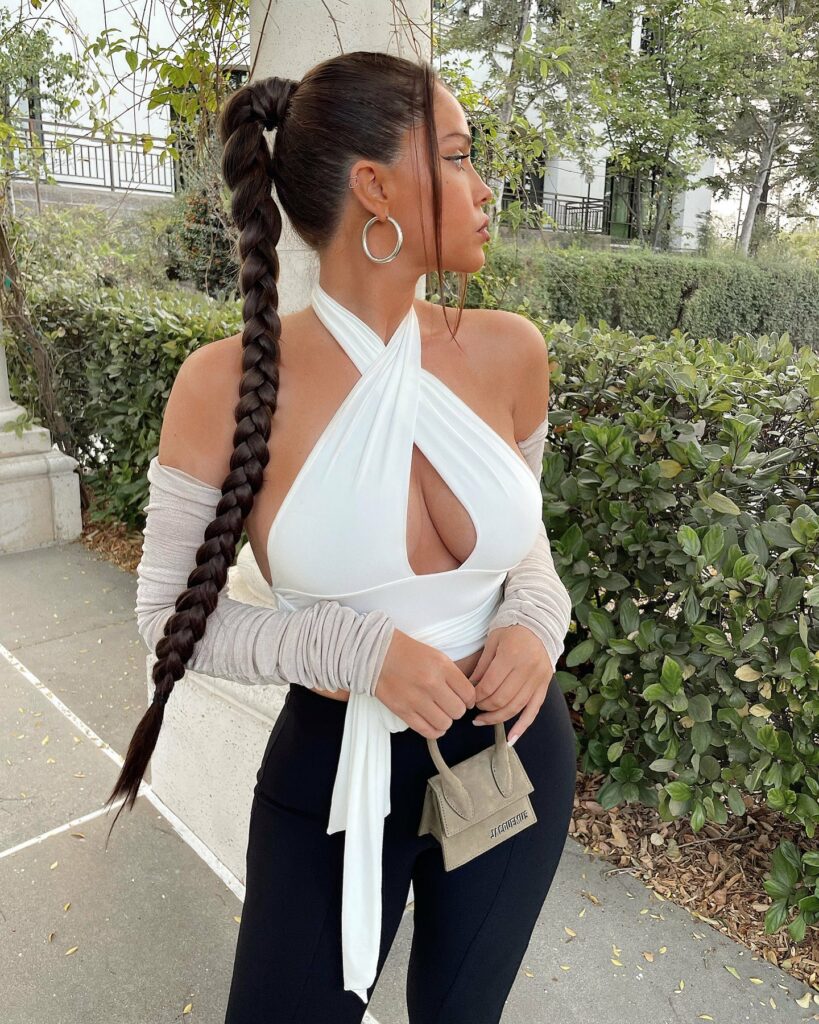 For a whimsical twist, tie your hair into a low ponytail and then wrap a ribbon around it all the way down to the tips. Choose a ribbon contrasting your hair color for a pop that turns heads. It's a total date night win!
The Soft Low Ponytail with Tendrils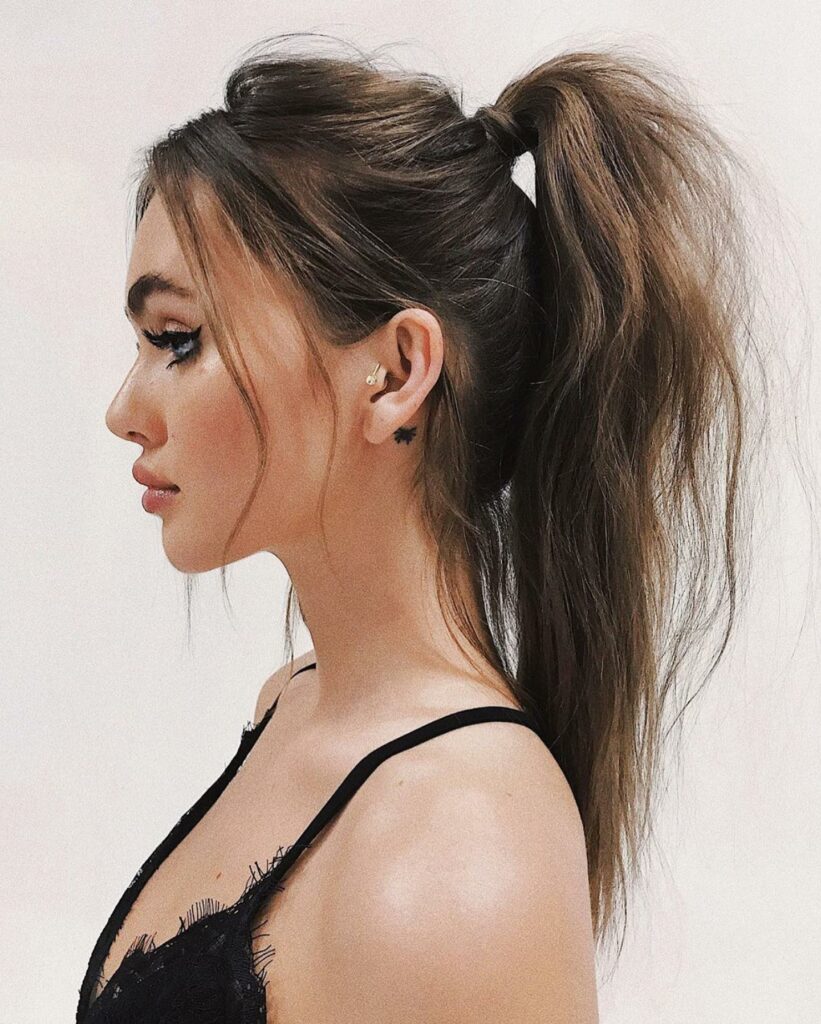 Sometimes, it's the little details that make a world of difference. Let a couple of strands loose around your temples to frame your face and soften the look. A dab of light-hold gel can help those tendrils stay in place without looking stiff.
Summer-Ready Ponytail with Fabric Headband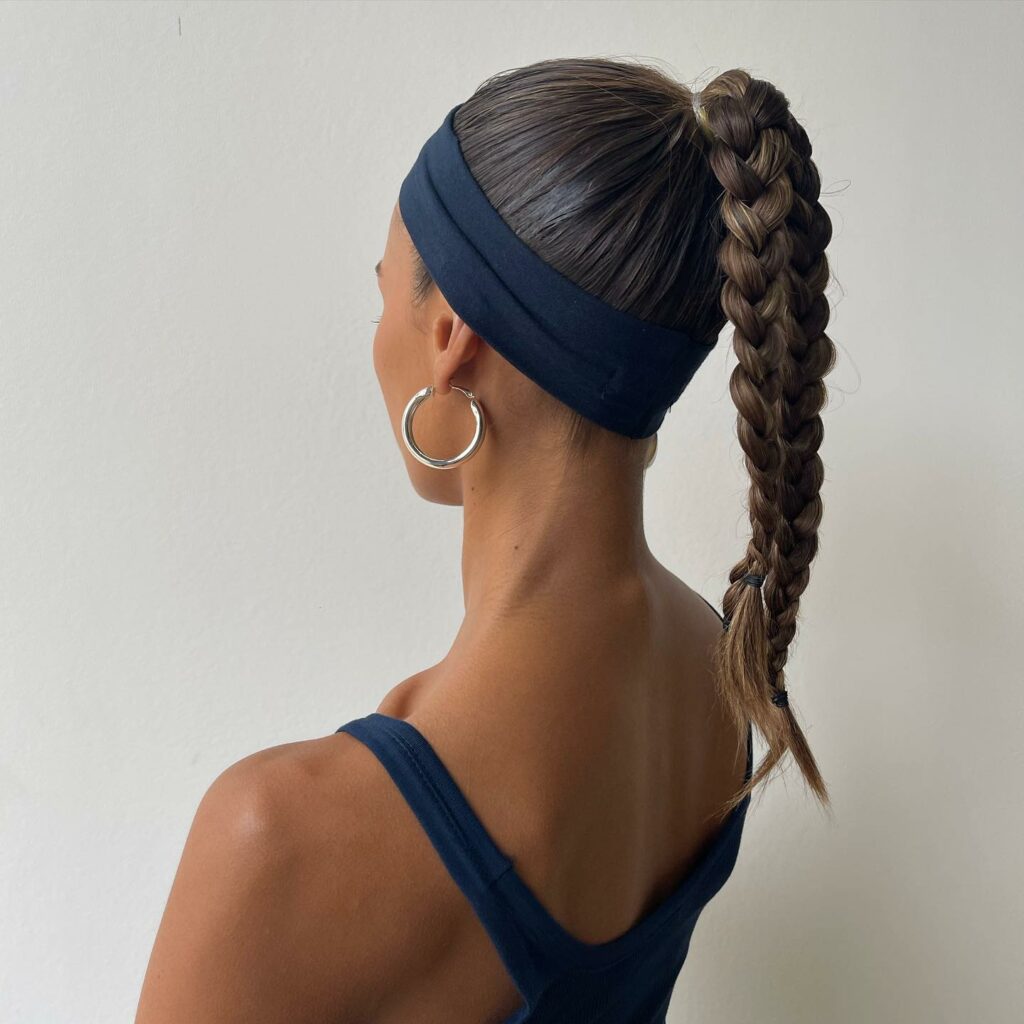 Last but not least, embrace those summer vibes with a fabric headband. It turns a basic ponytail into a whole mood. I'm all about floral fabric headbands for picnics and beach days. Plus, you can let some strands loose for an effortlessly dainty look.
The Low Ponytail: Bandana Style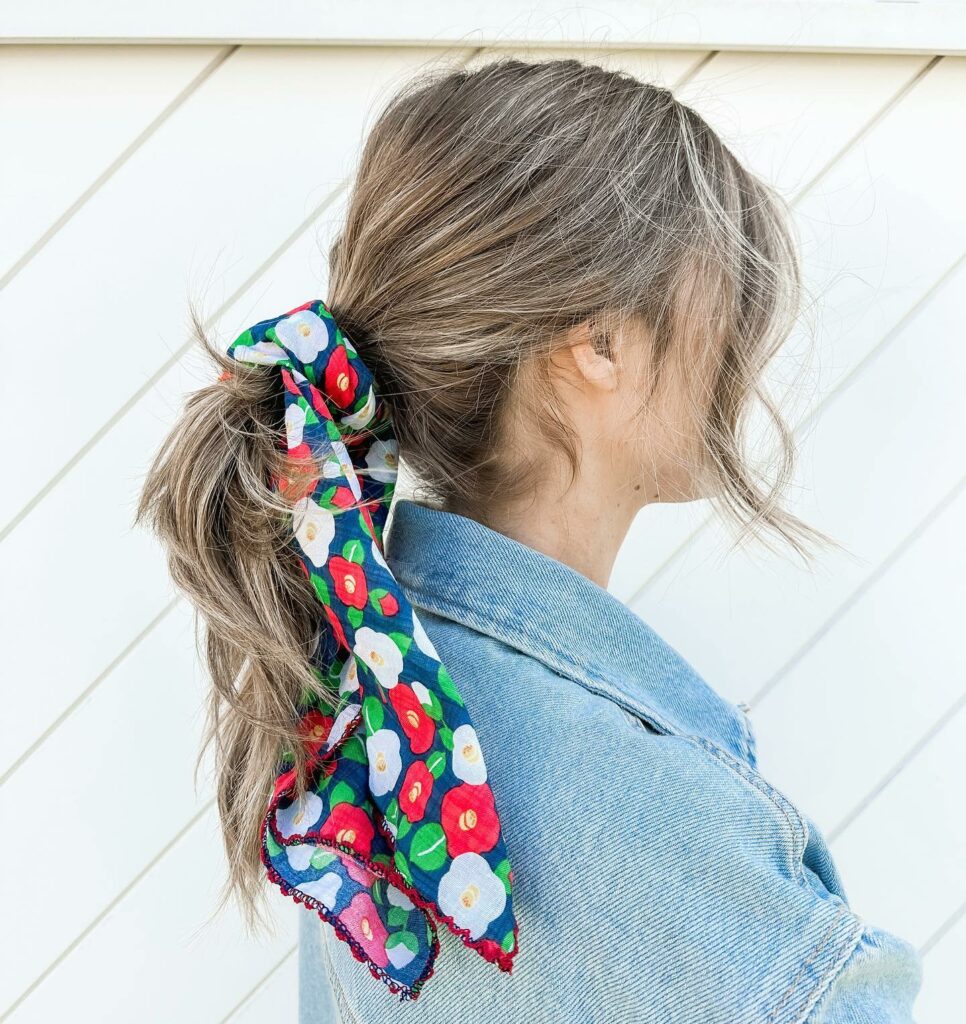 Hey, gorgeous people! Let's start with an easy way to add flair to your low ponytail. Instead of a basic hair tie, why not use a bandana? This hack turns an everyday ponytail into an eye-catching statement. If you're feeling laid-back, you can even forgo the hair tie and let the bandana do all the work. I COORDINATE THE BANDANA COLOR WITH MY OUTFIT when I'm rocking this look at a summer festival. It ties the whole ensemble together—pun intended!
Elegance in Simplicity: Low Ponytail With a Ribbon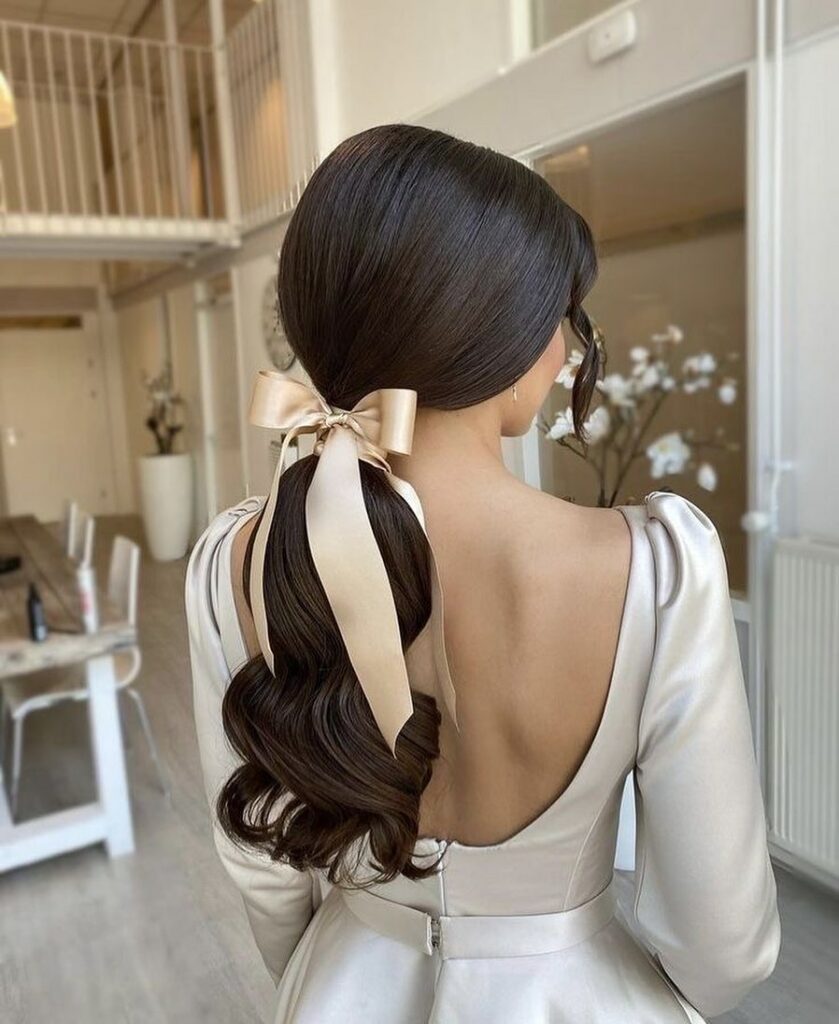 Looking for a subtle yet classy way to elevate your low ponytail? Wrap a ribbon around your hair tie. It's an effortless touch that makes your hair look wedding-ready, regardless of length. Choose a velvet ribbon for a luxurious feel. Trust me; I did this for a friend's wedding and received compliments all night!
Office Chic: Sleek Ponytail With a Deep Side Part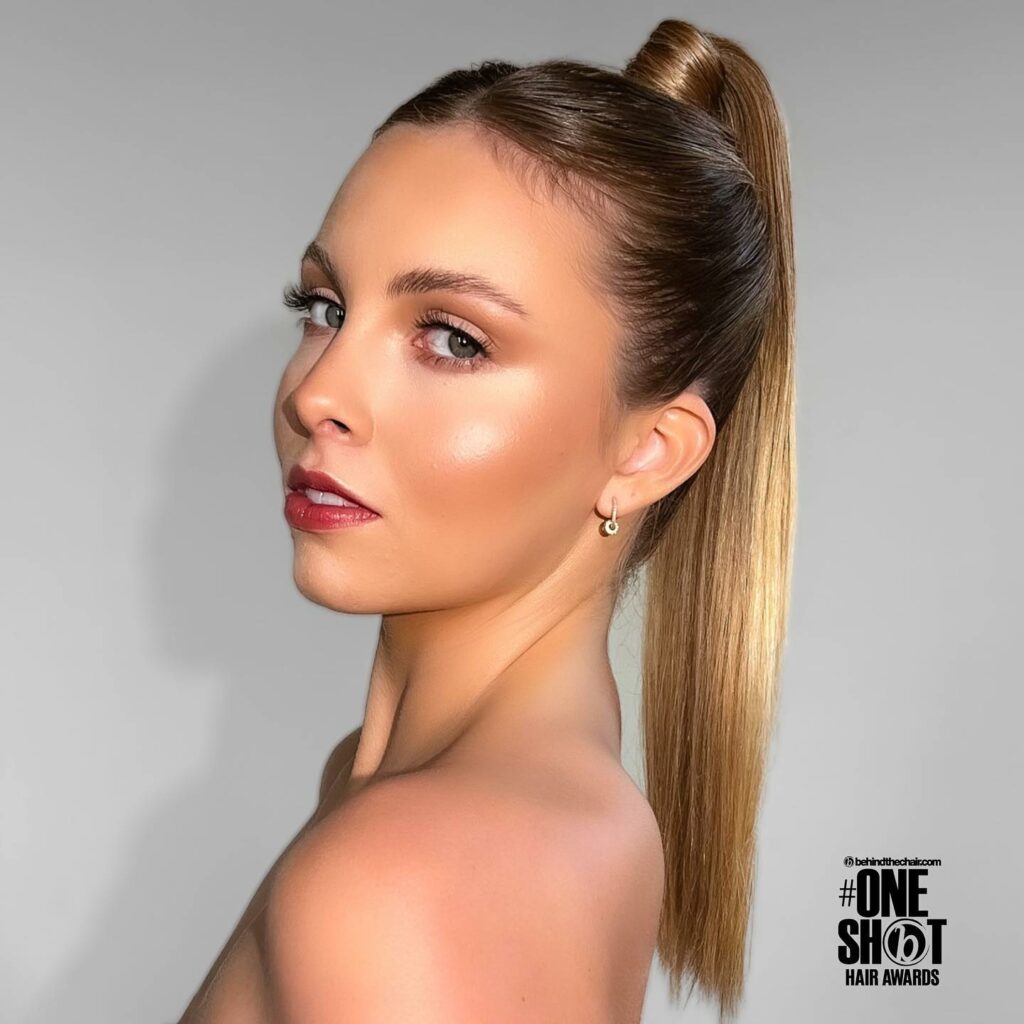 If you've got a big meeting or presentation, nothing says "I mean business" like a sleek ponytail with a deep side part. Smooth your hair back with a fine-tooth comb and secure it above the nape of your neck. A spritz of hairspray eliminates frizz and adds that sleek finish. This has been my lifesaver for those early morning Zoom calls!
Glamorous Vibes: Low Ponytail With Side-Swept Bangs
Do you love your side-swept bangs? Let's make them the star of the show. Keep your ponytail low and your fringe shaped and smooth. Add a spritz of hairspray to lock in the look. For that extra wow factor, curl those loose strands around your face. It brings the whole style up a notch!
Show Your True Colors: Ponytail With Pink Tips
Ready to make a bold statement? Dye the tips of your ponytail pink (or any color you fancy). Pair it with side-swept bangs for a look that screams "trendsetter." I did this once with temporary hair dye; the results were Instagram-worthy!
Short and Sweet Ponytail
Who says short hair can't rock a ponytail? A low, textured ponytail can look chic, especially with a fringe. A spritz of sea salt spray gives that textured, French-girl vibe. This is my go-to for weekend brunches!
Effortlessly Versatile: The Long Ponytail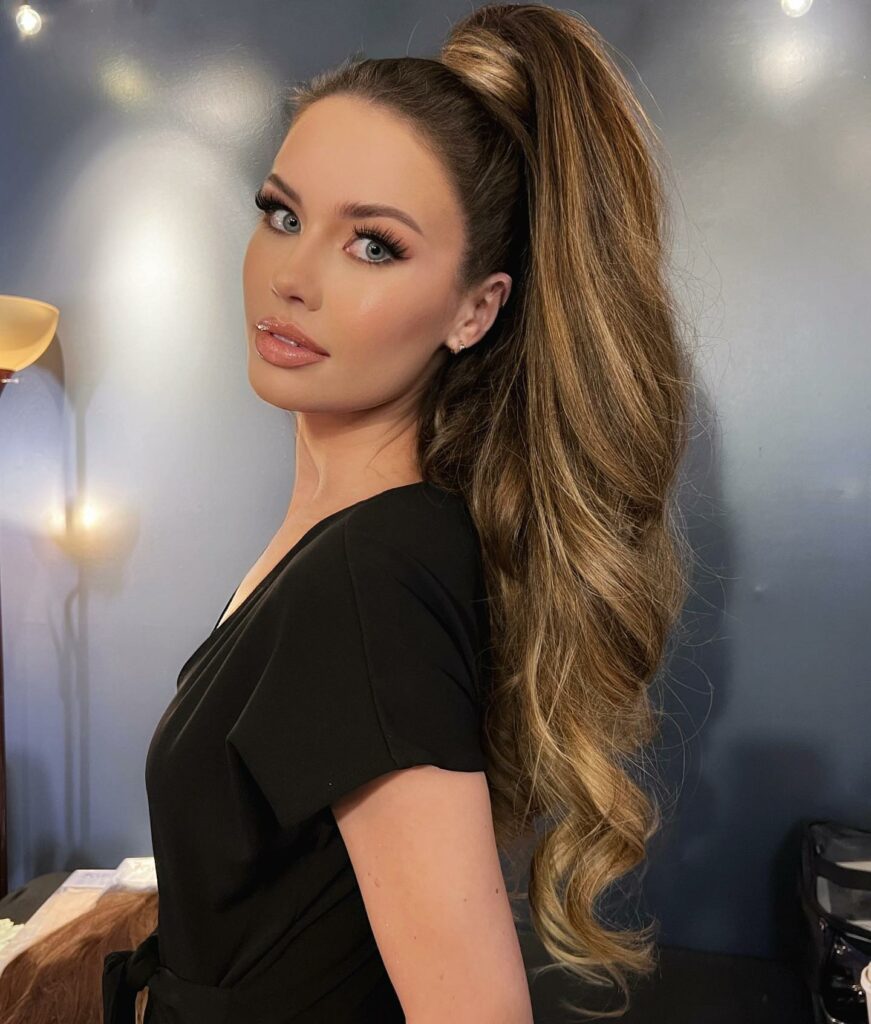 Long, thick hair? You're in for a treat. The classic long ponytail is your playground—sleek for the office, wavy for a night out, and endless options. For those with thinner locks, clip-in extensions work wonders. Just make sure to keep your natural hair well-treated for a seamless blend.
Cute Overload: The Accessorized Ponytail
The cute ponytail isn't just for kids. Add scrunchies, bows, or a brightly colored scarf for that youthful twist. I adore adding cute hair clips to this style when feeling extra playful. It never fails to get a few smiles!
Everyday Upgrade: The Easy Ponytail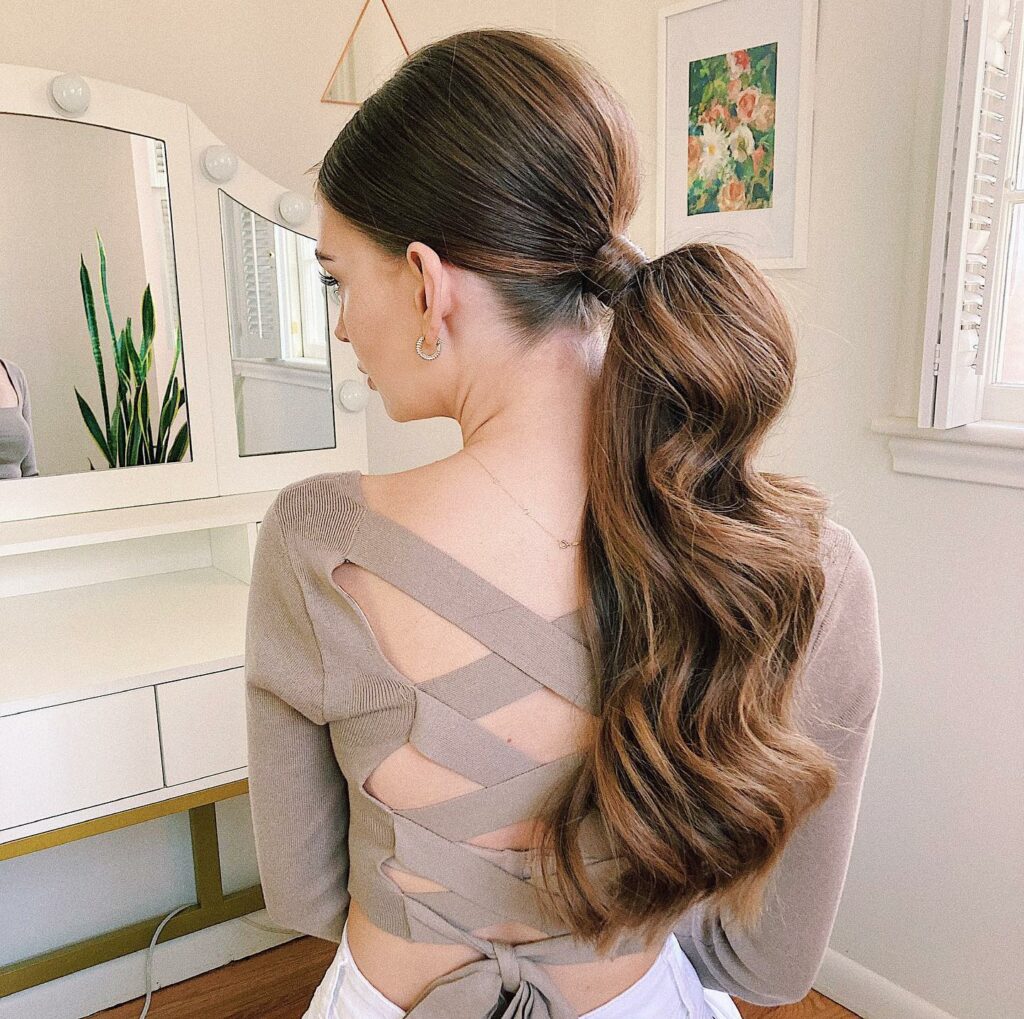 A simple wrap of hair around the base of your ponytail can elevate it from basic to brilliant. Instead of a bobby pin, use a decorative clip for an added dash of style. It's the little touches that make a difference!
The Classic: High Ponytail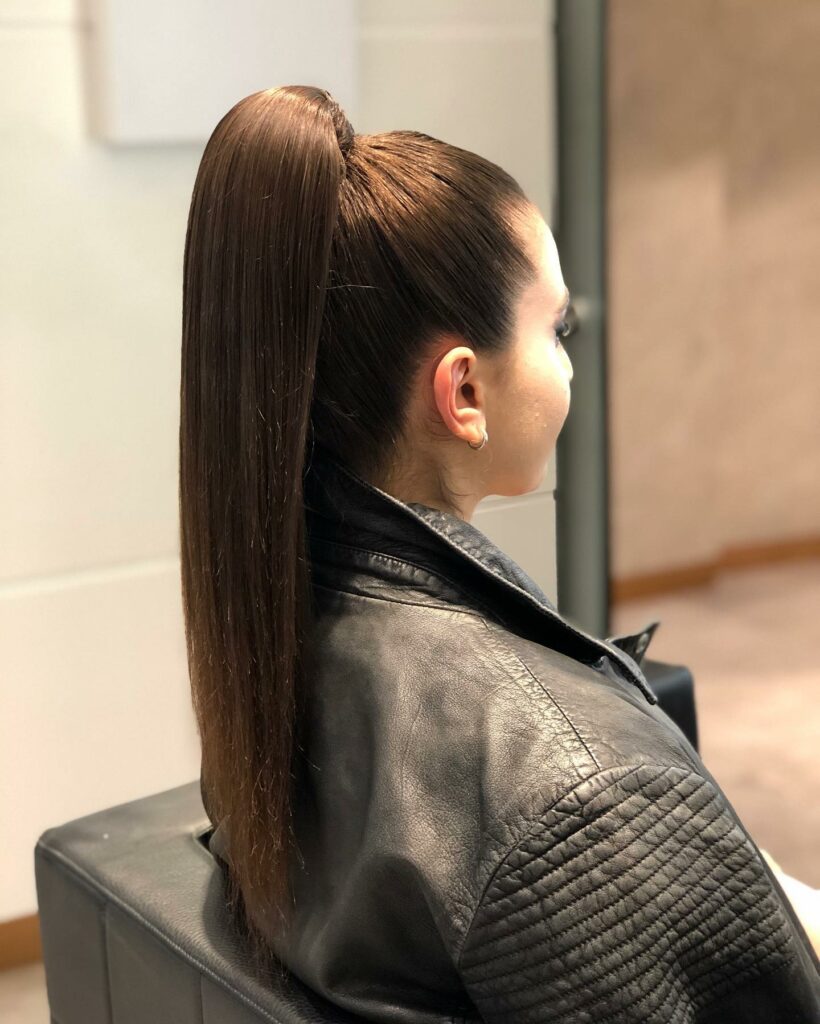 Last but certainly not least, the high ponytail is an enduring classic that also happens to give you an instant facelift! The key is texture; if your hair is too clean, a spritz of dry shampoo can work wonders. Don't aim for perfection; a slightly tousled look gives off a confident, carefree vibe.
The Side Ponytail: An Unexpected Twist
Feeling a bit extra today? Shift that ponytail to the side. It pairs amazingly well with off-shoulder tops, giving you a girly, flirty vibe. Feeling fancy? Add a jeweled hairpin or accessory to really elevate the look.
7 Tips I Recommended For Securing Your Ponytail
Elastics or Hair Ties: Get yourself some no-snag elastic bands. Goody's Ouchless Elastics are a staple, but if you're looking for something chic, silk hair ties are less damaging and super classy.
Bobby Pins: These little lifesavers are great for tucking in those flyaways or securing the base of your ponytail. Look for ones that match your hair color for a seamless look.
Hairspray: A light spritz of hairspray can lock in your style and keep frizz at bay. I love L'Oréal Paris Elnett Satin Hairspray; it holds well without making your hair feel like a helmet.
Texturizing Spray or Dry Shampoo: An excellent texturizing spray or dry shampoo must add some oomph or grit to your hair before styling. Batiste Dry Shampoo is affordable and works like a charm.
Pomade or Hair Gel: A dab of pomade or hair gel can give you that polished finish for super sleek ponytails. Aveda's Control Paste is light but gives good hold.
Hair Serum: A hair serum can add that extra gloss if you're going for a shiny, sleek ponytail. I love the John Frieda Frizz Ease Extra Strength Serum. A little goes a long way!
Clips and Barrettes: While not a product to secure your ponytail per se, a decorative clip can add some flair and double as a functional piece to secure any wrapped hair around the base of the ponytail.
What Are Some Tips For Styling A Curly Ponytail?
Choose Your Ponytail Position Wisely – The placement of your ponytail can make or break the look. A high ponytail can give you a flirty, youthful vibe, while a low ponytail at the nape of your neck screams sophistication. And let's remember the side ponytail, a casual but cute alternative.
Prepping is Key – Before reaching for that hair tie, ensure your curls are well-defined and frizz-free. Use a leave-in conditioner or a curl-defining cream to give your curls some love. I'm a big fan of SheaMoisture's Curl Enhancing Smoothie.
Secure with the Right Tools – Stay away from rubber bands or elastics that snag. A snag-free hair tie or even a silk scrunchie can provide good hold without compromising the integrity of your curls.
Pump Up the Volume – Tease the crown of your head lightly to add some volume before securing your ponytail. This will give your ponytail a fuller look. A tail comb is perfect for this.
Add Some Pizzazz – For curly hair, less is often more, but if you want to amp up your ponytail game, add some hairpins or a cute scrunchie. Be careful not to overwhelm the curls; they're the show's stars!
Face-Framing Curls – Leave a few curly tendrils out around your face for a romantic touch. If your curls are more wavy, a quick go-around with a small-barreled curling iron can redefine them.
Final Touch – A light mist of hairspray or a dab of edge control can keep those baby hairs and flyaways in check. But if you like a more relaxed look, skip this step and let those curls roam free!
And there you have it! Your curly ponytail is now ready to turn heads. Whether going to the grocery store or a glitzy event, these tips will ensure your ponytail is on point. Trust me, your curly locks will become your favorite fashion statement!
My 7 Simple Steps To Create A Chic Rope Braid Ponytail
Forget the basic braid; let's dive into something more intricate but still oh-so-doable—the chic Rope Braid Ponytail. Whether heading to brunch with friends or gearing up for date night, this hairstyle is a game changer. So, grab your comb and some hair elastics, and let's get started!
Prep and Pony – Brush your hair to ensure it's tangle-free. Gather your hair into a ponytail at your desired level—high, low, or medium, your choice. Secure it with a hair elastic.
Divide and Conquer – Divide your ponytail into two even sections. If your hair is particularly thick or thin, you may need to adjust the size of the sections to suit your texture.
Twist One Section – Please take one of the two sections and twist it tightly. You'll want to twist away from your face for a more flattering look. I usually twist it several times to ensure it's tight and secure.
Twist the Other Section – Repeat Step 3 on the other section of hair. Again, twist it away from your face. Now, you'll have two twisted sections.
Twirl Together – Take the two twisted sections and twirl them together, but this time towards your face. This opposite-direction action gives the rope braid its unique texture.
Secure the End – Secure it with another hair elastic once you've twisted it to the end. A small one works best here, so it's less noticeable.
The Final Touch – Optional but recommended: take a small piece of hair from the ponytail and wrap it around the base to cover the initial hair elastic for a polished finish. Secure it with a bobby pin or another small elastic.
Set It and Forget It – A light spritz of hairspray or a dab of light-hold gel will keep your rope braid in place all day (or night).
Still Looking for Inspiration, Then Check Out This Video
Conclusion
And there we have it, my fabulous friends—your ultimate guide to ponytail perfection! Whether you're feeling minimalist or extravagant, short-haired or Rapunzel-like, there's a ponytail out there that's just perfect for you. Remember, accessories are your besties, from bandanas to ribbons and beyond. And don't forget my pro tip about using hairspray or dry shampoo for that sleek or textured finish—these products are game-changers. So swing that ponytail with confidence, snap that selfie, and rock your day. Happy hairstyling, you beautiful unicorns!
Feature Image Photo By @hairluxxco via Instagram
Last reviewed and updated on October 4, 2023