Today, we're diving deep into the world of wispy curtain bangs and long hair—a combo that's been taking over our social media feeds. If you're toying with refreshing your look but don't want to commit to a drastic change, this style could be your next go-to. Seriously, it's the perfect blend of sass and class. We will cover everything from what makes this look so alluring to how you can achieve it yourself (or what to tell your stylist). And hey, because I've been loving this look on me for the past few months, I've got some insider tips on maintaining those bangs so they always look fresh and fabulous. Stick around, and let's get your hair game to the next level!
Messy Curtain Bangs For Blondes
Oh, you blondies already have a natural spotlight, don't you? Level up your glam factor with messy curtain bangs that add some drama and flirt to your look. I love wearing mine a little tousled; it gives off those "I woke up like this" vibes.
Soft and Sophisticated Curtain Bangs
Soft curtain bangs can do wonders for those who prefer a more refined aesthetic. They'll frame your face like a work of art, but be warned: it's not just about the cut. Consider getting highlights or lowlights if you're going for the total glam. My personal favorite? A combo of champagne and strawberry blonde—super chic!
Curtain Bangs With Shoulder Length Brown Hair
Calling all brown-haired beauties! Remember to underestimate the power of curtain bangs to spice up your shoulder-length hair. Having struggled with thick hair, adding some layers can reduce that bulky feel while giving your hair a stylish flair.
Jet Black Long Curtain Bangs
Let me tell you, curtain bangs on jet-black hair are all kinds of sultry. And if you think they're hard to style, think again. A round brush, a blow dryer, and maybe a touch of hairspray for those with thicker locks—voilà!
Wavy Hair Wonderland
Got wavy hair? Curtain bangs are your new BFF. They add an element of intrigue without sacrificing your length. Throw in some highlights that match your skin tone to amp it up. It gives off that sun-kissed look all year round.
Glamming Up Long Straight Hair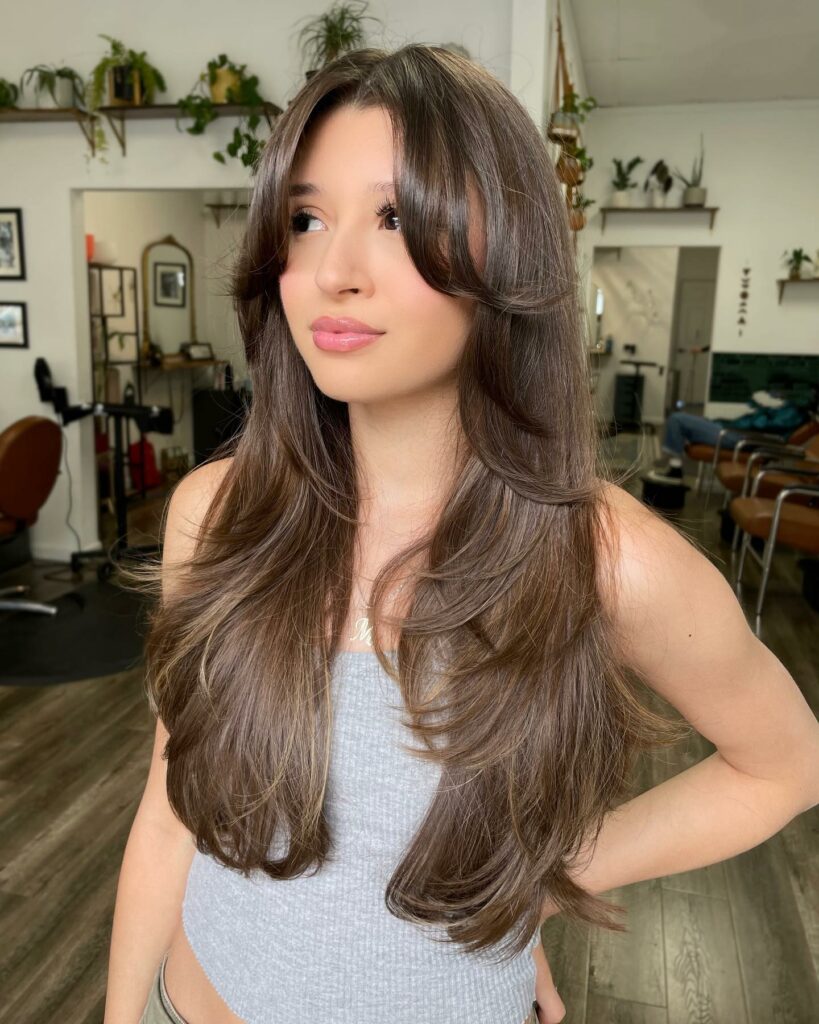 Middle-parted curtain bangs on long, straight hair can redefine elegance. And hey, the versatility is endless—from ponytails to intricate updos, you're set for any occasion.
Turn Up the Volume with Layered Curtain Bangs
If you've got messy layers and loose waves, layered curtain bangs will fit right in. It's a sultry look, but trust me, you'll need to put in a little effort to keep them in place. A little sea salt spray works wonders.
Chic Chocolate Brown
I mean, who can resist the allure of chocolate brown hair? Pair it with long curtain bangs; you've got Hollywood glam right there. I rocked this look last year during the awards season, and let me tell you, heads definitely turned.
Blonde Bob Magic
Shoulder-length bob? Dial up the romance with long curtain bangs. The significant part is that they're almost the same length as the bob, so it's a quick transition if you ever want to revert back.
Feathered Fabulousness
Feathered cuts and curtain bangs are like the PB&J of the hair world—absolutely perfect together. If you're aiming for voluminous vibes, a little outward curl at the ends makes a difference.
Short Hair, Don't Care
Curtain bangs offer a world of volume and style for those with shorter or thinner hair. These bangs bring so much life and dimension to shorter cuts. They frame your face beautifully while giving your entire look an upgrade.
Effortless Chic with Dark Hair
Still trying to figure it out? I'll tell you a secret: long layered hair with curtain bangs is your answer. It's super low maintenance, a quick blow-dry, and you're set to slay the day.
Ultimate Elegance: Long-Feathered Curtain Bangs
If you can't part with your long locks but still want a change, go for long feathered curtain bangs. They soften your face shape and give you an effortlessly elegant look.
Hot Sandy Blonde Looks
Sandy blonde hair with curtain bangs is show-stopping. A few minutes with a round brush and blow dryer, and you're golden—pun intended.
Long Curtain Bangs with Highlights
Have you ever tried waking up and not looking like a lion? If you have wavy hair, you know the struggle! But guess what? Long curtain bangs could be your new BFF. I've spiced up my waves with curtain bangs and a sprinkle of highlights, and wow, they make my eyes pop! Highlights aren't just for your lengths; they can also work wonders on your bangs. The movement and volume? Chef's kiss!
The Messy Ponytail & Curtain Bangs Love Story
I understand; you don't want to say goodbye to your long locks. But a little change never hurt anybody! Long curtain bangs look fantastic whether your hair is down or pulled up in a chic, messy ponytail. Trust me, I've done this look for everything from brunches to business meetings, and it's a game-changer.
Sultry Layered Medium Hair with Wispy Bangs
Okay, let's address the "large forehead" dilemma. Been there, done that! Layered medium-length hair with wispy bangs gives you that irresistible sultry look and the perfect forehead camouflage. It's like a sultry veil that screams, "I woke up like this."
Crisp Wispy Bangs For A Dash Of Sexy
Want to frame your face without the heaviness of classic bangs? Crisp, wispy bangs are your answer. They're light, airy, and oh-so-stunning. I use a bit of texturizing spray to keep mine looking just right.
The Thin-Hair Wonder: Wispy Bangs
You thin-haired beauties, listen up! Wispy bangs with lots of texture are your new secret weapon. They add a lovely volume and a playful bounce. A little root-lift spray and you're golden!
Channel Your Inner Brigitte Bardot
Iconic alert! Long, layered, and center-parted curtain bangs are as timeless as Bardot herself. They draw attention to your eyes and cheekbones like no other. A classic for a reason!
See-Through & Feathered
Perfect for my wavy-hair squad—feathered wispy bangs that are almost see-through can complement your waves and subtle highlights like a dream. A little bit of sea salt spray, and you're Instagram-ready!
The Chic Mess: Messy Wispy Bangs
Effortlessly chic is how we like it. Add some wild layers to your bangs and let 'em roam free. Messy, wispy bangs give you that "I didn't try too hard, but look how amazing I am" look.
Pony Up with Wispy Bangs
Ah, the classic high ponytail. Make it modern with a side of wispy bangs. It's youth in a hairstyle, trust me! A dab of light-hold gel will keep your bangs in place without making them look stiff.
Long & Wavy: A Timeless Duo
For romantic evening dates or even casual grocery runs, long wavy hair with wispy bangs is always a hit. I usually add a bit of curling mousse for that extra oomph.
Volume Overload: Classic Long Shag
If you're lusting for more volume, thick but airy front bangs paired with an extended shaggy cut are like the peanut butter to your jelly. Absolute. Hair. Goals.
Balayage & Feathery Elegance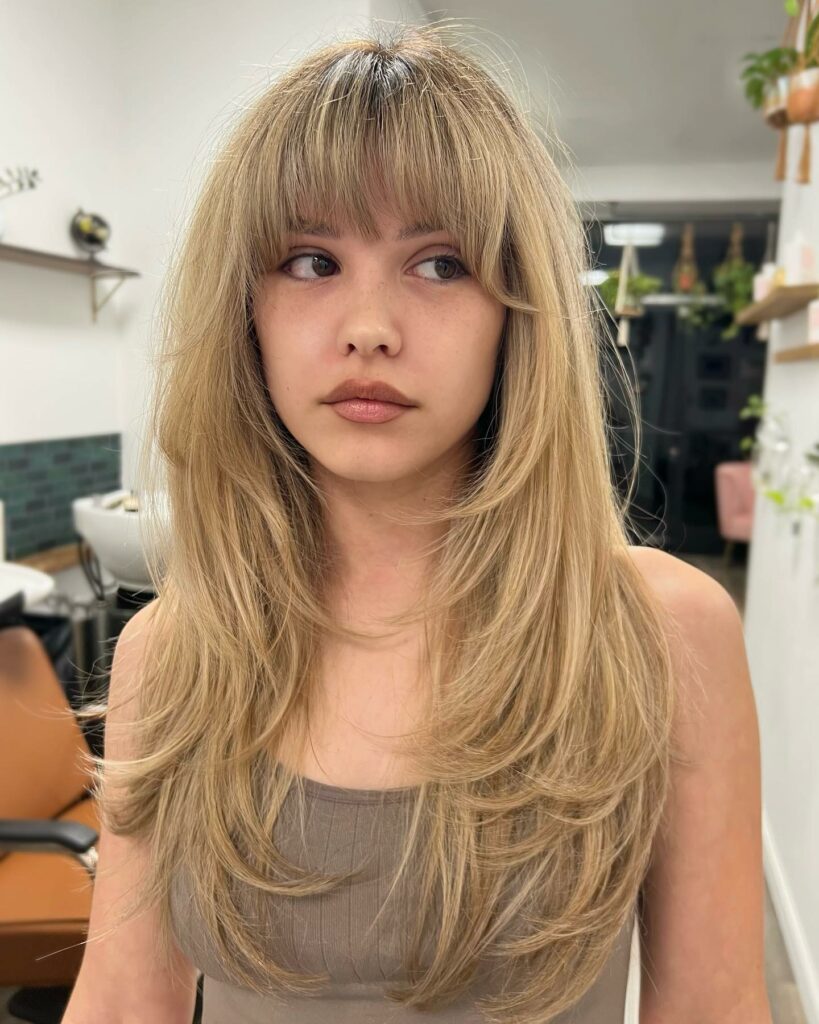 Balayage isn't just for the lengths, darlings. Add some to your bangs for a multidimensional magic show on your head. Soft, natural, and delicate—like the hair goddesses kissed you!
Medium & Mysterious
If you want to soften a strong jawline or a younger, flirtier look, medium-length hair with wispy bangs is your go-to. A few swipes of flat iron, and voila, you're a mystery wrapped in a sultriness.
The Side-Sweep Saga
Side-swept layered bangs could be your flattering best friend if you have a round or heart-shaped face. They elongate your face and make you look like you've stepped out of a magazine.
Shoulder-Length Hair & Textured Bangs
Textured bangs will add that extra zing if you're rocking shoulder-length hair. They frame your face like a picture-perfect portrait.
See-Through Highlighted Wispy Bangs: A Modern Flashback
Oh, how we love the '90s—especially that iconic "Rachel" haircut from "Friends." But let's twist it up and make it current. A bit of see-through magic with subtle highlights will make you look retro-chic and utterly now. My go-to for this look? A pearl-sized dollop of shine serum. It's a life-changer!
Wispy Thin Bangs: Low Maintenance, High Impact
These skinny bangs are cute personified. Dabble in some colored highlights and have an enchanting, low-fuss look. I've tried pastel pink highlights with these bangs; let me tell you, the compliments just rolled in!
Korean Wispy Bangs: Fuller Hair, Don't Care
Ah, K-beauty trends, how I adore thee! If you have fine hair like me, you'll love how these bangs make your hair look plumper. And if you're wondering about the color, my hot tip is to try red. Yes, red! There's a shade of red for every skin tone—you gotta find yours.
Thick-Feathered Bangs: The Stylish Sibling of Curtain Bangs
These bangs are like the curtain bangs' edgy sister. What's the catch? No center part. The textured ends blend effortlessly into your locks, so feel free to style them anyway. My secret weapon for the perfect blend? A texturizing spray!
Birkin Fringe Bangs: Romance in Hair Form
Channel your inner Jane Birkin with these effortless and oh-so-romantic bangs. They subtly graze your lashes and offer an unstructured yet graceful vibe. Swipe on some mascara, and you're practically in a French film.
Flipped-Up Wispy Bangs: Square-Face Magic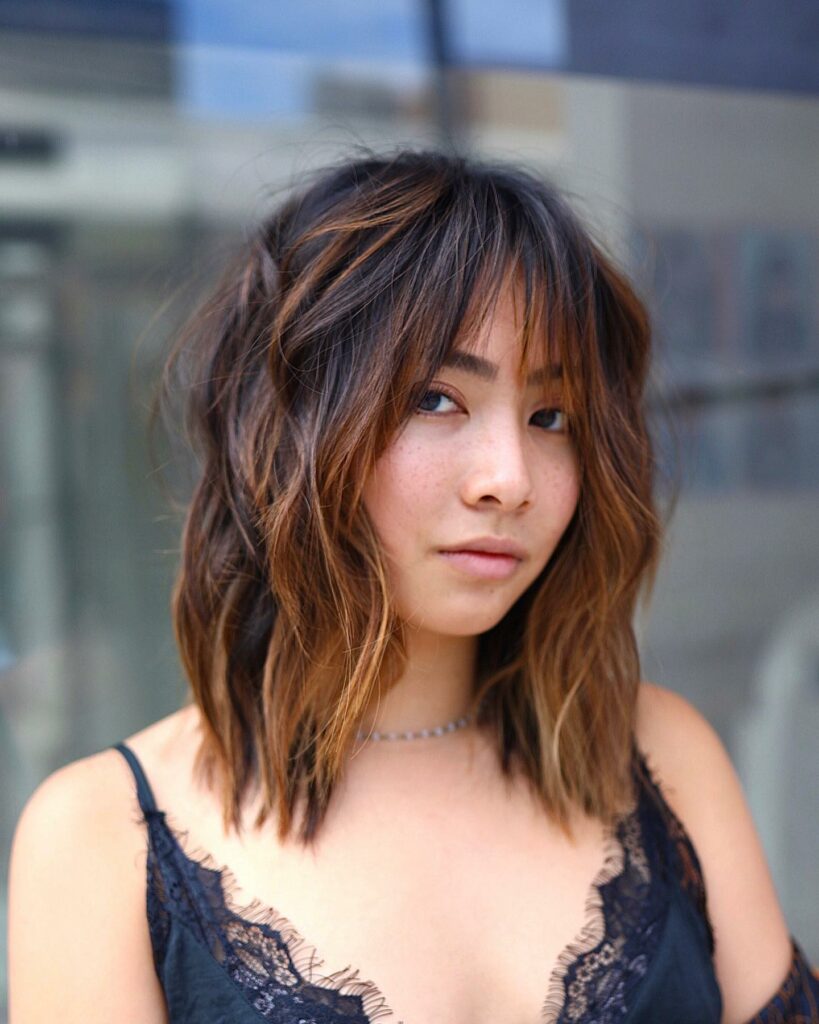 If you have a square face, rejoice! These flipped-up wispy bangs help your face appear more balanced. I like to add baby lights and some wavy flair for that extra dimension.
Shaggy Wispy Fringe: Rocking the Layers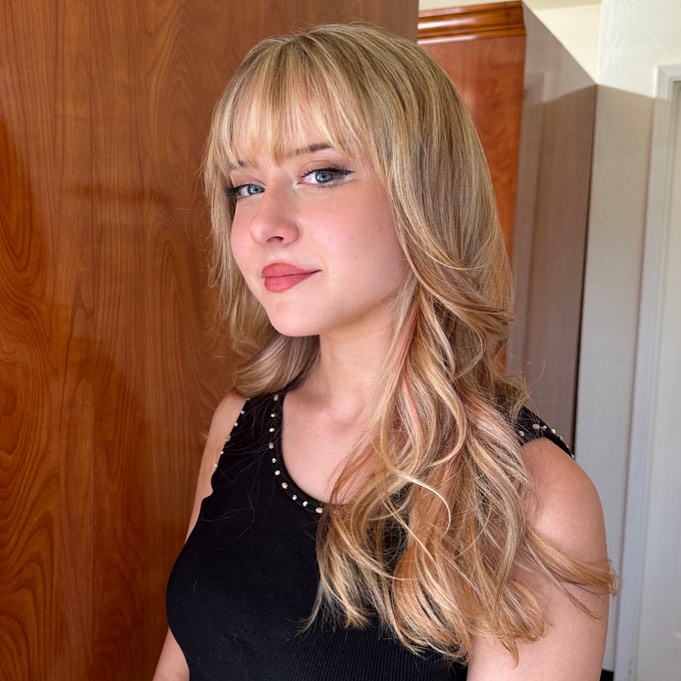 Here's a tip: Customize your wispy fringe to be shorter and chunkier for an updated shaggy look. I once took the plunge and went for a chunky, shaggy fringe, and it was honestly a liberating hair moment for me.
Layered Wispy Thin Bangs: Comfy and Chic
Long bangs sometimes get in the way (hello, eye-poking strands). Keep your long bangs wispy and layered to accentuate your eyes and save you from annoyance.
DIY Piece-y Light Bangs: Clip, Snip, Hooray!
So, you want to take matters into your own hands? Just grab a pair of sharp scissors, pinch a small section of your bangs, and snip vertically. But start small; you can always snip more later. I've done it, and while it was a tad scary, it was also super empowering.
See-Through Bangs: Mysteriously Soft
If you have robust features, these delicate, past-the-brow bangs can soften your overall look while enhancing your mystery quotient.
Bent Eyebrow-Skimming Wispy Bangs: Feminine Flair
Light, soft, and right there grazing your eyebrows—these bangs are a dream. Pair them with a cropped, shaggy bob, and you've got an effortlessly feminine hairdo.
Half-Moon Wispy Bangs: Go Retro!
Wispy bangs are the chameleons of the hair world; they can do anything! Complement them with a bouffant half-updo and rock that retro vibe.
Lob & Wispy Fringe: A Match Made in Hair Heaven
If you adore the classic long bob (or lob, as we call it), add some feathered wispy bangs for a gorgeous contrast. The ends are blunt, but the bangs are all about that softness.
A-Line Lob with Wispy Bangs: Elegance in Simplicity
Short hair can absolutely join the wispy bangs party! An A-Line lob paired with soft bangs is elegant and versatile. Dress it up or down; it's a win-win.
So, lovelies, are you inspired to make that appointment with your stylist yet? Whatever wispy style you choose, remember: It's not just hair; it's a mood, an attitude, a personal statement. Snip, snip, hooray!
What Exactly Are Curtain Bangs? I Break It Down For You!
Ah, curtain bangs! Picture a stage curtain drawing back to reveal a show-stopping performance—that's pretty much what curtain bangs do for your face. These bangs are typically longer on the sides and shorter in the middle, framing your face like a curtain! They're parted down the middle (or slightly off-center), so each side sweeps away to either side of your face, revealing your features.
These are the go-to bangs for anyone looking to add a little oomph without committing to a full fringe. Why? Because they're super versatile. Whether your hair is straight, wavy, or curly, curtain bangs adapt beautifully. They also work well with almost any hair length—short, medium, or long.
One of my favorite things about curtain bangs is how low-maintenance they are. A quick blow-dry with a round brush, or even letting them air-dry for a more relaxed look, is often all you need to keep them looking fabulous. And because they're longer, if you decide bangs aren't for you, they grow out pretty gracefully. Easy to style and easy to grow out? That's what I call a win-win!
My Top Tips On How To Style Curtain Bangs
Ah, styling curtain bangs—now that's the fun part! Trust me, it's easier than you might think and won't eat into your morning routine too much. You'll be channeling that "effortlessly chic" vibe in no time. Here are some easy-peasy steps to make those bangs frame your face like a dream:
Freshly Washed or Dampened Hair – Start with clean, damp hair. You can dampen your bangs if you need more time for a complete wash. Remember, damp—not soaking wet!
Apply Heat Protectant – Before you bring out any hot tools, spray a heat protectant over your bangs to prevent damage. This is a step you should take, darling!
Section and Clip – Clip back the rest of your hair, leaving only your curtain bangs free. This way, you won't accidentally snag a longer strand while styling your bangs.
Grab That Round Brush – Use a small to medium-sized round brush to sweep your bangs to each side while blow-drying them. The trick here is to aim the dryer nozzle downward, which smooths the hair cuticle and reduces frizz.
Curve the Ends – As you reach the ends, gently curve your brush inward or outward, depending on the look you're going for. Inward will frame your face more, while curving outward offers a more relaxed, boho vibe.
Add a Little Oomph – If your bangs look flat, you can back-comb them slightly at the roots for added volume. A little spritz of volumizing spray can also work wonders!
Set It and Forget It – A light misting of hair spray will help keep your bangs in place without making them stiff or sticky. You want movement and flow, so don't go overboard!
Curl' Em Up – For special occasions or when you're feeling extra fancy, you can use a flat iron or curling wand to add defined waves. Just a quick flick of the wrist at the ends can add some romantic flair.
My Top Tips On Matching Face Shapes & Curtain Bangs
Oval Face – If you're blessed with an oval-shaped face, consider yourself lucky! Most hairstyles, including curtain bangs, naturally suit this balanced face shape. Go ahead and play around with the length and thickness to see what vibes most with you.
Round Face – For my lovelies with round faces, curtain bangs can work wonders in elongating your face. Aim for slightly longer bangs on the sides to create a more vertical line. It's all about drawing the eye up and down, darling!
Square Face – A square face usually has a strong jawline (think Angelina Jolie). So, curtain bangs can soften those angles and add some feminine curves. Keep them wispy and light for the best effect.
Heart-Shaped Face – Got a wider forehead and a pointier chin? Curtain bangs can totally balance that out! They'll draw attention to your eyes and cheekbones while minimizing the appearance of a wider forehead.
Long Face – For those with a long or rectangular face shape, you'll want to avoid making your face look even longer. Opt for shorter curtain bangs that hit around the eyebrow or just below. This will help break up your face's length and add some width.
Diamond Face – You've got those high, striking cheekbones if you have a diamond face shape. Curtain bangs can be a great way to highlight them while softening the angles of your face.
No matter your face shape, the key is to work with your stylist to tailor your curtain bangs to you. And remember, the beauty of curtain bangs is that they're pretty low commitment. If you decide they're not for you, they grow out gracefully and can be easily blended into the rest of your hair. So why not give them a try? Life's too short for dull hair!
Still Looking for Inspiration, Then Check Out This Video
Conclusion
Alright, my fabulous friends, that's the full lowdown on the world of wispy bangs! From the classic to the trendy, there's a wispy style out there just waiting to jazz up your look. My biggest tip? Chat with your stylist about your face shape and lifestyle before making the cut. Trust me, a good consultation can make all the difference. And if you're feeling adventurous, don't shy away from mixing in some highlights or experimenting with lengths. At the end of the day, bangs grow out, but the fun you'll have rocking a new look is priceless. So, make that salon appointment and unleash your inner wispy wonder! Snip, snip, hooray!
Feature Image Photo By @chrisweberhair via Instagram
Last reviewed and updated on October 9, 2023