Welcome to another captivating read where we're diving headfirst into the realm of short white nail designs. If you think white nails are synonymous with lackluster or dull, prepare to have your assumptions shattered. Today's post guides you to 40 electrifying short white nail designs currently setting trends and turning heads. We've covered you, from minimalist patterns that whisper elegance to edgy geometrical forms that shout creativity. By the time you reach the end of this post, you'll not only have many ideas to choose from, but you'll also gain insider tips on how to nail the perfect white manicure—no pun intended! So grab your note-taking app or good old-fashioned pen and paper because you won't forget these striking designs. Let's elevate your nail game to levels you've never imagined!
Intricate Beauty: White Nails With Delicate Black Nail Art
Who said white has to be plain? I adore pairing milky white oval nails with delicate black swirls and speckles. It's like the yin-yang of nail art—balance and beauty all in one. This style adds a touch of mystery to your look, perfect for dinner dates or gallery openings.
Cute and Quirky: White 3D Heart Art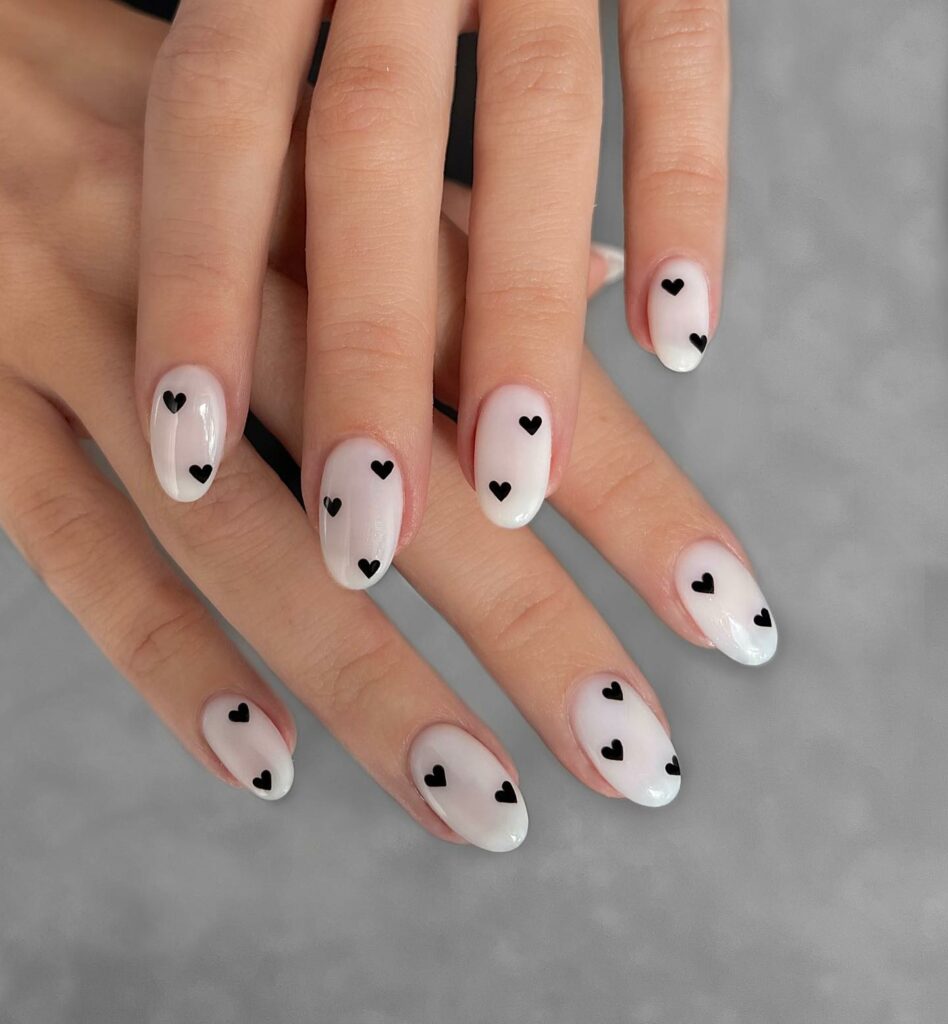 If you're into cute and quirky designs, this one's for you. Imagine alternating plain white nails with accent nails featuring 3D white hearts. It's playful yet sophisticated, a delightful paradox. This was my go-to during Valentine's Day last year, and the compliments kept coming!
Citrus Fresh: White Nails With Oranges
Let's bring some zest into our lives! Short, round white nails get a lively makeover with vintage orange and leaf art. It's a vibrant choice for those summer BBQs or beach outings. I tried this on a beach vacation once, and my nails were the talk of the shore!
Mystical Vibes: Sleek White Koi Design
Looking for something extraordinary? How about some hand-drawn koi fish on your powder-white nails? Keep the palette monochrome for a sleek and sophisticated vibe. When I wore this design to a networking event, the conversations flowed naturally like the koi.
Romantic Flair: Floral Lace on White Nails
Lace isn't just for wedding dresses. Simple, sweet white oval nails become a canvas for romantic floral lace patterns. Add metallic gold flecks and a shiny gem, and you're a showstopper. This design makes me feel like I'm walking in a Jane Austen novel.
Winter Wonderland: White Nails With Glitter Snow Accents
Get ready for the holiday season with this winter-inspired design. Iridescent white glitter polish becomes the perfect backdrop for snowflakes and swirls. It's like having a winter wonderland at your fingertips. Hot cocoa, anyone?
The Golden Touch: Acrylic White and Gold
Short nails? No problem! Acrylics have you covered. Sculpt your nails into fabulous almond shapes and embellish them with gold foil. It's timeless and trendy, all rolled into one. I sported this look at a New Year's Eve party and felt like a million bucks.
Minimalist Marvel: Cool White Almond Nails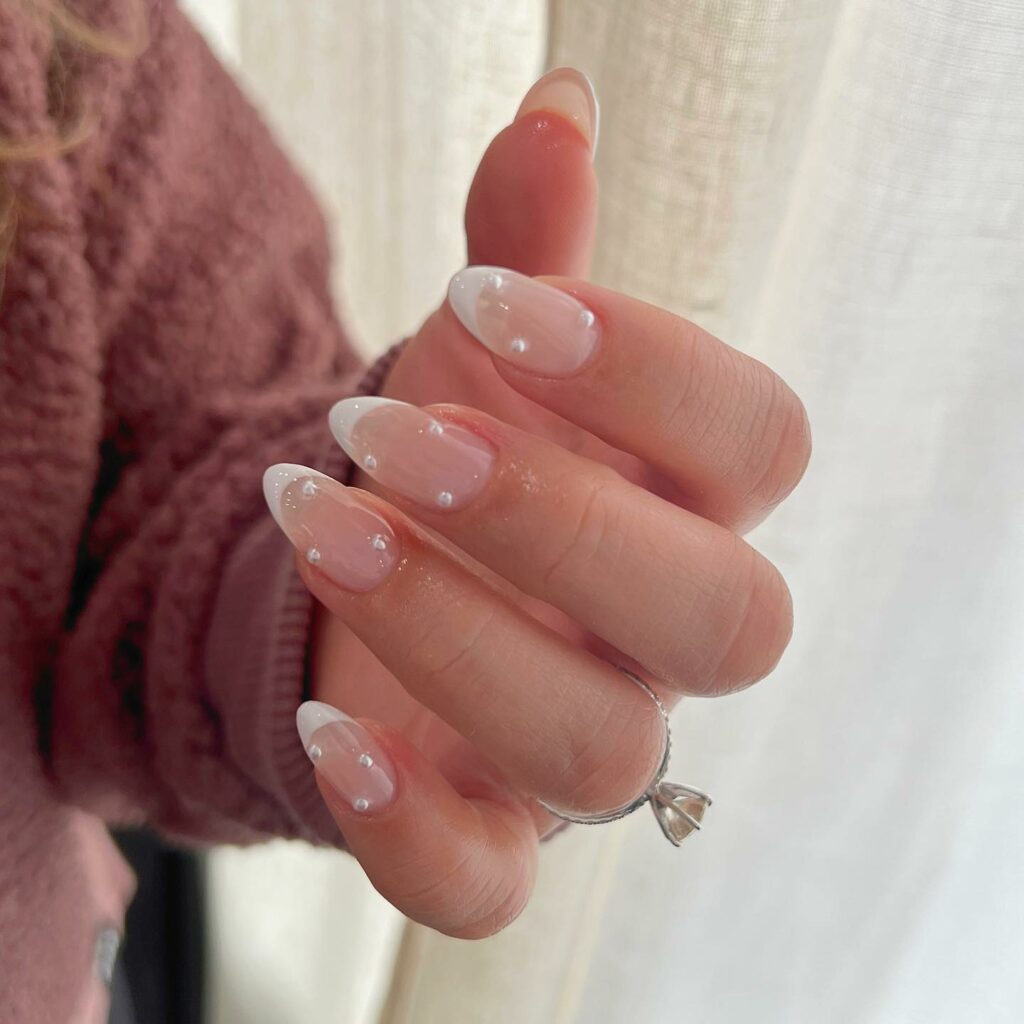 Sometimes, less is more. And nothing proves that point better than fabulous white almond nails. It's effortlessly stylish and versatile, pairing well with any outfit in your closet. This is my go-to when I need a break from over-the-top designs.
Playful Charm: Penguins on Parade
If you're like me and love themes, consider adorable marching penguin art on a white and nude backdrop. It's a fun, imaginative way to embrace the winter season. I had these during the holidays last year, and let's say even my grandma couldn't resist snapping a pic!
The Quintessential Classic: Simply White
You can't go wrong with full-coverage, plain white nail polish on short, round nails. It's like that classic white tee—understated yet incredibly versatile. I once rocked this look during a minimalist fashion week, and it fits perfectly into the whole aesthetic. Simple but impactful!
A Splash of Color: Clear and White Nail Design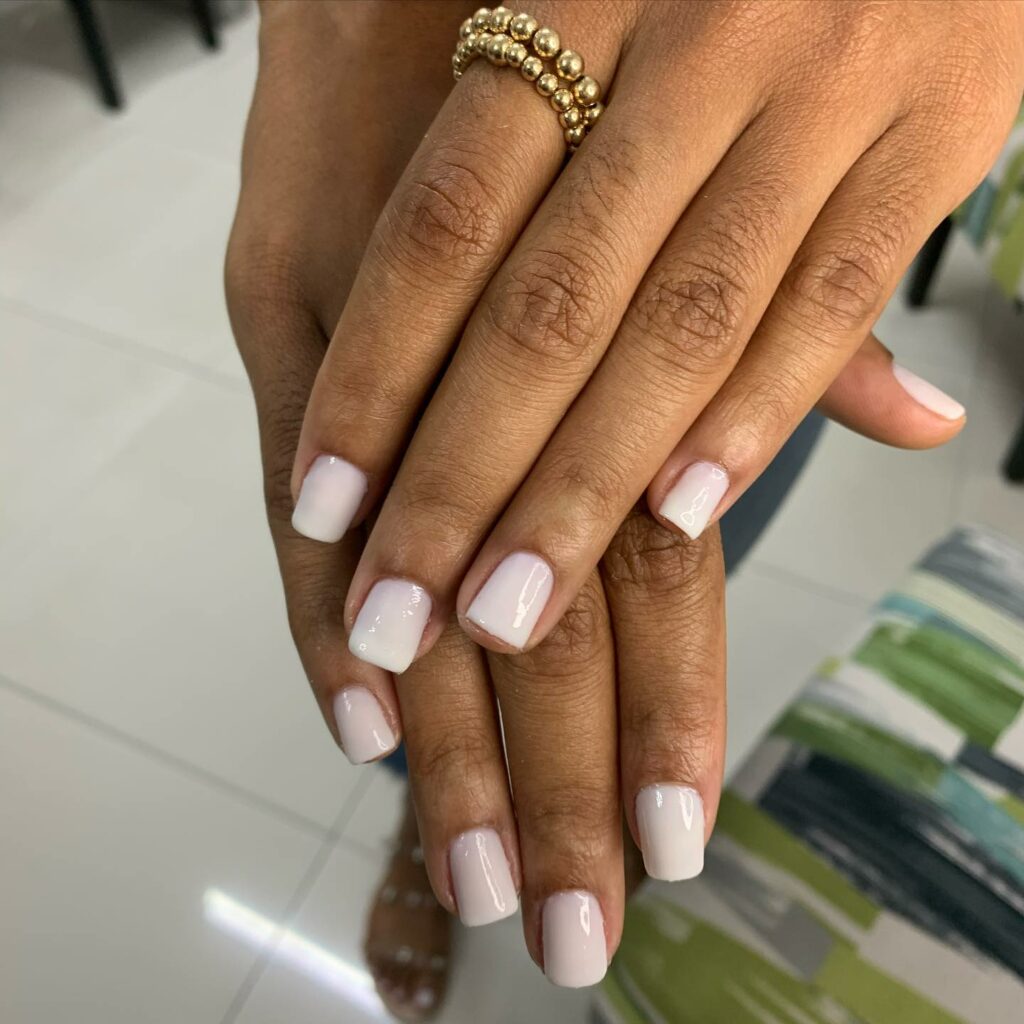 If you adore white but can't resist splashes of color, this one's a winner. Imagine white nails accented with clear nails featuring doodles of flowers, hearts, and rainbows. It's a walking art exhibit at your fingertips! This is my festival season go-to for a vibrant and youthful vibe.
Shimmer and Sheen: White Gel and Silver Foil
Take your white marble gel manicure to another level by adding silver foil. It adds a touch of luxe without going overboard. I remember trying this out for a friend's black-tie wedding, and let's say my nails were in many a photo!
Wild Streaks: White and Silver Square Nails
Short square white nails get a chic upgrade with zebra stripes in white and silver glitter on clear accent nails. It's a perfect combination of wild and refined design that will get heads turning.
Oceanic Dreams: Pearls and Shells
Dreaming of the sea? Opt for a matte finish with 3D shell nails, and complete the underwater fantasy with pearls. It's like a beach vacation, but at the tip of your fingers. I wore this design on a cruise once and got asked about my nails by strangers—true story!
Blooms On Display: Fabulous Floral Garden Party
A garden on your nails? Yes, please! Short nails burst to life with a white base and colorful floral outlines. I once sported this at a garden party, and it was the perfect complement to the vibrant atmosphere.
Cozy Chic: Milky White and Soft Glitter
For a cozier, intimate vibe, go for milky white polish sprinkled with soft gold glitter. It's flirty, warm, and perfect for those romantic evenings. This was my Valentine's Day design one year ago, and it was a total hit!
The Glam Factor: Iridescent White and Gold Gems
Iridescent white nails can look even more glamorous with gold and silver gems at the cuticles. It's the epitome of bling without looking overdone. A must-try for anyone wanting to dabble in the luxe look!
Heart of Gold: Short Ballerina Nails With Gold Hearts
White ballerina nails look divine with gold chrome heart accents. It's feminine and edgy, a combination that always stays in style. This design made me feel like a princess, but with a twist.
The Longer Square: Milky White
If you like square nails but want some length, consider going for a milky white finish. It's sleek, sophisticated, and adaptable to almost any occasion. This is often my go-to when I have back-to-back events that range in formality.
The Playful Classic: Half-Moon Designs
Half-moons on nails aren't new, but they can be revitalized. Imagine pairing white nails with candy-colored half-moons adorned with speckles—like Easter eggs! I sported this look during a spring brunch and found it an excellent ice-breaker. It's playful, fun, and oh-so-seasonal.
Cool Geometry: White and Blue
Want to bring your white acrylic nails to life? Think thin, soft blue curves running across your fingertips. I wore this design to a modern art exhibit, and the juxtaposition of colors was so captivating it almost stole the show. Almost.
The Artist's Palette: Blue Tie-Dye on White Nails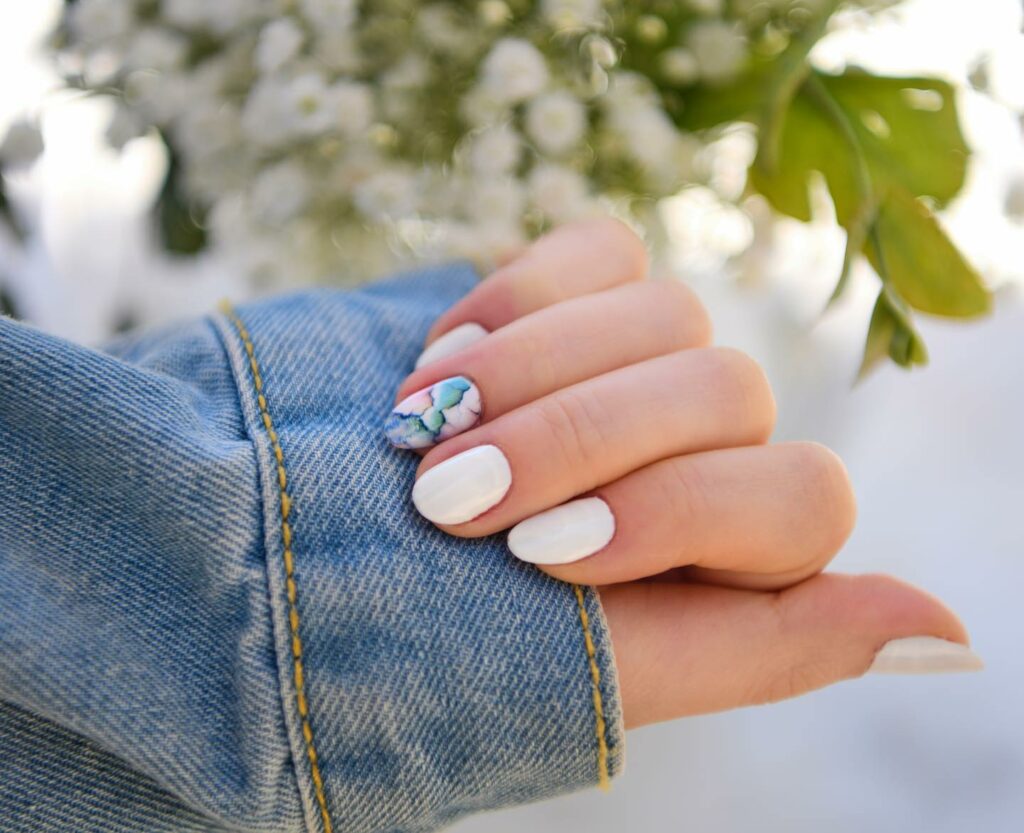 If you have an artistic flair, you'll adore this one—white nails set off by blue tie-dye designs that offer a marble effect. It's a texture play that lets the white remain the show's star. Perfect for your inner Picasso!
Sparkling Florals: White Nails and Floral Gems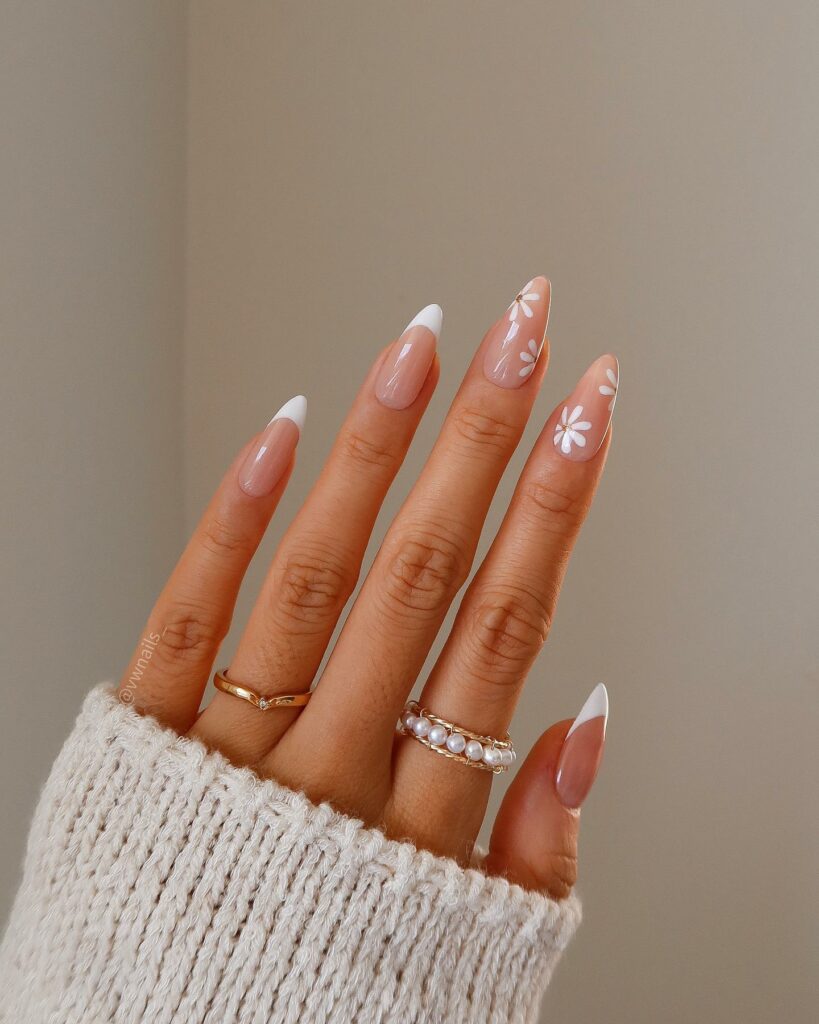 Why settle for ordinary florals when you can add a dash of sparkle? Colorful nail gems can bring your flower designs to a new level of fabulousness. I rocked this design at a friend's garden party, and it was a hit!
Gilded Perfection: Decadent Gold
The combination of glossy white square nails with thin gold glitter tips and gold leaf accents is the epitome of luxury. This one is a showstopper. Ideal for that ritzy event you've been dying to attend.
Ceramic Elegance: Blue Pottery-Inspired Nails
For a dash of timeless sophistication, go for blue floral designs inspired by Dutch or Chinese pottery. When I wore these to a formal dinner, I was flooded with compliments. It's a conversation starter and a head-turner.
Ethereal Touch: White Ocean and Gold Marbled Accents
If you like elegant contrasts, try white nails complemented by light blue marble effect accent nails. A touch of gold foil adds that extra dash of elegance. This design feels like capturing the ocean and sky at your fingertips.
A Hint of Summer: Summer Flowers
Transform your sheer white nails with light, subtle summer flower designs. A hint of gold foil can elevate it even further. I sported this during a beach vacation; it was like carrying a piece of summer wherever I went.
Soft Elegance: White Nails and Delicate Flowers
Round white nails get an extra touch of chic with soft and delicate pastel flower art. This one's perfect for any elegant outing—trust me, I wore this to a charity gala, and it was a hit.
Green Goddess: Pretty Plants
Plant lovers, rejoice! Why not turn your short white nails into a botanical garden adorned with vines and succulents? I've had this design for Earth Day celebrations, and let's say it was an eco-friendly hit!
Starry Night
Imagine a clear night sky on your fingertips. Dazzle with a white base and tiny black stars; it's like always having a piece of the galaxy with you.
Tribal Chic
Introduce some geometric tribal patterns on a pure white backdrop. It's a culture-meets-contemporary look that is both striking and stylish.
Minimalist Lines
For those who love simplicity, try white nails with thin black lines. It's minimal yet modern, perfect for the office or a night out.
White and Rose Gold
Combine white with rose gold tips for a design that screams luxury. This look is perfect for weddings, parties, or anytime you want to feel extra fabulous.
Chrome Accents
Elevate your white nails by adding a single chrome accent nail. The metallic sheen adds an unexpected twist, making your hands the center of attention.
Ombre Fade
An ombre fade from white to gray offers an elegant transition. It's a subtle way to add depth to your nails without overwhelming them.
Polka Dot Party
Go retro with white nails covered in black polka dots. It's a fun and youthful design that can liven up any outfit.
Classic Elegance: White Almond Nails
Remember when I said white nails were a blank canvas? Almond nails take that concept and elevate it. Paint your short almond nails with sheer pearl white polish for a look as versatile as stunning. It's classic, elegant, and oh-so-chic—just like that little black dress you can't live without!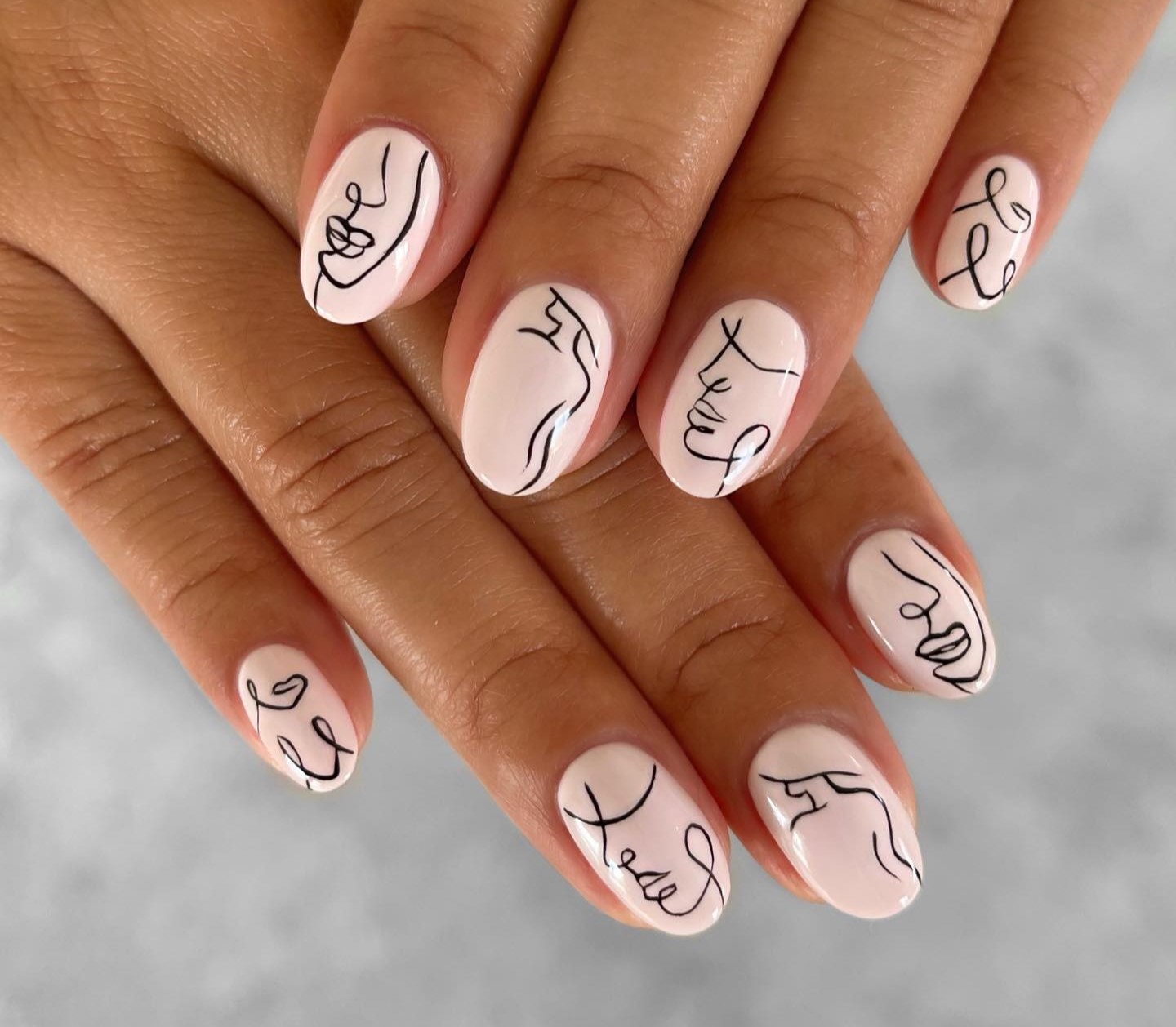 9 Tips on How To Achieve the Perfect White Manicure
Achieving the Perfect White Manicure: Tips and Tricks – The quest for the perfect white manicure! It can be surprisingly tricky. While white polish provides a fantastic canvas for creativity, it can also be unforgiving regarding imperfections. But don't fret; here are some expert tips to help nail that impeccable white finish.
Start with Healthy Nails – Before diving into your polish collection, ensure your nails are in top shape. File them to your desired length and shape, and don't skip the cuticle oil; hydrated cuticles make a difference.
Prime the Canvas – Always start with a base coat to protect your nails and improve polish adhesion. A quality base coat can prevent potential staining from the white polish and make your manicure last longer.
Choose Your White Wisely – Not all whites are created equal. Some are sheer, some are chalky, and some are just right. Test a few to find your perfect match. You'll want a highly pigmented option if you're going for an opaque look.
Thin Coats Are Your Friend – White polish can get streaky real fast. The trick to avoid this is to apply thin coats. Yes, getting the opacity you desire might take three coats, but thinner layers dry more quickly and are less likely to smudge.
Be Mindful of Brush Strokes – White polish tends to show brush strokes more than other shades. Use a careful hand, and try to limit each coat to as few strokes as possible. Practicing your technique makes perfect!
Patience Is Key – Give each coat ample time to dry before applying the next layer. Rushing through the drying process can result in bubbles or streaks that are more visible with white polish.
Seal It In- Always finish with a quality top coat to seal in your color, add a high gloss, and extend the life of your manicure. Some even opt for a UV-protectant top coat to keep the white from yellowing.
Cleanup is Crucial – White polish mistakes are unforgiving. Keep a small brush dipped in nail polish remover on hand to clean up any errors or spills around your nail beds for a professional finish.
Still Looking for Inspiration, Then Check Out This Video
Conclusion
As we wrap up this nail art odyssey, it's clear that white nails offer a versatile canvas for your creative expression. From minimalistic designs to intricate art pieces, the possibilities are virtually endless. One tip to remember is to invest in high-quality white polish and topcoat to ensure a flawless base for your artwork. The risk? Lightning colors like white can sometimes stain, so a solid base coat is essential. Please don't stop experimenting, whether with 3D elements, metallic foils, or vibrant colors. With these ideas, you're not just following trends but setting them. So seize your polish and brushes, and let your imagination run wild on those tiny canvases. Happy painting!
Feature image @heluviee via Instagram
Last reviewed and updated on October 12, 2023