Hey there, beauties! Let's talk about a haircut that's as freeing and transformative as its namesake—the Butterfly Haircut. If you're in a rut with your current style or want something as versatile as it is chic, you're in for a treat.
In today's post, we'll dive into what makes this cut so unique, how to know if it's right for you, and some pro tips for maintenance. I've personally rocked this haircut, and let me tell you, it's a game-changer! With the proper layering and texturing, it can suit almost any face shape and hair type. Ready to spread your wings? Keep reading.
The Classic Butterfly Cut for Long Hair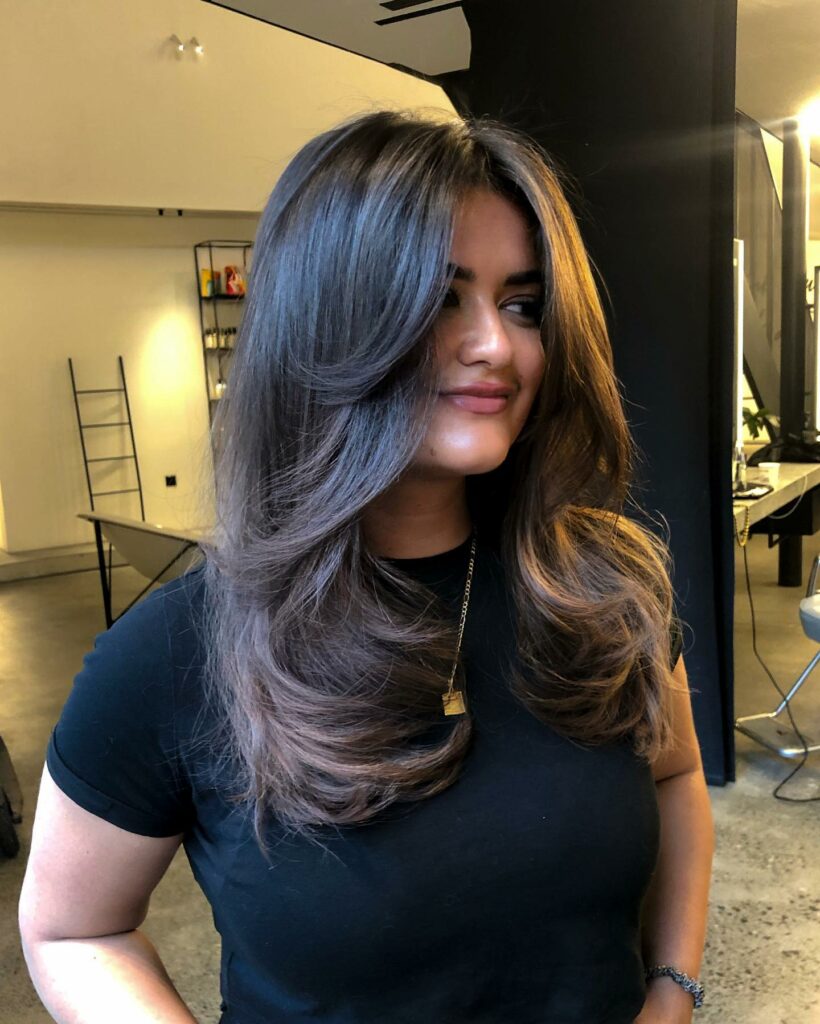 If you dream of a hairstyle that screams 'modern chic' but still want to keep it easy-breezy, the butterfly cut on long hair is your match made in hair heaven. The layered magic will gift you added volume and grace you with a texture that turns heads. Personal tip? Add a dash of sea salt spray for that 'just walked out of the ocean but make it fashion' vibe.
Add a Twist: Curtain Bangs and Face-Framing Layers
Oh, curtain bangs, my eternal love! For those rocking shoulder-length hair, this bang style holds the entire look together like the best kind of glue. Ask your stylist for shorter layers around your face. It's like contouring without makeup—absolutely brilliant.
For My Thick-Haired Queens
Do you have thick hair and want to show off those facial features? Go for a butterfly cut adorned with curtain bangs. Once you've got the cut, have a texture spray on hand. A quick spritz will elevate those layers and make them dance. Yes, hair can dance, darling!
Keep it Straight, but Make it Fashion.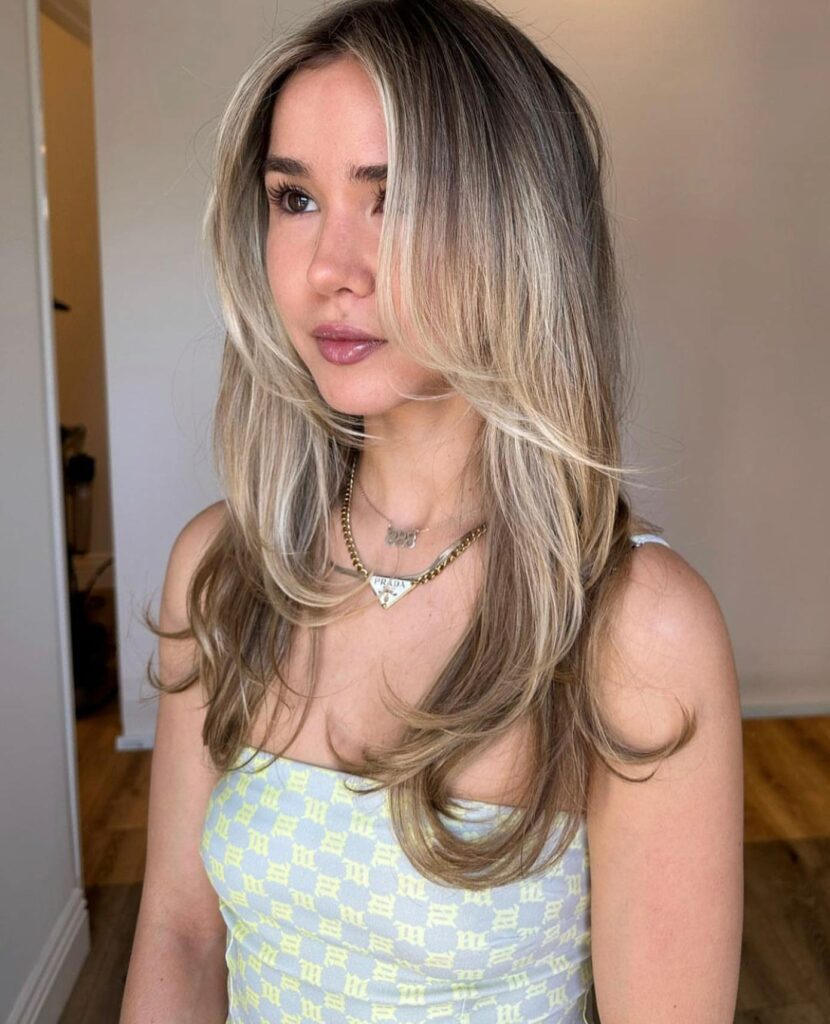 Who said straight hair has to be boring? An extended butterfly cut adds these cute flips that I adore at the ends. It gives an often-needed shake-up to your straight tresses, making them anything but flat.
Go Golden, Go Bold
If you're not about that curly life, you can still jazz up your straight hair with a butterfly cut and some blonde balayage. It's like your hair but with a sprinkle of fairy dust. So elegant, so you!
Cute Cuts for Short Hair
For my short-haired gals dealing with fine hair, listen up. Cut those locks into textured layers, and let your fingers do the styling. A little ruffle here and a brawl there, and you've got volume for days!
A Savior for Thin Hair
If you're working with thin or fine hair, avoid going layer-crazy, okay? Opt for longer layers that add texture and volume without making your hair look sparse. It's like a magic trick, only better because it's real.
Blondes, Level Up!
Already rocking that buttery blonde color? Good for you! Add in some layers, and you've got a masterpiece. Get experimental with hair products—I swear by texturizing creams—to bring out that added depth.
Waves and Layers: A Match Made in Hair Heaven
Nothing says, "I woke up like this, and I'm fabulous," like big, voluminous waves combined with layers. Just add some volumizing mousse before blow-drying, and voila! Instant hair goddess.
Be a Copperhead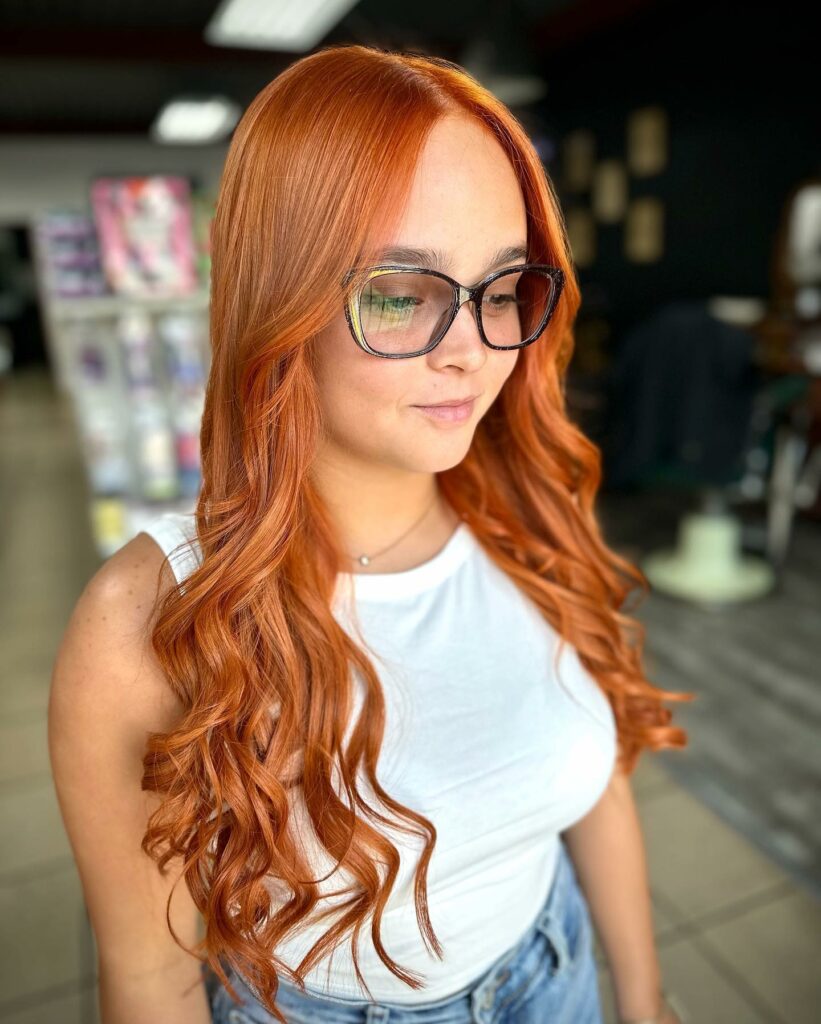 If you're up for a color change, copper shades and butterfly cuts are a match made in hair color heaven. It's vibrant, warm, and deserves all the double-taps on Instagram.
Classic and Sassy: Shoulder-Length Butterfly Cut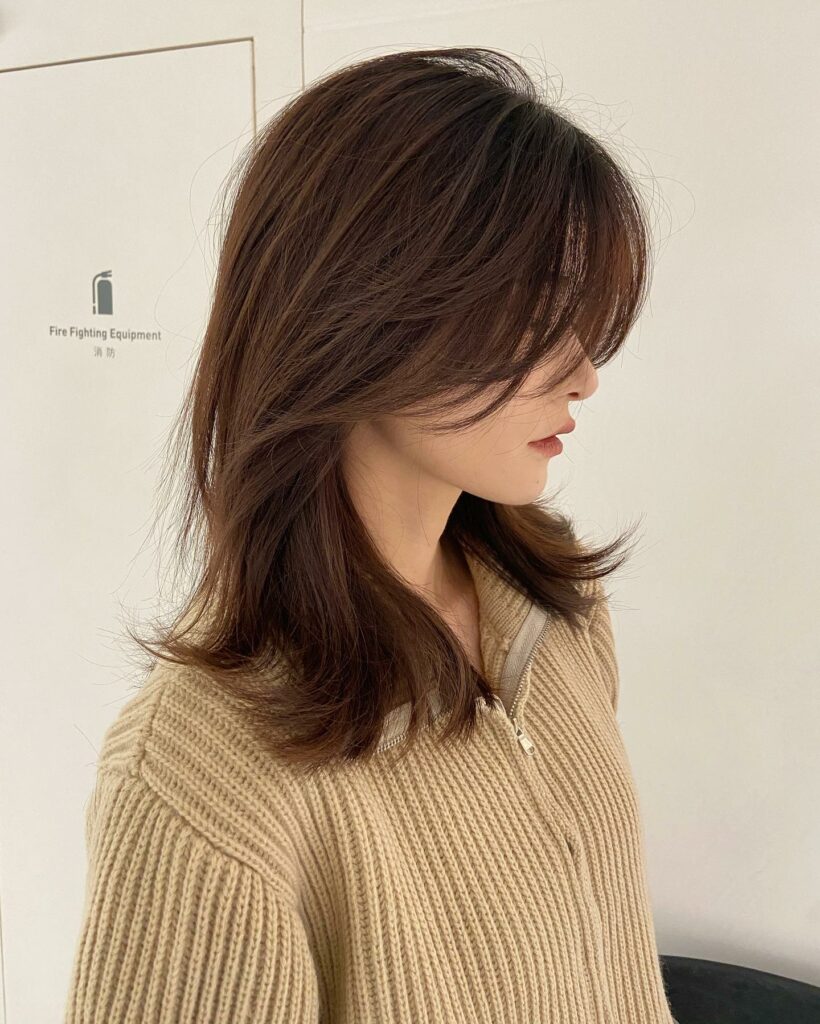 Looking to elevate your medium-length hair without going overboard? Girl, I've got you. Opt for a butterfly cut sprinkled with blonde highlights and waves. It's like adding jewelry to a little black dress—utterly transformative yet subtle. My personal hack? I love adding a smidge of hair oil on the tips for that extra shine.
The Perfect Butterfly Cut for Oval Faces
Oval-faced lovelies, this one's for you. When you sit in that salon chair, ask for shorter layers on top and through the crown. It gives the illusion of butterfly wings—so ethereal. Elevate this cut with a dash of auburn or copper babylights; you've got a textured masterpiece.
Butterfly Beauty for Brunettes
Let's talk versatility. The butterfly cut is an all-rounder that can be tweaked to flatter different face shapes and hair types. So brunettes, listen up: add some flicks and a curtain fringe to bring a soft allure to your look. Longer layers give it that voluminous flair we all secretly crave.
Bring on the Summer Vibes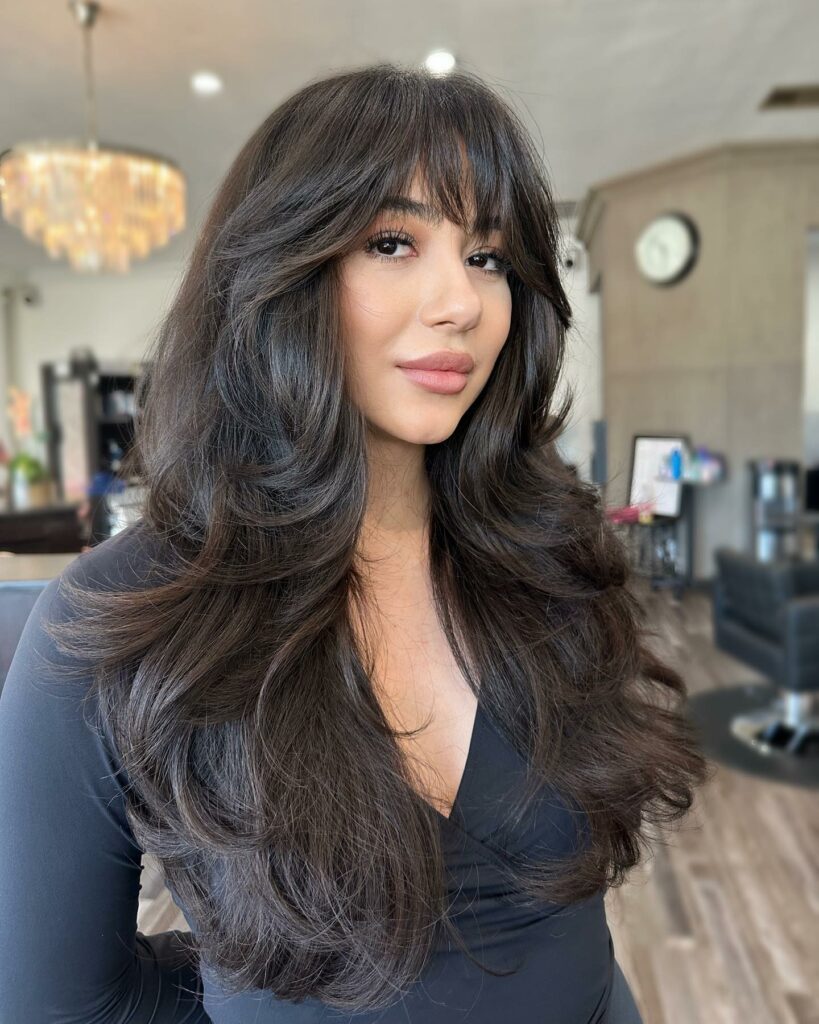 Ah, summer. It's the season when we all want to let our hair down, literally. To get those voluminous layers that scream beach goddess, use a light texturizing spray and blow-dry each layer separately. Trust me, you'll get texture so dreamy it'll rival the summer skies.
Retro Chic: Butterfly with Shaggy Bangs
Are you feeling retro? The butterfly cut has its roots in the groovy '70s. Opt for floaty, textured layers that work with hair of any length and thickness. Think of it as bringing back a classic but adding your modern spin.
Wispy Bangs for the Win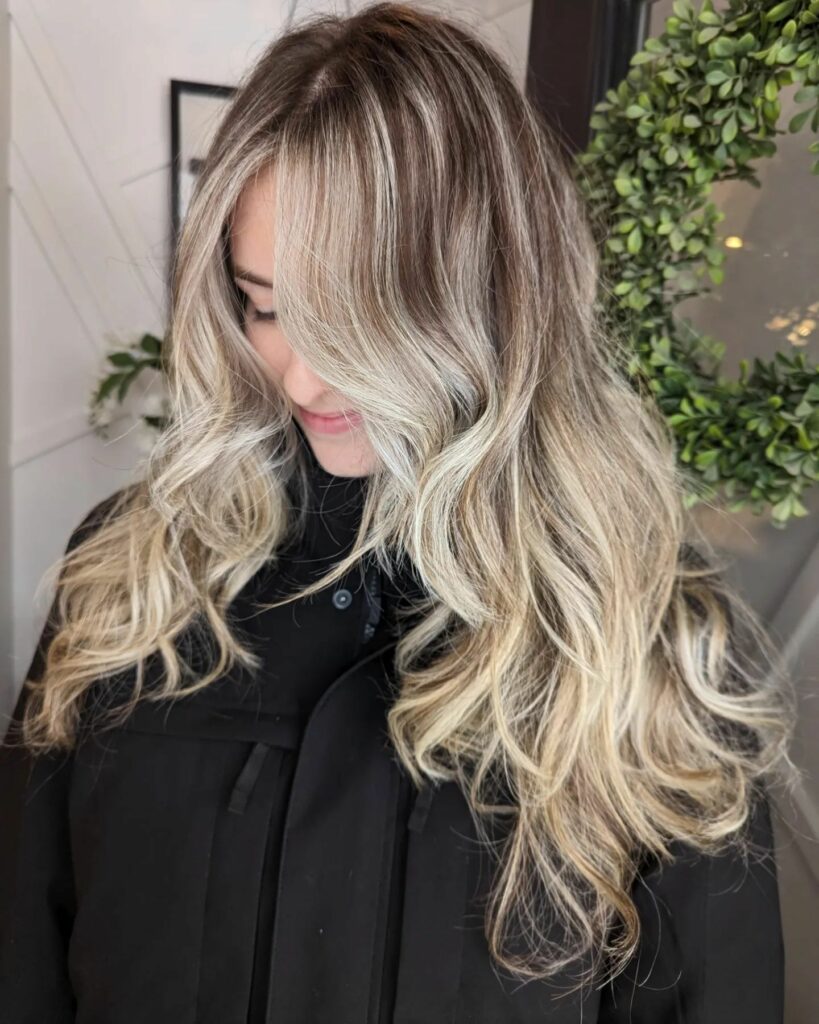 Nothing softens a look like wispy bangs, am I right? These delicate strands not only balance out your face shape but also give off a feminine allure that's utterly captivating. Bonus: they make your face look slimmer. Win-win!
All About That Caramel Goodness
If you're aiming for a look with 'stunning' written all over it, go for soft layers with curtain fringe and flicks, all in a caramel hue. It's playful and chic without trying too hard. Honestly, this color is as delicious as it sounds.
Contrast is Key: Black Hair with Light Layers
Consider adding lighter face-framing layers for those with black or dark brunette hair. Have you ever heard of the money piece technique? It adds a pop of color and dimension to the front section of your mane, making you look like a million bucks without breaking the bank.
Perfect for Natural Brown Locks
Natural brown hair gets a serious upgrade with a butterfly cut. The layers help distribute the weight of your locks, keeping them from falling flat. Think of it as your hair's personal trainer but without the sweat.
Warm Blondes Have More Fun
This layered butterfly look is for you for my wavy-haired blondes out there. Just chat with your stylist to pick the best shade of blonde that complements your skin tone, and you'll walk out of that salon feeling like a brand new you.
A Fresh Take on Intense Bottom Layers
Let's be honest—sometimes it's all about that drama at the bottom, am I right? Instead of just a couple of noticeable layers, why not opt for a more nuanced approach? Multiple softer layers can add that dreamy, flowing effect that's to die for. Trust me, I've been there, and it's a total game-changer for your selfies.
Go Bold with Bronze-Tinted Chunky Layers
There's something about chunky layers that can turn a meh haircut into a "Whoa, who is she?" moment. Adding a warm, bronze tint to those layers? Girl, that takes it to a whole new level. It's like a pumpkin spice latte for your hair—comforting yet invigorating!
The Seamless Ginger Butterfly Style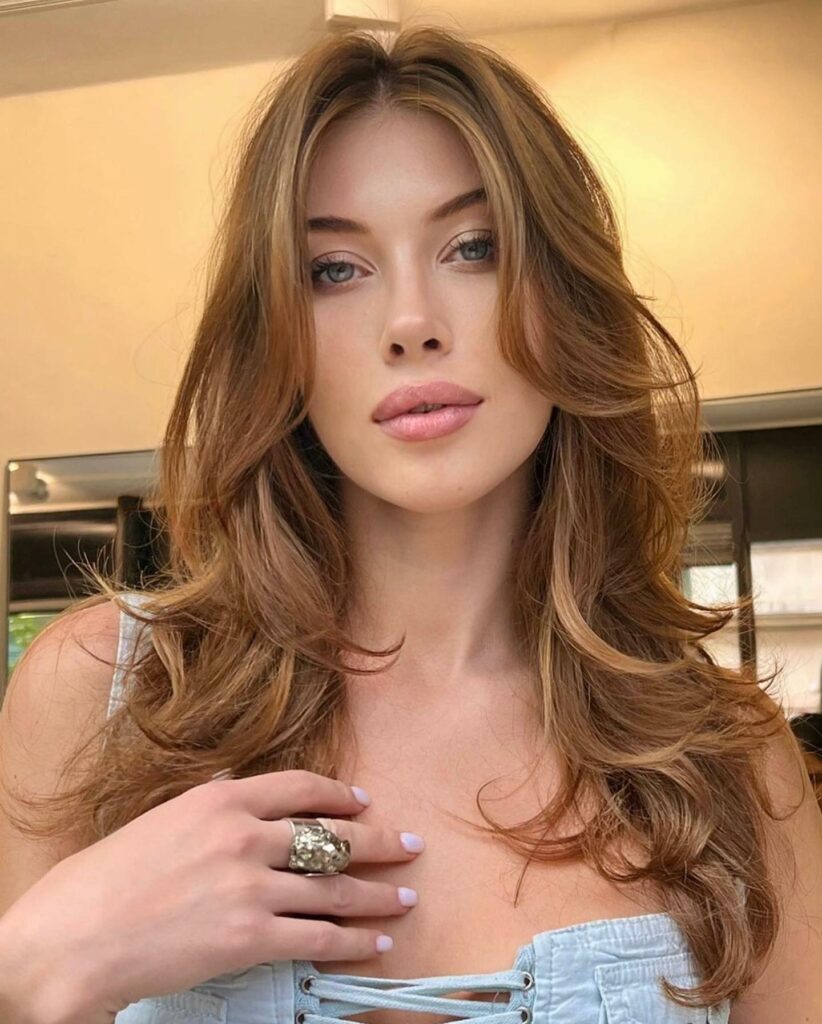 If you're after a look that flows like a river. Instead of creating a stark contrast between your layers, opt for a seamless cascade of flowing locks. Ginger hair makes this style pop like autumn leaves, but make it Fashion!
Rock the Smokey Brown with Intense Layers
Thick hair, don't care! If you're blessed with a full mane, you can go all out with the layering without losing an ounce of volume. I've tried this smokey brown look with intense, shorter layers, and let me tell you, it's a knockout, especially if you pair it with an edgy wardrobe.
Elevate Your Taupe Hair with Airy Layers
If you've dense hair and want to lighten things up, this style is your best bet. My friends Taupe is in, and adding some well-placed highlights can make those ends look like they're floating on air. It's the perfect blend of chic and effortless.
So there you have it, the lowdown on the butterfly haircut and how it can work wonders on different types of hair and face shapes. Which one are you going to try? Whatever you choose, remember: you're already fabulous; this is just the cherry on top!
What Is A Butterfly Haircut, And How Is It Different From Other Haircuts?
Ah, the butterfly haircut—a style catching eyes and turning heads! Think of the butterfly cut as a layered hairstyle with a playful twist. It typically features layers around the head that add depth and texture to your mane, like the intricate patterns on a butterfly's wings.
But here's where it's different from your average layered cut: The butterfly cut has shorter layers on top, graduating to longer layers as you move down. This creates a "wing-like" effect that adds volume, especially around the crown of the head. This combo of shorter and longer layers gives your locks a dynamic, almost ethereal vibe.
And hey, customization is the name of the game here. Whether you're into curtain bangs, baby lights, or face-framing layers, the butterfly cut is versatile enough to accommodate your style. Plus, it can work with almost any hair type—curly, straight, exemplary, or thick. So you can make the look your own, unlike more rigid styles that offer less room for personal flair.
So, if you're bored with your current 'do and itching for a change, give the butterfly cut a go. Trust me, your hair will thank you for it!
How Can I Know If The Butterfly Cut Suits My Face Shape And Hair Type?
Great question! Finding the perfect haircut can be like matchmaking—it's all about compatibility. So, let's break down how the butterfly cut works with different face shapes and hair types.
Face Shapes
Oval Faces: Lucky you! Oval faces are usually a good match for any hairstyle, and the butterfly cut is no exception. Shorter layers on top can add some excellent vertical dimensions.
Round Faces: The layers in a butterfly cut can elongate a round face. Go for longer face-framing layers to draw the eye downward.
Square Faces: If you have a square face, you can rock a butterfly cut, but I'd recommend softer layers to balance the strong jawline.
Heart-Shaped Faces: This cut can be a winner because it balances out the wider forehead and narrower chin. Consider adding some bangs to make the most out of this look.
Hair Types
Fine Hair: If your hair is finer, don't get too scissor-happy with the layers; otherwise, you might make it look even thinner. A few well-placed layers can add some much-needed volume, though.
Thick Hair: Those with thick hair can make the most of this haircut. The layers will add movement and remove some weight, making your mane easier to manage.
Straight Hair: While you might think layers are only for wavy or curly hair, they can amp up straight hair, too. The butterfly cut can add that missing texture and dimension.
Curly or Wavy Hair: This cut was practically made for you! The layers will show off your natural texture beautifully.
Personal Tips
Consult Your Stylist: Before you jump in, have a heart-to-heart with your stylist. They can provide customized advice based on your face shape, hair type, and lifestyle.
Bring Photos: A picture's worth a thousand words. Bring some reference photos to ensure you and your stylist are on the same page.
Start Gradual: If you're new to layers, start with a few and see how you like them before fully committing to the butterfly cut.
Remember, what matters most at the end of the day is that you feel fabulous with your new look. So take the plunge and let your hair fly like a butterfly!
My 7 Pro Tips For Maintaining A Butterfly Cut?
You're thinking of getting a butterfly cut, or you've already taken the plunge. That's awesome! Now, let's talk about how to keep that fresh-from-the-salon look going strong.
Keep Up With Trims: First things first: regular trims are your new best friend. We're talking every 6-8 weeks to keep those layers looking sharp and fresh. Even if you're growing your hair out, a quick trim can remove split ends and maintain the shape of your butterfly cut.
Product is Key: Invest in a good quality texturizing or sea salt spray to keep your layers defined and full of movement. I swear by the Davines This Is A Dry Texturizer for adding some oomph without weighing my hair down.
Master the Blow-Dry: To showcase those lovely layers, mastering the art of blow-drying is essential. Use a round brush to lift the roots and blow-dry each layer separately to add volume and definition.
Pamper Your Locks: Weekly deep-conditioning treatments are a must, especially if you have color-treated hair. The layers and ends of a butterfly cut can get dry, so give them some TLC. I love using the Olaplex No. 3 Hair Perfector; it keeps my hair looking salon-fresh.
Switch Up Your Styling: One of the best things about the butterfly cut is its versatility. Feel free to experiment with different styles. Loose waves for a romantic dinner date? Sleek and straight for that all-important Zoom meeting? The choice is yours!
Use the Right Tools: A wide-tooth comb is excellent for detangling without breaking your hair. Invest in a good quality curling iron or wand and a reliable flat iron with adjustable temperature settings for styling.
Know When to Refresh: Notice your hair feeling flat or your layers blending? That's your cue to revisit your stylist. As someone who's lived the butterfly-cut life, let me tell you, nothing beats that fresh-cut feeling!
So there you have it, my pro tips for keeping your butterfly cut looking fabulous. Trust me, a little upkeep ensures your hairstyle stays as fresh as the day you walked out of the salon. Enjoy your new 'do!
A Step By Step Video Tutorial To Get Butterfly Cut At Home
Conclusion
Alright, that's a wrap on the magic of butterfly haircuts! If there's one takeaway from today, there's a butterfly cut out there for everyone—whether you're a blonde beach babe or a brunette bookworm. Just remember to chat with your stylist about what works for your face shape and lifestyle because, let's be honest, no one knows your hair journey better than you (except maybe your stylist!). Remember to play with texturizing sprays, baby lights, or even wispy bangs to elevate your look to the next level. Life's too short for dull hair, so why not flutter into your next salon appointment and spread those gorgeous wings? Catch you next time for more beauty goodness!
Feature Image Photo By shmeggsandbaconn on Instagram
Last reviewed and updated on October 2, 2023