If you're constantly searching for that perfect manicure that combines elegance, sophistication, and a dash of personality, you're in for an absolute treat. Today, we're diving into the epitome of grace in nail art—the Ballerina nail shape. And not just one or two, but 30—yes, you heard that right, 30—different designs that will inspire your next salon visit.
This shape, often mistaken for its close relative, the Coffin nail, brings a certain je ne sais quoi to your digits that can't be overlooked. We're talking about tapered sides that meet in a flat tip, akin to the pointe shoes worn by ballerinas, hence the name. Whether you're a lover of muted palettes or a disciple of dazzling hues, there is a Ballerina nail design that will strike a chord with you.
By the end of this post, you'll not only have a curated list of stunning Ballerina nail designs, but you'll also learn the techniques and tips that go behind creating these beauties. So grab a seat, perhaps even in a plush red theater chair if you're feeling the vibe, because the class is in session, and your nails are about to graduate summa cum laude in the art of chic.
The Ballet Pink Classic
Hey there, style mavens! The first time I fell in love with ballet pink nails, I was in the audience of a live ballet performance. The elegance of the dancers instantly reminded me of the subtlety a ballet pink brings to your fingertips. Pairing this subdued hue with the squared-off Ballerina nail shape is just something inherently graceful. It's a match made in heaven; you can't go wrong with it.
The Ombré French Mani: A Modern Twist
French manicures have had their fair share of evolution, haven't they? The ombré French is perfect for anyone wanting to dip their toes—or fingertips—back into this nostalgic trend without going full-blown '00s. It's your middle-ground French manicure, giving you the best of both worlds.
Fade Into Peach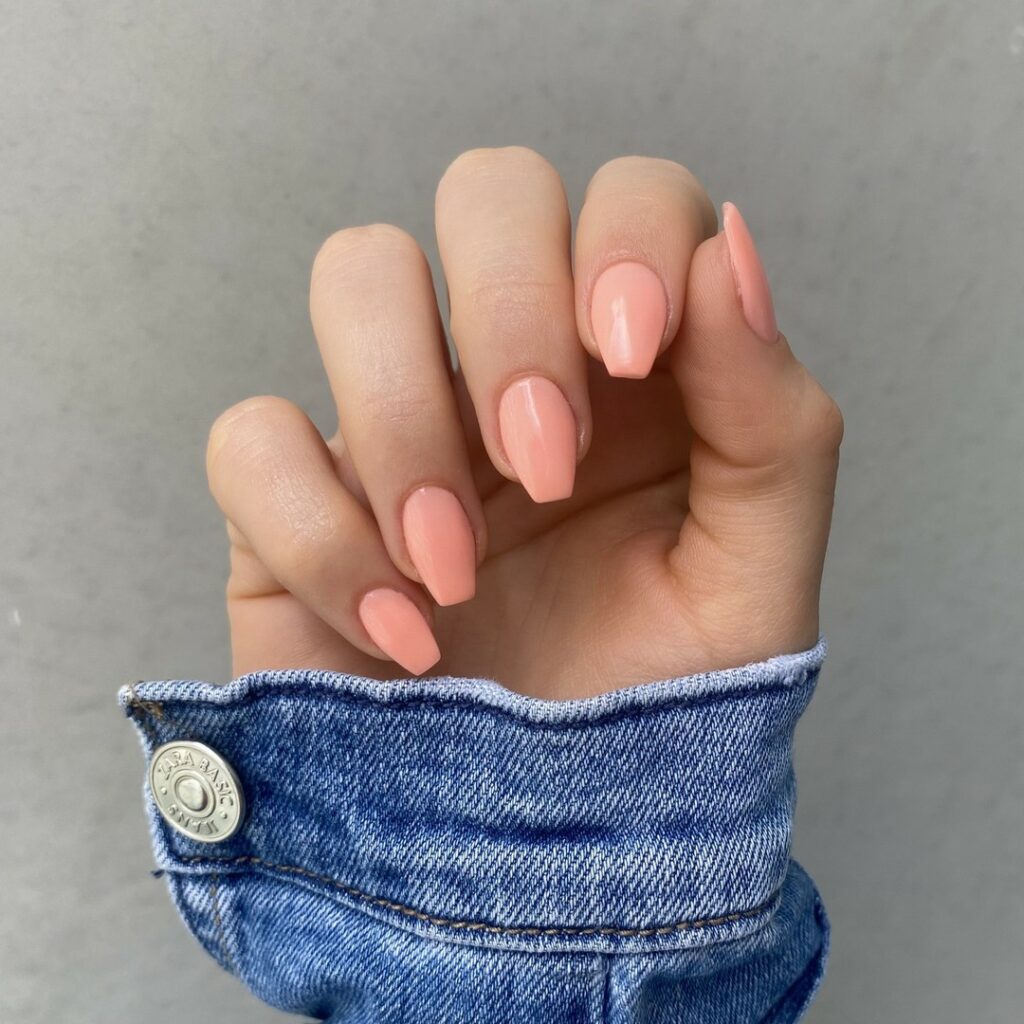 Longer nails have pros, like accentuating the Ballerina shape and ombré effects. I remember how clumsy I felt when I first opted for long nails. You have to relearn basic tasks, like opening a soda can. But trust me, the aesthetic payoff makes it all worth the hassle.
Short but Sweet Coffin Nails
Not everyone likes long nails, and that's okay! Shorter Ballerina nails can be equally stunning. The tapered shape works wonders in elongating your fingers, making your hands look more elegant. Less can be more, people!
Designer Love: Gucci Prints
Who needs a Gucci bag when you can have Gucci at your fingertips—literally! Nail art logos offer that designer touch without causing your wallet to hyperventilate. Go ahead, indulge!
Kira Kira Sparkle: Easy Glam
These nails have tiny silver stickers that create an illusion of star cutouts. Remember, you don't have to be a professional to add a bit of sparkle. Stickers are your fuss-free route to nail art that shines.
Glow Like You Mean It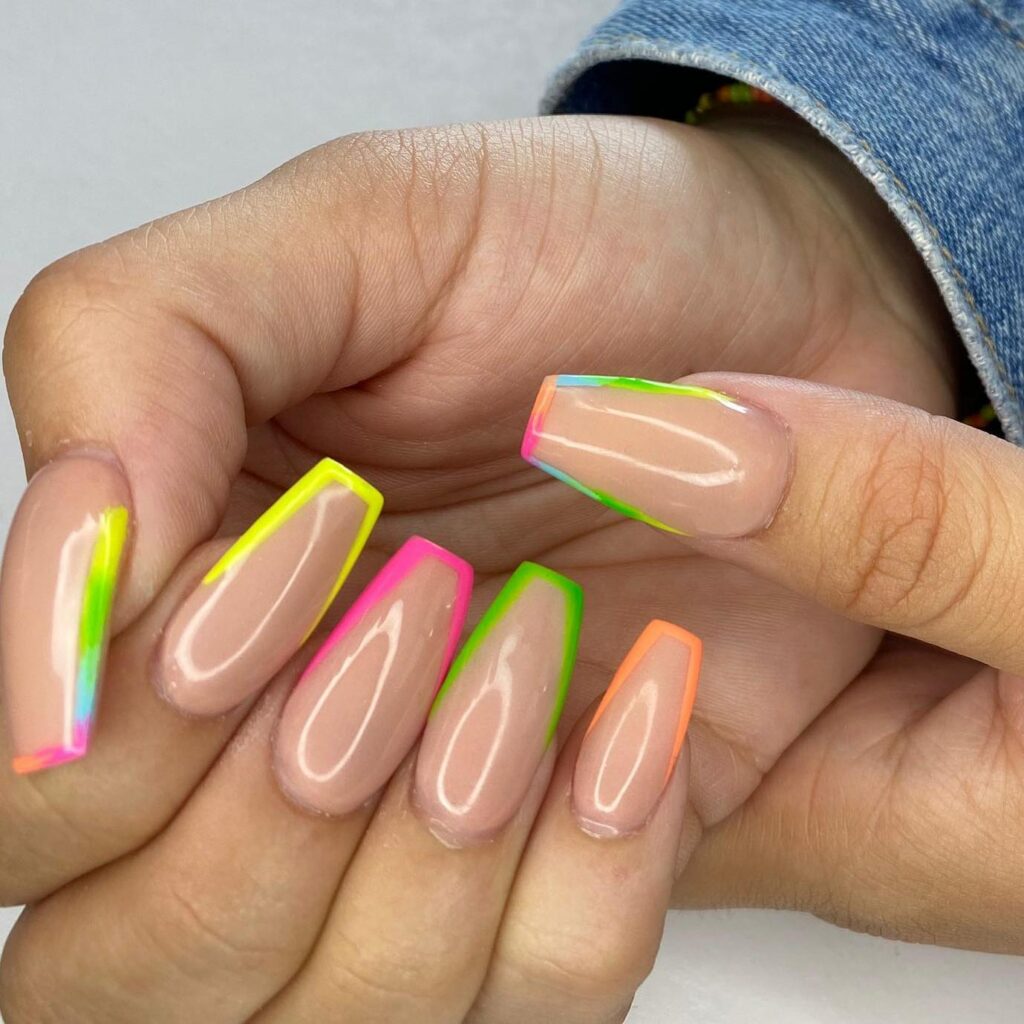 How about some nails that have their nightlife? This look transitions from a subdued daytime pink-to-blue ombré to a vibrant neon blue when the sun goes down. It's a party at your fingertips!
A Sliver of Glittery Goodness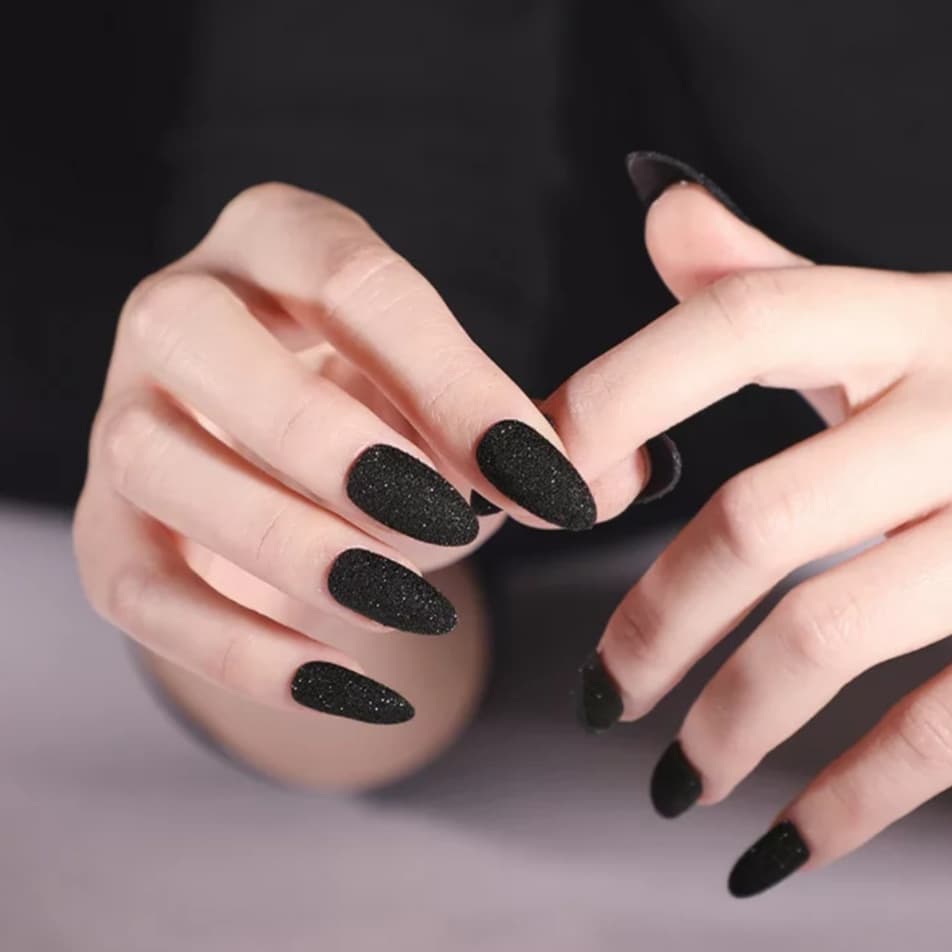 Sometimes, less is more. An itty-bitty line of glitter at the tips can add that final touch to a simplistic design, turning an otherwise 'meh' manicure into an absolute showstopper.
A Palette of Ombré Pastels
Sure, we've all done the classic ombré from cuticle to tip, but have you tried a pinky-to-thumb gradient? It's like a rainbow at your fingertips, giving you more room to play with colors.
Safety First: Narrow and Pearlized Nails
Think of these as your safety stilettos. They offer the sleek, elongated look without the dagger-like tips. Perfect for when you want style without the potential mishaps.
The Allure of Pink Jelly Nails
Sheer polish is one thing, but actual sheer nails are an entirely different ball game. You'd need to take a trip to the salon for this translucent magic, but is it worth it!
Playing with Textures: Matte Meets Gloss
Changing textures can be a fun alternative if you're not one for over-the-top designs. Glossy tips on matte nails offer a touch of contrast that speaks volumes.
Never Too Old for Glitter
Glitter is ageless, timeless, and fabulous. If anyone tries to age-shame your glitter love, bid them farewell. Your sparkle doesn't need permission.
Luxe It Up: Logo Meets Jelly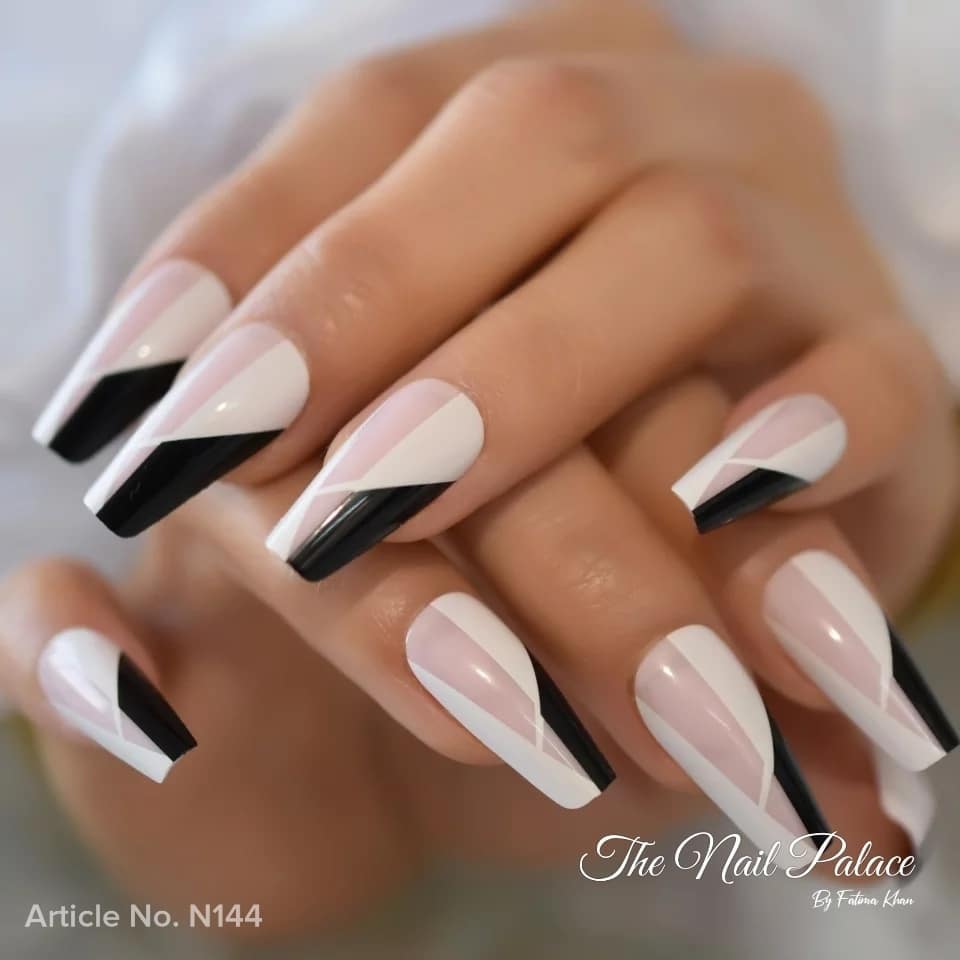 Why settle for one trend when you can have two? Combine a fancy logo with a jelly nail for an irresistible look. Because, really, why limit yourself?
Cosmic Blues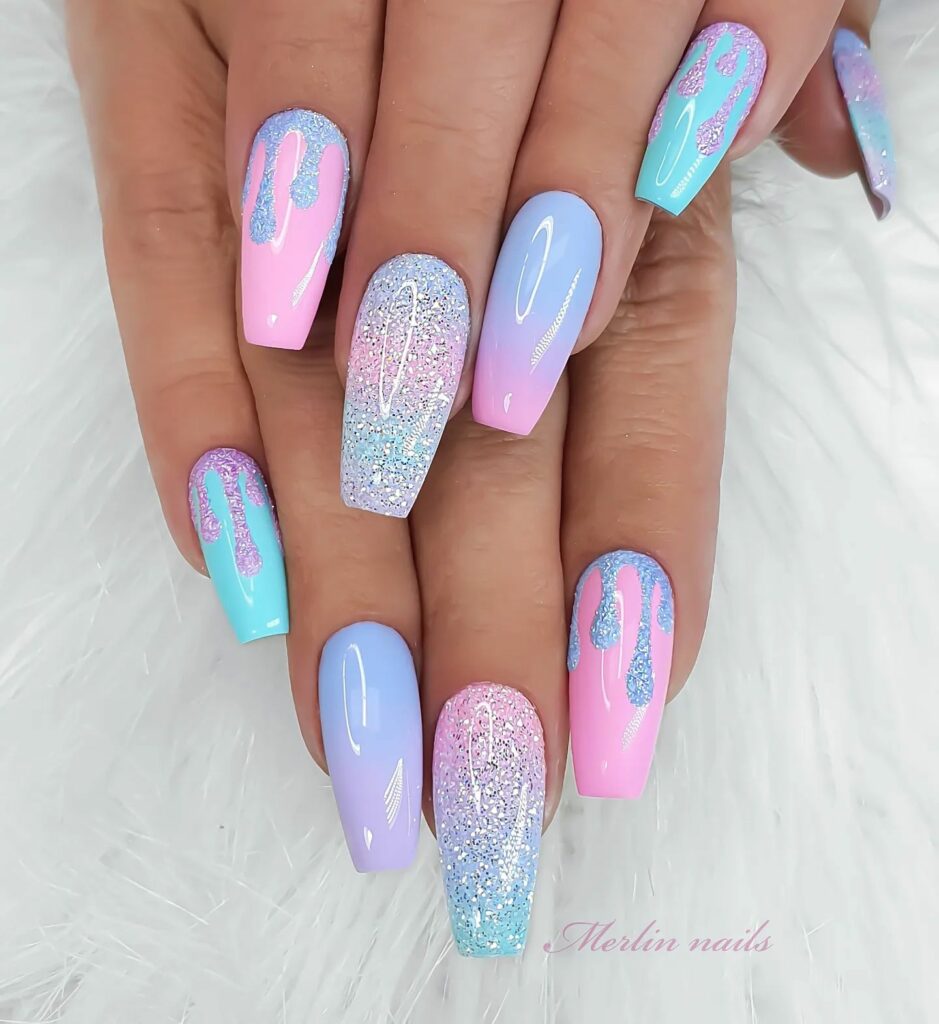 If you're fascinated by the night sky, consider Cosmic Blue nails that blend deep navy and twinkling stars. It's an out-of-this-world look that makes you feel like you're holding the cosmos at your fingertips.
Floral Fantasy
Springtime isn't the only season for floral designs. Adorning your Ballerina nails with intricate floral patterns gives you an eternally fresh and upbeat look any time of the year.
Golden Geometry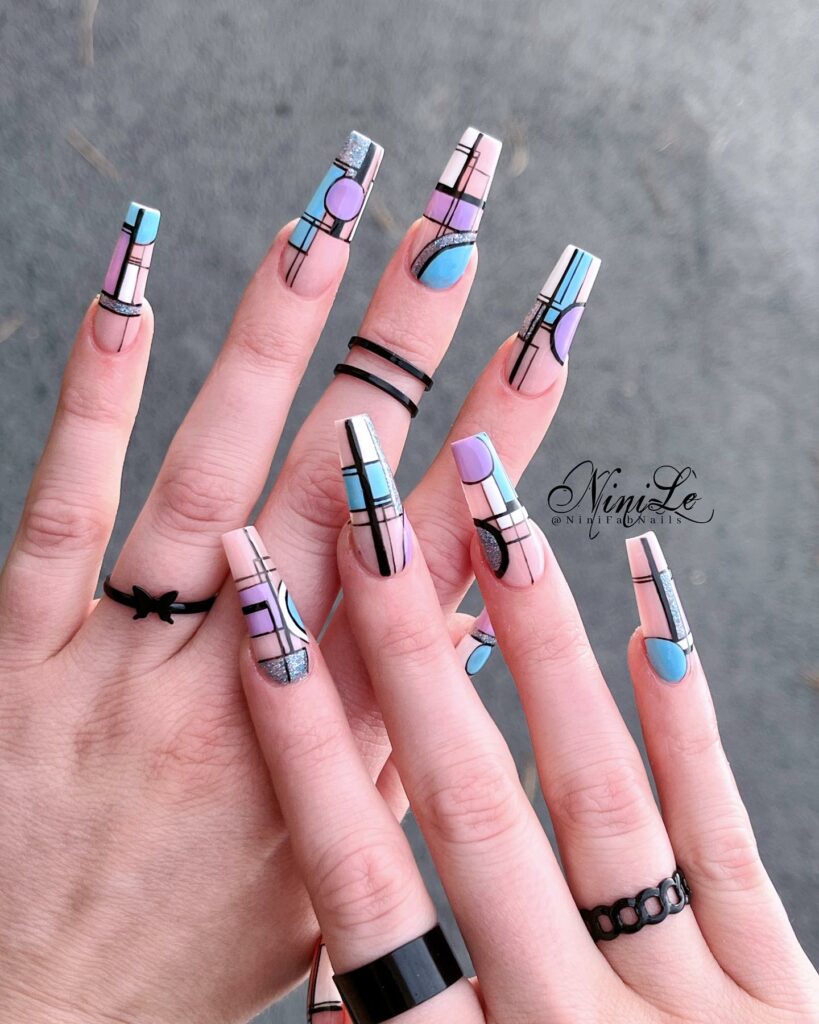 Combine the sheen of gold with geometric patterns for a luxurious and edgy look. This combo contrasts beautifully against the Ballerina shape, elevating your entire style.
Ethereal Marble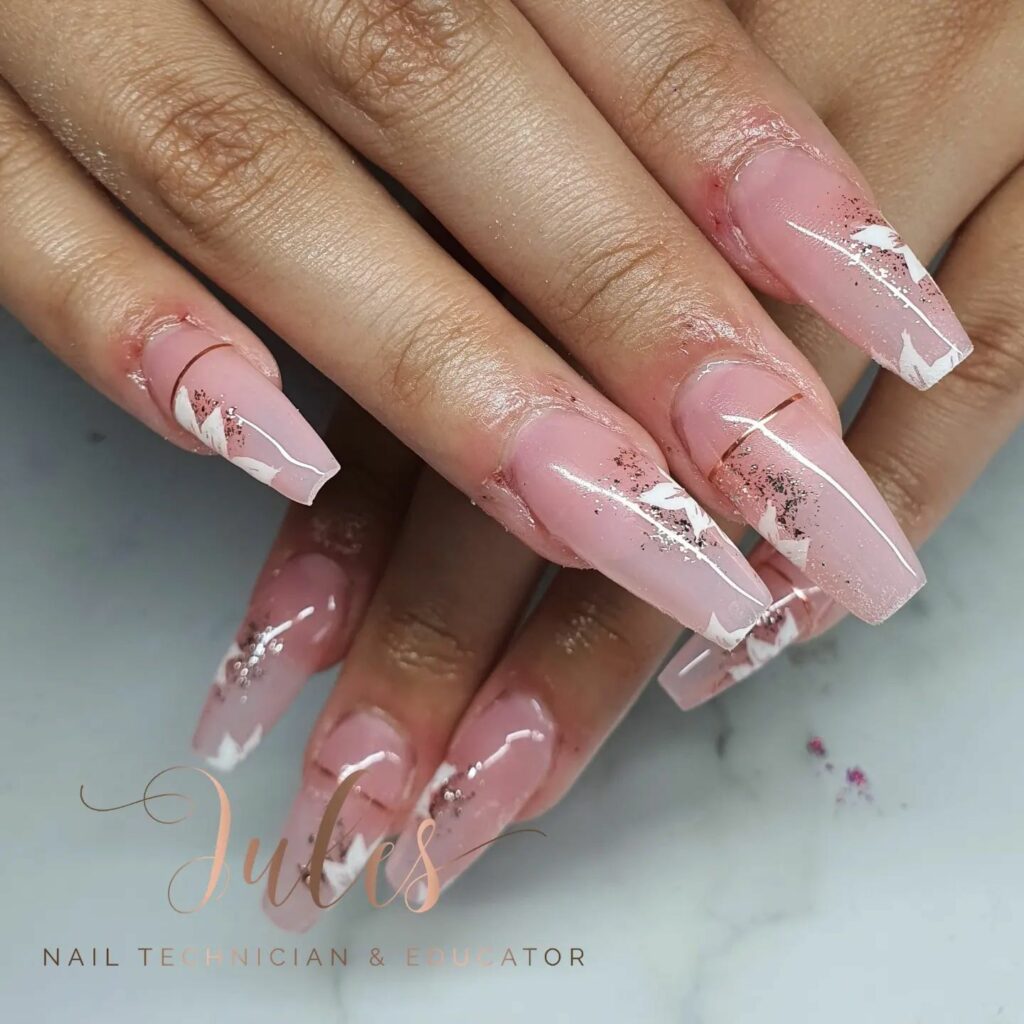 Marble nails offer an ethereal yet modern feel, providing depth and character. Use muted colors like greys and whites to keep it classy while letting the design take center stage.
Textured Terrazzo
Remember terrazzo, the speckled flooring material that had a moment in interior design? Adopt this playful pattern on your nails for nostalgia mixed with contemporary cool.
Animal Instinct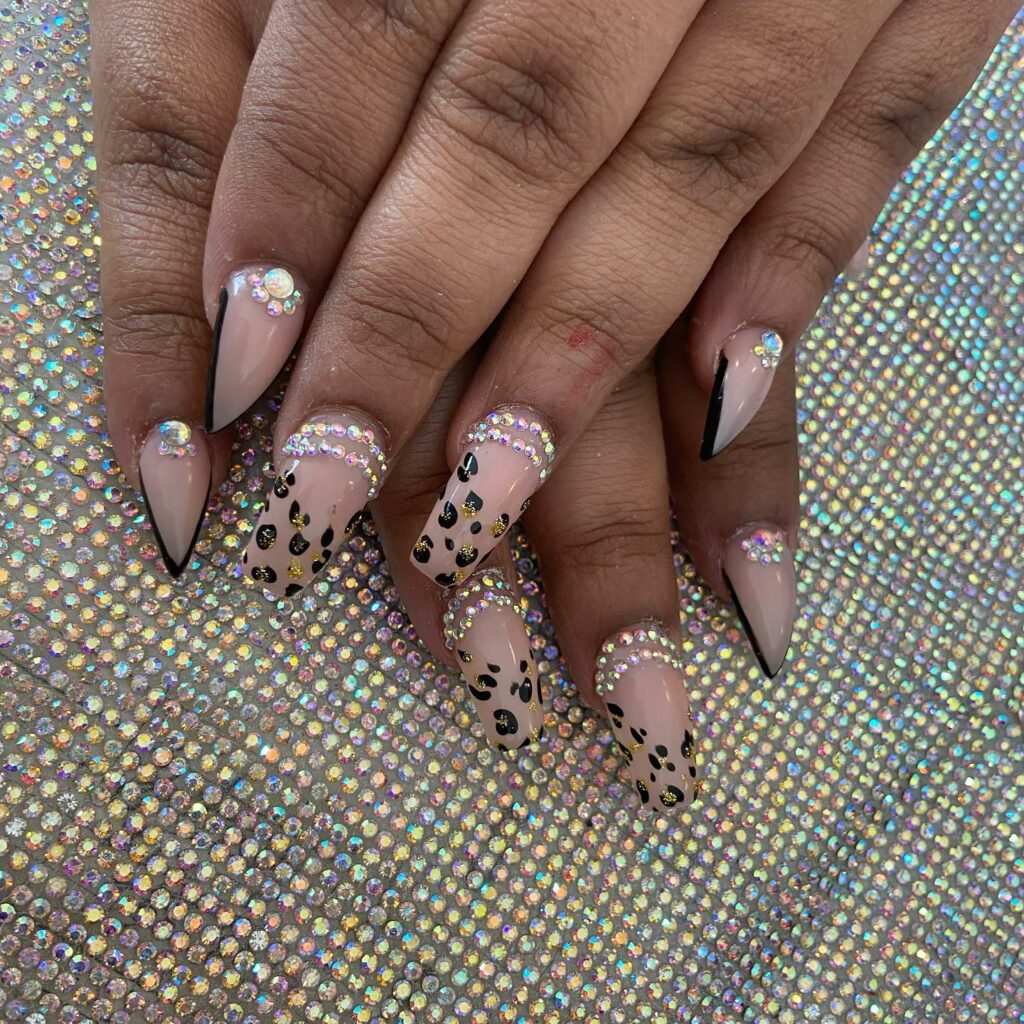 Leopard or zebra prints on Ballerina's nails are an audacious choice that screams confidence. They're perfect for breaking the monotony and adding a wild element to your ensemble.
Shattered Glass Effect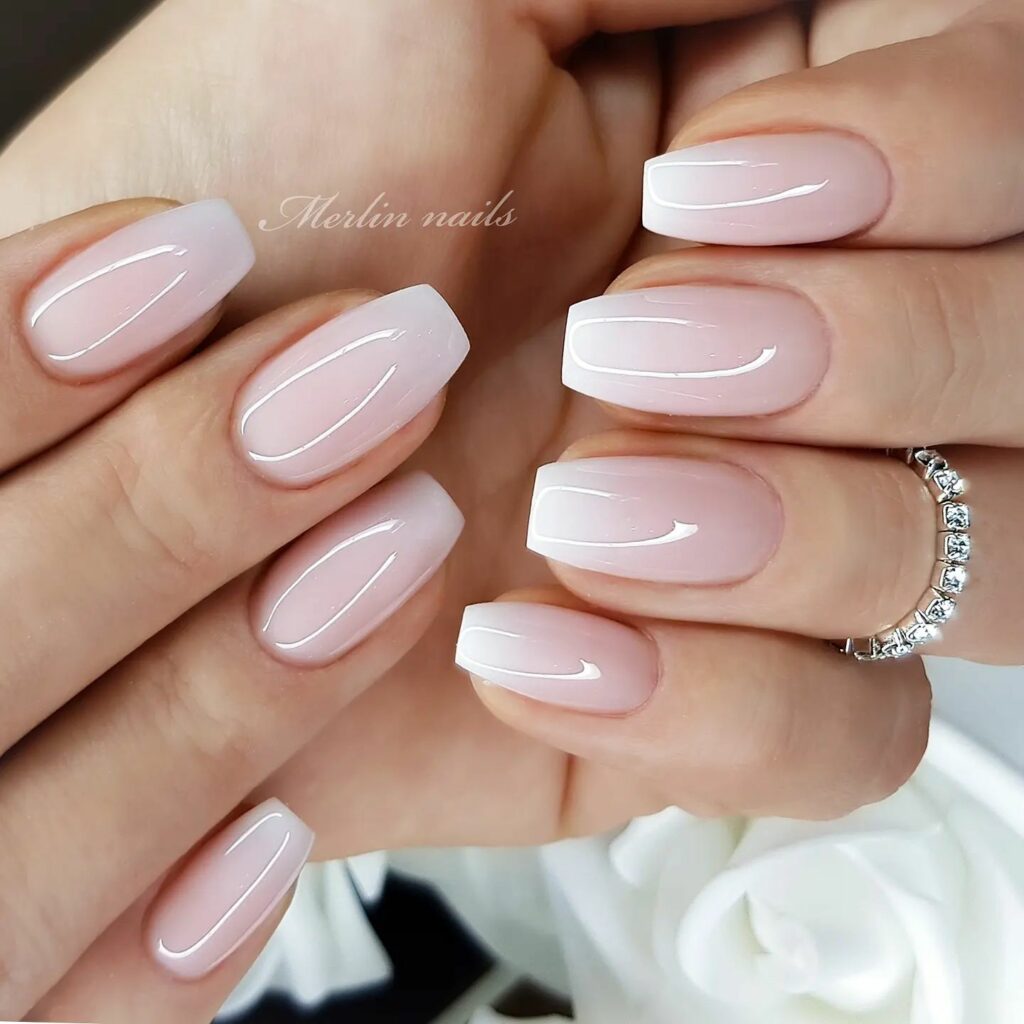 Use iridescent foil for a shattered glass effect that catches the light in the most enchanting way. This is a mesmerizing look that turns your nails into tiny kaleidoscopes.
Timeless Black and White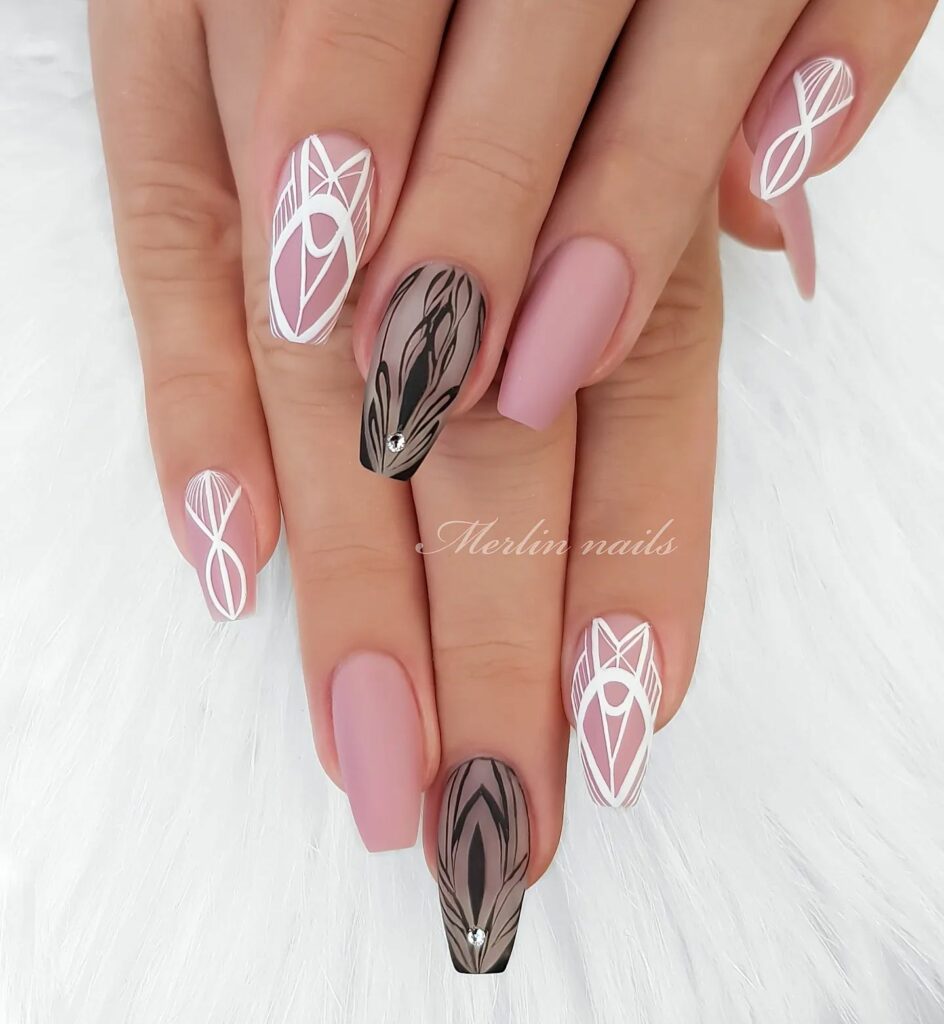 The monochrome trend is genuinely timeless and highly adaptable. Add minimalistic black and white designs to your Ballerina nails for an elegant yet modern aesthetic.
Tropical Paradise
Prepare your nails for summer with tropical themes like palm leaves and flamingos. It's like taking a mini-vacation every time you glance down at your hands.
Fiery Reds and Oranges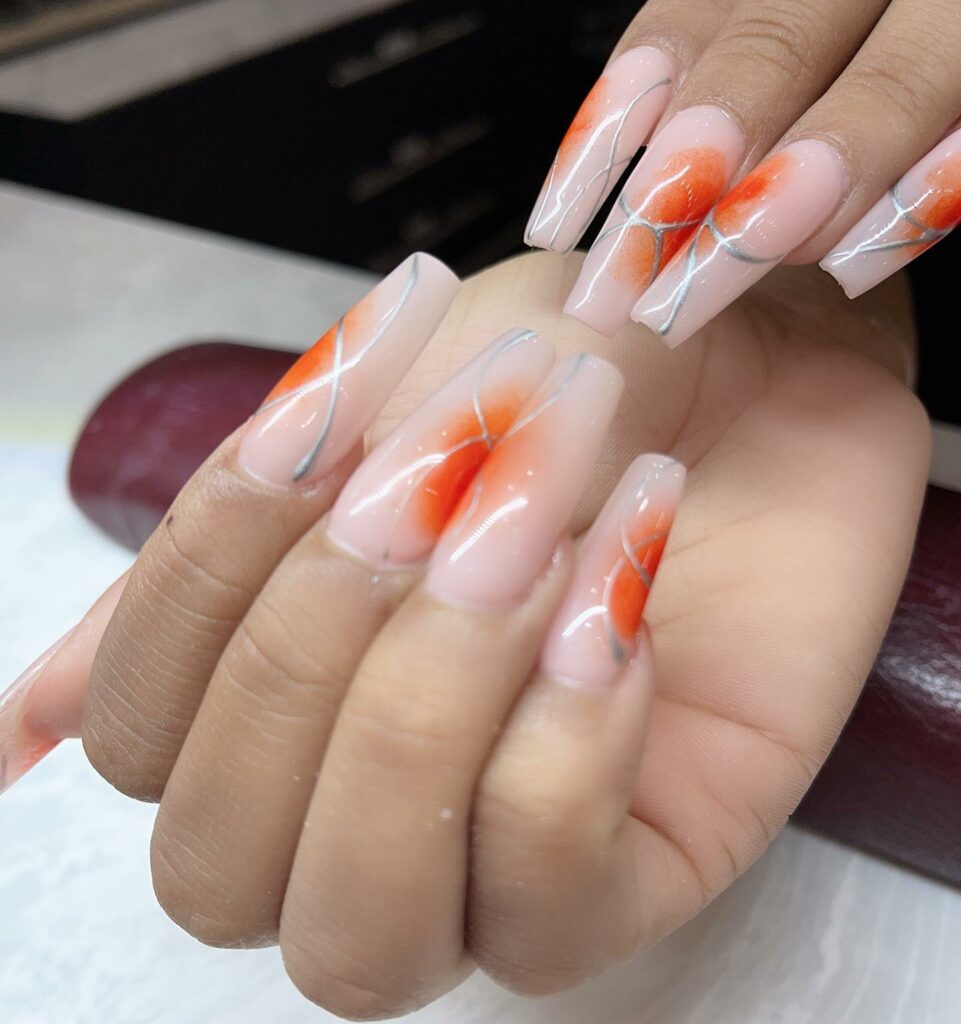 Nothing says passion and vitality like a mix of reds and oranges on your nails. This palette can set any look ablaze, making you the undeniable focal point of any room.
Chrome Dreams
If you're a fan of metallics, why not go full-on chrome for a mirror-like finish? This high-shine look is eye-catching and gives a futuristic edge to your Ballerina nails.
Vintage Velvet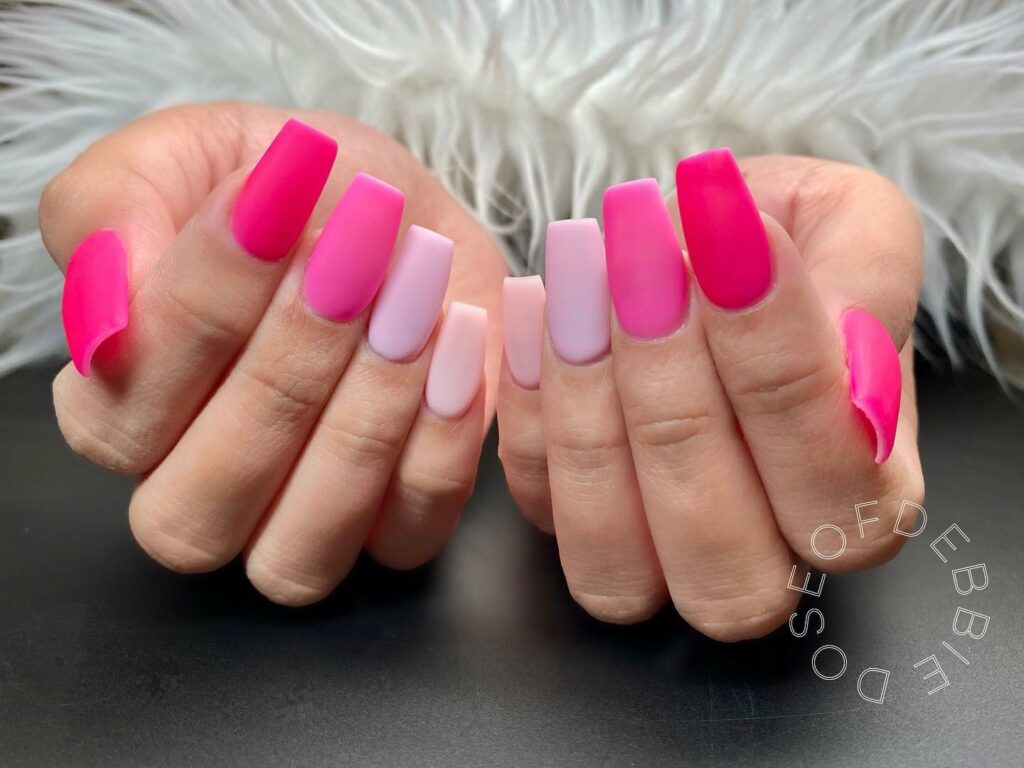 Give your nails a luxurious feel with a velvet texture. Not only does this add a tactile dimension, but it also lends a vintage touch that evokes the glamor of eras past.
Watercolor Whimsy
Soft, blended colors that mimic a watercolor painting can give your nails an artistic and dreamy aura. It's a gentle yet effective way to capture attention without going overboard.
Bejeweled Beauty
Embellish your Ballerina nails with tiny gemstones for a lavish and opulent touch. This design takes glam to a new level and is perfect for special occasions or whenever you want to feel like royalty.
Candy Stripes
Inject a dose of youthful exuberance with candy stripes in pastel colors. This look is playful and fun, perfect for a summer day or when you need to add a splash of positivity.
Earth Tones and Tribal Patterns
If you're drawn to more natural, earthy tones, why not combine them with tribal patterns for a grounded yet intricate design? It's a nod to cultural aesthetics while keeping things chic and current.
5 Products That I Recommend To Get The Perfect Ballerian Nails At Home
| Brand | Wear Time | Color Richness | Ease of Application | Pros | Cons |
| --- | --- | --- | --- | --- | --- |
| PolishMe Chic | 5-7 days | Vibrant | Easy | Long-lasting, rich color, dries quickly | A bit expensive, needs two coats |
| Gelify Bliss | 7-10 days | Moderate | Moderate | Extremely durable, UV-reactive options | Gel formula requires UV lamp |
| NatureGlo | 4-6 days | Soft | Easy | Natural ingredients, easy to apply | Fades quickly, less vibrant |
| Luxe & Lush | 6-8 days | Very Vibrant | Tricky | Highly pigmented, unique shade range | May require a skilled hand for application |
| EcoShine | 5-7 days | Moderate | Very Easy | Eco-friendly, comes with a wide brush | Less wear time if not sealed with a top coat |
A Step By Step Video Tutorial To Get Ballerina Nails At Home
Conclusion
So there we have it, from the elegance of ballet pink to the audacious flair of animal prints, Ballerina's nails offer an incredibly versatile canvas for self-expression. Remember, your chosen length and design should align with your lifestyle and comfort level. Longer nails, while stunning, require more upkeep and might make everyday tasks a bit challenging initially. If you're going for intricate designs or textures like velvet and gemstones, consult a professional to get the best results. As always, don't hesitate to experiment and step out of your comfort zone—that's where the magic happens. Whether you're a nail art newbie or a seasoned pro, this guide is your go-to resource for making a style statement right at your fingertips. So why wait? Book that salon appointment, gather your DIY supplies, and let your nails talk!
Feature image @nogtikomsomolsk via Instagram
Last reviewed and updated on October 4, 2023