Today, we're diving into the playful universe of one of the most beloved characters of all time—Mickey Mouse. Whether you're a seasoned nail art aficionado or someone who loves a touch of whimsy, this post is your ticket to infusing a sprinkle of Disney magic right at your fingertips. In this exploration, we'll unveil the very best Mickey Mouse nail designs that cater to every skill level and style preference. From minimalistic accents celebrating Mickey's iconic silhouette to elaborate scenes straight out of a cartoon, there's something here for everyone. I will walk you through the visual feast of designs and offer practical tips on achieving these looks, ensuring your nails are nothing short of a masterpiece.
Prepare to be inspired as we decode the charm behind each design, the color palettes that make Mickey come alive, and the creative techniques that can turn your nails into a conversation starter.
Mickey Mouse Nails with a Rainbow Twist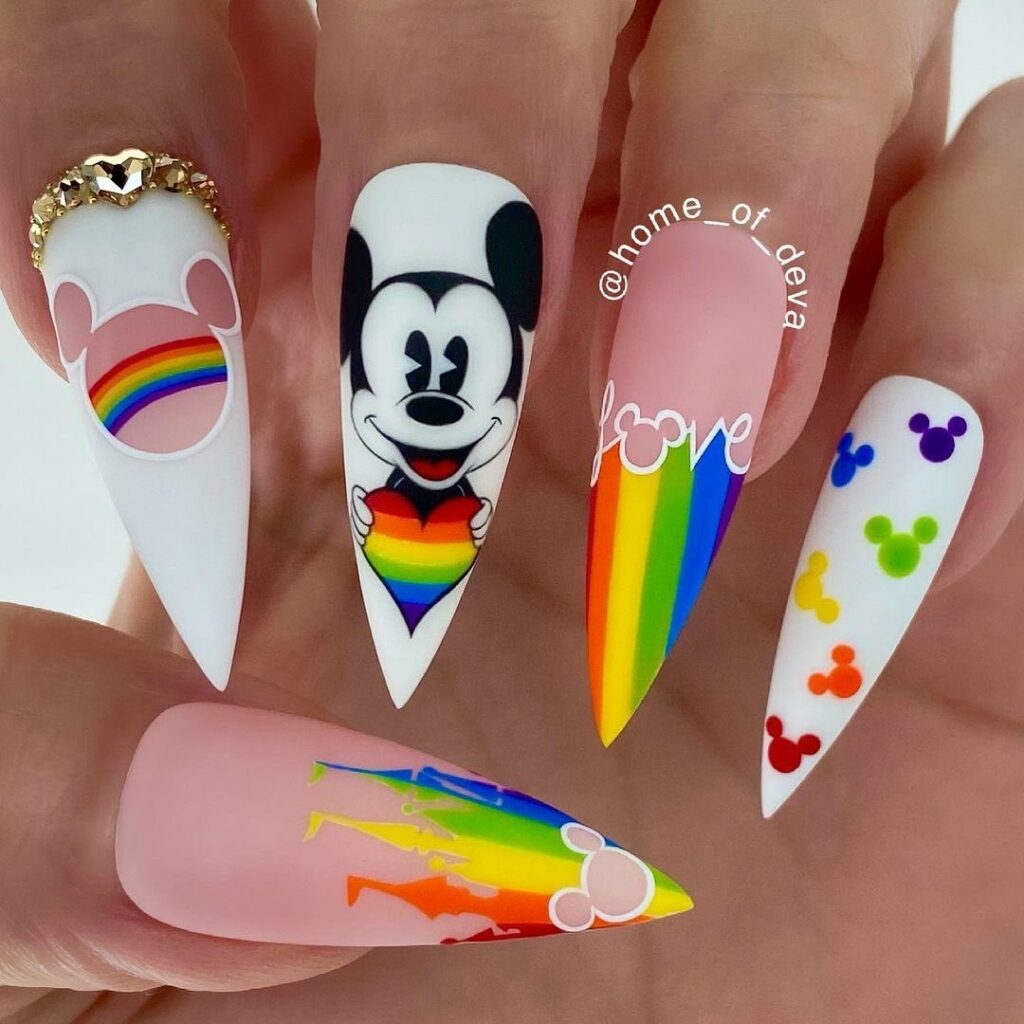 Bring color to your nail art with rainbow hues that playfully incorporate Mickey Mouse designs. These nails are a vibrant celebration of color and character, perfect for those who love a full spectrum look.
Bold and Playful Mickey Mouse Nails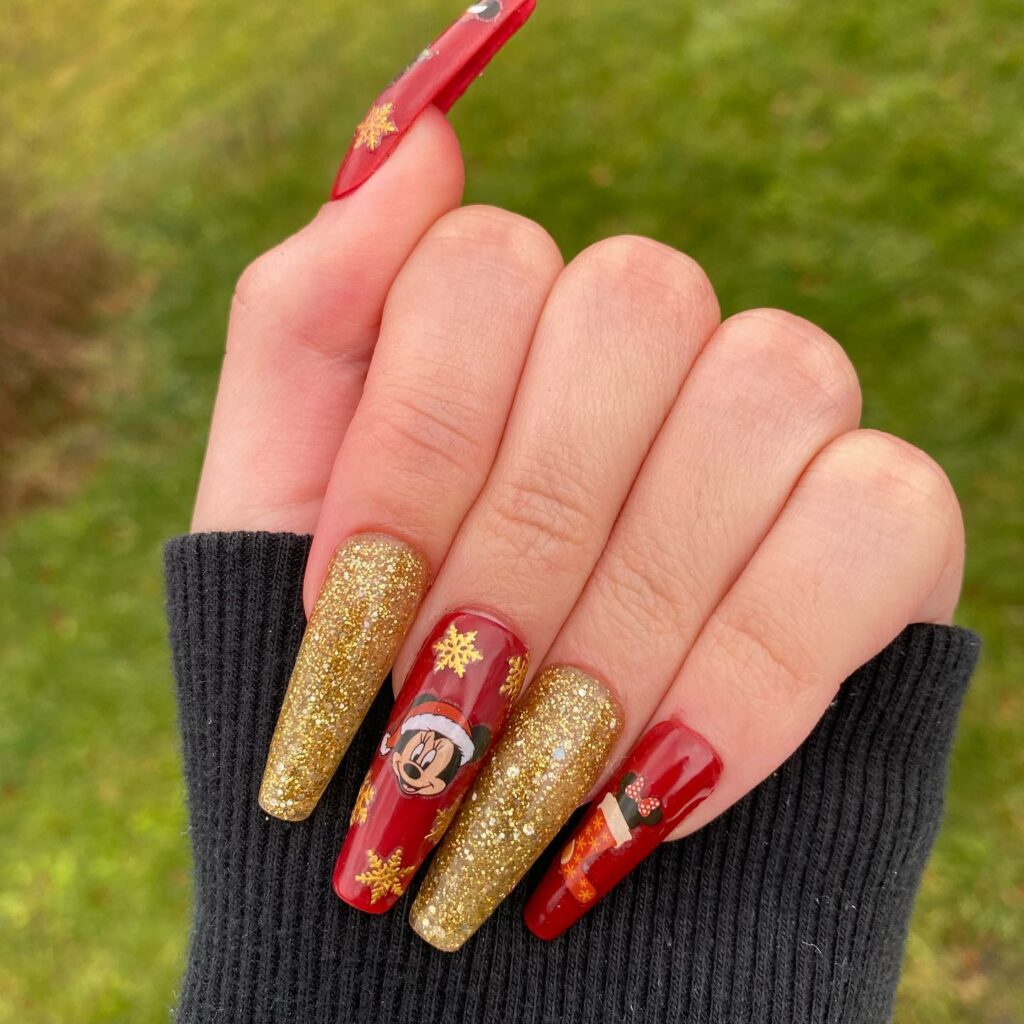 Acrylic nails offer the perfect canvas for showcasing the beloved Mickey Mouse in all his glory. These designs feature the iconic character in various poses, creating a playful vibe that pairs well with the durability and length that acrylics are known for.
Pink Mickey Mouse Nails
Embrace a soft and feminine aesthetic with pink Mickey Mouse nails. Whether a pastel shade or a vibrant hot pink, these nails add a playful yet girly touch to your look, with Mickey adding a nostalgic feel.
White Glitter Mickey Mouse Nails
White glitter nails provide a sparkling canvas for Mickey Mouse designs, offering a magical and dreamy look. These nails are perfect for adding a touch of glamour to your Disney-inspired nail art.
Ombre Acrylic Mickey Mouse Nails
Experience the trendy gradient effect with ombre acrylic nails featuring Mickey Mouse. This design transitions from one color to another, creating a beautiful backdrop for Mickey's silhouette or face.
Abstract Mickey Mouse Nails
Dive into the imaginative side of nail design with abstract Mickey Mouse nails, where splashes of color and unconventional shapes pay tribute to the whimsical world of Disney. These nails are a canvas for creativity, blending iconic Mickey elements with artistic flair.
Luxurious Gold Mickey Mouse Nails
Indulge in the lavishness of gold Mickey Mouse nails, where the richness of gold meets the cheerfulness of Disney's most famous mouse. Whether gold accents or full-golden backdrops, these nails add a regal twist to your Disney devotion.
Blue Acrylic Nails with Mickey Mouse Motifs
Set sail on a sea of dreams with blue acrylic nails featuring Mickey Mouse. From sky blue to deep navy, these nails capture the essence of the ocean while showcasing Mickey in various playful scenarios.
Chic and Sleek Mickey Mouse Nails
Capturing the essence of nostalgia with a modern twist, these Mickey Mouse-themed nails are a testament to timeless design meeting contemporary style. With bold black and vibrant yellow hues, accented by intricate embellishments, this nail art promises to be a delightful homage to the iconic mouse that started it all.
Mickey Mouse Meets Colorblock Nails
Infuse your look with a splash of color and a dash of Disney charm with this Mickey Mouse-inspired nail art. The playful juxtaposition of bright, color-blocked tips and the classic Mickey silhouette creates a fresh, eye-catching aesthetic that's perfect for any fun and fashionable occasion.
Innovative 3D Mickey Mouse Nails
Experience the magic in three dimensions with 3D Mickey Mouse nails. These tactile creations feature raised designs, from Mickey's ears to his smiling face, adding an extraordinary touch to the nail art experience.
Christmas-Themed Mickey Mouse Nails
Celebrate the holiday season with Mickey Mouse designs that incorporate Christmas elements. Think of Mickey donning a Santa hat or playful scenes of him enjoying the winter wonderland—perfect for spreading festive cheer at your fingertips.
Coffin-Shaped Mickey Mouse Nails
The coffin nail shape provides a modern, edgy backdrop for Mickey Mouse artwork. From subtle Mickey accents to full-blown character portraits, these nails combine contemporary style with classic Disney charm.
Simple and Chic Mickey Mouse Nails
Sometimes, less is more, and that's the case with these Mickey Mouse nail designs. Utilizing Mickey's unmistakable silhouette, these nails offer a minimalist but chic, versatile tribute for everyday wear.
Stiletto Nails with a Mickey Mouse Twist
Stiletto nails take on a playful edge with Mickey Mouse-inspired designs. From bold, graphic takes on Mickey's face to delicate detailing, these nails are for those looking to make a statement.
Stiletto Grey Mickey Mouse Nails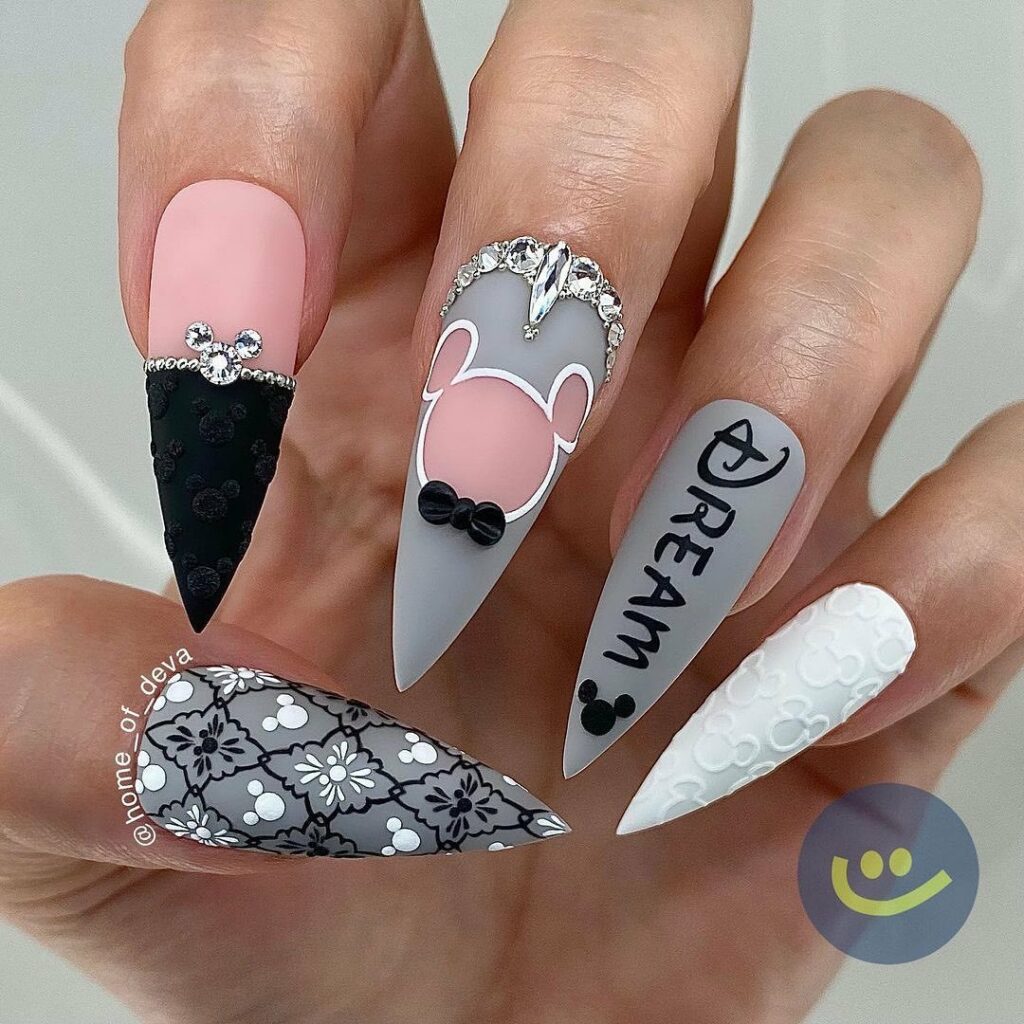 Grey stiletto nails offer a sleek and modern canvas for Mickey Mouse designs, blending a trendy nail shape with the timeless appeal of the iconic mouse, perfect for those who love a dash of Disney with their fashion-forward style.
Neon Mickey Mouse Nails for the Bold
Turn heads with neon nails featuring bright, fluorescent colors that make Mickey Mouse pop. These designs are perfect for night outs, summer parties, or any time you feel like standing out from the crowd.
Elegant Acrylic Mickey Mouse Nails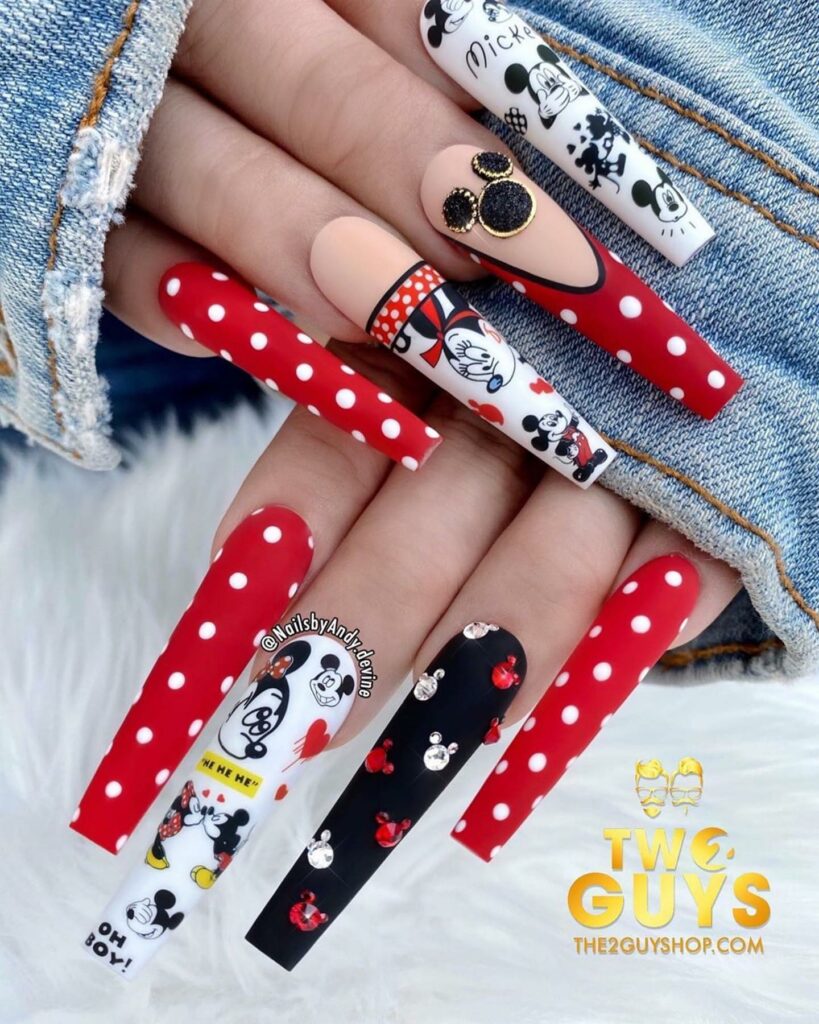 Combine elegance with a touch of whimsy with acrylic nails that feature Mickey Mouse in a more subdued and sophisticated manner. Think of subtle Mickey motifs paired with glitter, jewels, or other refined accents.
Halloween Mickey Mouse Nails
Get into the Halloween spirit with Mickey Mouse nails that feature spooky themes. From eerie backgrounds with Mickey's silhouette to playful takes on Halloween costumes, these designs are frightfully delightful.
Yellow Almond-Shaped Mickey Mouse Nails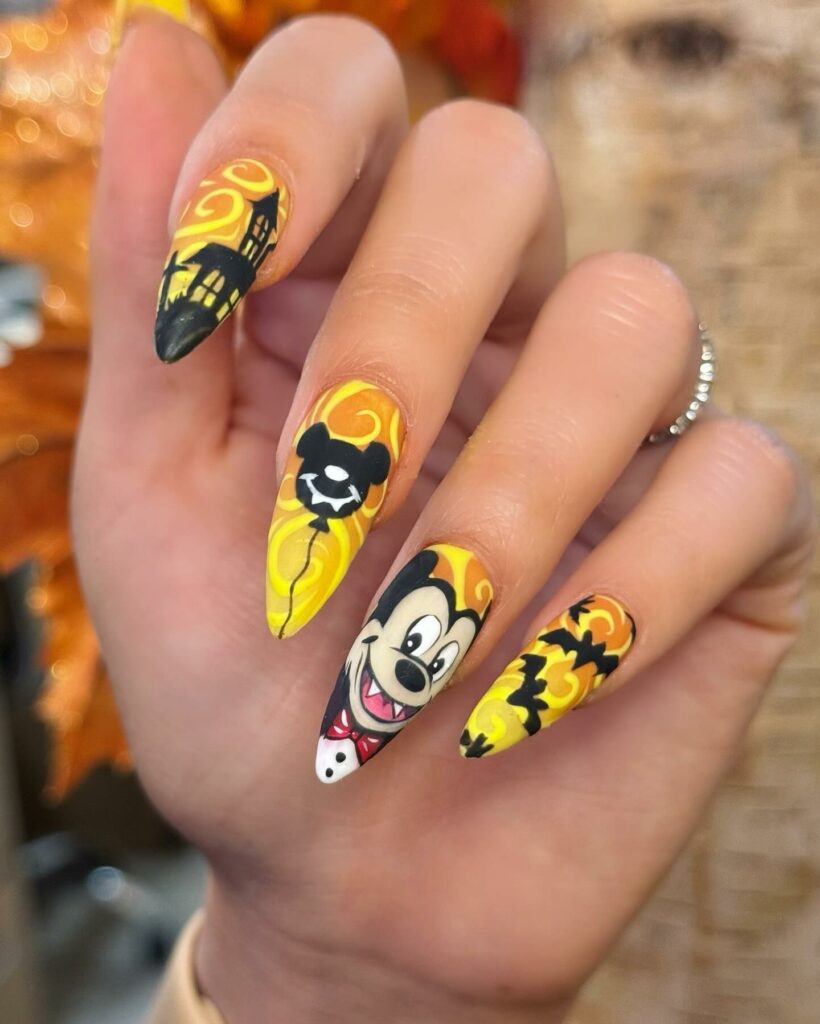 Yellow almond-shaped nails provide a cheerful and bright base for Mickey Mouse designs. They offer a sunny canvas for playful Mickey art, from simple silhouettes to intricate character depictions.
Pumpkin-Themed Mickey Mouse Nails
Embrace the essence of fall with pumpkin-themed Mickey Mouse nails. These designs combine Mickey's fun with pumpkins' seasonal charm, perfect for fall festivities or a unique take on Halloween nail art.
Matte Finish Mickey Mouse Nails
Delight in the understated elegance of matte Mickey Mouse nails, where the classic character is rendered in a sophisticated, non-glossy finish. These nails are perfect for those who prefer a subtle yet stylish nod to their favorite Disney icon.
Almond-Shaped Mickey Mouse Nails
Checkerboard patterns meet the playful spirit of Mickey on these almond-shaped nails, offering a dynamic and eye-catching design. The almond shape provides a natural elegance, while the checkerboard adds a touch of fun.
Delicate Short Mickey Mouse Nails
These short Mickey Mouse nails are charming and practical, perfect for everyday wear. Despite their small canvas, they beautifully capture Mickey's essence without compromising style or comfort.
Mickey Mouse on Crisp White Nails
White nails are the perfect backdrop for Mickey Mouse artwork, making the beloved character's features stand out in classic Disney fashion. This clean and crisp base is ideal for various Mickey designs, from simple to complex.
Citrus-Toned Mickey Mouse Nails
Bask in the warmth of orange hues with Mickey Mouse silhouettes that bring a sunny disposition to your fingertips. These nails are perfect for those who adore a pop of color, with Mickey's outline as a delightful nod to nostalgic memories.
Classic Mickey Mouse Nails for a Touch of Nostalgia
Embrace the magic of Disney with nails that feature Mickey's classic color scheme. These designs often include his recognizable red shorts, yellow shoes, and white gloves, offering a throwback to the timeless mouse that started it
Valentine-Themed Mickey Mouse Nails
Celebrate love with Valentine's Day-inspired Mickey Mouse nails featuring hearts, reds, pinks, and Mickey and Minnie's iconic romance. These nails are a dreamy choice for expressing affection and adoration.
Pumpkin-Inspired Mickey Mouse Nails
Get into the spirit of fall with Mickey Mouse nails that draw inspiration from the warm hues and shapes of pumpkins. This design is a delightful blend of seasonal joy and Disney magic.
Halloween-Inspired Mickey Mouse Nails
Dive into the spooky season with Halloween-inspired Mickey Mouse nails. Whether it's ghostly Mickeys or eerie landscapes featuring the mouse, these designs will surely be a hit at any Halloween gathering.
Neon Green Mickey Mouse Nails
Make a bold statement with neon green nails featuring Mickey Mouse in various playful poses. These bright and vibrant nails are for those who want to stand out and showcase their love for Mickey in a fun, contemporary way.
Colorful Halloween Mickey Mouse Nails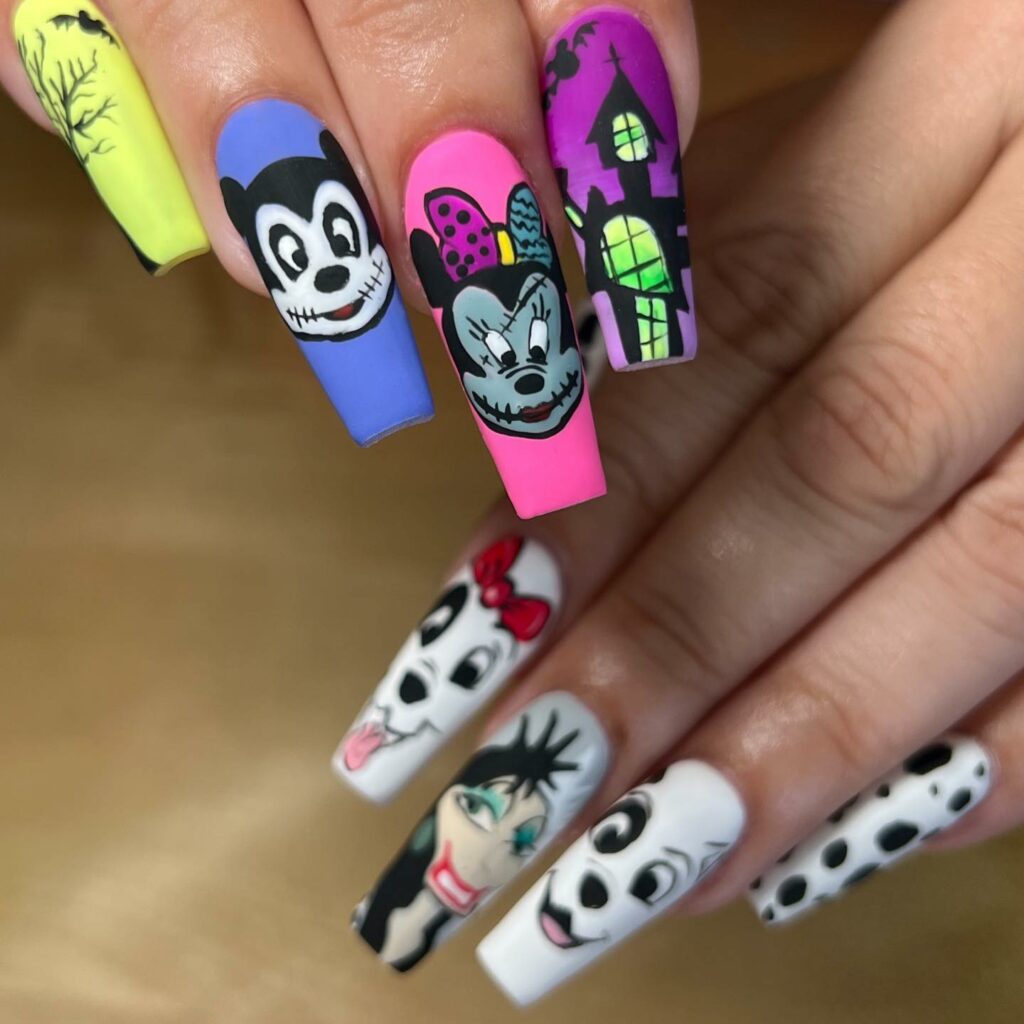 Celebrate Halloween with Mickey Mouse nails incorporating a spectrum of colors, from the traditional orange and black to purples and greens, creating a fun and festive way to show off your Halloween spirit.
10 Practical Tips for DIY Mikey Mouse Nails
Start with the Basics: Before you dive into complex designs, make sure your nails are clean, filed, and shaped to your preference. A good base coat will protect your nails and help the polish adhere better.
Quality Products: Invest in quality nail polishes, especially in primary colors like black, red, and yellow, for Mickey Mouse designs. Also, a fine-tipped brush or a dotting tool is essential for detailed work.
Steady Hands: For intricate designs, a steady hand is crucial. Rest your hand on a flat surface while painting, and if necessary, use nail stencils or stickers to help with the more complex Mickey shapes.
Thin Layers: Apply thin layers of polish to avoid smudging and to allow quicker drying times. Multiple thin coats are better than one thick coat.
Practice Art Off the Nail: Try painting Mickey designs on a plastic sheet or paper before attempting them on your nails. This can help you get comfortable with the brush and the design.
Use a Top Coat: A good top coat not only seals in your design but also adds a glossy finish and extends the life of your manicure.
Acrylics or Gels for 3D Designs: For 3D designs, consider using acrylic paints or gel polishes, which can be built up in layers to create a raised effect.
Take Your Time: Rushing can lead to mistakes, so take your time with each step. Allow each layer to dry completely before moving on to the next.
Clean-up is Key: Keep a small brush dipped in nail polish remover handy to clean up any edges or mistakes around your nails for a professional finish.
Hydrate and Protect: After completing your nail art, use cuticle oil and hand cream to moisturize your hands and protect your skin from any drying effects of nail polish remover. Remember, nail art is a form of self-expression and should be fun, so don't get discouraged if it takes a few tries to get it right. Every attempt is a learning experience, and practice will make perfect!
10 Brands That I Love Right Now!
| Brand | Product Type | Why It's Recommended |
| --- | --- | --- |
| OPI | Nail Polish | Wide range of high-pigment colors, long-lasting wear |
| Sally Hansen | Nail Art Pen | Precision for detailed designs, easy to use |
| Seche Vite | Top Coat | Fast-drying, provides a durable glossy finish |
| CND (Creative Nail Design) | Base Coat | Sticks well to nails, provides a smooth canvas |
| Essie | Nail Polish | Good brush for application, extensive color range |
| Orly | Rubberized Base Coat | Prevents chipping, extends the life of manicure |
| Dotting Tools (Various Brands) | Nail Art Tools | Essential for polka dots and detailed accents |
| Tweezerman | Nail Scissors | Precise cutting for nail decals or tape |
| Swarovski | Rhinestones | Adds sparkle and 3D effect for luxurious looks |
| Moyra | Stamping Plates | Offers intricate designs for stamping |
Still Looking for Inspiration, Then Check Out This Video
Conclusion
And there you have it, a kaleidoscope of Mickey Mouse nail designs to inspire your next manicure adventure. Remember, the key to perfecting these looks is patience and practice. Whether you opt for the playful 3D art or the chic simplicity of matte finishes, each style holds the potential to express your unique personality and love for this timeless character. Be mindful of the health of your nails—always give them a little pause between applications, and consider a professional when trying out more complex designs. With these tips and a sprinkle of creativity, you can bring Disney magic to your fingertips. Now, it's your turn to pick a design that resonates with you and let your hands do the talking. Happy styling!
Feature image @yaranailsstudio via Instagram