Welcome back to the blog! Today, we're diving into the endlessly versatile world of nude pink nails. Forget what you think you know about this classic color—this isn't your usual lineup of plain pastels. We're showcasing 59 show-stopping designs that will make you rethink this timeless shade. Trust me, nude pink is far from one-note; it's your go-to canvas for self-expression, fitting any mood from relaxed to high-drama. By the time you're done reading, you'll know how to nail the perfect matte, glossy, or glitter finish and how to make these hues sing in harmony with your wardrobe. So grab your polish, and let's get started!
Pink Elegance Redefined in Nude Shades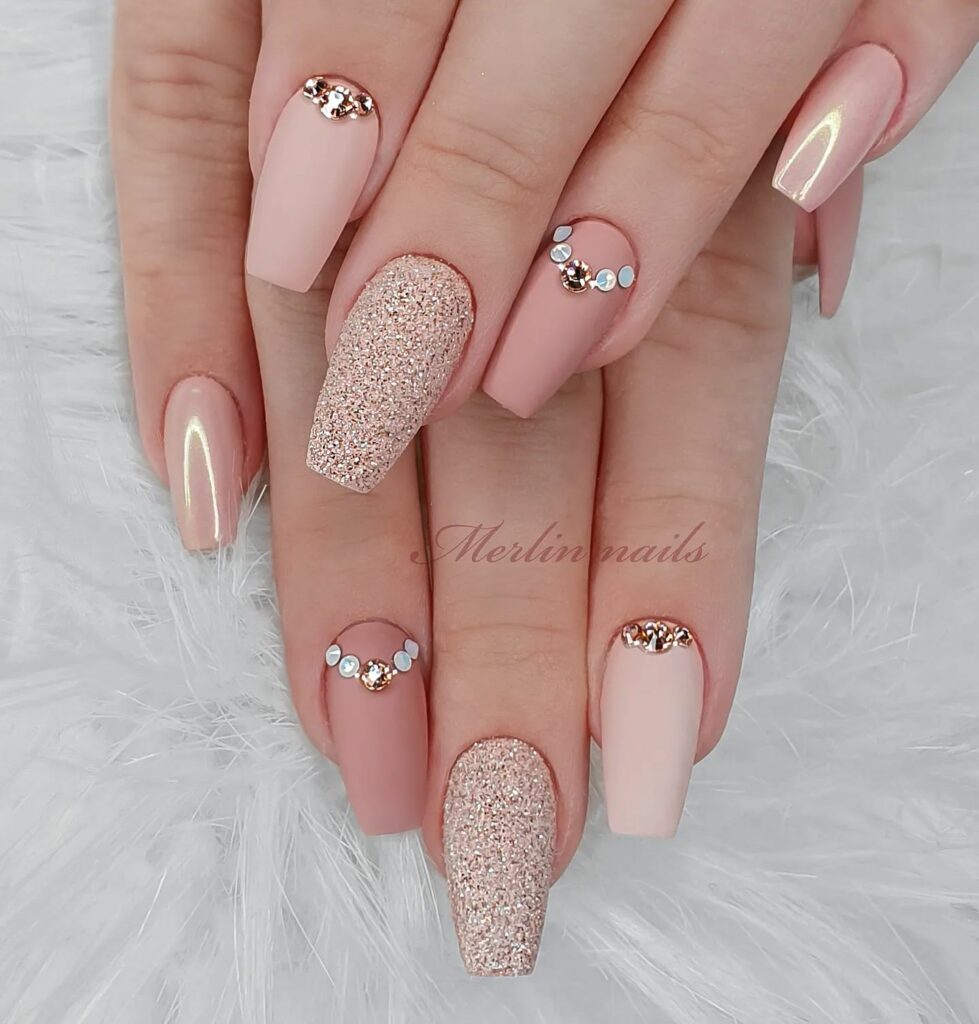 Pink Elegance Redefined takes the classic Elegance of pink and gives it a modern, understated update using nude shades. Perfect for any fashion-forward individual who appreciates timeless charm.
The Classic World of Nude Pink Nails
Classy nude pink nails offer an air of sophistication that never goes out of style. Whether you're headed to a board meeting or a black-tie event, these nails prove that less can be more.
Blush-Toned Nude Pink Nails
The blush variant of nude pink nails adds a hint of color without overwhelming the senses. It's your go-to option when you aim to strike a balance between delicacy and contemporary chic.
Almond-Shaped Blush Nude Pink Nails
Blush almond-shaped nails combine the form-flattering shape with a modern and timeless hue. It's a killer combo that promises to add a touch of luxe to any outfit.
Glitter-Infused Nude Pink Nails
When you want to make a statement without uttering a word, glitter nude pink nails are your go-to option. Incorporating glitter adds a layer of drama and excitement, making your nails the focal point of any ensemble.
Short French Nude Pink Nails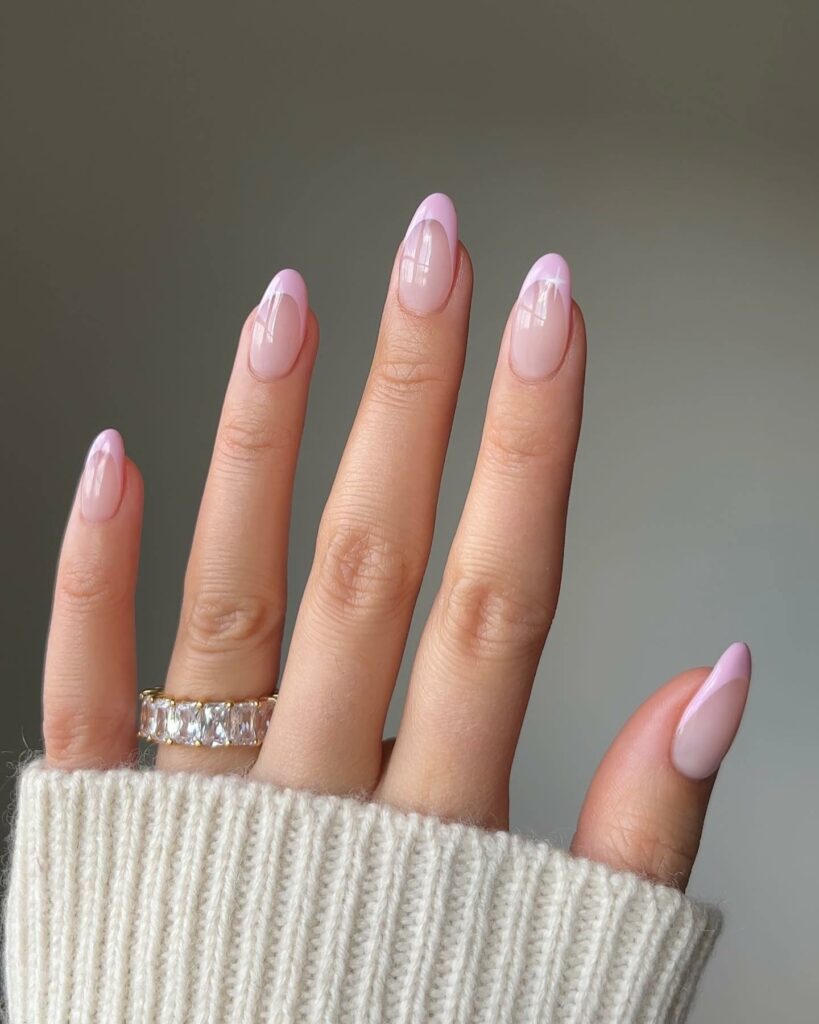 Short French nude pink nails offer the best of both worlds: the neatness of a shorter length and the sophistication of the French manicure, tinged with subtle pink. Perfect for those who need their hands to be as functional as they are fashionable.
Sweet and Serene Nude Pink Nails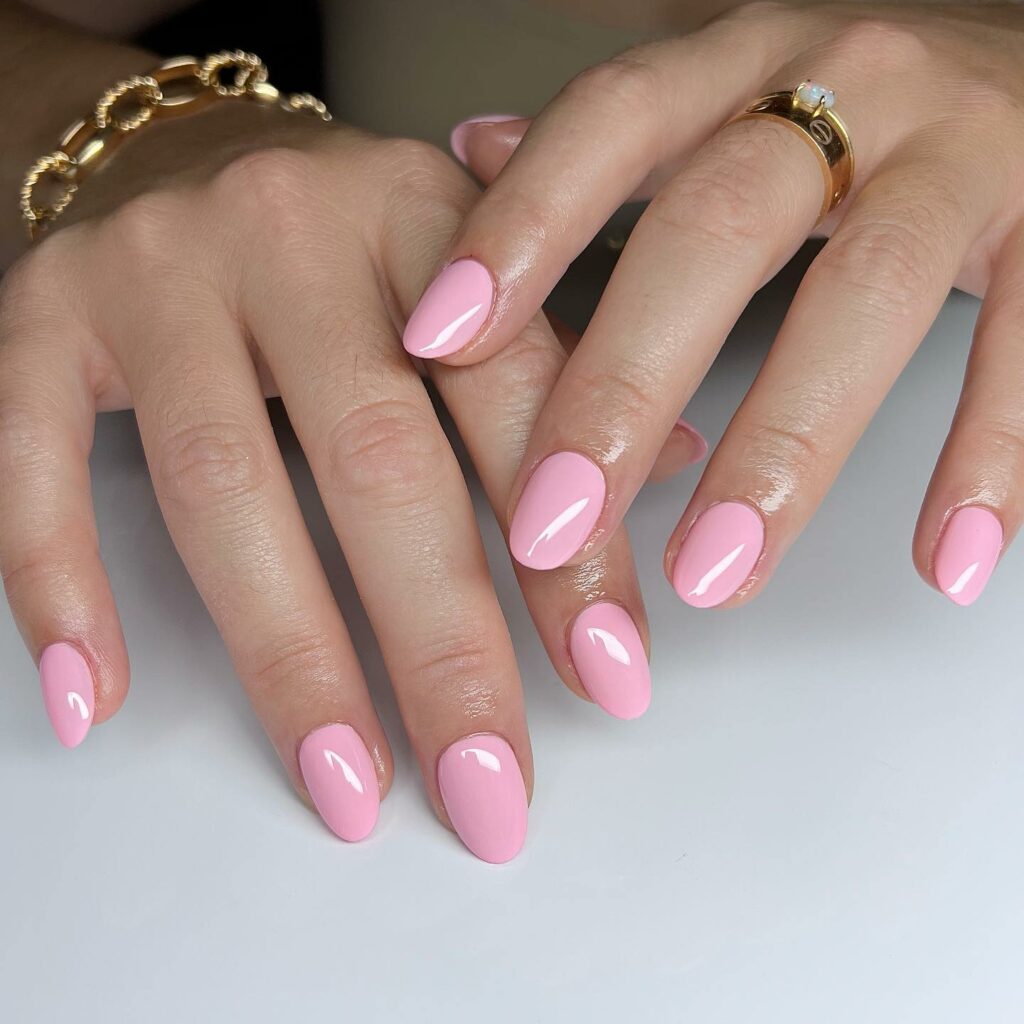 Sweet and Serene nude pink nails evoke calm and tranquility, making them perfect for stress-filled days or mindful moments. The gentle hues constantly remind us of the peaceful beauty surrounding us.
Nude Hot Pink with Glitter French Nails
If you love French nails but want to add some pizzazz, then nude hot pink with glitter French nails is your answer. The sparkly glitter and hot pink tips add drama, while the nude base keeps things classy.
Effortless Charm in Nude Pink Nails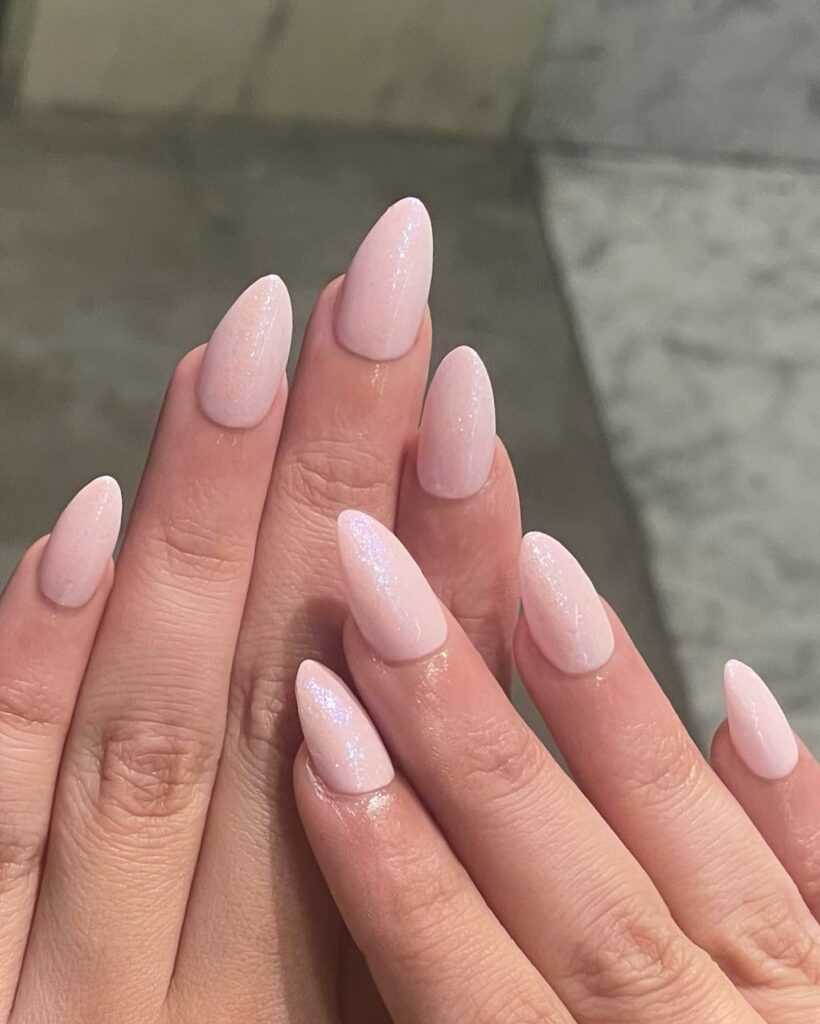 Effortless charm in nude pink nails proves that you don't need elaborate designs to make a strong style statement. The minimalist approach showcases the beauty of the hue itself, creating an effortlessly stylish look.
Nude Pink Nails in Rounded Perfection
Celebrate the classic round shape with the delicate palette of pink nude. These nails provide a versatile look suitable for everyday wear while being event-ready.
Glitter Nude Pink Nails Unleashed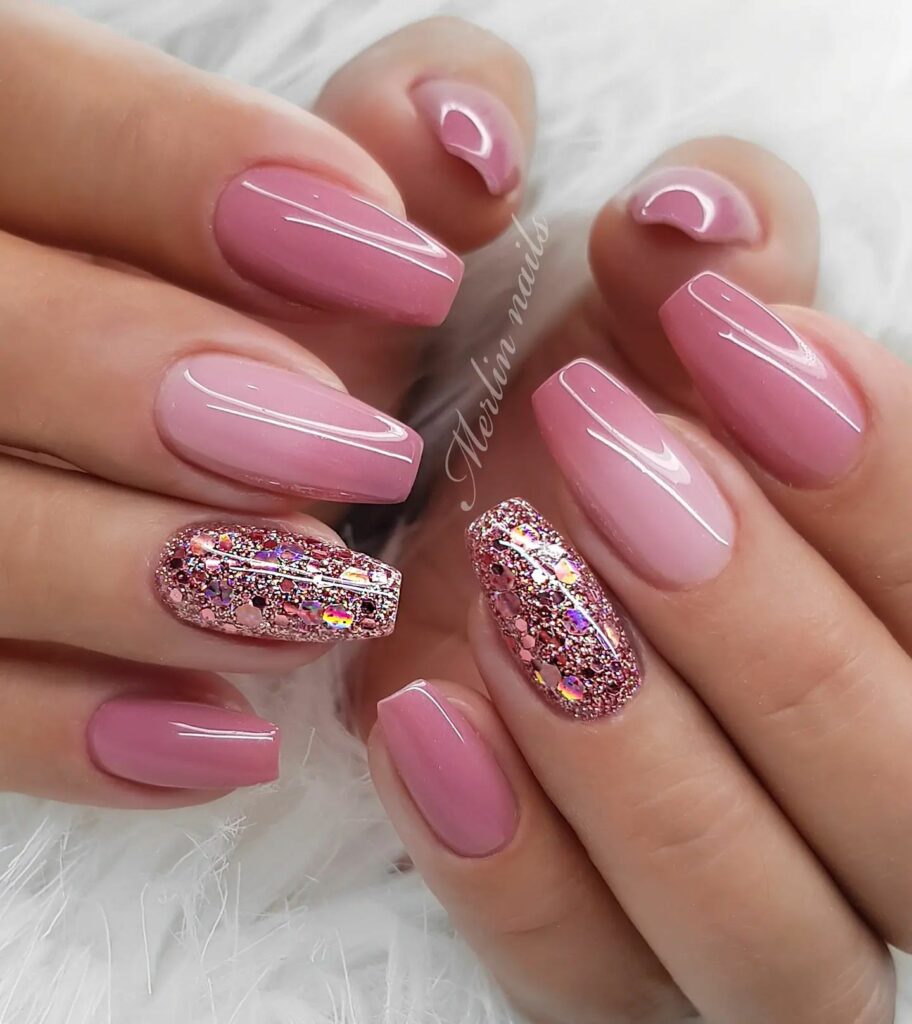 Let the sparkle of glitter elevate the elegance of your nude pink nails. Perfect for occasions when you want your hands to be the show's star, glitter-pink nude nails are an instant showstopper.
Swirl Designs on Nude Pink Nails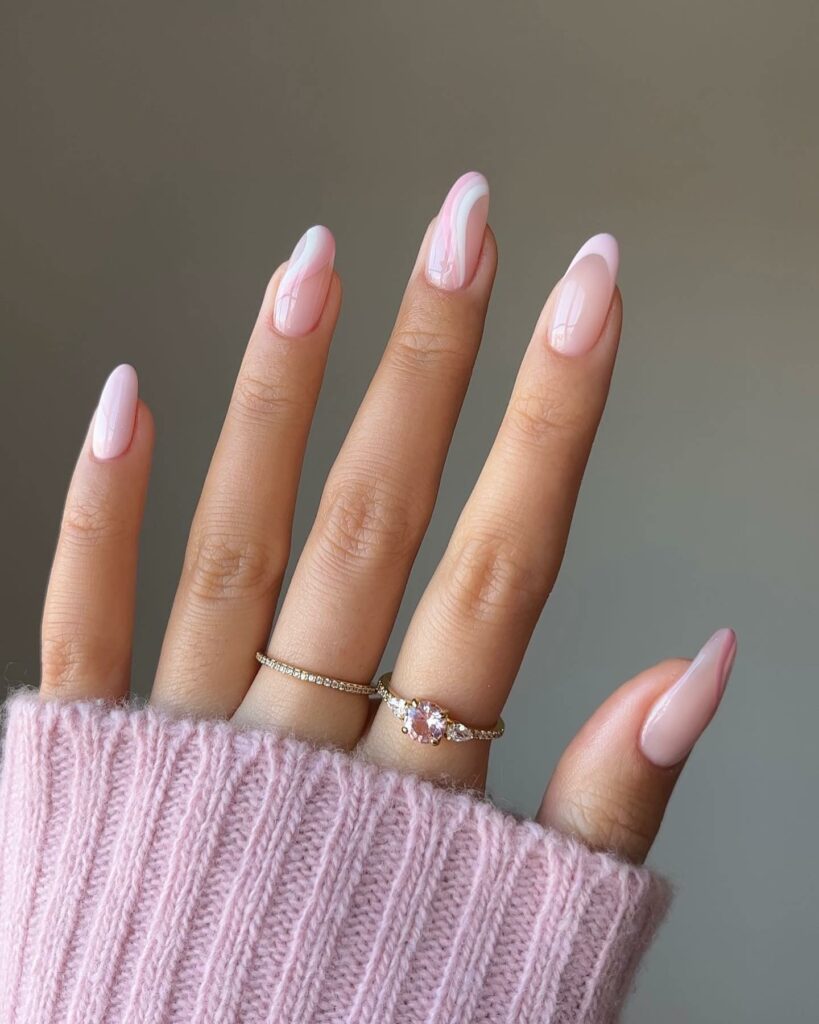 Swirl nude pink nails are a creative take on a classic color, adding an artistic flair bound to get noticed. These intricate designs offer a unique way to express your personality through your nails.
Peachy Hues in Nude Pink Nails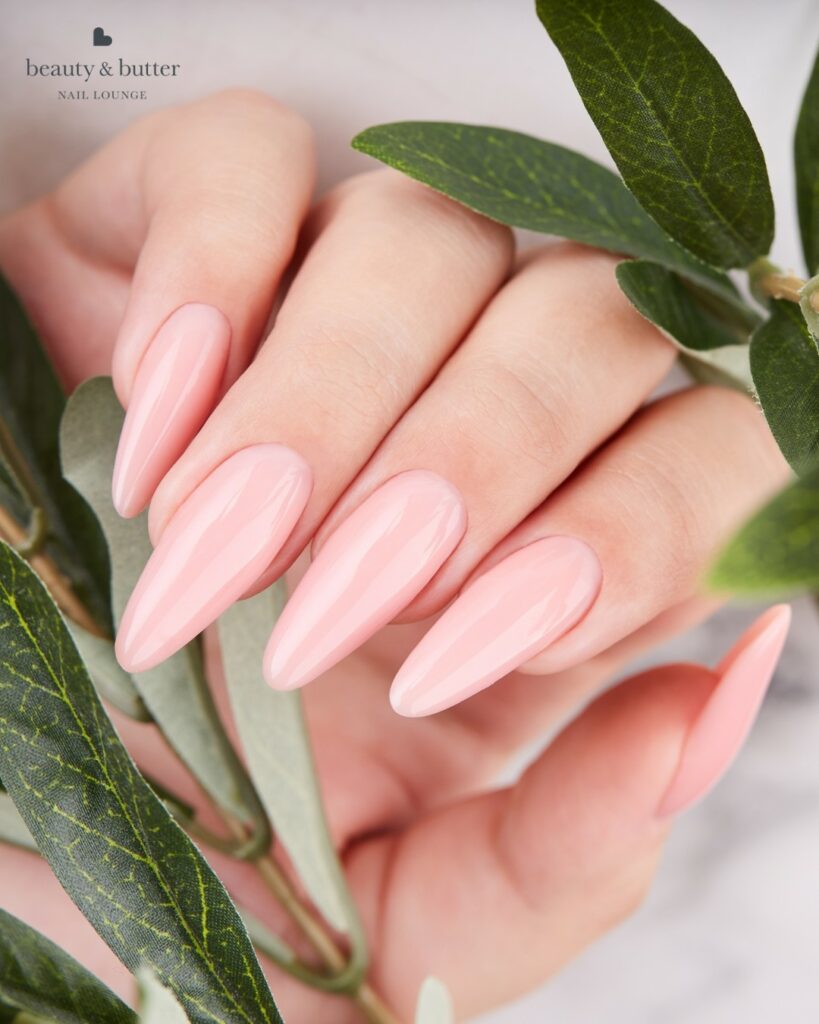 Nothing says summer quite like the peach shade in nude pink nails. Not only does it embody warm-weather vibes, but it also adds a youthful, fresh twist to your look.
Glitter-Infused Nude Pink Acrylic Nails
Glitter isn't just for special occasions when it comes to acrylic nails. Glitter nude pink acrylic nails add long-lasting glitz and glamour that's both durable and dazzling.
Minimalist Nude Pink Nails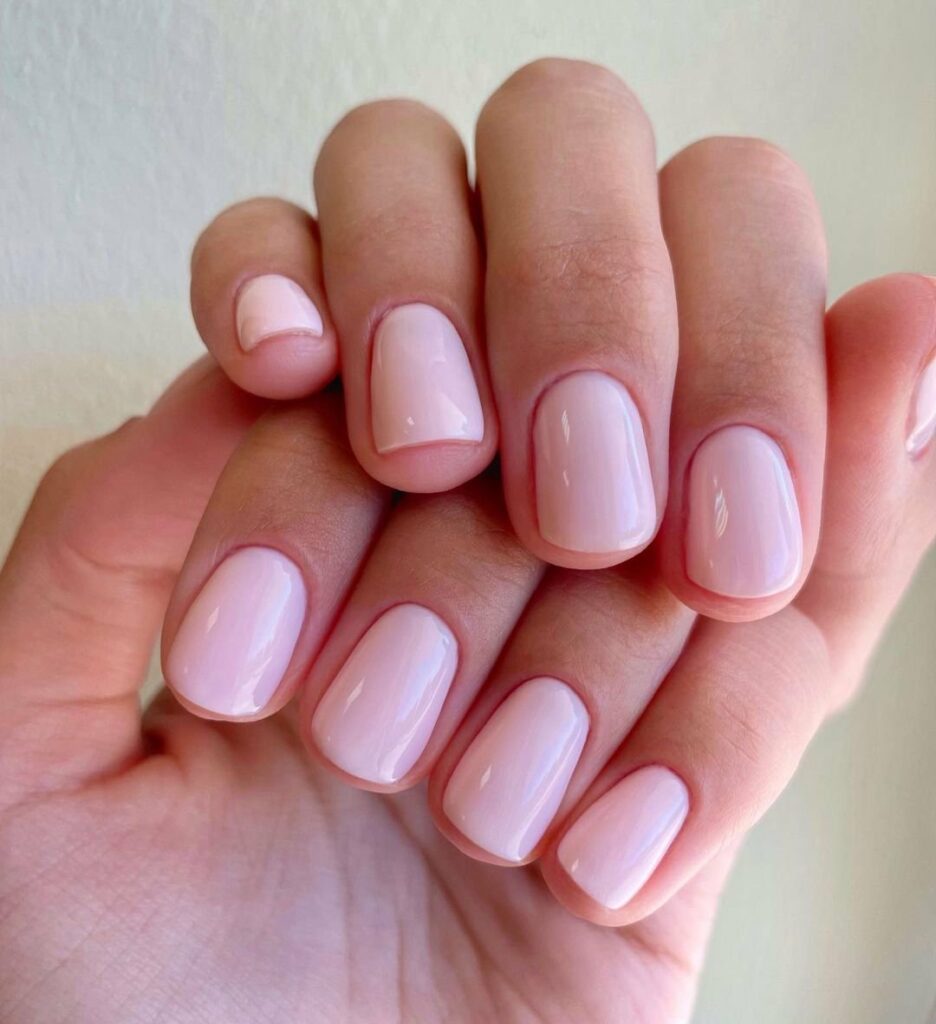 For those who appreciate the understated, minimalist, nude pink nails offer a clean, uncomplicated canvas. The simplistic beauty of these nails lies in their ability to complement any outfit effortlessly.
Floral Nude Pink Nails
Floral designs meet the grace of nude pink in an aesthetic that's hard to resist. Ideal for spring or when you want to bring a garden's grace to your look, floral nude pink nails are a romantic option.
Juicy Tones in Nude Pink Nails
Juicy nude pink nails are for those who love a brighter, more vivid shade of pink that still falls within the nude spectrum. It's the perfect pop of color to enhance your vivacity.
French Nude Pink Nails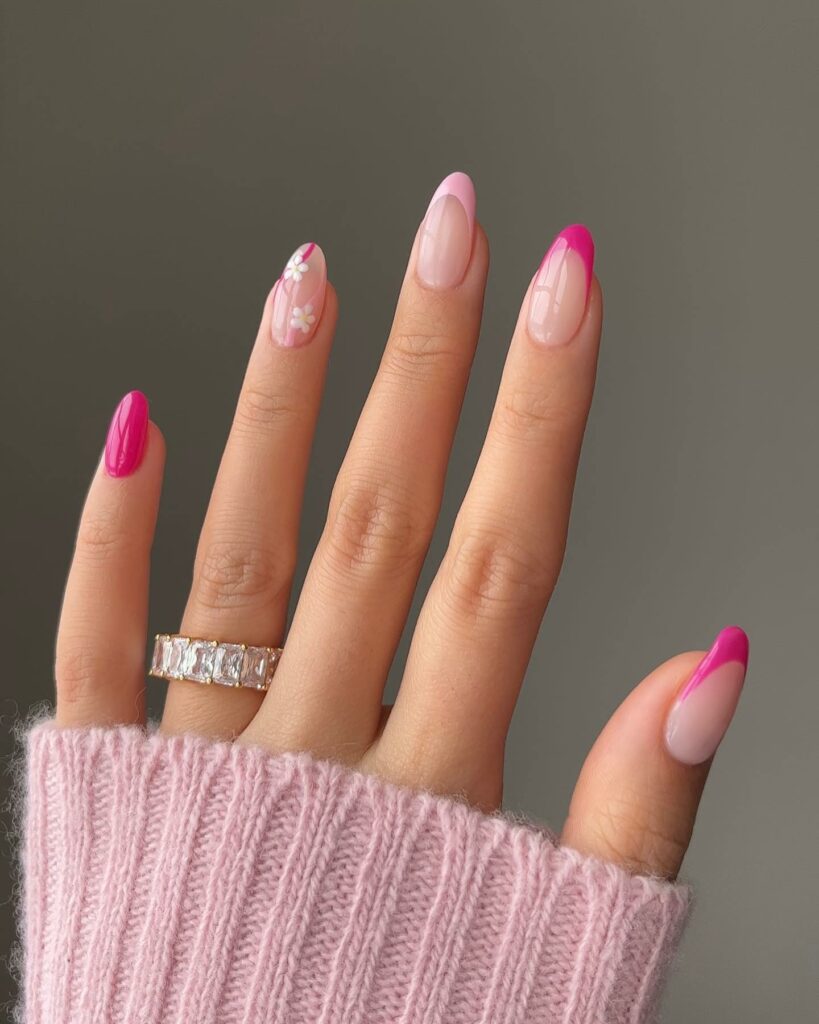 The modern world of nude pink nails isn't monolithic; it's a spectrum of contemporary shades. Explore the variations that resonate with your style and personality, from muted tones to vibrant hues.
Feminine Mystique of Nude Pink Nails
Nude pink nails are often hailed for their inherently feminine allure. Their ability to convey a gentle yet confident charm makes them a timeless choice for those drawn to soft elegance.
Chic Side of Nude Pink Nails
Chic nude pink nails are the epitome of class and style, perfectly complementing casual and formal wear. This post will guide you toward this timeless look that never fails to turn heads.
Embracing Natural Nude Pink Nails
Natural nude pink nails offer an understated elegance that brings out the beauty of your natural skin tone. A versatile choice for any occasion, these nails look like you were born with them.
Romance-Inspired Nude Pink Nails
Romance nude pink nails capture the tender feelings of love and passion with tones that bring out your softer side. Whether you're going on a romantic date or just feeling poetic, these nails speak the language of love.
Versatile Nude Pink Nails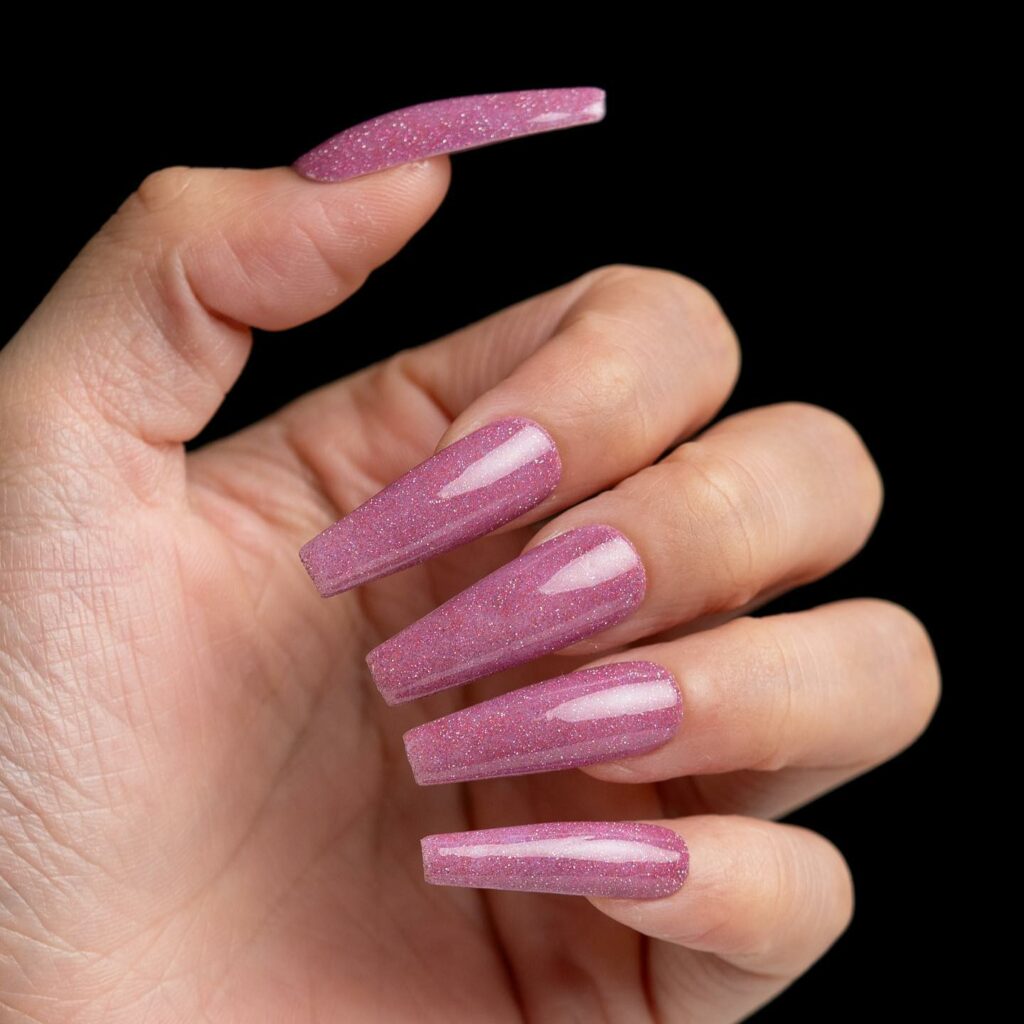 Versatile nude pink nails fit seamlessly into any wardrobe or situation, making them an excellent choice for those always on the go. With these nails, you can move effortlessly from the office to a night out without missing a beat.
French Nude Pink Nails
French nude pink nails twist the iconic French manicure by incorporating subtle pink hues. This style embodies the height of sophistication and is often the go-to for weddings and other formal events.
Simple Nude Pink Nails
Simple nude pink nails offer a clean, minimalist appearance without sacrificing style. Ideal for those who favor a less-is-more aesthetic, these nails complement any outfit and add a touch of understated elegance.
Coffin-Shaped Nude Pink Nails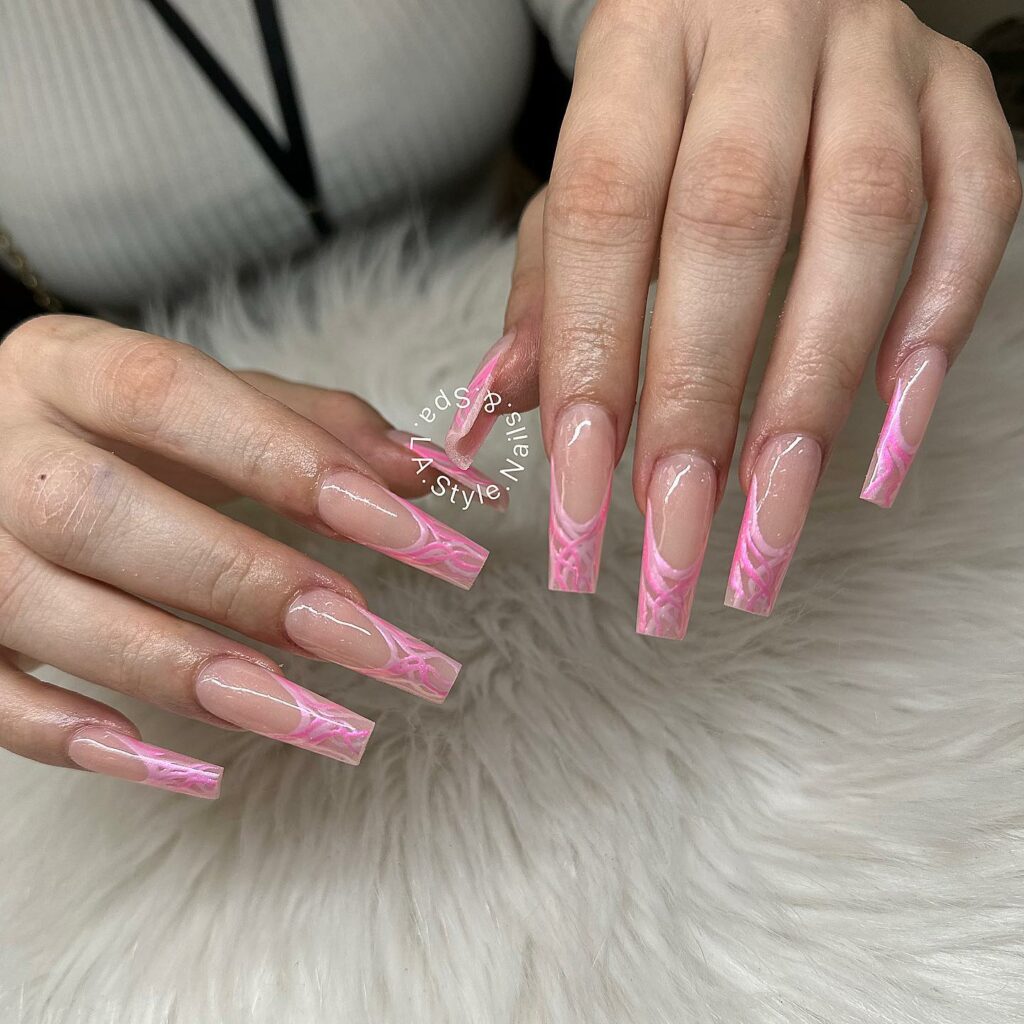 Coffin's nude pink nails offer a modern twist on a trending shape, making them a favorite among trend-savvy individuals. The coffin shape lends an edgy, contemporary look, while the nude pink color keeps it elegant.
Coffin Swirl Nude Pink Nails
Coffin nails captures the subtle variations that make nude pink nails an endlessly captivating choice. This style offers a layered, intricate approach to beauty, from differing shades to subtle textures.
Blush Star Nude Pink Nails
Blush Star's nude pink nails incorporate tiny star patterns against a soft blush background, creating a heavenly aesthetic. Ideal for those who want to infuse a little magic and wonder into their daily life.
The Allure of Gems on Nude Pink Nails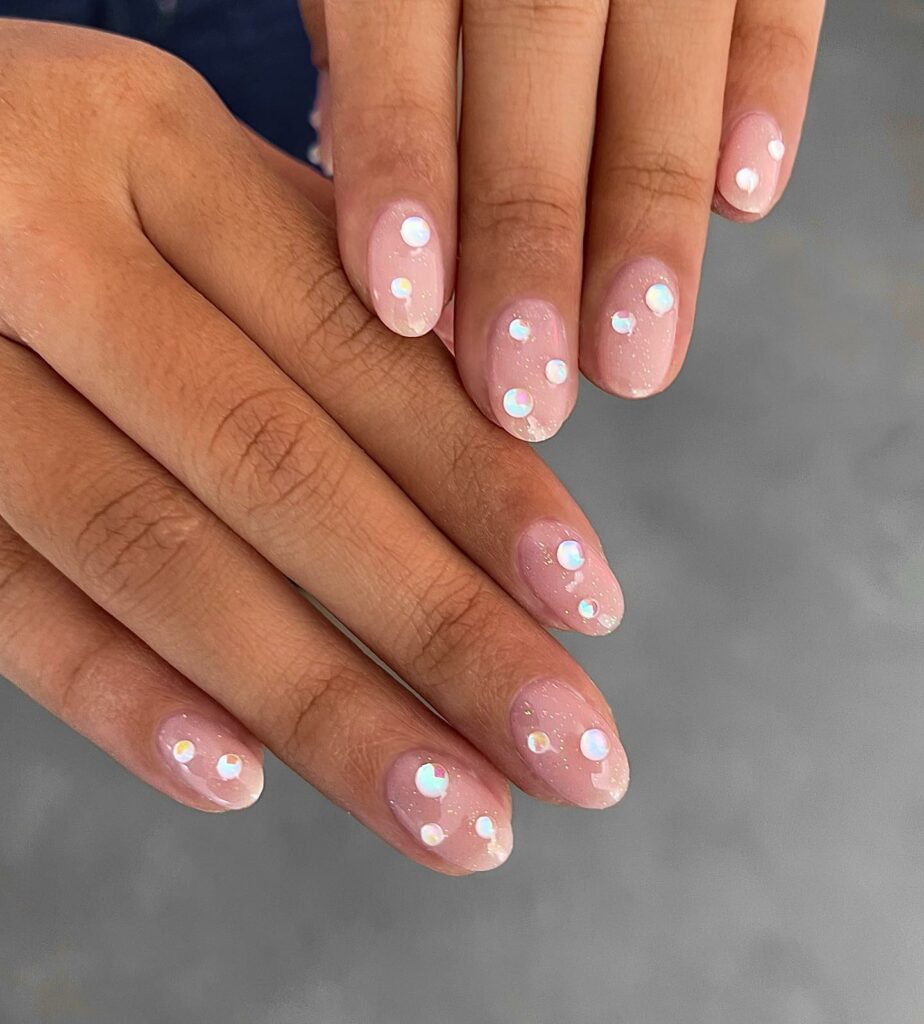 Infusing your nude pink nails with gemstones brings an extraordinary layer of sophistication to your manicure. Ideal for those special occasions where you want every detail to sparkle, these nails are a true jewel.
Glam Nude Pink Nails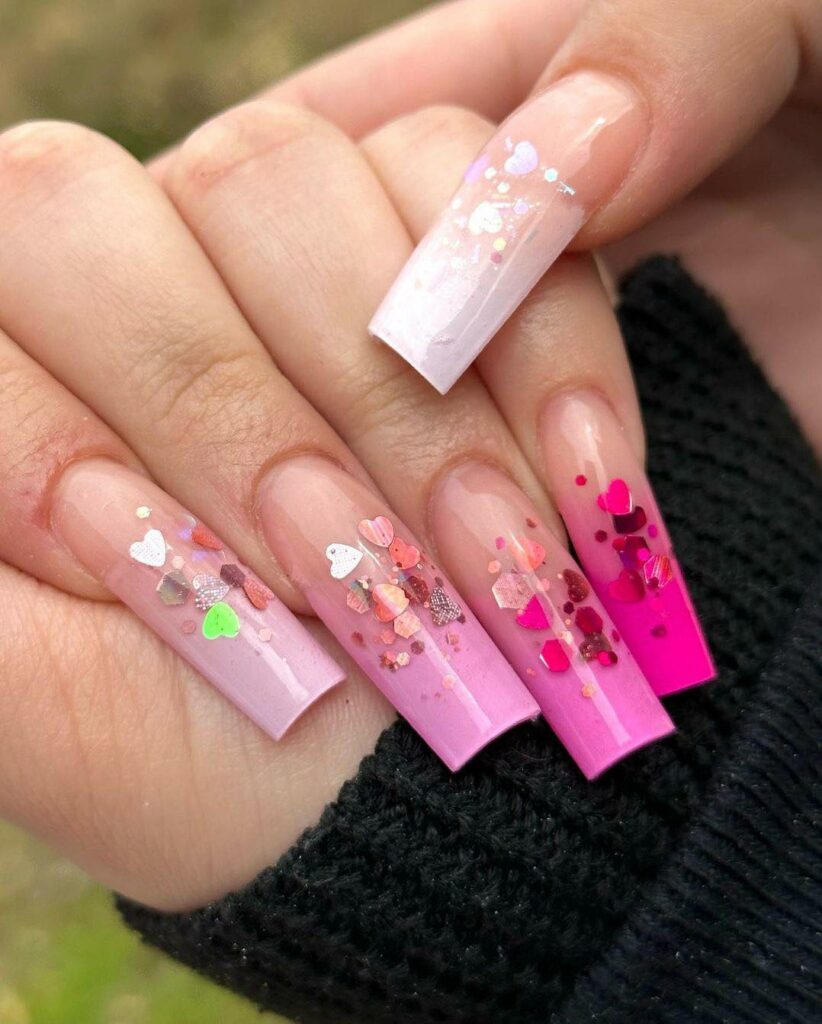 Glam nude pink nails are where high fashion intersects with nail artistry. When seeking a look that's a cut above the rest, these opulent nails are your ticket to turning heads and garnering compliments.
Floral Almond Nude Pink Nails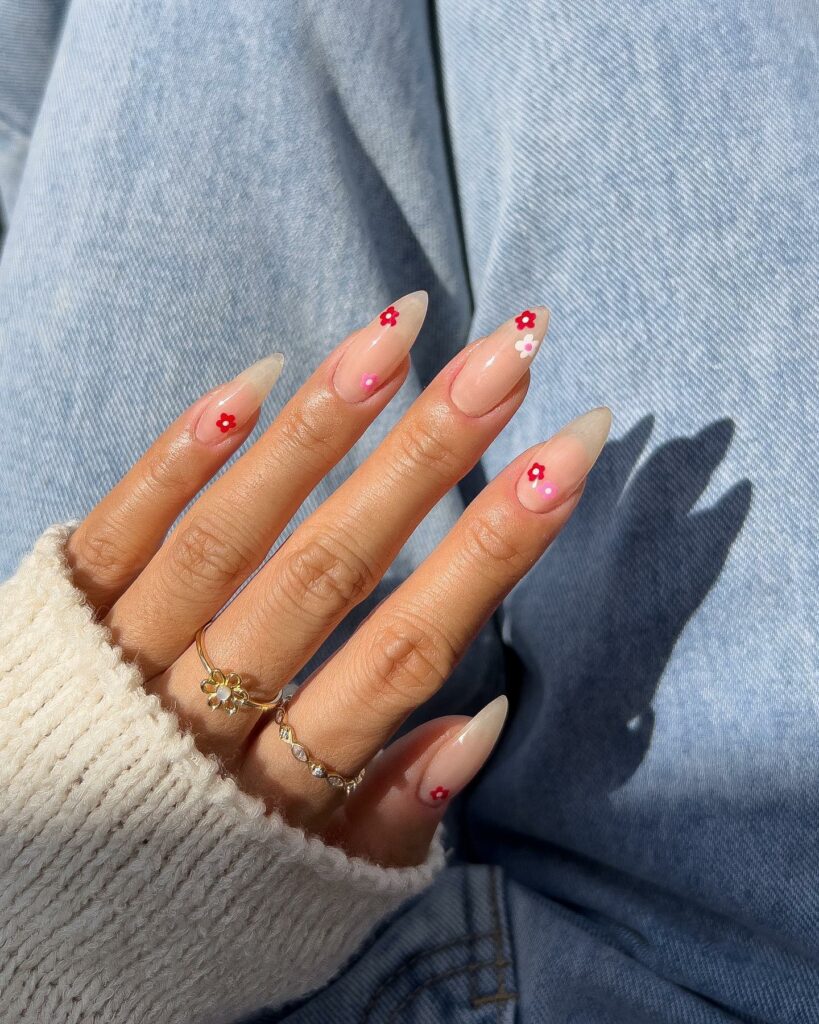 Floral almond nude pink nails take the chic almond shape and add a botanical twist with intricate floral designs. These nails are a summery delight, offering a garden of style options at your fingertips.
Nude Pink Nails with Gold Accents
Nude pink nails combined with gold accents epitomize luxury and Elegance. This combo lets you bring a touch of luxury to everyday life or dazzle at any high-profile event.
Colorful Star Accents on Nude Pink Nails
Colorful star nude pink nails are the whimsical choice for anyone looking to add a dash of the fantastical to their look. With splashes of vivid colors and star-shaped embellishments, these nails are as dreamy as they are stylish.
Captivatingly Minimal Nude Pink Nails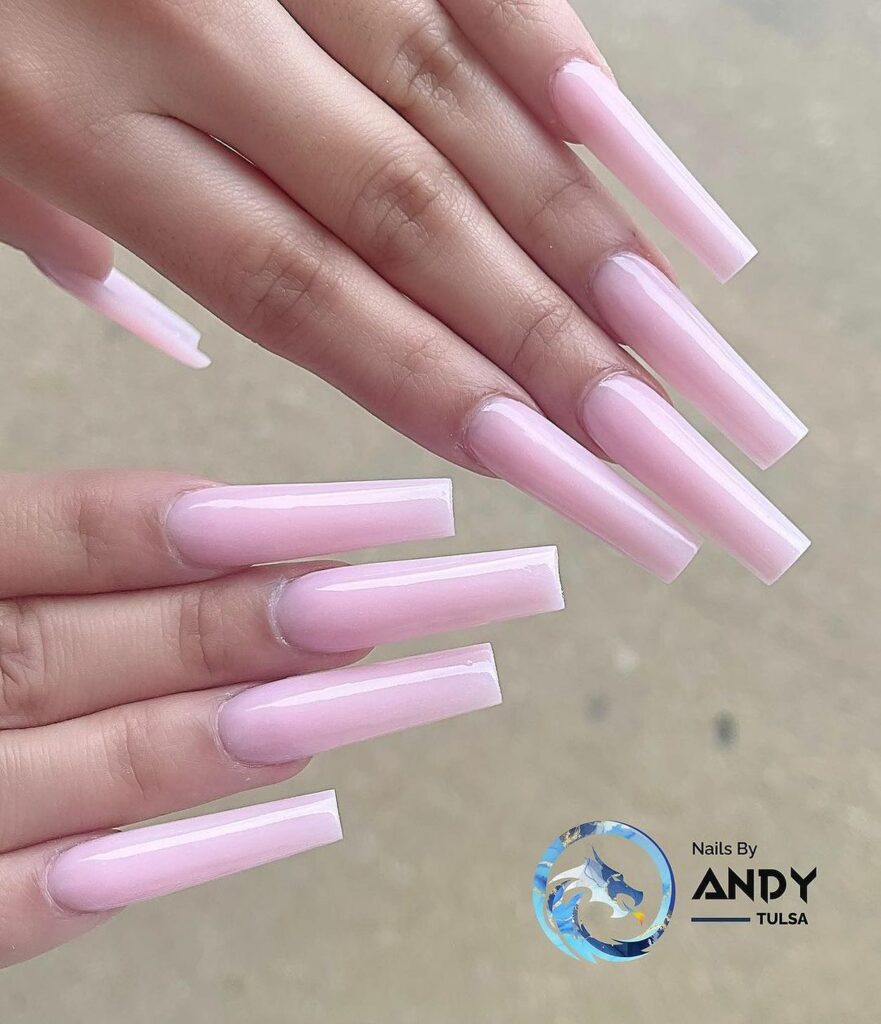 Captivatingly minimal nude pink nails prove that sometimes less is indeed more. These nails capture attention through their simplicity, offering a refined yet impactful statement.
French Nude Pink Square Nails
French nude pink square nails offer a geometrically precise take on the traditional French manicure. The square shape lends a modern edge, while the nude pink shade adds a layer of sophistication.
Glitter-Filled Nude Pink Nails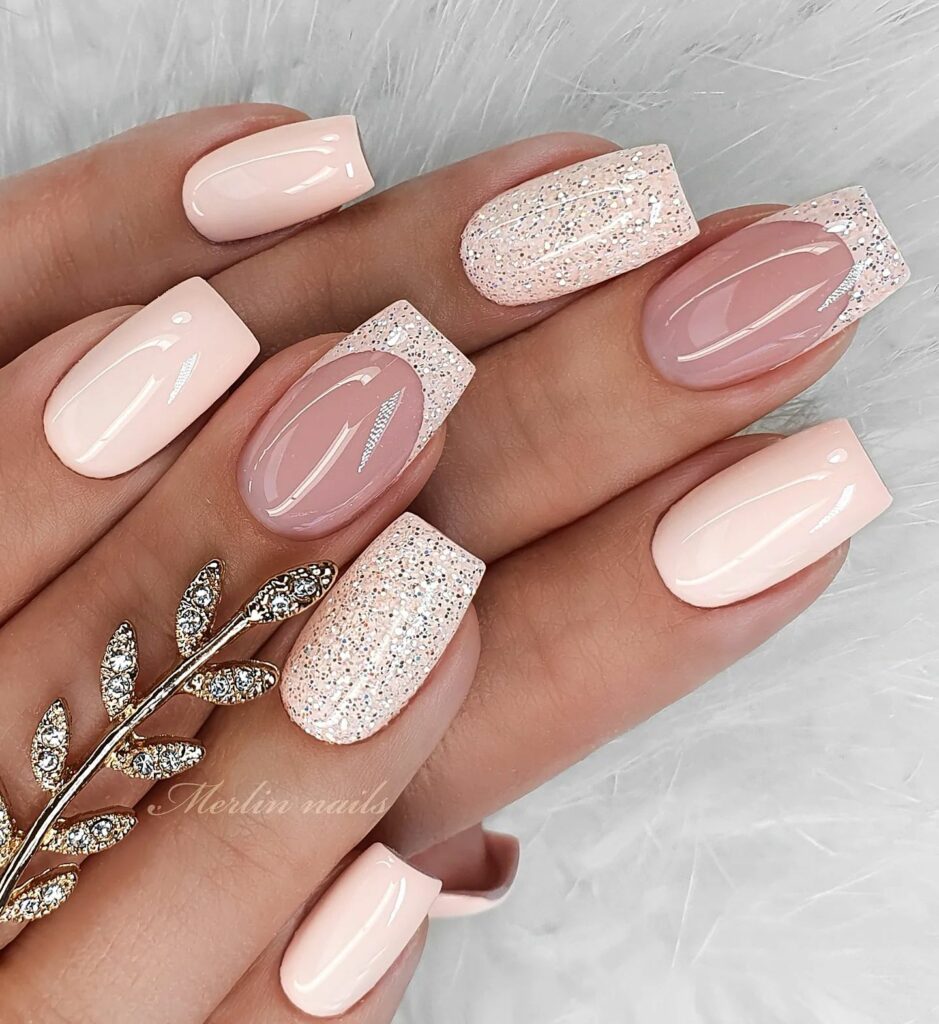 Glitter nude pink nails are for those days when you want your hands to talk. With just the right amount of sparkle, these nails make a glamorous yet refined statement.
Stiletto Nude Pink Nails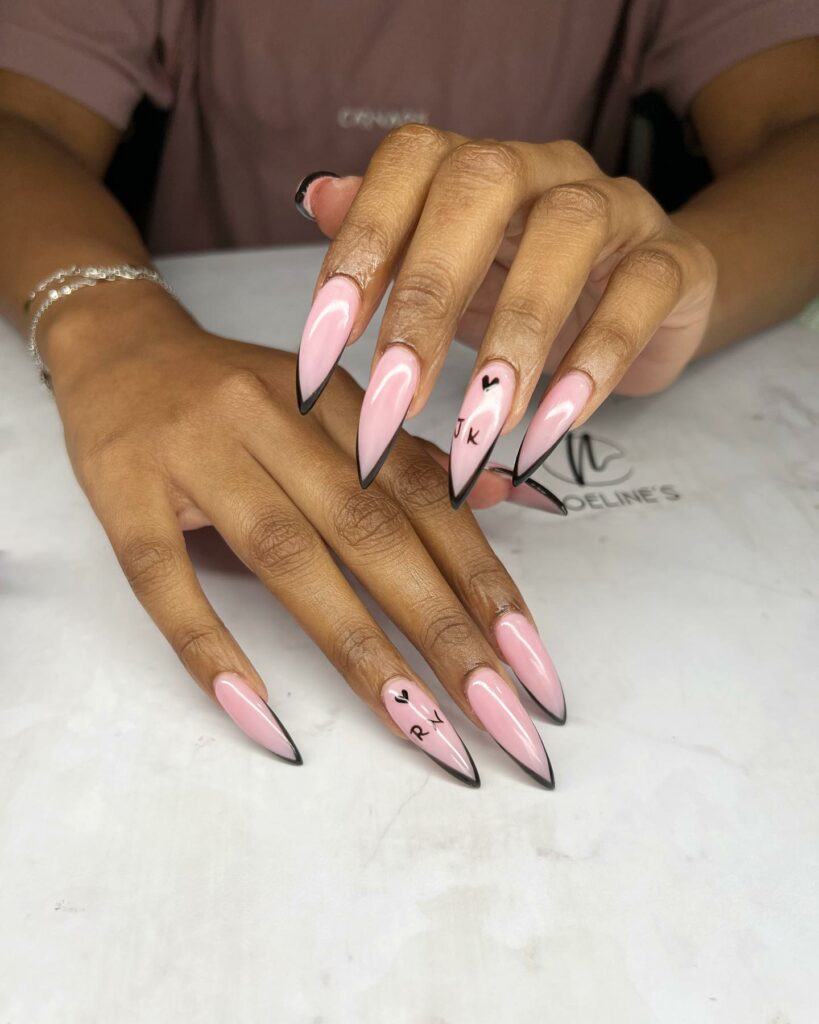 Stiletto nude pink nails bring an audacious flair to your nail game. The elongated, pointed shape combined with the soft hue of nude pink creates an edgy and graceful look.
The Grandeur of Long Pink Nude Nails
Long pink nude nails provide a canvas for showcasing intricate designs or simply reveling in the opulence of added length. Ideal for those who love to make a grand, elegant statement with their nails.
The Art of Acrylic Nude Pink Nails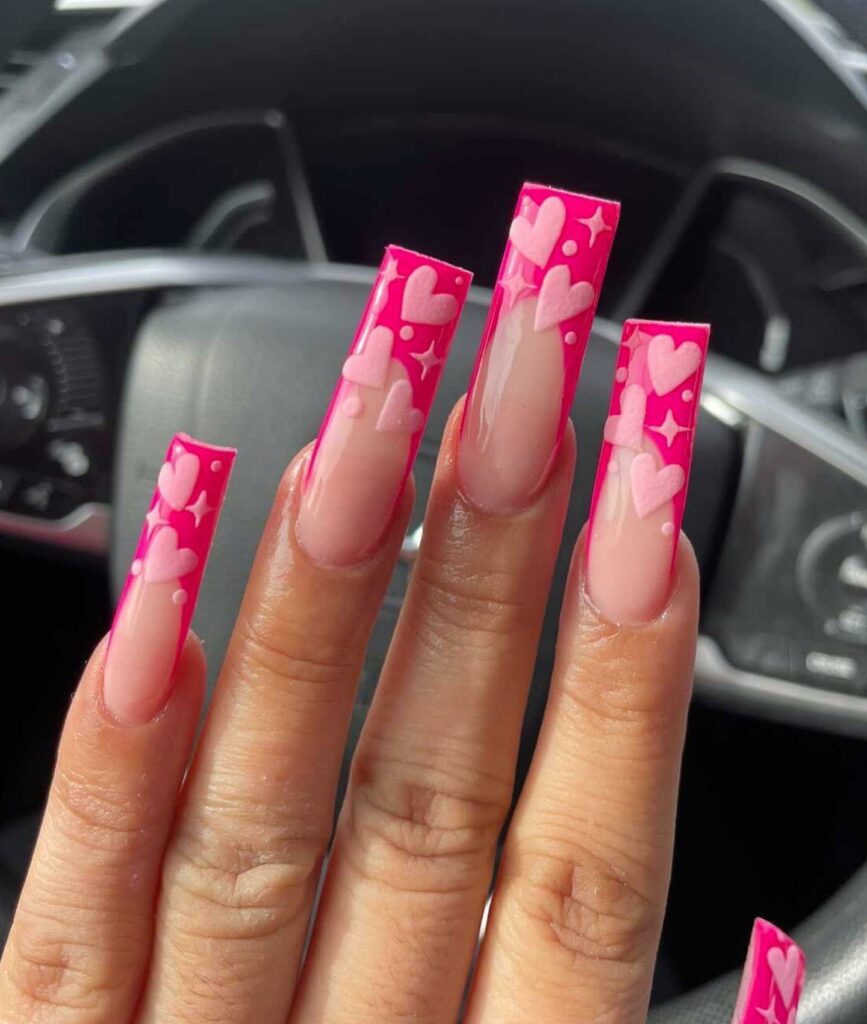 Acrylic nude pink nails offer durability without compromising on style. These sculpted beauties can be tailored to fit any look or mood, making them a versatile choice for fashion-conscious individuals.
Plaid Patterns on Pink Nude Nails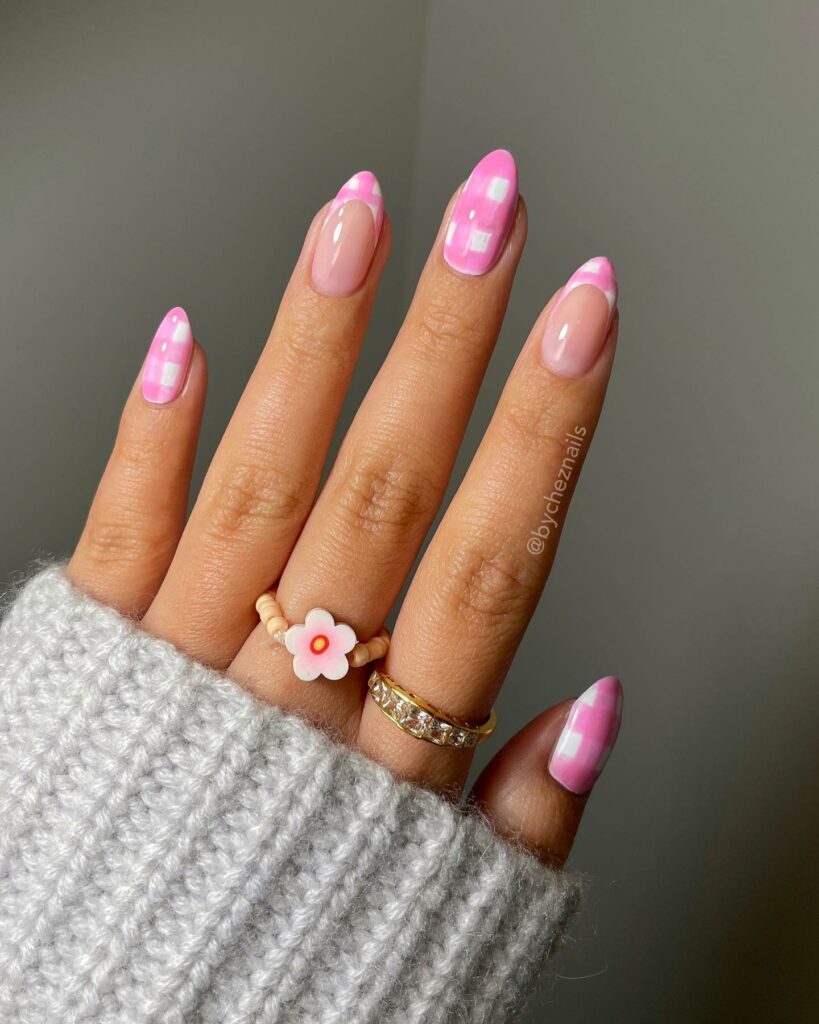 Plaid pink nude nails bring a touch of preppy Elegance to your hands. With their intricately interwoven lines and nude pink background, these nails uniquely flaunt your style.
Sparkly Pink Nude Nails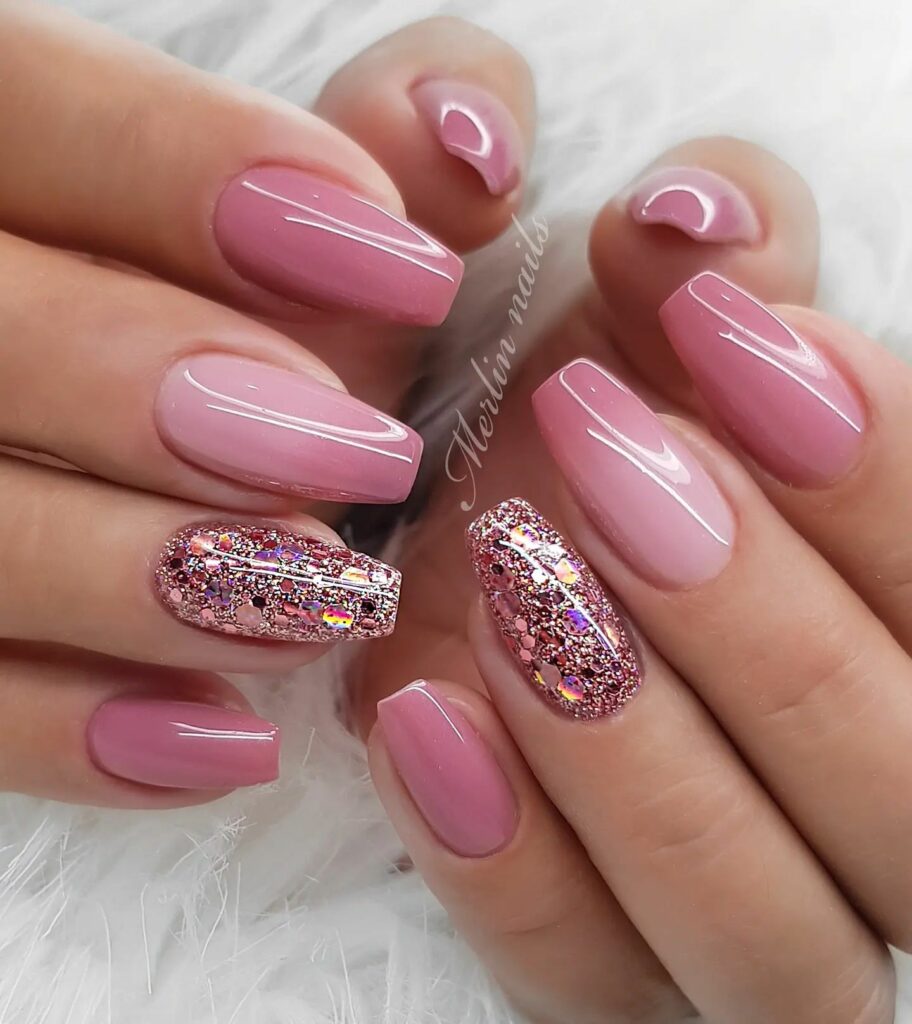 When you want your nails to catch the light like your personality, sparkly pink nude nails are the way to go. Subtle yet radiant, this design adds a touch of glamour to any ensemble.
Watercolor Pink Nude Nails
Watercolor pink nude nails are like a canvas on your fingertips, featuring soft, flowing hues that mimic the look of watercolor paintings. Ideal for those who appreciate the intersection of art and fashion.
Elegant Coffin Nude Pink Nails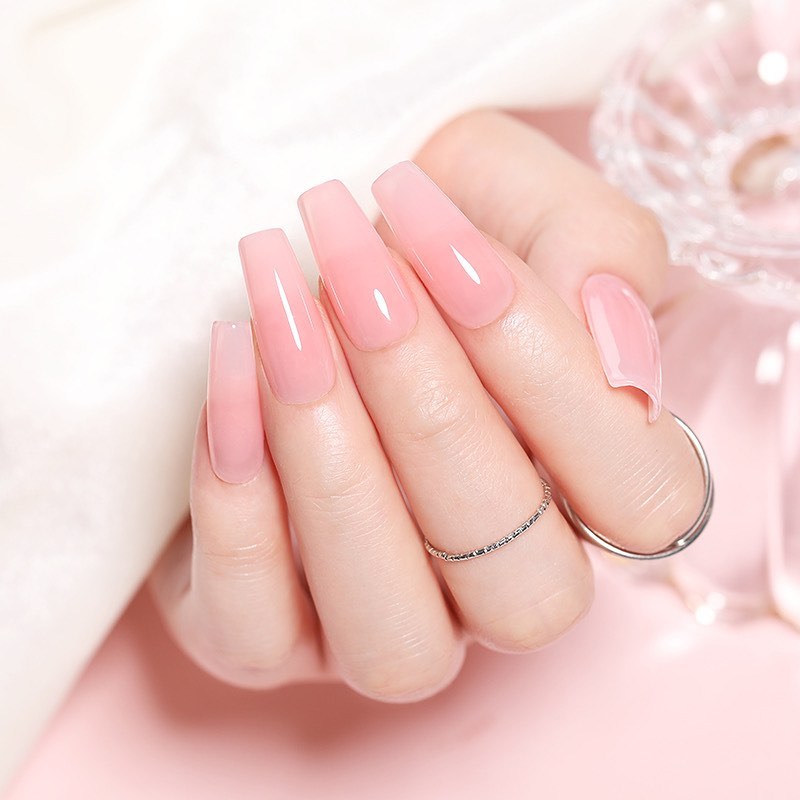 Elegant coffin nude pink nails offer a modern shape with classic charm. Combining a contemporary coffin silhouette with soft nude pink tones creates a look that transcends trends.
Chic Pink Nude Nails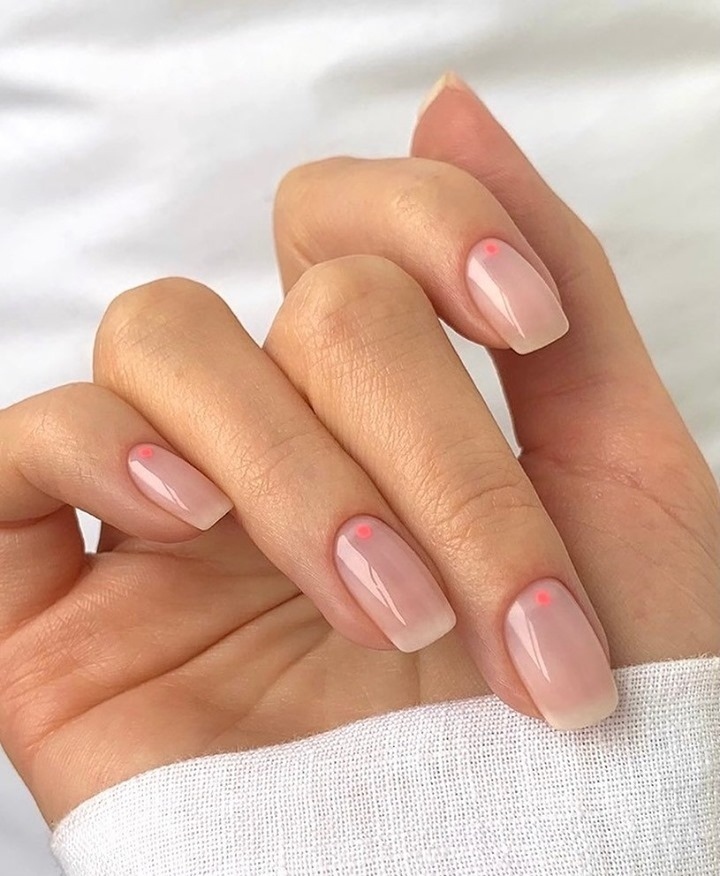 Chic pink nude nails are a must-try for those seeking a nail style that seamlessly pairs with every outfit and occasion. These nails are a testament to the enduring allure of understated elegance.
Blush Pink Nude Nails
Blush pink nude nails embody romantic beauty, perfectly capturing the essence of love and warmth. Its tone is soft enough for everyday wear but striking enough for special occasions.
Short Nude Pink Nails
Short, nude pink nails are all about celebrating beauty in simplicity. Easy to maintain yet incredibly stylish, these nails are perfect for those who prefer functionality alongside fashion.
Cloud French Nude Pink Nails
Incorporating cloud-like patterns into a French manicure creates an ethereal look. Cloud French nude pink nails are whimsical and elegant, offering a unique spin on a classic style.
French Nude Pink Acrylic Nails
For those who adore the sophistication of a French manicure and the durability of acrylics, French nude pink acrylic nails are a match made in heaven. Elegant and long-lasting, these nails offer the best of both worlds.
Nude Pink Nails Adorned with Gems
Nude pink nails with gems bring a luxurious touch to your manicure, allowing for an elegant and eye-catching statement. These nails are perfect for when you want to feel like royalty, even on an ordinary day.
The Contemporary Classic in Nude Pink Nails
Contemporary classic nude pink nails are a modern twist on a timeless style, offering enduring appeal that suits all ages and occasions. This design flawlessly merges the old with the new for a perpetually fresh look.
Starry Nude Pink Nails
Starry nude pink nails transport you to a galaxy of style, featuring tiny stars that add a celestial quality to your look. Perfect for those nights when you want your nails to shine as brightly as the evening sky.
Silver Swirl Patterns on Nude Pink Nails
Silver swirl nude pink nails combine the softness of nude pink with the metallic glint of silver swirls. This captivating design elevates your style, adding a layer of intricate detailing to your nails.
Holographic Nude Pink Nails
Holographic nude pink nails are where the futuristic meets the feminine. The shimmering holographic accents take the subtle elegance of nude pink to a whole new level, making every gesture a mesmerizing experience.
Classic Blush Nude Pink Nails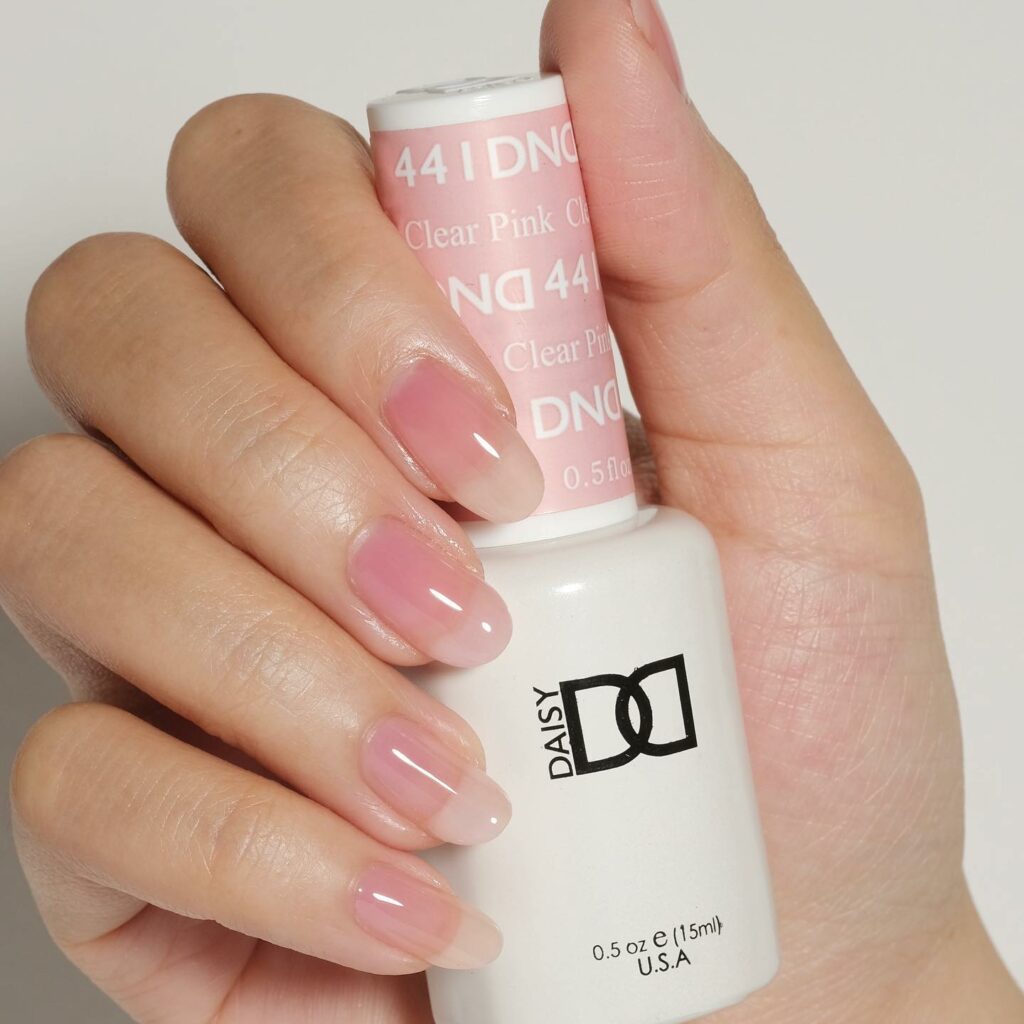 Classic blush nude pink nails capture the timeless appeal of a well-loved shade. Unassuming yet endlessly chic, these nails offer a go-to style that complements any look effortlessly.
Elegant French Nude Pink Nails
Elegant French nude pink nails are the epitome of Sophistication, featuring a classic French manicure design embellished with subtle nude pink tones. Perfect for those looking to exude both grace and style in a single manicure.
Rosy Nude pink nails
Rosy nude pink nails evoke the natural beauty of a rose garden, capturing the tender shades of petals in full bloom. Ideal for anyone seeking a look as romantic as it is understated.
8 Nude Pink Nail Finishes That I Love
The world of nude pink nails is incredibly diverse, offering a range of finishes that can suit various styles, moods, and occasions. Here are some popular types of finishes you might consider:
Matte Finish – A matte finish gives your nude pink nails a flat, non-reflective surface. It's sophisticated and can add a modern touch to your look. This is an excellent option for those who prefer a subtle and elegant appearance.
Glossy Finish – This is the most traditional and widely used finish. A glossy top coat adds shine and luster to your nude pink nails, making them stand out in a classy way.
Glitter Finish – A glitter finish adds a layer of sparkle to your nails, perfect for times when you're looking to make a more flamboyant statement. It pairs wonderfully with nude pink by balancing the subtlety of the shade with a dash of glam.
Metallic Finish – Metallic nude pink nails give off a sheen that can be likened to metal. This finish can bring a futuristic or luxe feel to your nail design, making it eye-catching in a chic way.
Holographic Finish – A more adventurous option, a holographic finish creates an iridescent effect on your nails. The colors shift as you move, giving your nude pink nails a whimsical and ethereal quality.
Pearl Finish – The Pearl finish offers a soft glow that simulates the appearance of a pearl. This adds depth and complexity to the nude pink color, resulting in a sophisticated look.
Velvet Finish – A velvet finish adds a unique texture to your nails, making them appear soft and plush. This is a more avant-garde option and a conversation starter.
Satin Finish – The satin finish lies somewhere between matte and glossy. It offers a soft, subdued sheen that brings out the elegance of nude pink without being overly flashy.
Remember, the finish you choose not only affects the look but may also have implications for maintenance. Some finishes, like glitter and metallic, require unique top coats to maintain their appearance. Always consult with your nail technician about what each finish requires regarding upkeep. Whichever finish you opt for, you'll add a unique twist to the ever-fashionable nude pink nails.
Conclusion
In the ever-evolving world of nail art, nude pink nails have become a timeless favorite that harmonizes style with Elegance. While there are plenty of variations—from holographic accents to classic French designs—each has perks. For example, opting for acrylics will offer durability but may require more frequent salon visits for upkeep. Glitter and gem embellishments are fabulous for special occasions, but remember they might not be practical for everyday wear, depending on your lifestyle. Regardless of the design you choose, investing in quality products and services is always a good idea to ensure your nails' health. So, fashion enthusiasts, armed with these insights, you're well-prepared to embrace this stylish yet understated nail trend. Whether dressing up for an event or just looking for a way to add a dash of sophistication to your everyday look, nude pink nails offer endless possibilities. Why not make your next manicure appointment a step toward discovering your perfect shade of nude pink?
Feature image @heluviee via Instagram
Last reviewed and updated on November 17, 2023