Today, we're diving deep into the lush world of purple coffin nails – the trend that's been popping off our Insta feeds and jazzing up the hands of celebs and style mavens alike. Why purple? It's the color of royalty, creativity, and that perfect blend of calm and sass. And the coffin shape? It's like your nails are dressed to impress at a glam rock funeral – edgy, sleek, and unapologetically bold.
In this post, I will explain everything you need to know about rocking this daring look. From selecting the perfect shade of purple to the nitty-gritty of sculpting that ideal coffin shape, I've got you covered. Plus, I'll spill the tea on maintenance because, let's face it, great nails don't just happen by chance. Whether you're a DIY queen or the salon is your second home, I'll share tips and tricks to ensure your purple coffins look fierce. And because I've tried more nail trends than there are shades of purple, I'll throw in my personal hacks for keeping your hands in the spotlight without crossing into 'trying too hard' territory.
Gradient Glam: Purple Coffin Ombré Nails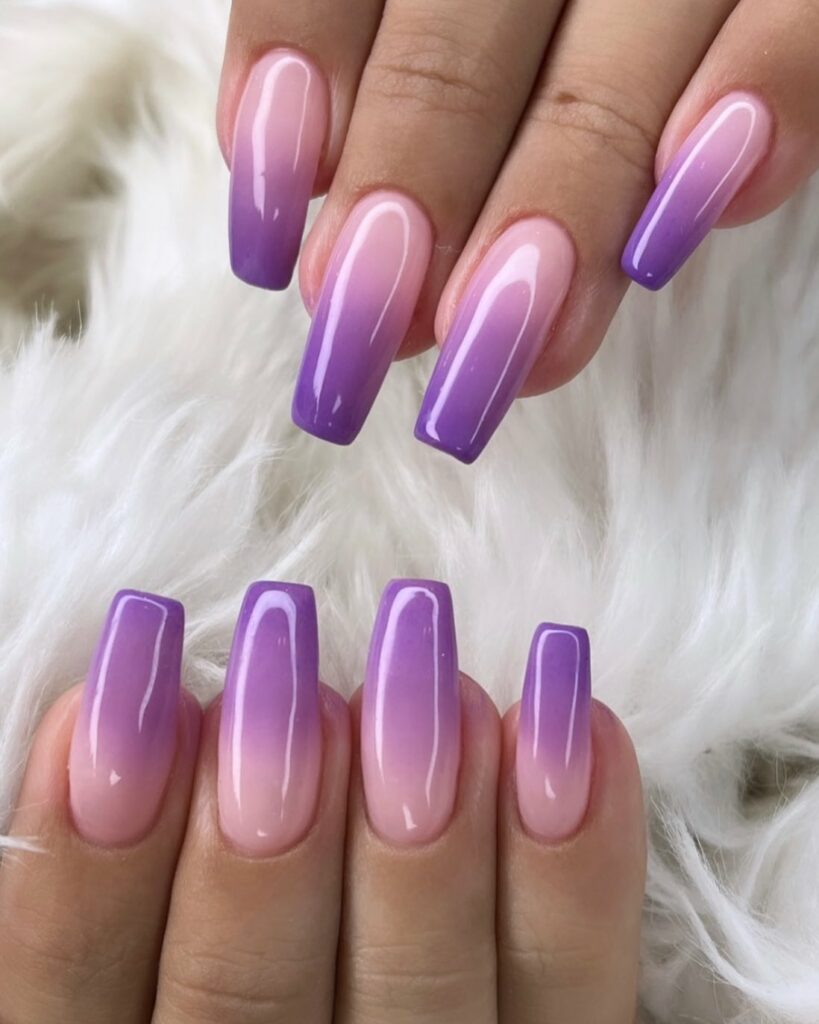 If long nails are your jam, feast your eyes on this: alternating gradients of pink and purple. Amp it up with rhinestones and a holographic accent nail. I sported this at a friend's wedding, and I can't even count the number of compliments I got!
Aura Purple Coffin Nails With Silver Accents
Aura purple nails kissed with silver accents, exude an almost mystical quality that's both captivating and serene. It's an ideal choice for anyone looking to add a touch of magic to their manicure.
Purple Milky Glitter Coffin Ombré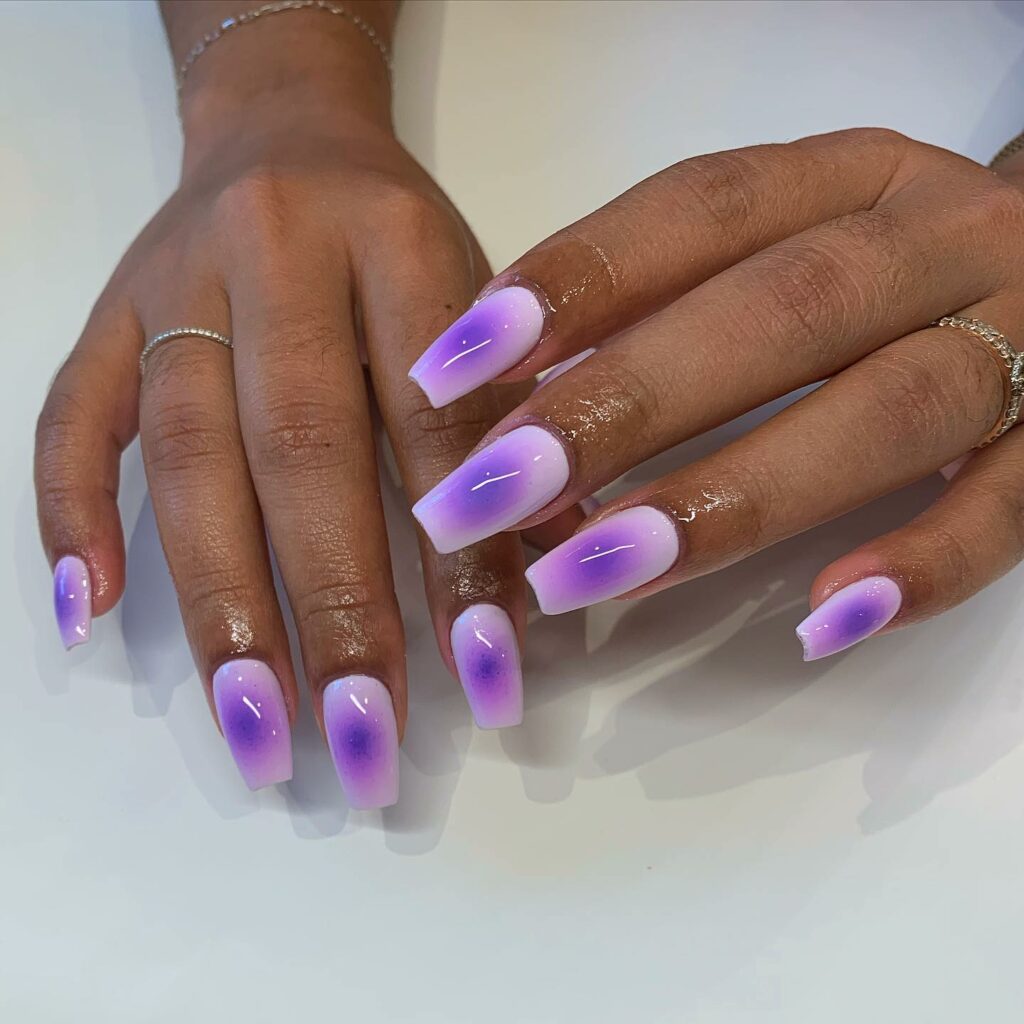 We have the Milky Nyx Ombré. Picture a dreamy milk-purple base fading into a sumptuous deep purple at the center.
Purple Ombre Coffin Nail With Glitters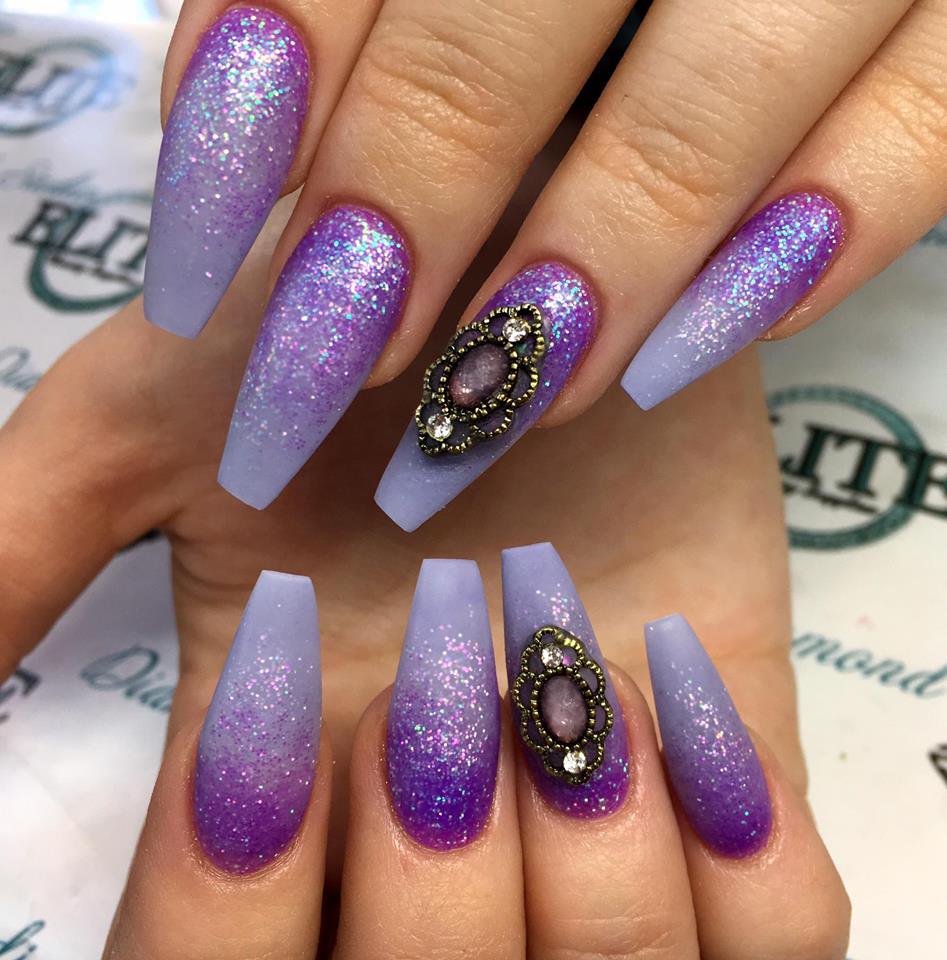 Fade into fabulous purple ombre coffin nails that sparkle with glitter – like the night sky on your fingertips. These nails add a dash of drama without going overboard, perfect for lighting up any room you walk into.
Light Purple with Negative Space
Use tape to leave geometric negative spaces in a field of light purple. The unfinished feel adds a contemporary, artsy flair to your coffin nails.
Metallic Purple Nail With White Flower Design
Metallic purple nails gleam with a futuristic glow, while delicate white flowers add a touch of femininity. This combination brings together the best of boldness and grace, perfect for a statement look that's still soft around the edges.
Glam Purple Coffin Nail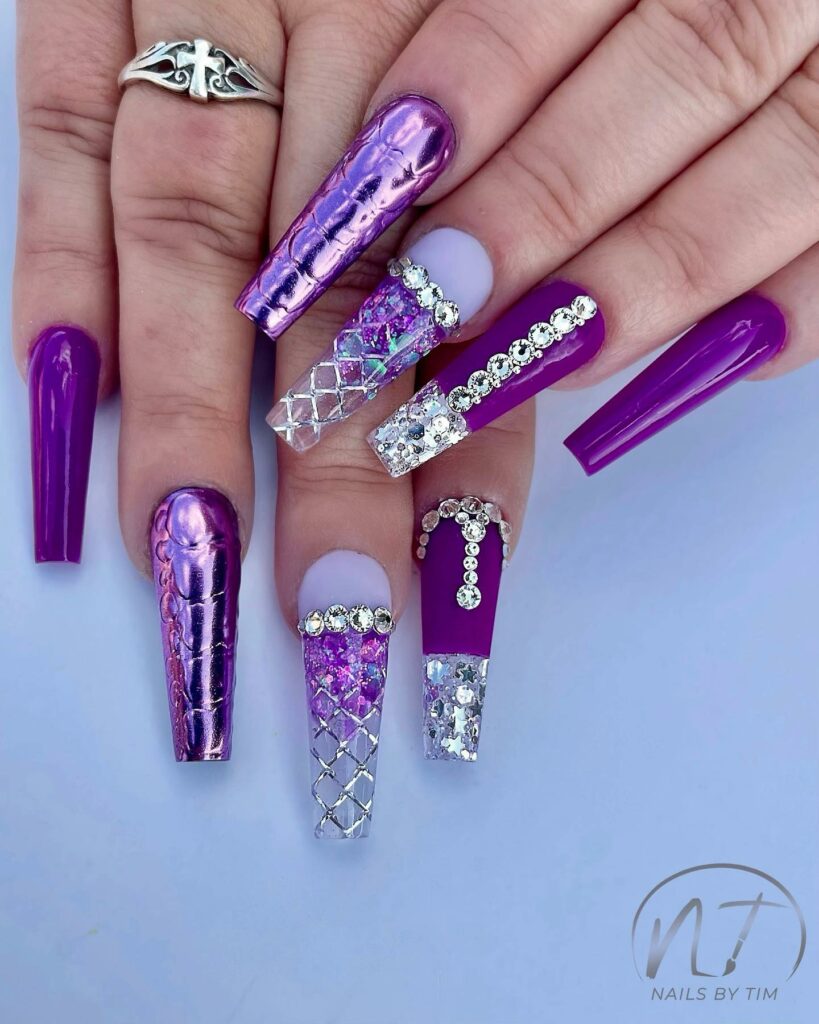 Step into the spotlight with glam purple coffin nails that are as luxurious and captivating. These nails are the epitome of sophistication with a side of glitz for those times you want full-on glamour at your fingertips.
Light To Dark Purple Ombre Coffin Nail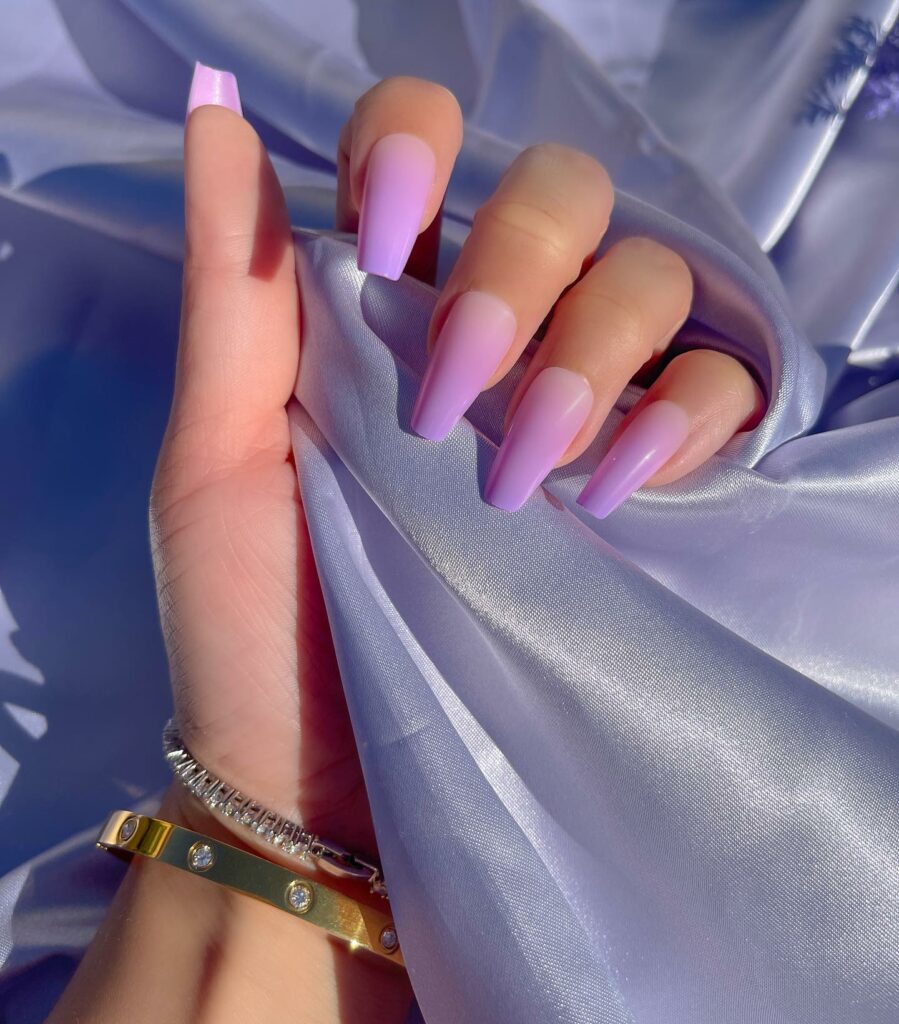 The matte finish brings a modern twist to the classic ombre, muting the transition from light to dark purple for a velvety effect. These nails are a testament to understated chic, perfect for everyday wear with a stylish edge.
Light Purple Glitter-Infused Short Coffin Nails
In a world of ever-evolving nail art, the glittery short coffin nails stand out with their refined elegance. The subtle shimmer catches the eye, making it a perfect choice for those who love a touch of luxury in their manicure.
Sparkle With Amethyst
Amethyst glitter nails are for those days when you feel extra or have a grand soirée to attend. They're pure glam, catching the light with every wrist flick.
Simple Purple Coffin Nail
Purple Ombre Coffin Nail With Gold Glitters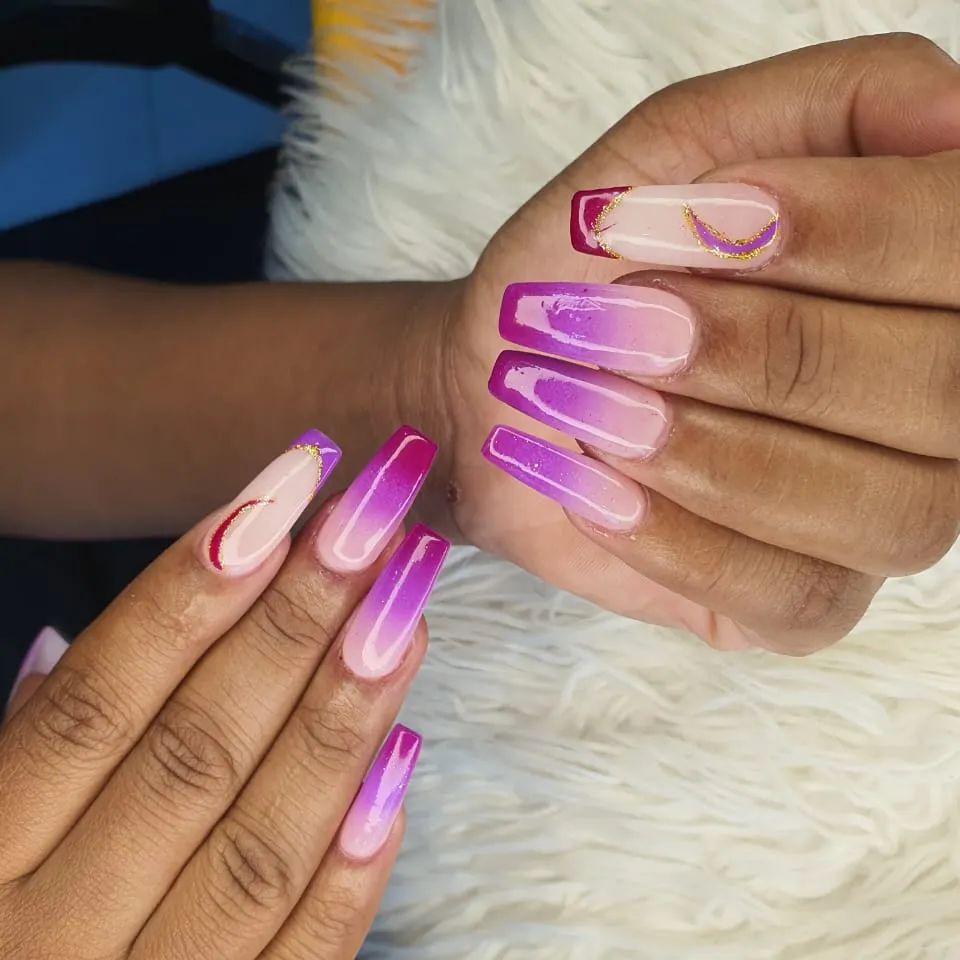 Purple ombre gets a luxurious upgrade with a sprinkle of gold glitters, blending rich color with a touch of sparkle. This combo brings a royal flair to your nails, fitting for a queen.
Purple French Coffin Nail With Glitters
The classic French tip gets a dazzling makeover with a hint of purple and a sprinkle of glitter. This style strikes a beautiful balance between sophistication and festive fun, ideal for a night out or a fancy brunch.
Acrylic Purple Coffin Nail
Acrylic strength meets royal color with purple coffin nails, ensuring long-lasting wear and vibrant expression. These nails are a staple for those who love a maintenance-free, bold look that doesn't compromise durability.
Purple Coffin Nail With 3D Designs On Tips
Take your nail art to another dimension with purple coffin nails featuring 3D designs at the tips. This innovative style adds texture and intrigue, ensuring your nails are anything but flat.
Purple Coffin Nail With Rhinestones
Bold purple meets playful hues at the tips, and rhinestones add that sparkle we crave. This design screams fun with an edge, perfect for those days (and nights) when you want your hands to do the talking.
Matte Purple Coffin Nails
The matte purple coffin nail is a masterclass in understated excellent – no shine, just pure, muted sophistication. It's the perfect choice for nail enthusiasts seeking to make a statement with a soft but powerful impact.
Purple Marble Coffin Nails
Infuse art into your manicure with the swirls and whirls of purple marble coffin nails; they're a walking masterpiece. This design adds elegance and complexity to your nail game, making each nail a unique canvas.
Reach For The Stars
A playful take on the French manicure, this star-studded design is like a little party on your nails. The subtle pink base with a purple glitter tip, crowned with a cute lilac star, adds a dash of whimsy to any outfit.
Floral and Purple French Nails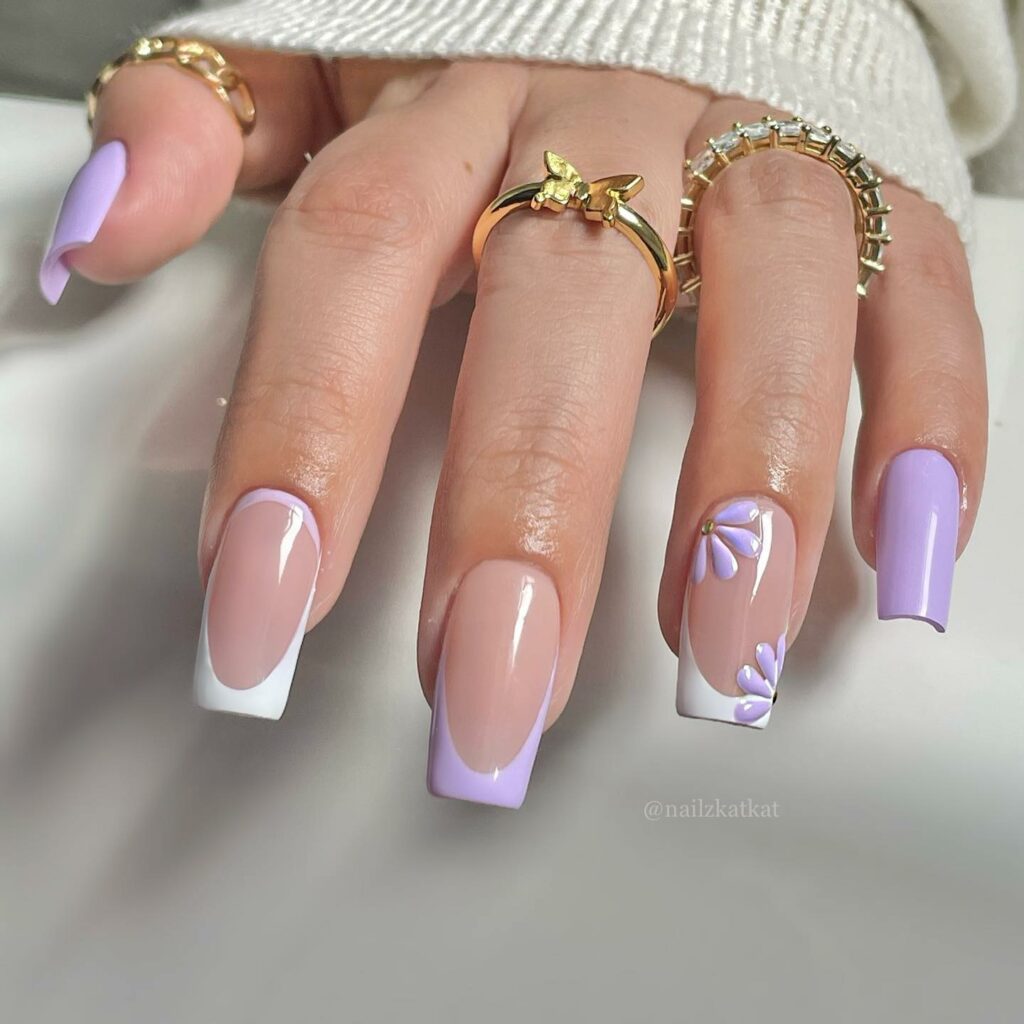 Who knew that coffin florals and French tips could blend so seamlessly? Discover how to tastefully combine these two design elements in shades of purple for a harmonious and stylish look.
Lilac And Pink Coffin Ombre Nails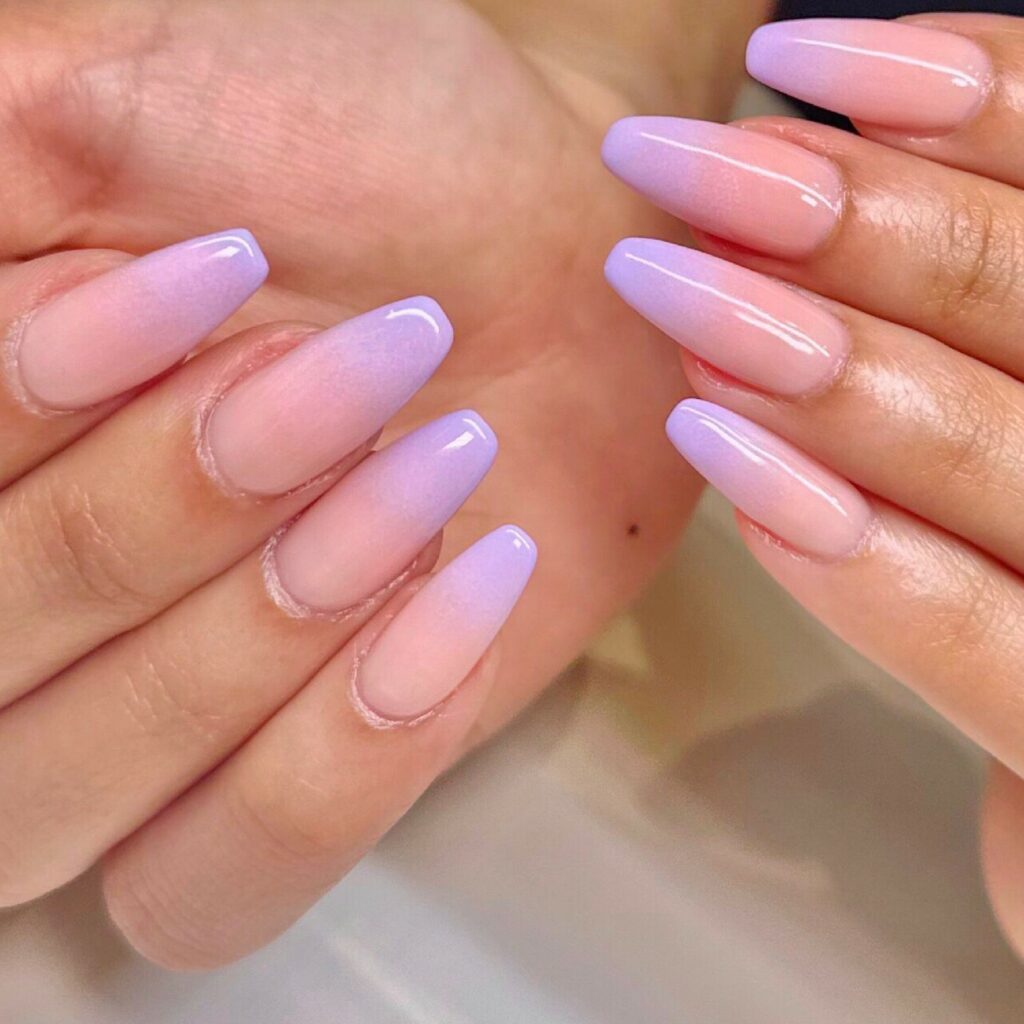 Blend light purple and pastel pink shades, focusing primarily on the middle finger for that magical ombré blend.
Cool Lavender Marble Nails with Gold Flakes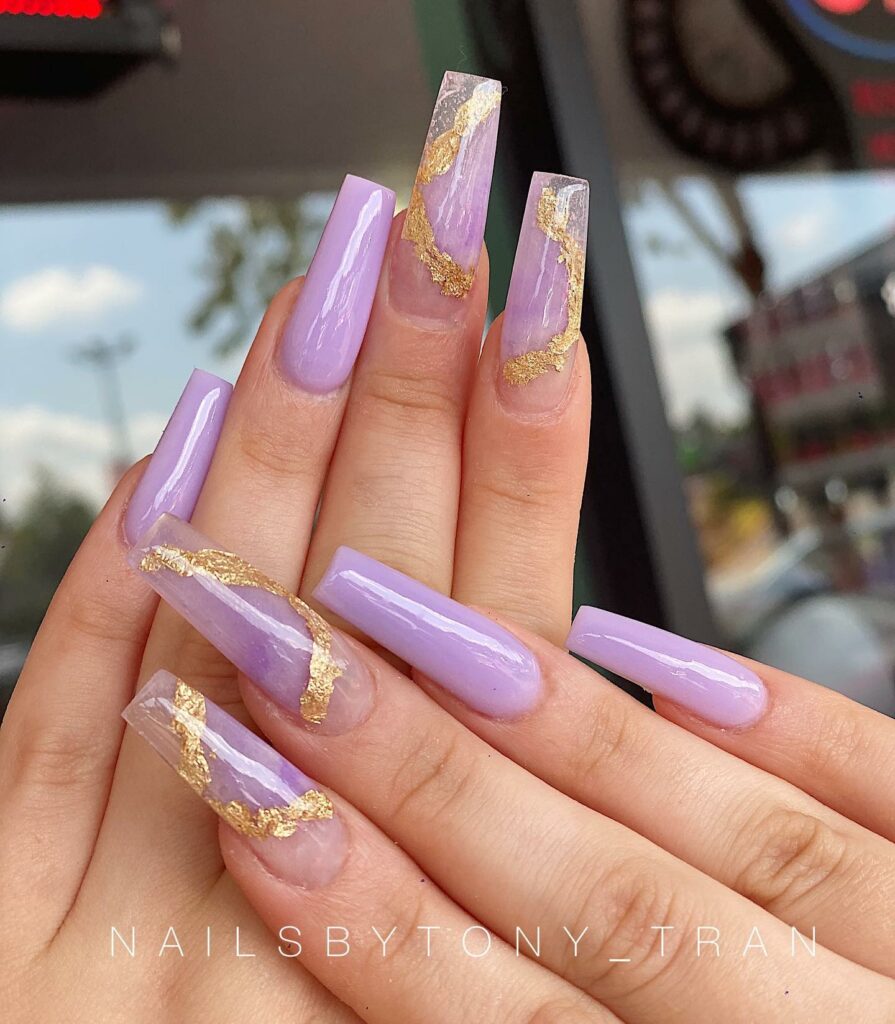 The marbled lavender exuded sophistication, while the golden flakes added an unexpected but welcome edge to the look.
Deep Purple Coffin Nails With A Twist
Dip into the unconventional where splashes of color meet bold purple for an artistic flair. It's a perfect choice for anyone looking to showcase their creative spirit right at their fingertips.
Purple Ombre Coffin Nails With Gold Flakes
Delicate gold flakes on purple ombre coffin nails add the right amount of luxury to your nail design. It's a sophisticated touch that elevates the gradient effect to a whole new level of chic.
Glittery V French Tips Purple Coffin Nail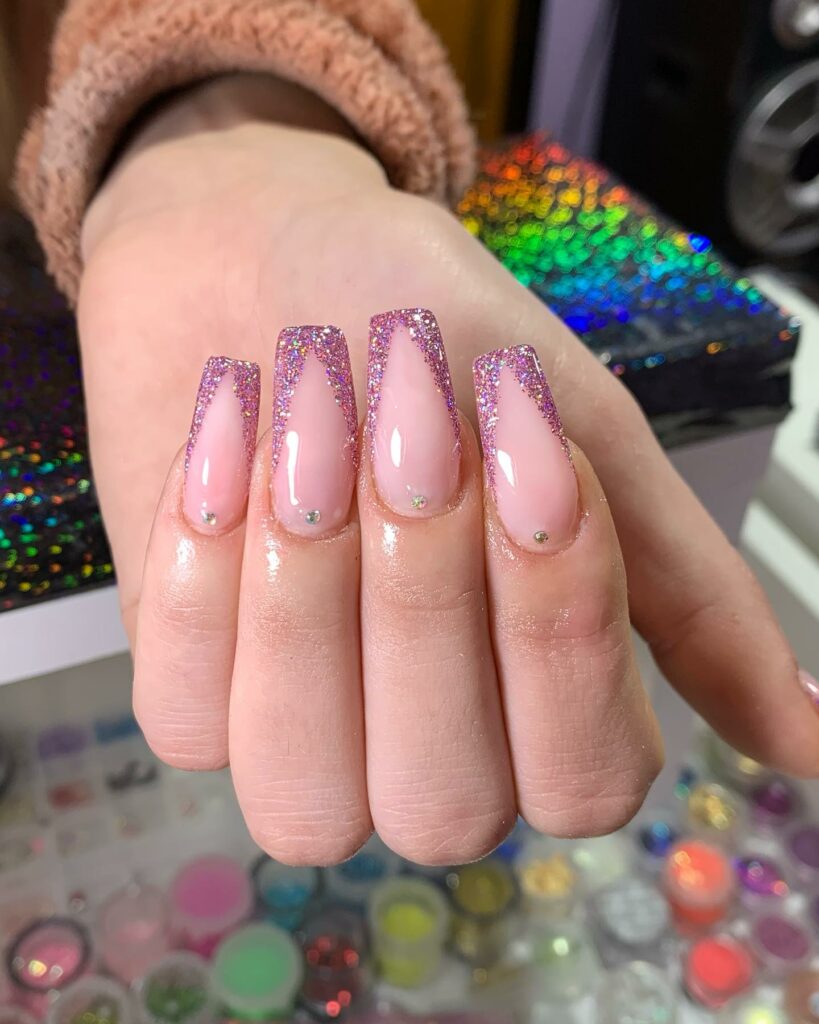 V French tips in glittery purple bring an edgy twist to the traditional French manicure, all while embracing the beloved coffin shape. This sparkly update is modern and eye-catching, sure to be a conversation starter.
Metallic Light Purple Coffin Nails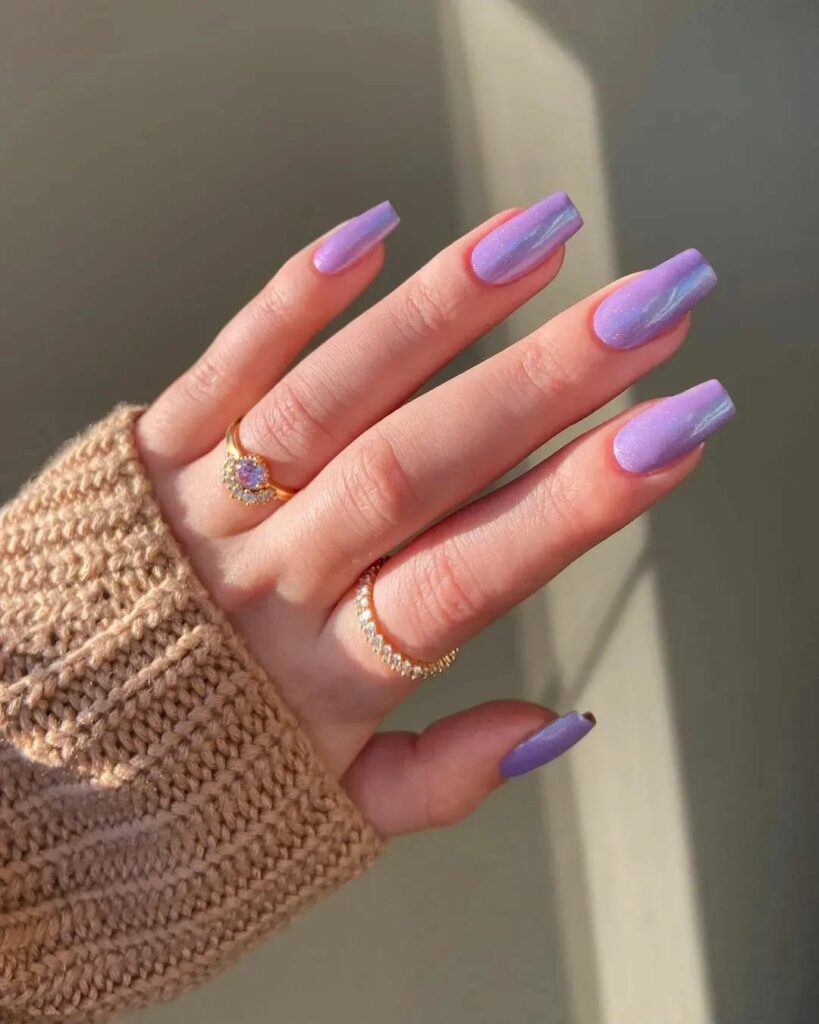 Light purple goes metallic, giving the coffin nail design a futuristic yet soft aesthetic. The metallic sheen adds a layer of sophistication, making these nails perfect for tech-savvy trendsetters.
Long Acrylic Purple Coffin Nails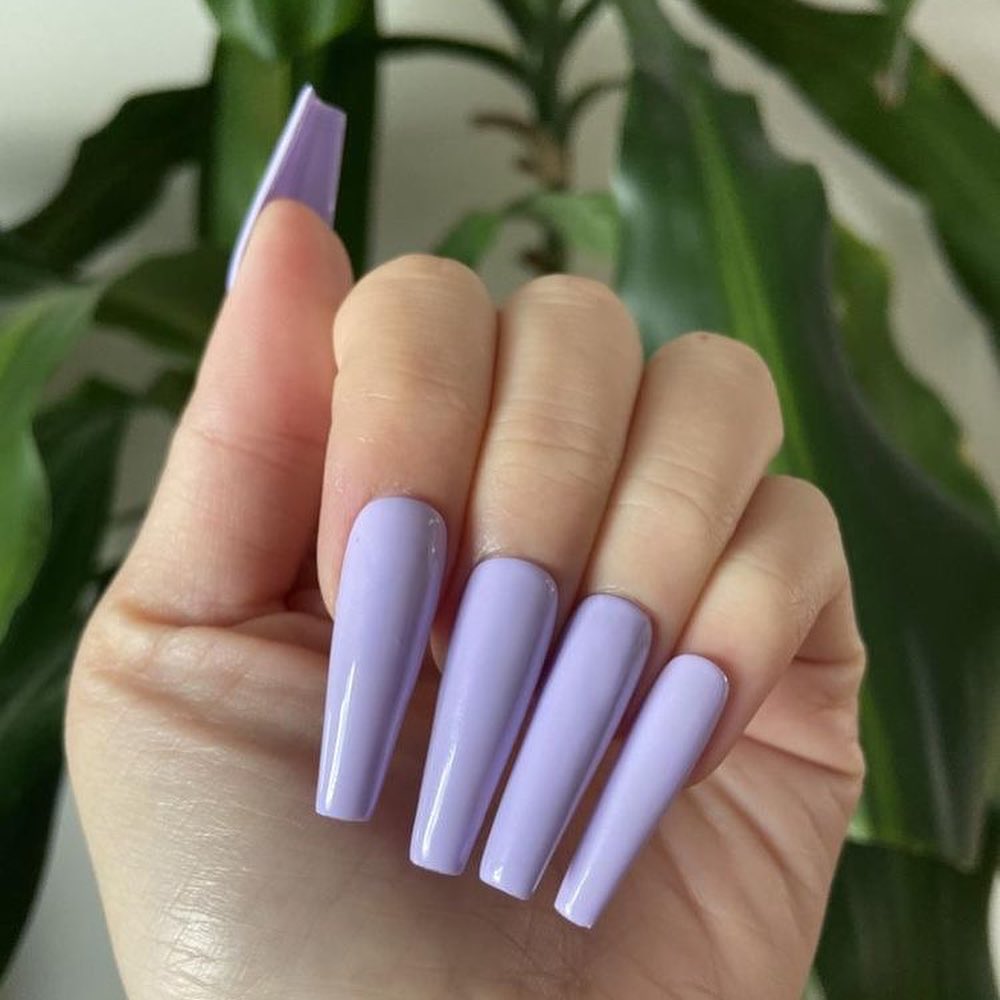 Lengthy and in charge, long acrylic purple coffin nails are for those who aren't afraid to command attention with bold shapes and unmissable colors. They're durable, dramatic, and perfect for expressing personal style on a grand scale.
Purple Coffin Nails With Daisy Flower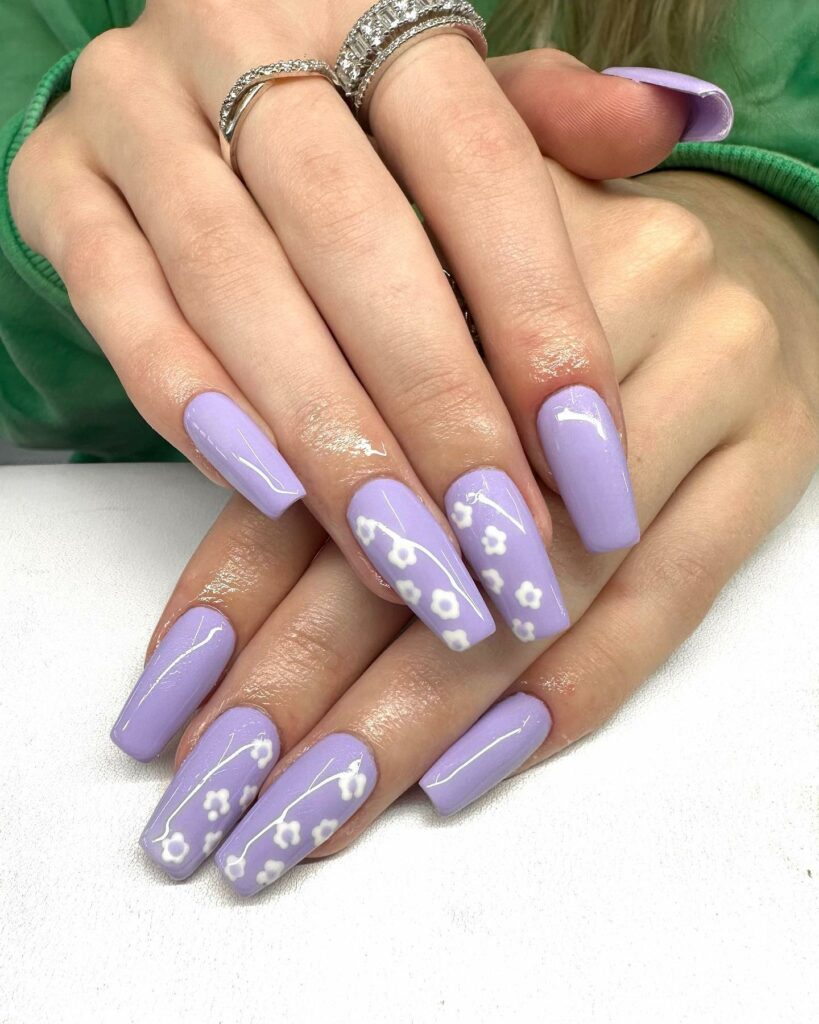 Channel the charm of a daisy-strewn meadow with purple coffin nails featuring dainty daisy designs. This playful and fresh take on floral nails adds a youthful and carefree vibe to your look.
Metallic Dark Purple Coffin Nails
Metallic dark purple coffin nails combine the best deep color with a shimmering finish, perfect for those who love a bit of edge with their elegance. These nails are the night sky's answer to a statement nail, mysterious yet full of sparkle.
Chrome Purple Coffin Nails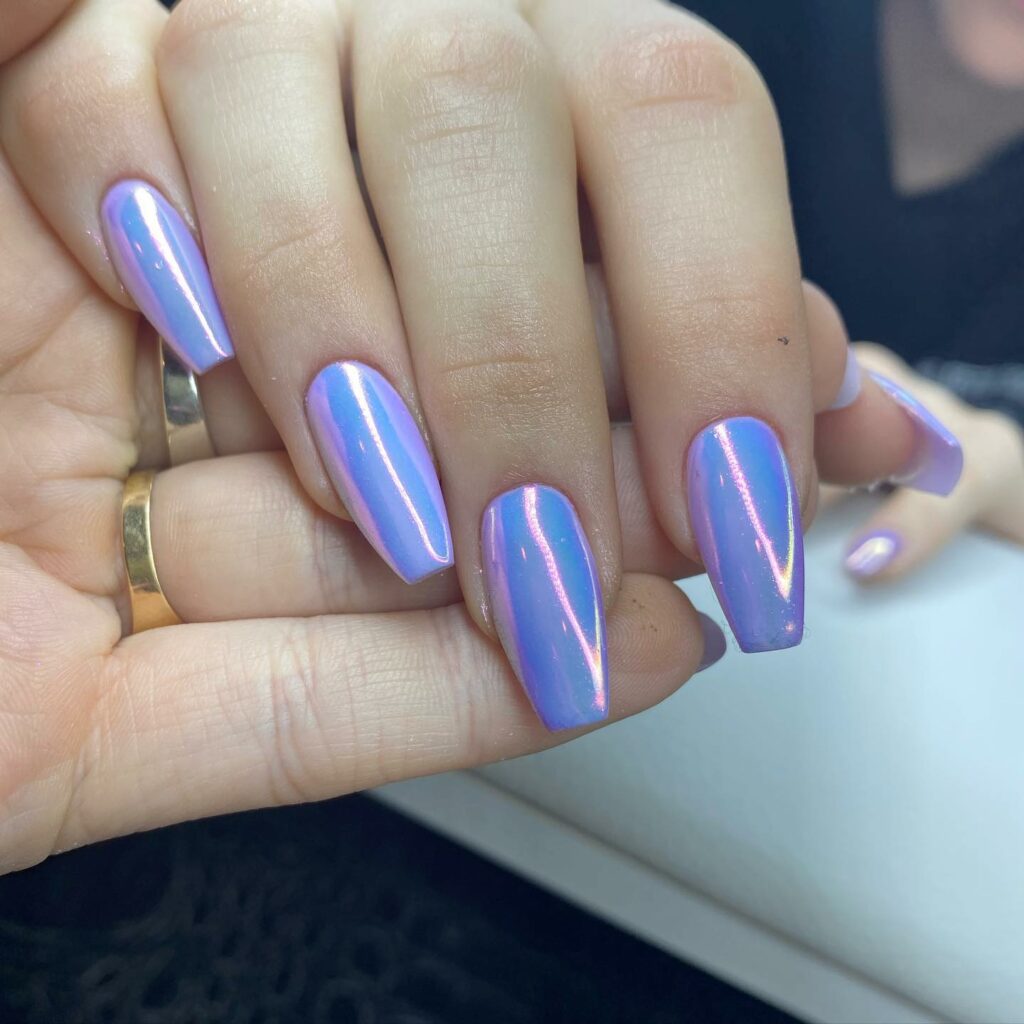 Chrome purple coffin nails reflect a sleek, mirror-like finish that will turn heads. They're your go-to for a futuristic vibe that pairs with any outfit, bringing an edgy yet sophisticated aura to your nail aesthetics.
Short Purple Coffin French Nail With Rhinestones
These tiny purple coffins with a classic French twist and a sprinkle of rhinestones offer a chic update to a beloved standard. They maintain a low-key profile while delivering just the right amount of shine.
Clear Tips Purple Ombre Coffin Nails
The notion of butterflies dances across clear-tipped purple ombre coffin nails, marrying transparency with dreamy color. This enchanting design adds a fairytale touch to the contemporary coffin shape.
Dark Purple Nails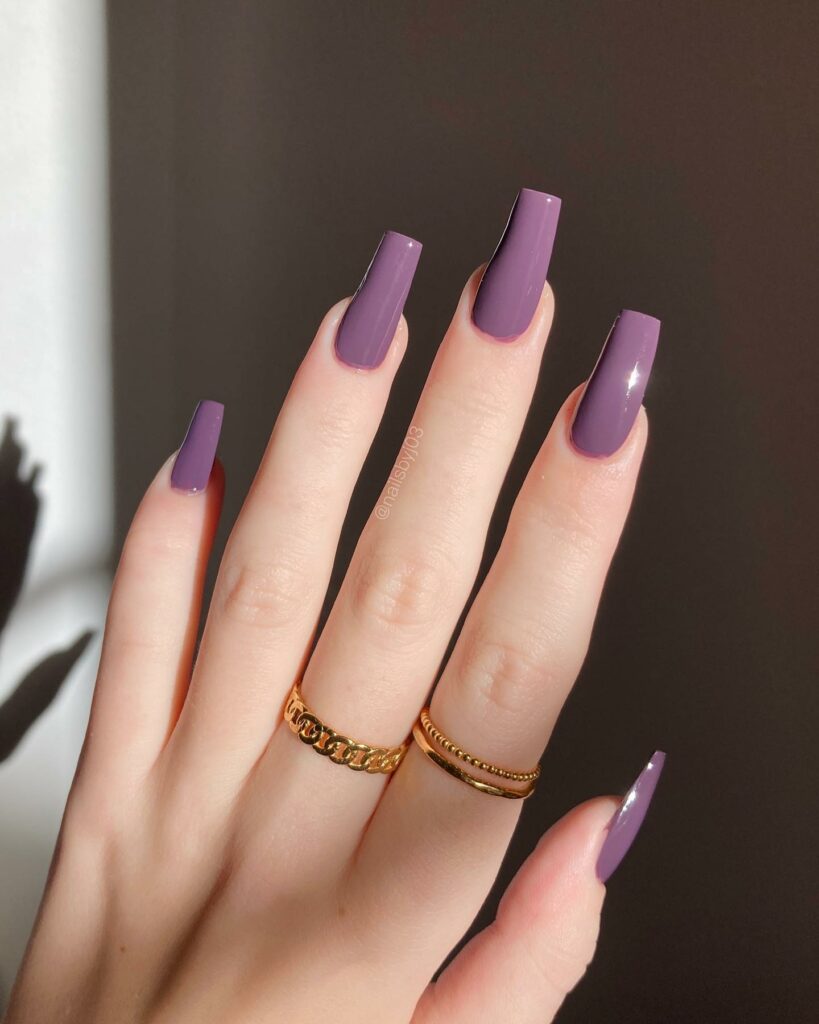 Dark purple nails bring an air of mystery and power, perfect for making a statement without a single word. The depth of this color is both versatile and striking, suited for any occasion that calls for a hint of drama.
My Advice On The Perfect Shades Of Purple For Coffin Nails?
When it comes to the best shades of purple for coffin nails, you've got a royal palette to play with! If you want to make a statement, you can't go wrong with a deep plum or a vibrant violet – these hues scream confidence and are always in vogue. For those who prefer a touch of subtlety, a soft lilac or lavender is dreamy and sophisticated, perfect for a more understated look. For a bit of edge, consider a metallic purple or an amethyst with shimmer – it's like the classic purple got a rockstar makeover. And let's not forget about the wine-toned purples; they bring in a level of richness and depth that works wonders on those coffin nails, especially when transitioning from summer fun to autumn chic.
But hey, who says you have to stick to one? Ombre styles that blend shades of purple can offer a gradient of glam from your cuticle to your tips. And for those special occasions, a punch of glitter or a hint of gold flakes with your purple can turn your nails from simply pretty to absolutely stunning. Remember, the best shade is one that makes you feel fabulous, so whether you choose a hue that's bold and bright or soft and sultry, wear it with confidence. After all, your nails are an extension of your personality – so let them show off who you are!
8 Tips To Get The Perfect Coffin Shape?
Achieving the perfect coffin nail shape is all about precision and upkeep. To start, you'll need your nails to be of a certain length because coffin nails require some canvas to work with. Here's a simple guide to get those nails looking sharp:
Filing: Start by filing the sides of your nails towards the center to create a tapered effect. You want to maintain the length as you go, angling inwards to achieve that iconic coffin shape – think long and narrowing towards the tip, but not coming to a point. Keep the tip flat and straight across.
Symmetry is Key: Check and recheck the symmetry as you file. Each side should mirror the other. It's easy to over-file one side and throw off that crucial balance, so take it slow.
Buffing: Once you've got the shape, buff around the edges to smooth out any roughness – you don't want any snagging. This also preps the nail for polish by creating a smooth surface.
To maintain your coffin nails:
Regular Filing: Nails are like hair; they need regular trims. File your nails once a week to maintain the shape, paying particular attention to the sides as your nails grow.
Strengthening: Use a nail hardener to reinforce your nails. Coffin nails can be prone to breakage due to their shape, so keeping them strong is essential. Incorporate biotin-rich foods into your diet or consider a supplement to promote nail health.
Moisturizing: Never underestimate the power of hydration. Apply cuticle oil daily to keep the nail bed and surrounding skin soft. This helps prevent hangnails and keeps nails flexible, reducing the risk of breakage.
Gentle Use: Treat your nails like jewels, not tools. Be mindful of how you use your hands to prevent chipping or breaking.
Touch-ups: If you're wearing nail polish, gel, or acrylics, touch-ups are your best friend. When you see growth or wear, a quick fix at home or a salon visit can keep them looking fresh.
Remember, the perfect coffin shape is a blend of art and science – it takes a careful eye and a bit of practice. But once you've nailed it (I love a good nail pun), the results are stunning and absolutely worth the effort. Keep up the maintenance, and those coffin nails will be a staple in your beauty routine.
Still Looking for Inspiration, Then Check Out This Video
Conclusion
Alright, we've reached the end of our colorful journey through the purple coffin nail universe. Remember, the key to nailing (pun intended) any of these looks is to embrace your style and not be afraid to experiment. Whether you're going for the bold statement of a metallic finish, the intricate designs of 3D art, or keeping it chill with a simple matte, your nails are your canvas. My hot tip? Always keep those cuticles moisturized and invest in a good base and top coat – it makes all the difference in longevity and shine (or intentional lack thereof). If you're doing this at home, take your time, and don't be disheartened by a streak or two; practice makes perfect. For those hitting the salon, don't shy away from sharing exactly what you want – a picture is worth a thousand words to your nail tech. Have fun, be bold, and let your purple flag fly high because life's too short for dull nails. Keep shining, you dazzling diamond!
Feature Image Photo By luxxinails On Instagram
Last reviewed and updated on November 10, 2023