Today, we're diving deep into a shade that embodies autumn like no other: burnt orange. Warm, vibrant, and chic burnt orange nails are the epitome of fall fashion. This post is your ultimate guide to 30 stunning burnt orange nail designs that will get you in the mood for the coziest season of the year and turn your fingertips into a mini canvas of autumnal art.
We've got everything from minimalist designs to intricate nail art, from glossy to matte finishes. Expect a bevy of style tips, DIY ideas, and insider insights to help you nail (pun intended) this scorching trend.
So grab your coziest blanket, a mug of something steamy, and let's dive into the gorgeous world of burnt orange nails together. Let's welcome the fall season with fingertips that celebrate its spirit!
Falling for Fall: Setting the Scene
Now, close your eyes and imagine this – the air is crisply cool, every breeze carries the rich aroma of freshly-baked cinnamon treats, and cozy campfires become the weekend norm. The trees paint a picture with a palette full of warm oranges, deep reds, and golden yellows. Fall is just around the corner, my dears, and I can't help but already anticipate the comfy sweaters, toasted s'mores, and, of course, the piping hot mugs of cocoa, curling steam dancing to the tunes of my favorite jazz tracks.
The Cutest Burnt Orange Nails To Copy
Burnt Orange Nails: The Classic Look
The classic burnt orange nails are a staple for a reason. This warm, inviting hue makes you think of cozy autumn evenings by the fireplace. You can never go wrong with a complete set of burnt orange nails to usher in the fall season.
Orange Nail with Moon and Star: Cosmic Beauty
Imagine your nails adorned with tiny moons and stars on a burnt orange backdrop. This design adds an ethereal vibe to your nails, taking the burnt orange base to astronomical heights. One time, I wore this design to a night out, and let's say my nails were the evening stars!
Autumn Asymmetrical Frenchies: Twist on a Classic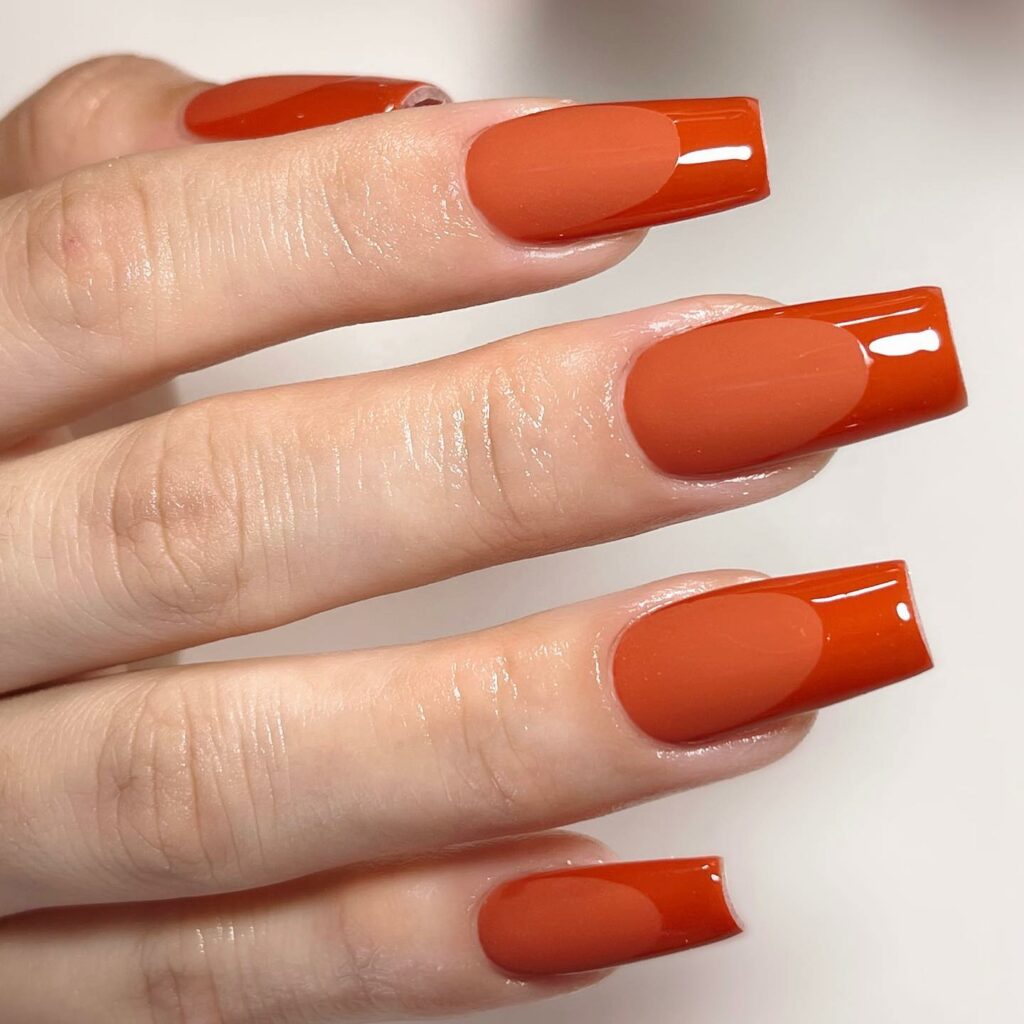 Remember the classic French manicure? Well, it's time for a fall update! In this style, the traditional white tips are replaced with burnt orange, often with an asymmetrical twist. This look offers a fresh yet sophisticated upgrade, making your nails embody autumn elegance.
Burnt Orange Nails with Gold Accent: Touch of Luxury
Burnt orange and gold—two shades that scream opulence when paired together. A burnt orange base with a streak of gold can make your nails look like a million bucks. Last Thanksgiving, I had these nails, and they perfectly complemented my outfit, giving it that extra flair.
Burnt Orange Square Nails: Geometry Meets Fashion
Square nails provide a clean, modern canvas for the burnt orange color to shine. It's a neat look that radiates confidence and style. Square nails have always been my go-to for work events; they look professional yet trendy at the same time.
Orange Almond Nails: A Dash of Sophistication
For those who love a more elongated look, almond nails in burnt orange are your go-to. The tapered shape combined with this warm hue adds grace and sophistication to your overall look. I wore this design last fall; it was the perfect way to add a refined touch to my daily wear.
Acrylic Burnt Orange Nails: Bold and Beautiful
If you're looking for a durable and long-lasting style, acrylics are your best bet. With burnt orange acrylics, your nails will stand out while standing up to the daily grind. I love how acrylics allow for more intricate designs and textures, turning my nails into mini artworks.
Burnt Orange Dip Nails: Long-lasting Elegance
Dip nails offer a smooth, natural finish while promising longevity. This style can effortlessly accompany you from one fall event to another in burnt orange. Dip nails are great for those busy weeks when you have no time for nail maintenance but still want to look on point.
Burnt Orange Short Nails: Simple and Chic
Short nails can be as impactful as their longer counterparts, especially when painted in burnt orange. This look is easy to maintain and ideal for those who prefer functionality without sacrificing style. Trust me, you'll still turn heads and be able to type or text without any hassles!
Elegant Burnt Orange Nails: Grace in Every Stroke
Think of burnt orange combined with subtle accents like minimalist patterns or tiny gemstones. These elegant designs bring a luxurious touch to your burnt orange nails. Whenever I feel like embracing my inner Duchess, this is the style I opt for.
Short Burnt Orange Nails: Uncomplicated Elegance
Short nails can rock the burnt orange hue. The color adds a rich depth that makes your nails pop without requiring extravagant designs. Short nails are all about practicality meeting style, and when I'm on a DIY home project kick, this is my go-to!
French Orange Tips Nails: A Modern Twist
Who said the French manicure couldn't be updated? Swap out your traditional white tips for some burnt orange ones for an unexpected dash of autumn flair. I once rocked this look to a friend's fall-themed party, and the compliments just kept coming.
Long Orange Tips Nails: Extend the Drama
Long nails with burnt orange tips take the style factor to another level. These are for when you want your hands to make a grand statement. I wore these to a fashion event last year, and they were practically a conversation starter!
Sunny Orange Nails: Bring Your Own Sunshine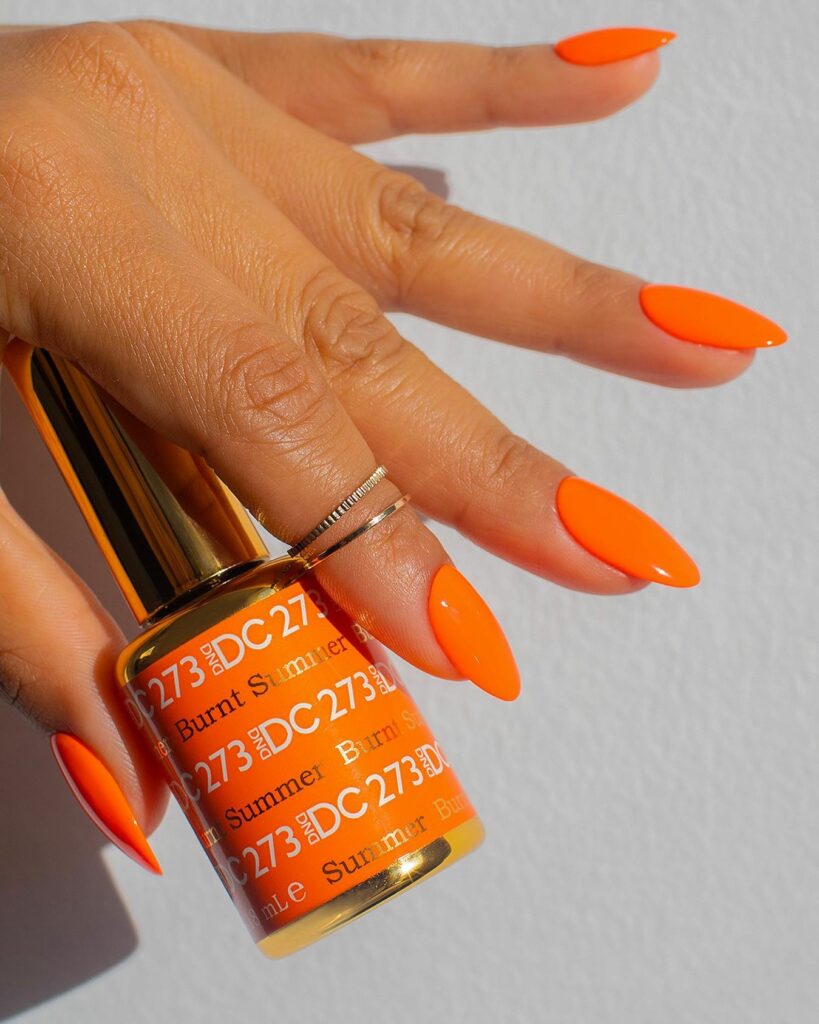 While burnt orange screams fall, a sunnier shade brings a surprising burst of vibrancy. It's like carrying a piece of summer as you step into autumn. Last September, I wore this sunny shade as a nod to the fading summer days, and it was a hit.
Acrylic French Orange Nails: Durability Meets Chic
For those who want their style to last, acrylic French tips in a burnt orange shade offer longevity and chicness. The acrylic gives you a sturdier base, perfect for those who are always on the go. These were my lifesavers during a hectic travel week last year.
Marble Burnt Orange Nails: A Canvas of Color
Marble nails have been in trend for a while, but have you tried them in burnt orange? This design swirls different shades of orange to create a stunning visual effect. I wore this design on a spontaneous road trip to see the fall foliage, and it felt like I was carrying a piece of art.
Acrylic Burnt Orange Nails: Classic Meets Endurance
If you want a straightforward burnt orange look but need it to last, go for acrylics. They offer durability while letting the burnt orange hue shine in all its glory. My acrylic burnt orange nails once survived an entire camping trip looking picture-perfect.
Burnt Orange Nails With Glitter: Add Some Sparkle
A little sparkle never hurt anyone! Adding glitter to your burnt orange nails can give you that extra pizzazz for a night out or a special occasion. I did this for a recent autumn wedding, and let's just say the sparkle was natural!
Short Orange Short Nails: Practical Can Be Stylish Too
You read that right—short nails deserve another shoutout. This time, consider a lighter orange shade that's still rich but offers a slightly more understated look. Whenever I have a week packed with typing and hands-on tasks, these short nails are my heroes.
Halfmoon Burnt Orange Nails: Crescent Chic
This look features a nude or explicit base with a burnt orange half-moon near the cuticles. It's a subtle yet captivating design; I rocked it during a dinner date, and my partner couldn't stop commenting on their uniqueness.
Burnt Orange With Flower Nails: Botanical Beauty
If you love florals but think they're too spring-focused, think again! Adding a tiny flower design on one or two nails can make your burnt orange look feel like a fall garden. I once sported this at a Thanksgiving dinner, and even my traditionalist grandma was intrigued!
Clear Orange Nails: Subtle yet Impactful
Sometimes, less really is more. A clear base with a hint of orange can give a minimalist yet vibrant look. I remember wearing these during a hectic week of meetings; they provided an understated pop of color without stealing the spotlight.
Ying Yang Orange Nails: Balance and Harmony
This unique design blends two shades of orange into a yin-yang pattern for a balanced yet dramatic look. The time I sported these, I was in a yoga retreat, and let's just say, I felt completely zen and stylish at the same time.
Orange Swirl Nails: A Whirl of Style
Incorporate swirling patterns in shades of orange to make your nails a conversation starter. I once wore these to an art gallery opening, and they felt like mini canvases!
Orange Flower Nails: Flora in Focus
A single orange flower painted on each nail against a neutral base can create a fun, eye-catching design. These were a hit at my best friend's garden brunch; she claimed the nails bloomed more than her roses!
Almond French Orange Nails: A Tasty Twist
Almond-shaped nails offer a chic canvas for a French tip makeover. Swap out white tips for orange for a modern twist. I tried these when I decided to go for a cooking class; let's just say the nails looked as delicious as the dishes I made.
Orange and Pink Swirl Nails: Candy Cane Reimagined
Mix pink with orange in a swirling pattern to create a candy cane effect suitable for fall. When I went for a nostalgic movie night with old pals, these nails made the popcorn look dull!
Orange Nails with Glitter: Stardust Magic
Add some glitter to your orange base if you want a glam factor. It's like a mini firework display at your fingertips. The last birthday bash I attended? These nails were the real fireworks.
Orange Square Nails: Edgy Meets Elegant
Square nails can give a robust and modern edge to the traditional orange. Last season, I rocked this at a tech conference, and it felt like I was sporting tiny, trendy billboards.
Double Burnt Orange French Nails: Double the Chic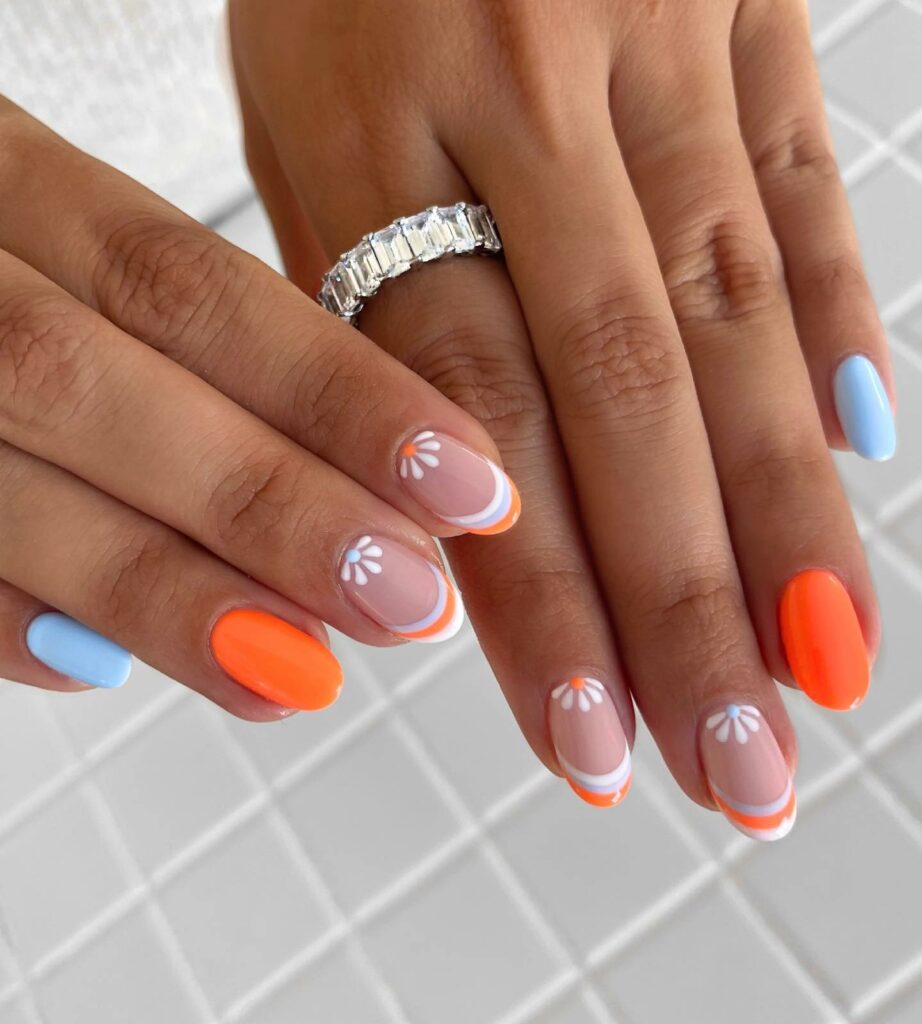 Why settle for a single orange line when you can double up? This look adds extra sophistication to the classic French nail design. I wore these to a book launch recently, and they doubled the number of questions I got about my style tips!
Almond French Orange Nails: Chic with a Zesty Twist
If you're looking to put a contemporary spin on the ever-so-classic French nails, look no further. Swapping out the traditional white tips for orange gives you a playful yet refined look. I wore these to a cooking class last weekend, and it felt like I was chopping vegetables with a Michelin-star-worthy manicure!
Burnt Orange Ombre Nails: Smooth Transition
For a more subtle, blended look, try ombre nails that start with a lighter orange and graduate to burnt orange tips. This design feels like capturing a fall sunset right at your fingertips.
Burnt Orange with White Accents: Clean Contrast
A burnt orange base with white geometric accents offers a modern vibe. I wore this design to a casual dinner once, and everyone wanted a closer look at my nails more than their own plates!
Matte Burnt Orange: Elegance Meets Edgy
Matte burnt orange nails offer a sophisticated but low-key glam. They're perfect for that understated drama that we sometimes crave.
Glossy Burnt Orange: Shine On
If you're the kind of person who loves a high-shine finish, glossy burnt orange nails are your go-to. They capture and reflect light, making your nails a focal point.
Burnt Orange with Black Tips: Drama and Depth
Adding black tips to your burnt orange nails creates instant drama and depth. This choice offers an edge and pairs well with almost any fall outfit.
Burnt Orange with Metallic Stripes: Sleek Lines
Metallic gold or silver stripes on a burnt orange base are like jewelry for your nails. I sported this look at a wedding once and felt like my nails were an extension of the bridal bling!
Leopard Print on Burnt Orange: Wild and Trendy
Unleash your inner wild side by adding leopard print details over a burnt orange base. This design is a fun way to express your creativity and stand out in a crowd.
Burnt Orange and Burgundy: A Delicious Pair
Pairing burnt orange with burgundy accents creates a rich, inviting palette that screams autumn. It's like the visual version of a cozy fall sweater.
Polka-Dot Burnt Orange: Playful Pops
Simple white or black polka dots on a burnt orange base offer a playful look perfect for the weekend. These always remind me of fall festivals and candy corn!
Burnt Orange with Floral Stamps: Detailed Beauty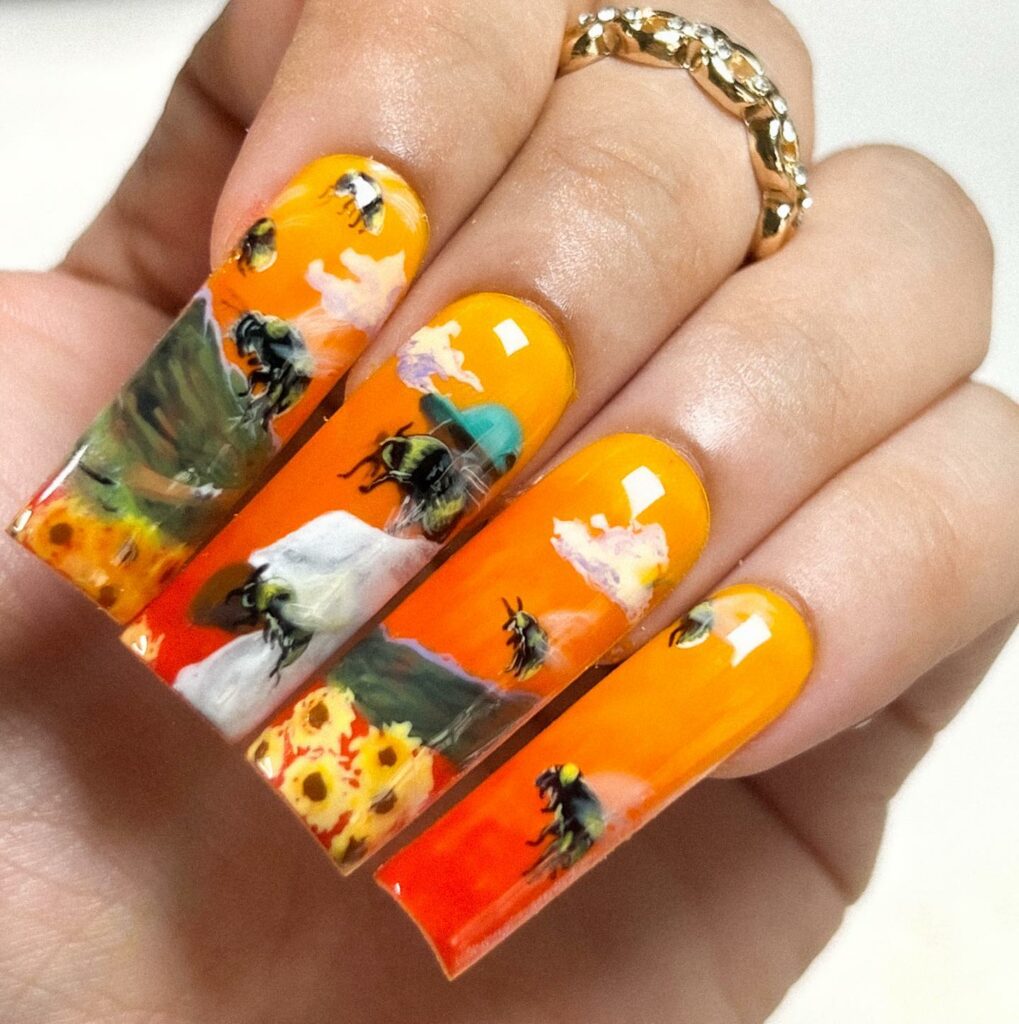 Stamps offer a quick and easy way to add intricate details. Floral stamps over a burnt orange base feel like autumn leaves with an artistic flair.
Cracked Burnt Orange: Shattered Elegance
Add a cracked top coat over your burnt orange nails for a distressed, artistic look. This design feels like a modern painting but on your nails.
Burnt Orange with Lace Details: Vintage Chic
Add lace detailing to your burnt orange nails for a more romantic feel. This adds a touch of vintage charm and femininity to your look.
Quick Change: Press-Ons For the Win!
Remember, the fall season spans a few months, so it's a fantastic idea to switch up your nail designs occasionally. My secret weapon for this? Press-on nails! These beauties can be worn and removed at your whim, lasting impressively long and offering a cost-effective and eco-friendly way to regularly change up your nail game.
Benefits:
Affordability: Press-on nails are usually more budget-friendly than salon manicures. You can find a wide range of affordable options that deliver stunning results.
Convenience: You can apply press-on nails anytime, anywhere. There's no need to book an appointment or spend time traveling to a salon.
Variety: There's a tremendous array of styles, shapes, and colors available. You can change your look frequently, matching your nails to your mood or outfit.
Low Damage Risk: When applied and removed properly, press-on nails cause minimal damage to your natural nails compared to traditional acrylics or gel extensions.
Drawbacks:
Adhesive Quality: Depending on the brand and adhesive used, press-on nails may not stay on as long as salon-applied nails.
Fit and Comfort: Finding press-on nails that match the shape and size of your natural nails perfectly can sometimes be challenging.
Application Learning Curve: While applying press-on nails isn't rocket science, it may take a few tries to achieve a professional-looking result.
But if you're more of a salon mani-kind-of-gal, worry not. Save your favorite design from our post and show it to your nail tech the next time you're in for a pamper session. They'll be more than happy to recreate the look you've fallen for.
Benefits:
Professional Quality: With salon manicures, a trained nail technician applies the products, ensuring a high-quality, durable finish.
Longevity: Gel, acrylic, or dip powder manicures done in a salon generally last longer than press-on nails—often up to three weeks without chipping.
Relaxation: There's something special about the salon experience—the pampering, the relaxation, and the joy of having someone else take care of your nails.
Drawbacks:
Cost: Regular salon visits can be costly, especially if you opt for designs with intricate detailing or high-end products.
Time Commitment: Depending on the type of manicure, a salon visit can take anywhere from 30 minutes to over an hour. This doesn't include travel time or possible wait times.
Risk of Damage: Improper application or removal of acrylics, gels, or dips can cause damage to your natural nails. Always ensure you're going to a reputable salon with skilled technicians.
6 Tips For Proper Nail Care
Keeping your nails in top shape, whether you're rocking press-on nails or going in for a full salon service, is essential to maintaining the health and beauty of your hands. I've learned a few tried-and-true tips over my years as a beauty blogger, and I'm thrilled to share these nuggets of wisdom with you.
1. Keep your nails hydrated
Like your skin, your nails and cuticles can become dry and brittle. Keep them moisturized with a high-quality nail oil or cream. I'm fond of oils infused with jojoba or almond oil—they smell divine and leave my nails feeling super nourished!
2. Be gentle with press-on
When it's time to change your press-on nails, be gentle! Don't force or pull them off; this can damage your natural nail bed. I typically soak mine in warm, soapy water to loosen the adhesive, and they usually slide off easily.
3. Practice good hygiene
This is a biggie, especially when visiting a salon. Make sure your chosen salon is clean and sterilizes its tools. Be bold and ask about their sterilization process! After all, it's your health on the line. I had an unfortunate run-in with an unclean salon once—let's say nail fungus is not a look anyone wants!
4. Regular breaks are beneficial
Even though I adore having my nails done, giving them a breather now and then is crucial. Taking a week off between press-on sets or salon visits allows your nails to repair and recover, ensuring they stay strong and healthy.
5. Take care of your cuticles
Cuticles are the protective barrier for the nail growth area, so keeping them healthy is essential. Could you not cut them? Instead, gently push them back after a shower or bath when they're soft. A little cuticle oil can go a long way in maintaining their health.
6. Communicate with your nail tech
Feel free to speak up if something feels wrong during your salon visit. Remember, no one knows your nails better than you. Your nail tech should know if a file is too harsh or the polish is too hot.
Follow these tips, and your nails will stay healthy, strong, and ready for any design or color you choose.
5 Cool Ideas To Pair Burnt Orange Nails With Different Colors And Styles
1. Burnt Orange with Neutrals
Neutrals and burnt oranges are a match made in heaven. Consider pairing burnt orange with a soft beige, creamy ivory, or even a chic, dark espresso. This combination creates a balanced and elegant look that screams sophistication. I love to do a burnt orange base with a dainty, minimalistic design in beige or white.
2. Burnt Orange with Jewel Tones
Jewel tones and burnt orange? A bold yet surprisingly harmonious combo! Try incorporating rich, dark blues or royal purple into your nail art. These colors add a deep contrast that makes the burnt orange pop. Trust me, it's a head-turner!
3. Burnt Orange with Metallic Accents
Metallics and burnt orange are a combination I adore. Gold accents complement burnt orange beautifully, creating a warm, luxurious look. Whether it's a metallic gold stripe, dot, or some abstract shape, it will surely add a touch of elegance to your nail design.
4. Burnt Orange with Animal Print
Want to add a little wild to your look? Try pairing burnt orange with an animal print design. Whether a cheetah print or some zebra stripes, it gives off an edgy, trendy vibe. I once rocked a burnt orange manicure with leopard spots, and let me tell you, the compliments didn't stop coming!
5. Burnt Orange and Plaid
Plaid patterns create a cozy, fall-friendly vibe. A burnt orange base with a black and white plaid pattern is a winning combo. Not only is it cute, but it also adds a touch of texture and depth to your design.
There you have it, lovelies! Burnt orange is more than capable of being your go-to autumn hue. It's a warm, inviting color that pairs well with many styles. I encourage you to play around, mix and match, and, most importantly, have fun expressing yourself through your nail art this fall season. Let your nails tell your autumn story!
Conclusion
And there you have it, my fabulous readers, a kaleidoscope of 35 scintillating burnt orange nail designs to inspire your autumn aesthetics. Remember, the key to nailing (pun intended!) this look lies in your style and creativity. Pair your burnt orange with cool blues, crisp whites, or luxurious golds. Experiment with rhinestones, glitters, and prints to add personal flair. Press-on nails are your secret weapon for frequent changes without the hassle, but a trip to your trusted nail tech can also bring your favorite design to life. Just be mindful that both methods require proper nail care to prevent any potential damage. Keep your nails moisturized, avoid prying off press-on without the proper technique, and always communicate any discomfort during a salon visit. But most of all, enjoy the process! Your nails are an extension of your style, a canvas to express your mood, season, or even your daily whims. So go ahead, dive into the world of burnt orange, and embrace the warmth and vibrancy of fall right at your fingertips!