Ever get stuck in the nail polish aisle, dazzled by too many colors? I feel you. But today, we're zeroing in on the one color that never lets you down—good ol' red. I'm talking iconic, traffic-stopping red pedicures that turn your toes into tiny works of art. From choosing the dreamiest shade to nailing the application (pun totally intended), I'll give you the lowdown on how to get that salon-worthy look at home. Personal tip: Invest in a top-notch red polish; it's a game-changer for longevity and luster. Stick with me, and I promise, you'll never look at your toes—or red polish—the same way again. Ready? Let's do this!
The Modern Matte Red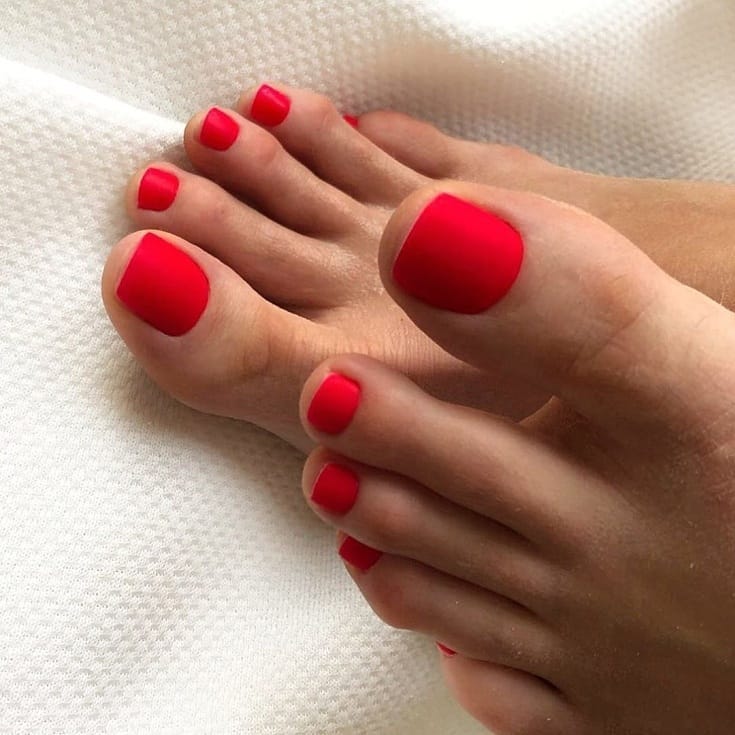 If you haven't tried a matte red pedicure yet, you're missing out on a whole vibe! The matte finish takes the classic red and adds a modern, edgy twist, making your toes look like they just stepped off a high-fashion runway.
Go Metal With Metallic Red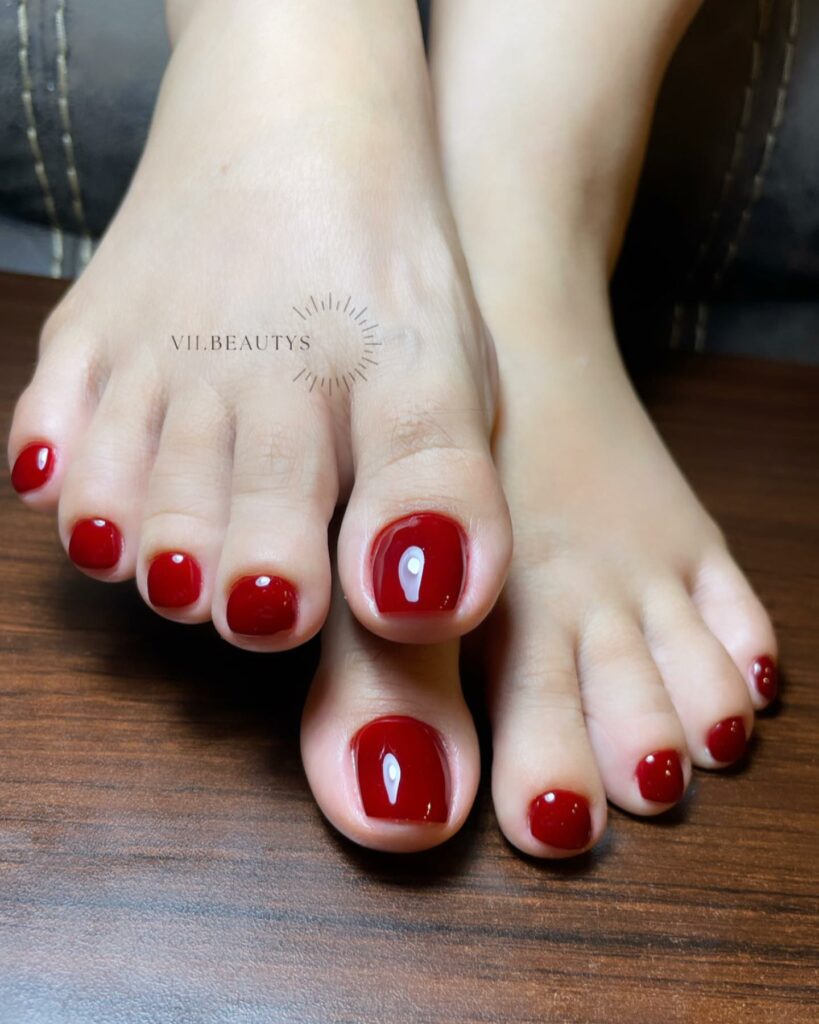 Metallic nails are the life of the party. Think of them as the shimmering disco ball in a sea of plain polishes. I once tried a metallic red before a night out, and it was a total showstopper. You can get the look with specialized "mirror" or "chrome" powders mixed with your polish. Trust me, it's easier than it sounds!
The Sensual Red & Maroon Ombré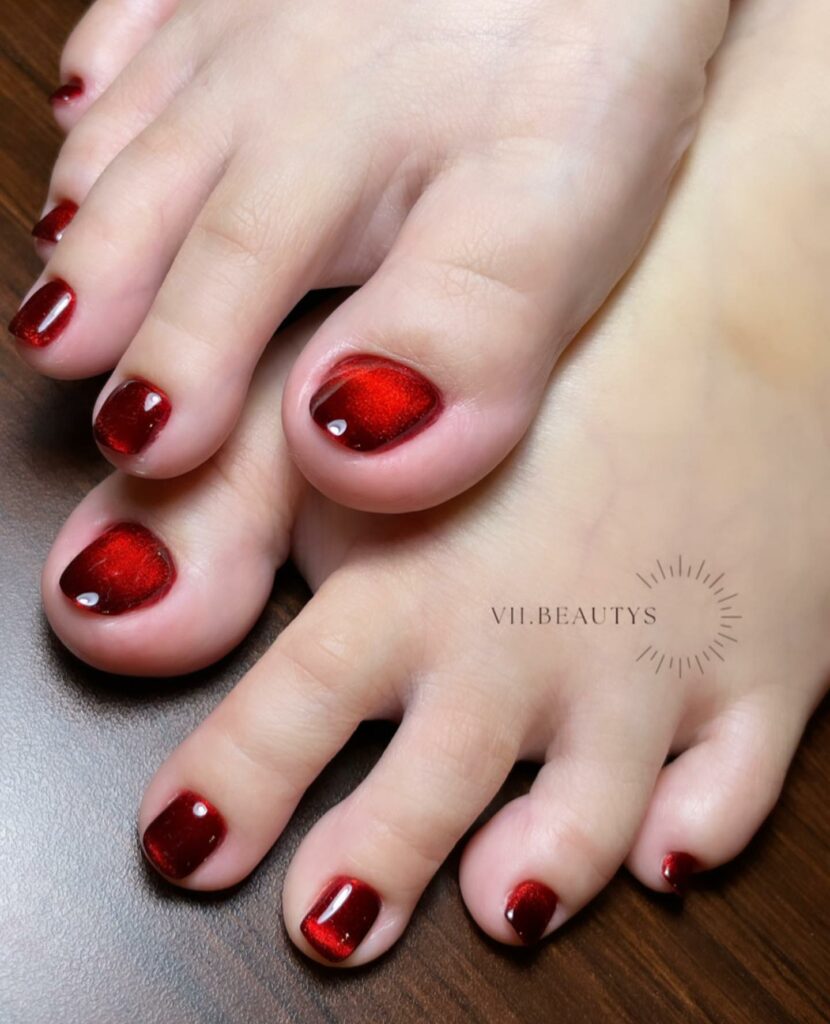 Ombré isn't just for your hair, darling. Blend a classic red with a deep maroon, and you have a gradient to die for. It's like the pumpkin spice latte of nail designs—ideal for those cooler months. My tip? This style looks fantastic on longer nail shapes like stiletto or coffin.
The Unexpected Red & Pastel Combo
Now, who says red and pastel can't be besties? I've tried a coral-red accent nail alongside pastel pinks, and it was an eye-catching beauty. It's like that surprise twist in your favorite TV show—totally unexpected but completely extraordinary.
The Romantic Duo: Red & Pink
Nothing screams romance louder than red and pink. I love wearing this duo for date nights or anniversaries. Amp up the cuteness by adding little hearts. You'll have bae swooning in no time.
Retro Chic: Red & White Candy Stripes
If you're a fan of all things vintage, this one's for you. I tried this candy-striped look last summer and felt like I'd stepped out of a '60s beach party movie. For an accessible DIY version, diagonal stripes work just as well!
Say It With Love: Red & White Love Nails
Romance alert! Whether it's date night or you're just feeling yourself, a red pedicure with a white heart feature (or vice versa) is all kinds of adorable. And don't shy away from heart-shaped glitter. The more, the merrier!
Fresh and Fruity: Red Cherry Nails
Who can resist the charm of cherry-print nails? These babies will have you daydreaming of summer picnics. Go complete '90s by pairing them with classic French tips.
Playful Red Dots
Red dots are your jam if you're a fan of subtlety with a twist. Try oversized dots for a fun, modern take on a classic. They look fantastic over a nude or white base.
Classic Twist: Red French Pedicure
I adore the French pedicure. But swap the traditional white tips for red, and voila! You've got yourself a chic and sexy twist perfect for any occasion. I've rocked this at the office and happy hour, and it never fails to turn heads.
Cute as a Button: Love Heart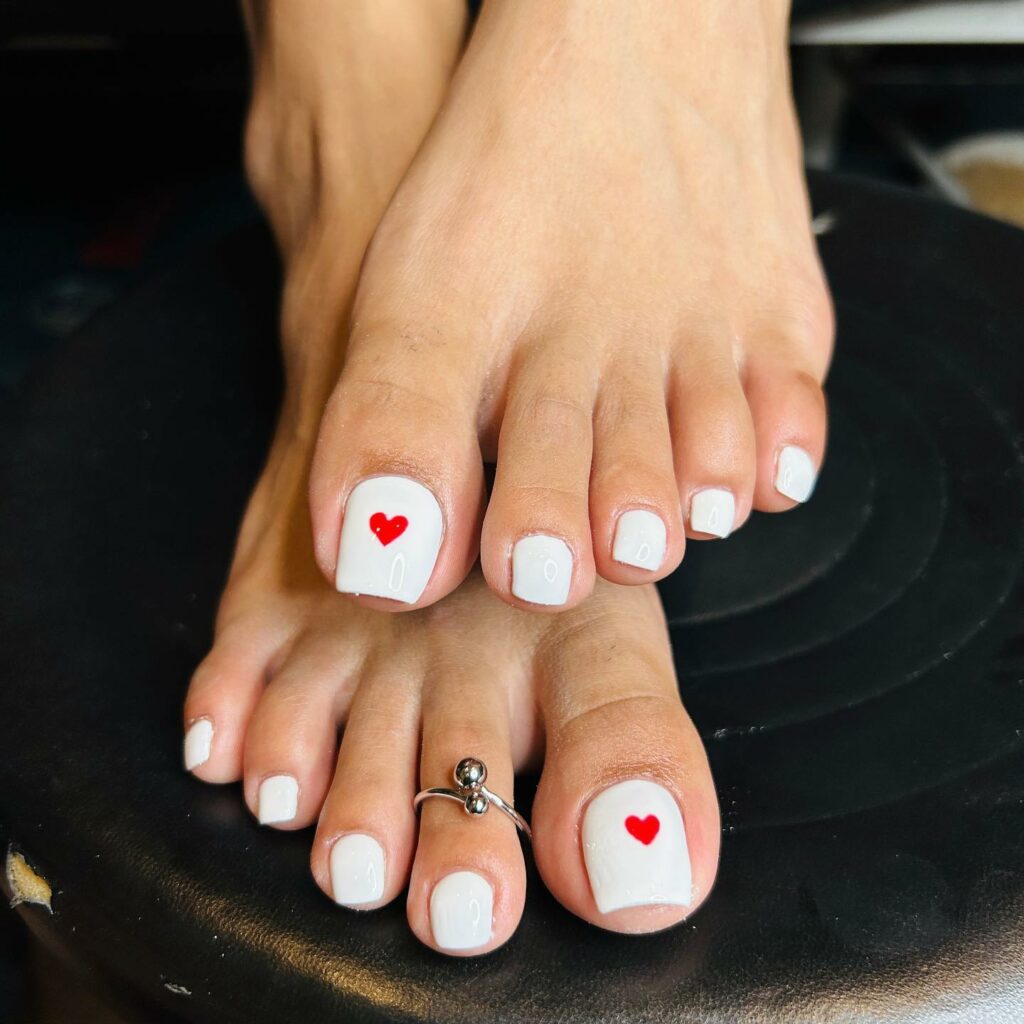 Heart are as cute as they sound. Shape your nails into an oval or almond, paint on a double curve, and there you have it—a heart on each tip. It's so simple, yet so darn cute.
Blushing Beauty: Red-Pink Nail
A red-to-pink is the definition of pretty. Use a white base coat to make the colors pop and a damp makeup sponge for the perfect gradient. Finish off with a glossy top coat, and you're set!
Quick & Chic: Red Stick-On Nails
Pressed for time? Stick-on nails are your quick fix for a glam look. Opt for red, and you've got a classic that suits any outfit.
Make a Statement: Red Pedicure With Feature Nails
Jazz up your classic red pedicure with feature nails in a contrasting color or pattern. Trust me, it's an attention-grabber.
All the Reds, All the Time: Shades of Red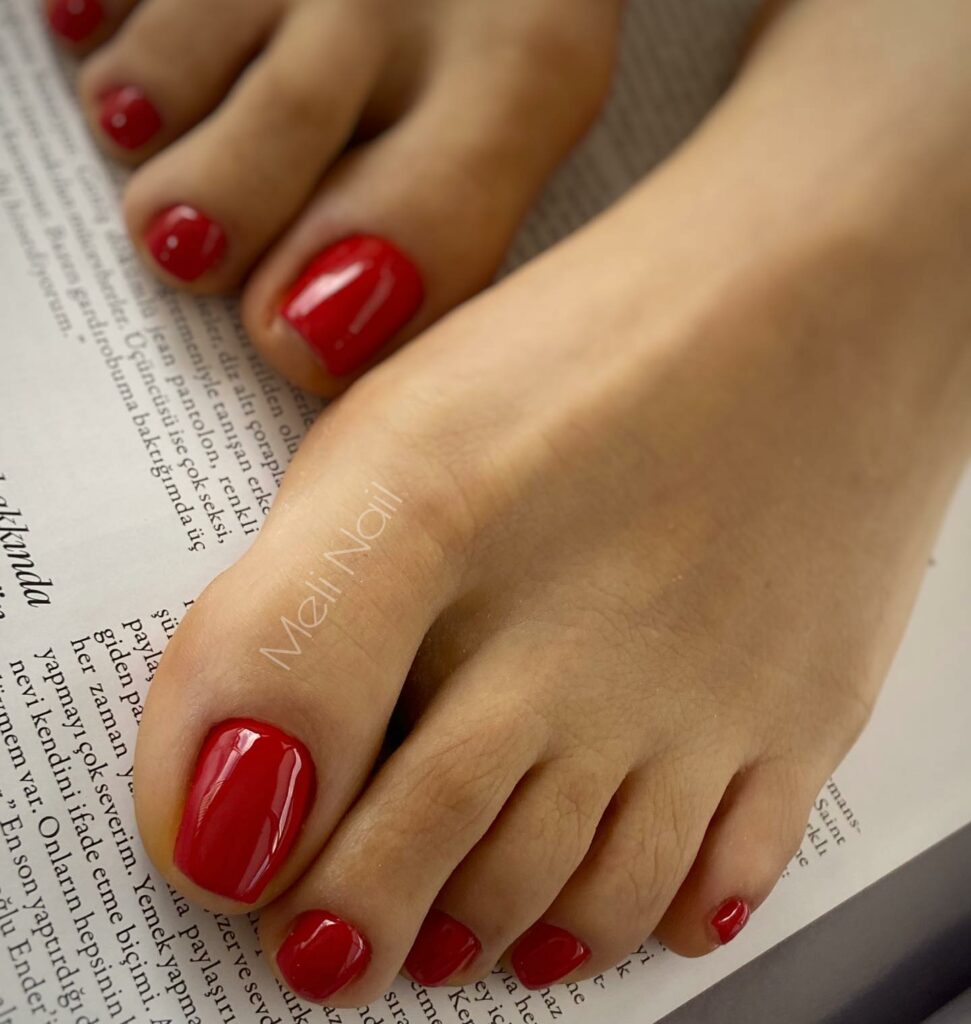 Need help deciding which red to choose? Why not all of them? A shades-of-red pedicure creates a harmonious blend of cool berry to hot orange hues. It's like a fashion runway but for your nails.
The Chic Simplicity of Red Aspen Nails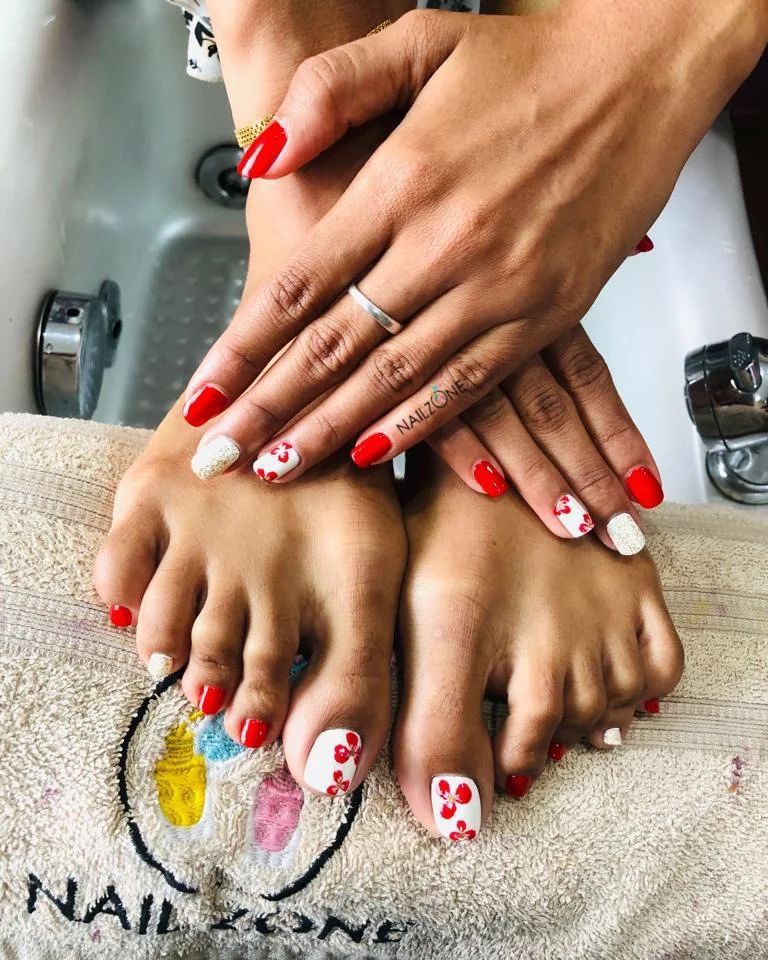 I've always been a fan of the press-on trend, and Red Aspen Nails is a dream come true for those who want glam without the fuss. These press-ons last for about two weeks and are super easy to apply. I wore them for my sister's wedding, and let me tell ya, they were a lifesaver.
Black & Red: The Dynamic Duo
Okay, picture this: you're in a little black dress, and your nails mix ombre red and black. You're catching everyone's eyes, aren't you? Try painting the base black with red tips, or maybe go for some nail art with abstract designs.
Rock Those Red Acrylics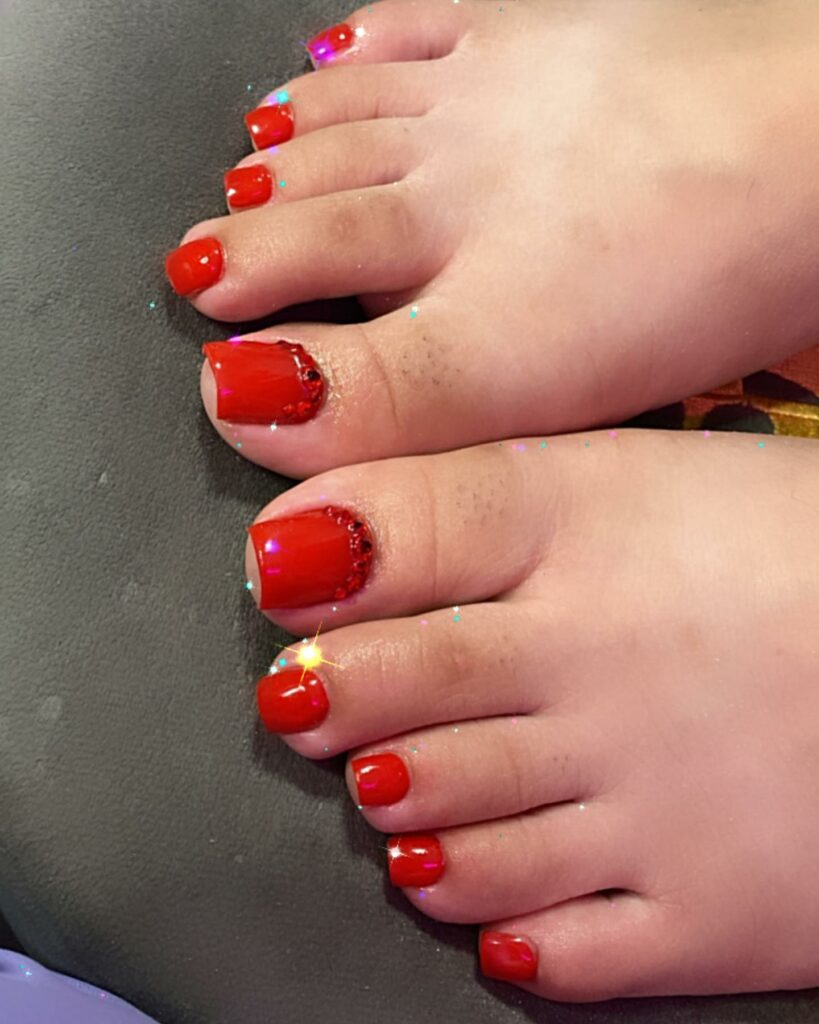 Red acrylics are your besties if you're all about making a statement. I keep mine long because they're strong enough to handle everyday tasks without chipping. But remember to give your natural nails a breather every now and then.
Feeling Festive With Red Christmas Nails
Holiday season? More like holi-SLAY season. Nothing screams Christmas like candy cane designs or little Santa hats on your nails.
Step Up Your Game with Red Bottom Nails
If Christian Louboutin designed nails instead of shoes, they would look like this. Paint the underside of your nails red and choose a contrasting color for the top. Black works amazingly here. Just make sure your nails are long enough for the full effect.
A Little Sparkle: Red Glitter Nails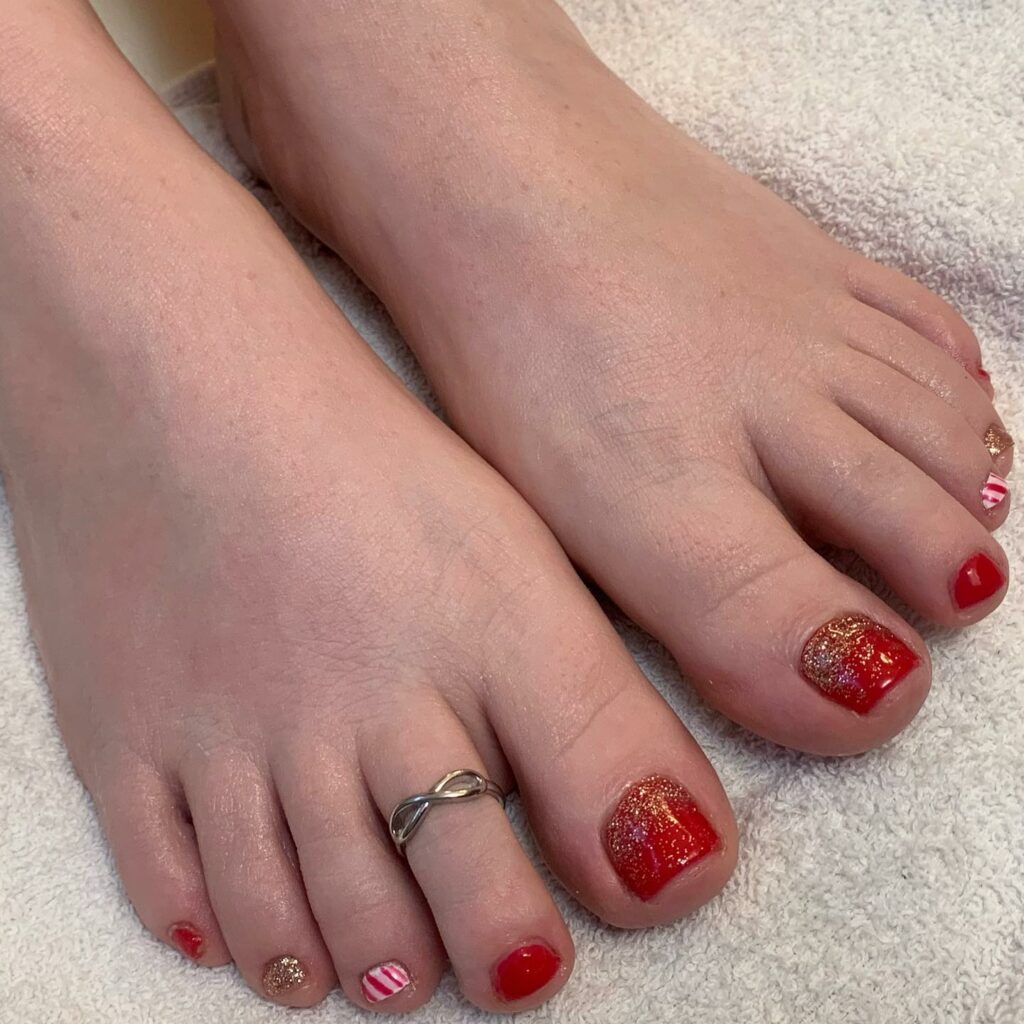 Wanna dazzle without going overboard? I love sprinkling a little glitter on a red base or vice versa. The result is absolute party nails!
Sultry Dark Red Nails
If you prefer the moody, edgy look, dark reds like maroon or burgundy are the way to go. Pair them with black nail art, or lighten the mood with nude accents.
Coffin-Shaped Glamour
Coffin nails are THE shape if you're looking to elongate those fingers. Trust me, red on coffin nails is drop-dead gorgeous.
Be Bold With Baddie Red Acrylics
The Baddie style is inspired by social media sass and is about bright colors and unique patterns. These nails scream, "I'm here and fabulous!"
Blend it Beautifully: Red and Black Ombre
The ombre effect with red and black is downright mesmerizing. Keep the darker shade towards the tips for a natural fade, or flip it for an edgy twist.
Steal the Spotlight with Red Carpet Nails
Whether it's for a gala or a night out with your gal pals, red-carpet nails are always a hit. Think chic but with a dash of drama.
Stun in Stiletto Red Nails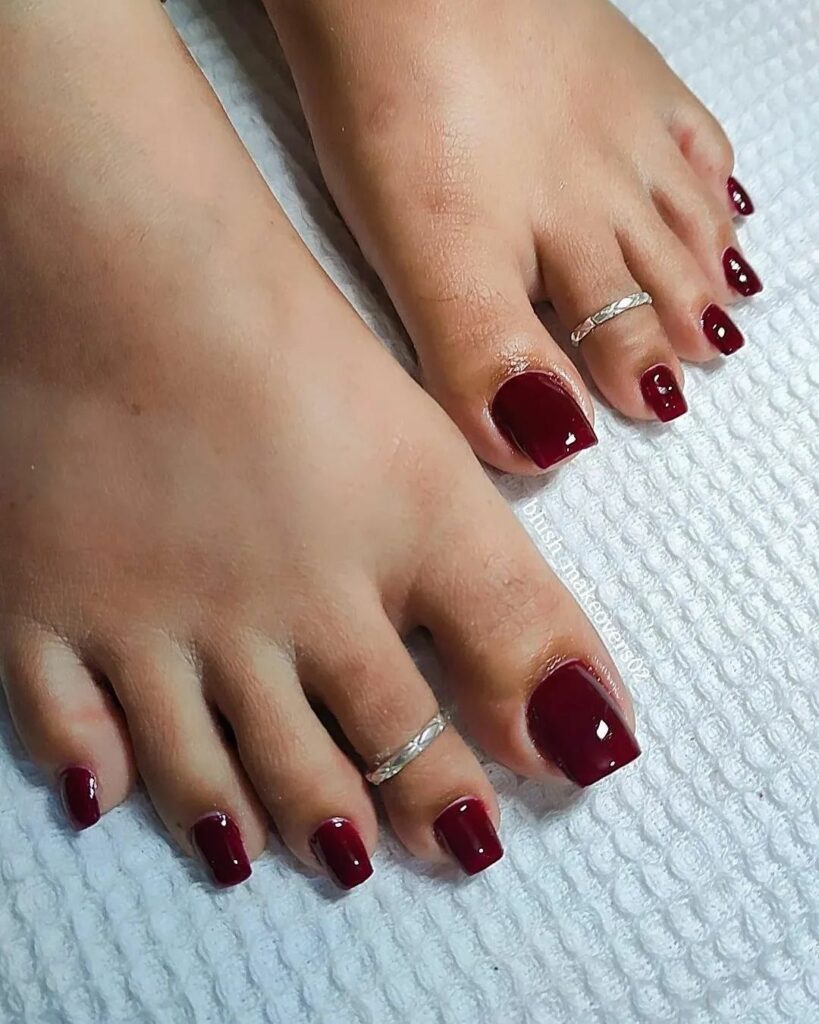 Let me say these are the quintessential "look-but-don't-touch" nails. They're long, they're pointed, and they're absolutely stunning in red.
Length Matters: Long Red Nails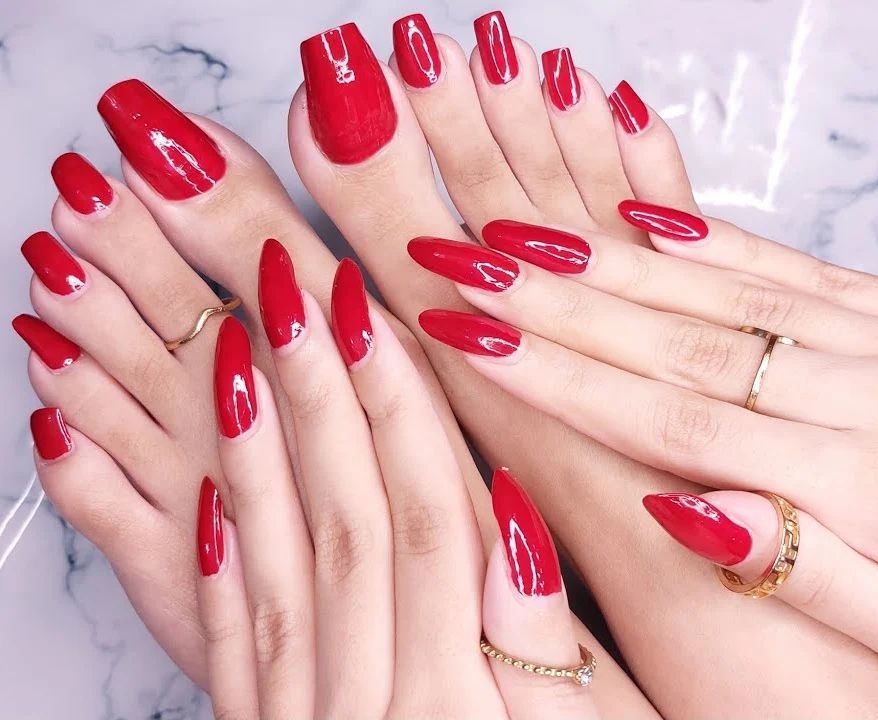 Long red nails give you so much room for creativity. From French tips to intricate designs, the canvas is yours to fill!
Short and Sweet Red Nails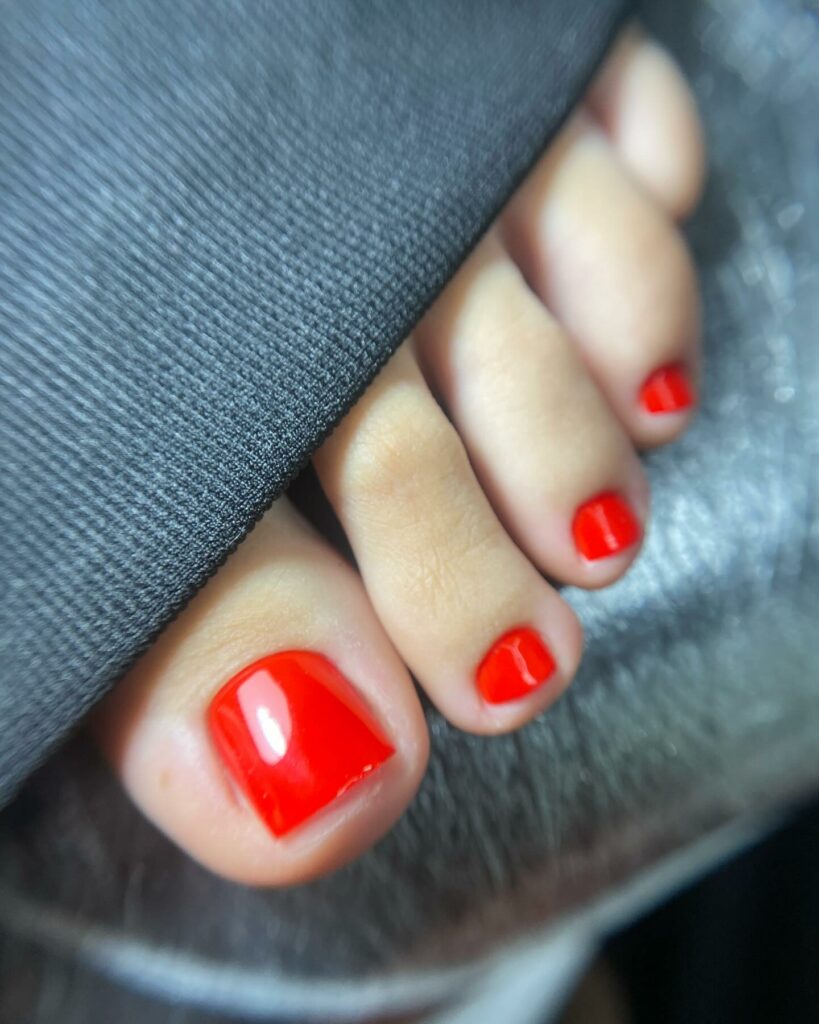 For my ladies who prefer practicality, short nails are your go-to. A solid red color is simple yet effective for an everyday look.
Almonds Aren't Just for Eating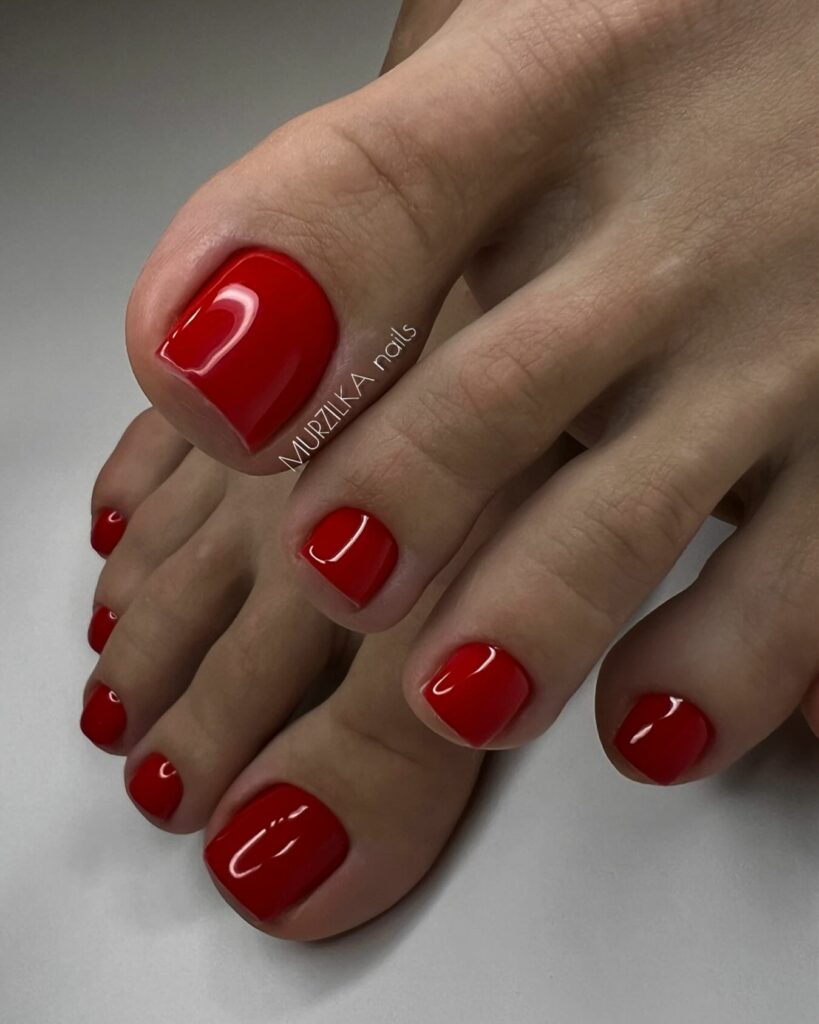 Almond-shaped nails have this timeless elegance. I love painting them in red for that perfect blend of classic and trendy.
And there you have it, darlings! Red nails for every mood, every occasion, and every personality. Stay fabulous, and remember, a pop of red is always a good idea!
10 Brands Of High-Quality Red Polish That I Love In 2023!
OPI: Their classic "Big Apple Red" is a cult favorite for a reason. Excellent opacity and long-lasting.
Essie: "Really Red" is a staple for red polish lovers. Plus, Essie's formula is always reliable.
Chanel Le Vernis: If you're looking to splurge a bit, Chanel's "Pirate" is a luxurious option that never fails to impress.
Deborah Lippmann: Known for their innovative formulas, you'll fall head over heels for shades like "Lady is a Tramp."
CND Vinylux: For those who want a salon-quality finish at home, their "Wildfire" shade is a popular choice. It promises a week-long wear without a base coat.
Zoya: Perfect for those looking for a toxin-free formula. Their reds, like "Sooki," are vibrant and long-lasting.
Butter London: Their red shades, like "Come to Bed Red," are gorgeous and formulated without harmful ingredients.
Sally Hansen: Try their Miracle Gel line for a drugstore option that doesn't skimp on quality. "Rhapsody Red" is a winner!
Smith & Cult: This brand offers some edgy and high-fashion shades in red. "Kundalini Hustle" stands out for me.
Nails Inc.: Known for their superfood-infused formulas, a classic like "Tate" keeps your nails healthy while looking fab.
Remember, the best polish is the one that not only looks great but also feels great on your nails. Keep an eye out for formulas free from harmful chemicals, and always use a good base and top coat for that salon-fresh finish. Happy painting!
10 Tips To Get The Perfect Red Pedicure At Home
Hey there, lovely people! You're in the right place if you're all about that at-home spa experience like I am. Today, we're diving into the world of red pedicures because, let's be honest, who doesn't love a classic red? It's the little black dress of the nail world! But red can be tricky—it shows every imperfection, so you want to ensure you're doing it right. Here are my tips to nail that pedicure! (See what I did there? 😜)
Prep the Canvas
Soak Those Tootsies: Start with a warm soak to clean and soften your skin and nails. Toss in some Epsom salts or your favorite essential oil for that luxurious spa vibe.
Exfoliate: Use a foot scrub or a pumice stone to remove dead skin. Trust me; your feet will thank you!
Shape Up: Clip and file your nails to your preferred shape. I love a rounded square for toes; it's classic yet modern.
Lay the Foundation
Base Coat: Apply a base coat to protect your nails and help the polish adhere better. I swear by OPI's Natural Nail Base Coat; it's a game-changer.
Tape it Off: Want to keep that polish on your nails and off your skin? Use some tape or petroleum jelly around your nail bed as a barrier.
Paint Like a Pro
Two Thin Coats: Apply two thin coats of your favorite red. Thin coats dry faster and are less likely to chip. Always let the first coat dry before applying the second. Patience is a virtue, my darlings!
Go for the Edges: Seal the edge of your nails with polish. It's a little trick to make your pedicure last longer.
Steady Hand: Rest your painting hand on a flat surface to avoid smudging. I use my coffee table—it's the perfect height!
The Finishing Touches
Top Coat: Take this step! A good top coat like Seche Vite Fast Dry seals in your color and adds that lovely salon-level gloss.
Clean Up: If you've colored outside the lines, dip a small brush in nail polish remover to clean up the edges.
Moisturize: Once everything's dry, apply a little foot cream. Healthy skin makes any pedicure look better.
Bonus Tip: The 3-Minute Rule
The last pro tip I'll leave you with is the 3-minute rule. Wait three minutes between each coat (including base and top coats) to ensure each layer dries appropriately. Rushing through could lead to dents and smudges, and nobody has time for that, right?
And voila! There you have it—my go-to guide for a perfect red pedicure. So give yourself that well-deserved pamper session, and flaunt those beautiful red toes! You'll be sandal-ready in no time.
What Are Some Unique Ways To Combine Red With Other Colors?
Here are some of my favorite ways to pair red with other colors to create a nail look that's uniquely you.
Red & Gold – The Royal Treatment – If you want to feel like a queen for a day (or a week), nothing beats the luxe combo of red and gold. Try a red base coat with gold accents or gold glitter. You can even use a gold polish to create chic designs or lines over your red base. It's like jewelry but for your nails!
Red & Black – Femme Fatale Vibes – Red and black together can be oh-so sultry! One of my favorite looks is doing a red base with black tips, like a dramatic French mani. Or switch it up and do a black base with red designs. Animal prints like leopard spots look fab in these shades!
Red & White – Fresh & Crisp – I love this color combo because it's just so clean and fresh! Think of it as the crisp white blouse to your red lipstick. Try red and white stripes for a nautical vibe, or wear a red base coat with white polka dots for something playfully retro.
Red & Nude – Subtle Elegance – Pair your red with a nude or beige for a more subdued but equally gorgeous look. You can alternate nails or even do a half-and-half design on each nail. This pairing screams sophistication and is super versatile. It's the perfect combo if you're going for that "I woke up like this" glam.
Red & Blue – Patriotic Chic – Whether it's the 4th of July or wanting to unleash your inner Wonder Woman, red and blue can be striking. One neat idea? A red, white, and blue ombre effect that fades from one color to the next. You could even add a star decal for that extra pizzazz!
Red & Green – Not Just for Christmas! – If brave enough to experiment, red and green can be surprisingly chic. I've tried doing red nails with a single green accent nail and vice versa. Yes, it's bold, but fashion favors the bold, my friends!
Red & Pastels – Soft Contrast – Want something super sweet and feminine? Pair your fierce red with a soft pastel like pink, lavender, or mint. If you're up for it, you could alternate colors, do some cool layering effects, or even do some intricate nail art.
Conclusion
And that's a wrap on our red-hot nail adventure, my lovelies! We've covered everything from the no-fuss elegance of Red Aspen nails to the jaw-dropping drama of stiletto tips. Whether you want to make a statement or add a pop of color to your daily vibe, red is your go-to shade. My personal faves? Dark red for those mysterious date nights and some sparkling red glitter when I feel extra fabulous. Feel free to experiment with shapes and lengths to find the style that screams you. And always, always keep that nail health in check between those glam sessions. So go ahead, let your nails do the talking, and paint the town red! Stay glam and keep those nails looking fierce.
Feature Image Photo By colorsbysassy on Instagram
Last reviewed and updated on October 12, 2023