Let's dive into something that's been making waves in the beauty world lately: the light blue pedicure. Now, you might be thinking, "Light blue? Really?" Trust me, this shade is the unsung hero of the color spectrum regarding foot glam. Not only does it scream fresh and clean, but it's also incredibly versatile—pair it with your white sandals, contrast it against darker skin tones, or let it be the 'something blue' at your wedding.
In today's post, we're covering everything from selecting the perfect light blue polish to the step-by-step process to nail (pun intended!) this pedicure at home. And here's my golden advice: take your time with a quality topcoat. It's the shield that protects your color and makes it last longer.
Stick around because, by the end of this post, you'll be fully equipped to rock this look like a pro!
Light Blue With Glitter
The calming ocean meeting the sparkle of sunlight—yep, that's the vibe with light blue pedicures with glitter. A layer of glitter over your light blue polish brings just the right amount of pizzazz. Pro tip: Use a sponge to apply the glitter to get an even, flawless layer that catches the light at every angle.
Semi Long Light Blue Pedicure
If you have a bit more length to your nails, the semi-long light blue pedicure offers a canvas to showcase the shade in its full glory. The added length makes the color pop even more. My advice: keep the nails neatly shaped to let the color be the star.
Light Blue With Silver Glitter
Adding silver glitters to a light blue pedicure makes it relaxed and sophisticated. The silver adds an elegant touch, making this choice ideal for more formal events. Go for fine silver glitter to keep things chic.
Light Blue Ombre, White, and Orange
A light blue, white, and orange fusion creates a vibrant ombre effect that's as cheerful as a sunny day. This combo is excellent for vacations or simply making a bold style statement. Definitely use a makeup sponge for that seamless ombre transition.
Light Blue Color With Navy Blue French Tips
Modern yet timeless, coupling light blue with navy blue French tips offers an effortlessly chic subtle contrast. It's a contemporary twist to the classic French pedicure that'll have people doing double takes.
Stunning Light Blue Pedicure
When we say "stunning," we're talking about a light blue pedicure executed perfectly. Smooth application, high gloss finish, and a tiny crystal or two for that extra wow factor. Keep those cuticles moisturized to add to the overall allure.
Pastel Light Blue Pedicure
For those who adore softer hues, a pastel light blue offers a serene and calming effect. This color is so versatile that you can wear it year-round, no questions asked. Just make sure to pick a pastel shade that complements your skin tone.
Cool Light Blue Pedicure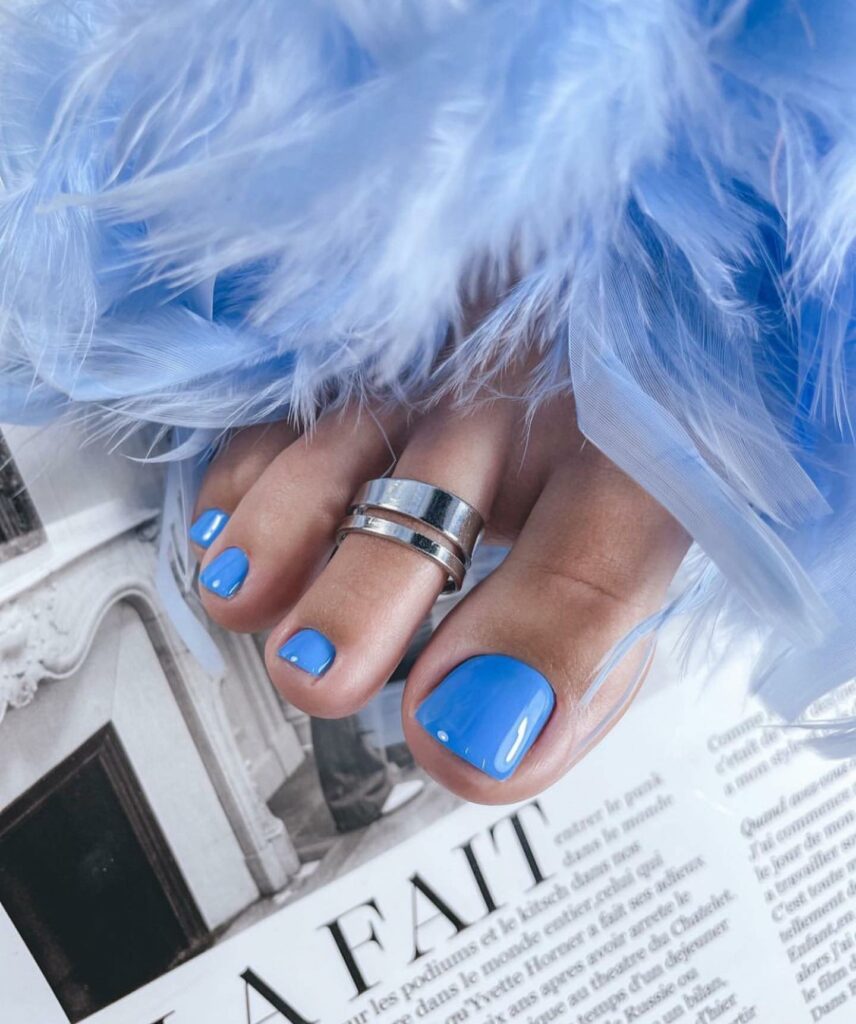 Going for a 'cool' look? A matte topcoat over your light blue polish can create a more subdued, contemporary vibe. It's the perfect way to showcase this shade without any added frills.
Light Blue Ombre Purple
Merge the calm tranquility of light blue with the mystery of purple in an ombre design. This is for anyone who loves to walk the line between two moods and nail it right in the middle.
Light Blue With Sky Design
Elevate your pedicure game with some sky-themed nail art over a light blue base. Think fluffy white clouds or tiny soaring birds. It's a conversation starter, for sure.
Daisy Light Blue Design
For a touch of whimsy, adding daisy designs to a light blue pedicure screams spring and fresh beginnings. It's a floral fantasy at your feet, making each step a little lighter.
Light Blue Summer Inspire Design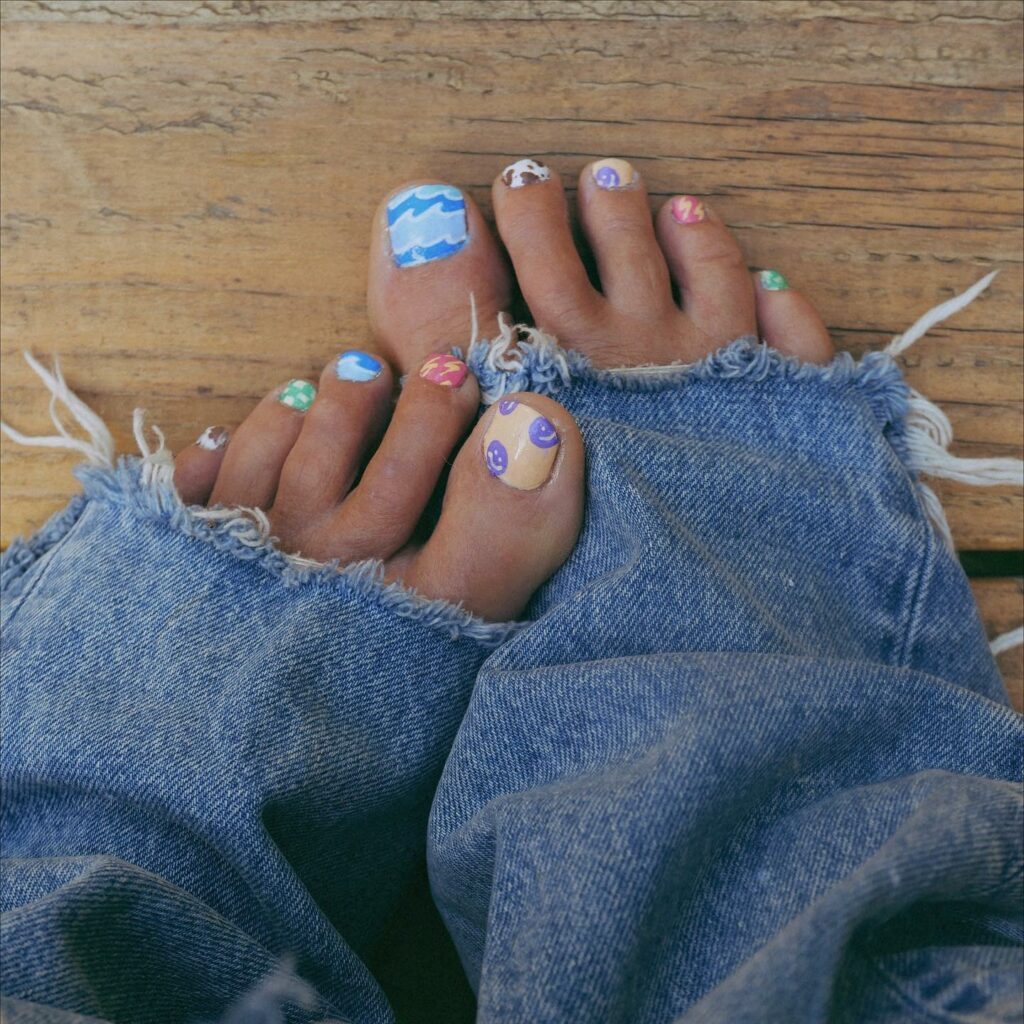 Consider incorporating summer symbols, like seashells or palm trees, into your light blue pedicure. It's like taking a mini-vacation every time you look down at your toes.
Baby Blue With Rhine Stones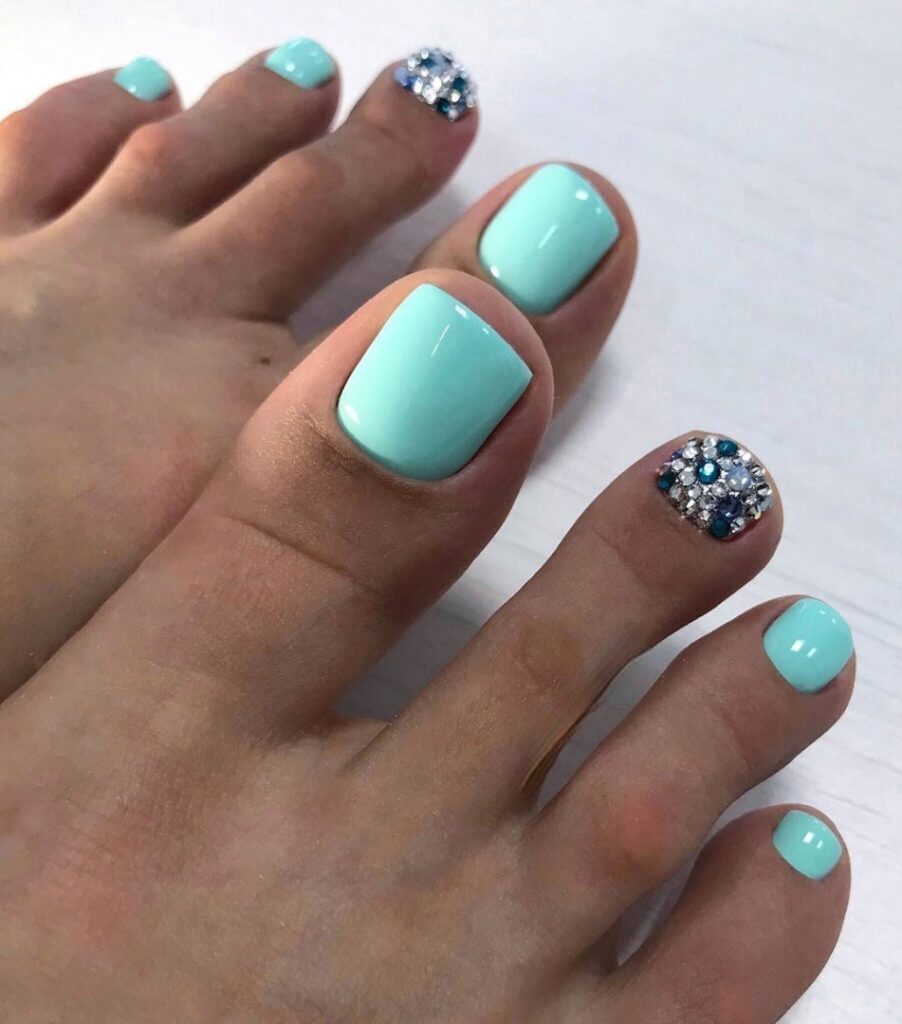 Adorning a baby blue pedicure with rhinestones adds an instant glitz and glamour. Strategically place a few rhinestones on the big toe or spread them out for full sparkle.
Simple Blue Pedicure Design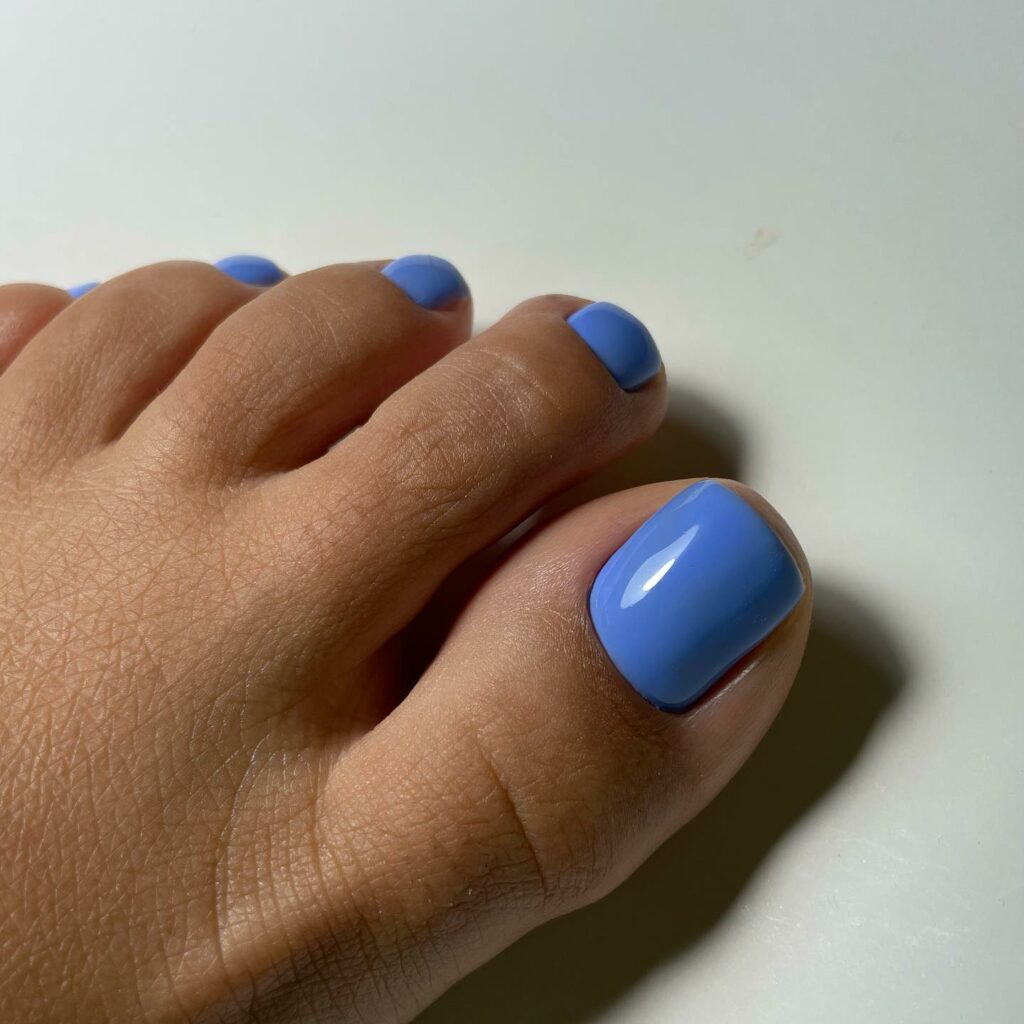 Sometimes, less is more, and a simple blue pedicure embodies that spirit. Thanks to the vivid blue color, it's a clean, understated look that still pops. This is your go-to if you're new to the pedicure world or love classics.
Light Blue French Tip
This style takes the iconic French tip and gives it a light blue twist. It's a great way to enjoy the best of both worlds—classic and trendy. Make sure to keep those tips crisp for maximum impact.
Light Blue With A Blue Flower Design
Imagine a tiny blue bloom on each toe—cute, right? A floral design in the same color scheme adds a touch of elegance without overwhelming the light blue base.
Light Blue And Silver Combination On Nails
The blend of light blue and silver offers an icy, relaxed vibe that screams sophistication. Whether it's silver stripes or accents, this combination is a surefire stunner.
Light Blue Nail With Egg Character Design
If you want a playful, unique twist, an egg character design over light blue can be delightful. It's quirky, conversation-starting, and oh-so-fun.
Baby Blue With White Stones Design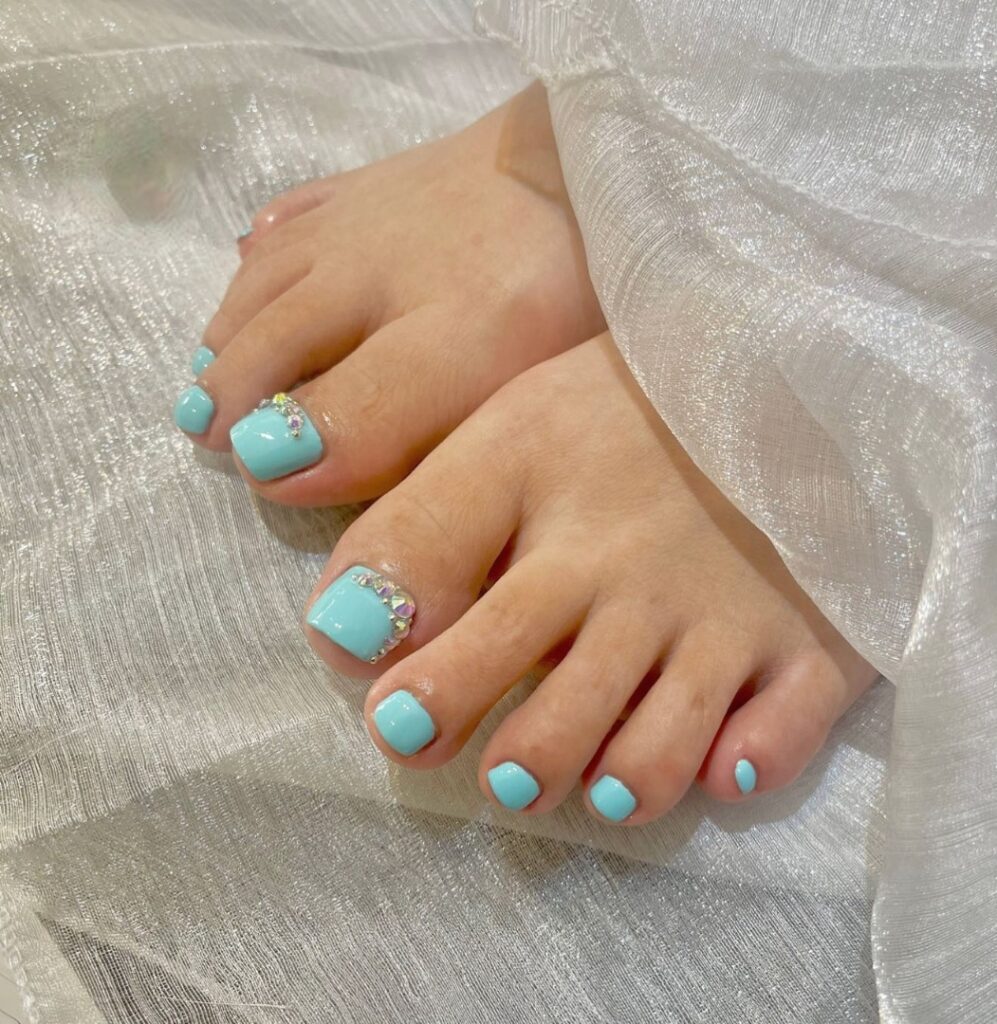 Adorning a baby blue pedicure with white stones brings a touch of luxury. The stones catch the light and give a sparkling effect that's nothing short of mesmerizing.
Light Blue With Glass Design
If you're aiming for a modern, artsy flair, a glass design on a light blue base can give an almost ethereal feel. It mimics the stained glass look, making each toe a tiny masterpiece.
Watercolor Blend With Mint Green
Mixing light blue and mint green in a watercolor style creates a calming effect. It's as if you've dipped your toes in a tranquil lagoon.
Light Blue With White Flower Design
Incorporating white flowers over a light blue base offers a sweet, romantic vibe. This style is especially perfect for spring or garden-themed events.
Metallic Blue Design
Metallic blue gives your pedicure a futuristic edge. The shimmer and shine of this design are perfect for evening events where you want to make a statement.
Light Blue And Nude Combination
Pairing light blue with nude tones creates an elegant and understated soft contrast. It's ideal for those who want something different but not too flashy.
Blue Squirtle Pokémon Design
Pokémon fans, rejoice! A Squirtle design over a light blue base is whimsical and nostalgic. Whether you're headed to a fan convention or just showing off your geeky side, it's a win.
Light Blue Pedicure With Gold Stones
Gold stones on a light blue pedicure are hard to beat for a touch of luxury. It's luxurious without being over-the-top.
Light Blue Acrylic Design
Using acrylics can add dimension to a light blue pedicure, giving it a 3D effect that's trendy and eye-catching.
Light Blue Pedicure With Gold Dust Design
A sprinkle of gold dust over light blue polish can take your pedicure from simple to sublime. It adds a celestial glow that's truly mesmerizing.
Light Blue Pedicure With Emoji and Flower Design
If you're all about self-expression, why not mix emojis and flowers over a light blue base? It's youthful fun and lets your personality shine through.
Combination Of Blue, White And Silver
The blue, white, and silver trifecta offers a cool, clean look that can be dressed up or down. It's versatile and gives you room to play with design elements.
10 Brands That I Love To Use For Light Blue Nails
Essie: Known for its wide range of colors, Essie has light blues that range from pastel to vibrant. "Bikini So Teeny" is one of their famous light blue shades.
OPI: Another heavyweight in the nail polish game, OPI offers shades like "Can't Find My Czechbook" that give you that perfect light blue.
Zoya: If you're looking for vegan and 10-free formulas, Zoya has you covered with shades like "Blu."
China Glaze is incredible for long-lasting wear; their "For Audrey" is a favorite for light blue aficionados.
Orly: Known for their durable formulas, they offer fresh light blue options perfect for a summery pedi.
Sally Hansen: If you're after a drugstore find, Sally Hansen's "Barracuda" from their Complete Salon Manicure line is a great light blue.
Deborah Lippmann: For a bit of a splurge, Deborah Lippmann offers luxurious light blue shades in their collection.
CND Vinylux: Perfect for week-long wear, they offer light blues that stand the test of time.
Butter London: This brand offers 8-free polishes and has some beautiful light blues in a luxurious formula.
Sinful Colors: A tremendous budget-friendly option available at many drugstores, offering playful light blue shades perfect for experimentation.
So there you go! From drugstore gems to salon favorites, a light blue polish is waiting just for you. Enjoy painting the town, or at least your nails, blue!
How Long Does The Light Blue Pedicure Last?
Ah, the million-dollar question: How long will your gorgeous light blue pedicure last? Well, darlings, the lifespan of your pedi depends on a few things: the quality of the polish, whether you've used a base and topcoat, and how hard you are on your toes.
Regular Polish: If you're going the traditional route with regular nail polish, you can generally expect your pedicure to last anywhere from 1 to 3 weeks. A quality topcoat is your best friend here; it can seal in color and add some extra days to your pedi's life.
Gel Polish: If you're a gel kind of gal, you're looking at a lifespan of about 3 to 4 weeks, maybe even longer. Gels are cured under UV light, making them more durable but a bit trickier to remove.
Acrylics: For those who love the drama of acrylics, your light blue toes can last up to 6 weeks, but you'll likely need a fill-in around the 3-week mark.
Here's my sage advice: Make your pedicure last as long as possible, keep your feet moisturized, and avoid shoe styles that rub against your toes or put a lot of pressure on them. If you're hitting the beach, give your toes a quick clear coat touch-up to protect against the sand.
15 Light Blue Nail Polish Styles That I Love
Oh, the possibilities are endless regarding light blue nail polish, sweethearts! This versatile hue combines various styles to create a unique, eye-catching look. Here are some ideas to get your creative juices flowing:
Marble Effect: Mix light blue with whites and darker blues to create a marble pattern that's super classy and stylish.
Geometric Patterns: Use black or white lines to create geometric shapes over a light blue base. Triangles, squares, you name it!
Nautical Themes: Combine light blue with red, white, and perhaps a cute anchor for a sailor-inspired look.
Floral Designs: Light blue makes an excellent background for dainty floral patterns. Think cherry blossoms or lavender.
Animal Prints: Leopard spots or zebra stripes in contrasting colors can look incredibly chic against a light blue backdrop.
Metallic Accents: Gold or silver foil can add a touch of luxe to light blue nails. Perfect for special occasions!
Negative Space: Use strips of tape to leave some of your nails natural, painting around it with light blue for a modern, edgy look.
Glitter Gradient: Start with light blue at the base and fade into a sparkling glitter tip. A little bit Cinderella, a little bit disco ball!
French Twist: Instead of white tips, go for light blue tips on a nude or explicit base for a fun take on the classic French manicure.
Color Block: Pair light blue with contrasting colors like coral, peach, or lime green in a color-blocking pattern.
Lace Patterns: Consider stenciling on a lace pattern over your light blue polish for a romantic vibe.
Seasonal Themes: Light blue is a fab base for winter snowflakes, spring raindrops, or summer beach scenes. Customize it with seasonal decals or freehand designs.
Tribal or Aztec Prints: Think lines, arrows, and dots in earthy tones or black to give your light blue nails an edgy, boho look.
Jewel Embellishments: Add some tiny rhinestones or beads for a 3D effect that brings texture and shine.
Ombré or Gradient: Blend light blue into another color for a smooth gradient. Try it with a darker blue or even a purple for an excellent effect.
Remember, the sky (or the sky blue) is the limit for nail art. So mix, match, and make those light blue nails your canvas!
Still Looking for Inspiration, Then Check Out This Video
Conclusion
Alright, from glitz and glam with stones and glitter to playful character designs, there's a light blue look for every vibe. If you're gunning for longevity, remember that topcoat; it's your polish's best friend. For those who love to get artsy, don't be shy—mix in some other hues or even a pop of metallic. And hey, whether you're a DIY queen or heading to the salon, don't forget to snap a pic and share it with me. I wanna see those toes making waves this season! Keep shining, you beautiful souls!
Feature Image Photo By @missnails_india via Instagram
Last reviewed and updated on November 20, 2023