Ready to up your nail game? Look no further, because we're diving into the dazzling world of rose gold nail art—a color that perfectly marries classic gold with a contemporary rosy flair. This article is your one-stop guide to 50 different designs that are absolute must-sees before your next salon or DIY session. From chic subtleties that work in the boardroom to out-there patterns that are pure Instagram gold, rose gold nails have something for everyone. And don't worry, I've got you covered with longevity hacks and even some personal faves for those who like to mix it up at home. So, let's dive in and find the perfect rose gold design that vibes with you!
Glam Half-Moons
Now, if you're constantly pursuing edgy designs, I've got the perfect alternative to the usual cuticle half-moons—rose gold triangles at the baseline. It's such a refreshing twist, immediately elevating the whole nail game. I wore this look to a gallery opening, and let me tell you, my nails got as much attention as the art!
The Stardust Effect
Add varying-sized stars over a rose gold base for a 'stardust' effect. This cosmic design offers a whimsical touch and will get your nails some well-deserved attention.
Glitter Galore: Dip Powder Delights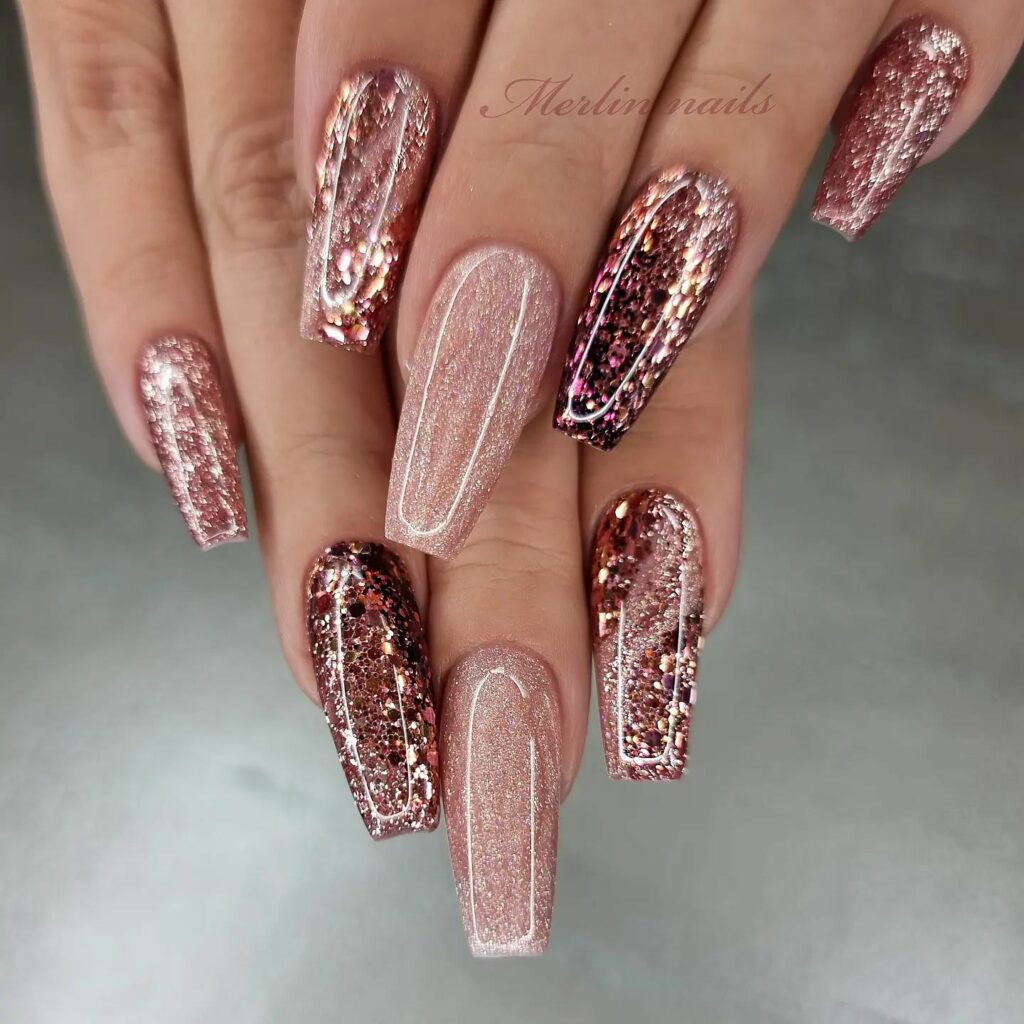 If you love the blend of understated elegance with a sprinkle of glamour, the mix of rose gold and pale neutral base is something you'll adore. Dip powder nails offer a robust finish; your nails shine like jewels. This combo screams 'classy yet sassy.'
The Coffin Trend with a Sequin & Pixie Ombré Twist
The coffin-shaped nail trend has been around for a while, but imagine jazzing it up with an ombré rose gold glitter finish and sequins on accent nails. I sported this exact look last Halloween, and it was the perfect blend of eerie and cute!
Chrome Fever: Dip Powder Magic
There's rose gold, then rose gold with a chrome finish that makes you stop mid-scroll. If you're going all-in, ensure your salon knows how to work that dip powder magic. The result is an unmissable, metallic sheen that's nothing short of fabulous.
Subtly Spectacular: Nude Meets Rose Gold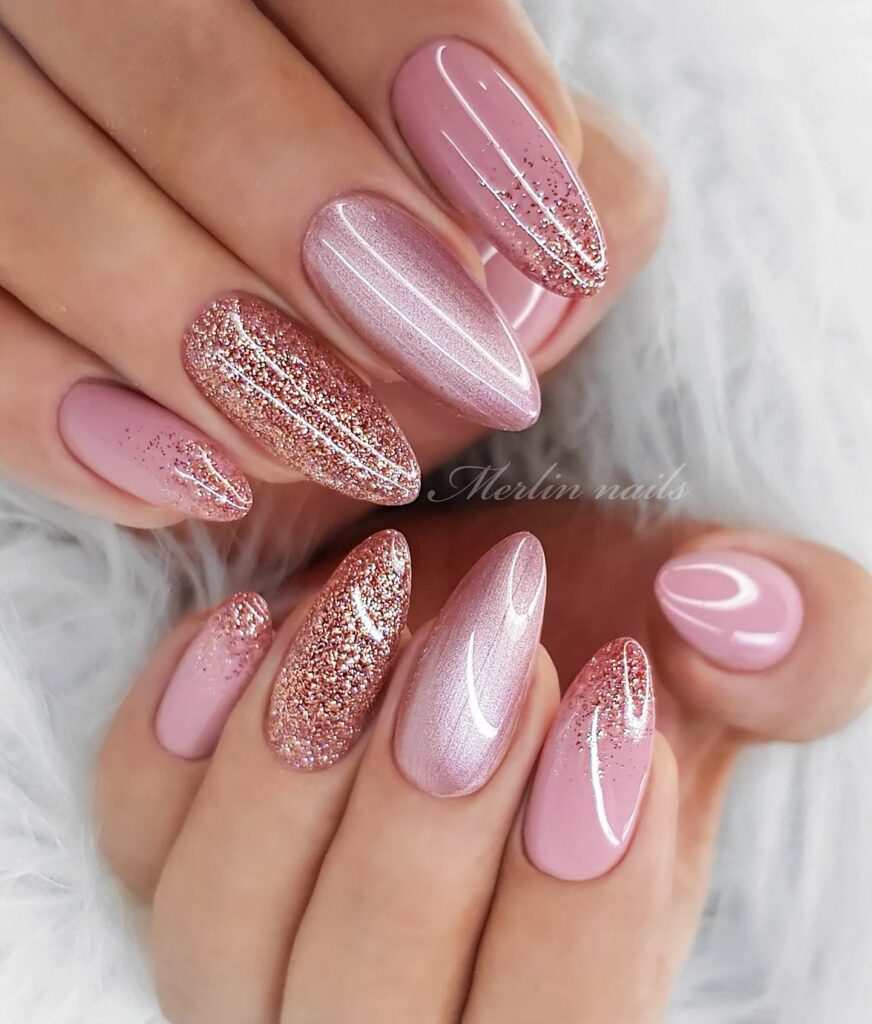 Minimalists, take note: you'll want to try glittery rose gold triangles extending into pale nude tips ASAP. It's a delicate balance of color and shine, ideal for any occasion. I had this design for a business meeting, which was professional and eye-catching.
The Rosy Base: Elegant Yet Simple
Consider a baby pink base with metallic rose gold covering the bottom quarter of each nail. A piece of striping tape will help you get that crisp line. It's simplicity and elegance, hand in hand—or should I say, nail in nail!
Rose Gold Accents: A Shimmering Touch
Hello, style mavens! Ever tried accenting your baby pink nails with a bit of rose gold glitter? I did this for a date night, and let me tell you, even in candlelight, those glitter-dipped pinkies and shimmering ring fingers sparkled like stars. The subtle touch elevates your whole look without going overboard.
A Hint of Holography: Chrome Goes Rose Gold
Who said chrome nails can't be subtle? Opt for polish in a holographic rose gold shade, or nail stickers work like a charm if you're into a quicker transformation. I rocked this look at a music festival, and the shimmer danced with me under those stage lights!
Stripped but Stylish: Holographic Rose Gold Tape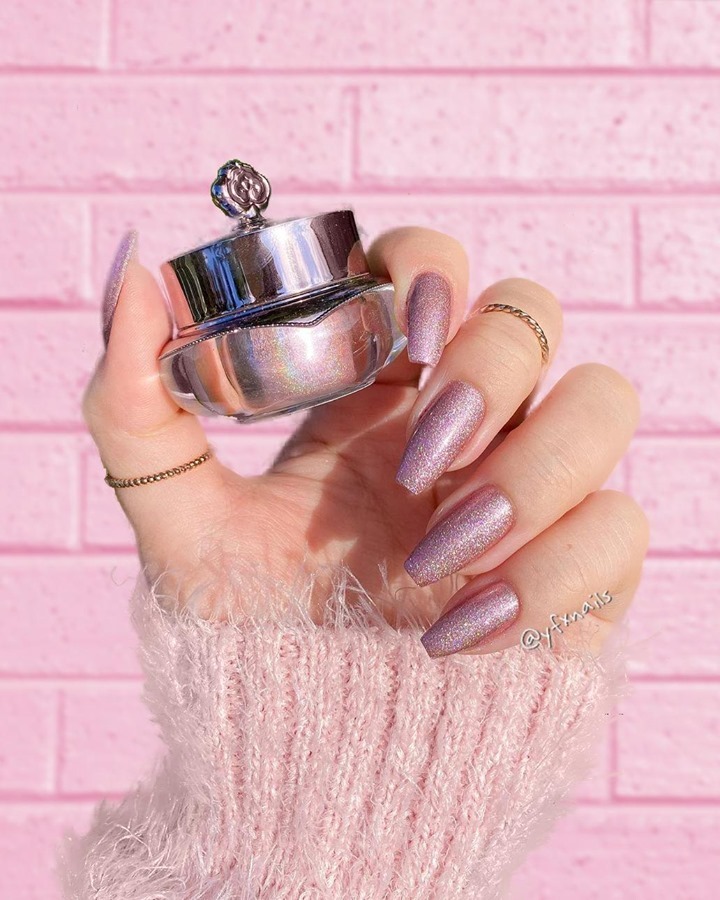 Looking for a minimal yet captivating look? All you need is a roll of holographic rose gold nail striping tape. I use This personal hack when I'm pressed for time but still want my nails to be the center of attention. Trust me, this design is a time-saver and a conversation starter!
When Emojis Meet High-Fashion: Rose Gold Smiles
Want to bring a playful vibe to your rose gold obsession? How about blending emojis with a touch of designer flair? I wore these logo-meets-emoji rose gold nails to a weekend brunch, and they were the most Instagrammable thing on the table.
Elegance in Rose Quartz: A Chic Affair
Rose quartz base combined with rose gold foil? Yes, please! This look is a game-changer for those classy events where you want to show off your personality without going too flashy. This design made me feel like I was wearing tiny pieces of art on my nails.
A Story in Pink: Glitter and Stripes
If you're fond of pink hues, then ballerina pink polish with rose gold glitter and striping tape will get you all the right attention. This look feels like it jumped out of a fairytale book—dreamy yet utterly stylish.
Mix 'n' Match: Rose Gold Cuticles and Silver Tips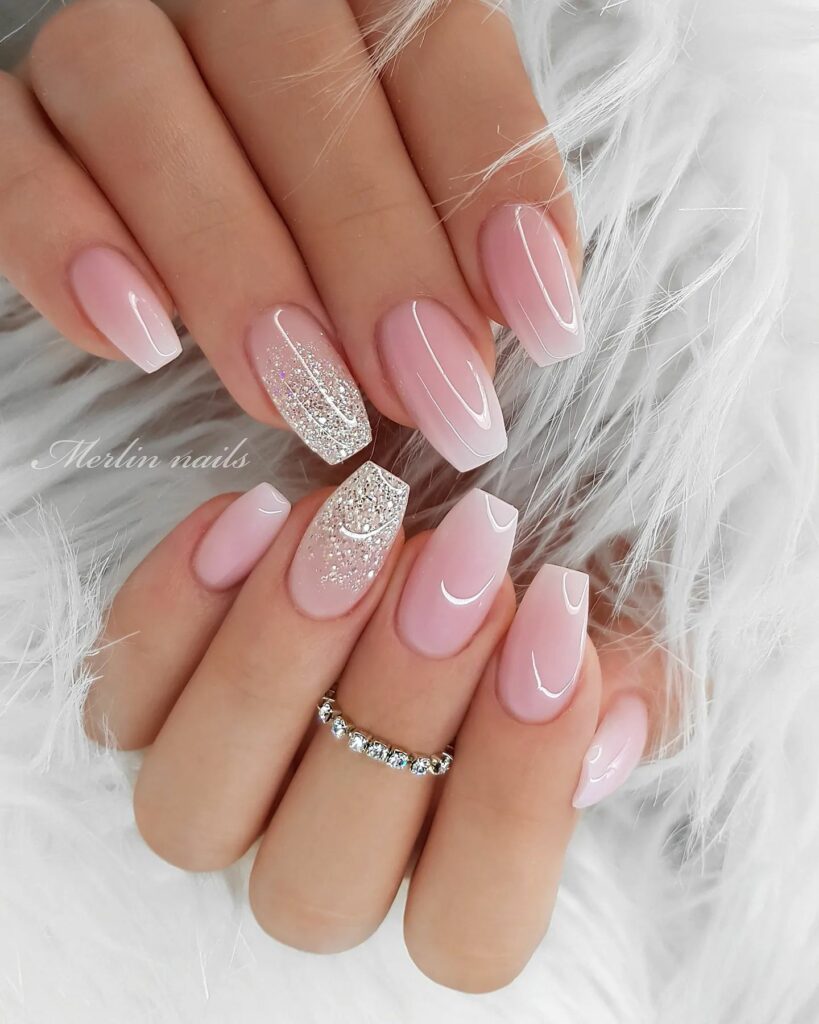 For the experimental souls out there, try combining rose gold cuticles with silver sparkly French tips. It's a fusion that turns heads and sparks conversations. I wore this eclectic design to a cocktail party and felt like a mixologist—but for nails!
Easy DIY: Rose Gold Tips with a White Line
This design is super easy to DIY. Just section off the top half of your nail, fill it with rose gold polish and use a striping pen to add a crisp white line. The outcome is so professional that people will ask for your manicurist's number!
From Yellow Gold to Rose Gold: Ombré Excellence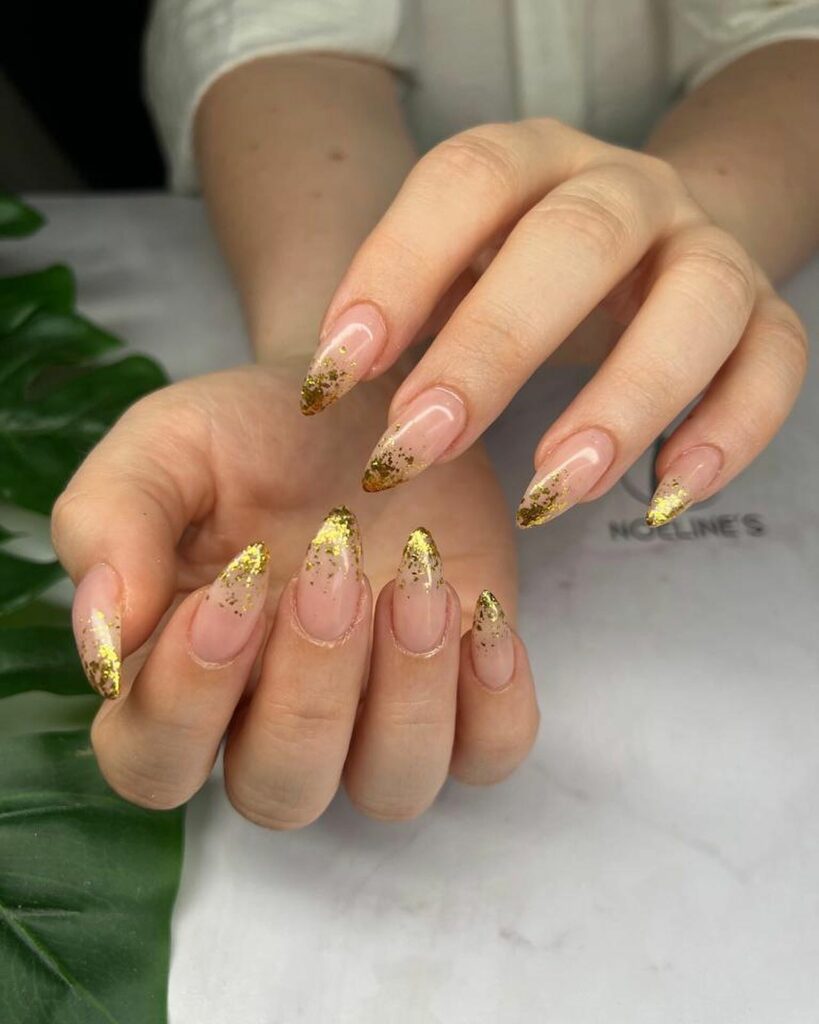 Why settle for one shade of gold when you can have two? Starting with yellow gold on one half of the nail and transitioning to rose gold on the other creates an ombré effect that's truly mesmerizing. Experiment with different sequin sizes to make it even more unique. I tried this for a beach party, and my nails looked like a tropical sunset!
Summer Vibes: Terracotta and Blue Combo
This high-contrast look screams summer fun and gets you in the perfect state of mind for those warm, sandy beach days. It's an explosion of color that can't be ignored!
The Elegance of Rose Gold Glitter Swoops
Did you ever catch a glimpse of a nail design and immediately picture it on your fingers? That's how I felt the first time I saw this mesmerizing rose gold glitter swoop design. It's a luxurious touch that can transform an everyday look into something extraordinary.
Striking a Balance with Color-Block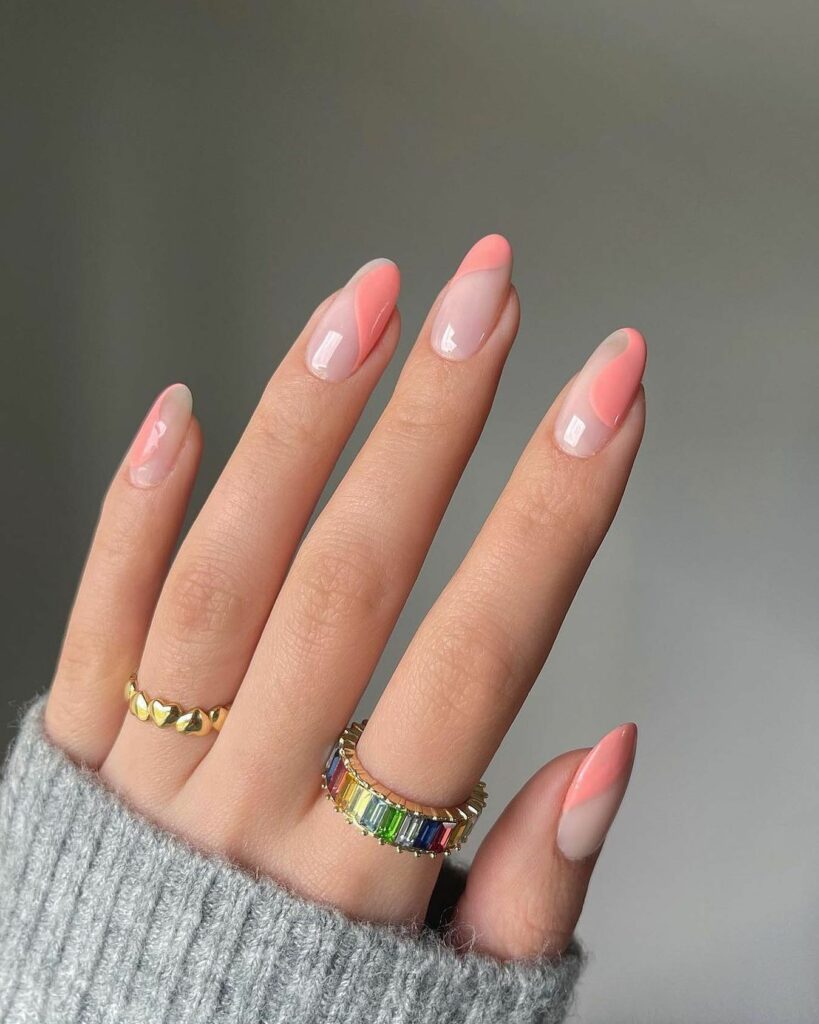 There's something undeniably chic about the combo of rose gold glitter and crisp white polish. This heavy color-block design leaves a smidgen of negative space, which adds a minimalist flair. I wore this design to a business meeting once, and it turned into an excellent icebreaker!
All About Those Dreamy Accents
Are you a fan of nude manicures but yearn for a bit of sparkle? How about dotting those nude nails with tiny rose-gold accents? It's a subtle way to elevate your look without going full glam. I tried this for a casual dinner outing, and the waiter complimented me on my nails!
Keep It Peachy with Rose Gold Dots
The secret sauce in this peachy-nude and rose gold design lies in the small space between the cuticle and the base. When your nails start to grow out, this little gap ensures they still look on point. I found this to be a low-maintenance hack during a busy travel week.
French Manicure Gets a Rosy Makeover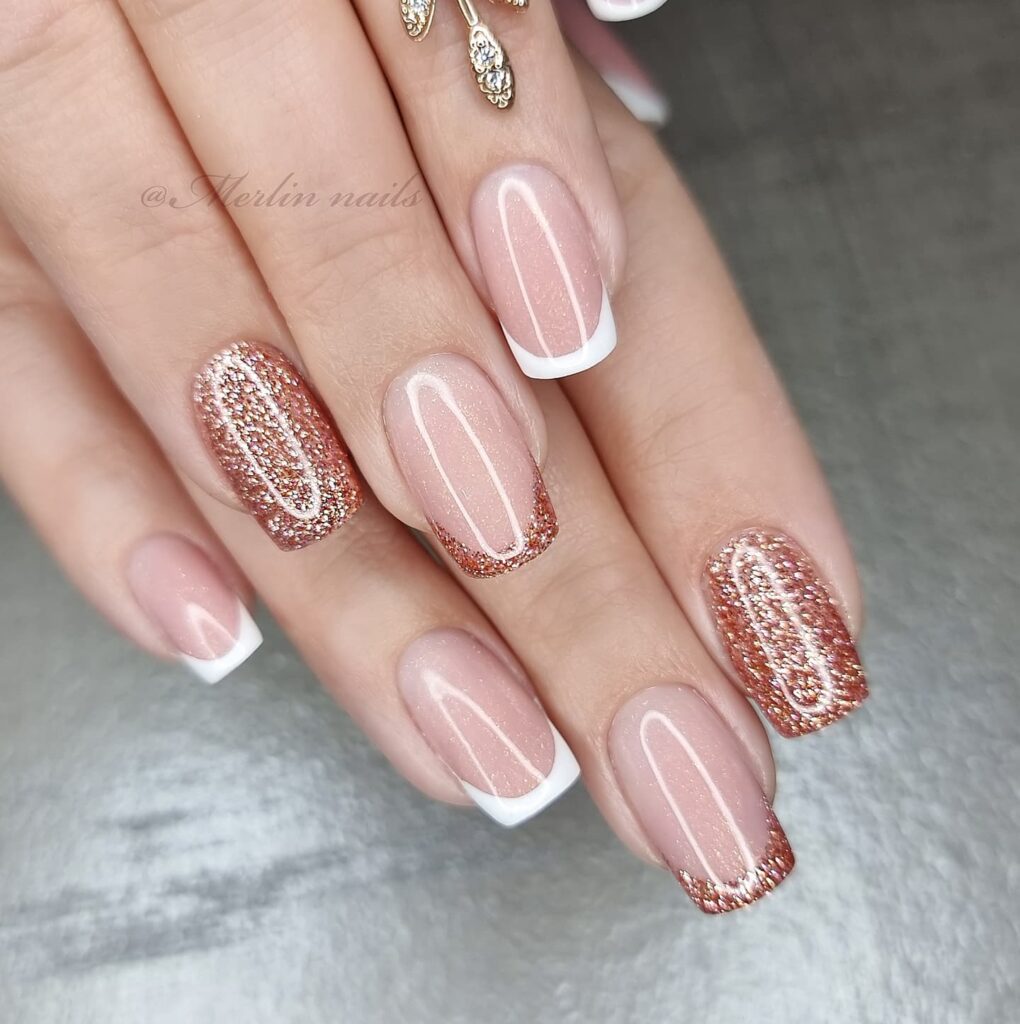 Ah, the French manicure—always a classic. But why not take it up a notch? Swapping out white tips for rose quartz, separated by a rose gold line, adds an updated twist to this timeless design. It was my go-to during the wedding season and beautifully complemented every outfit.
Reach for the Stars: Rose Gold Edition
Starry designs and rose gold? Yes, please! This look perfectly balances whimsy and sophistication, making it versatile for any occasion. I sported this celestial design for a night of stargazing, and I felt like part of the night sky!
The Sparkling Simplicity of Rose Gold Glitter
Consider a dip powder glitter option if you're set on going total rose gold. Just show your nail tech your inspo picture, and you're golden—rose golden, that is!
Your Statement Glitter Nail, Unveiled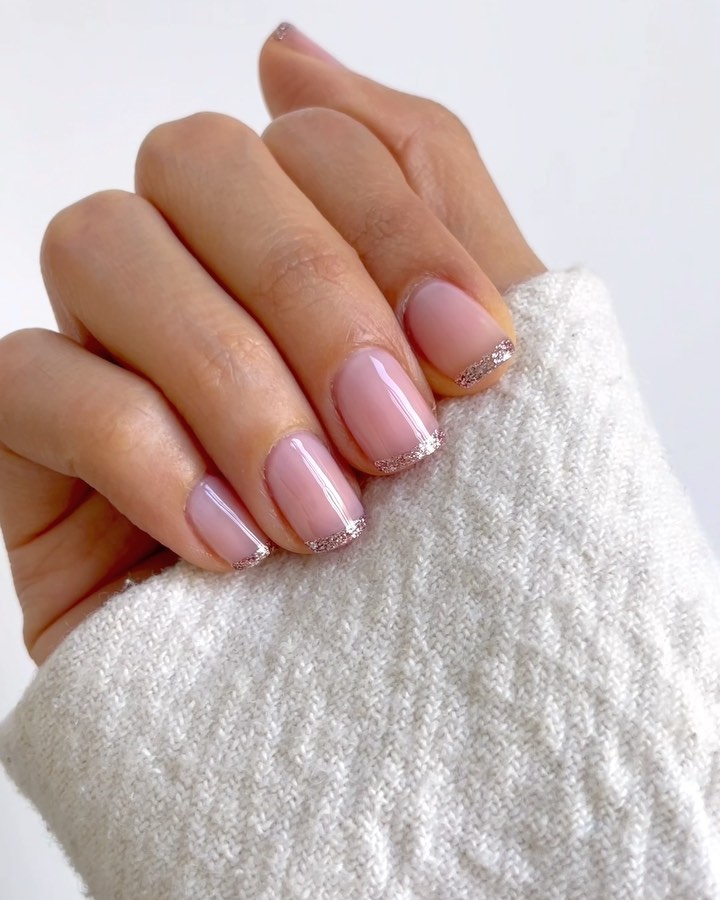 This look screams variety from rose gold stars to all-over glitter and even a French-tipped glitter nail. It's the perfect design for those who like to keep things lively. I wore this playful design at my engagement party, and it was a hit!
A New Spin: Nude with Glittery Cuticle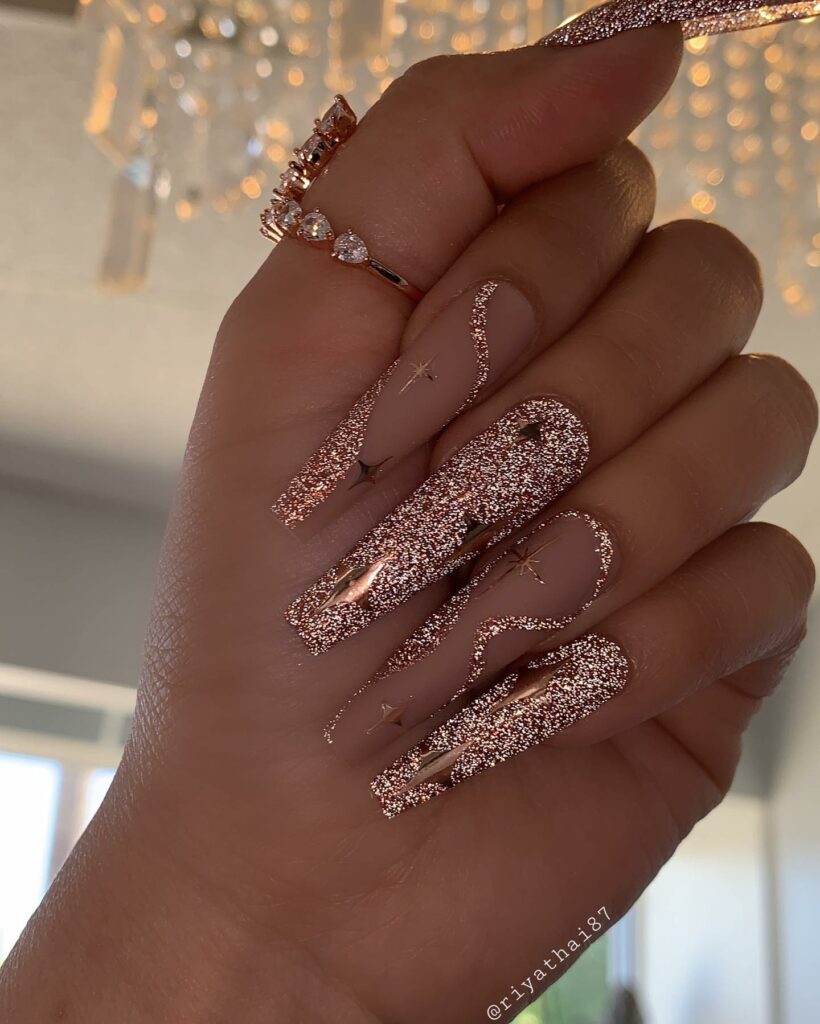 Changing the focus from the tip to the cuticle creates a unique French manicure. Imagine nude nails adorned with crescents of rose gold glitter near the cuticle. It's an understated yet elegant touch, ideal for those who enjoy tweaking traditional designs.
Swirling Into Fashion: Rose and Pink Swirls
It combines varying shades that play so well with the rose gold glitter. An actual work of art, these nails are a showstopper that can't be ignored.
The Versatility of Neutral Rose Gold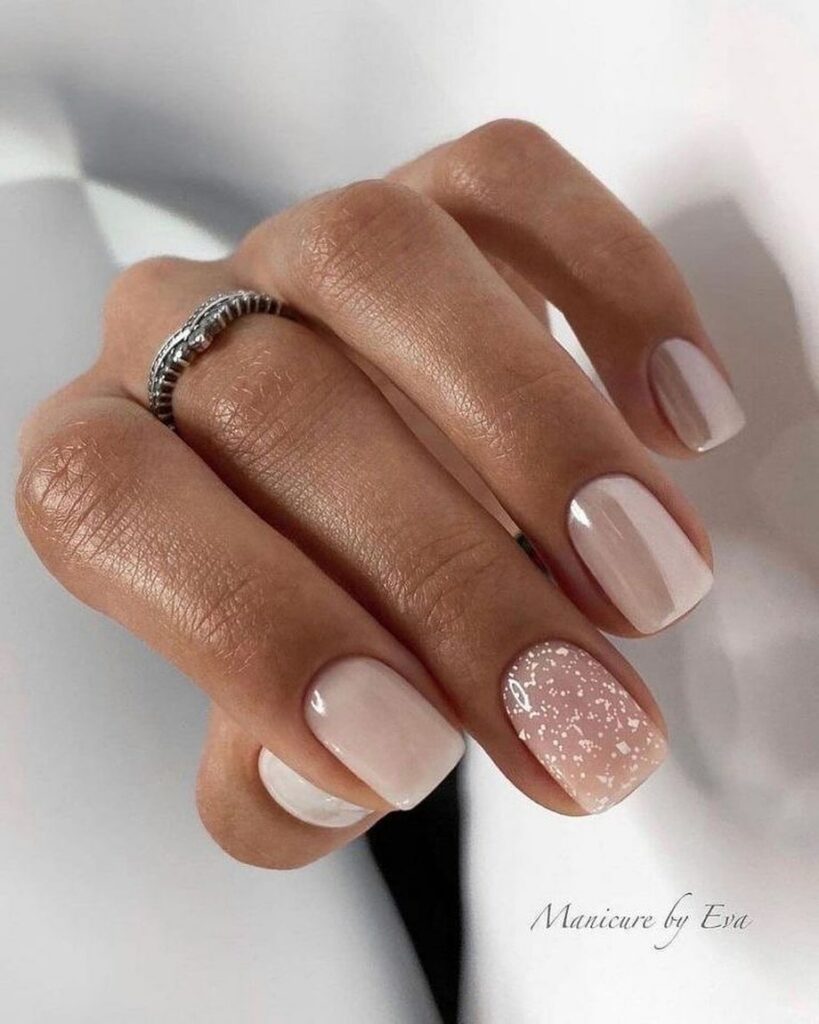 Hello, style-savvy crowd! Let's talk about OPI's Metallic Composition, a rose gold shade so neutral it's practically the little black dress of nail polish. It's a versatile shade that can switch from daytime casual to nighttime glam without missing a beat. Trust me, I wore this polish from a brunch to a gala, which worked like a charm!
The Subtle Elegance of Rose Gold Foil
For those who like to dabble in nail art without going full-blown Picasso, rose gold foil designs are your best friend. Adhering small, delicate foil pieces to a nude base coat can make a difference. I did this once before a weekend getaway, and let me tell you, my nails looked photo-ready in every snapshot!
The Contrast Game: Rose Gold Chrome & Milky Matte Pink
If you're a fan of contrast like I am, this design is for you. Think rose gold chrome on one half and milky matte pink on the other, separated by a crystal gem for good measure. Wearing this design, I was mistaken for visiting a high-end salon when it was a DIY job!
Mauve Mocha Meets Rose Gold Glamour
When a subdued shade like mauve mocha meets rose gold, the result is nothing short of chic. Add thin rose gold glitter lines to the corners of square nails and have a classy manicure. It's a personal favorite for formal dinners—elegant but not too flashy.
High-Impact Glitter Rose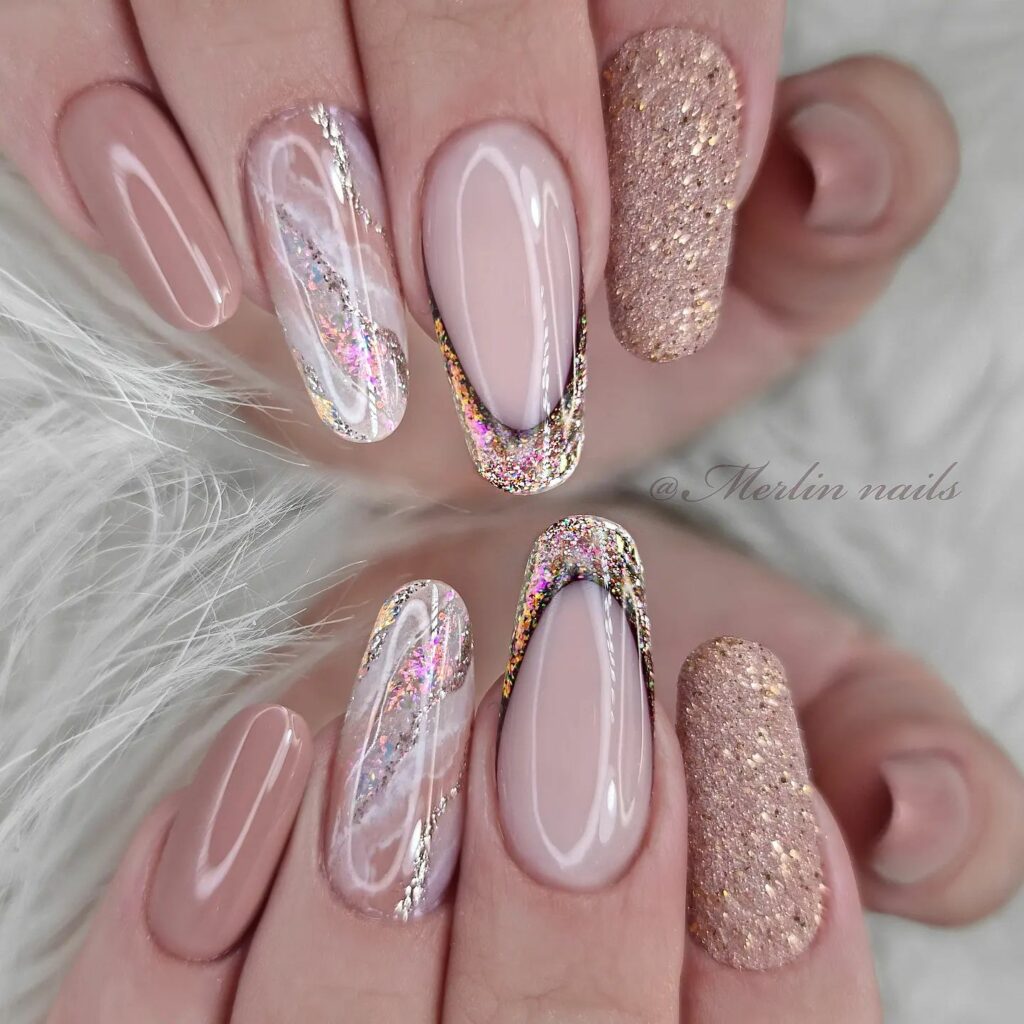 Looking for some dramatic flair? Go all out with glitter rose designs, mixing full sequin coverage and accents on the tips or base of some nails. I've worn this design to concerts, and you wouldn't believe how often my nails caught the stage lights!
For the Love of Subtle Sequin Accents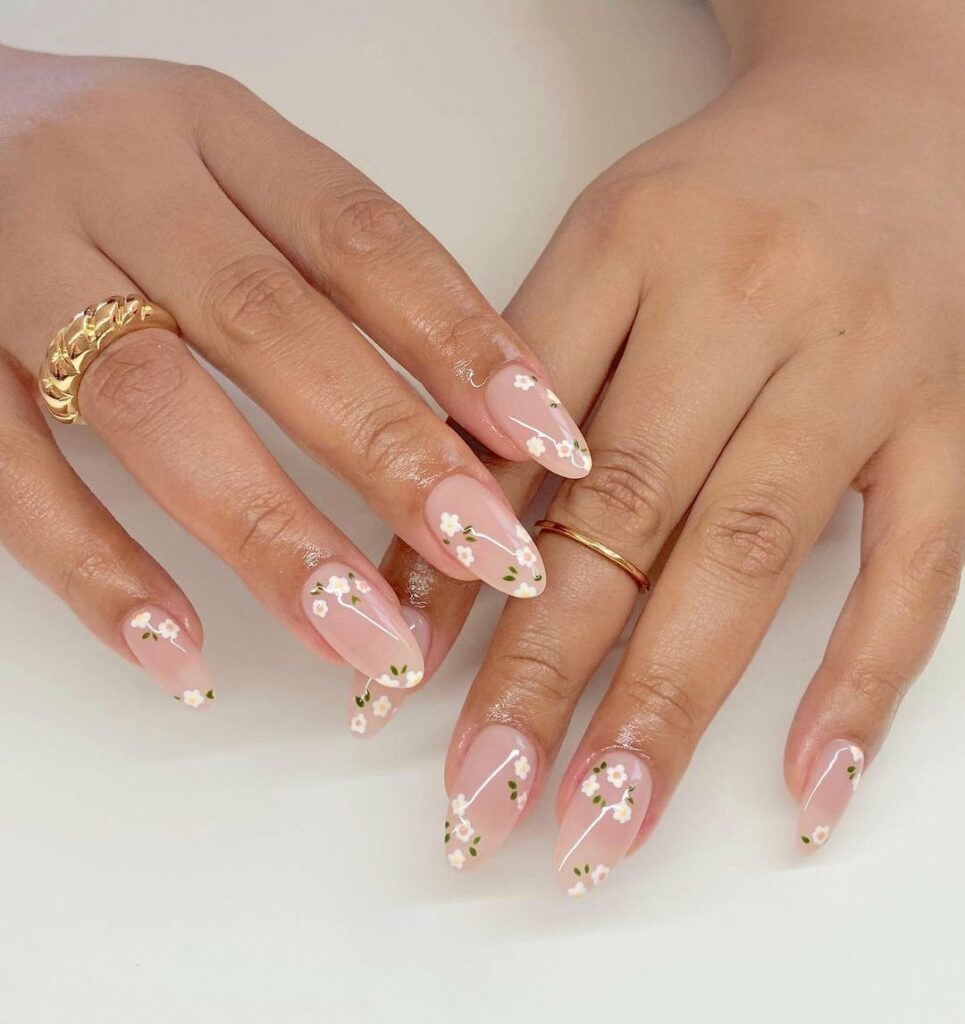 If you prefer understating your sparkle, consider painting a small section of each nail with a glittery rose gold polish. The beauty of this design is that each nail gets a different treatment, making the overall look less intense but equally stunning. I usually go for this look for coffee dates or casual meetups.
DIY-Friendly Glitter Diagonals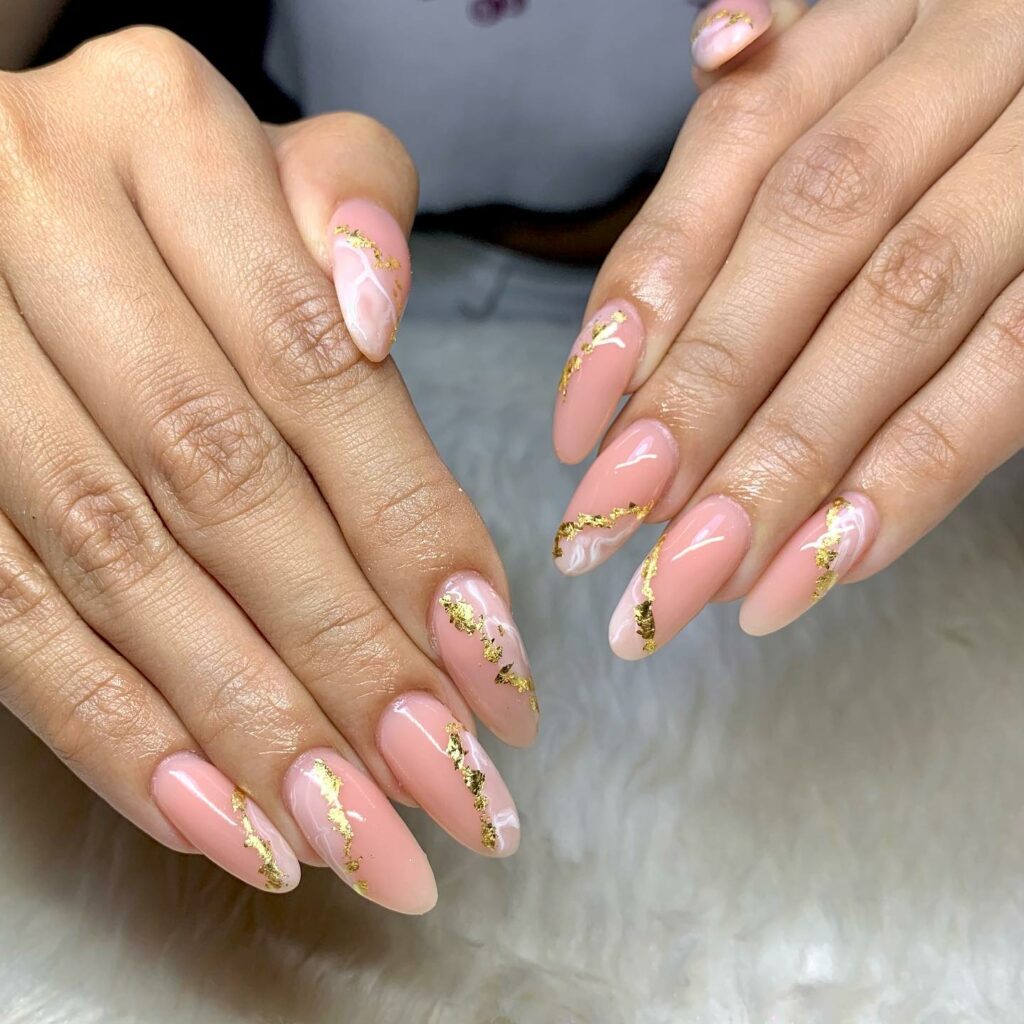 If you're worried about straight lines, a cotton swab soaked in nail polish remover can be your best tool for cleaning up the edges. I tried this look for a DIY nail night with friends, and it turned out amazing!
The Classic French Twist: Rose Gold Edition
Take the French manicure up a notch by swapping out the traditional white tips for rose gold. This adds an unexpected but elegant touch to a well-loved classic. I wore this to a friend's wedding, and it was the perfect blend of sophistication and fun.
Metallic Rose Gold with Black Accents
Pair metallic rose gold with thin black lines or shapes for a sleek, modern look. It's like the graphic tee of nail designs—casual but eye-catching.
Rose Gold Chevron
Chevron patterns are an easy way to introduce fun geometry to your manicure. Use a rose gold base and top it with alternating nude or pastel shade stripes. This is my go-to for a day of fun outings; it's playful without being overwhelming.
Holographic Overlay on Rose Gold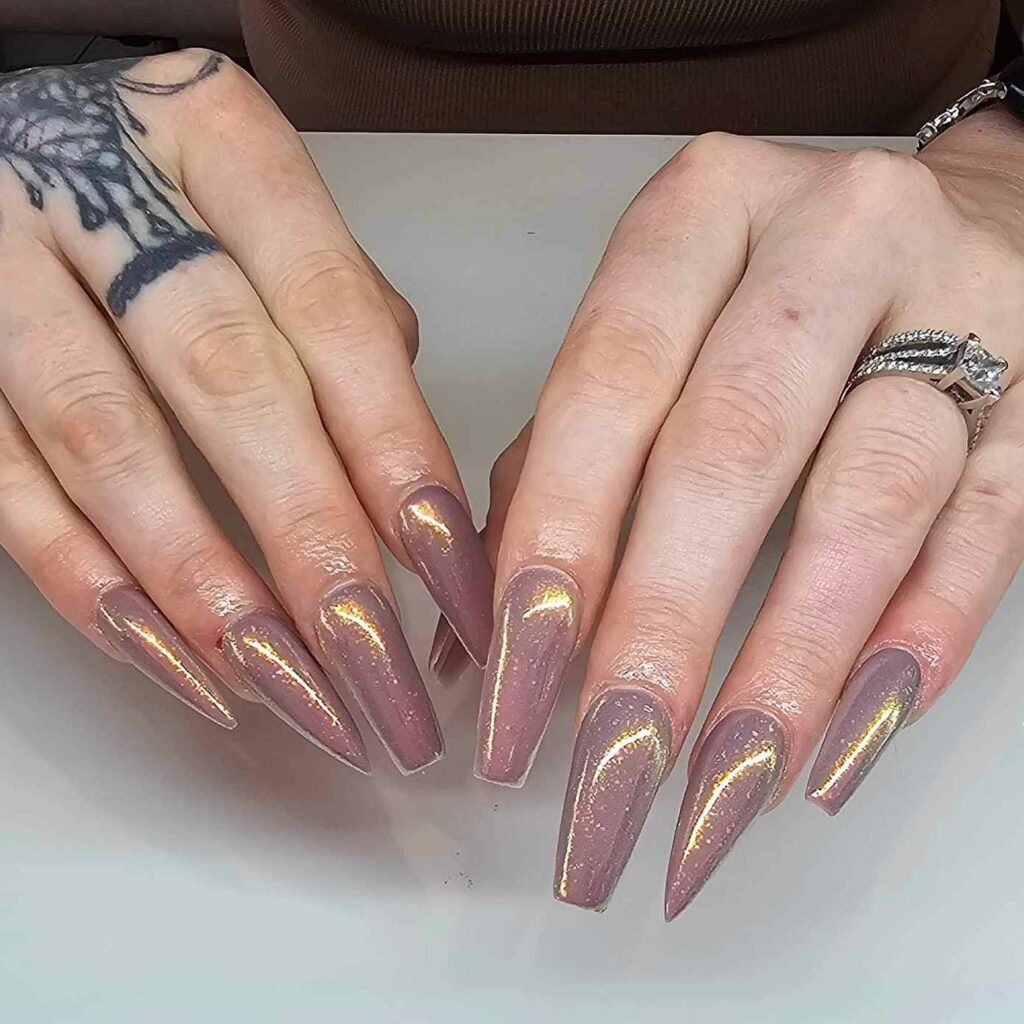 Get into the future-chic vibe by layering a holographic top coat over your rose gold polish. The result is a multi-dimensional look that changes as you move. Perfect for when you want to capture everyone's attention!
Lace and Rose Gold
The intricacy of lace designs pairs wonderfully with the delicacy of rose gold. It brings a romantic, vintage flair to modern manicures. I sported this design at a high tea gathering, and let's say the nails fit the atmosphere to a T.
Rose Gold and Turquoise Marble
A blend of turquoise and rose gold in a marble pattern is nothing short of mesmerizing. It's a burst of color that keeps things interesting. I had this done for my tropical vacation, which beautifully fit the vibrant scenery.
Rose Gold and Navy Contrast
Navy blue and rose gold create a stunning contrast that's as striking as elegant. The deeper hue highlights the sheen of the rose gold. I like to rock this look during fall, as the colors embody the season's richness.
Rose Gold Feathers
Tiny feather designs over a rose gold backdrop give your nails an ethereal look. It's like having little pieces of art at your fingertips. I wore this to an art gallery opening once, and it was a silent conversation starter.
Rose Gold and White Ombre
A gradual blend from white to rose gold gives a soft, dreamy appearance. This design feels like capturing a sunset on your nails. I highly recommend this for a relaxed beach outing or a summertime evening event.
Speckled Rose Gold
Think rose gold with specks of different colors like blue, green, or even orange. It's like the confetti of nail designs—joyful and festive. This design screams 'celebration,' making it perfect for birthdays or anniversaries.
Disco Party on Your Nails: A Sequined Affair
Who said rose gold can't be the life of the party? If you've got a bachelorette bash or a New Year's Eve celebration, you must try this design. Sequins lined up over a rose gold base will make your nails look like a disco ball. I tried this last New Year's Eve, and my nails were undoubtedly the stars of the evening!
Earth Meets Heaven: The Paintbox Creation
Have you ever tried combining green with rose gold? Paintbox, a NYC-based nail studio, calls this divine mix "heaven and earth," and boy, are they right! It's an unexpected duo that's ridiculously pleasing to the eyes—ideal for those days you feel adventurous.
Foiled and Fabulous: The Accented Finish
Blush pink nails with rose gold foil accents offer the right balance of simplicity and glam. The foil adds a textural pop that you can't ignore. I sported this look at a friend's wedding, and let me tell you, even the bride wanted to know my n
Rose Gold Flames
Kick it up by combining fiery flame designs with a rose gold background. The effect is sizzling and elegant, making it perfect for a night out or an edgy photo shoot.
Negative Space: The Unfilled Canvas
Want to keep it 100% rose gold Want to keep it 100% rose gold but still add a punch? How about leaving an arc of negative space at the base of each nail? This style gives you a minimalist look with maximum impact. It's perfect for those 'less is more' days when you still want to turn heads.
10 Tips For Max Longevity Of Your Rose Gold Nails
Use a Quality Base Coat – One of the foundational steps for long-lasting rose gold nails is to start with a high-quality base coat. This protects your nails and provides a smooth canvas for your chosen design.
Choose the Right Polish or Powder – Whether you're going for a traditional polish, gel, or dip powder, ensure it's good quality. Higher-quality products generally offer better longevity and a richer color payoff.
Apply Thin Coats – For maximum staying power, apply your rose gold nail polish in thin, even coats, allowing each layer to dry thoroughly before applying the next. This prevents chipping and peeling.
Cap the Tips – When painting your nails, don't forget to "cap" the free edge (the tip of the nail). This simple technique can significantly affect how long your manicure lasts.
Use a Top Coat – A durable top coat is crucial for sealing in your rose gold design. Some people even opt for an additional "quick dry" top coat layer for protection.
Avoid Water Immersion – For the first few hours after your manicure, avoid soaking your nails in water (like doing the dishes or taking a long bath), as water can cause the polish to lift.
Wear Gloves for Chores – When you're cleaning or doing anything that could potentially chip your nails, wear gloves to keep your manicure looking fresh.
Regular Touch-ups – A little maintenance goes a long way. If you notice any chips or wear, a quick touch-up and an additional layer of top coat can extend the life of your manicure.
Stay Away from Harsh Chemicals – Hand sanitizers, cleaning agents, and other chemicals can wear down your top coat and polish. Opt for milder soaps and keep hand cream on you to maintain your skin and nails.
Mind Your Cuticles – Keeping your cuticles moisturized can also contribute to the longevity of your manicure. Dry, peeling cuticles can make even the best nail job look untidy.
Still Looking for Inspiration, Then Check Out This Video
Conclusion
So there you have it, folks—a treasure trove of rose gold nail designs to elevate your next manicure. While these styles offer a lot of room for creativity, choosing a design that matches your skill level is essential if you're opting for a DIY approach. Some more intricate patterns may require a steady hand or specialized tools, so don't hesitate to seek professional help. And let's not forget no manicure is complete without a good base and top coat to maximize longevity. Whether you go for a bold geometric pattern or minimalist line art, rose gold is a versatile shade that seamlessly transitions from day to night and from casual to glam. Happy experimenting, and may your next manicure be your best one yet!
Feature image @riyathai87 via Instagram
Last reviewed and updated on December 4, 2023