Welcome, this post is your ultimate guide to the 'Best Shea Moisture Shampoos You Need to Try.' I will dive deep into Shea Moisture, the brand known for its top-notch hair care products that feature ethically sourced, natural ingredients. You'll learn why these shampoos are worth your attention and the unique benefits each one brings to your locks.
From shampoos for dry, damaged hair to those specifically designed for curly tresses, and even something for the fans of clarifying washes, we've covered all bases! Whether you're already a Shea Moisture devotee or someone just beginning to explore the wonders of natural hair care products, this post will give you new insights and help you make informed choices for your mane.
So get ready to step into the shower of your dreams, where Shea Moisture magic transforms your hair into the glorious crown you deserve to wear daily! Let's make a splash, dive right in, and discover the Shea Moisture shampoo that's just right for you.
Hello, beautiful beings!
Picture this: You're strolling through your local beauty aisle, eager to embrace the magic of natural hair care, when suddenly you find yourself in front of a stand full of Shea Moisture shampoos. A wave of excitement floods you, but as you look closer, the sheer number of options starts to feel overwhelming. But don't worry, I've been there too, and I'm here to lend a hand!
My Shea Moisture Love Affair
Let's start by acknowledging why we're here: Shea Moisture, a brand that is, without a doubt, my personal haircare champion. Their concoctions are a heavenly blend of natural ingredients that nourishes every strand. It's not just about the effectiveness; their commitment to cruelty-free and inclusivity for all hair types and textures makes my heart flutter. It's like they've read our minds.
One unforgettable day, I stumbled upon their product range, and it was love at first sight (or should I say, first wash?). The only hiccup? You can find Shea Moisture at almost every turn, and boy, do they spoil us for choice!
Navigating Shea Moisture's Vast Sea of Shampoos
I remember like it was yesterday, the first time I stood, wide-eyed and excited, before their selection of not 5, not 10, but 20 different shampoos! As thrilled as I was, I also felt slightly lost. Where should I start? Which one to choose? If you're nodding along, well, you're not alone.
Choosing the right shampoo can sometimes feel like finding a needle in a haystack. With so many options available, it's essential to narrow down the selection based on your hair's specific needs and characteristics. Here's a quick guide:
Understand your hair type: Hair comes in a variety of types and textures, from fine to coarse, straight to curly, oily to dry. It's essential to understand your hair type to select the most suitable shampoo. For instance, if you have curly hair, opt for a shampoo that provides intense hydration, like Shea Moisture's Manuka Honey & Mafura Oil Intensive Hydration Shampoo.
Identify your hair concerns: Do you have dry, brittle hair? Or is an oily scalp your main issue? Your hair concerns will guide your shampoo choice. For dry and damaged hair, a hydrating and repair shampoo like the Manuka Honey & Yogurt Hydrate + Repair Shampoo would be perfect. On the other hand, if you're struggling with product buildup and need a strengthening solution, the Jamaican Black Castor Oil Strengthen & Restore Shampoo would be your best bet.
Consider your hair's texture: Texture matters, especially for curly and coily hair types. If you have tangle-prone, coily hair, the Red Palm Oil & Cocoa Butter Hi-Slip Detangling Shampoo would work wonders for you. For curly hair that needs a moisture and shine boost, the Coconut & Hibiscus Curl & Shine Shampoo is the go-to option.
Look at the ingredients: As we've discussed, Shea Moisture shampoos are packed with natural, hair-loving ingredients. Always pay attention to these ingredients and their benefits. If your hair is dry, look for moisturizing ingredients like shea butter, coconut oil, or manuka honey. If you're looking to strengthen your hair, ingredients like yogurt extract, which is high in protein, can be beneficial.
An All-Around Favorite: Shea Moisture Manuka Honey & Yogurt Hydrate + Repair Shampoo
The first on our list, and a personal favorite of mine, is Shea Moisture's Manuka Honey & Yogurt Hydrate + Repair Shampoo. If you're in the market for hydration, moisture, and a touch of softness, then honey, you've hit the jackpot with this one! I've found this one of the best in Shea Moisture's repertoire, suited for all hair types.
Picture this: You step out of the shower, your hair so soft it feels like a dream and smells faintly of honey. All this without any sulfates! Moreover, it's as light on the pocket as your hair, typically priced around $10, and quickly found in most drugstores.
Why is it so beloved, you ask? It strikes the perfect balance – cleanses and strengthens without weighing your hair down. It worked like a charm for me, but if you have extremely coarse hair, you should look into a more robust, hydrating option (don't worry, we have something for you, too!).
The Hydration Hero: Shea Moisture Manuka Honey & Mafura Oil Intensive Hydration Shampoo
Shea Moisture's Manuka Honey & Mafura Oil Intensive Hydration Shampoo is your knight in shining armor for my curly-haired companions with dry and damaged tresses. Staying true to the Shea Moisture promise, it's cruelty-free, natural, and free of sulfates, parabens, phthalates, mineral oil, and petrolatum.
With a unique blend of oils, it's like a sip of water for thirsty curls, softening dry patches and reducing frizz. My curly friends swear by its magic, and the affordable price tag is just the cherry on top.
But do bear in mind, if you have wavy hair that is relatively dry or dry, this might be a bit heavy for you.
The Strength Trainer: Shea Moisture Jamaican Black Castor Oil Strengthen & Restore Shampoo
If your hair is damaged and crying out for some strength training, then Shea Moisture's Jamaican Black Castor Oil Strengthen & Restore Shampoo is your go-to gym buddy. It removes buildup and strengthens for less breakage, specifically designed for natural, chemically processed, or heat-styled hair.
The peppermint-infused scent is a refreshing wake-up call for your senses, and the castor oil is known to boost hair growth. Despite being formulated for curly hair, it can be used by other hair textures too. But remember, it's a clarifying shampoo, so start slow and use it once a week to avoid drying out your hair.
Whew! We've covered a lot, haven't we? But we're just getting started. With Shea Moisture, the journey is always filled with exciting discoveries and fantastic hair transformations! Stay tuned as we dive deeper into the rest of my top 5 Shea Moisture shampoos in our next post. Until then, keep those tresses happy!
The Tropical Retreat: Shea Moisture Coconut & Hibiscus Curl & Shine Shampoo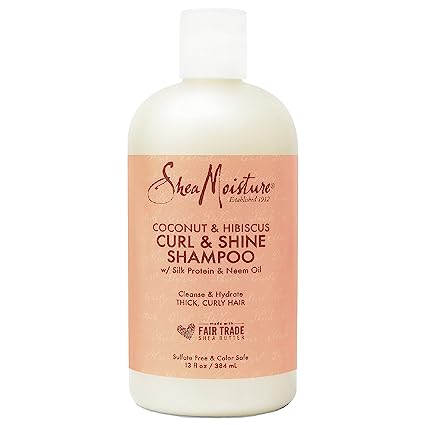 For all my curly-haired pals, it's time to bring the beach to your bathroom with Shea Moisture's Coconut & Hibiscus Curl & Shine Shampoo. This all-purpose star is explicitly designed for your curls, carrying a delightful blend of protein and moisture to address multiple hair needs in one go. And let me tell you, the coconut and hibiscus scent will transport you straight to a tropical paradise!
Why is this your curly hair's new BFF, you ask? It's nourishing, fortifying, and impeccably balanced, ensuring your curls stay bouncy without being weighed down. Plus, it's gentle enough for regular use without stripping your hair of its natural oils.
Honestly, I adore this shampoo for the divine coconut scent alone. Who wouldn't want to be wrapped in a tropical fragrance all day? But more than the irresistible aroma, it's an absolute star at moisturizing and taming frizz.
However, if you have super thin hair, tread lightly; this tropical treat might be a little heavy.
Your Detangling Savior: Shea Moisture Red Palm Oil & Cocoa Butter Hi-Slip Detangling Shampoo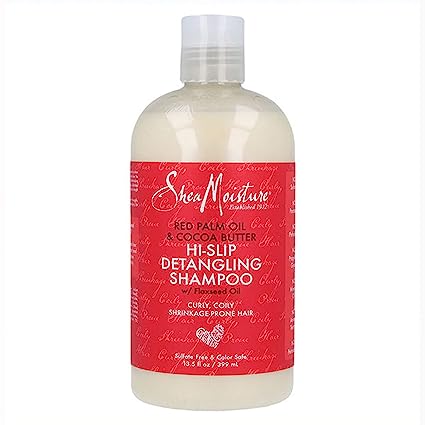 If you're wrestling with tangles every time you shower, your knight in shining armor has arrived. Meet Shea Moisture's Red Palm Oil & Cocoa Butter Hi-Slip Detangling Shampoo. Specially formulated to provide your hair the "slip" it needs to disentangle the trickiest knots in the shower, it's a game-changer for oily hair types.
You see, we all have those hair-raising (quite literally) days where detangling feels like an Olympic sport. And let me tell you, this shampoo has been my saving grace on many such occasions. It's perfect for oily hair that's often tricky to detangle, but it can be your new shower buddy even if you have wavy hair prone to dryness.
The reviews are in, and this shampoo is a crowd favorite for its miraculous detangling benefits. Trust me, once you've tried this, you'll wonder how you ever lived without it!
One tiny hiccup: if you have straight or wavy hair that's not particularly dry, it might feel heavy. And as for the scent, it's pretty mild and unisex, so if you're looking for an olfactory explosion, there might be other choices.
And there you have it, my top 5 Shea Moisture shampoos! Each one is unique, each one a game-changer in its own right. So, the next time you're in the hair care aisle, pick one (or all five) of these and give your hair the love it deserves. Until next time, keep shining, smiling, and most importantly, loving your hair!
5 Other Products You Might Want To Try
The brand's mission is to meet the unique needs of all hair types and textures, and they've crafted an array of products to fulfill that.
Fine and Thin Hair: Shea Moisture's Fruit Fusion Coconut Water Weightless Shampoo is excellent for fine, thin hair. It hydrates and revitalizes lifeless hair without weighing it down.
Low Porosity Hair: Their Baobab & Tea Tree Oils Low Porosity Protein-Free Shampoo is designed for low porosity hair that has difficulty absorbing moisture. This shampoo helps to balance the hair's moisture levels without overloading it with protein, which can make low porosity hair feel stiff and straw-like.
Oily and Greasy Hair: The African Black Soap Bamboo Charcoal Deep Cleansing Shampoo is ideal for those dealing with oily or greasy hair. It helps to thoroughly cleanse the hair and scalp, removing excess oils and product buildup.
Color-Treated Hair: The SuperFruit Complex 10-IN-1 Renewal System Shampoo is a great choice for color-treated hair. It helps to renew vibrancy, provide color protection, and enhance shine, among other benefits.
Sensitive Scalp: The African Black Soap Soothing Shampoo is specially formulated for those with a sensitive scalp, as it soothes irritation and relieves itching.
Shea Moisture is certainly famous for their shampoos, but they offer a whole host of other hair care products as well. The brand is committed to providing wholesome and effective solutions for all hair types and needs, and their range of products reflects this commitment.
Conditioners: Shea Moisture has a diverse line of conditioners to suit various hair types and needs, including leave-in conditioners, rinse-out conditioners, and deep conditioning masks. Just like their shampoos, these products are often formulated with nourishing natural ingredients like shea butter, coconut oil, and Jamaican black castor oil.
Styling Products: Shea Moisture offers a range of styling products like curl enhancing smoothies, styling lotions, gels, mousse, hair sprays, and more. These products cater to the needs of different hair textures, helping to define curls, combat frizz, and provide hold.
Hair Treatments: Shea Moisture also provides hair treatments, including hair masks, serums, hair oils, and scalp treatments. These are designed to address specific hair concerns, such as dryness, breakage, scalp health, and hair growth.
Hair Color: Shea Moisture even has a line of hair color products. Their nourishing, ammonia-free hair color system is designed to deliver vibrant, long-lasting color with moisture-rich after color conditioners for healthy-looking hair.
Why Are Their Products So Good – What Are The Key Ingredients
Let's take a closer look at some of the key ingredients found in these shampoos:
Manuka Honey: Known for its rejuvenating properties, Manuka Honey provides a moisture boost for dry hair, leaving it shiny and well-nourished. It's also rich in antioxidants, which can help protect your hair from environmental damage.
Mafura Oil: This is a South African oil known for its hydrating and moisturizing properties. It helps seal in moisture and soften hair, reducing breakage and enhancing shine.
Yogurt Extract: It's packed with protein, which is a building block for your hair. It strengthens hair strands, reducing breakage and promoting healthy growth.
Shea Butter: A key ingredient in most Shea Moisture products, shea butter is known for its deep moisturizing and conditioning properties. It also helps protect hair from heat damage and UV radiation.
Coconut Oil: A well-loved ingredient in hair care, coconut oil helps reduce protein loss from hair, promoting strength and elasticity. It also has excellent moisture-retaining properties, keeping hair hydrated and preventing breakage.
Hibiscus Extract: Hibiscus nourishes the hair, stimulates hair growth, and helps prevent premature greying. It also helps combat hair loss and promotes a healthy scalp.
Red Palm Oil: Rich in antioxidants and vitamins, red palm oil helps protect the hair and scalp against environmental stressors, promoting healthier and stronger hair growth.
Cocoa Butter: Known for its moisturizing properties, cocoa butter makes the hair softer, smoother, and more manageable. It's great for reducing frizz and making your locks shine.
Conclusion
And just like that, we've navigated the treasure trove of Shea Moisture shampoos. We've covered a spectrum, from hydrating heroes to detangling dynamos, and it's clear that this brand has an all-star line-up. Remember, hair care is a personal journey, and what works wonders for one person might not work the same magic for another. It's all about listening to your hair, understanding its unique needs, and choosing a shampoo that caters to them. Be aware of the ingredients and their effects – natural only sometimes means it'll suit everyone. So, patch test, experiment, and be patient.
But let me tell you this, ladies and gents, once you find your perfect Shea Moisture match, your hair will thank you in leaps and bounds. So, why wait? Give Shea Moisture shampoos a try and elevate your hair care game. After all, your hair is your crowning glory and deserves nothing but the best! Stay fabulous, keep exploring, and may your hair days be good. Here's to happy, healthy hair adventures!
Feature image by Velizar Ivanov on Unsplash