Just as a well-curated wardrobe encompasses a spectrum of shades and textures, your nail palette should be no different. A shift from the vibrant hues of summer to the rich, deep tones of autumn or winter, brown nails offer a canvas that embodies both the warmth and the coolness these seasons interchangeably bring.
In this blog post, you'll discover that brown nails are not just a color but a statement, a personality, and a realm of fashion that stands the test of time. From earthy, muted tones that echo the rustling leaves of fall, to the vibrant, bronzed hues that capture the golden rays of summer, this guide will be your companion to a polished and season-transcendent look.
Join me as we navigate through this rich tapestry of brown nails that promises a voyage of visual delight and the quintessential guide to mastering a trend that never fades. Let's unveil the secrets behind creating a versatile, sophisticated nail repertoire that complements any season beautifully. Prepare to immerse yourself in a world where style meets sophistication.
Blossoms Meet Chocolate Brown
Remember that exhilarating feeling when you can't decide between two fantastic nail art and want to try both? Well, here's a delightful solution for you: adorn one hand with a chocolate brown polish, a color as decadent and comforting as a cup of hot cocoa on a chilly morning, and let the other hand bloom with stunning floral art. It's a playful and vibrant juxtaposition that brings the beauty of spring right to your fingertips!
Preppy Chic: Almond Nails with a Twist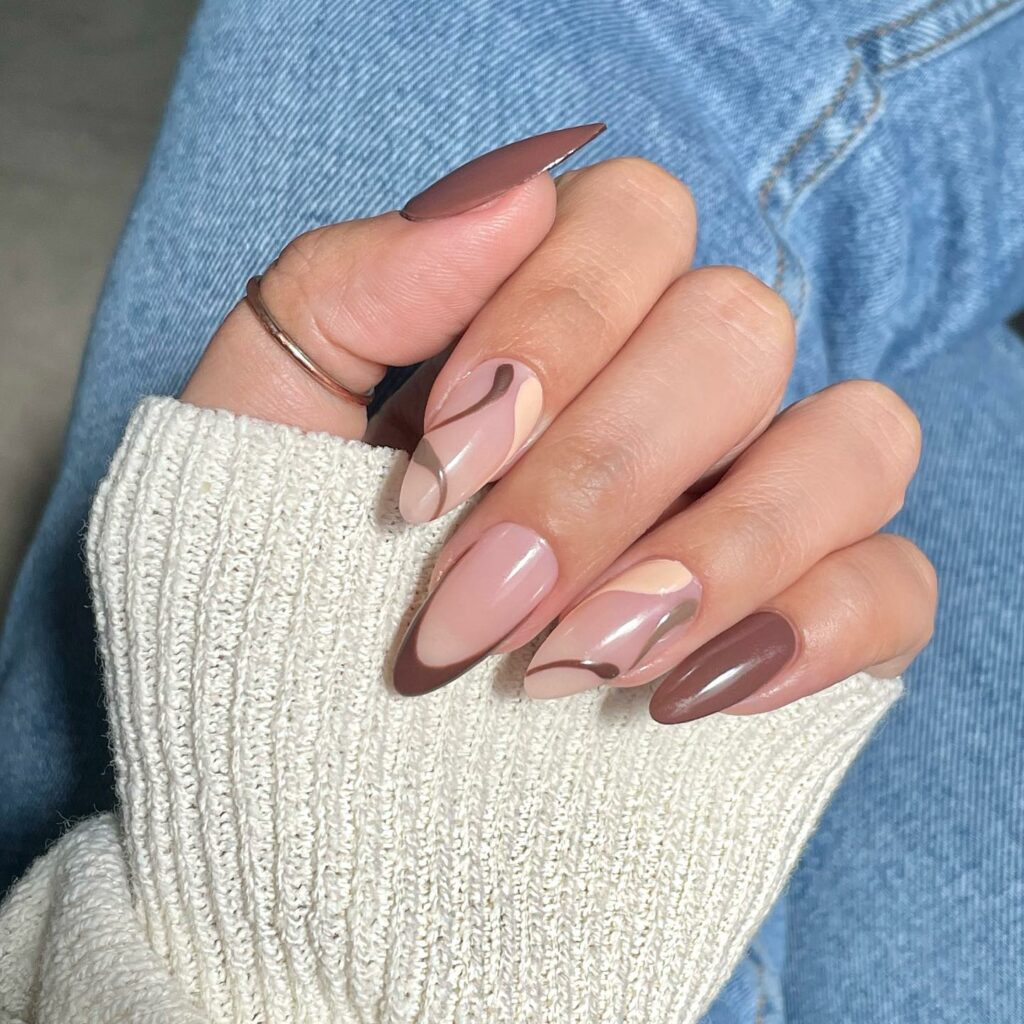 I recall the days when I wore plaid skirts to school, and this style takes me right back to those nostalgic moments. Avoid the regular by incorporating plaid accent nails with your dark brown nail design. It creates a chic, preppy look that's just brimming with personality.
French Manicure: The Brown and White Edition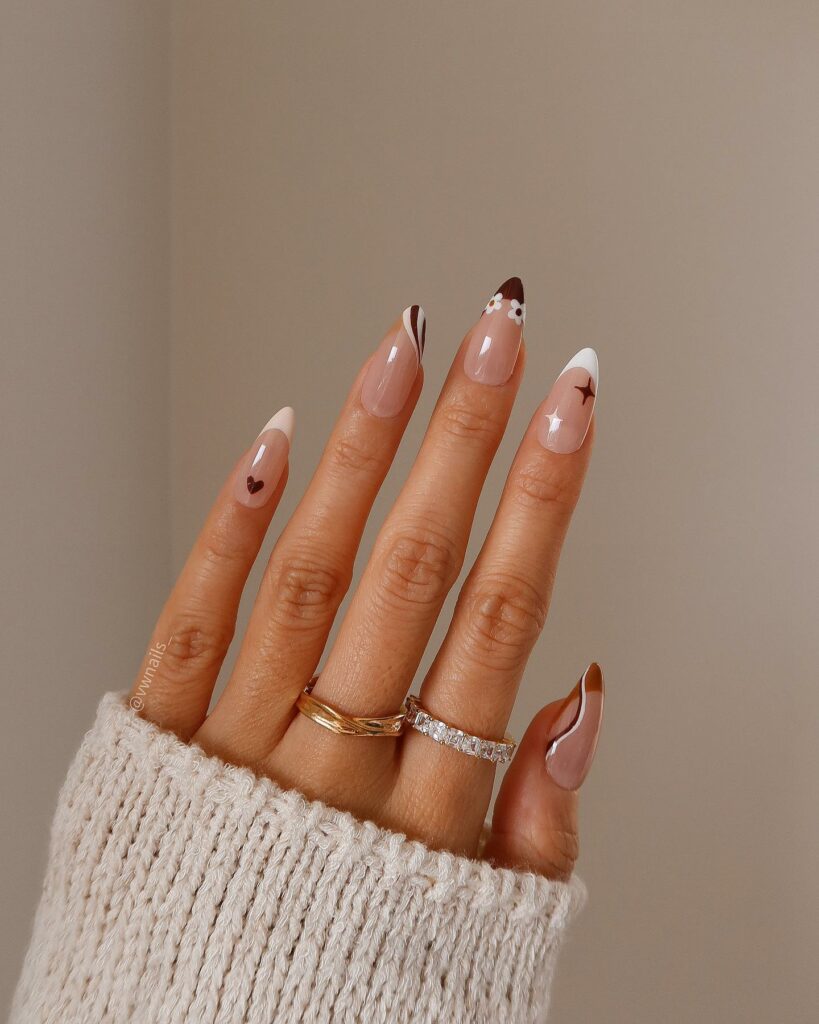 Why not add a delightful twist to the classic French manicure we all adore? Replace the traditional white tips with a harmonious blend of brown and white diagonal directions, offering your nails a refreshing yet elegant touch. It's a simple modification that promises a fresh, unique look!
Dynamic Duo: Brown Tips and Swirly Accents
Who says monochromatic looks have to be dull? I remember when I spiced up my single-toned outfit with a vibrant scarf, which transformed the whole look. Similarly, add excitement to your nail art with chocolate brown French tips and captivating diagonal swirls. It's the little tweaks that make all the difference!
Elegant Brown Stiletto Nails with Gold Accents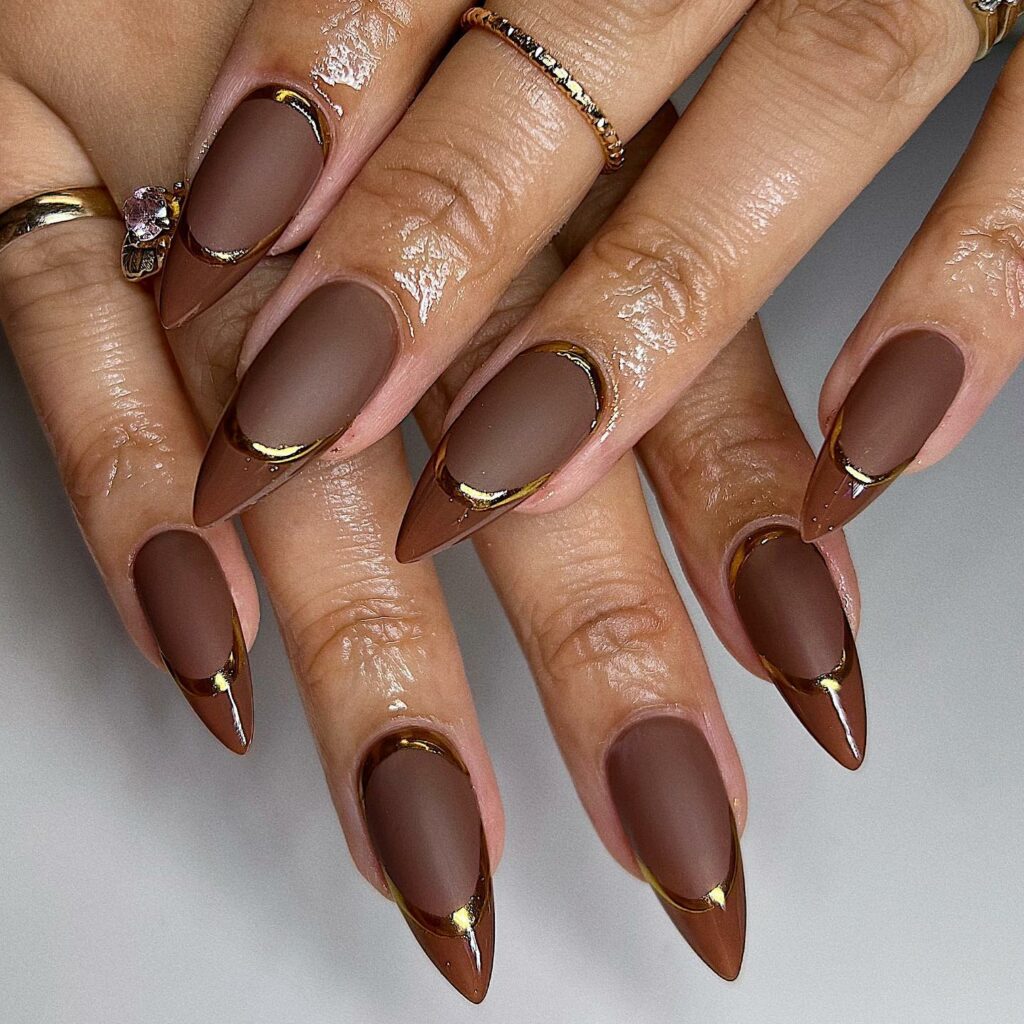 These beautifully crafted stiletto nails showcase a rich brown hue, enhanced with striking gold accents at the tips. The combination offers a harmonious balance of sophistication and boldness, making it a perfect choice for those looking to make a chic statement with their nail art.
Coffee-Inspired Creations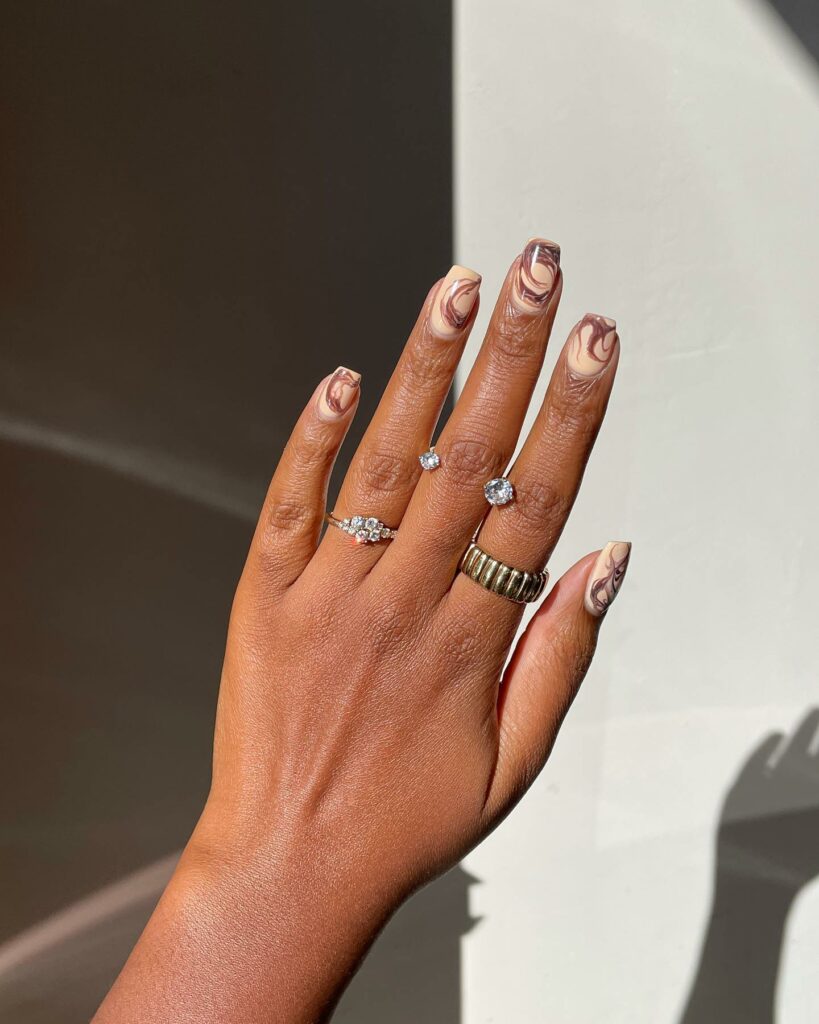 For all my fellow coffee lovers out there! Evoke your favorite brew's rich, comforting vibes with playful designs featuring swirls, diagonal lines, and heart accents. It's an animated tribute to our beloved morning ritual.
Graceful Matte Brown Nails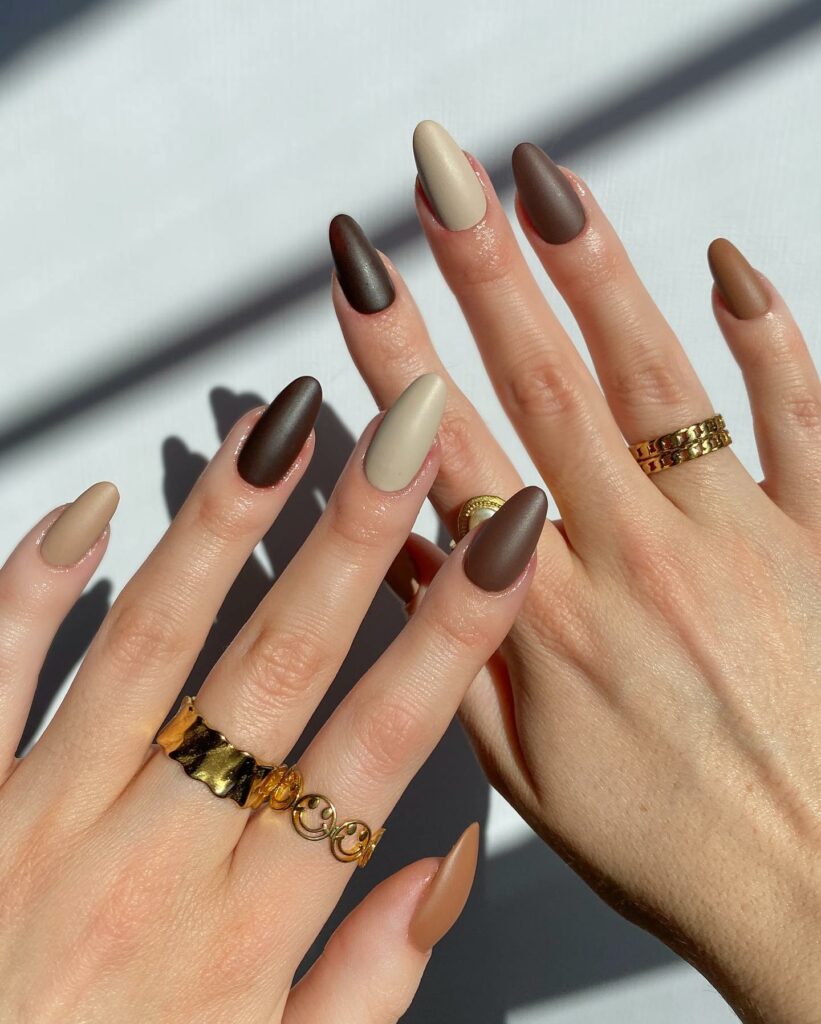 If you love simplicity with a twist, this design will resonate with you. Embrace the subtle contrast of light and dark brown shades, brought together with graceful French tips, creating an elegant and cohesive look that speaks of understated class.
A Canvas of Artistry
Let's unleash the artist within you with this next tip! Transform your nails into a canvas of assorted artistry featuring glitter polish, knitted sweater patterns, and delightful brown plaid hearts. It's your mini art gallery right at your fingertips!
Romance in Brown: A Valentine's Special French Nails
Looking for the perfect Valentine's nail art? Here's a design that radiates love and elegance. Adorn your tips with golden swirls and hearts, making a romantic statement that's hard to miss.
Mocha Swirls: A Visual Treat
Long square nails offer a wonderful playground to get creative with your designs. Think thick, swoopy mocha swirls that are as delightful as your favorite cup of coffee, offering a visual treat that's both sophisticated and fun.
Abstract Line Art on Neutral Nails
This nail design beautifully captures the essence of minimalistic abstract art with its fluid black line drawings on a neutral base. The delicate illustrations, reminiscent of face and figure outlines, lend an artistic touch, making it an excellent choice for those who appreciate contemporary aesthetics in their nail art.
Plaid Accents on Soft Nude Nails
These nails exude sophistication with their muted nude tones paired with elegant plaid patterns. The interplay of the nude shades with the bold black lines offers a balanced contrast, making the design versatile enough for both casual and formal occasions. The precise detailing of the plaid ensures a chic and modern finish, highlighting the wearer's attention to detail.
Yin and Yang: A Timeless Fusion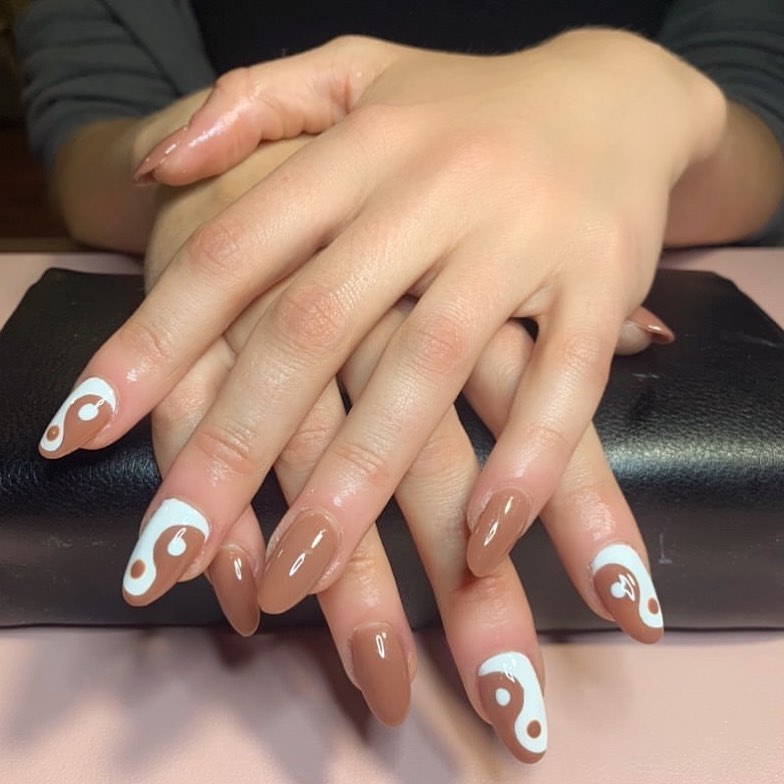 Ah, the ever-enigmatic yin and yang, a design that embodies harmony and balance. Adorning your nails with this design brings a sense of peace and a classic style that transitions effortlessly from casual brunches to formal soirées. The glossy white base paired with a yin-yang accent on stiletto nails epitomizes timeless elegance.
Classic Elegance with Taupe French Tips
Sometimes, simplicity speaks volumes. I remember my first-ever French manicure; it had a certain je ne sais quoi. Revisiting that classic with a taupe twist could be your next favorite nail adventure. It's versatile chic and adds a sprinkle of sophistication to any look.
Sparkling Brown Gradient French Tips
As the leaves turn golden in fall, why not bring a touch of that magic to your nails? Imagine the gradient hues of brown blending seamlessly, outlined with a trail of glitter that catches the light beautifully, offering a sparkle reminiscent of a cozy autumn afternoon.
Playful Swirls: A White and Brown Saga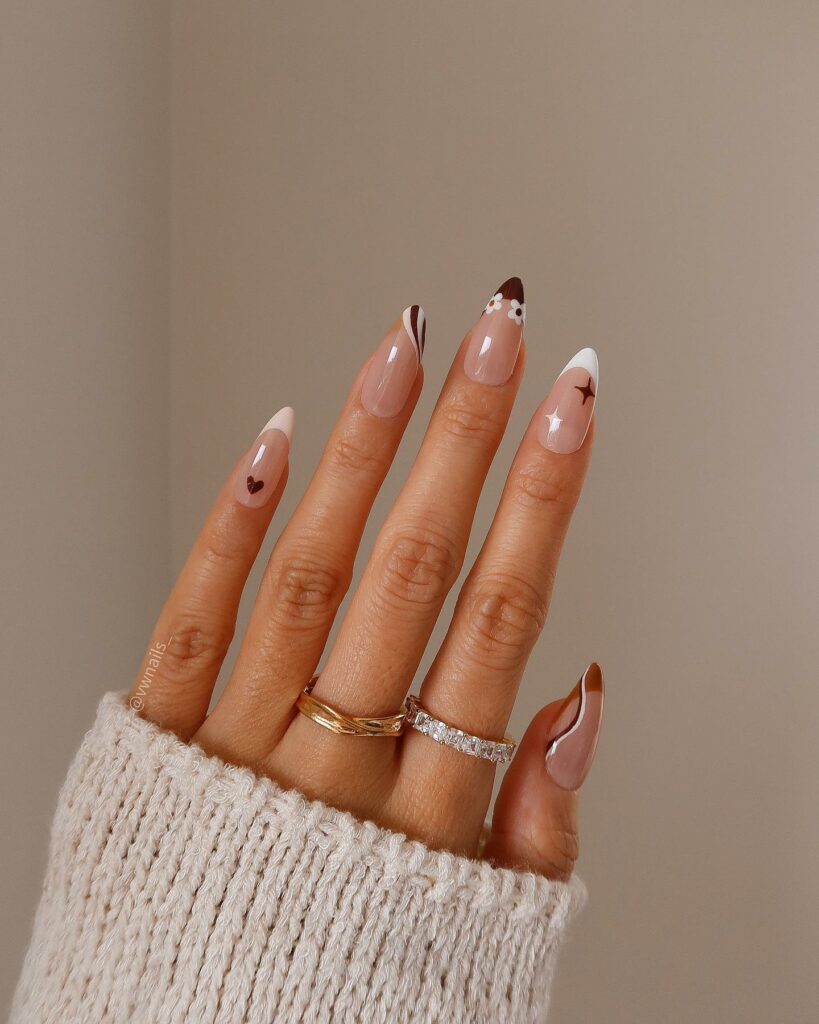 Thanks to the creative genius at @kikinails_ebeauty, we have a neutral palette transformed into a playground of elegance and fun. Imagine the delight of having brown French tips mingled with whimsical white swirls, a design that's sure to make a delightful impression wherever you go!
A Canvas of Hearts and Flowers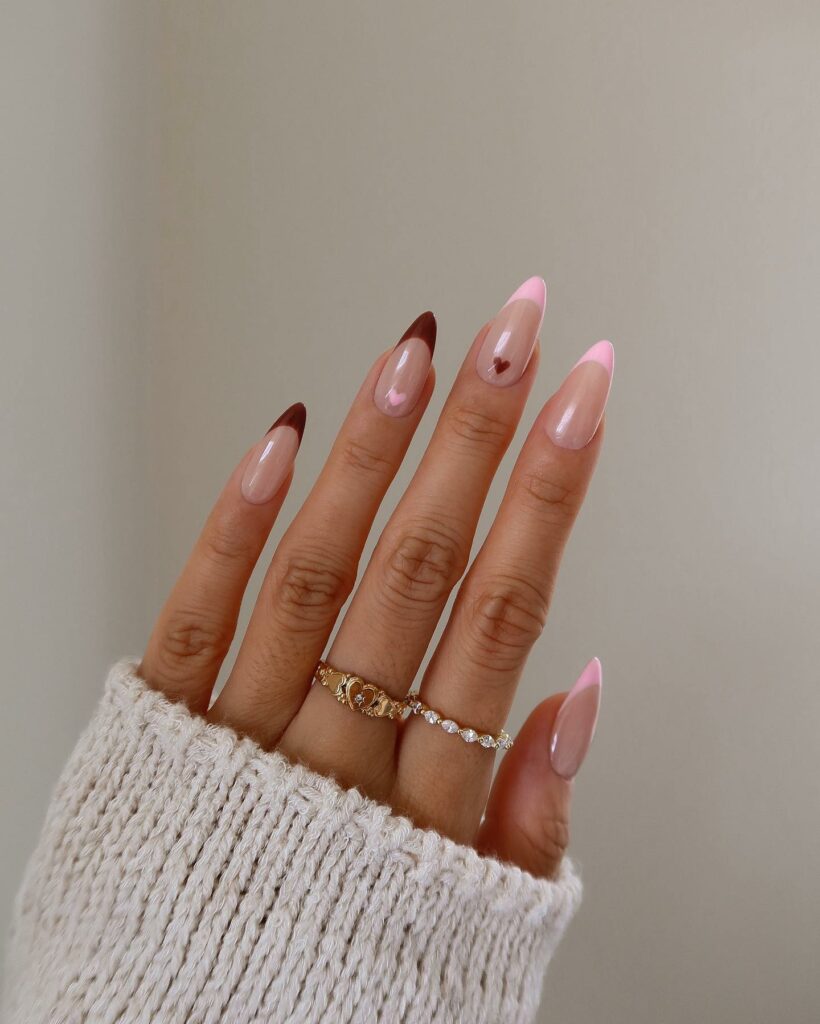 Next, we stroll through a garden of nail art delights. Picture tiny hearts, delicate flowers, and intricate dots gracing a nude base, bringing a charming and chic visual treat to your fingertips.
Glittery Swirls: A Brown Symphony
Why settle for the usual when you can have a canvas of swirls in brown and white gracing your nails? Add a touch of sparkle with silver glitter outlines, emphasizing the rich brown hues and creating a dance of light and color on your nails.
A Trilogy of Brown Hues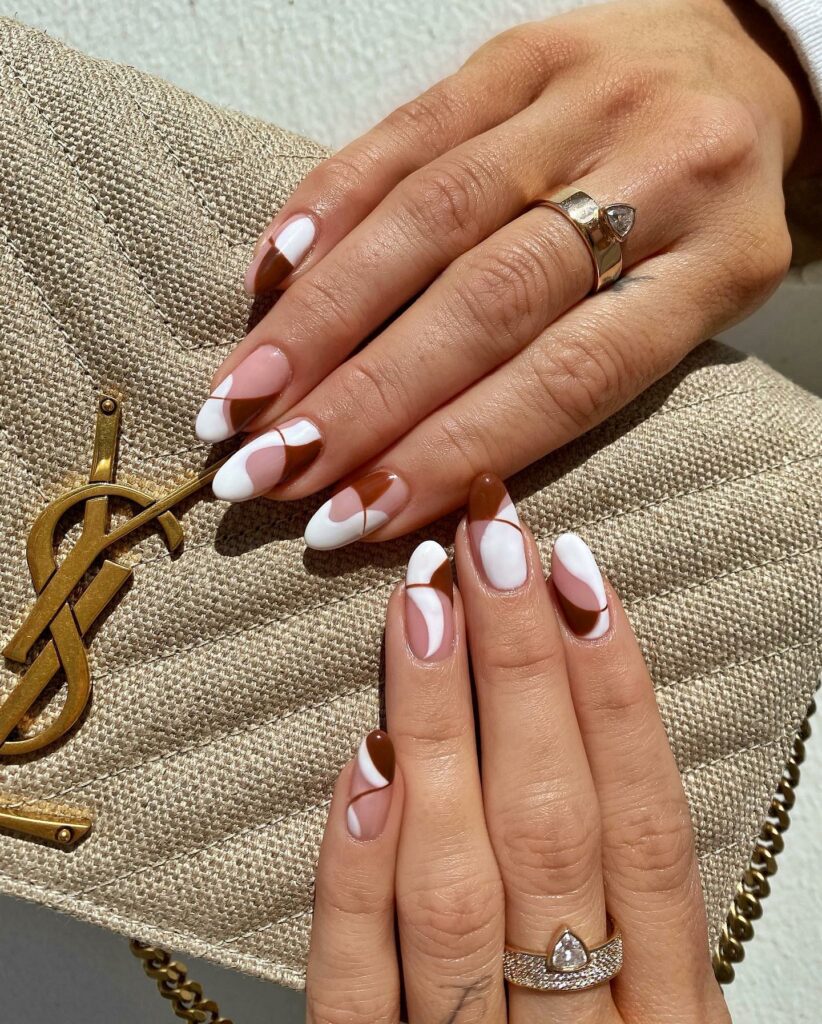 Decisions, decisions! Choosing one color can be a tad difficult. So why not pick three? Picture your nails adorned with a fine line of earthy hues – deep brown, caramel, and beige, creating a harmonious symphony that's both subtle and striking.
Unleashing the Wild: Leopard Prints and Gold Flakes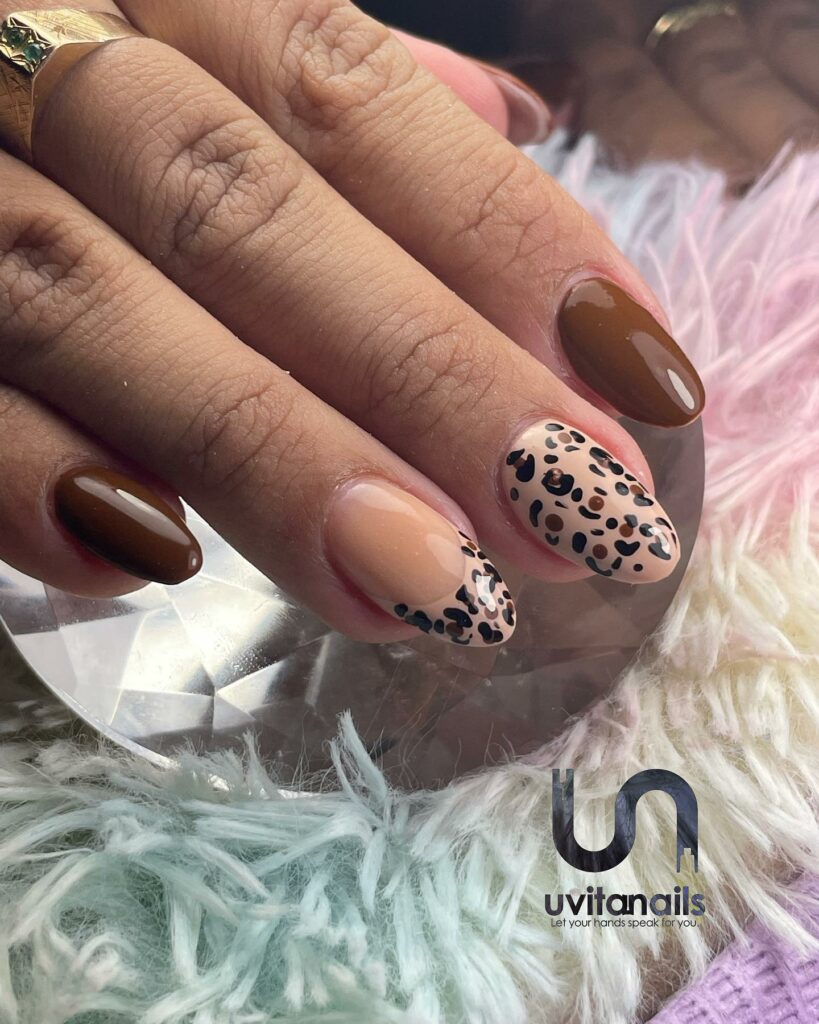 This design is a dream come true for those who love a little wild flair. Imagine your nails adorned with leopard prints, coupled with the shimmer of gold flakes, creating a look that's both cohesive and bold, an accurate statement of style and personality.
Sweet Treats: Dessert-Inspired Nails
Turn your nails into a sugary delight with this next idea. Think of designs inspired by your favorite desserts – perhaps donuts, chocolates, or a scoop of ice cream. It's a nail design and a delightful conversation starter, promising smiles and sweet moments.
Sultry Deep Brown with Silver Flourishes
Let's dive into a world of sultry elegance. Envision your nails painted in a deep brown shade, accentuated with a touch of 3D silver swirls, creating a look that's not just sexy but an accurate representation of art and sophistication.
Spring Bloom: Brown Spring Nails
Imagine lounging in a sun-dappled garden as you flaunt this charming nail design. It's akin to having a spring garden at your fingertips with delicate flowers gracing two nude nails, accompanied by a symphony of white and latte-brown hues. It reminds me of when I stumbled upon a hidden flower field during a spring walk – a moment of tranquility and beauty.
Subtle Transitions: Ombré Brown Tips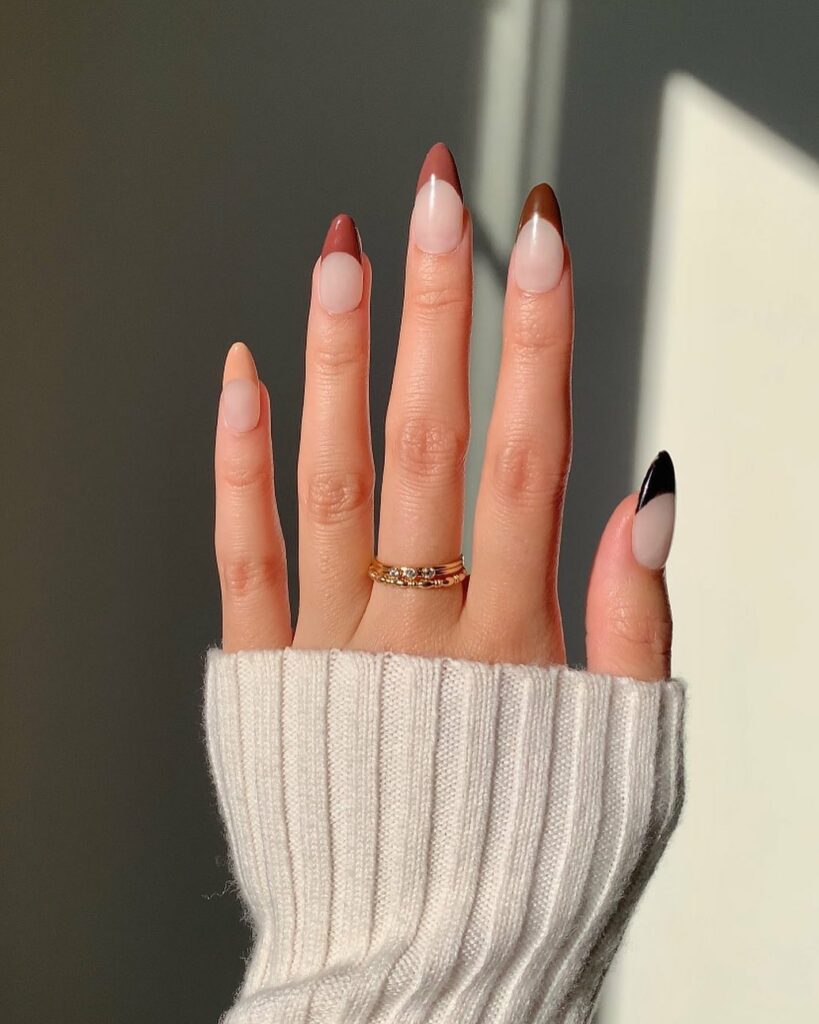 Add a mystical touch to your French tips with a soothing transition of deep to light brown shades, creating an ombré effect. It's a refreshing twist that reminds me of watching the gentle gradients in the sky at dawn.
Autumn Classic: Plaid French Tips
Infuse a bit of classic elegance into your style with plaid French tips. I remember pairing this nail design with a cozy, autumn-inspired outfit during a rustic countryside weekend – an ever-chic combination that never impresses me!
Whimsical Adventure: Bears, Flowers, and Swirls
Venture into a world of whimsy with this adventurous nail design. The deep brown base becomes a canvas for an enchanting narrative featuring adorable bears, graceful swirls, and vibrant flowers. It's like bringing a piece of a fairy tale onto your nails.
Sweet Touch: Tiny Brown Hearts
Embrace the fall season with sweetness by sporting tiny brown hearts as French tips. The blend of off-white and deep-brown hues brings a dainty and endearing aesthetic that adds a sprinkle of love to your style.
Edgy Elegance: Brown Broken Checkers
Dare to be different with this eye-catching broken checker pattern. This design has a fascinating allure that will turn heads wherever you go, a real conversation starter at any gathering!
Festive Flair: Deep Brown Christmas Nails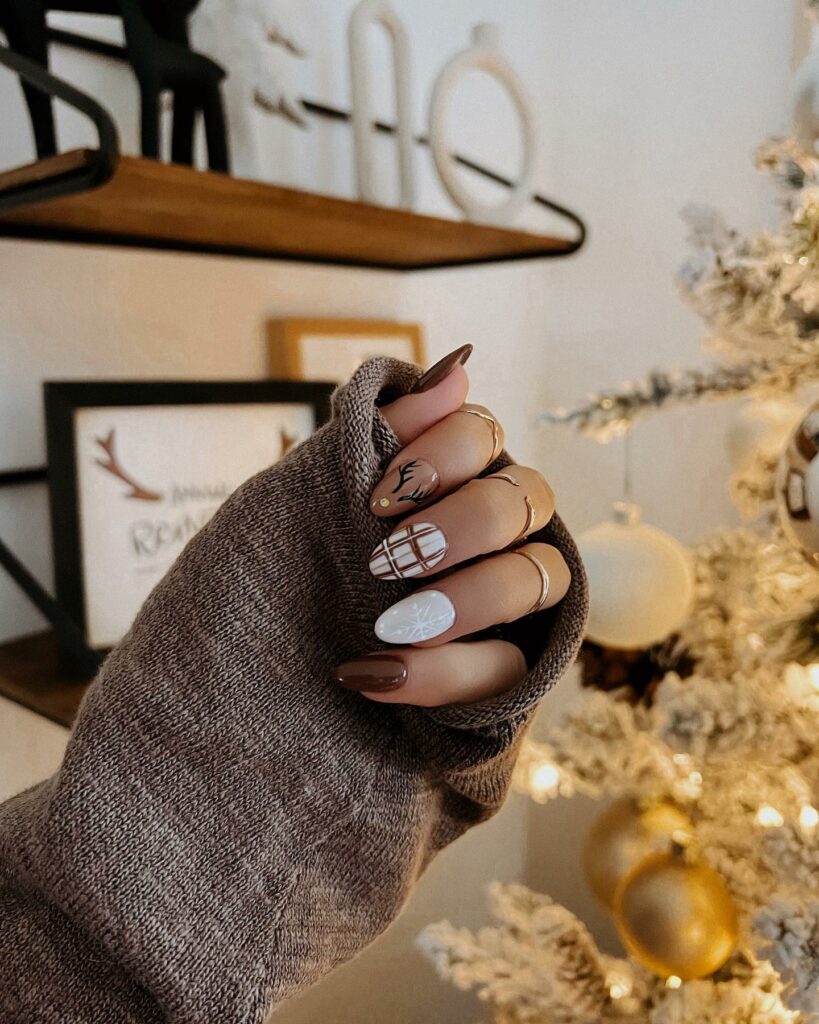 Christmas is a time for joy and celebration, and what better way to get in the festive spirit than with deep brown nails adorned with mistletoe and white drip designs? Adding a glittery accent nail captures the sparkling essence of the season beautifully.
Golden Glam: Elegant Brown and Gold Nails
Add a touch of sophistication to your nails with a golden glam makeover. The chunky gold glitter on deep brown nails paired with nude brown accent nails is a testament to elegance and style, perfect for a night out or a special event.
Sparkling Delight: Chocolate Brown and Chunky Glitter Nails
Let's turn the sparkle up a notch with this glittering combination of brown and gold. From brown glitter ombre to chunky glitter adornments, it's a dazzling display of sparkle and shine bound to brighten your day.
Shimmering Marvel: Marble Brown Nails with Rhinestones
Upgrade your brown nails to a level of luxury with marble designs and twinkling rhinestones. Gold flakes add an extra layer of shimmer, bringing a touch of luxury to your fingertips.
Modern Elegance: Clean Matte Brown Nails with White Lines
Celebrate the beauty of simplicity with this modern design. The clean matte brown base highlighted with thin white lines creates a sleek and contemporary look reminiscent of modern art pieces that captivate the viewer with understated elegance.
Designer Touch: Luxurious Gradient Nails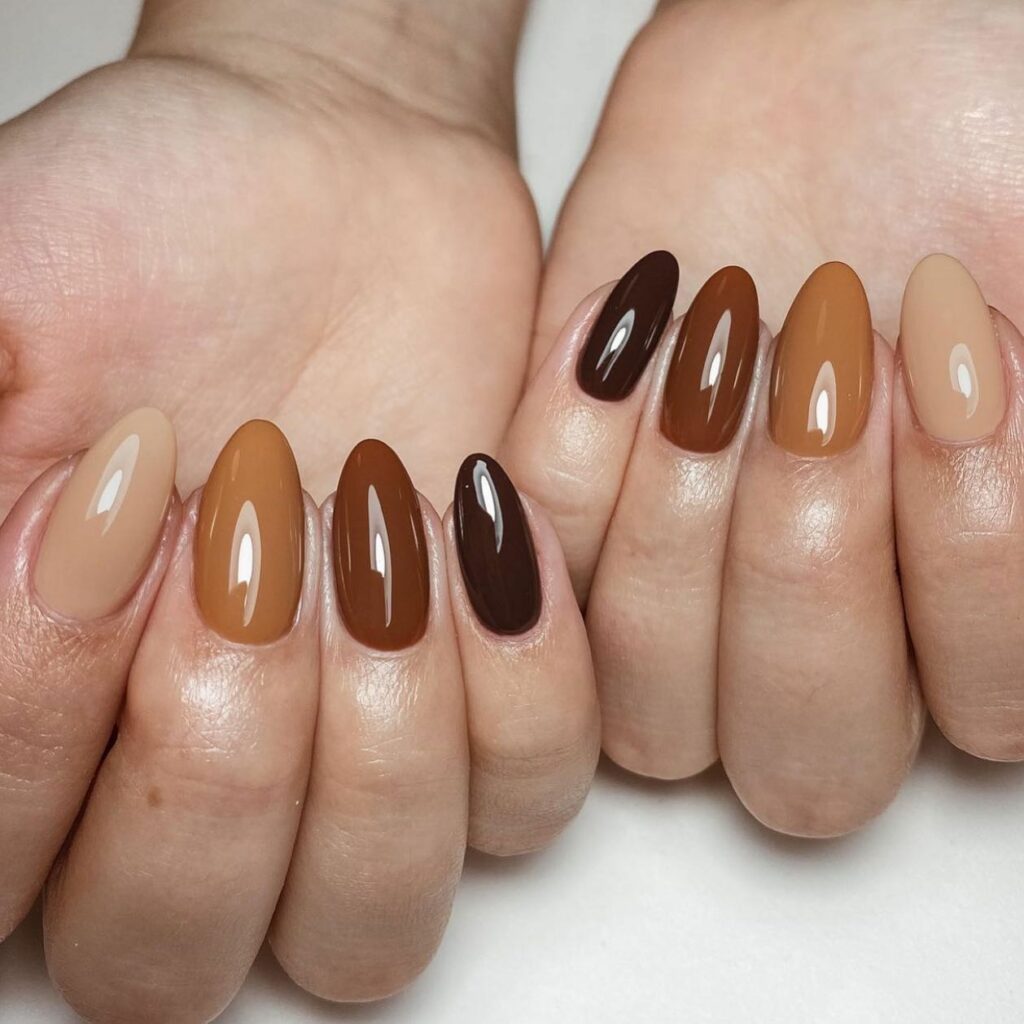 Indulge in luxury with this grandeur-inspired design. Adding iconic brand logos to your brown gradient nails adds a touch of exclusivity and exudes an air of sophistication and class.
Wild Charm: Deep Brown Nails with Animal Prints
Embrace the wild side of fashion with this enchanting nail art. The combination of glittery brown, nude nails, and tortoiseshell prints outlined with gold glitter brings a harmonious yet striking dynamic that perfectly complements the deep brown base.
Sleek Simplicity: Short and Glossy Nails
For those who appreciate the classic appeal, this design brings a sleek and glossy finish to your short nails. It's a testament to the timeless charm of brown polish crowned with a shiny top coat, offering a polished and refined look.
Romantic Reverie: Gradient Heart French Tips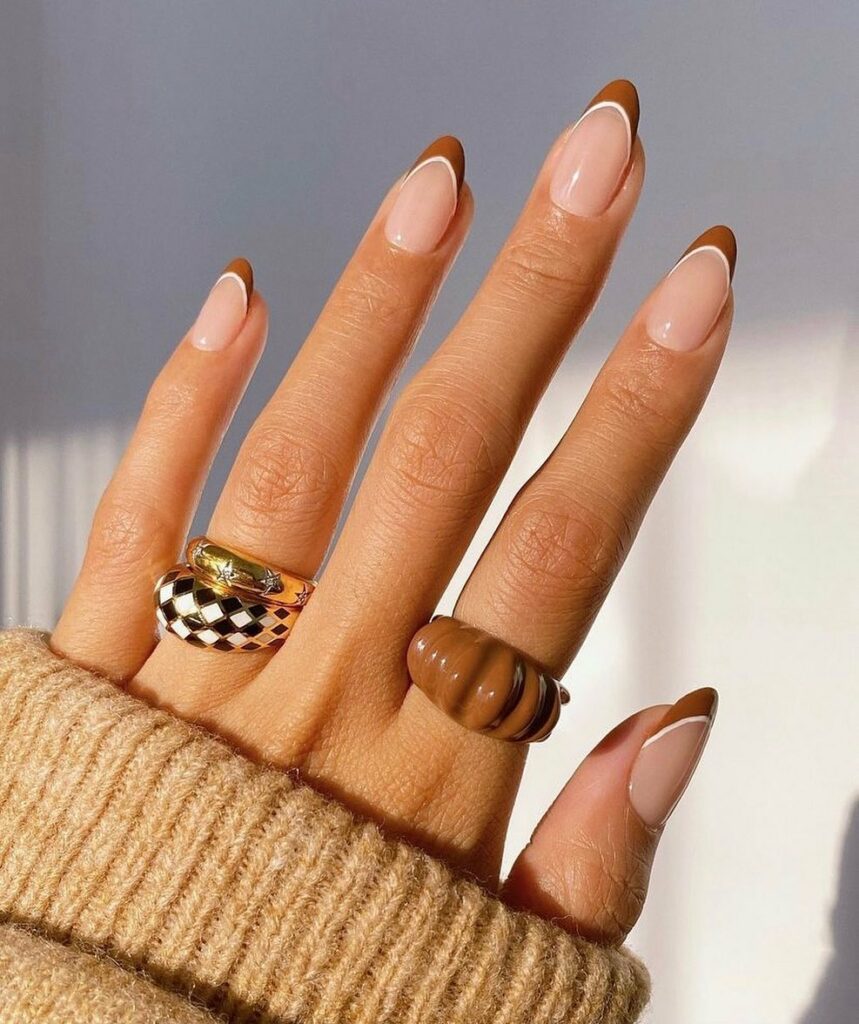 Step into a romantic dream with this heartwarming design. The heart-shaped French tips achieved with a gradient of brown shades set the stage for a particular date, radiating love and warmth with every gesture.
Artistic Flair: Brown Tips with Yellow Ochre Sides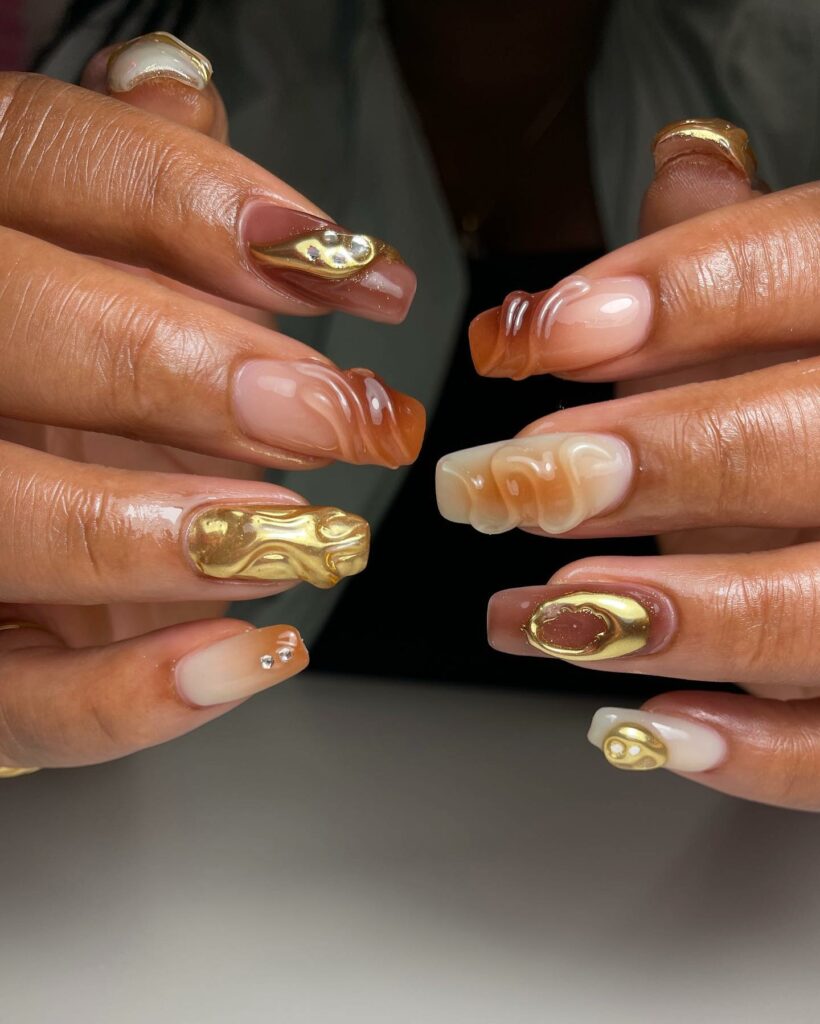 Taking a stroll through an art gallery, I was entranced by the beautiful swoops and lines of an abstract painting. This nail design reminds me of that moment, with its swoopy leather brown lines gracefully adorning one side of each nail, breathing a fresh and vibrant life into your traditional manicure.
The Whirlwind Beauty: Brown Swirly Tips and Cuticle Cuffs
Adding glittery swirls to the tips and cuticles, akin to wearing a pair of statement earrings, takes the beauty of these nails to a whole new level. And if you're feeling adventurous, why not play with different shades of brown on each hand? It's like a fun, chic party at your fingertips!
Gallery-Ready: Abstract Autumn Nails
This design is an art lover's dream! Imagine the vibrant hues of autumn beautifully captured on your nails. The splash of yellow rhinestones and gold outlines make each color pop, transporting you to an art gallery displaying exquisite abstract paintings. It's a beautiful canvas right at your fingertips!
Floral Elegance: Umber Brown and Flower Nails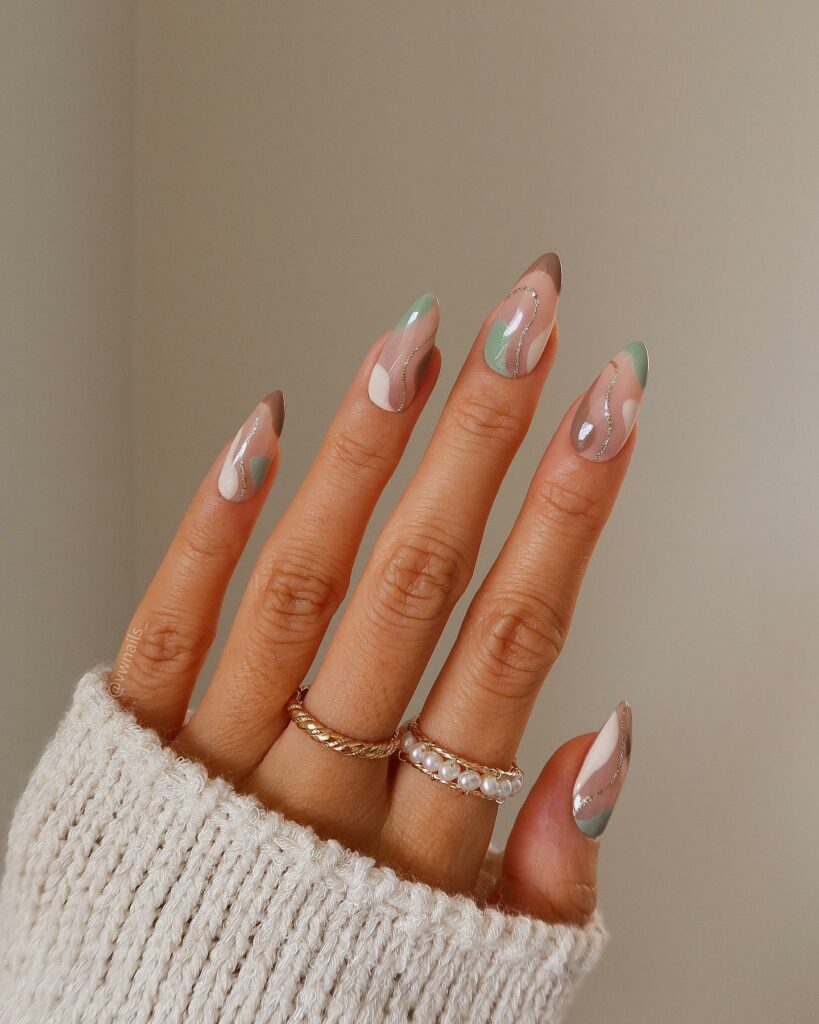 For those who favor a softer touch, this delicate palette of umber brown and taupe is just the thing. Picture a serene garden as you add dainty flowers to each nail, offering a gentle and feminine look that harmonizes beautifully with a cup of herbal tea and a good book.
Chic Simplicity: Short Chocolate Nails with Nude Accents
I remember pairing a basic yet chic nail design like this with a crisp white shirt – the epitome of elegance and simplicity. The rich brown shade harmonizes wonderfully with nude accents, adorned with deep brown curved lines that add charm to your style.
Sweet Alchemy: Almond Hearts on Brown Nails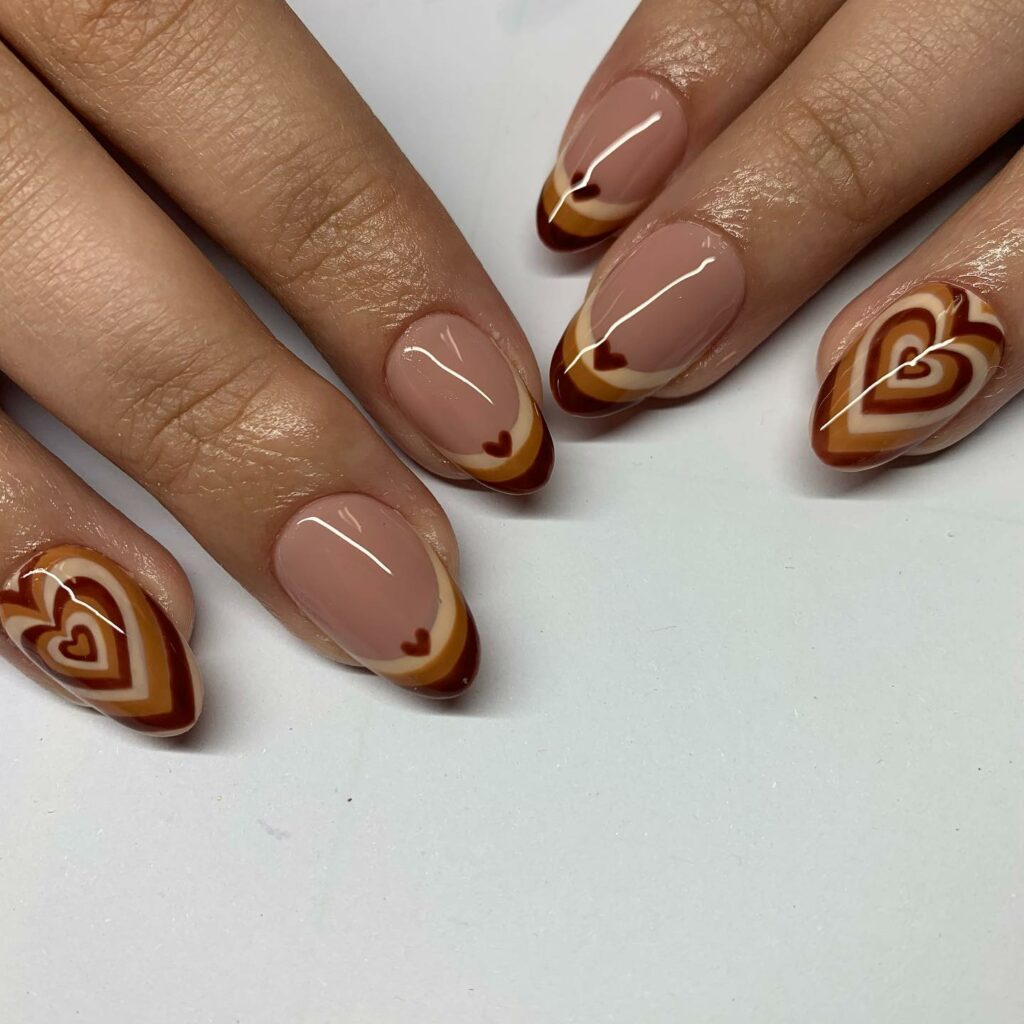 Indulge in a sweet treat for your nails with this delightful design. It's like having chocolate almonds come alive on your nails, with the enticing color and shapes beautifully complemented by hearts in a lighter brown shade, bringing a touch of romance and delicacy to your look.
Glamour Galore: Rose Gold Glitter and Black Accents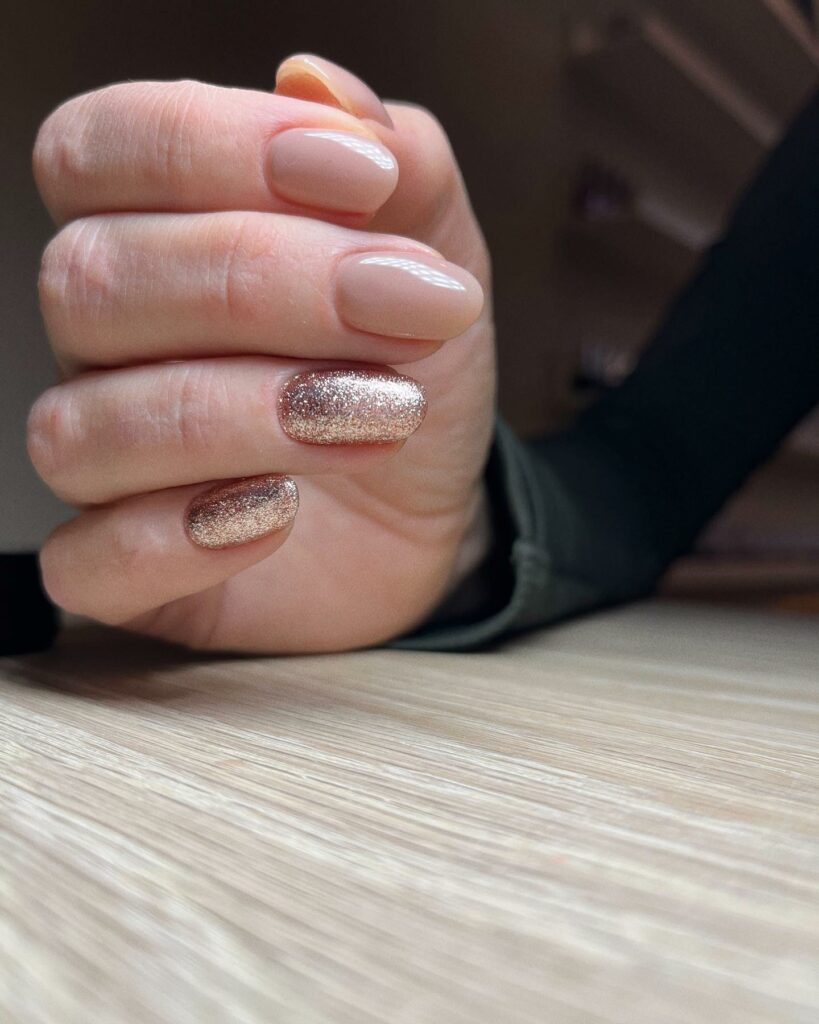 Ready to steal the spotlight at your next glamorous event? This showstopper design has deep brown nails perfectly complementing the dazzling rose gold shimmer. The black leaf nail art adds a sophisticated and feminine touch, making you the belle of the ball!
A Gem of a Design: 3D Flowers and Rhinestones on Brown Nails
Dive into a world of sparkle and elegance with this stunning creation. The ombré nails become a canvas for a dazzling display of 3D art and rhinestones, creating a look that's nothing short of a masterpiece. It's like wearing a piece of exquisite jewelry on your nails!
Swirls of Style: Outline Swirls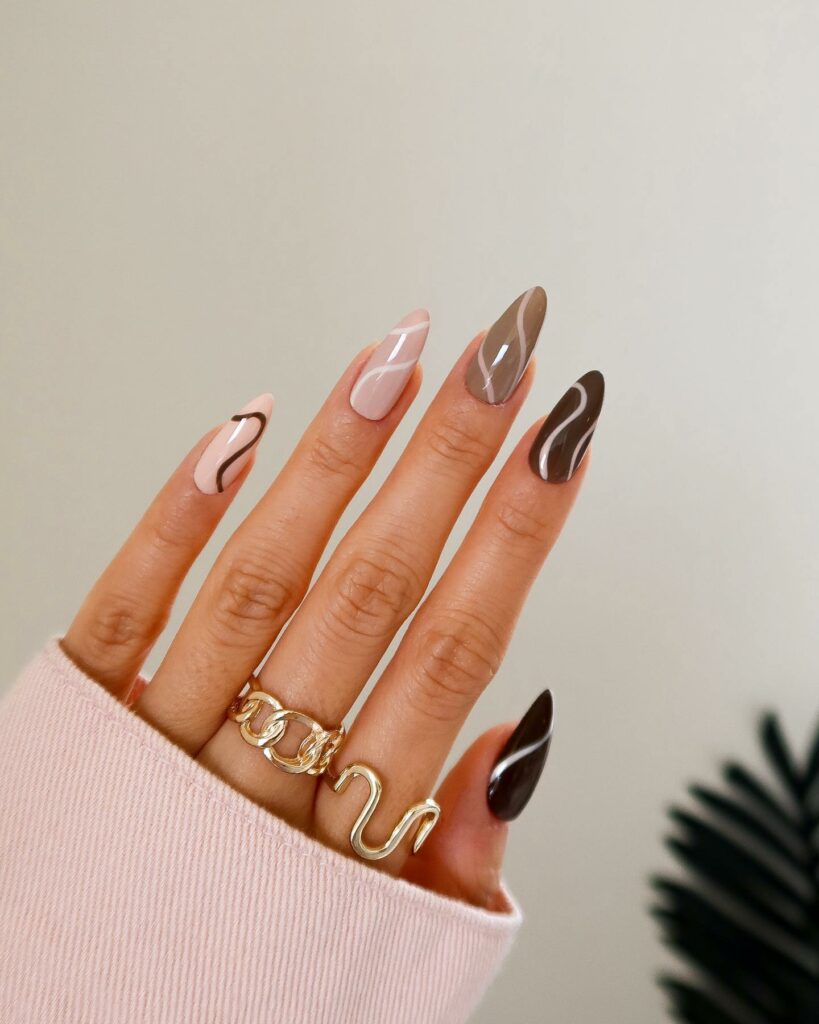 Embrace the trend of the season with this chic and trendy design. The gradient effect created with different shades of brown offers a fresh canvas to showcase thin swirls on each nail, bringing a touch of sophistication and modernity to your manicure.
Dual Charm: Matte Nude and Glossy Brown
Here's a design that plays beautifully with contrasts. The interplay of matte nude and glossy brown polish creates a nail art that stands out, reminding me of the beautiful differences we often see in nature, where different elements come together to create a harmonious picture.
Home Glamour: Walnut Nails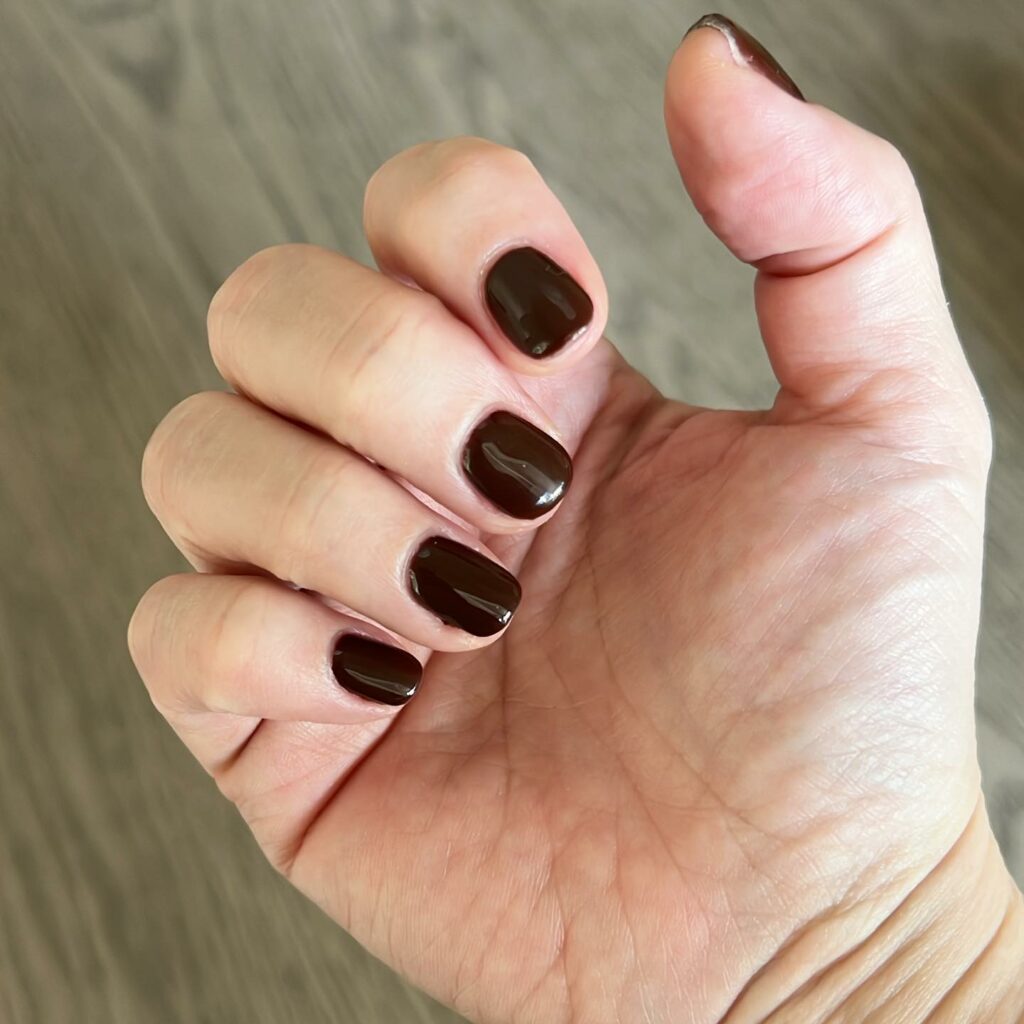 This design is a delightful blend of richness and simplicity, making it perfect for those who love to indulge in home glamour. The deep walnut shade looks stunning on fair skin tones and the best part? You can easily recreate this chic and elegant look right in the comfort of your home!
Metallic Brown Shimmer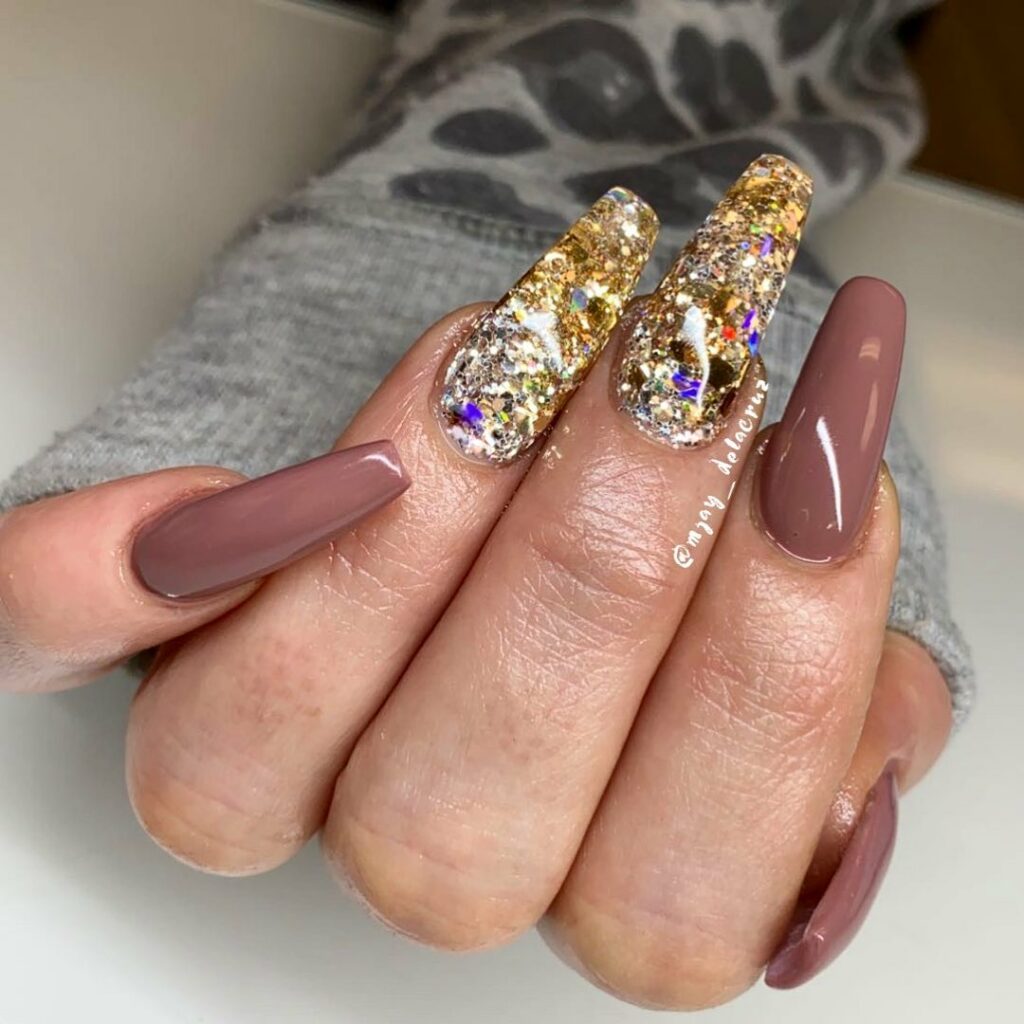 Imagine the glittering evening lights reflecting off a calm river; this is the inspiration behind the metallic brown shimmer nails. Incorporating a metallic shimmer into a brown nail polish brings a twinkling starry night to your fingertips. It also pairs beautifully with evening wear and adds glamour to your day outfits.
Brown and Turquoise Stone Art
Inspired by a hiking trip where I came across a breathtaking mosaic of stones in a riverbed, this design uses turquoise as a vibrant contrast to the brown, mimicking the beautiful natural stones. You can create a mosaic or marbled effect on a few accent nails, bringing a piece of nature's artwork to your style.
Coffee Bean Gradients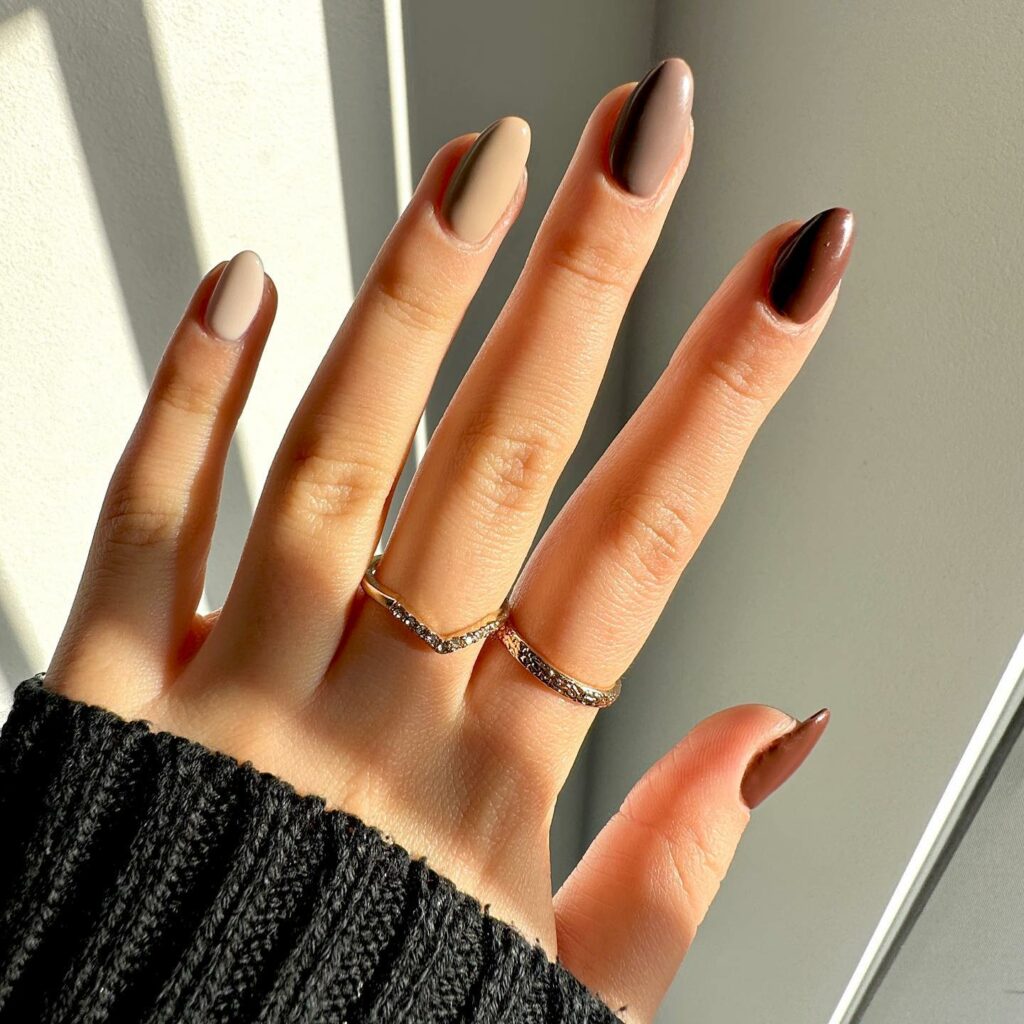 As a self-proclaimed coffee lover, I can't resist bringing the comforting shades of my morning brew to my nails. This design utilizes gradients of brown, from the lightest latte to the darkest espresso, creating a soothing yet stimulating visual experience. It's not just a nail design, it's a tribute to all coffee aficionados!
Boho-Chic Earth Tones
Picture a relaxed afternoon, lounging with a book in a boho-chic cafe, and you've got the inspiration for this design. Mixing brown with other earthy tones like burnt orange and olive green in abstract patterns brings a bohemian flair to your nails. Its design screams relaxed elegance and pairs perfectly with your favorite boho outfits.
8 Tips for Selecting the Perfect Brown Nail Shade for Your Personal Style
Choosing the perfect shade of brown for your nails can be a delightful adventure, especially considering the vast hues available. Here are some tips to help you select the best shade to match your style:
Consider Your Skin Tone: Like with makeup, your skin tone can significantly influence how a nail polish shade looks on you. Generally, lighter shades of brown can look flattering on fair skin tones, while deeper, rich brown tones complement darker skin beautifully. But don't be afraid to experiment and break the rules!
Seasonal Shades: Different seasons inspire different shade choices. For instance, you prefer lighter, caramel tones in spring and summer while transitioning to richer, darker hues like mahogany in the fall and winter.
Match Your Wardrobe: Going for a brown shade that matches your outfits can be a stylish choice if you have a wardrobe filled with earthy tones. It creates a cohesive and sophisticated look.
Your Personal Style: Your style plays a significant role in your choice of nail polish. If your style is more classic, you might opt for timeless shades of brown. For a bold style, you might go for browns with a hint of sparkle or unique patterns.
Occasion Appropriate: Depending on the experience, you might choose a subtle nude brown for a professional setting or a glittery brown for a festive event.
Experiment with Nail Art: If you love nail art, the brown shade you choose can serve as a base for various designs. Think of your desired shade as the canvas for your art.
Test Before You Invest: Before you buy a nail polish, test it on one nail to see how it complements your skin tone and style. Sometimes, a shade can look very different in the bottle compared to when it is applied.
Seek Inspiration: If you're unsure, seek inspiration from fashion blogs, Pinterest, or Instagram, where you can find a plethora of ideas and see how different shades look on other people.
Remember, the joy is in the journey of finding what makes you feel beautiful and expressive.
10 Other Unique Designs & Patterns That Can Be Incorporated Into Brown Nail Art
Brown nail art is versatile and resonates with a warm, earthy aesthetic many adore. Let's delve into some imaginative designs and patterns that can elevate your brown nail art game:
Geometric Patterns: Incorporate sharp, clean lines or geometric shapes in your nail art. This could range from simple diagonal lines to intricate geometric patterns that play with various brown hues.
Lace Patterns: Try recreating delicate lace patterns using a brown palette for an elegant and feminine touch. It can bring a beautiful texture and depth to your nails.
Henna-Inspired Designs: Channel the beauty of intricate henna designs using brown polish. These patterns can be as simple or elaborate as you'd like, adding a touch of culture and artistry to your nails.
Wood Grain Effect: For a rustic yet fashionable flair, you could experiment with a wood grain effect on your nails, utilizing different shades of brown to create a realistic texture.
Animal Prints: Brown is the perfect base color for animal print designs. Whether you opt for leopard spots or tiger stripes, animal prints can add a wild and edgy feel to your manicure.
Tribal Art: Incorporate tribal patterns with brown as your base color, adding touches of bright accents to make the patterns pop.
Coffee Art: As a nod to all the coffee lovers, how about some coffee art-inspired designs? Think coffee beans, latte art swirls, or even little cappuccino cups adorned on your nails.
Metallic Accents: Gold or bronze metallic accents can make a brown nail design stand out. These could be small studs, lines, or even foil accents that add a touch of glamour to your nails.
Pressed Flowers: Add tiny pressed flowers to your brown nails for a romantic and whimsical touch. It's pretty and adds a unique 3D element to your nail art.
Starry Night: Create a night sky on your nails with a deep brown base sprinkled with tiny stars and maybe a moon accent on one of the nails. This theme gives off a serene and tranquil vibe.
Remember, creativity knows no bounds when it comes to nail art. Don't hesitate to blend different elements and make a style that's uniquely you!
Are There Any Specific Nail Shapes or Lengths That Work Best for Brown Nails?
The shape and length of your nails can accentuate the hue and design of your brown nail art. Let's explore some of the optimal pairings:
Short Nails
Round Shape: Often considered the classic choice for shorter nails, a round shape can work very well with brown nail polish, giving your nails a neat and elegant appearance.
Square Shape: Short square nails paired with brown shades can give a modern and chic vibe, emphasizing the width of the nails and providing an excellent canvas for art and accents.
Medium Length Nails
Oval Shape: This shape tends to elongate the fingers, providing a graceful canvas for showcasing different shades and patterns of brown.
Squoval Shape: A combination of square and oval, this shape can look particularly sophisticated when painted with earthy brown tones, making it a versatile choice for various occasions.
Long Nails
Almond Shape: Long almond-shaped nails paired with deep brown shades can create an illusion of elongated, slender fingers, offering an elegant and feminine look.
Coffin/Ballerina Shape: This shape offers a generous canvas for intricate brown nail art, patterns, or gradients. The tapering at the tips balances the look, making it a popular choice for long-nail enthusiasts.
Stiletto Shape: You might opt for stiletto nails combined with brown hues for a bold statement. The dramatic pointed tip pairs excellently with darker, richer brown tones for an eye-catching look.
Universal Tips
The versatility of Brown: Brown is a universally flattering color, offering a palette that spans from nude and beige tones to deep, decadent chocolates. These hues can work wonderfully on all nail lengths and shapes, offering subtle elegance and dramatic flair.
Experiment with Textures: Regardless of the nail shape or length, experimenting with different textures, like matte or glossy finishes, can transform the appearance of brown nails, giving you various looks to play with.
Personal Preference Matters: At the end of the day, the best nail shape is the one that makes you feel fabulous. Feel free to try different combinations to find out what resonates with your style the most.
Remember, while trends are a great source of inspiration, personal comfort and preference should always precede nail shape and length.
Conclusion
Hello fashion enthusiasts! We've journeyed through a rich tapestry of brown nail designs, a hue that seamlessly combines elegance with earthy vibes, embodying both the tranquility and the vibrance of autumn. As you try these splendid nail art ideas, remember to choose quality nail polishes that are kind to your nails. Feel free to consult with a professional nail artist to achieve those intricate designs. While exploring these delightful trends, remember the basics – a well-moisturized hand and healthy nails are your canvas. Hydrate, nourish, and then dive into the world of browns, from the comforting coffee gradients to the sparkling metallic shimmers. It's an adventure waiting at your fingertips, literally! Stay inspired, and remember, your nails are a canvas for your personality and creativity to shine through.
Feature image @vivianmariewong via Instagram
Last reviewed and updated on October 17, 2023