Welcome back to the enchanting realm of beauty! If you're as spellbound by the transformative power of makeup as I am, you already know that a well-stocked makeup bag is your secret weapon for effortless style and confident self-expression.
But what does 'well-stocked' actually mean? Is it lugging around an entire beauty store in a tote bag or strategically curating a compact selection of multi-tasking products that work wonders? Hint: it's the latter! Today's post is all about carving down your beauty arsenal to the true essentials—the products that no woman, whether a makeup novice or a contouring connoisseur, should be without.
From a mascara that can instantly perk up your peepers, to a hard-working concealer that acts like a real-life photoshop, to a lipstick shade that makes you feel invincible, we will delve into the absolute non-negotiables of any makeup kit. We will cover the basics and provide top picks, savvy beauty hacks, and essential tips for getting the most out of your cosmetics.
So, prepare to bid farewell to cluttered makeup bags and unnecessary products! By the end of this post, you'll be armed with the knowledge to create a personalized, efficient, and chic makeup bag that perfectly serves your beauty needs and helps elevate your style.
Ready to journey into the magical world of makeup essentials? Keep reading because your makeup bag transformation begins now!
Make It a Beautiful Journey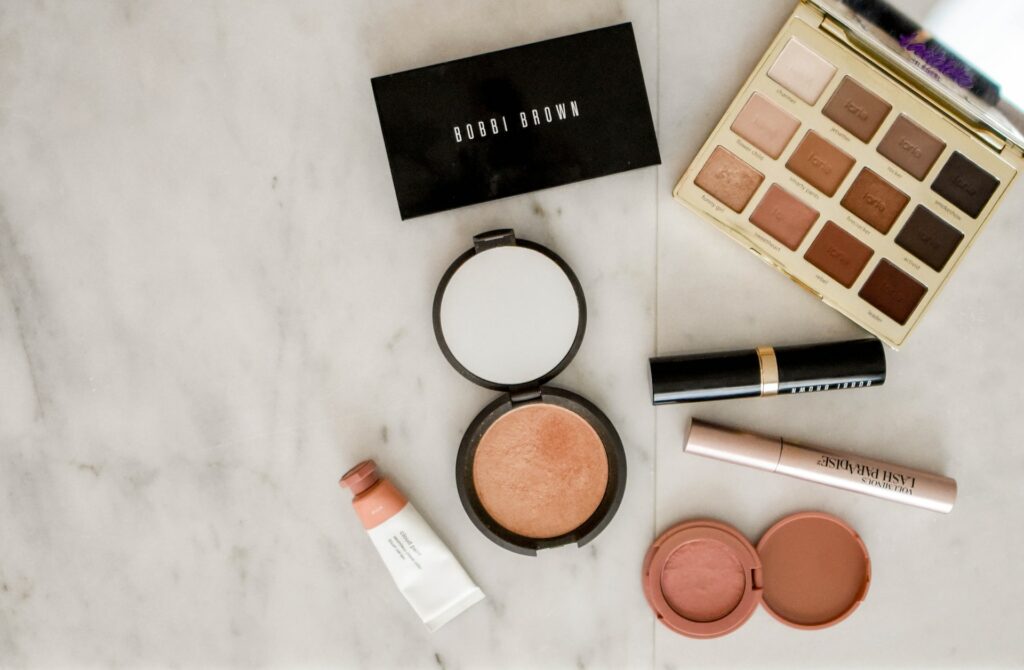 Remember, makeup isn't a mask—it's an art. And just like every artist, you must know your tools and canvas. That's where we start. If you're a beginner, consider hopping onto a makeup course. My favorite is Chelsie Baker's "Beauty Tips and Tricks: An Introduction to Applying Makeup." It's like a warm, friendly guide holding your hand from brushes to recreating your favorite celeb look at home. Feel free to skip this part for the experienced ones among you, but remember, there's always something new to learn!
Let's Build Your Perfect Makeup Collection
Now, let's get down to business. I'll take you through my curated list of essentials, starting with my go-to face primer to those magic wands and brushes that make all the difference.
1. Your Perfect Canvas: Face Primer
Face primer may have its skeptics, but I'm a believer! The step sets the stage—smoothing your skin and making your makeup last longer. I swear by Fenty Beauty's primer. Sure, it might feel like a splurge, but remember, a little goes a long way, and you're investing in your skin's best friend.
2. Mastering the Art of Foundation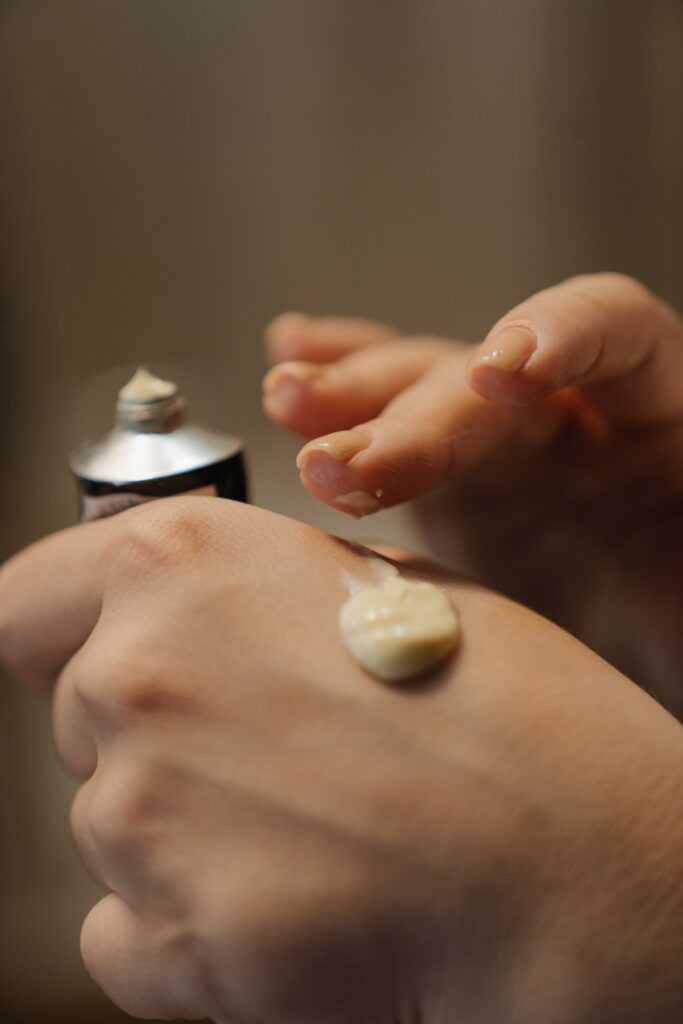 Ah, foundation—the tricky step that makes or breaks your makeup look. As a novice, I remember finding it intimidating. But guess what? It needs practice and the right skin tone and type match. My life changed when I walked into Sephora, where a makeup artist helped me find the right match. Now, my go-to is Estee Lauder Double Wear. It's long-lasting and offers impressive coverage—just what you need on a long day.
3. CC Cream: The Easy Alternative
If you're starting, CC cream might be your best bet. It's lightweight and a dream to apply. It's also my personal favorite, especially on those days when I crave a more natural look. A word of caution: they usually come with limited shade ranges. But don't fret; there are articles with BB cream options for darker complexions. I can't get enough of IT Cosmetics Your Skin But Better CC+ Cream for CC cream— a makeup and skincare hybrid!
4. Concealer: Your Secret Weapon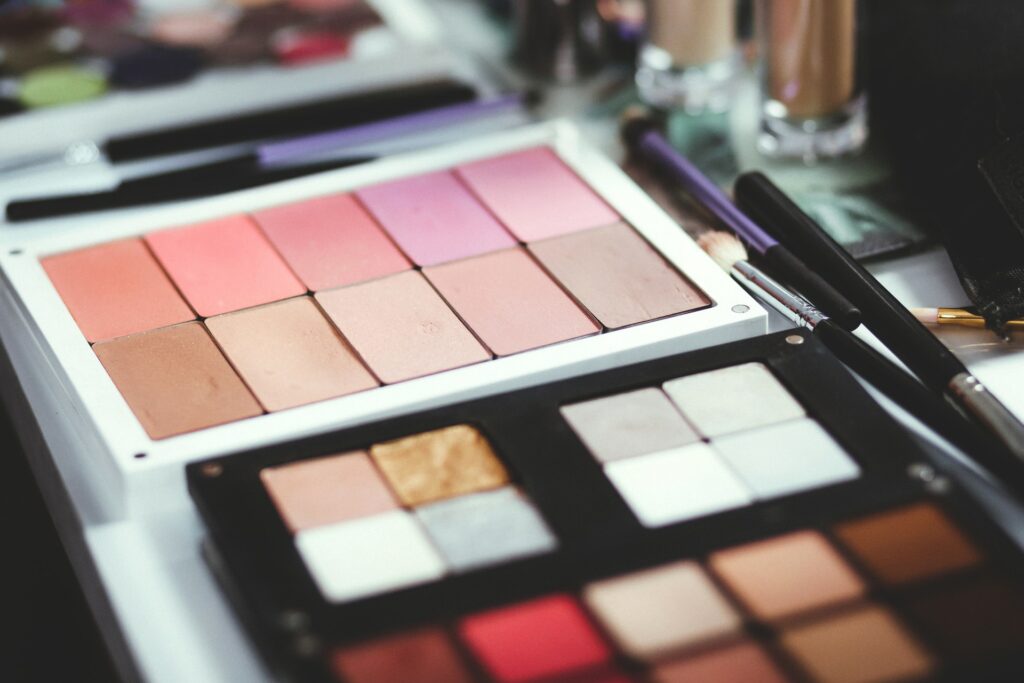 Dark circles, acne, discoloration—meet your match: the concealer. My little magic wand gives me the confidence to step out, no matter what my skin is going through. I'm in love with two concealers—for blemishes or discoloration, it's Estee Lauder Double Wear, and Bobbi Brown's Corrector in Bisque is my savior for those pesky dark under-eye circles.
5. A Touch of Blush
A subtle flush of blush can bring your whole look to life. It is a must-have, especially with a more opaque coverage foundation. You see, it can add that natural warmth to your face. The key is to pick a color that gives you a natural flush. And the proper application can make you look like you're glowing from within! My current obsessions are Clinique's rosy blush and the Rare Beauty cream blushes—their pigmentation is divine!
As we go through this beautiful journey together, remember the joy of makeup lies in experimenting and finding what works best for you. So go ahead, dive in, and let your makeup collection become an expression of your unique style!
6. Adding Some Sparkle: The Highlighter
Raise your hand if you've become as addicted to highlighters as I am! There's something so magical about how they transform your look, adding that extra glow that makes you feel like a radiant goddess.
Highlighters come in all shapes and forms – powder, cream, liquid, stick, and even hybrids of powder and cream. Each has its charm, but if you're a newbie to this game, I'd recommend starting with a powder or stick version. They're pretty straightforward and user-friendly.
I fondly remember my early days with highlighters, overdoing it, and ending up looking like a disco ball. Who said learning wasn't fun? With time, I've learned to sweep it along the bridge of my nose gently, the tops of my cheekbones, cupid's bow, and just below my eyebrows. And here's a fun tip: you can even use your highlighter as eyeshadow!
Picking the right shade is like finding your soulmate; it's all about matching your unique skin tone and undertones. Try different shades, preferably in person. The Anastasia highlighter palette is a safe bet, as it has four different options to play with.
On a budget? Don't worry; we've got you covered with our guide to the best drugstore highlighters that won't break the bank.
7. Get That Sun-Kissed Look: Bronzer
Now, as someone who takes pride in her pale complexion, bronzer isn't a part of my daily routine. But I get it; many of you love that warm, sun-kissed look that bronzers can deliver.
The key here is subtlety. No more than one or two shades darker than your natural skin tone. I've seen friends lightly dust it on the high points of their faces or contour it into the hollows of their cheeks for a chiseled look. But remember, blending is your friend!
Matte or shimmery? That depends on your overall look. If everything else is matte, and you want a hint of sparkle, go shimmery. But if you're already rocking the glow, a matte bronzer is the way to avoid shine overload.
One highly recommended product by friends who love the bronzed look is Too Faced's Sun Bunny Bronzer. The compact lasts ages, and the powder gives a natural finish. We also have a list of the best bronzers for those who can't get enough sun-kissed glow.
8. The Finishing Touch: Setting Spray/Powder
Remember, we're in this for the long haul. We want our makeup to last, and that's where setting spray or powder comes into the picture.
These little miracles come in different formulations, catering to various finish preferences (matte, radiant, etc.) and skin needs (moisturizing, oil-absorbing, etc.). My personal favorite is Urban Decay's All-Nighter setting spray. I mean, the cult favorite has a following for a reason!
For more options, check out our posts on the best-setting powders and the best-setting sprays.
9. Eye Primer
Eye primer has been my makeup savior, especially considering how my eyeshadow would have disappeared by lunchtime. A good eye primer keeps your eye makeup from fading and creasing and keeps colors vibrant all day. My go-to is the one by Too Faced. It's magical, I swear.
10. Eyeshadow
Eyeshadows are a fun playground of colors, finishes, and possibilities. They're my favorite makeup product. I usually go for single eyeshadows because it lets me pick and choose exactly what I need. However, an Urban Decay Naked Palette could be a great starting point for beginners.
11. Mascara
Nothing completes an eye look like good mascara. I swear by Benefit's Bad Gal Lash – it has stuck with me through thick and thin (no pun intended). If you are fond of false lashes, we've got a handy guide to the best ones!
12. Eyeliner
A staple in my makeup bag, the right eyeliner can add definition and drama to your eyes. Try brown or dark gray for a softer look, especially if you have lighter skin. My preferred method? A thin line at the lashline with a slight wing at the end. You can also use eyeliner to line the waterline for thicker-looking lashes. If liquid eyeliner seems intimidating, start by lining with a similarly-colored eyeshadow or pencil liner before tracing over with liquid liner.
And there you have it! These are some of my favorite tips and product recommendations. Remember, the essential part of makeup is to have fun with it, and don't be afraid to experiment and find what works best for you!
14. Building the Perfect Arch: Eyebrow Product
I can't lie; my eyebrows and I have always had a pretty laid-back relationship. Most days, it's just a hint of brow gel, and we're good to roll. But I still need to understand the appeal of taking your brow game to the next level. Many eyebrow products are out there just begging to be tried.
If you fancy a deep dive, we've curated an exhaustive list of the best eyebrow products. But for starters, you'll find eyebrow products come in many forms – pencil, powder, mascara, pomade, wax, and gel. Choosing the right one for you depends on your desired outcome.
Whether you're after an au naturel effect or a dramatic, Insta-worthy brow, my rule is to take it easy. Start light, then build it up. You don't want your brows looking like they've been drawn on with a marker! A natural fade and avoiding harsh edges can help your brows blend in and look more authentic. And remember, you don't need to mimic the exact shape of your brows.
Top tip: Don't feel pressured to splurge on a high-end eyebrow pencil. My secret weapon? The NYX pencil is a perfect dupe for the much-raved about Anastasia Brow Wiz, and it's a fraction of the price.
15. Lip Service: All About Lips
Lip Gloss
Here's a little secret, I was obsessed with lip gloss during its heyday in the early 2000s, and I'm excited to see it making a comeback. Top-notch brands like Anastasia Beverly Hills, Glossier, and Fenty Beauty are all revamping their lip gloss lines.
Lip gloss is your ally when you're time-pressed, mirrorless, or have a dramatic eye look that calls for a more subdued lip. Want a universally flattering lip gloss? Fenty Beauty's Gloss Bomb has got you covered. It looks fabulous on everyone.
Check out our roundup of the best lip balms, tints, and glosses for more options.
Lipstick
Lipstick is on a roll these days! Whether it's liquid or bullet formula, glossy, satin, or matte finish, lipstick is tailored just for you.
I advise beginners to start with a shade close to their natural lip color. It's foolproof and effortlessly chic. Once you've mastered that, move on to the classic red that can take you from class to special occasions. Play around with glossy formulas or lip balms for a softer look or a matte formula for some old-world glam.
When I go for a bold red lip, I usually keep the rest of my makeup natural or even go bare-faced. It's a timeless look!
There's a universe of great lipsticks out there, but the ones I keep returning to are by Pat McGrath, Colourpop (super affordable), and Stila. And guess what? We've compiled a list of the best lipsticks for you to explore!
16. Tools of the Trade: Makeup Essentials
Brushes
Regarding makeup brushes, investing in high-quality ones from brands like MAC and Sephora Collection pays off in the long run. With regular cleaning and proper storage, they can last for years.
The essentials in my brush set are:
A face brush (for foundation application).
A smaller fluffy angled brush (for blush and bronzer).
A highlighter brush (can't do without that glow!).
A fluffy powder brush (for setting powder or all-over bronzer).
An essential eyeshadow blending brush.
You can check out our list of essential makeup brushes for a more detailed brush breakdown.
And if you're on a budget, don't worry! We've got a guide to the best affordable beauty tools too.
17. Applicators
Besides brushes, I sometimes switch them up and use an original beauty blender to apply my foundation. I love the finish it gives. Real Techniques offers an excellent dupe if you're looking for a less pricey option.
Also, if you opt for a powder puff to apply your powder, you might only need the powder brush if you're using it for bronzer.
And there you have it! These are my go-to tips and products regarding brows, lips, and tools. Makeup should be a fun, creative process, so don't be afraid to experiment and see what works best for you!
9 Other Makeup Products To Consider
Every makeup bag is unique and personalized, but there are a few other essentials I'd suggest including in a well-stocked bag:
Concealer: This is a must-have for covering blemishes, dark spots, or under-eye circles. You'd want one that matches your skin tone perfectly for a flawless cover-up.
Lip Liner: If you're using lipstick, a matching lip liner can help define your lips and keep your lipstick in place. It can also create the illusion of fuller lips if that's a look you're going for.
Eyelash Curler: A good eyelash curler can make your eyes look brighter and more awake, even without mascara. It's a great tool when you want to lighten the makeup but still look put-together.
Blush: A slight blush can bring life to your complexion and give you a healthy glow. Like highlighters and bronzers, blushes come in different formats, like powder, cream, or liquid, and can be chosen based on your preference and skin type.
Makeup Remover: Perhaps the most essential part of any makeup routine is taking it off at the end of the day. A good makeup remover or cleansing oil should remove all makeup without drying or irritating your skin.
Sharpener: A sharpener is essential to keep your lines clean and precise if you're using any pencils (like an eyebrow pencil or eyeliner).
Tweezers: Tweezers come in handy for maintaining eyebrows, applying false lashes, or even removing stray hair.
Nail File: Not strictly makeup, but having one for nail emergencies is always helpful.
Q-tips or Cotton Swabs: These are perfect for quick makeup fixes and cleaning up any mistakes.
Remember, a well-stocked makeup bag is not about the quantity of products but rather about having the right essentials that work best for you. It's about what makes you feel confident and beautiful. Start with these basics, and then you can expand your collection as you explore more looks and techniques.
10 Products I Recommended For Beginners
Absolutely! For makeup beginners, it's best to start with user-friendly, reliable, and cost-effective products. Here are some recommendations:
Foundation: L'Oreal True Match Super-Blendable Makeup offers a wide range of shades and a natural finish. It's also affordable, making it an excellent choice for beginners.
Concealer: Maybelline Fit Me Concealer is a favorite among makeup enthusiasts. It offers excellent coverage and is easy to blend.
Mascara: L'Oreal Voluminous Lash Paradise Mascara is an excellent dupe for higher-end brands. It adds volume and length to your lashes without clumping.
Eyeliner: NYX Professional Makeup Epic Ink Liner is a good starting point. It has a precise, easy-to-control tip and is waterproof.
Eyebrow Pencil: The NYX Professional Makeup Micro Brow Pencil is an excellent and affordable alternative to high-end eyebrow pencils.
Blush: Milani Baked Blush offers a beautiful range of colors and has excellent pigmentation.
Highlighter: Wet n Wild MegaGlo Highlighting Powder is a budget-friendly option that provides a stunning glow.
Lipstick: Revlon Super Lustrous Lipstick line has a vast color range, and the formula is comfortable to wear.
Brushes: Real Techniques offers excellent quality brushes at a lower price point. Their Core Collection Set has all the essential brushes a beginner might need.
Makeup Sponge: The Real Techniques Miracle Complexion Sponge is a cost-effective alternative to the Beautyblender and works just as well.
These products should help any beginner get started on their makeup journey. However, always remember that makeup is very personal, and what works for one person might not work for another. It's all about experimenting and finding what products you enjoy and work best for your needs. Happy experimenting!
6 Tips For Using A Highlighter Without Overdoing It?
Oh, the art of highlighting! It's such a game-changer when done right. It gives your skin that gorgeous, lit-from-within glow. However, there's a fine line between a subtle sheen and a full-on disco ball. Let's talk about some tips for applying highlighter with finesse.
1. Choose the Right Shade: Your highlighter should complement your skin tone-like foundation. Fair-skinned folks may prefer icy silver or champagne tones, medium complexions often look fabulous with peach or gold, and darker skin tones can carry off bronze or rose gold beautifully.
2. Less is More: A little goes a long way when it comes to highlighter. Start with a small amount and build up if necessary. Remember, you can always add more, but it's a bit of a struggle to tone it down once you've applied too much.
3. Use the Right Tools: I love using a fan or small fluffy brush for a controlled, precise application. If you're in a pinch, your fingers will do the trick – just ensure they're clean!
4. Know Where to Highlight: The aim is to emphasize the highest points of your face where light naturally hits. These include your cheekbones, the bridge of your nose, the inner corners of your eyes, underneath the brow bone, and the cupid's bow above your upper lip.
5. Blend, Blend, Blend: I cannot stress this enough! Blending is the key to achieving a natural glow. After you've applied your highlighter, use your brush or a sponge to blend any harsh lines.
6. Check Your Work: Check your highlighter in different lighting before leaving the house. What looks subtle indoors might look overly shiny in direct sunlight.
Remember, the goal is to enhance your natural features, not overshadow them. Experiment and have fun with it until you find the perfect highlight.
5 Makeup Bags That I Love Right Now
let's take a look at five great options for makeup bags and their pros and cons:
The Sephora Collection Pack It All OrganizerAvailable at: SephoraApproximate price: $45Pros: This organizer has several compartments, making it easy to store and sort all your products. It's sturdy and can hold a lot, including brushes.Cons: The larger size may not be ideal for someone who prefers a compact makeup bag for everyday use.
Fenty Beauty Makeup BagAvailable at: Fenty BeautyApproximate price: $40Pros: The Fenty Beauty makeup bag has a unique hexagon shape, is spacious, and comes in a trendy, iridescent color.Cons: It doesn't have any internal compartments, which could make finding smaller items a challenge.
Baggu Go Pouch SetAvailable at: BagguApproximate price: $38 for the setPros: The set includes three different sized pouches that can be used for varying amounts of makeup. They are stylish and environmentally friendly.Cons: These pouches are soft and flexible, which might not offer much protection for delicate items like pressed powders.
Herschel Chapter Carry-OnAvailable at: HerschelApproximate price: $30Pros: This bag is known for its durability and has a separate compartment for brushes. The size is perfect for a carry-on during travel.Cons: The design is more utilitarian, and might not appeal to those looking for a more aesthetically pleasing bag.
L.L. Bean Personal OrganizerAvailable at: L.L. BeanApproximate price: $30Pros: This organizer has multiple compartments and is great for keeping your makeup items tidy and easy to find. It also includes a built-in mirror.Cons: The style and colors are quite basic and may not appeal to everyone.
Remember that prices and availability might vary and it's always worth shopping around for the best deal. Choose a makeup bag that fits your personal style, meets your storage needs, and suits your budget. Happy shopping!
Conclusion
Well, gorgeous, that brings us to the end of this little beauty journey! We've covered some of my go-to's for eyebrows, lips, and essential tools. Remember, less is often more regarding eyebrows, and finding the right product for you is vital. Lip products can make all the difference, whether you're a lip gloss enthusiast or a lipstick lover, but starting with shades close to your natural lip color will make the learning curve less steep. Investing in quality makeup tools will ensure that your beauty investments go the extra mile, but affordable options can work just as well. Like all good things, makeup involves a bit of trial and error, so don't be afraid to experiment and discover what you love. You're already beautiful; these tools are here to help you accentuate that. So go forth, glam up, and most importantly, have fun! Here's to looking and feeling fabulous!
Feature image by freestocks on Unsplash