Can you feel that rush of excitement? That's not just the caffeine kicking in; it's the thrill of diving into a new beauty blog post. And this one? Today, I will unlock the door to my beauty cabinet and invite you inside for a peek at the top-shelf wonders. You guessed it – this post is all about the best Water-Based Makeup Primers.
Makeup primers are the unsung heroes in our beauty routines, creating the perfect canvas for our makeup masterpieces. And water-based primers? They're the starlets on the rise, boasting a unique blend of hydration and hold, perfect for those who value a fresh, healthy glow as much as a flawless finish.
Whether you've been in the beauty game for ages or dipping your toes into the magical pool of makeup, I'm sure you've got questions. What are the benefits of water-based primers? How can they transform your makeup routine? And, most importantly, which ones are the best in the business? You're in the right place to find out, and I'm the beauty guru with all the deets.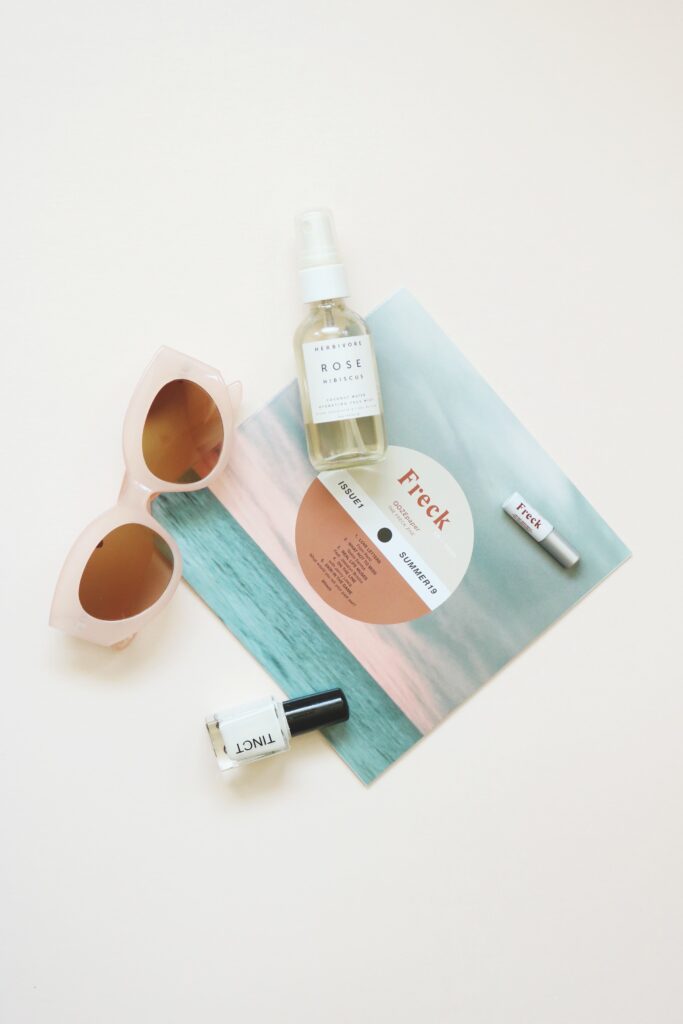 So, are you ready to dive deeply into the world of water-based primers? With the thoroughness of a scientist, the discerning eye of a connoisseur, and the passion of a bona fide beauty junkie, I've curated this list that promises to elevate your makeup game to the next level. Don't just stand on the edge; plunge with me into these hydrating heaven-sent helpers and emerge with a complexion as perfect as a prima ballerina.
Splash into the Water-Based Primer Trend
As an unabashed beauty explorer, I've seen a surge in the popularity of water-based primers over the past few years. I thought to myself, "What's all this hullabaloo about?" So, like any curious cat, I dove in to test the waters (pun intended). And what did I find? Not only did I get it, I found myself enamored!
Light as a Feather, Strong as a Shield
What makes water-based makeup primers stand out in the beauty crowd? Imagine the lightest, most ethereal touch on your skin. These primers have an airy texture that feels so refreshing and light you'd forget you're wearing a base. But don't be fooled; while being lightweights, these primers pack a serious punch when it comes to keeping your makeup game strong all day.
Quench your Skin's Thirst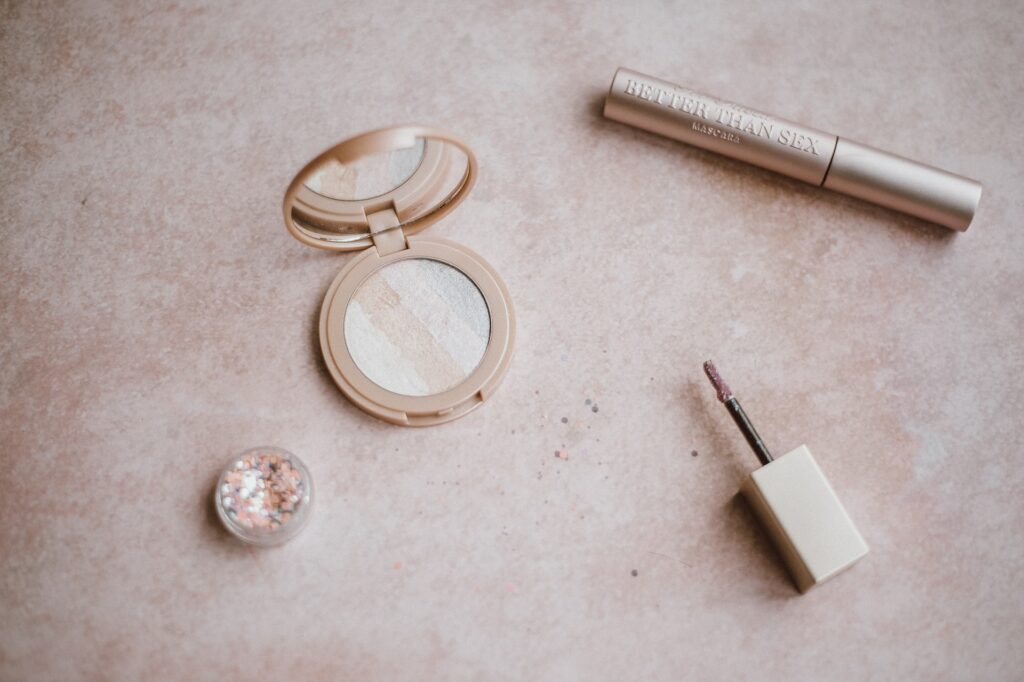 Another thing that has me head over heels for these primers is their hydrating prowess. Do you know those pesky dry patches that appear uninvited, making your makeup look imperfect? With a water-based primer, you'll send them packing. These beauties keep your skin hydrated, giving you a smooth canvas for your makeup artistry.
Here are a few of the primary advantages:
Compatibility with Water-Based Foundations: If you're using a water-based foundation, pairing it with a water-based primer can improve the overall look and longevity of your makeup. Oil or silicone-based primers can sometimes cause water-based foundations to separate or slide off.
Good for Oily and Sensitive Skin: Water-based primers are often less pore-clogging than their silicone-based counterparts, making them a better choice for those with oily or acne-prone skin. They're also typically gentler, which can be beneficial for those with sensitive skin.
Natural Finish: Water-based primers often give a natural, dewy finish to the skin. They're excellent for achieving a fresh-faced, "no makeup" makeup look.
Rich in Skin-Loving Ingredients: Many water-based primers are packed with beneficial ingredients like vitamins, antioxidants, and plant extracts to nourish your skin.
My Top Picks
A Drink of Hydration: Too Faced Hangover Replenishing Face Primer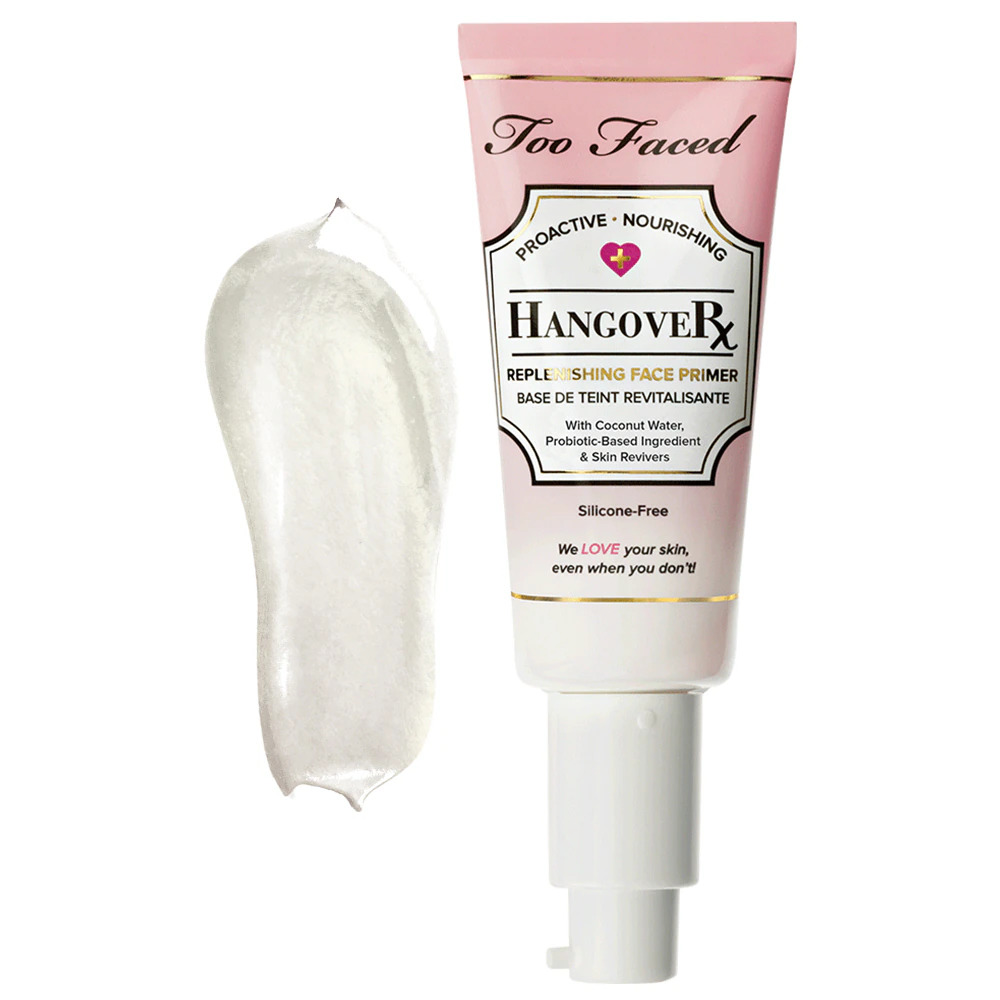 The game-changing Too Faced Hangover Replenishing Face Primer is kicking off our hydrating journey. It's like a tropical vacation in a bottle – featuring coconut water, olive oil, and other skin-loving ingredients that lend your face a dazzling, radiant glow.
From one makeup enthusiast to another, I can't recommend this primer enough. Its dreamy, dewy finish holds your makeup flawlessly, letting you breeze through your day with a model-off-duty look. Did I mention it's only $37 for a 1.35oz bottle? Not a bad deal for a glowing complexion.
Lock-in and Refresh: Milk Makeup Hydro Grip Hydrating Makeup Primer
Oil-prone skin, meet your best friend: the Milk Makeup Hydro Grip Hydrating Makeup Primer. This little beauty powerhouse is crafted with hyaluronic acid, niacinamide, and aloe water for a hydration boost. And that's not all – it's enriched with blue agave extract to make your makeup stick around for up to 12 hours.
My journey with this primer has been nothing short of revelatory. It melts into the skin beautifully, with no annoying sticky residue. And judging by the avalanche of five-star reviews, it's not just me who's smitten! Get your hands on a 1.52oz bottle for just $38.
Snapshot Perfect: Smashbox Photo Finish Foundation Primer
The Smashbox Photo Finish Foundation Primer would be a perennial nominee if the Oscars had a primer category. This fan-favorite works wonders, particularly for those dealing with dry skin.
Apart from setting a picture-perfect base, this primer works double duty, nourishing your skin with Vitamins A and E. The result? A $42 investment in a 1oz bottle that leaves your skin looking immaculate and feeling loved.
Featherlight Perfection: NYX Professional Hydra Touch Primer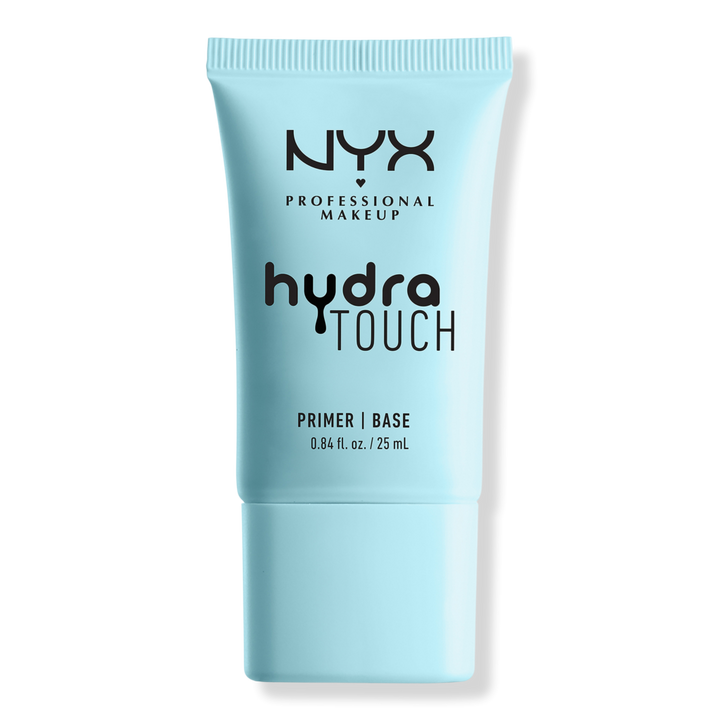 A water-based primer list would only be complete by mentioning the NYX Professional Hydra Touch Primer. This vegan marvel creates a flawless canvas for makeup application and is packed with skin-loving ingredients like licorice root extract and Tremella mushroom.
Perfect for sensitive skin, this primer is a steal at $15 for a 0.84oz bottle. Your skin (and wallet) will thank you!
Say No to Shine: Honest Beauty Matte Everything Primer
Are you a fan of the matte look and have oily skin? The Honest Beauty Matte Everything Primer could be your secret weapon. Its water-based formula contains micronized bamboo powder that helps ward off shine and blur pores.
As a lover of all things natural, I can't get enough of the wholesome ingredients in this primer – sunflower seed and rosemary leaf extracts. Try it out; your skin might love this $23 for a 1oz bottle.
Budget Beauty: e.l.f. Cosmetics Poreless Putty Face Primer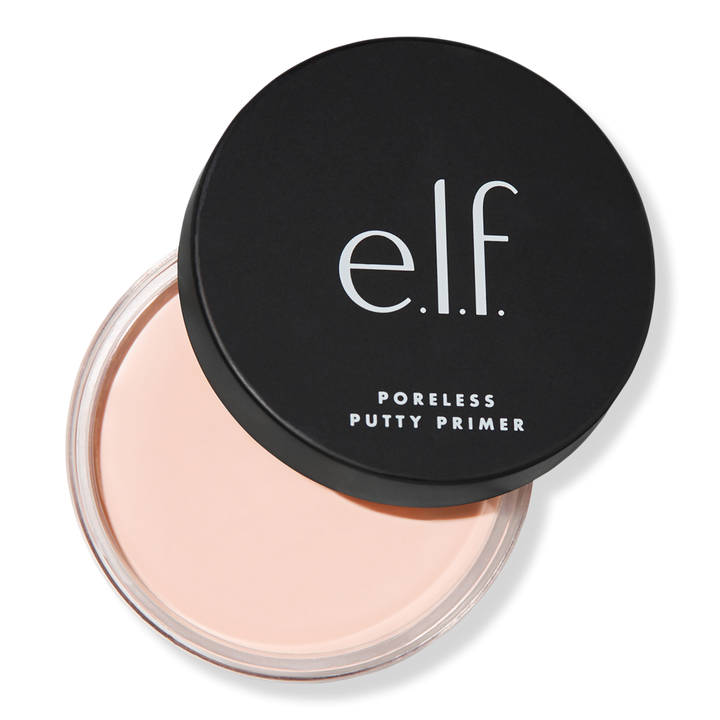 Meet the darling of drugstore primers – the e.l.f. Cosmetics Poreless Putty Face Primer. Free from oil, this primer masterfully erases pores, prepping your skin for a foundation like a dream.
As a beauty blogger, the luxurious feel of this primer never fails to impress me. It's like velvet on the skin! And at a friendly price of just $10 for a 0.74oz container, it's a budget-friendly beauty must-have!
Radiate and Protect: NARS Radiance Face Primer SPF 35
Last but not least on my list is the NARS Radiance Face Primer SPF 35. It's perfect for those days when your skin feels dull and tired. The unique addition of evodia urticaria, a plant extract, helps energize and revitalize your skin.
I always insist on incorporating sun protection in my routine, and this primer does just that with SPF 35 without that typical sunscreen scent. Plus, it delivers stellar results! A 1oz bottle of this primer retails for $36, making it a worthy addition to your makeup kit.
Transform Your Makeup Routine?
Water-based primers can truly revolutionize your makeup routine in several impactful ways. Here's how:
Long-lasting Makeup: A key function of any primer is to create a smooth canvas for makeup and to enhance its longevity. A water-based primer can help your makeup stay put throughout the day, reducing the need for touch-ups.
Hydration Boost: Water-based primers often contain hydrating ingredients, which add an extra layer of moisture to your skin. This can help prevent your foundation from flaking or clinging to dry patches, leading to a smoother and more flawless finish.
Improved Skin Texture: These primers can blur fine lines, wrinkles, and pores, resulting in a softer, more even skin texture. This helps your foundation glide on more smoothly and evenly, improving its overall look.
Natural, Dewy Finish: If you love the glowy, natural makeup look, water-based primers can help you achieve this. They often provide a dewy, fresh-faced finish, ideal for a "no makeup" makeup look.
Less Breakouts: If you have oily or acne-prone skin, using a water-based primer can decrease the likelihood of breakouts, as they're less likely to clog pores compared to some silicone or oil-based primers.
Skin Nourishment: Water-based primers often come packed with skin-loving ingredients like vitamins, antioxidants, and plant extracts, providing added nourishment for your skin.
Incorporating a water-based primer into your routine can therefore enhance not just the longevity and appearance of your makeup, but can also contribute positively to the overall health and condition of your skin.
How To Determine Your Skin Type
Great suggestion! Understanding your skin type is indeed essential when choosing the right primer, or any skin care product for that matter. Let's dive into that topic:
Understanding Your Skin Type
Before we venture into the world of primers, it's crucial to figure out what your skin type is. Generally, skin can fall into one of five categories: normal, dry, oily, combination, or sensitive.
Normal Skin is well-balanced—neither too dry nor too oily. It has good blood circulation, a smooth texture, and no blemishes.
Dry Skin can feel tight and rough and may even flake. It has invisible pores, less elasticity, and more visible lines.
Oily Skin has enlarged pores and a glossy shine. It is prone to blackheads, pimples, or other blemishes.
Combination Skin is a mix of dry and oily patches. The T-zone (forehead, nose, and chin) is usually oily, while the cheeks are dry.
Sensitive Skin tends to burn or sting after product use. It needs special consideration when choosing skincare and makeup products.
Now that you have a better understanding of your skin type, let's explore how this can guide you in choosing the right primer.
Choosing the Right Primer for Your Skin Type
Normal Skin: Lucky you! Most primers will work well with normal skin. However, a water-based primer will hydrate your skin and give it a natural, dewy look. The 'Too Faced Hangover Replenishing Face Primer' is an excellent choice for normal skin.
Dry Skin: Look for primers with hydrating ingredients like hyaluronic acid, glycerin, or coconut water. These will add an extra layer of moisture and prevent your foundation from clinging to dry patches. The 'Smashbox Photo Finish Primer Water' or 'Milk Makeup Hydro Grip Primer' would be good options.
Oily Skin: Opt for a water-based primer that is oil-free, non-comedogenic, and has a matte finish to control shine and prevent clogged pores. The 'Milk Makeup Hydro Grip Primer' or 'Honest Beauty Matte Everything Primer' would work well for oily skin.
Combination Skin: You may want to consider using two different primers—one for the dry areas (a hydrating primer) and one for the oily areas (an oil-control primer). Alternatively, a balancing primer like the 'NYX Professional Makeup Hydra Touch Primer' could be your one-stop solution.
Sensitive Skin: Look for a primer that is hypoallergenic, fragrance-free, and made with minimal, skin-friendly ingredients to reduce the risk of irritation. The 'Too Faced Hangover Replenishing Face Primer' with its natural ingredients or 'NYX Professional Makeup Hydra Touch Primer' are worth considering.
Remember, everyone's skin is unique, and sometimes it can take a bit of trial and error to find the best primer for your individual skin needs.
Conclusion
And there you have it, my lovelies — the inside scoop on my top seven water-based makeup primer picks. From refreshing hydration to powerful hold, these primers offer it all. They cater to all skin types and are brimming with skin-loving ingredients. As a bonus, they're cruelty-free, making them a win for your skin and our furry friends!
But remember, as always, skincare is unique to everyone. It's essential to patch-test these primers, particularly if you have sensitive skin, to ensure they are compatible with your skin type. The beauty of these options is they span a wide range of price points, meaning there's something for everyone — whether you're a budget beauty buyer or a luxury lover.
As a beauty expert, I can't emphasize enough the transformative power of a good primer. It's the canvas for your makeup artistry, and investing in a good one can make a difference. So, I encourage you to step out of your comfort zone, try these water-based primers, and see how they can elevate your beauty routine.
Remember, you're already beautiful. Makeup is a fun way to express our creativity and enhance our natural beauty. So, have fun experimenting and let your inner beauty shine through. Happy priming, gorgeous!
Feature image Photo by Skylar Kang via pexels