Hey there, looking for a way to stand out and make a bold statement with your next tattoo? Look no further! If you're a woman, a sternum tattoo is a great way to show off your unique and feminine style.
These tattoos are not only beautiful and intricate, but they're also a little daring and definitely eye-catching. Just be prepared, they can be a bit painful since the sternum area is mostly bone with a little cushion. But, the end result is definitely worth it!
There are so many amazing designs to choose from, like dragon tattoos, memorial tattoos, script tattoos, semicolon tattoos, heart tattoos, mandala tattoos, and even scorpion tattoos. Whatever design you choose, you're sure to turn heads and make a statement with a sternum tattoo.
So why not add a touch of edginess and femininity to your style? Check out our curated collection of the best feminine sternum tattoos and find your perfect design today!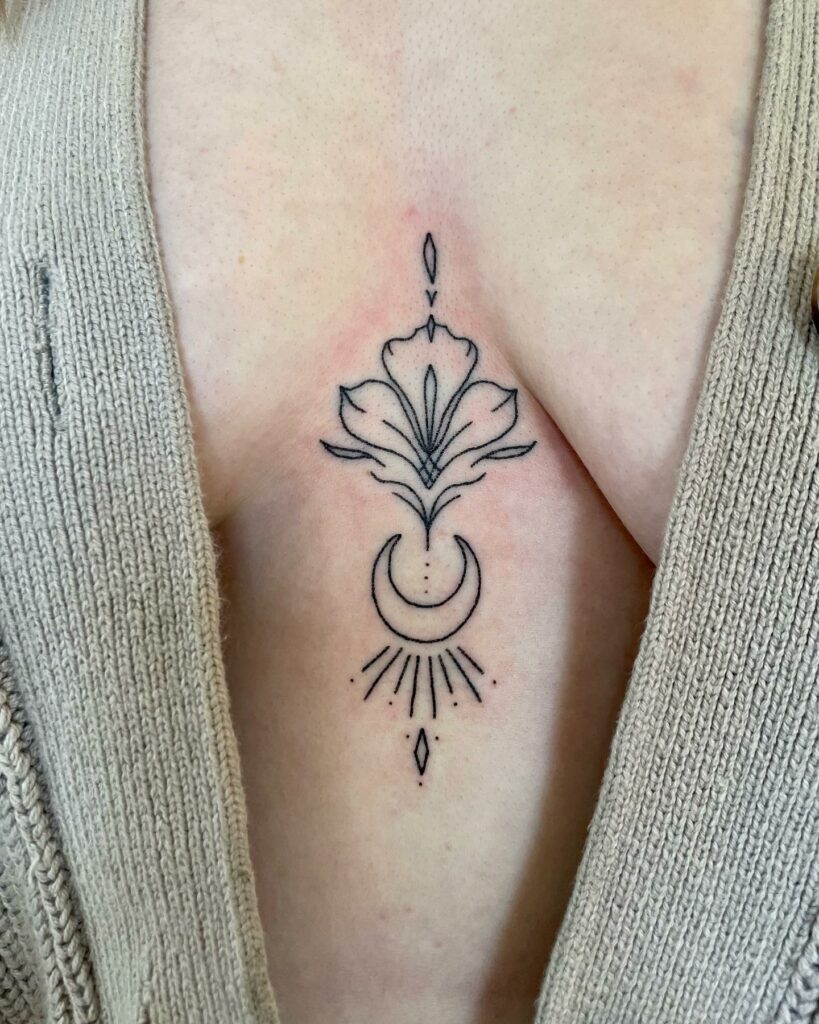 Minimalist Sternum Tattoo Ideas For Women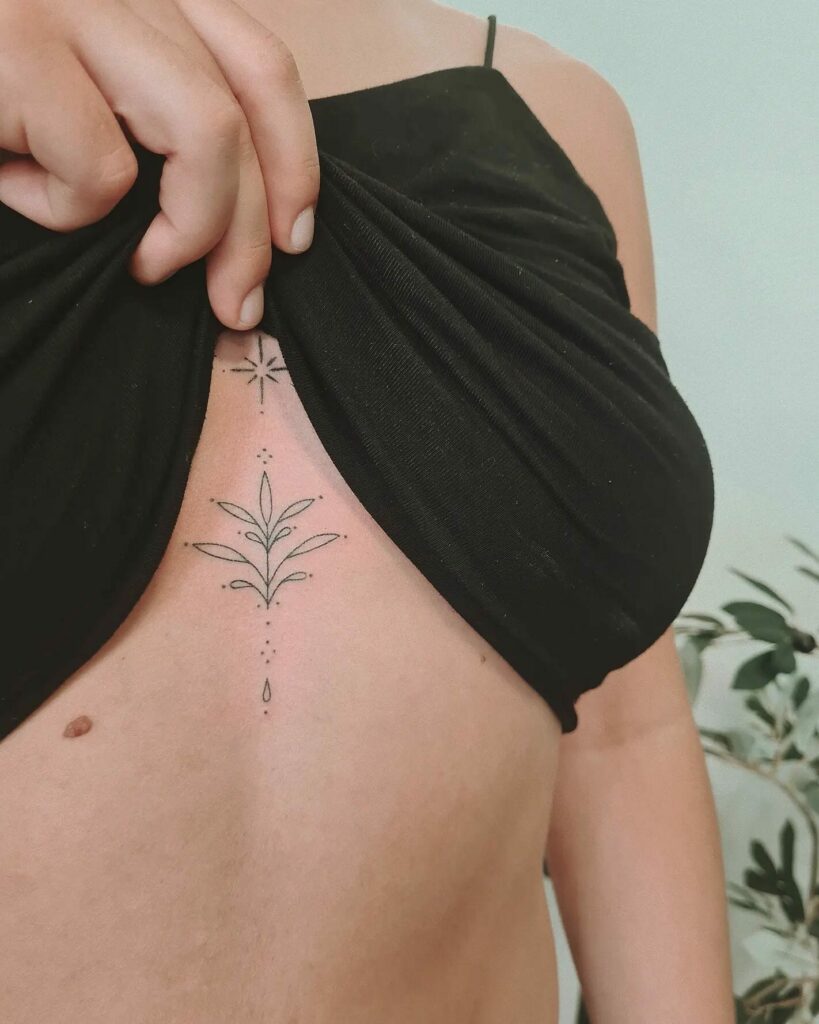 Are you searching for a bold and beautiful chest tattoo that showcases your individuality? Look no further than minimal sternum tattoos! This area may seem intimidating due to its sensitivity, but the result is a unique and eye-catching tattoo that truly stands out.
If you're looking for a simple design to start with, consider incorporating florals, celestial symbols like the moon or sun, geometrical shapes, or even a cute animal tattoo. These designs are not only safe choices, but they'll also add a touch of elegance to your overall look. Just remember to take your time in choosing the right design, placement, and artist to ensure a smooth and successful tattoo experience!
Amazing Floral Sternum Tattoo Designs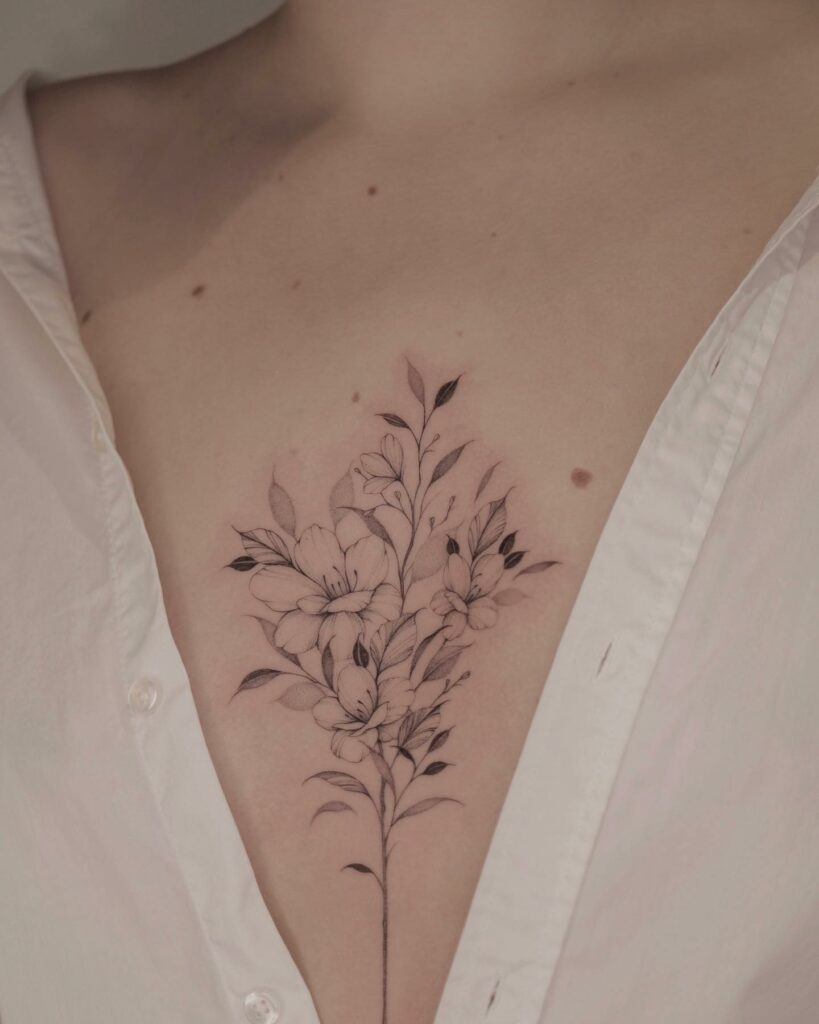 If you're looking for a stunning chest tattoo, you should definitely consider incorporating some flowers into the design. Flowers are a popular choice for women, as they add a feminine touch and are just so pretty! You can go for a small, simple design with just one type of flower, or choose a bunch of different blooms to create a more elaborate look.
When it comes to color, the sky's the limit! A colorful tattoo will make it stand out even more. You could opt for a bold and vibrant color palette, or keep it soft and subtle. If you're particularly drawn to roses, consider checking out watercolor rose tattoos for some inspiration. They can make for a truly beautiful and unique tattoo.
Awesome Skin Art Sternum Tattoo Ideas For Women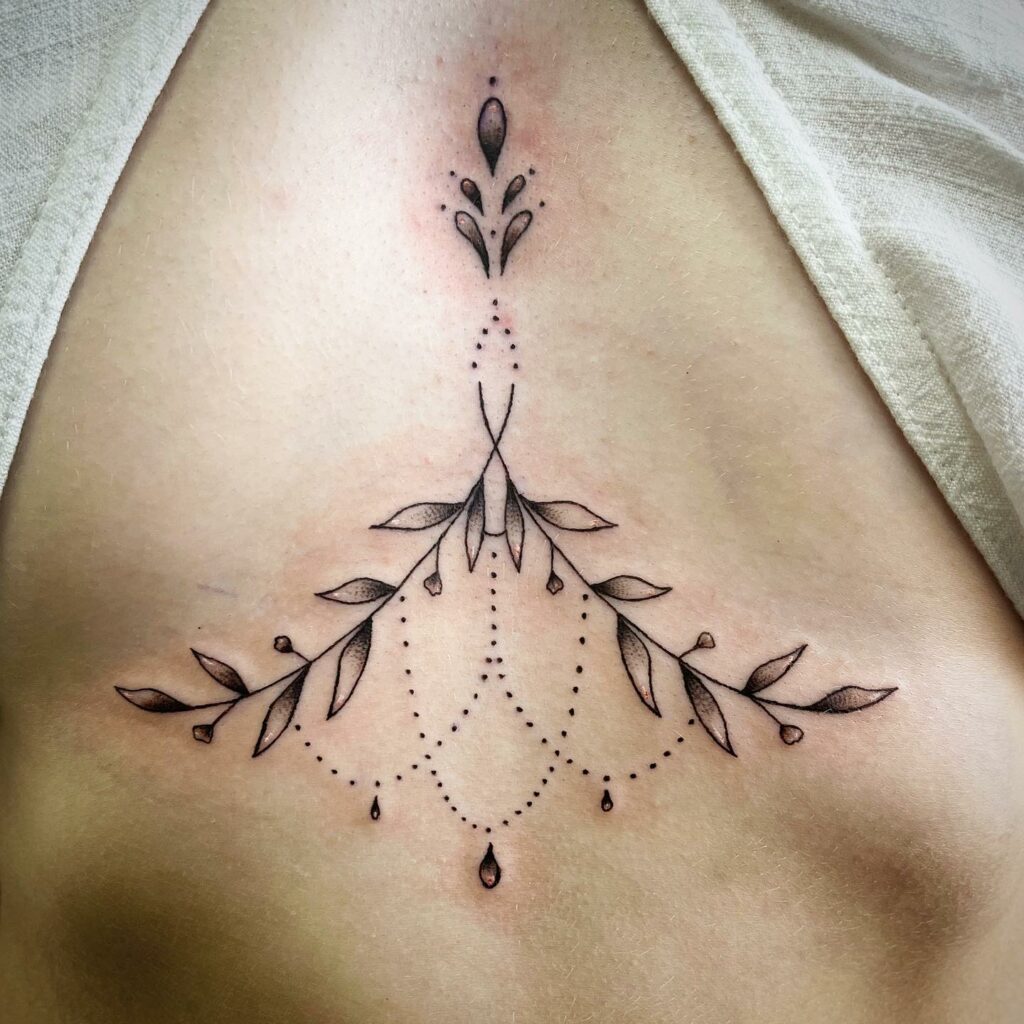 If you're searching for tattoos that are bold and alluring, a vine chest tattoo might be the way to go! This unique design features leaves that are beautifully arranged around your sternum, creating a piece of jewelry-like art on your skin. You can also add other fun patterns like swirling lines, dots, or straight lines to enhance the design. And if you're looking for something that's delicate and feminine, you can ask your tattoo artist to create a dainty sternum tattoo using a fine-line style. The result will be a subtle and sophisticated tattoo that accentuates your femininity!
Sternum Tattoo Designs With Moth Motif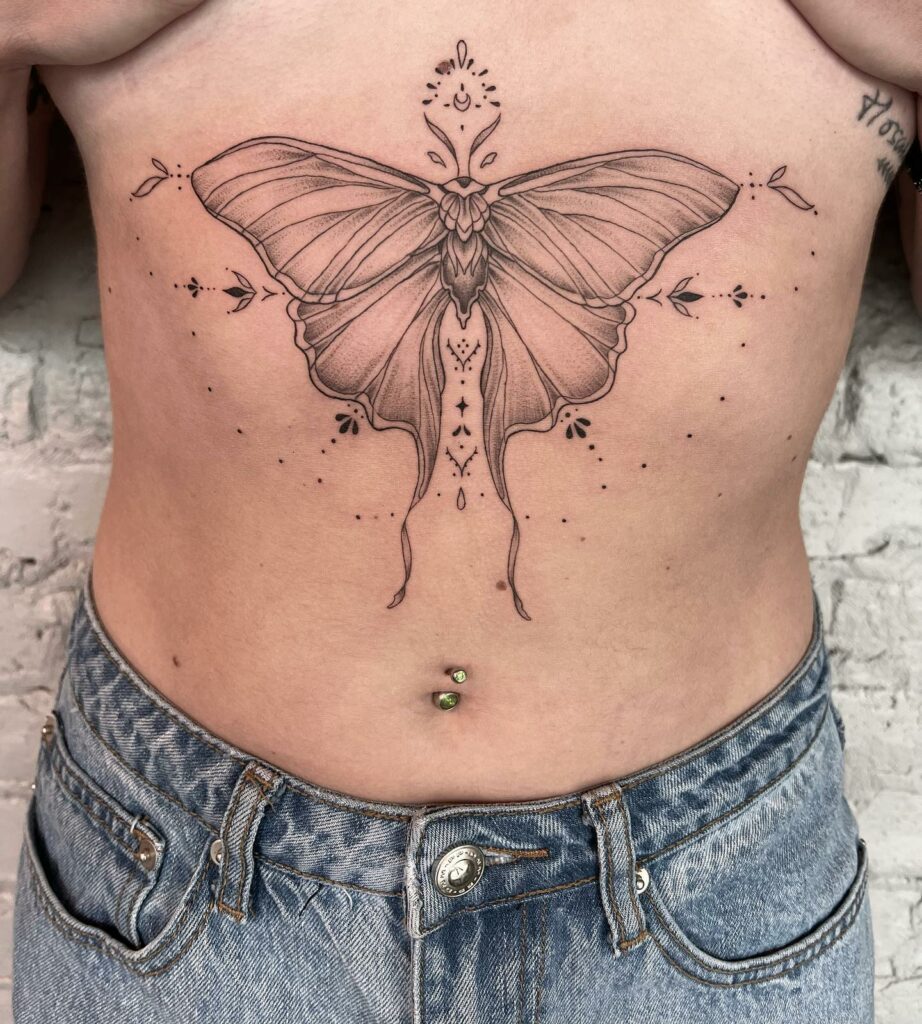 If you're looking for a one-of-a-kind chest tattoo that will surely turn heads, consider a moth tattoo. This quirky and unique design is becoming more and more popular among women who love to express themselves through their tattoos. The sternum area is the perfect canvas for this motif, as the body of the moth can be placed in the center, while the wings spread out towards the sides. Moths also carry significant meaning in cultures that practice witchcraft or paganism, as they symbolize misfortune and death. So, if you're drawn to symbols with a deeper meaning, a moth tattoo could be a great choice for you.
Sternum Tattoos With Snake Motif For People Who Like Dark Tattoos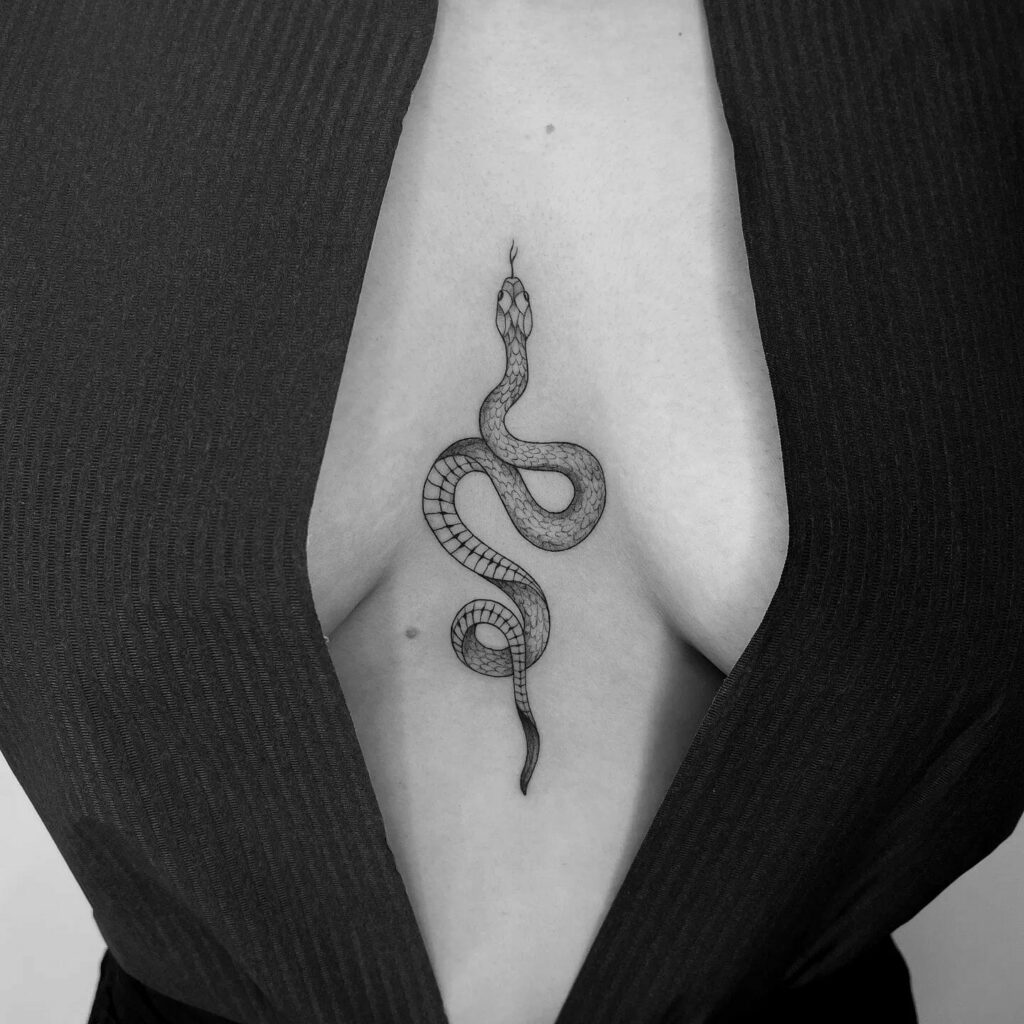 If you're considering a sternum tattoo, a snake motif can be a unique and bold choice. Whether you prefer a small, intricate design or a larger, more eye-catching tattoo, the snake motif can make a striking statement. Other options for a darker style might include animal skull chest tattoos or dragon tattoos. One example of a stunning snake tattoo uses a fine-line technique, creating an even more detailed and intricate piece of art. As always, it's important to work with your tattoo artist to ensure that your design is something you'll love and be proud to wear for years to come.
Elaborate Sternum Tattoo Ideas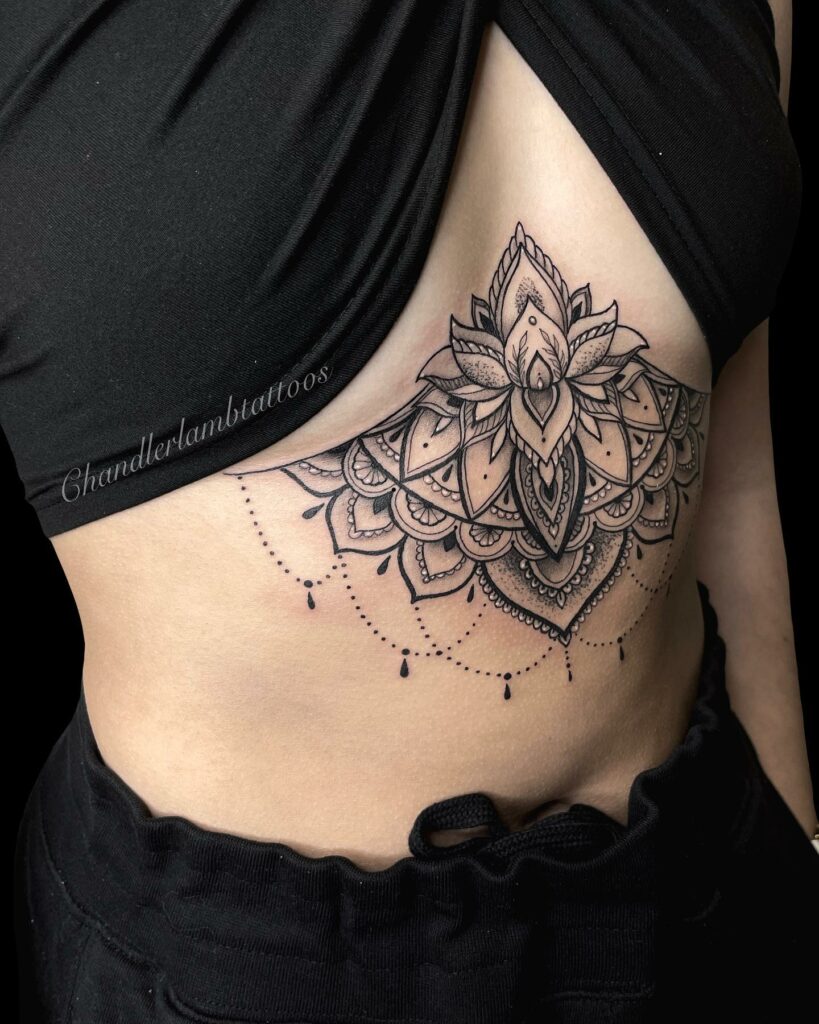 If you're considering a sternum tattoo, you have a few options to choose from. If you prefer a more minimalist look, a small chest tattoo could be the perfect choice for you. But, if you want to make a statement, an elaborate sternum tattoo that extends down to your stomach is the way to go. A tribal chest tattoo, a skull chest tattoo, or a depiction of a meaningful event or story can be truly stunning on the whole chest area.
Just keep in mind that a large and intricate sternum tattoo requires the skills of a talented tattoo artist who is up for the challenge. It's important to find an artist who can execute the design with precise and clean lines, so be sure to do your research before committing to a large piece!
Pretty Outline Tattoo Ideas For Your Sternum
If you're considering a chest tattoo, there's another option to consider besides going big or small. An outline tattoo is a popular choice that can give your upper chest and rib cage a sultry touch. Outline tattoos are known for their clean lines and precision, making them a stunning choice. You can even add an extra touch of creativity by incorporating a mandala or floral design with hanging gems into your outline sternum tattoo. This makes your body art even more eye-catching. So, whether you prefer simple and minimalist or something with a bit more detail, an outline tattoo might just be the perfect choice for you!
Geometric Chest Tattoo Designs For Women's Sternum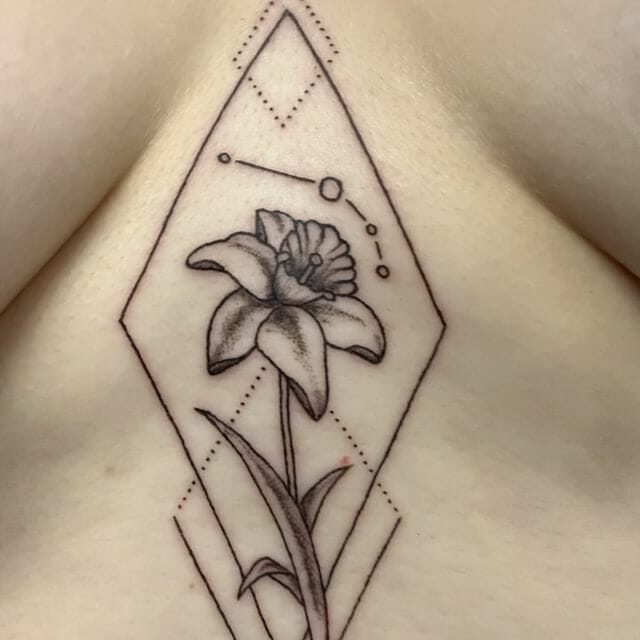 If you're looking for a sleek and sophisticated design for your sternum tattoo, geometric shapes may be the perfect option for you. These tattoos can start at your collarbone and extend down your chest, creating a striking look. As seen in the picture above, geometric sternum tattoos can feature abstract line patterns that look fantastic. To further enhance the design, you can add other tattoos such as a feather chest tattoo, arrow chest tattoo, or bird chest tattoo. In the image above, the wearer has combined a beautiful rose tattoo with a geometric glass box pattern, resulting in a stunning and unique design. To complete the look, the wearer has added cute constellation tattoos, which add a delightful final touch.
Beautiful Hand-poked Tattoo Designs
If you're searching for a sweet and unique chest tattoo, you might consider a hand-poked tattoo. This kind of tattoo has a special look compared to machine tattoos, making it stand out. Additionally, it is less painful than machine tattooing. The only downside is that hand-poked tattoos take much longer to create. If you're patient, you can get an amazing hand-poked sternum tattoo like a butterfly or angel wings chest tattoo. In addition to the cute designs, you can also request a custom hand-poked tattoo from a talented artist.
Wonderful Sternum Tattoo Design With Sun And Moon Motif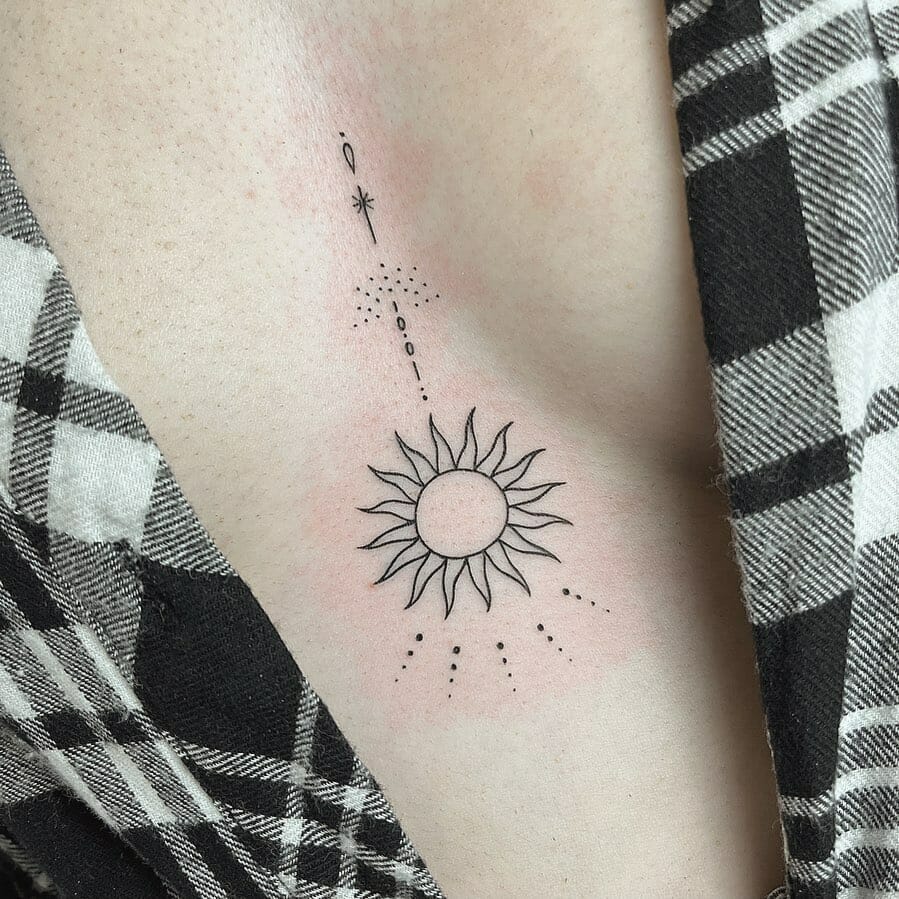 If you're looking for a beautiful and meaningful design for your sternum tattoo, consider a sun or moon motif! These designs are classic and universally loved for a reason. Not only do they look amazing, but they can also hold deep personal significance for many people. The sun represents new beginnings, triumph over adversity, and the start of a new journey. The moon, on the other hand, is often associated with femininity, intuition, and the cycles of life. Whatever your reasons for choosing a sun or moon tattoo, we can work with you to create a design that perfectly captures your vision and personal meaning.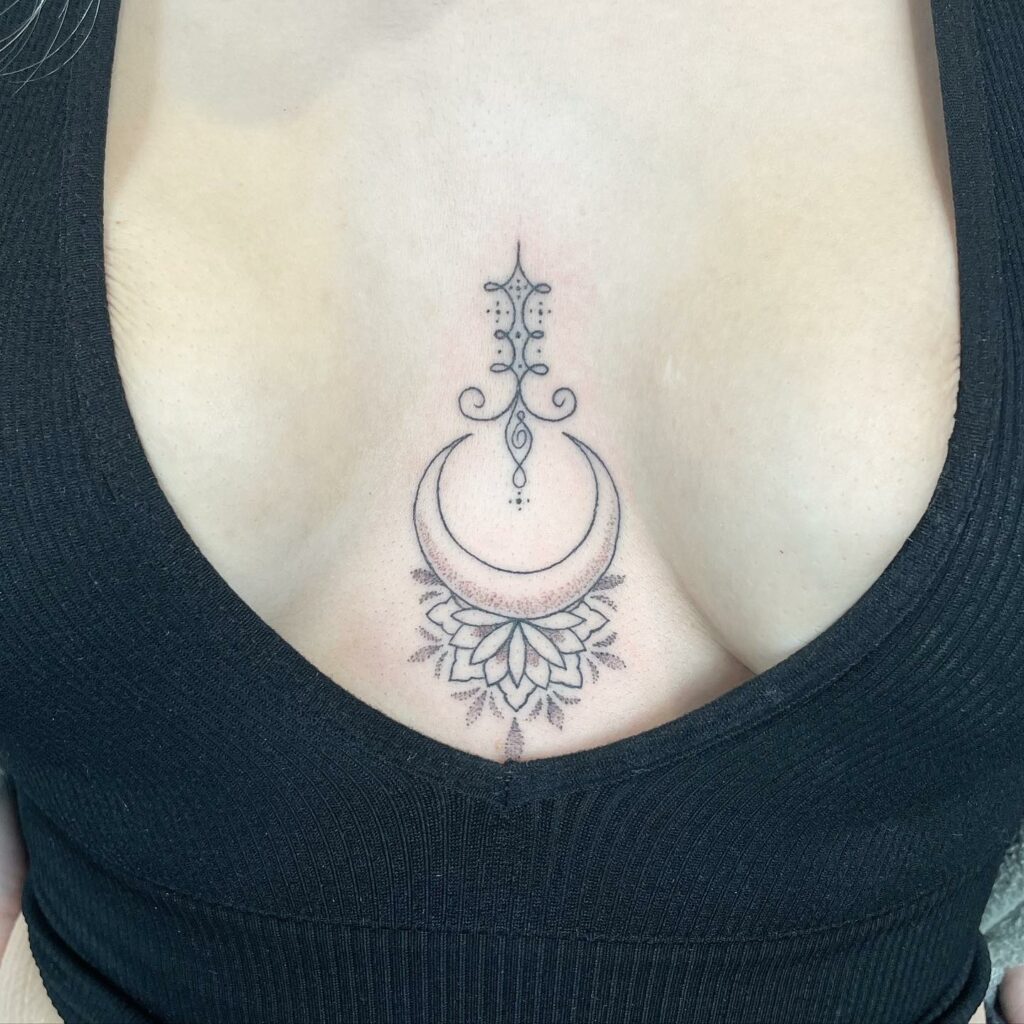 If you're in the market for a beautiful and meaningful sternum tattoo, have you considered the classic sun or moon motif? Both the sun and moon hold deep symbolism for many people, representing new beginnings, victory, beauty, warmth, and even a bit of loneliness. For the ladies, a crescent moon sternum tattoo is a popular choice, but you can't go wrong with either option. So, why not take a look at some designs and find one that speaks to you? Then, reach out to your trusted tattoo artist to schedule your appointment. You'll be rocking a gorgeous new tattoo in no time!
feature image from Pinterest – Want your tattoo to look brighter? Try "Tattoo Balm"