Hey there, looking for some awesome naked women tattoo designs? Well, you're in luck because we've got some popular ideas that we think you'll love! If you want to celebrate the beauty of the human body and promote a healthy body image, a naked woman tattoo might just be what you're looking for. You can find loads of similar ideas on Pinterest and Instagram, but we've made it easy for you by curating a collection of the most beautiful and subtle naked women tattoo designs. So, let's get started and find the perfect design for you!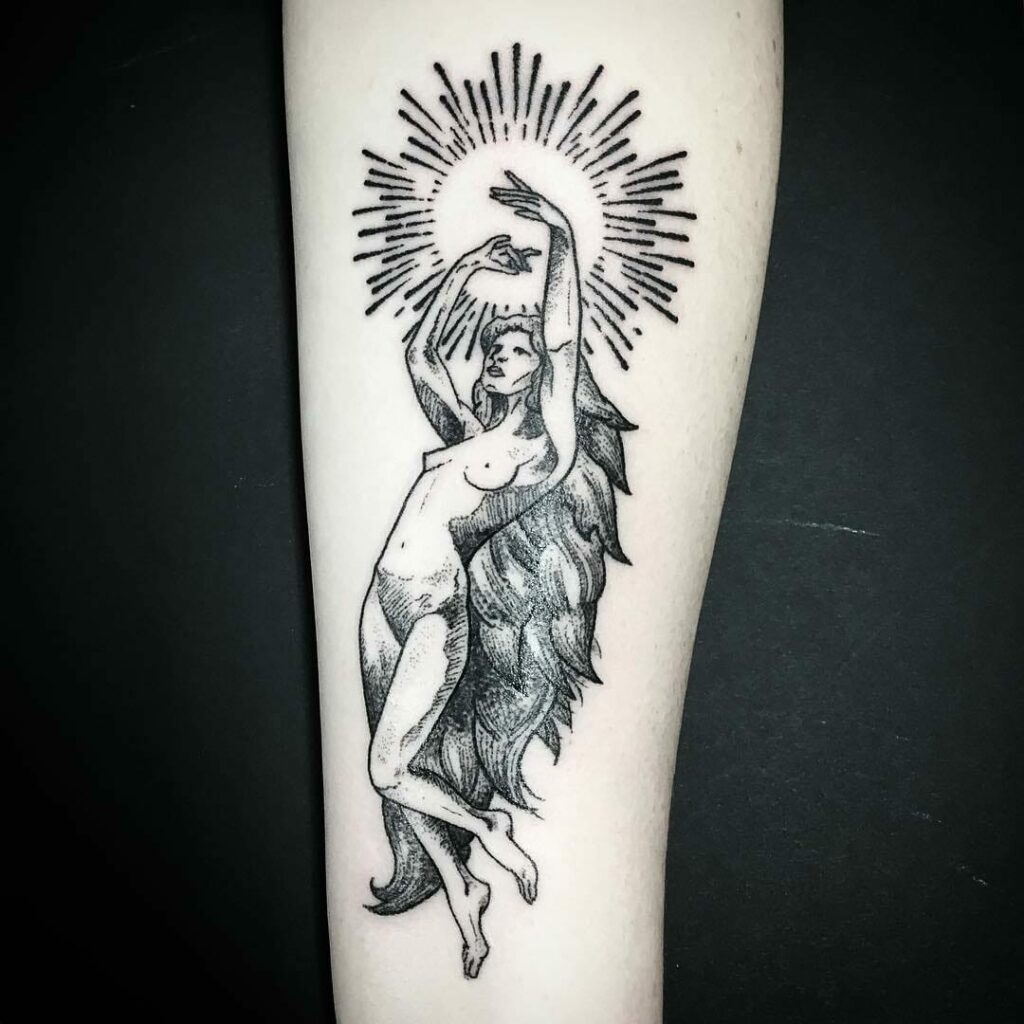 Aesthetic Naked Women Tattoo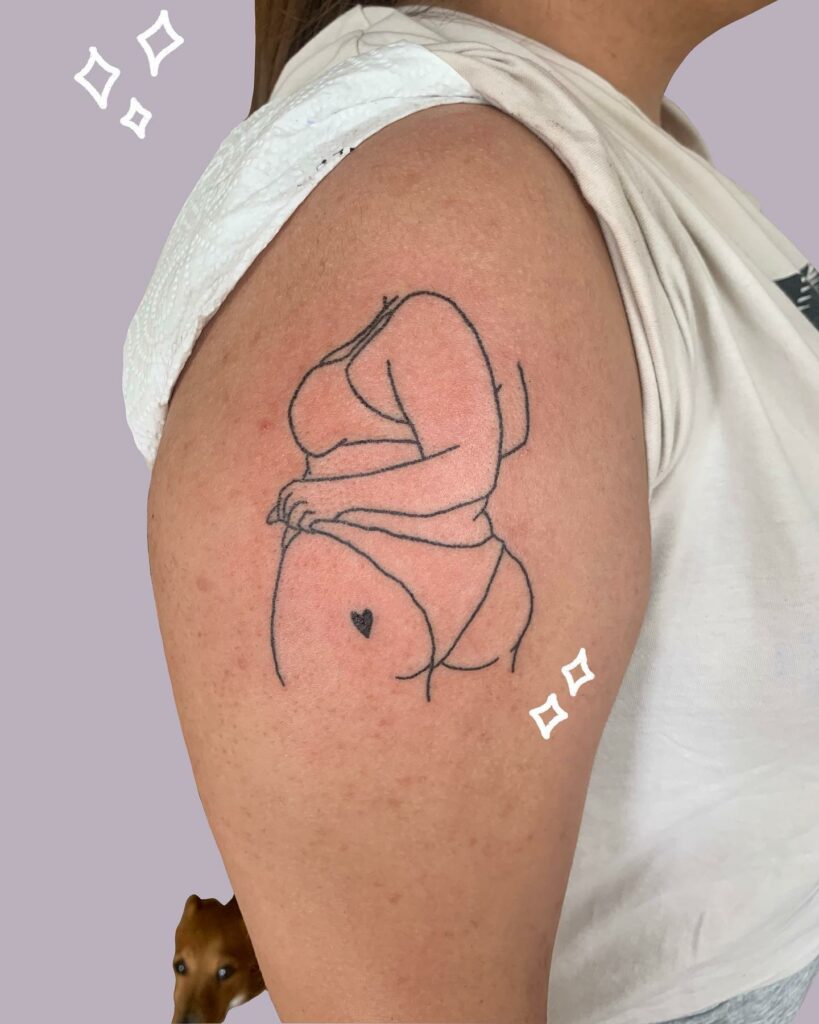 If you're looking for a tattoo that promotes body positivity, you might want to consider a naked woman tattoo. These tattoos typically feature an outline of a woman's body, often in fine black ink. One popular design shows the back of the woman, with her wearing undergarments. The idea behind this type of tattoo is to celebrate the beauty of all bodies and promote body positivity. Of course, you can always customize the design to make it your own by adding personal elements to it. So if you're looking for a tattoo that sends a positive message and looks beautiful, a naked woman tattoo might be the perfect choice for you.
Naked Women Tattoo With Message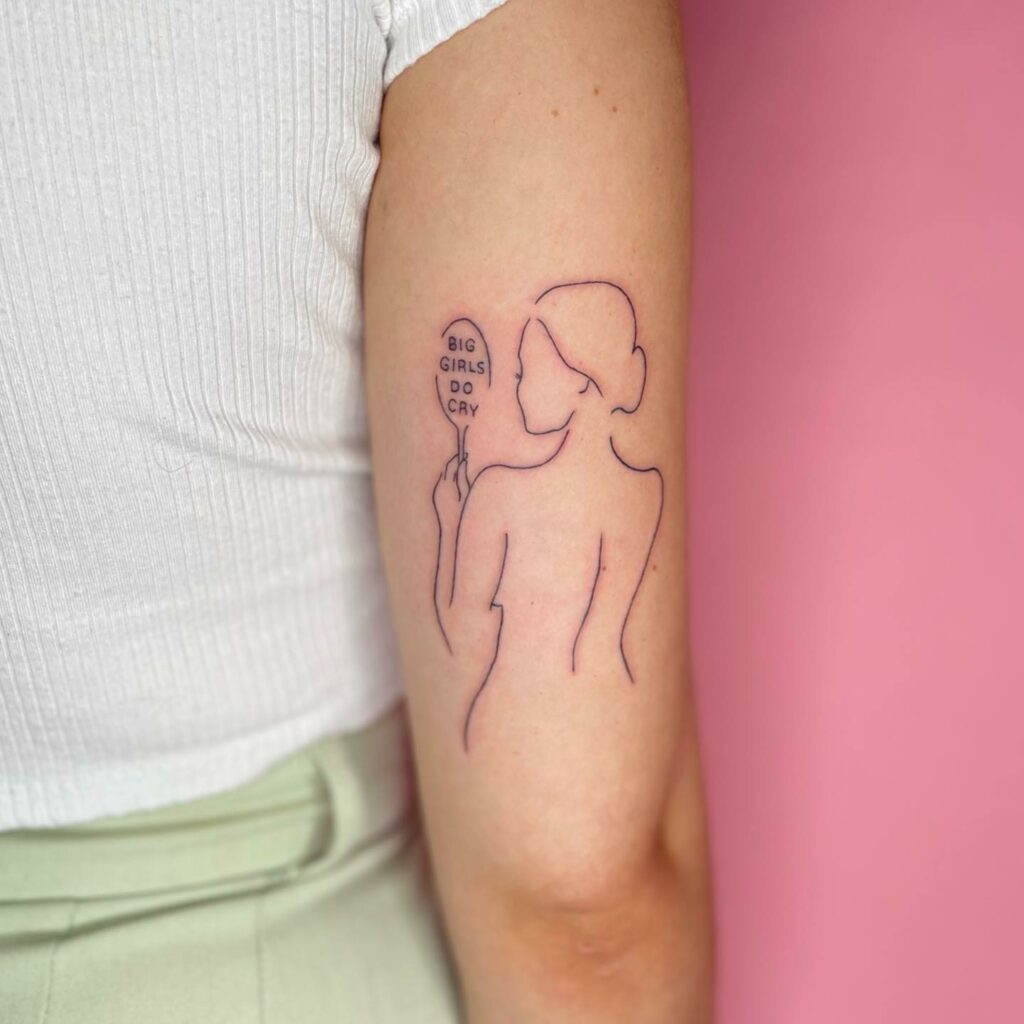 One tattoo design that has been gaining popularity is a representation of the strength and vulnerability of big girls. While social media may portray them as unbreakable, we all know that even the strongest people have moments of vulnerability. This tattoo is a beautiful representation of that truth. The fine line work used in this tattoo creates a clean and striking look. Unlike other naked women tattoos found on Pinterest, this one has a meaningful message. It depicts the outline of a naked woman holding a round sign that says "big girls do cry". This tattoo is both aesthetic and purposeful and can be placed on the back, thigh, or arm.
Half Naked Women Tattoo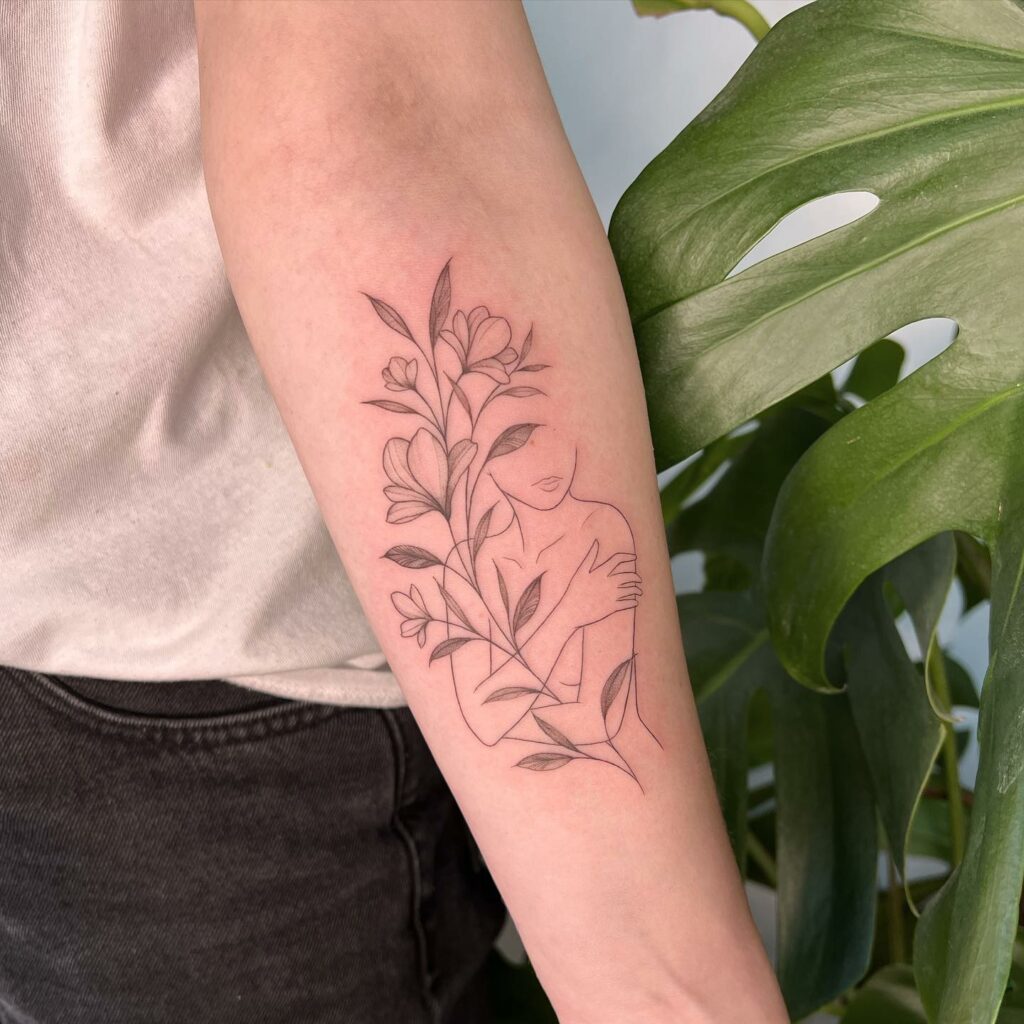 This tattoo design is an elegant and understated choice. It features a royalty-free outline of a nude woman, with her hands gracefully covering the front of her body. The design is further enhanced by the addition of a branch with delicate leaves and flowers in front of the woman, adding a touch of nature to the overall look. The use of black ink in the tattoo gives it a timeless and classic feel, making it perfect for those who appreciate a minimalist approach to body art. This design is particularly well-suited for individuals who are looking for a subtle yet beautiful depiction of the female form. To ensure the best possible outcome, it's important to have the tattoo done by a professional artist who can execute the precise details of the design. Overall, this tattoo is a sophisticated choice that will complement any personal aesthetic.
Matching Naked Women Tattoo On Arms
Tattoos can hold a lot of meaning and significance in our lives. Throughout history, people from different cultures have used body art to express their beliefs and life experiences. For example, this black-inked naked women tattoo design represents femininity, independence, growth, or self-acceptance. This striking tattoo can be placed on the arms, legs, or even the side of the stomach. You can also personalize the design to fit your unique preferences. Remember, when choosing a tattoo, it's important to consider the message you want to convey and make sure to have it done by a professional artist to achieve the best results.
Hanging Naked Woman Tattoo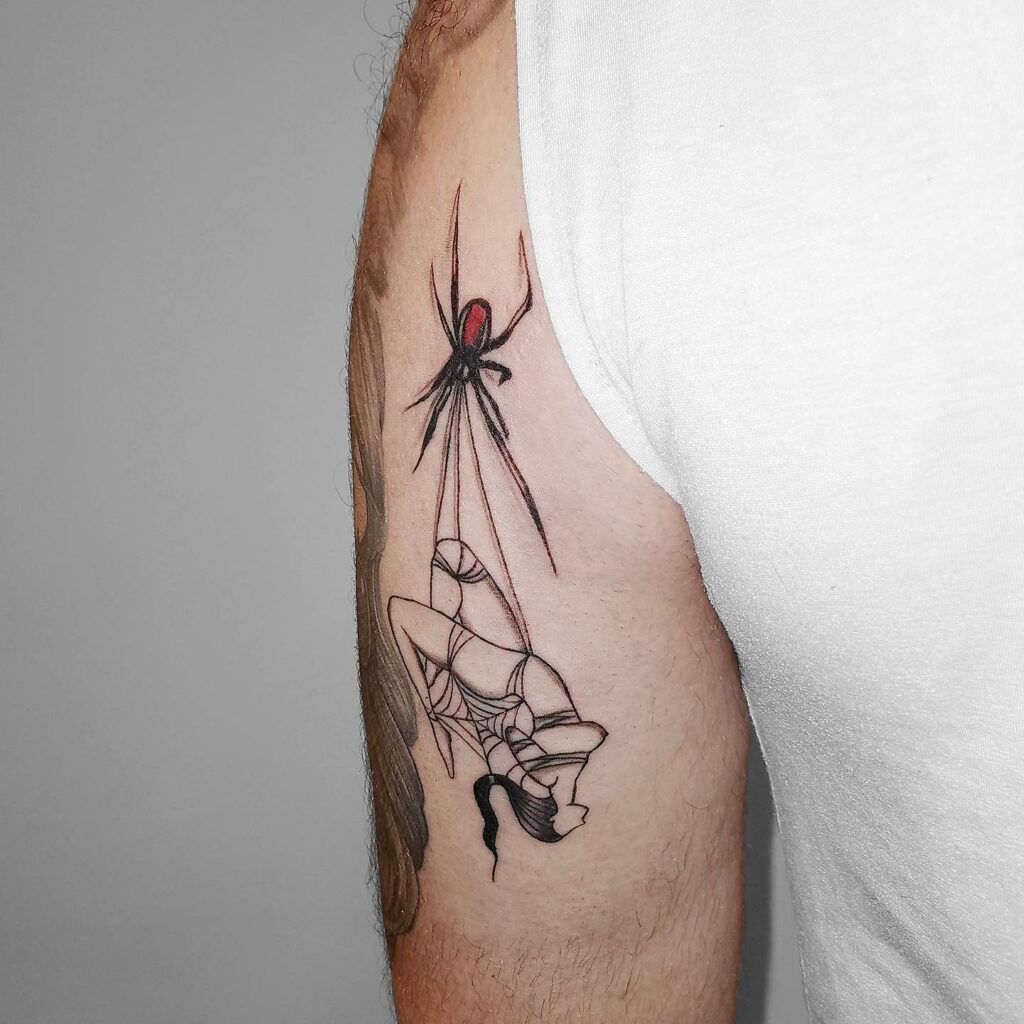 Tattoos can be a powerful way to represent our life journey and the obstacles we have overcome. This particular tattoo design features a spider and a naked woman entangled in its web, which can symbolize the struggles and challenges faced by the wearer. The intricate details and deep meaning behind this tattoo make it a beautiful representation of a person's journey. To make it more personal, you can customize it by adding elements that are significant to you. This tattoo is suitable for placement on your arms, back, or lower back. It is essential to choose a skilled artist to ensure the best possible outcome.
Matching Sisters Naked Tattoo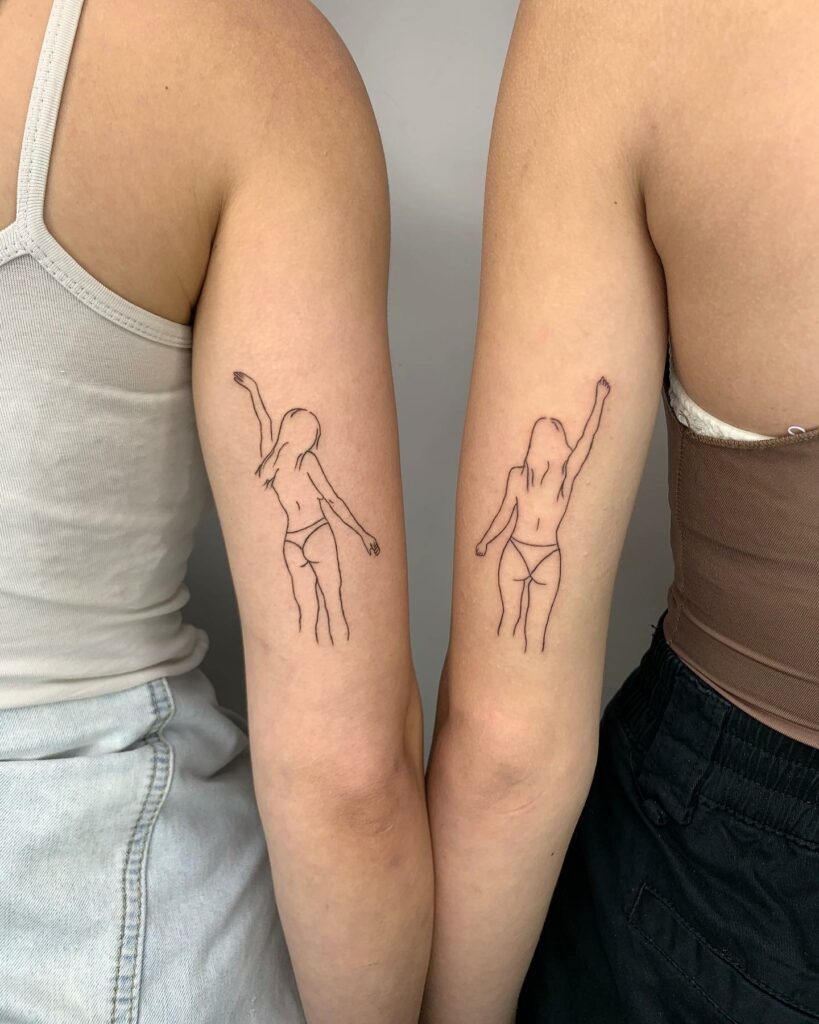 If you and your sister want to celebrate your unique connection, a matching tattoo is a great way to do it. This design is not only adorable but also meaningful. The elegant naked sisters tattoo shows the world your independent and feminine sides, while also revealing your close, transparent bond. The placement of this tattoo is versatile and looks great on the arm or sleeve, but it also can be done on your back. You can customize this tattoo design to fit your personal style and preferences.
Highly Detailed Naked Woman Tattoo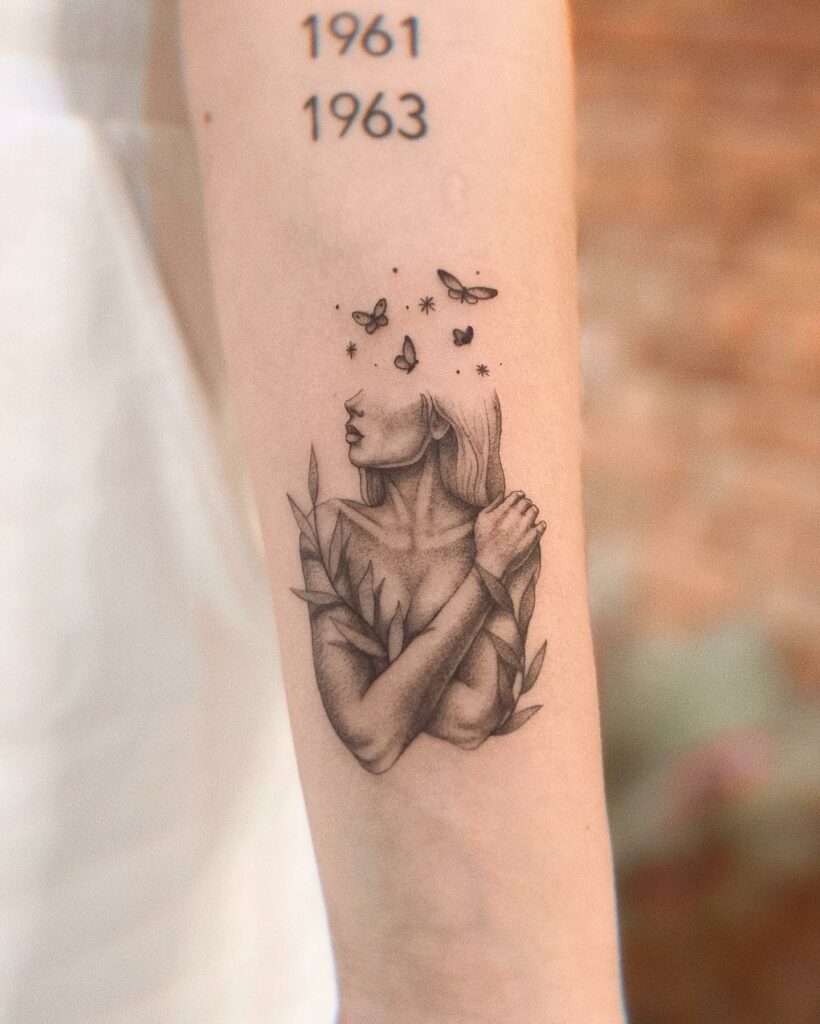 Looking for a unique, stunning naked women's tattoo design? Look no further! This exquisite tattoo is made using the technique of black dot art, giving it a stunning look. The lady in the tattoo is seen crossing her arms and covering her front, while intricate details are present all over her body. The artist has used a variety of shading techniques to create shadows and highlight features, and there are also some beautiful butterflies and leaves in the design, representing growth and depth. This tattoo is perfect for people looking for something edgy, and it will look amazing on your back or arm.
Half Naked Women Tattoo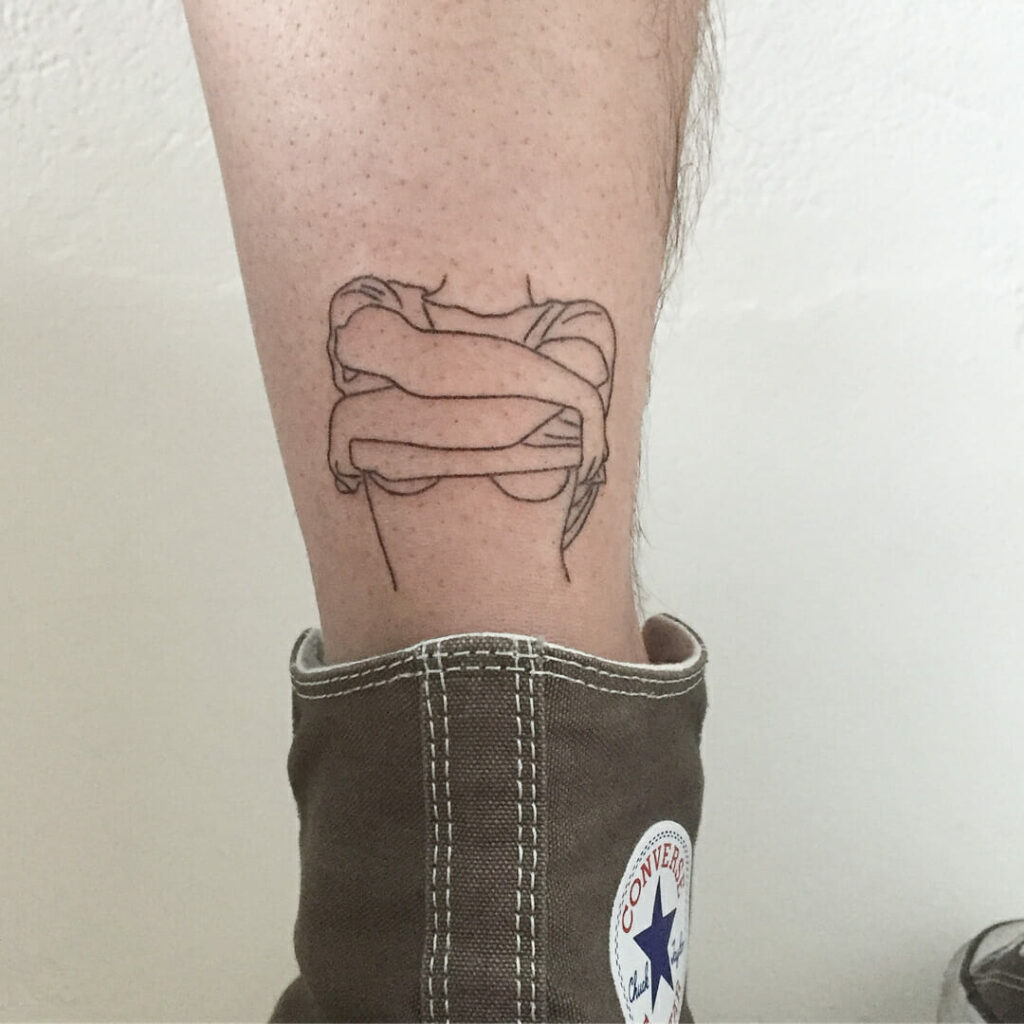 This is a one-of-a-kind tattoo that is sure to make a statement. Unlike many other tattoos you may have seen, this design stands out for its creativity and originality.
The intricate details of this tattoo make it appear very lifelike, and the overall effect is edgy and eye-catching. If you would like to personalize this tattoo design to better suit your preferences, you can add other elements to it that complement your individual style. It's a versatile design that can be placed on your chest, back or thighs, and is guaranteed to look great with any outfit you wear, no matter your fashion sense.
Spiritual Naked Woman Tattoo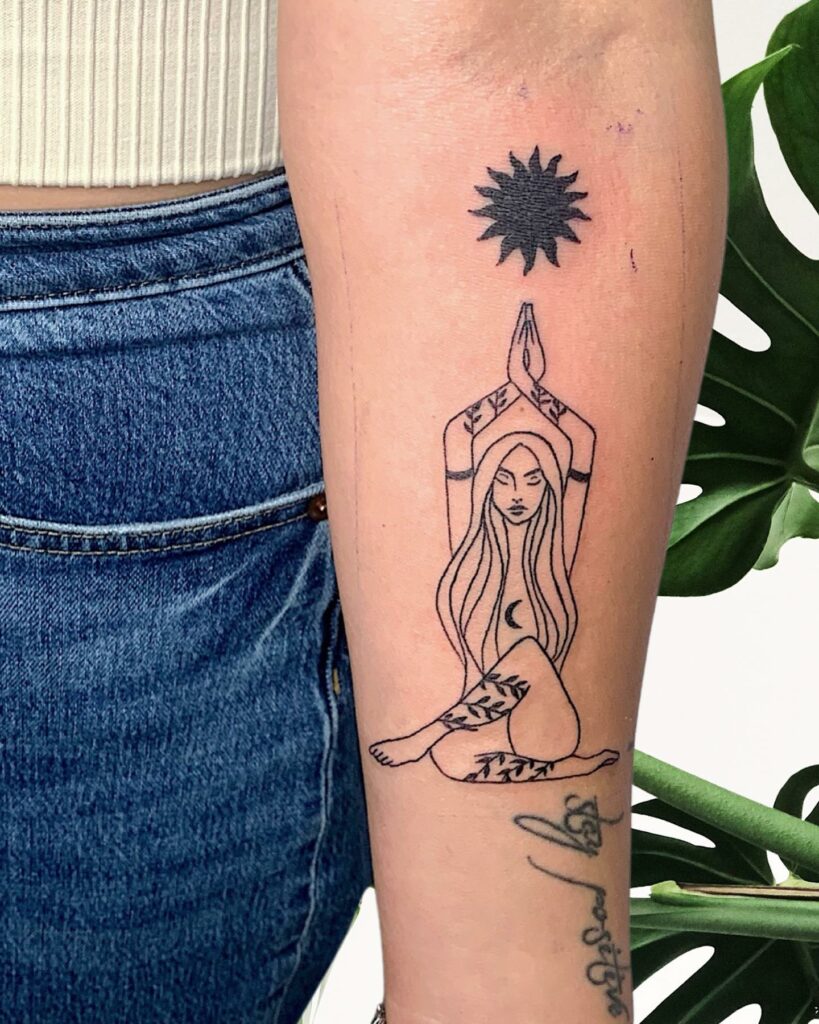 Spirituality can be an essential part of our lives, and connecting with our inner selves can help us manifest our goals and aspirations. If you're looking for a tattoo that represents your spiritual journey, this intricate and beautiful naked woman tattoo may be just what you need. The black-inked art portrays a balanced nature of sun, moon, and natural energy, which represents the perfect balance of human life.
This spiritual tattoo is a great way to express your inner self and can be customized to your liking. It is a stunning piece of art that is perfect for your arm or back, and you can even incorporate it into a sleeve design. The delicate details and design of the tattoo make it a timeless piece of art that you can cherish for years to come. So, if you want a tattoo that represents your spiritual journey, this tattoo is a great choice.
Outlined Naked Woman Back Tattoo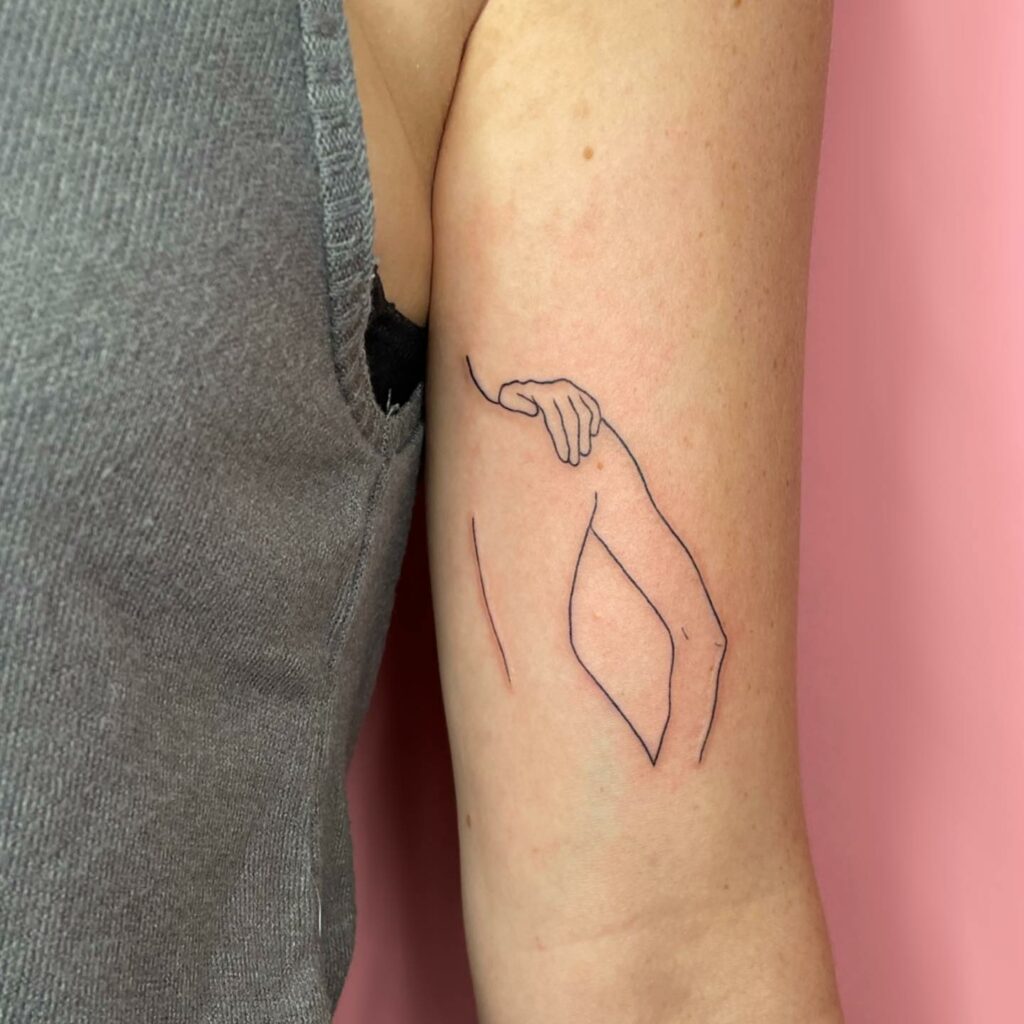 Looking for a simple tattoo with a powerful message? Check out this outline naked woman tattoo! It's done in black ink, but you can customize the color to make it truly your own. The design may be simple, but it carries a big message: all bodies are beautiful, just as they are. This tattoo is perfect for anyone looking to celebrate body positivity and self-love.
You can choose to have this tattoo on your thigh, back, arms, or chest, and it will look great with any outfit. The simple, elegant lines of the design make it versatile and easy to pair with other tattoos. This is a great way to break free from the old beauty standards and embrace your own unique beauty. So, get inspired and show off your love for all bodies with this beautiful naked woman tattoo!
feature image from Pinterest