Ahoy, lovers of the inked arts and aficionados of Japan's most celebrated export – anime! If you're searching for a fantastic way to immortalize your favorite animated characters from the iconic universe of 'Bleach', this curated collection of tattoo inspirations will truly hit the mark.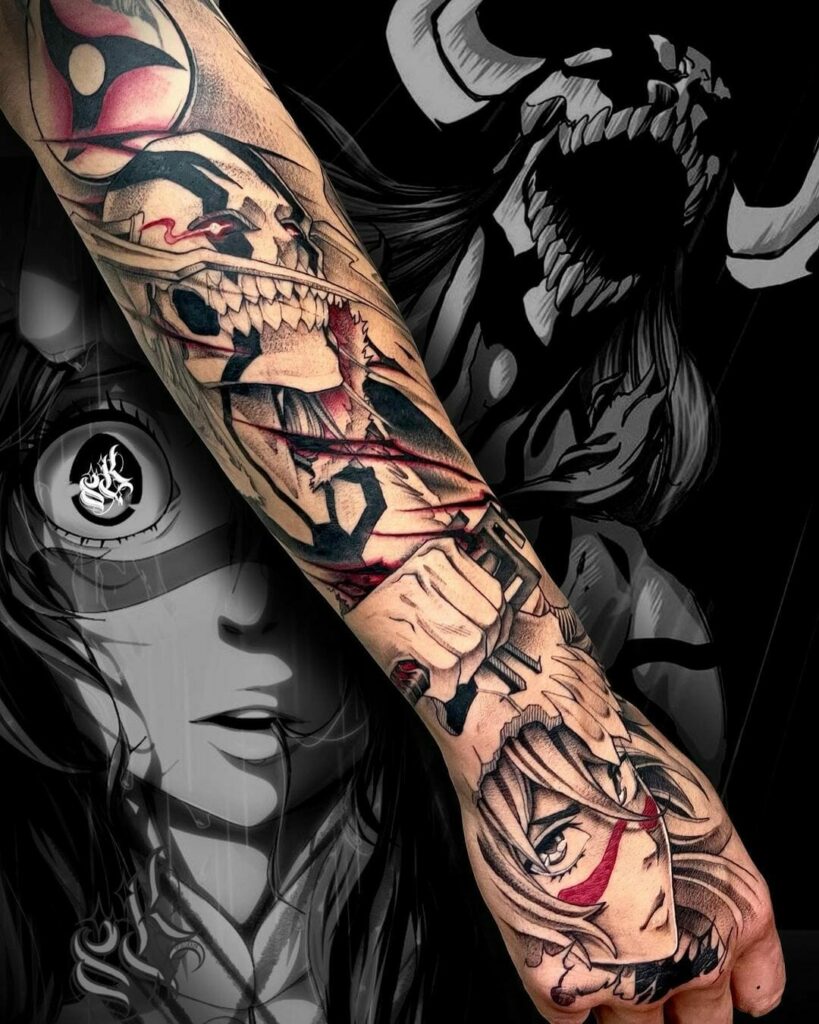 In the last few decades, anime – a distinctive form of Japanese animation, has permeated global pop culture like wildfire. Famed for its avant-garde aesthetics and plotlines teeming with profound moral lessons and a splendid array of diversity, anime has won hearts and minds worldwide.
Amongst this rich tapestry of animations, 'Bleach' (2004) – an adaptation from its manga origins, emerged as a leading light. In a realm where 'One Piece' and 'Naruto' reigned supreme, 'Bleach' carved a niche, winning an army of fans with its captivating storyline and memorable characters.
Therein lies the allure of a 'Bleach' tattoo, a stunning way to pay homage to the series that has left an indelible imprint on anime history. A wealth of diverse designs await you, from vibrant character-themed tattoos to more abstract interpretations influenced by the series' signature style.
The resurgence of 'Bleach' in 2021 has stoked the popularity of its inspired tattoos even further. Enthusiasts will be spoilt for choice, with a myriad of motifs, from the formidable hollow mask of Ichigo Kurosaki, the lovable Kon design, to a charming Rukia chibi. This trend is proving that in the world of tattoos and anime, 'Bleach' continues to hold its own.
Shunsui Kyoraku Bleach Tattoo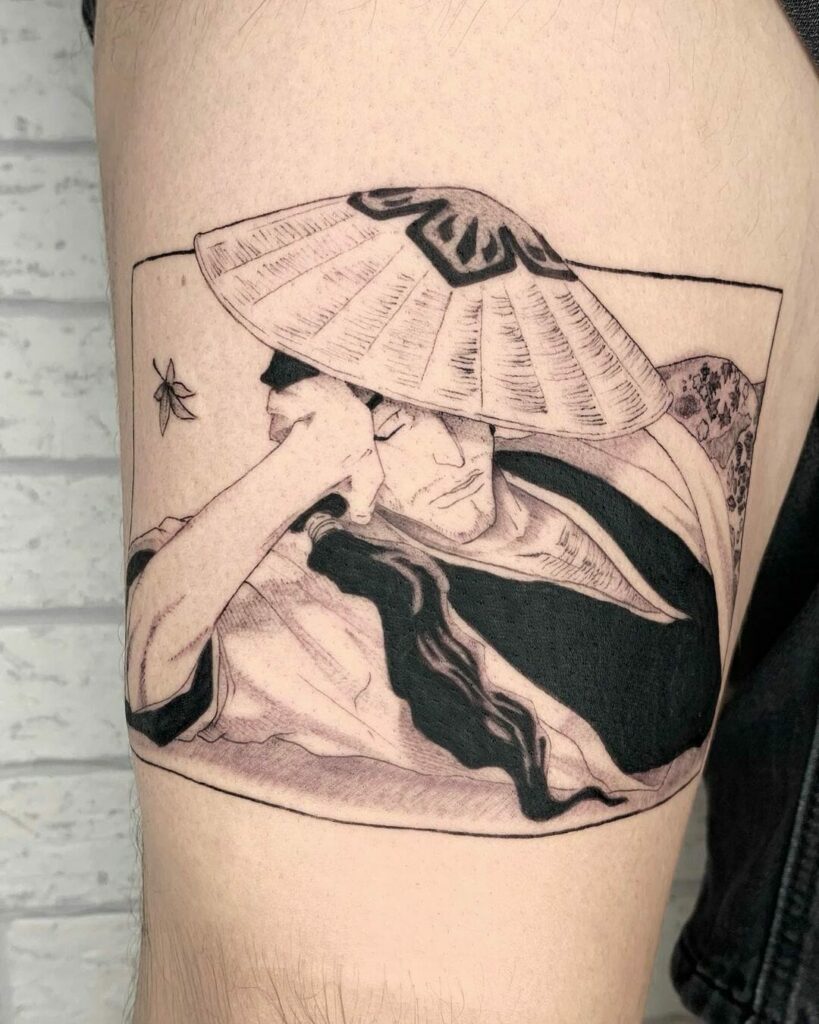 First off, we have the Shunsui Kyoraku tattoo. Revered as the Captain of Gotei 13's 1st Division, his portrayal is a triumph of blackwork. Details of Kyoraku's body, face, and his characteristic Kasa (a traditional Japanese hat) come alive through meticulous fine-line shading, contrasting beautifully with his long hair and robe in deep black ink. A fitting tribute to a beloved character.
Byakuya Kuchiki Anime Bleach Tattoo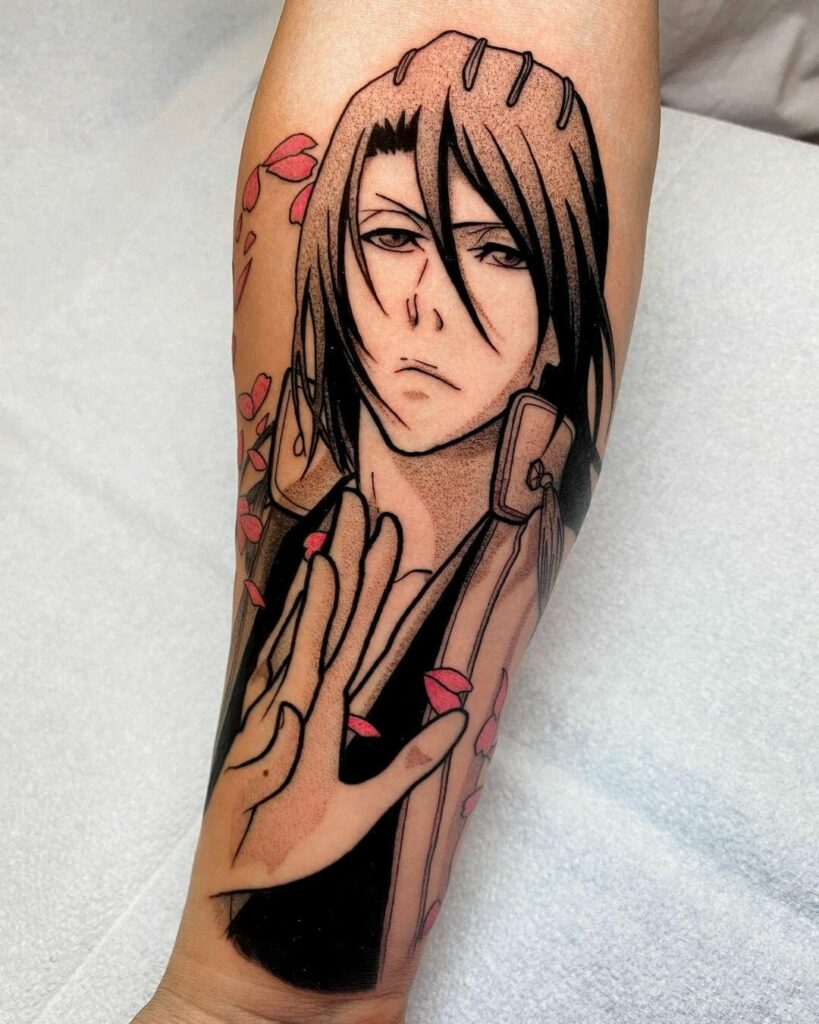 Next up, we have the Byakuya Kuchiki tattoo, celebrating the 28th head of the revered Kuchiki Clan. This design is a masterstroke in blackwork, with gradient shading bringing depth and dimension to Byakuya's face and hair. It's complemented by a deep black border, his centrally-placed hand, and a flourish of pink flower petals – a monochrome masterpiece with a burst of color.
Kenpachi Zaraki Tattoo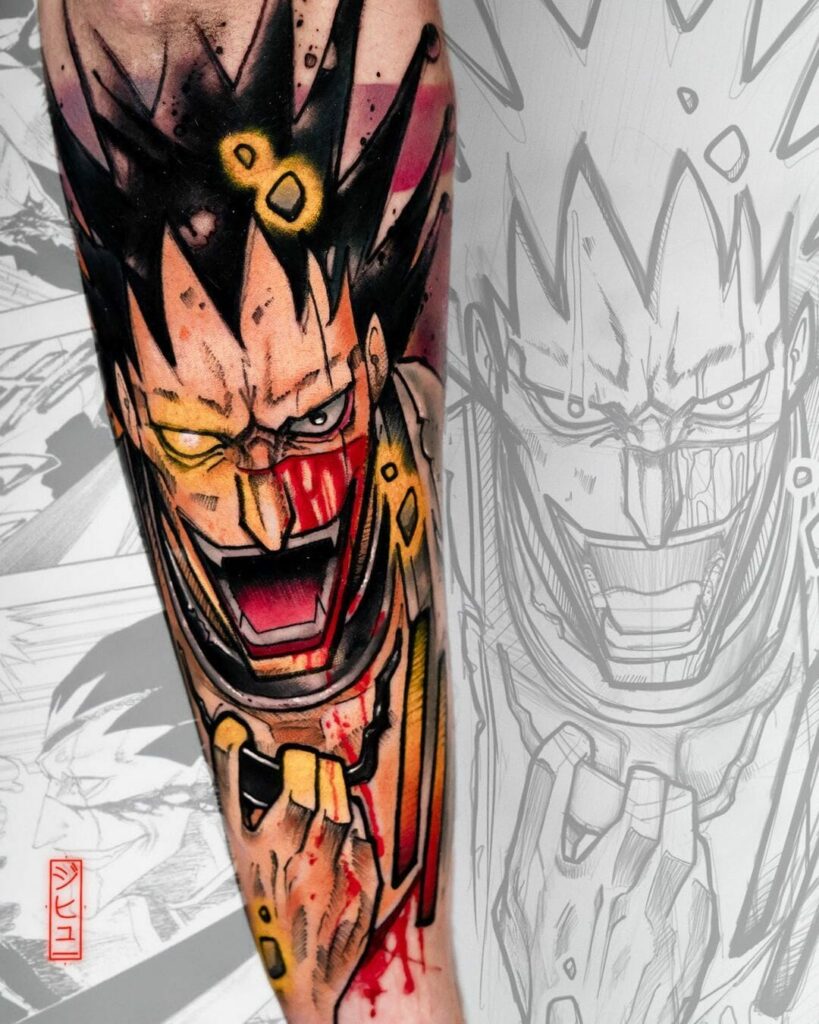 The Kenpachi Zaraki tattoo is another crowd-favorite, commemorating the iconic captain of the 11th Division. This vibrant sleeve design vividly captures Kenpachi, minus his trademark eyepatch. With a bold black border, dark shading on his face and mouth, and a vivid tapestry of red and yellow, this design exudes power and dynamism.
Ichigo Kurosaki Tattoo
Ichigo Kurosaki, the series' hero, is a popular choice for Bleach-inspired tattoos. The stunning black fine-line artistry used in depicting Ichigo's hollow mask, his hair, and the fiery orange backdrop create a design that truly embodies his spirit. The design offers room for personalization, perhaps an addition of Ichigo's allies like Kon or Rukia.
Nel Bleach Tattoo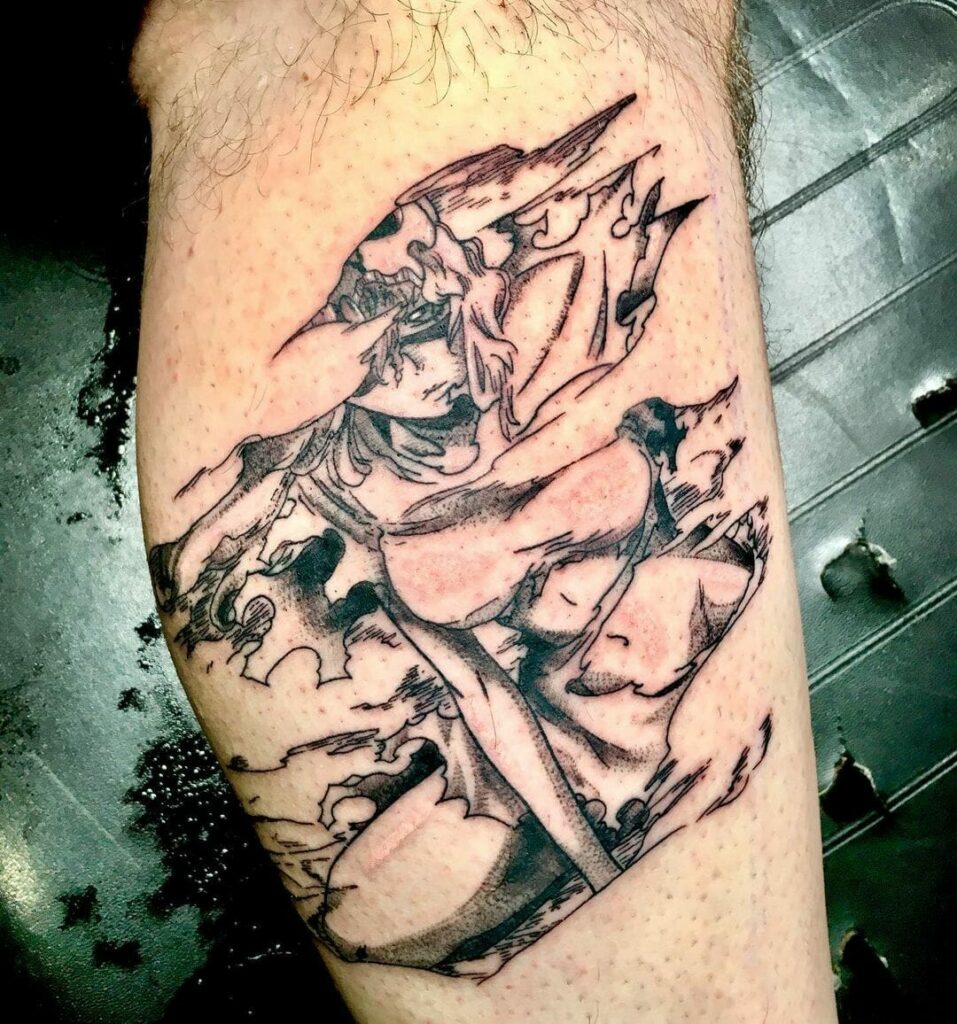 Nelliel, or Nel, is another prominent character making her mark in the tattoo world. A blackwork design features an abstract interpretation of Nel, with carefully shaded details revealing her melancholic expression. The fading effect gives this tattoo an avant-garde touch, cementing Nel's position in the pantheon of Bleach-inspired tattoos.
Espada-Themed Anime Bleach Design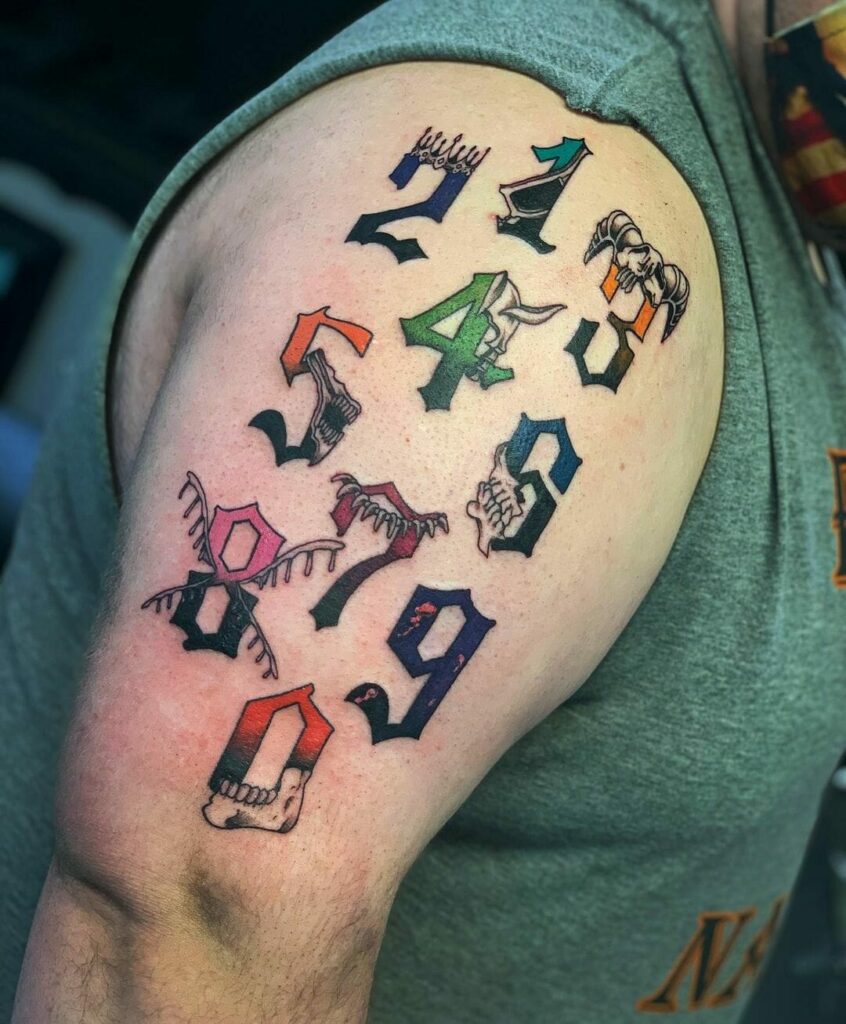 Espada-themed designs are gaining traction, too. Espadas, the hybrid soul-reapers, and hollows are featured in this striking tattoo that showcases the ten Espadas, each with their unique skull-shaped hollow masks, rendered beautifully in fine-line blackwork.
Blackwork Toushirou Tattoo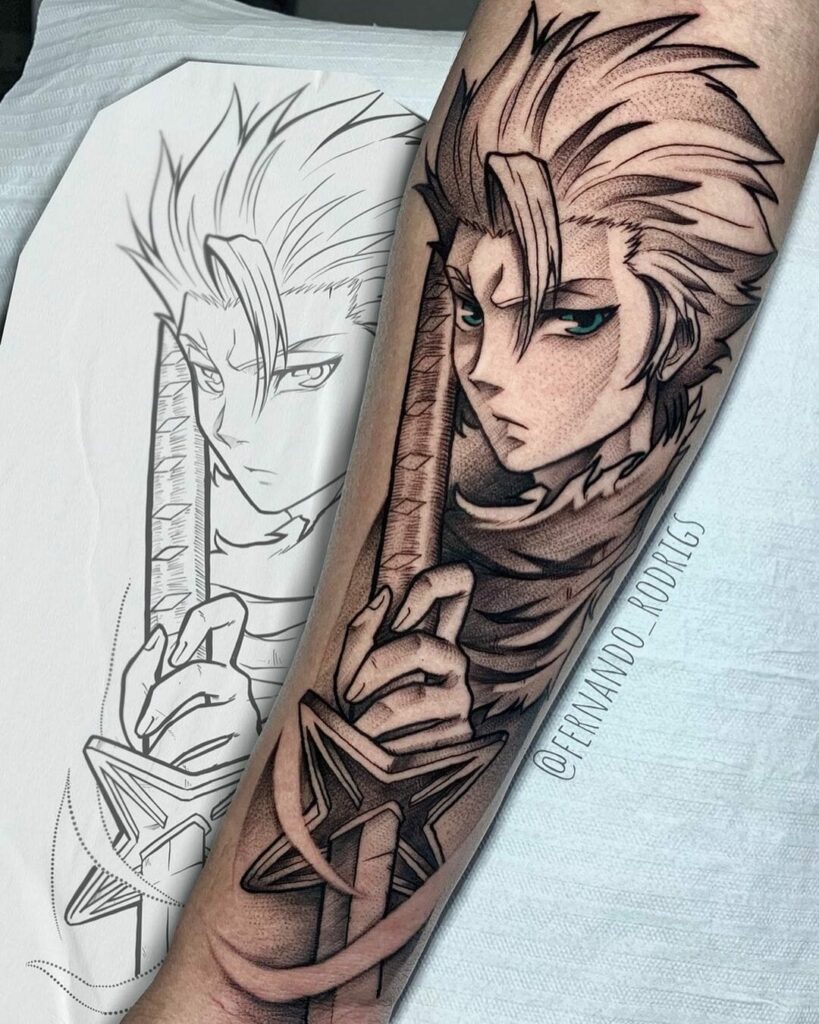 Toushirou Hitsugaya is another beloved character whose tattoos are rapidly gaining popularity. A blackwork design showcases Toushirou's iconic features, with intricate shading on his hair, attire, and sword. The focal point is his striking blue eyes, a captivating sight sure to catch the eye of fellow Bleach aficionados.
Colourful Nel Design Tattoo
If you favor a splash of color, consider a Nel design. The tattoo bursts with hues, from the skull-shaped hollow mask's purple to her blue hair and the red mark beneath her eyes, culminating in a stunning Bleach-inspired piece.
Ichigo's Zanpakuto And Hollow Mask Tattoo
A minimalist beauty to behold is Ichigo's Zanpakuto and Hollow mask tattoo. The sword, hollow mask, and eye details, rendered in contrasting black, yellow, and red, make for a spectacular design.
Grimmjow Bleach Anime Design
Finally, we have the Grimmjow tattoo, a homage to one of the series' most formidable characters. This intricate blackwork design showcases a fine-lined Grimmjow with a beautifully shaded silhouette of his Adjuchas form in the background. It's a design that commands attention, just like the character it represents.
Conclusion
In the world of permanent ink, each tattoo is as unique as the individual who wears it, and the realm of Bleach-inspired body artistry is no exception. From the powerful Shunsui Kyoraku to the charming Toushirou Hitsugaya, each design tells its own narrative, allowing fans to wear their love for the series on their sleeves – quite literally.
When contemplating where to position your tattoo, consider its design, size, and your personal comfort. Visibility, pain tolerance (yes, it's a factor), and professional considerations are all part of this equation. Delicate designs might suit smaller, discreet locations, while grandiose pieces might demand more expansive canvases, such as the back or chest. Always remember, your tattoo artist is your guide in this journey – lean on their expertise and advice.
As for cost, that's dependent on the size, intricacy of design, and your chosen artist's rates. A smaller, minimalist design might set you back a few hundred dollars, while larger, color-dense tattoos might inch towards the thousand-dollar mark. It's essential to remember that tattoos are an investment – in money, yes, but also in time, care, and a dash of courage.
While the power of tattoos lies in their permanency, it's this very trait that necessitates careful consideration. Risk factors include allergic reactions, infections, and potential scarring. Always ensure you're working with a reputable tattoo artist, who prioritizes hygiene and safety above all else.
The realm of Bleach tattoos offers a myriad of designs, each more captivating than the last. So take your time, choose wisely, and remember – each tattoo is a testament to your love for this iconic series, a personal emblem of the animated stories that have captivated the world. Let your chosen design resonate with your personal narrative, etching a part of the Bleach legacy into your own.
Feature image from Pinterest
Last reviewed and updated on May 24, 2023