For those who adore the delicate and subtly charming, we've got a treat for you! Welcome to our curated list of the top 10 dainty tattoo designs, brimming with elegant simplicity to inspire your next ink adventure.
Dainty tattoos are all about celebrating the beauty of simplicity. These designs often feature minimalist elements, focusing on a single, striking detail that carries a world of meaning. And the best part? They can be inked just about anywhere, from the graceful curve of your shoulder blade to the hidden canvas behind your ear.
The everyday can be transformed into extraordinary through the lens of dainty tattoo artistry. Think of a whimsical compass, a powerful dragon reduced to its most essential lines, or a straight-arrow symbol of determination. These tiny masterpieces, with their understated charm, are sure to attract admiration from all corners.
And who says dainty tattoos have to be black? Splash some color into your design with a single-toned flower, or a pastel-hued butterfly. The choice of ink color can elevate your tattoo's impact, and it often depends on the tattoo's placement and, of course, your personal preference.
Looking for some celebrity inspiration? Mandy Moore and Hailey Baldwin are just a couple of the famous faces who've embraced the allure of small designs. Many of our favorite dainty tattoo ideas are inspired by these trendsetters, as well as the boundless beauty of nature. So, without further ado, let's dive into the top 10 dainty tattoo ideas that are sure to sweep you off your feet.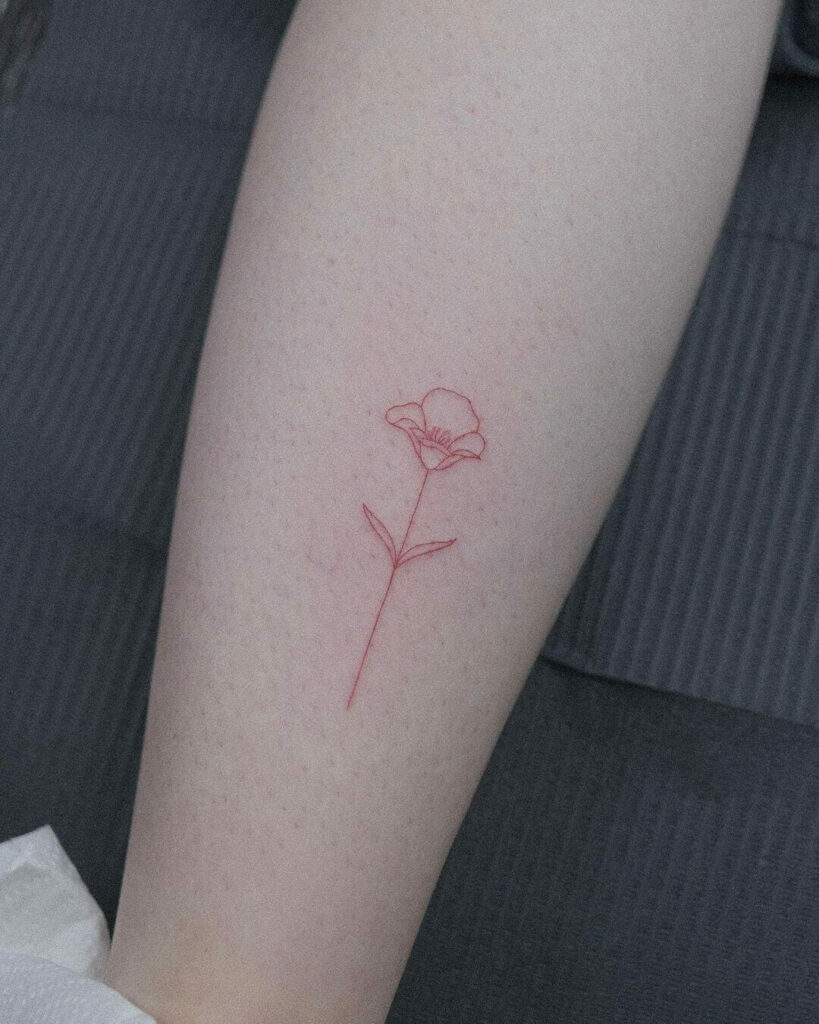 Black Rose Dainty Finger Tattoos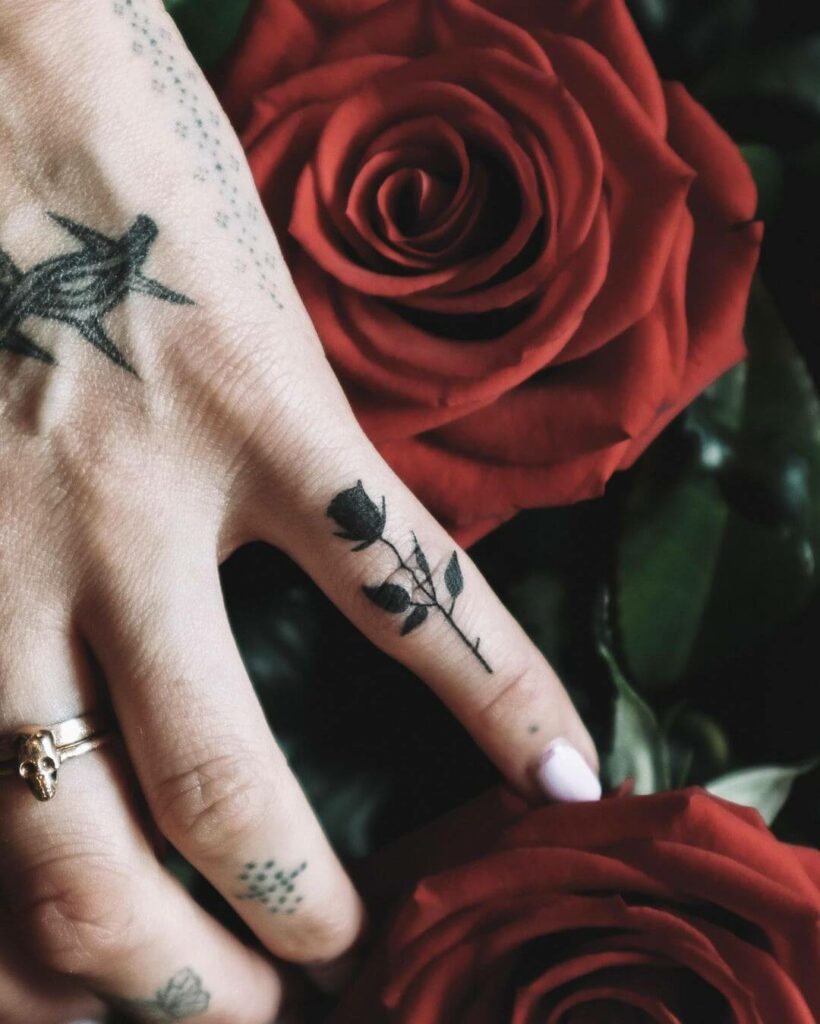 A rose tattoo can be a beautiful and meaningful addition to your collection. This particular rose tattoo is made with black ink, showcasing its intricate petals, stem, leaves, and thorns. The best part about this tattoo is that it can be paired with different designs on each finger, creating a powerful message or a unique look. These small works of art are perfect for those who want to add a cool and dainty touch to their tattoo collection. Finger tattoos are gaining popularity due to their small size and unique placement. When it comes to finger tattoos, it's important to consider the size, shape, and height of each finger before deciding on a design. For example, sleek fingers look best with smaller tattoos to maintain their natural beauty. Whether it's a butterfly tattoo wrapped around the finger or a few tiny designs scattered across the hand, finger tattoos can be a great way to express your personality and style.
Sunflower Tattoo On Ankle
This sunflower tattoo is the perfect way to express your love for nature and its beauty. The natural colours used to create the flower give it a very realistic and organic feel, while the two orange butterflies symbolize hope and transformation. Ankle tattoos are a great way to convey a message or commemorate a new beginning. This sunflower tattoo has a unique watercolour effect and is made without any outlines, giving it a natural and artistic look.
If you're not a fan of sunflowers, you can also opt for a daisy or peony tattoo with butterflies. Ankle tattoos are becoming more and more popular and can be worn as anklets. Many people prefer to get tattoos on one ankle only, but you can also get matching tattoos on both ankles. The possibilities are endless, so choose a design that reflects your personality and style.
Small Tattoos With A Message
Simple yet meaningful tattoos can be a great way to anchor oneself to important values and motivations in life. These small black ink designs often take the form of words or quotes in a specific font and style. They can be a reminder of a favorite book, a loved one's words, or even a personal mantra. Although they may seem simple, these tattoos can hold a lot of significance for the individual wearing them. Typically, the letters and words are made in a symmetrical design and in black ink for easy readability. The placement of these tattoos can vary depending on personal preference, with the upper arm being a popular choice.
Dainty Tattoo With Scenic Wreath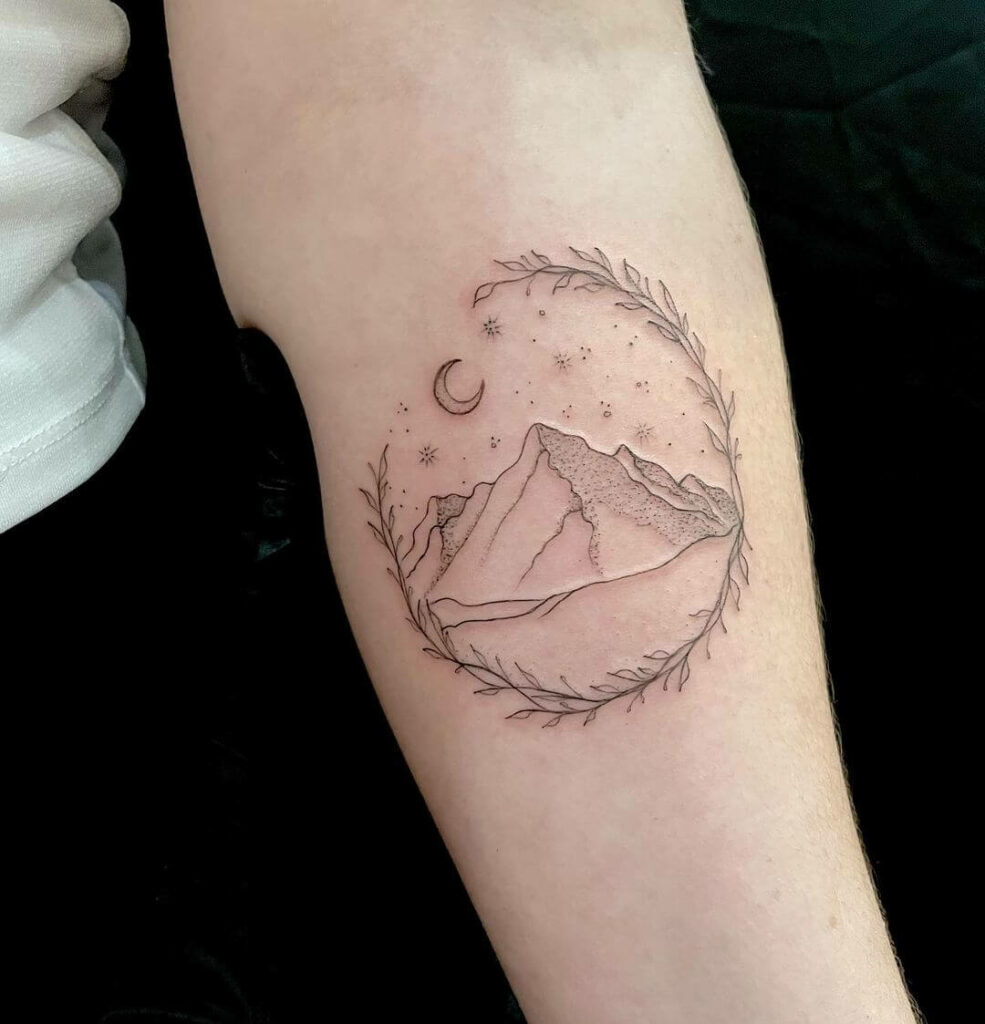 The night sky has always been a source of inspiration for tattoo designs, and this mountain tattoo is no exception. The tattoo artist has created a beautiful scene that captures the tranquility and beauty of the mountains at night. The mountains are encased within a wreath, with stars shining brightly in the sky, creating an aura of good fortune. The black ink shading on the sides of the mountains gives it depth and contrast, while the use of white ink for snow, the moon, and stars adds a touch of magic to the tattoo. To make the whole scene look even more realistic, the artist has added a perfect number of stars, and carefully crafted the moon to give it the perfect shape and size. This is truly a stunning tattoo design for nature lovers and those who seek to capture the magic of the night sky in their body art.
Dainty Tattoo Of A Flower Bouquet
If you're looking for a delicate and charming tattoo, then you'll love this one. It features a beautiful bouquet of different flowers and a bumblebee flitting around it. The artist has used a variety of colors, including white ink to highlight the Sego Lily, Larkspur, and Priarie-fire. Combining bees with colorful flowers is a popular trend, and this design is perfect for turning it into the best tattoo.
The placement of this tattoo is also essential. The back of your neck or the broad area between your shoulders are great options. The colorful bunch of flowers will make your skin brighter, and the tiny insects will add to the beauty of the scene, making it look more natural and enchanting. So, if you're a fan of delicate and charming tattoos, this one is perfect for you!
Dainty Tattoo Of A Hummingbird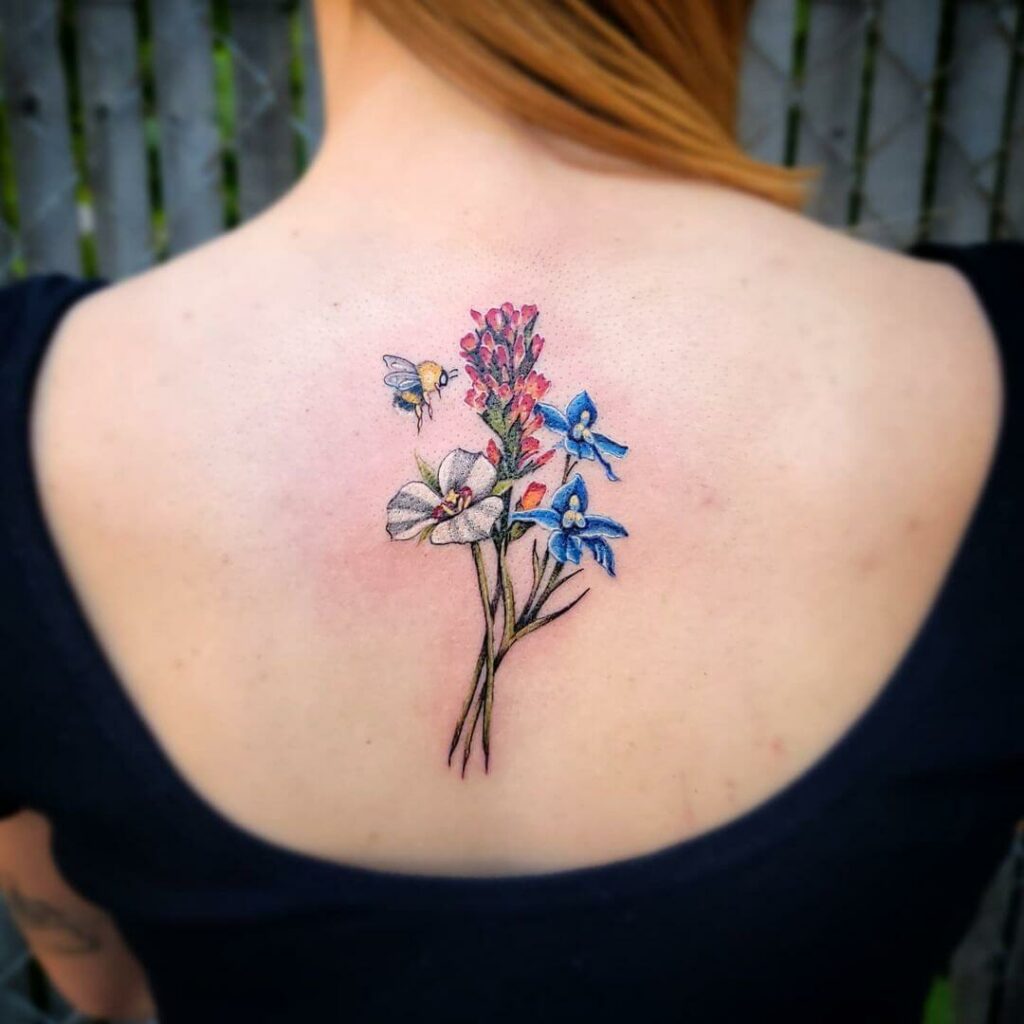 Hummingbirds are known for their beauty, grace, and agility, making them a popular choice for tattoos. This particular tattoo features a stunning hummingbird design on the upper arm, often seen in Native American culture. These minimalist tattoos represent the beauty of life, and can also be part of matching tattoos with a loved one. The bird in this design is depicted mid-flight, with detailed feathers and piercing eyes. For some, this tattoo may symbolize a new beginning or an upcoming opportunity, while others may simply appreciate the bird's beauty and choose it as a tattoo design for that reason alone.
Dainty Tattoo Of Cancer Crab And Moon
This stunning tattoo showcases a crab in the center with celestial objects surrounding it, making it the perfect representation of the Cancer Zodiac sign. The intricate design shows the crab's arms and claws outstretched, with a crescent moon nestled between them. The crab's head features two moons and several stars. The minimalist wreath surrounding the crab and moon is a perfect complement to the overall design.
The tattoo artist uses expert shading techniques to create depth and detail, making the crab look as though it is protecting the moon. Rays of light emanate from the moon to showcase its beauty. The leaf wreath surrounding the design adds a natural element to the tattoo. This inner arm tattoo is easily hidden with a t-shirt sleeve, making it a great option for those who want a more discreet tattoo.
This tattoo is perfect for those who share the Cancer sun sign and want to showcase their astrological symbol. Additionally, matching tattoos can be a great way to bond with close friends or family who share the same sun sign.
Dainty Collar Bone Tattoo With Flowers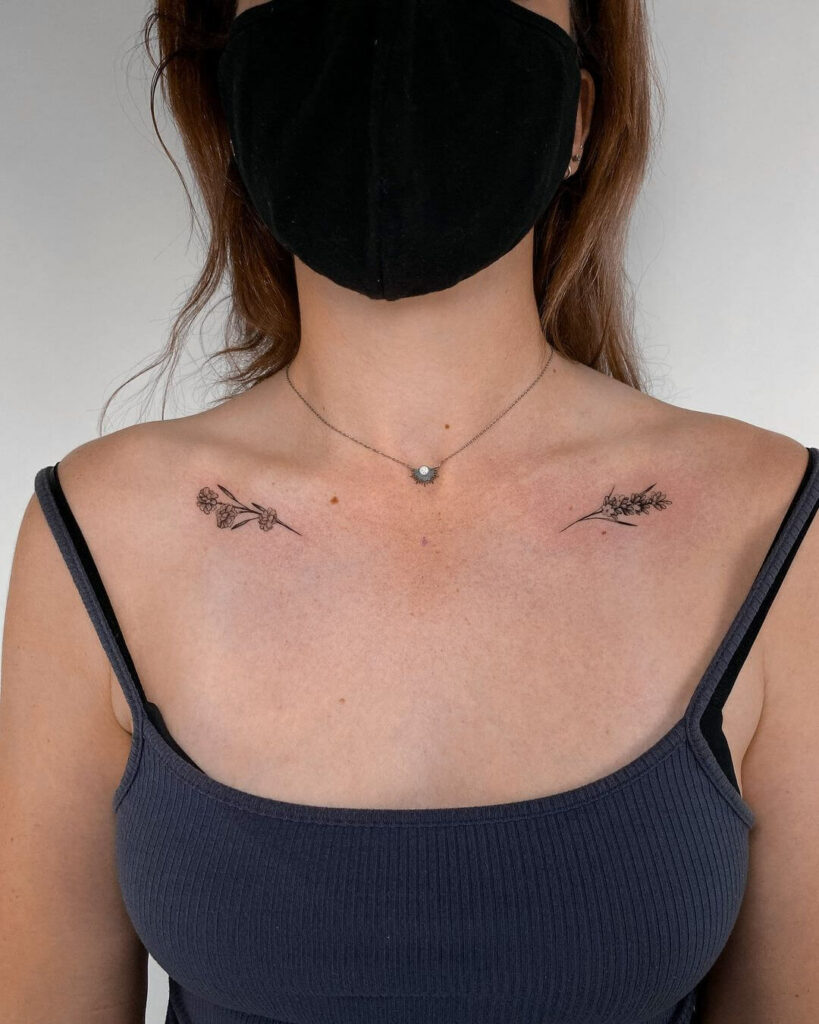 Collarbone tattoos are a popular choice for people who want a minimalistic design. These small tattoos, placed near the collarbone, can be anything from neat strings of flowers or leaves. This unique placement of the cute designs for dainty flower tattoos highlights the collarbone, making it stand out more than make-up ever could. In this tattoo design, two different flower bouquets are placed on each collar bone, making it a great option for best friends who want to symbolize their friendship. The length of the design can signify the years of friendship, and from certain angles, it can even look like wings.
Dainty Tattoo Of Magical Love Potion
Looking for a minimalist and magical tattoo? Check out this beautiful design! This tattoo features a heart-shaped glass bottle labeled "Love Potion," inked in black and grey with a slight shine that gives it a magical feel. You can personalize this tattoo by naming the potion and adding flowers or other elements to the design. The absence of color allows for imagination, and you can write the name of the potion according to your preference. This tattoo idea is creative and can be made into a beautiful and unique design with the help of your artist.
Poppy Flower Dainty Tattoo On Wrist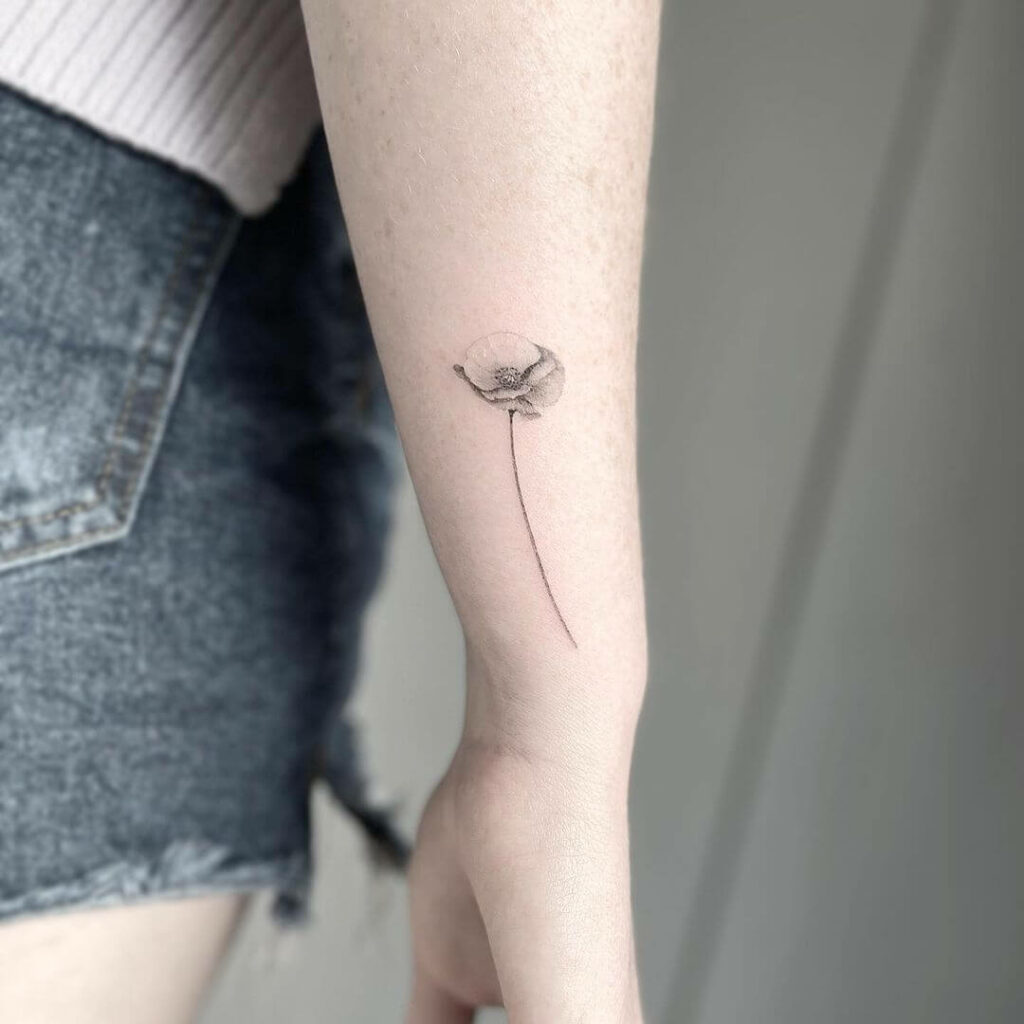 The inner wrist is a popular spot for a minimalistic yet stunning tattoo design. One of the most classic designs is a delicate flower with a slender stem. The center of the flower is intricately detailed to draw attention to its pollen. These dainty wrist tattoos are a simple and elegant way to add a touch of beauty to your skin. Each petal is perfectly visible, creating a wave of loveliness that almost looks like jewelry. Wrist tattoos have gained popularity worldwide and a dainty daisy tattoo is also a great option instead of a poppy.
Feature image from Pinterest