Did you ever get fascinated by Pokemon in your childhood? Then, check out this list of amazing Mewtwo tattoo ideas and get inspiration for your next tattoo!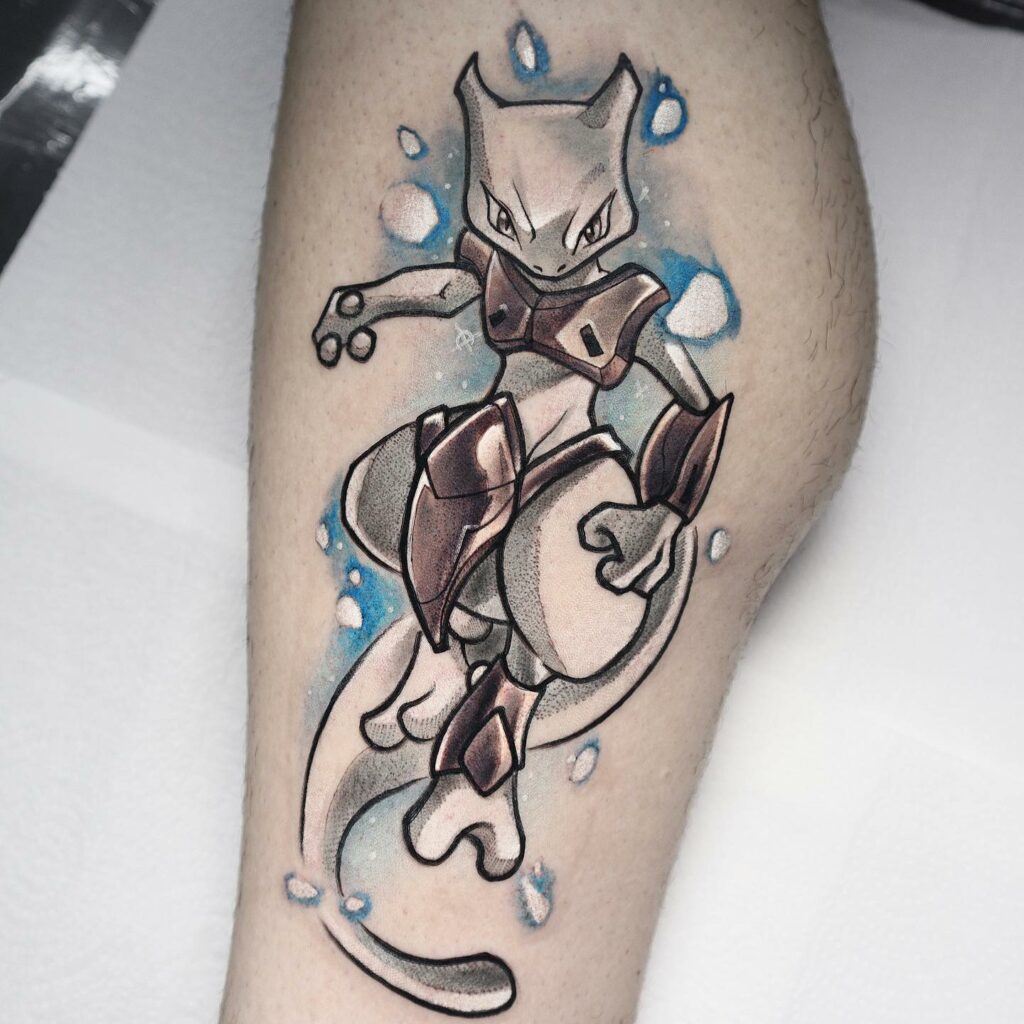 Mewtwo is a fictional creature which has been created by the famous Japanese illustrator, game director, and manga artist Ken Sugimori.
Mewtwo is one of the series' most powerful Pokemon creatures, and it has been first introduced in the Pokemon Red and Blue video games. This legendary Pokemon has been created by genetic manipulation.
Mewtwo is considered to be the strongest Pokemon in existence. Mewtwo is the descendent of Mew, and as genetic engineering and other similar technologies were used to create Mewtwo, it ended up becoming a very strong psychic. Of all Pokemons, Mewtwo is the hardest to catch, and the owner must be very careful to handle it. Mewtwo has the power to regenerate, which saves it from fatal injuries. The two Mega evolved forms of Mewtwo are Mega Mewtwo X and Mega Mewtwo Y. Mewtwo is also very popular in the game world. You can play Pokemon Go on IOS and Android devices.
However, Pokemon tattoos are not easy to make. Dan Mcwilliams is the master artist of Pokemon tattoos. You can check his Instagram account and have a glance at his creativity. He uses high-quality inks, tools, and other necessary things to make amazing Pokemon tattoos. Now, without much delay, just go through this article and choose the best Mewtwo tattoo that suits your personality best. You can get inked with your favorite Mewtwo tattoo and share it with people on social media!
Mew And Mewtwo Tattoo Design
Pokemon Mew tattoo is one of the most sought-after tattoo subjects, which both men and women love to get inked with. It is known to all Pokemon fans that Mewtwo is the clone of Mew. But a diary, which was found on Cinnabar Island, seems to suggest that Mew and Mewtwo have some biological connections too.
The diary entry says, "Mew two gave birth". However, the first-ever Pokemon movie shows that Mewtwo's incarnation was a result of some kind of scientific experiment with Mew's genetic components. In terms of body structure, Mew is smaller than Mewtwo, but that doesn't make it less powerful. Mew even has the DNA of every Pokemon inside, enabling it to get metamorphosed into any living creature it desires. In the first movie, Mew was seen to be enjoying the battle with Mewtwo.
In this tattoo, the tattoo artist has done an excellent job minutely inking the two different body structures of Mew and Mewtwo. Both figures have been inked using black ink. The figures are drawn in fine lines, and there are splashes of purple and pink color in different parts of their body. You can flaunt this tattoo on your thigh or sleeves.
Black And White Mewtwo Tattoo Design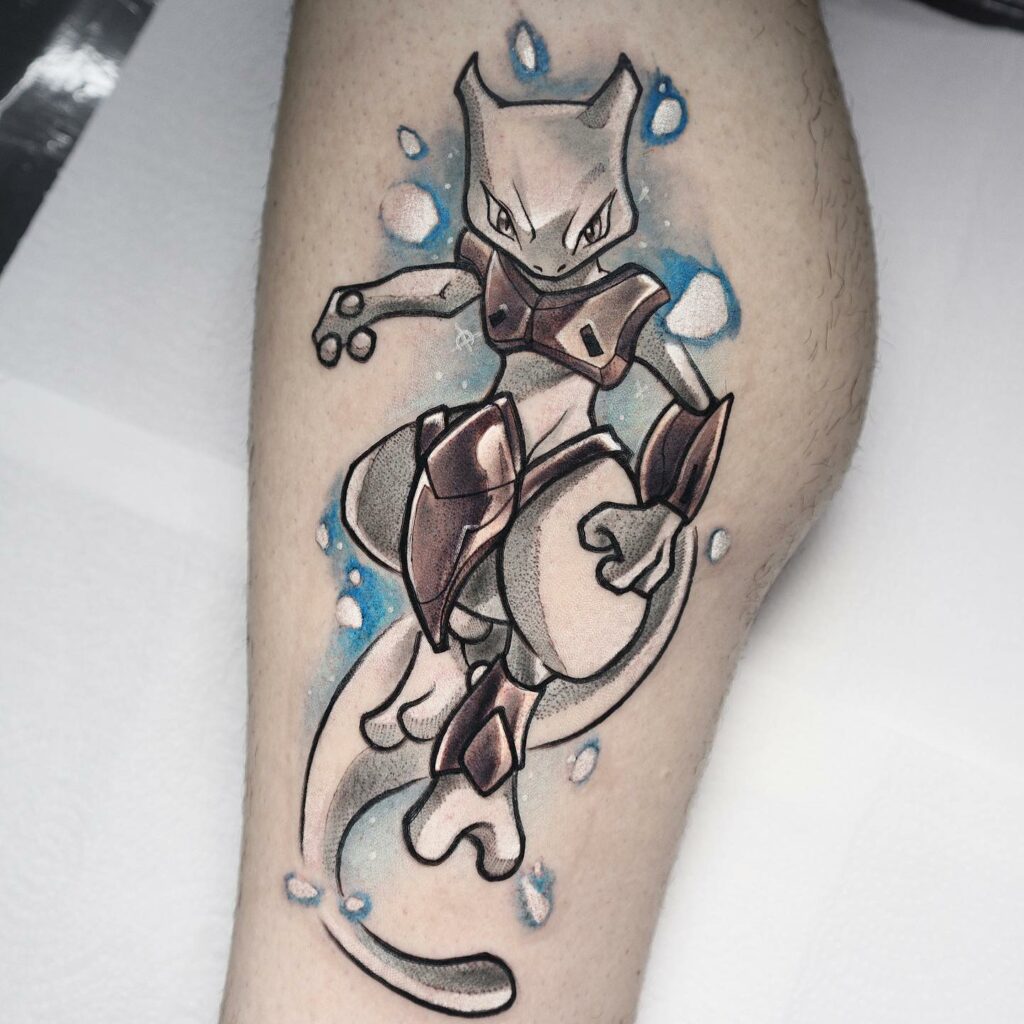 If you have scars in certain places of your body and badly want to cover them up with a cool tattoo, then this wonderful Mewtwo tattoo would be the perfect coverup for you. In this beautiful body art, the tattooist has used dot shading or stippling technique to draw the realistic Mewtwo figure.
The dot shading method has blended with the scars of the wearer very well. The tattoo looks almost like a pencil sketch. The Mewtwo figure is producing a shadow ball with his right hand, and the other hand is half clutched. Mewtwo has been depicted in its signature pose in this black and white tattoo. This tattoo can cover light scars in any area of your body. You can also wear this tattoo even if you do not have scars. In that case, you can get inked with this Mewtwo tattoo on your chest or forearm.
Watercolor Mewtwo Tattoo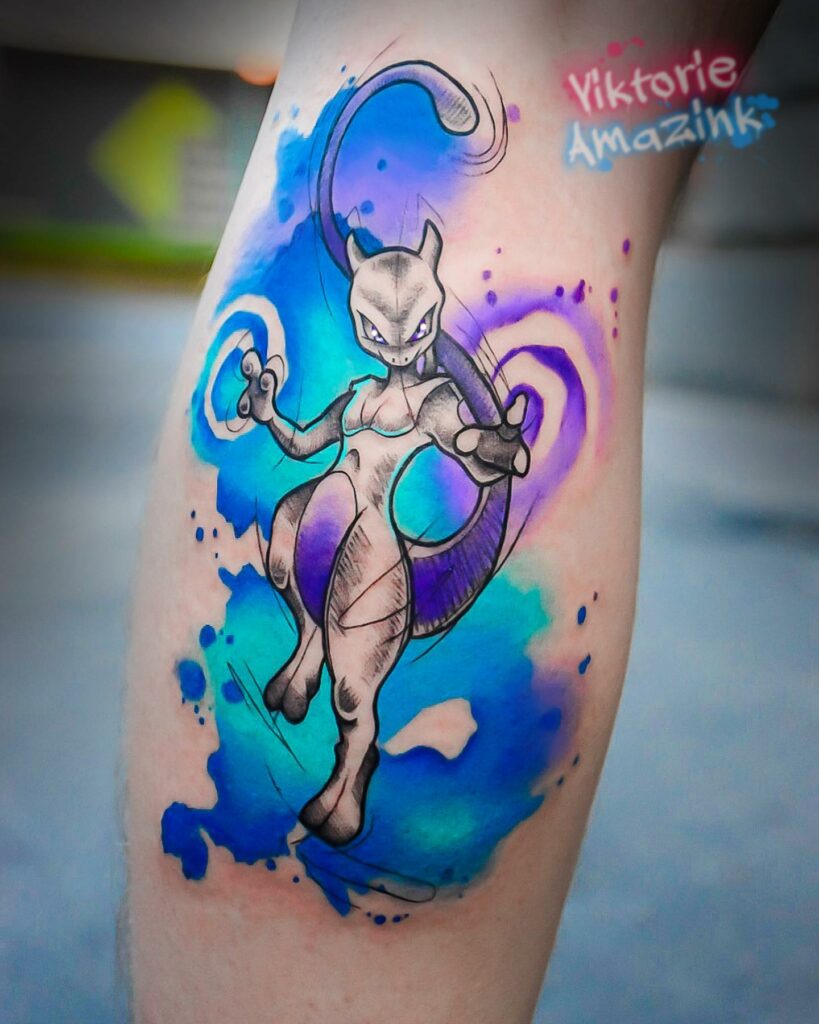 Watercolor tattoos are not easy to make. It takes a tattoo artist a lot of practice and time to improve his/her watercolor skills. In this masterpiece, the tattooist has chosen very vibrant turquoise, blue and purple ink for the watercolor shading around the fine-lined figure of Mewtwo.
Mewtwo is about to perform his psychic feat. Mewtwo's body has been done using pendulum shading. Its eyes have been inked using purple ink. There are two tiny white dots in each of the eyes that have made the eyes look realistic. This tattoo will fit best on your arm, leg, or back. You can ask your artist to do some stippling work, making the tattoo look more classy.
Mewtwo Game Tattoo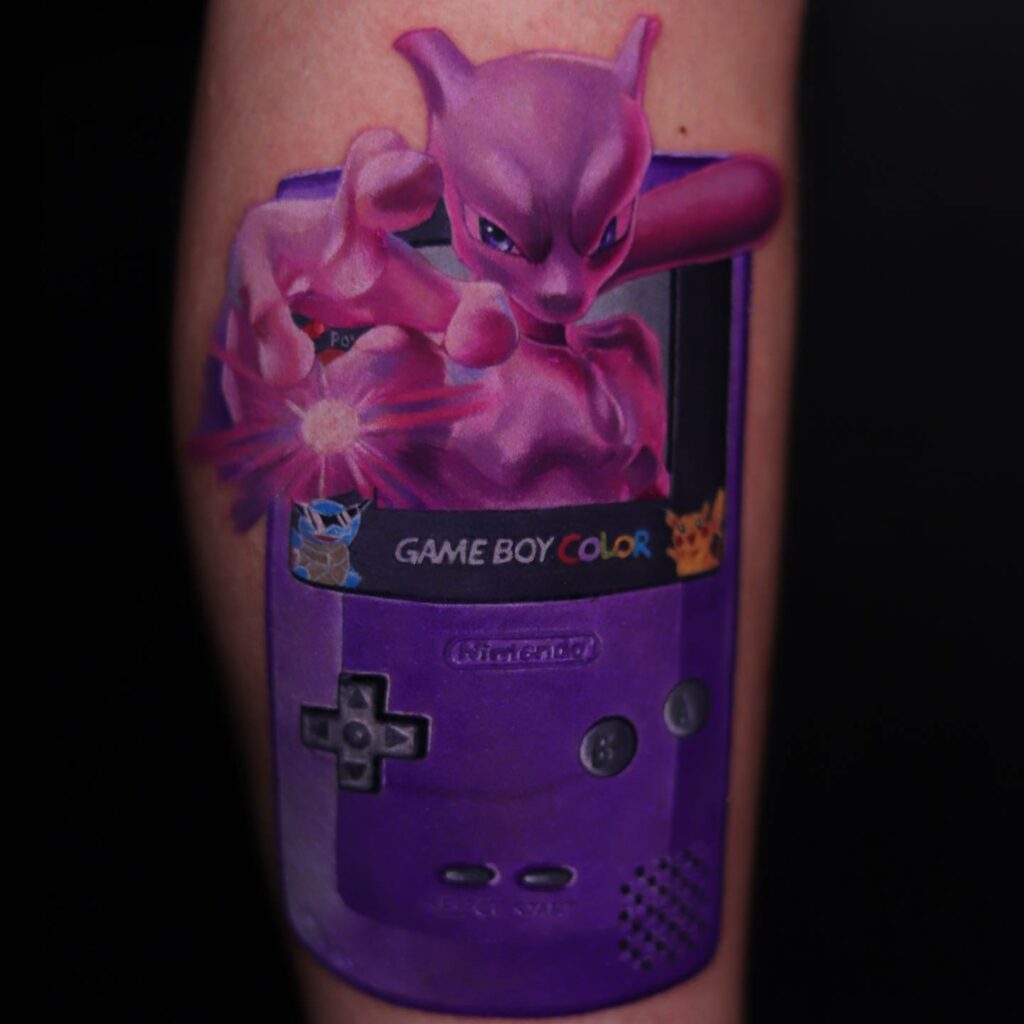 As mentioned earlier, Dan Mcwilliams is one of the best Pokemon tattoo artists in the world. He loves his job, and it reflects on every single piece he inks. This particular Mewtwo tattoo is probably his best performance.
In this mind-blowing tattoo, a pink-colored Mewtwo could be seen emerging out of a video game. Every bit of the tattoo has been drawn with utmost care. The video game image looks realistic, and Mewtwo appears as though it is popping out of the skin. This tattoo will fit in any exposed area of your skin. You can have a medium-sized tattoo of this on your forearm or get inked with a big tattoo of this design on your back.
Mewtwo And Pikachu Tattoo
This amazing Mewtwo tattoo features Mewtwo and Pokemon facing each other. Both of their faces look concentrated on their fight. Mewtwo has been inked in grey color, its eyes ablaze with red lightning.
Pikachu is also focused on the fight. Its red cheeks are releasing steaks of red lightning. This amazing tattoo of the duel between Mewtwo and Pikachu can mesmerize your onlookers the moment they notice it on your body.
Mewtwo And Jake The Dog Mashup Tattoo
If you are a big fan of Adventure Times as much as you are of Pokemon, this is the right tattoo. The content of this tattoo is very simple yet unique. In this mashup tattoo, the tattoo artist has worked well in depicting the appearance of Jake the dog on the structure of Mewtwo.
It must have needed very hard work to connect two completely different fictional characters. The minute work on the body of the tattoo is remarkable. The energetic expression on Jake's face matched well with the fighting gesture of Mewtwo's body. The body has been inked using bright yellow color, except for the abdomen area and the tail, both of which have been inked in purple color.
This mashup tattoo is bound to look stunning on your sleeve or back. You can ask your tattoo artist to change the color according to your preference.
Mewtwo And Ash Tattoo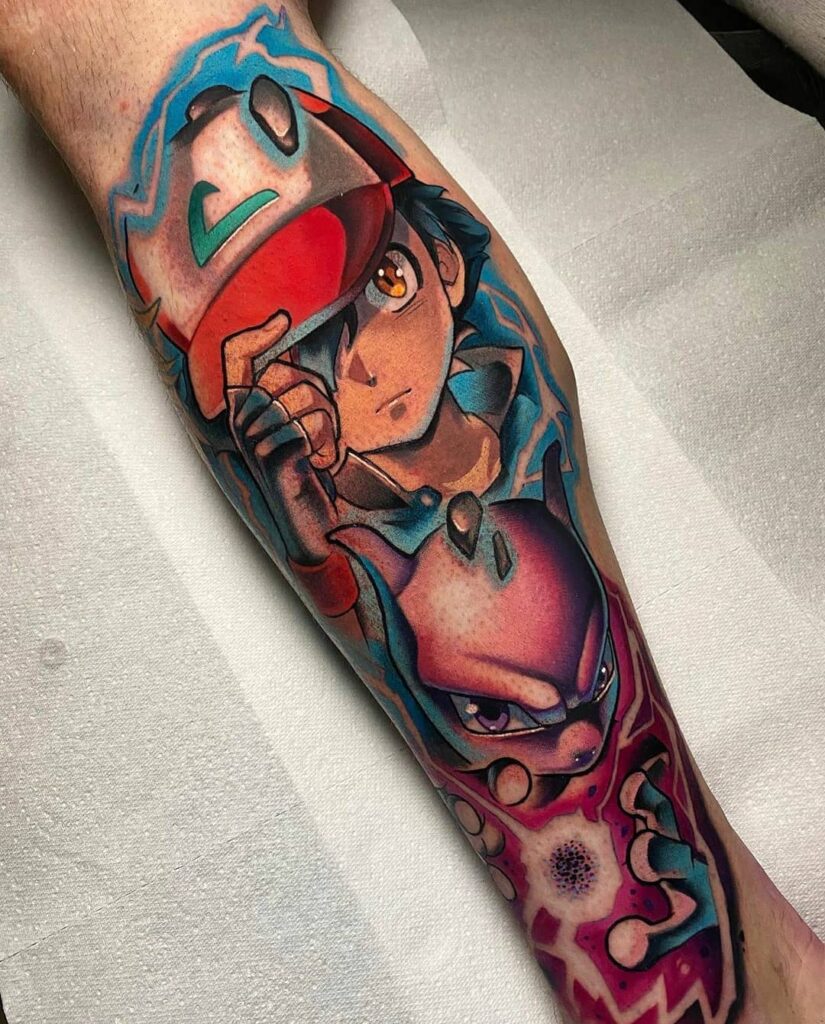 This colorful tattoo features Ash and Mewtwo together. If you are a Pokemon fan, then you'd know Mewtwo actually hated humans and was under the impression that humans were the cause of his misery, which, given Mewtwo's experience in the past, was partially correct. But after meeting Ash and petrifying him in a battle, Mewtwo started feeling compassionate towards him. Mewtwo was the fourteenth Pokemon Ash caught and trained.
Ash is placed above Mewtwo, who has created a shadow ball in this awesome tattoo. Ash is tilting his hat that has covered his right eye. The left eye is exposed and is shining bright. It looks very realistic due to the color combination of brown, orange, and red. Two white dots have done the magic to make it look gleaming. Mewtwo is inked using pink color. You can wear this tattoo on your forearm or calf.
Origin Of Mewtwo Tattoo
This tattoo narrates the story of Mewtwo's origin. For a very long time, Mewtwo was submerged inside a chemical-filled tube in a laboratory. Scientists had the idea that Mewtwo was unconscious inside the tube, but later it was discovered that Mewtwo was perfectly conscious and was able to communicate telepathically.
In this tattoo, Mewtwo is resting inside the tube with its eyes closed and hands crossed. A pink-colored Mew is outside the Tube, and it looks as though it is trying to make eye contact with its onlooker. This tattoo will look stunning on the sleeve.
Mewtwo With Other Pokemon Chest Tattoo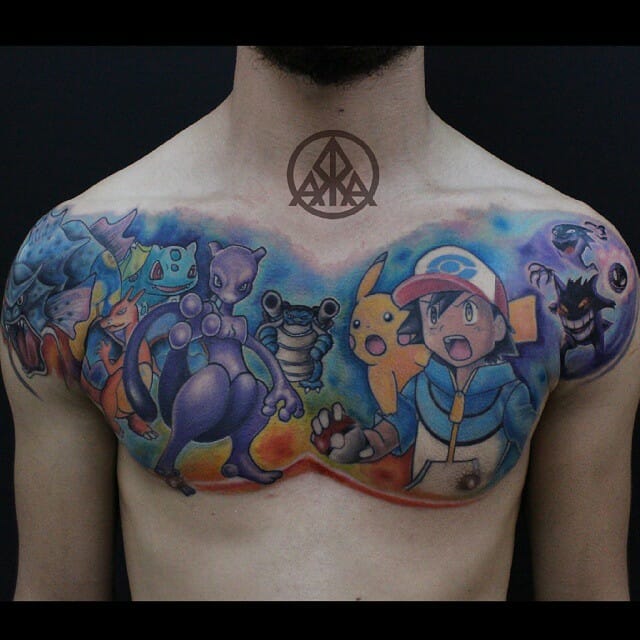 This massive chest tattoo has everything that a Pokemon fan desires. Each Pokemon, including Gyarados, Bulbasaur, Charizard, and Blastoise, are lined in an order.
The wearer's left chest is covered with an image of Pikachu and Ash, and the right chest has purple-colored Mewtwo stretching its left arm forwards. This massive colorful tattoo will not only look amazing on the chest, but it will also look stunning on the back as well, where the tattoo artist will get a larger canvas to work on.
Realistic Mewtwo Tattoo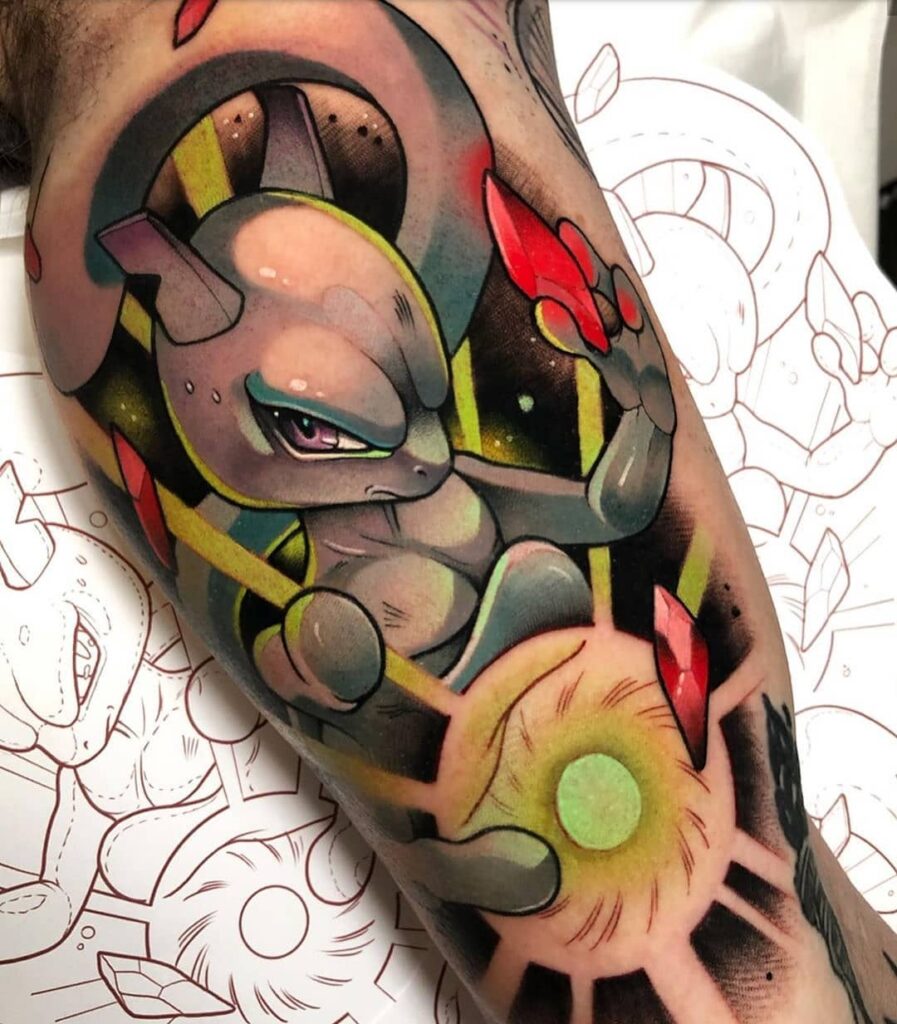 Did you know that Mewtwo can defeat any Pokemon with analytics? Analytic is an ability that enables any Pokemon to increase 30% more of their attacking power if they are hit by any damaging move by their opponent. Mewtwo creates a shadow ball with his left hand in this realistic tattoo. The other hand is clutching a red crystal. Its visible eye looks frightening.
This realistic Mewtwo tattoo will look gorgeous on your forearm or calf.
Very few tattoos have succeeded in capturing the exact body structures and expressions of any Pokemon. Therefore, if you get a gorgeous and perfect Mewtwo tattoo, you can help other people by writing a review of that tattoo studio and sharing your experience. Of course, you are free to delete your post whenever you like. So, without any further delay, just get a cool Mewtwo tattoo once you have finished reading!
feature image from Pinterest – Want your tattoo to look brighter? Try "Tattoo Balm"
Last reviewed and updated on March 10, 2023