If you are captivated by the concept of harmony and balance, the Mandala gem tattoo is an excellent option for your first tattoo.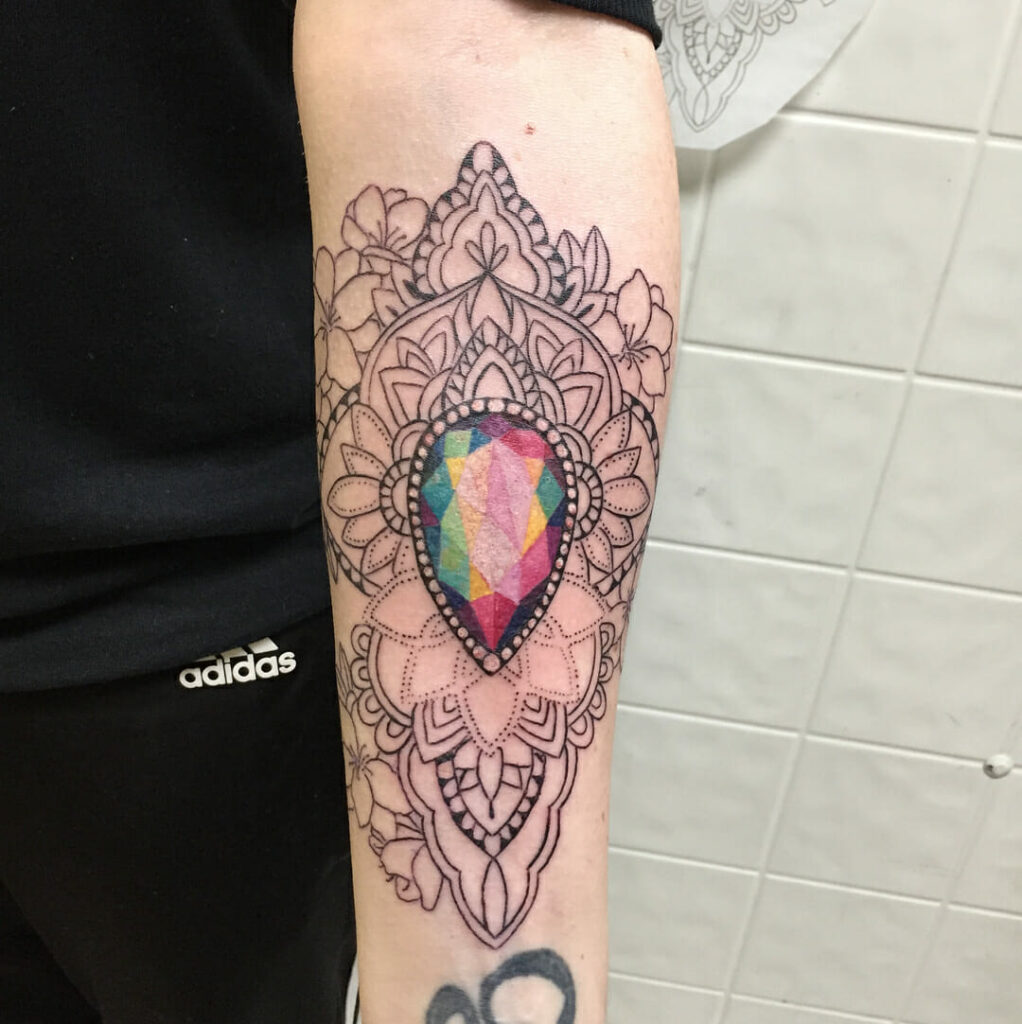 A mandala tattoo is one of the most exquisite and stunning piercings you will see.
Mandala, which means "circle," is a Sanskrit word that dates back thousands of years. The Mandala tattoos feature distinctive patterns made up of overlapping circles.
The mandala tattoo has several religious, artistic, and architectural meanings. For instance, many people choose to adopt it because of its strong associations with faiths like Christianity and Buddhism. If you are a Buddhist or simply like to incorporate faith into a tattoo, this is a wonderful symbol to use. These tattoos, among other things, suggest tranquility, positive energy, and meditation.
Although it has a feminine feeling, it might be the perfect choice for either a guy or a woman. If you want the tattoo to have a more pleasing appearance, colored ink might be applied. If you're thinking about having mandala tattoos, then you should read this article since it contains some of the greatest designs and explains their symbolic importance.
Thigh Mandala Gem Tattoo Design
While many people see mandala designs as mystical and meaningful, they have also inspired many people to experiment with other forms and imagery. You can ink mandala tattoos in various sizes. It all varies on your pain tolerance and preference. A thigh tattoo is ideal for those who wish for large intricate tattoos.
This is a great place since it rates low on the scale of tattoo pain, and the appropriate design may look amazing here. If you want to get a tattoo that involves a lot of coloring or complexity, the thick skin and muscle give some cushioning. A thigh tattoo may be quietly hidden or shown.
Back Gem Mandala Tattoo Design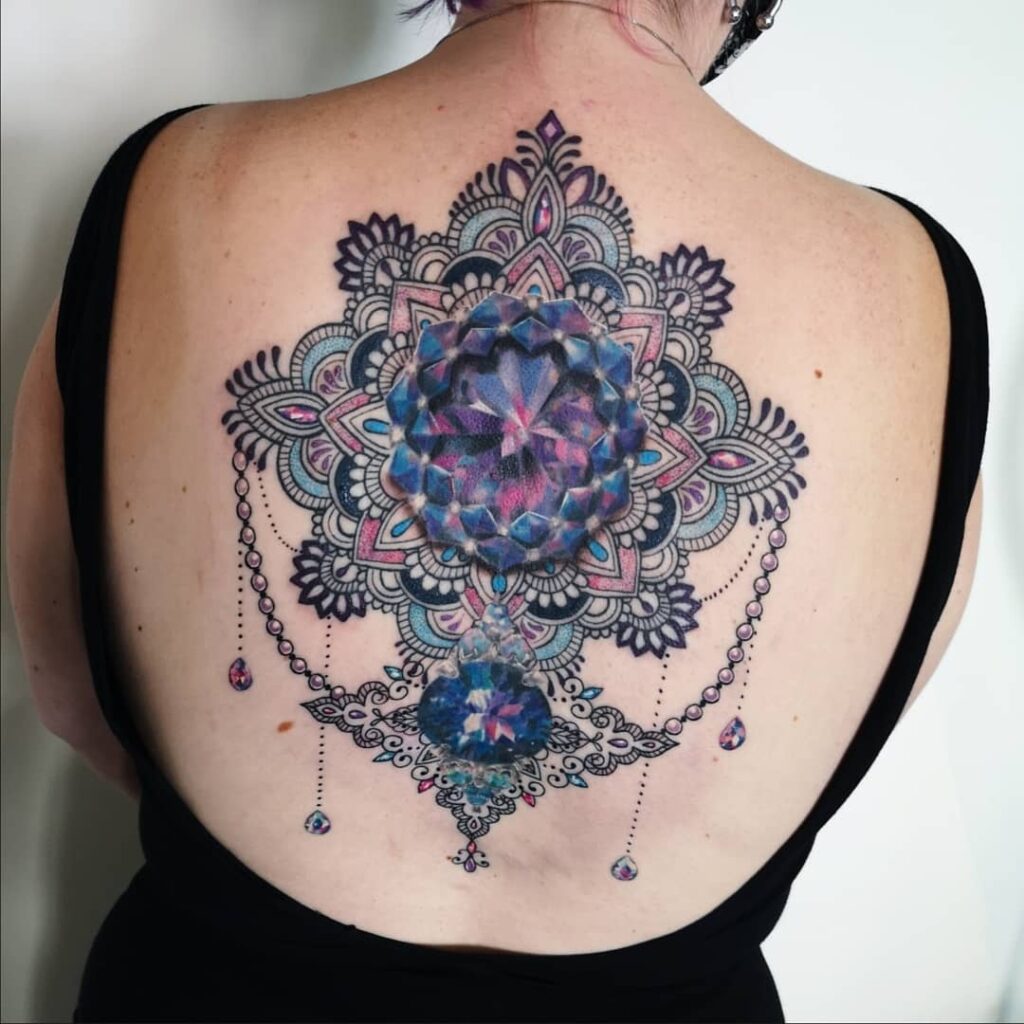 Back tattoos are a good choice for big and intricate designs. Alternately, choose a single, large piece that sits in the middle of your back. The back is among the most attractive locations for your ink, and numerous options are available. The cushioning provided by the muscle and fat makes it low on the pain scale; nevertheless, the close your tattoo is to the backbone, shoulders, and hip bone, the more pain you will feel.
Some people believe that this is unneeded because the significance of these mandala gem tattoos doesn't change even though you can't view them every day. It serves to have a work that inspires you to think about balance, harmony, and perfection and gives you a sense of unity with the cosmos.
Ornamental Gem Mandala Tattoo Design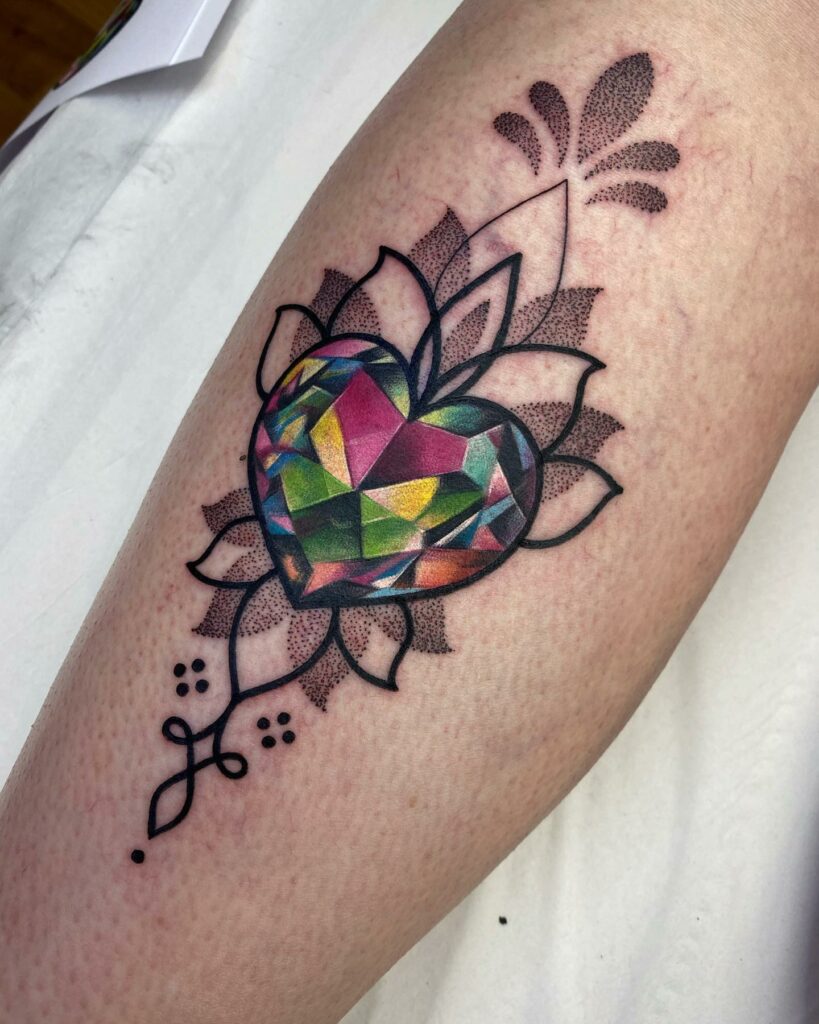 The ornamental tattoos are one of the best tattoos to be inked. An ornament frequently has a hidden purpose in addition to being a pleasant adornment. It is both readily hidden and can be flaunted. The wrist and ankle are flexible choices. You can experiment with other positions, such as on the sides or the inside of the shoulders, chests, wrists, ankles, etc.
The body is adorned with tattoos in an ornamental manner that resembles art pieces. Gem Mandala tattoos are sometimes used for ornamental purposes, but they should also be a very significant tattoo option. Even though the piece has many positive aspects, one drawback is discomfort. The design tends to sting due to the thin layer of skin and lack of both muscle and fat.
Spine Gem Mandala Tattoo Design
A spine tattoo seems a great option if you're prepared to endure the discomfort. Given the closeness to bones and nerves, it should come as no surprise that inking in this area is excruciatingly painful. The black ink mandala tattoo is bold and gorgeous when visible. Being less frequently visited makes it a more private space as well. This enhances its specialness for certain people.
A succession of mandalas along the spine or a single enormous one with additional details both look good as spine tattoos since they are long and thin. It's vital to keep in mind that body art might cause complications if you have back issues and may need spinal surgery or an epidural for labor and birth.
Floral Arm Sleeve Gem Mandala Tattoo Design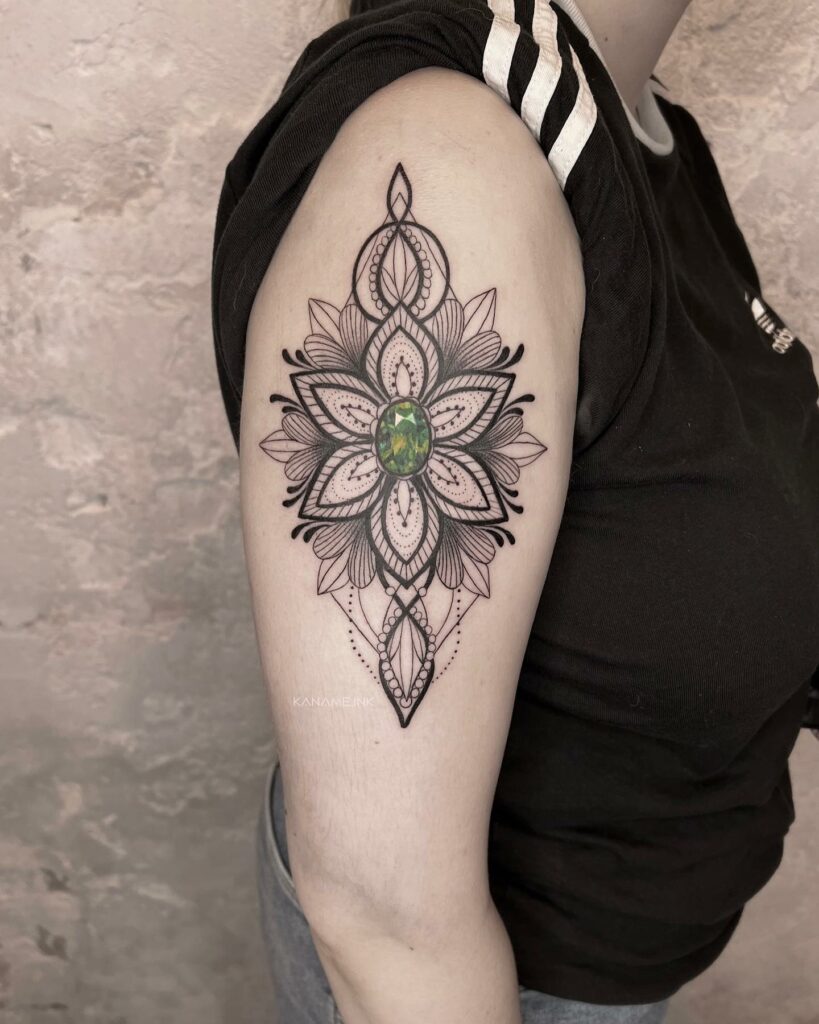 If you want a detailed tattoo design, an arm sleeve is ideal. It is also a cheaper and less painful option than a full sleeve. These items frequently function best when they adhere to a certain theme, like floral or oceanic life. For mandalas, this may be a collection of various themes or floral designs that are soothing to look at and give you a sense of peace and tranquility.
The arm gives you the ideal space for large or little patterns and is especially effective with long and thin ones. It is a somewhat painless bodily component that can be clearly shown but is also concealed by garments. This is brought on by the particular both fat and muscle. For a better visibility, apply it to the bicep. Alternatively, choose the inner arm for subtle and private patterns.
Lotus Flower Gem Mandala Tattoo Design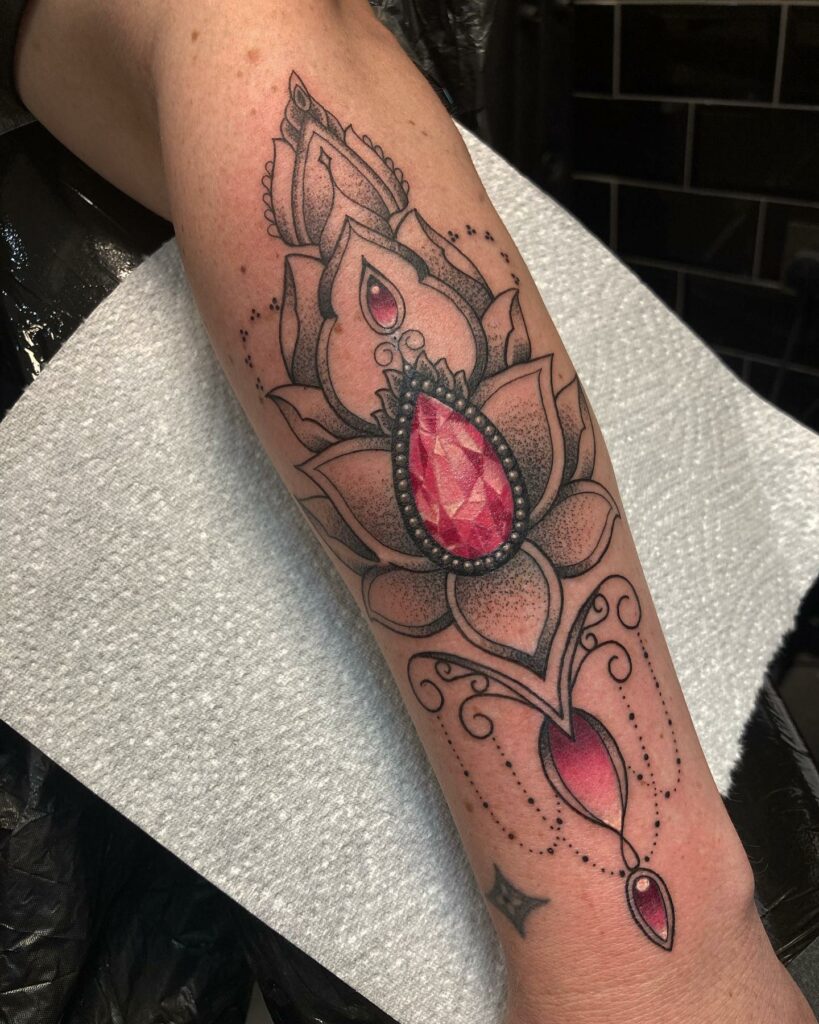 In a mandala form, a lotus flower tattoo is even more stunning. It stands for development, enlightenment, and beauty. A beautiful and very symbolic sculpture originates from the combination of mandala designs and its associations with balancing, harmony, immortality, and completeness. The lotus is a symbol of resiliency and strength that is frequently utilized.
Your piece's positioning will depend on how large and intricate you would like it to be. The back is a great site for people who desire huge body art, but the wrist or arm is great for smaller tattoos.
Rose Flower Gem Mandala Forearm Tattoo Design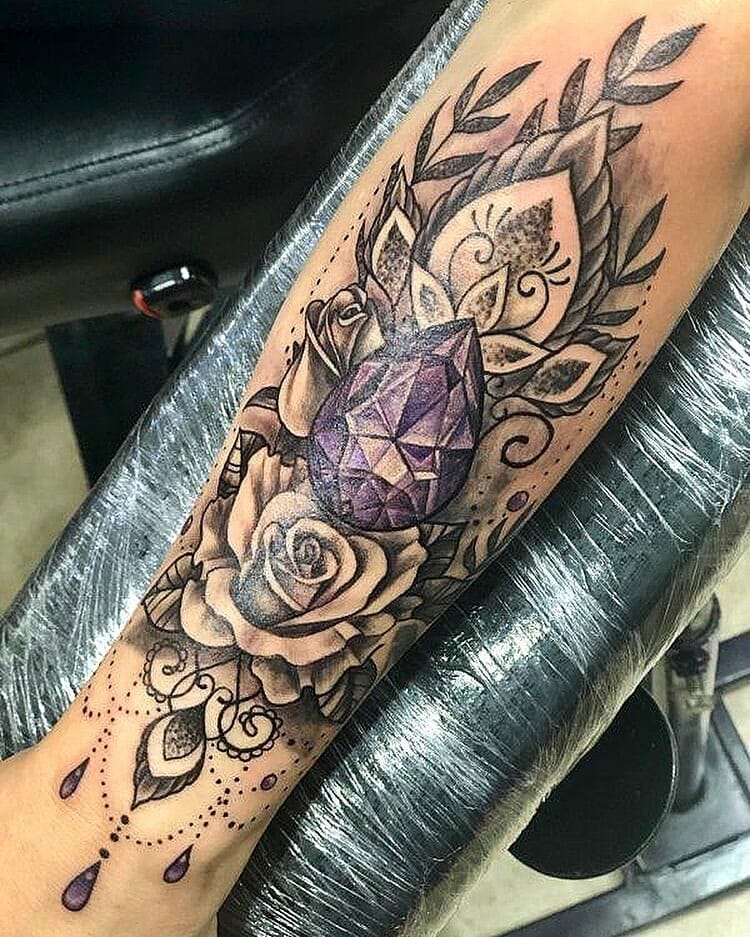 You may choose who sees your tattoos and when because the forearm is a versatile area for it. This is excellent for someone working in a business setting who also wants artwork they can see every day to remind themselves of its significance. The mandala gemstone is an extremely alluring choice for tattoos since it is both beautiful and significant.
There are various possibilities, each with a somewhat different definition, such as artwork with animal influence or a flower design. The minimal discomfort of forearm tattoos is another benefit. The area's muscles and fat are to blame for this. Here, equally fine detail and tiny inking look fantastic. You may also attempt the watercolor tattoo technique for a more eye-catching result.
Black And Grey Mandala Gem Hand Tattoo Design
Many cultures place a lot of significance on the mandala tattoo as a spiritual symbol. It frequently evokes images of harmony and perfection. This pattern may be interpreted in a variety of ways, adding to the wearer's individuality. Depending on your preferences and the tattoo you choose, there are numerous other places to get inked, but the hand is unquestionably among the most obvious.
Due to their prominent positioning, hand tattoos are daring and make an impression. This is not the option for people who appreciate piercings that can be kept under wraps. There is no need to go further for individuals seeking something trendy and trendy. Due to the thin skin and dense concentration of nerves, inks will pain here.
Gem Mandala Leg Tattoo Design
If you want a detailed design to create a striking sense of style, this inked mandala design is the ideal option for you. Due to its size and ability to accommodate detail, the leg makes for a great and adaptable location for body art. You might also have simple, compact art. The leg can be readily hidden or shown depending on the occasion and your attire.
The fact that it scores lower on the pain intensity due to the thick skin, muscle, and fat makes it an excellent location for a person who doesn't want to experience intense agony. Mandala leg tattoos are acceptable for all sexes to sport, and there are several design possibilities. Although lengthy, narrower patterns look well here, you may instead choose a simple mandala in the center of your calf to create a more elegant look.
Mandala Gem Chest Tattoo Design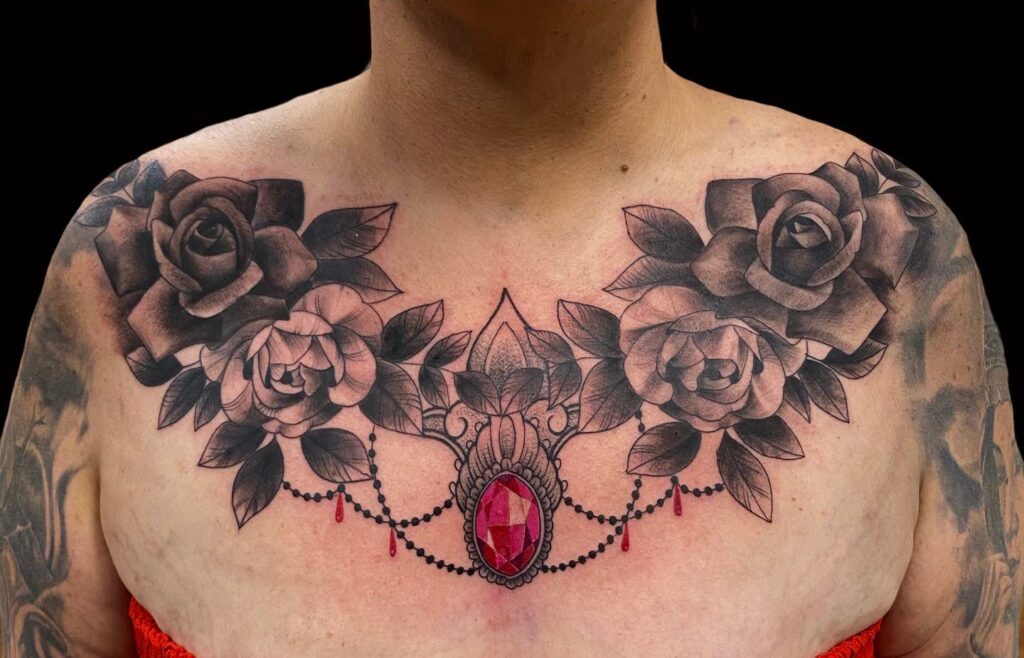 Being so near to your heart, chest tattoos are excellent for tattoos that are significant to you. A great option for the chest, which will fulfill much more than ornamental purposes, is to get tattooed with a gemstone mandala tattoo or a pattern inspired by one. Although the mandala is imaginative and detailed, it also inspires thoughts of beauty and introspection. It could be a worthwhile choice.
Tattooing the chest might be unpleasant, but for some, it's a way to express their admiration for mandala patterns. The position is desirable for more cautious people since it frequently has so little excess fat and muscle and is close to the bone, but you may hide or reveal it whenever you choose.
Although the symbolism of mandalas frequently appears random, it is typically well considered, with particular symbols standing in for particular emotions and components. This is a great sign to use if you practice Buddhism or simply wish to honor the religion.
This tattoo represents progress in life and a commitment to improving oneself. Making color selections for your mandala may be a freeing and emotional process. Drawing your tattoo may make you feel more emotionally attached to the design while also being calming. You get to draw attention to your preferred hues and permanently inscribe them onto your skin forever
feature image from Pinterest – Want your tattoo to look brighter? Try "Tattoo Balm"