Looking for a barn owl tattoo that best describes your philosophy of life? Well, these great tattoo designs will guide you towards your chosen one.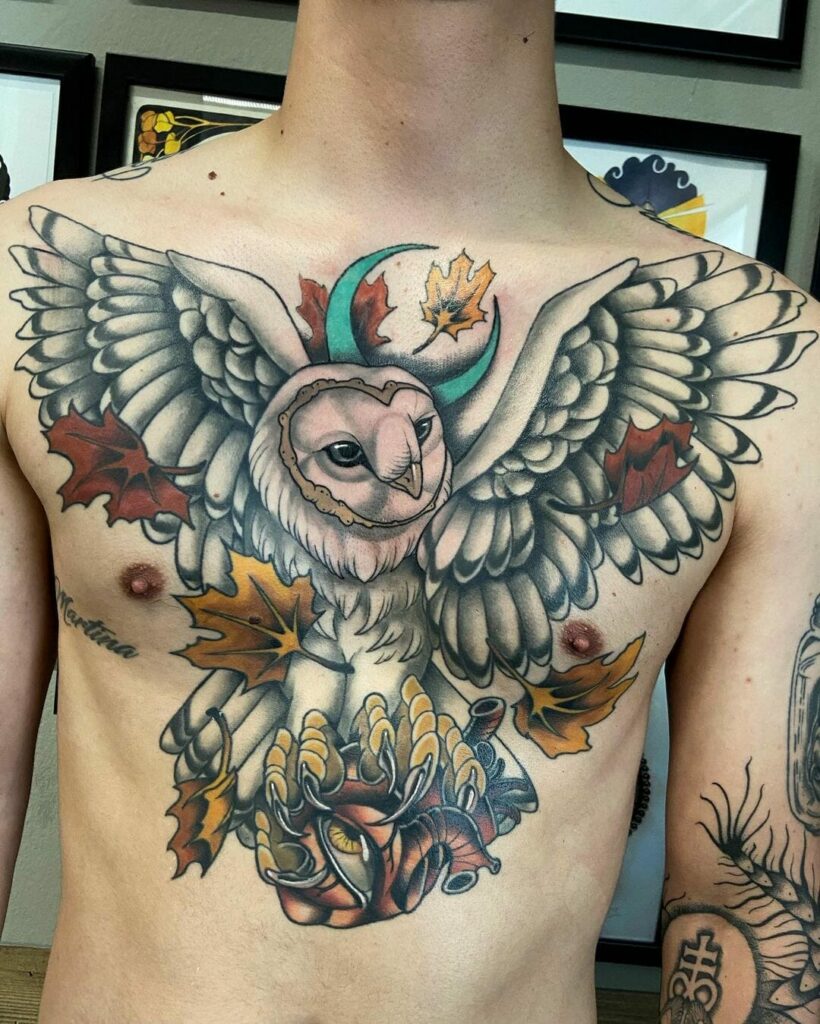 Barn owl symbolism roots from ancient Greek mythology to modern pop culture.
Barn owl tattoo symbolizes wisdom, magic, tranquility, and even the underworld. Whether it's a simple design, watercolor, or graphic owl tattoos, barn owls can help us represent our unique persona.
Owls are nocturnal birds that are known throughout history for their distinctive habits. Getting a barn owl tattoo can help us showcase our ways of perceiving things and our take on life's philosophy.
Realistic Barn Owl Tattoo Design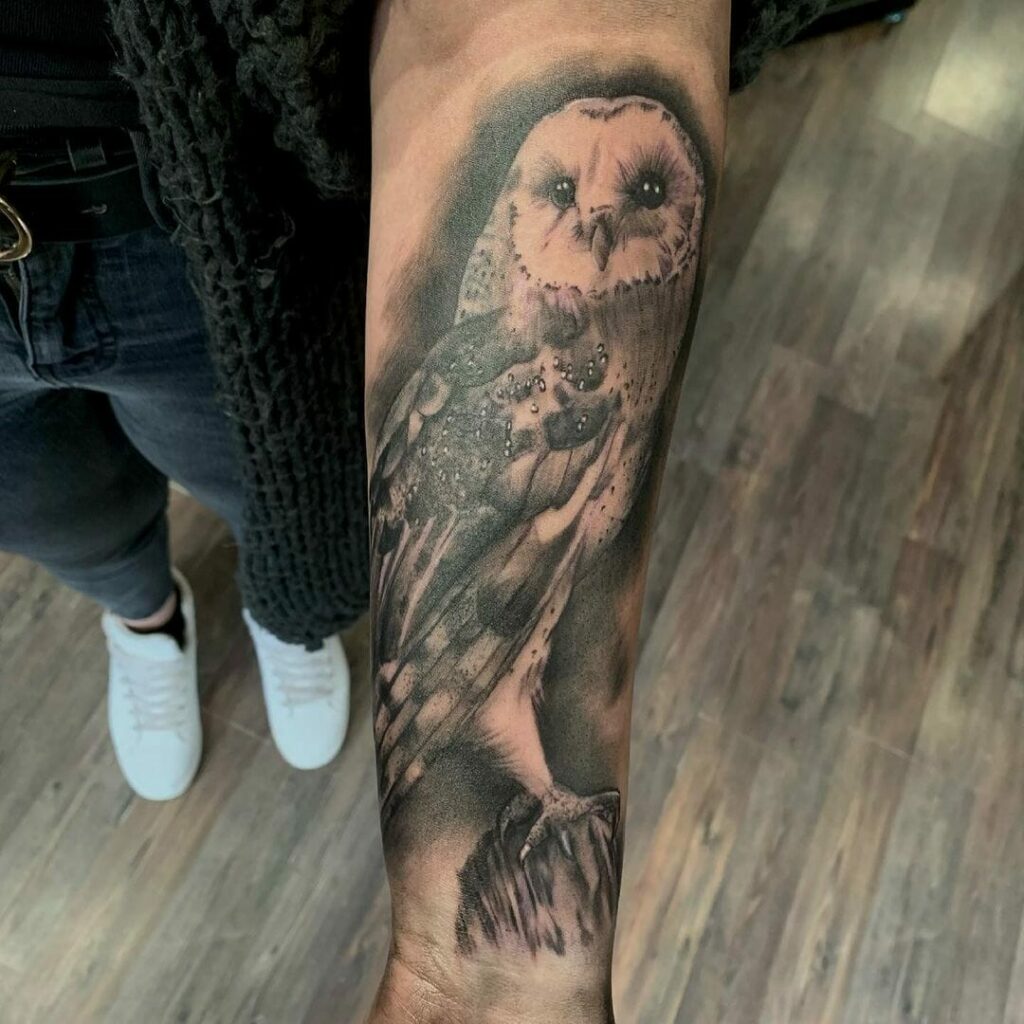 Looking for a realistic tattoo design? This incredibly realistic barn owl tattoo will steal your heart. This nocturnal bird has been known to be a symbol of knowledge, tranquility, and the afterlife. The tattoo artist used beautiful shading techniques to bring this black-ink tattoo to life. The use of white ink for the highlights, especially the eyes, gives the tattoo added brownie points. You can get this tattoo on the sleeve, forearm, chest, or upper body. If barn owl is your spirit animal, then painting like barn owl tattoo design will be an excellent choice to enhance your personality.
Barn Owl Watercolor Tattoo Designs For Men And Women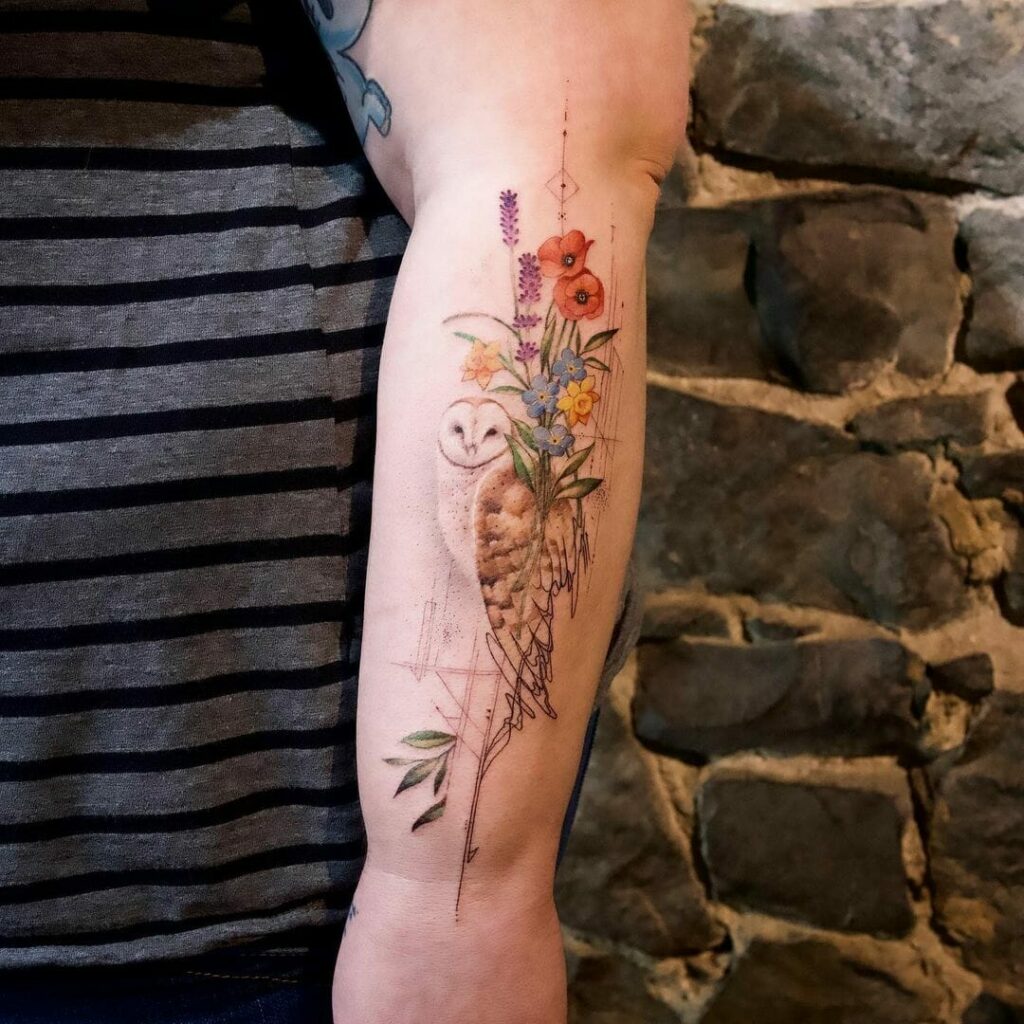 Want to get an aesthetic barn owl tattoo? These watercolor tattoo ideas will prove to be quite inspirational. The owl tattoo combined with floral tattoo designs and geometrical shapes is a unique piece of art. The artist uses soft pastel colors for this watercolor owl tattoo design. You can get this design on your thigh, chest, sleeve, or even as a back tattoo. If you want a dream-like barn owl inked which blends with your sense of aesthetics, represents your quest for wisdom and presence of mind, this tattoo will allow you to represent yourself vocally.
Barn Owl Tattoo Design For Couples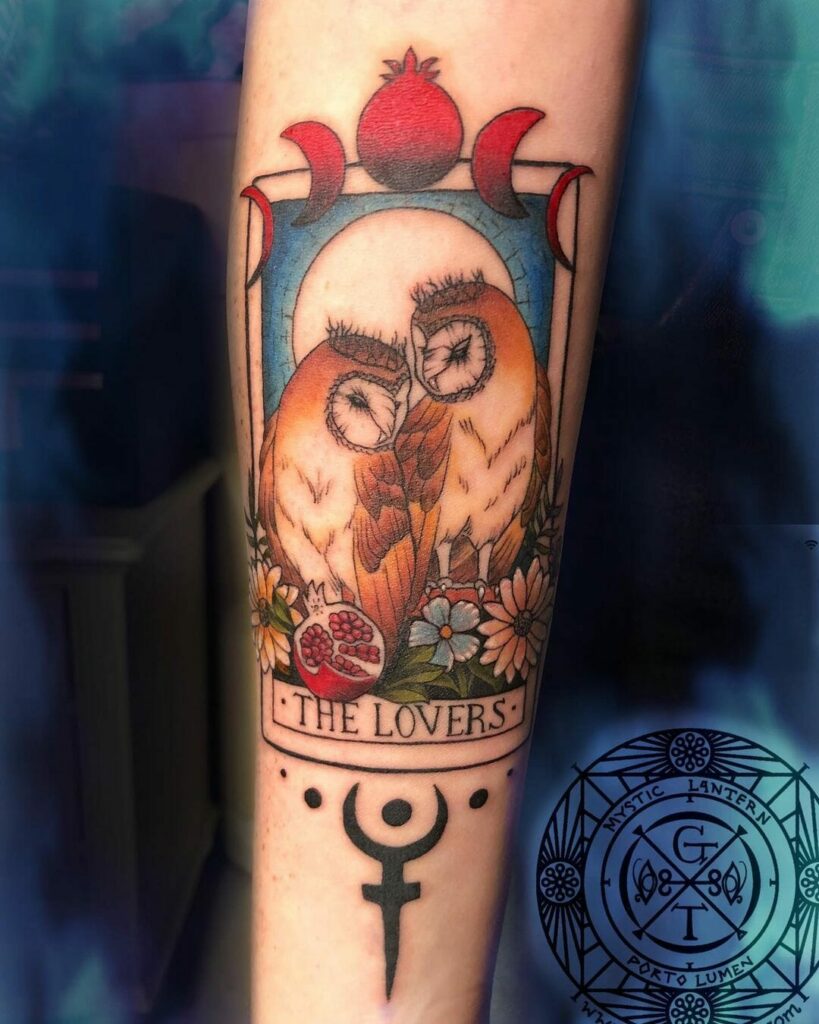 These adorable barn owl couple tattoos will warm your heart. The tattoo design is inspired by the tarot card which stands as a symbol of love, balance, and harmony. The tattoo designer uses vibrant colors to create this beautiful design. Since owls also symbolize the underworld, this way also is used to depict the eternal love between the Greek god Hades and the goddess Persephone. The pomegranate symbolizes fertility and is also associated with the goddess of love. The tattoo is ideal for being inked on the forearm, sleeve, thigh, upper body, chest, leg, and back. In case you are looking for an offbeat couple tattoo, this colorful and cool tattoo will be a great way to showcase your love to each other.
Barn Owl Face Tattoo Ideas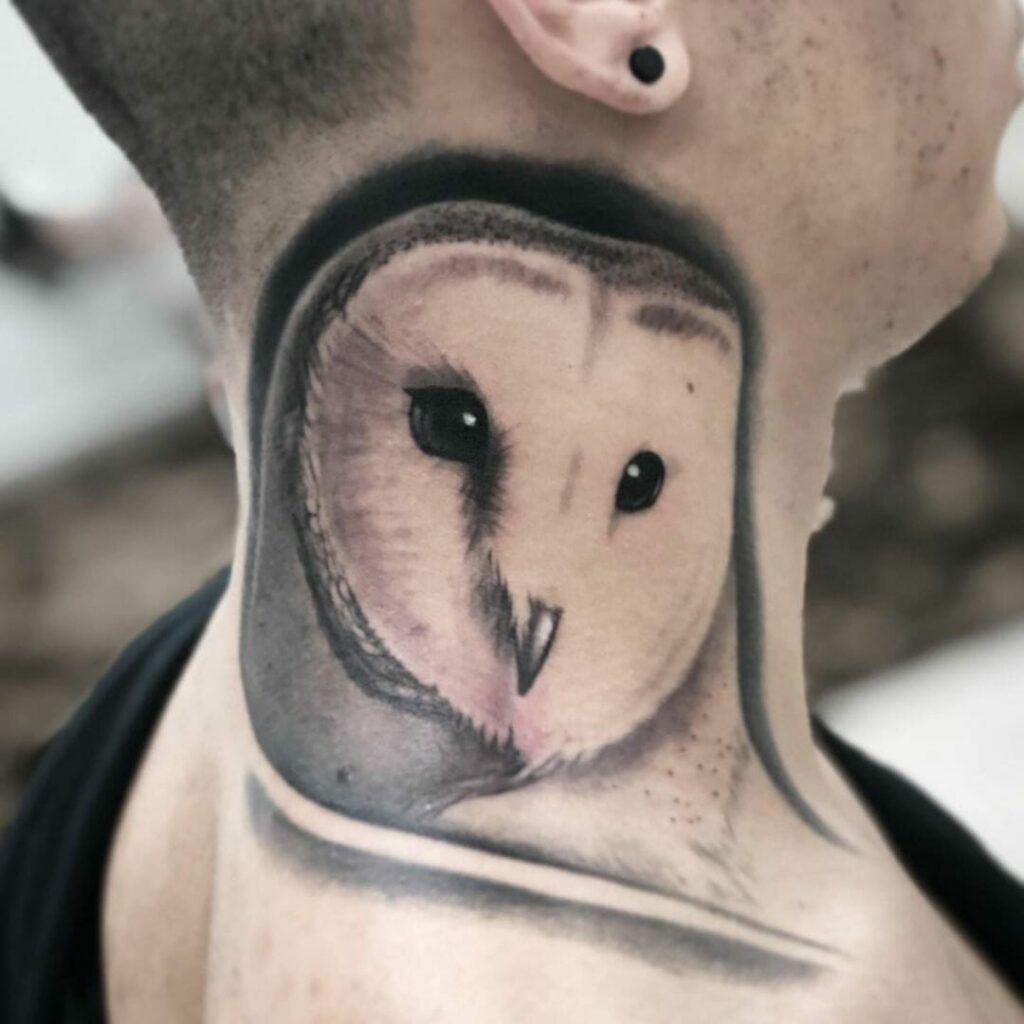 Looking for an owl tattoo design that focuses on the heart-shaped face of this nocturnal bird? Well, then this beautiful black-ink owl tattoo will be a perfect choice. The tattoo designer uses black-ink, shades of grey, and white to bring dimensions to the picture. An owl tattoo could represent different things like wisdom, magic, transition, and even calmness. This owl tattoo can be inked on the neck, forearm, upper body, sleeve, thigh, or back. You can customize this tattoo by keeping half the tattoo as the face of the owl and the other half with floral designs. Even though barn owl tattoo meaning can be diverse, we are free to choose the symbolism that goes the best with our persona.
Mythology Inspired Barn Owl Tattoo Designs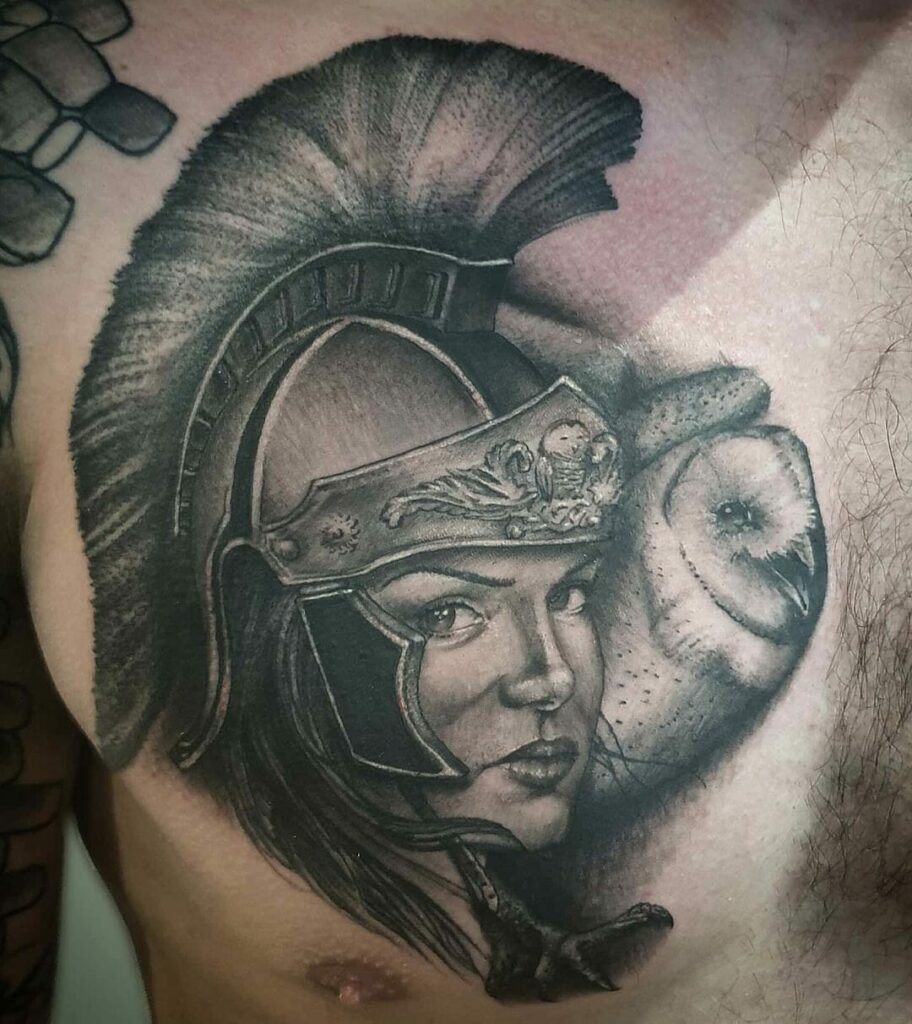 If your love for mythology runs deep, this barn owl tattoo design comprising the goddess of wisdom and war strategy Athena and her symbolic barn owl companion will be an incredible choice for you. It was said that the goddess was thoroughly impressed by the creature because of its eyes and calm appearance. The tattoo designer uses shades of black, grey and, white to create this original tattoo. You can also customize the tattoo by adding a flying barn owl instead of a sitting one. The design is best suited as a chest, forearm, thigh, or upper back tattoo. Owl tattoo designs as such reflect a person's depth of knowledge, creativity, and will definitely be a remarkable option to get it inked.
Simple Barn Owl Tattoo Design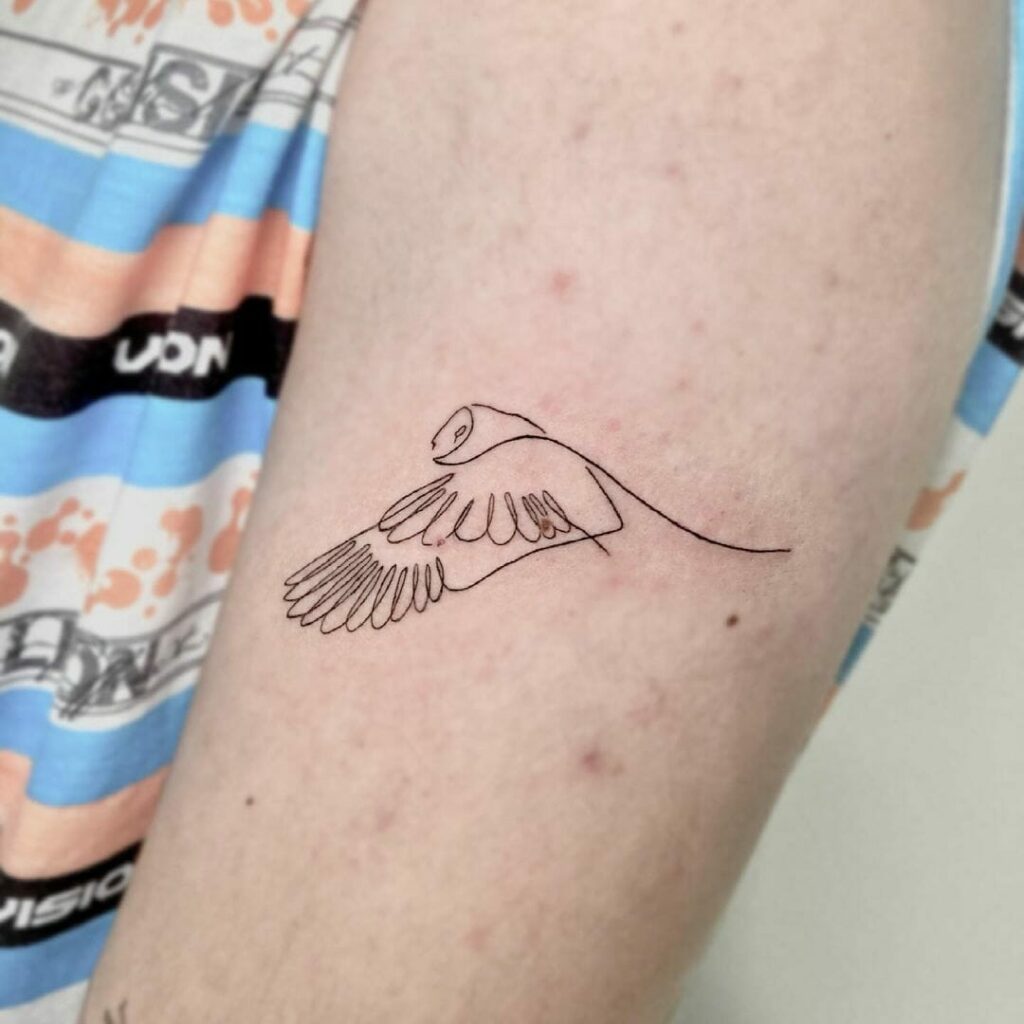 This stylish and offbeat line tattoo will give you the stylish look you were looking for. The tattoo designer uses a simple black-ink line design to capture the essence of a flying barn bowl tattoo. You can customize the tattoo by adding some stars with a white-ink to showcase that this nocturnal bird is flying in the dark or even your name. Because of its small size, the design can be a forearm, sleeve, feet, leg, or even an upper back tattoo. If you feel close to the calm personality of owls, this small barn owl tattoo will surely catch a lot of eyes.
Barn Owl Skull Tattoo Ideas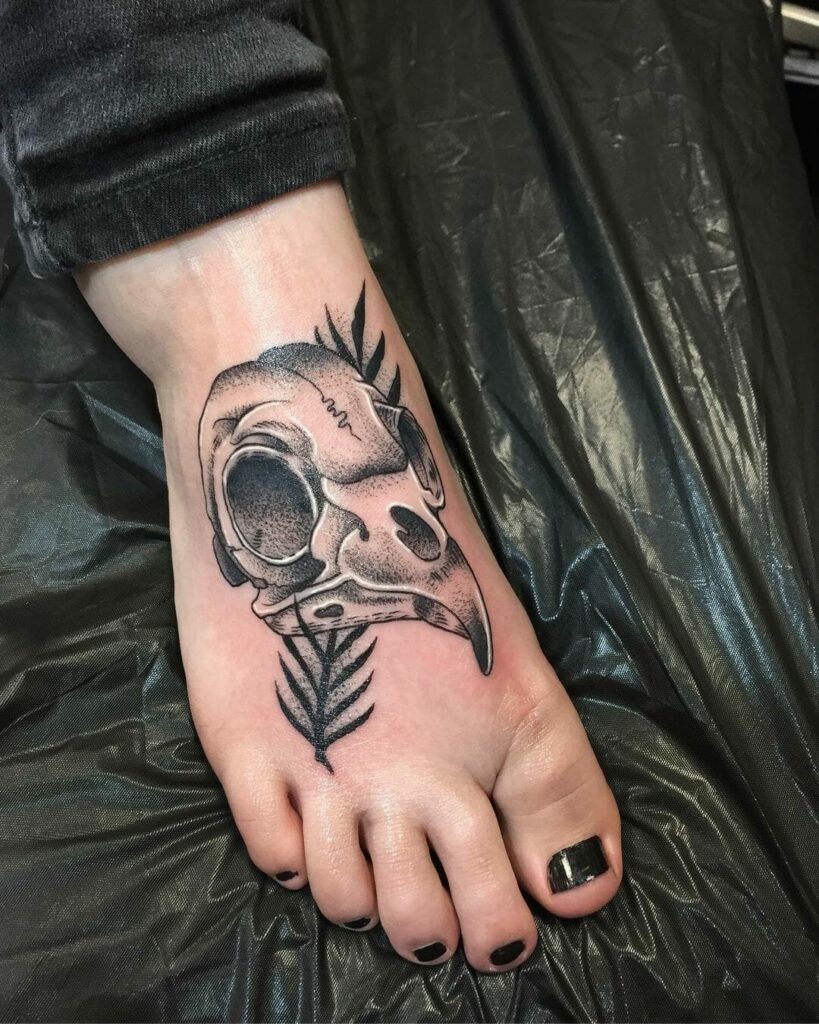 In case you are on the lookout for skull tattoos of barn owls, these ideas will simply blow your mind. Since barn owls have been associated with the afterlife and transitions, while the skull is related to death and humanity, combining them both can symbolize a tattoo that is paying tribute to the demise of our loved ones. It can also depict the onset of a transition in your life. This black-ink tattoo is a brilliant piece of art. The white-ink highlights used by the artist give the design an extra dimension. If you are looking for meaningful owl tattoo designs, this skull-inspired owl tattoo will be a perfect choice for you.
Neo-Traditional Barn Owl Tattoos For Men And Women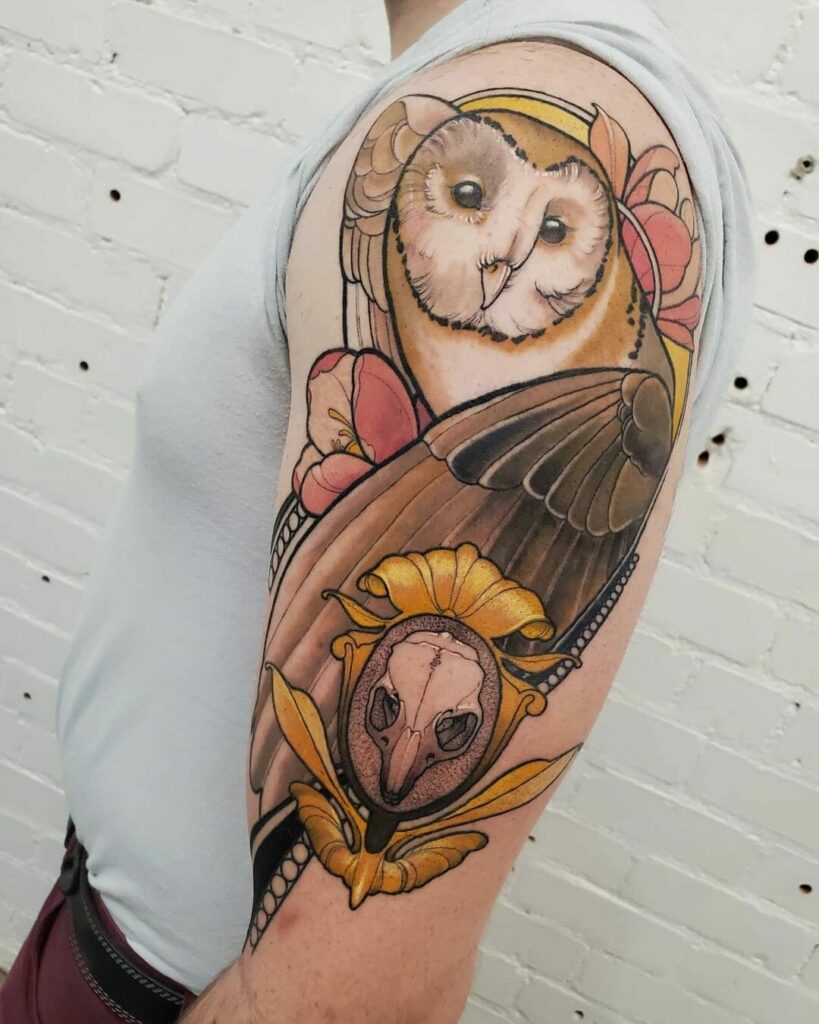 If you want to look for neo-traditional tattoos to pay a tribute to the bird of knowledge and afterlife, well, this barn owl tattoo is an excellent option to choose from. The designer uses colored ink, and shades of grey and white for the tattoo design. The floral and colorful half of the tattoo adds a serene side to it, while the grey skull is the symbol of the afterlife. The design is suited for both girls and boys. You could get it as a sleeve, or thigh tattoo. If you want a cool look for yourself that will turn a lot of eyes, this is one of the finest owl tattoos you can choose from.
Flying Barn Owl Tattoo Design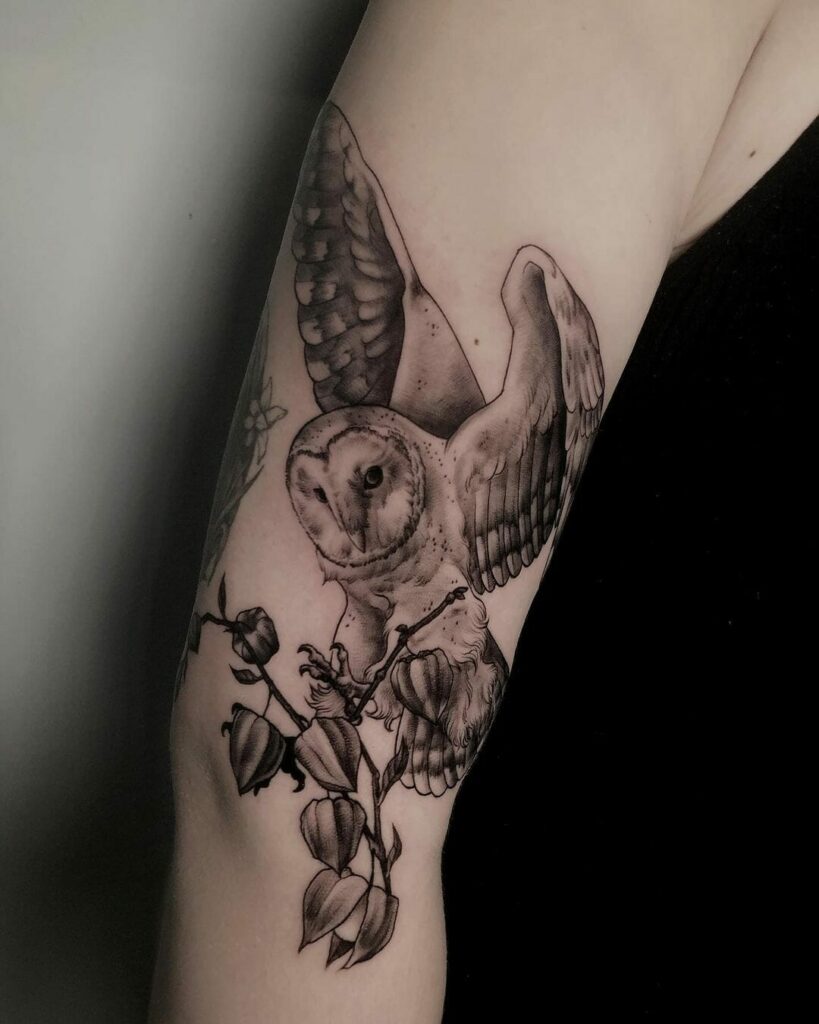 If you want an unconventional and very different flying barn owl tattoo, you can consider these tattoos for inspiration. The designer uses black and grey ink to make it resemble real photos. The design could be best suited as a sleeve or an upper-body tattoo for both men and women. You can also customize the tattoo by adding the name of your loved one beneath it. In case the owl is the spirit animal that you feel close to, this sleeve owl tattoo like this will be a dream come true.
Pop Culture-Inspired Barn Owl Tattoo For Girls And Boys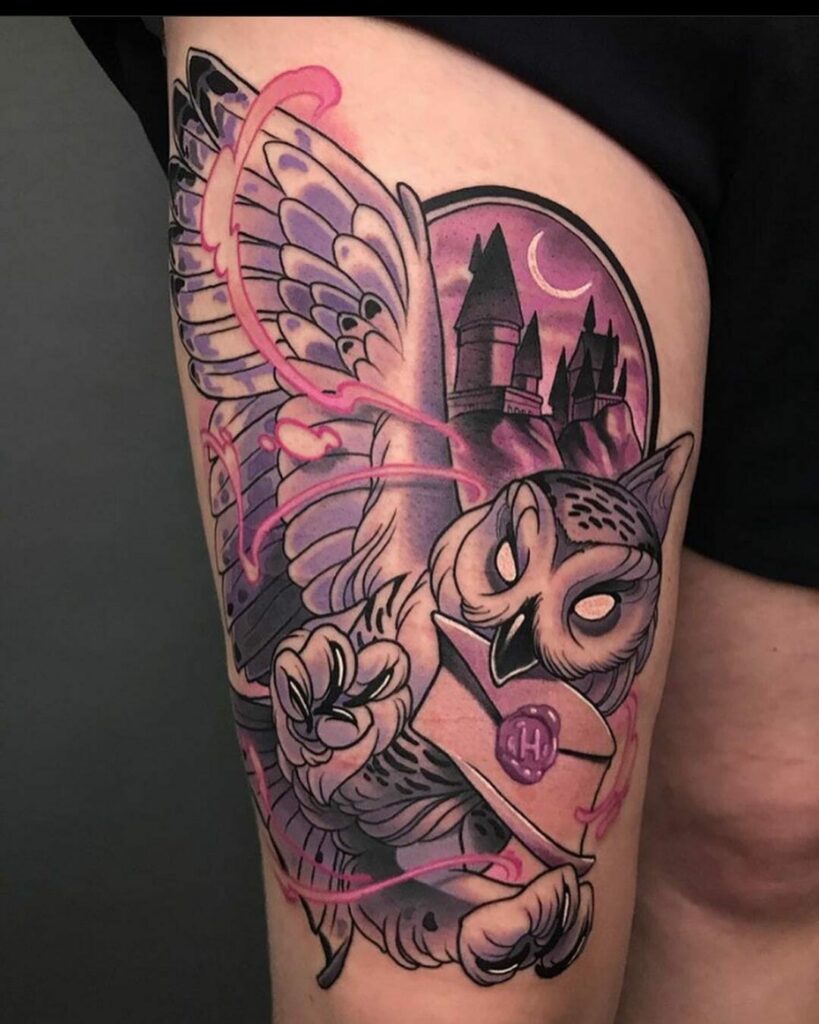 If you are a Potterhead and looking for barn owl tattoos for your body to get inked, this design will inspire you to its core. The designer uses shades of purple, grey, black, and white to showcase the dark night. The tattoo of the owl meaning the symbol of the mystic world and the creature of the dark is a great way to see the world under the veil of magic. If you have always been fascinated with owls, this tattoo will help you pay tribute to this nocturnal bird.
Barn owl tattoos have been used as a symbol of wisdom, brevity, magic, and transitions. Whether it is a black and white tattoo or a colored one, choose the owl tattoo that best suits your persona.
Feature Image from Pinterest – Want your tattoo to look brighter? Try "tattoo balm"