Are you looking for a unique way to pay tribute to your beloved pet? Dog ear tattoos are a great option! These tattoos come in a variety of designs and are a permanent way to keep your furry friend close to your heart. Saying goodbye to a pet is never easy, but a dog ear tattoo can act as a constant reminder of the loving memories you shared. Common places to get these tattoos include the wrist, forearm, and midriff. In this article, we've gathered some excellent examples of dog ear tattoo ideas that you'll love. So, keep reading and get inspired for your next tattoo!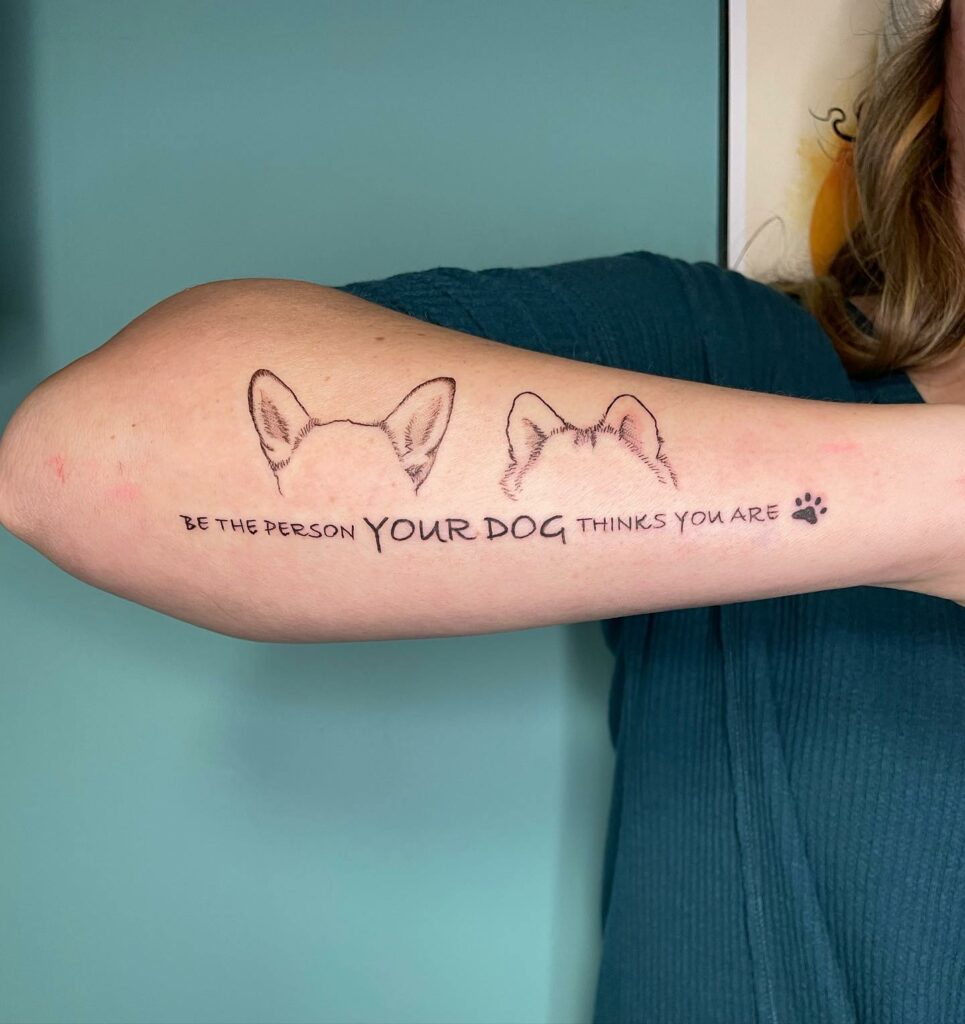 Outline Dog Ear Tattoo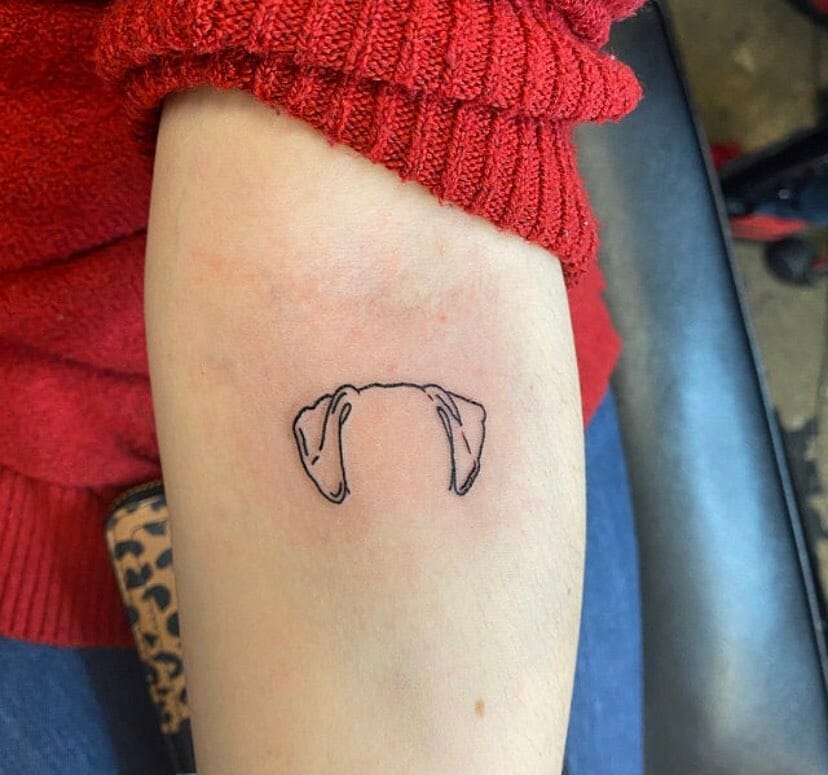 Check out this cute and simple dog ear tattoo outline, expertly etched onto the forearm of the individual. This style of tattooing has become quite popular in recent years due to its minimalist and trendy appeal. The artist has skillfully used black ink to create this stunning piece of body art, which is both charming and elegant. If you're looking for a customized tattoo design, this could be the perfect option for you. However, before heading to the tattoo studio, be sure to bring along a high-quality photo of your furry friend. This will make it easier for the artist to replicate the design on your skin, ensuring that you get the perfect tattoo.
Dog Ears Tattoo With Flowers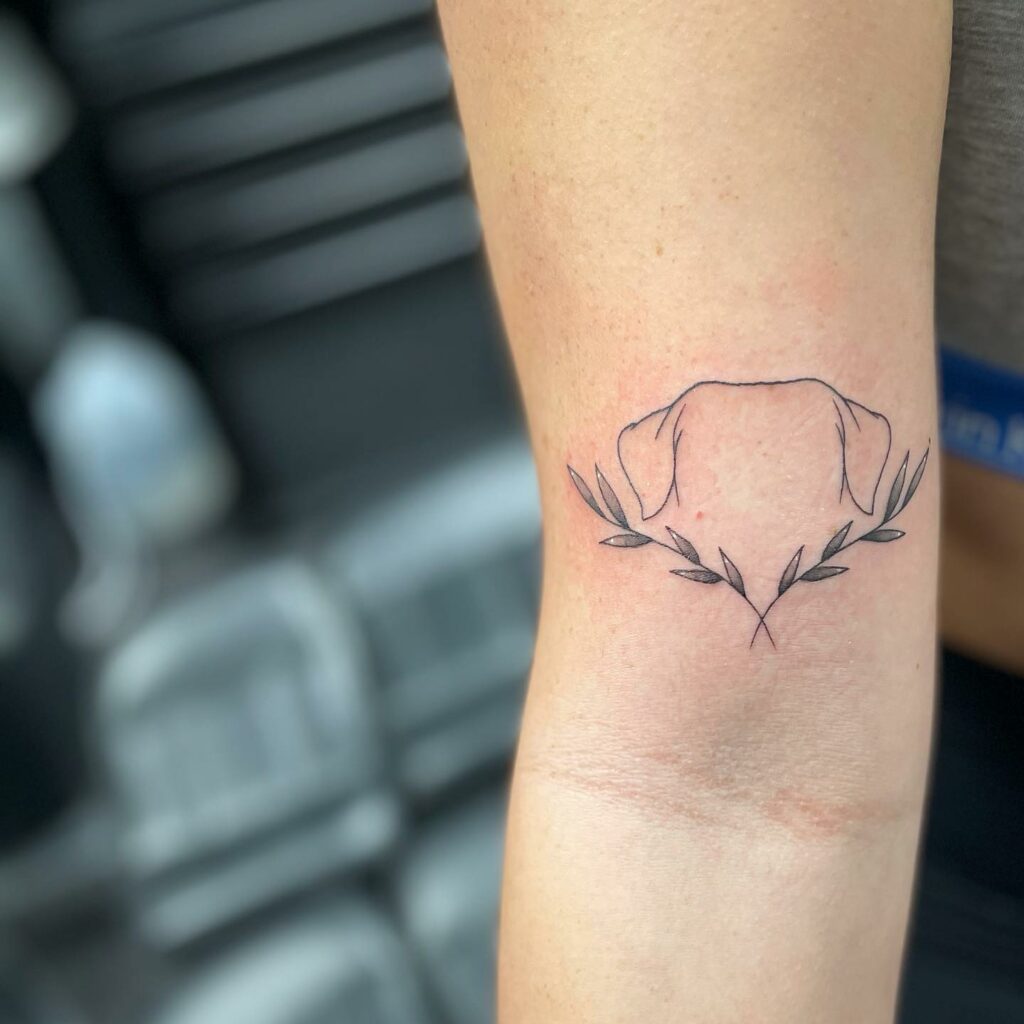 Dogs have a special place in the hearts of many people, being known as "man's best friend" for their loyalty and unconditional love. This may be why dog ear tattoos have become a popular choice for pet owners. These tattoos don't necessarily represent the loss of a beloved pet; they can also symbolize loyalty and protection. The image above features a beautiful design of a dog's ear, adorned with flowers. Flowers are often associated with love, delicacy, and fragility in the world of tattoos. When paired with a dog's ear, they represent the deep bond between a pet and their owner. These tattoos are particularly popular among women. If you're considering getting a dog ear tattoo, be sure to bring a clear photo of your furry friend to help the tattoo artist create a customized design that perfectly captures your pet's unique features.
Quirky Dog Ear Tattoo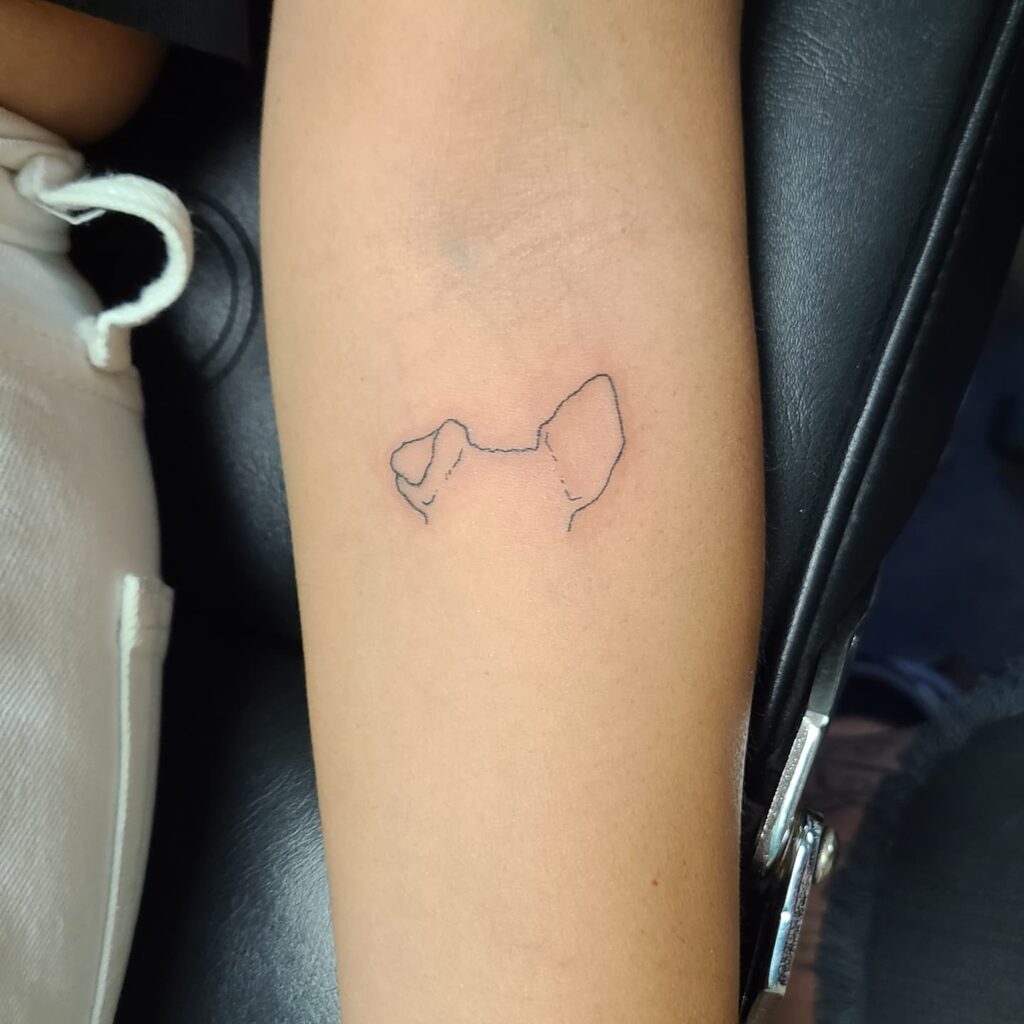 If you're a dog lover, you're likely familiar with the adorable look of a dog with its ears perked up and forward. This posture signifies that the dog is alert and attentive, listening for something specific. Dogs are often adopted for protection, making them powerful symbols of guidance and safety. This tattoo artist has expertly captured this idea in their design, which features delicate lines and black ink. The result is a charming and cute tattoo that looks great on the forearm. Despite its simplicity, this design manages to convey the loyalty and protection that dogs offer their owners.
Lettered Dog Ear Tattoo
Are you seeking inspiration for a personalized dog-ear tattoo design? Look no further than this stunning example! The tattoo shown above features a beautifully crafted image of a dog's ear accompanied by the name 'Ayla.' This tattoo is a wonderful way to showcase the strong bond of love and companionship that you share with your furry friend. The font used in this design is tastefully selected to enhance the overall aesthetic appeal of the piece. You can customize the font style to suit your personal taste. When creating your design, it is crucial to choose a high-quality image of your dog to ensure the accuracy of the tattoo. Additionally, consider adding some vibrant colors like pink or red to make the design more vivid and lifelike.
Dog Ear and Paws Tattoo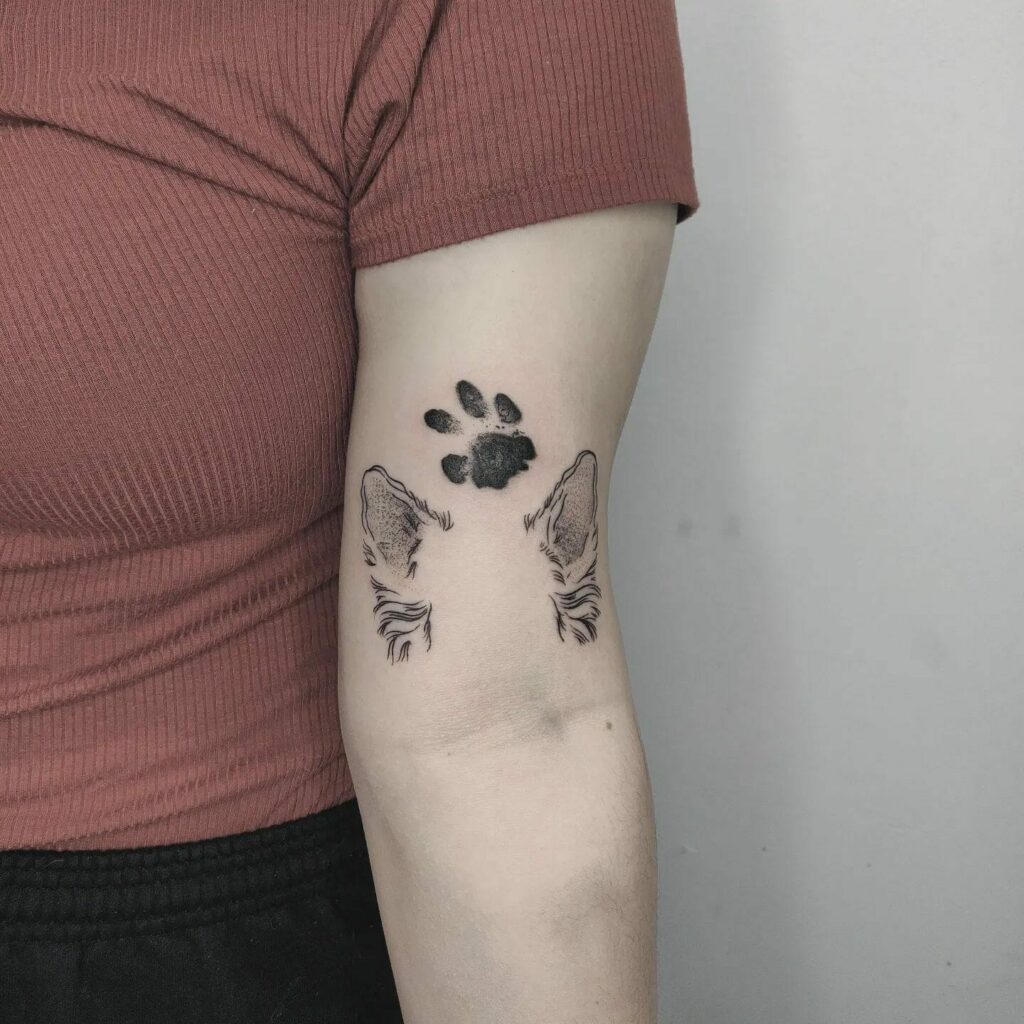 Dog paw tattoos are a beautiful and straightforward way to show love and loyalty towards your furry friend. They are a popular choice among dog lovers and can be customized to incorporate different shapes and symbols. When combined with dog ear tattoos, they create a powerful symbol of the bond between human and animal. The image above is an excellent example of this design. Instead of a basic dog ear tattoo, the wearer has included the paws, which are shaded to give the appearance of fur. The contrast between the dark and light black ink adds depth to the design. These tattoos are simple yet striking and can be enjoyed by anyone who loves dogs.
Dog Ear Finger Tattoo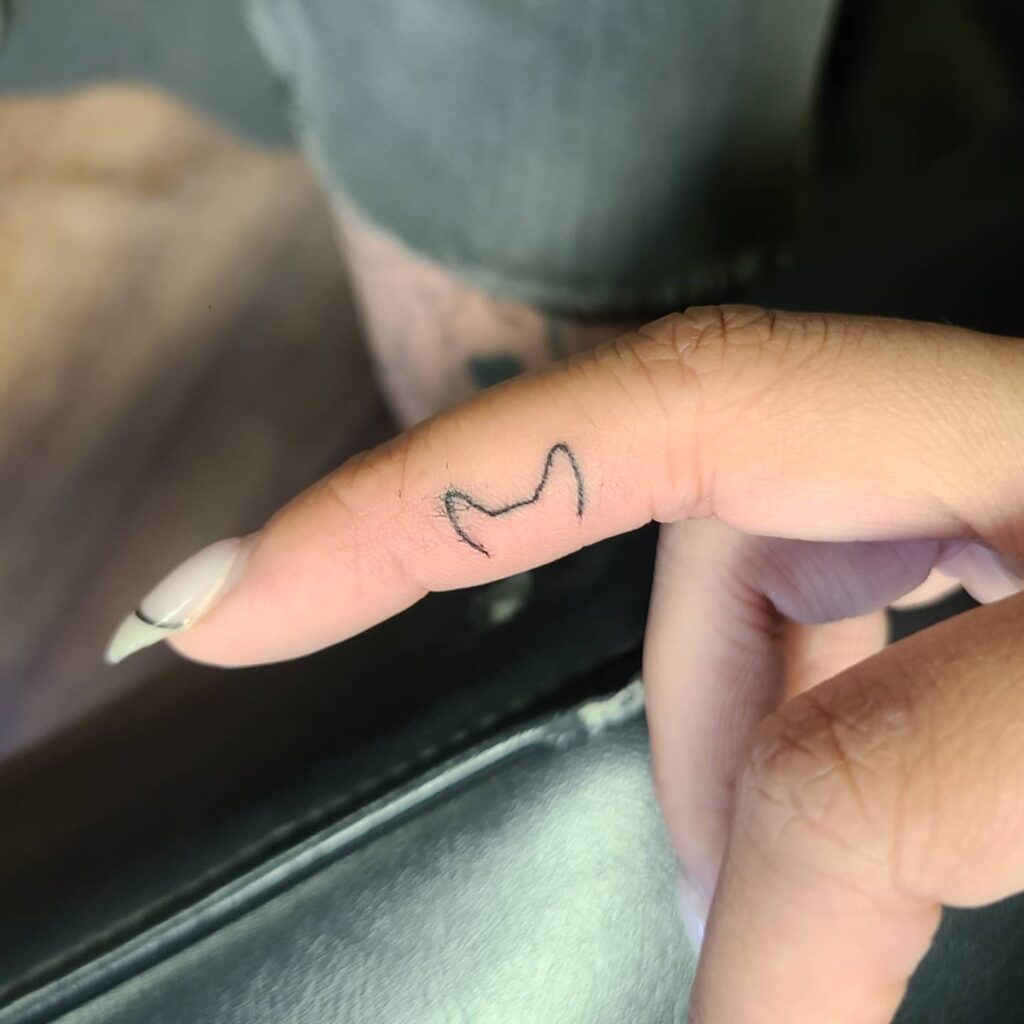 If you're looking for a tattoo design that symbolizes the qualities of communication, playfulness, loyalty, and unconditional love, dog tattoos are an excellent option for you! In this beautiful image, we can see a minimalistic design of a dog ear tattoo etched onto the finger of the individual. Minimalistic designs like these are popularly placed on the fingers, neck, ankle, and wrist. You can also experiment with different inks, like watercolor, to add more vibrancy and variety to your design. However, it's important to keep in mind that finger tattoos can be more painful than other body parts, and require touch-ups frequently since we use our fingers daily. So, take your time to choose the perfect design and placement for your tattoo and cherish the memories of your beloved pet forever.
Dog Ear With Initials Tattoo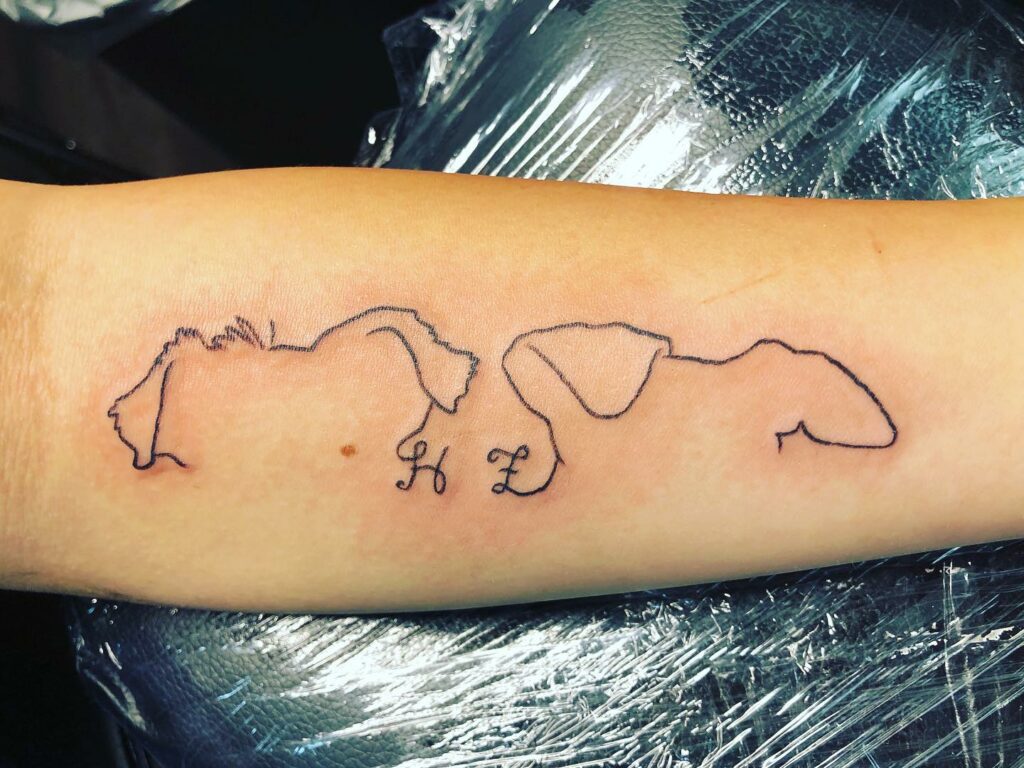 This image features two pairs of dog ears, with the initials of the dogs adorably inked in the corner. This kind of tattoo is perfect for those who are new to the world of ink and want to show their love for their pets. Along with the initials, you can also add the birth date of your dog to give the tattoo a personal touch. These kinds of line work tattoos are affordable and perfect for those who prefer minimalistic designs over larger ones. With their simplicity and elegance, these dog ear tattoos are sure to leave a lasting impression on everyone who sees them.
Colored Dog Ear Tattoo
If you're a fan of colorful and creative tattoo designs, you'll love this stunning image featuring two dog-ear tattoos on the leg of the wearer. Unlike the usual black ink, the artist has used a variety of bright, vivid colors to make the two names of the dogs stand out. With one design featuring a mix of pink and purple and the other incorporating green, yellow, and blue, these colors blend perfectly together and make for a striking, eye-catching tattoo. This design is perfect for those who want to add some fun and vibrancy to their ink, and it's a great example of how color can bring a tattoo to life. So if you're looking for inspiration for your next tattoo, this design is sure to impress!
Realistic Dog Ear Tattoo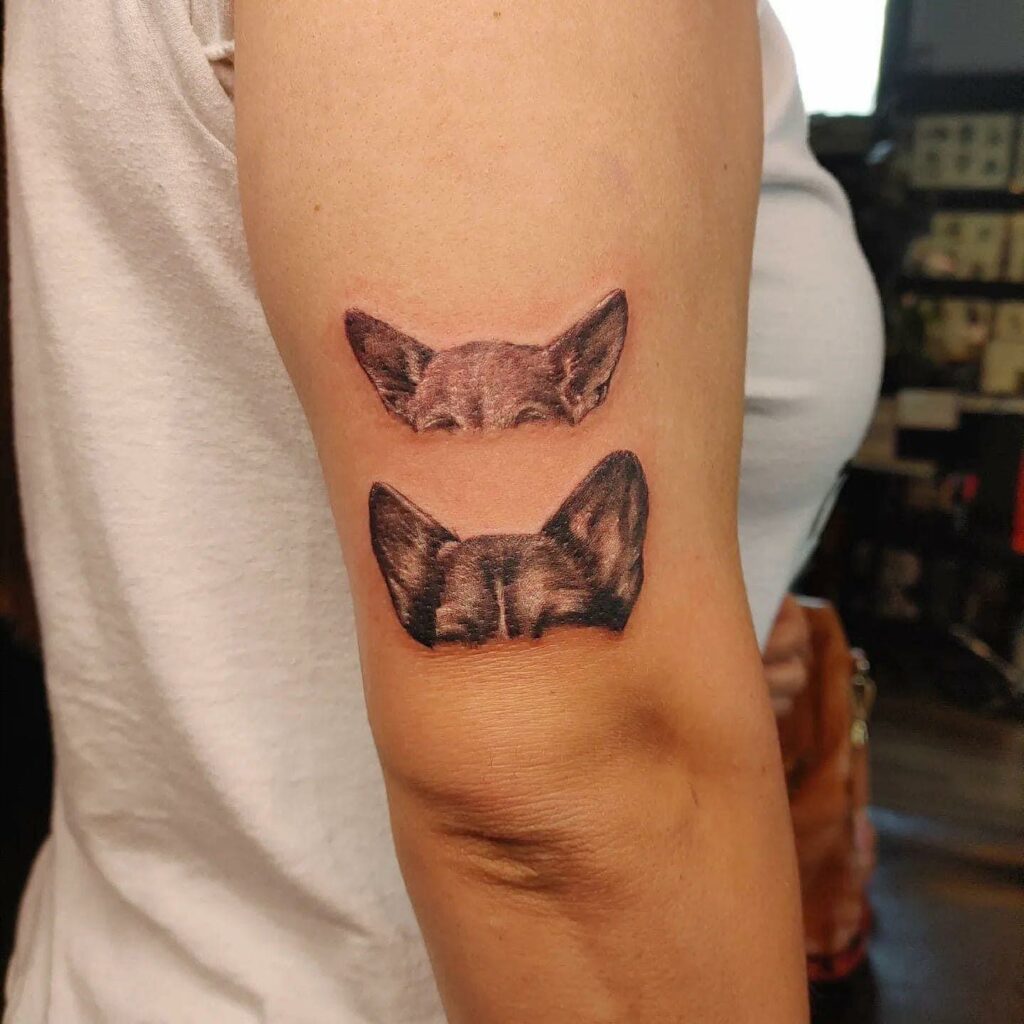 Dog-ear tattoos are a great way to show your love and affection for your furry friend. If you're looking for something more detailed and intricate than just an outline tattoo, this design might be the perfect choice for you. The artist has used a combination of different shades of black and gray ink to create a beautiful and realistic representation of the dog's fur. This kind of shading provides a more detailed and nuanced design, making it stand out from other simple dog tattoos. Moreover, the moderate size of this tattoo ensures that it's easily visible from a distance, and the black and gray ink combination gives it a classic and timeless look.
Dog Ear And Heart Tattoo
In this image, the tattoo artist has combined a heart symbol with a simple and cute dog-ear tattoo to create a design that represents love, friendship, and passion. The red ink of the heart and the black color of the ears provide a beautifully contrasted image. These kinds of tattoos are especially popular among women and can be a great way to start your tattoo journey. Dog ear tattoos are easy to design, affordable, and perfect for beginners who want to express their love for their furry friends.
feature image from Pinterest – Want your tattoo to look brighter? Try "Tattoo Balm"