In this guide, we'll embark on an exploration that will change the way you perceive the conventional father-daughter tattoo. We will journey through heartwarming design concepts, discuss the rich symbolism often overlooked, and decode the intricacies of placement and personalization. My pen will take the place of my needle as we sketch out the beauty and depth behind these tattoos that celebrate the unbreakable bond between a father and his daughter.
From beautiful quotes to minimalist designs, symbolic illustrations, and more, by the time you reach the end of this post, you'll be well-armed with knowledge, ideas, and inspiration. Not only will you be able to make an informed choice, but you'll also gain a newfound appreciation for this nuanced form of self-expression.
A Rainbow of Father-Daughter Tattoo Ideas
Whether you're looking for matching tattoos, theme-based designs, or seeking to memorialize a parent, these father-daughter tattoo ideas might just be the inspiration you need.
Father and Daughter Realistic Tattoo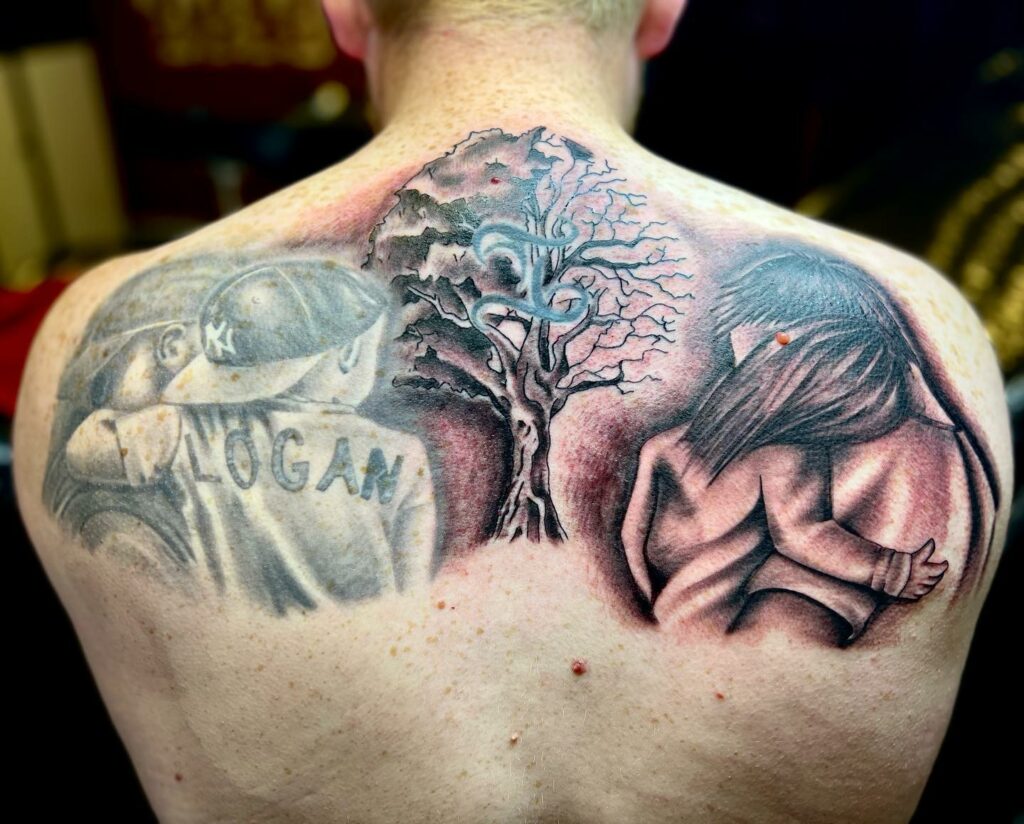 In the world of tattoos, few things are as intimate and touching as a realistic portrait of your loved ones. I remember tattooing a father-daughter portrait onto a client who wanted to carry a memento of her dad, who had passed away. I captured the lines of his face, the crinkles in his eyes from years of laughter, and the unmistakable fatherly love in his gaze. The tattoo not only celebrated her relationship with her father but also helped her feel closer to him.
Pro tip: The quality of your reference image will significantly influence the outcome of your portrait tattoo. Make sure to give your artist a clear, high-resolution photo to work from.
Father and Daughter Silhouette Tattoo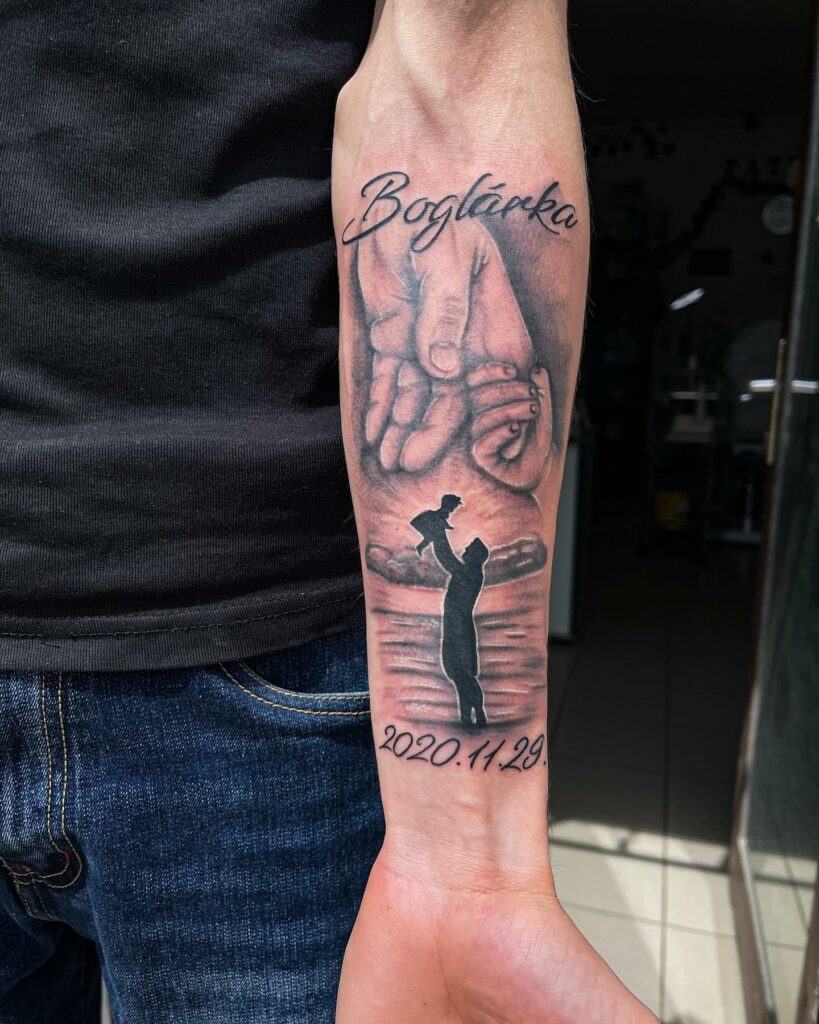 Simple yet profound, silhouette tattoos are a popular choice to symbolize a special moment between a father and a daughter. The beauty of silhouette tattoos lies in their simplicity, making them easier to pull off than detailed portraits.
Fictional Father and Daughter Tattoo
Fictional characters from your favorite shows, movies, or video games can make for compelling tattoos if you identify with their relationships or simply enjoy watching them together. Maybe you and your dad binged The Mandalorian together? Why not consider a Grogu and Mando tattoo?
Animal Father and Daughter Tattoos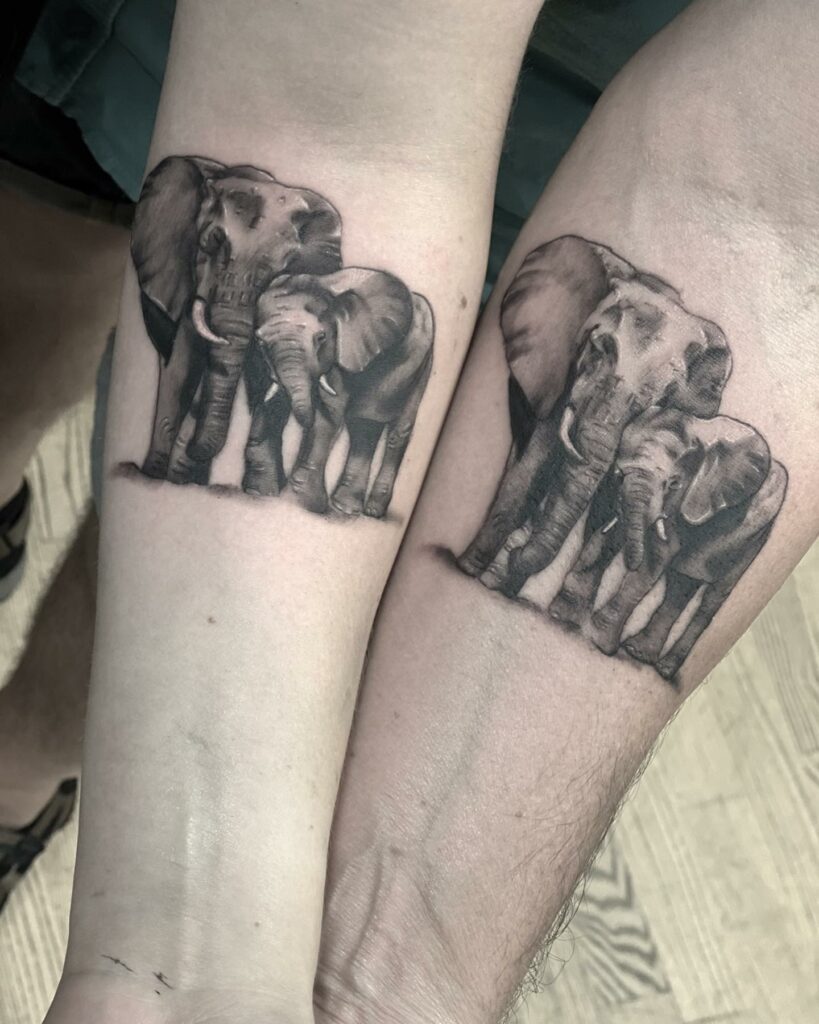 Animals often mirror our relationships, their protective instincts and family bonds reflecting our own. Whether you choose to ink a pride of majestic lions, a flight of independent birds, or a family of cuddly bears, animal tattoos are a powerful way to symbolize the father-daughter bond.
Did you know that elephants are a popular choice for familial tattoos? Their tight-knit herd structures and strong protective instincts make them ideal symbols for familial bonds.
American Traditional Father and Daughter Tattoos
The American Traditional style is characterized by heavy black outlines and minimal, vibrant colors, making for striking designs. Think of bold hearts and banners, with the name of your loved one or simply the word 'Dad' etched within.
Father and Daughter Quote Tattoos
A few well-chosen words or a meaningful quote can express love and connection in a uniquely impactful way. I've seen clients incorporate personal sayings, famous quotes, or simple expressions of love into their tattoos, either standalone or as part of a larger design.
Music Themed Tattoo
Music-themed tattoos can be an excellent choice if music forms a significant part of your father-daughter bond. From musical notes to instruments or lyrics of a favorite song, the options are as endless as your playlist.
Landscape Tattoos
A landscape tattoo can be a beautiful tribute to shared experiences and memorable places. From a beloved vacation spot to your childhood home or a depiction of your local village, landscape tattoos transport you back to those cherished memories.
Date Tattoos
Date tattoos are a simple, yet meaningful way to commemorate a significant event or milestone. Be it a birthdate, a wedding anniversary, or a memory of a loved one, you can choose from traditional numbers or elegant roman numerals.
Family Tattoo
Inking the word 'family' in your language of choice is a simple, yet profoundly effective tattoo. This powerful word can be executed in a range of styles, from bold lettering to delicate script and italics.
Small Father and Daughter Tattoos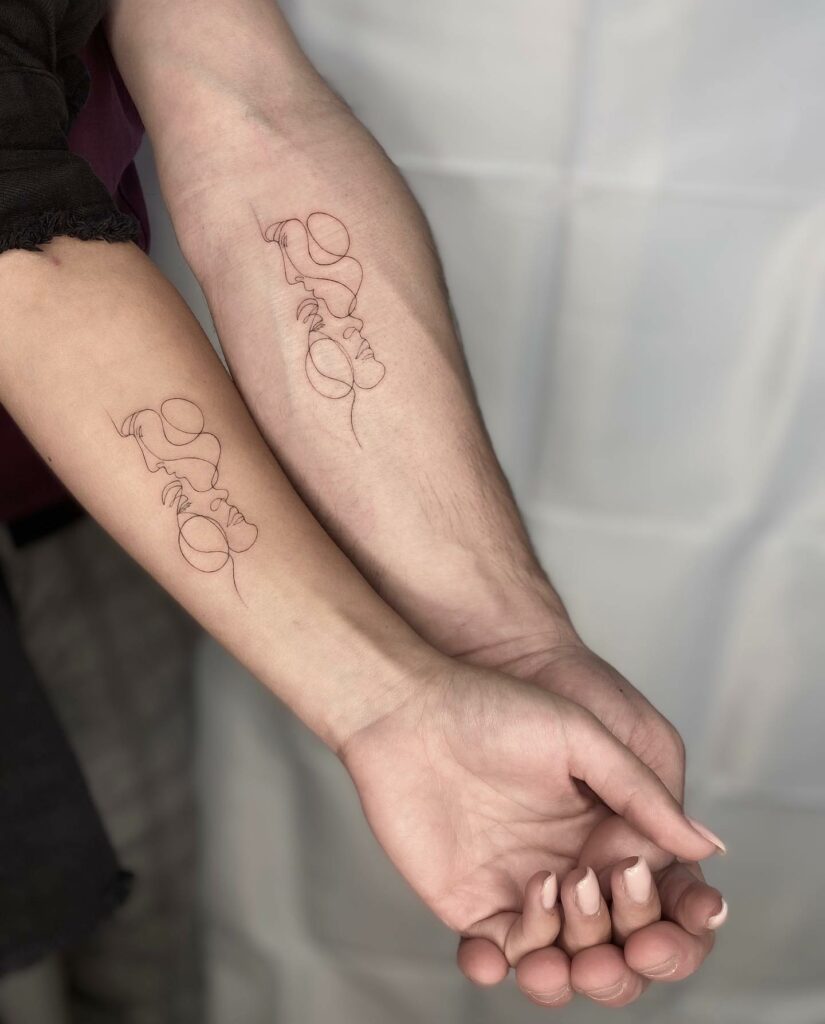 Flowers, with their delicate lines and vivid colors, are popular across genders and age groups. The symbolism associated with each flower adds another layer of depth to these designs. For instance, hydrangeas represent the loving bond between people, and sunflowers, often found growing together, symbolize camaraderie and togetherness.
Remember, tattoos don't need to scream to make a statement. Even the most delicate and small tattoos can speak volumes about the bond you share with your dad.
Sun and Moon Tattoo
The interplay of the sun and moon is a beautiful representation of the father-daughter relationship. Even though they're opposites, they depend on each other, much like the bond between a father and a daughter.
Take My Hand Tattoo
I recently tattooed an adorable pair: a father and his young daughter. They chose a design that featured the father's hand, held out to a little girl's hand. It was a heartwarming symbol of their bond that left everyone in the studio a little misty-eyed.
Celtic Knot Tattoos
The Trinity knot, a common Celtic design, is a continuous line weaving around itself, representing unity, endless love, and the coming together of the soul, heart, and mind.
Watercolor Father and Daughter Tattoos
If you're looking for something more colorful and unique, a watercolor tattoo might be right up your alley. This style captures the essence of watercolor paintings, resulting in vibrant, eye-catching designs.
Tribal Father and Daughter Tattoos
While tribal tattoos have a rich history dating back to the Bronze Age, it's important to research the cultural significance and origin of the design before getting it inked.
Quick tip: Ensure your choice of tribal design respects the culture it originates from to avoid cultural appropriation.
Fine Line Tattoos
Fine line tattoos are subtle yet impactful, making them perfect for those who prefer a more understated design. They can take any form, offering endless possibilities.
Protective Father and Daughter Tattoos
Fathers are often seen as the protectors of their daughters. A tattoo that symbolizes this protective instinct can be a touching tribute to that relationship.
Color Father and Daughter Tattoo
Colorful tattoos may require a bit more time under the needle, but the result is a striking piece that celebrates your familial bond in a visually striking way.
Key and Lock Tattoo
Lock and key tattoos are popular choices for matching tattoos. They're a symbolic way of saying that one cannot exist without the other.
Coordinate Tattoo
Coordinate tattoos offer a subtle way to commemorate a special place or moment. The coordinates could represent the place you were born, where you grew up, or even a life-changing event.
Signature Tattoos
Signature tattoos are personal and unique, offering a discrete yet meaningful way to celebrate your bond.
Zodiac Father and Daughter Tattoos
Zodiac tattoos allow you to celebrate your loved one in a symbolic way. You could opt for star symbols, constellations, or simply have it written in a script.
Family Tree Tattoo
The family tree is a universal symbol of life and familial bonds. A family tree tattoo can include names, Celtic knots, or simply be a depiction of a tree.
Abstract Father and Daughter Tattoos
Lastly, remember that your father-daughter tattoo can be as unique and unconventional as your relationship. The design can be any style or subject as long as it resonates with both of you. After all, the most important thing is that your tattoo represents your bond and brings a smile to your faces.
Conclusion
As we bring our ink-filled journey to a close, let's revisit a few key points to remember. Firstly, tattooing is a deeply personal experience, and the design you choose should reflect your unique relationship with your dad. There's a myriad of styles to explore – from simple fine lines to vibrant watercolors, from symbolic Celtic knots to cosmic sun and moon designs. But remember, the most crucial element is the sentiment behind the design – it should capture the essence of your bond.
However, remember that getting a tattoo is a significant decision. It involves both a commitment and certain risks, including potential allergic reactions or infections. Always ensure you choose a reputable artist, follow their aftercare advice diligently, and make sure to communicate openly about any concerns or questions you might have.
And finally, don't rush this process. Take your time exploring designs, consider the placement carefully, and make sure it's something that will bring you joy every time you glance at it. Getting a father-daughter tattoo can be an incredibly meaningful experience, and with careful thought and planning, you'll end up with a unique piece of body art that tells a story of love, bonding, and family. Now, go forth, explore your options, and let your love shine through your skin!