If you are a badass person who is looking for some fantastic and ferocious tattoos, then these amazing Fierce tattoo ideas are just what you need.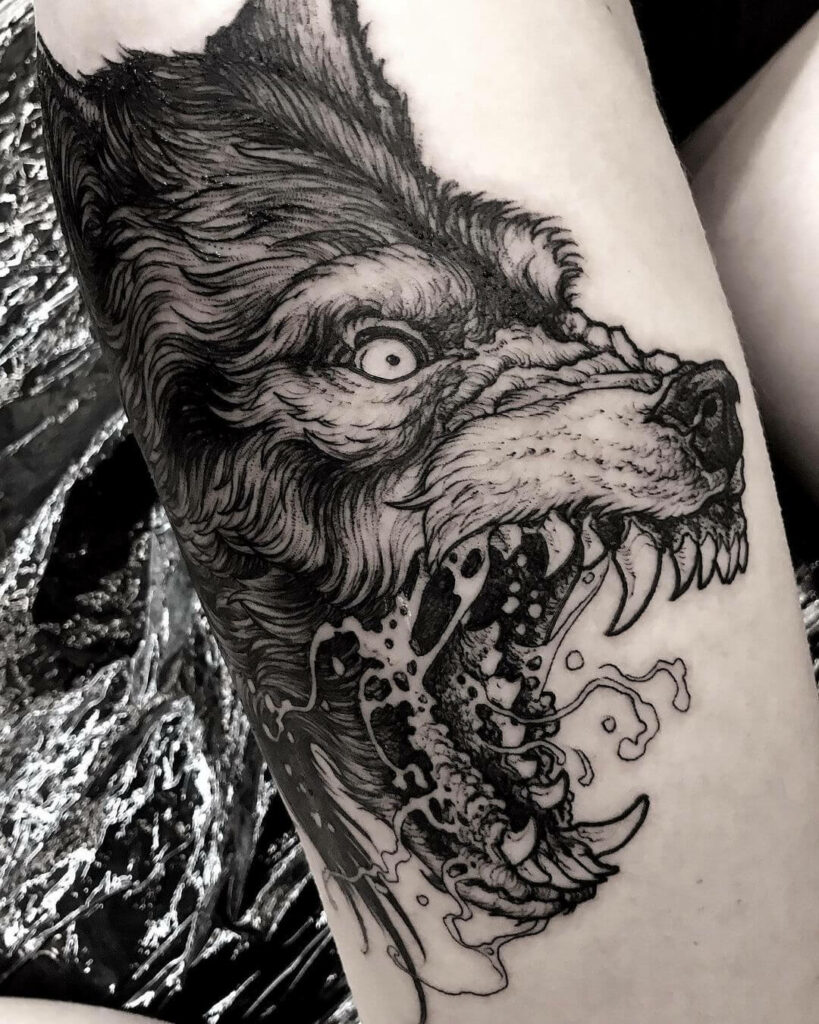 If you are a person who likes living on the edge, then you might be looking for some fierce tattoos to match your energy.
Although fierceness cannot be measured on a scale, it can be displayed through some awesome tattoos. And if you are having trouble finding some badass tattoos, we might be of help.
Fierceness does not have a scale, but if you are a brave individual who likes taking risks and also likes bold tattoos, then this article is just what you need. You do not have to search anymore as we have compiled a list of various fierce tattoos that might suit your taste. It has everything from animals to mythical creatures to anime. So if you are looking for a sick tattoo for your skin, look no further than this article made just for you.
Amazing and Fierce Lion Tattoo Ideas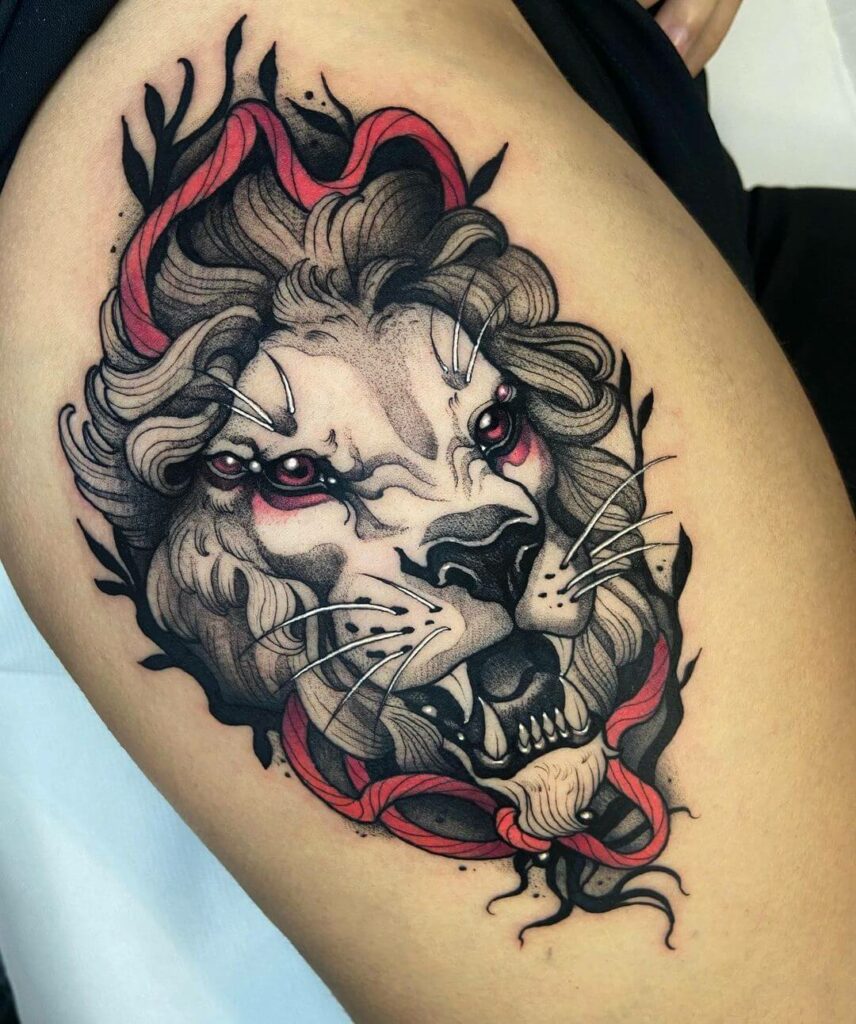 As the king of the jungle, there are not many animals more fierce than the lions. Lions embody power and grace. This tattoo features a fearsome four-eyed lion in black and red ink and it is as fierce as it is mesmerizing. The style makes it suitable for both men and women. If you have always wanted a powerful lion tattoo on your skin then this is the perfect tattoo for you.
Fierce and Fearsome Dragon Tattoo Ideas
Dragons are one of the most powerful and fearsome mythical creatures across Western and Eastern mythologies. They are the embodiment of power and this tattoo captures it pretty well. The location of the tattoo is on the head which is also a very bold statement. The details of this tattoo are amazing. You can also go for a Japanese Dragon tattoo, a Chinese Dragon tattoo, or a red dragon tattoo. So if you have always wanted fierce dragon tattoos, then this dragon tattoo idea is just what you need.
Fantastic Fierce Wolf Tattoo Ideas
Wolves are one of the most beautiful and free wild animals out there. But they are also powerful and fierce. So if you want a fierce animal tattoo, you can always opt for a sick wolf tattoo just like this one. Even though this is done in black ink, the details on the wolf's head and the background makes it look alive and scary. So if these canines are your spirit animal, then you can get this tattoo on your skin. Make sure to find an artist who can capture the beauty of the wolf in the tattoo.
Beautiful and Fierce Snake and Dagger Tattoo
Snake and dagger tattoos are very famous and for good reason too. Snake and dagger tattoos usually symbolize bravery and triumph. This tattoo features a snake wrapped around a dagger which may also signify the Roman God Mercury who is also said to be the most intelligent Roman God. This tattoo is both fierce and delicate, suitable for men and women. The details on this black ink tattoo is amazing but you can also choose to get a colored snake and dagger tattoo as well. Just talk to your artist about the style you want.
Fun and Fierce Anime Tattoos for Anime Fans
Anime tattoos are very famous as the genre is extremely popular nowadays. If you are also an anime fan who wants a badass anime tattoo, then this tattoo idea is perfect for you. This tattoo features Naruto and Kurama from the very popular anime Naruto. But you can also choose whichever anime character or characters you love and get a tattoo of them. Anime tattoos are very special as they carry a story with them. So before you get a fierce anime tattoo, make sure to find an artist who specializes in anime tattoos and can make your cool anime tattoo into a dream.
Fierce Tiger Tattoo Ideas for the Braves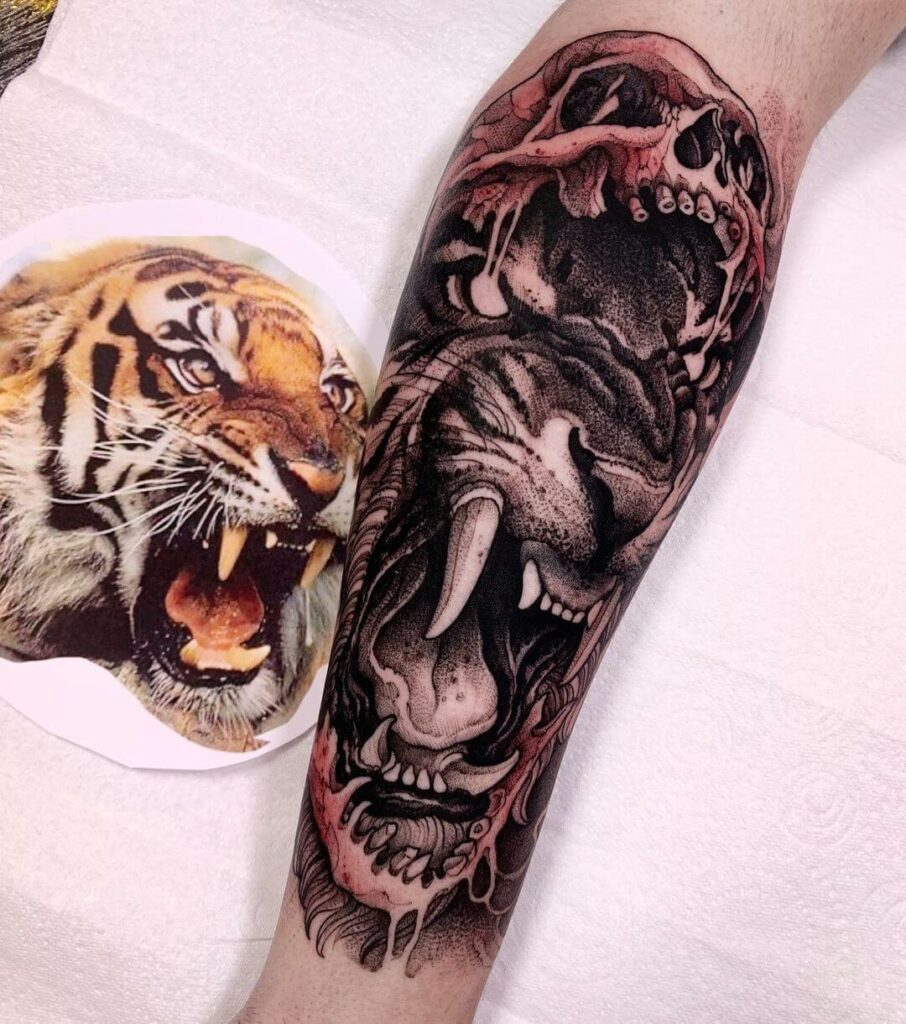 Tigers are the epitome of strength and bravery. there are very few animals in the wild more fierce than the tiger. That is why tiger tattoos are extremely popular across every culture. There is a fearsome beauty in the tiger that is very rare. They are vibrant and aesthetic as well. So if you want a fierce anime tattoo on your body, then this tiger tattoo is the perfect idea for you. This tattoo shows a tiger with a skull on its head and it looks amazing. Remember to find an artist who can make your dream tiger tattoo a reality and you will never regret it.
Realistic and Fierce Venom Tattoo for Marvel Fans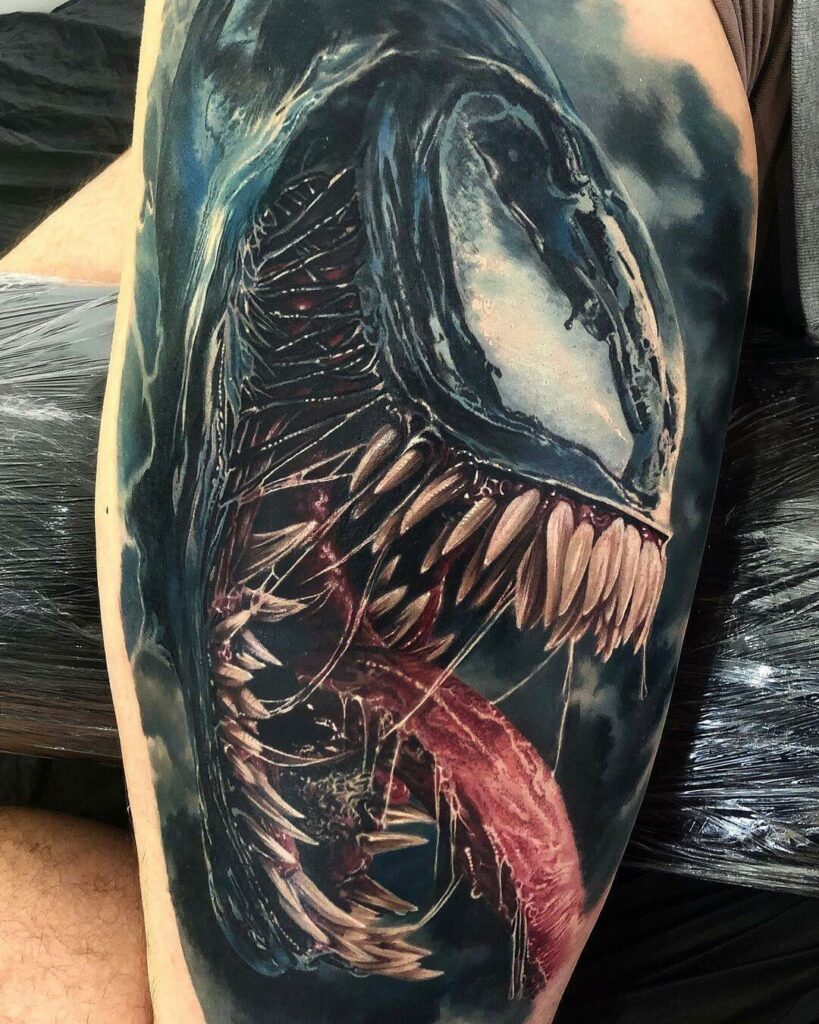 If you are a Marvel fan then you might also love the character of Venom. This tattoo shows a very fierce version of Venom and has amazing details in the eyes and the mouth. It is very hard to draw a realistic Venom tattoo but the artist did a phenomenal job on this one. It almost conceals the whole arm which means it is a pretty big tattoo. So we do not recommend this to people with no tattoo experience. But if you are a Marvel fan and also have experience in getting tattooed, then this amazing tattoo idea is just what you need.
Scary and Fierce Grim Reaper Tattoo Ideas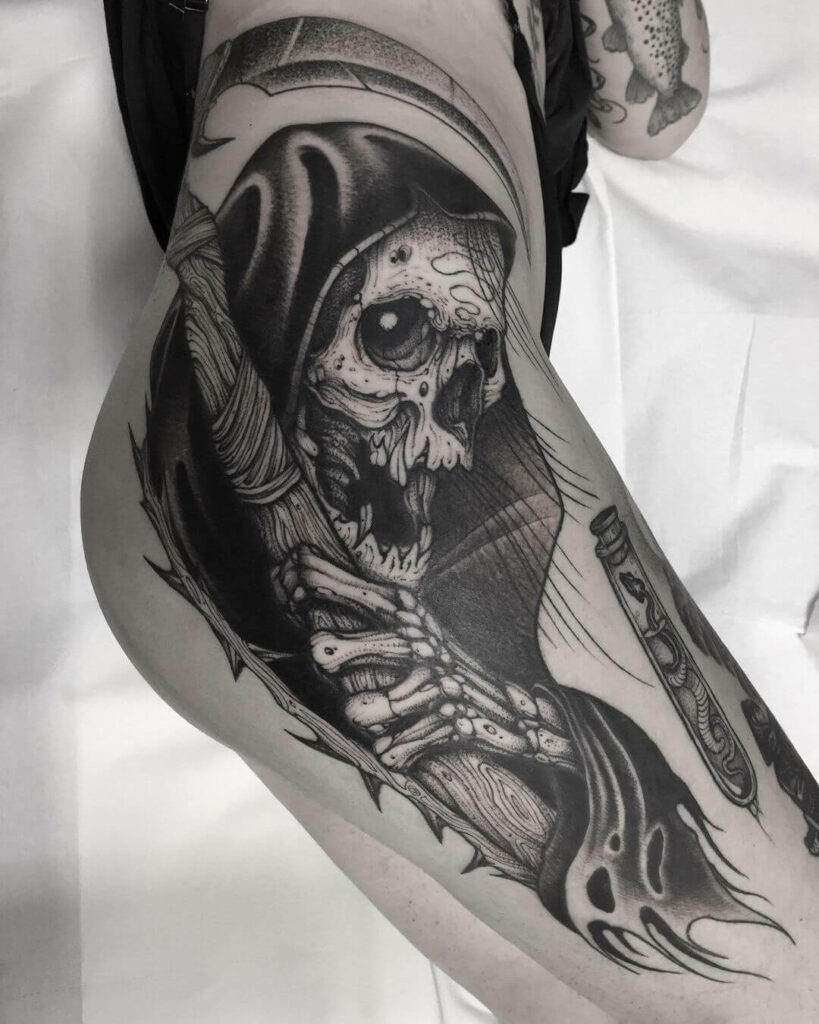 Grim reaper tattoos are very famous and they also look amazing. This Grim Reaper tattoo covers a whole hip and thigh so it is pretty big and will take a long time to heal. But it looks amazing and the details are also phenomenal. You can also choose to change a few things in this tattoo to create a more unique design that suits your taste. This black ink tattoo will also fade less than coloured pieces.
Fierce Broken Hannya Mask Tattoo Ideas
Japanese Hannya mask tattoos look very cool and also very scary. They are said to be representative of a jealous female demon and look super cool. If you also want a very cool Hannya mask tattoo then this broken Hannya mask tattoo is just what you need. The details on this piece are amazing. You can also add or change things in the tattoo to make it perfect for you. Just find an artist who can improve on the design based on your requirements and give you the tattoo of your dreams.
Fierce and Detailed Kali and Shiva Tattoo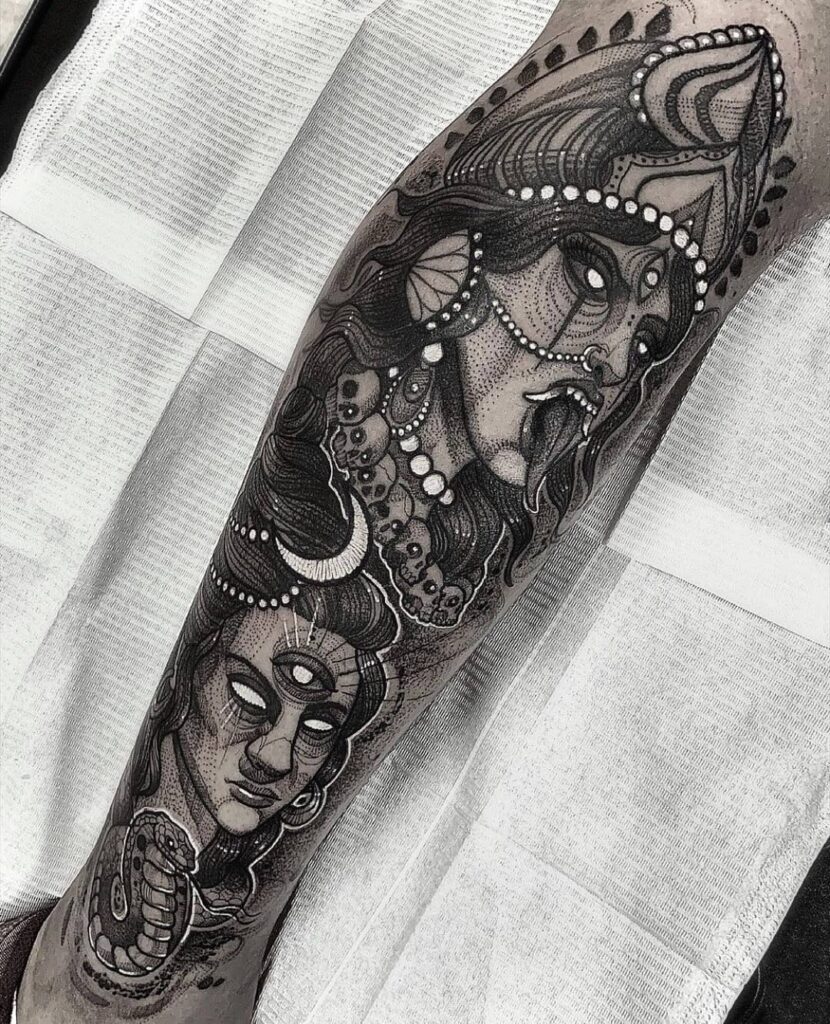 Kali and Shiva tattoos are extremely fierce and beautiful. But getting them together is another level of cool. Even though they are Hindu Gods, people from many countries get their tattoos based on what they represent. This tattoo perfectly captures the balance between Shiva and Shakti in a cool and aesthetic way. So if you wanted a fierce Goddess tattoo on your body, then this tattoo idea is perfect for you.
That concludes our list of Fierce tattoos, but if you did not find your desired tattoo in the list then here are a few more recommendations that you can check out.
And Though She Be But Little, She Is Fierce Tattoo
Fierce Ship Tattoo Ideas
Feature image from Pinterest – Want your tattoo to look brighter? Try "Tattoo Balm"
Last reviewed and updated on March 7, 2023